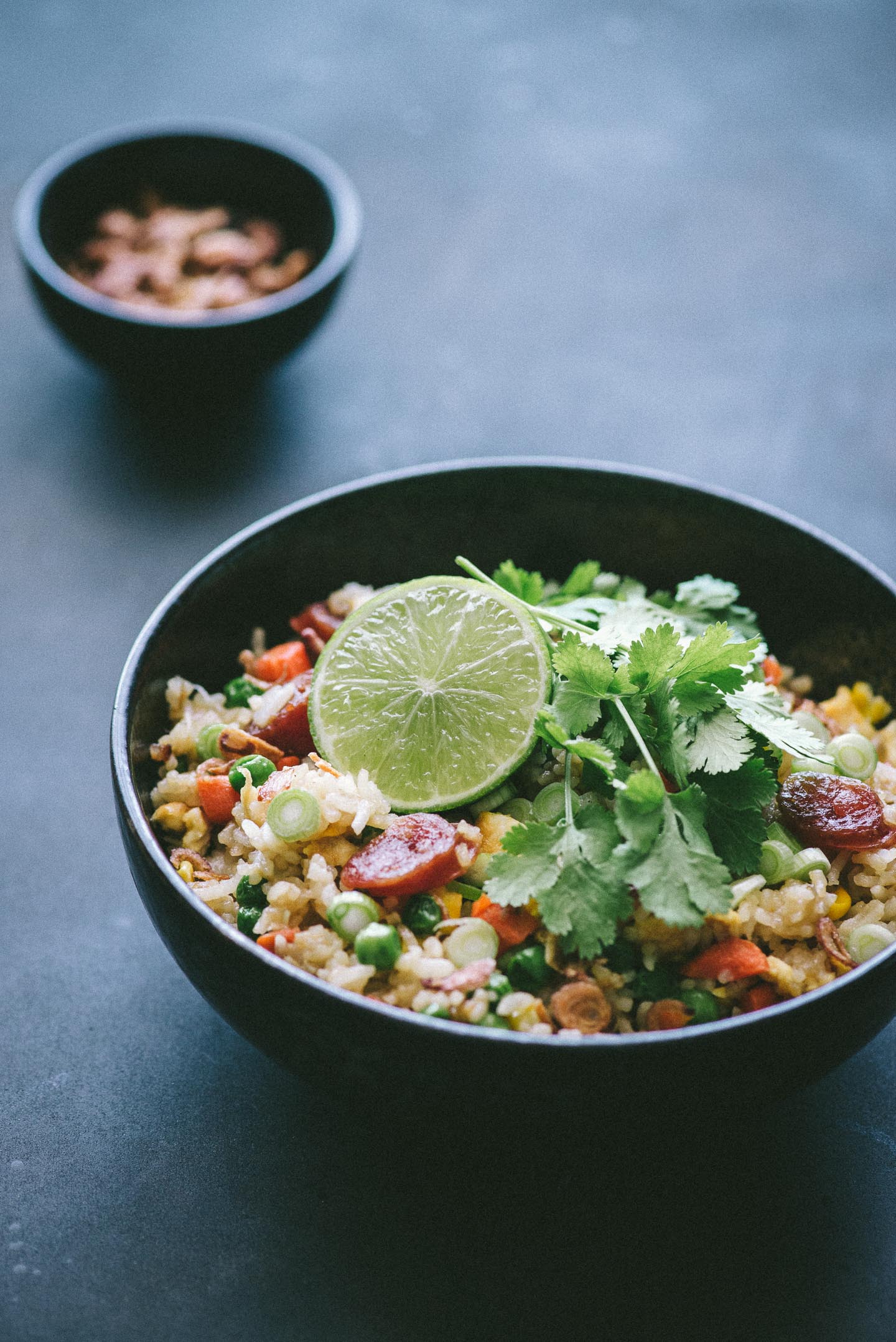 The other day, my boyfriend and I went to see British comic Chris Turner in his show, Observational Tragedy. Alternately witty, moving, and thought provoking, it prompted both spontaneous laughter and tears from the audience.
One of the things Turner revealed during the show was that he has an auditory memory and can access a memory if he listens to music associated with that particular memory. So when he listens to Cliff Richard albums he recalls playing with his grandparents' dog by their living room fire as a child.
As I listened to Turner detail his efforts to actively retain new memories using music, it occurred to me that my self-diagnosed 'food memory' might actually be a legitimate condition. That is, I don't remember faces, conversations or activities from my distant past very well but I do remember the food I ate. Not just the food, but how it tasted, how it smelt, its texture and its appearance.
I remember sitting down to family dinners every night when I was growing up. I remember fried rice, lamb roast, mushroom chicken, pork and bean stir fry and my favourite tuna mornay. I remember birthday parties with elaborately decorated cakes from the Australian Women's Weekly Kids' Party Cakes. I remember gorging myself on steaming hot cockles (pippies) cooked in my dad's wok that we'd caught earlier that day at Goolwa Beach.
I remember the fragrant Thai green chicken curry and rice that was my first meal I ate in London. Having left home by myself for the first time, I arrived at Heathrow airport feeling tired and a little teary. My friend Anita picked me up from the airport, took me back to her place and fed me that delicious curry in her kitchen.
I remember the first time I ate confit de canard (duck confit) and île flottante (floating islands) while visiting Paris with my dad.  I remember the aroma, tenderness and richness of the duck and my delight at the quenelles of gently poached meringue sitting atop a vanilla bean custard.
I remember visiting Germany for the first time with my ex husband and sighing over his mother's fresh creamy pfifferlinge mushroom cream sauce and pancakes.
I remember being heavily pregnant with my first child while working in Shanghai and satisfying my cravings for drunken chicken (cold, gently poached chicken with Chinese wine) and xiao long bao (steamed pork dumplings with a 'soup' centre) with my visiting mum.
I eat and I remember.
If having a food memory is actually a thing, this means that every time I eat a food or dish that I associate with happy memories, I am being soothed and comforted by the past. This makes perfect sense to me as I've aways believed that food is far more than fuel for our bodies.
Having a food memory also goes some way to explaining the craving for food from childhood that one experiences when one is homesick. Anyone who's lived abroad and suffered through the bittersweet pang of homesickness can no doubt relate to this.
I thought of this recently when my ex husband took our children away with him on holiday for five days. When the children returned home, tired and happy, I felt strangely compelled to feed them some of their favourite foods. This meant fruit and yoghurt in bowls for afternoon tea, and honey and soy chicken skewers with roasted sweet potatoes and steamed broccolini and sweet corn for dinner.
Later that night, I realised something: I like cooking for my kids because it's a demonstration of my love for them but I also have an ulterior motive.
If my kids are anything like me, they'll leave Australia at some point to explore the world.  They might live abroad for years and years, like I did, too. I won't like it, naturally, but I'll understand and support their need to stretch their wings.
So when I feed my kids I'm implanting positive food memories into their brain. These memories will help anchor them to me like an invisible umbilical cord when they are grown up and living far away from me.  As they go about their daily business they will occasionally stop and they will remember. They will crave the food of their childhood and they will want to come home.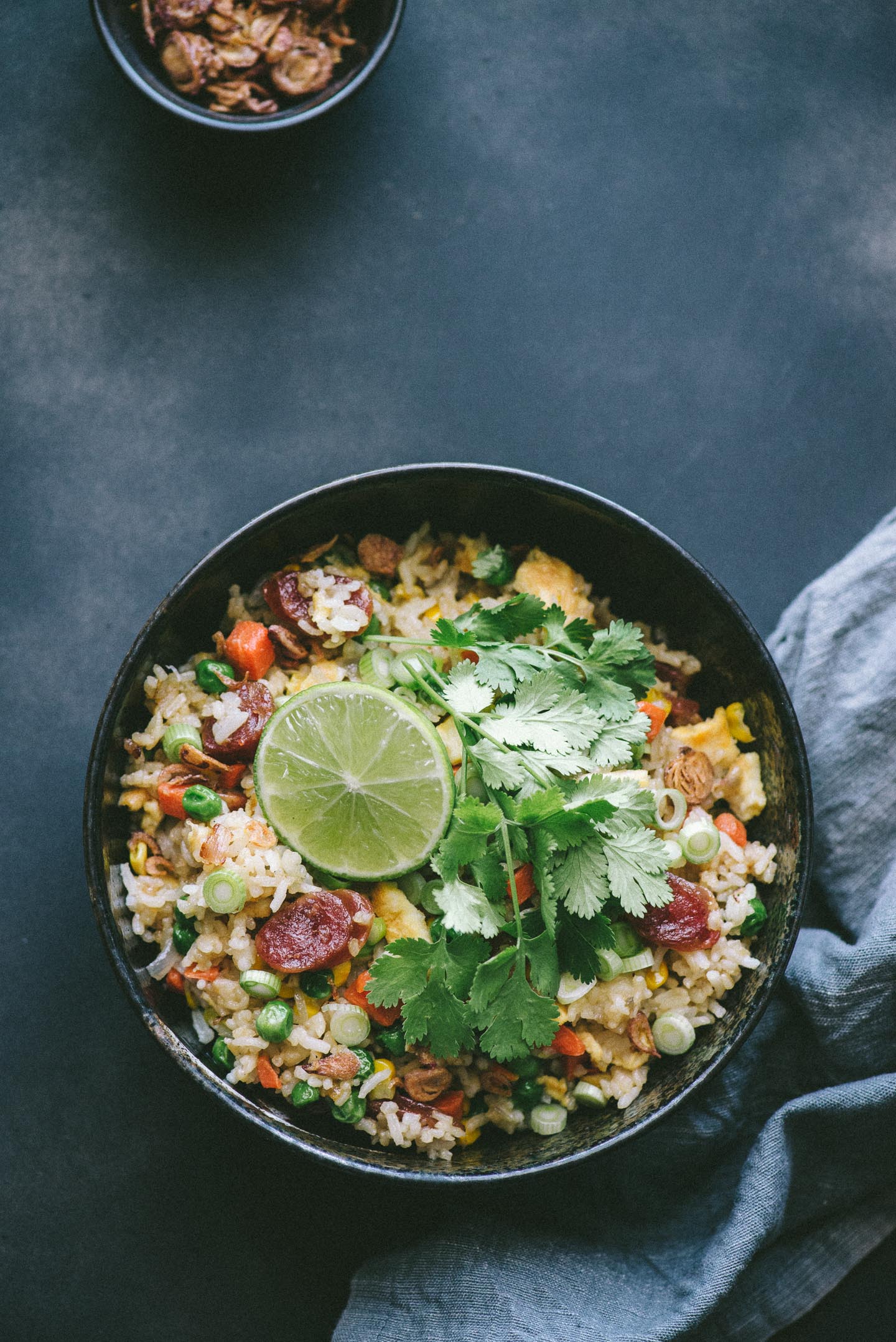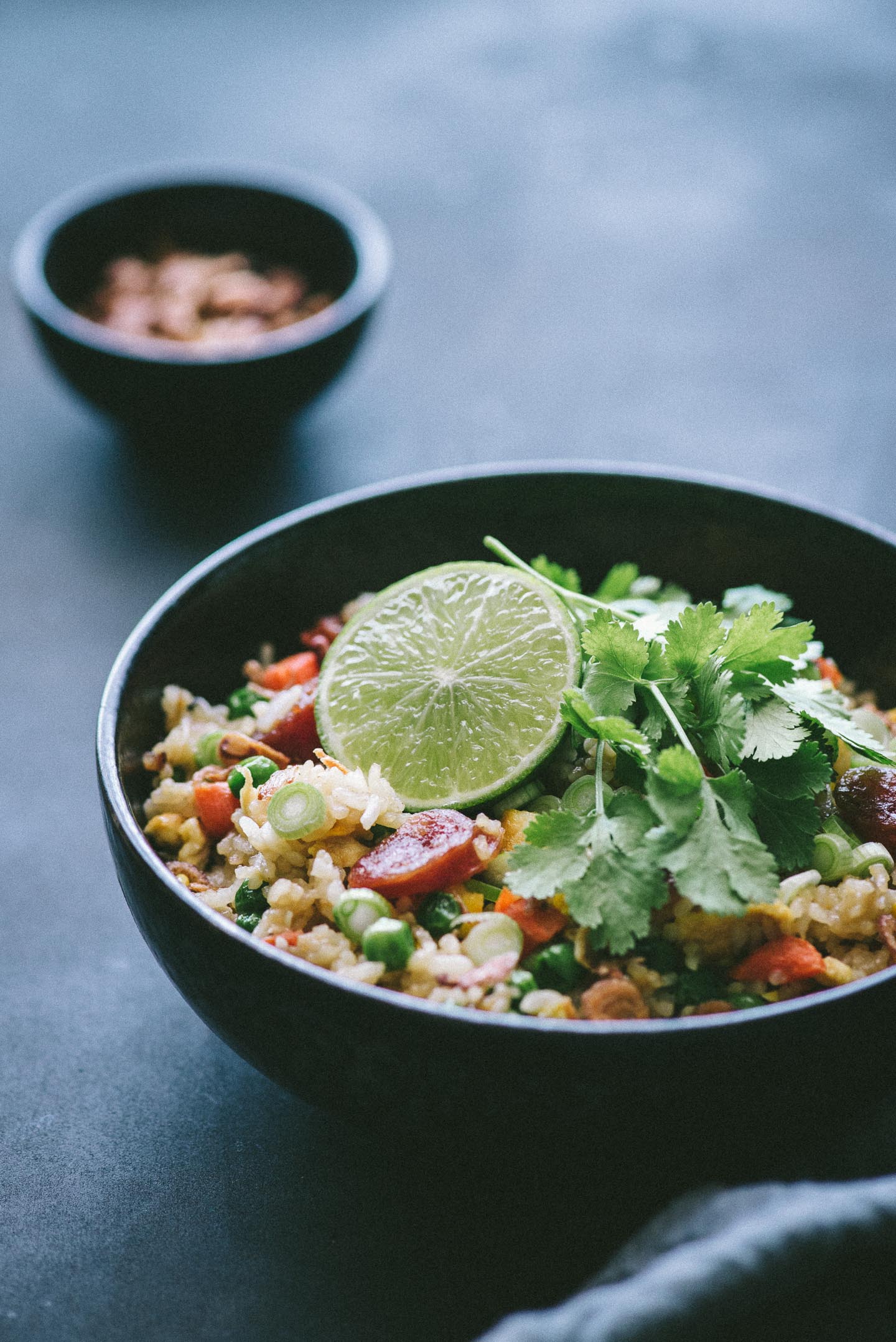 Special Fried Rice
Amongst our friends and family, my mother's fried rice is legendary. This is my spin on her fried rice. I cooked it for the kids the other night and they scraped their bowls clean.
Special Fried Rice
Author:
Christina Soong | The Hungry Australian
Cuisine:
Australian / Chinese
Prep time:
Cook time:
Total time: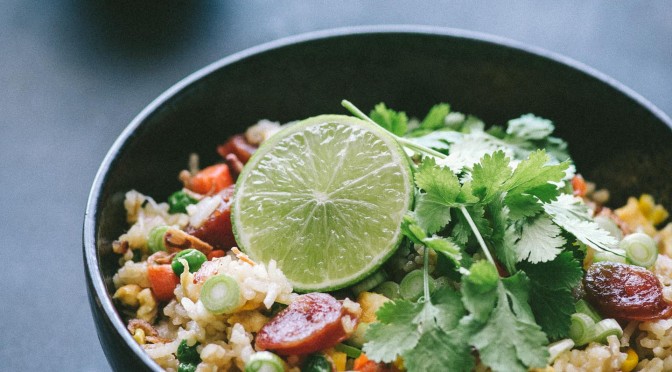 An excellent fried rice recipe
Ingredients
1 tablespoon vegetable oil, plus another tablespoon.
4 eggs, beaten
1 tablespoon water
1 large onion, peeled and diced
6 cups cooked and cooled rice, broken up into loose grains
4 Chinese sausages, sliced thinly
3 cups frozen diced vegetables (corn, peas, carrots)
2 tablespoons light soy sauce
1 tablespoon Shaoxiang wine
White pepper to taste
1 tablespoon sesame oil
3-4 spring onions, sliced thinly, white parts only
Small bunch coriander to garnish
2-4 tablespoons fried shallots to garnish
1 lime, cut into 4 wedges to garnish, optional
Sriracha chilli sauce, optional)
Indian brinjal (eggplant relish), optional
Instructions
Heat up a large fry pan or wok over a medium heat until smoking and then add 1 tablespoon oil.
Beat eggs with water and then slide mixture into pan to form a large omelette.
Cook for a minute or two over a high heat until browning nicely and then flip over and cook for a another minute or two until cooking through.
Remove omelette from pan and leave to cool.
Add 1 tablespoon oil and then add onion.
Cook, over a medium heat, stirring regularly, for 4-5 minutes until softened and then add Chinese sausage.
Stir regularly for 2-3 minutes until Chinese sausage is crisp on both sides and heated through.
Add frozen vegetable mixture and stir to combine.
Increase heat to high and then stir fry for 2-3 minutes until vegetables are cooked through.
Add rice and stir to combine.
Add soy sauce and Shaoxiang wine and then stir fry, stirring regularly until rice is heated up and cooked through.
Turn off heat and then add sesame oil and spring onions and stir through.
Garnish with coriander and lime and serve with Sriracha or brinjal.