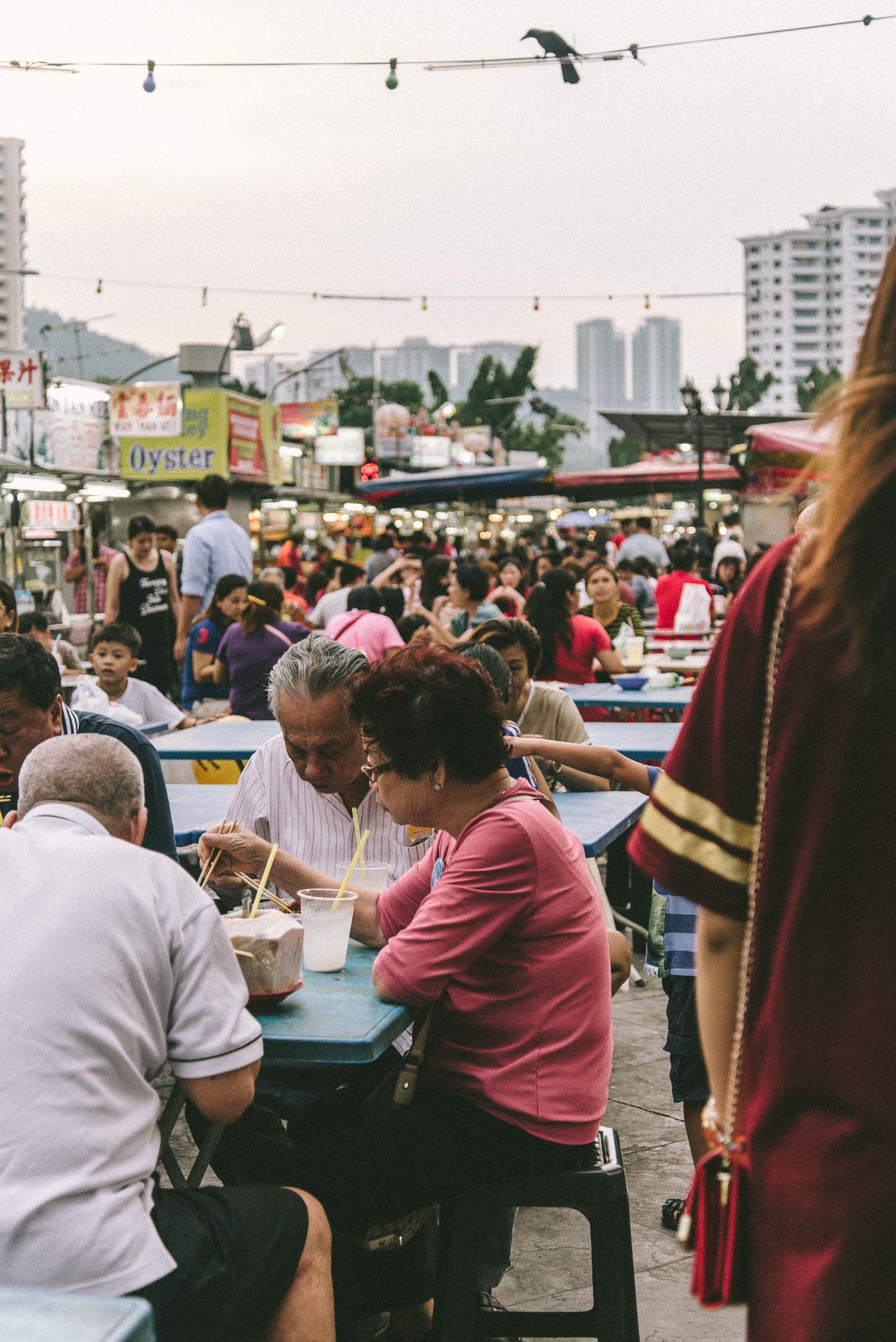 Malaysian nights are often surprisingly hot.
My kids' cheeks are bright red and their hair is sticking to the backs of their necks in damp curls. We down our hastily ordered drinks (star fruit juice, fresh coconut juice and iced milo) at our newly acquired table while we gain our bearings.
I'm at the Batu Ferringhi Night Market in Penang, Malaysia, with my kids, my parents, my brother and my brother's family.
All around us people are chatting loudly while the sound of metal spatulas hitting aged metal woks clangs musically throughout the night. The air is rich with a hundred different cooking smells and the ripe smell of the notoriously fragrant durian fruit, pictured below.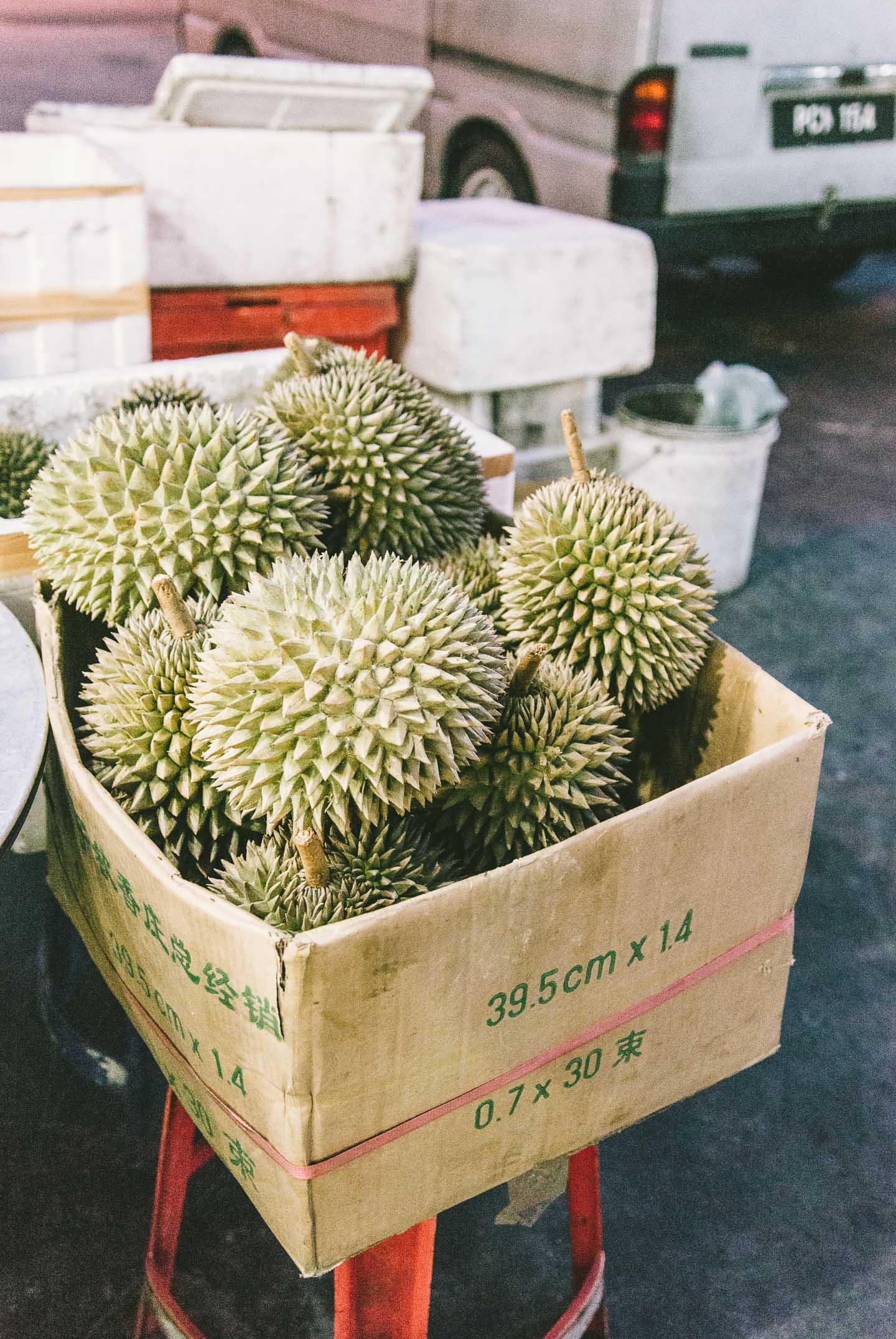 Tonight we want to try as many different dishes as we can manage.  My dad was born in Penang so we've visited the island numerous times before and are very familiar with the types of hawker dishes available tonight.
First up, char-grilled chicken satays with spicy peanut sauce, raw onion wedges, cucumber slices and ketupat (cooled, compressed rice).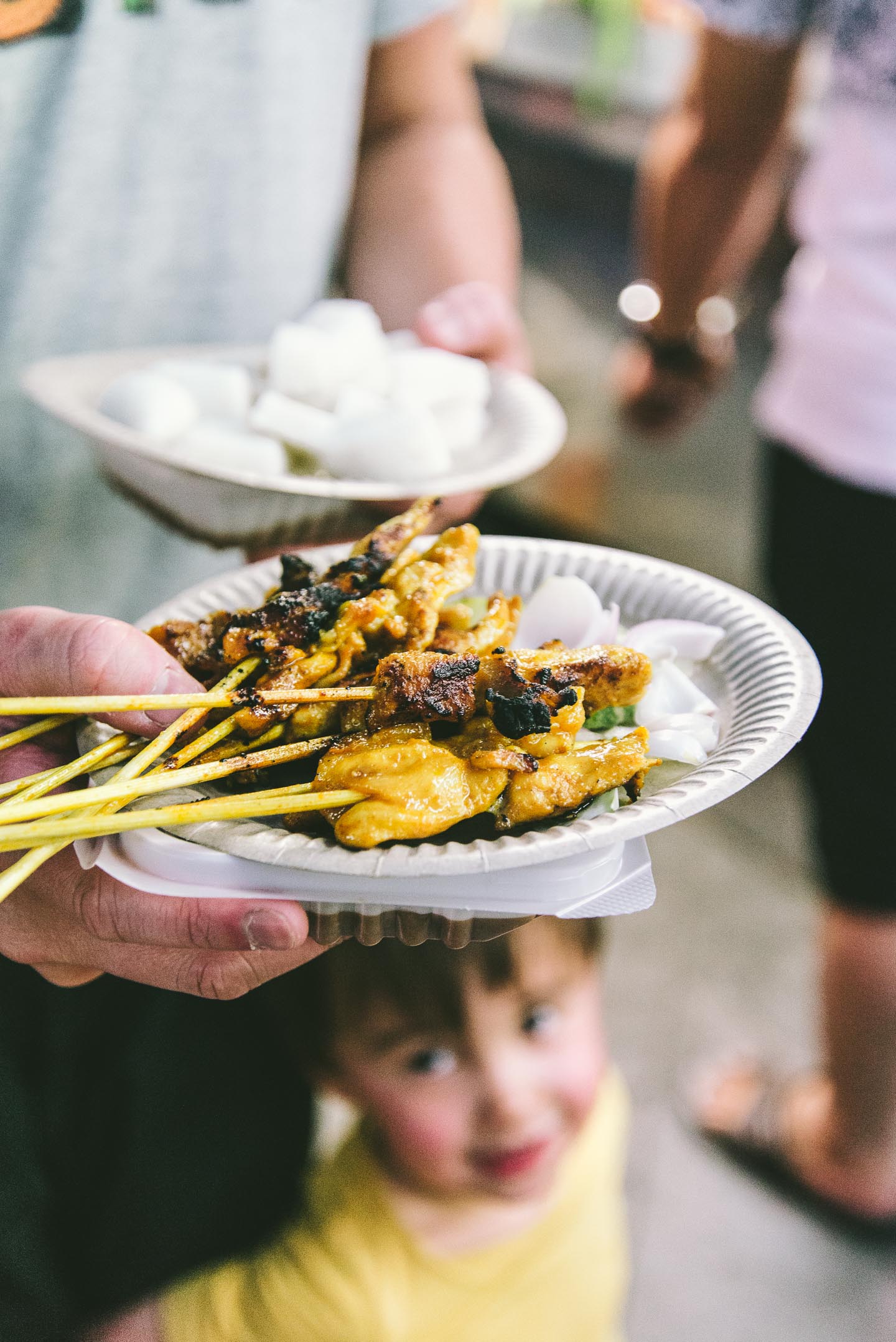 Then fried chicken skin served with a sweet chilli sauce.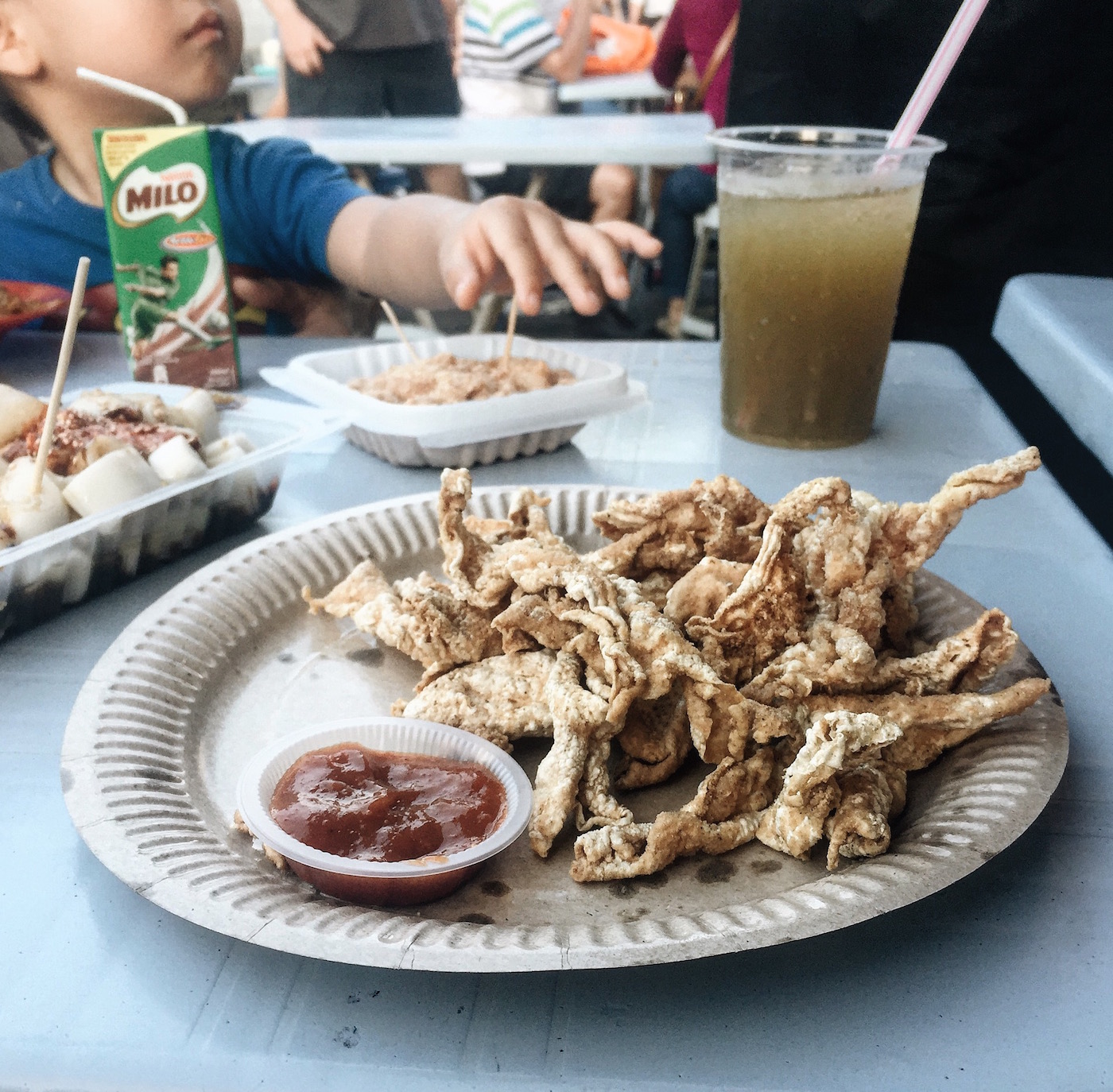 FRIED CHICKEN SKIN!!! It's insane — it's like eating a cup of frosting — and yet it makes perfect sense, too. Why eat the whole chicken when it's the fatty skin that has the most flavour?
The fried chicken skin is crunchy, salty and tasty – I want to eat the whole plate.
My Auntie orders some Chee Cheong Fun (steamed, rice noodle rolls served with hoisin sauce and sesame seeds),  Sotong (dried cuttlefish) and a sugar cane juice.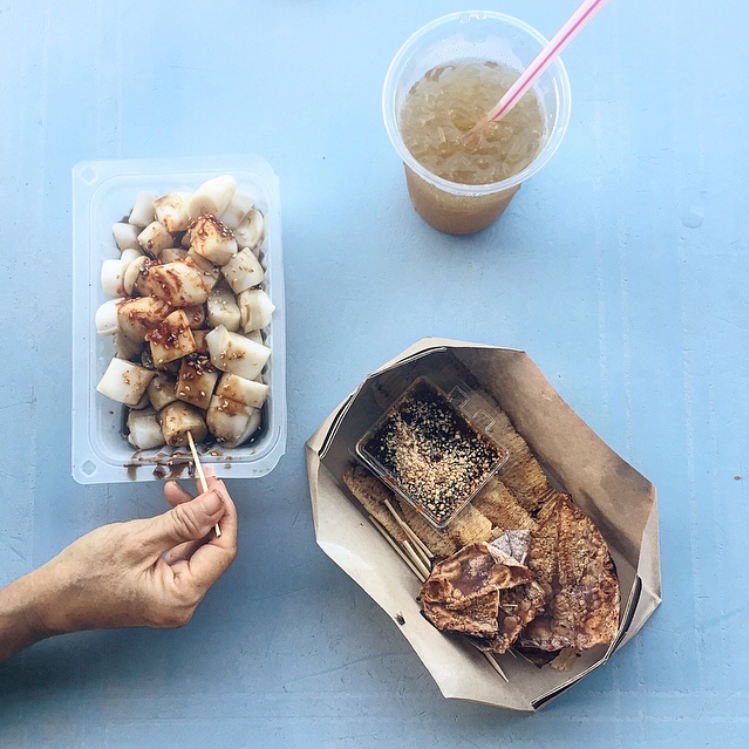 Night begins to fall.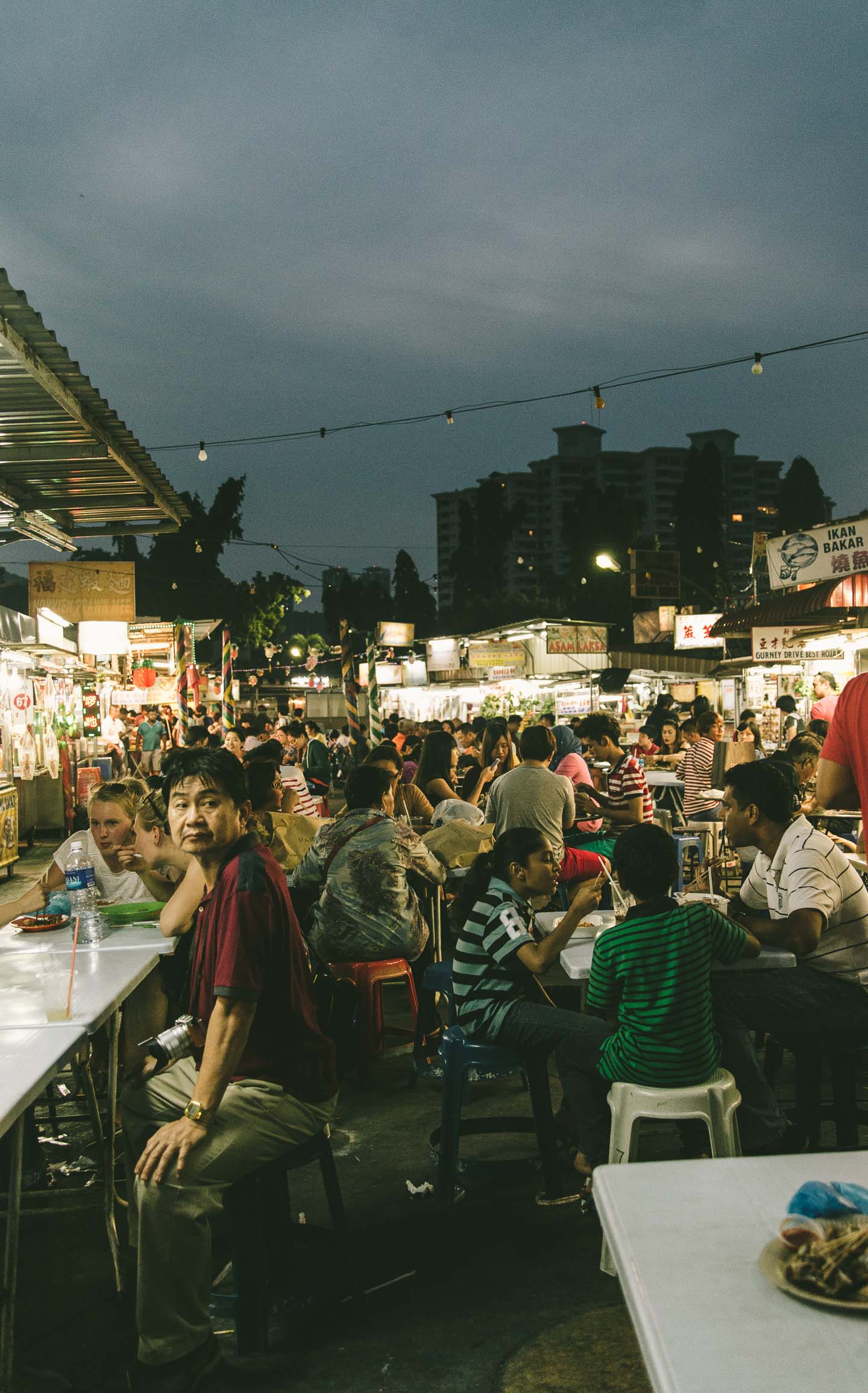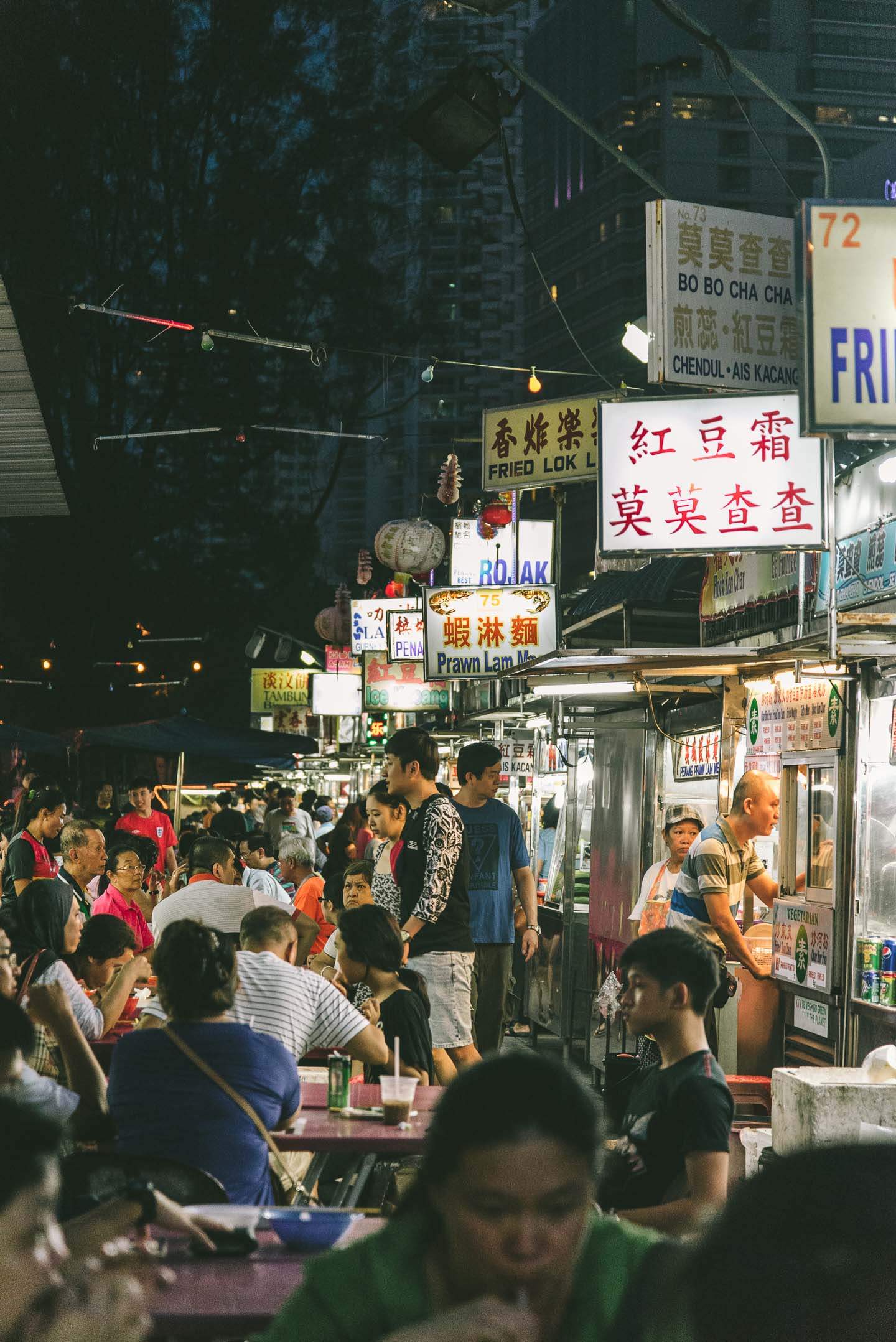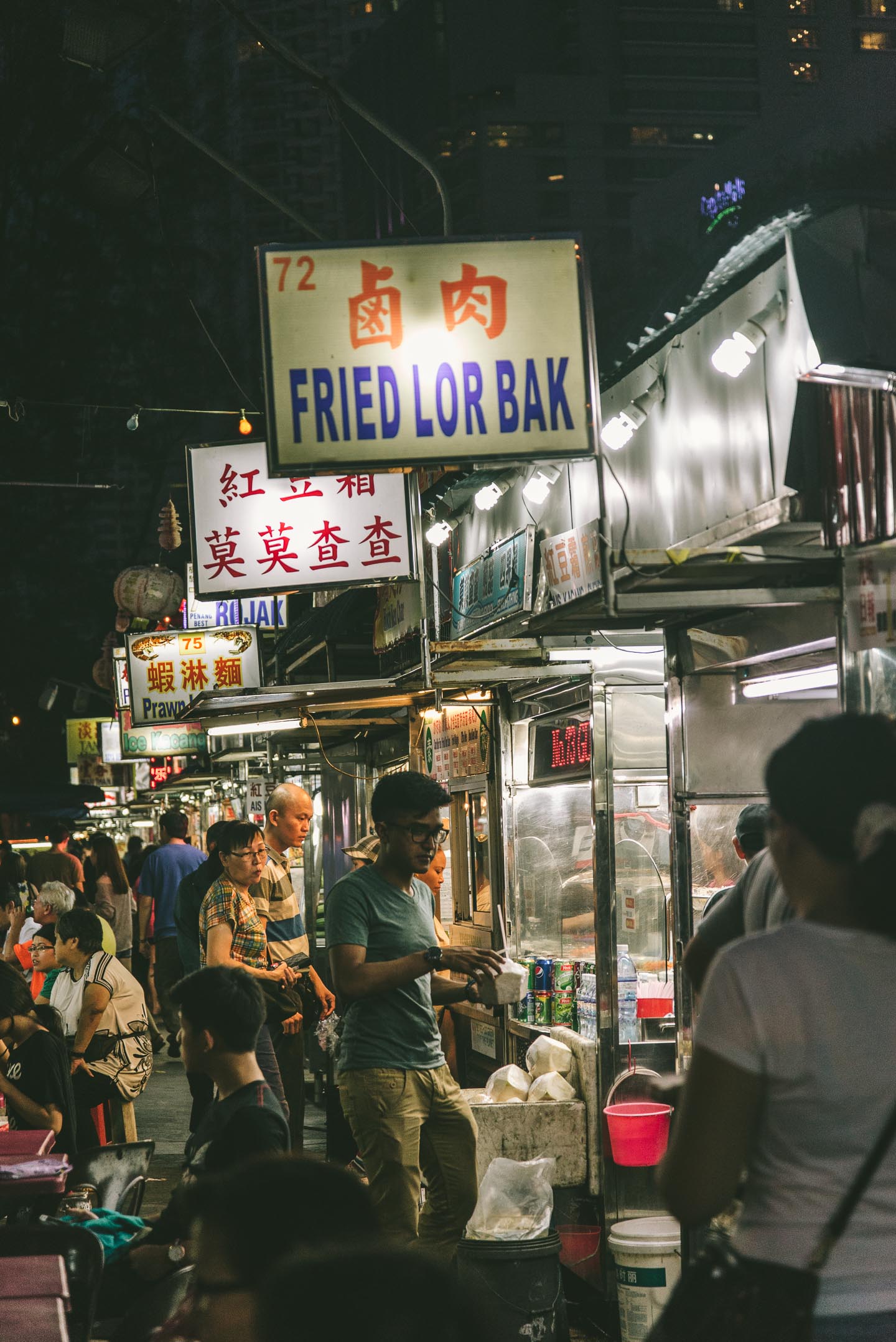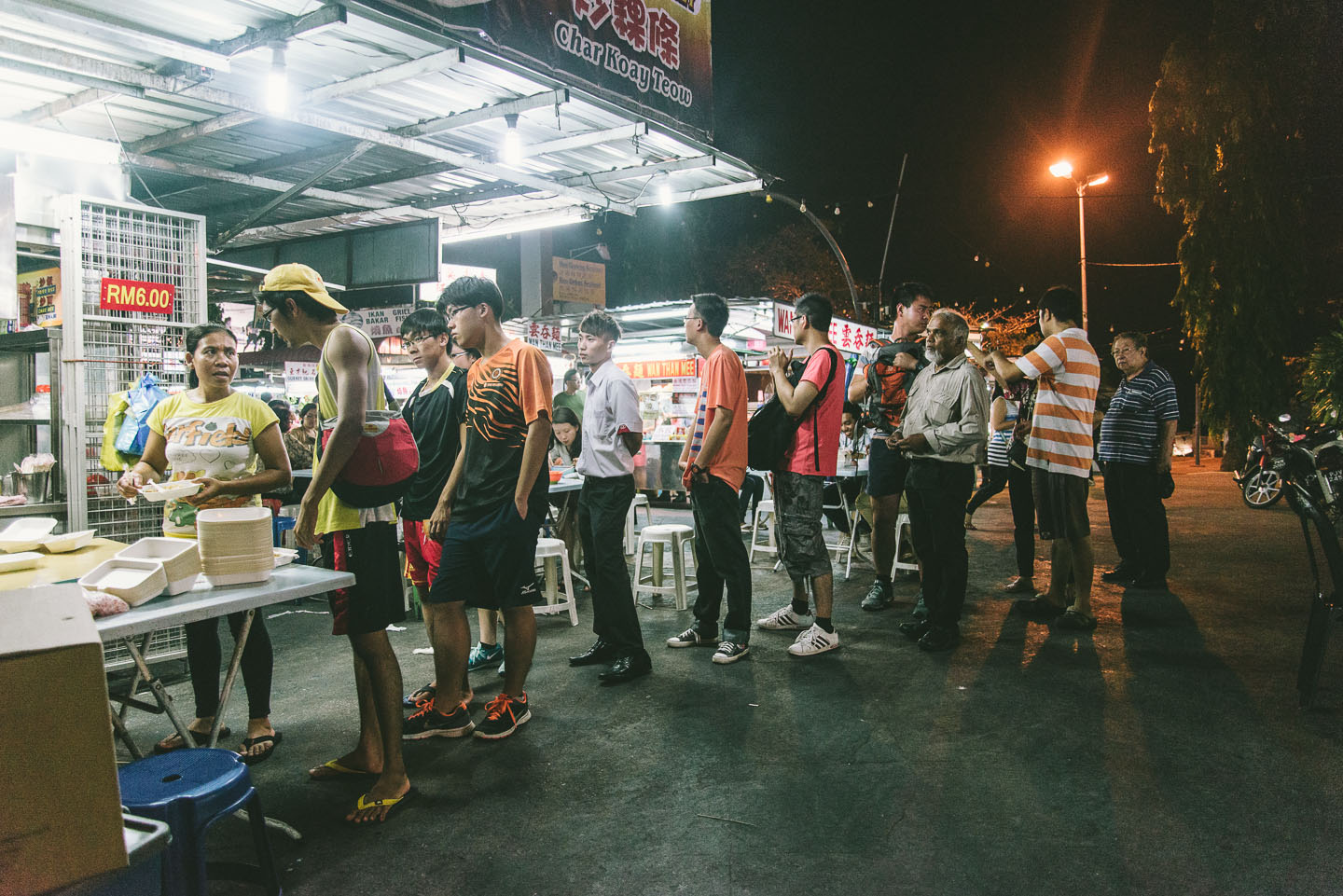 The line of people standing patiently at this stall catches my eye. Here, two cooks are churning out plate after plate of Char Kway Teow (fried rice noodles cooked with garlic, prawns, egg and bean sprouts). It's one of our favourite dishes so I order four plates: two with chilli for the adults and two without chilli for the kids.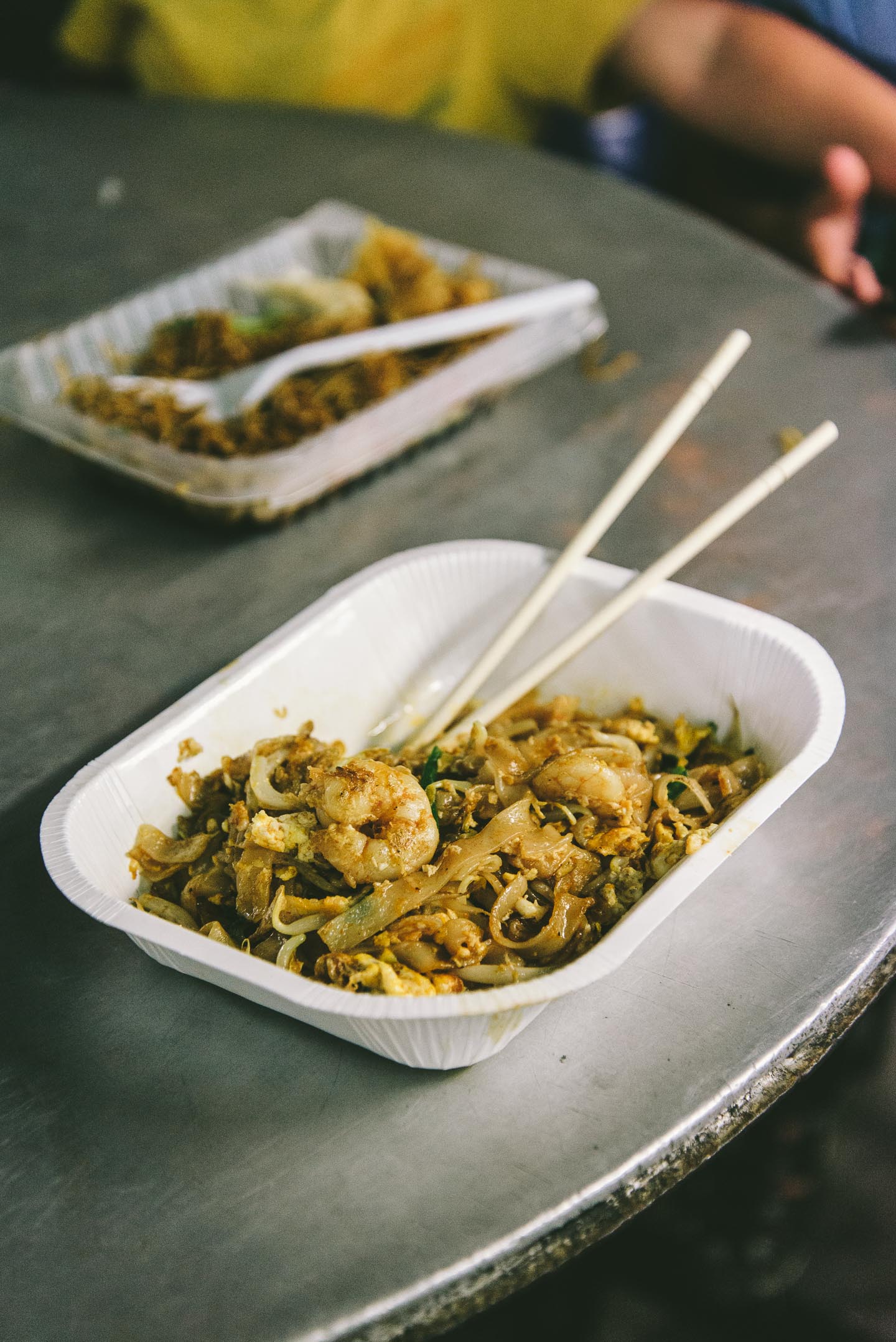 I wander around in search of more dishes to order for the table.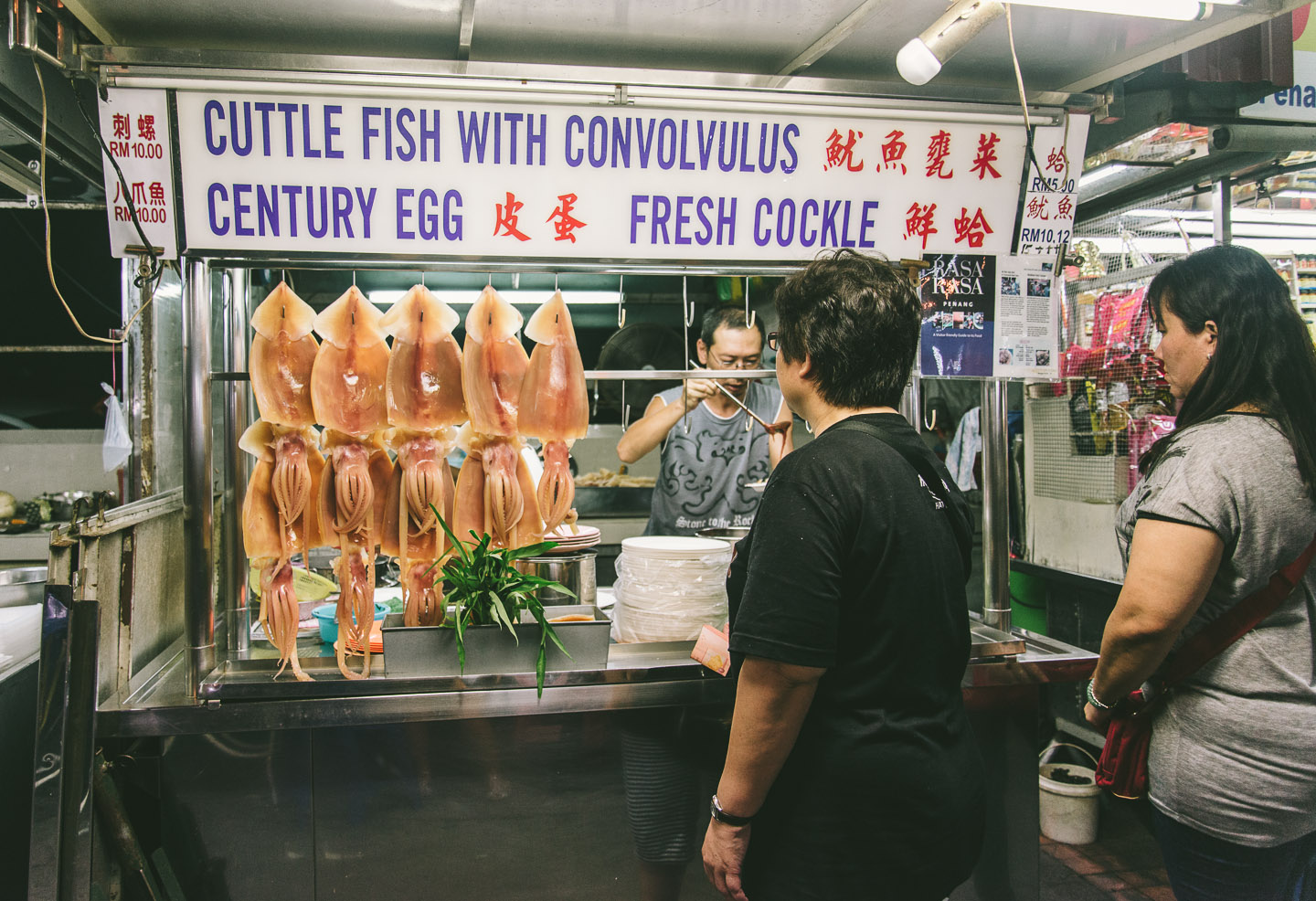 My dad loves sotong (dried cuttlefish) so I order another plate for him.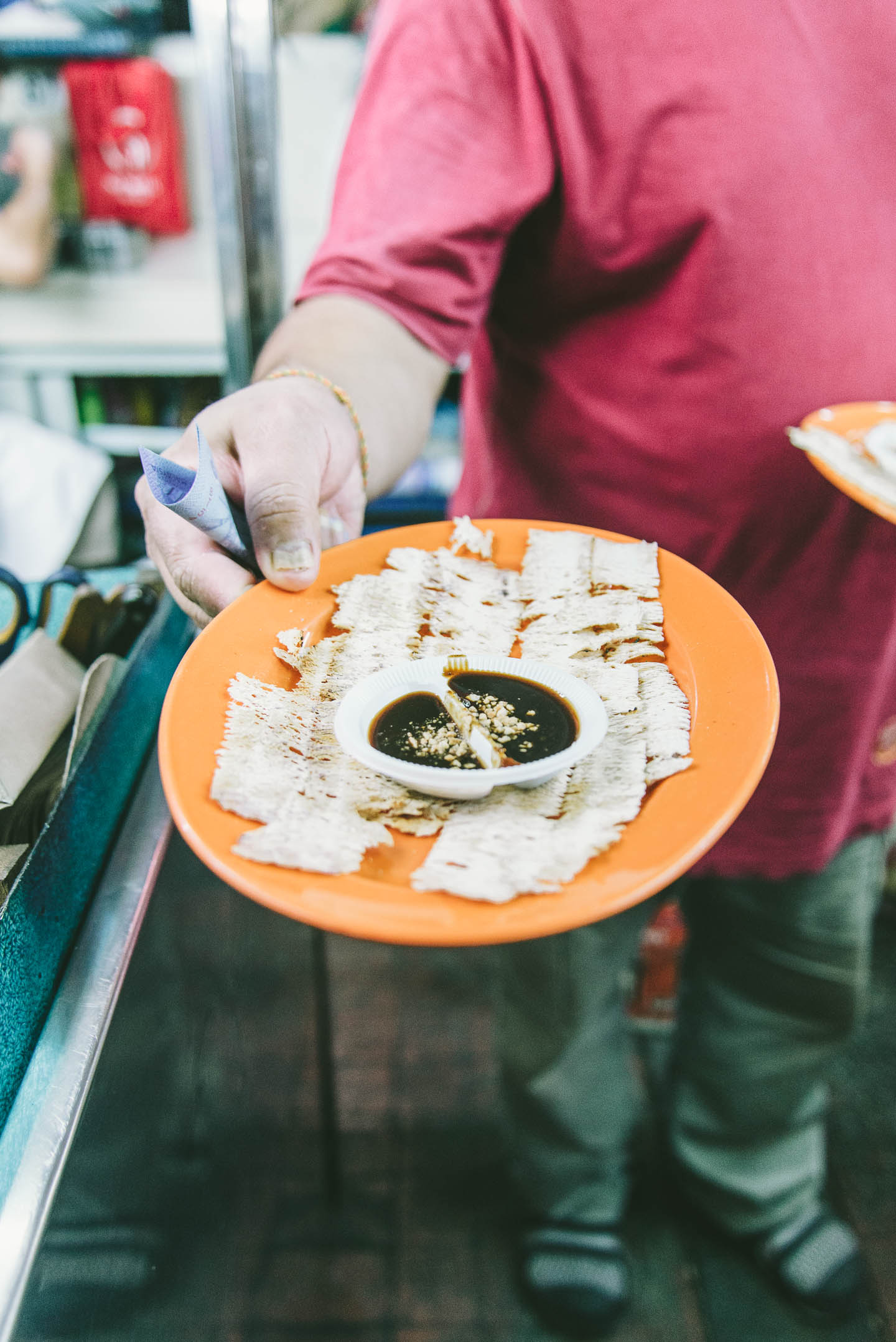 Dried cuttlefish may not look or sound that appetising but I love this stuff – the dried cuttlefish has a chewy, fibrous texture, a flavour similar to a dried scallop, and can be eaten as is or accompanied by chilli sauce or hoisin sauce.
I continue looking around.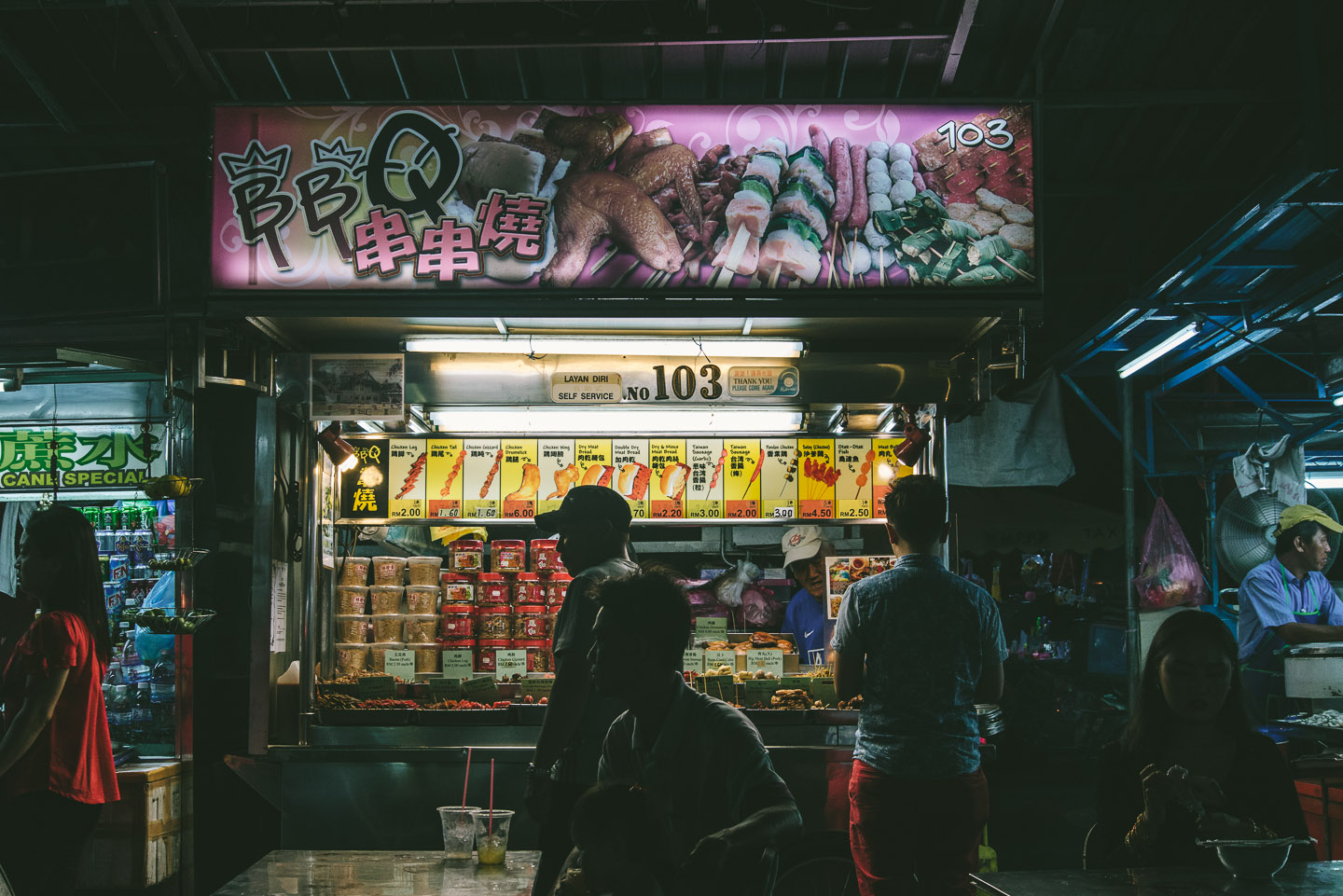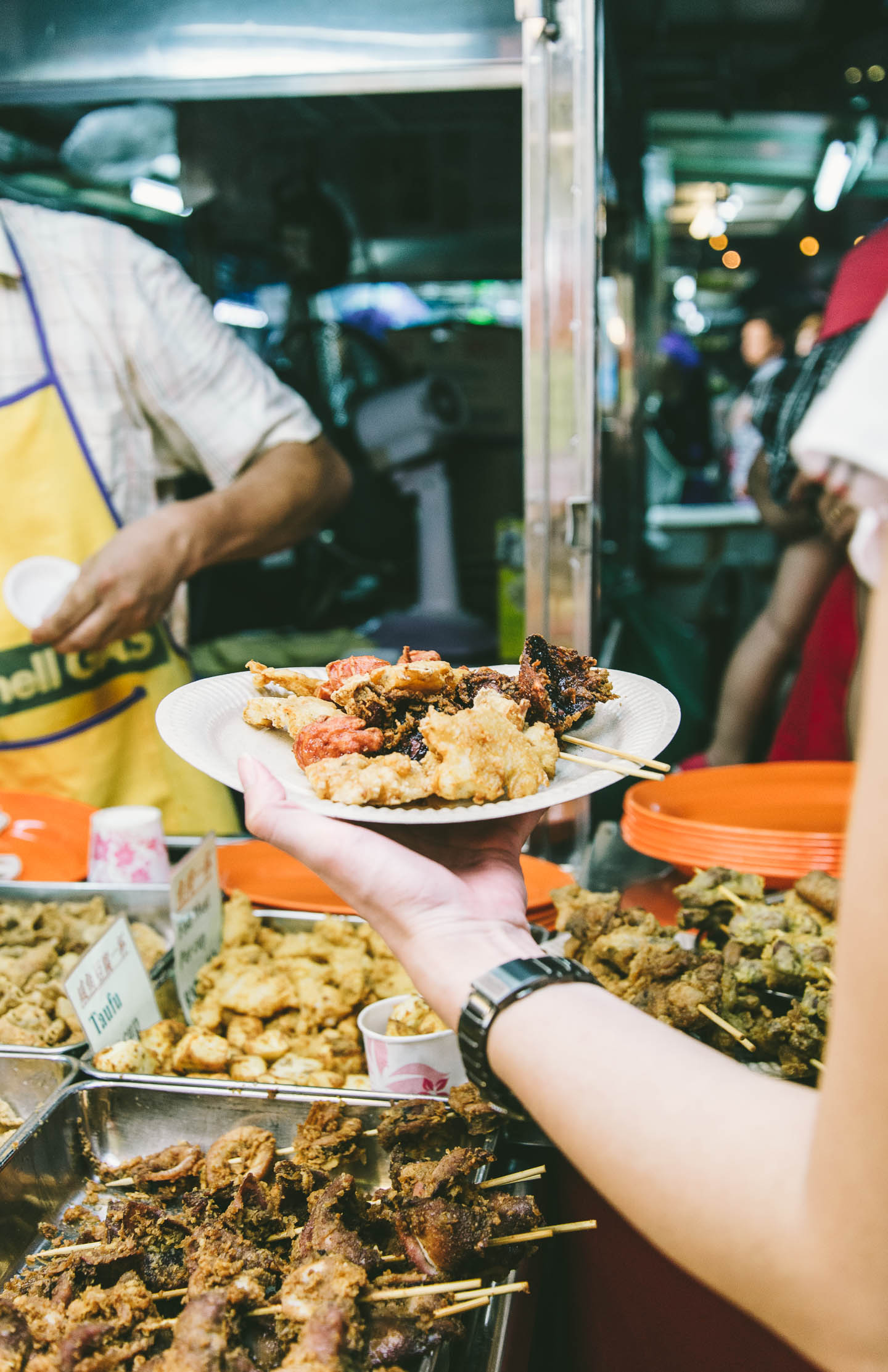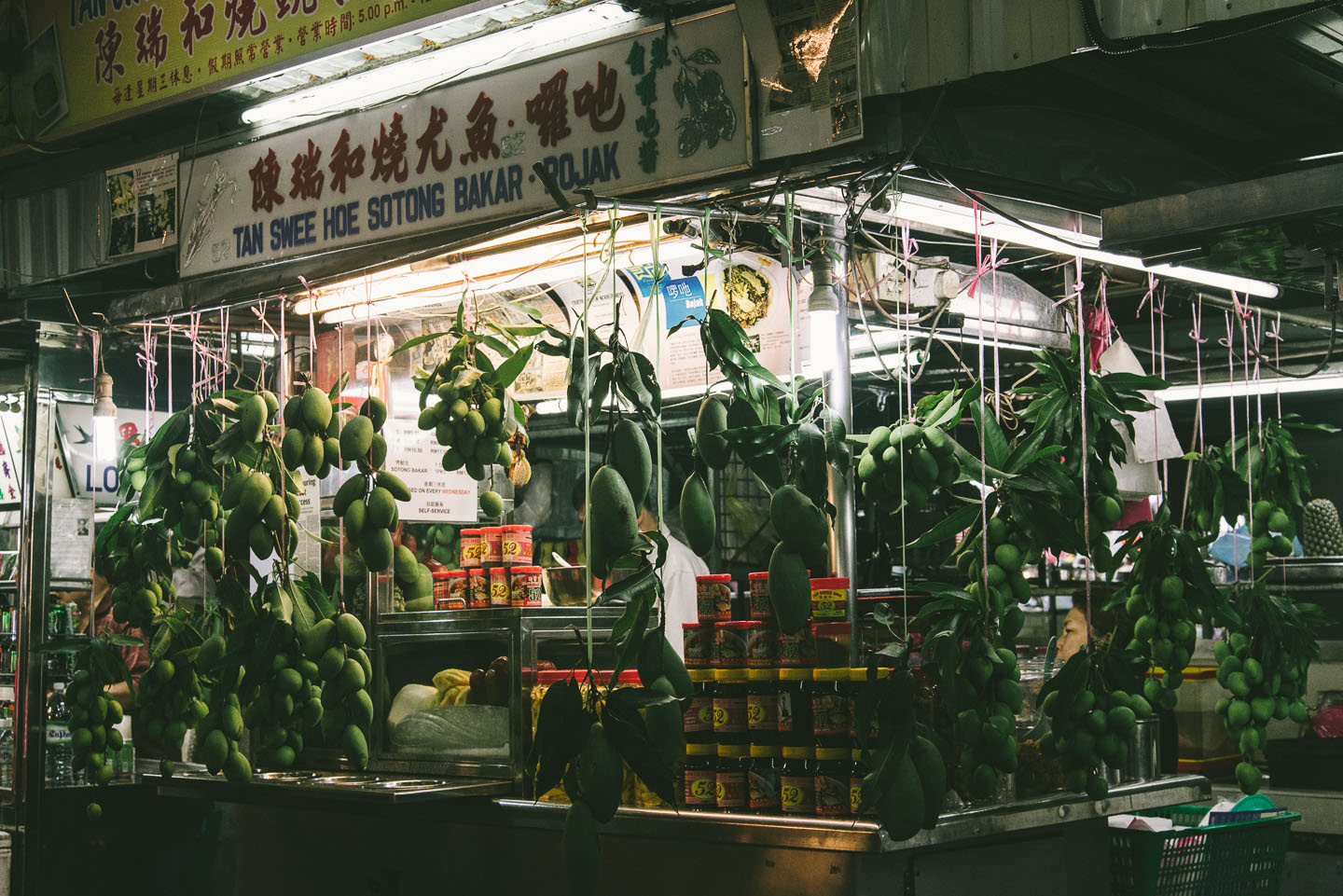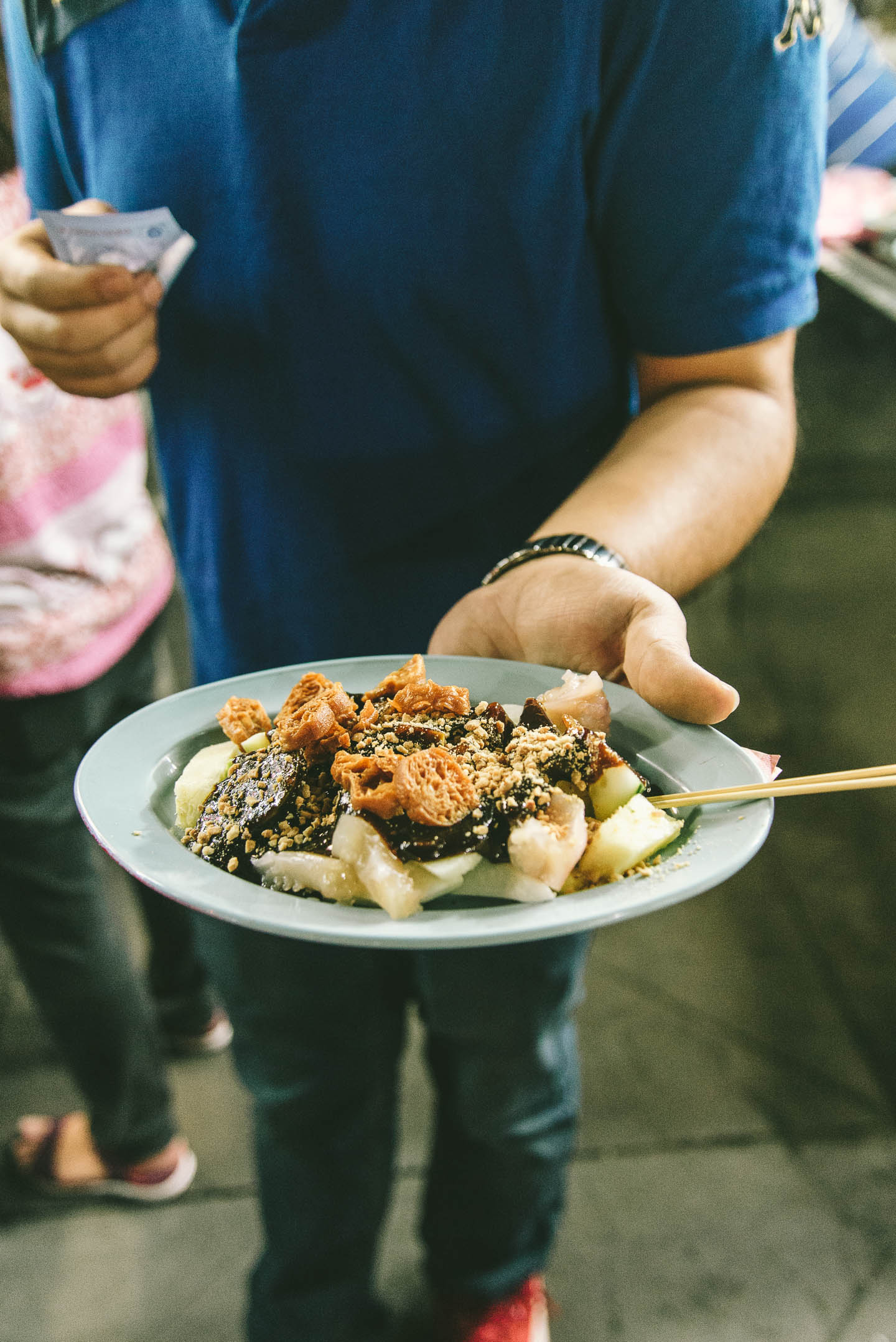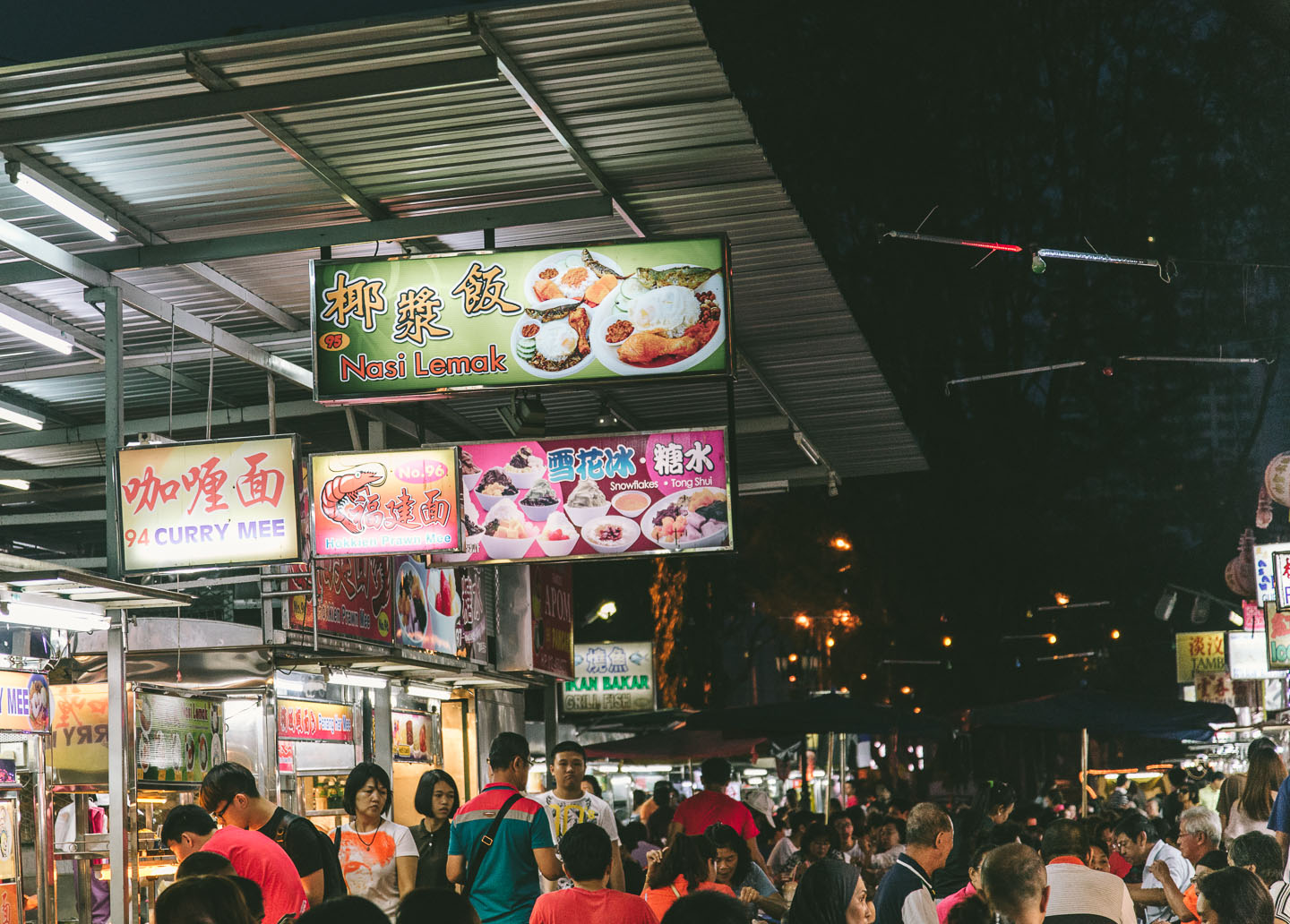 A lot of the dishes I want to order aren't suitable for the kids as they have too much chilli so when I stumble across this excellent, dry Won Ton Mein (prawn and pork dumplings, sliced roast pork and wilted greens on a bed of egg noodles dressed with soy sauce and sesame oil) I order four of them. Won Ton noodles originated from Hong Kong, where the dumplings and noodles are served in clear chicken broth. But the dry version is equally good.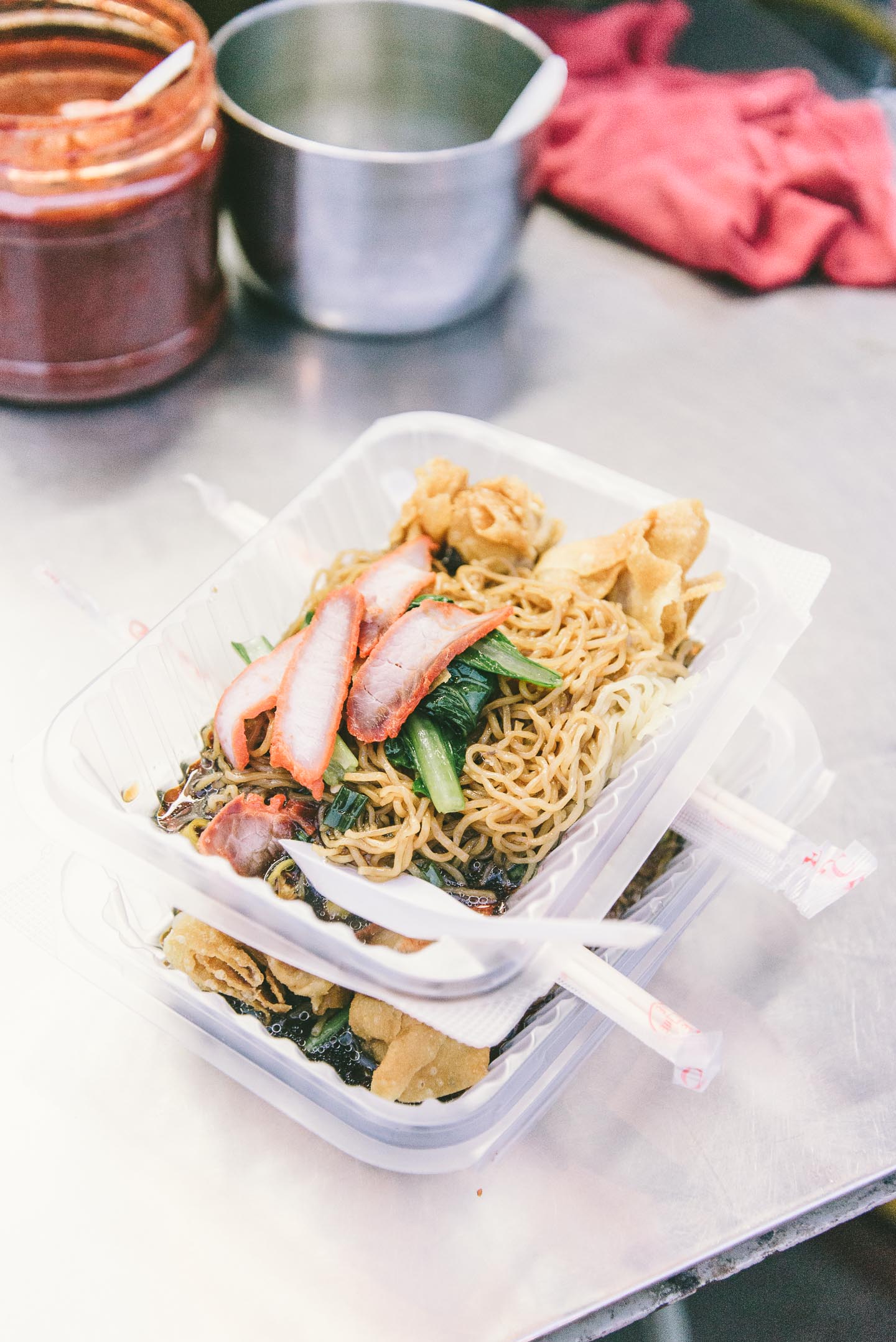 No meal in Penang would be complete without a bowl of my beloved Assam Laksa. Unlike the more common curry laksa found in Australia, the Penang version is fish-based and strongly flavoured with tamarind, lemongrass, turmeric, Vietnamese mint leaves and ginger flower. This version also has fish balls in it — see below –which I've not seen before.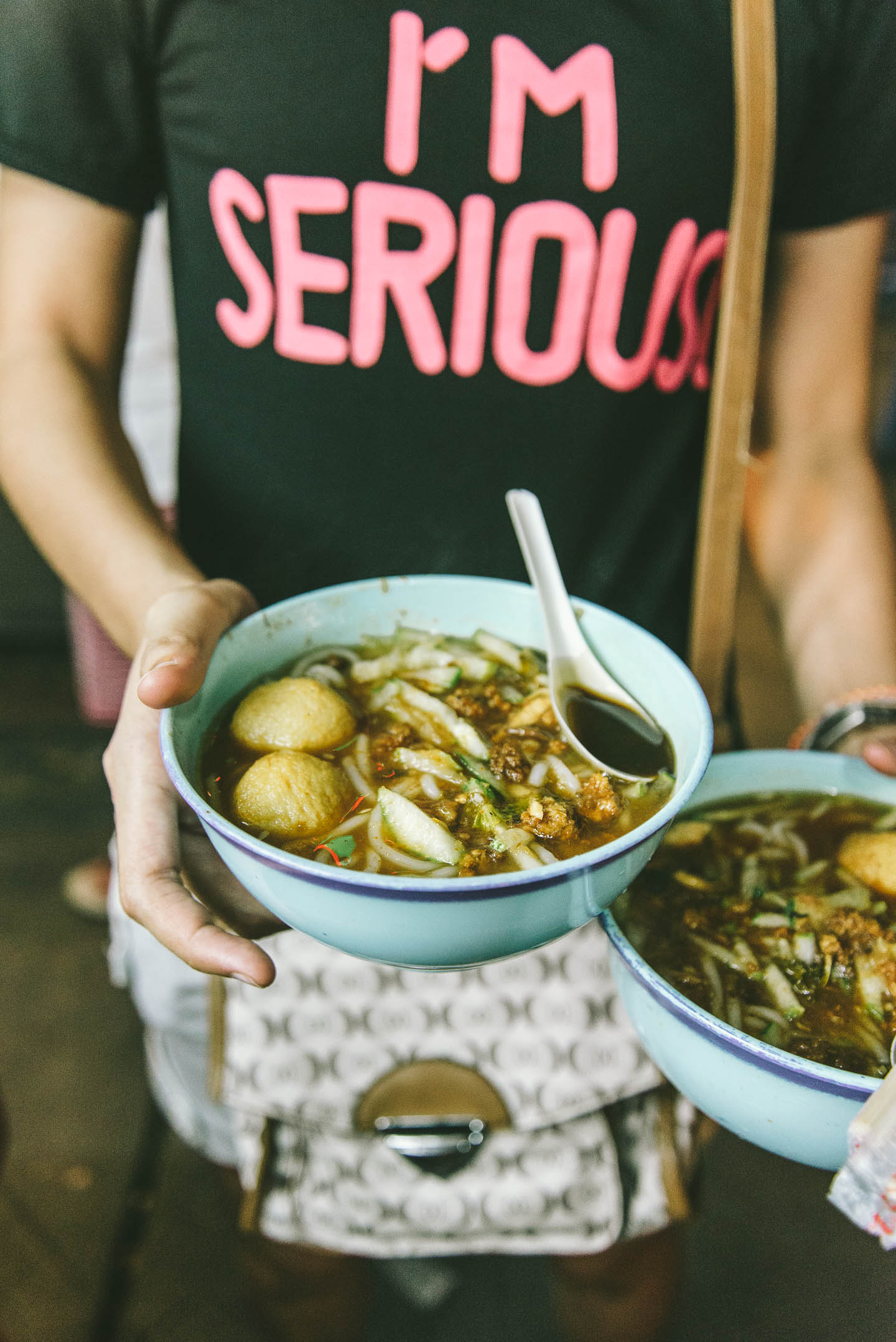 It's good but I like my adaption of my grandmother's Penang Assam Laksa recipe, better. I'm biased, of course!
Malaysian food relies a lot on ingredients like lemongrass, tamarind galangal, turmeric, shallots, garlic, chilli and sugar. It's not the prettiest of cuisines — especially at a market like this where service is all about speed and efficiency — but the lack of presentation doesn't bother me.
Eating at the open-air night market isn't exactly comfortable: it's hot and crowded and the hard plastic stools don't encourage lingering. But I love the accessibility and unpretentiousness of hawker food, the tantalising smells in the air, the sounds of people talking and food being prepared all around us and the joy of discovering yet another favourite dish.
More information
Getting there: Malaysia Airlines flies direct from Australia to Kuala Lumpur.
Address: Batu Ferringhi Night Market, Jalan Batu Ferringhi, Penang.
Opening hours: daily from 7pm.