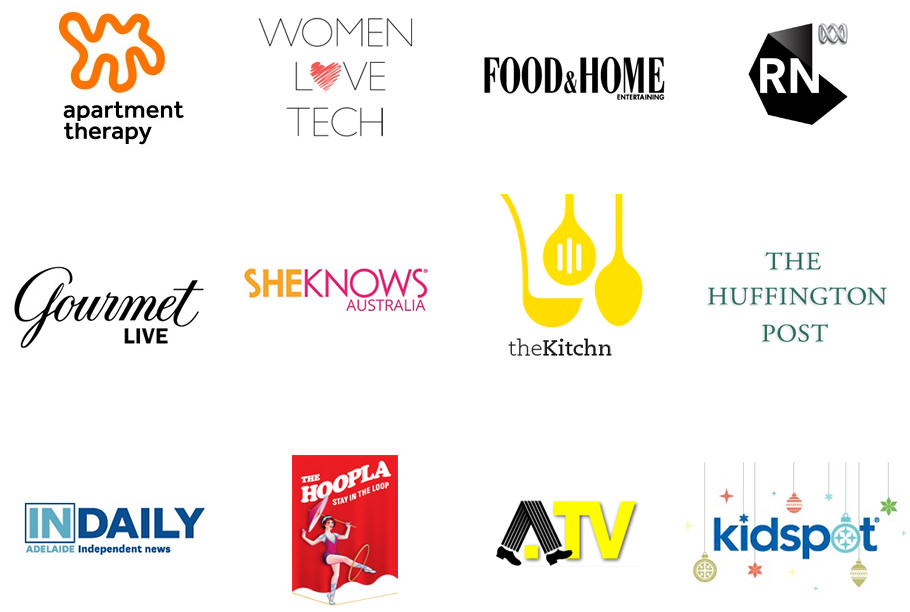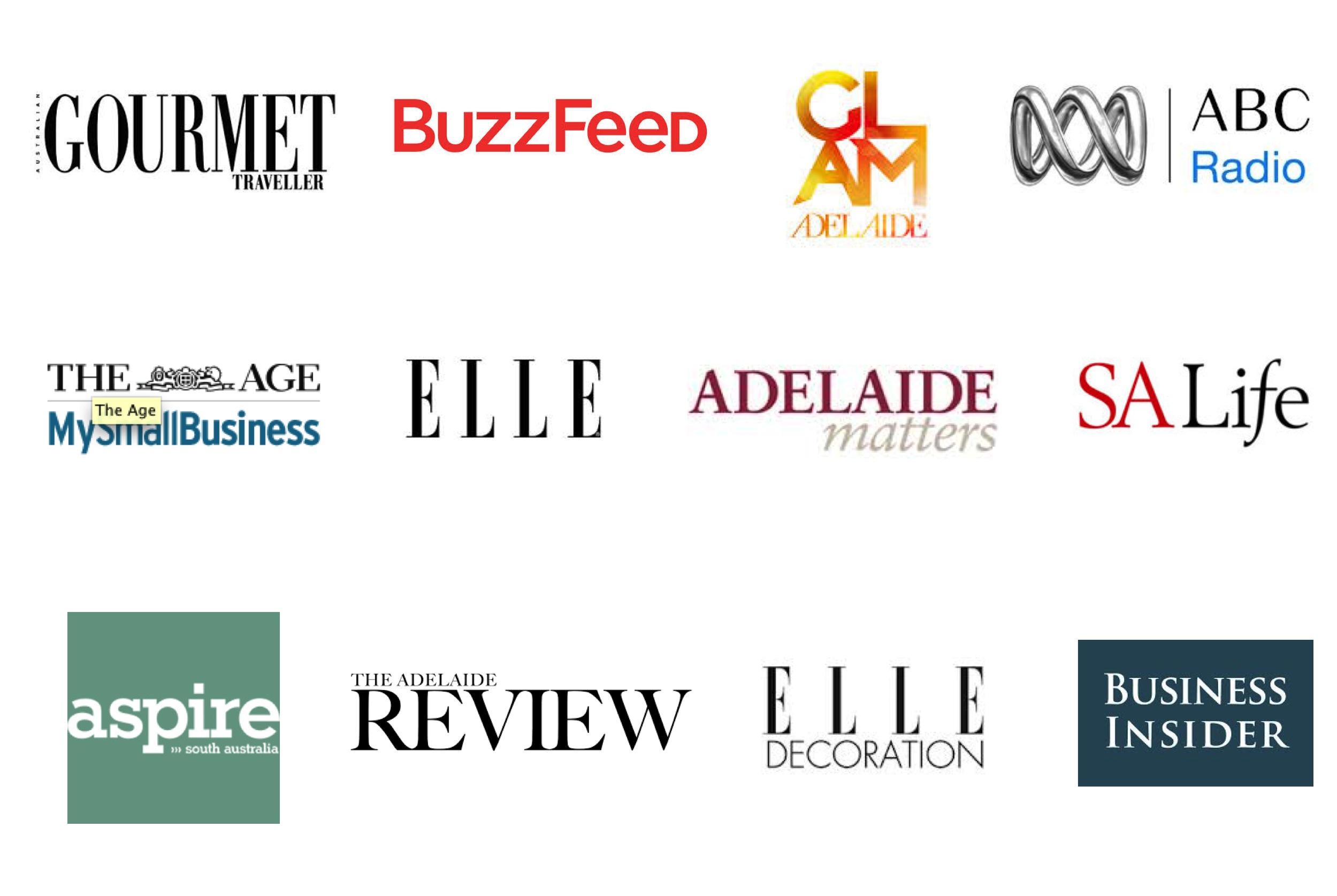 Awards
Selected Published Work
Ipad App
Three original recipes on the Australian Broadcasting Commission's Foodi app for Ipad alongside recipes by Maggie Beer, Simon Bryant, Matt Moran, Bill Granger and Poh Ling Yeow. Download the FREE app.
Media Coverage
Buzzfeed: Spiked Blood Orange Tea. July 2016
She Knows Australia: 10 Australian food blogs you should be following. February 2016
First Site Guide: Best Food Blogs. February 2016
Adelaide Matters: interviewed for two-page article about pavlovas and festive desserts. December 2015.
Brand SA: Award winning writer reveals favourite Winter ingredient. August 2015.
Yahoo: 12 Brilliantly Vintage Tea Party Ideas. June 2015
Margin Media: Top 10 Australian Food Blogs. June 2015.
The Feedfeed: Best Dumplings featured November 2015
Inside South Australia: Award winning food writer Christina Soong reveals her favourite winter ingredient. 7 August, 2015
The Feedfeed: Best Fall and Winter Cocktails. June 2015.
The Urban List: 6 Food Bloggers Whose Lives We Want To Steal. 29 April, 2015.
Woman's Day: profiled as an Instagrammer to follow in December, 2014.
The Advertiser/The Messenger: photographed at the opening of Africola, November, 2014
The Age: interviewed for Top five tasty apps for finding food in November 2014.
Channel 7's SA Life: interviewed for Adelaide Food Bloggers in October 2014
Elle France: Layered pavlova featured in September 2014
Buzzfeed: Sweet Potato and Sweetcorn Soup featured in September 2014
Aspire Magazine: interviewed in Hungry for Blogging in June 2014.
Elle Decor: Boozy Sorbets in June 2014
Buzzfeed: Raspberry Rose Gin and Tonic featured in May 2014
In Daily: Red Berry Soup featured in May, 2014
In Daily:  interviewed in Hungry Australian Best of the Blogs in May 2014.
Successful Blogging: interviewed in How Blogging Turned a Foodie into a Food Professional.
Business Insider: mentioned in Eating their Words feature in April, 2014.
SA Life Magazine: mentioned in Eating their Words feature in April, 2014.
Gourmet Traveller: mentioned in Hot Plates column for Eating Their Words on March, 2014.
Food and Home Entertaining South Africa: featured in Five Fabulous Foodie Femmes to Inspire You in January 2014.
You Gotta Try… Barossa Valley short film: interviewed by Urtext Films as part of SA Tourism's Through Local Eyes project in January 2014.
The Huffington Post: two original recipes featured on a Stir Fry feature on January 6, 2013.
Campaign Brief: featured in Bacardi Lion Appoints Edge in December 2013.
My Future: interviewed about my career and blogging in November 2013.
Apartment Therapy's The Kitchn: Eton Mess Down Under featured in Delicious Links in November 2013
Apartment Therapy's The Kitchn: featured in Delicious Links in October 2013
Women Love Tech: interviewed on August 4, 2013.
She Knows: featured in Winter Treats to Tickle Your Tastebuds on June 25th, 2013.
Pedestrian TV: featured in The Essential Guide to Essential Internet Time Wasters on March 7, 2013.
Apartment Therapy: 6 year old birthday party profiled in Best Kids Parties on April 11, 2013.
Kidspot.com.au: featured in 10 Dinners Under 10 Minutes in March 2013.
Radio National: interviewed on First Bite program in February 2013.
She Knows: interviewed in Money Saving Marital Meals in December 2012.
She Knows: Fig, Proscuitto and Pear Salad included in Who Said Salad Had To be Boring? in December 2012.
In Daily: interviewed in What's for Christmas Dinner on December 11 2012.
Adelaide Matters: featured in Food Diaries in November 2012
In Daily: interviewed in Bloggers Converge on SA on October 30 2012
InDaily: Prawn Sambal recipe featured in Food and Wine on October 23 2012.
ABC Radio: interviewed about almonds and featured on the ABC Radio website on October 10 2012.
Radio National: Food Blogger of the Week: "if one of your New Year's solutions is to sharpen up your food writing skills by blogging but you don't know where to begin, these tips from The Hungry Australian, who has been there, done that herself, may be just the resource you need."
InDaily: interviewed in Food Bloggers Stake Their Claim on August 16 2012.
Glam Adelaide: quoted in Adelaide set for food blogger frenzy on August 6 2012.
Just B: Red Lentil Dahl featured on 10 Recipes Under 10 Minutes! on July 16 2012.
Gourmet Live: Fig, Prosciutto and Pear Salad featured as Image of the Week in July 2012.
The Cultureist: featured in Our Favourite Food and Philanthropy Boards on Pinterest in February 2012.
Apartment Therapy's The Kitchn: Fig Prosciutto and Pear Salad featured on Delicious Links on February 25, 2012
Foodista: Featured Food Blog of the Day on February 18th, 2012
The Hoopla: Mini Vietnamese Pork Rolls featured on Happy Hour on January 13, 2012.
3RRR's Eat It (Melbourne): interviewed about the Great Australian Pavlova Blog Hop. Listen to the podcast.
Sumptuous: featured Foodie Online in December 2011/January 2012 issue. "The Hungry Australian – Christina started her blog about 6 months ago and already her informative and friendly coverage of all-things foodie have earned her a dedicated following. You'll find everything from her experiments in the kitchen to interviews with chefs and restaurant reviews. hungryaustralian.com."
Yummly: Featured Food Blog and Certified Yummly in October, 2011.
Foodista: Featured Food Blog of the Day on October 5, 2011.
Influencing: interviewed about The Hungry Australian and blogs working with PR companies on December 13, 2011.
Apartment Therapy's The Kitchn: Mini Vietnamese Pork Rolls and Watermelon Daiquiri featured on Delicious Links on December 6, 2011.
The Whoot: Fiery Vietnamese Salad featured in December 2011.
Yummly: Strawberry Sorbet featured on Extraordin-berry Desserts for National Strawberry Day on February 27, 2011.