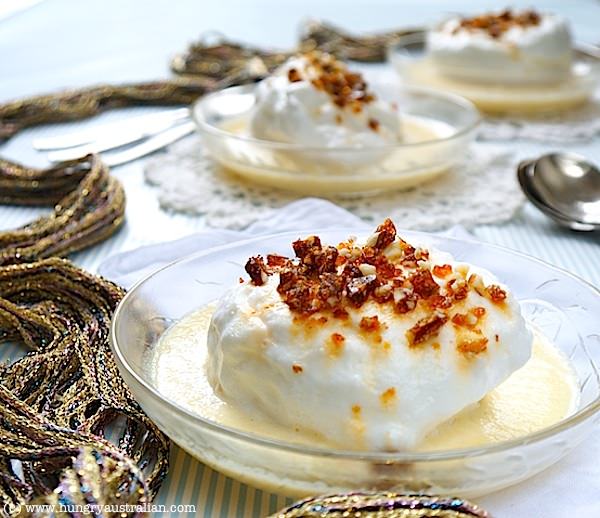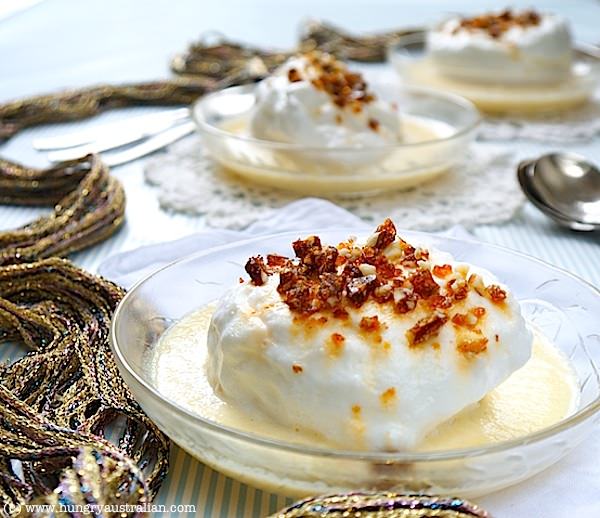 Sometimes one bite is all it takes for you to fall in love.
I should know. I fell head over heels the first time I tasted Floating Islands or île flottante.
I first experienced the delectable French dessert while holidaying in Paris with my dad in the early 2000s. I was working in London at the time and my dad had come to visit me. We spent 10 days travelling around the UK before taking the Eurostar to Paris.
It was my second visit to the eternal city and my dad's first so we did all the usual tourist activities: we visited the Musée du Louvre, La Tour Eiffel, Cathédrale Notre Dame de Paris, the Arc de Triomphe, the Place Vendôme and Fauchon. We shopped and we strolled happily around the streets, loving being in such a picturesque city.
But mostly, we ate.
We ate croissants, confit de canard (duck confit), soupe de fraises (strawberry soup), foie gras, plateau de fruits de mer (seafood platter), pommes frites (French fries), bouillabaisse (fish stew), macarons, mousse au chocolat, crème brûlée, coq au vin, boeuf bourguignon, cassoulet and Niçoise salad.
One day we were sitting in a bistro, having finished yet another wonderful dish when I spotted île flottante on the dessert menu.
Île flottante. Floating island?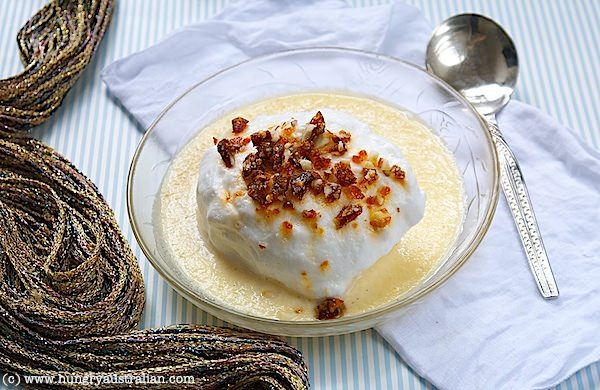 When the waiter bought the dish to the table I was immediately charmed. A large quenelle of poached meringue floated dreamily on top of a bed of vanilla custard or crème anglaise. Praline dust had been sprinkled over the top, like a pinch of magical fairy dust.
I dipped my spoon in the meringue and scooped up some custard for good measure. The contrast of textures – the lightness of the meringue, the silkiness of the custard and the crunchiness of the praline – was sublime.
After all these years, I still remember how good that very first Floating Island was. But these days, I don't have to travel so far to fall in love all over again.
Neither do you.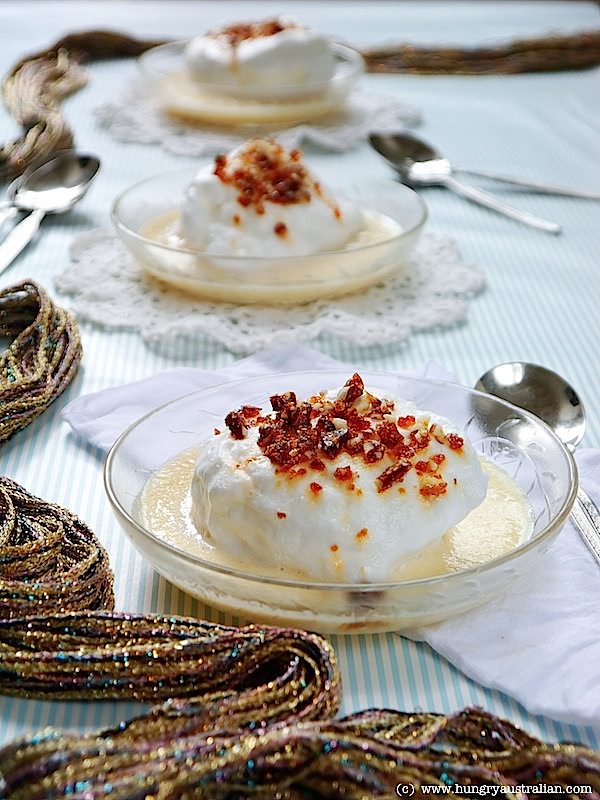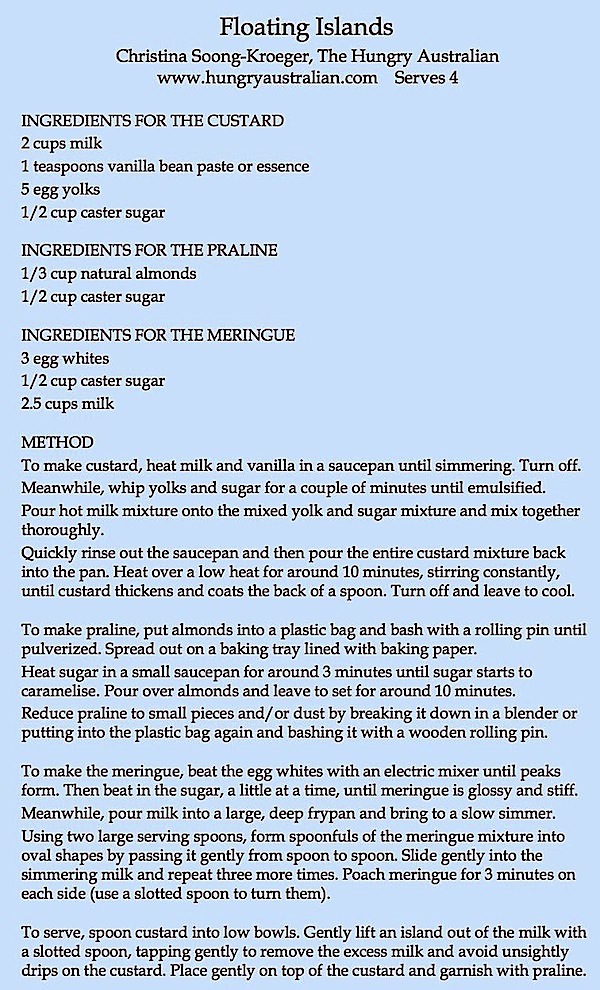 *********************************************************
This post is part of Sweet Adventures; Love at First Bite blog hop.
For new readers, Sweet Adventures is a group of Australian food bloggers – myself,  84th & 3rd, The Capers of the Kitchen Crusader, Delicieux, and Dining With a Stud – who host a monthly, dessert-themed blog hop.
Our inaugural event, The Great Australian Pavlova Blog Hop, attracted 34 entries in November 2011, our second event, the Festive Favourites Blog Hop, attracted 38 entries in December, and our last event, the Death by Chocolate Blog Hop, attracted a whopping 49 choco-licious entries last month. Click on the above links to drool over all the entries.
If you're a foodblogger and you have a seductive dessert recipe we'd love you to join in the fun. Check out the official Love at First Bite post by the lovely Nic at Dining with a Stud for details on how to enter the hop. Then scroll down to the bottom of this post to drool over all the other entries.