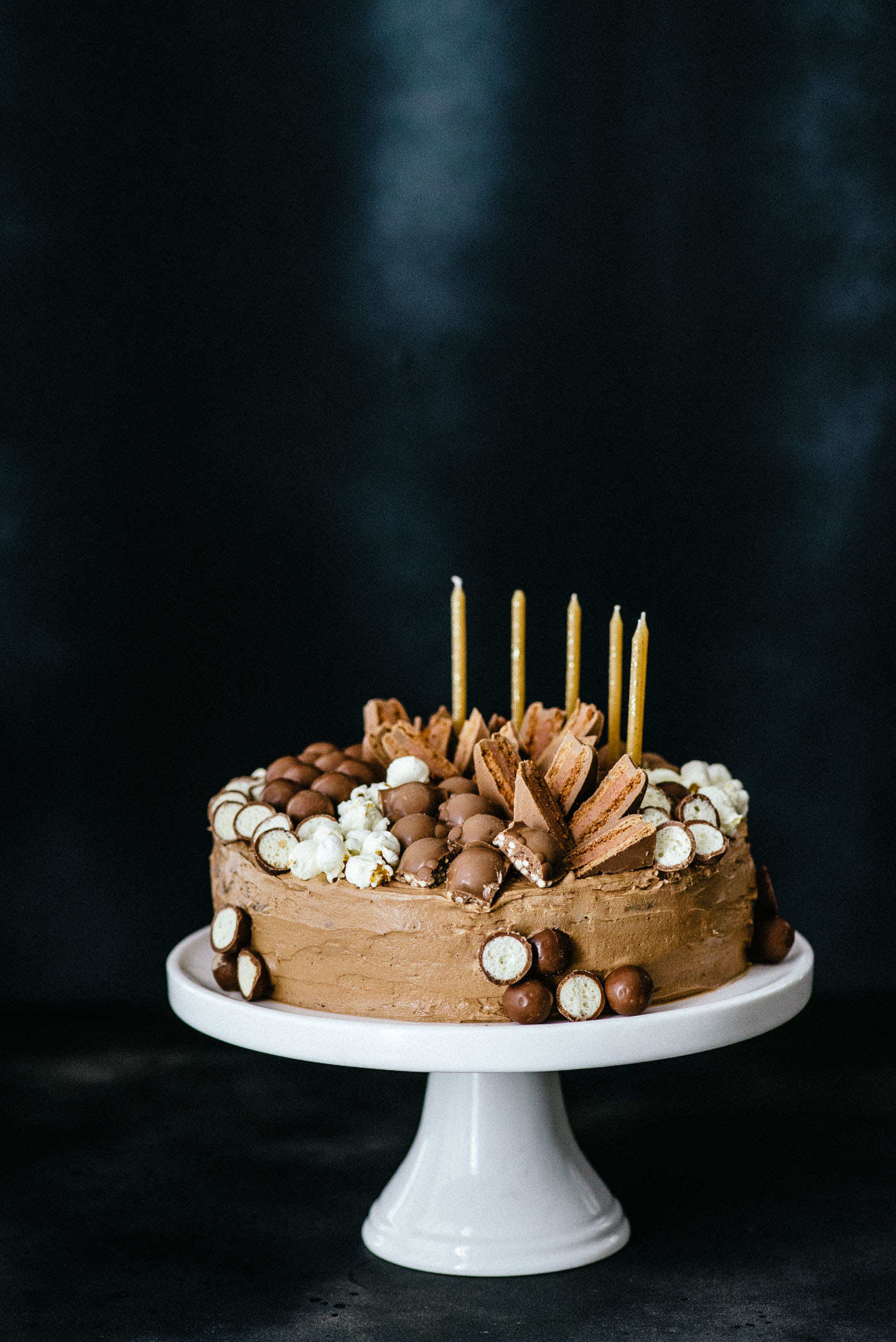 My baby recently turned six so to celebrate we had some family and friends over for a relaxed lunch.
Deciding what kind of birthday cake to make J was easy as he is mad about chocolate. So I came up with a chocolate fantasy comprising chocolate and raspberry cake, chocolate Swiss meringue buttercream, Tim Tams, Maltesers, Toblerone and salted popcorn.
Yes, it was completely indulgent but I figure that it's OK to ignore our usual healthy diet and let him have the chocolate cake of his dreams once a year.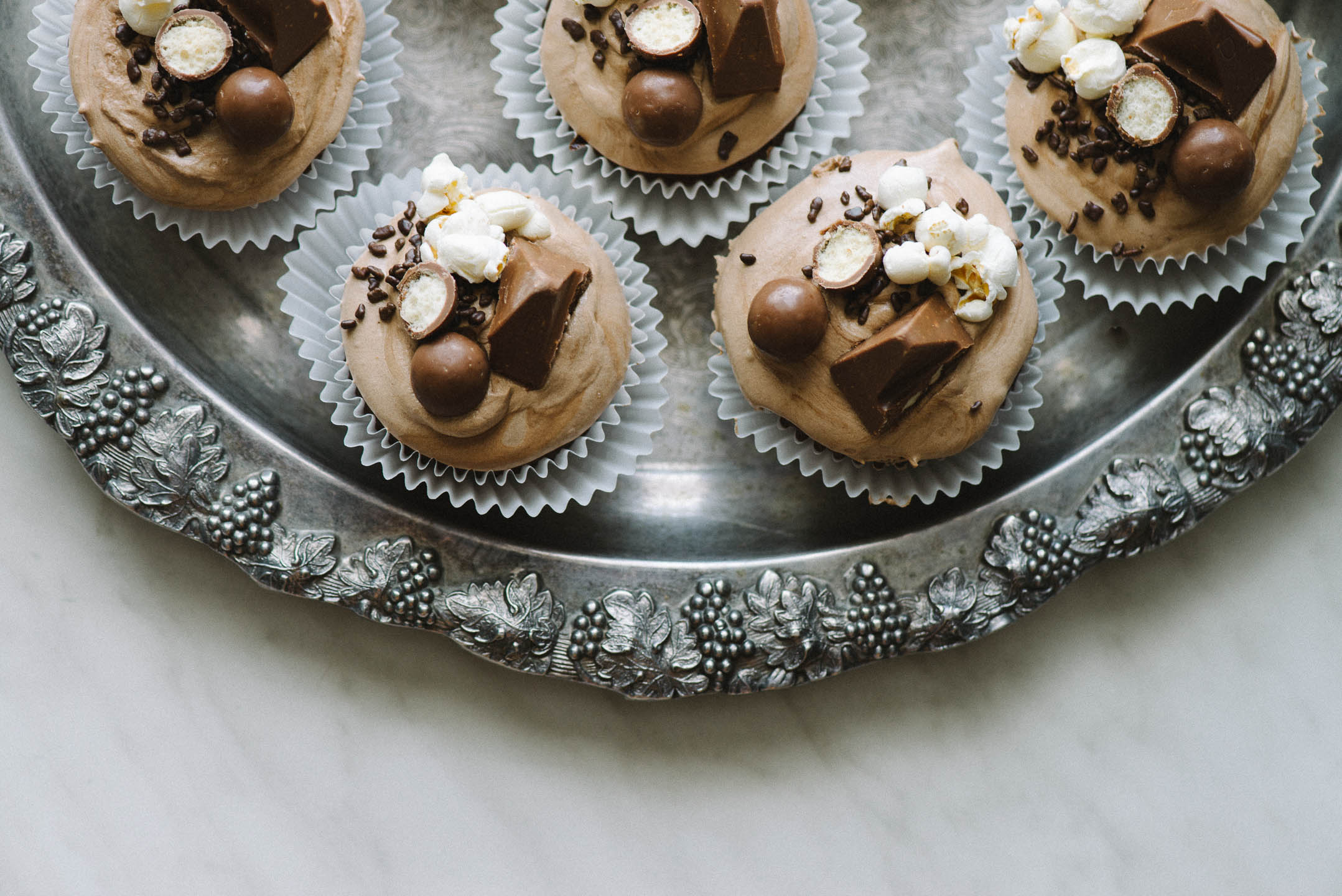 Now while I love the tall and proud look of multi-layered cakes, they're often challenging to cut and you end up with very thin, tall pieces of cake if you're trying to serve a lot of people from one cake. So rather than do a four layer cake, I decided to bake one two-layered, 20cm cake and 12 cupcakes using a muffin tin. This gave me 24 portions of cake that were simple to serve.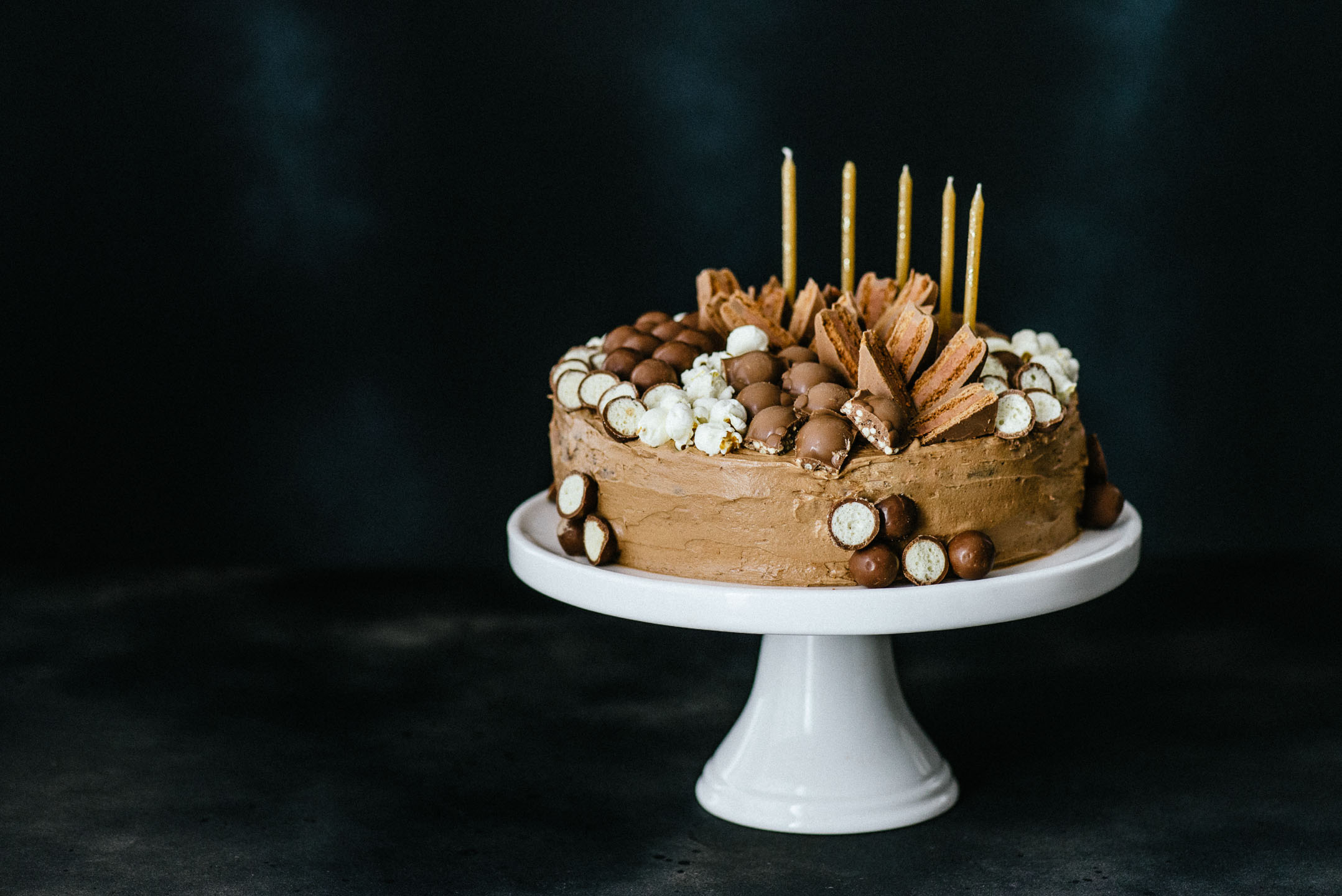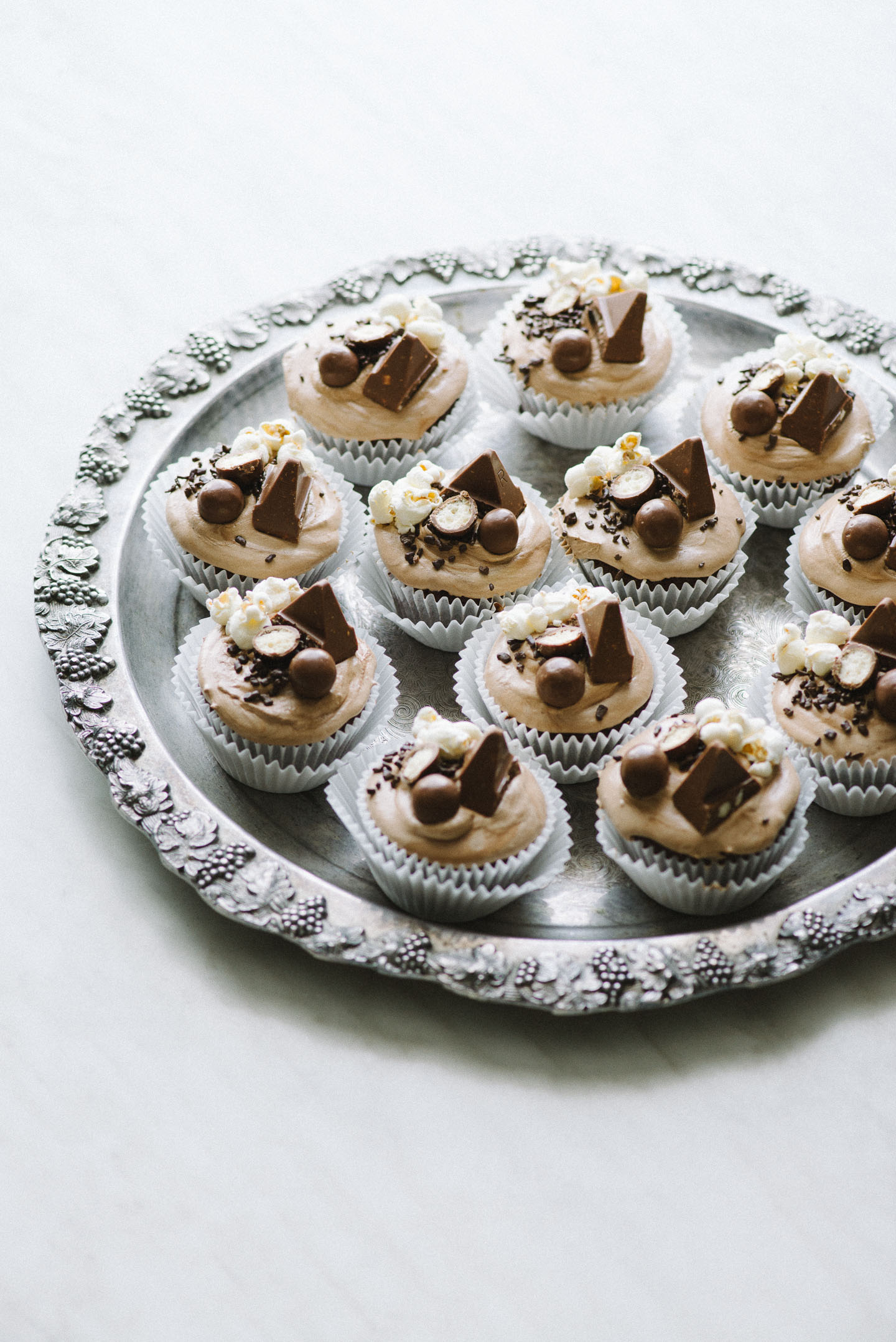 The look on my son's face when he saw the cakes was priceless. Momentarily, my chatty 6YO was speechless.
"Oh, wow. That's amazing. I love it!" he finally exclaimed.
What's your fantasy birthday cake?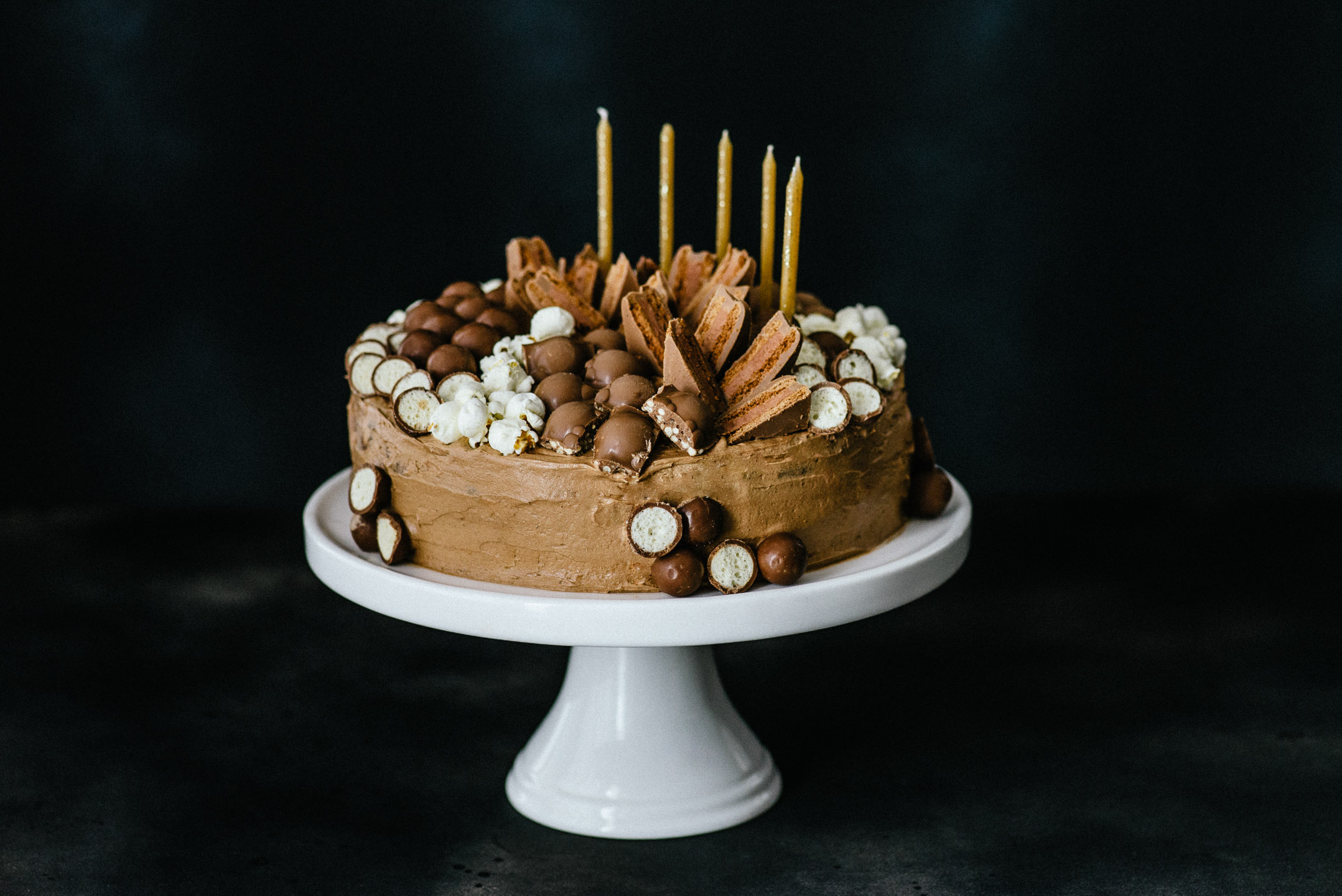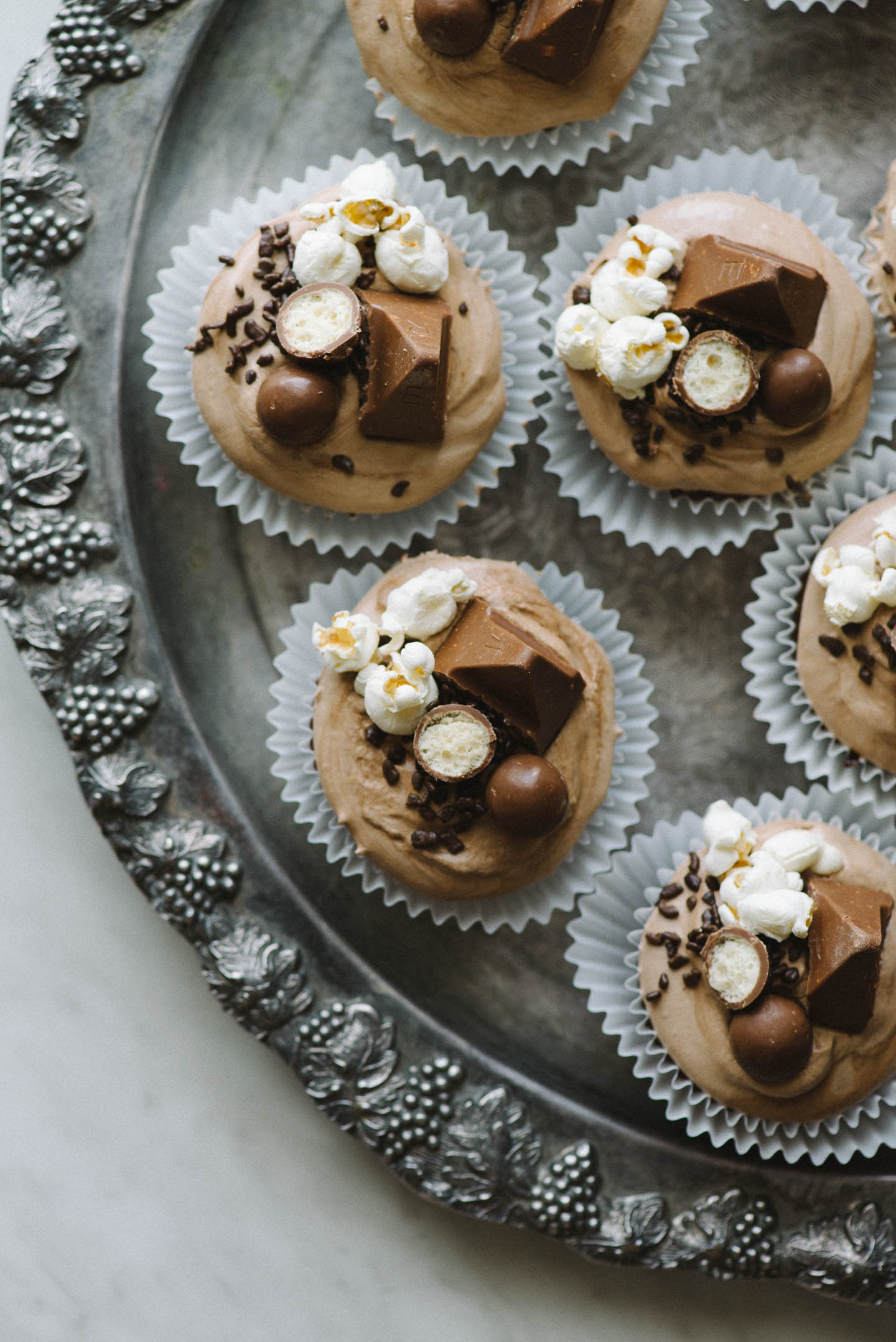 Chocolate Fantasy Cake and Cupcakes
This cake is an adaption of my Chocolate and Raspberry Cupcakes combined with an adaption of Sweetopolita's Swiss meringue buttercream and my own decoration.
If you've never made Swiss meringue buttercream before do check out Sweetapolita's helpful Swiss meringue buttercream post for tips and suggestions. Yes, it's a little more time consuming than regular icing but it's totally worth because Swiss meringue buttercream tastes so much better. Seriously. I would never suggest you make something that took this long unless it was insanely good.
In terms of equipment you do need a meat thermometer or similar and ideally, a stand mixer with both whisk and paddle attachments. You can use a hand mixer with a regular whisk attachment but I've found best results using both attachments and a stand mixer.
Chocolate Fantasy Cake and Cupcakes
Author:
Christina Soong | The Hungry Australian
Prep time:
Cook time:
Total time: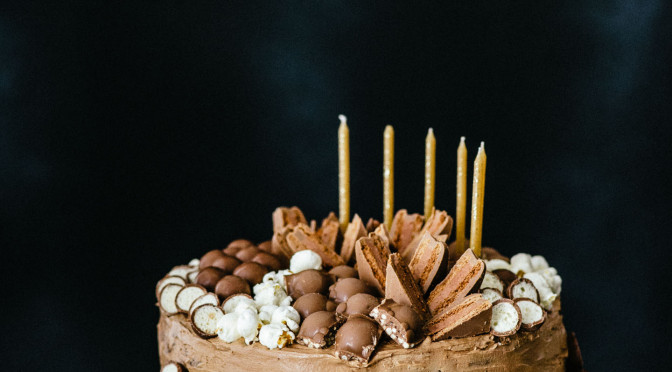 A chocolate lover's fantasy cake + 12 cupcakes
Ingredients
Cake
250 grams unsalted butter
200 grams dark chocolate (70% cocoa minimum), broken into pieces
600 grams raspberry conserve or jam (I go for the brand with the most fruit and least amount of sugar)
4 large eggs at room temperature, beaten
40 grams sugar
Pinch salt
300 grams self-raising flour
Swiss Meringue Buttercream
Vinegar or lemon juice
Water
5 large egg whites
250 grams caster sugar
340 grams unsalted butter, cut into cubes and at room temperature
2 teaspoons (10 ml) vanilla bean extract
Pinch of salt
100 grams dark chocolate, melted
Decorations
½ packet of Tim Tams, cut into triangles
1 small bag Maltesers, some whole and some cut into half
1-2 small bars Toblerone
1 small bag salted popcorn
4 tablespoons chocolate flakes
Instructions
Cake
Preheat oven to 180 degrees Celsius
Line a 12-serve muffin tray with muffin wrappers and a 20cm round cake tin with baking spray and baking paper
Melt butter in a small saucepan and then add chocolate. Take off the heat and stir with a wooden spoon until chocolate has completely melted.
Add jam, sugar, salt and eggs and mix until combined.
Add flour and then mix until fully combined.
Divide mixture into two. Spoon half of the mixture evenly into 12 muffin containers and the remaining half into the cake tin.
Bake muffins for 22-25 minutes until cooked (insert a skewer to check - it should come out dry) and then remove muffin tray and continue cooking cake for another 20-25 minutes until cooked (use skewer again to check).
Leave in tin for ten minutes and then remove to a wire rack to cool completely.
Swiss Meringue Buttercream
Use vinegar or lemon juice on kitchen paper to clean your mixing bowl to ensure that it is completely grease-free.
Put a few cups of water into a small saucepan and heat up to a gentle simmer on the stove.
Add egg whites and sugar to mixing bowl, and then place bowl over the saucepan so the bowl is sitting in the water.
Insert meat thermometer into mixture and hold it with one hand. With the other, whisk the meringue mixture gently until the temperature reaches 60 degrees Celsius. If you don't have a candy thermometer, whisk until the sugar has completely dissolved and the egg whites are hot.
Remove mixing bowl from pot and, with the whisk attachment of mixer, whip the mixture until the meringue is thick and glossy, and the bottom of the bowl feels at room temperature to the touch (this will take around 10 minutes).
Once the bottom of the bowl feels neutral and not warm, switch the mixer attachment from the whisk attachment to the paddle attachment, turn onto the lowest setting and begin adding butter butter cubes, one at a time, until fully combine.
Continue to mix on the lowest setting until it has reached a silky smooth texture.
Add vanilla, salt and melted chocolate, continuing to beat on low speed until well combined.
Divide the buttercream into two unequal portions -- one third for the cupcakes and two thirds for the cake -- in preparation for icing.
Decorating cake
Once cake is cold, cut it into half so you have two even cakes.
Put one cake on a plate or revolving cake stand and ice the middle using an offset spatula, or, if you prefer, an icing bag.
Sandwich the remaining cake on top and ice the top and sides. Use a scraper and the offset spatula to get the top and sides as even as possible.
Decorate with Tim Tams, Toblerone, Maltesers, popcorn and chocolate flakes as desired.
Decorating cupcakes
Use a spoon and offset spatula or icing bag to ice the cupcakes.
Decorate with Tim Tams, Toblerone, Maltesers, popcorn and chocolate flakes as desired.