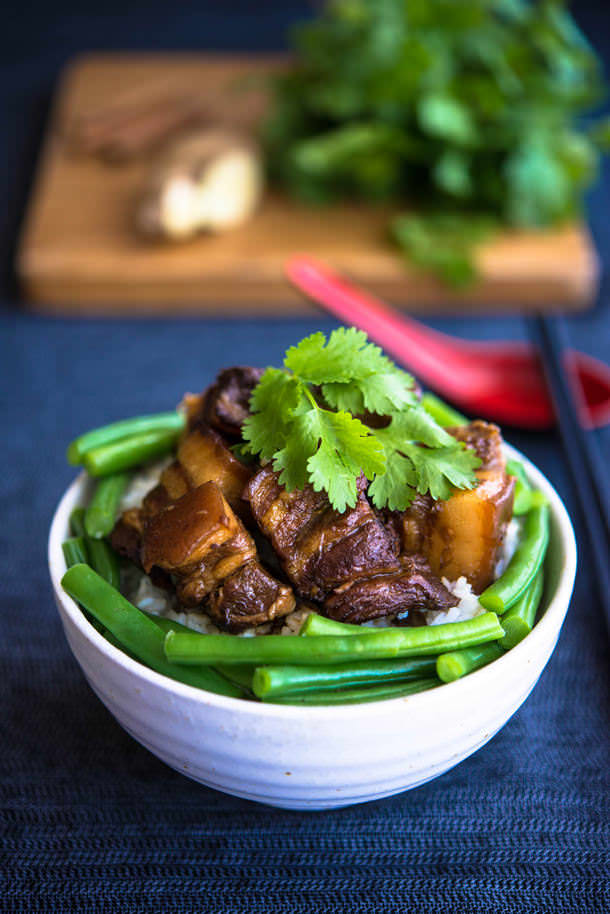 When my mother arrived in Australia in the 60s as a high school student from Hong Kong she didn't know how to boil water.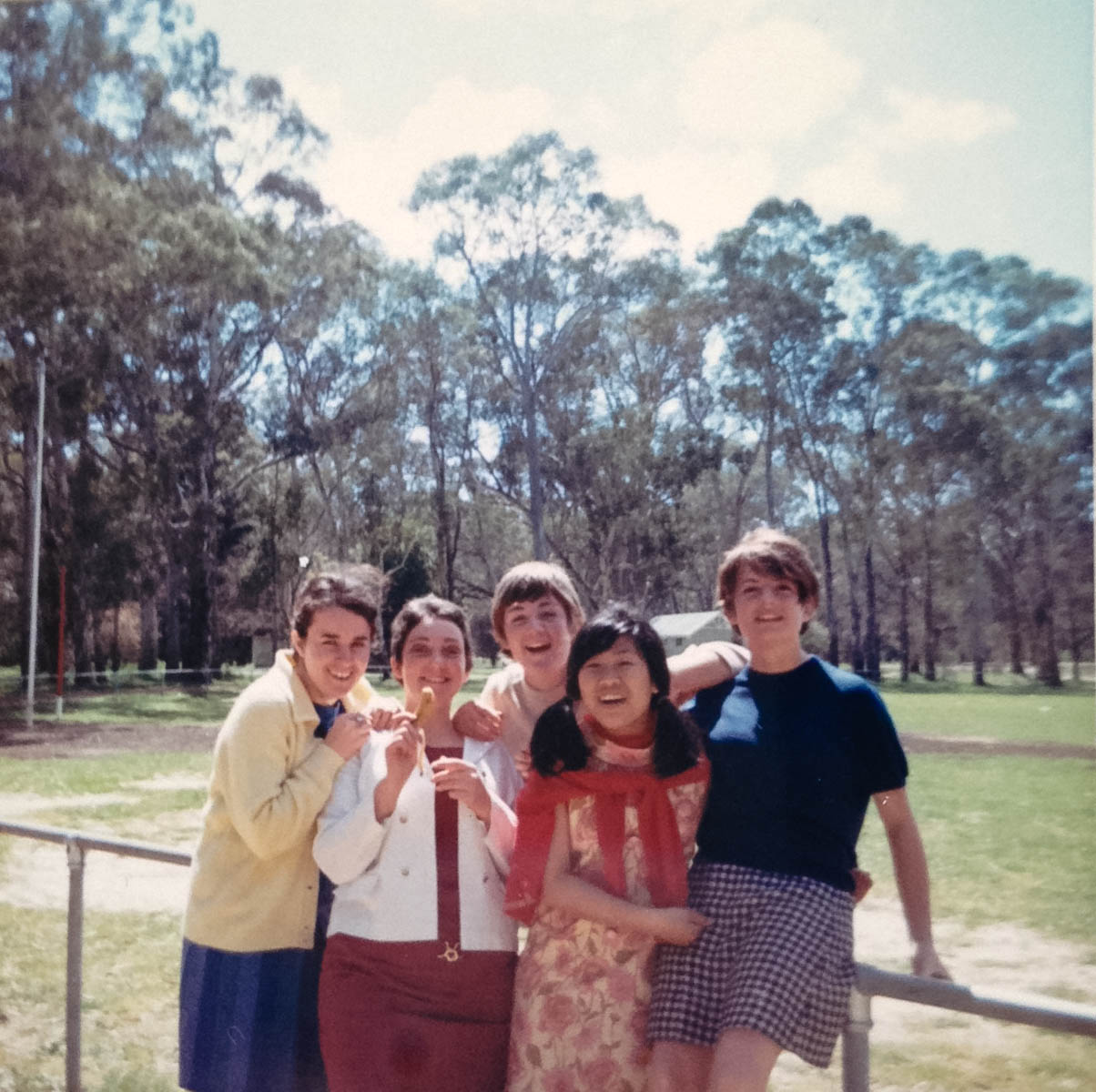 It was her German/Australian landlady, Mrs Andersen (pictured below with her husband), who taught her how to cook.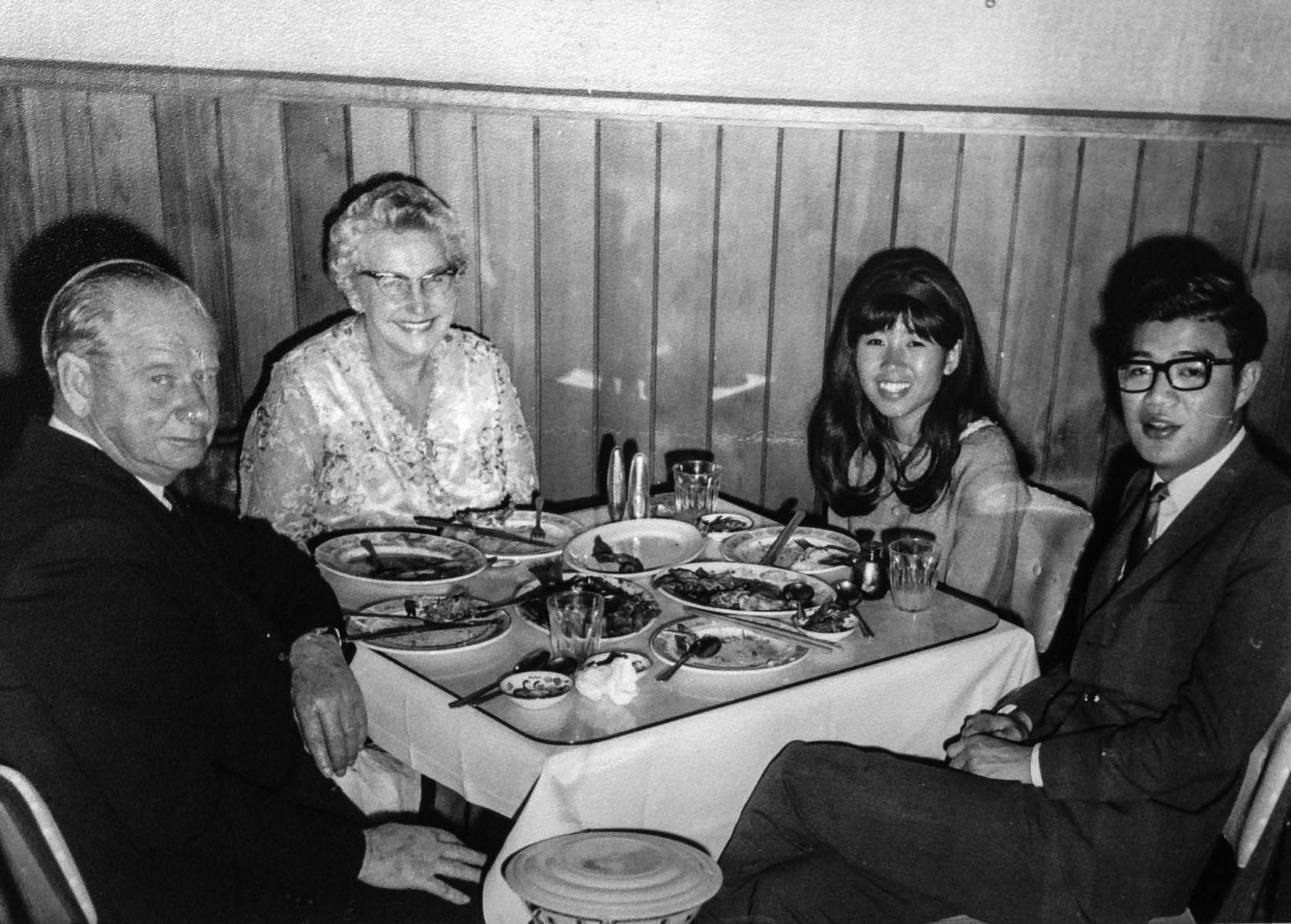 One of our favourite family recipes — Stir-Fried Pork and Beans — is actually a variation of a recipe Mrs Andersen taught my mother. Apparently Mrs Andersen learned about Chinese cooking techniques and recipes from cookbooks. It's funny to think that my mother was taught how to cook Chinese food by a German/Australian but that's how it was.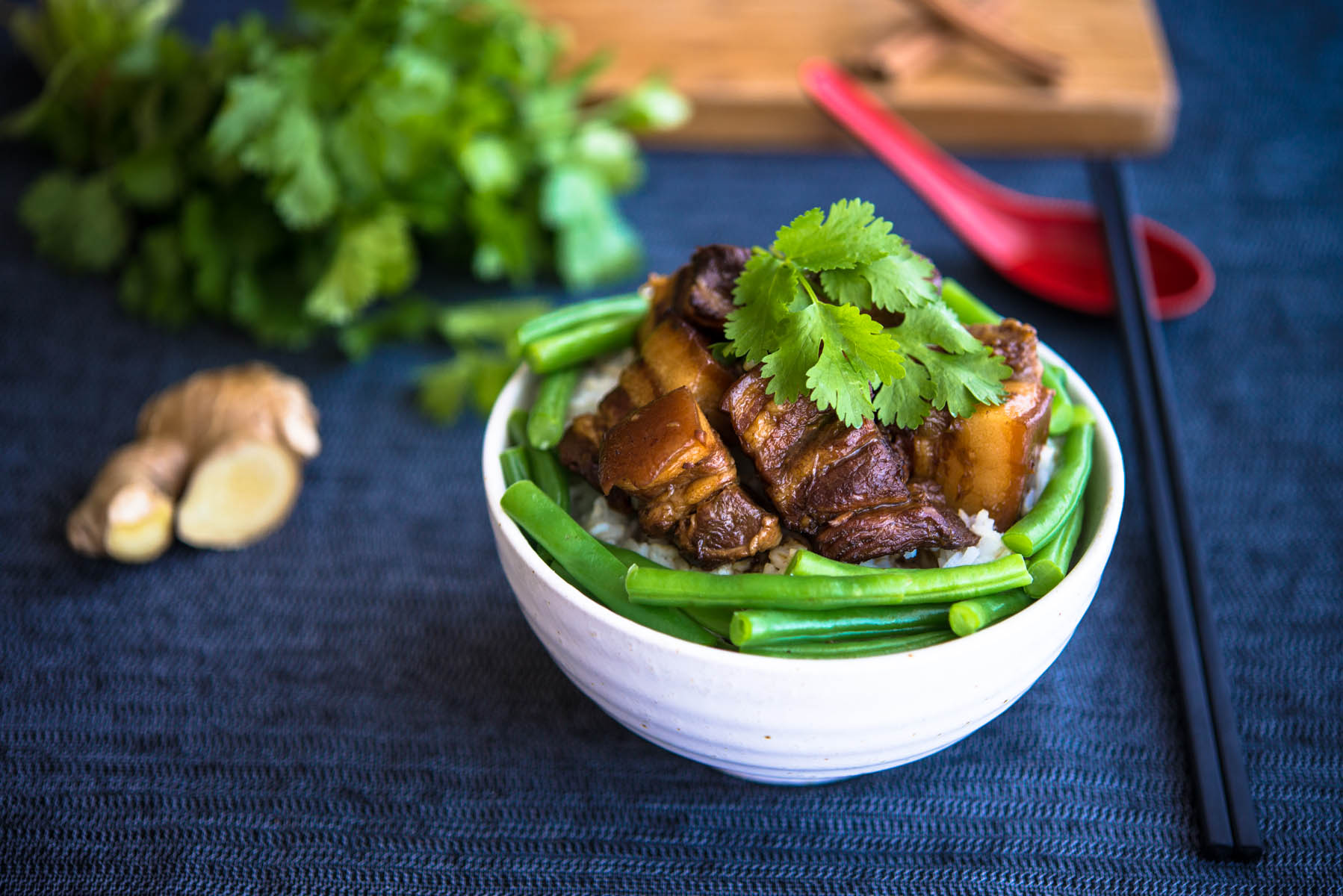 This Braised Pork and Beans recipe, that I developed recently for Bertolli Olive Oil, is a variation on my mother's recipe, which in turn was a variation of Mrs Andersen's. I've fancied it up a little, added quite a lot of ginger and used dark soy sauce instead of light soy sauce but in essence it is similar. It's rich and comforting, which makes it perfect for those cooler nights when the sun falls quickly and it's dark in the late afternoon.
Mrs Andersen died before I was born so I don't remember her unfortunately.  However, I think she'd be quietly pleased to know that she is remembered so fondly, and that her cooking is now inspiring a new generation of cooks. That's how powerful a legacy the food that we cook can leave.
INGREDIENTS
1 litre water
1 kilogram boneless pork ribs or pork belly
2 tablespoons Bertolli extra light olive oil
2.5 inch piece ginger, peeled and sliced into 0.5cm pieces
2 tablespoons Shaoxing wine
2 tablespoons dark soy sauce
1 star anise
1 stick cassia bark (substitute with a cinnamon stick)
1 cup water
400 grams trimmed green beans, cut into 2 inch pieces
Salt to taste
METHOD
Bring water to boil in a medium saucepan and then drop pork in. Cook for about six minutes and then remove from water and rinse in fresh water. Cut pork into one inch pieces
Heat up a wok until smoking and add two tablespoons Bertolli extra light olive oil. Add one tablespoon white sugar and stir until completely dissolved.
Add pork and ginger pieces and cook over medium-high flame, stirring regularly, for around 3 minutes until browning nicely.
Mix in Shaoxing wine, dark soy sauce, star anise, cassia/cinnamon, and one cup water.
You can then either: 1) Turn heat down to low, cover with a lid and cook for one hour and 45 minutes, stirring occasionally. Then mix in the beans and cook for a further 10 minutes; or 2) Place pork into a pressure cooker and cook for nine minutes. Then unlock the pressure cooker, mix in the beans and then cook pork and beans for ten minutes as a normal pot (not a pressure cooker); or 3) Place pork and beans into a slow cooker and cook for 7-8 hours.
Taste and add ½-1 teaspoon salt if required before serving.
 Note: I was commissioned by Bertolli to make this recipe but I have not been compensated to write this post. I just really like this recipe and wanted to share it here, too.