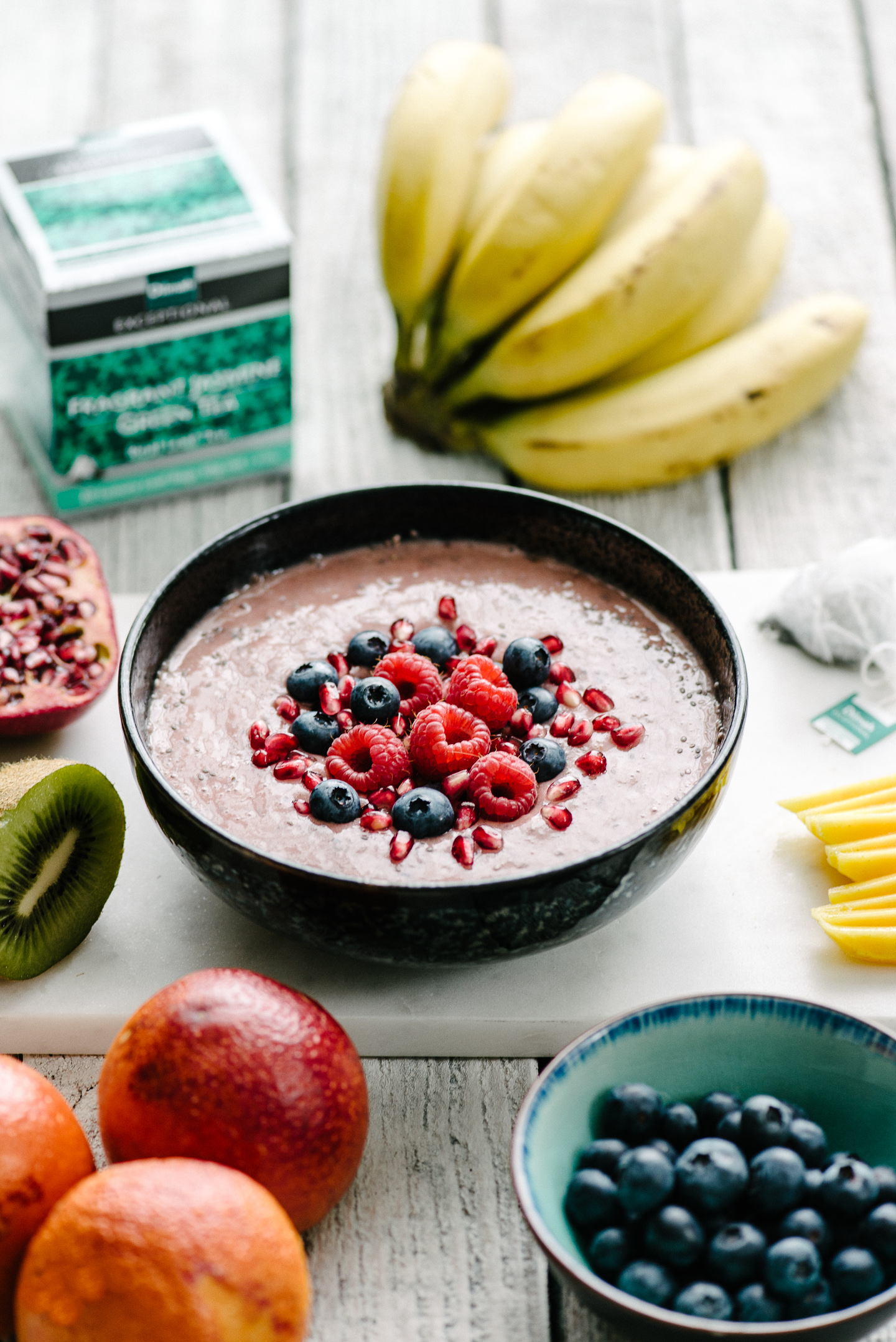 After a particularly long, cold and tedious Winter, Spring has finally arrived in Australia. Hurrah!
For me, Springtime is about enjoying the sunshine, catching up with the friends I've neglected while hibernating, and making renewed efforts to eat well and exercise regularly.
You see, during Winter I can become a carb monster, eagerly devouring all the starchy stuff I can get my hands on. Come Springtime, however,  and my body craves fresh ingredients and lighter meals.
Now I find that if I eat a healthy breakfast it's relatively easy to find the motivation to continue eating well during the day. But if I eat, say, leftover cold pizza for breakfast — *cough, cough* — I'm going to struggle.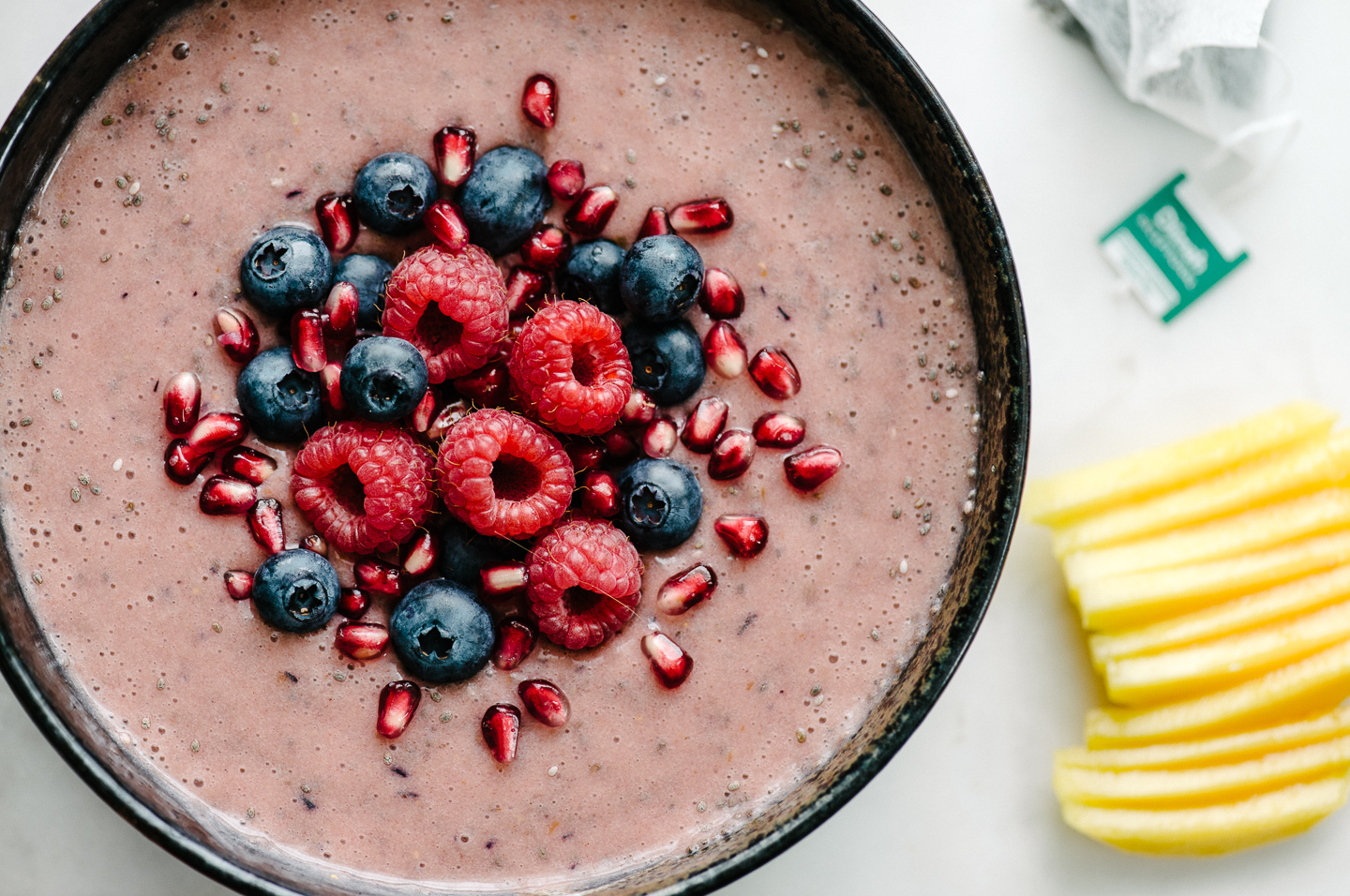 Enter this super easy Chia Smoothie Bowl (Dilmah Green Tea Remix) to start the day off well.
The great things about smoothie bowls is that they are infinitely customisable according to your tastes and dietary requirements. So you can use any combination of fruit, milk and tea you like as long as you keep to the rough quantities in terms of solids and liquids.
For this rather pretty pink smoothie I've opted for a mixture of berries, pomegranate, soy milk and Dilmah Fragrant Jasmine Green Tea.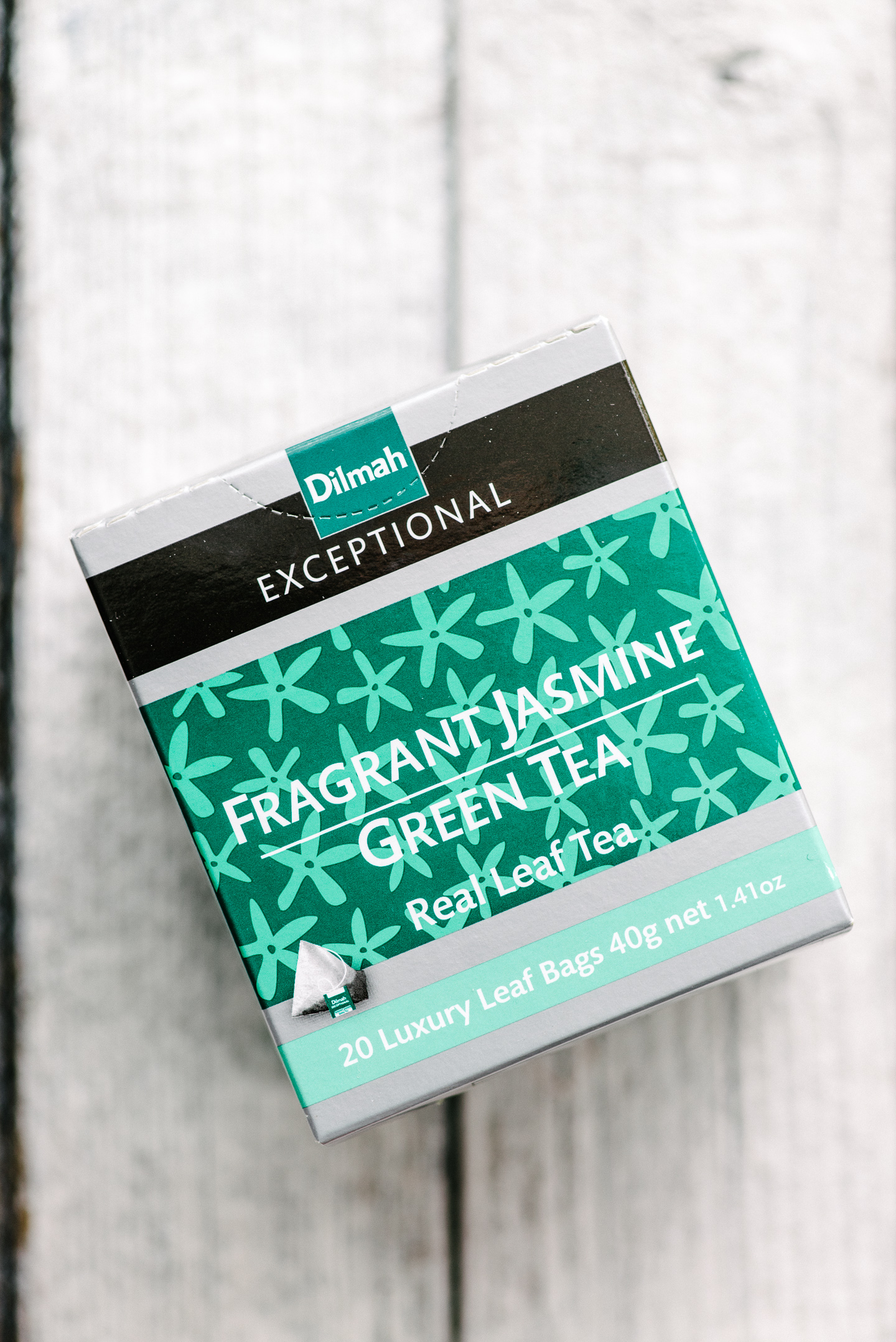 I love antioxidant-rich green tea and drink a large pot of it every day when I'm working at my desk – I find it helps me to focus, as well as helping with digestion.
If you've never made anything with chia seeds before don't be scared – all you do is mix them into some liquid, in this case, the smoothie mixture, and let them sit and swell for 10 or so minutes.
I like using chia seeds to thicken this smoothie bowl because they are rich in fibre, protein, antioxidants, and essential omega 3s. Plus, they allow me to feel less guilty about the leftover pizza eaten the day before so I'm basically winning whichever way you look at it.
Now I'm off to enjoy the sunshine. Spring picnic, anyone?
This post was sponsored by Dilmah Tea. Check out their latest tea flavours, health benefits of tea, FAQs about tea and tea events.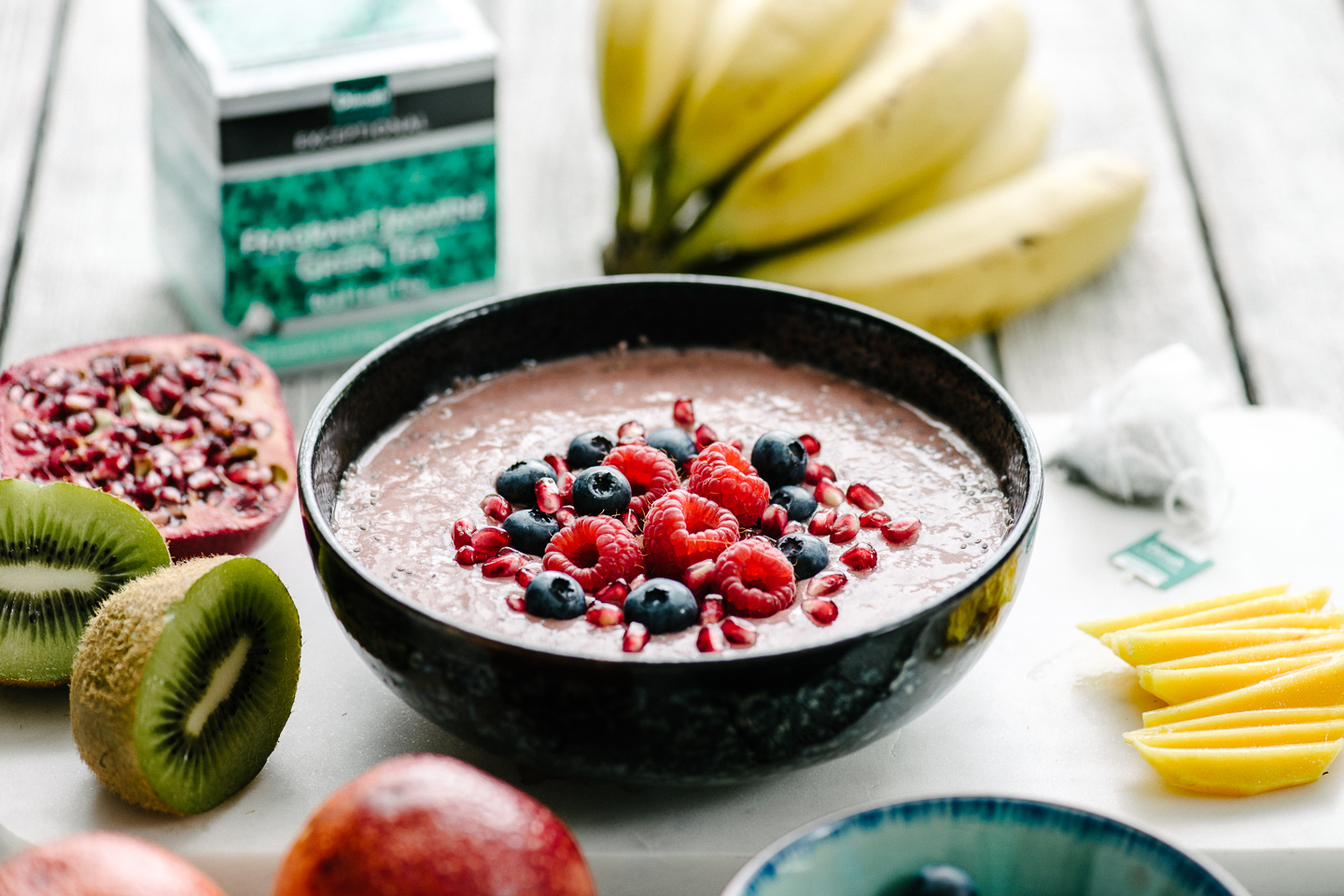 Chia Smoothie Bowl (Dilmah Green Tea remix)
Smoothie Bowl (Dilmah Green Tea remix)
Author:
Christina Soong | The Hungry Australian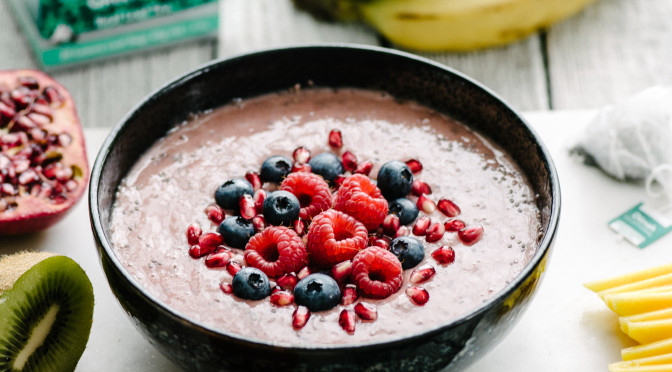 An easy and healthy breakfast smoothie bowl
Ingredients
3 bananas
½ cup (125 mls) Dilmah Fragrant Jasmine Green Tea, brewed according to packet instructions and then cooled.
½ cup (125 mls) milk. You can use soy, cow's, oats, almond or rice milk.
250 grams mixed fruit (I used washed and hulled strawberries and blueberries).
3 Medjool dates to sweeten (you can substitue 1-2 teaspoons of honey, stevia, agave syrup, maple syrup or rice malt syrup).
2.5 tablespoons chia seeds.
Fresh fruit to garnish.
Instructions
Use a bench blender or stick blender to blend bananas, tea, milk, fruit and dates.
Pour into a bowl and then stir in chia seeds.
Leave smoothie bowl to sit for 10-15 minutes until chia seeds have swollen and smoothie mixture has thickened.
Decorate with fresh fruit - I used raspberries, blueberries and pomegranate seeds You can do stripes of fruit if you feel so inclined for everyday eats I simply sprinkle some fruit on top.
Notes
Makes one large serving for an adult or 2 small servings for young children