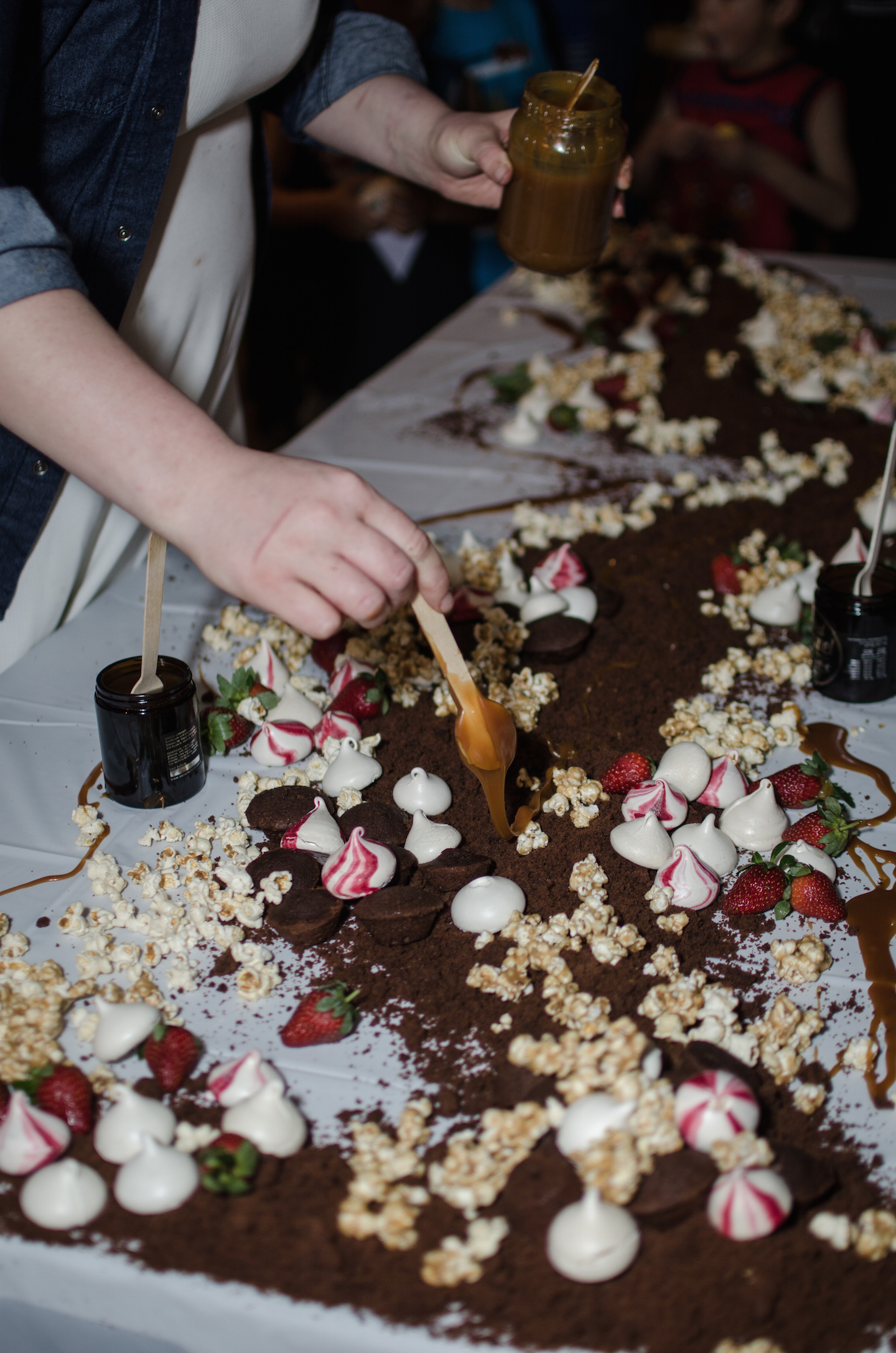 I have such happy memories of boisterous house parties when I was a child. There was always plenty of food and drink and laughter, everyone pitched in to help and we kids had the run of the house and backyard. My parents love entertaining so they regularly had friends over when I was growing up – sometimes it was a simple dinner of spag bol (spaghetti Bolognese) or stir-fry with rice, often an easy outdoor BBQ and, on special occasions, a suckling pig roasted on the spit over an open fire.
I want my children to have those same happy memories so I decided to throw a party at home to celebrate my recent birthday. For the menu, I decided on cocktails, dips and crudités, chicken satays with peanut sauce, mini banh mi (Vietnamese pork rolls), four different salads and a special dessert table.
A few months ago, my friends asked me to do the dessert table for their wedding next year so I figured that my party was a great opportunity to trial an idea I'd had. While heavily styled and immaculate dessert tables always look impressive there's often a sense that they're so perfect that people don't want to mess them up by actually eating any of the components. Inspired by a dessert table I'd seen at a Perth restaurant I wanted to make a fun and interactive dessert table that people felt completely comfortable diving face first into.
So I enlisted the help of my local foodie/blogger friend, Natasha, and we came up with a dessert table concept using chocolate cake soil, mixed meringues, two types of sweet and salty popcorn, two types of salted caramel sauce, fresh strawberries and whipped mascarpone cream placed directly onto a brand new tablecloth. This would be built in front of guests in real time during the evening.
On the night of the party, we realised that it would be fun creating the dessert table to music so I asked Maja from Hey Hooray DJs to find some appropriately fun tunes. Thus, Natasha and I built the dessert table to the accompaniment of Eye of the Tiger from Rocky III and Starships' We Built This City. It was totally cheesy and I loved every second of it!
Here's how it all went down. First, we built up a wide ribbon of chocolate cake soil baked by Tash.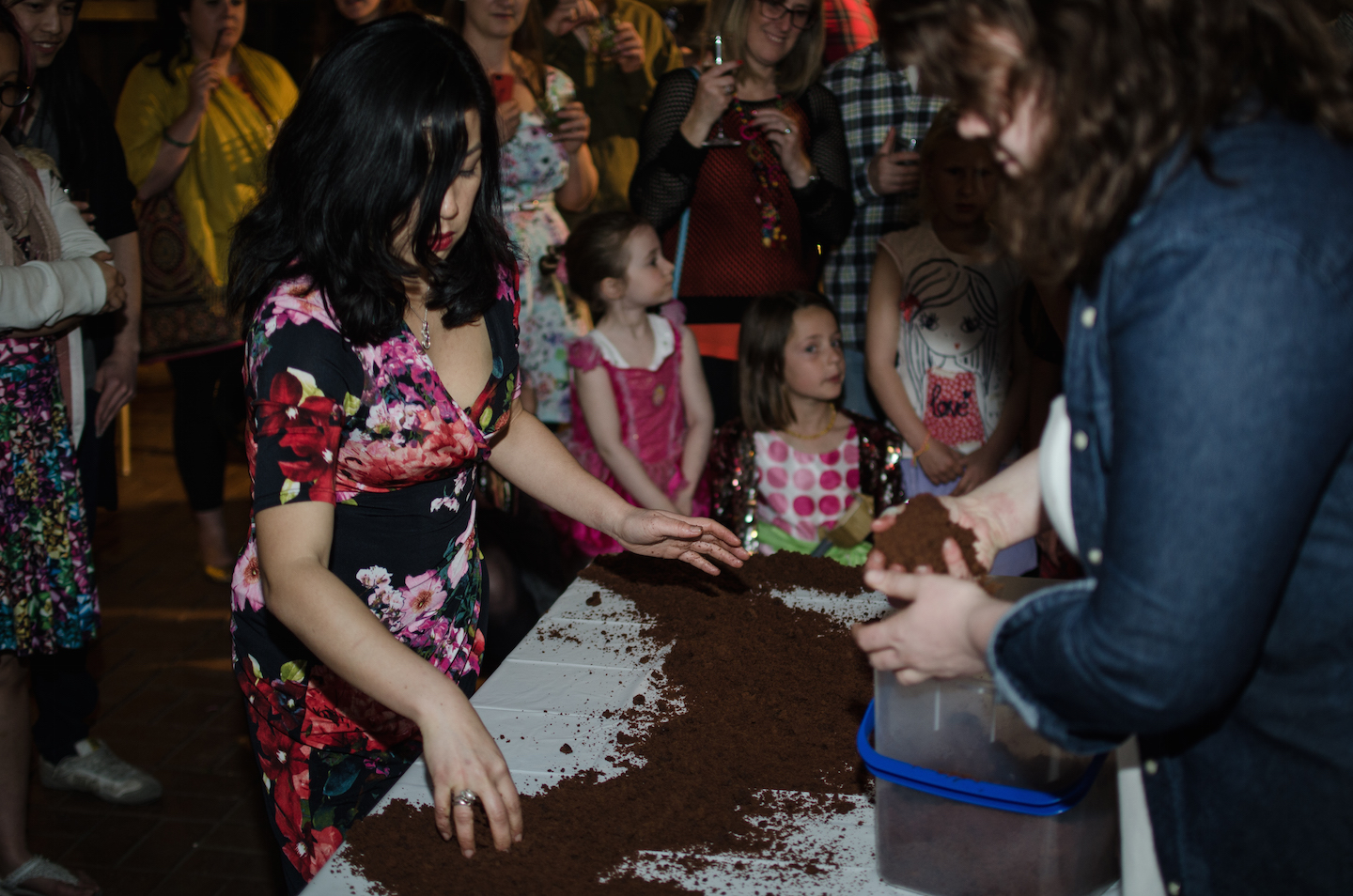 Next, we added plain and striped meringues baked by Tash.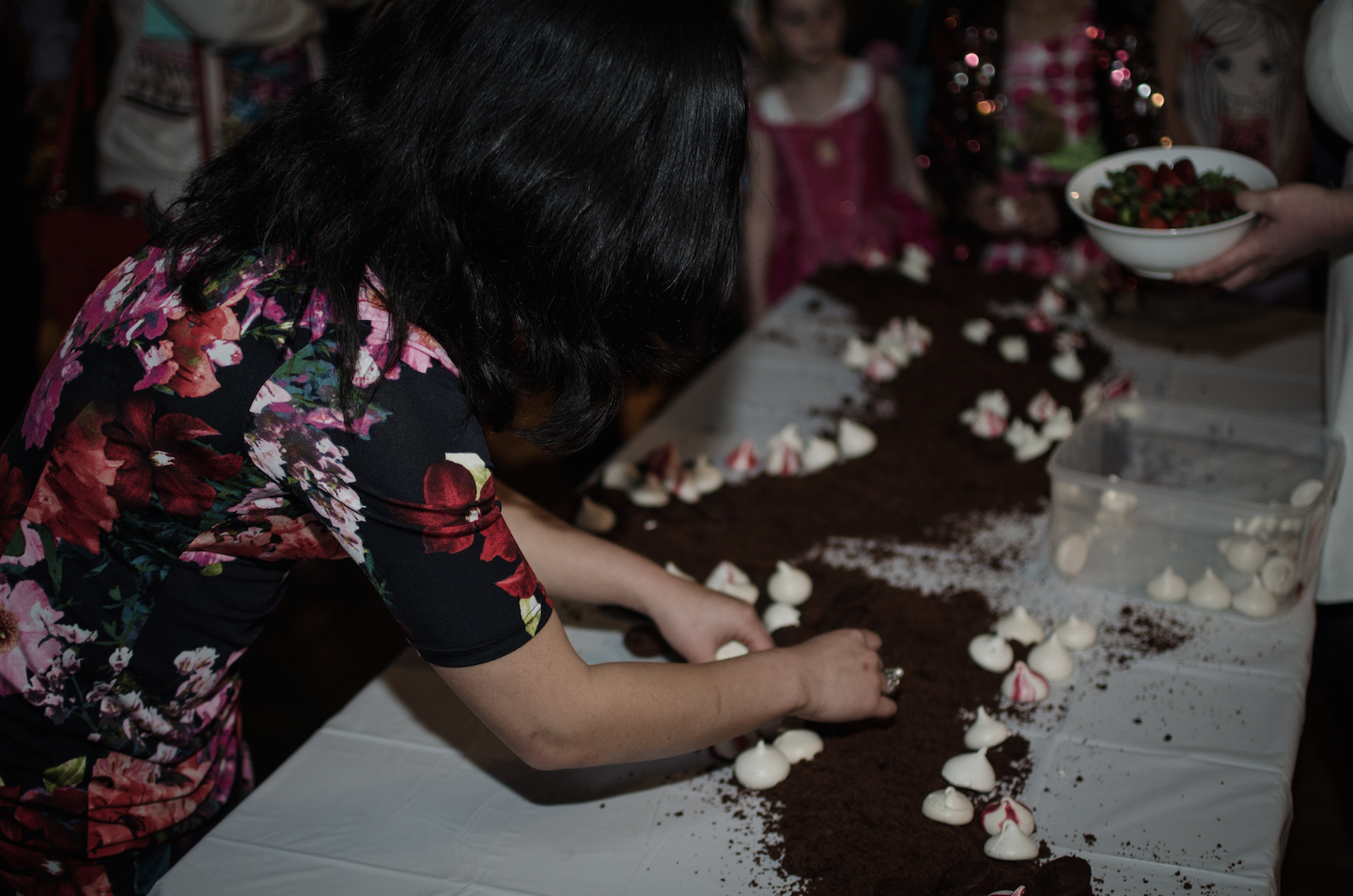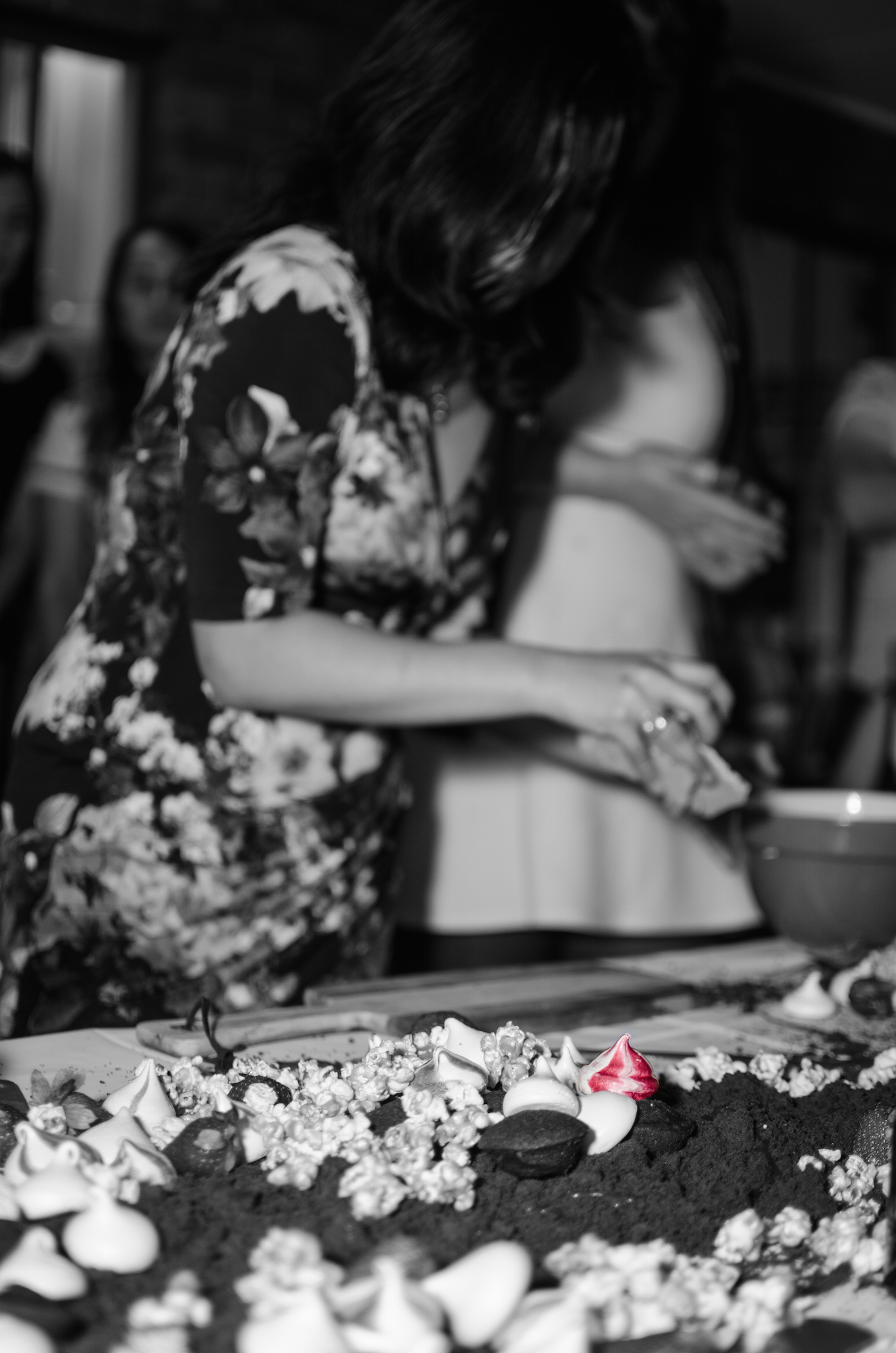 Then it was time to add the two different types of popcorn.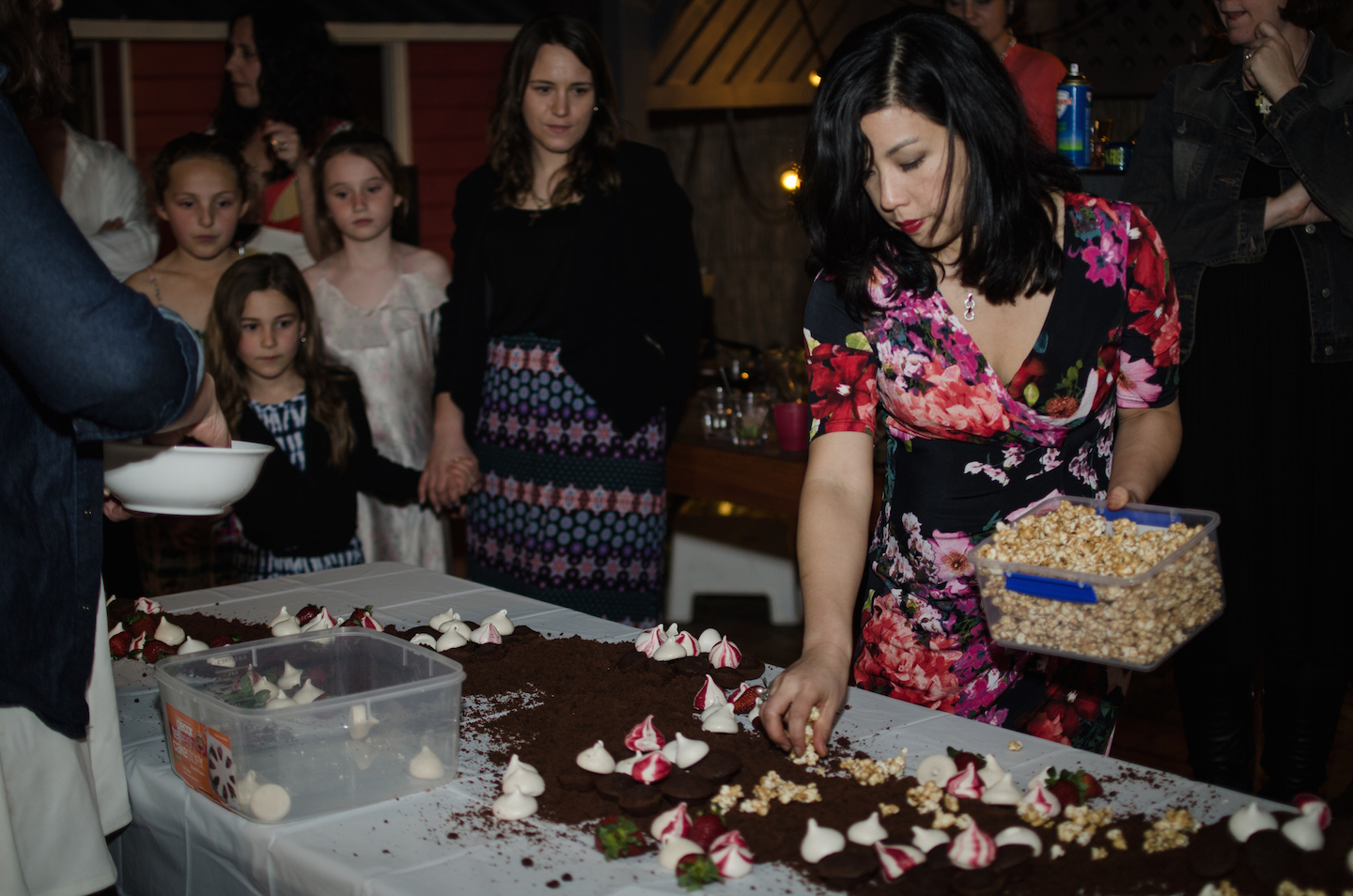 Next, we added fresh strawberries.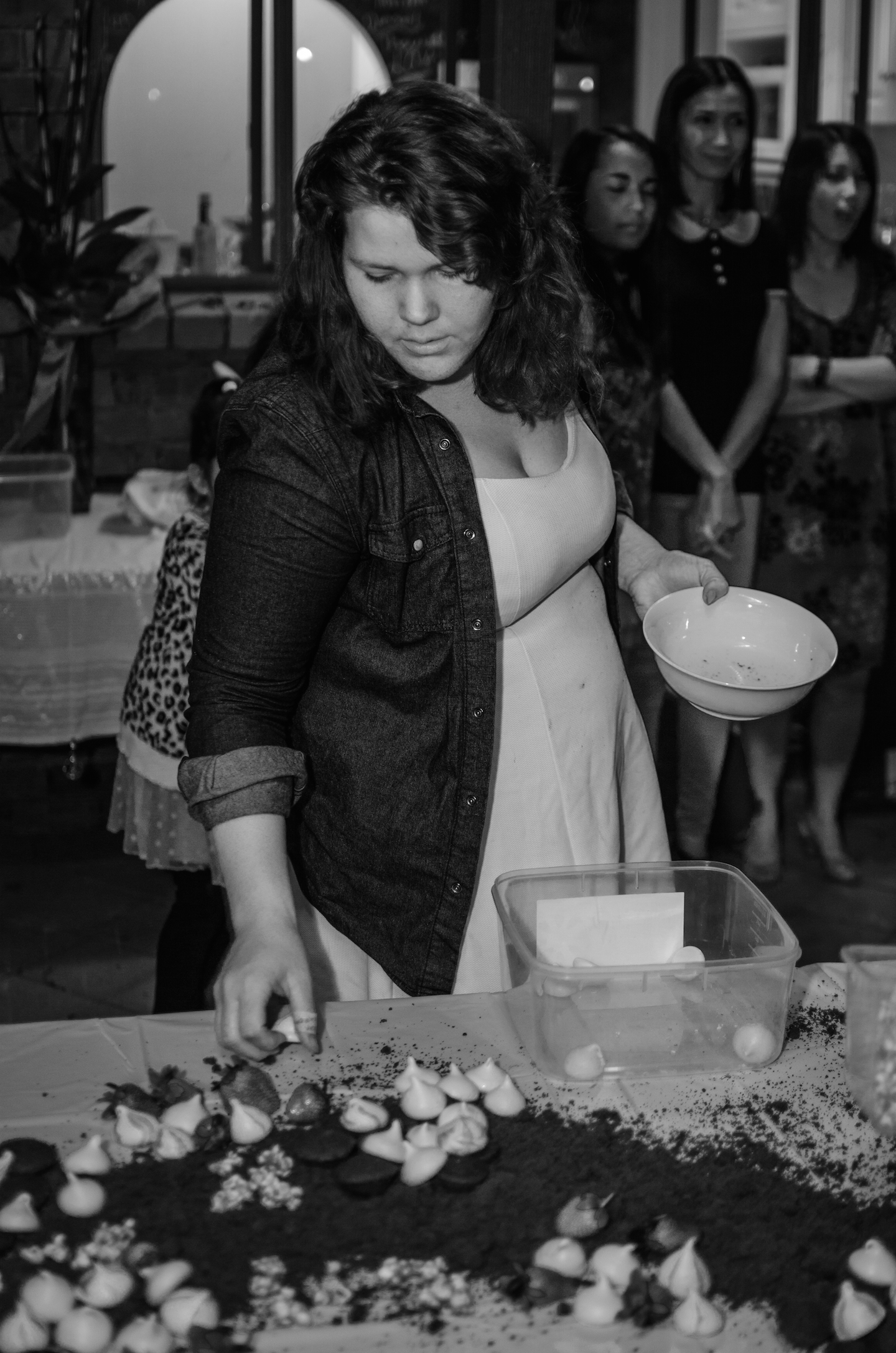 Then Tash drizzled her salted caramel sauce over the table as I arranged the bought salted caramel pots.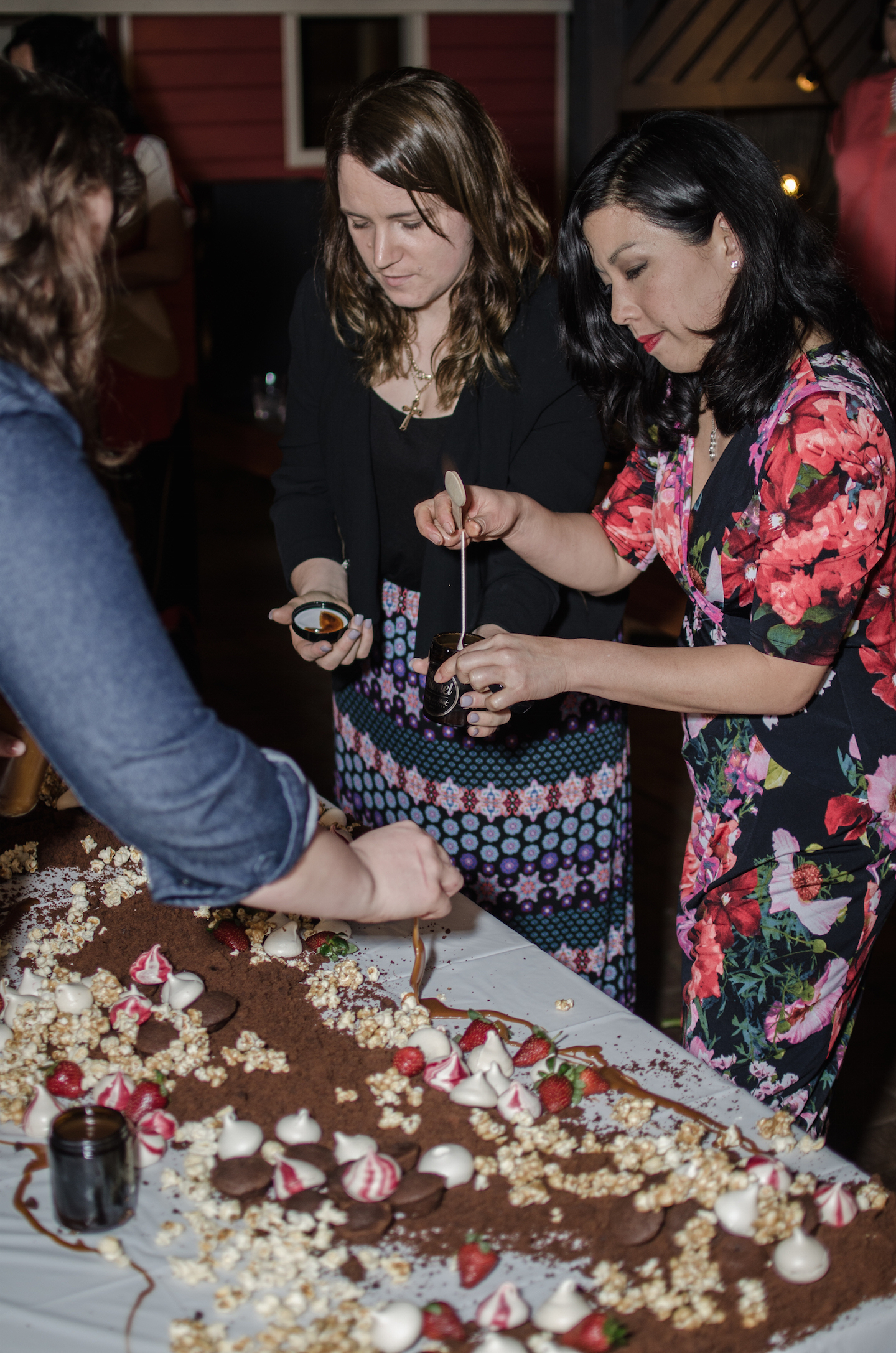 More salted caramel drizzling by Tash.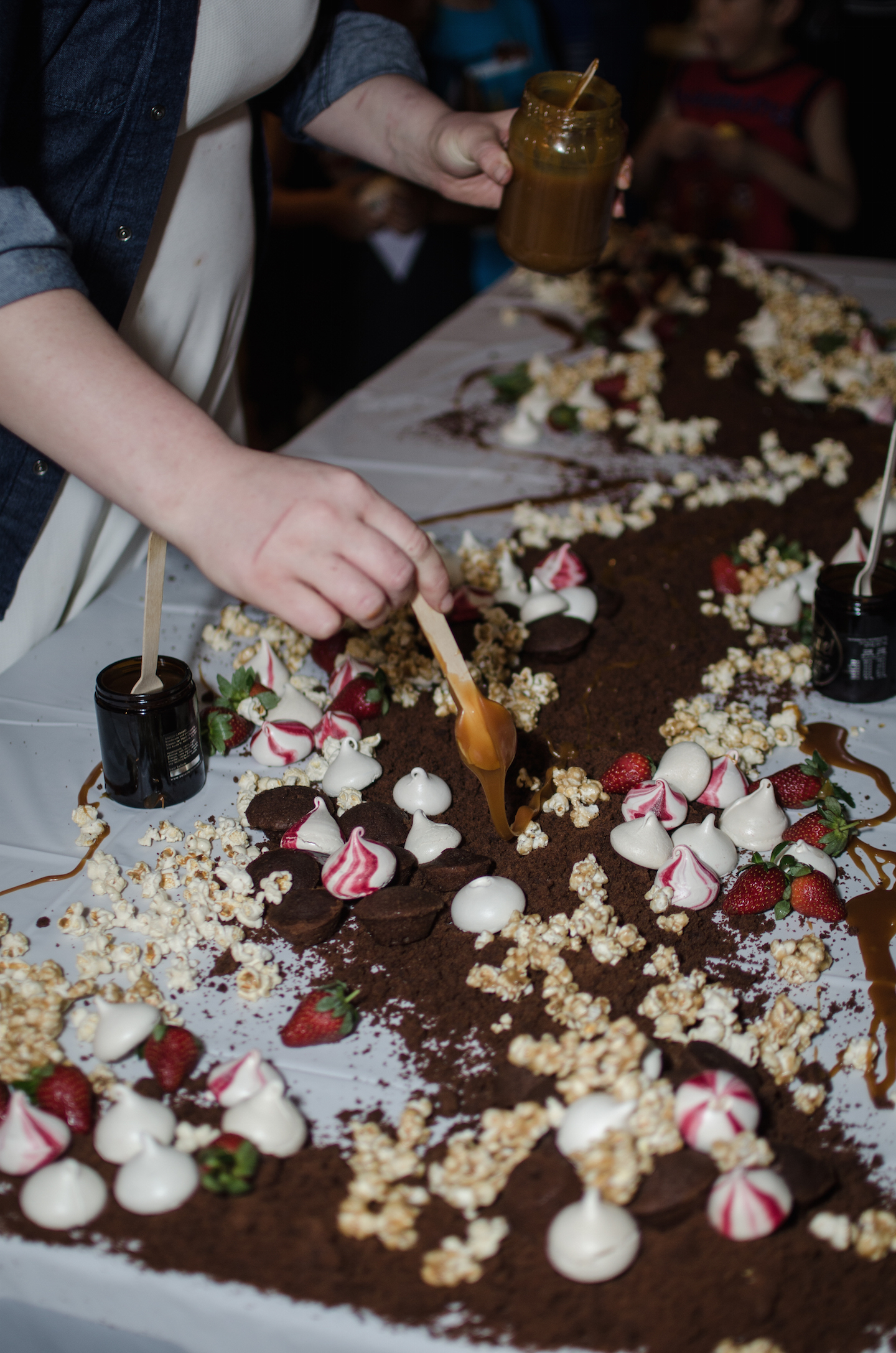 Out comes my cleaver to chop up the peanut brittle!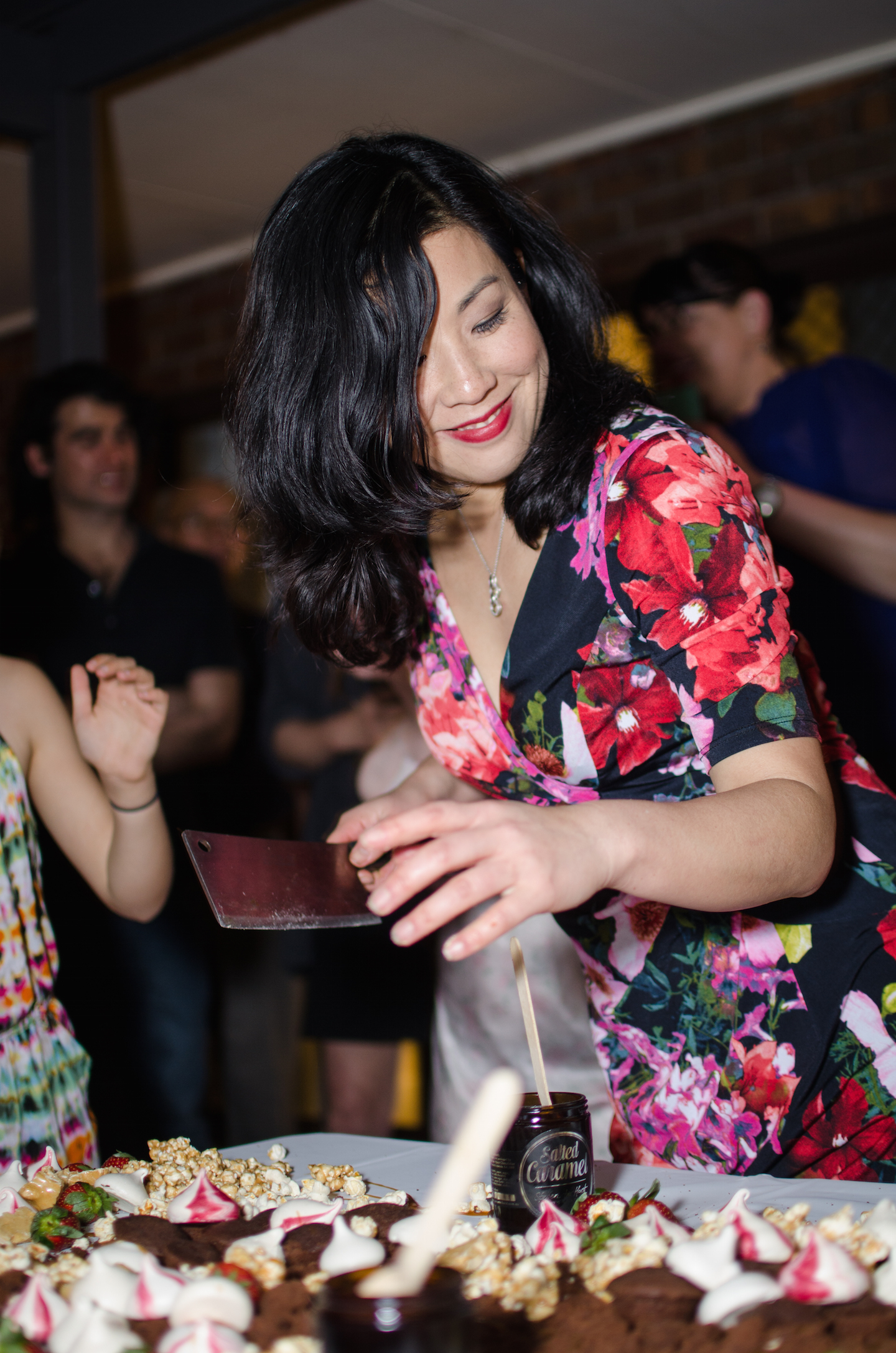 Note to self: remember to pin one's hair up next time one does this…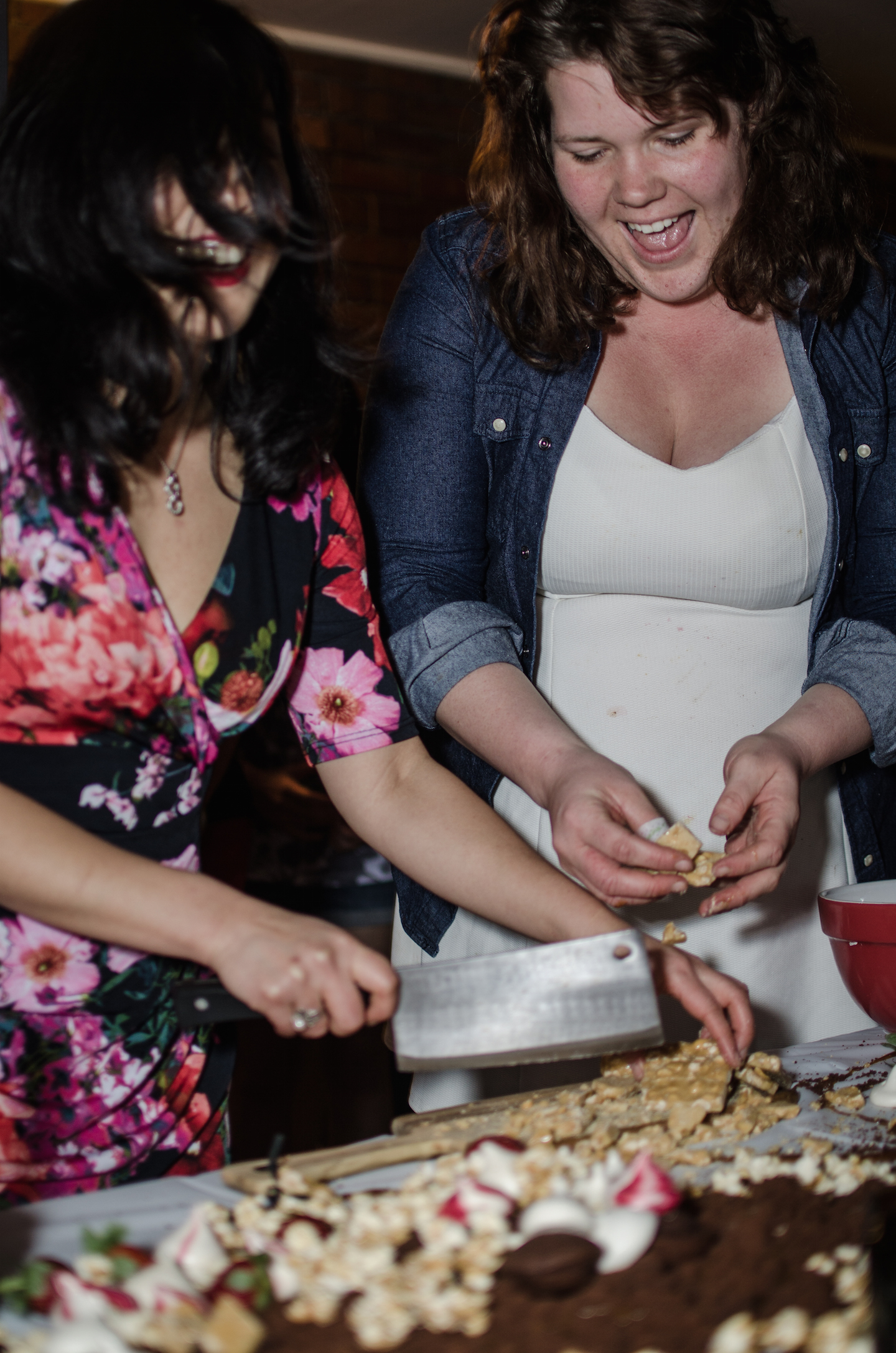 Almost ready… just one last thing to put into place…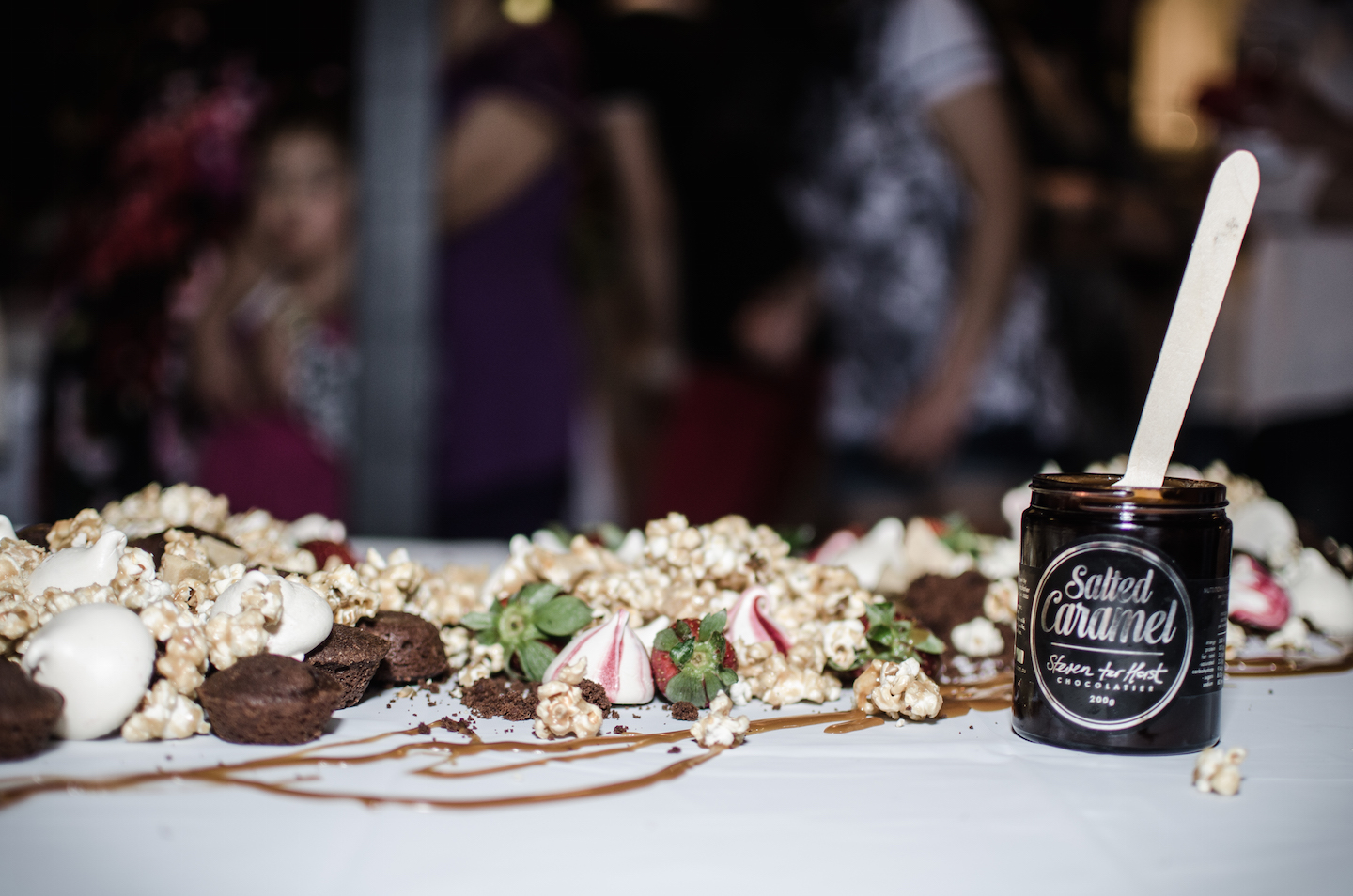 Ta da!!!!!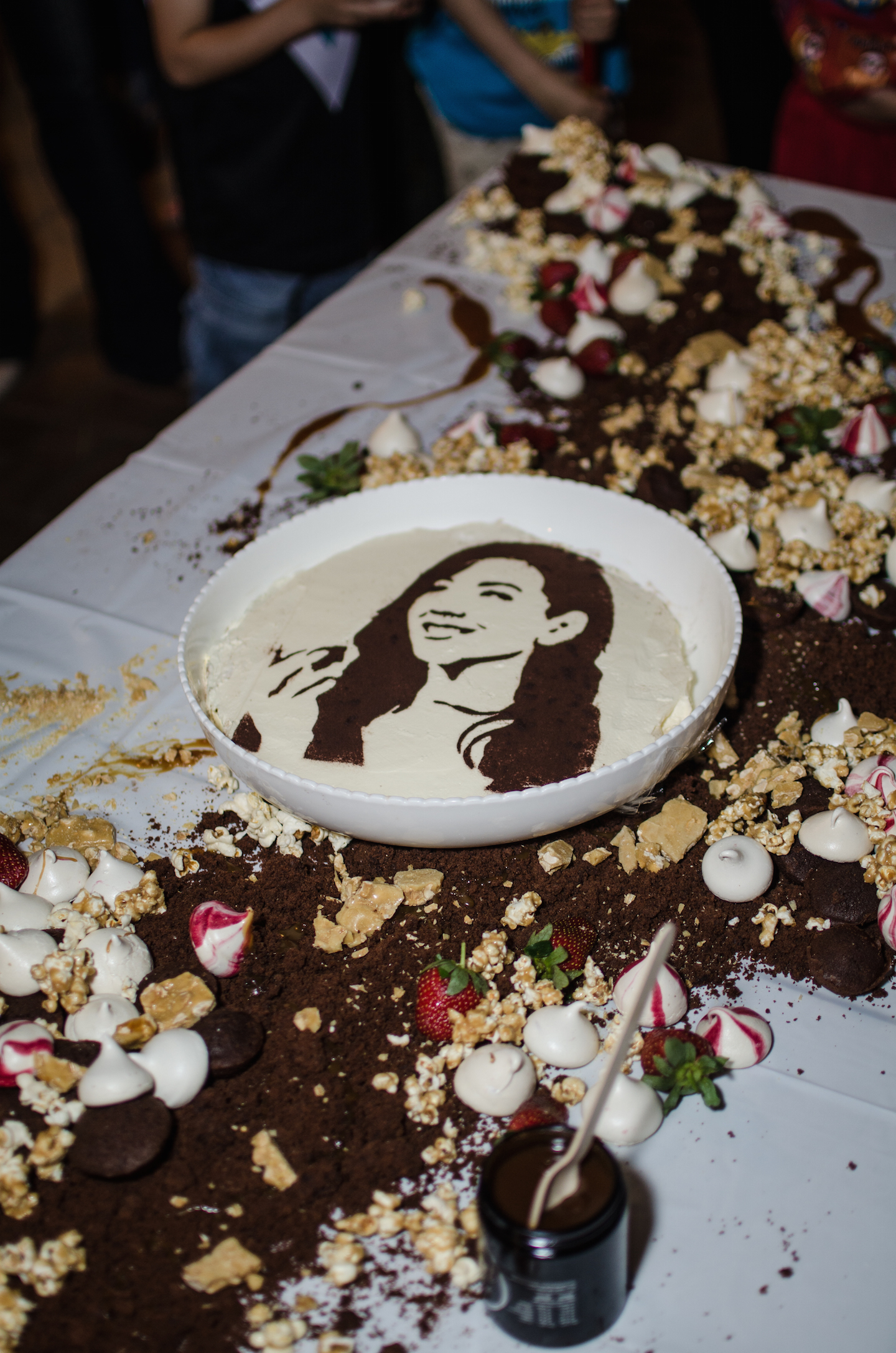 As we dramatically placed the whipped mascarpone cream into the centre of the table the garden erupted with cheers. The cream was made by my beautiful sister in law who added her own surprising twist to it – my face! Isn't she a darling?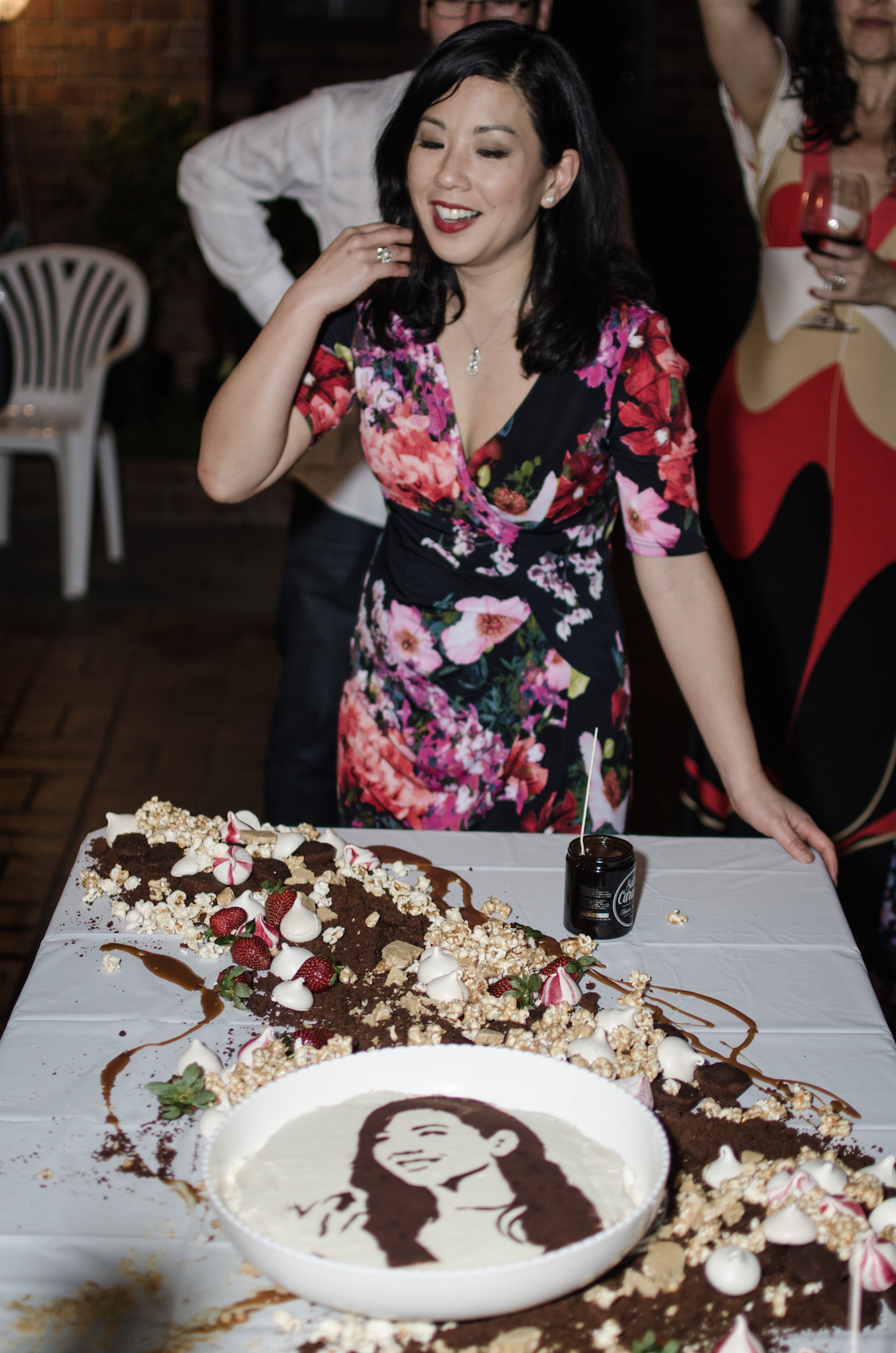 A quick snap with Tash to celebrate our successful trial.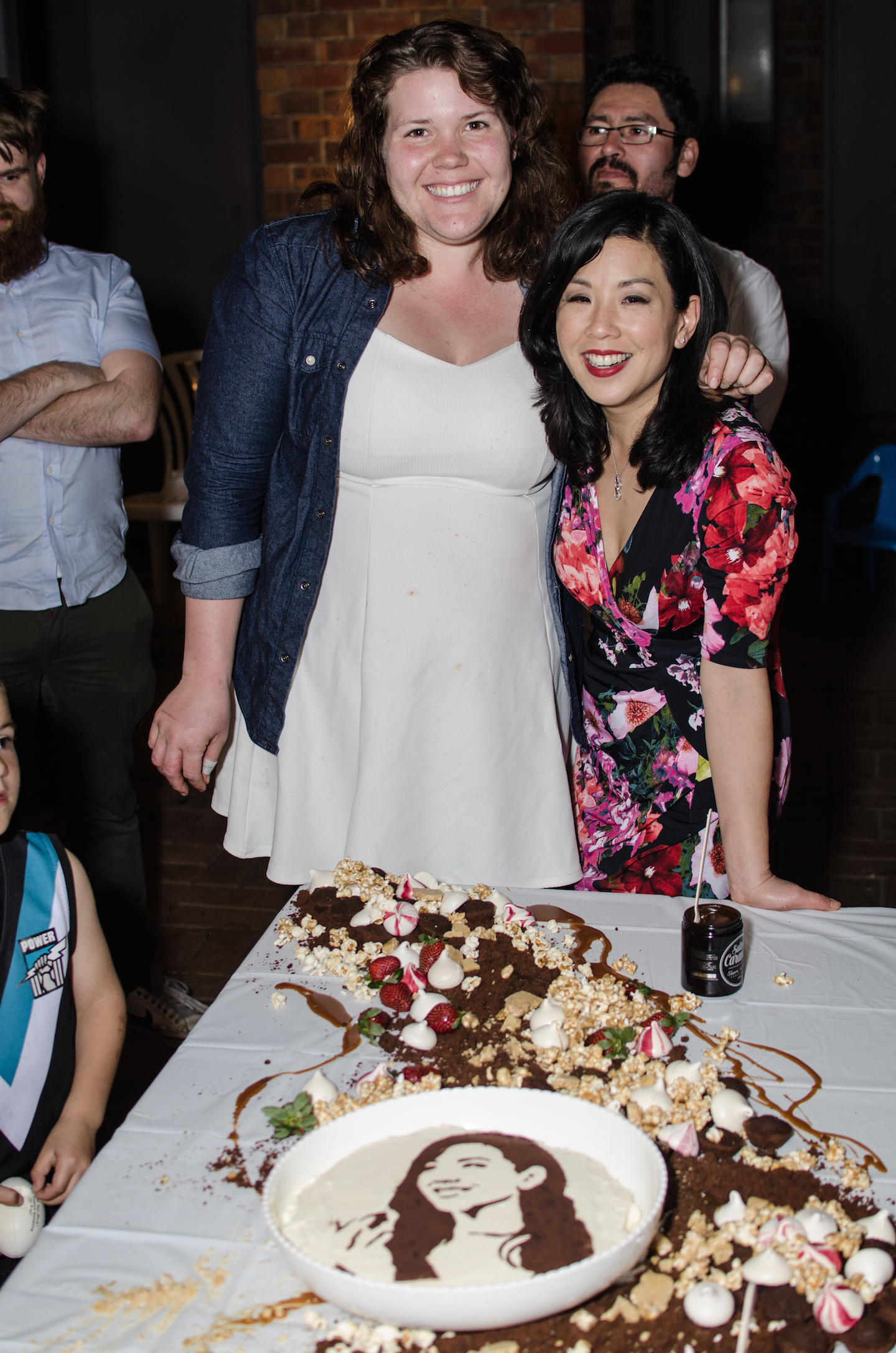 My daughter and brother then halted proceedings for their speeches.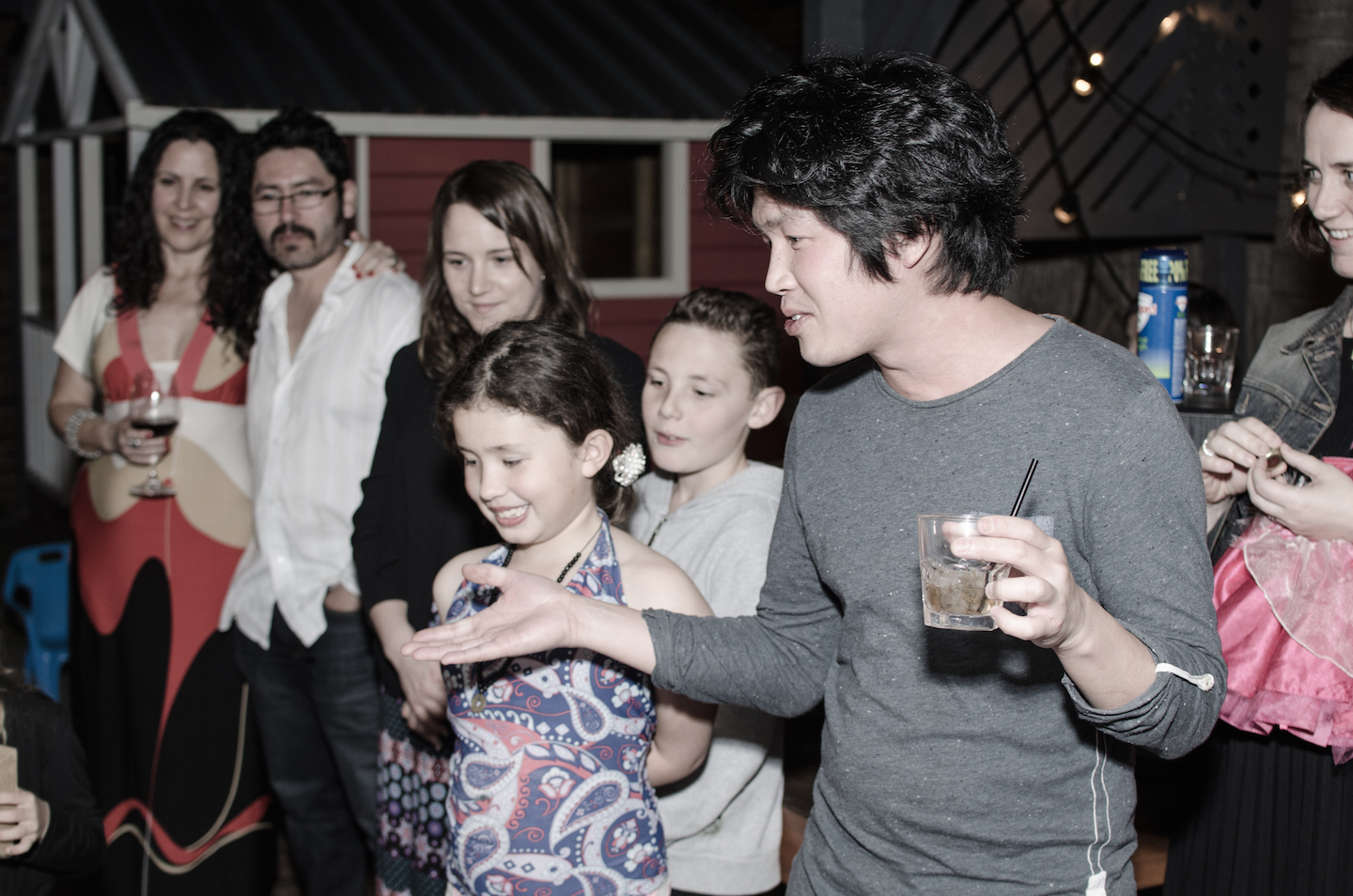 I love how everyone is listening to my brother but can't take their eyes off the dessert table.
After the speeches, we invited everyone to help themselves to dessert. The kids had been vibrating with excitement and impatience the whole time we were working on the table so naturally they were the first to dive in.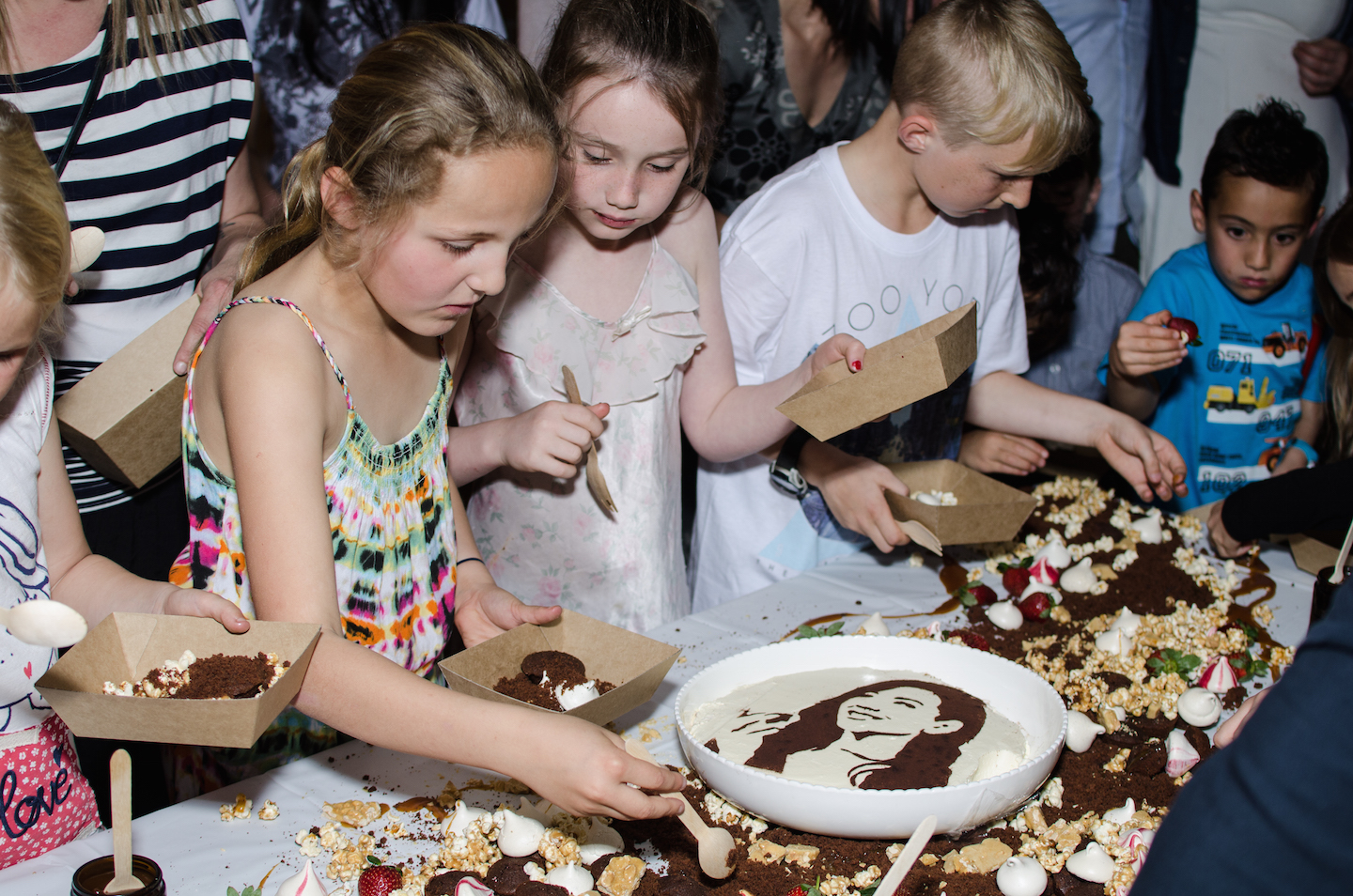 The adults helped themselves at a more sedate pace and the table was quickly decimated. Later on, I loved watching both adults and children passing the table and grabbing random spoonfuls of the dessert.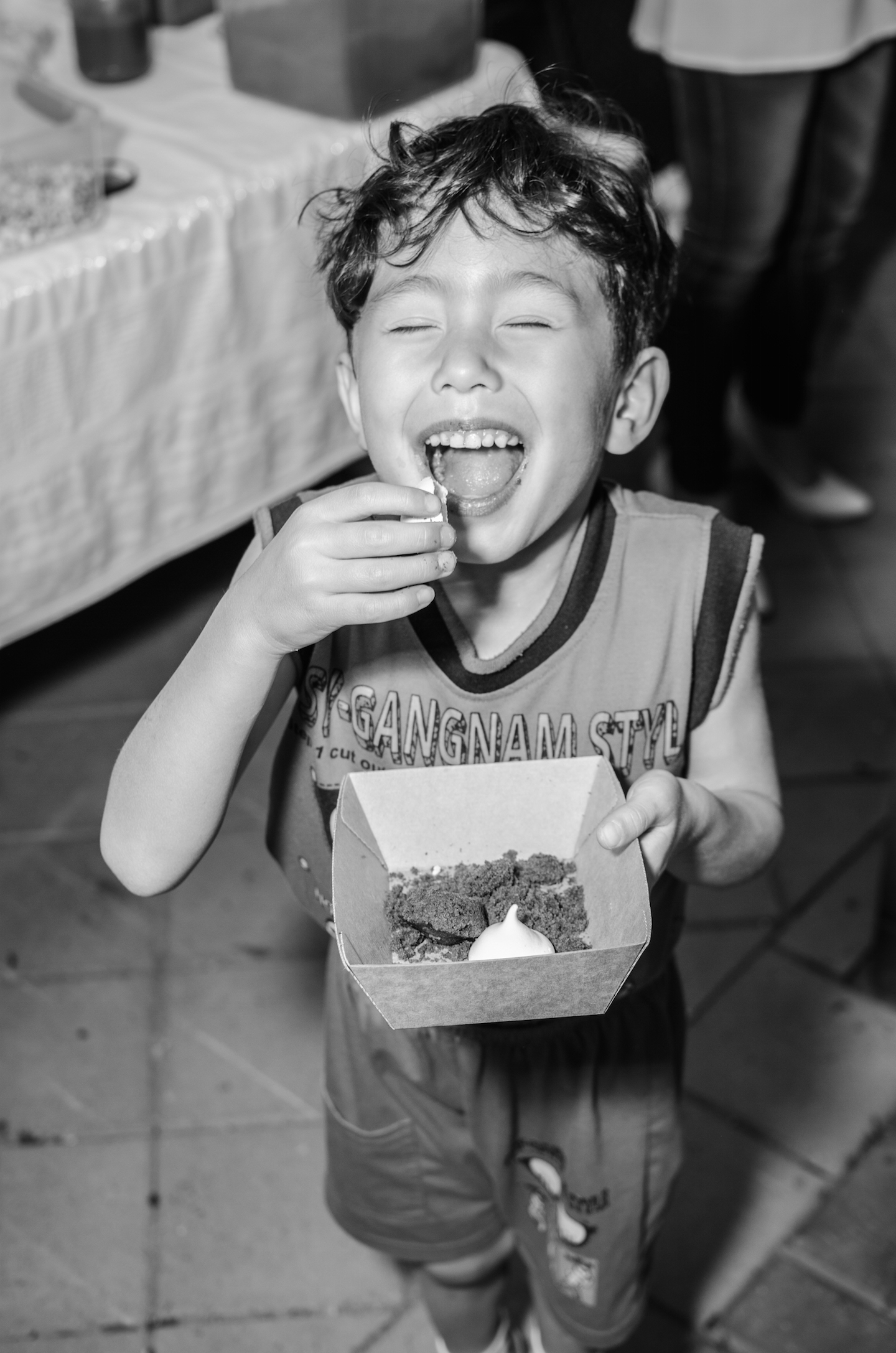 As a completely unrehearsed trial the dessert table went off extremely well. Sure, there were a few things I'd do differently next time but we had so much fun doing it and everybody enjoyed watching it all come together.
It was a wonderful night. Thank you to everyone who helped make it a special evening. In particular, huge thanks to the following:
J for his help with the bar, the incredible cocktail menu, these lovely photographs and the enormous set up and clean up. He had never tended bar before, but he did it so well he was asked to do two other parties on the night! You are #allthethings.
Maja and Tanya from Hey Hooray DJs. These girls play the best tunes for weddings and events.
Tim for his mini Banh Mi (Vietnamese pork rolls) made to order on the spot. They were so popular he 'sold out' within a couple of hours. Here's the recipe.
Claire and Nick at Bulb Lighting for the loan of the beautiful festoon and bud lighting that decorated the gardens. They have a fantastic range of lights available for hire and they're amazing to work with. Check out some of the jobs they've done on Instagram at @bulblighting.
Natasha for your help with the dessert table and salad prep. Mwah!
Tanya, MJ, Matt, my mum and Dayle for their huge help with the salad prep. I couldn't have done it without you!
Megan for the loan of the bowls, platters and glasses.
My brother for his help serving the satays and for his sweet and funny impromptu speech.
Anita and Dayle for their help washing glasses on the night.
My mum and dad for their enormous help setting up and cleaning up the event.
My children for the lovely poem and their help drying the glasses the next day.
Have you ever made a dessert table? What would be in your fantasy dessert table?
All photographs by J.