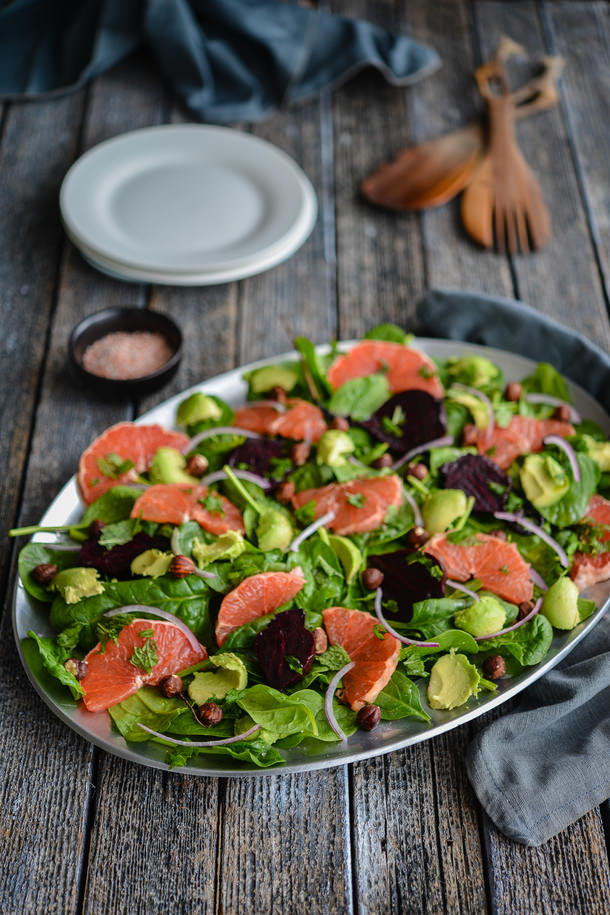 It was a balmy 27 degrees Celsius yesterday morning. Then in the late afternoon a storm blew up and heavy rain and winds lashed the windows as we ate dinner. But that's Spring for you – inconstant, unpredictable and flighty.
Nonetheless, as someone who is always the coldest person in the room, I'm happy the warmer weather is going to be more of a regular thing. So to celebrate, I've come up with these two salads using fantastic Spring produce found recently at the markets.
The first salad — Radishes and Mint with a Truffle Dressing — is inspired by a recipe I found in Sophie Dahl's From Season to Season, which I borrowed recently from the library.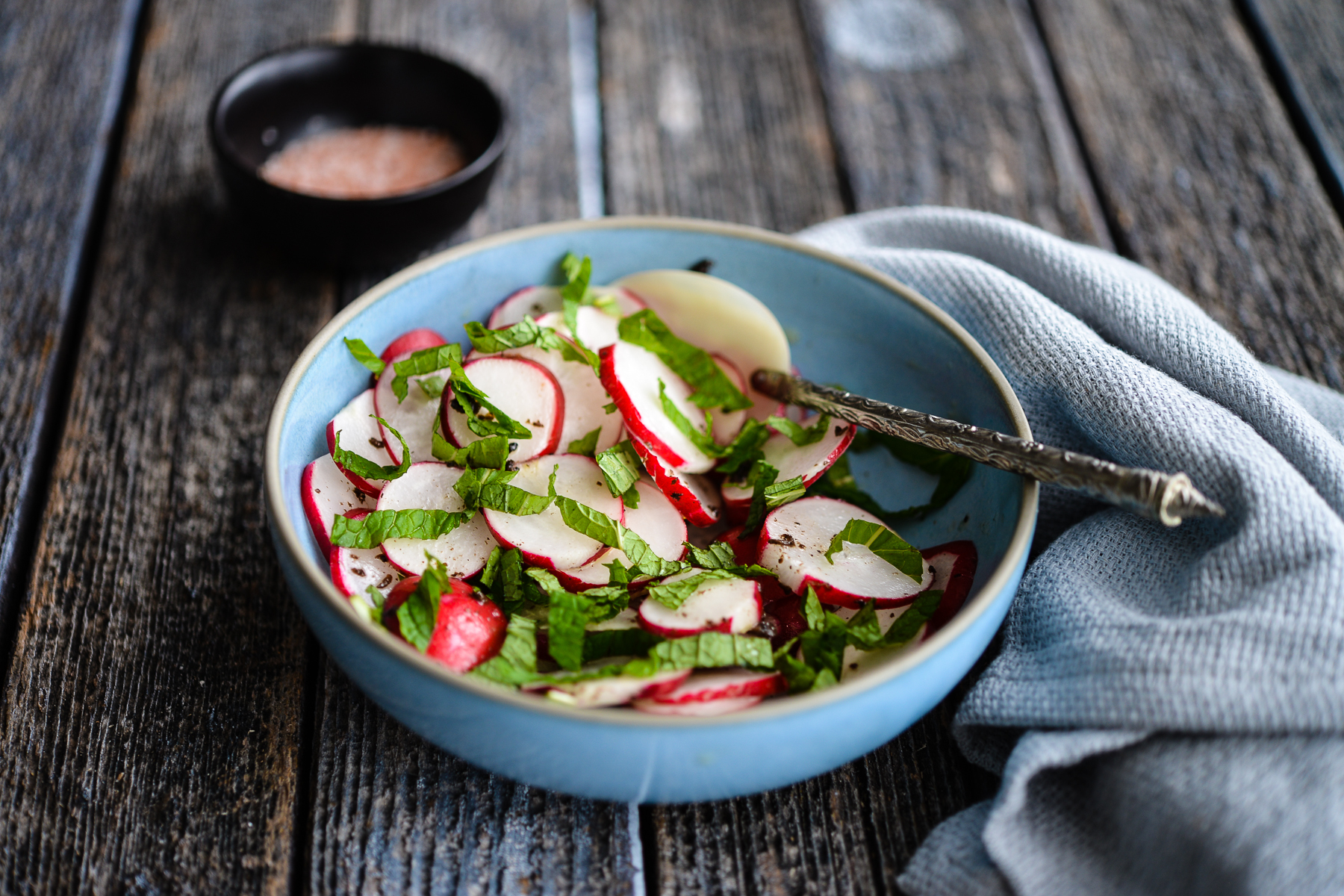 Sophie's recipe combines sliced radishes and mint with truffle salt and olive oil. Having no truffle salt but some lovely truffle paste from The Mushroom Man, I made a dressing with truffle sauce, olive oil and a hint of honey. While the pungent truffle sauce holds its own against the peppery, sharp radishes I do feel a drop or two of honey helps to round out the flavours nicely. A sprinkle of sea salt flakes is essential, too.
I made the second salad — Beetroot, Ruby Grapefruit, Avocado and Hazelnuts — when my oldest friend, G, came around for dinner recently. G has been living overseas for a few years so it was lovely to catch up for a feast of food, red wine and 30 Rock.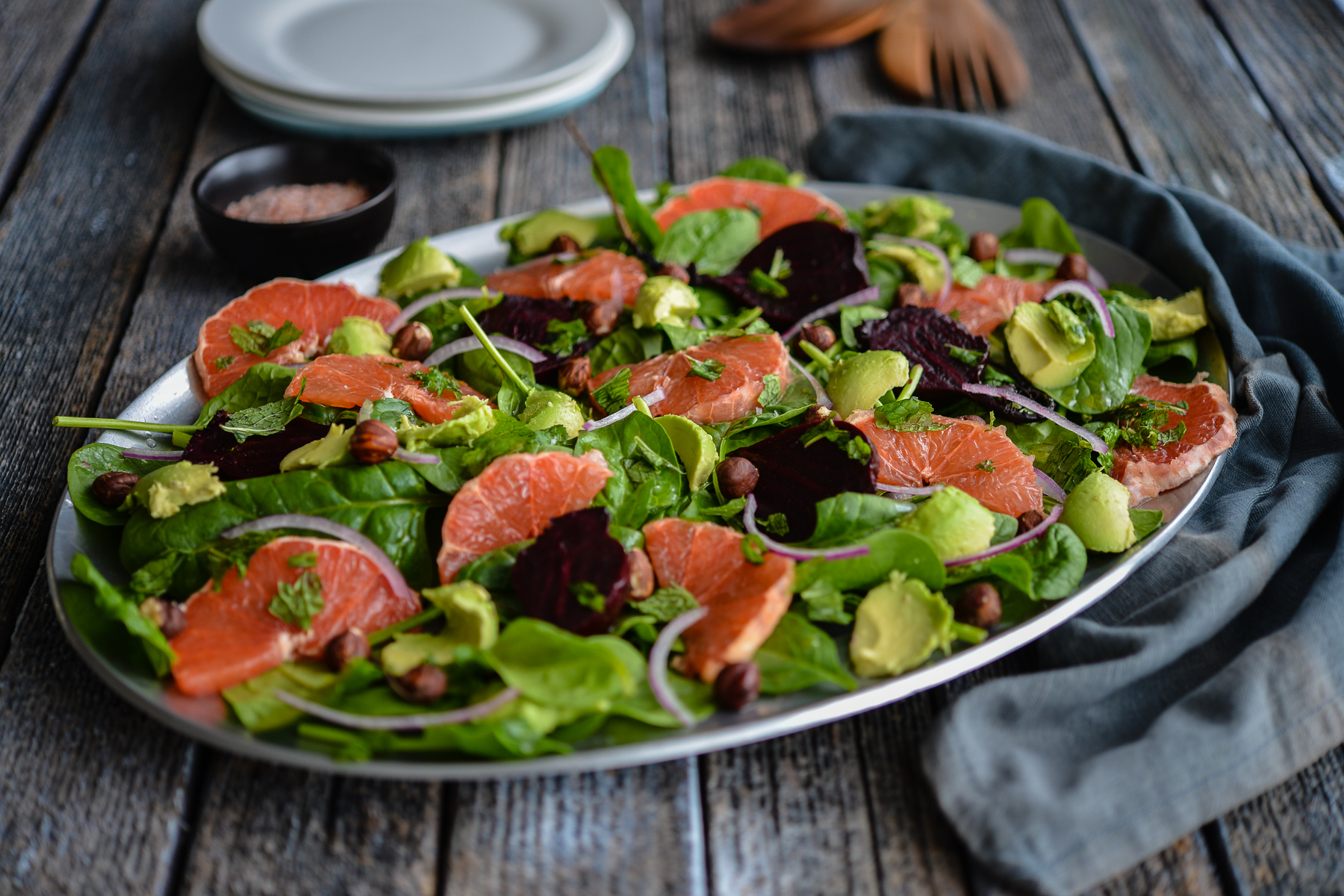 I made a version of this salad last Spring and kept meaning to blog it but never got around to it. So here it is now. I love the sweet, mellow flavour of roasted beetroot and avocado – they act as a great counterpoint to the tanginess and sharpness of the grapefruit. Add some roasted hazelnuts for crunch and texture and some baby spinach leaves as a base and you have a gorgeous salad that would work equally well as a main course or side dish.
A word on citrus in salads. I quite like the look of whole peeled citrus segments but more often than not, I end up destroying the segments in my impatience. So I've come up with a better way to present them – I peel the citrus, remove as much of the pith as possible and then cut the whole orange in half, before slicing each half into half-moons. It still looks pretty and I don't have the palaver, mess or uncertain outcome that I have when trying to create  peeled segments. Do be sure to use your sharpest knife though.
I hope you enjoy these salads as much as I hope the warm weather returns.
Christina xx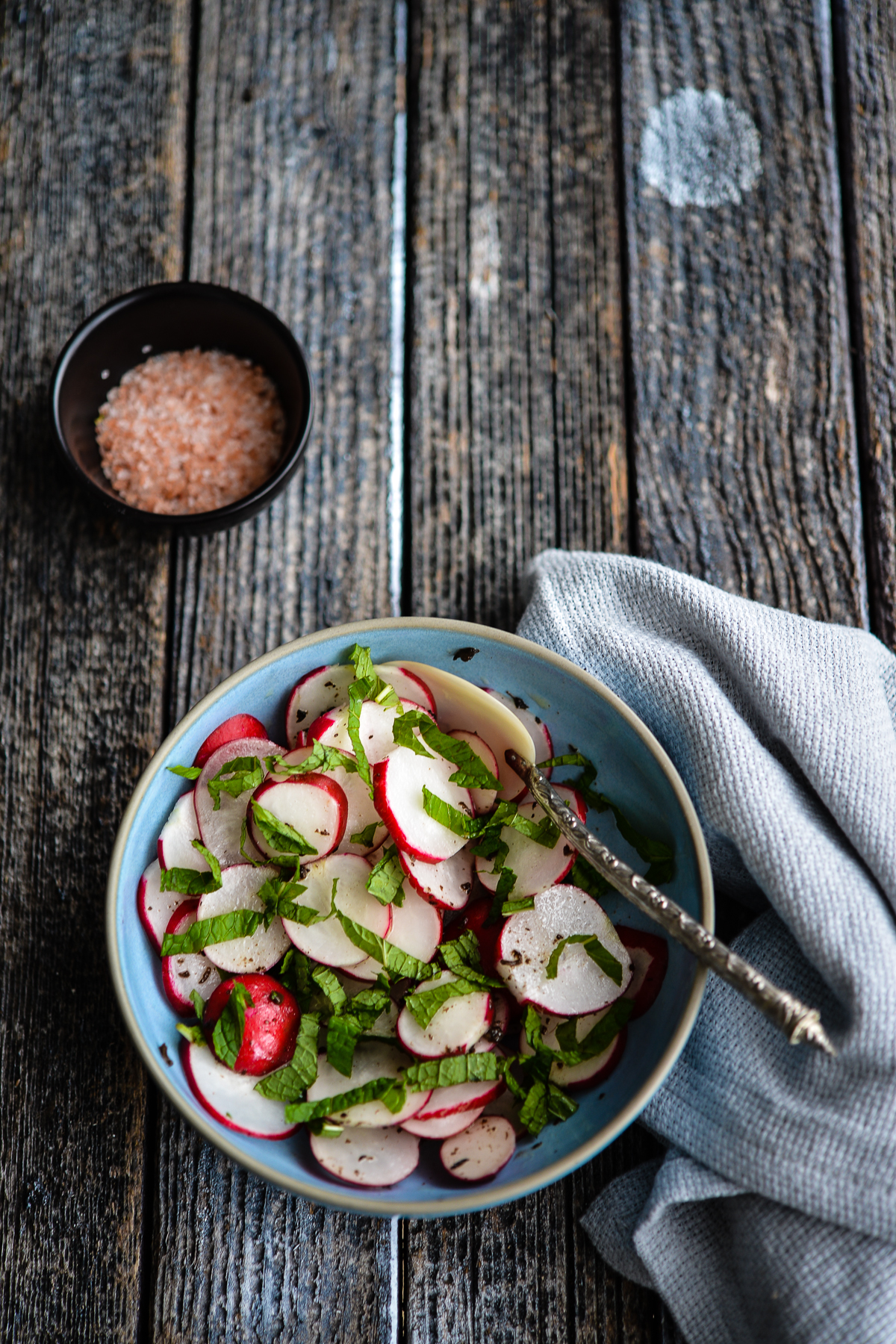 Radishes and Mint with Truffle Dressing
INGREDIENTS
1 bunch radishes, washed, trimmed and thinly sliced
5 springs mint, leaves picked off, washed and thinly sliced
2/3rds teaspoon truffle paste
1 teaspoon olive oil
1/4 teaspoon honey
Pinch salt flakes
METHOD
Combine radishes and mint in a bowl.
Make dressing by whisking truffle paste, olive oil and honey in a small glass.
Pour over radishes, add a pinch of salt flakes and mix well to combine.
Serves 4 as a side salad. Gluten, dairy and nut free.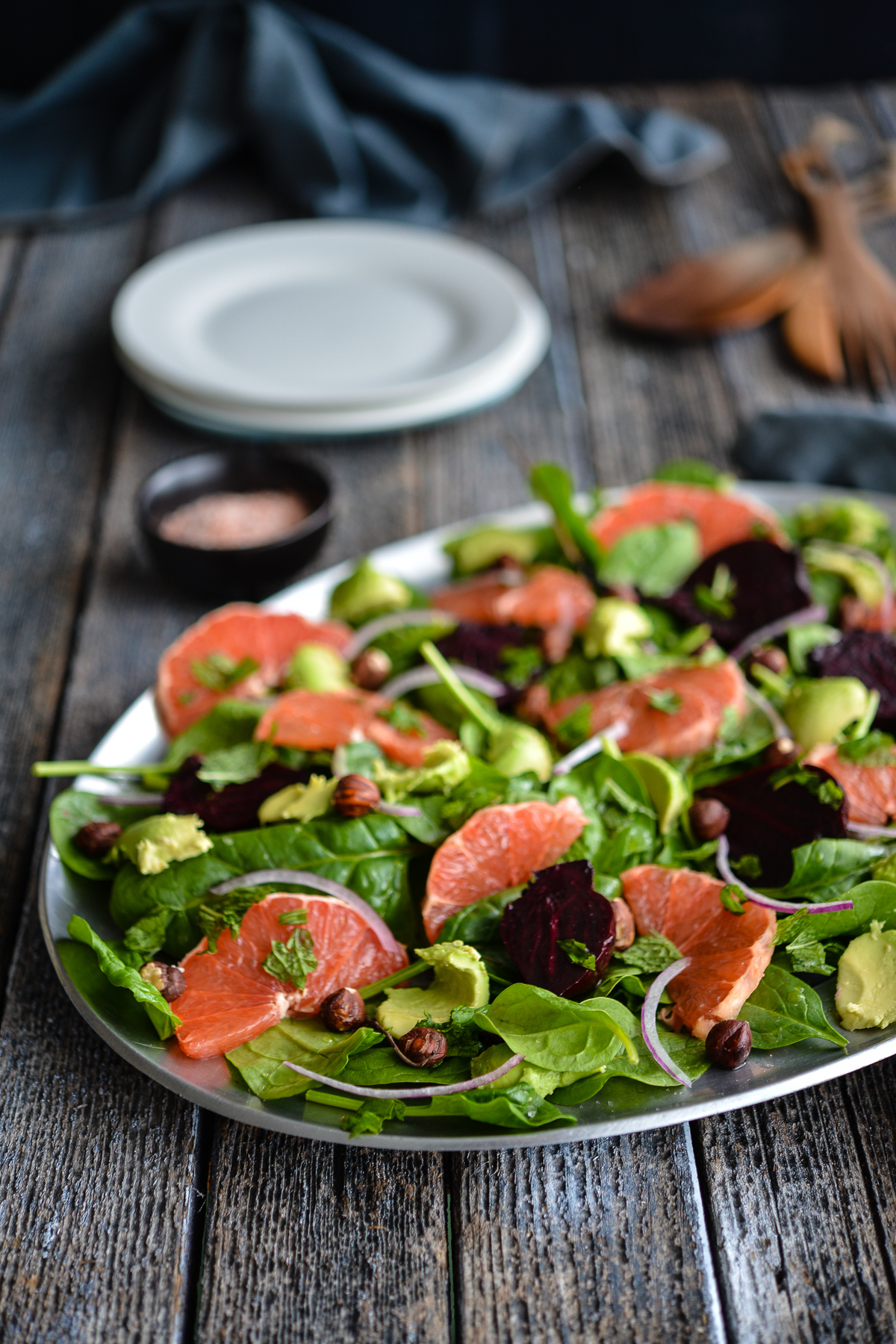 Beetroot, Ruby Grapefruit, Avocado and Hazelnut Salad
INGREDIENTS
1 bunch beetroot, trimmed of stalks but with skin on
120 grams baby spinach, washed and spun dry
1 ruby grapefruit, cut into half moons as described above
1 avocado
1/4 Spanish (red) onion
30 grams roasted hazelnuts
Few springs mint, leaves removed and shredded
1 teaspoon red wine vinegar
1 tablespoon olive oil
1/2 teaspoon honey
1/2 teaspoon french or grainy mustard
Salt and pepper to taste
METHOD
Preheat oven to 180 degrees Celsius.
Wash beetroot, wrap tightly in alfoil (tin wrap) and then bake in oven for 45 minutes (small) or up to 60 minutes (large). Prick with a skewer to ensure it's cooked. Remove and cool. Rub the skin off with your fingers and then slice each beetroot into half.
To assemble salad, find a large platter and make a bed with the spinach.
Arrange beetroot and grapefruit on top of the spinach and then use a teaspoon to scoop out the avocado flesh and place it on top.
Garnish with red onions, hazelnuts and mint.
Make dressing by whisking vinegar, olive oil, honey and mustard in a small cup and dribble over salad.
Sprinkle some crushed sea salt flakes over, add a good grind of pepper and then serve. You'll want people to ooh and ahh over how pretty it is before you mix it up at the table.
Serves 4-6 as a side salad or 2 as a main. Gluten and dairy  free. 
More Salads
Subscribe to The Hungry Australian
Don't want to miss a post? Sign up to receive delicious The Hungry Australian posts twice a week – it's FREE!!