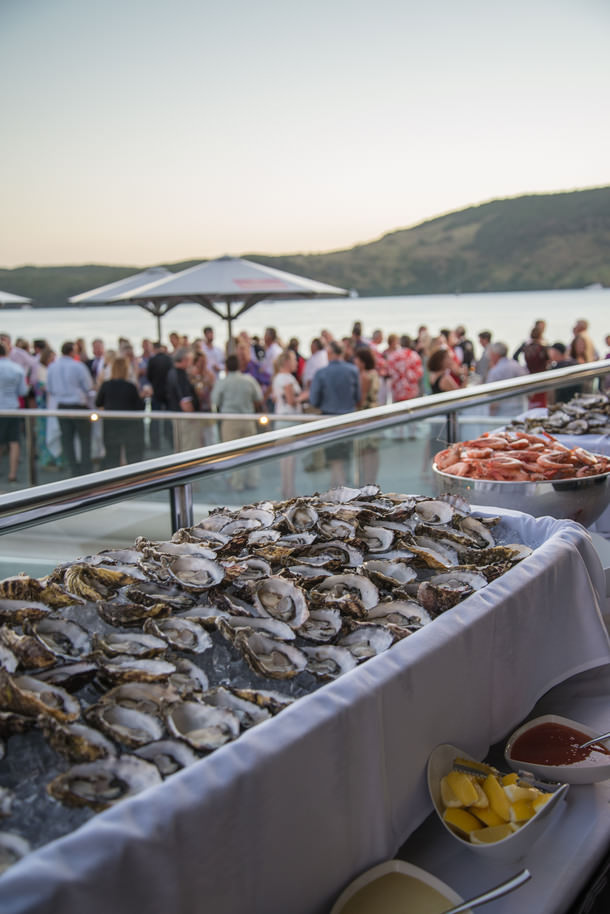 With blue, sparkling waters, acres of unspoilt, uninhabited land, calm beaches and plenty of dining options, Hamilton Island is a gorgeous vacation spot. I visited the Island for a family holiday a few years ago and have great memories of long, happy days spent swimming, sunbathing and nipping around the island in a little golf buggy. However, my recent visit during Audi Hamilton Island Race Week, Australia's largest offshore yachting regatta, was an opportunity to experience Hamilton Island at its busiest and best.
Audi Hamilton Island Race Week Launch, Hamilton Island Yacht Club

As I make my way up the gangway to the Yacht Club for the launch of Audi Hamilton Island Week, I'm favourably impressed. All the staff I meet during my stay on Hamilton Island are extremely professional and seem to genuinely like what they do.
You have to love a party when you're offered canapés before you even reach the official venue. First up, I'm offered some beef pies with tomato sauce.


Next I'm presented with a tower of scallops, prawn and bacon skewers. Come to mama!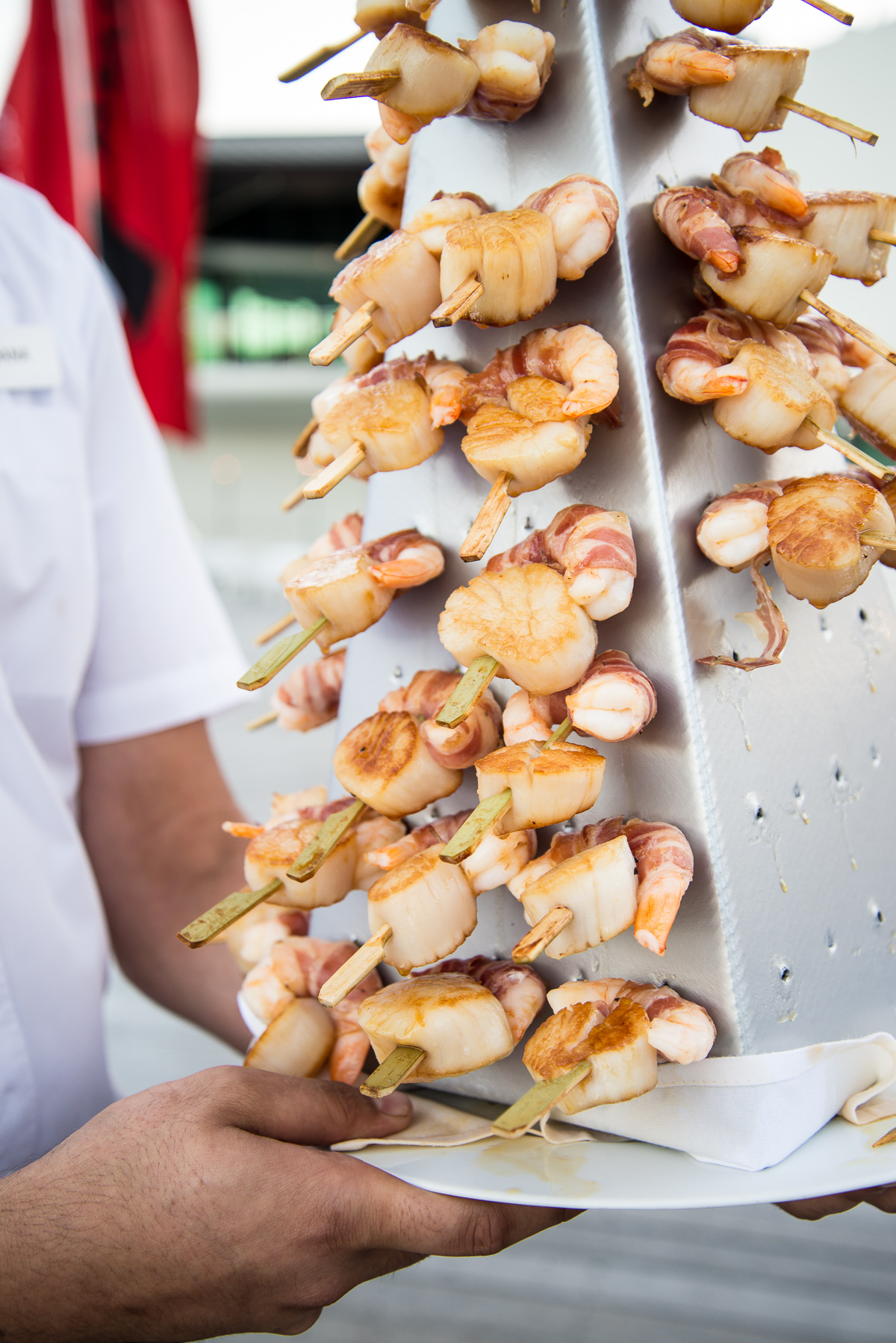 I'm still smacking my  lips when I'm offered a tuna sushi spoon. I love the presentation but they're just a little tricky to manage in one bite…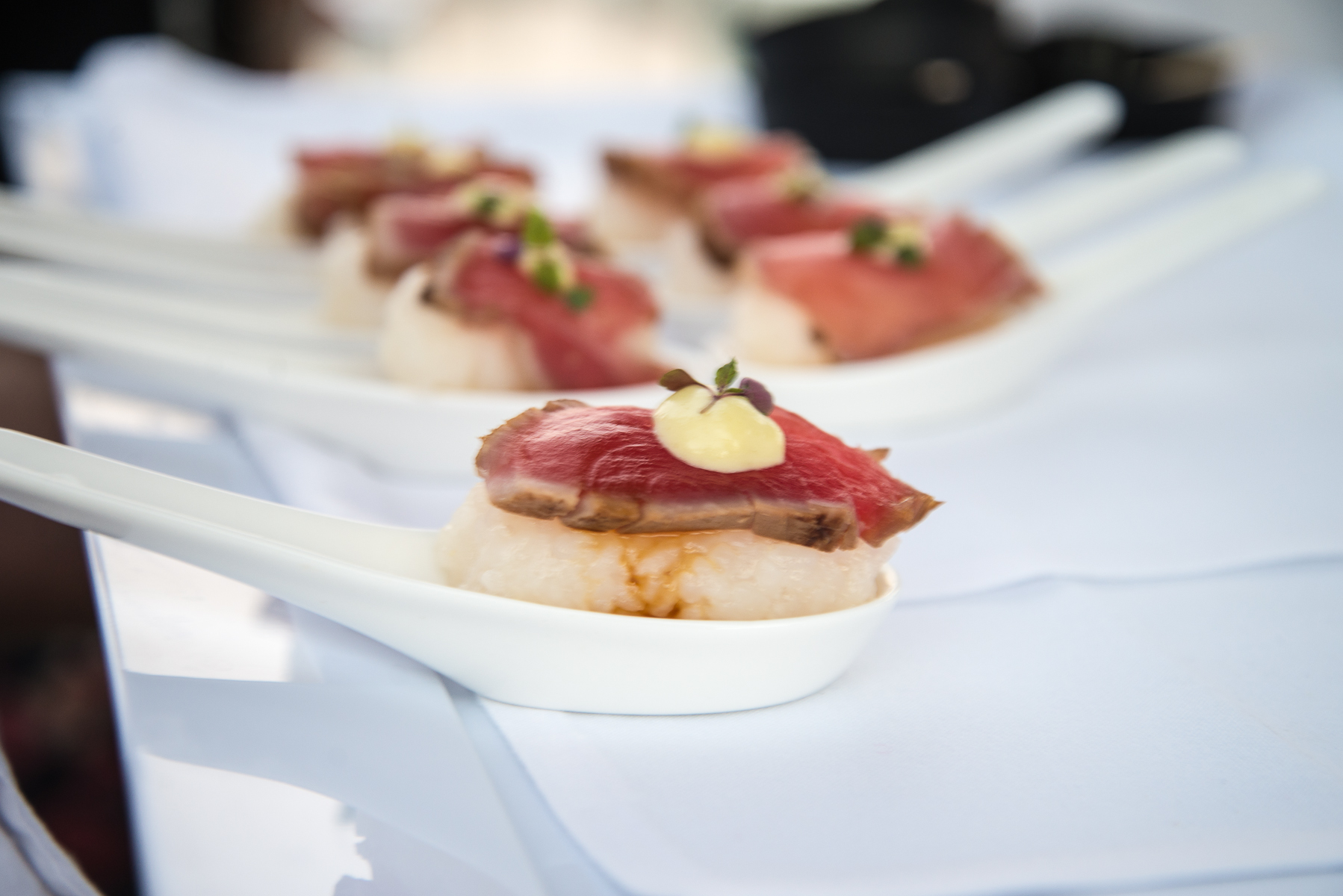 There are plenty of waiters circling with other canapés but after reaching the deck and finding some media friends I head straight for the seafood bar. Well, can you blame me?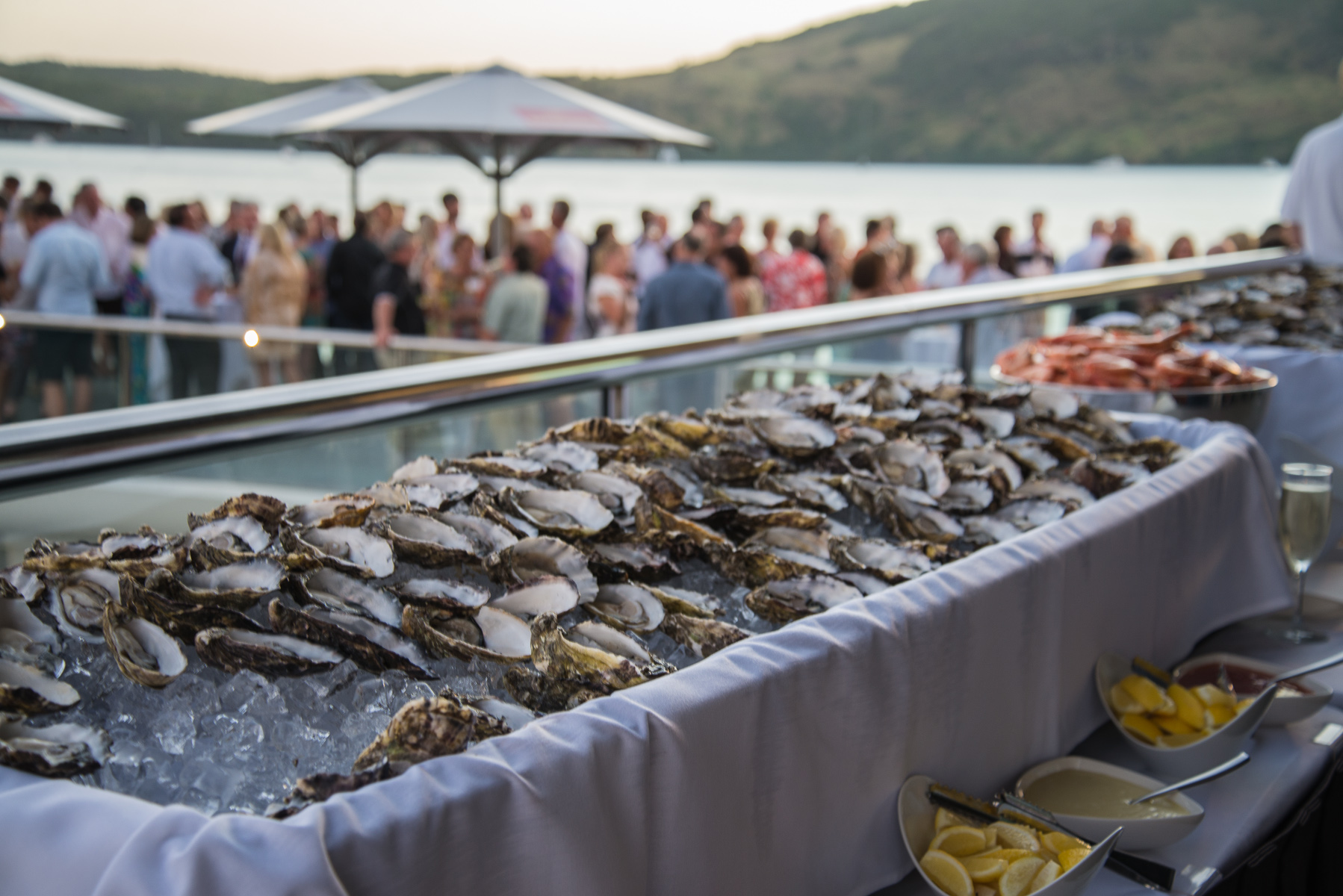 Oysters, prawns and champagne – it's pretty much my perfect start to an evening.

Inspired by sails in silhouette The Hamilton Island Yacht Club was designed by  Australian architect Walter Barda.
As night falls, Race Week is officially launched and Bob Oatley, owner of Hamilton Island, impresses the crowd with his razor-sharp wit and his great courtesy as he acknowledges the many racing legends present and pays tribute to the staff of Hamilton Island.
Bob has had enormous success in the wine, coffee, tourism and yachting industries and Hamilton Island happily combines many of his passions. He is 84 years old but clearly has no intention of slowing down; last week it was confirmed that Australia — via Bob and the Hamilton Island Yacht Club — is the Challenger of Record for the next America's Cup.
Cantonese Style Banquet by Kylie Kwong (Billy Kwong)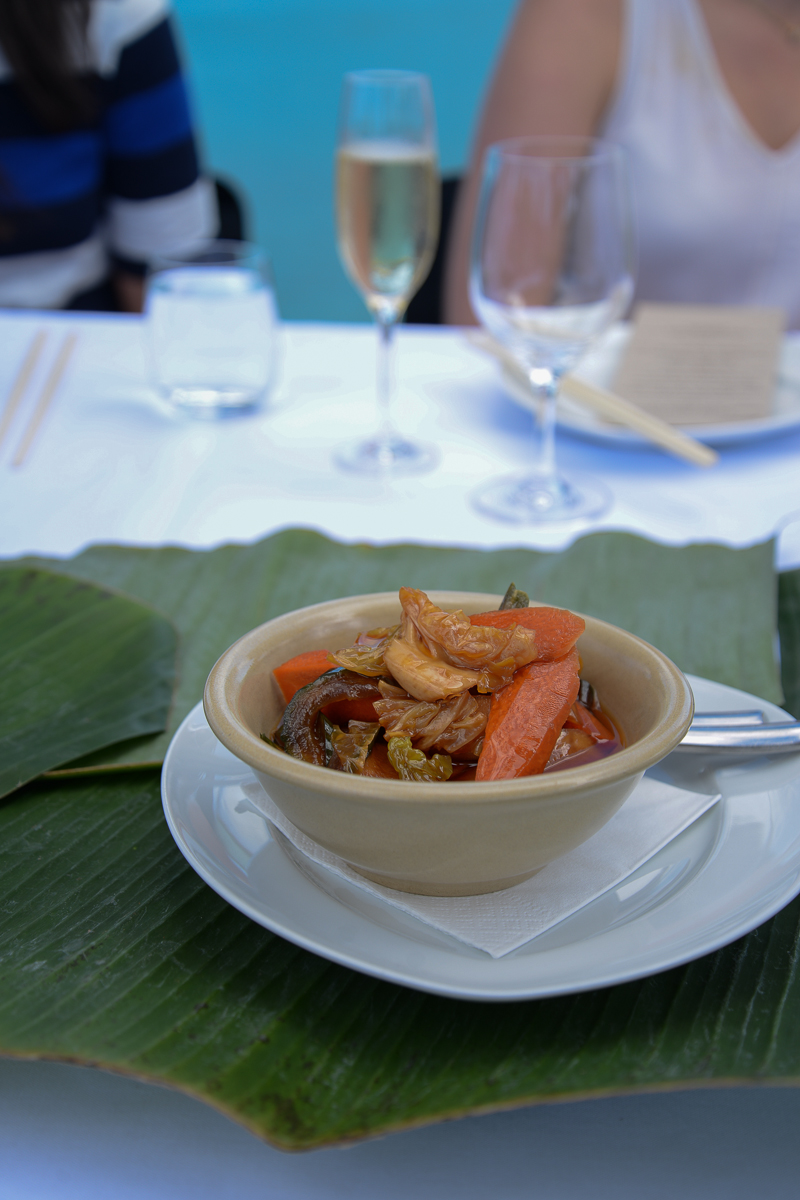 The deck at the Hamilton Island Yacht Club is also the setting for today's Cantonese style lunch by Kylie Kwong, which is being hosted by Audi, major sponsor of Race Week.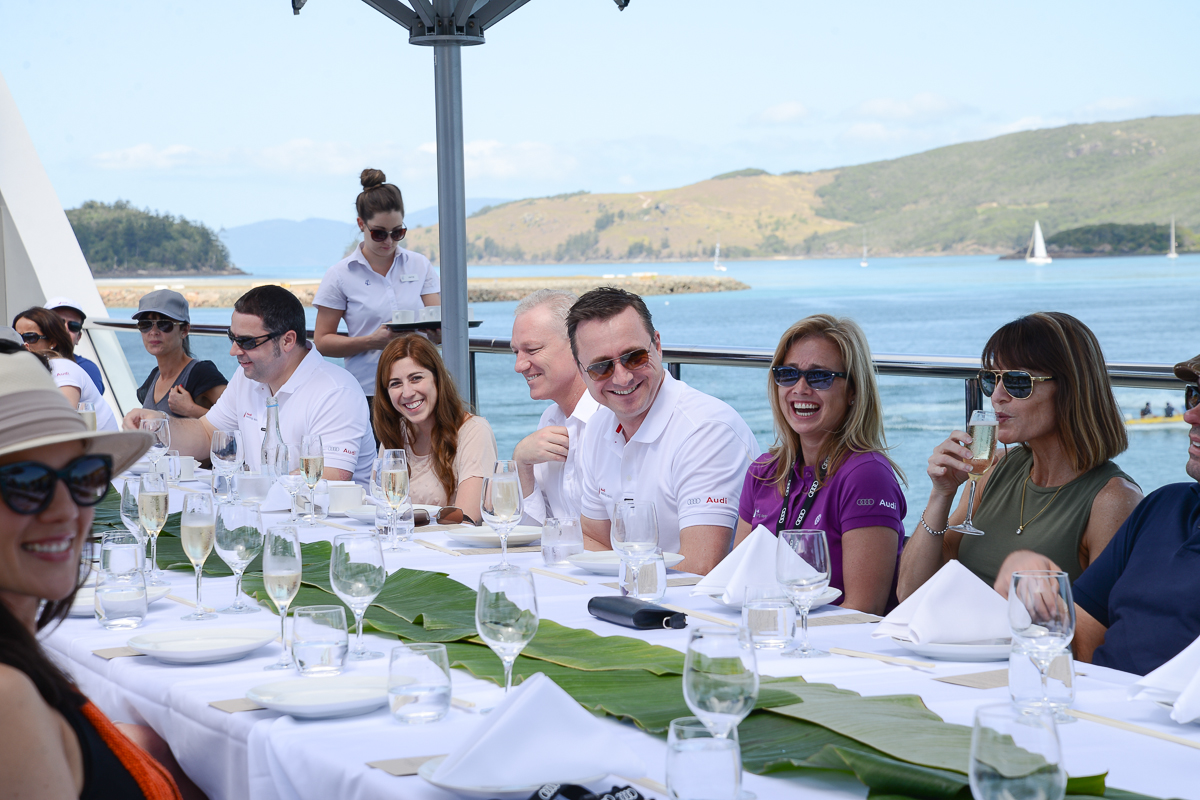 As far as views go, you can't really get much better than this. Later on, we will witness the spectacular sight of the boats heading out to the starting line for the first race.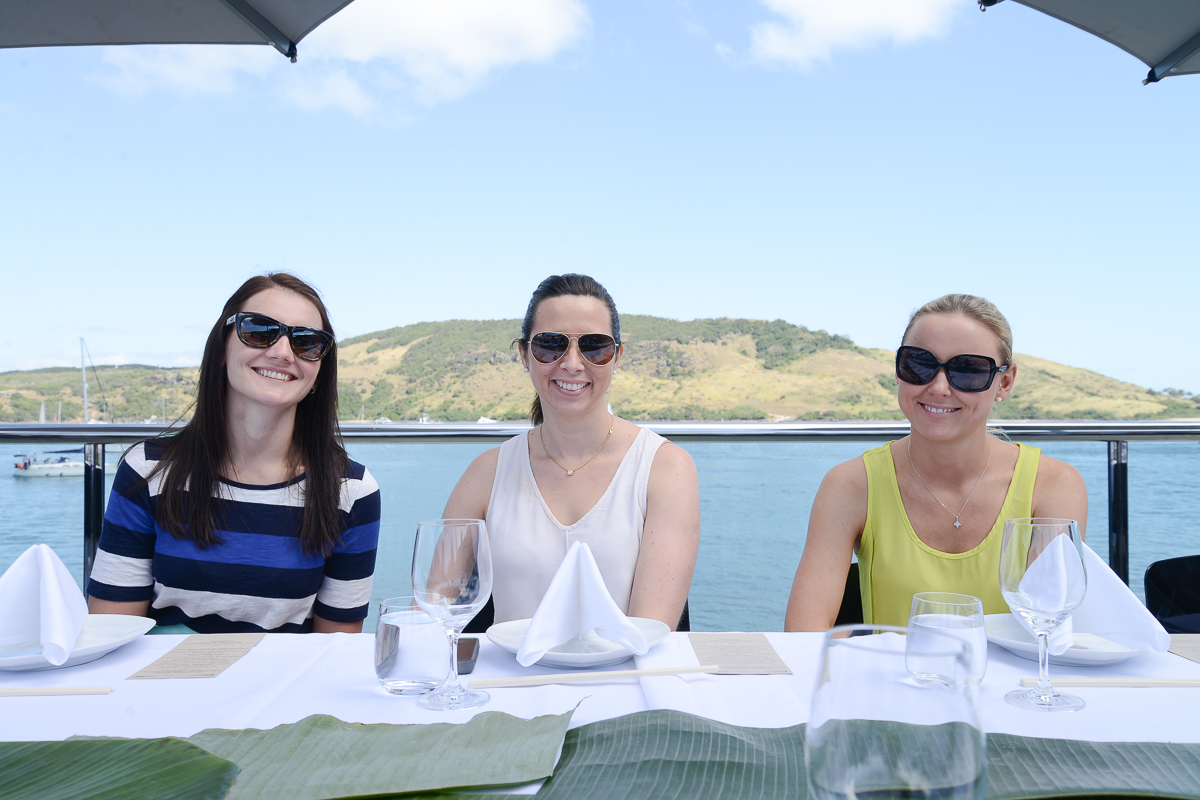 It's a gorgeous day. The sunlight is so bright everybody is wearing shades.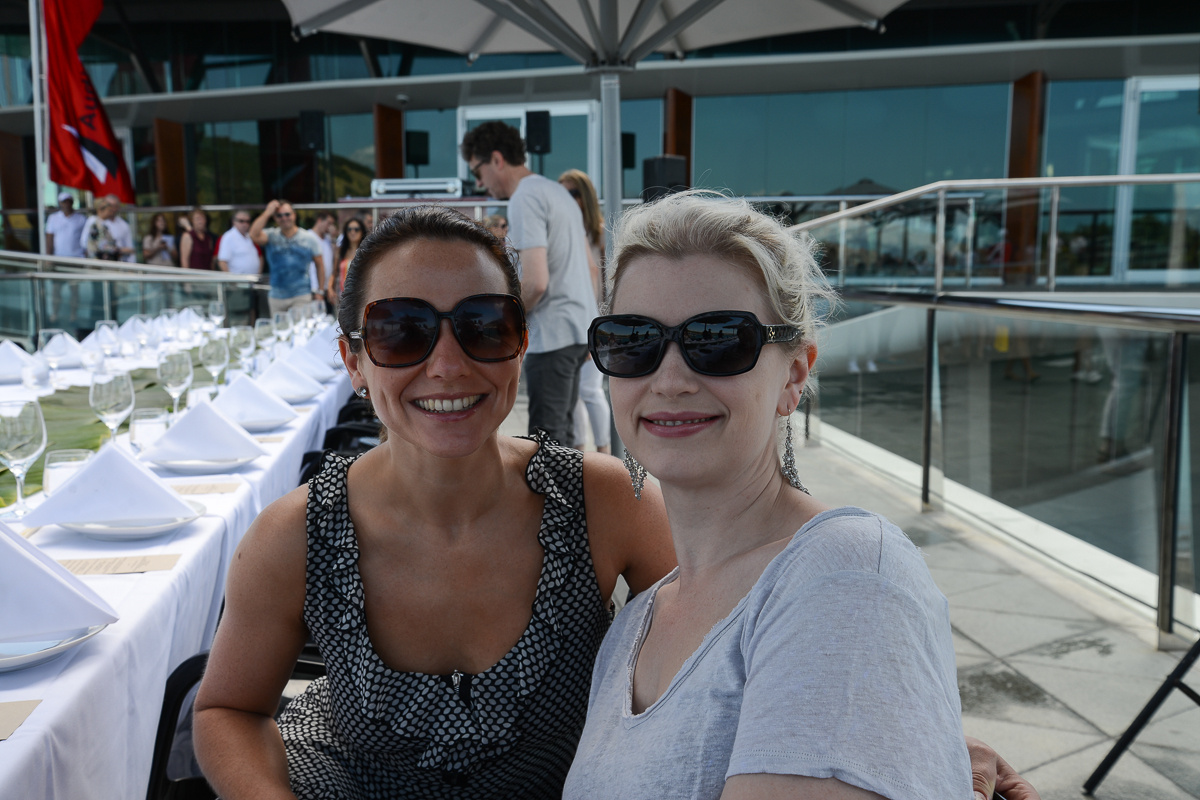 Sydney chef Kylie Kwong made her name with her popular restaurant Billy Kwong in Sydney's Surrey Hills. Since then she's gone onto host her own TV series and publish numerous cookbooks. I've never actually eaten at her restaurant but was given one of her cookbooks so I'm looking forward to the lunch today.
Before the lunch host Sandra Sully (Channel 10) introduces Kylie to talk us through the menu.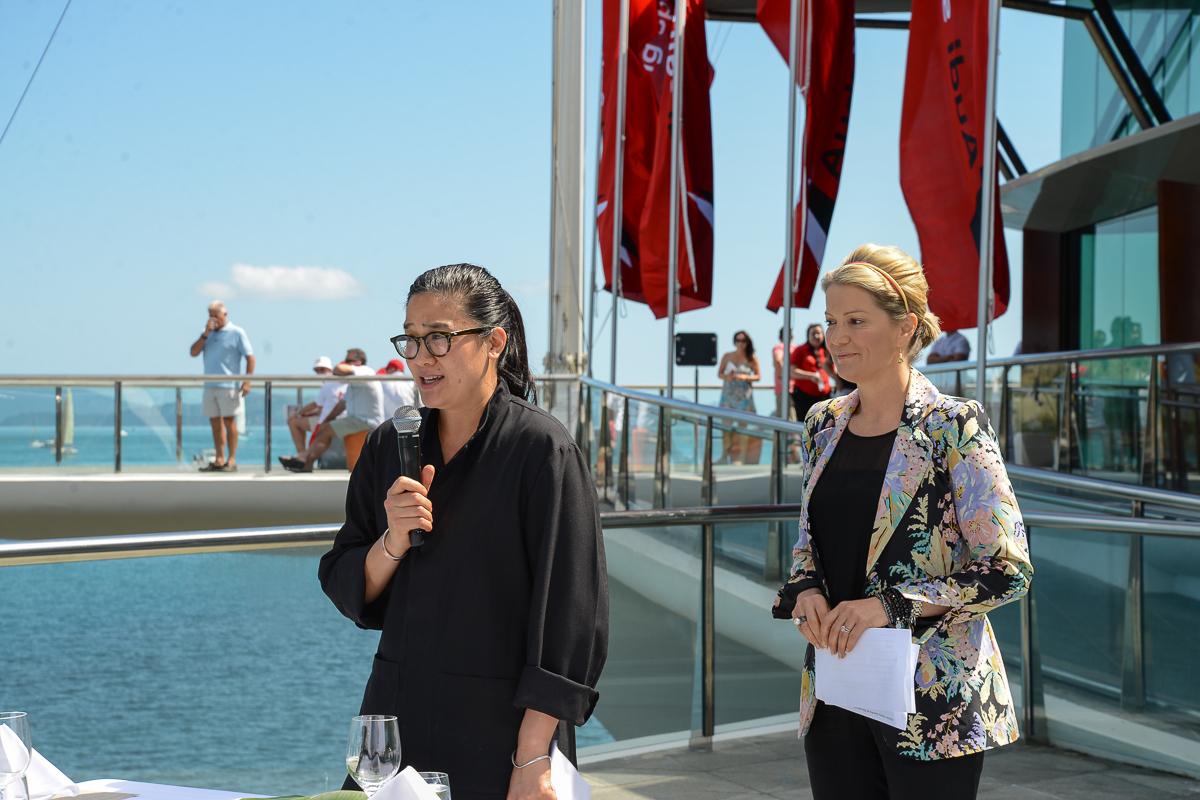 First up, some pickled vegetables.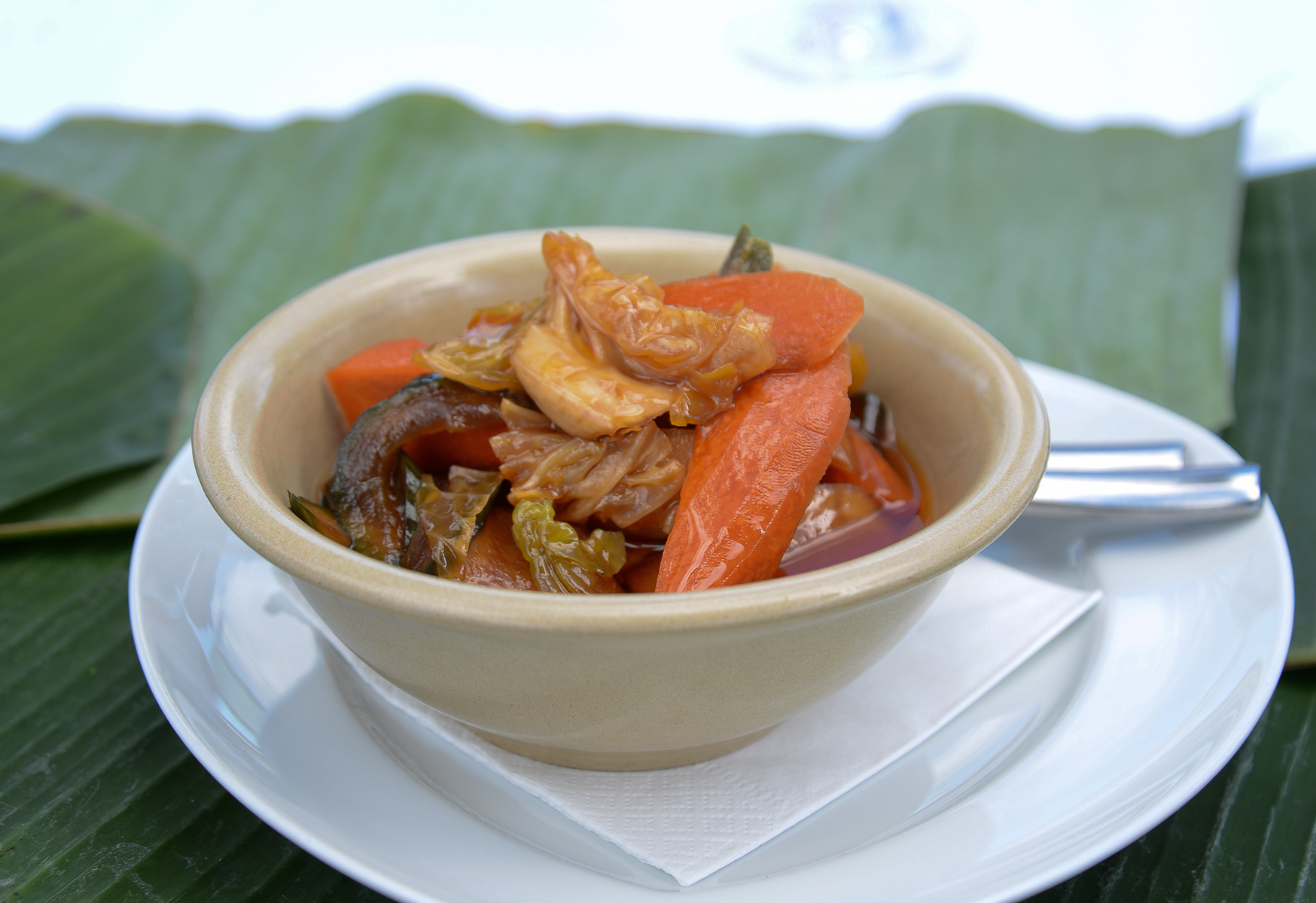 Now I've eaten a lot of Chinese pickles over the year, bought from stores and food fairs and gifted by relatives and friends. But I have to say that these are hands down the best pickles I've ever had. The quality of the produce was outstanding and the team at Billy Kwong had brought out the flavours with a subtle yet flavourful mix of vinegar and oil.
Next up were mini tarts filled with roasted pumpkin and black bean vinaigrette.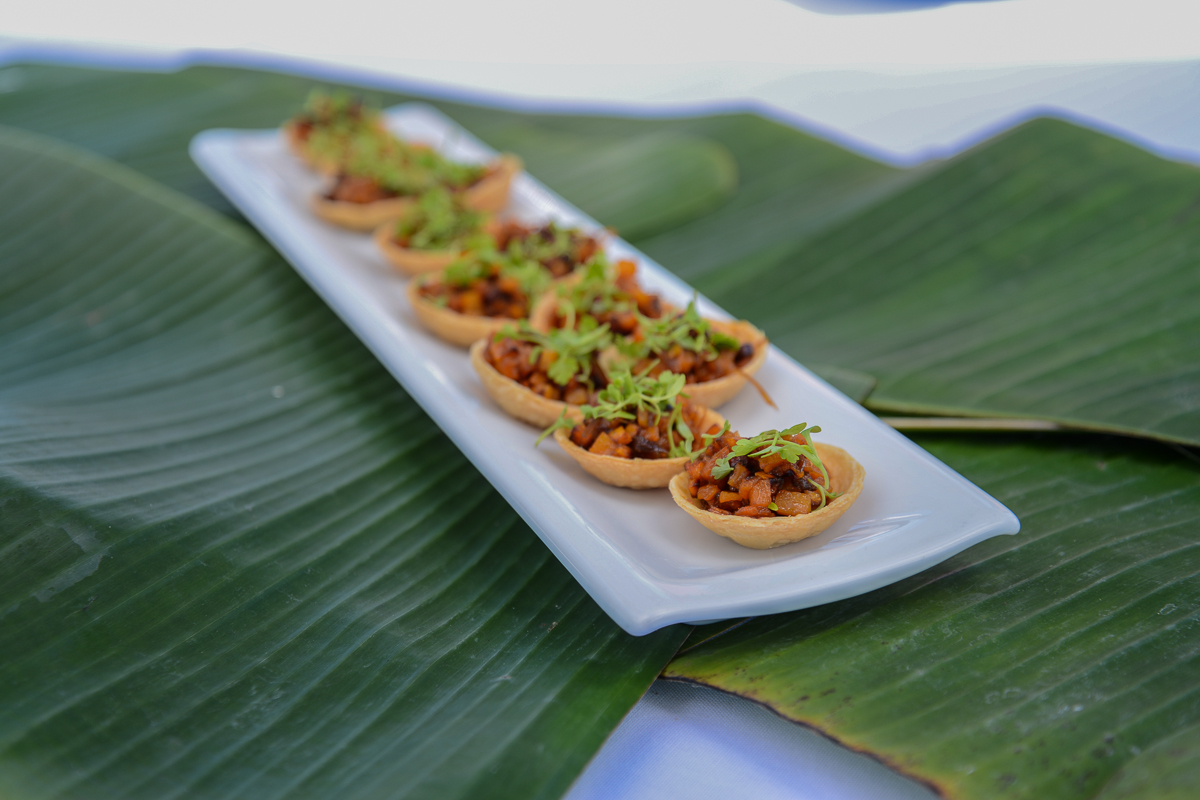 I'd never come across pumpkin served with black bean before but Kylie assures me afterwards that pumpkin and black bean are often paired together in parts of China. These tarts were fantastic, with a great balance of flavours between the sweetness of the pumpkin and saltiness of the black bean. I had three and would have have happily eaten four.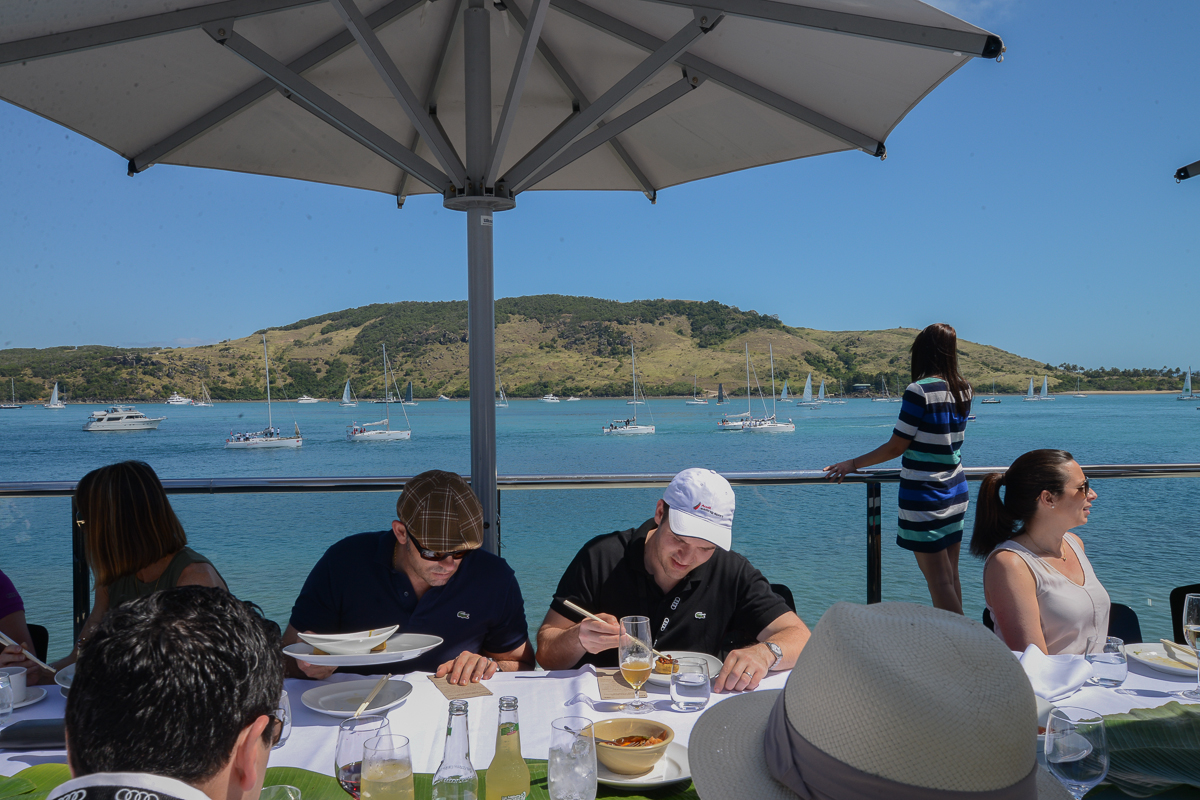 Vegetable dumplings are served next and they're bursting with the goodness of greens.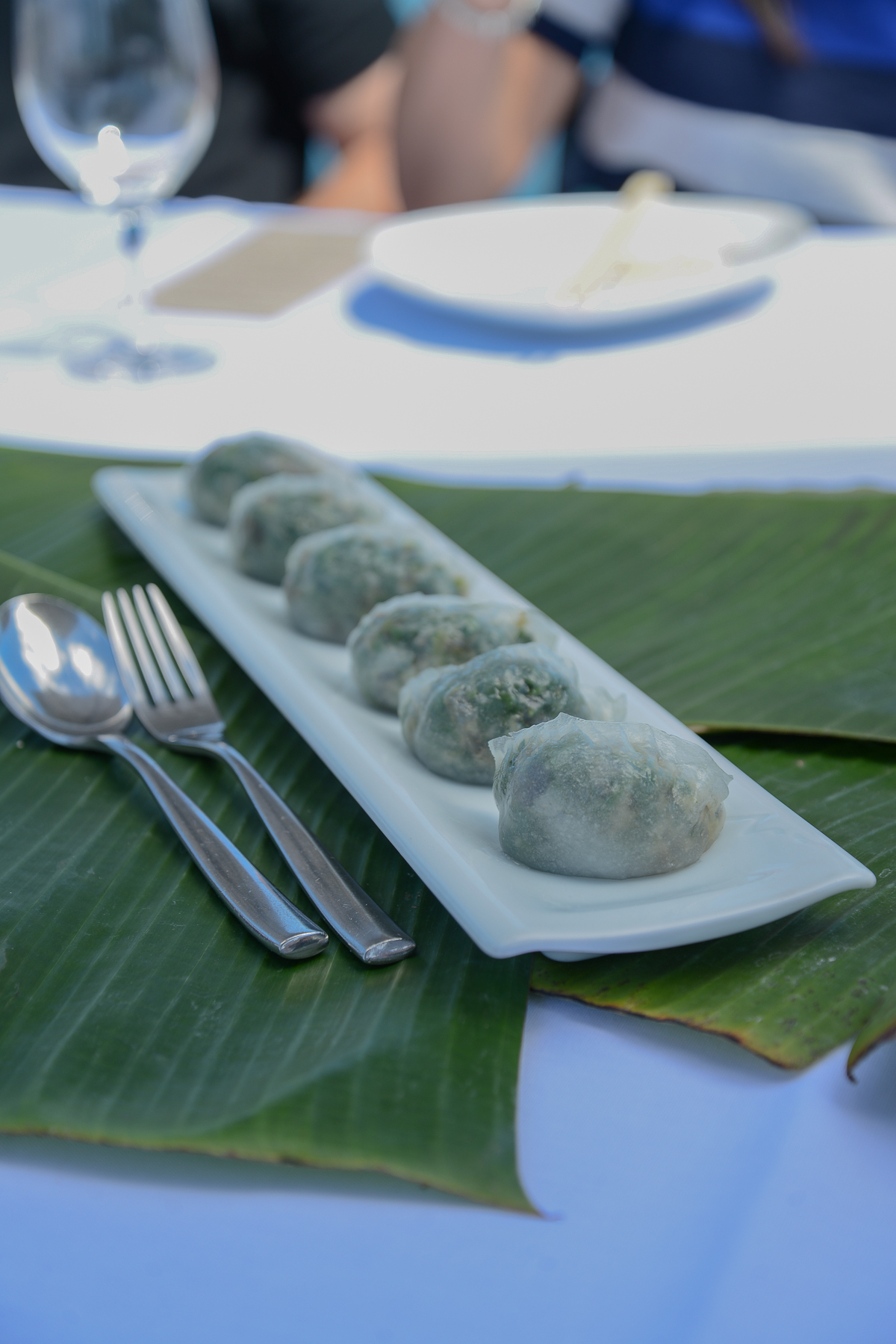 The wrapper is perfect – thin but sturdy enough to keep the substantial filling contained. The dumplings are served with a thin hoisin-y sauce.
Next we are served some shrimp wontons with a mildly tangy dipping sauce.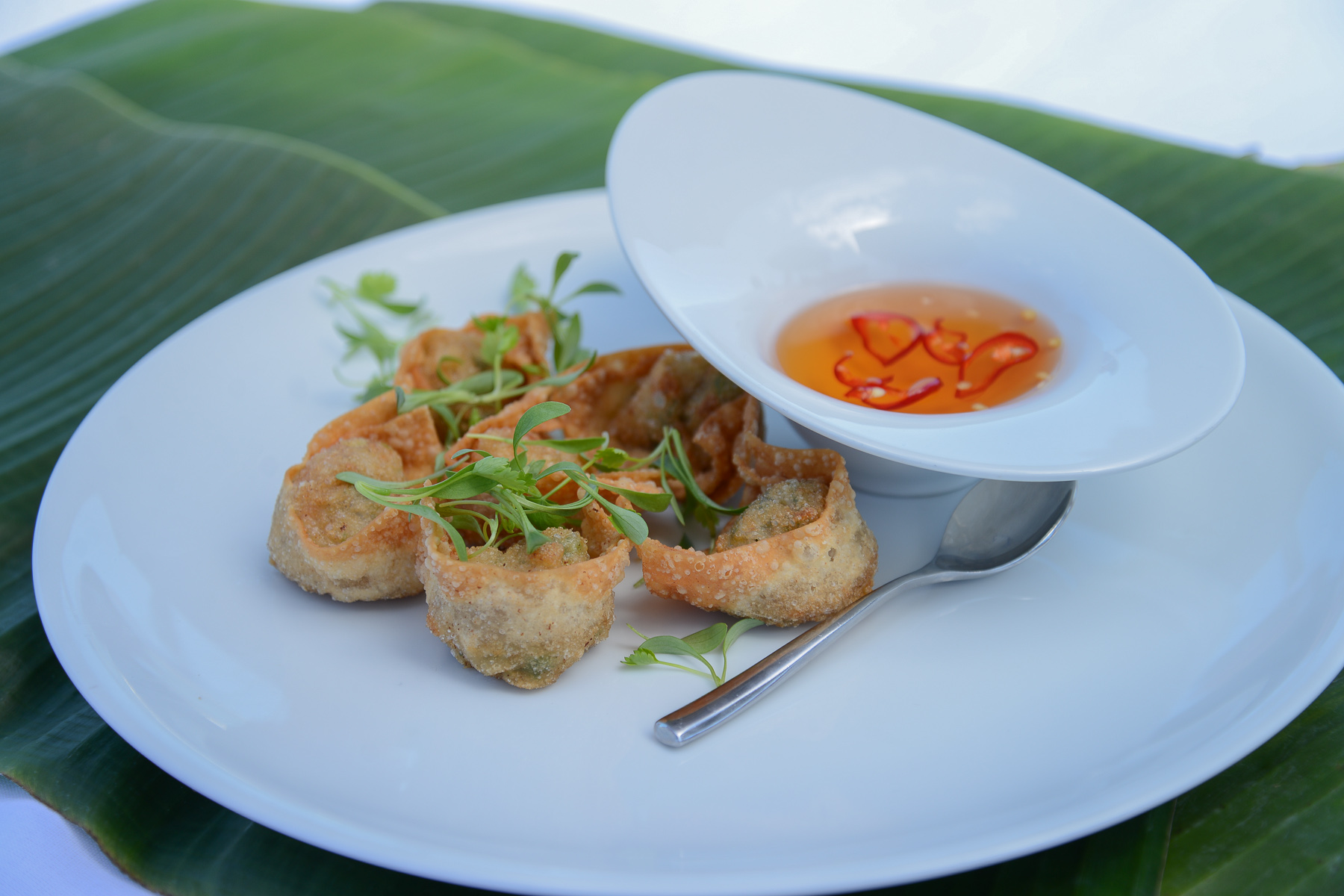 Crispy and piping hot, they are full of shrimpy goodness.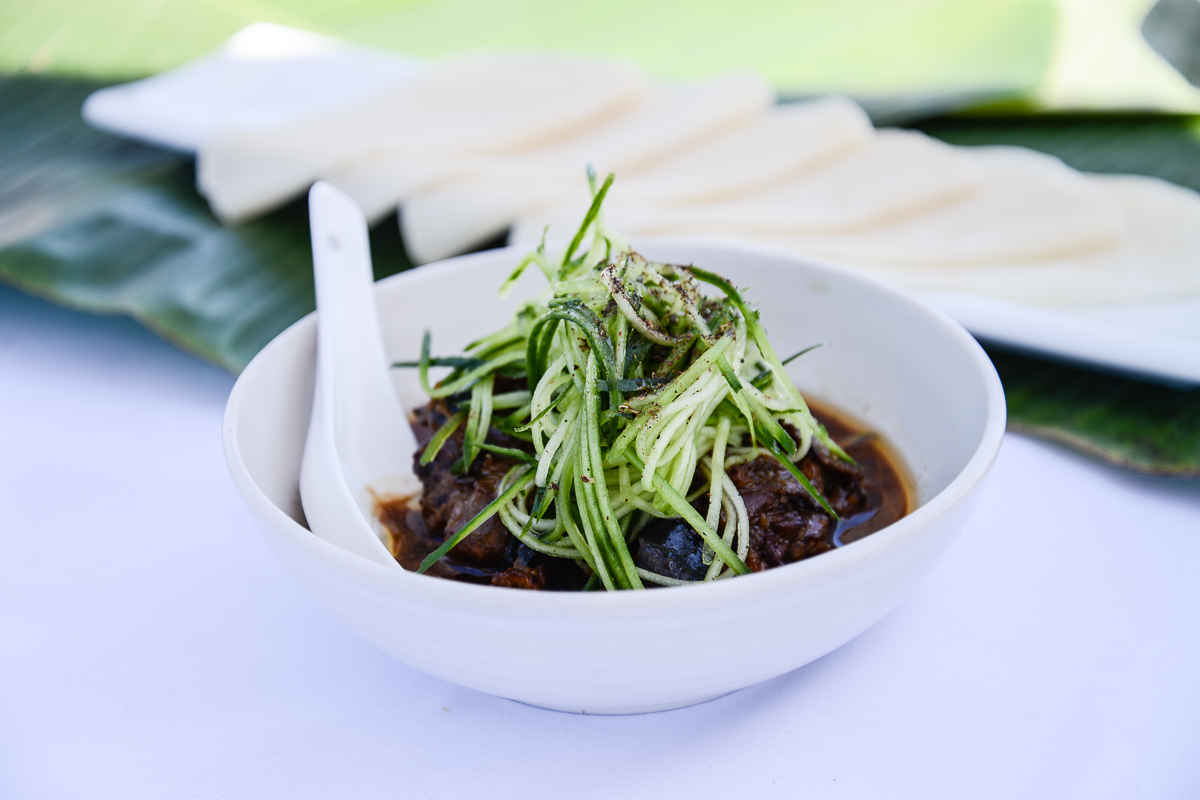 Next, stewed eggplant or pork is served with pancakes so people can make their own wraps a la Peking Duck. The eggplant is rich and flavourful if a trifle sloppy in the pancake.
The next dish is mini crispy salt bush cakes with home-made chilli sauce.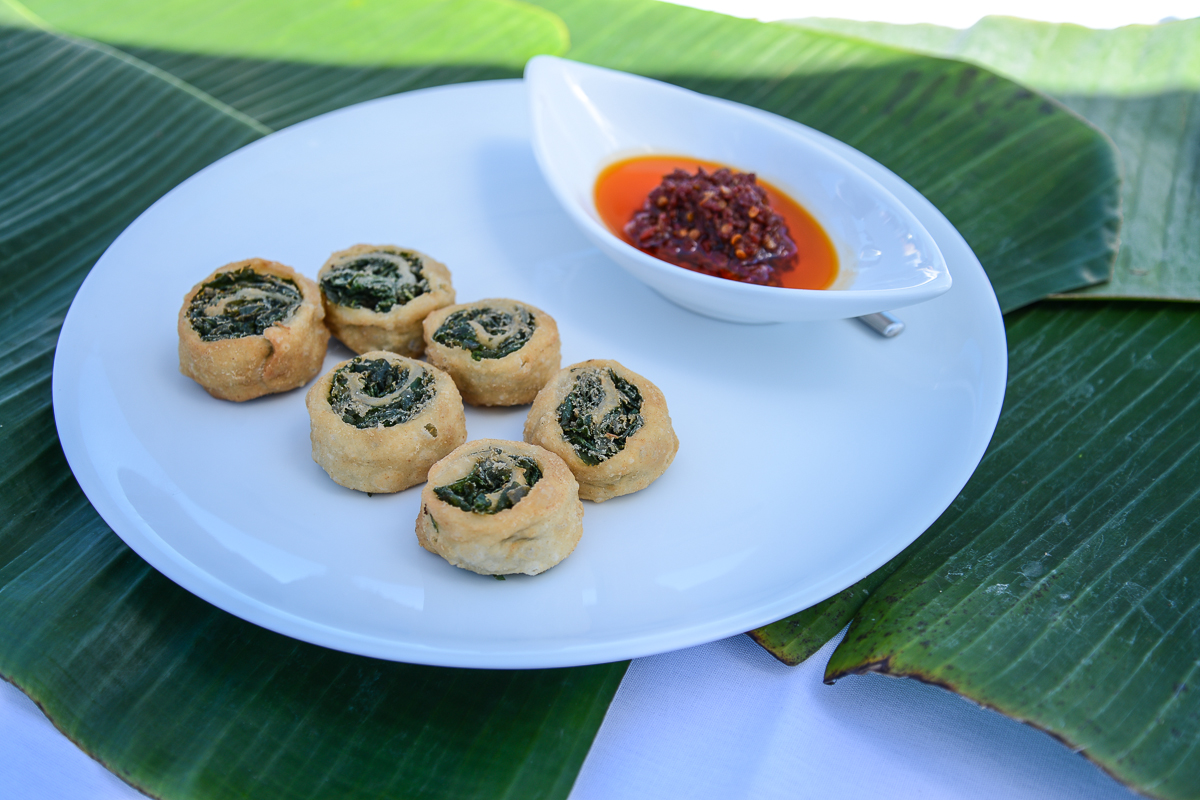 I like the juxtaposition of native Australian ingredients — saltbush — into a Chinese style pastry and the pastry has a a marvellously crispy texture. The chilli sauce is outstanding – rich, flavourful and a perfect blend of hot, salty, sweet and savoury.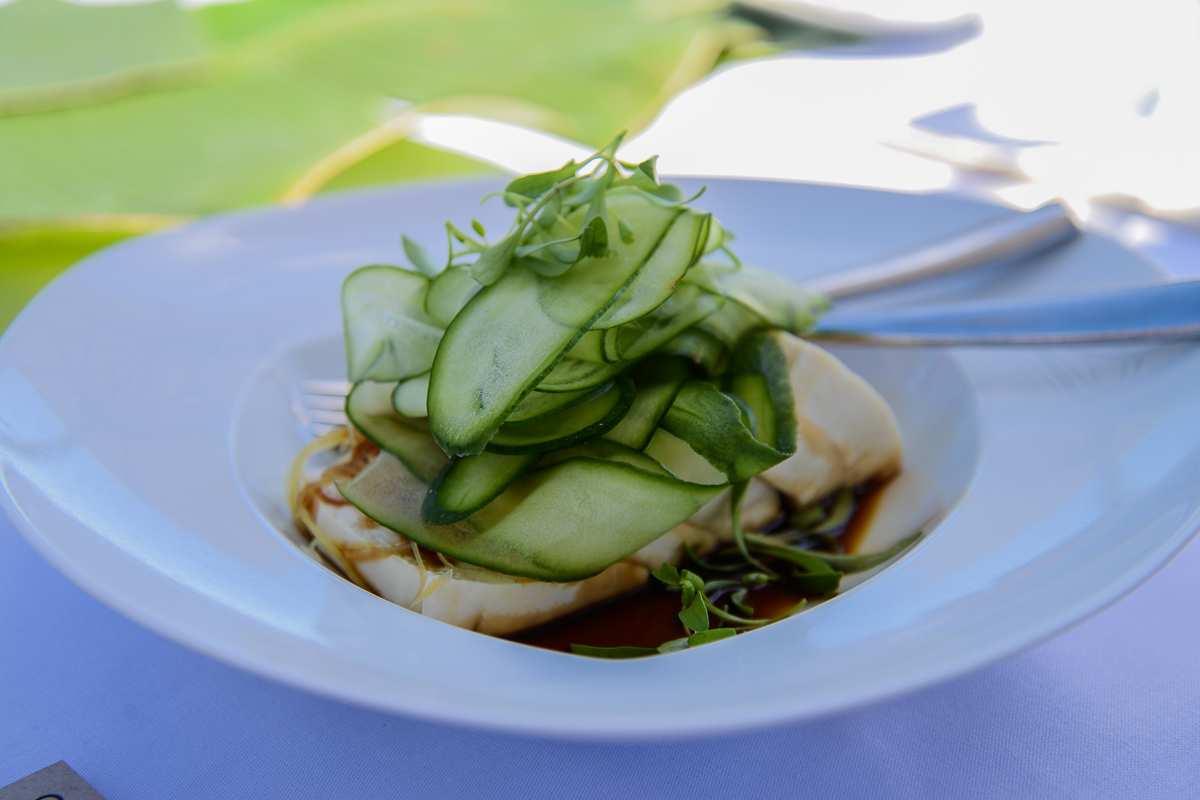 My seat mate has a food allergy so was served a special silken tofu dish in lieu of some of the other dishes. I really like this dish – the flavours are mild but well balanced and the presentation is gorgeous. I'll be making this at home.
Next we are served Steamed Scallop Dumplings with Sichuan Chilli Oil.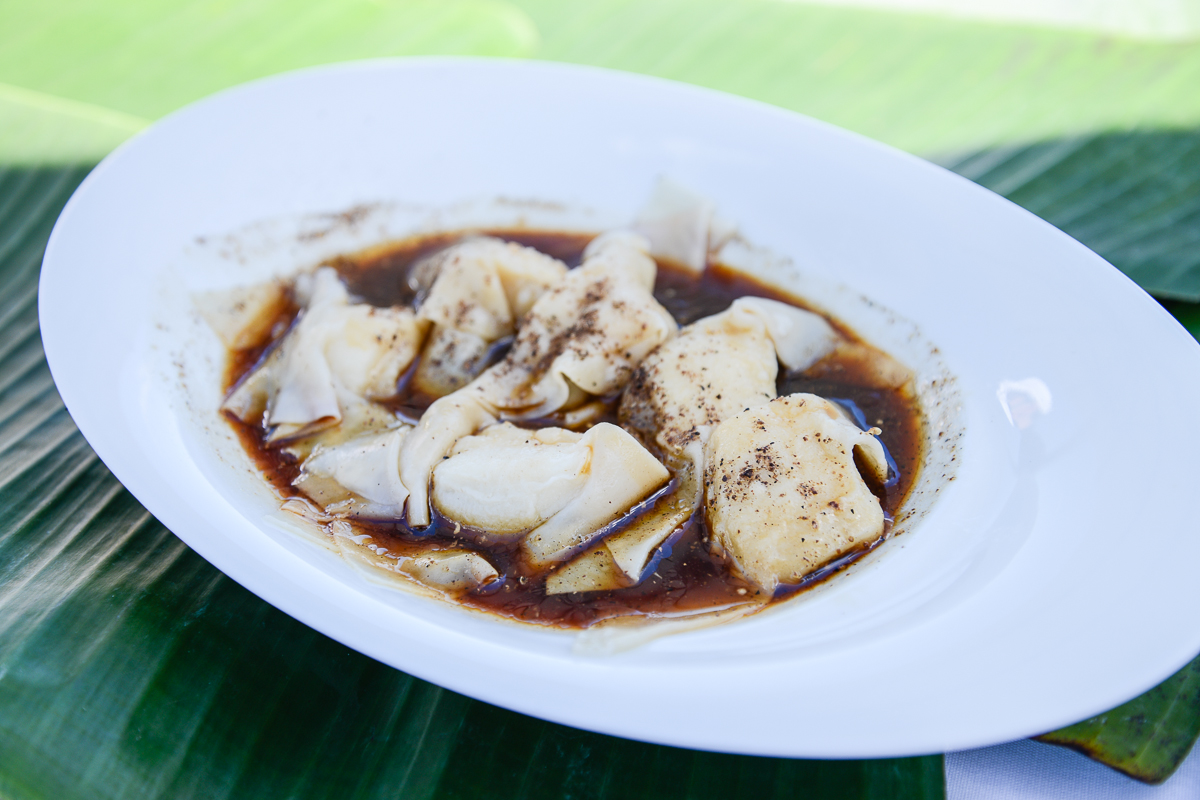 I love Sichuan food and ate it regularly when I lived in China. I like these dumplings but I do think that delicate flavour of the scallops is a bit overwhelmed by the fiery oil infused with chillies and Szechuan peppercorns.
For the last course, Kylie has put an Australian spin on a Chinese classic.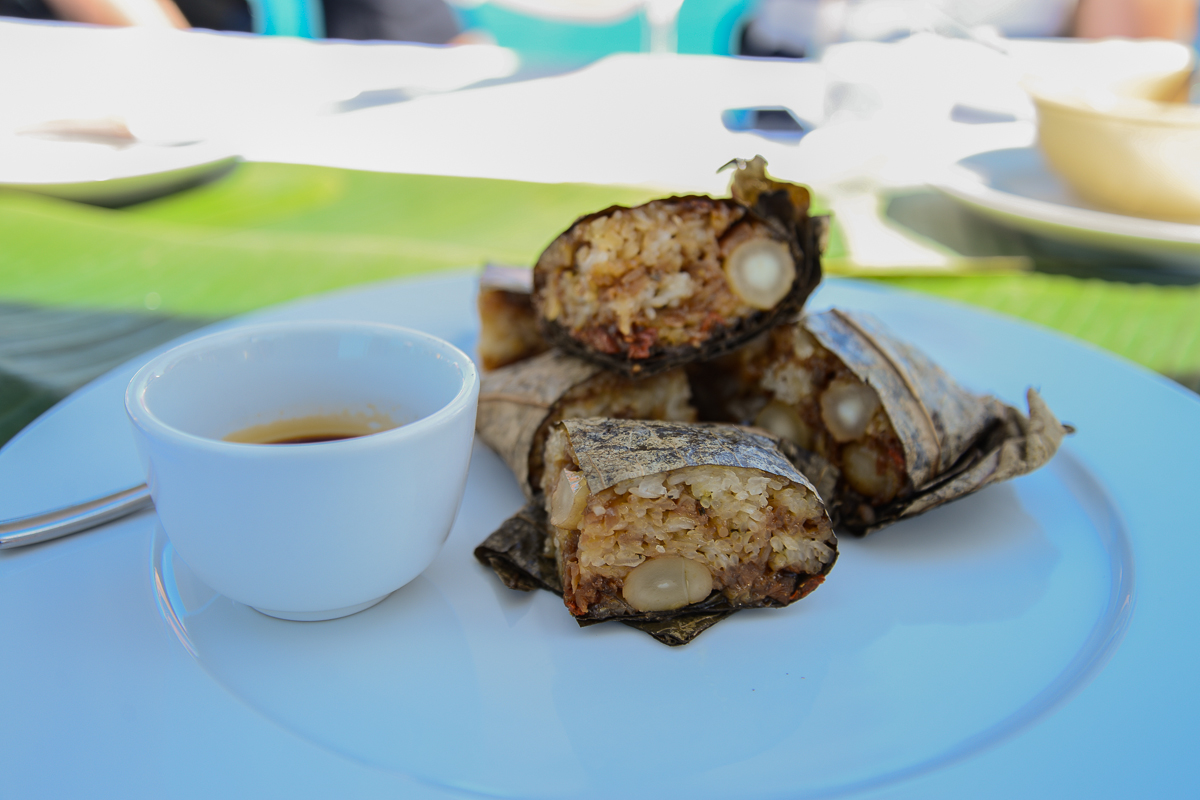 Zhongzi — or steamed rice parcels — are boiled rice parcels traditionally made with pork, chinese sausage, chestnut, mushrooms and soy sauce wrapped in lotus leaves. Kylie's take on zhongi features organic macadamias, goji berries and salted radish. This is fusion food executed with style and flair.
With all the dishes being made using organic, sustainably harvested produce, today's lunch was like an upmarket version of yum cha (dim sum), traditionally served for brunch at Cantonese restaurants. I didn't think anything could top my usual, beloved yum cha experience — catching up with family and friends, bamboo steamers crowed on a lazy susan, noisy restaurant, messy kids, and pot after pot of steaming hot tea — but today's lunch comes pretty darn close.
'30' Dinner by Shannon Bennet (Vue de Monde) and 4 of his protégés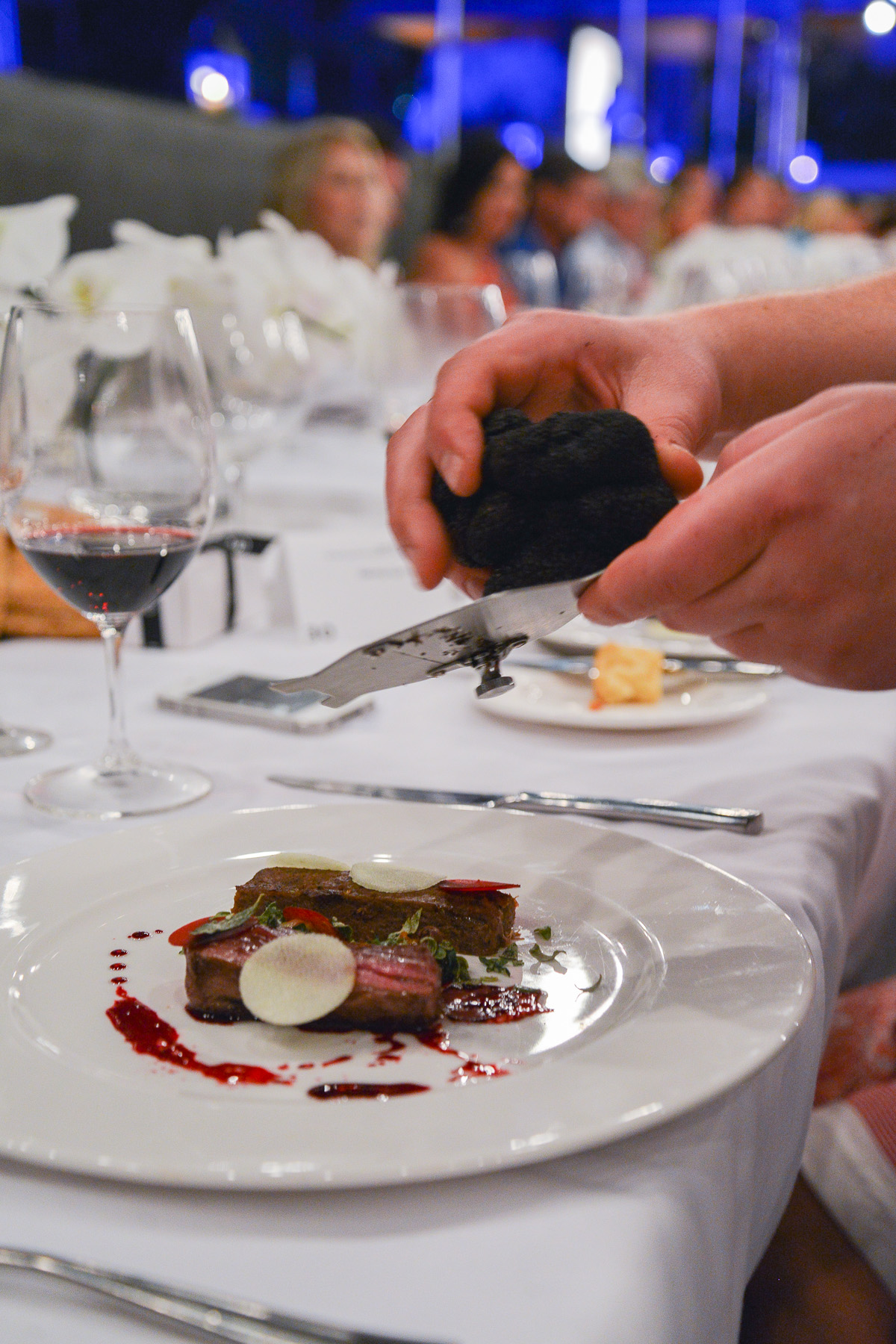 Freshly shaved truffle? Don't mind if I do.
My final night on Hamilton Island is one of unabashed, push-the-boat-out glamour. To celebrate 30 years of Race Week, Audi host a '30' dinner in the grounds of Qualia, voted Best Resort in the Word in 2012. The '30' dinners features Shannon Bennet (Vue de Monde) and four of his protégés, who are all under 30 years old.
The courses will proceed as follows:
Canapés by Jim McDougall, previously Vue de Monde's Sous Chef and Café Vue 401's Head Chef and now part-owner and Head Chef at two-hatted Stefano's),
1st course by Josh Lewis, previously of Vue de Monde and most recently at Loam;
2nd course by Cory Campbell previously of Copenhagen's Noma and now Vue de Monde's Head Chef;
3rd course by Shannon Bennett & Cory Campbell; and
4th course by Darren Purchese, pastry chef at Vue de Monde, and now owner of Burch & Purchese Sweet Studio.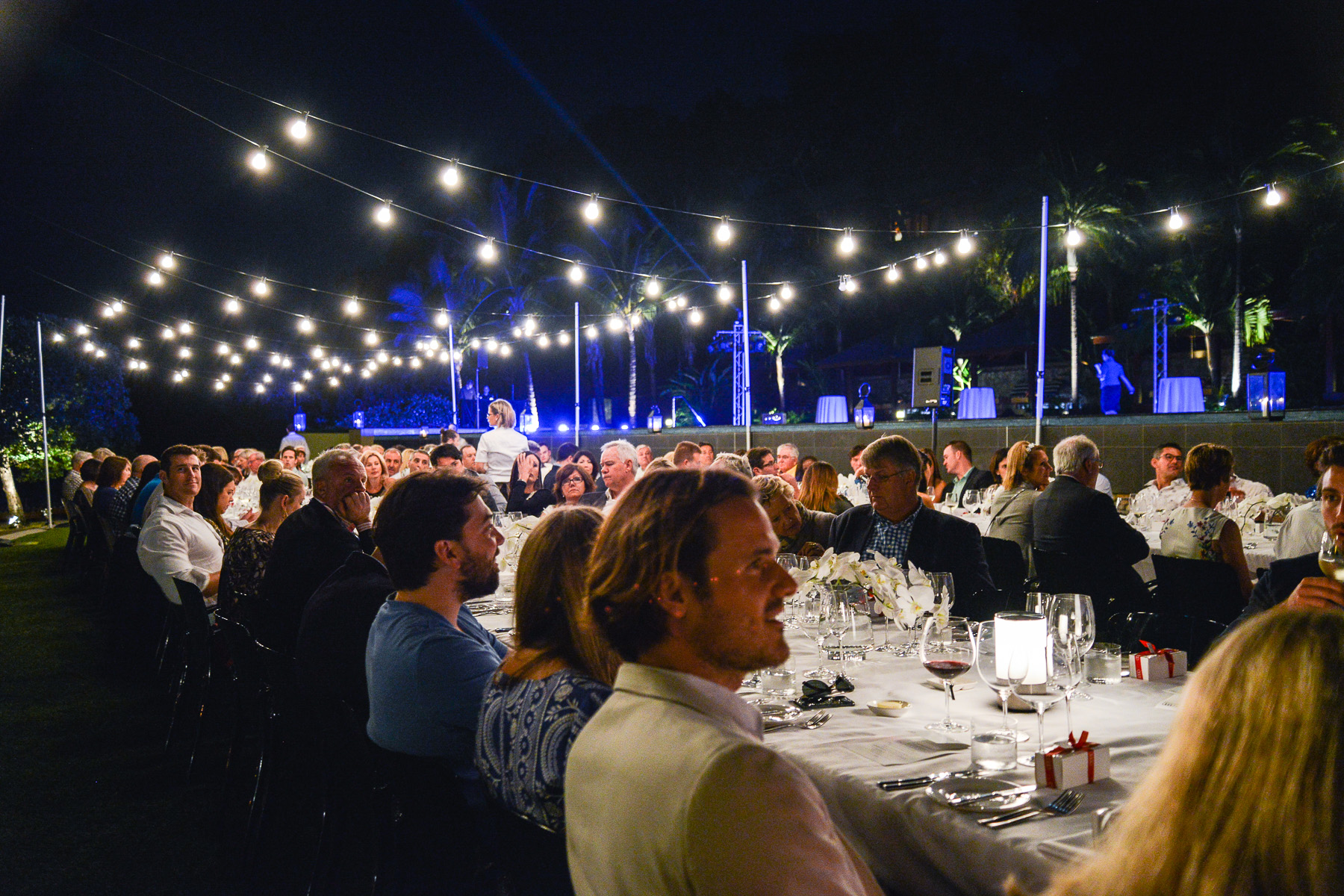 Owing to a mixup — I was working off an old itinerary — I arrive at the '30' dinner just when everyone is sitting down to eat, having missed a synchronised swimming display featuring Colette Dinnigan swimwear and pre-dinner snacks by Jim McDougall. Damn.
The first course is by Josh Lewis and consists of raw local fish, raw nori, bone marrow and sea lettuce.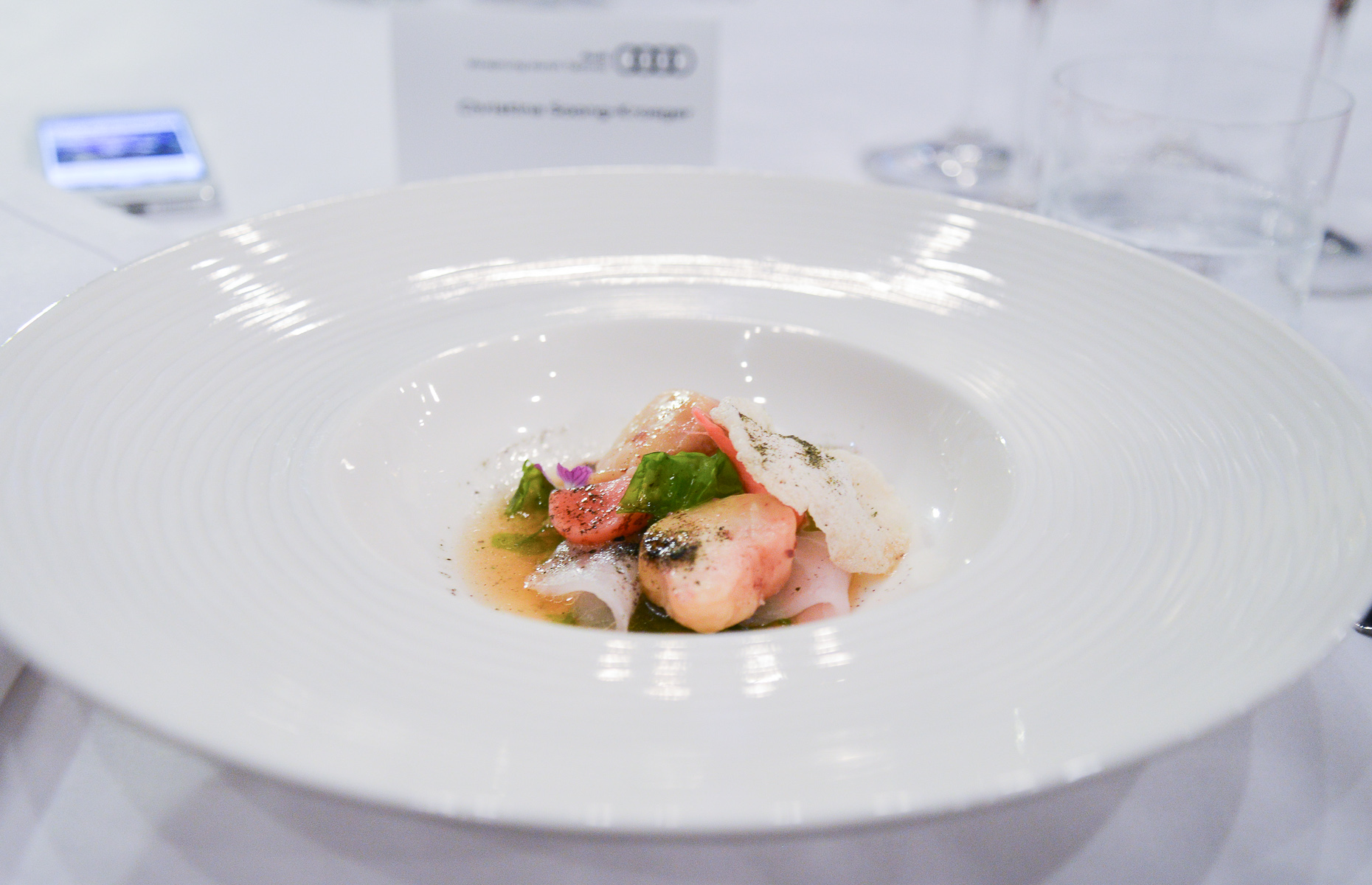 On the plate it looks interesting but not overly striking. Once in the mouth though, this dish is absolutely stunning. I'm a big fan of marrowbone — its flavour and texture is exquisite — and here it has been daintily cooked and plated alongside raw fish, nori powder and just cooked sea lettuce. It's so simple and yet so beautifully executed.
The next course by Cory Campbell proves to be more challenging for some at the table.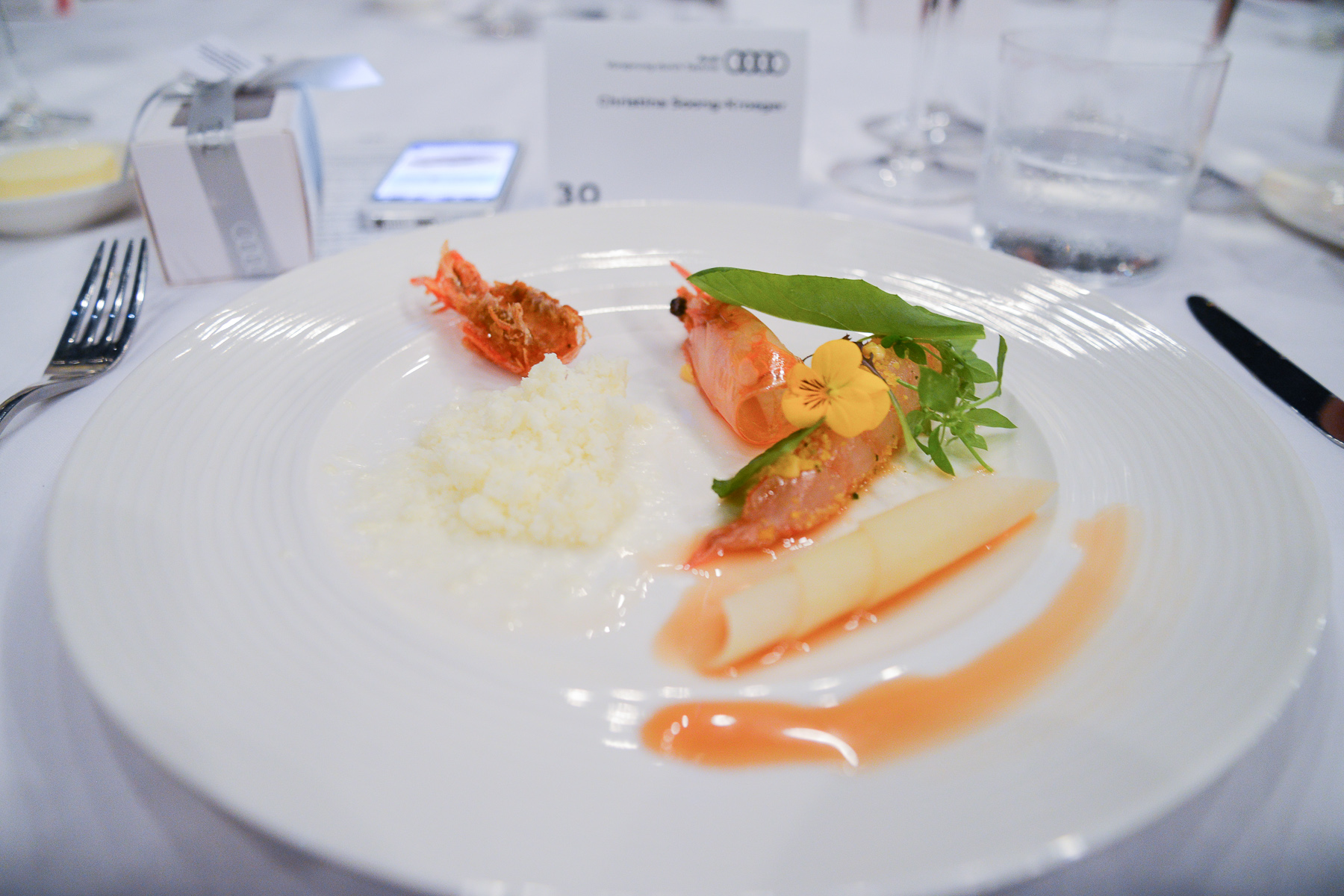 For his dish Cory has used a whole prawn in three different ways: the shelled body is served raw — sashimi style — the head is steamed and the shell and legs have been fried.  A mound of wasabi sorbet slowly melts away on the plate while a sauce replete with fragrant prawn stock and the richness of seaweed salted duck yolk has been gently spooned over a furl of mustard greens.
There are a lot of different elements going on in this ambitious dish – as someone who happily boils prawn heads and shells to make prawn stock I can appreciate where he's going with this but other people seated near me are a little underwhelmed.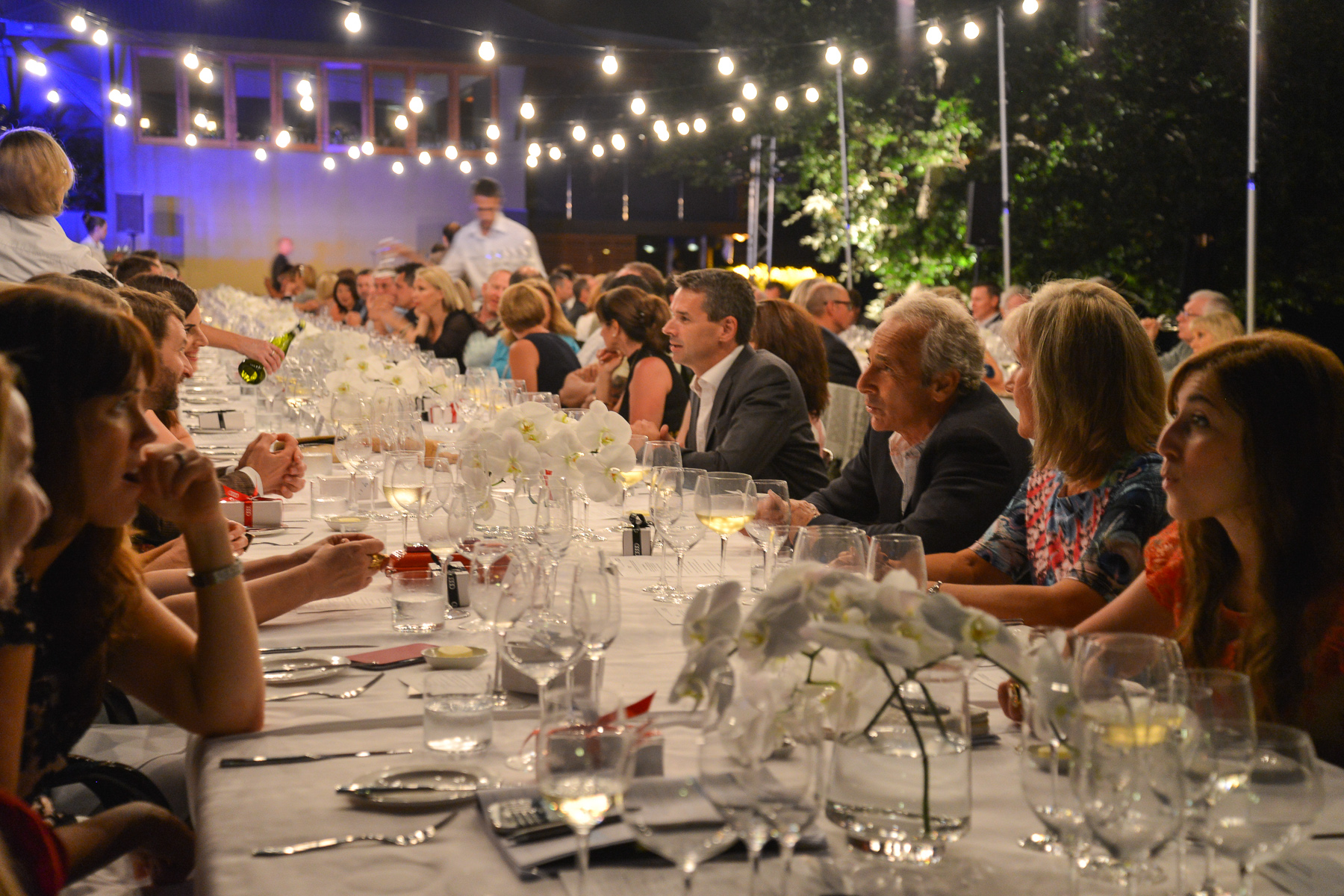 The third course is by Cory and Shannon and is a dish of barbecued beef, beetroot, saltbush and truffle. Beef is served two ways: medium-rare steak fillet and pressed crispy beef (the beef is slow-cooked, shredded, moulded and then pan-fried so the outer layer develops a crispy crust).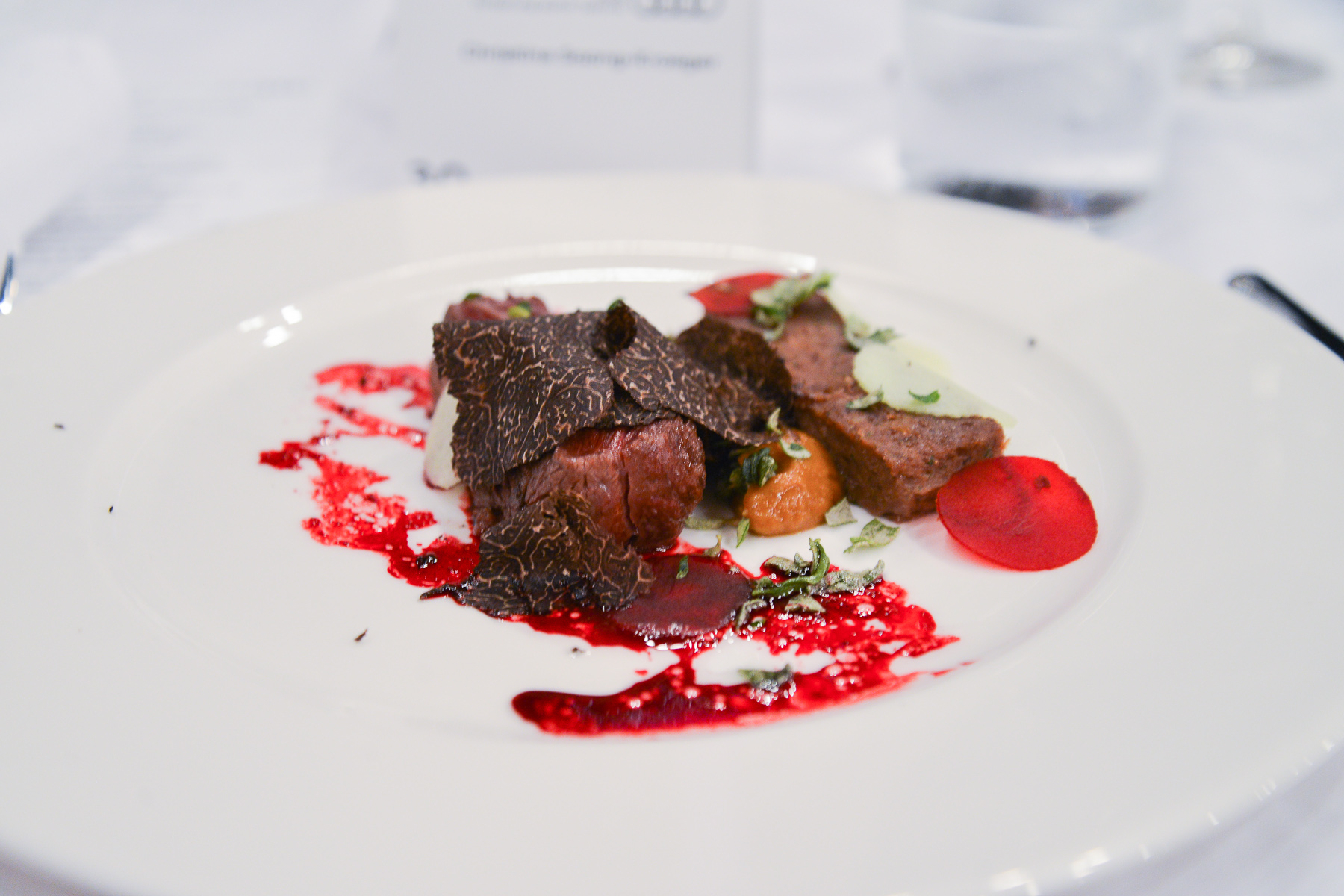 Fresh truffle is grated on the plate table-side by Chef, and the fragrance is incredible. I really like this rather bloody looking dish but I can't help wishing that some green vegetables or salad leaves were served with it as it's quite a rich dish. But this is a minor point.
The next course is dessert by Darren Burch and my seat mates are presented with passionfruit sago pudding.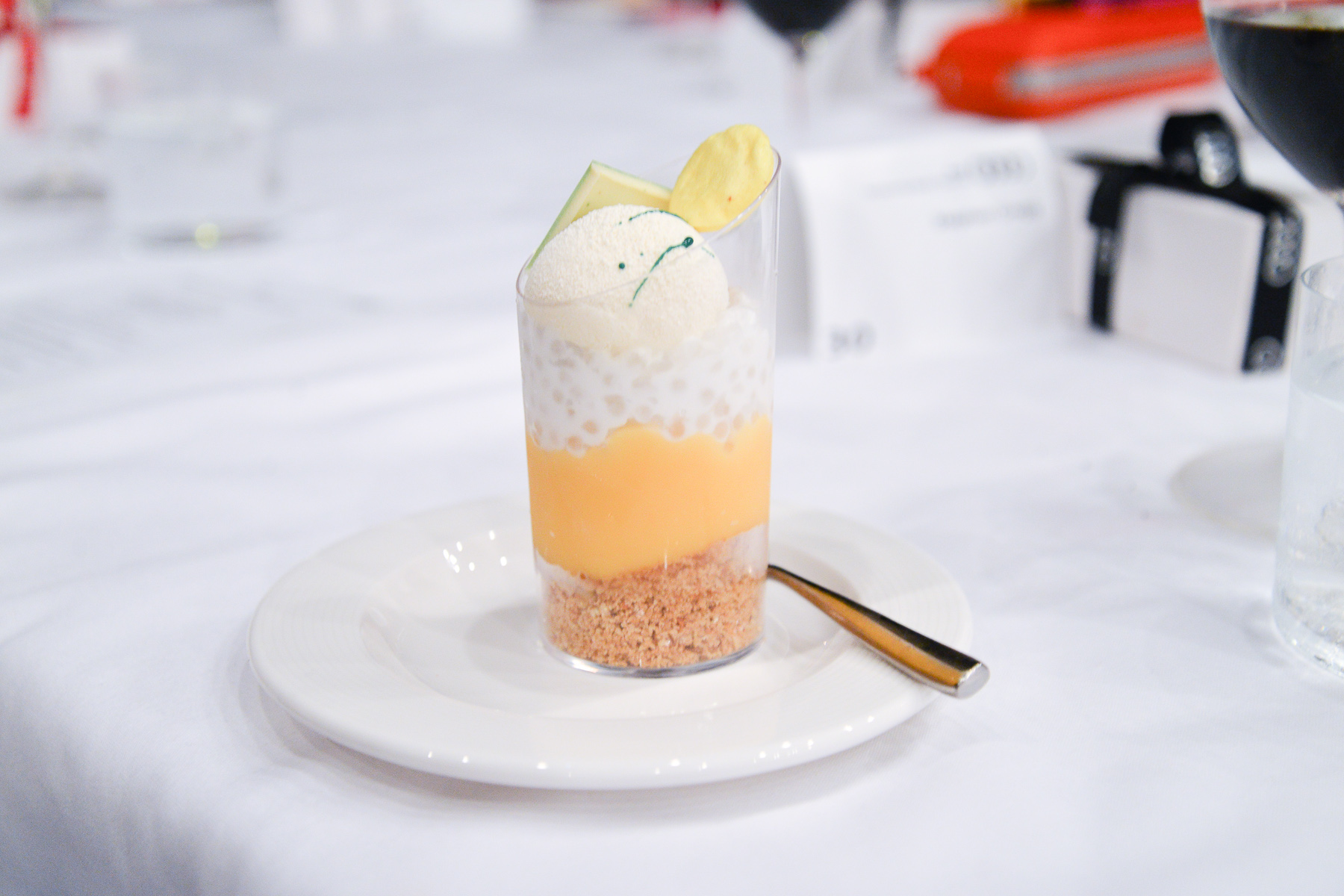 I love a good sago dessert and this one looks pretty as a picture. Back home, it inspires me to make my own (much simpler) sago dessert: Passionfruit Sago Pudding.
I'm offered the dairy-free dessert option – berries in jelly.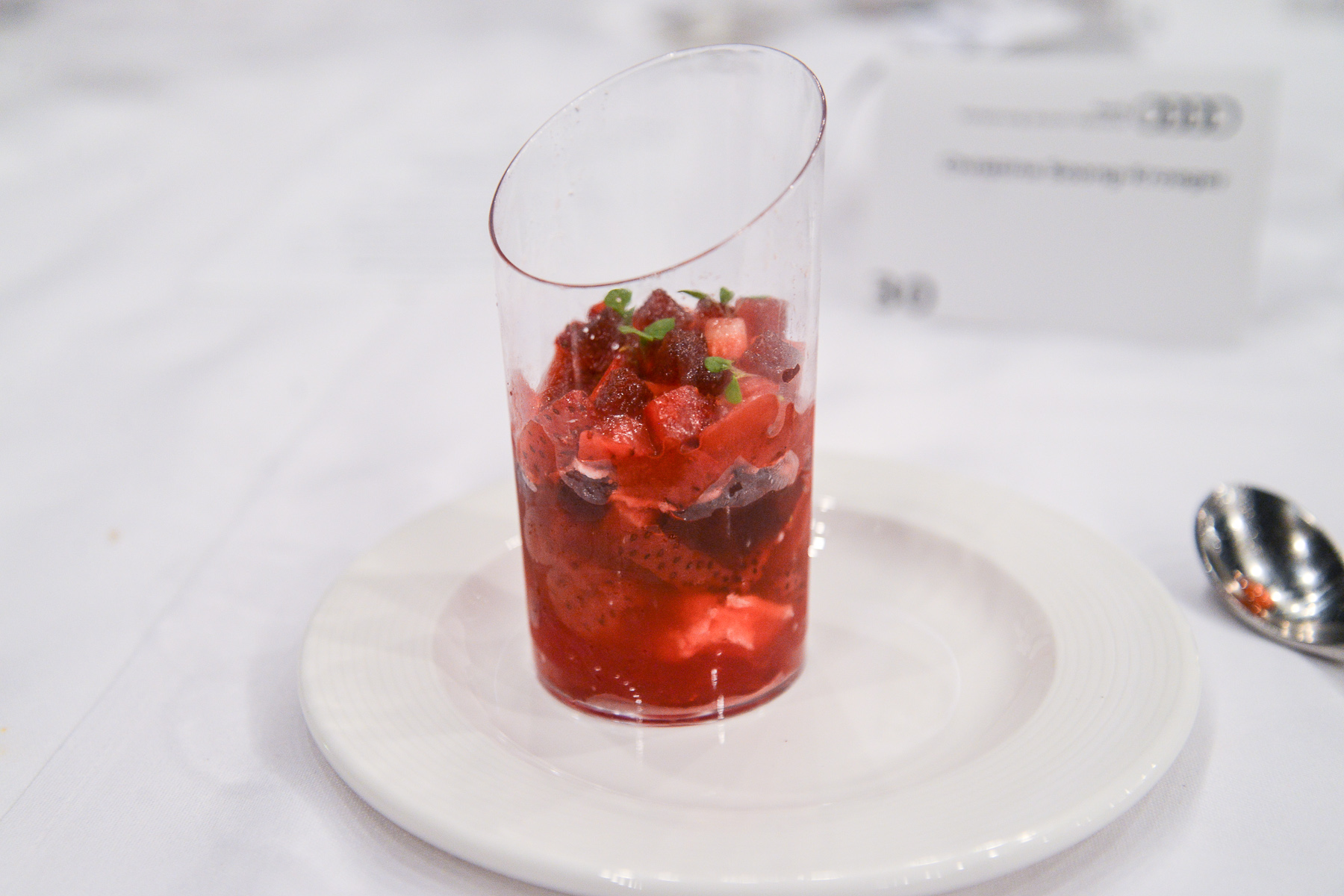 Berry jelly, berry gels and fresh strawberries prove to be a winning combination. The contrast of textures is sublime while the tartness of the berries nicely balances the sweetness of the jelly.
We're then invited to visit the  magnificent dessert buffet set up by Burch & Purchese featuring cake pops, truffles, French mendiants, chocolates, chocolate bark, and lemon curd tarts. I pop half a dozen in my mouth — not all at once — and the quality is outstanding. Thoughtfully, 'doggy bags' are provided for guests to take some desserts home with them. In my case, I take a selection of treats all the way back to Adelaide for my delighted children.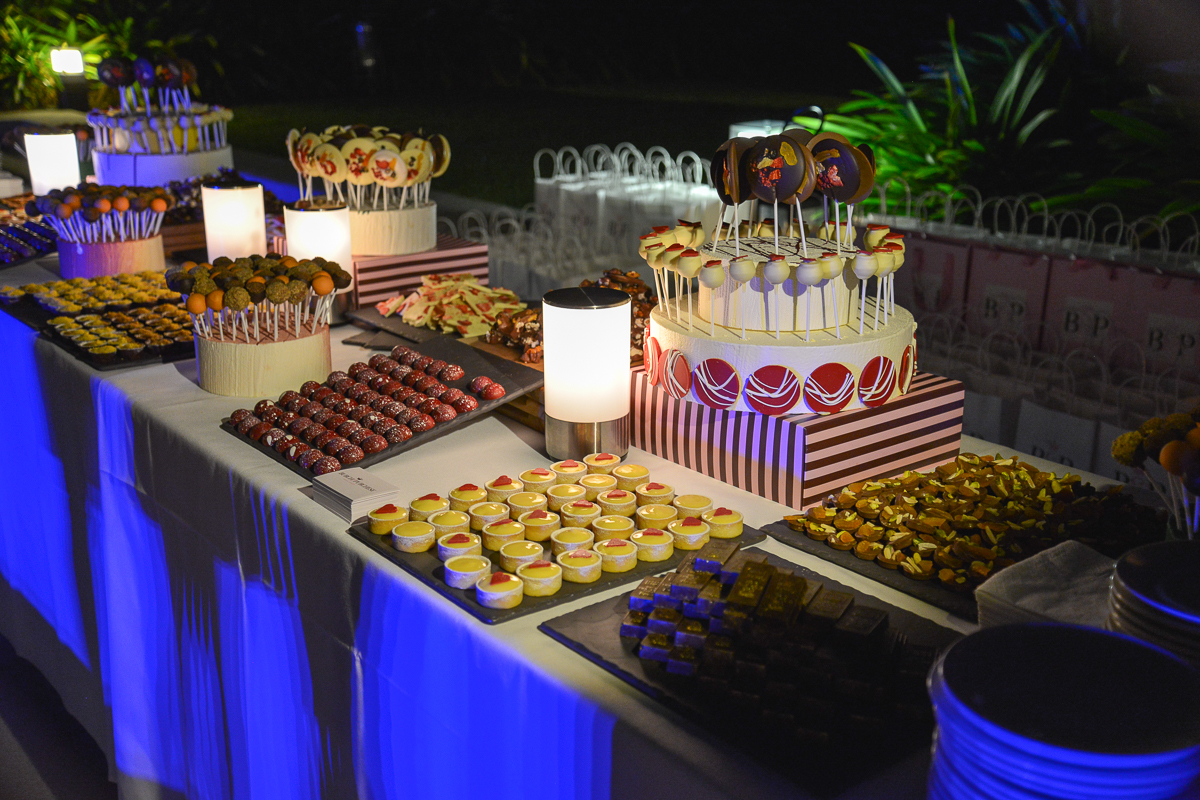 At the end of the dinner all the Chefs are invited on stage to take a well-deserved bow.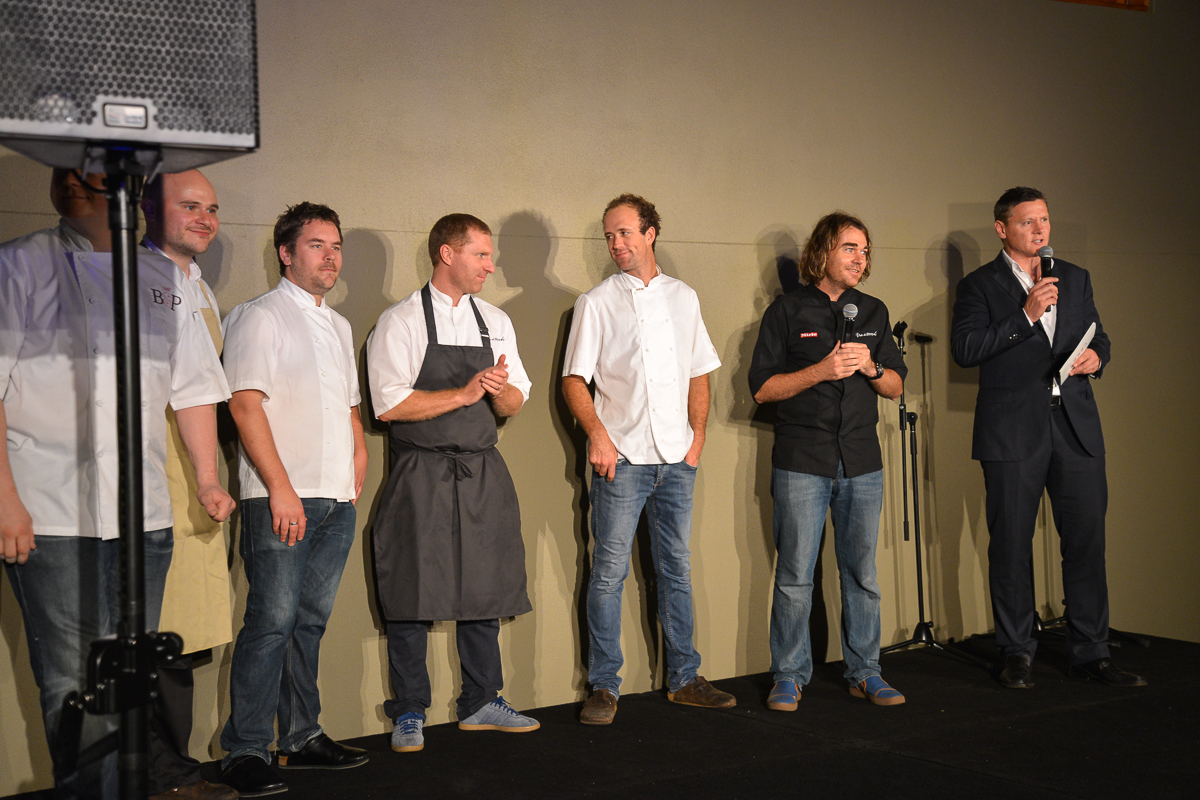 It's been a fantastic night executed with nary a hitch. The collaborative nature of this dinner — five Chefs and colleagues coming together to create a special dinner — really appeals to me and I can only be thankful that I was able to experience it.
Hamilton Island: you sure do know how to show a girl a good time. I guess it just proves the old saying: too much of good thing can be wonderful.
Address book
Audi Hamilton Island Race Week: Held every July on Hamilton Island, Whitsundays.
Hamilton Island Yacht Club: bookings can be made at the Bommie Restaurant and Deck for meals or drinks. Telephone: +61 7 4948 9433.
Billy Kwong: Shop 3, 355 Crown Street, Surry Hills, NSW. Tel: +61 2 9332 3300 or email: enquiries@kyliekwong.org.
Vue de Monde: Level 55, Rialto, 525 Collins Street, Melbourne, VIC. Tel: +61 3 9691 3888 or email: vuedemonde@vuedemonde.com.au. You can book a table here.
Stefano's: Cellars of the Grand Hotel, Langtree Avenue, Mildura, VIC. Tel: +61 (3) 5022 0881 or email: info@stefano.com.au
Burch & Purchese: 647 Chapel Street, South Yarra, VIC. Tel: +613 9827 7060 or email: info@burchandpurchese.com
Qualia: Hamilton Island. For reservations email: reservations@qualia.com.au or check out reservations.
More Hamilton Island posts
Disclosure
I attended Hamilton Island Race Week as a guest of the Island. All flights, accommodation and meals were courtesy of the host. As always, all opinions are my own.
Subscribe to The Hungry Australian
Hungry for more? Don't want to miss a post? Sign up to receive The Hungry Australian posts twice a week – it's FREE!!