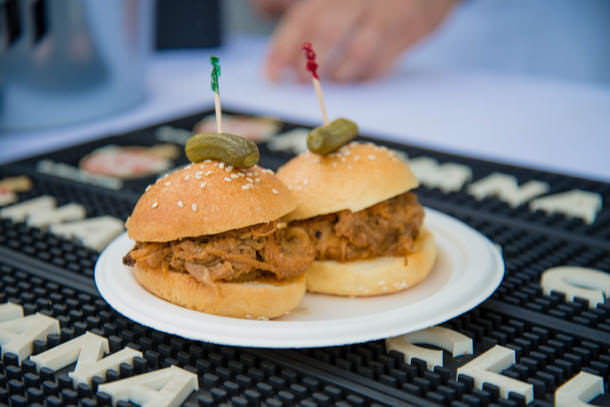 Regular readers will know how much I enjoy helping my kids develop an appreciation for food. We regularly shop at farmers' markets and specialty grocers, pick our own fruit, go foraging and fishing and cook together.
So I was glad to see all the great family-friendly activities at South Bank's annual food & wine festival in Brisbane a few weeks ago. This year the theme was Regional Flavours and the creative minds behind the festival had come up with a number of fun ways for both adults and kids to learn about food.
I've previously blogged my favourite photos from the two-day festival, and a lengthy post about 20+ food producers from all over the state who exhibited at the festival. This final post covers some of the festival activities and some of what I ate there.
The Food Imaginarium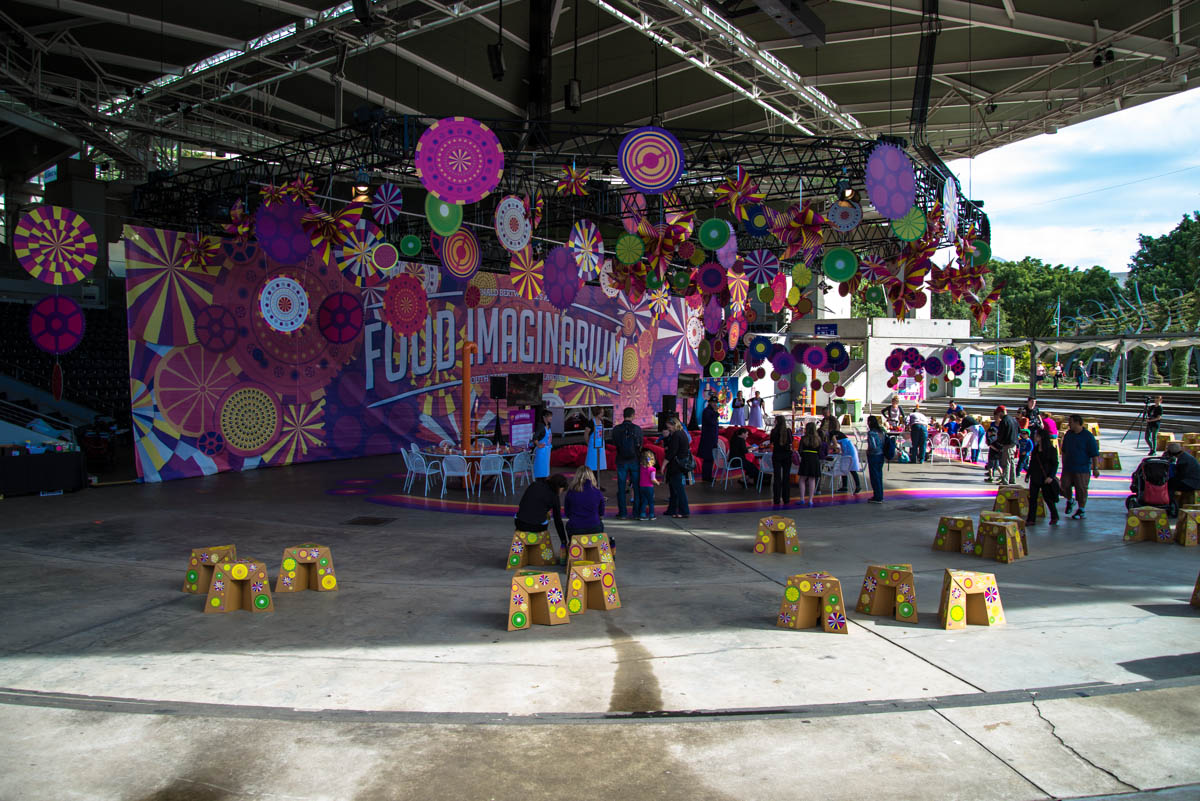 I started my Saturday at the Food Imaginarium, a colourful setting for a number of children's workshops and classes.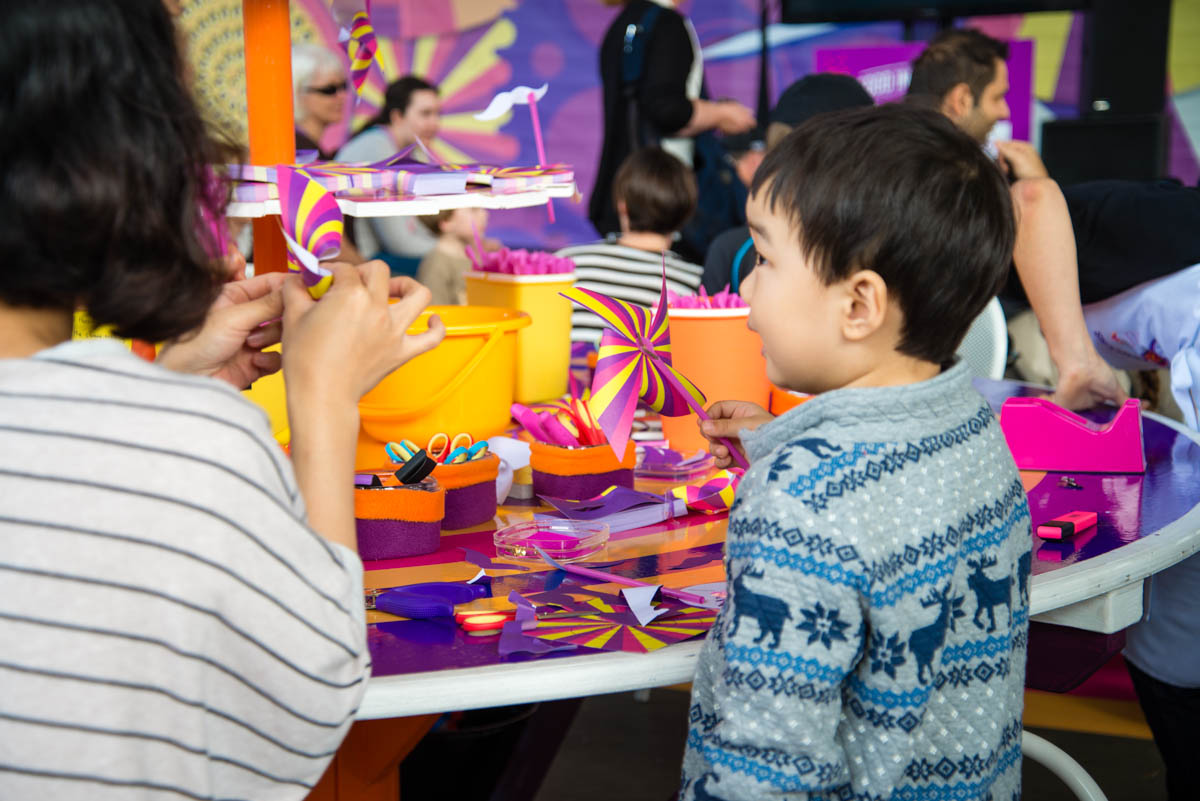 Children could take their pick from drawing, craft (making a windmill), creating an apple person and cupcake decorating.
Friendly staff were on hand to guide and instruct and the tables were soon full of kids happily giving it a go.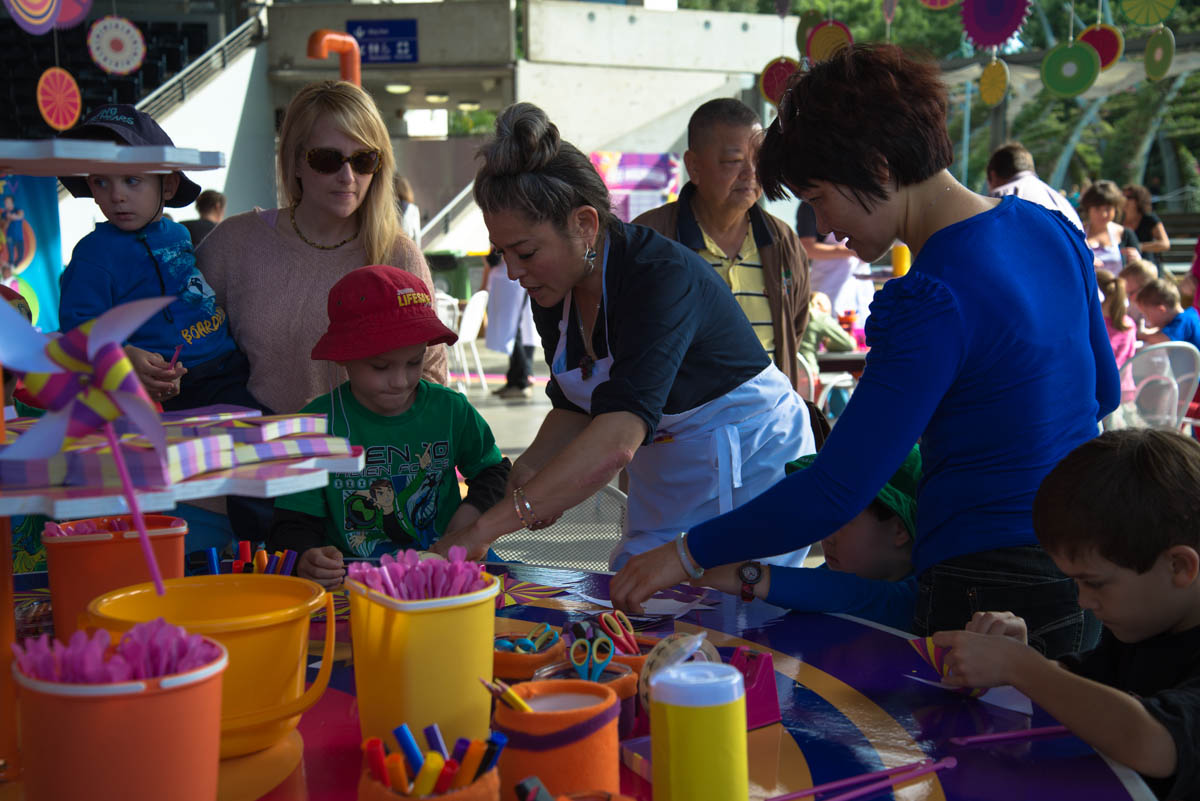 Parents got in the act, too, helping their little one with the trickier bits.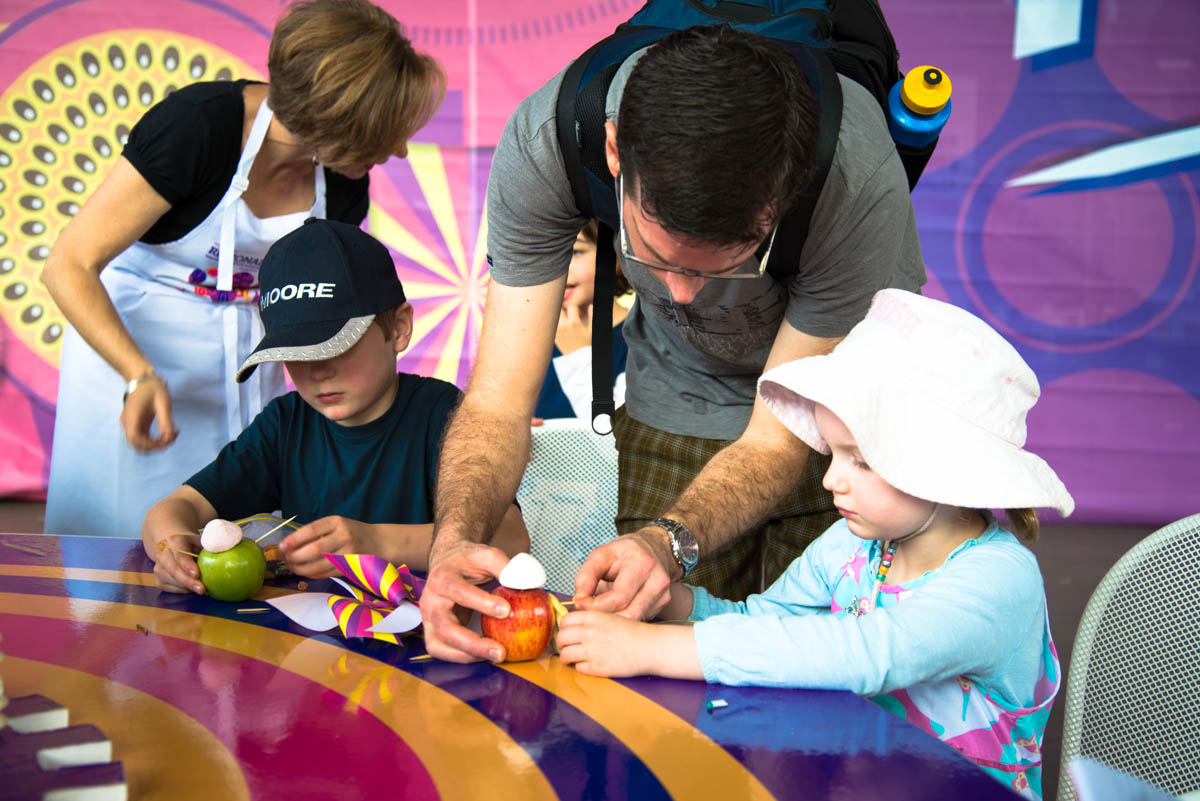 The thought of dozens of kids with squishy bags of icing makes me feel a little light-headed so I was impressed by these super-convenient and squeezable icing containers. These make decorating cakes a relatively mess-free activity. Where can I get my hands on some?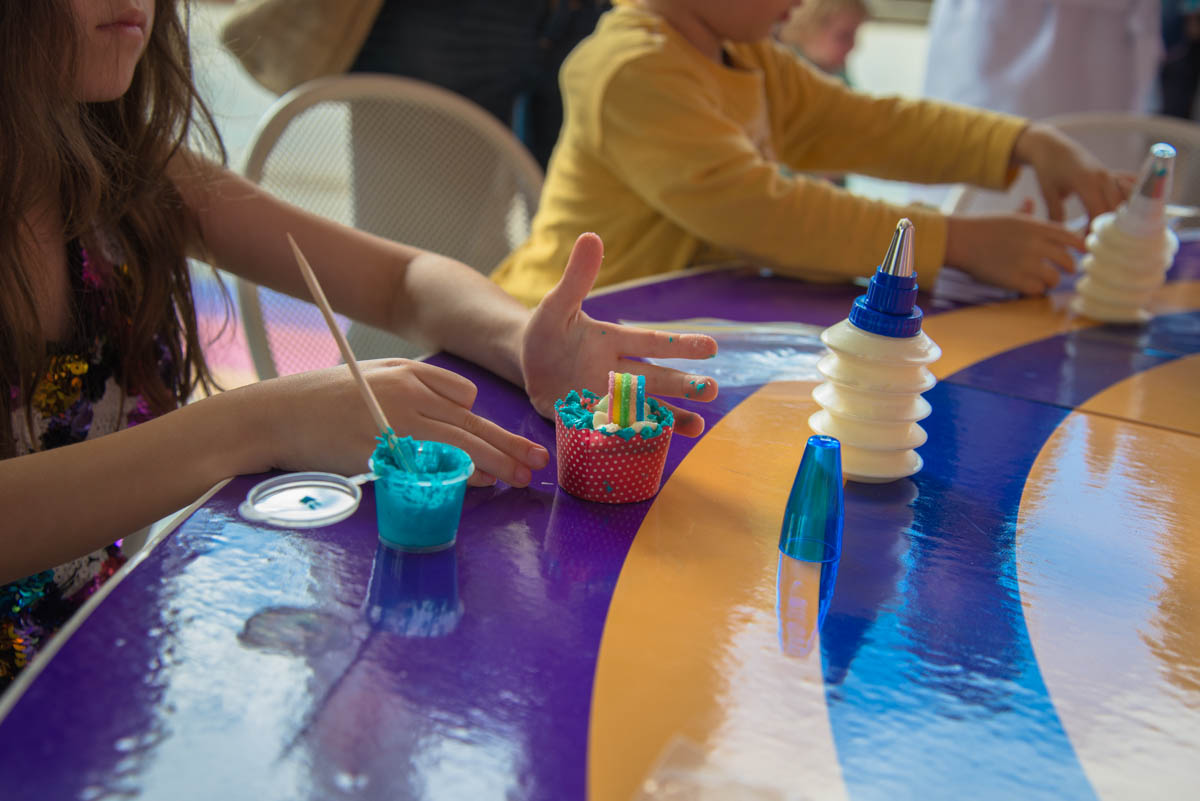 The finished cupcakes – ta dahh!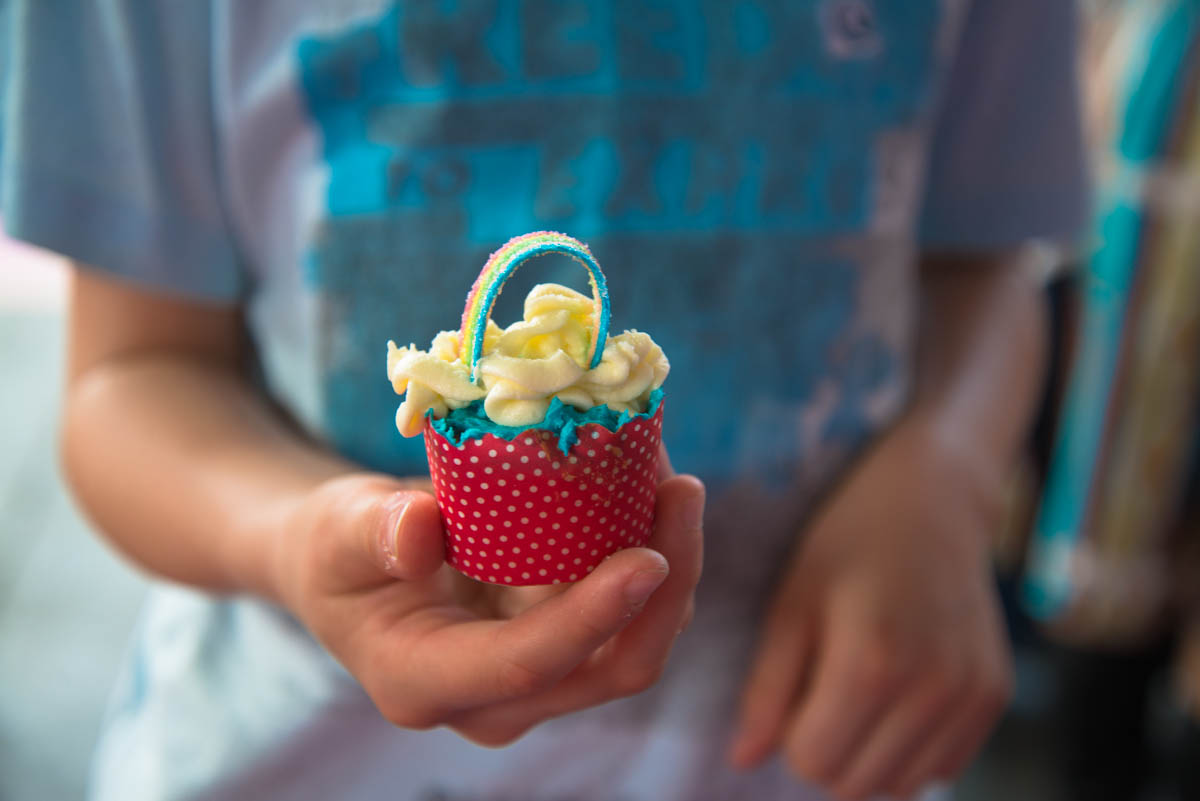 After the cupcake workshop I watched Alice Zaslavsky (MasterChef Australia 2012) begin a 'Pooh's Crunchy Honeycomb' dessert session.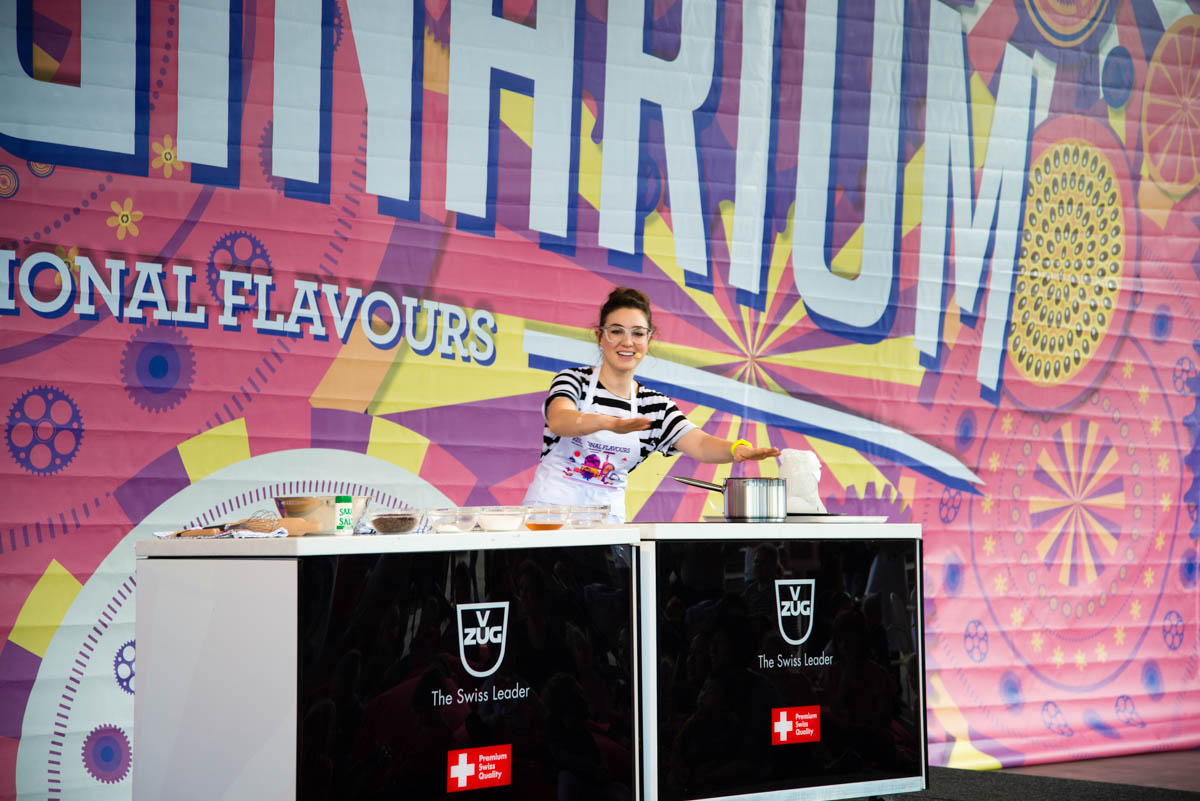 Her cheerful and no-fuss approach went down well with the kids.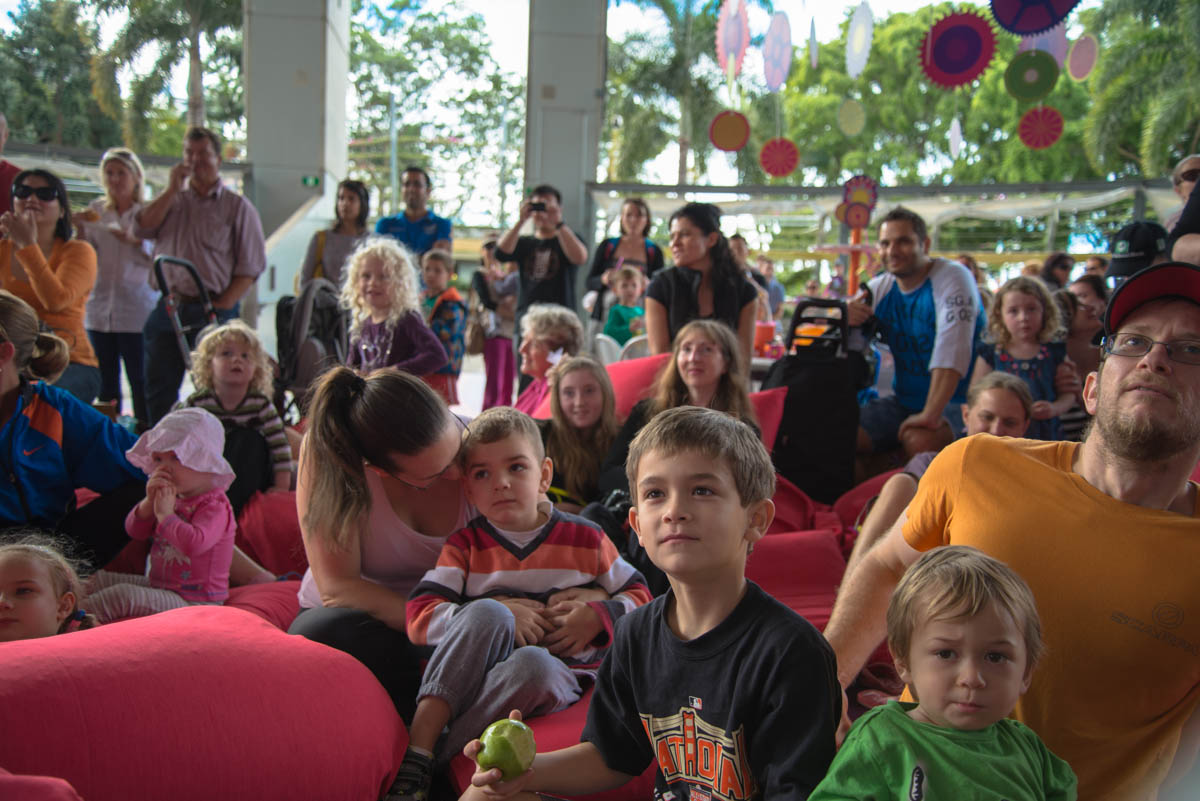 Unfortunately, technical issues — in this case, a non-working stove — meant that Alice had to ad-lib as they tried to sort out the problem but she managed a tricky situation very well.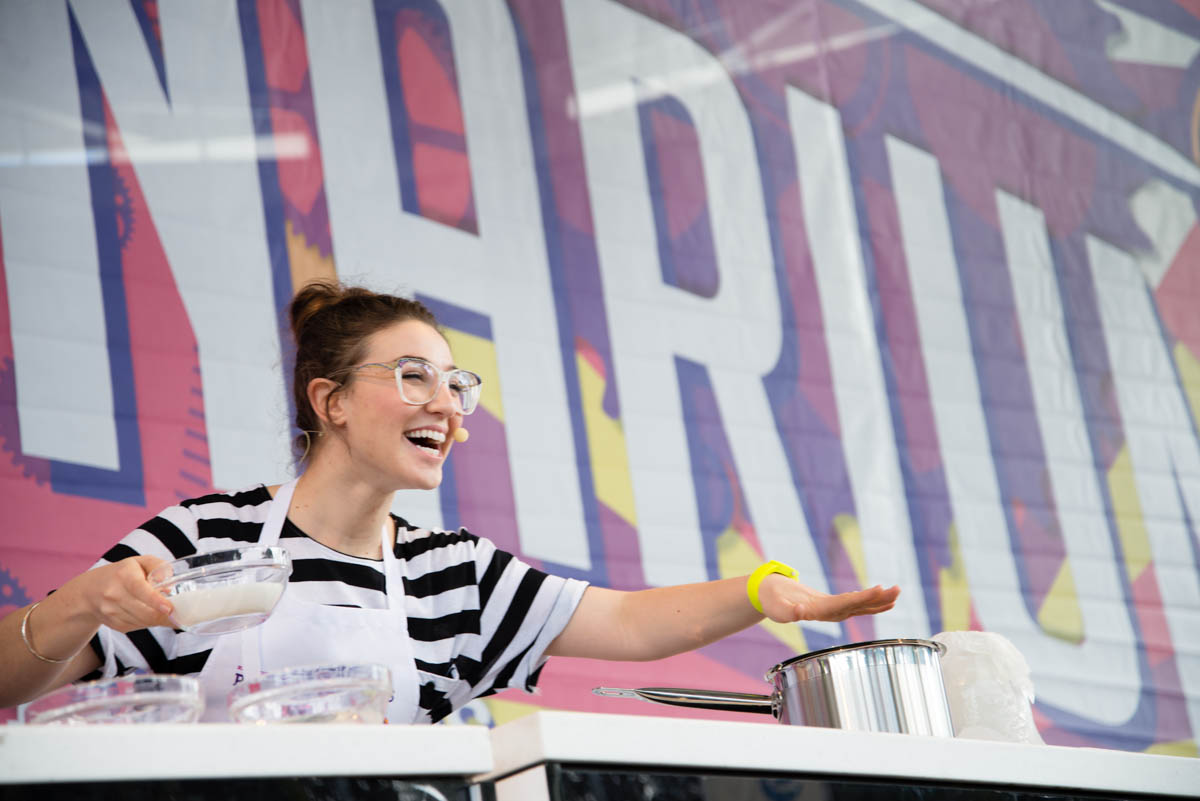 Technical issues aside, the Food Imaginarium was a brilliantly designed and programmed venue for kids – I'd love to see something like this at every food festival.
Pop Up Garden Displays
After the Food Imaginarium I came across this fantastic garden installation outside the Epicurious tent. This interactive display was designed by Plant Up, who also did the amazing strawberry wall in The Hunting Club.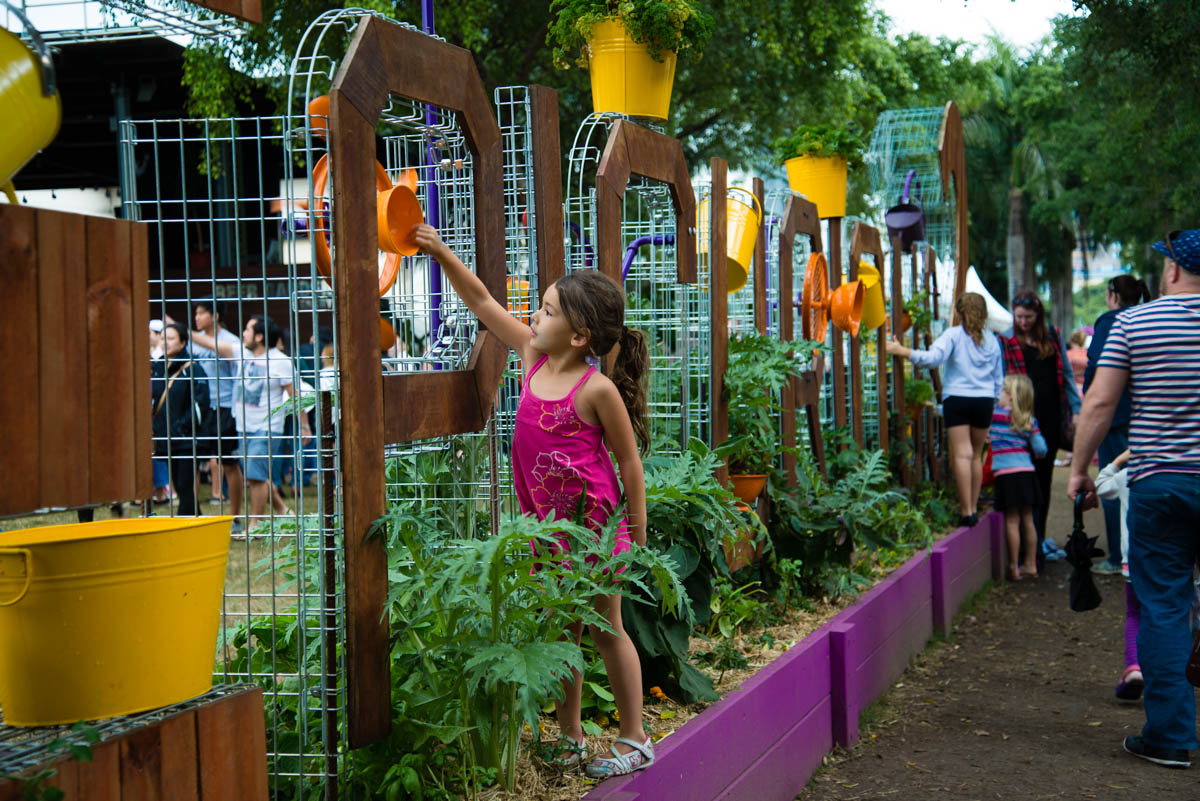 It was fantastic to see both big and little kids playing with the wheels and water cans and studying the plants.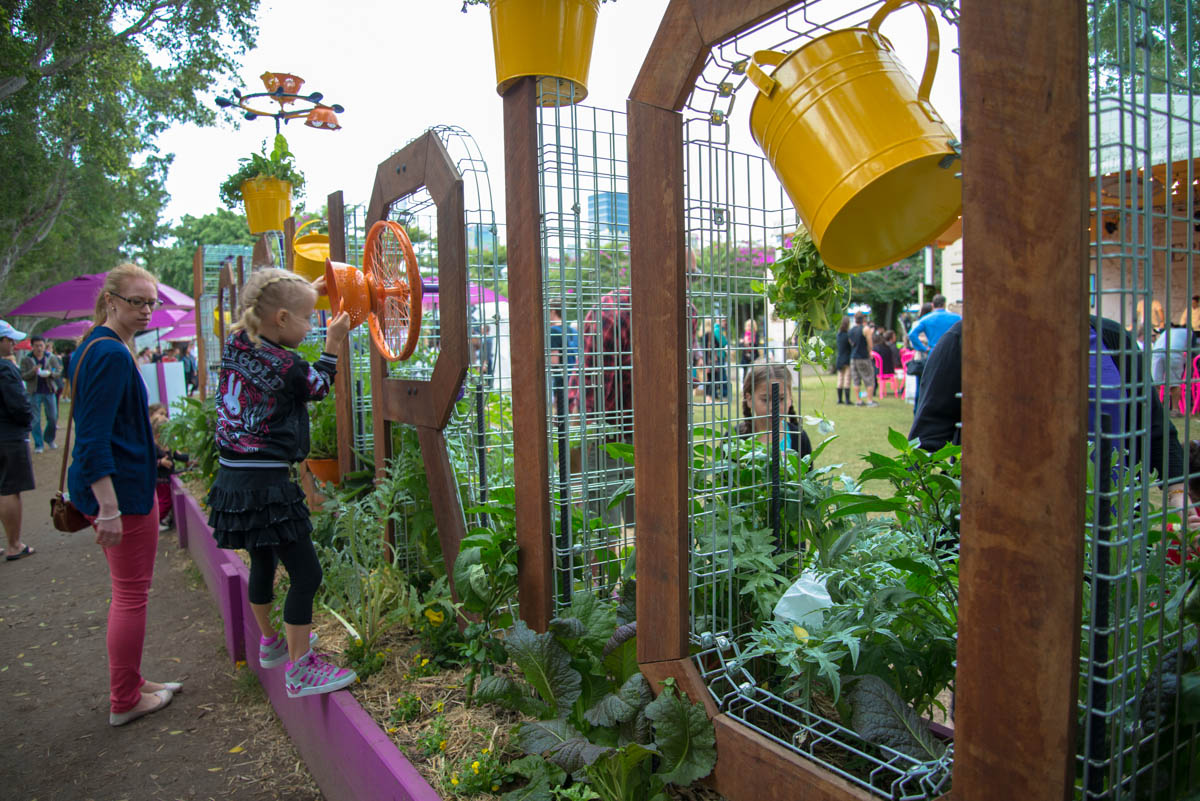 Instead of being told not to touch the display, kids were encouraged to get their hands dirty.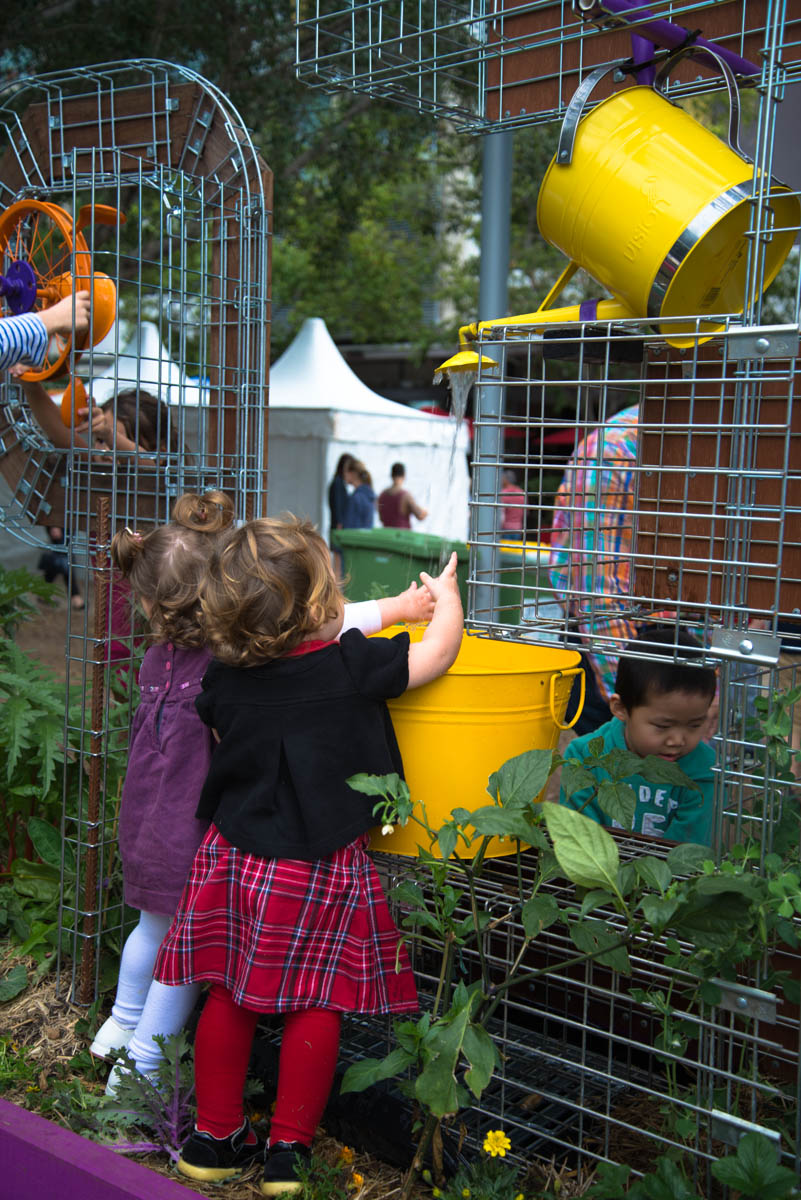 How cool would it be to have one of these at home. Plant Up – do you do interstate orders?
Epicurious Tent
For bigger kids and adults, watching cooking demonstrations was an extremely popular activity.
Inside the Epicurious tent, Adam Liaw (MasterChef 2010 winner and fellow Adelaidian) proved to be a a gracious and hard-working host, presenting session after session with Chefs and cookbook authors including Paul West, Spencer Patrick ,Annette Fear, Damien Styles, Hayden Quinn, and Annabel Langbein (below).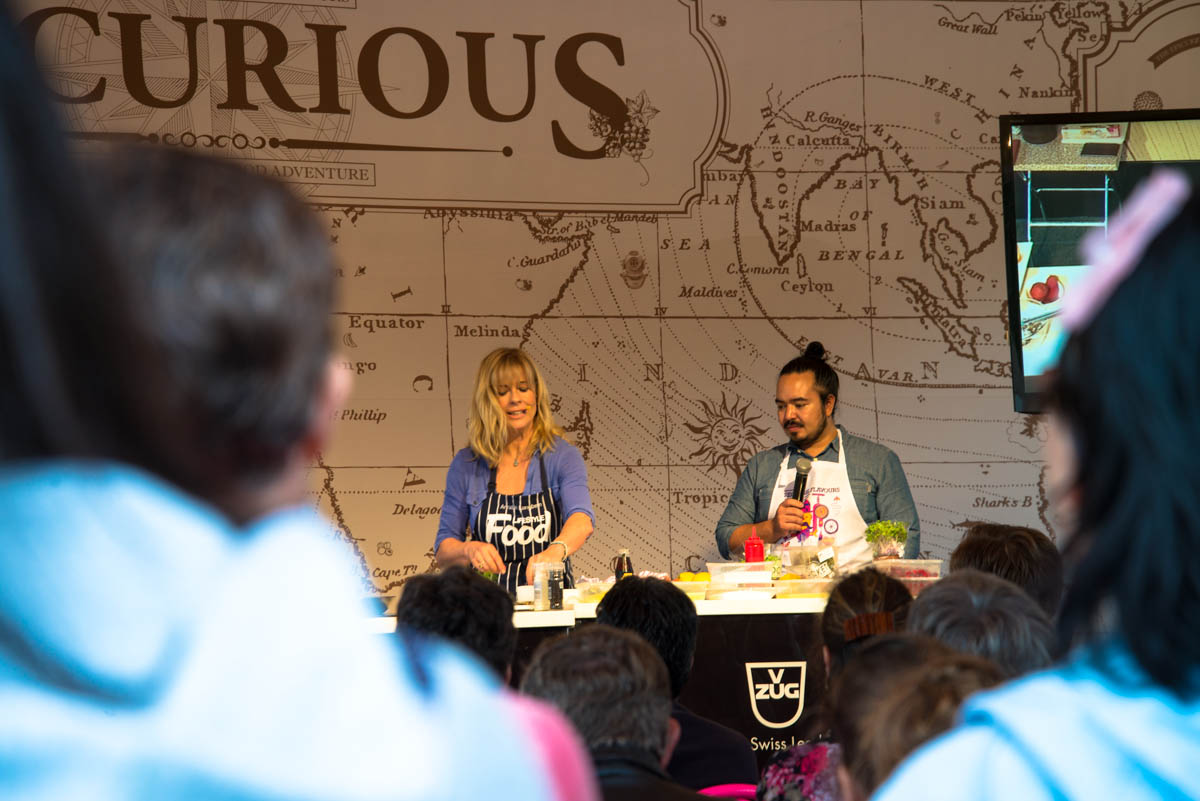 Here he is with Nick Street Brown from COAST Hervey Bay.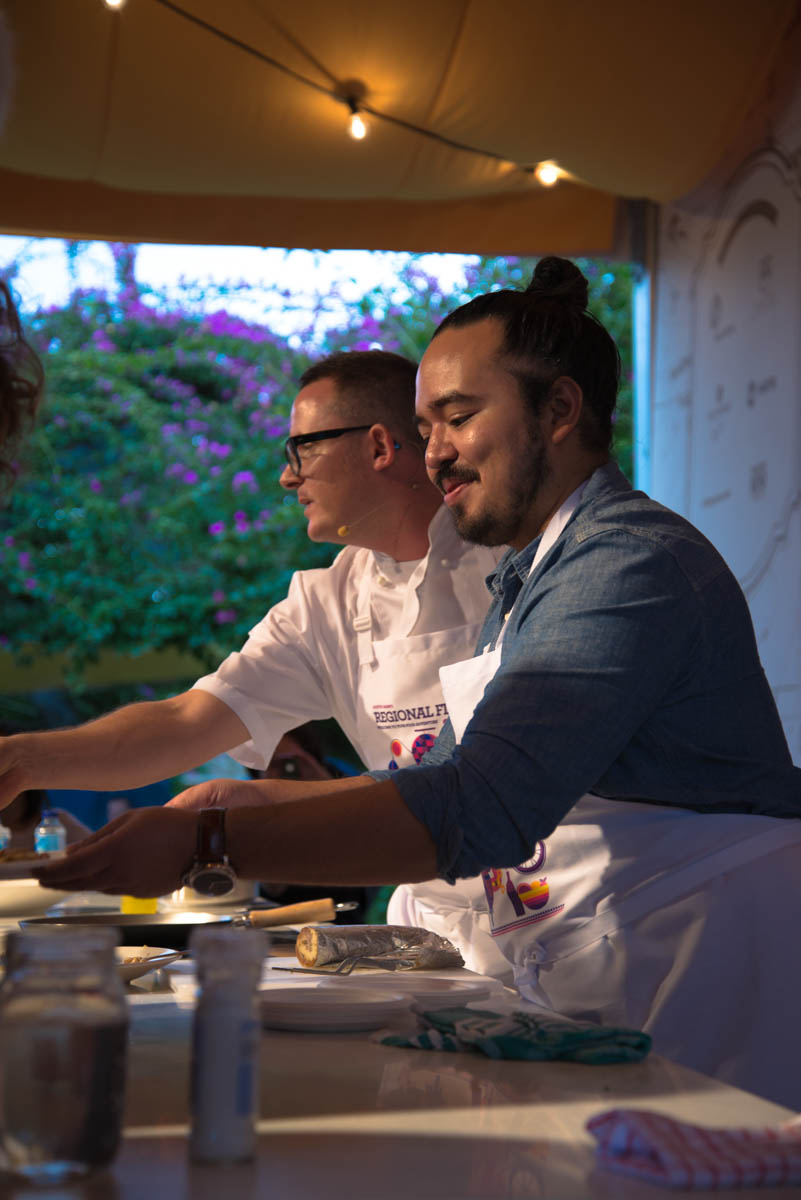 Later on, I caught Anthony Puharich from Ask the Butcher present a session on lamb.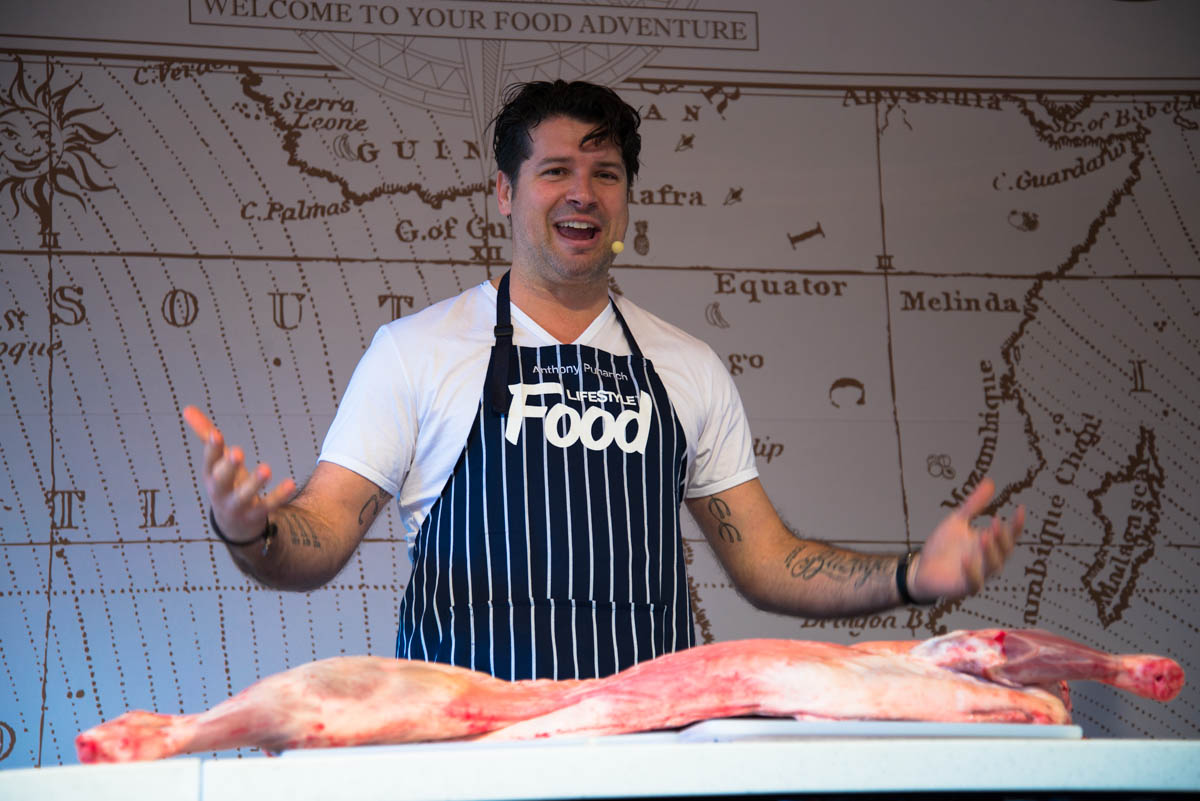 Anthony broke down a side of lamb, explaining how each piece should be cooked to make the most of it.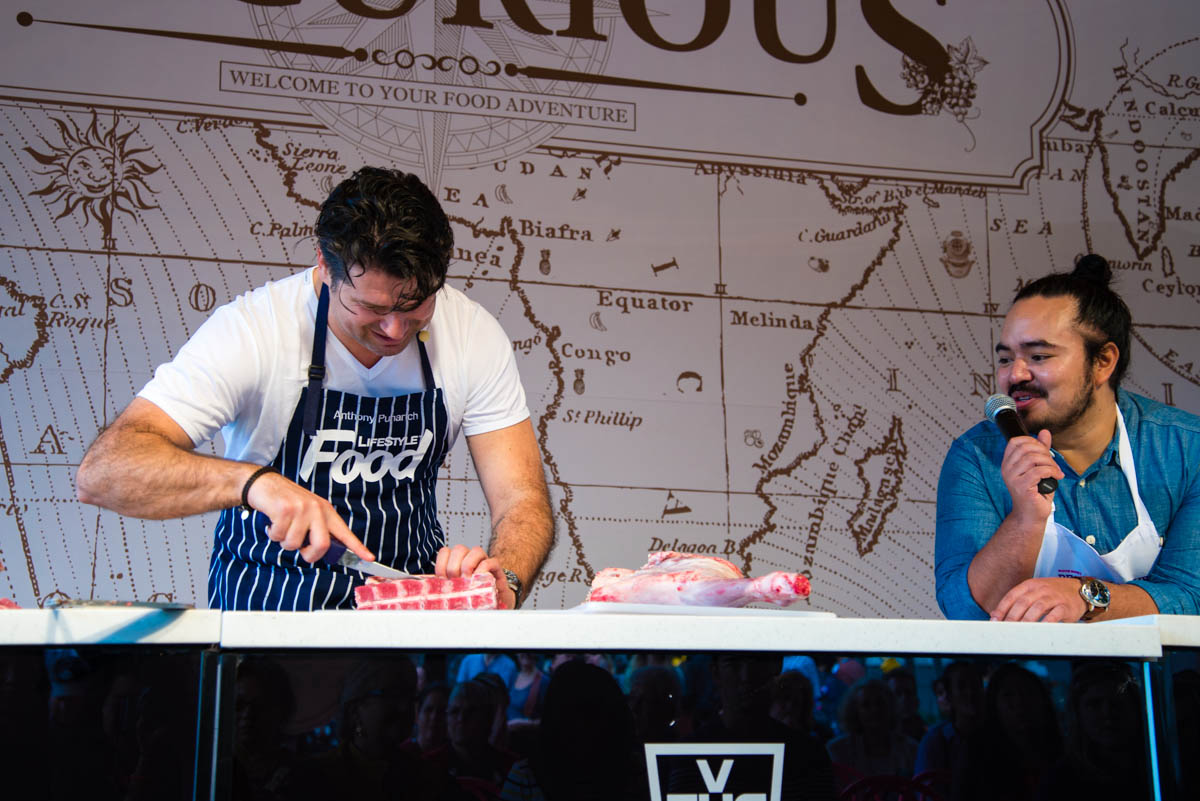 As a general rule,  expensive cuts like lamb back straps should be cooked quickly, while the more inexpensive cuts like the shoulder should be roasted, slow-cooked, stewed or braised for tenderness and to really bring out the flavour.
River Quay
A short walk away, River Quay was the setting for another stage for cooking demonstrations and some pop up stalls from the local restaurants along the river.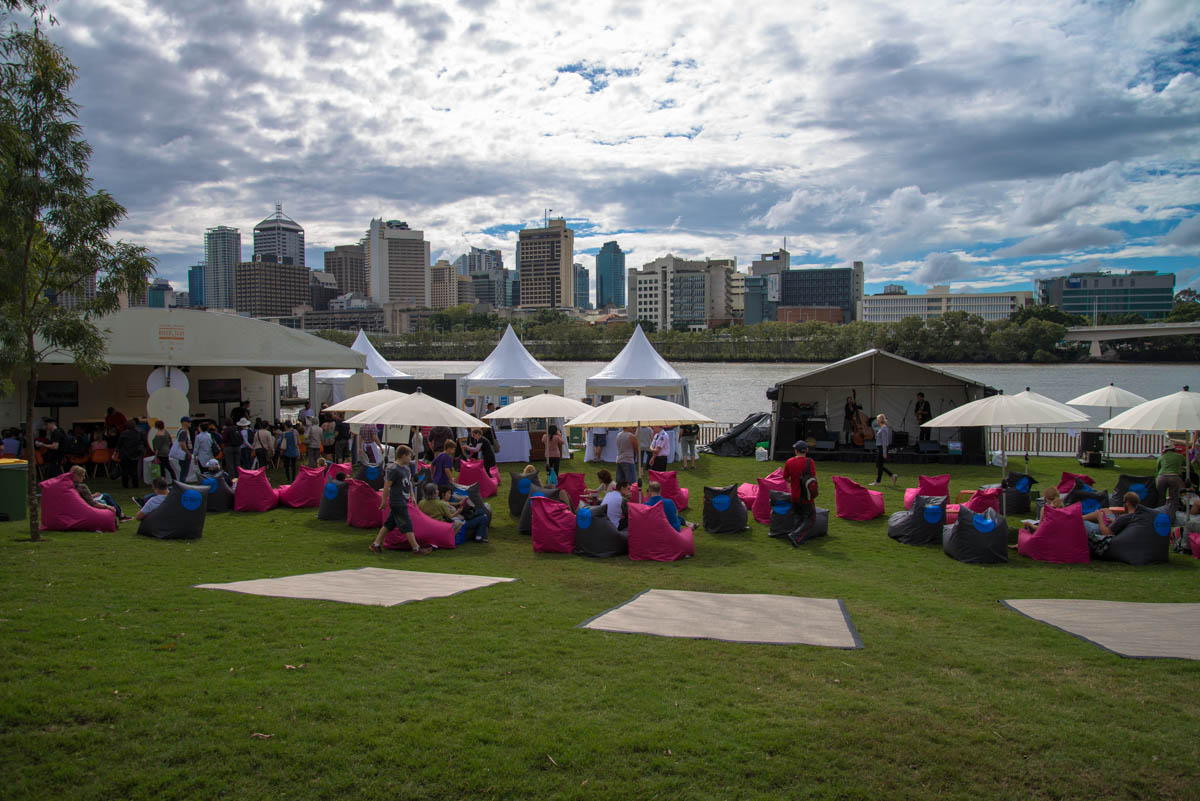 I keep spotting South Aussie wine everywhere.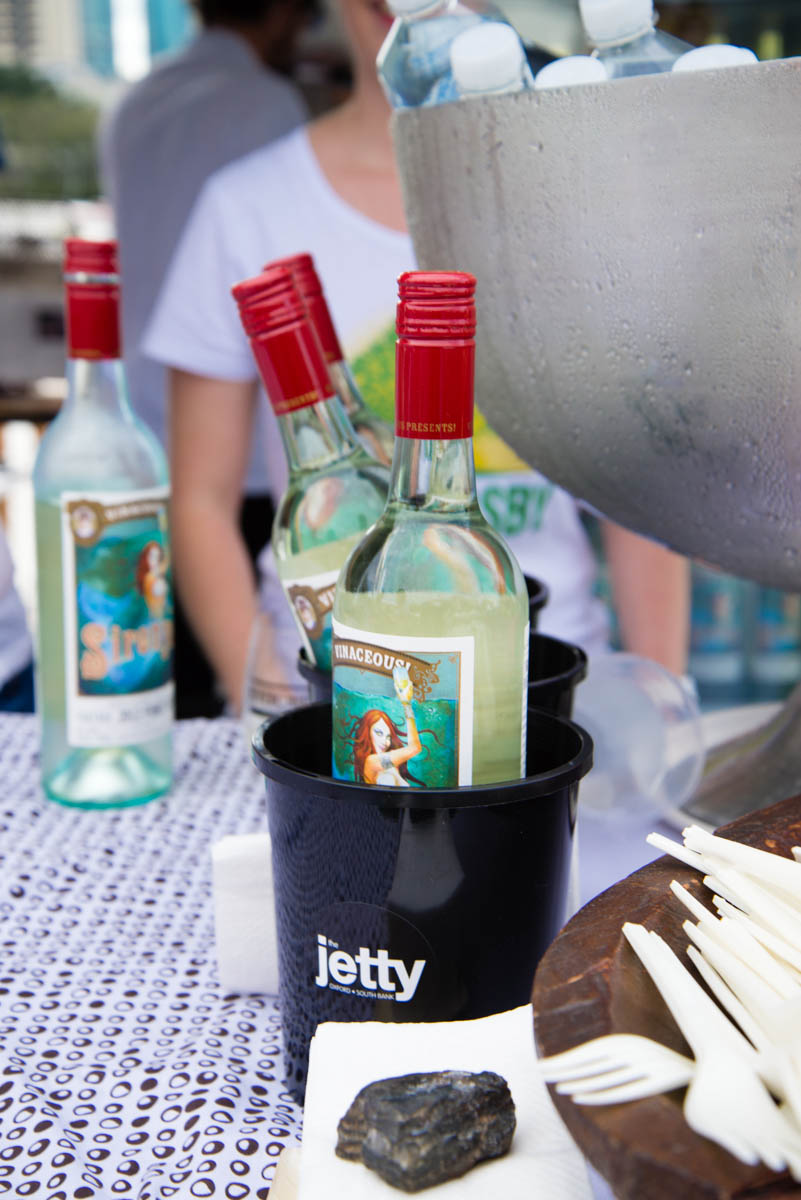 Each of the pop up stalls has a few different tasting plates on offer. All plates are a reasonable $8 so you can mix and match.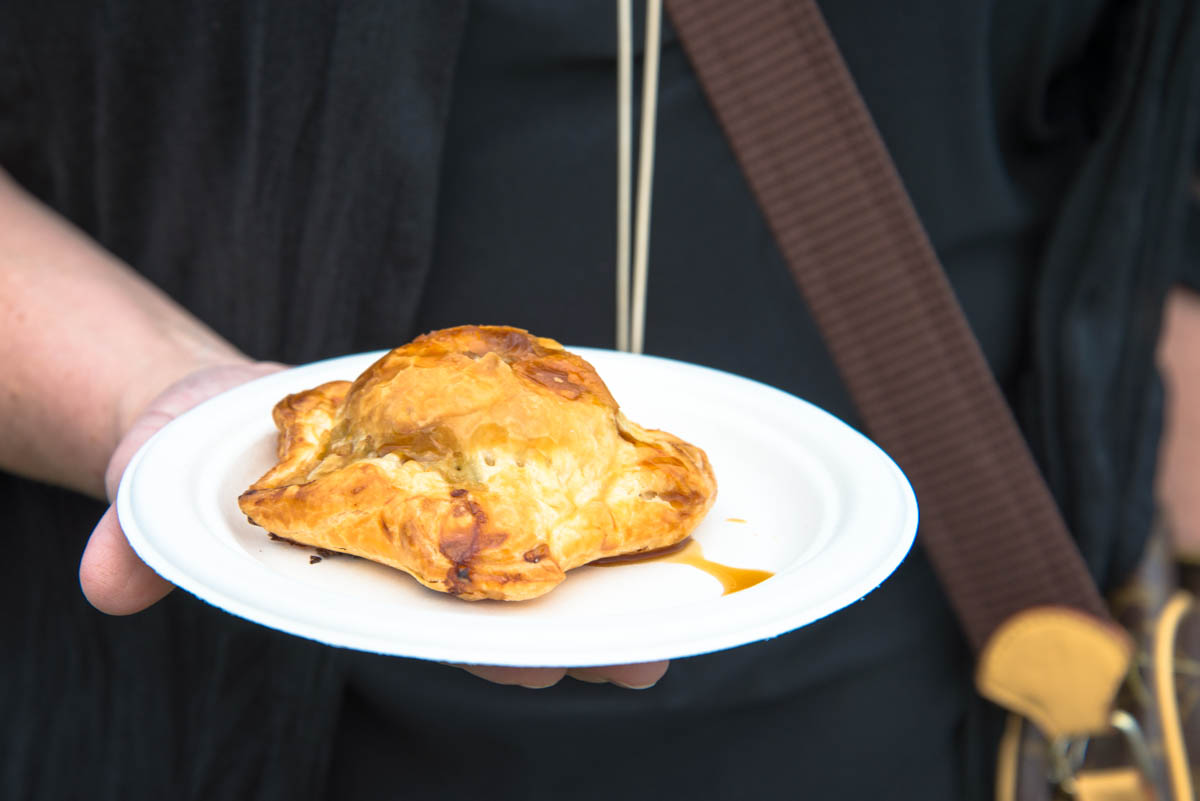 This is the Confit duck a l'orange pithivier (slow cooked duck pie) from Aquitaine Brasserie. It's pronounced great if a touch salty by the food writer eating it.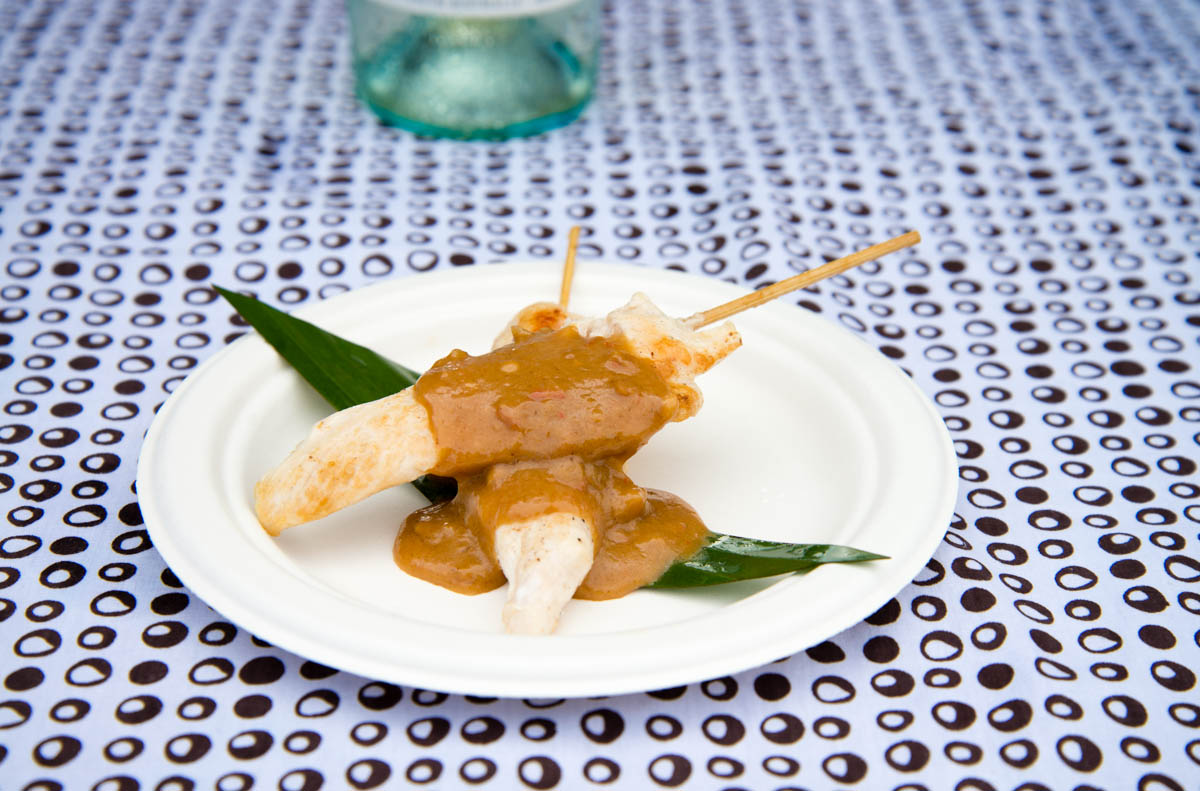 I sample the Balinese chicken sate skewers with roasted peanut sate sauce by The Jetty Southbank. The flavours are subtle and the seasoning is mild – it's actually a little too mild for my tastebuds.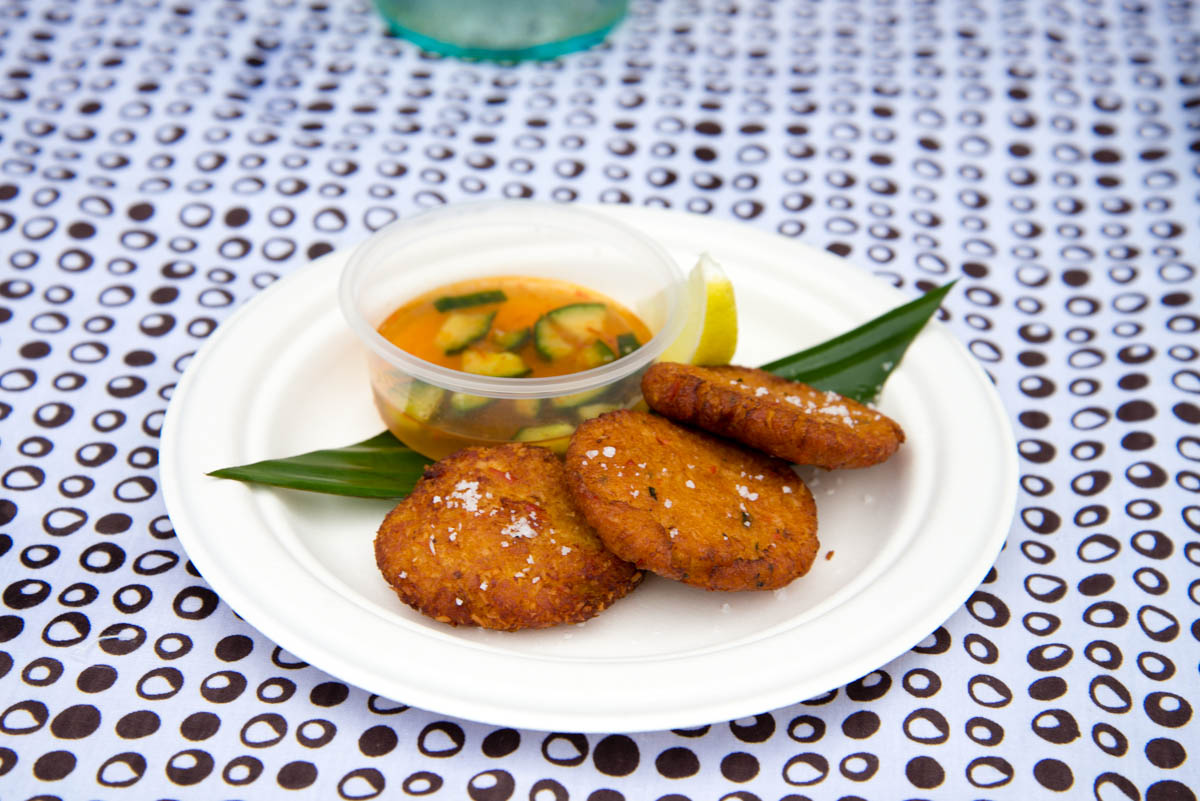 However, these Indonesian-style fish cakes with pickled cucumber and sambal tomat also by The Jetty Southbank really hit the spot. I'm loving the vinegary chilli dipping sauce and the salt flake garnish.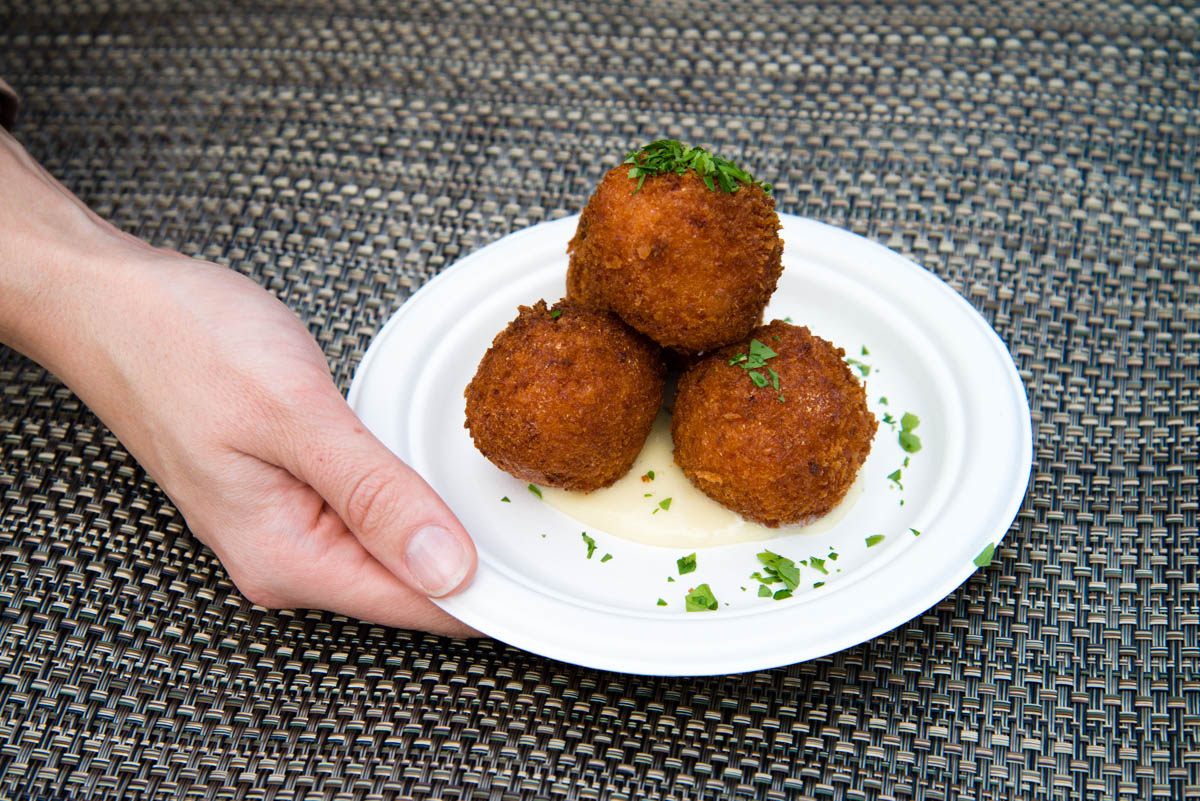 Wild mushroom arancini with reggiano veloute from Popolo Italian Kitchen and Bar also prove to be fantastic – full of unami flavour and extremely moreish.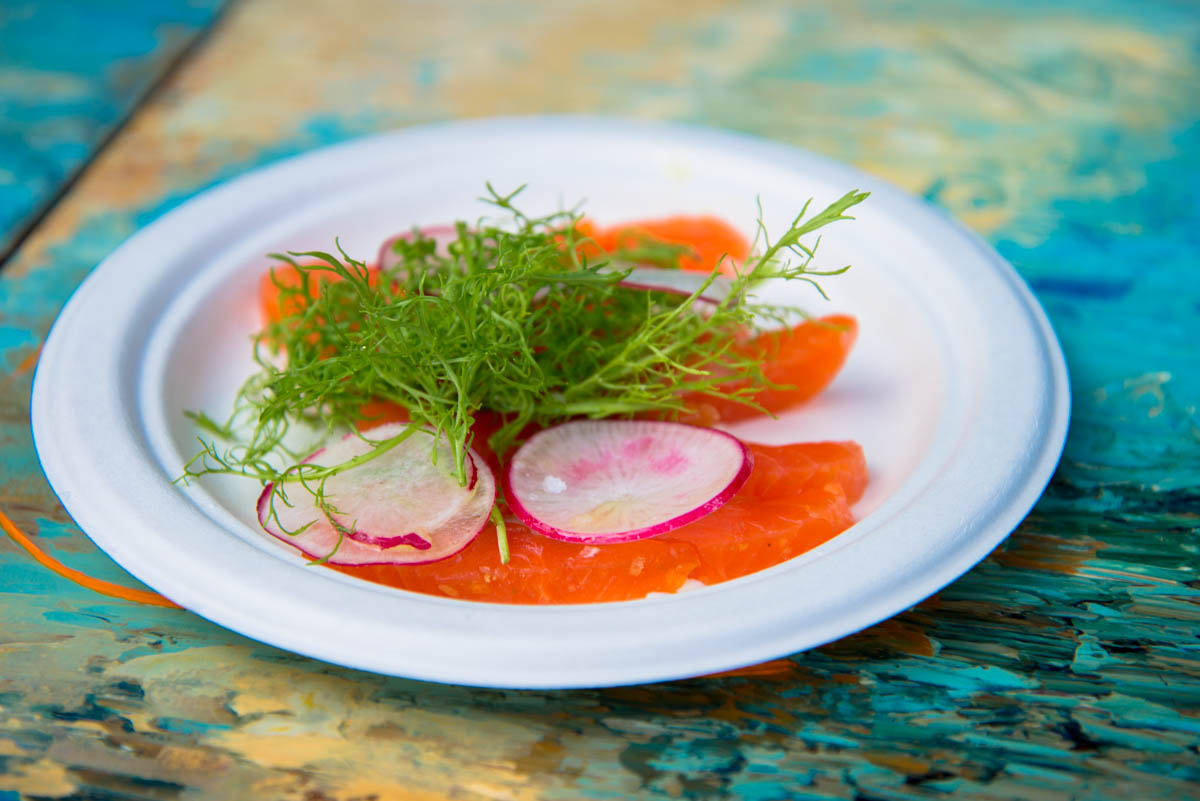 The next two dishes from Stokehouse Q are pretty as a picture. Above we have the Citrus cured ocean trout with horseradish crème fraiche and shaved radish and below is the Grilled mirror dory with pickled Jerusalem artichokes and chimichurri.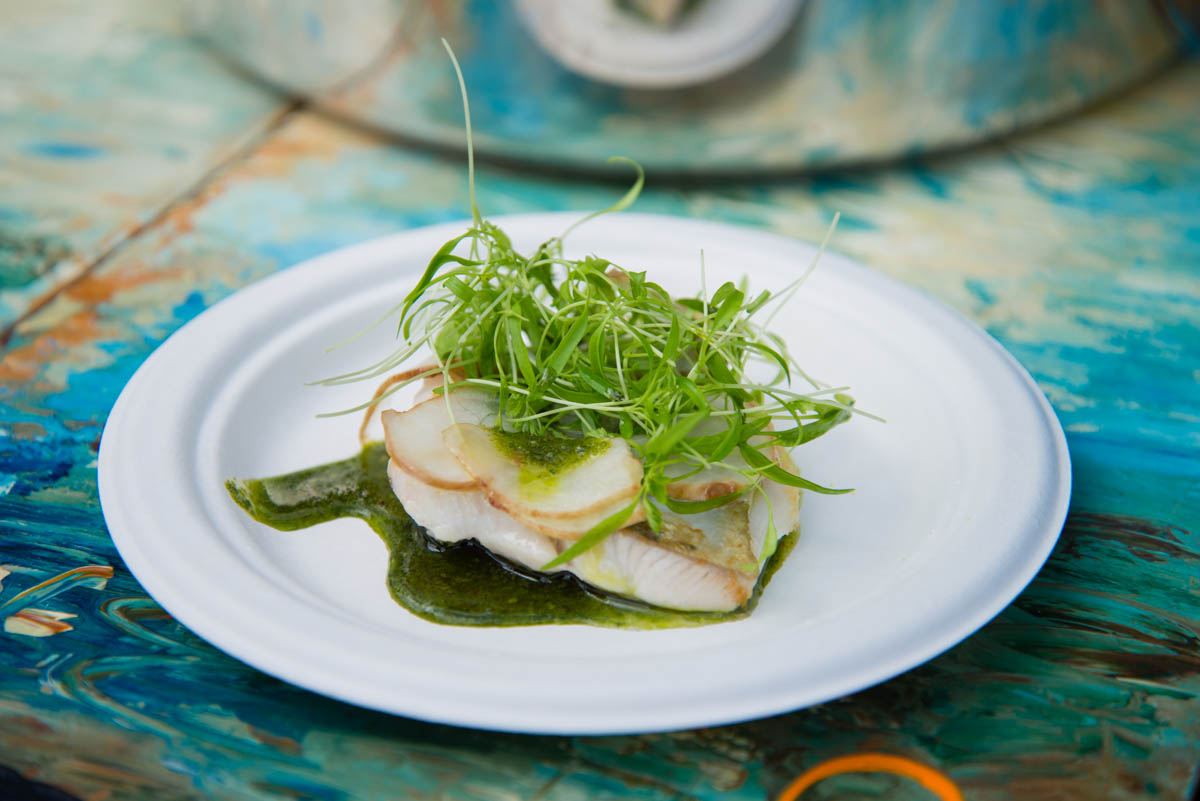 Beautiful presentation and super-fresh fish make for two lovely dishes.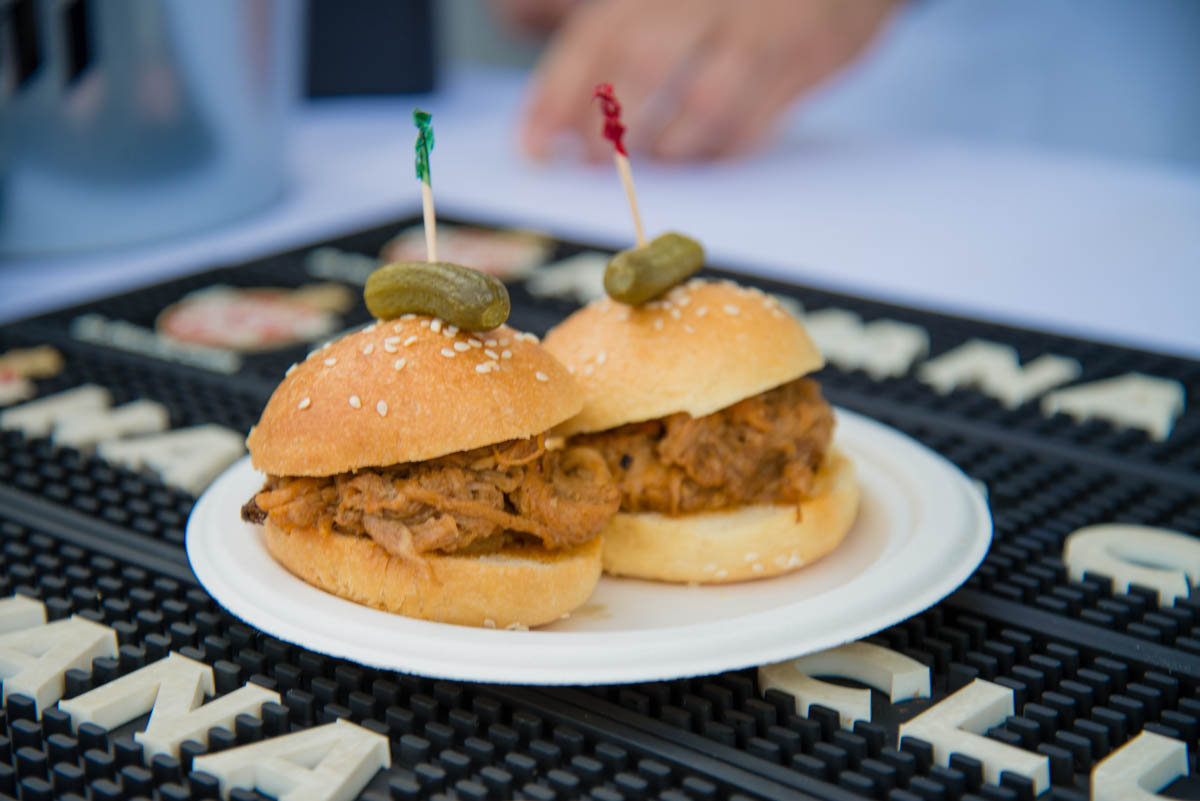 Cove Bar and Dining offer two dishes – these popular Appleton rum and cola pork belly sliders above and the Tequila lime prawn salad below.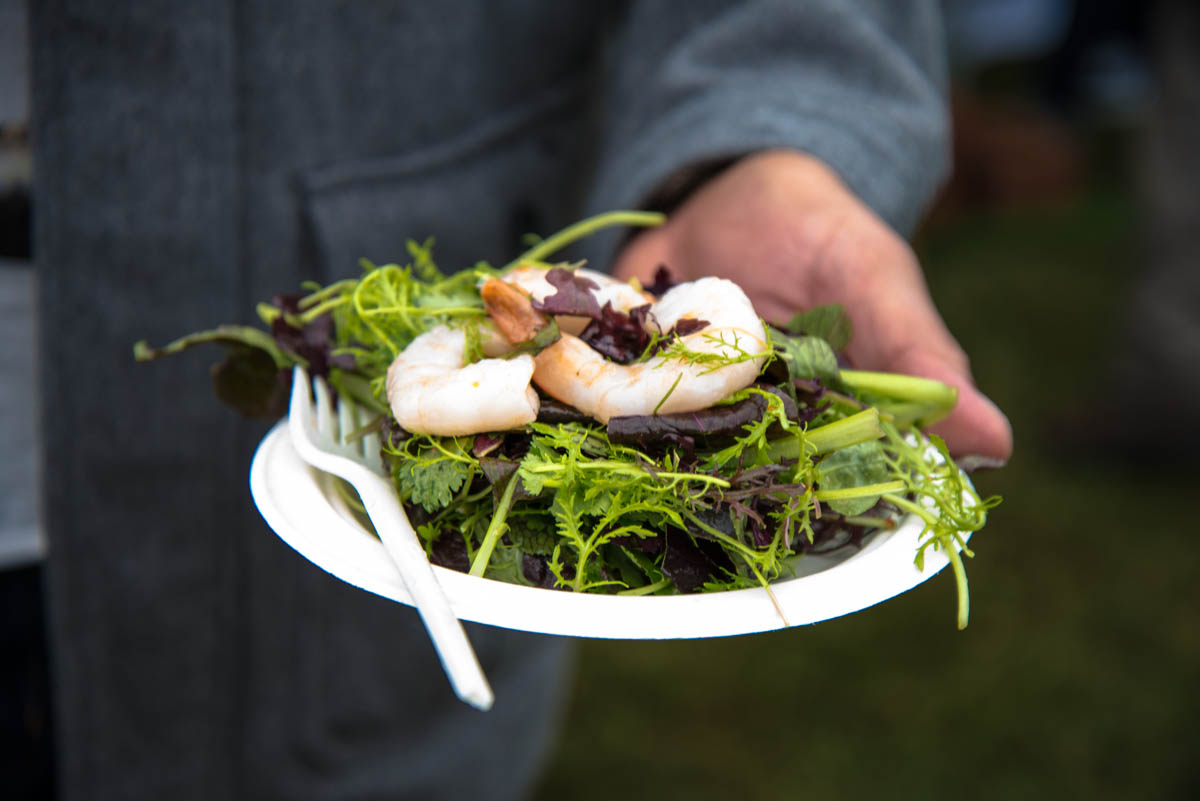 I have no more room in my stomach for savoury food but somehow I manage to fit in dessert. Stokehouse Q offers a two-hander for dessert: salted caramel ice-cream and pistachio mousse profiterole.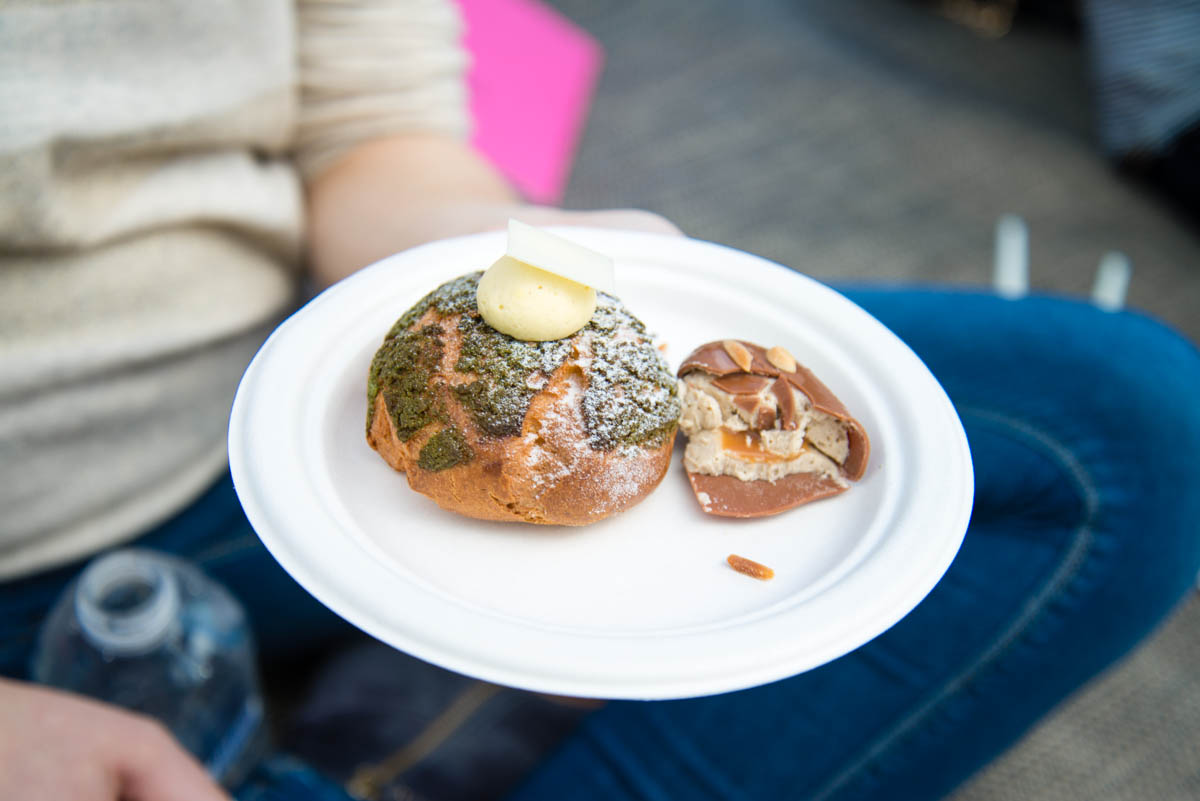 The pistachio mousse profiterole is flavoursome and beautiful presented but perhaps an odd choice for festival food. Any kind of filled pastry is best served close to room temperature for optimum flavour and texture: served straight from the fridge, the mousse is cold and clammy in the mouth and the pastry is a little dry. However, the salted caramel ice-cream — an upmarket version of a mini Magnum — is insanely good, with a gorgeous inner ribbon of caramel running the length of it.
River Quay Tent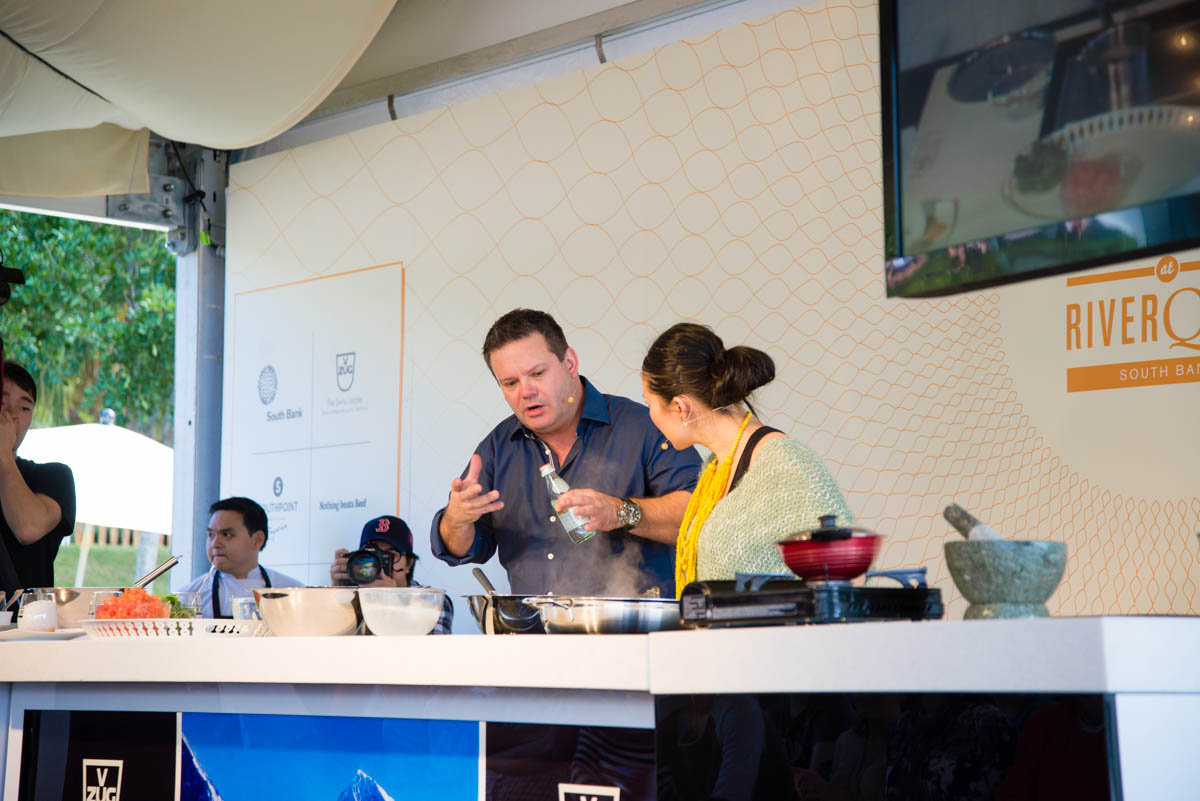 After my appetite is sated I wander into the River Quay tent to watch Gary Mehigan (MasterChef) and Po Ling Yeow cooking together and discussing the current season of MasterChef.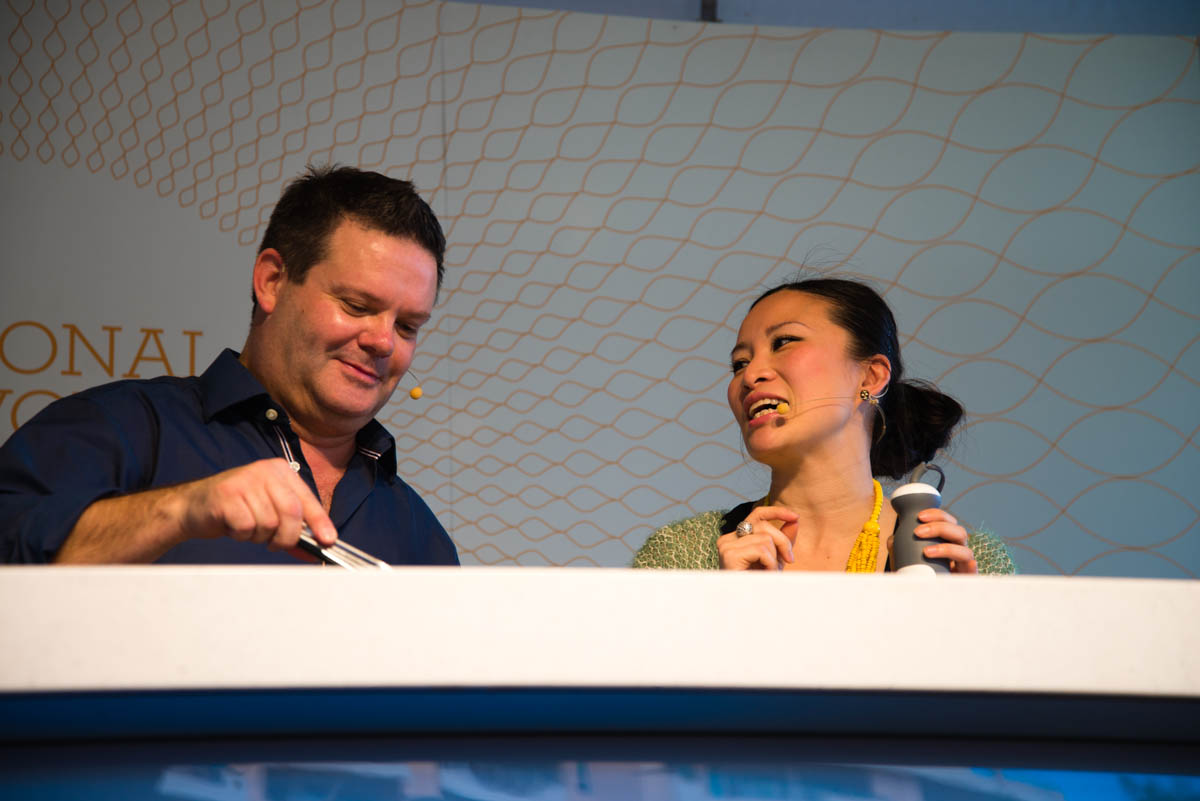 Gary and Poh know each very well and they're both engaging, passionate and knowledgeable so this is a really interesting session. At the end of it, Poh presents the finished dish to the crowd and people eagerly line up for a taste.
Like them, I'm feeling inspired and energised about food and cooking. Regional Flavours has been a fantastic, eye-opening event. I've experienced so much and yet I feel like I've only scratched the surface of Queensland's amazing food scene.
I guess I'll just have to plan a longer visit to Brisbane soon. You should, too.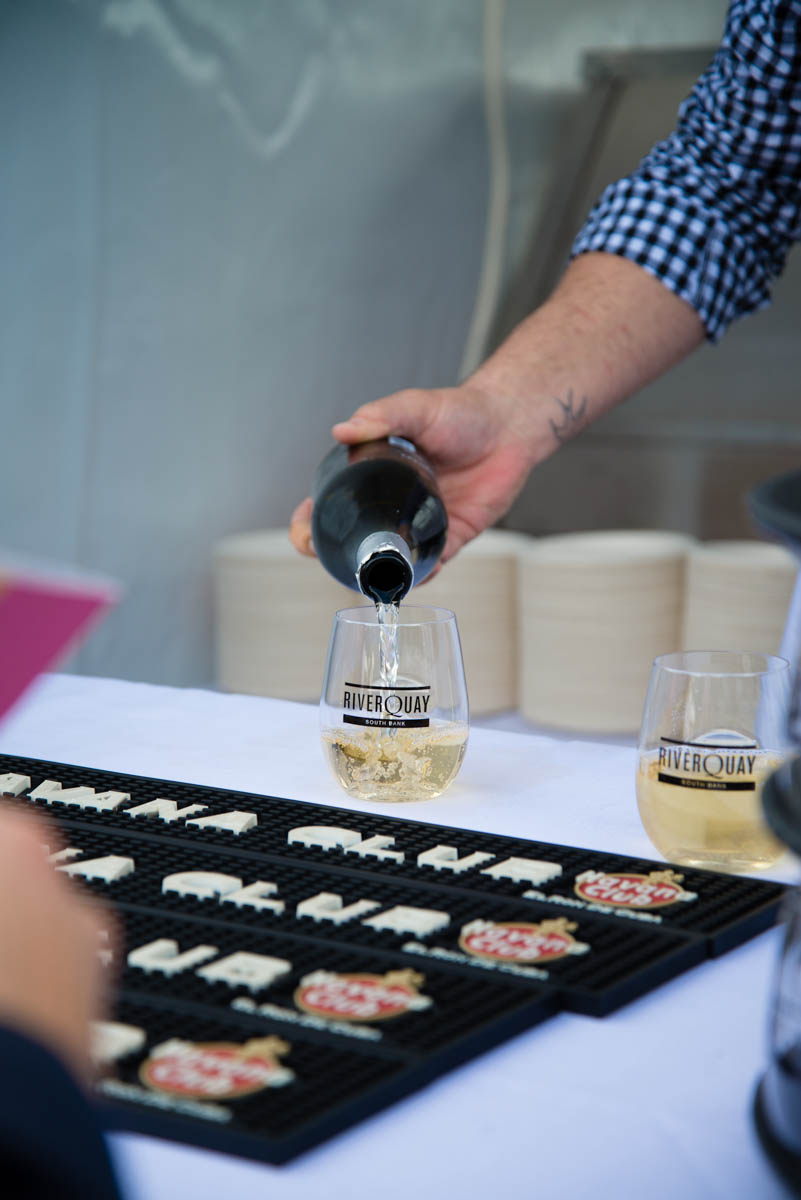 Regional Flavours
Regional Flavours was the theme of South Bank's two-day festival in 2013. Held every year in late July, the festival is Brisbane's signature food and lifestyle event. This is my third post on this year's festival. Check out my previous posts below:
Disclosure: I visited Regional Flavours as a guest of the South Bank Corporation and Brisbane Marketing. I stayed at Rydges South Bank, which is conveniently located around the corner from the South Bank precinct. As always, all opinions are my own. 
Hungry for More?
Don't want to miss a post? Subscribe now to receive delicious The Hungry Australian posts twice a week – it's FREE to sign up and 100% spam-free.