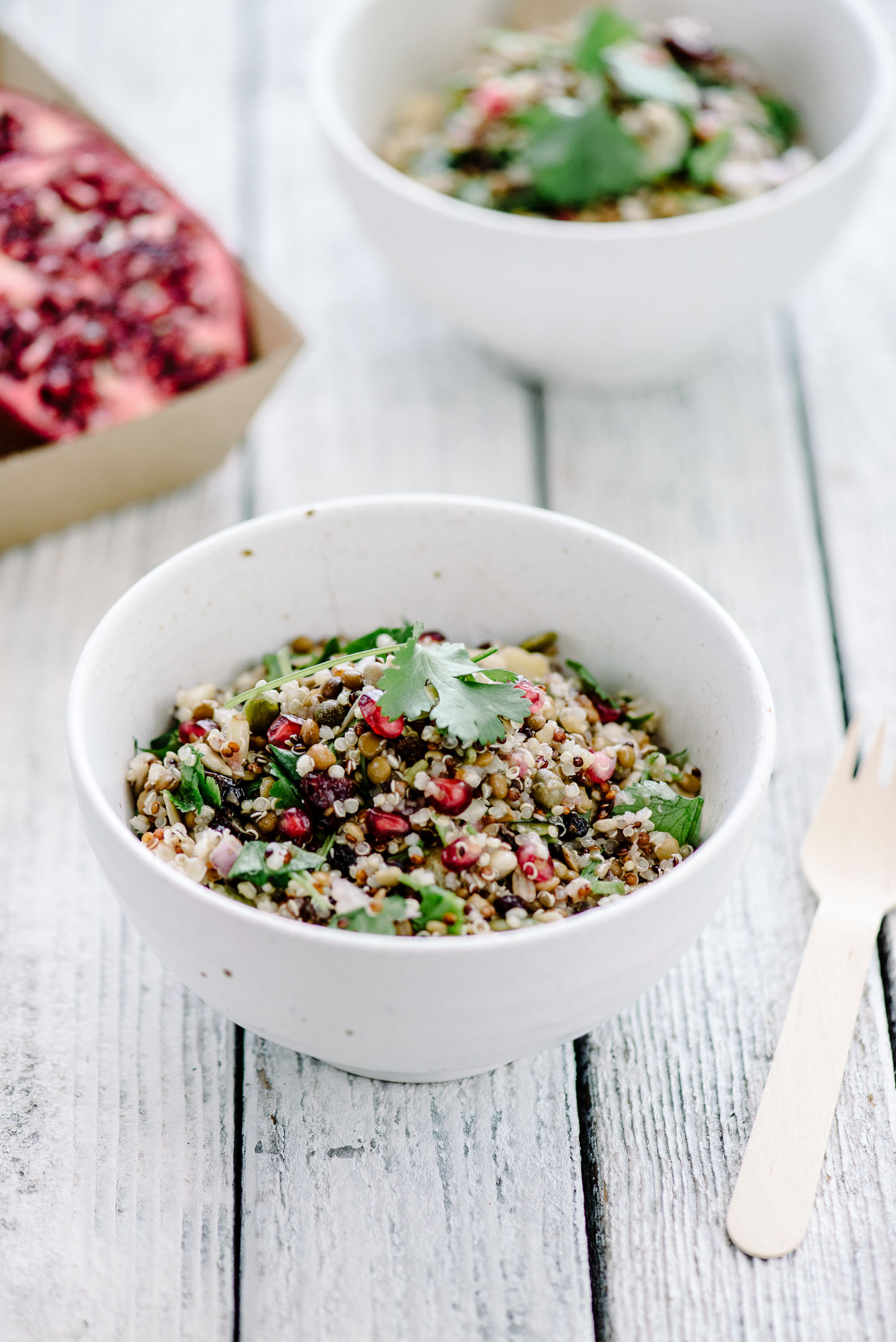 I'm dating a man who is racist against salad and most fruit. His deep and abiding hatred is incomprehensible to me because I happily eat both every day.
"It's the texture and feel of them," he says when I press him for reasons.
He likes cooked vegetables, especially sautéed spinach accompanied by a huge steak, but he sees salad as little more than an instrument of torture.
As a committed salad lover, his salad bigotry makes me sad. Plus, it means meals we eat together can get a little boring so I was determined to change his mind.
Ladies: when you start dating a man you should always try to change his long-term habits to suit your lifestyle. He'll thank you later.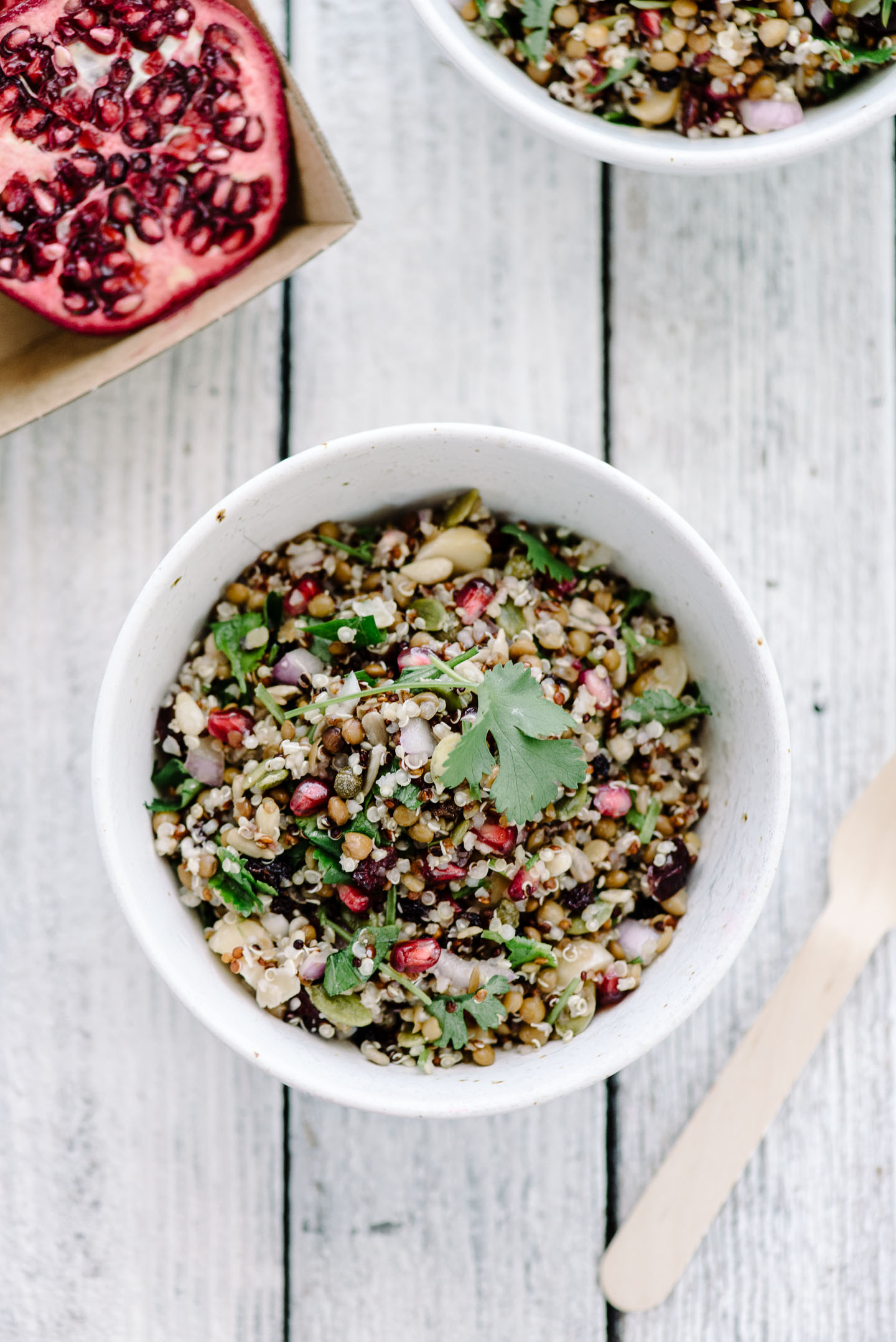 I made four salads for my recent birthday party and a version of this grain salad was by far and away the most popular. People kept asking me for the recipe, which was loosely based on this Almond, Quinoa and Pomegranate salad. This was in turn inspired by a salad made by a friend who'd eaten something similar at Melbourne restaurant, The Hellenic Republic. So I decided to try a version of this to seduce him to the fresh side.
Like the original, this Irresistible Grain Salad is based on quinoa, which I find almost universally popular and allergy-friendly, and also uses a mixture of dried fruit, fresh fruit, nuts, seeds, fresh herbs and citrus.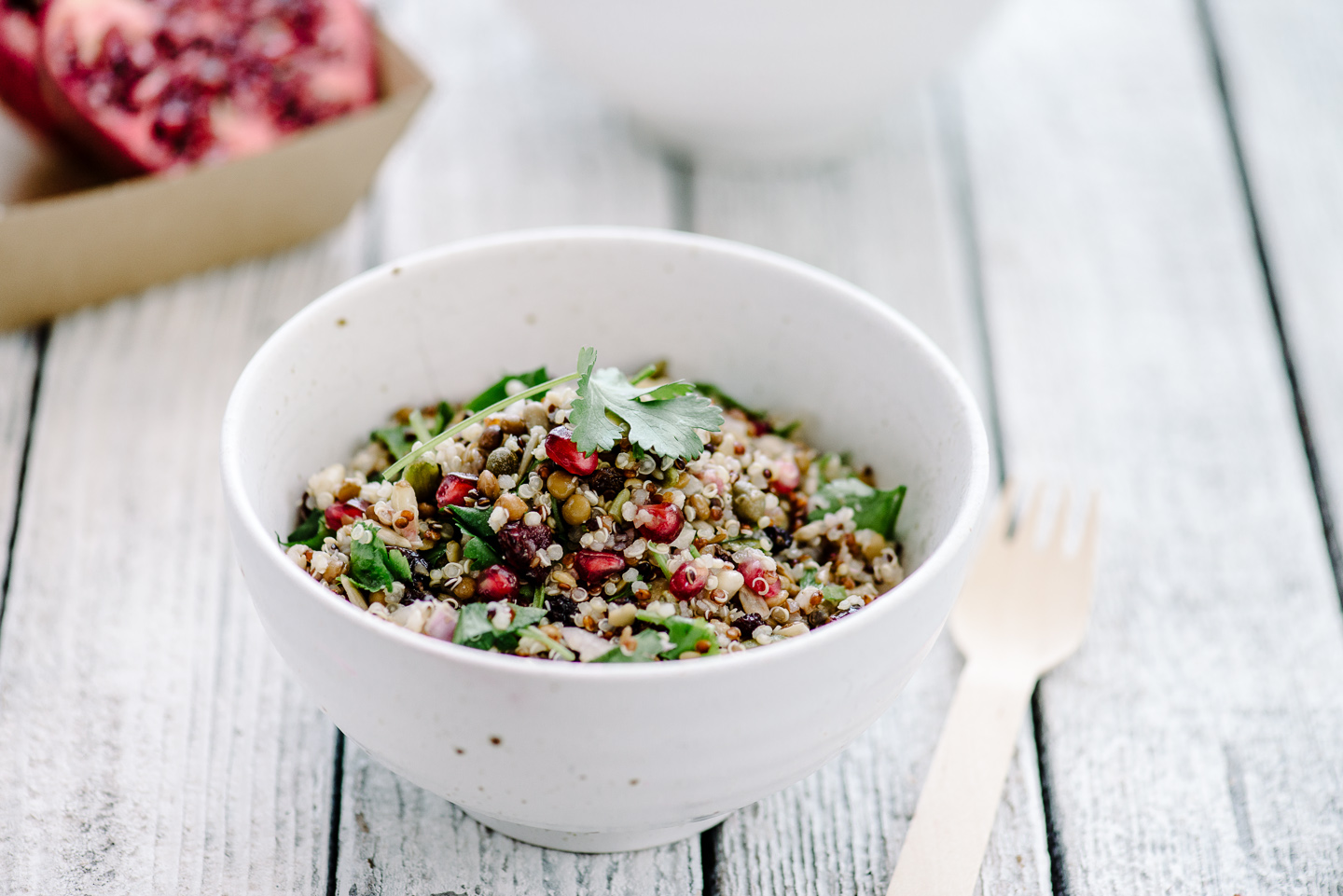 The great thing about grain salads is that you can play with the flavours to suit your taste and to use up whatever you have lurking in your pantry, fridge or garden.
So in terms of possible substitutions, you could try:
Dried fruit: sultanas, raisins, currants, cranberries, apricots (diced) or apple (diced)
Nuts: almonds, hazelnuts, pecans, macadamias or pinenuts. I prefer roasted or lightly toasted nuts for this salad.
Fresh herbs: flat or curly parsley, coriander or sweet basil.
Seeds: pepitas (sunflower), flaxseed, chia, or pomegranate. I love using roasted sunflower seeds for this salad.
Fresh fruit: pomegranate seeds, currants, cranberries, small grapes or blueberries
Fresh citrus: lemon or lime
Pulses: lentils, chickpeas or red kidney beans.
Just keep to the approximate quantities in terms of wet, dry and fresh ingredients and everything should work out fine.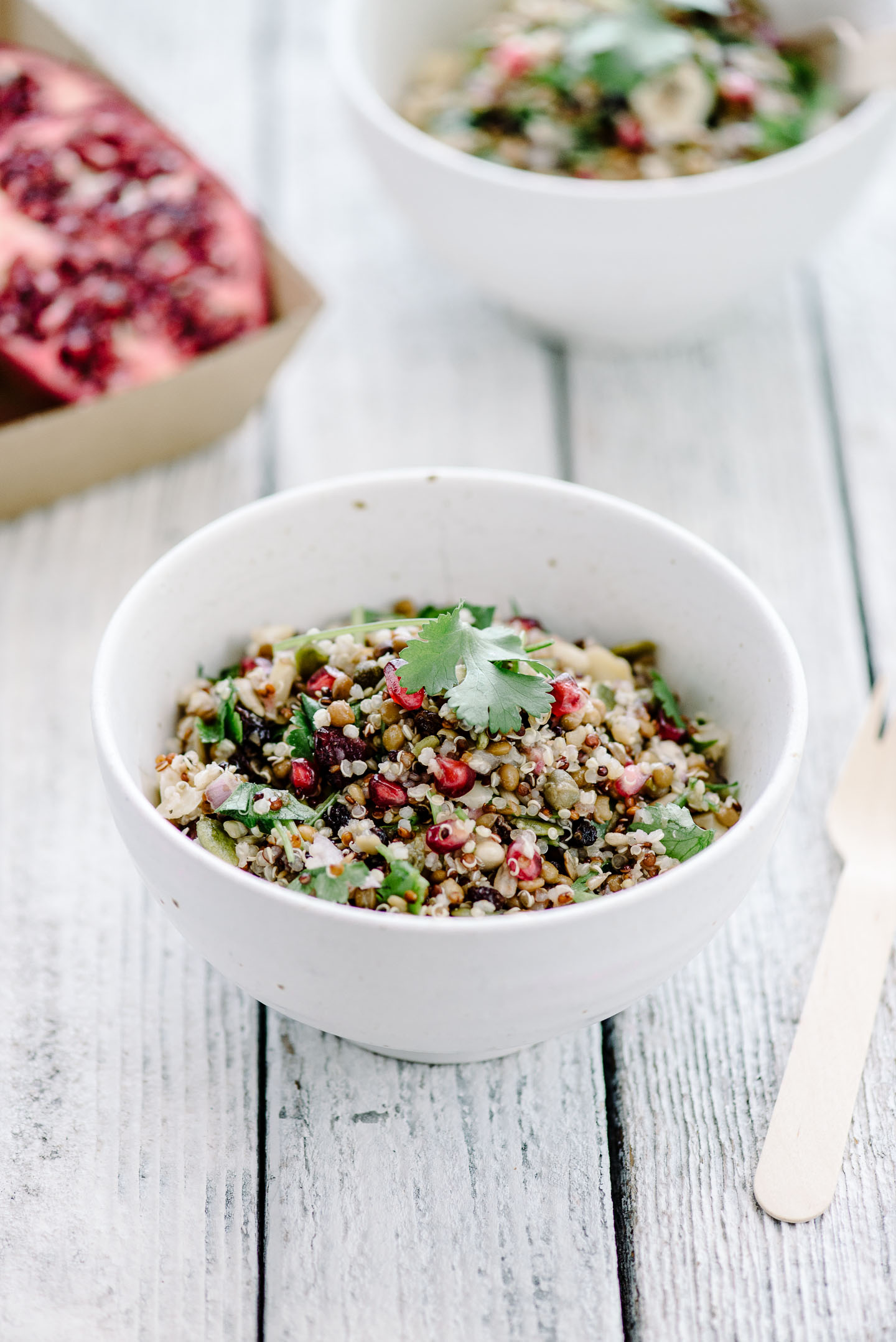 Now once you've mixed your salad together, don't forget to taste it. This will make all the difference.
Like a little more acidity? Add some more lemon juice. Want a touch more sourness? Add a few more capers. Maybe it could be a little sweeter? Try adding a tad more dried fruit or a dribble of honey.
So what did he think?
"It's not bad," he admitted. "I don't mind it."
He ate the salad on his dinner plate and then reached for the serving bowl.
"I'm going to have seconds," he said, with a twinkle in his eye.
Win!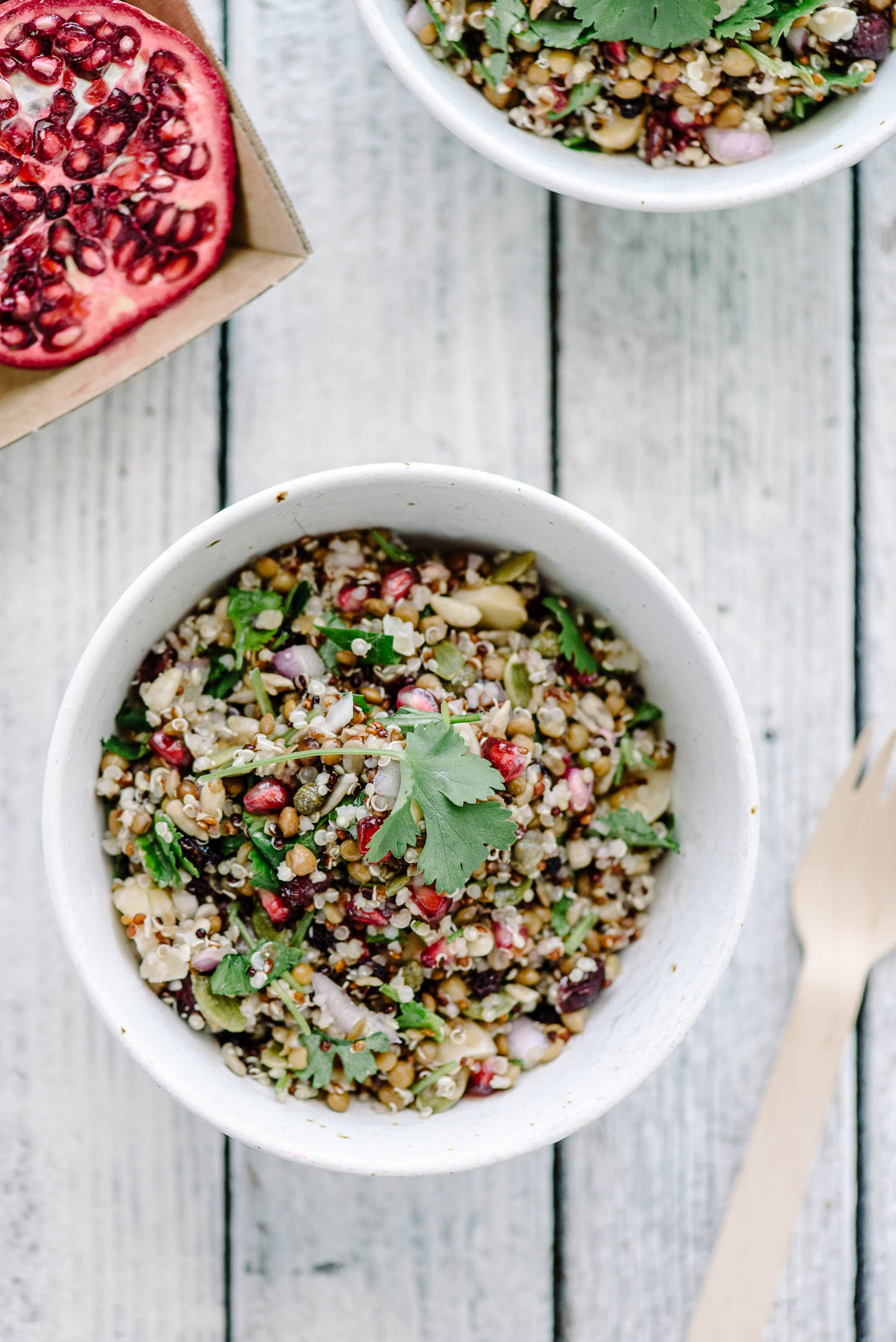 Irresistible grain salad for salad haters
Author:
Christina Soong | The Hungry Australian
Recipe type:
Main Meal, Side Dish
Prep time:
Cook time:
Total time: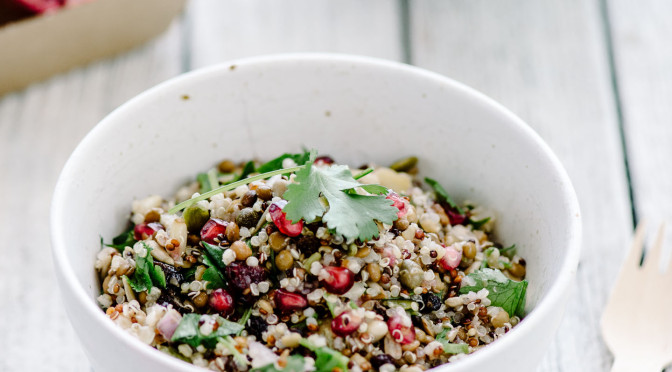 A highly versatile and universally pleasing salad
Ingredients
1 cup quinoa
2 cups water
1 small red onion, or two salad onions, finely chopped
1 can of lentils, drained
⅓ cup currants
⅓ cup dried cranberries
¾ cup mixed sunflower seeds, pumpkin seeds (pepitas) and pine nuts
¾ cup roughly chopped roasted macadamia nuts
3 tablespoons baby capers
Seeds from 1 pomegranate
½ cup roughly chopped coriander leaves
½ cup parsley leaves
2 tablespoons best quality extra virgin olive oil
Juice from 1 lemon (2-3 tablespoon juice)
Salt and pepper to taste
Instructions
Rinse quinoa using a sieve under the tap.
Bring 2 cups water and quinoa to the boil and then simmer for 10-15 minutes until water is fully absorbed. Turn off heat and leave to cool.
Mix all other ingredients in a large bowl and then add salt and pepper to taste.
You can serve this with some Greek yoghurt mixed with a little cumin and honey if you wish but it's great by itself, too.