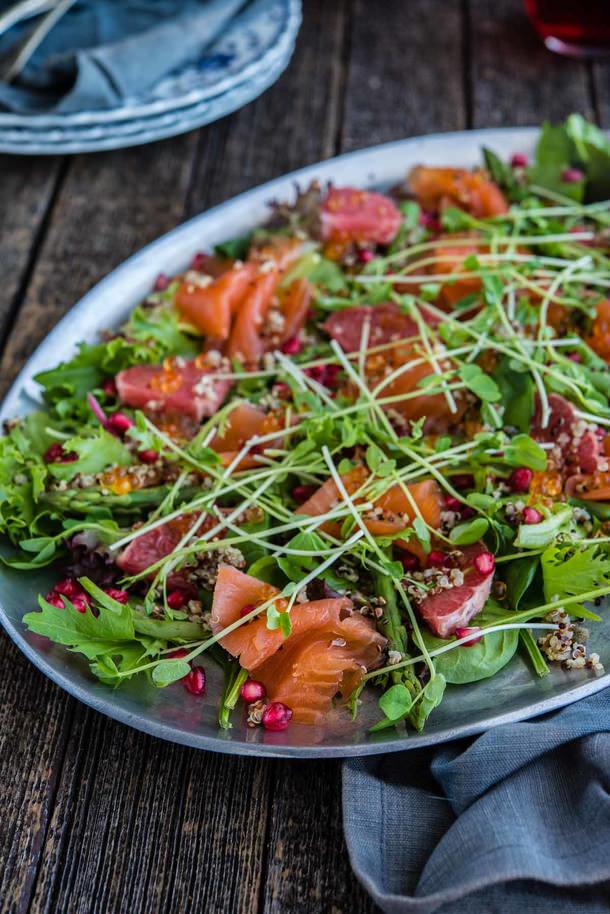 Smoked salmon and I have had a long and regular love affair. I like it with scrambled or soft boiled eggs and freshly steamed asparagus spears, in a bagel with cream cheese, capers and cornichons, or served on top of a crispy pizza base with red onion, goats cheese and rocket. Heck, I've been known to eat it straight out of the packet when I've been famished.  
So when Huon (#HuonSalmon) asked me to develop a recipe using some of their smoked salmon products I didn't have far to look for inspiration.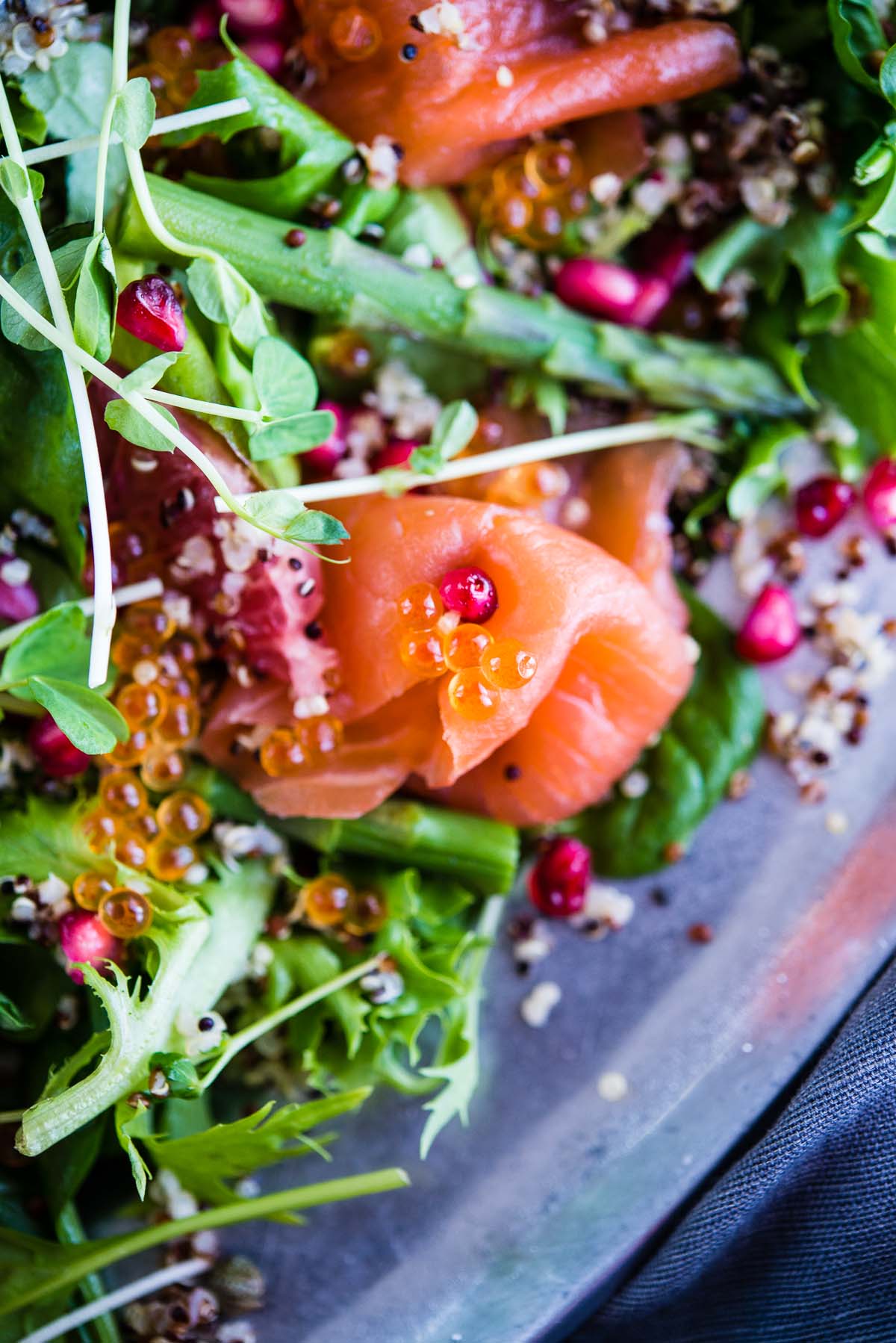 Now while smoked fish is often used in breakfast and appetiser type dishes, it also works beautifully in salads. I like making smoked salmon or smoked trout, potato and dill mayonnaise salads for a substantial, one-bowl meal. But I've been eating out way too much lately and my system needs a break. So I came up with this beautiful, blush-coloured salad instead.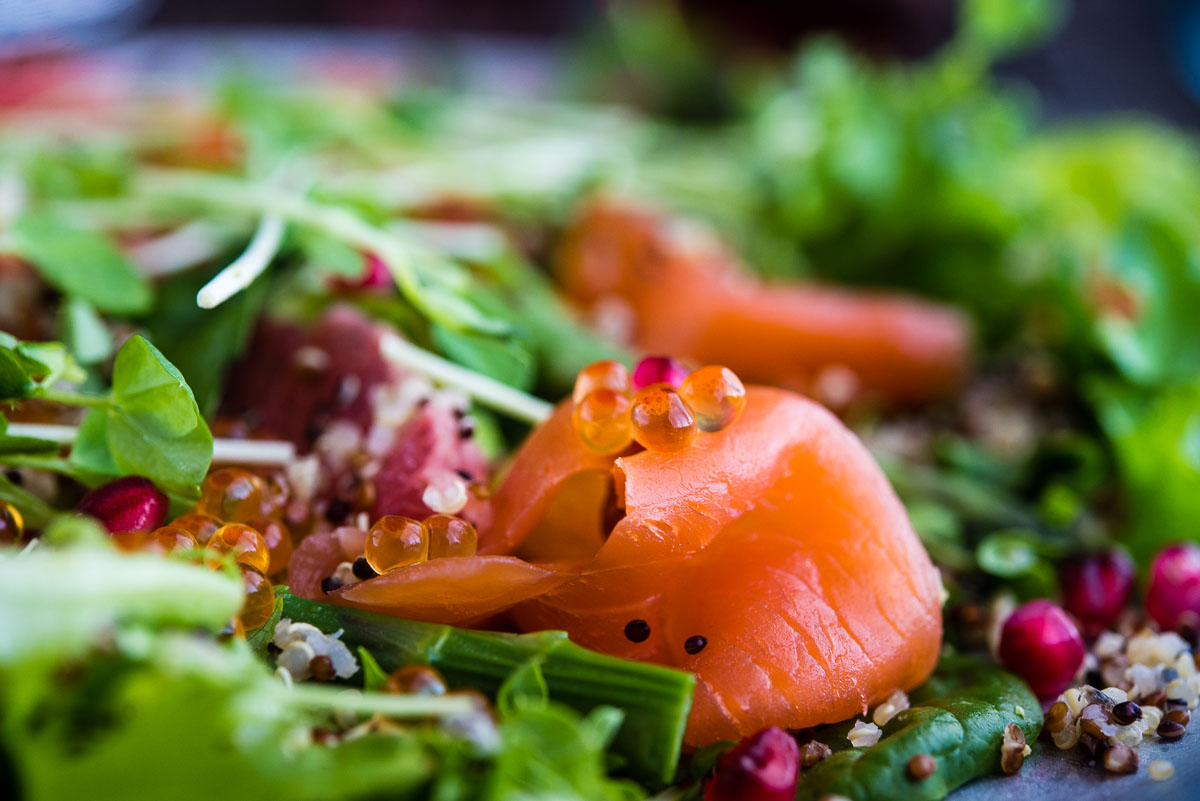 I love how pretty this salad is – the pomegranate seeds and salmon caviar look like little jewels.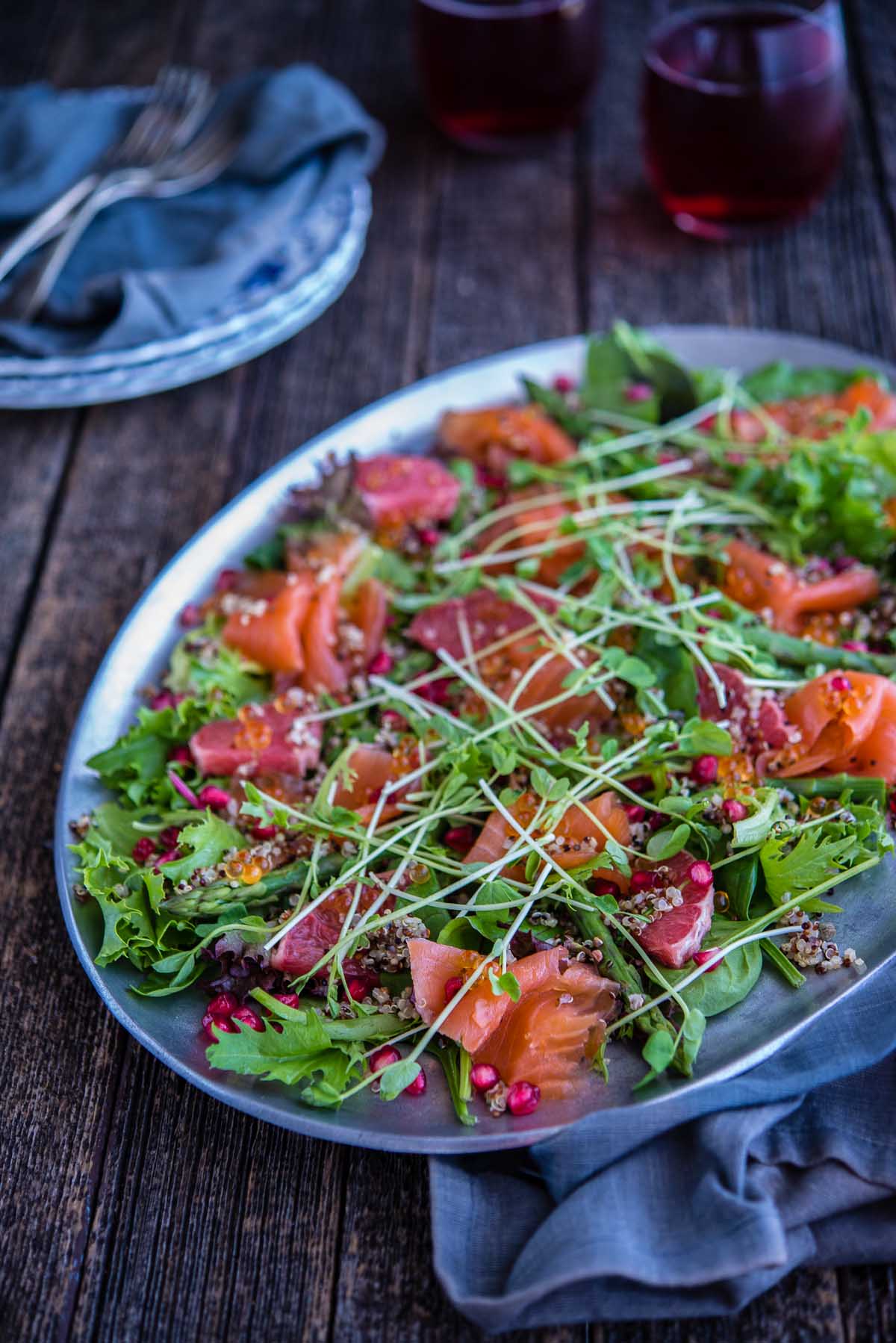 I've used quinoa in this salad because the gluten-free superfood is filling without weighing you down. It's also high in protein and low in fat, making it a great choice for health-conscious foodies.
In terms of the salad leaves, I've  used a mixture of different kinds but this salad would also be great with radiccio and witlof.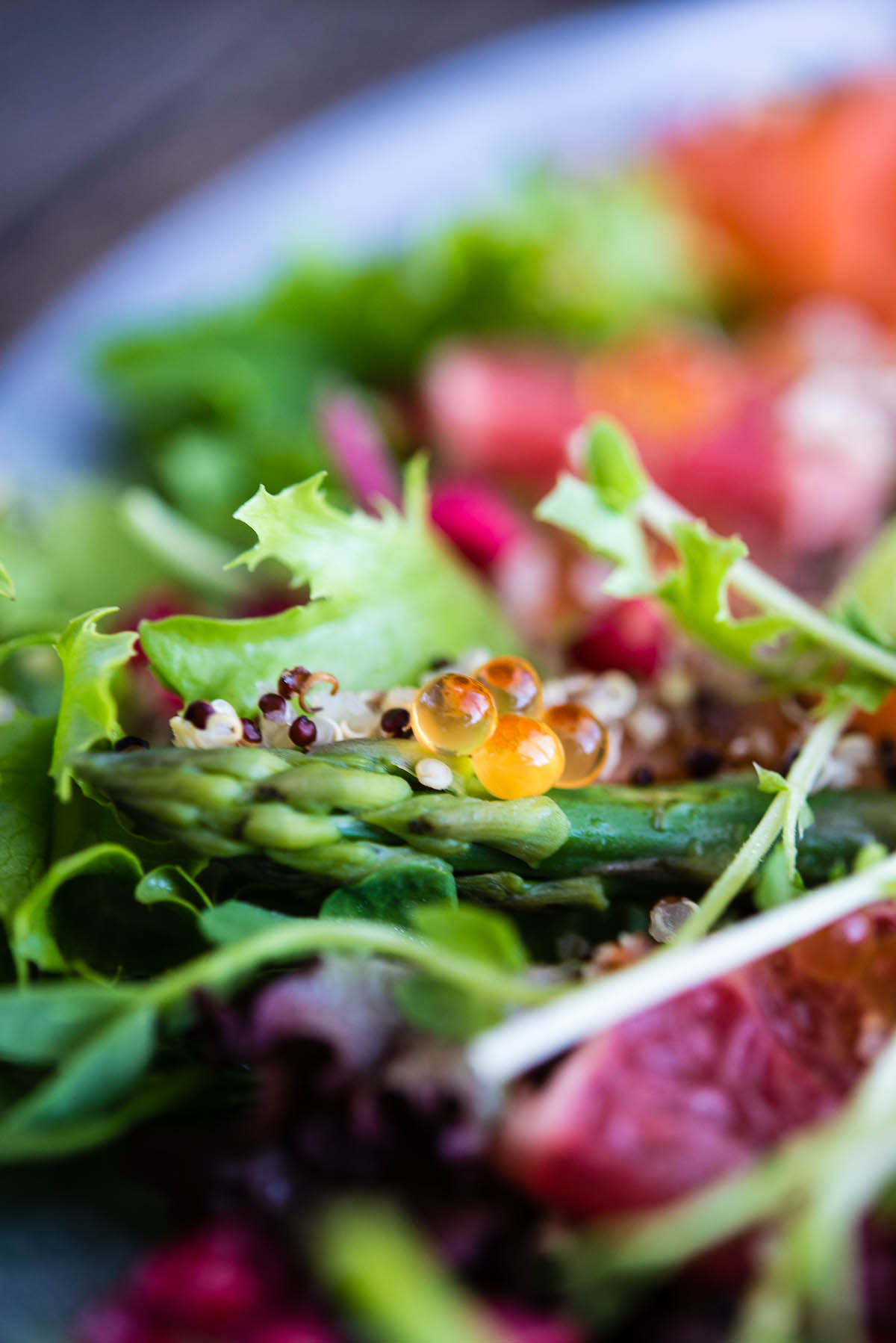 Now while I'd be happy to eat this salad all by myself, I do think you should serve it as part of a meal for a bigger group of people. Because when food looks and tastes this good, it's only fair to share it, right?
Enjoy!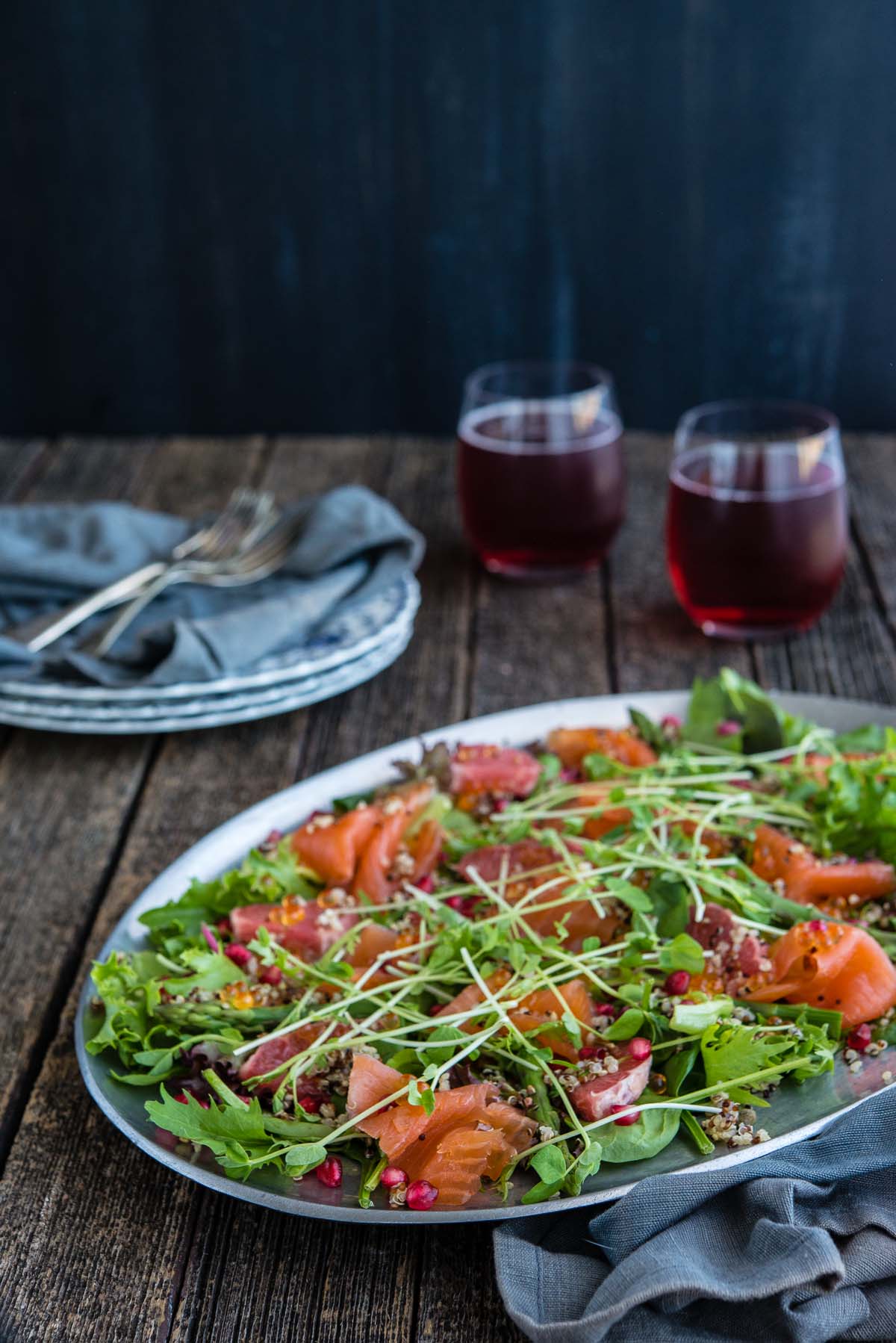 Smoked Salmon, Pomegranate and Quinoa Salad
INGREDIENTS – SALAD
3 cups water
1 cup quinoa

1 bunch asparagus, trimmed 

Mixed salad leaves
1 ruby grapefruit, peeled, sliced and halved into mini fan shapes
Seeds from 1 pomegranate
Half red onion (optional)
Handful snow pea sprouts (optional)
INGREDIENTS – DRESSING
3 tablespoons best quality virgin olive oil
1 tablespoon red wine vinegar
1/2 teaspoon honey
1/2 teaspoon mild grainy mustard
Salt and pepper to taste
METHOD
Cook quinoa in water according to packet instructions and leave aside to cool.
Steam asparagus and leave to cool.
To assemble salad, spread mixed salad leaves on a large platter.
Top with smoked salmon arranged into casual rosettes, grapefruit, pomegranate, quinoa, asparagus and onion (optional).
Garnish with snow pea sprouts and salmon caviar and serve with dressing.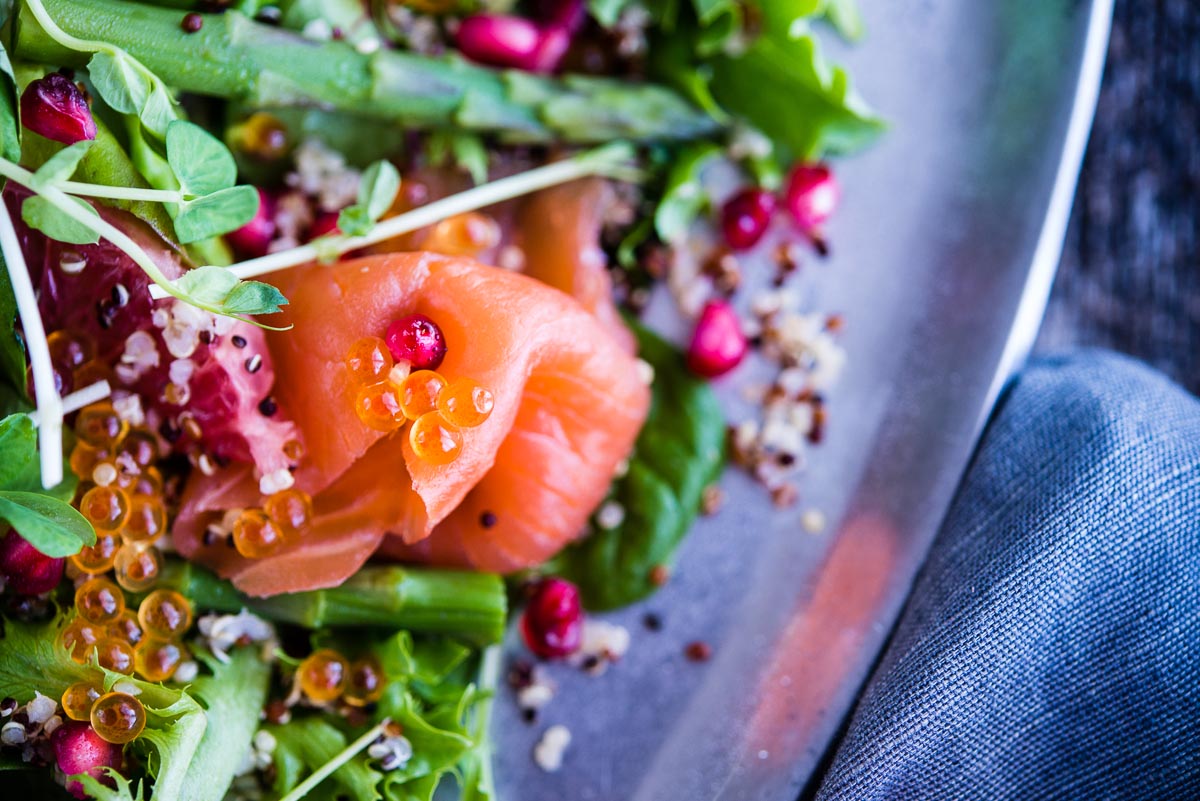 More seafood recipes
The Hungry Australian event
I'm part of a debate/dinner called Eating Their Words for the Adelaide Food & Wine Festival this Tuesday 8th April. Writer David Sly (Australian Gourmet Traveller, SA Life Magazine), chef Phil Whitmarsh (The Daniel O'Connell Pub & Dining) George Ujvary (The Foodologist) and I will be discussing food writing responsibilities and ethics, blogging, social media and the often complicated relationship between food writers, food bloggers and chefs. Entry price includes four courses of top nosh and wine, beer and soft drinks at the Daniel O'Connell. Book your tickets here.

Subscribe to The Hungry Australian
Don't want to miss a post? Sign up to receive new recipe and travel posts twice a week – it's FREE!!
Disclosure
This sponsored post was commissioned by Huon. As always, all opinions are my own.