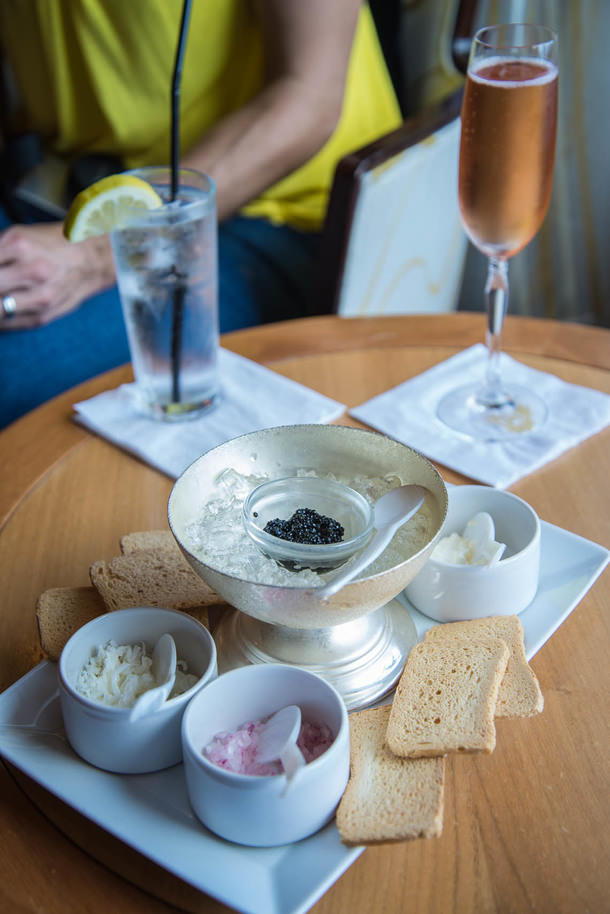 A few weeks ago I joined the the Queen Mary 2 for the Sydney to Brisbane leg of its worldwide voyage. My first post covered drinks in the Commodore Club, dinner and breakfast at Britannia and exploring the ship.
This final post continues my seafaring adventures and covers the Veuve Clicquot Champagne Bar, Golden Lion Pub, Afternoon Tea at Queens Room, Canyon Ranch Spa, Todd English restaurant and the Kings Court Buffet.
Are you ready? Let's go!
Veuve Clicquot Champagne Bar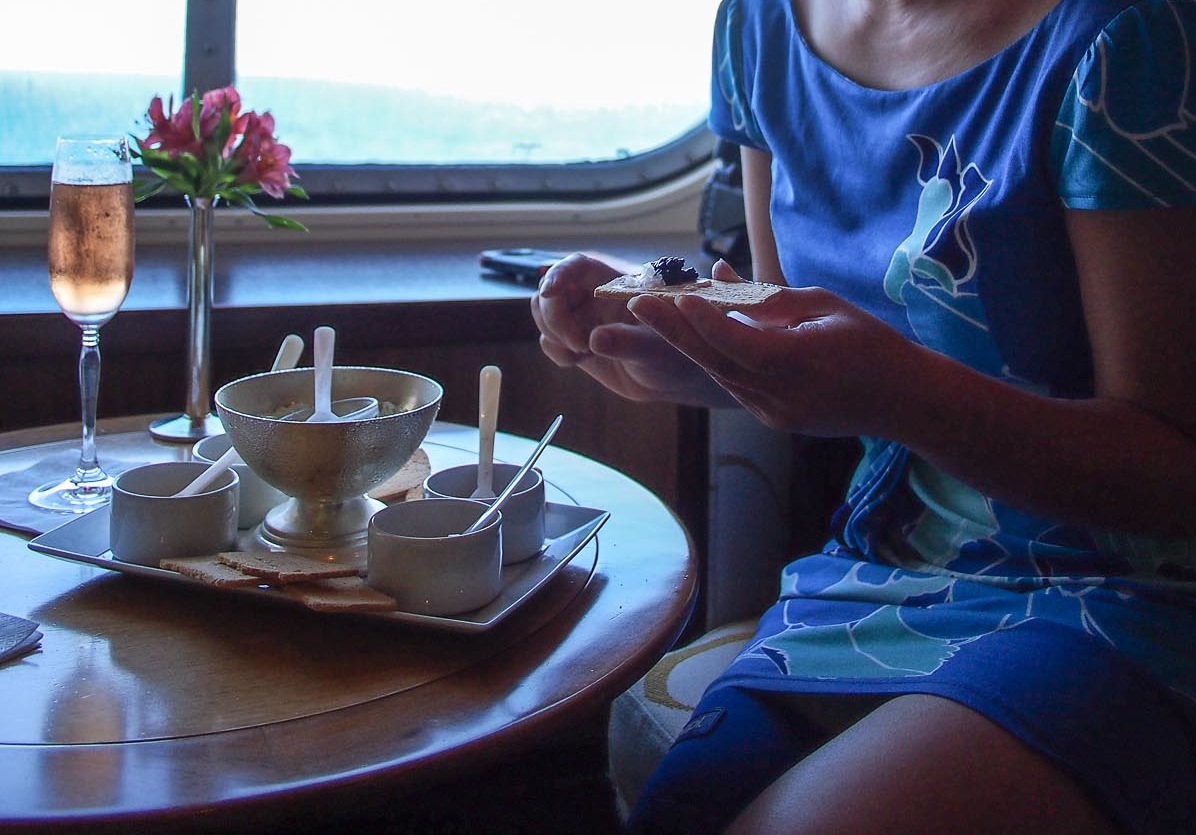 The Vevue Cliquot Champagne Bar is one the few dining venues that charge on the Queen Mary 2 (most meals and drinks are included in your ticket price). We order the Veuve Clicquot Brut Rose NV ($18.95 a glass) with a 2 ounce serve of caviar ($30).
The caviar is served with boiled egg, finely chopped shallots and sour cream. You can make this at home if you like – see my recipe here.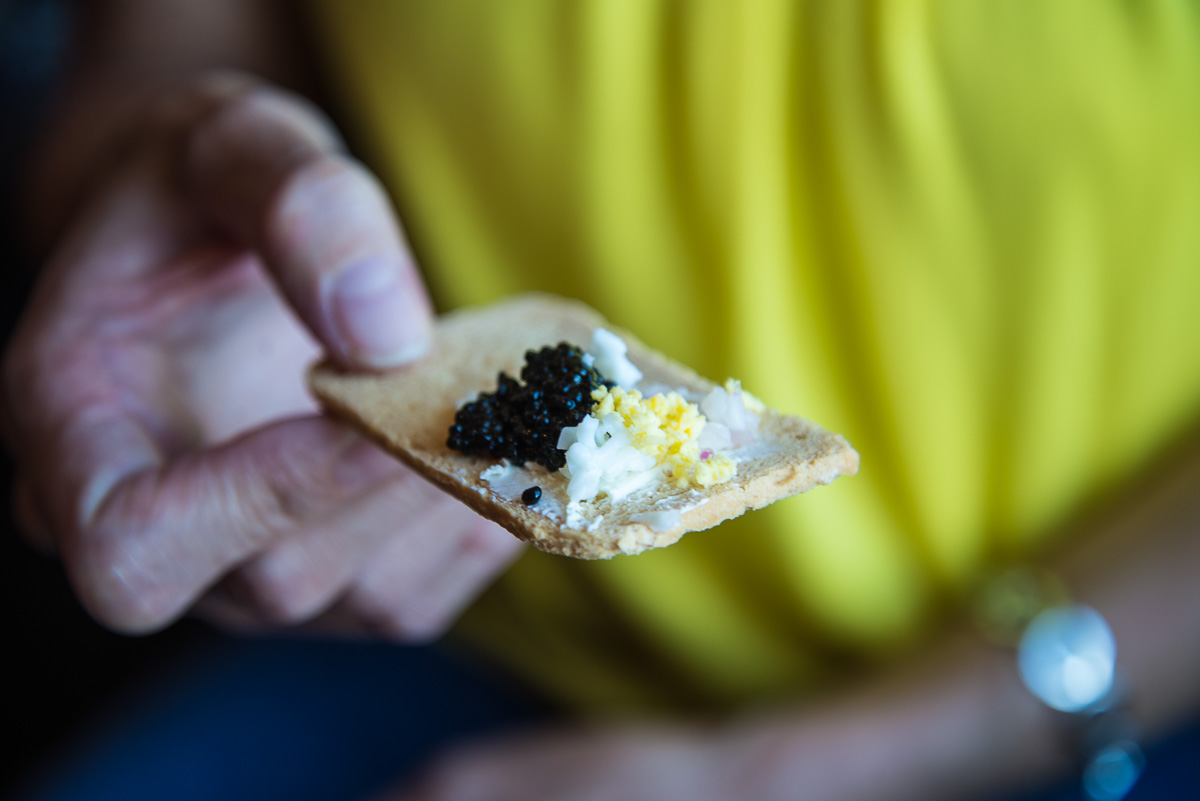 The crackers are flavoursome but too hard and large to my way of thinking; water crackers or a Melba-style toast that could be popped into the mouth in one bite would have been better. Still, it is definitely fun sipping on champagne and nibbling on caviar to the soft strains of live harp music being played in the next room…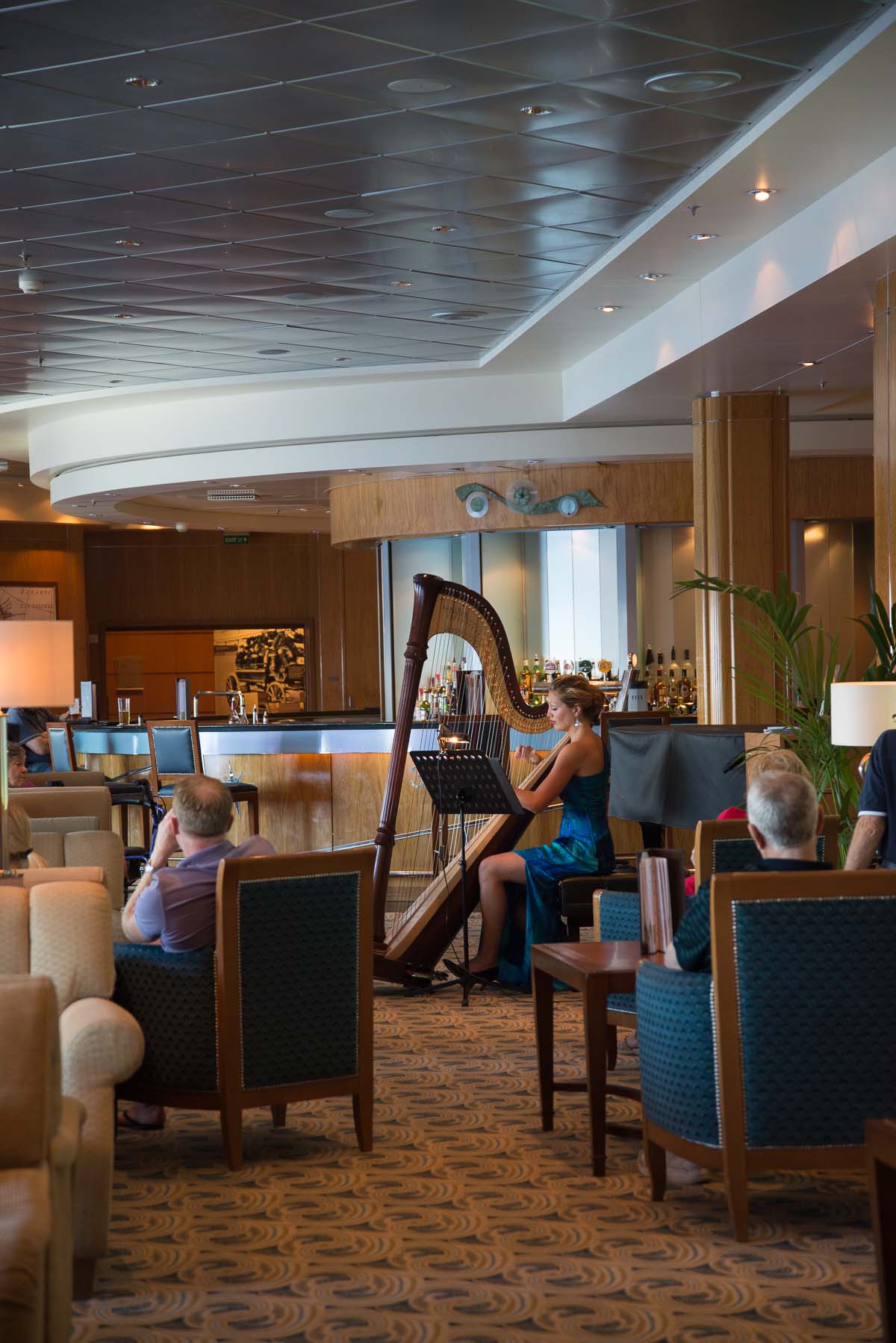 Lunch at Golden Lion Pub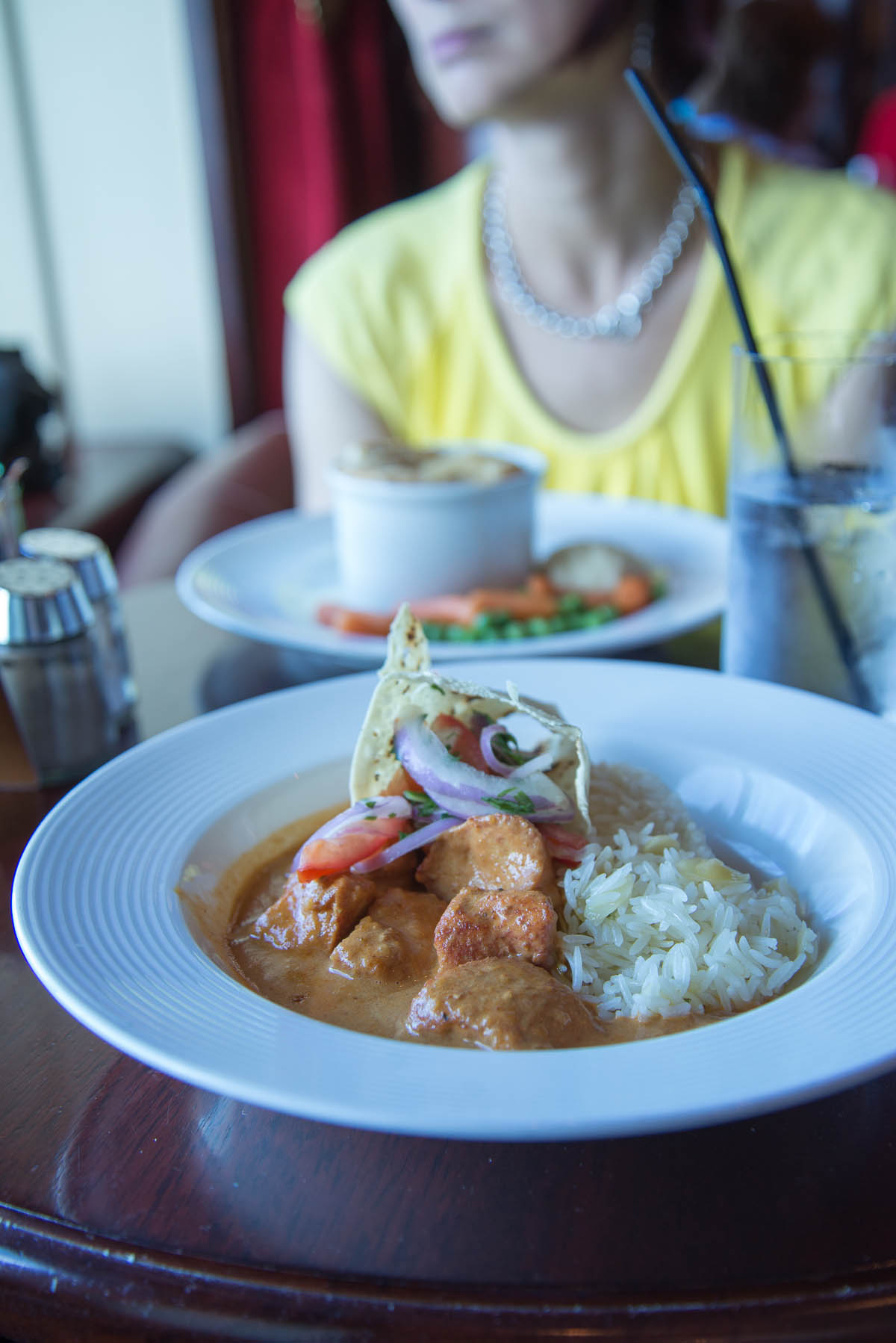 After the bubbles and caviar we're ready for lunch so we head over to The Golden Lion, an English-style pub that is open for lunch and dinner every day.
At midday it's packed to overflowing so we perch on stools at the bar until a table by the windows opens up. From a decent number of options we order a chicken massaman curry and a beef pot pie.
The food is served in under 10 minutes. My curry is very good – the sauce is rich, aromatic and creamy with coconut while the small tomato, onion and mint salad adds a welcome bite and freshness to the dish. G enjoys her pie.
I prefer this causal dining experience to the Britannia restaurant (see my first post). The food is good, the tables are smaller and the atmosphere is more relaxed. If we were staying longer I'd come here for lunch again.
Afternoon tea at the Queens Room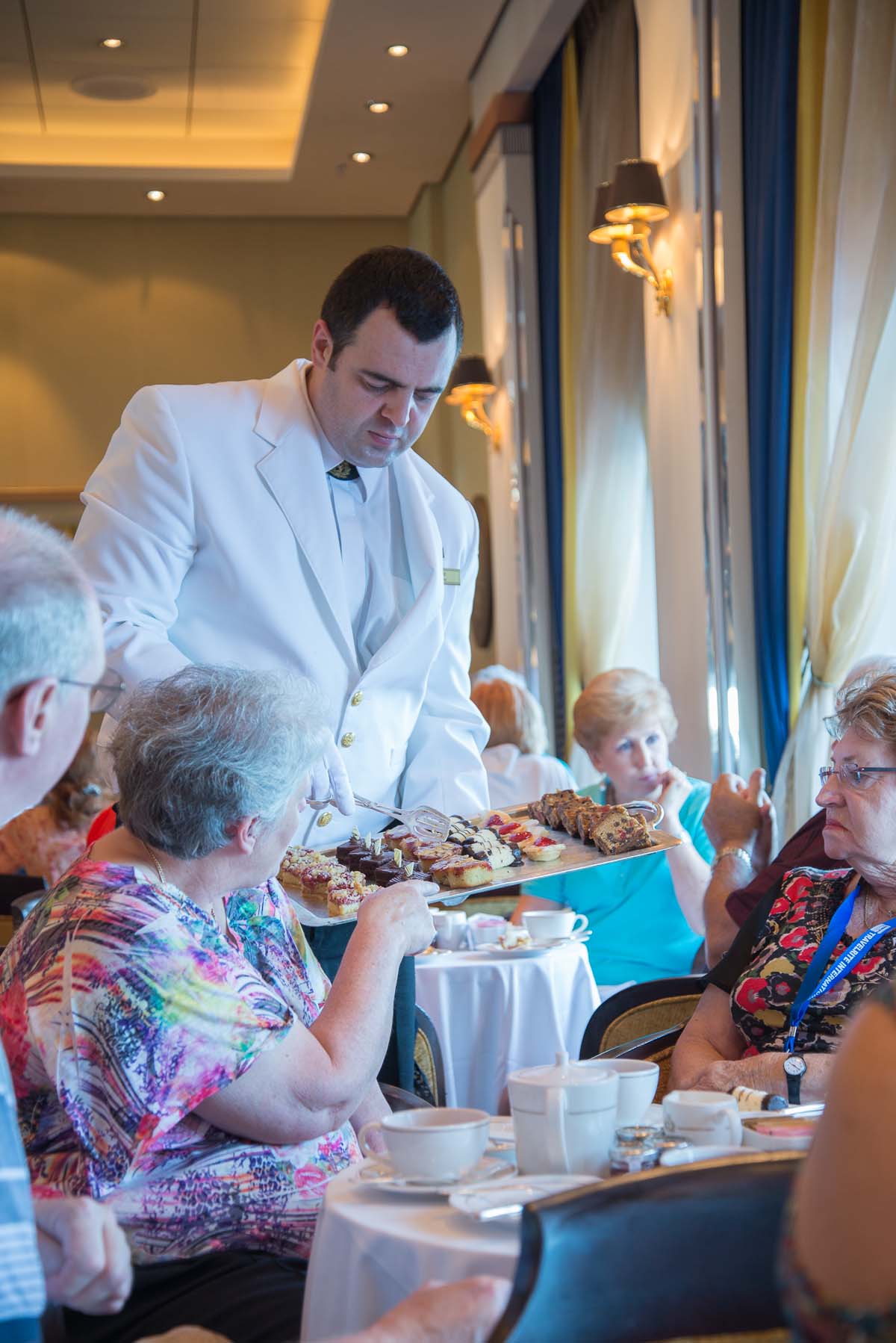 After exploring the boat for a couple of hours, we make our way to the Queens Room, where hungry guests have already formed lengthy queues in anticipation of afternoon tea.
We request a table by the window and share it with some fellow passengers.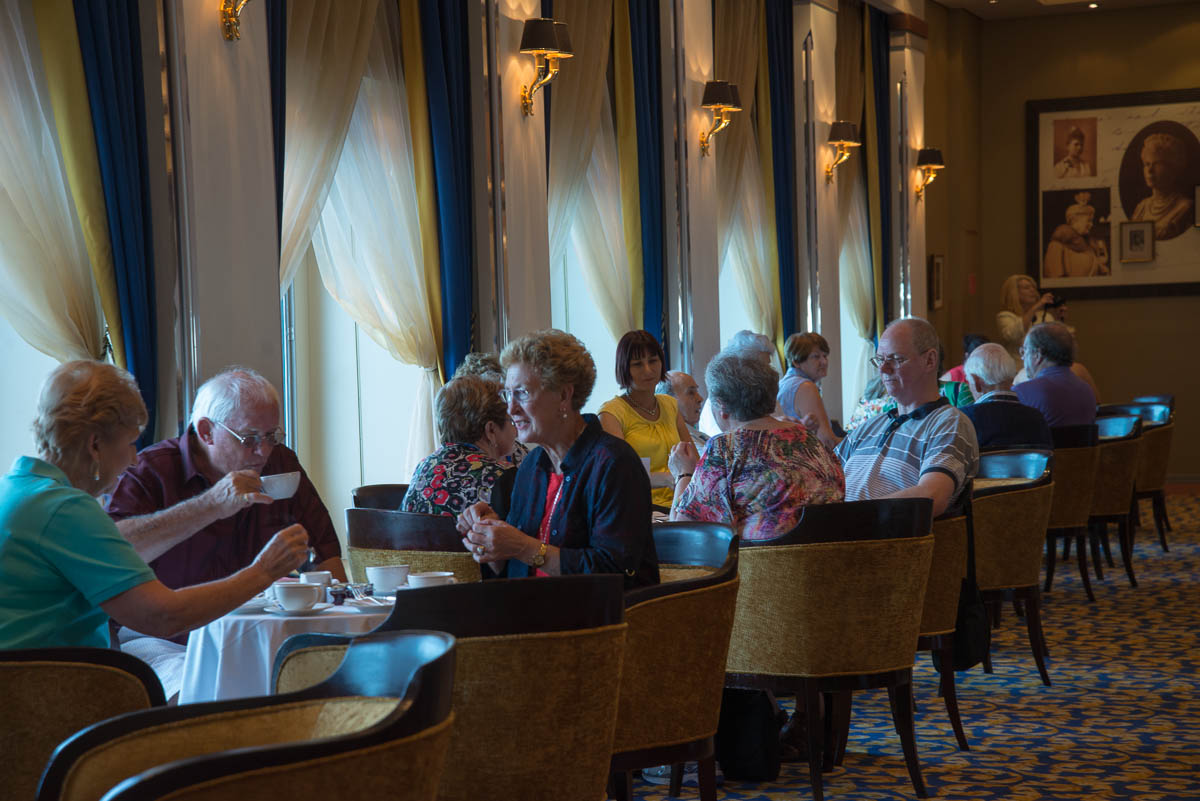 Our waiter takes our drinks order — nearly everyone chooses the special afternoon tea blend — and then another waiter offers us a choice of five savoury sandwiches. I choose smoked salmon and cucumber.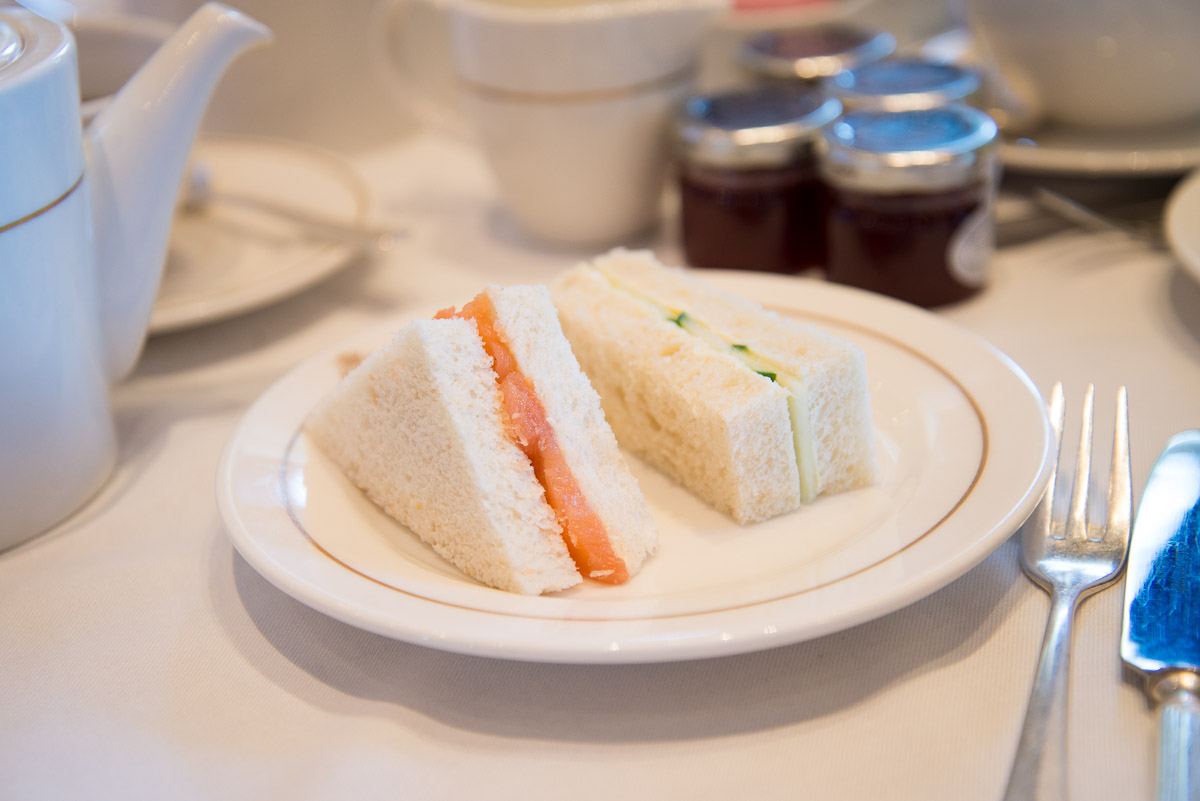 I'm not overly fond of sandwiches but these make for a nice change and I'm surprised yet again by how good a simple cucumber sandwich can be.
We're then offered a choice of six different of cakes and slices. I try the raspberry crumble and the chocolate truffle cake.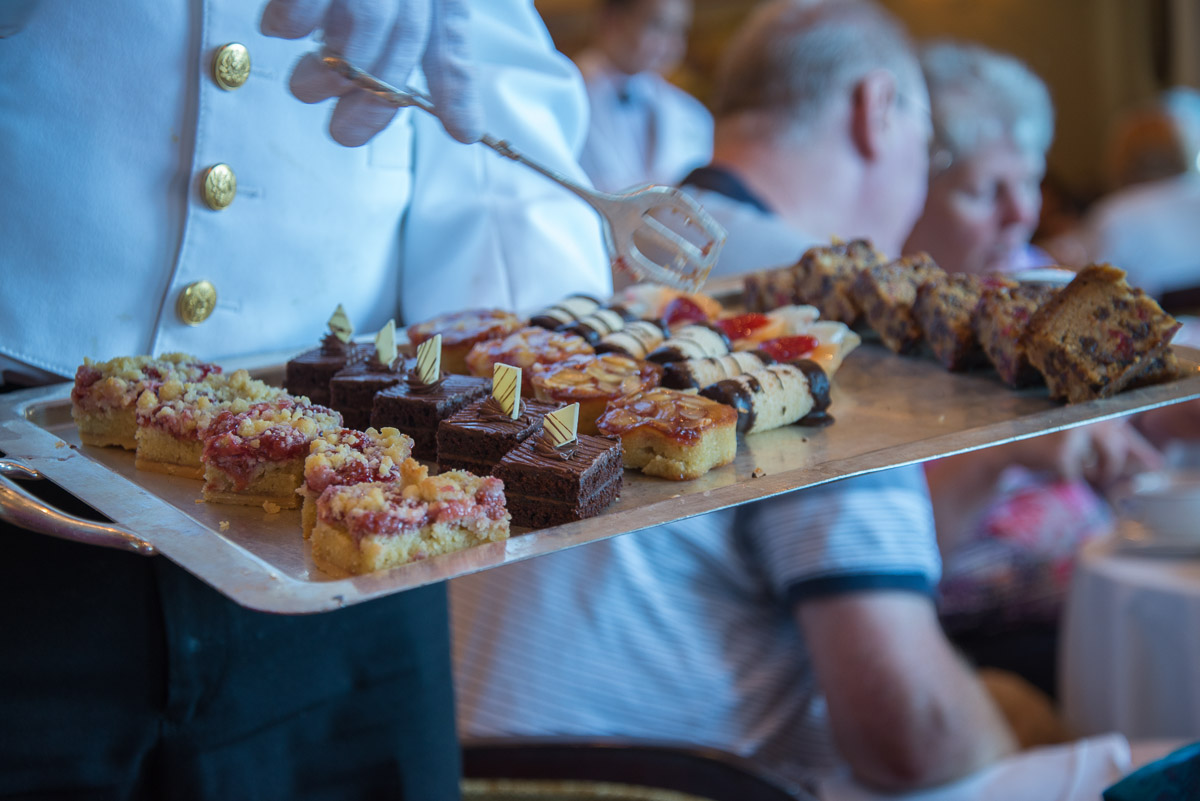 I've chosen well. The raspberry crumble slice is moist, sweet and tart, while the chocolate truffle cake has a lovely velvety texture.
We wash everything down with multiple cups of steaming hot tea. Ahhhhhh!
Next, scones are presented. There is a choice of plain or sultana and I opt for the latter.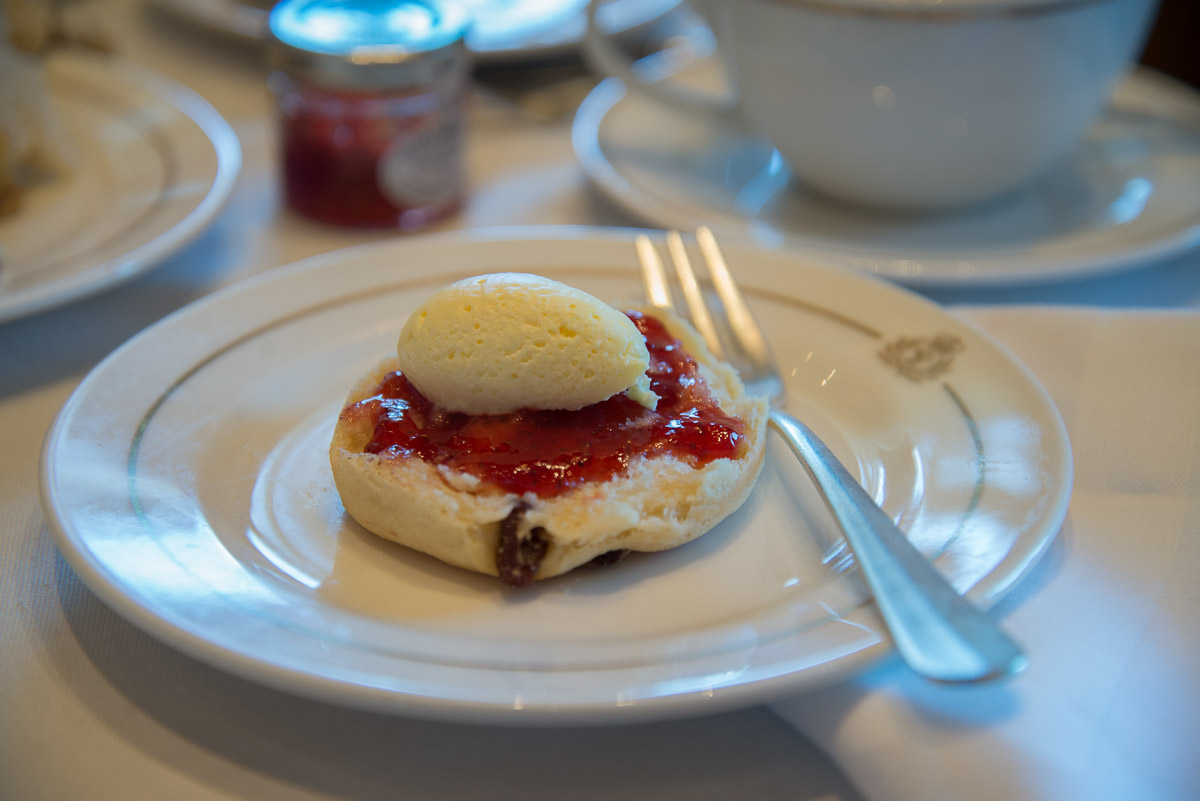 The scone is beautifully light and buttery but I find it a little too sweet for my tastebuds, especially eaten with jam. The cream is served in quenelles that have obviously been refrigerated for some time as they have dried out a little bit. It's not ideal but then one must take into account the enormous number of people afternoon tea attracts, and how everybody is seated and served with great speed and efficiency.
I tried the afternoon tea on the  family cruise I took last year on the Carnival Spirit and was disappointed with the quality. My minor criticisms of the scones notwithstanding, the Queen Mary 2's afternoon tea is well worth trying.
Canyon Ranch Spa Club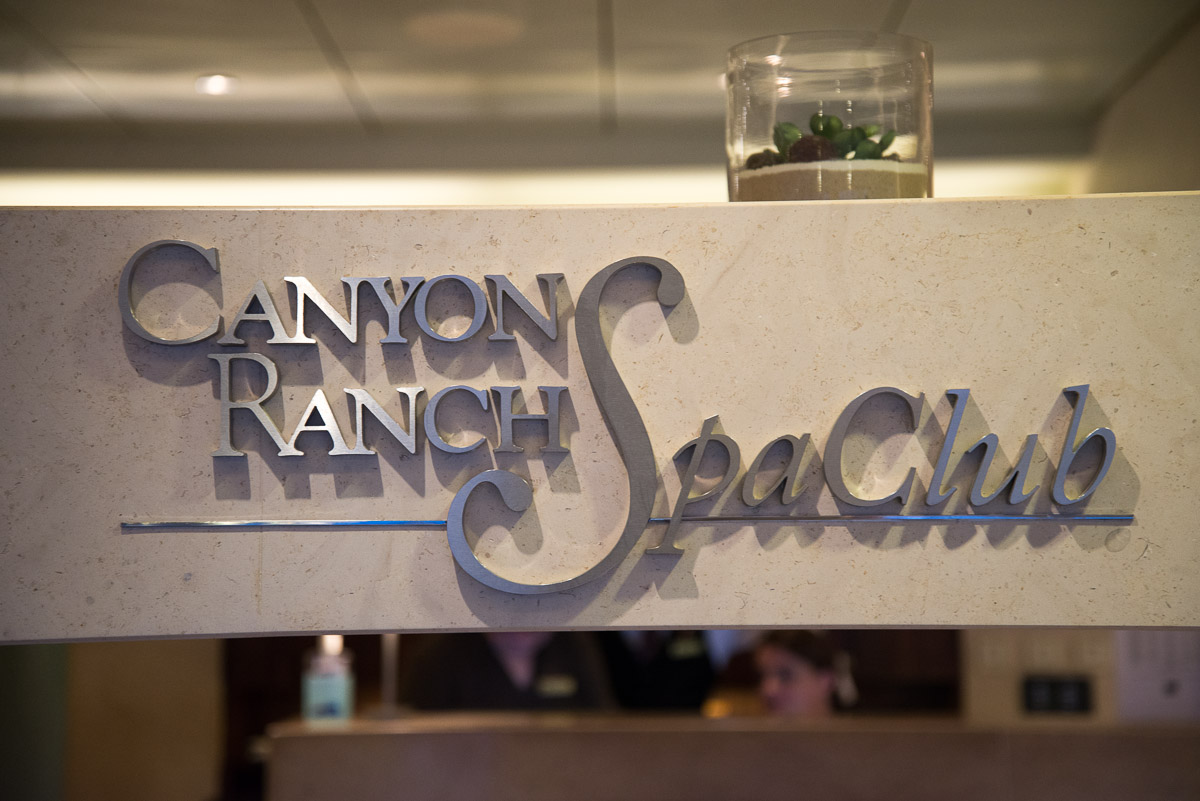 After afternoon tea it's time for some pampering: I've booked a seaweed wrap at the Canyon Ranch Spa Club. It's perfect timing because after all that food I just want to stretch out and nap.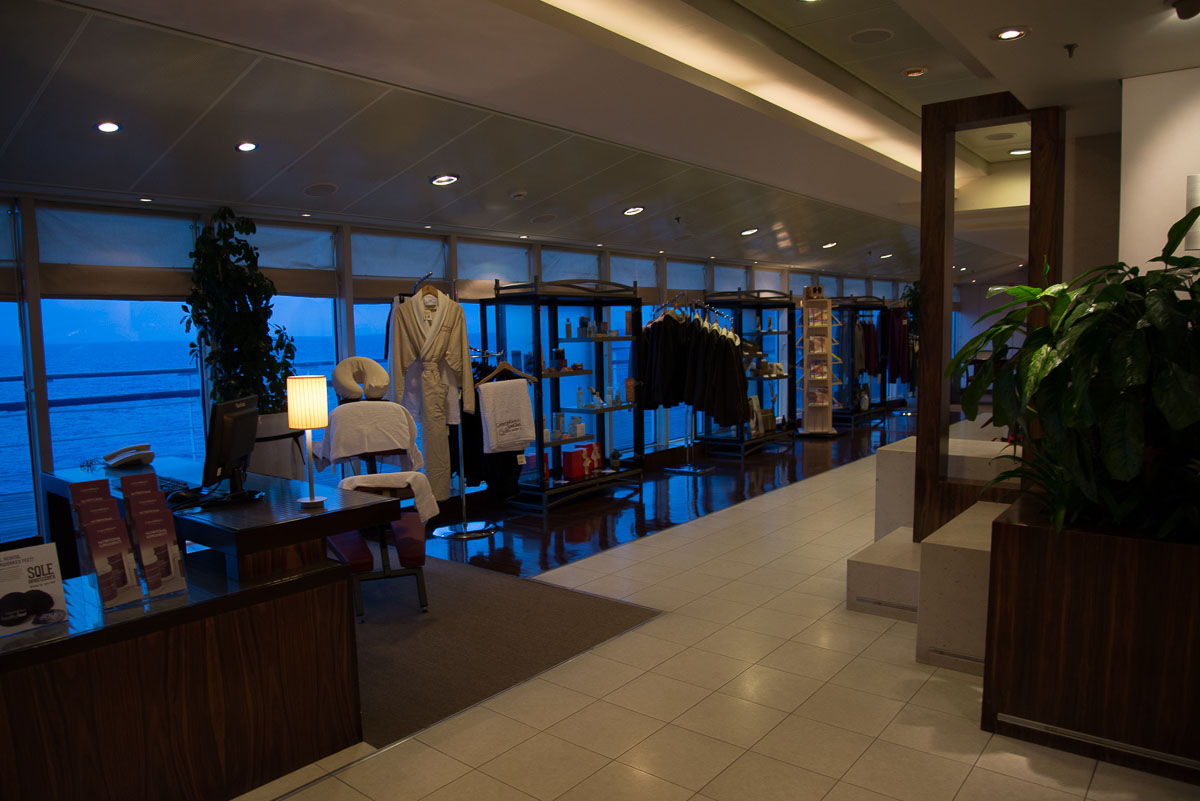 I'm welcomed by my friendly therapist into a private room and she explains the 75 minute procedure. Basically, I will be scrubbed from neck to toe with a seaweed infused sea salt, shower off, and then be wrapped in real strips of seaweed before being left to 'infuse' in a plumped up water bed. It's all as freaky as it sounds and I soon bear a startling resemblance to a human sushi roll.
The session in the water bed is very relaxing — supported by the water I feel almost weightless — and I can feel myself drifting off. Later on, I emerge with glowing, plumped up, silky-smooth skin.
It was a lovely experience but be aware that treatments are on the pricey side: a 50 minute reflexology session will set you back $149 while a 50 minute deep cleansing facial costs $161. An automatic gratuity is also added to your bill.
Drinks at the Commodore Club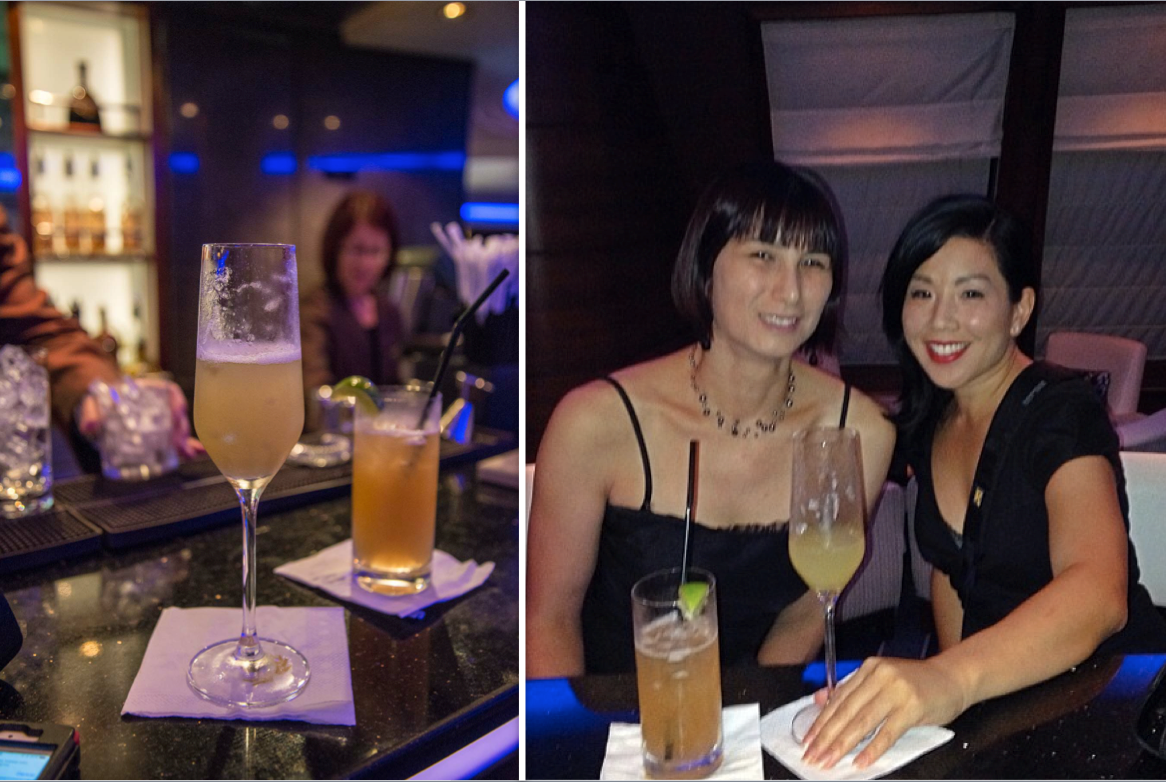 After dressing for dinner — the dress code tonight is evening or cocktail dress because of a scheduled Black and White Ball — G and I decide to repeat last night's drinks at the Commodore Club.
You can't see it in this photo of us but the bar is full of men dressed in tuxedos and women dressed in evening gowns. The men look fantastic — there isn't a man alive who isn't better looking in a tuxedo — while all the women look elegant and poised. There's a real buzz of excitement in the air.
Dinner at Todd English

We visited the Mediterranean fine dining restaurant, Todd English, during the day, when I took the above photo. Named after celebrity American chef Todd English, the restaurant is outfitted with plush awnings, nicer seating and more stylish decoration.
After drinks, we join our media group in a private room.

See what I mean about men in tuxedos? Don't they look great?

We're offered some caramelised onion bread with two different olives tapenades to start and the combination is so good I break my cardinal rule of not eating any bread before dinner.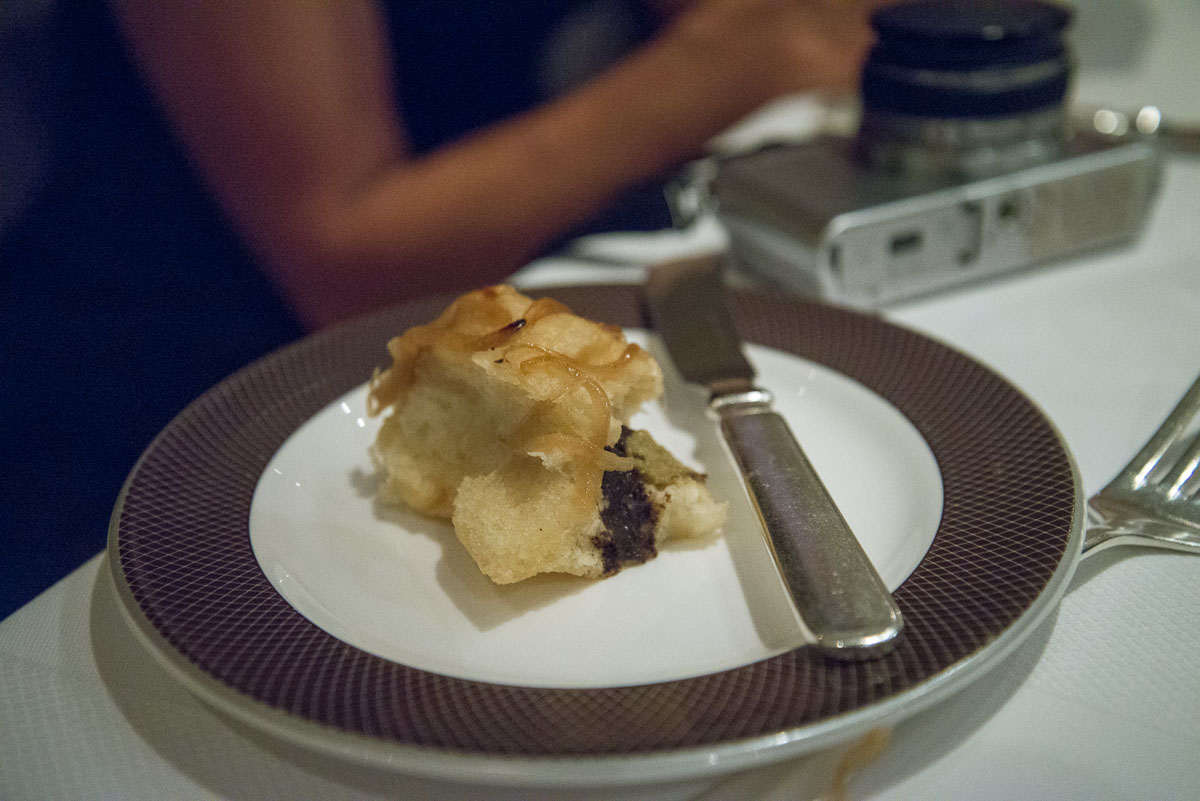 Actually, I would have been happy to eat only this bread for dinner. But of course I don't…
While most restaurants on the Queen Mary 2 are included in the cost of your ticket, Todd English operates on an a la carte basis; you pay a surcharge according to the dishes you order. Most appetizers, pastas and soups are priced between $5-7, while mains are $16-18 and desserts are $5-7. Coffee with cookies and biscotti is complimentary.
My first course is an enormous crab cake on a bed of tomato soup.

This crab cake is all killer, no filler: I detest fish or crab cakes that are mostly mashed potato with only a spoonful of the good stuff. But this crab cake is all beautifully seasoned crab meat surrounded by a crunchy, golden shell. The tomato soup is a thick, sweet and sour offering and has perfectly balanced sweet and acidic flavours that cut nicely through the richness of the crab, while a simple avocado and cucumber garnishes completes the dish. Top marks.
My next course is ricotta gnudi (a type of gnocchi made from ricotta and flour) with brown butter, lobster, tomato and zucchini and toasted hazelnut.

The gnudi and lobster pieces are tasty and the sautéed vegetables (corn, zucchini and tomato) are cooked perfectly but it seems to lack something that would pull it all together and make it a really outstanding dish; perhaps the flavours are a just too muted for my tastebuds?
My main course arrives – rack of lamb served with za'atar parsnips, pistachio vinaigrette, harissa, a curious crispy Merguez Samosa and mint sauce.

The lamb is tender, moist and well seasoned and the parsnips are nicely cooked. There are a lot of different elements going on here, though, and I wonder whether this dish may have been better without one or two of them. The Merguez Samosa, for instance, doesn't work for me at all with this dish; it just doesn't seem to fit. And I find the choice of three sauces — the mint, the harrisa and the pistachio vinaigrette — confusing to my tastebuds.
For dessert, I've taken the waiter's recommendation of Chocolate Fallen Cake, the restaurant's signature dessert.

I do love a good molten cake – there's something so delightful about piercing the cooked crust with your spoon and carving your way into the gloriously unset middle. This version is served with a berry sauce and vanilla bean ice cream. It's a classic combination for good reason and I happily eat as much of the cake as I can manage in my tight cocktail dress.
We've been having such a good time we don't even realise how late it is until we check out phones – it's actually 11:15pm and the ball started 90 minutes ago. So we finish up quickly and head downstairs to the Queens Room.

Downstairs it's quieter than I expected. Judging from the numbers of couples on the dance floor and the people scattered around the room, it looks like a lot of guests have already retired for the evening. Some of them had already started when I was emerging from my spa treatment so I guess they've had enough fun for the night! Some of our group dance — there are gentleman escorts hired by Cunard to entertain the single ladies — and others head to the nightclub.
It's time for bed.
Breakfast at Kings Court Buffet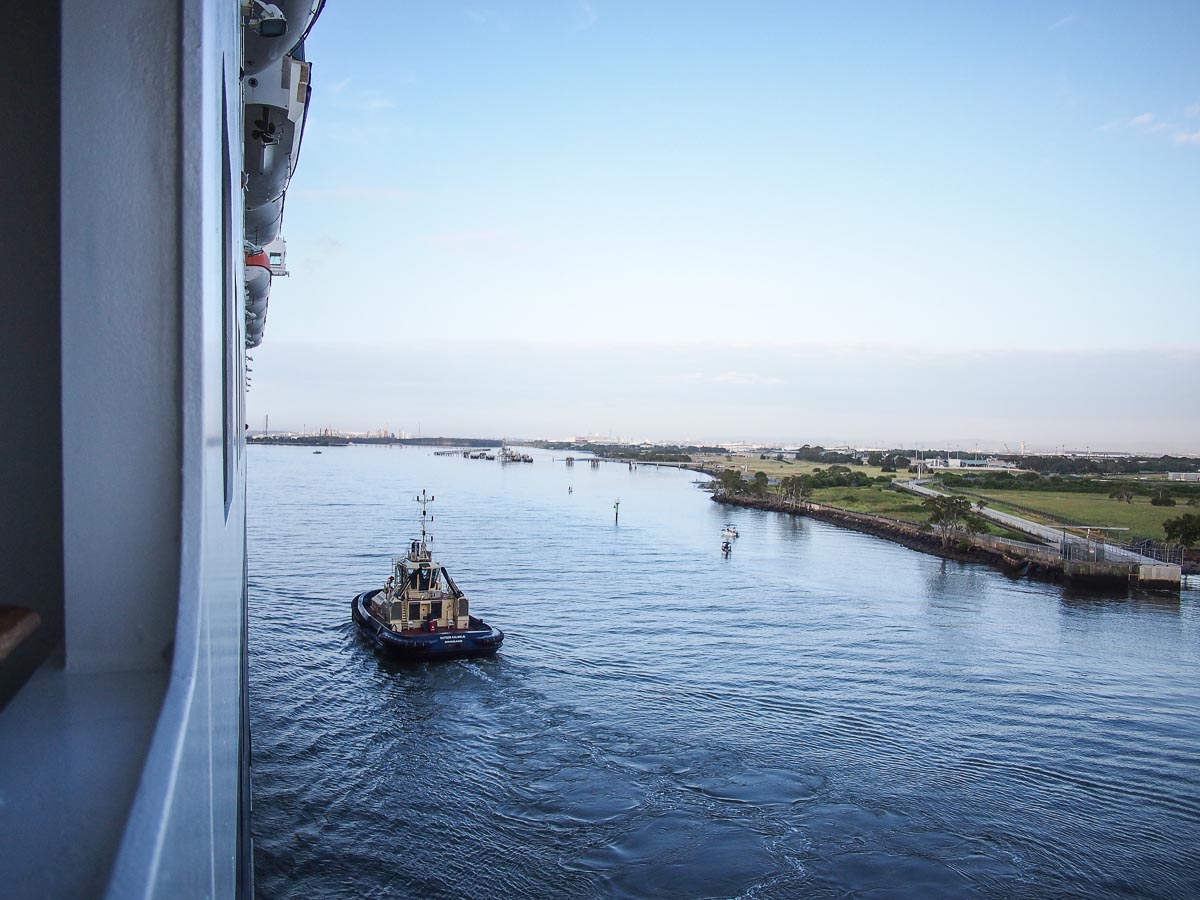 The next morning we look out the window and realise we've arrived in Brisbane.

There is time for one last meal so G and I breakfast at the Kings Court Buffet. The food is strikingly similar to what is on offer at Britannia – the only difference is here you serve yourself and you control your portion sizes. My portion size? I'll try a bit of everything of course, thanks! 
After breakfast we go for one last stroll around the ship.

It's been a short but jam-packed trip. Comparing it to my previous travel experiences, I realise that I like the unexpectedness and flexibility of self-guided travel. I like not being part of a group and I like not having a schedule. Also, I'm the type of person who prefers a boutique hotel to a large chain; I like personalised service and those individual touches that tell you something about someone's personality.
But in talking with our fellow passengers I've discovered that there's a whole group of travellers who love cruising because of its ease and convenience. Perhaps they have health issues that prohibit them from flying or they simply can't be bothered faffing around with connecting flights, suitcases and finding their own way around. Perhaps they find cruising an easy way to catch up with friends and family – quite a few groups we met had all travelled from different places to come together for a holiday. It's also quite an economical way to travel when you consider the price of an average hotel room and then meals and everything on top of that.
As it turns out, my mum is already talking about doing another cruise with all the family so I may be back on a cruise ship before I know it. If that happens one thing is for sure: considering how much I've eaten this trip I will definitely be packing my exercise gear!
Queen Mary 2
My Sydney – Brisbane trip aboard the QM2 was part of a longer, 23-night Sydney to Sydney voyage (February 19 – March 14, 2014) that was priced from $8,599 per person twin share for a balcony cabin and $15,499 per person twin share for a Princess Suite (fares from the World Voyage 2014 brochure). Interested in learning more? Search and book current cruises.
My first post on the QM2 covered Drinks at the Commodore Club, Britannia Restaurant, and Exploring the Ship.
More Travel Posts
The Hungry Australian Events
I'm doing a talk called 'Blogging for Fun and Profit' for the WordPress Adelaide group on March 31st. So if you're a member of WordPress Adelaide (you need to be a WordPress user to join) please do come along. Register here.
I'm part of a debate/dinner called Eating Their Words for the Adelaide Food & Wine Festival on Tuesday 8th April. Writer David Sly (Australian Gourmet Traveller, SALife Magazine), chef Phil Whitmarsh (The Daniel O'Connell Pub & Dining) George Ujvary (The Foodologist) and I will be debating food writing responsibilities and ethics, blogging, social media and the often complicated relationship between food writers, food bloggers and chefs. Entry price includes top nosh and drink at the Daniel O'Connell. Book your tickets here.
The Hungry Australian Interview
Subscribe to The Hungry Australian
Don't want to miss a post? Sign up to receive new recipe and travel posts twice a week – it's FREE!!
Disclosure
G and I travelled on the Queen Mary 2 as guests of Cunard. We ate a ridiculous amount of food and did no exercise whatsoever. As always, all opinions are my own.