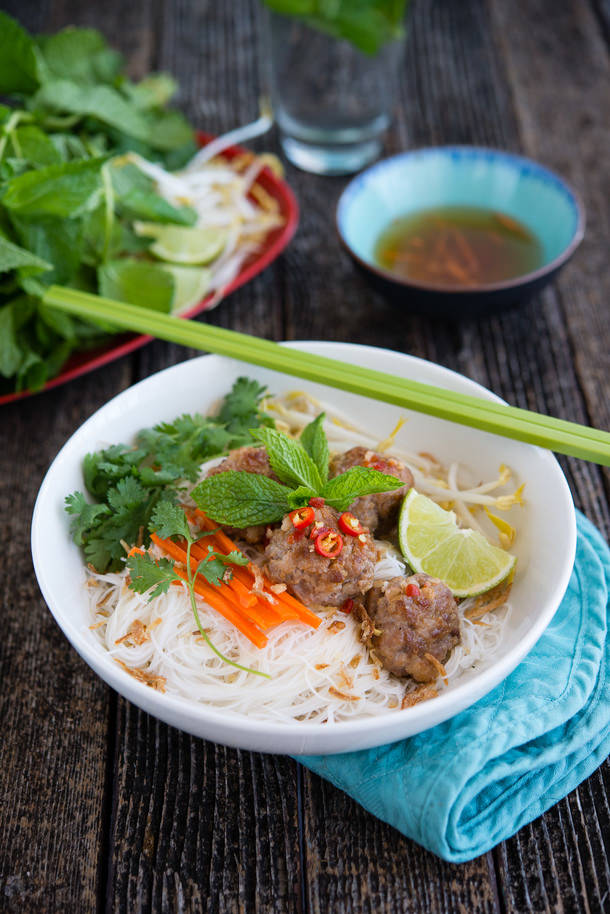 It's crazy hot in Adelaide, South Australia, at the moment. This week it's going to hit 40+ degrees Celsius (104+ degrees Fahrenheit) five days in a row. That's five days of sweltering sun, plants crisping in the garden and hot, steamy nights.
When it's this hot I don't feel like eating or cooking very much. So it makes sense to make something easy, light and cooling. Enter this healthy and satisfying Vietnamese inspired Pork Balls on Rice Vermicelli.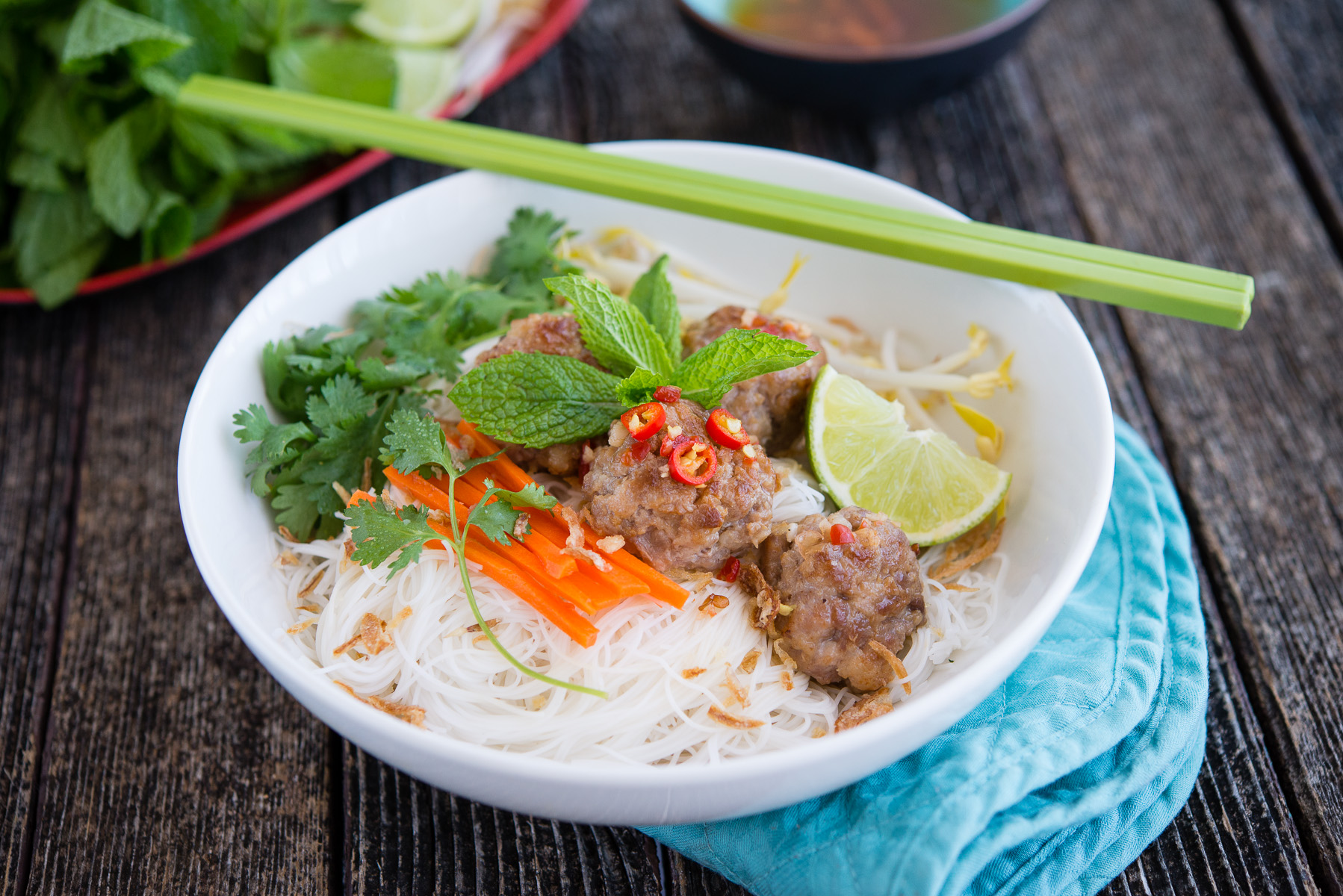 This dish is quick and simple to make and would be perfect for a casual dinner with family or friends. I've made it while chatting with a friend in the kitchen before serving it up for our lunch.
Don't be scared of the long list of ingredients – you probably have most of these in your pantry like me and then it's just one visit to the Asian store or market to get the fresh ingredients.
Serve the noodles and pork balls at the table with a plate of fresh vegetables (carrots, cucumber, bean sprouts, chillies), herbs (coriander, peppermint and Vietnamese mint), fruit (lime or lemons) and dressing and let people make up their own bowl. Food is always more fun when you get to play with it, don't you think?
I'm off for another swim now. Enjoy!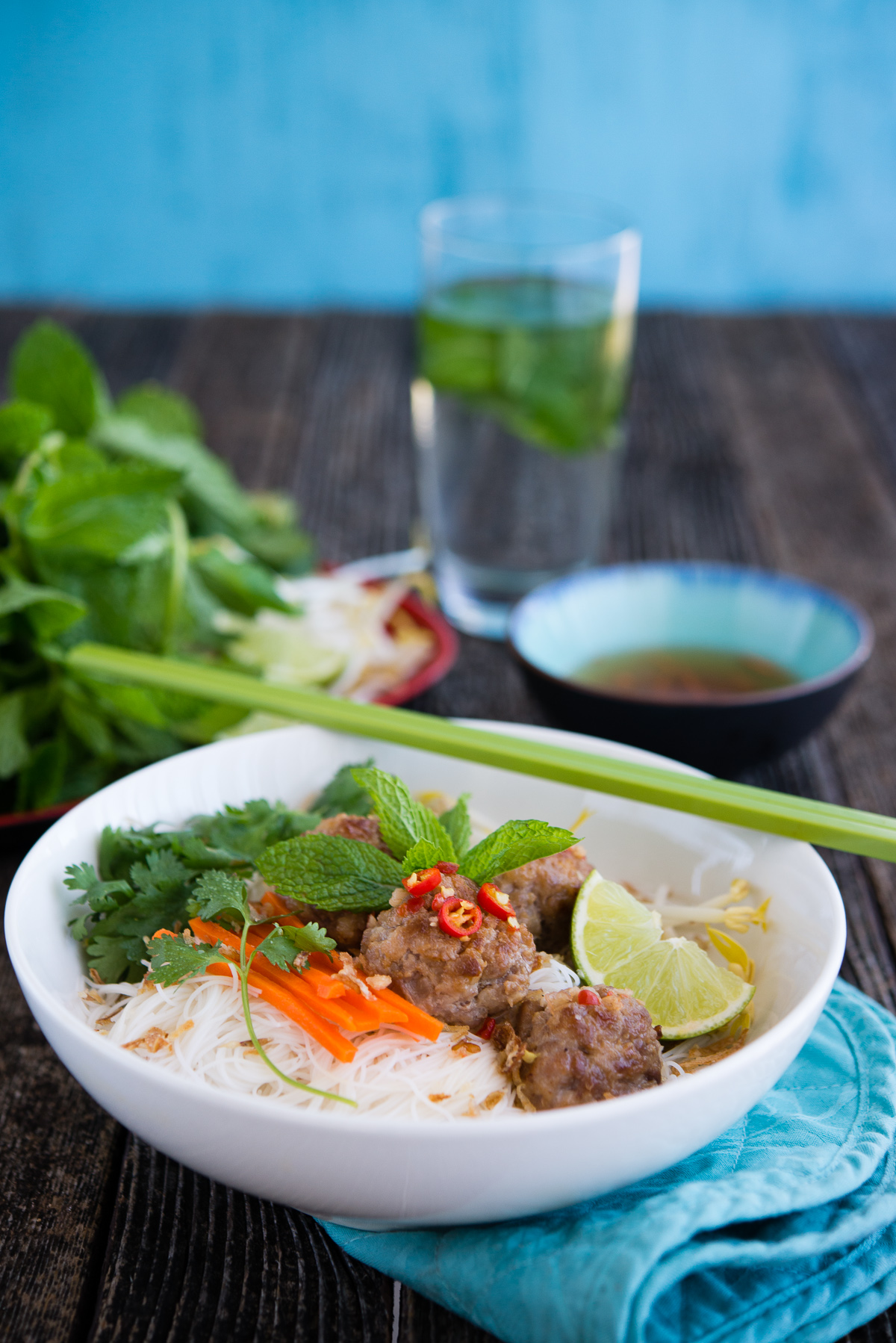 INGREDIENTS – DISH
400 grams minced pork
2 tablespoons fish sauce
1.5 teaspoons sugar
2 large cloves garlic, minced or chopped very finely
1/4 teaspoon white pepper
1 packet rice vermicelli noodles
1 carrot
1 cucumber
1 small bag bean sprouts

Bunch mint

Bunch coriander
Bunch Vietnamese mint (laksa leaves)
1 tablespoon vegetable oil

4 tablespoons fried shallots (from Asian store)

4 tablespoons crushed, roasted peanuts (optional)
INGREDIENTS – DRESSING
2/3 cup water
1.5 tablespoon fish sauce
1.5 teaspoon sugar
1 tablespoon rice vinegar
1 tablespoon lime or lemon juice
2 tablespoons sweet chilli sauce
1 Birds Eye chilli, slice finely
Pinch finely shredded carrot (optional)
METHOD
Mix pork, fish sauce, sugar, 1 clove garlic and white pepper until combined and then use your hands to form into 16 small balls and place on a plate.
Refrigerate pork balls while you prep the other ingredients. The longer you refrigerate them, the better they will keep their shape.
Cook noodles to pack instructions.
Peel and cut cucumber and carrots into matchsticks, and wash and drain bean sprouts and fresh herbs. Arrange on a large plate and refrigerate
Heat up a large fry pan and add vegetable oil. Add pork balls and cook for a few minutes on all sides until outer is caramelised and inside is cooked through.
While the pork balls are cooking make up the dressing by adding water, fish sauce, sugar, rice vinegar, lime juice, sweet chilli sauce, chilli, 1 clove garlic and carrot to a medium bowl and stirring to combine. Taste and adjust flavour as desired, adding more lime for sourness, fish sauce for saltiness and sugar for sweetness etc. Divide into 4 small serving bowls.
To serve, divide noodles between four bowls and top with four balls each. Garnish with fried shallots and peanuts (if desired) and serve with vegetable platter and dressing.
NOTES
Gluten and dairy free
Serves 4.
More Easy Summer Recipes
Subscribe to The Hungry Australian
Don't want to miss a new recipe or food & travel experience? Sign up to receive new posts twice a week – it's FREE.