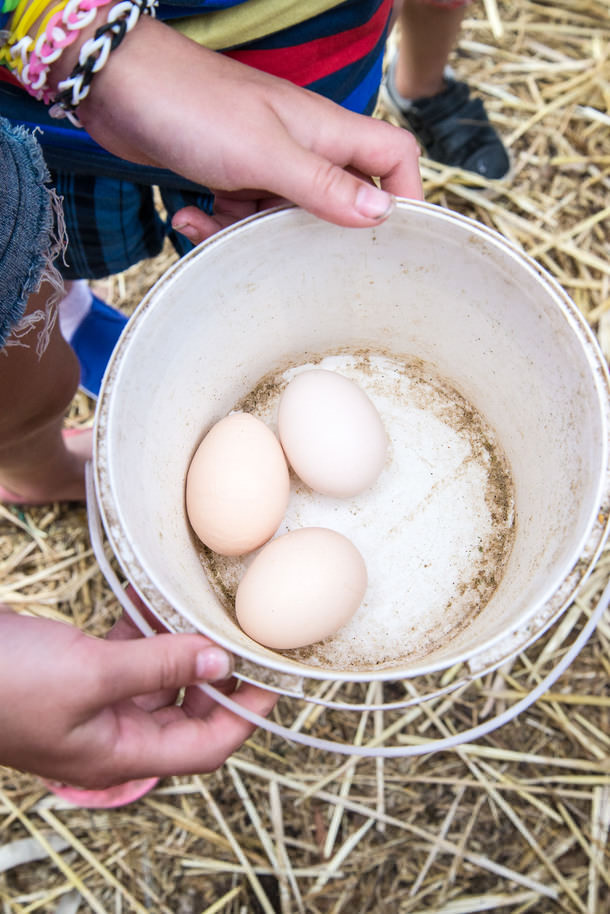 Happy New Year! I hope you all had a lovely and relaxing holiday.
My ideal (adults-only) holiday involves travelling to somewhere new, lots of lazing around on the beach or by a pool with a good book, shopping until my shoes give out, dining out, lots of sight-seeing, getting lost in markets, taking lots of photos, spa treatments, yoga, late dinners, no particular schedule, time for writing, and smooches with a special someone. 
Family holidays, however, are a little different as my kids' idea of a good time involves swimming, playgrounds, ice cream, bunk beds, chips and animals. Simple, huh? Kids are easier to please.
So for a mini-break last weekend I took my kids and my parents to the Fleurieu Peninsula to visit Narnu Farm on Hindmarsh Island, Aquacaf restaurant in Goolwa and the Port Elliot Bakery.
Narnu Farm, Hindmarsh Island
After stopping at Victor Harbour for a walk and lunch we arrive at Narnu Farm on Hindmarsh Island around 2pm.
Narnu provides award-winning and family-friendly accommodation. Our 5-person cabin, The Milkmaid's Cottage, is clean, basic, old-fashioned and costs only $150 a night (plus an extra $10/person for linen). No, it's not fancy but then Narnu aims to provide a real 'farm experience.'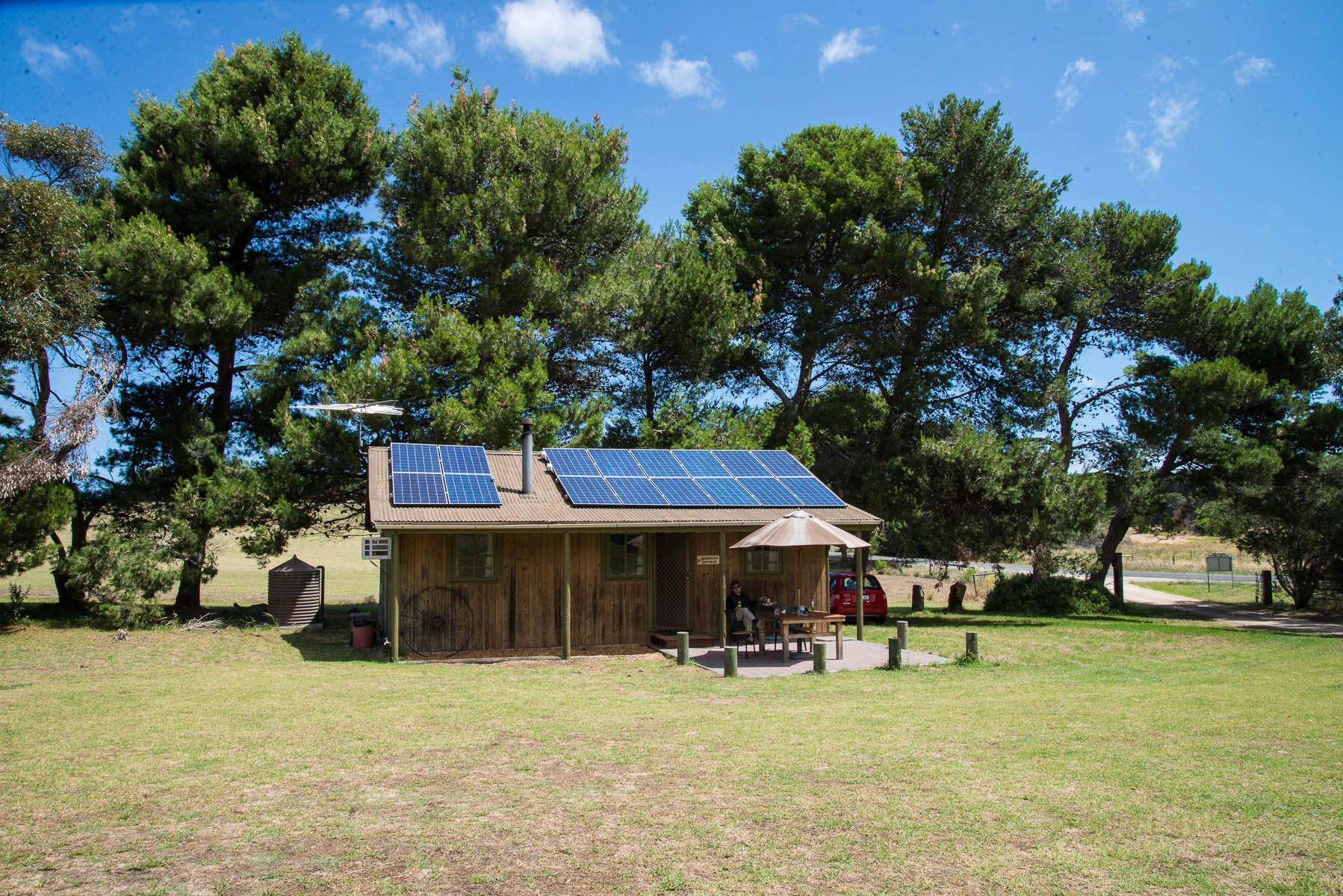 The Milkmaid's Cottage features two bedrooms (one double bed and one bunk bed + pull out trundle), a bathroom (with laundry sink), a kitchen,a dining area, a pot-belly stove and air-conditioning. My 3YO is thrilled to discover there are TVs in both the small lounge area and in the main bedroom.
After we unpack we walk over the hill to the Animal Feeding, which happens every day at 3pm. Narnua has a variety of animals on the farm (chickens, cows, sheep, horses, goats, emu, peacocks, rabbits and guinea pigs) and the twice-daily feedings give the kids the opportunity to interact with them.
First up, the kids feed the calves…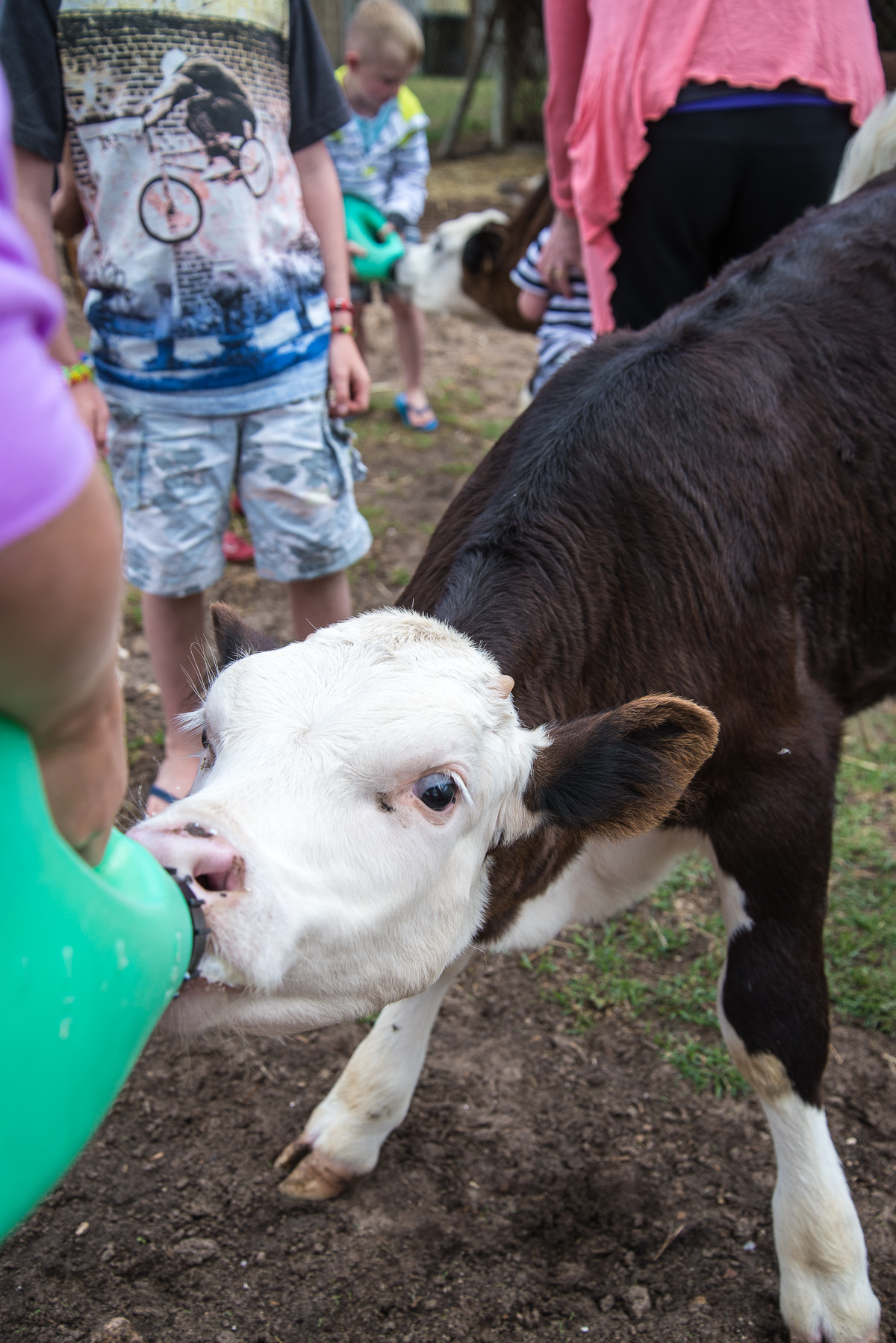 … while a very chilled out goat looks on.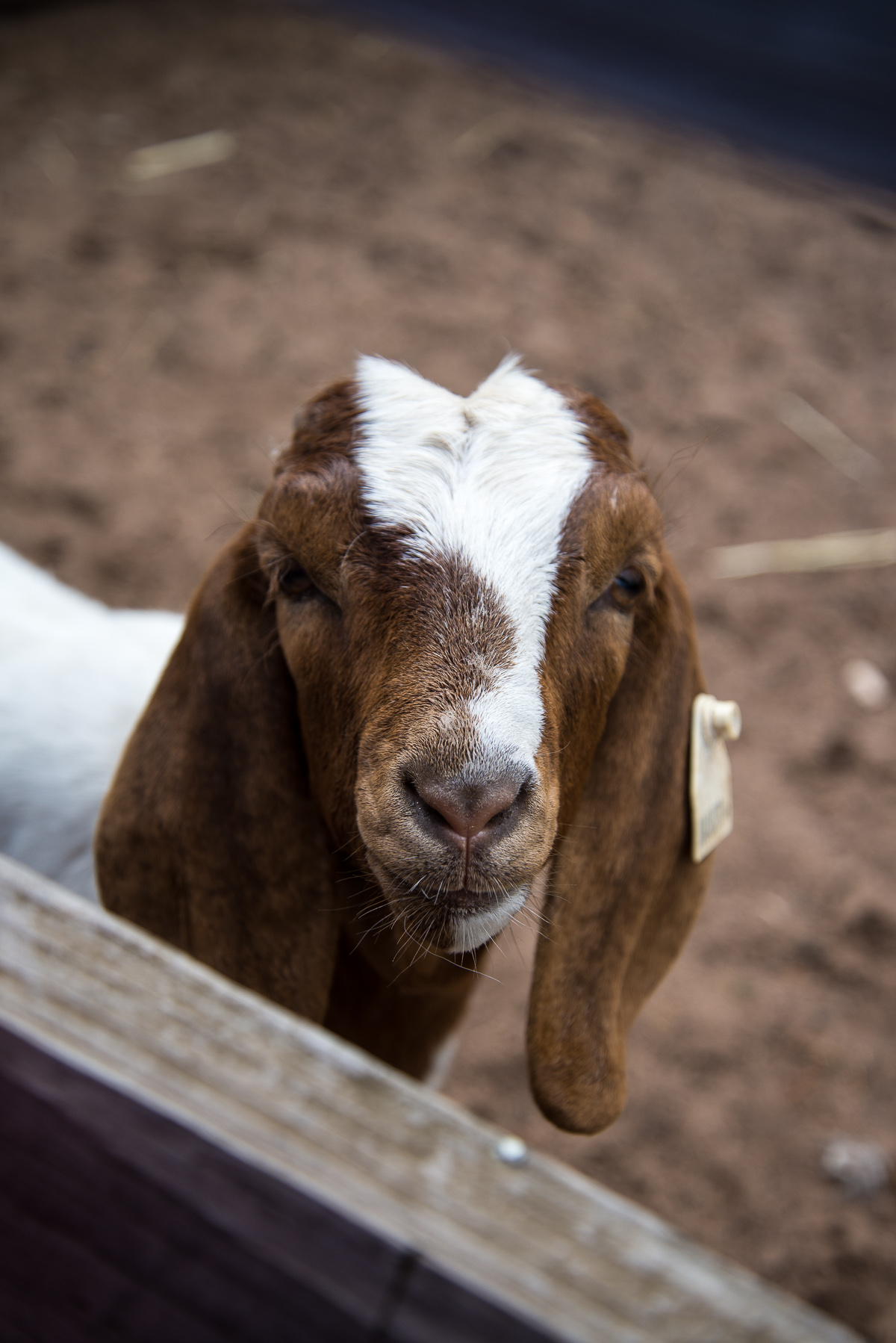 Next, we feed the piglets. They are very cute but they are very noisy, too!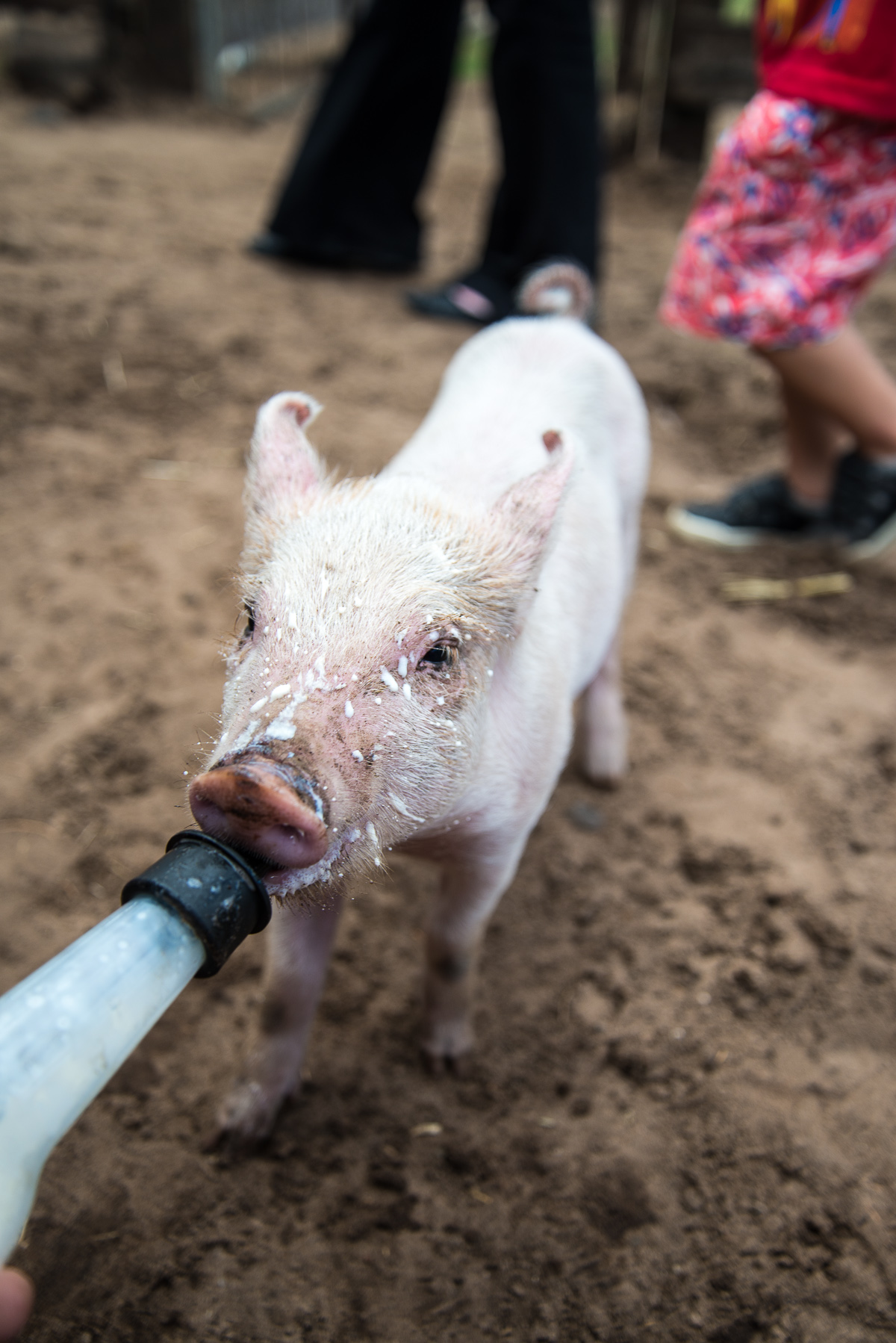 Then it's time to visit the chickens and look for some eggs.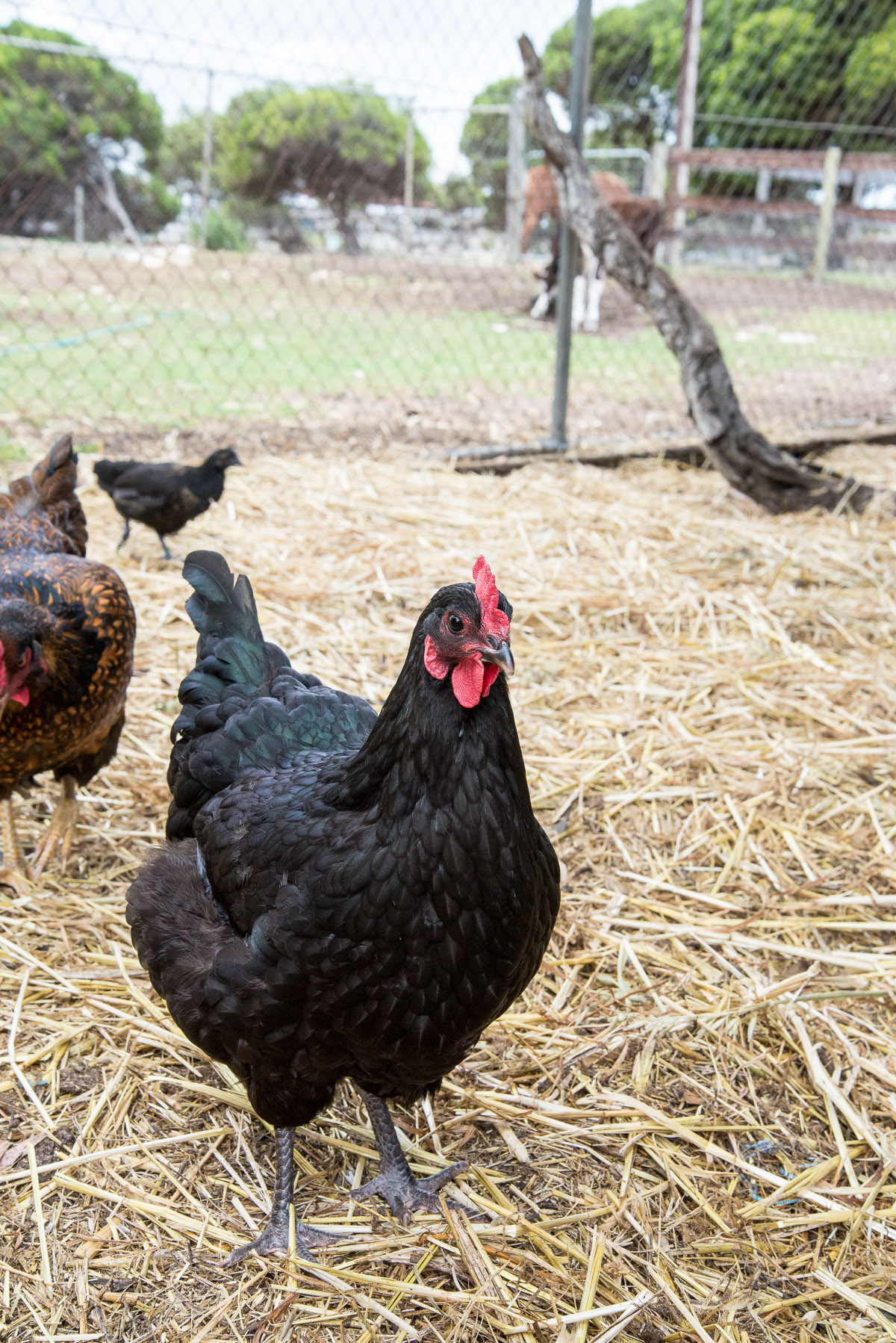 Most of the kids manage to find an egg in the laying shed or hidden under some vines.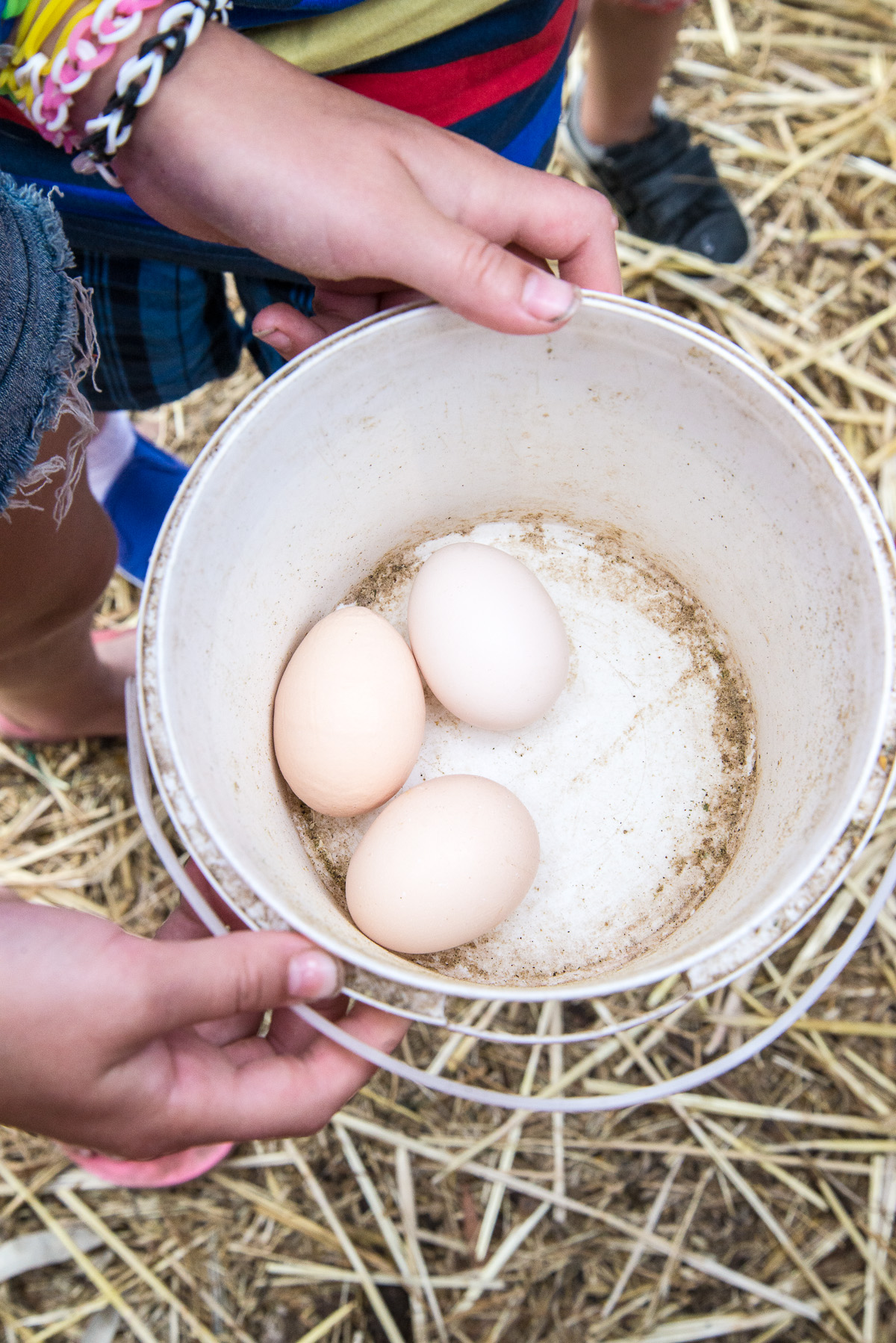 Once the eggs are collected some are taken to the hatchery while the rest are sorted into cartons to be sold to farm visitors.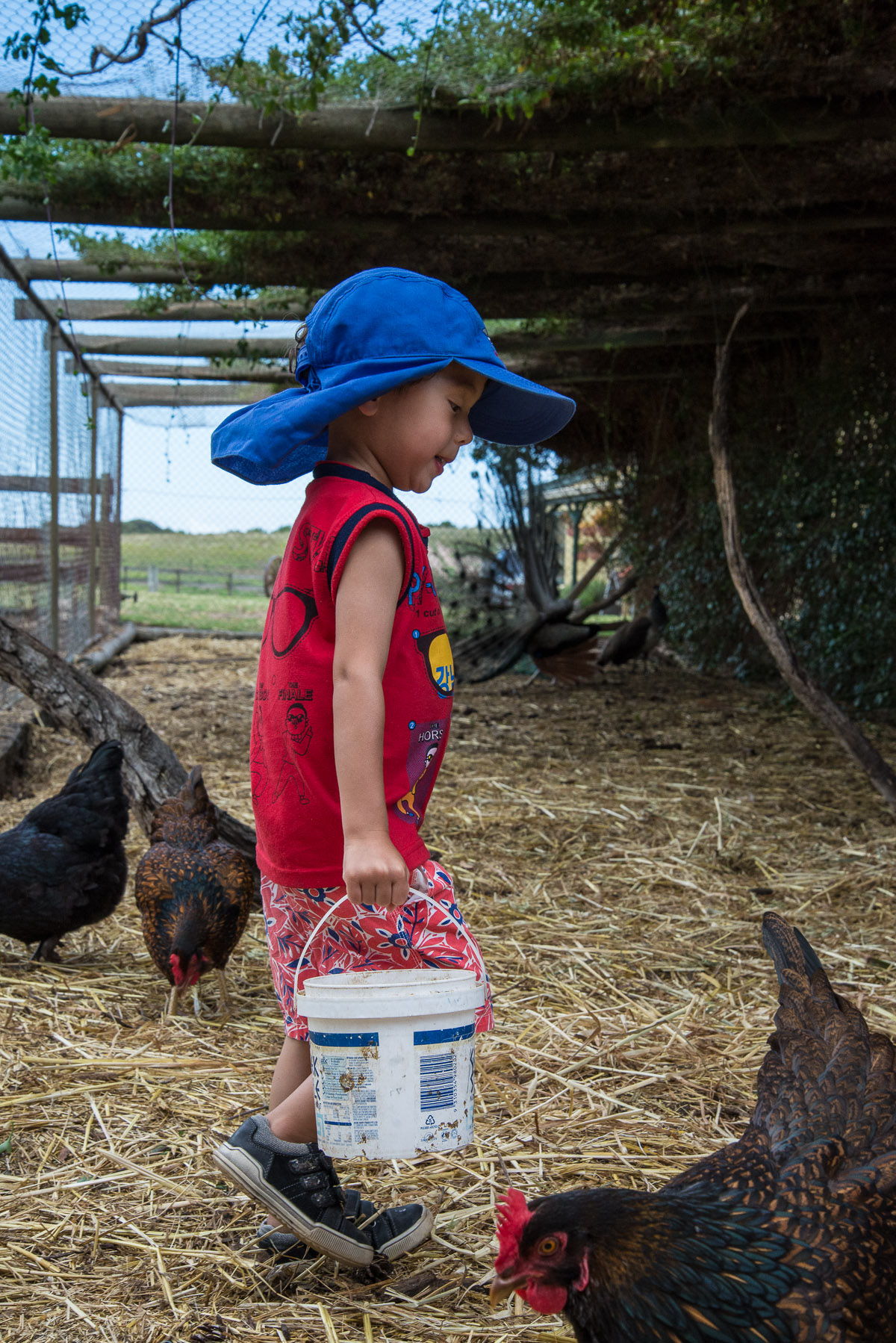 Next, we visit the hatchery to meet some recently hatched chicks. These are silkie chicks – aren't they gorgeous?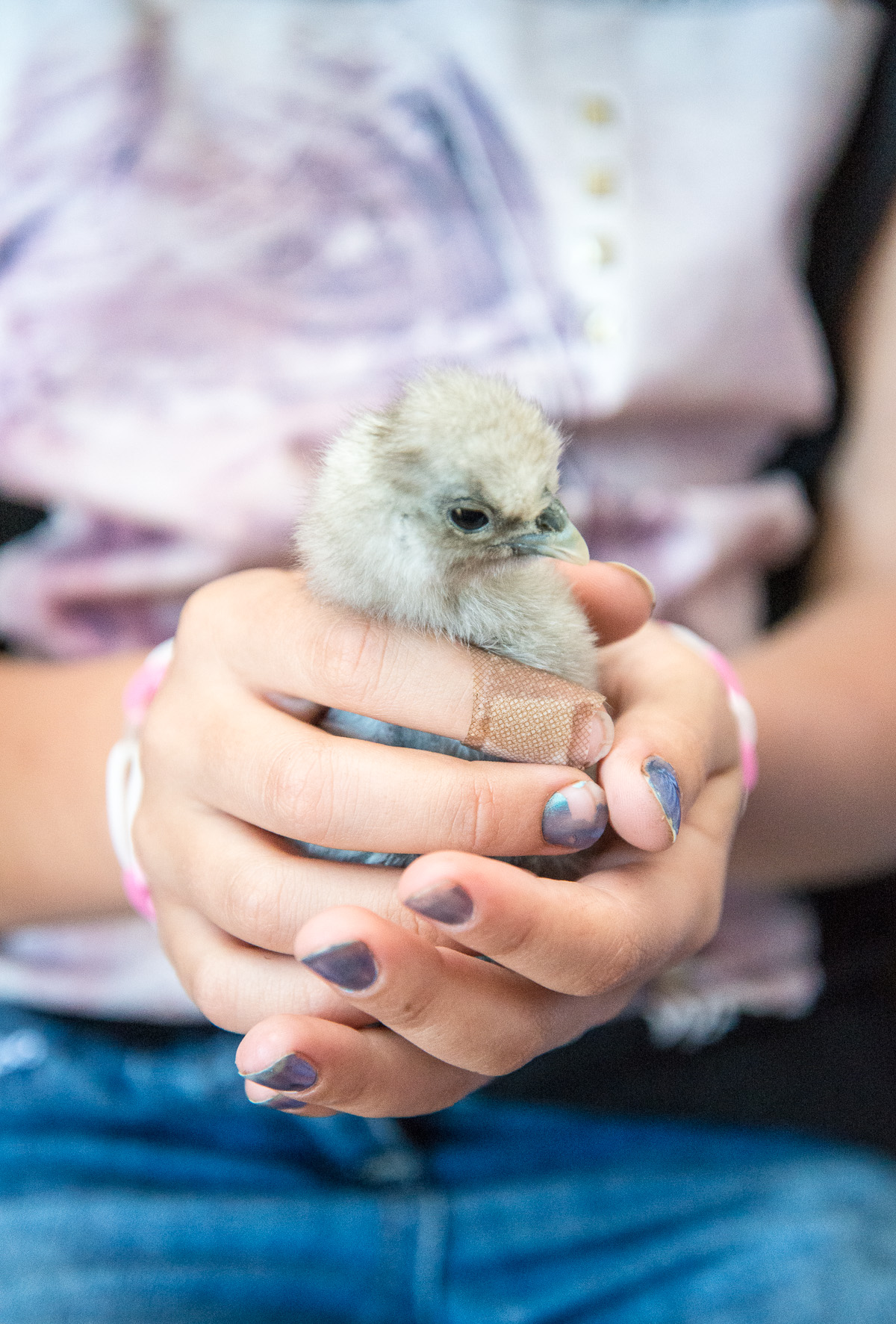 Silkies are such beautiful birds – they look like powder puffs on legs to me.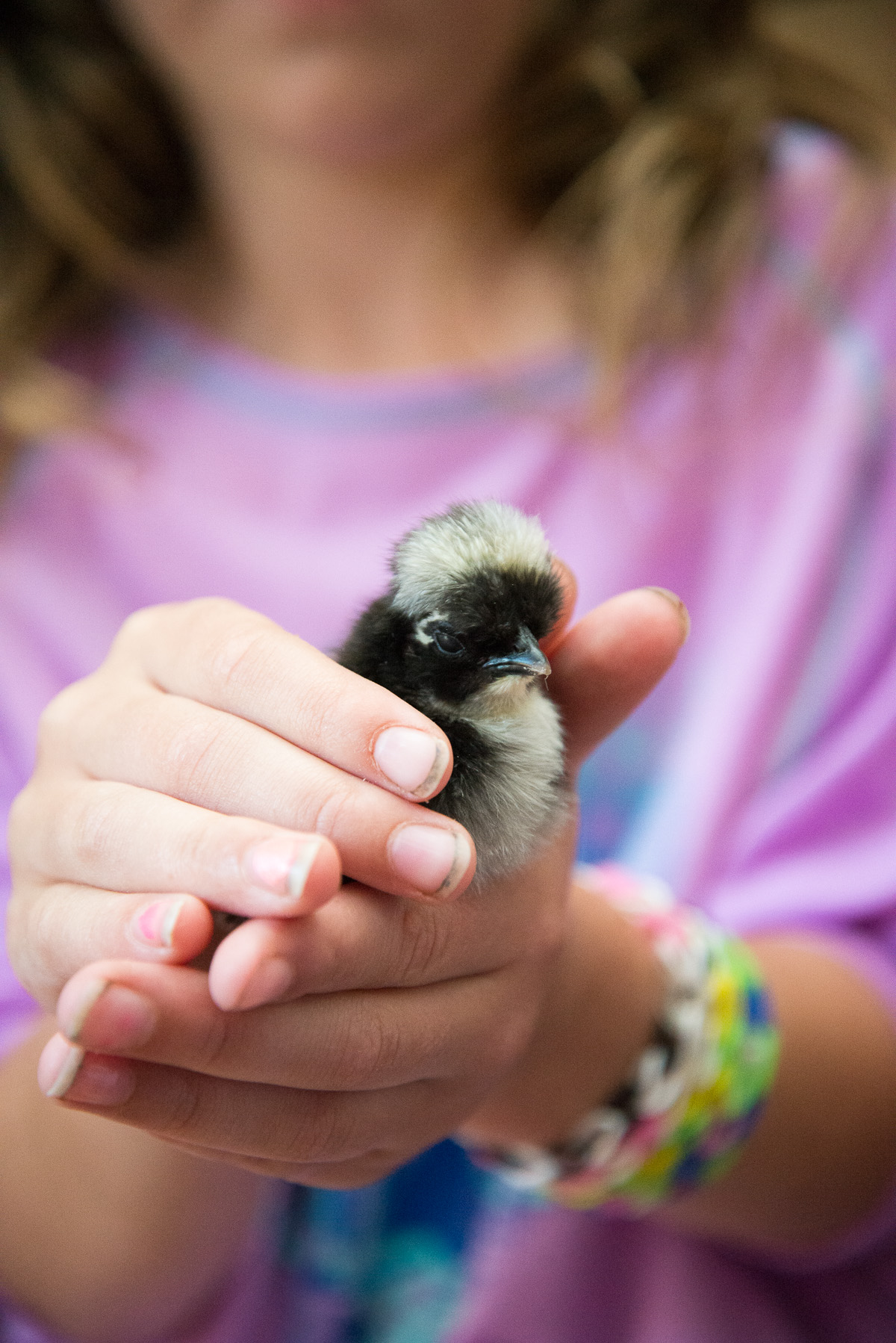 My mum buys a dozen freshly laid eggs including a peacock's egg – see the large one on the left.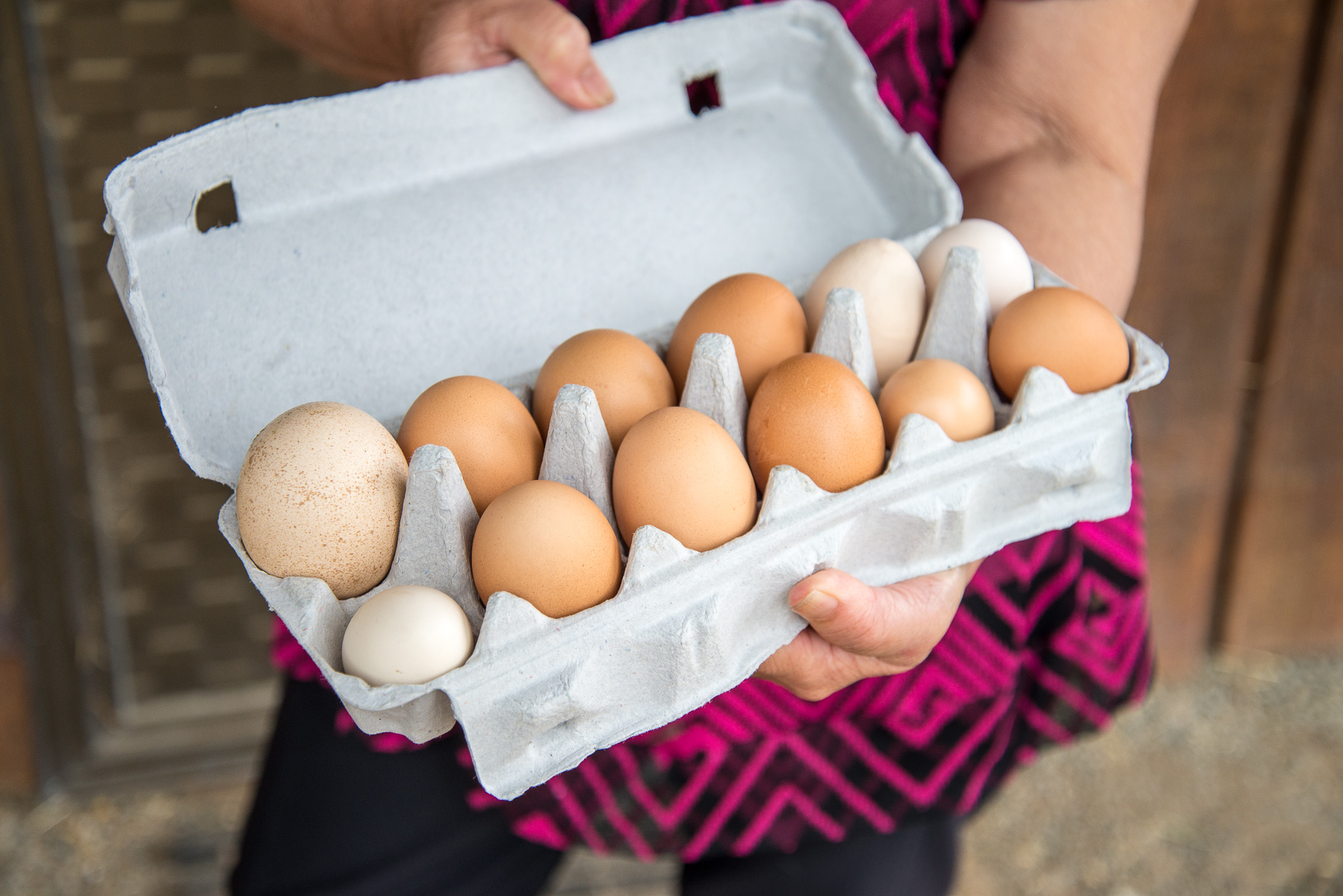 The feeding runs for about an hour. Afterwards, the kids play on the playground and swings while I sneak a few moments with a good book. There is also a hidden fort on the farm grounds that proves enormously popular with the kids.
Aquacaf, Goolwa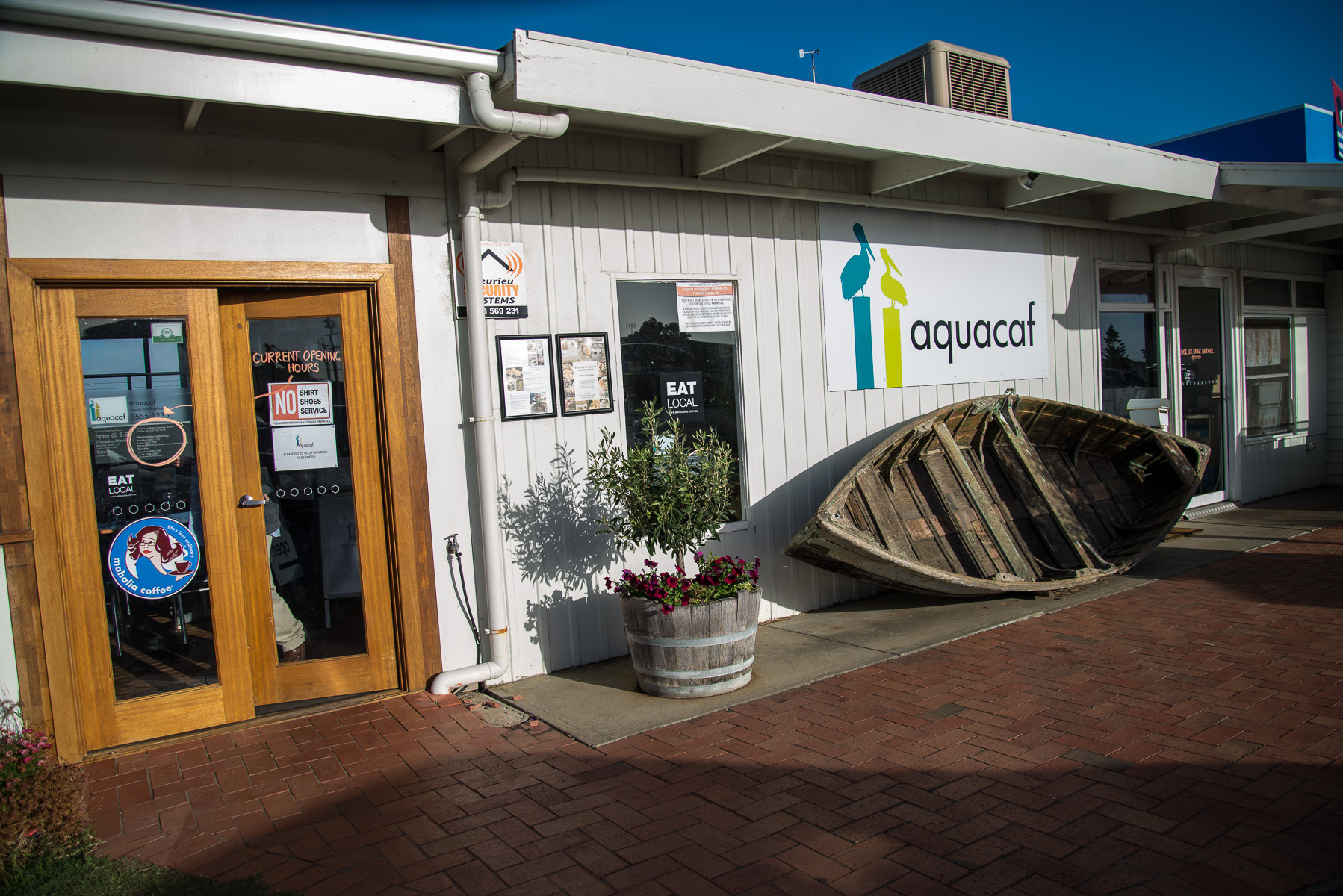 Situated on the banks of the Murray River in Goolwa, Aquacaf has been on my hit-list for some time now. So I was thrilled when we were able to book an early table there for dinner that night.
Our friendly host brings my kids some pencils and paper for the kids to draw on while we wait for our meal and asks if she should bring their food out straight away. Now that's smart service.
To start, my dad and I order some Apple and Pear Cider ($8) by The Hills Cider Company. I'm a sucker for a good cider in summer and their Pear Cider is lovely – not too sweet, slightly tart and very refreshing.

For the kids, we order Kids Meals – Chicken 'n' Chips and Fish 'n' Chips. It is the holidays after all and I know they'll end up picking off our plates anyway.
The kids' food arrives quickly and it looks good. The Fish 'n' Chips ($12) is two pieces of battered garfish on a mound of chips, which are very good indeed.

The Chicken 'n' Chips ($12) is served on an equally large mound of chips. The single chicken strip is prepared and cooked on site – no nasty frozen chicken nuggets here.

We order three mains that all happen to be specials of the day. First up, some Goolwa cockles (pippies) with Port Lincoln mussels, chorizo and tomato in a cider broth served with thick slices of bread ($28).

Regular readers will know that cockling at Goolwa Beach is a cherished family tradition and that I love mussels so this dish wins lots of points from me. My mother, however, thinks the broth is a tad too salty. Personally, I like the taste of the sea you get with shellfish dishes and think the balance of savoury, salty and acidic flavours is just about right. Perhaps it could have done with just a touch of sweetness but this is just a personal preference.
Next, Coorong mullet served with pickled red onions, basil, lettuce leaves, croutons and lemon wedges ($34).

This is my mum's favourite dish. It's full of flavour and so light and fresh – perfect for a hot Summer's Day. I like the pickled onions a lot — they have a more mellow and sweeter taste than raw onion — and resolve to make my own.
Lastly, slow braised South Australian lamb rump served with spiced chickpeas, peas, minted labne and tomatoes ($36).

I really like the subtle, mellow flavours in this dish – the lamb is fall-apart tender, the chickpeas are caramelised and the minted labne and fresh parsley cuts through the richness of the meat. This is a protein-heavy dish so those wanting extra greens will need to order a side salad.
All in all, I'm impressed. It's not easy finding a restaurant with great food that caters for kids so well but Aquacaf has delivered a friendly and satisfying dining experience for all of us.
Narnu Farm, Hindmarsh Island
The next morning my kids wake up early — no surprises there — so we have cereal and farm-fresh boiled eggs for breakfast before joining a large group of children and their bleary-eyed parents for the 8am animal feeding.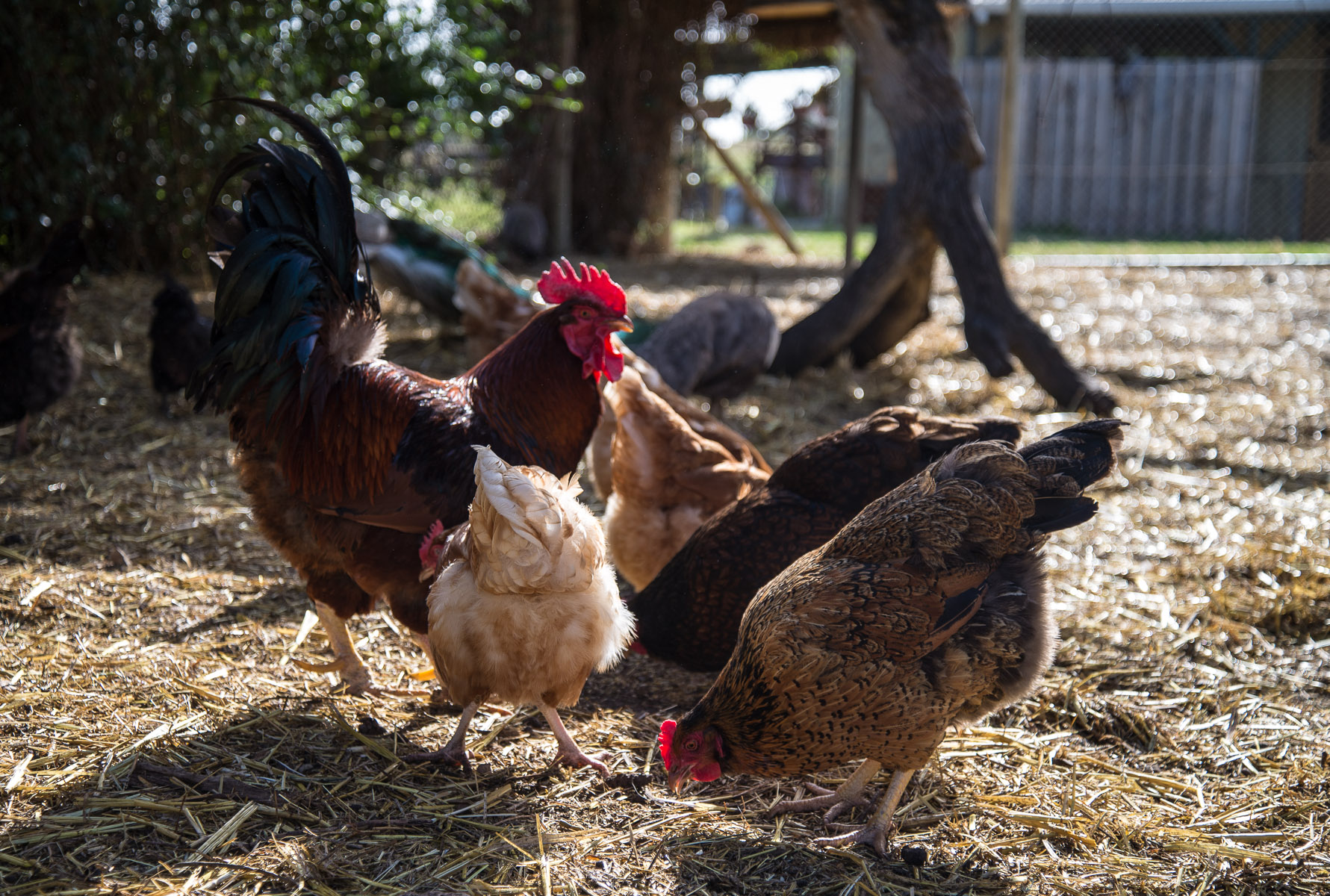 It's much the same as yesterday and the kids are equally excited except today they also get to cuddle some bunnies and guinea pigs.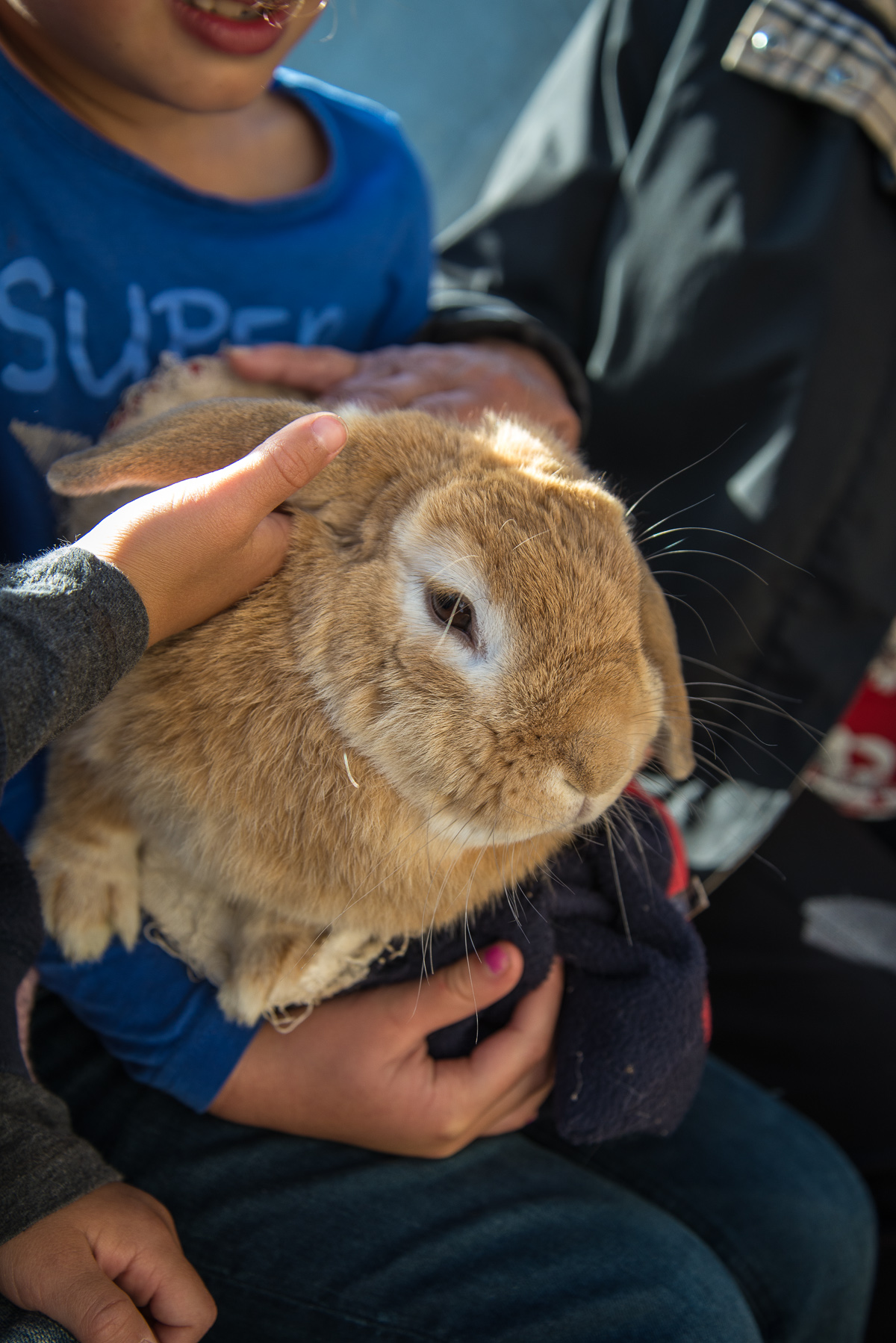 Afterwards, I've booked a 30 minute horse ride through the forest ($30/person) for myself and the kids.
As we enter the large shed to be fitted for helmets and boots (my daughter's shoes are too flimsy) my 3YO asks me if the horses are 'pretend horses', which is what he's more used to. His face breaks into the biggest grin when he spots the real horses and he can't stop giggling when he is helped onto his ride, a good natured Shetland pony.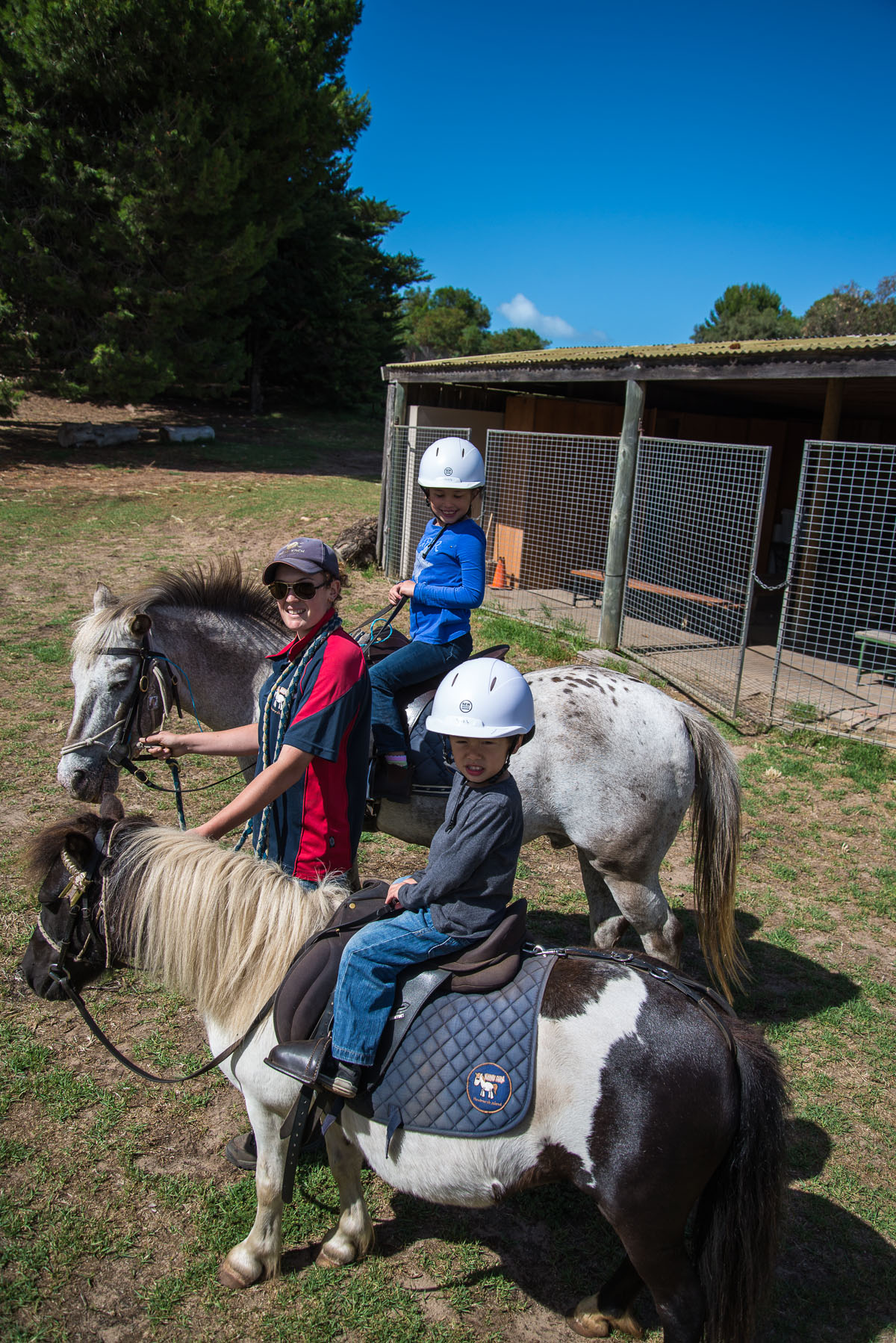 After a few tips on how to communicate with our horses — mine is a tall black horse called Blaze who is thankfully very docile — we set off on a slow walk around the property through a pine tree forest. My kids' horses are led by one of the staff members while mine just follows the three other horses in front.
Narnu has 20 horses on the property and offers forest rides and horse riding lessons year-around except for the month of February, when the horses take a break. If you visit Narnu do try to fit in a horse ride – it's fantastic fun and no experience is necessary.
It's been a short visit at Narnu Farm but a fun one. The kids have had a great time and I've even managed to squeeze in some reading. I call that a win/win.
Port Elliot Bakery, Port Elliot
It's always a good sign when there's a line of people outside a bakery, isn't it? I'd heard good things about the Port Elliot Bakery but I had no idea it was quite so popular.
After a short wait in the queue, my dad and I order a Steak Pie for him, a Beef Pie for my 7YO, a Mushroom & Spinach Pocket for me, a Sausage Roll for my 3YO and a Lamington to share (my dad got it confused with a vanilla slice somehow?). The custard buns look amazing but I resist.
My Mushroom and Spinach Pocket is generously-sized, flavourful, rich and hearty. In fact, it's so good I decide I'm going to try cooking something similar at home. We eat all the food — I forget to take any photos — and then I insist on returning to buy more food with my mum, who I've lured by the promise of delectable cream buns.
This time I ask the girl behind the counter what their most popular savoury product is. She recommends their Vegetable Pasty so I order one with tomato sauce and share it with my dad. This time I remember to Instagram my food before I eat it.

The Vegetable Pasty is justifiably famous – the pastry is beautifully flaky while the carrot, potato and parsnip filling is perfectly cooked and seasoned.
My mum chooses a regular Honey Stick (an eclair-shaped bun filled with cream and strawberry jam) and a Chocolate Honey Stick (an eclair-shaped bun filled with chocolate custard filling and topped with chocolate icing).

I would never usually choose something like Honey Sticks but both are astonishingly good – the regular honey stick is light as a feather and filled with real whipped cream while the chocolate version is like a chocolate donut filled with chocolate custard. I'm in chocolate heaven.
If you liked baked goods you owe it yourself to check out the Port Elliot Bakery. Seriously. Go at the first available opportunity and try as many things as possible. And don't forget to bring back a Chocolate Honey Stick for me, OK?
Address Book
Narnu Farm: Monument Road, Hindmarsh Island, South Australia. Tel: Sarah on 0438 060 585 or email: narnu@narnufarm.com.au. Cottages sleep between 5-12 and cost between $150 and $210. Linen is an extra $10/person and must be booked in advance. Horse rides through the forest are for persons aged 4+ and are $30/30 minutes. Book online.
Aquacaf: 94 Barrage Road, Goolwa, South Australia. Tel:+618 8555 1235. Open from Wednesday to Saturday for breakfast, lunch and dinner (the restaurant closes briefly between dining sessions) and on Sundays for breakfast and lunch.
Port Elliot Bakery: 31 North Terrace, Port Elliot, South Australia. Tel: +618 8554 2475. Open everyday from 7:00am until 5:30pm. Closed: Xmas Day, Proclamation Day, New Year's Day and Good Friday.
More Family Trips
Subscribe to The Hungry Australian
Don't want to miss a new recipe or food & travel experience? Sign up to receive new posts twice a week – it's FREE.