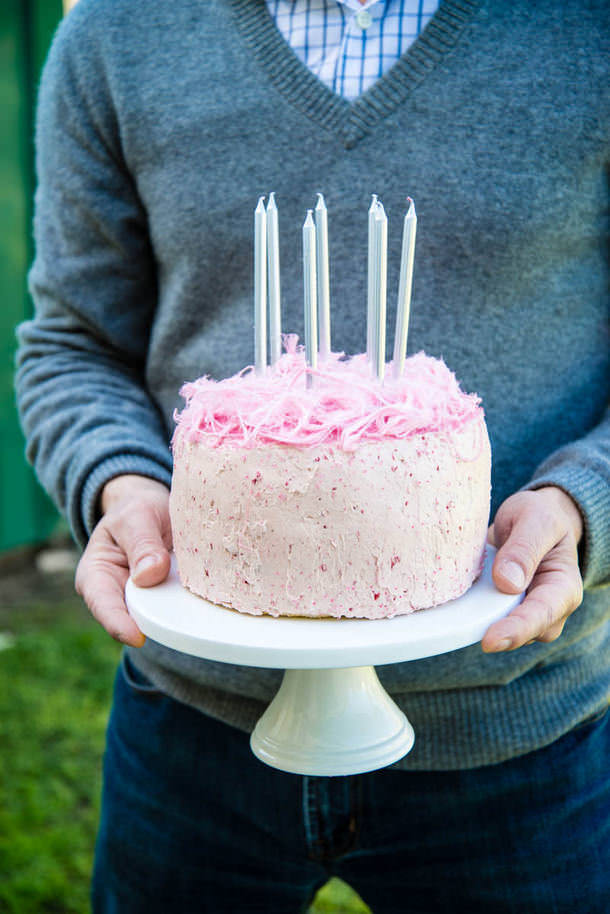 Warning: proud parent alert. Those of you who get all twitchy when your Facebook friends post pics of their kids can read Top 5 Meals I Wish I'd Never Eaten or browse my archives instead. 
My daughter turned seven yesterday. Seven!
Here she is the day after she was born in Shanghai.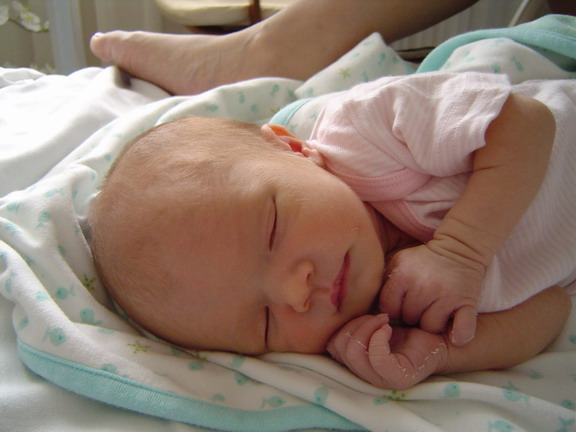 My ex and I like to say she was Made in China. Ahem.
She's grown a lot since then.
Unlike previous years where we've celebrated E's birthday at home — see her 6 year old party and Throwing a kids' party without losing your mind — this year we celebrated her birthday party at a YMCA gym. The session was for two hours and came with two instructors to teach the kids how to use all of the gym equipment – balance beams, bars, climbing rope, climbing walls, mats, trampolines etc.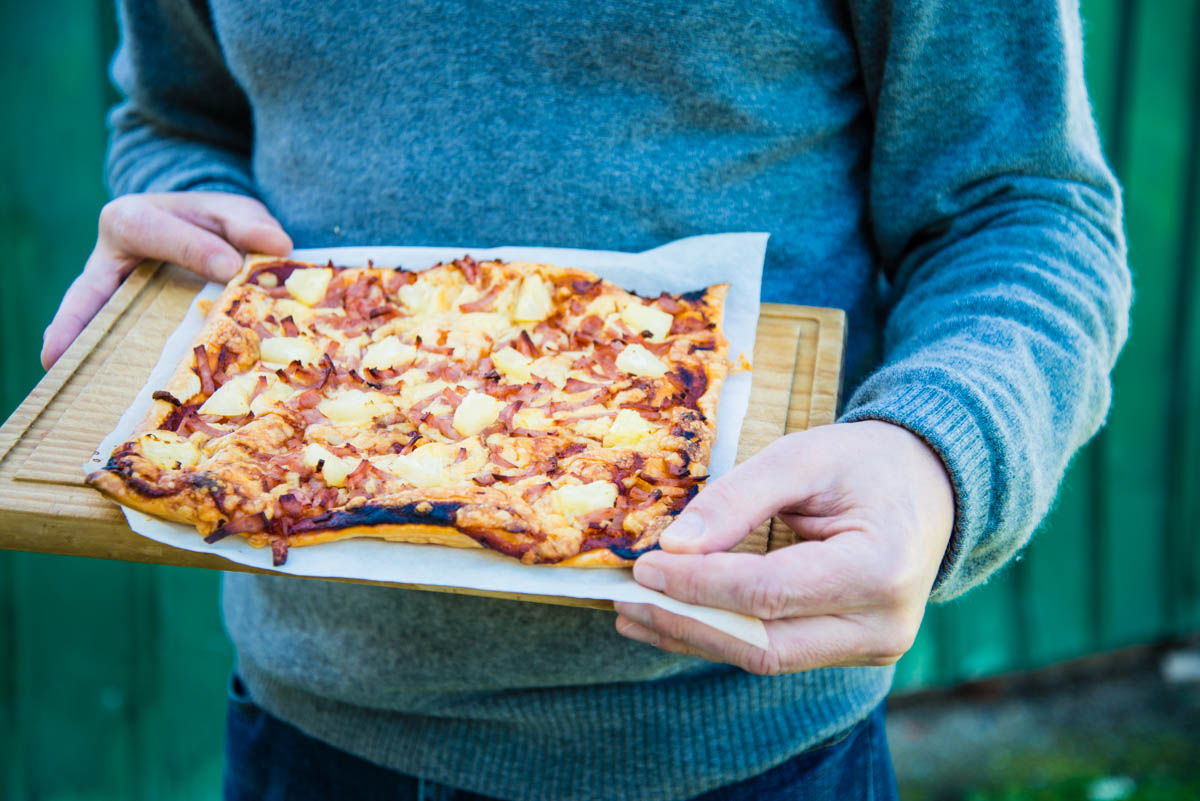 The YMCA venue meant that all the party food had to be transported or prepared on the spot. The food also had to be simple as I had a nasty cold and didn't have the energy to do anything too elaborate.
So this was the menu yesterday:
Ham & pineapple pizzas made by my ex – he made them up and baked them on the spot;
Sausage rolls made by my ex – he premade them and baked them on the spot;
Mini berry and chocolate trifles – made by me the day before;
Fruit skewers – made by my mum in the morning;
Mini cupcakes – made by my mum in law the day before;
Honey joys – made by me the day before;
Chocolate crackles – made by my mum the day before; and
4-layer vanilla birthday cake with  raspberry Swiss meringue buttercream and rose fairy floss – made by me the day before.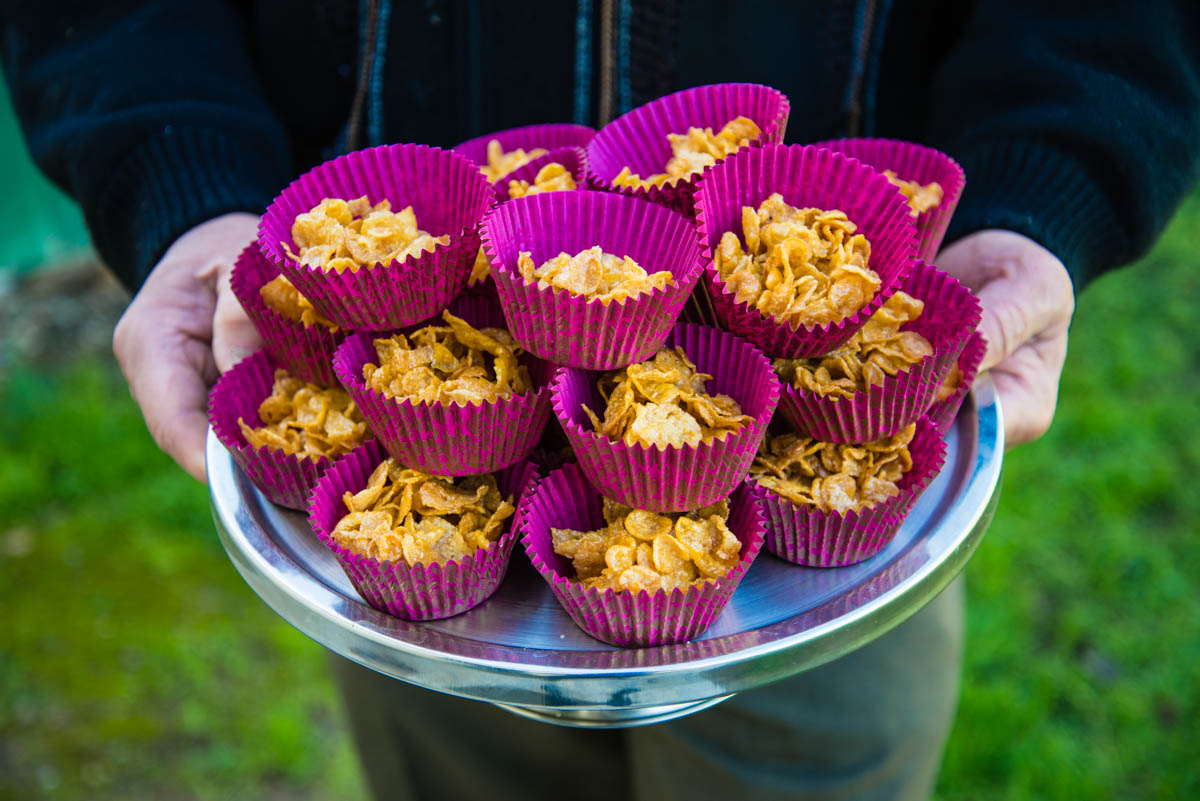 With such a big group of kids I've decided not to publish any photos from inside the gym. But I took a few photos outside with my dad and ex acting as hand models.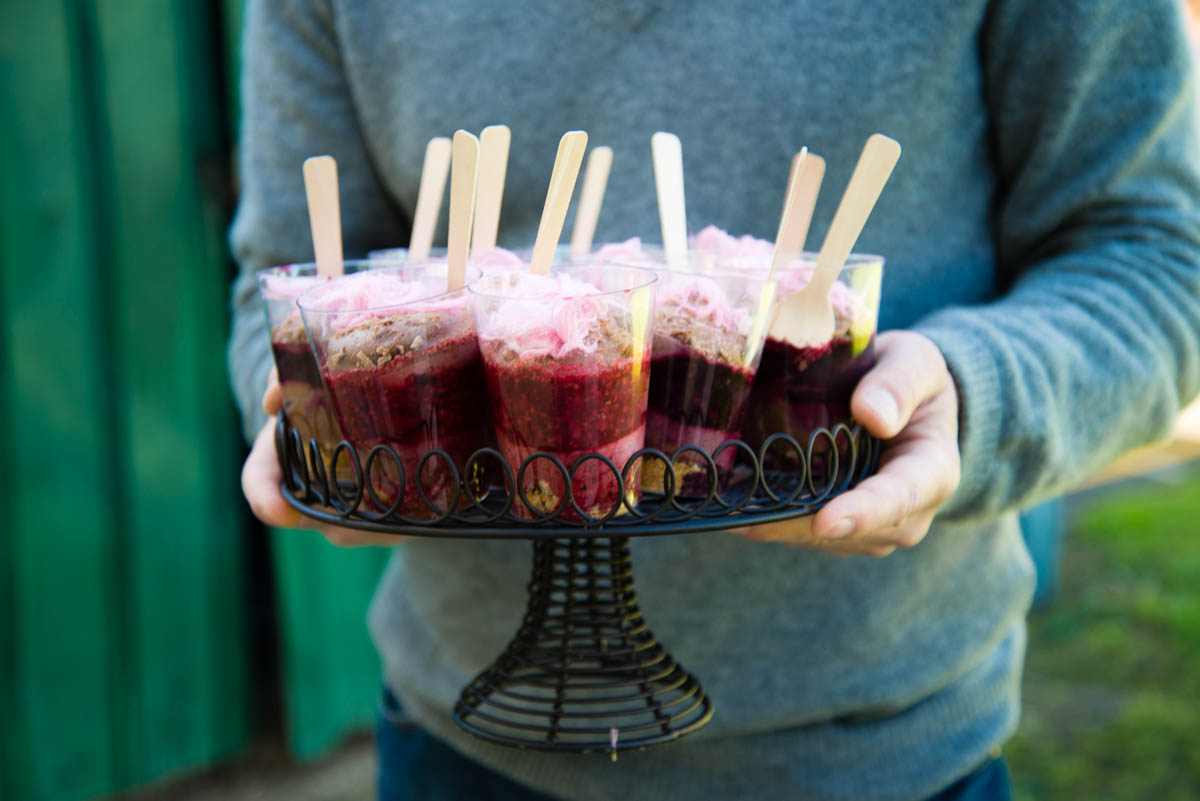 Did the kids have fun? Oh yes. They had a ball.
I also enjoyed myself. With two instructors looking after the kids, I was free to watch, do minimal food prep and chat. After the party there was a bit of tidying up but all the family pitched in and it was done in 20+ minutes. We were then free to enjoy the rest of the day. Gotta love that!
Happy Birthday, darling E. We love you to the moon and back.
********************************************************************
Recipes
Honey Joys
Ingredients
1/3 cup rice malt syrup
80 grams unsalted butter or dairy-free substitute e.g. Nuttlex
4.5 cups cornflakes
Method
Heat up oven to 160 degrees Celsius.
Arrange cupcake wrappers on a baking tray (20-24).
Heat up rice malt syrup and butter in a small saucepan until foamy.
Pour over cornflakes and stir to combine.
Immediately spoon into cupcake wrappers and bake for 10 minutes.
Remove from oven and leave to cool completely.
Store in an air-tight container.
Vanilla Cake with Raspberry Swiss Meringue Buttercream and Rose Fairy Floss
I adapted this recipe by Sydney baking star, Raspberri Cupcakes. Mine is very similar, but I adjusted the ingredients and quantities as I went for a raspberry/vanilla cake with raspberry icing instead of Steph's pink and white cake with sprinkle icing. Instead of macarons I decorated the cake top with sugar crystals and rose-flavoured Persian fairy floss. The fairy floss should be added just before serving as it quickly starts to melt into the cake and lose its form.
In hindsight — always a marvellous thing — I would have strained the raspberry puree before adding it to the icing as the raspberry seeds added bumps to the icing that detracted from the overall look. I would also have refrained from adding raspberry juice to the vanilla cake batter and made it as a plain vanilla cake. It still tasted fine though.
Pizza and Sausage Rolls
There are some brief instructions here.
Mini Chocolate & Berry Trifles
These dairy and egg free trifles comprised biscuit crumbs, stewed mixed berries, chocolate mousse, chocolate flakes and rose Persian fairy floss. There were OK but not amazing, mostly due to the chocolate mousse which was not sweet enough. I'm going to experiment a little more and will blog this properly later.