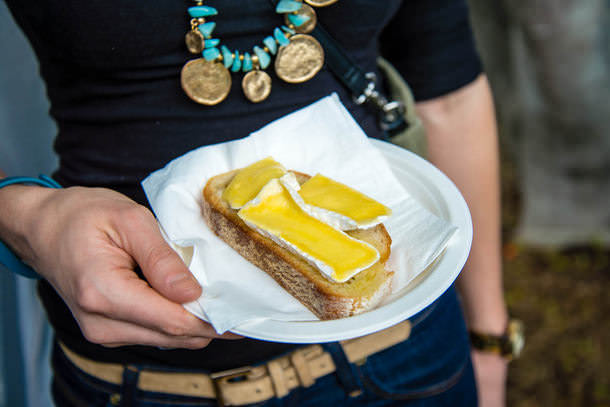 Prior to visiting Brisbane a couple of weeks ago I was only vaguely aware of a few Brisbane food producers and had only a sketchy idea of the different food regions in Queensland.
Luckily, the theme of South Bank's two-day food and wine festival was 'Regional Flavours' and the festival featured over 100+ food producers exhibiting from 13 different regions: Brisbane, Gold Coast and Hinterland, Sunshine Coast and Hinterland, Lockyer Valley, Scenic Rim, Wide Bay Burnett, North Queensland, Granite Belt & Southern Downs, Taste Paradise – Tropical North Queensland, Darling Downs and Toowoomba, Redlands, Central Queensland and Moreton Bay.
Who knew Queensland had such a diverse food scene?
Over the weekend I joined the crowd happily wandering around the stalls, learning about different regions, sampling food products and chatting to the the producers.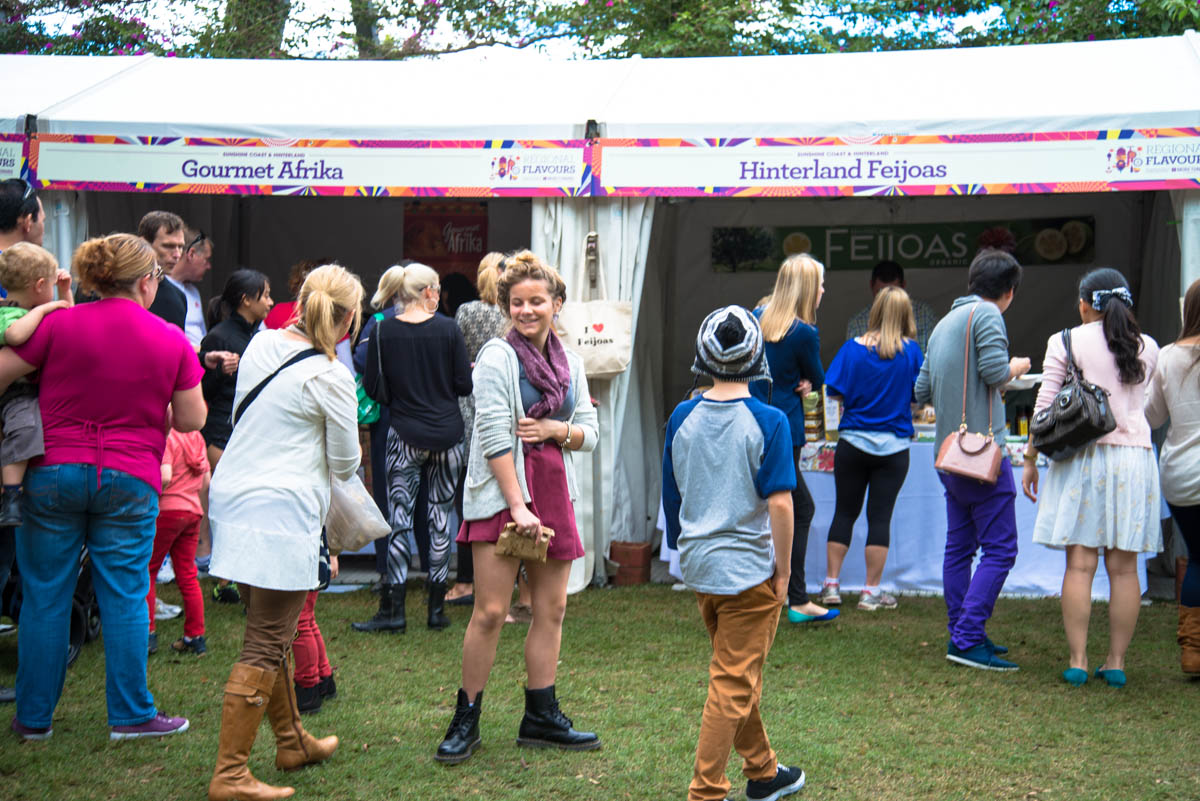 These were some of my favourite stalls: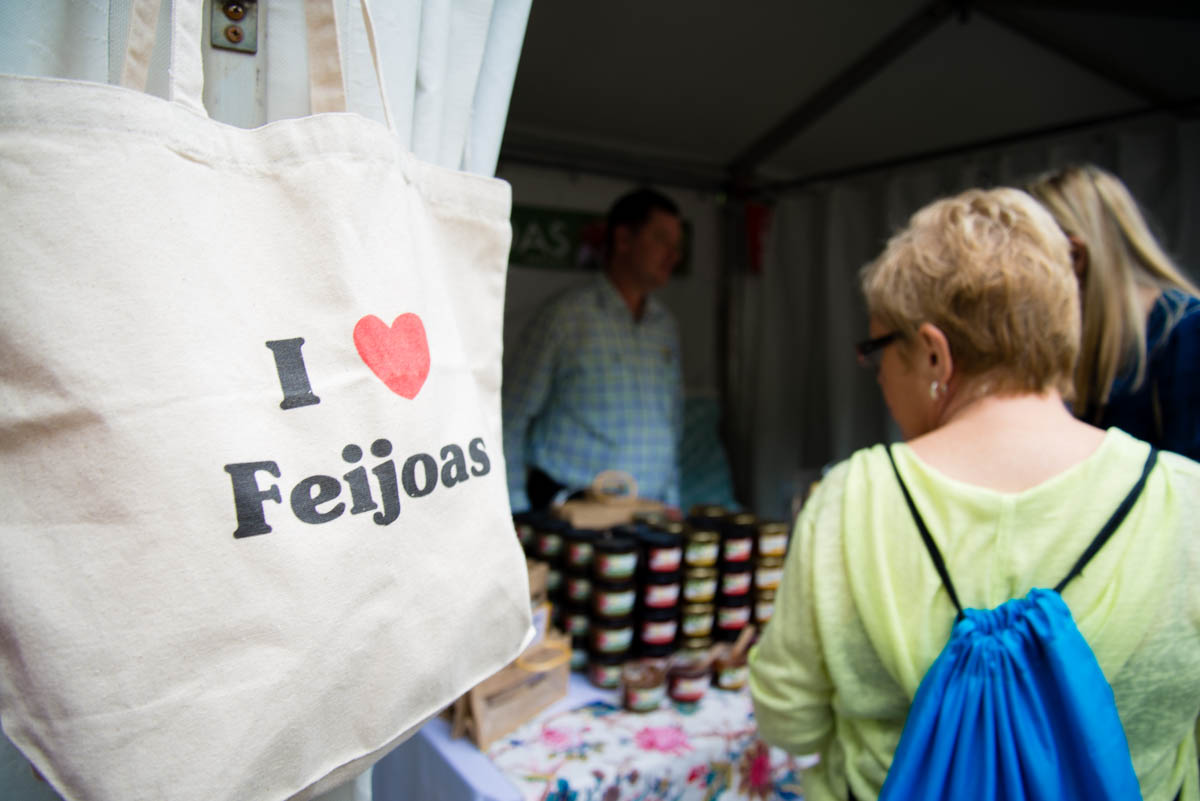 Like the bag says, I love feijoas but in Australia they're hard to find unless you have a tree or know a friendly market gardener. I've only ever eaten them freshly picked and when I mention this to Peter Heineger at Hinterland Feijoas he tells me that there are only a handful of commercial growers in Australia. Hinterland Feijoas have around 750 trees and are actually Australia's first commercial grower of organic feijoas.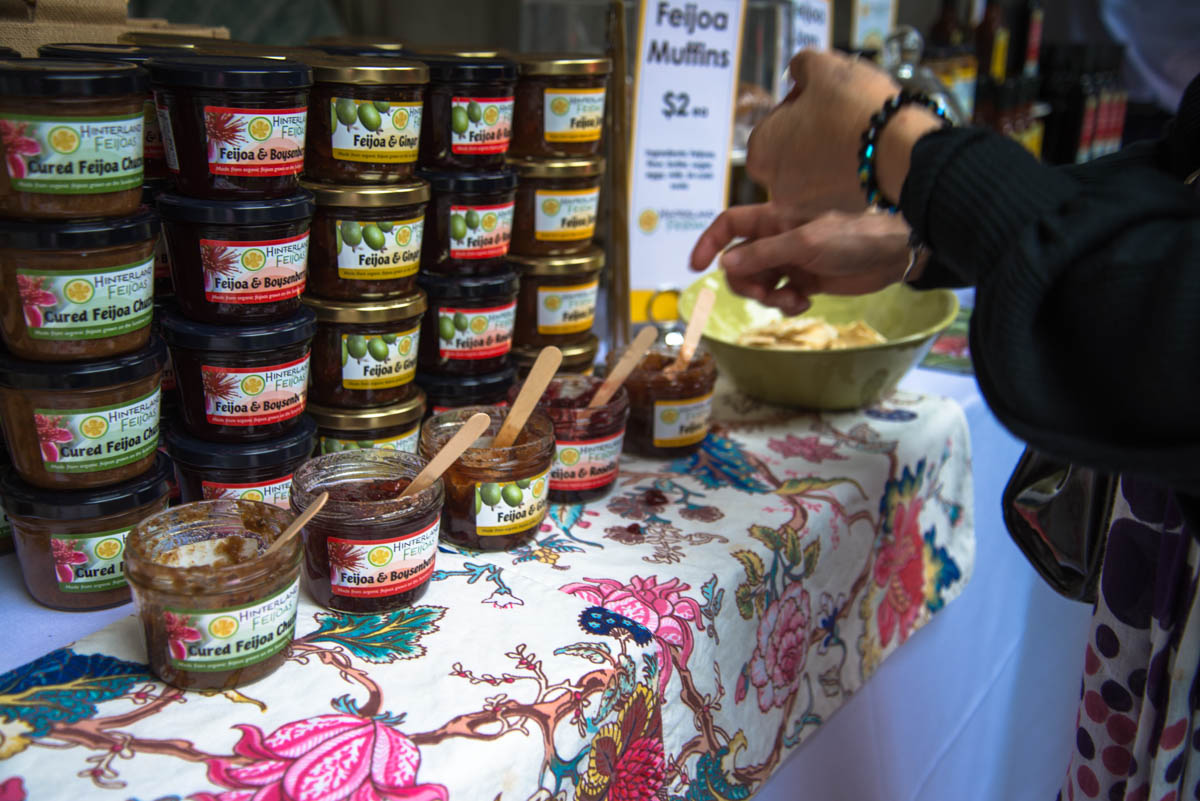 Apart from selling the fresh feijoas they also produce a number of products using the feijoas, including jams, Balsamic glazes, chocolates, gelato and muffins. Later on I try their Feijoa and Rosella jam (gifted) on warm buttered toast and its lovely, full of flavour and sweetness. I imagine it'd be even better on freshly baked scones.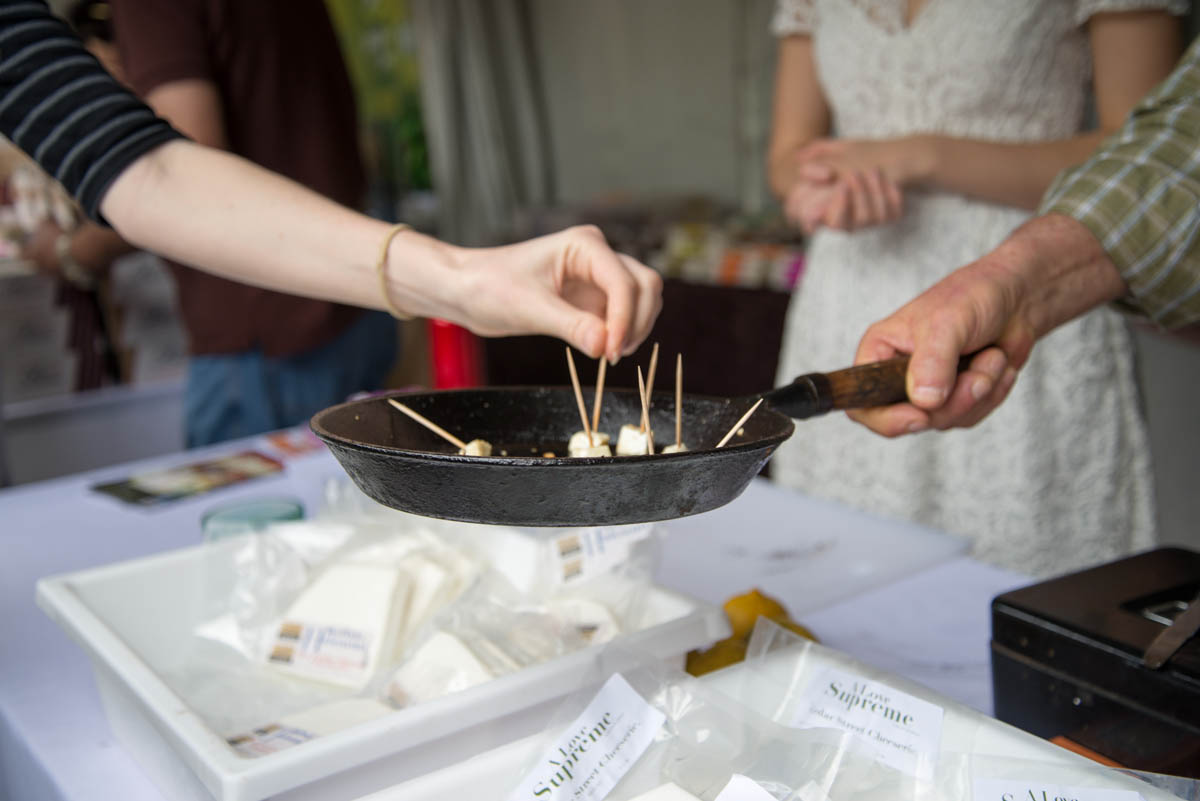 Next I sample some buffalo mozzarella made by Trevor Hart at Cedar Street Cheeserie, an artisan cheese maker specialising in soft cheese. It's exquisite – full of delicate flavour with a texture that is the culinary equivalent of slipping into silk sheets. Stunning.
I then try the pan-fried buffalo halloumi and have a moment of sheer joy. Unlike some halloumis I've tried, the brine doesn't overwhelm the magnificent flavour. This is the kind of cheese to build a meal around – all killer, no filler. Later on I discover that Trevor won Best New Product in Australia for his buffalo haloumi at the 2012 Delicious Produce Awards, as well as Best Artisan Dairy Producer.
If you're a cheese lover you owe it to yourself to try this cheese. Cedar Street Cheeserie don't have a website so head over to their Facebook page and harrass Trevor into building a site so we can all order his magnificent cheese online.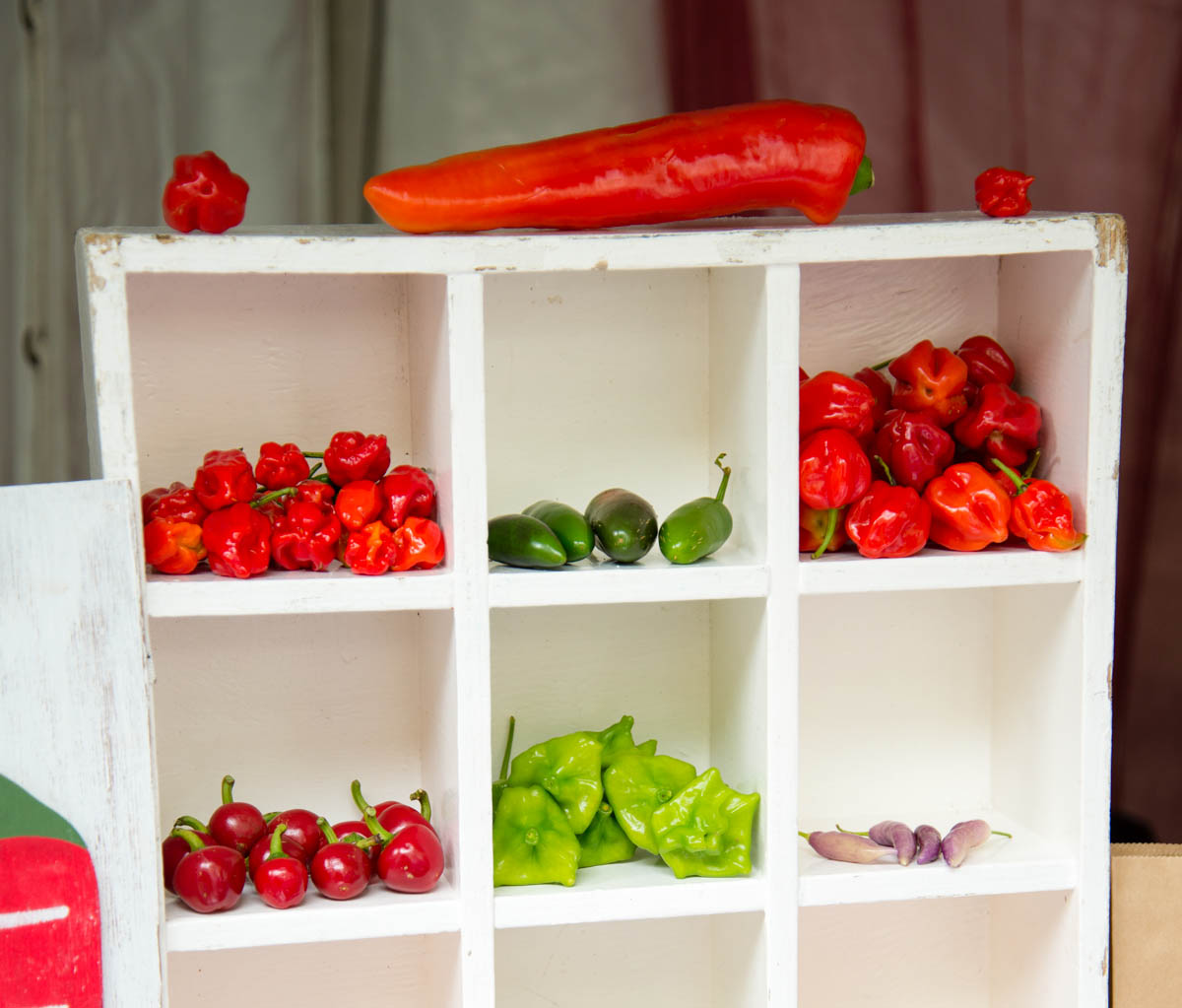 Based on The Sunshine Coast, The Noosa Chilli Company produces a range of award-winning chilli sauces ranging from mild chutneys to their X-Rated sauce  that is dispensed using an eye dropper. I loved this fantastic display of chillies on their stall – check out those  little round chilies, those unusual purple and white chillies and that massive beauty on top. Size doesn't count when it comes to chillies – bigger is not necessarily better. I try some of their Mustard Chutney and it's bursting with flavour – it'd be perfect in a ham and chedder cheese sandwich. Well worth a look.
I'm wandering through the crowds thinking about what to eat next — something that I do way too often — when someone calls out my name. It's Lizzie from local blog Strayed from The Table who I met in 2012 when she visited Adelaide for Tasting Australia. Today Lizzie is helping her parents from Bunya Red Farm who are celebrating their first crop of chemical-free capers – see below.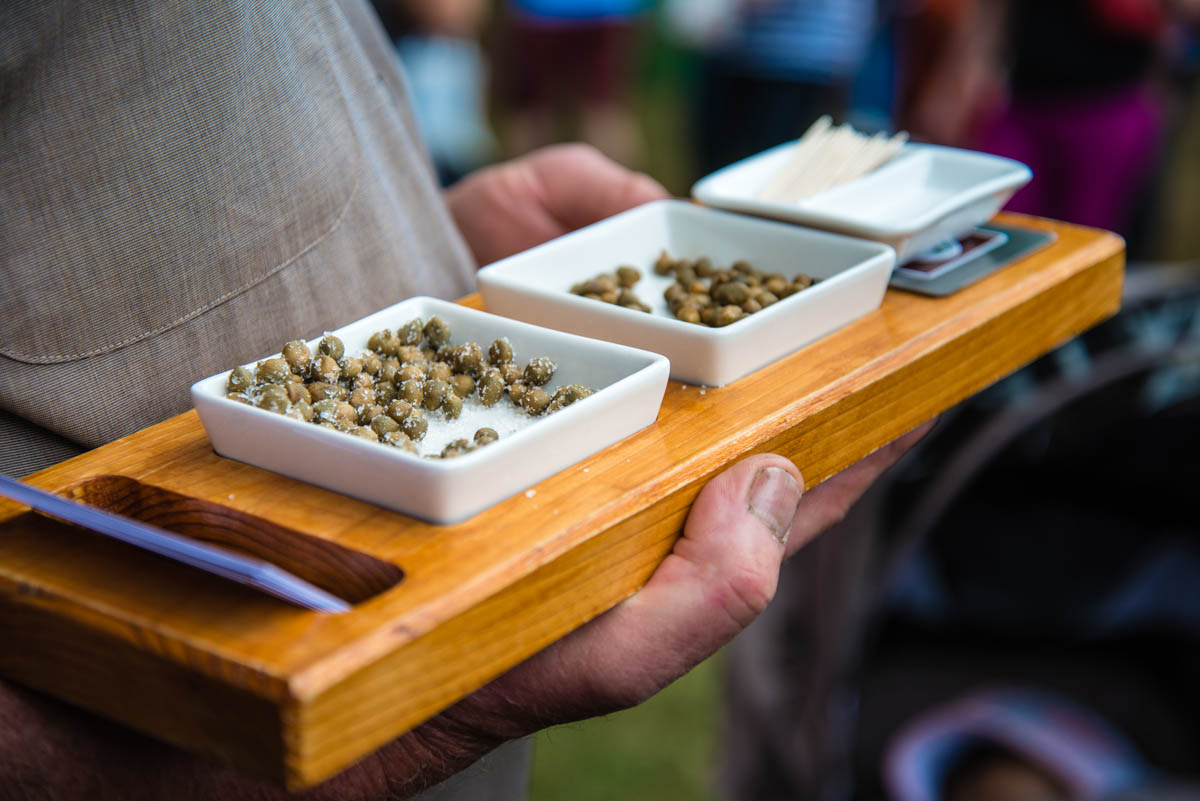 I sample a caper and am struck by its delicate flavour. Many bottled capers are drowned in vinegar and salt so that the actual flavour of the caper is lost. But Allan and Mandy from Bunya Red gently salt their capers and serve them rinsed so that the true flavour of the capers shines through. I'll be making something special with these. You can buy them online.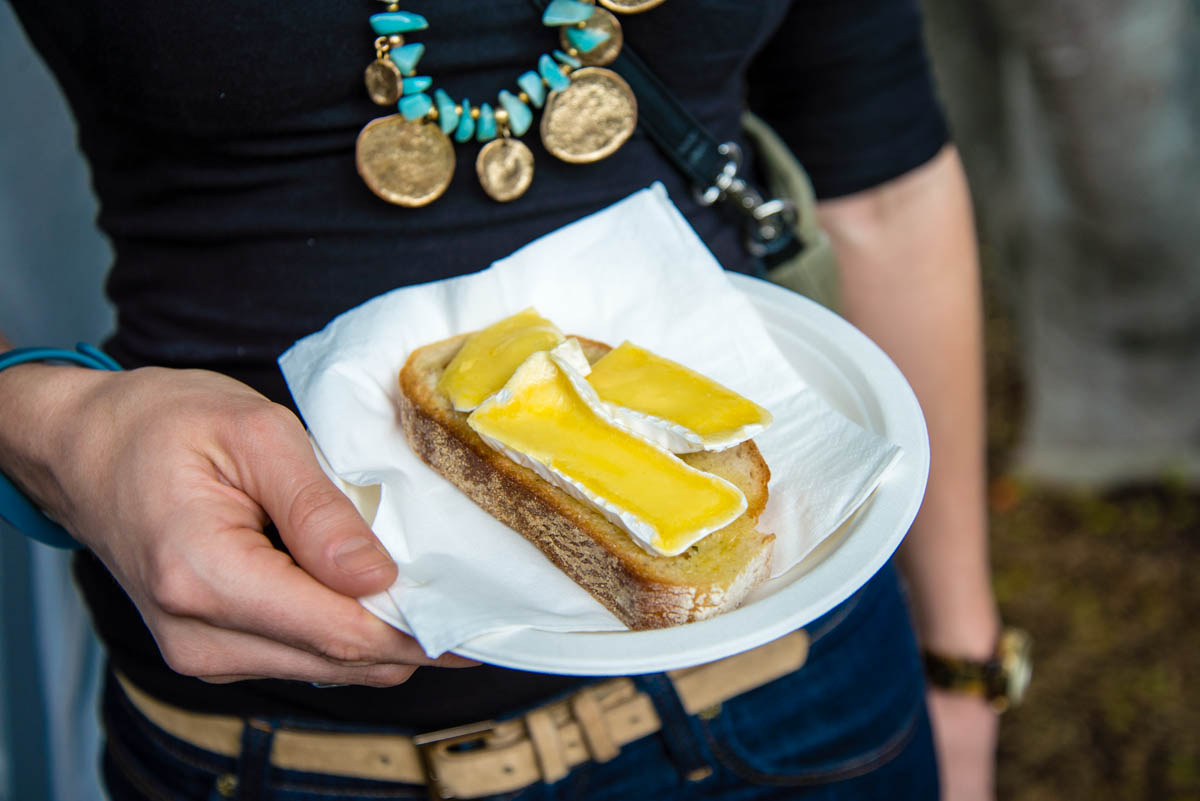 I continue my wander, snapping this lucky woman who is about to chow down on this totally delectable version of cheese on toast. I'm hungry again just looking at this.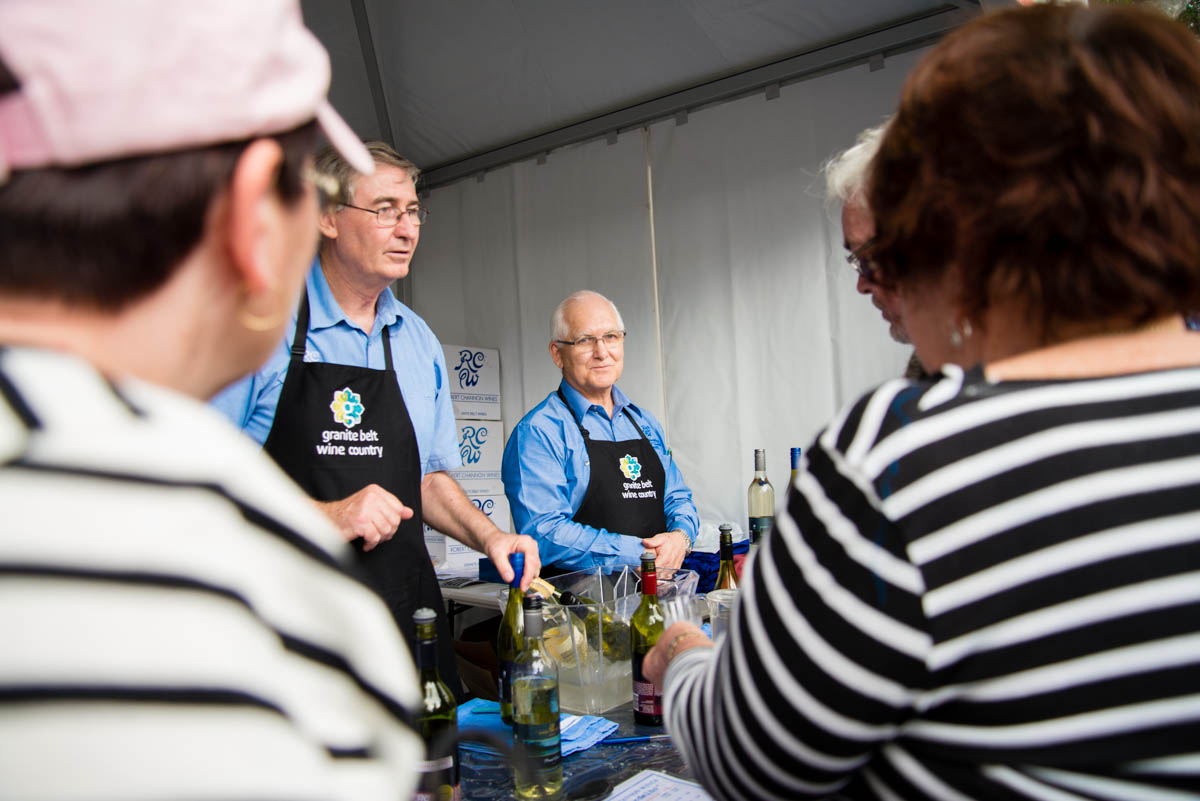 It's fantastic to see so many people talking to the producers and learning about Queensland's food and wine.
I'm not a big wine drinker myself — Asian gene fail — but there's plenty of wine companies — like 2nd 2 None above — exhibiting  for the serious oenophiles.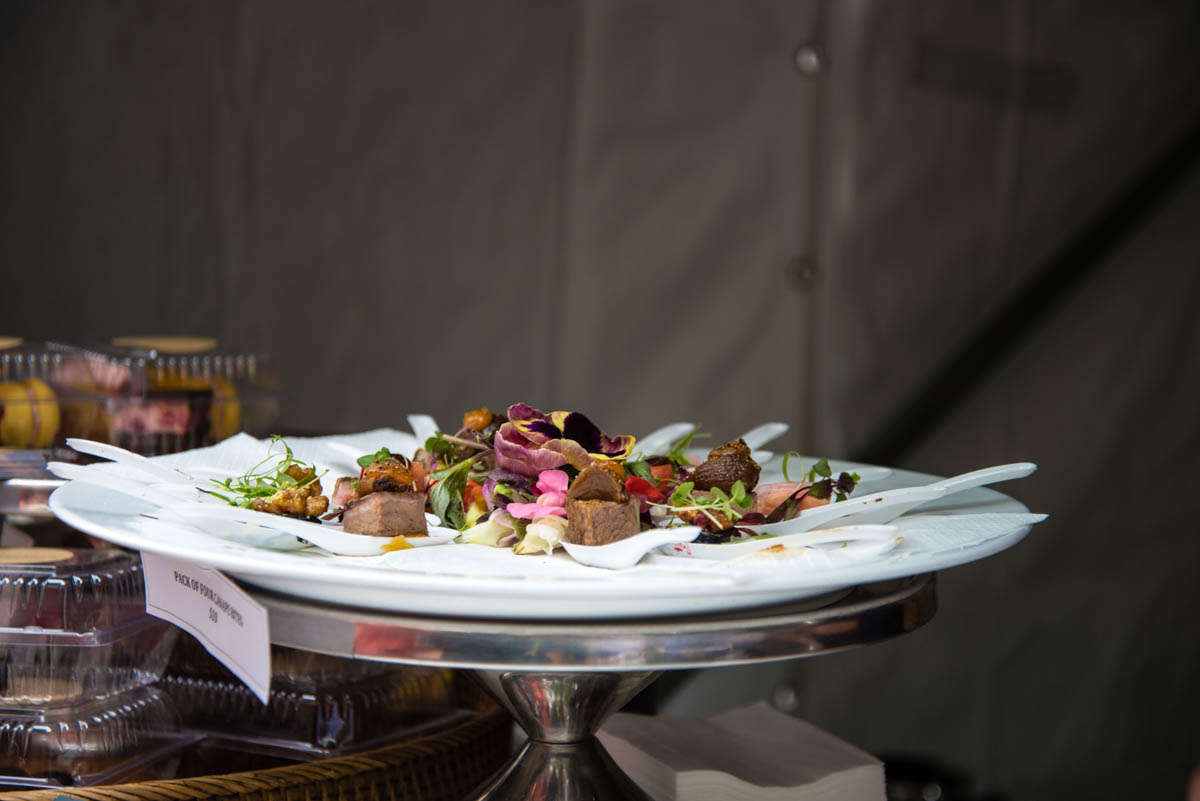 Don't these canapés look exquisite?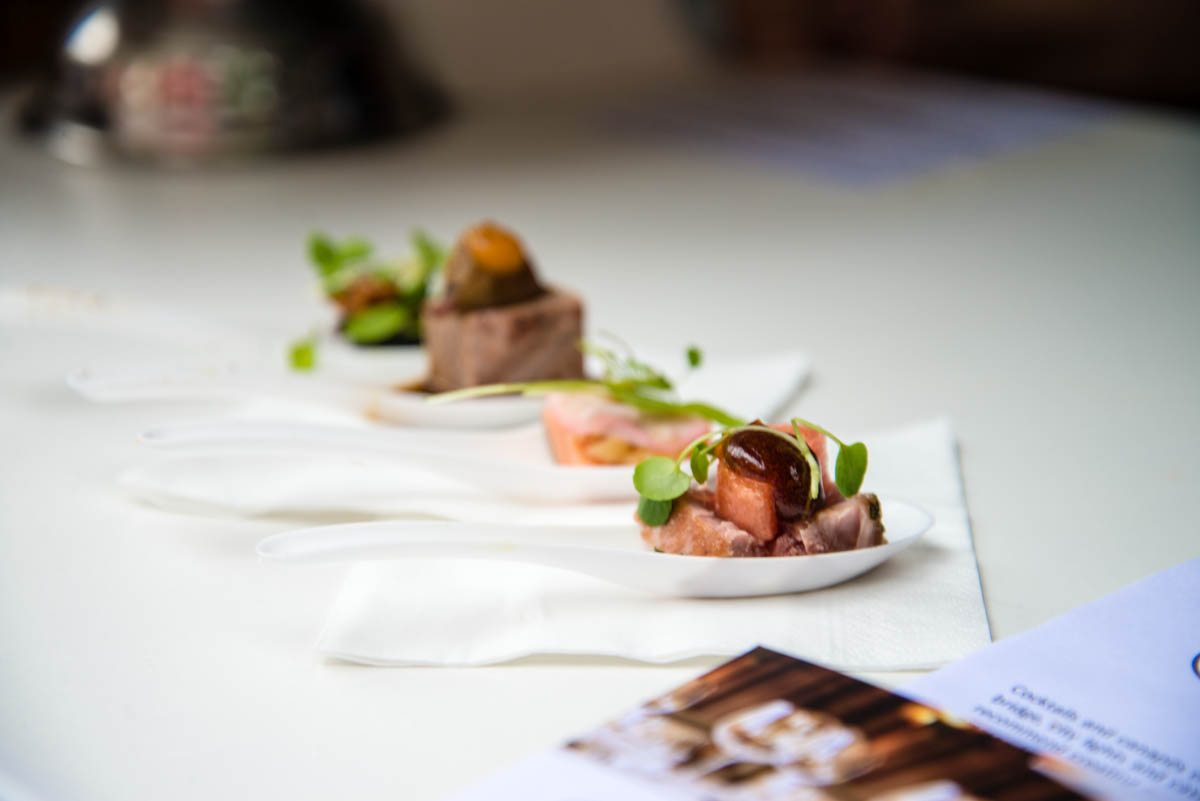 They're the lovely work of Champ Kitchen and Bar, just one of a dozen 'food trucks' by local restaurants.
Next, I come across My City Garden, a company which sells native and solitary bee hives, cheese making kits, yoghurt making kits, and soap making kits. Check out their bee hotels below.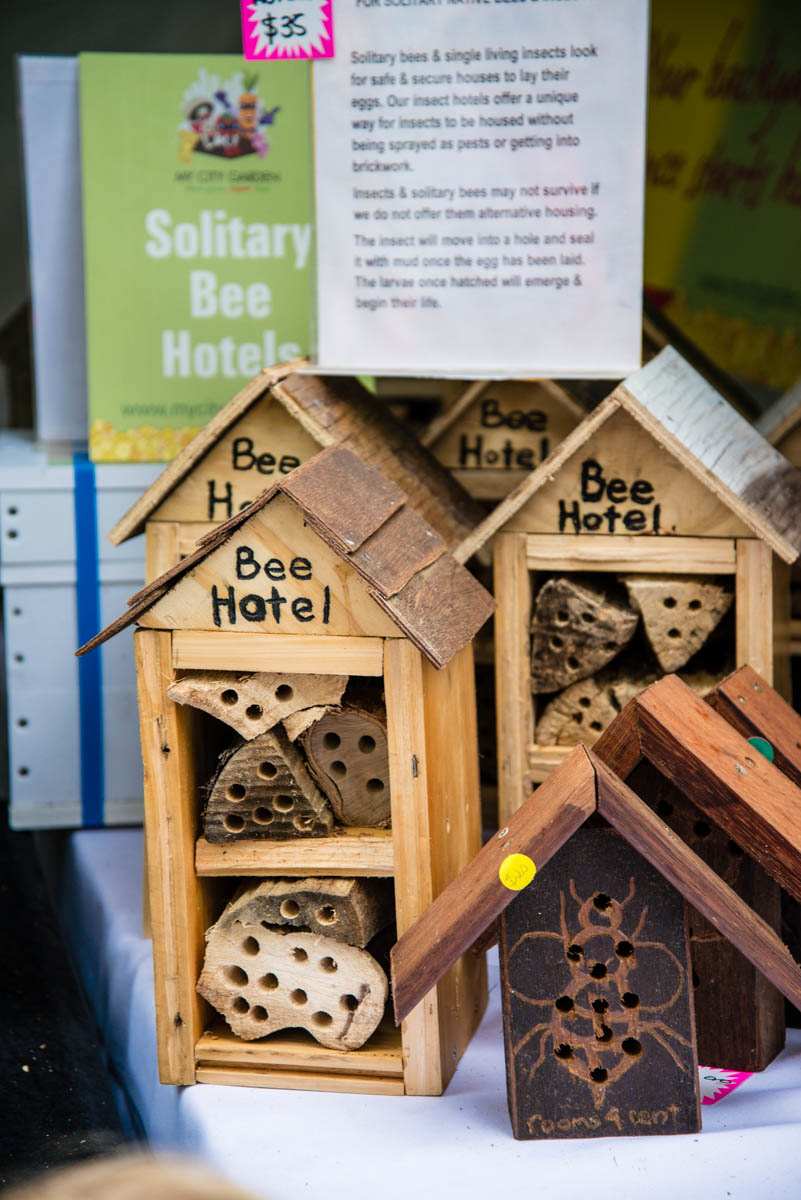 With alarming declining bee populations across the globe it's nice to see a company encouraging people to support bees in their own backyard.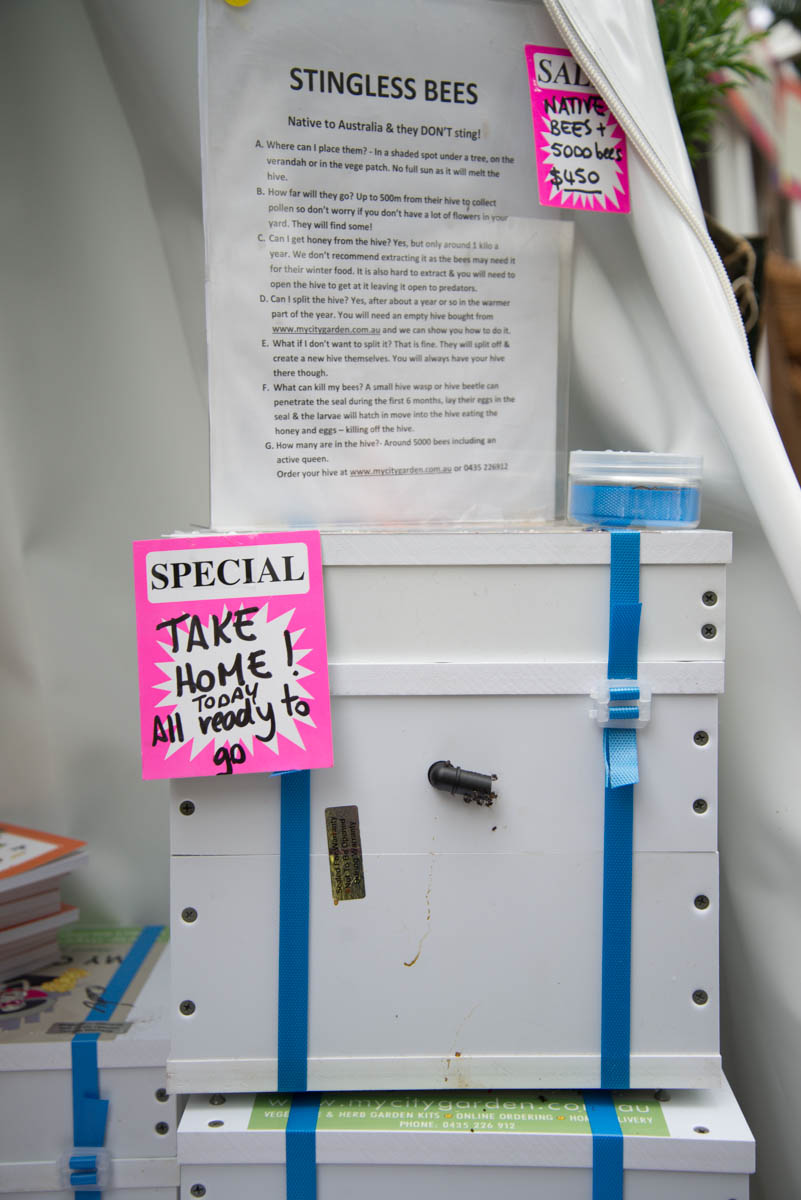 You can also buy a native bee hive with 5000 stingless, native bees including an active Queen. I love the idea of having a bee hive in the backyard and will work this into my garden plan.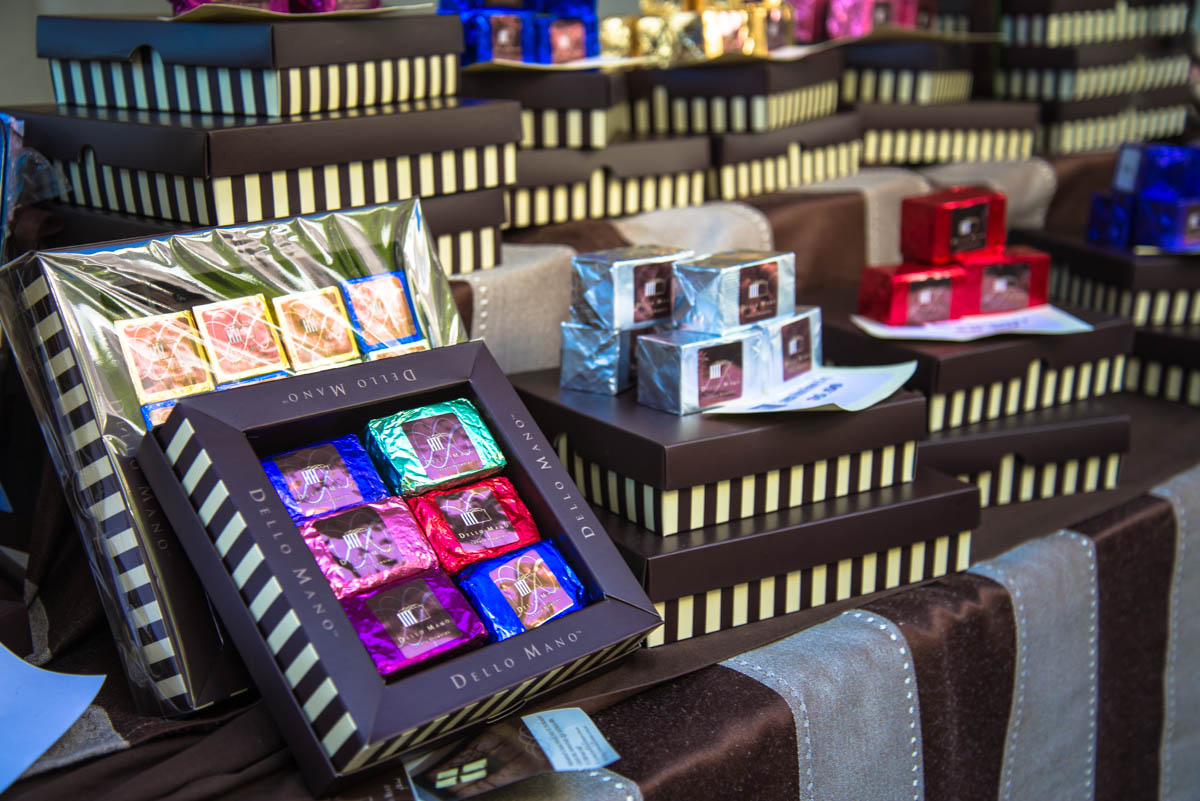 Now while I love chocolate brownies, I've always thought of them as a happy home-made  treat – they're like the jelly slice or lamingtons that my mum used to make for us. At Dello Mano, however, the humble brownie has been elevated to the high-end sweets arena, with gorgeous foil packaging and gift box presentation. (Incidentally, why do so many chocolate companies use brown and gold packaging? Is there some kind of psychological or sciential basis for this?)
Part of me loves the idea of a high-end brownie while part of me can't get my head around it as the brownies I eat are usually served in the baking paper they were baked in. In any case the Dello Mano the stall is swamped with happy foodies. Perhaps the prominently displayed news article about Ashton Kutcher being a fan of their brownies is doing the trick? I try a peanut butter brownie to find out the truth. It's pretty darn fine actually. Now that I come to think of it, I know plenty of people who'd prefer a box of brownies over a box of chocolates.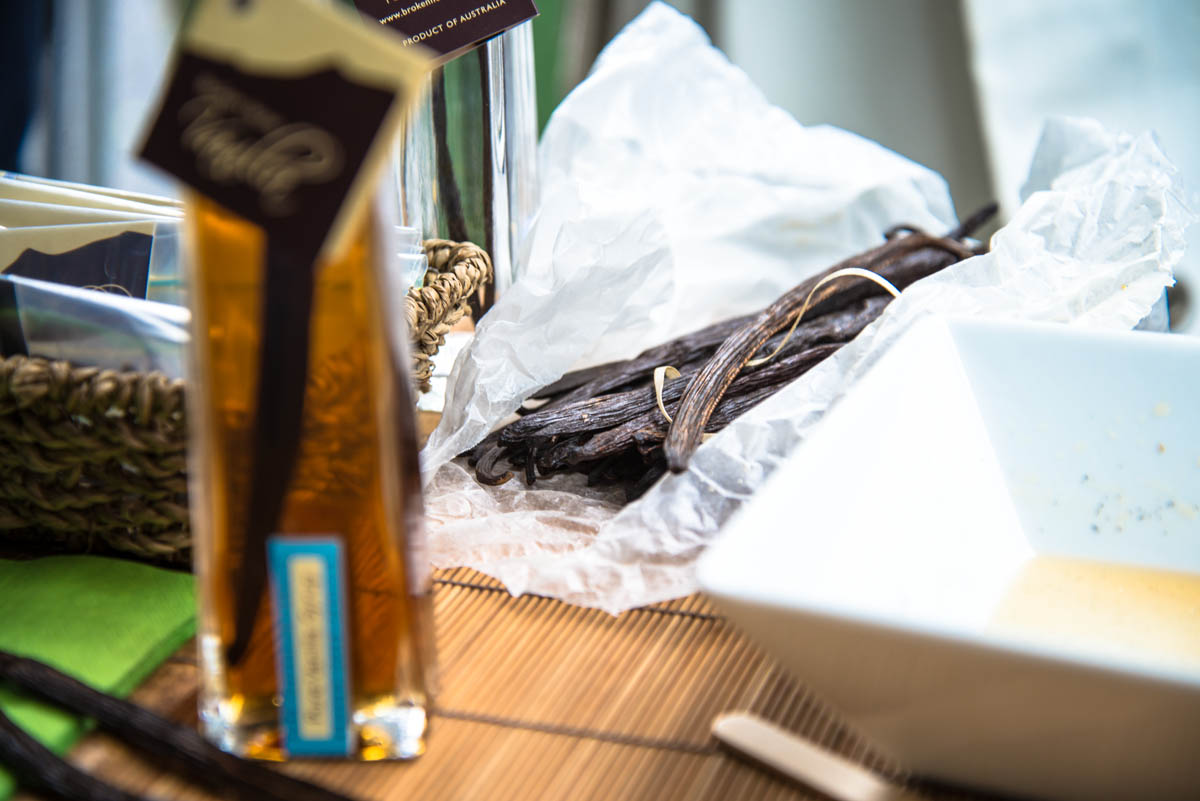 Moving on, I come across some lovely vanilla pods at the amusingly named Broken Nose Vanilla stall.This company uses no sprays or artificial fertilisers and their pods are priced by grade: A grade (17cm and longer) single beans $5; B grade  (13-17cm) single beans $3; and Extract grade (smaller, with high vanillin content) single beans $1. Broken Nose Vanilla also sell vanilla extract, syrup, sugar, tea, honey and coffee – see their online shop.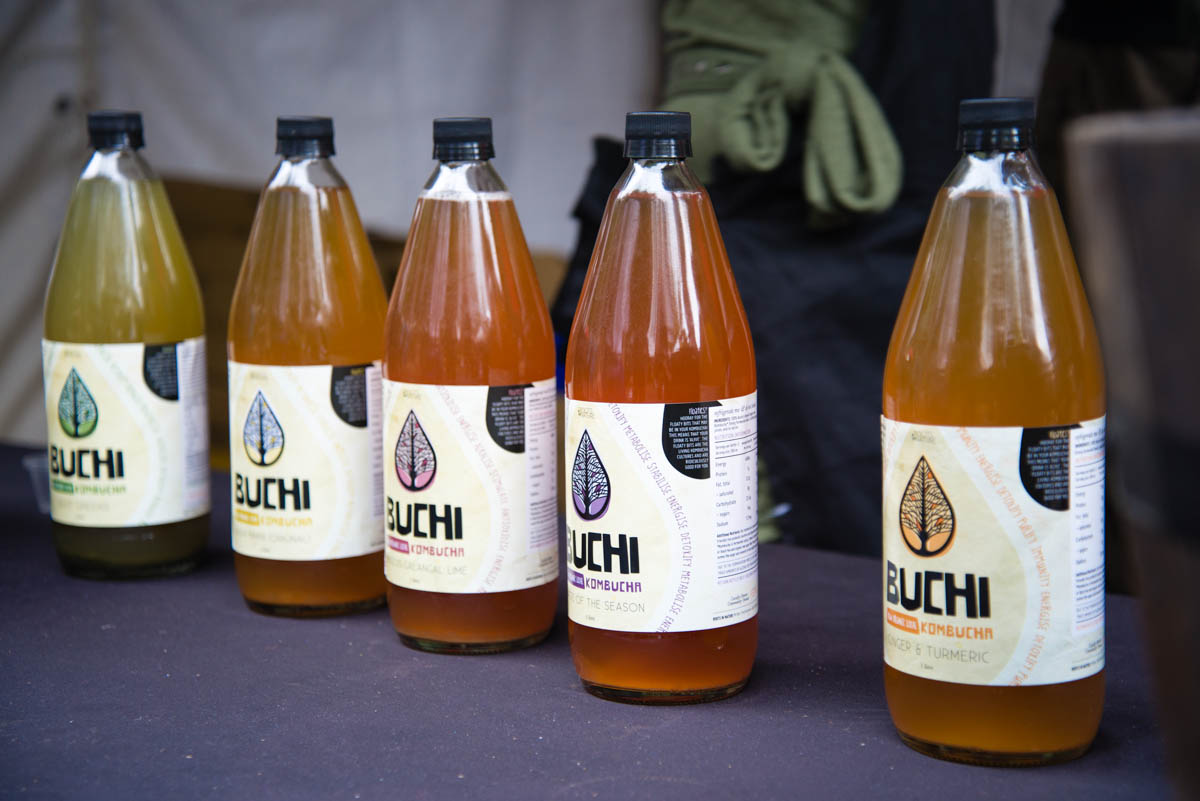 Next I come across the Buchi stall. Buchi sell a line of raw organic Kombucha elixirs using locally sourced turmeric, ginger, limes, galangal. Apparently the Kombucha is a living beverage that is fermented using a blend of organic tea, organic raw sugar, bacteria and yeast. I'm not sure what the health benefits are — improved digestion at a minimum I'd guess — but I try the Ginger Turmeric elixir and it's delicious.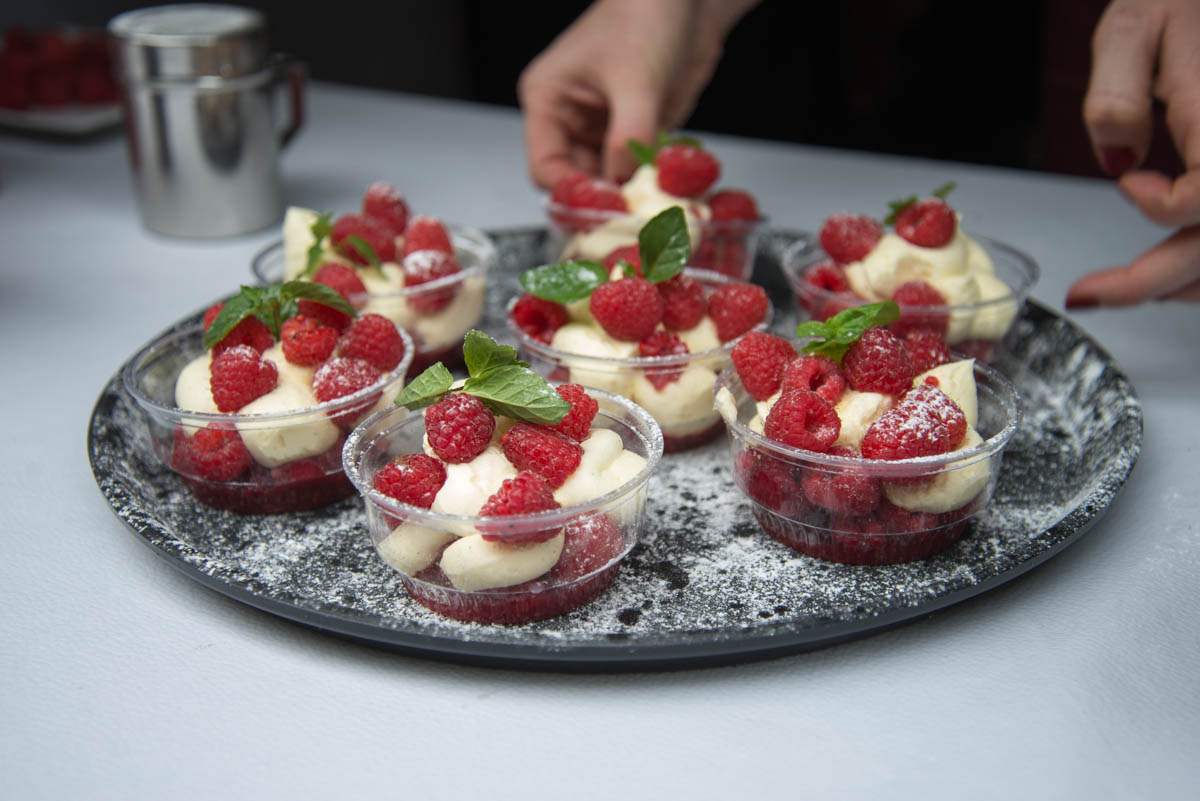 These delectable looking raspberries and cream pots are from My Berries, a new company based in Moreton Bay that grow their berries using chemical-free pesticides.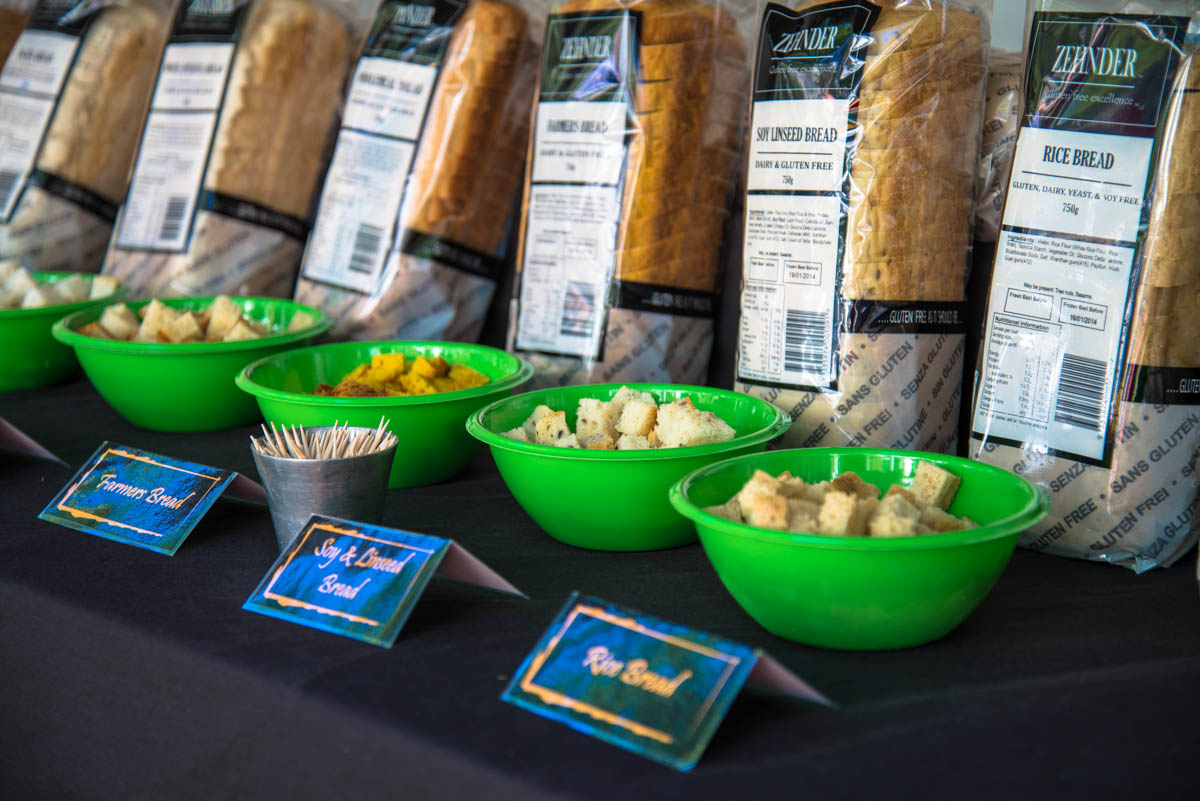 Now I'm not allergic to gluten but I do find adopting a gluten-free diet regularly seems to suit me. So I was interested to learn more about Zehnder's range of gluten-free breads and cakes. Gluten free breads and cakes are notoriously hard to get right as they often come out chalky and dry. But I try the Chocolate Brownie and it's superb – rich and gooey, with a fantastic texture and mouthfeel. Nice work.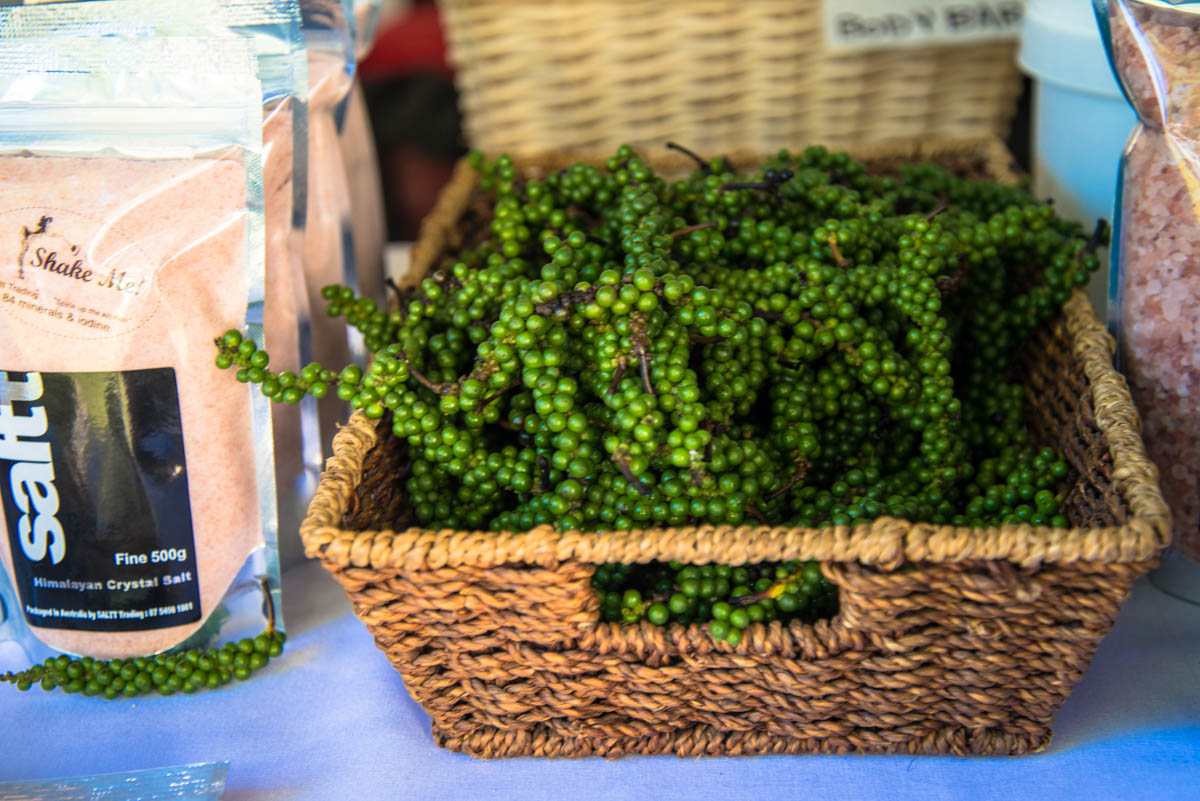 Aren't these fresh green peppercorn at the Sallt store gorgeous? Sallt specialise in beautiful Himalayan pink salt and a variety of pepper products – you can buy them from their online store.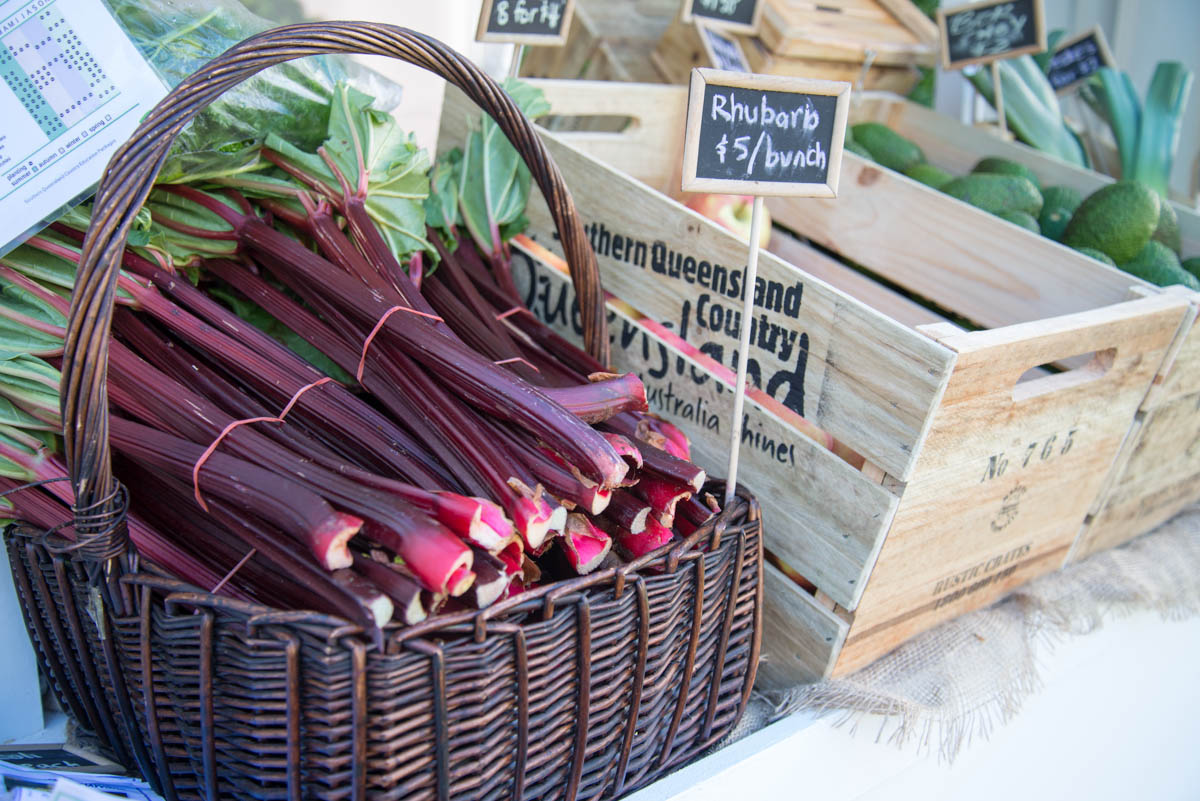 Amongst from all the cooked and manufactured food and wine products, it's also lovely to see that some regional food boards are selling produce from that region. Don't these rhubarb bunches look fantastic?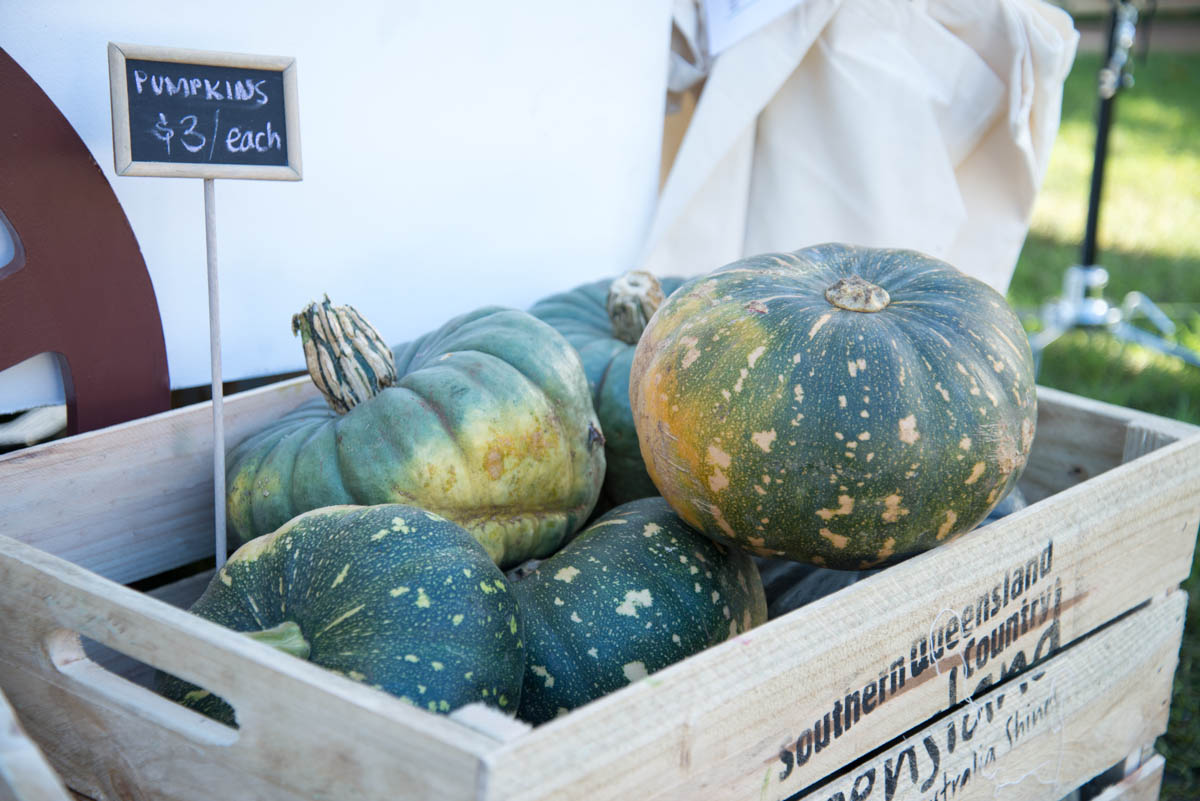 Some beautiful pumpkins from Southern Queensland.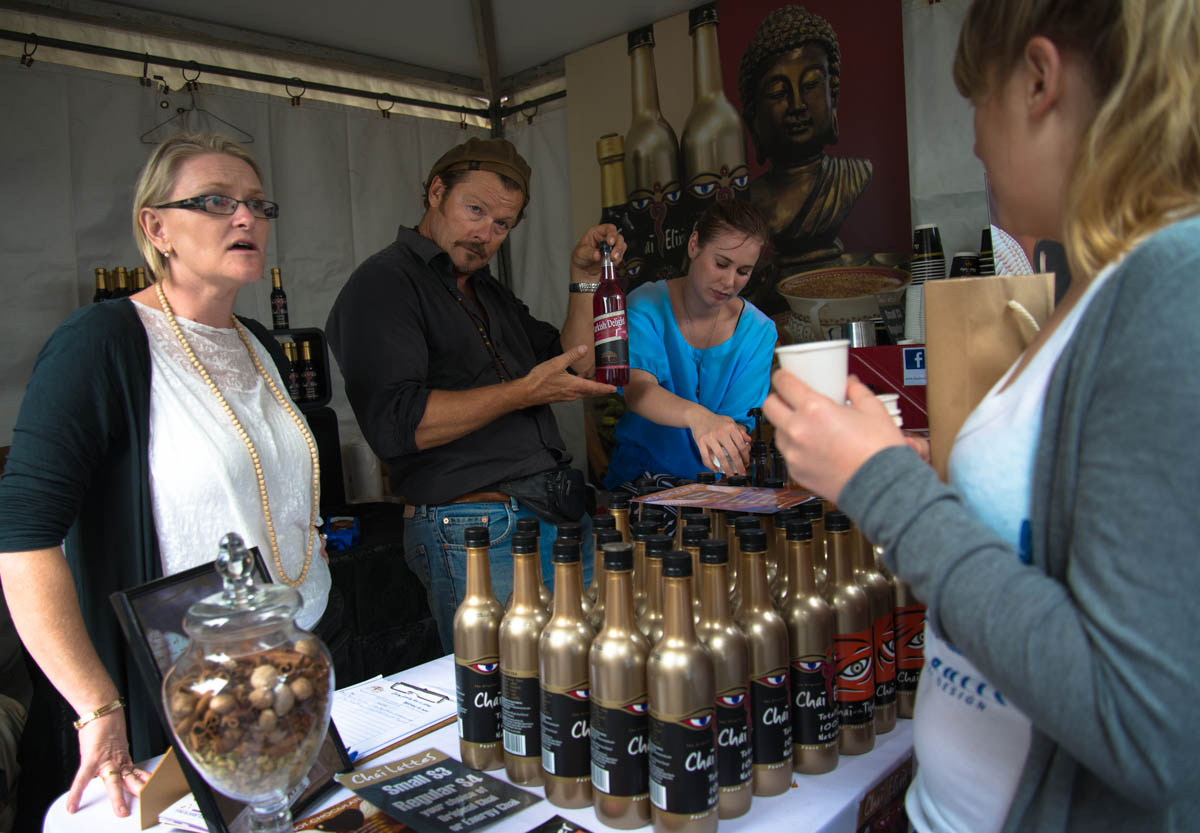 Next, I come across Alchemy Cordials, who produce a range of cordials, syrups and hot chocolates. Regular readers will know that I'm a chai nut so was eager to try their two Chai cordials that are designed to be mixed into warm milk – Chai Elixir, a more traditional Chai blend, and Chai of the Tiger, which is souped up with ginseng, guarana, ginger and black pepper.
When one of the owners find out I'm from interstate he insists on gifting me a bottle of each. Back home I try them with regular, soy and rice milk and quickly become addicted to both. They're remarkably different but both unmistakably Chai in tone with lovely, well balanced flavours. I can see why Alchemy is doing so well with food service and retail – these products are great.
My last stop is at the Noosa Chocolate Factory which sells, yep, you guessed it, chocolate in all its glorious forms.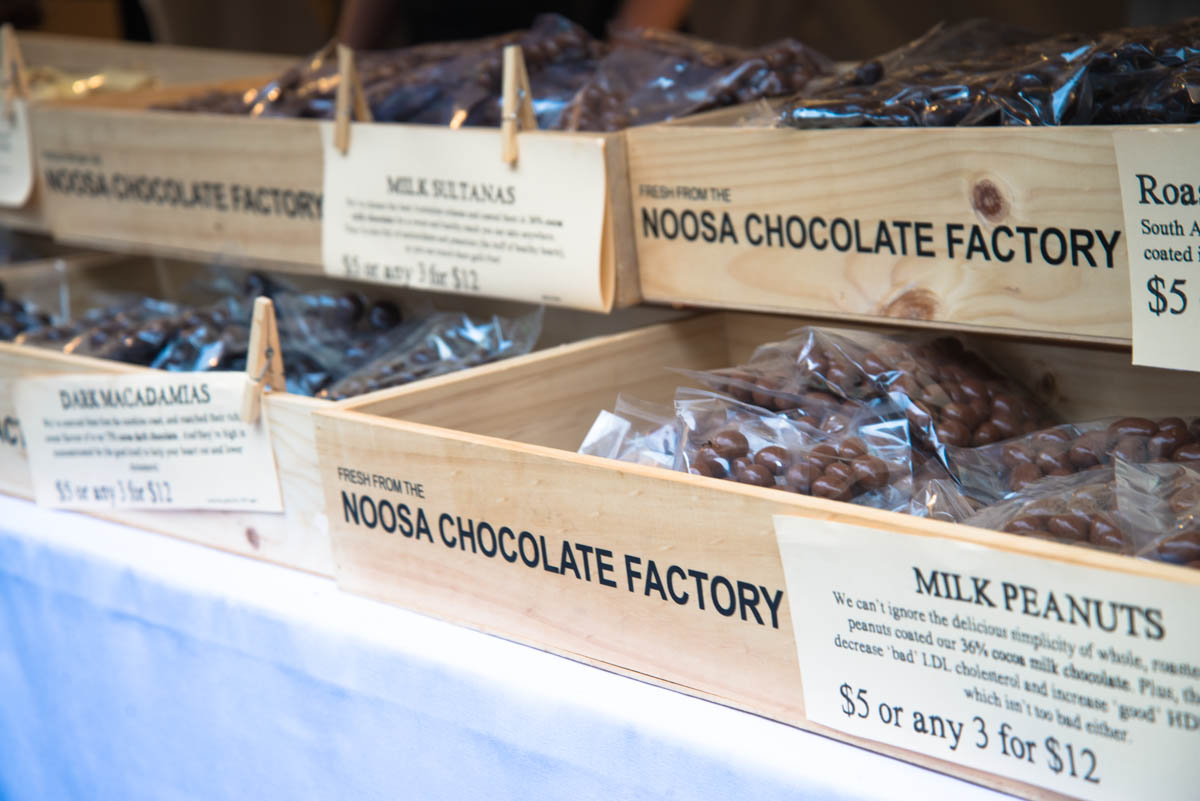 Their Rocky Road is promoted as being 'Australia's Best Fresh Rocky Road' – see below.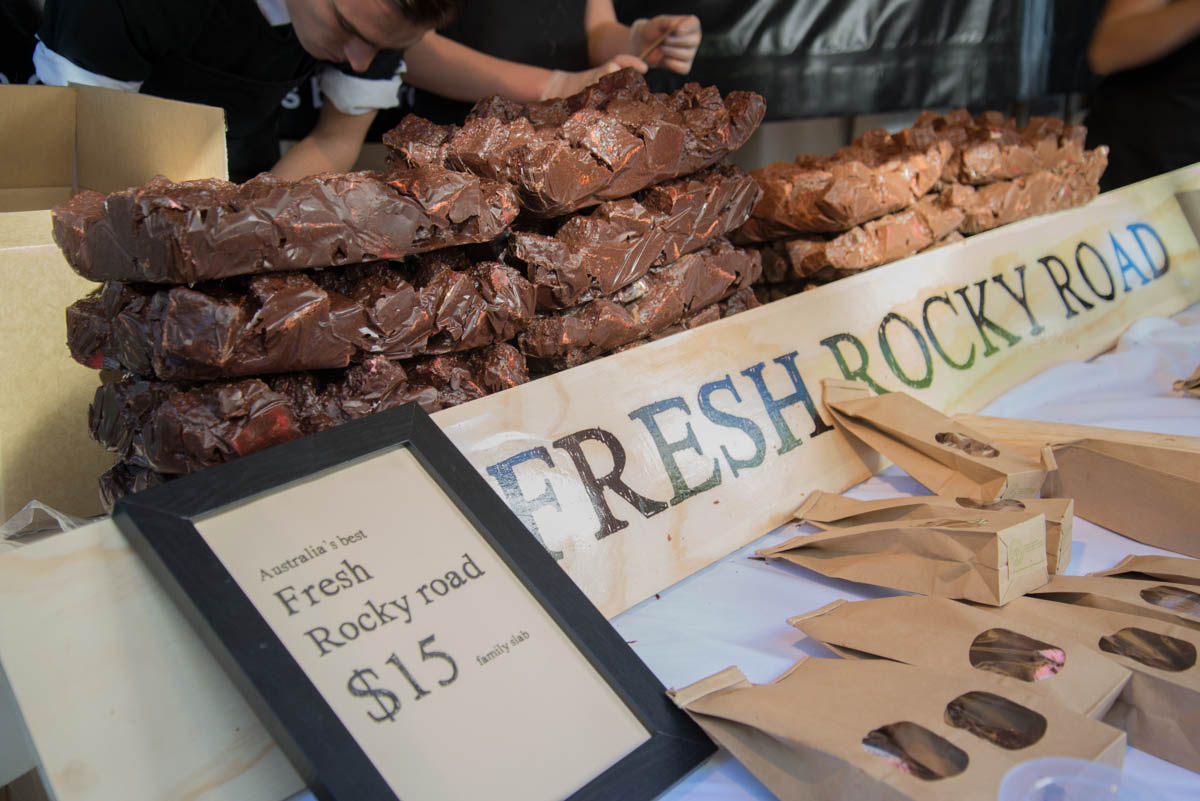 I'm always skeptical of claims like this so back in my hotel room I examine the sizeable slab of Rocky Road in my media sample bag. The Noosa Chocolate Company's version of Rocky Road sees pillowy raspberry and vanilla marshmallows layered with a delectable raspberry gel and covered with a thin layer of dark chocolate.
I break a piece of Rocky Road off and munch on it. Then I break off another piece. And another piece. It is, hands down, The Best Rocky Road I've Ever Eaten and I can barely restrain myself from eating the whole slab – it's that good. Buy some. You'll thank me later.
It's been a wonderful, non-stop weekend of learning about Queensland's diverse food scene and yet I feel that I've only just scratched the surface. I guess I'll just have to visit again soon.
Next Regional Flavours post: what I ate at the Festival. It's a long post (duh). With lots of photos. You can also check out my previous Regional Flavours post – Inspired by South Bank's Regional Flavours.
Disclosure: I visited the Regional Flavours festival in Brisbane as a guest of the South Bank Cooperation. All flights, accomodation and transfers were courtesy of the host. Some meals and products were provided while I paid for others. As always, all opinions are my own.