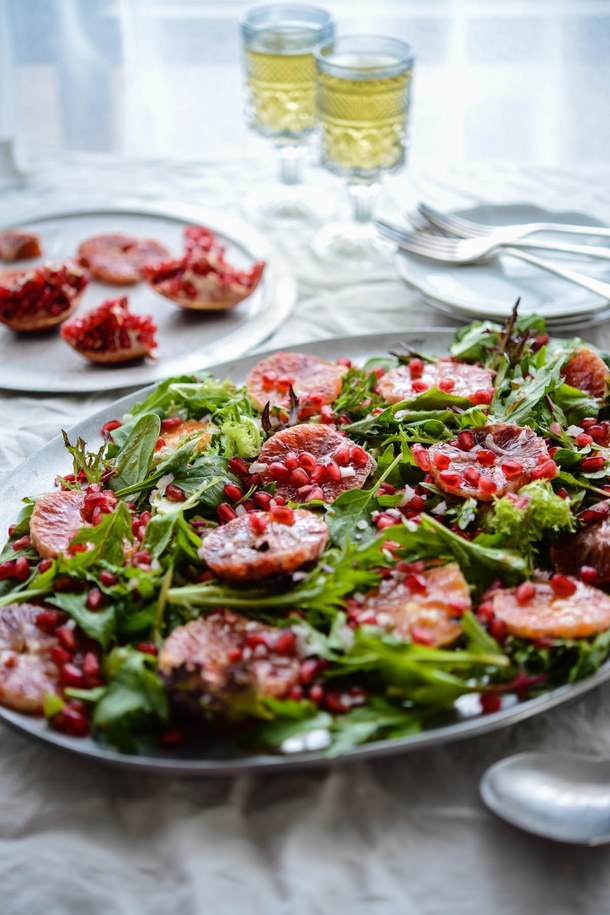 Each time before I go food shopping I write out a list – it's the only way I can possibly remember what I've run out of and what I need to buy for client and blog projects. 50% of the time I end up leaving this list at home so I end up wandering the market muttering to myself as I try to remember all the things I wrote down.
However my shopping list is merely the starting point. By the time I arrive home I have approximately double the things I had on my list having been seduced by some luscious looking produce during my shopping expedition.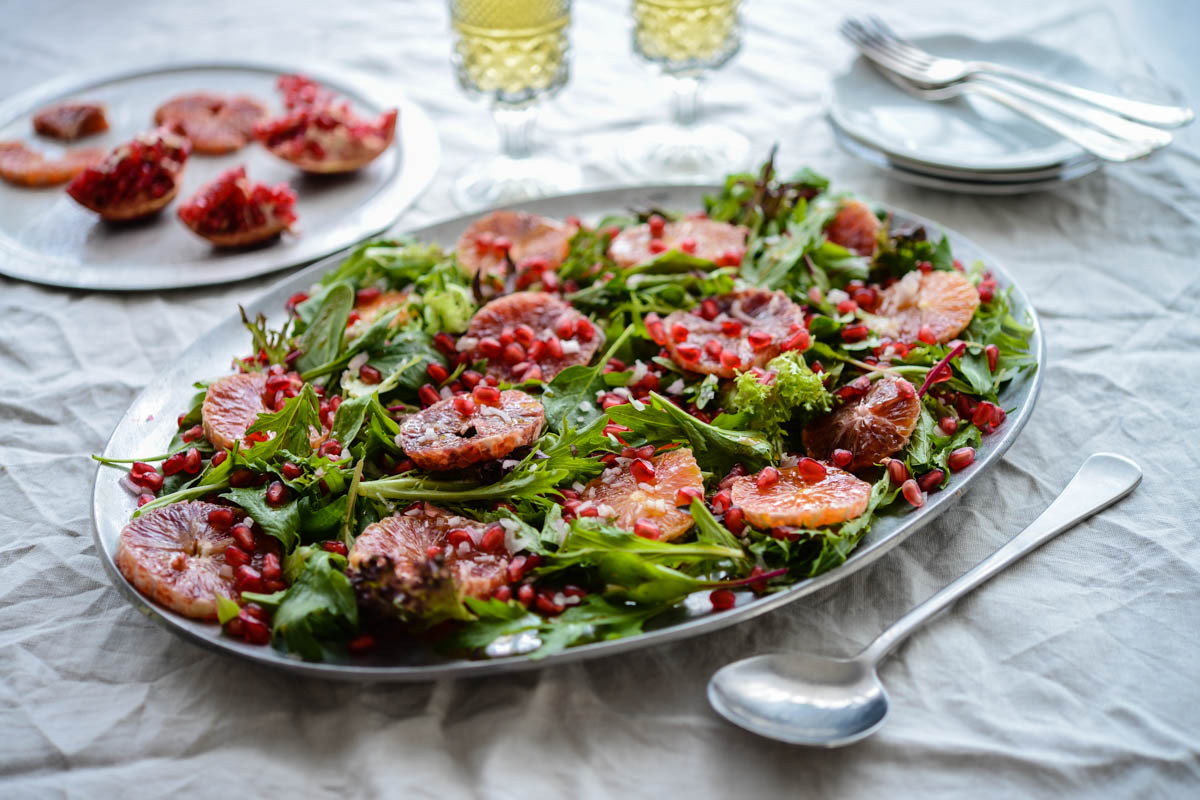 Today I was in my local greengrocers when I spotted some blood oranges and pomegranates that begged me to take them home. So I did.
I had to take a vegetable dish to dinner at my parent's house tonight so I took the pomegranates and blood oranges and turned them into this simple salad, enhancing the the sweetness and tartness of the pomegranates with a simple balsamic vinegar and honey dressing. We ate this salad tonight with a tomato pasta and roast meat but it would go brilliantly with grilled lamb, falafel or a seafood pasta, too.
I'll have to remember that next time I go shopping. Or not, as the case may be. Sometimes spontaneity can be a beautiful thing.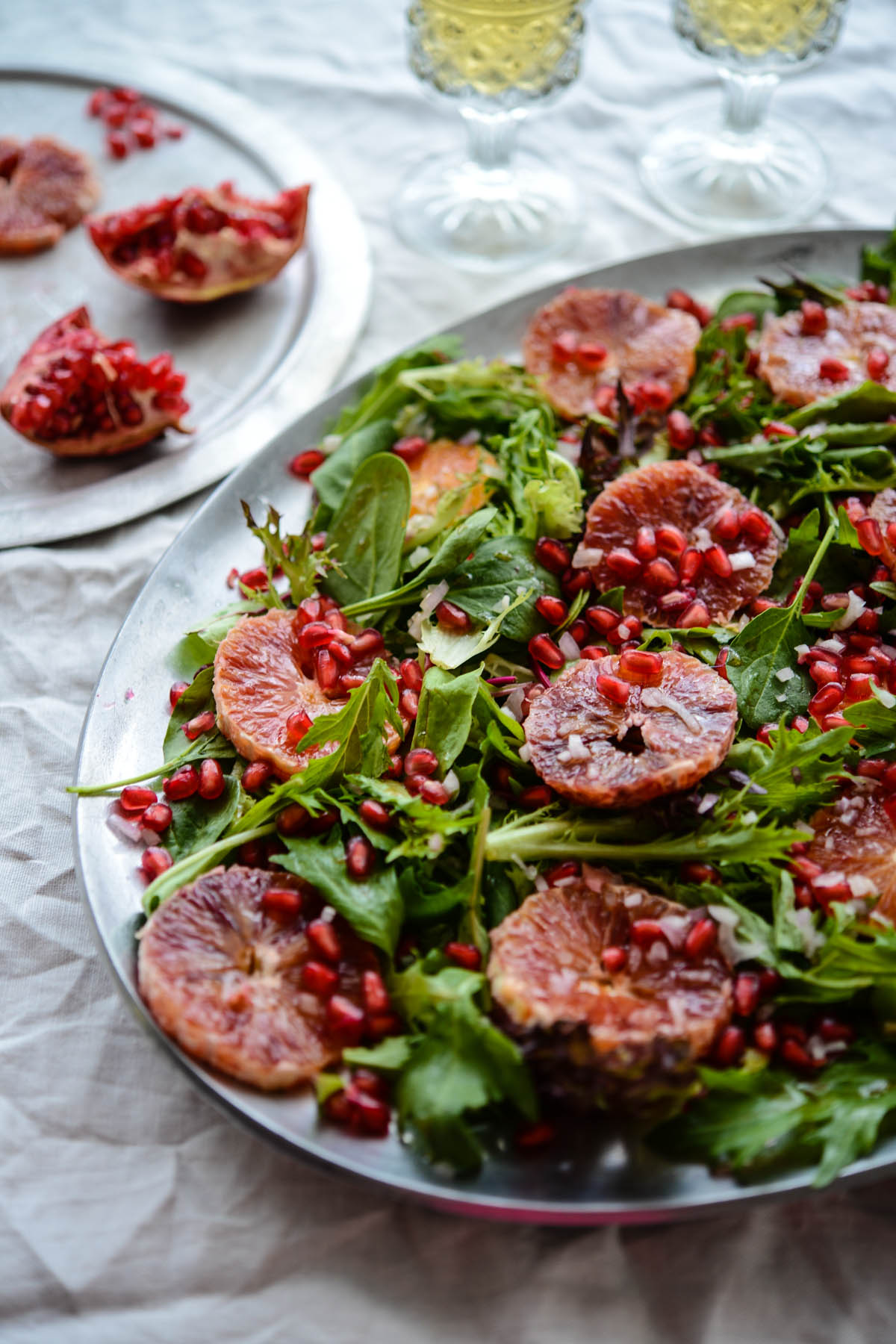 INGREDIENTS
1 x 120 gram mixed lettuce leaves
3 blood oranges, peeled and sliced
Seeds from 1 pomegranate
1 shallot, chopped into small pieces
2 tablespoons EVOO
1 teaspoon top quality red wine vinegar
1/2 teaspoon honey
Salt & pepper to taste
METHOD
Arrange lettuce, orange, pomegranate and shallots on a plate.
Make a dressing by whisking the EVOO, vinegar, honey & salt and pepper and drizzle over the top.
Serve immediately.
** Looking for another blood orange recipe? Check out my Blood Oranges with Dark Chocolate and Sea Salt Flakes. **