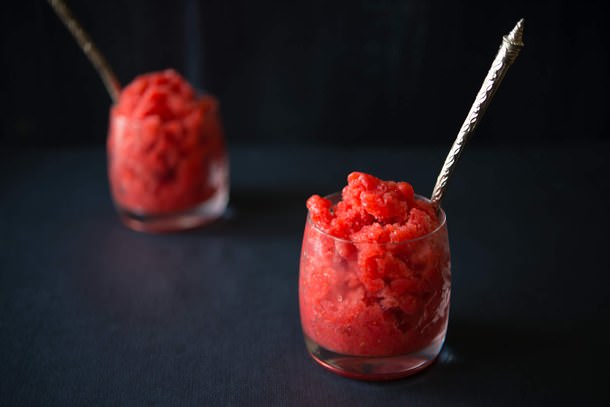 The weather has been crazy hot in Adelaide for three days now.
Now I love hot weather but when it's hot I want to be eating hawker noodles in Asia, swimming at the beach or lazing by a hotel pool, cocktail in hand. When I'm trying to shoot ice cream, working on a client project or doing the school run, a very hot day is rather a bore because I focus on how hot and uncomfortable I am, rather than the job at hand.
Enter this icy dessert, designed to blow all those heat-cobwebs away and leave me feeling refreshed and energised.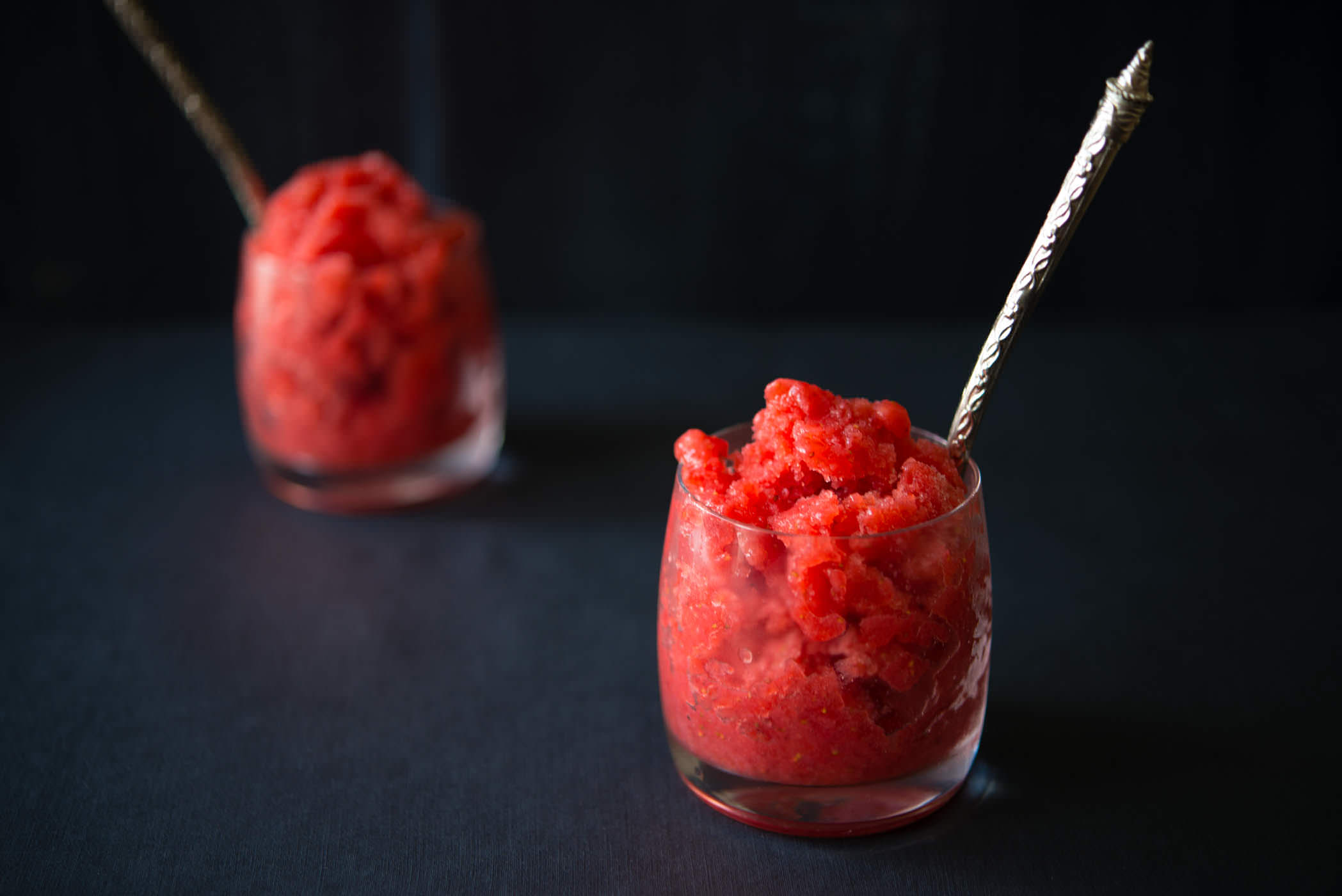 This Strawberry Granita is so easy to make — my 6 year old could do it without any trouble — and it's absolutely delicious. It's healthy, too, as I've used rice malt syrup as a sweetener instead of sugar.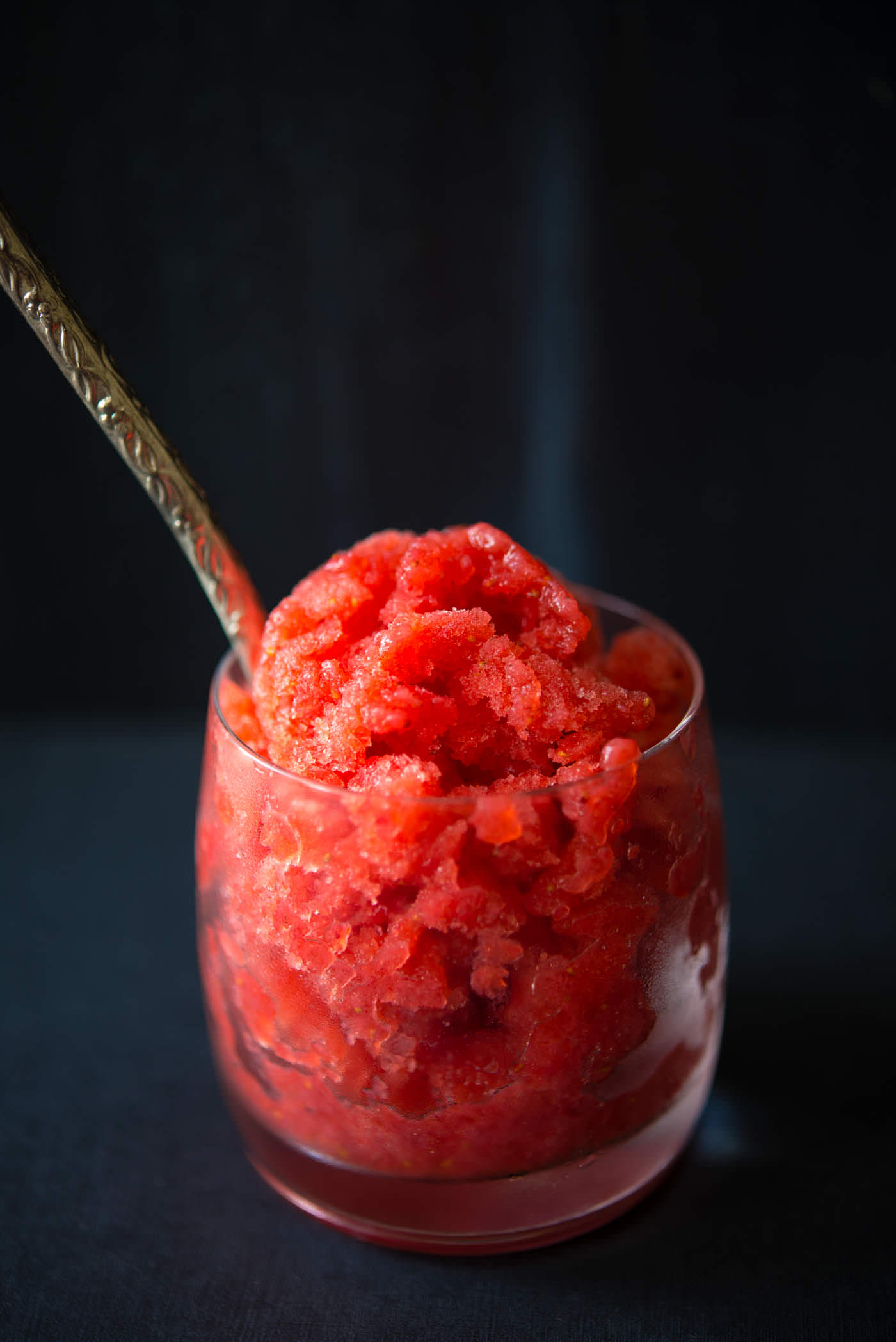 So when I found out the theme for Sweet Adventures' new hop was License to Chill I knew I had to make this.
For those new readers, Sweet Adventures is a group of Aussie foodbloggers – 84th & 3rd, The Capers of the Kitchen Crusader, Dining With a Stud, and I, The Hungry Australian, who host a monthly, dessert-themed blog hop.
Previously, we have hosted: Tropical Paradise (January 2013), Sweets for Santa (December 2012), Cake and Three Veg (November 2012); High Tea (October 2012); Feeling Saucy (September 2012); Berry Nice to Meet You! (August 2012); Nuts About Sweets (July 2012); Sweet as Pie (June 2012); What's Your Cup of Tea? (May 2012); Lemons (April 2012); Layer upon Layer (March 2012); Love at First Bite (February 2012); Death by Chocolate (January 2012); Festive Favourites (December 2011); and Great Australian Pavlova (November 2011).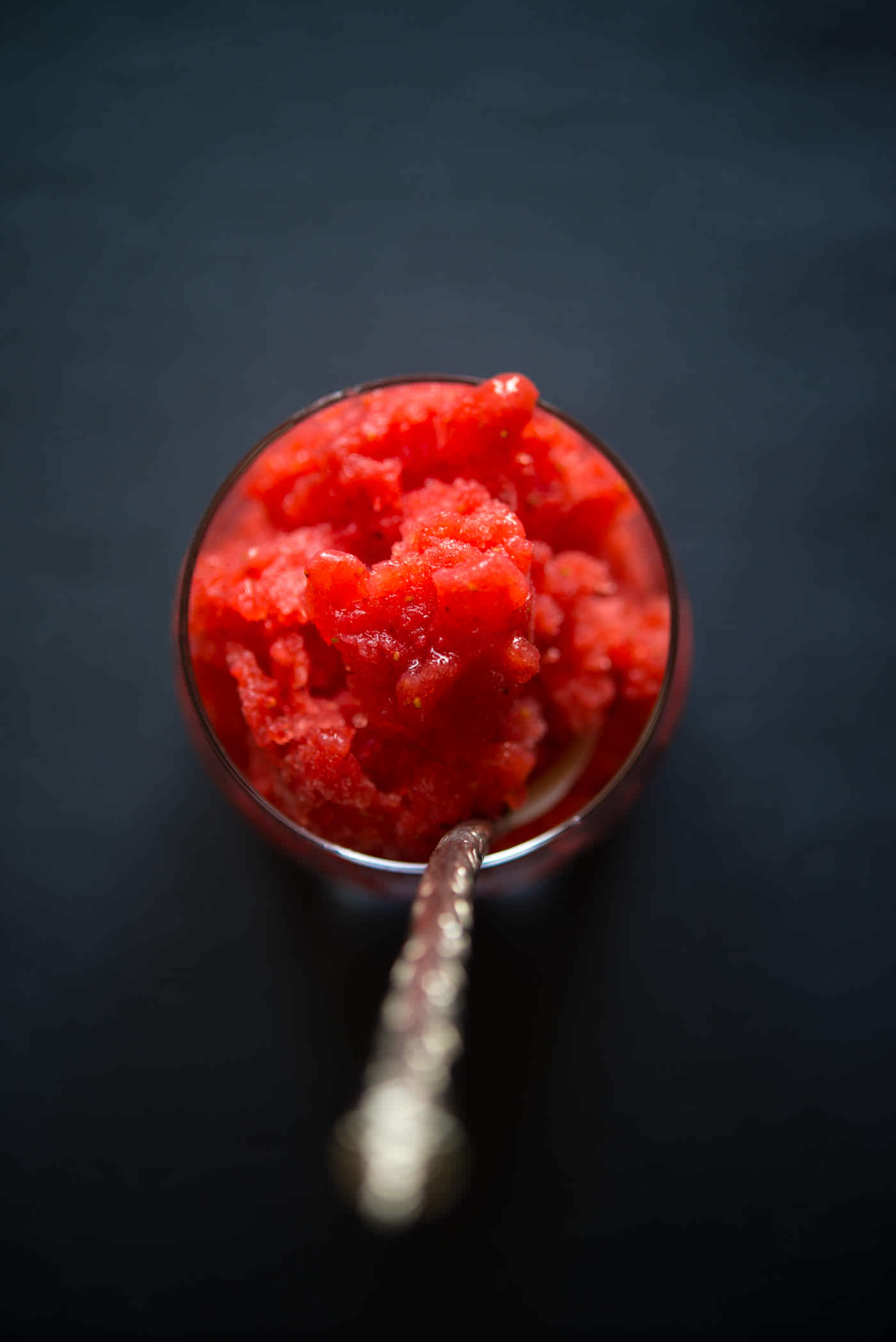 This month, the lovely KC from The Capers of the Kitchen Crusader is our host so check out her post on how to join in this hop. Don't forget to scroll to the bottom of this post to check out all the other icy recipes, too.
Enjoy!

Strawberry Granita
Author:
Christina Soong-Kroeger
A beautiful, simple summer dessert
Ingredients
2 punnets strawberries
½ cup water
⅓ cup rice malt syrup at room temperature
2 tablespoons lemon juice
Instructions
Wash and hull the strawberries and then blend with all the other ingredients.
Pour into a freezer-safe container and freeze for an hour or so.
Then, with a fork, scrape the frozen parts at the edge of the container into the middle and remix.
Freeze again for another three hours or overnight.
Take out of the freezer 10-15 minutes before serving to allow it to soften.