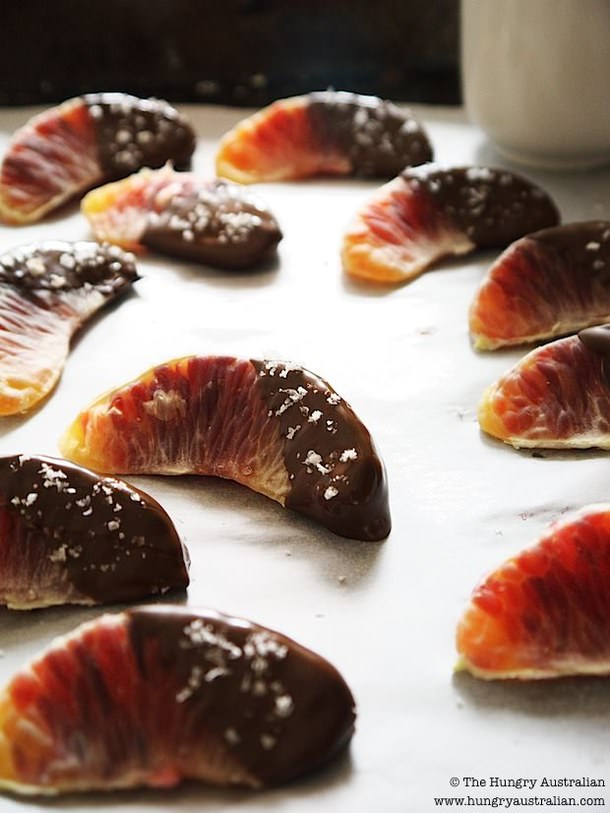 I'm having a passionate affair with citrus at the moment.
My fruit bowls are filled with gorgeous tangelos, yellow grapefruit, pink grapefruit, oranges, mandarins and blood oranges.
I love them all but I have a soft spot for blood oranges; they're such an incredibly sexy fruit. I'd never tried one until a few years ago but now I can't get enough of them.
The other day I was cooking a Blood Orange and Dark Chocolate Bundt cake for my Australian & NZ Food site on About.com  (the recipe will be up shortly). It was an intense, grown-ups' cake and I wanted to decorate it accordingly.
So I made these – Blood Oranges with Dark Chocolate and Sea Salt. Do you like the appropriately moody look of these photographs?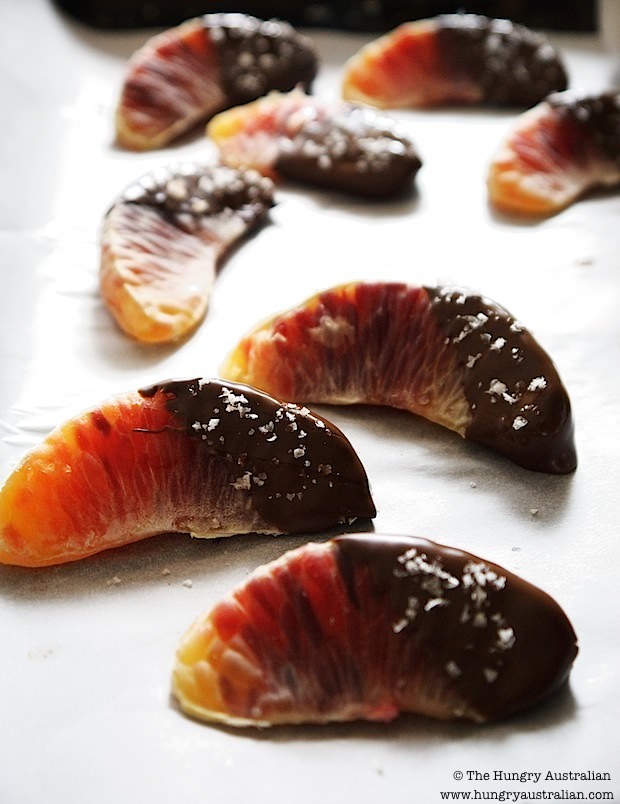 They looked striking on top of the cake and tasted extraordinarily good. In fact, you could serve them on their own as a very stylish dessert.
So go on then. Toddle off to the shops now. You really won't want to miss out on experiencing these.
Tell me, dear reader: what produce are you obsessed about at the moment?

Blood Oranges with Dark Chocolate and Sea Salt
Author:
Christina Soong-Kroeger
Prep time:
Cook time:
Total time: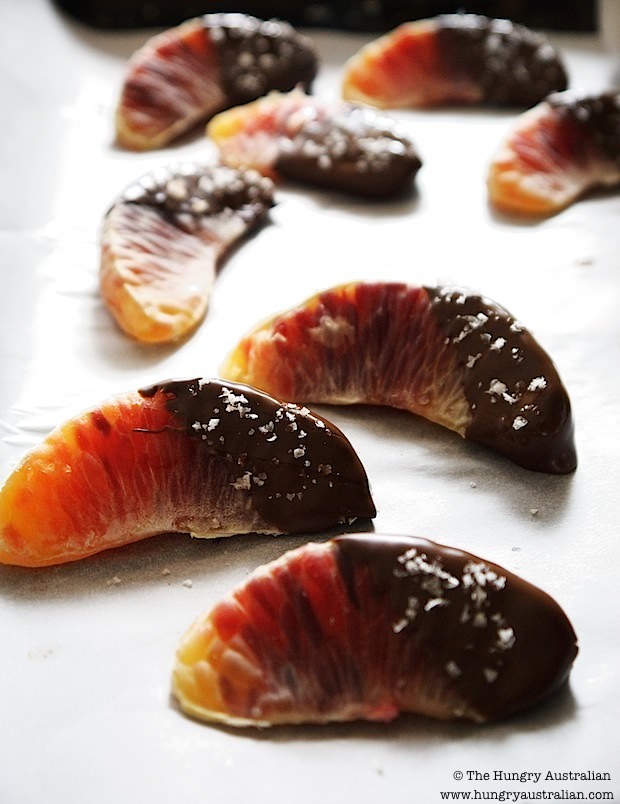 A sexy yet simple dessert made in a flash!
Ingredients
2 blood oranges
150 grams best dark chocolates
2 tablespoons sea salt flakes
Instructions
Line a baking tray with baking paper.
Peel oranges, removing as much pith as possible.
Carefully separate, being careful not to break the skin.
Heat chocolate up in microwave in narrow cup. Try 30 seconds, then stir, then another 30 seconds.
Once chocolate is melted, dip an orange segment into the cup.
Jiggle the orange around so that the excess chocolate falls back in the cup. You don't want the chocolate to be too thick.
Lay the orange segment carefully on the baking paper.
Sprinkle with sea salt.
Let set at room temperature for 1 hour before eating.