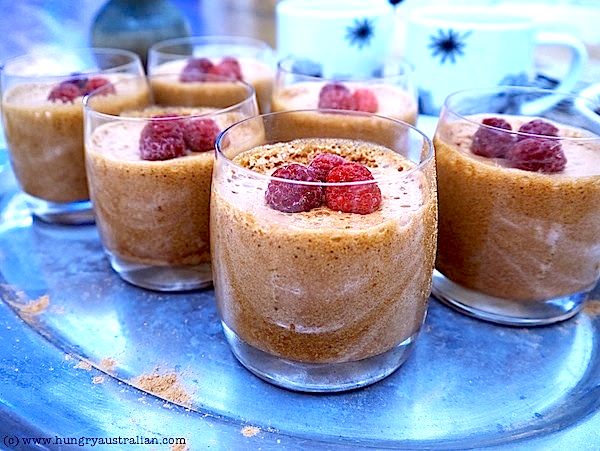 There are times when a little restraint is called for. After all, too much of a good thing can get you into all kinds of trouble.
Happily, this is not one of those times. For too much of a very good thing – in this case, chocolate – is what this Sweet Adventures Death by Chocolate bloghop is all about.
Sweet Adventures is a group of Australian food bloggers – myself,  84th & 3rd, The Capers of the Kitchen Crusader, Delicieux, and Dining With a Stud – who host a monthly, dessert-themed blog hop.
Our inaugural event, The Great Australian Pavlova Blog Hop, attracted 34 entries in November 2011, while our second event, the Festive Favourites Blog Hop, attracted 38 entries last month. Click on the above links to drool over all the entries.
It was my turn to host this month and as I scanned our lengthy list of theme ideas I realised there was one glaring omission: Death by Chocolate.
Why Death by Chocolate? Well, if you're going to indulge in chocolate you might as well go all out, right? There's no point in the single square of chocolate, the lone chocolate truffle, the tiny chocolate brownie, the mini chocolate biscuit or the slender piece of chocolate cake. Worst still, are diet versions: I'd rather go without than eat some kind of 'lite' chocolate abomination.
So for my Death by Chocolate entry, I wanted complete chocolate decadence. I wanted creamy pillows of velvety chocolate-ness. I wanted a dessert that would have me swooning over its richness.
I trialled a multi-layered chocolate cake, which fell well short of expectations, before deciding to make a classic chocolate mousse instead.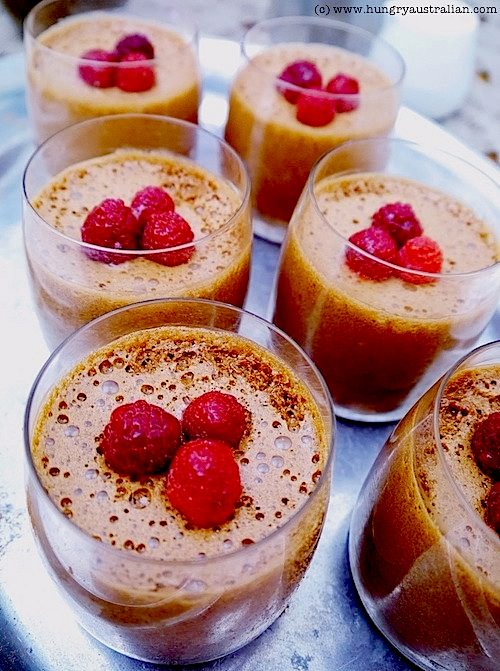 I've always been a pushover for chocolate mousse made with top quality chocolate. I love its intense chocolate flavour, silky texture and the way it melts away into sublime nothingness in your mouth. It's an incredibly sexy dessert and perfect for a romantic supper but you could also serve it in shot glasses for a cocktail party or hen's night.
This chocolate mousse is made with standard pantry ingredients, and in under 20 minutes, but tastes like a dessert that you'd enjoy in a fine dining establishment (with the addition of a few 'dirt' crumbs and flowers sprinkled artistically around the plate, natch).
Is chocolate mousse a dessert to die for? No, it's better than that: it's a dessert to live for.
INGREDIENTS
350 grams top quality chocolate (I used a mixture of dark and white this time but would ordinarily use only dark)
175 grams unsalted butter
7 large, room-temperature, free-range eggs, separated
100 grams raw caster sugar
1 tablespoon vanilla essence
Pinch of salt
METHOD
Melt the chocolate and butter together in a double boiler and then let it cool down off the stove.
In a large bowl, beat the egg yolks and sugar until thick and creamy, like home-made mayonnaise. Stir in the vanilla and salt and then the cooled chocolate mixture.
Beat the egg whites in another large bowl until soft peaks form. Add one spoonful of egg whites to the chocolate mixture and briskly stir it in – this lightens it – before gently folding the rest of the egg whites in. Try not to bash all the air out of the egg whites.
Use a ladle to pour the mixture into glasses and chill in the fridge for a couple of hours or until required.
Remove from the fridge 10 minutes before serving and decorate with raspberries – their beautiful red tones are the perfect visual contrast while their tartness cuts through the richness of the mousse.
Makes 10 glasses.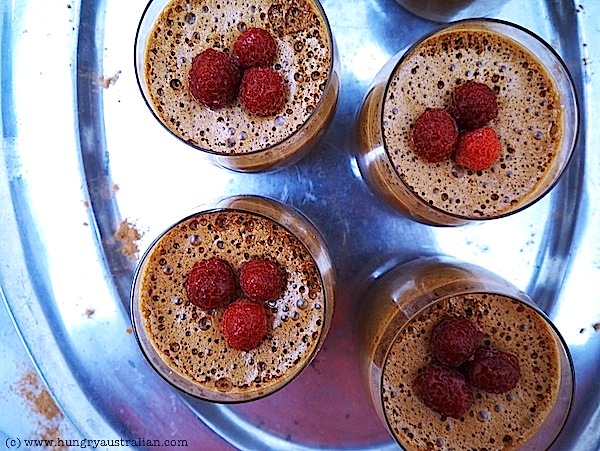 Don't forget to scroll to the end of this post to check out all the delicious
Death by Chocolate entries
*************************************************************
Sweet Adventures Blog Hop: Death by Chocolate
If you blog about food we'd love you to join this hop. Simply follow the steps below and join the fun!
Publish your Death by Chocolate post on your blog sometime between 16th January 2012 (9am Sydney time [AEST]) and 23rd January ( 11:59pm Sydney time [AEST]). Entries are linked in order of submission so try to get your entry in on or as close to the 16th as possible. Only new posts featuring chocolate are eligible.
Click here for the Link Code. Copy the code and add it to the bottom of your Death by Chocolate post (you will need to do this in HTML view). Adding the code will create the thumbnail gallery of all the other entries and let visitors hop from other blogs to your blog and vice versa. If you are on wordpress.com (i.e. not self hosted) the list will not show on your blog so please create a text link back to this post instead.
Grab the SABH Death by Chocolate badge and add it to your post. Just right click on the image, 'save as', upload to your site and add it to your Death by Chocolate post. Link the badge or a line of text to this page so that others can view the instructions on how to join.
Click here to Enter the Hop. This is the really important bit! The badge and thumbnail list are on your post so make sure to enter the hop so that you appear in the list. For question 1: add the URL of your Death by Chocolate Post, not your homepage. For question 2: for caption/title add the name of your dessert. For question 3: for 'your name' please enter your blog name. For question 4: your entry is automatically submitted when you click 'crop'.
Your linked post WILL NOT appear straight away in the blog hop thumbnail list. To combat spam this is a moderated hop. Your post will be visible in the list after approval.
Hop around to all the other entries in the blog hop, sharing the comment love.
If you are on Twitter use the #SABH to tell the world about your Death by Chocolate post. Follow us @SweetAdvBlogHop for new hop announcements and general deliciousness.
If you aren't sure how to do something please leave a comment or get in touch.
***************************************************************