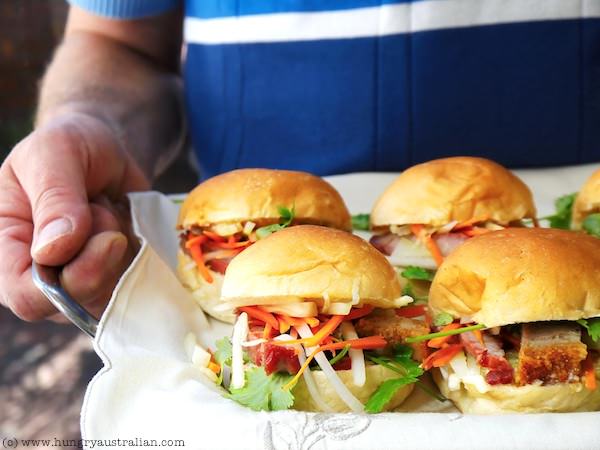 I adore Vietnamese food.
The combination of Asian ingredients and cooking styles with French influences and fresh herbs makes it one of my all-time favourite cuisines. Some of my ultimate Vietnamese dishes are phở (a simple but stunning beef noodle soup dish), sugar cane prawns (minced prawn wrapped around sugar cane and grilled, served as make your own cold rolls), salad (resplendent with fresh mint and dressed with fish sauce, lime, sugar and chilli), and the pork roll. (Read about my experience with what may be Adelaide's best pork roll here.)
When my adorable niece turned one 18 months ago, my brother and sister in law celebrated with a big party. As part of a stunning buffet spread, they served make your own Vietnamese pork rolls and they were hugely popular.
So when we recently hosted a pre-Christmas gathering I decided to serve Vietnamese pork rolls. However, I opted for a mini version, as the full-size roll is usually enough for a meal.
Instead of the usual crusty rolls, I decided to use soft buns from the Asian grocer. Asian bread rolls are quite unlike Western bread rolls, being soft and slightly sweet and much less messy to eat.
These Mini Vietnamese Pork Rolls are super easy to prepare, but should be made up just before guests arrive (or on the spot) for best results. At our get-together, Mr Hungry Australian, my brother and my mother took turns making them up on the spot, to the delight of happy guests.
I advise you to make more than you think you'll need, because people are very likely to come back for seconds. And maybe thirds.
INGREDIENTS
1 packet of 10 soft, slightly sweet buns (from Asian grocer. Substitute with white dinner rolls if necessary.)
Half jar mayonnaise
1/2 white radish, peeled and cut into matchsticks
1 carrot, peeled and cut into matchsticks
1 continental cucumber, cut into matchsticks
250 grams sliced mixed Roast Belly Pork with Crackling and Chinese Roast Pork [Cha Sui] (from specialist Chinese shop or restaurant)
Half bunch fresh mint
Half bunch fresh coriander
3 Birds Eye chillies, seeds removed and thinly sliced (optional)
Soya sauce
METHOD
Slice buns in half without completely cutting through the bun.
Butter base of bun with mayonnaise.
Add a small amount of radish, carrot and cucumber to the base of each bun.
Top with 3-4 slices of mixed roast pork.
Add a few fresh mint and coriander leaves, and chillies, if desired.
Add a dash of soy sauce and close the top of the bun.
Makes 10 buns.