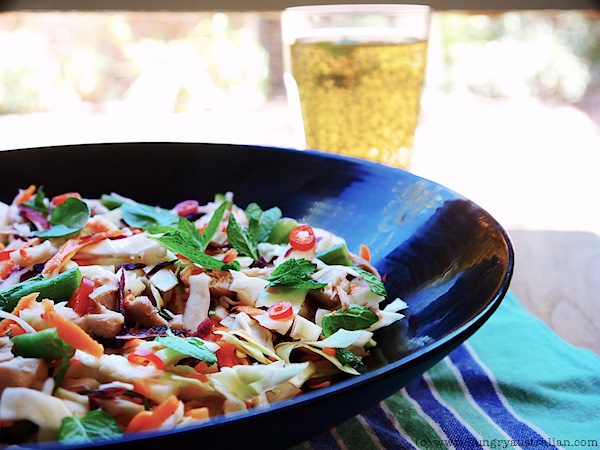 After paying homage to the Vietnamese pork roll in my last post about Mini Vietnamese Pork Buns, it's now time to honour the simple and delicious Vietnamese Chicken Salad (Goi Ga).
Vietnamese salads always taste so amazing, and they're so healthy and low-fat, too. In fact, I wouldn't be surprised if you burn more calories eating this dish than are actually in the dish. This is even more so if you cut the cabbage too big like I did as your jaw will get a real good work out. (Hot tip: grate the cabbage with a vegetable peeler).
This Vietnamese Chicken Salad would serve two as a light lunch or four as a side dish. If I was making this for dinner I would add steamed rice and one extra dish for two people (add one extra dish per additional guest). Ideally, I'd sweet-talk Mr Hungry Australian into cooking Vietnamese Beef in Betel Leaves (Bo Nuong La Lot) and Vietnamese Spring Rolls (Cha Gio), two dishes he learned to cook with with Meera Freeman (author of The Flavours of Vietnam) many moons ago in Melbourne.
This post, my last post for 2011, has been written for the final Delicious Vietnam, a monthly event celebrating Vietnamese food created by A Food Lover's Journey and Ravenous Couple. Thanks Anh – I'm glad I made the last one!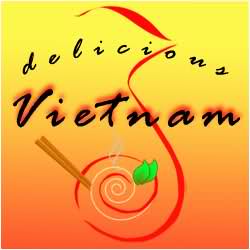 INGREDIENTS
3 chicken thighs, trimmed of fat
1/4 cabbage, finely grated
1 orange carrot, finely grated
1 purple carrot, finely grated (substitute with an orange carrots if purple carrots are unavailable)
Handful green beans, topped, halved and blanched
Few sprigs Vietnamese basil, leaves torn into pieces
Few sprigs mint, leaves torn into pieces
1-1.5 tablespoon fish sauce (I like MegaChef brand)
2 tablespoons rice wine vinegar
1-2 teaspoons sugar
1/4 lime, juiced or 2 tablespoons lime juice
1 teaspoon ground chilli (sambal olek)
1 tablespoon water
Dried shallots, to garnish (available in plastic jars from Asian grocer)
Ground roasted peanuts, to garnish (optional)
1-2 fresh Birds Eye chilli, to garnish (optional)
Poach chicken thighs in slowly simmering water until cooked through. Leave to cool for a few minutes on a chopping board and then roughly cut into small pieces.
Add chicken, cabbage, carrots and beans to mixing bowl. Throw in mint and basil.
In a small bowl, mix fish sauce, rice wine vinegar, sugar, lime juice, chilli and water until the sugar has dissolved. Taste and adjust as necessary. Pour over salad and mix thoroughly to combine.
Transfer to serving plate and garnish with extra fresh herbs, fried shallots, peanuts and chilli.
Serve immediately.