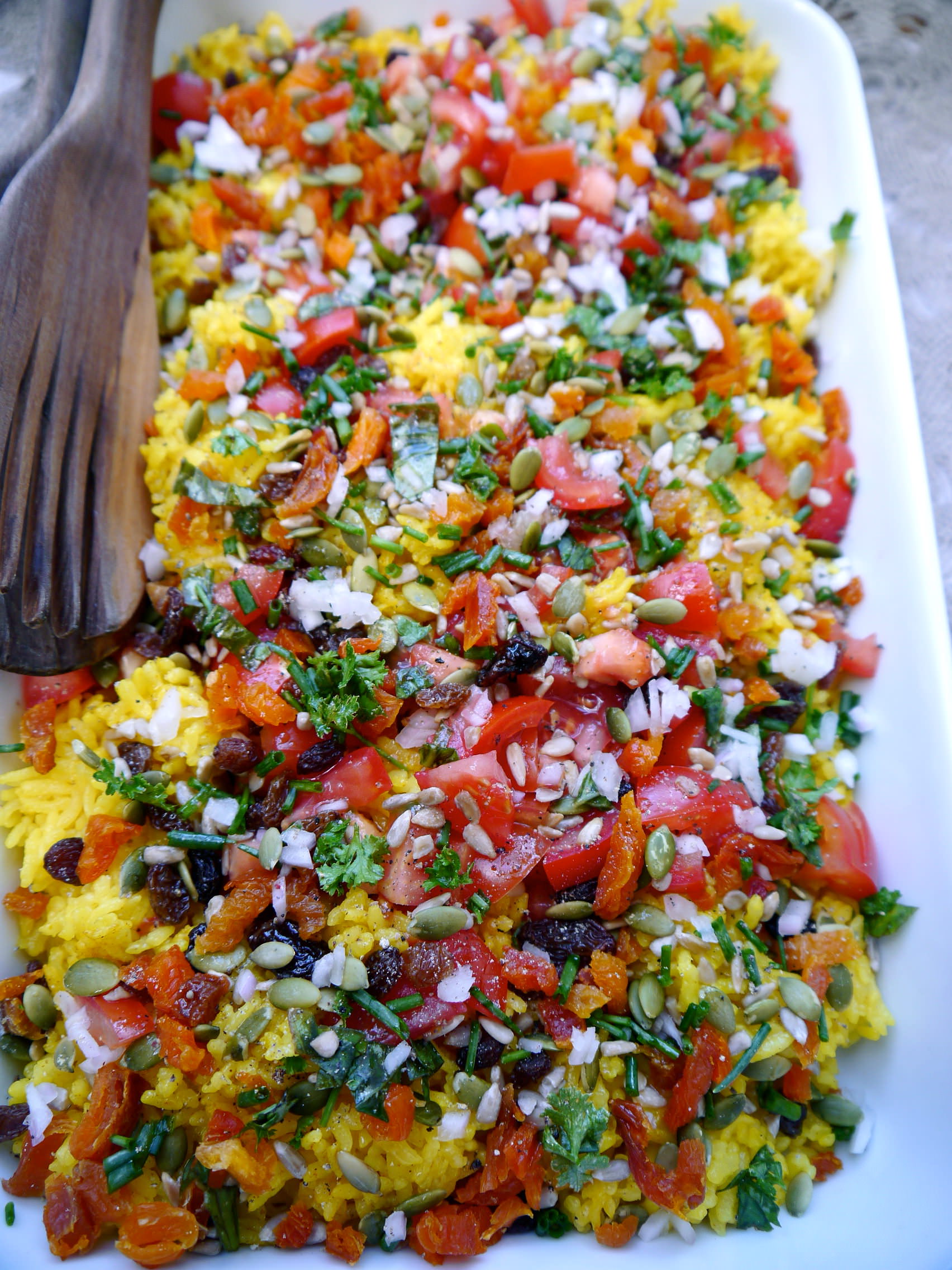 My dear friend Eli once cooked me a delicious rice salad when we were both living in London in the early 2000s.
As an Australian-born Chinese, I've eaten a lot of rice. I've had it steamed, fried, and boiled until it collapsed into a congee (jook jook). I've had a glutinous dough form of it wrapped around sweet bean pastes and rolled in shredded coconut and sesame seeds. I've had it infused with coconut milk (nasi lemak) and cooked in Chicken stock (Hainanese chicken rice).
But I'd never eaten rice cold in a salad before. The thought had never even crossed my mind as the only rice salads I'd come across had looked drab and unappetising – they seemed like afterthoughts rather than the main event.
So Eli's rice salad with nuts, seeds and fruits was a revelation.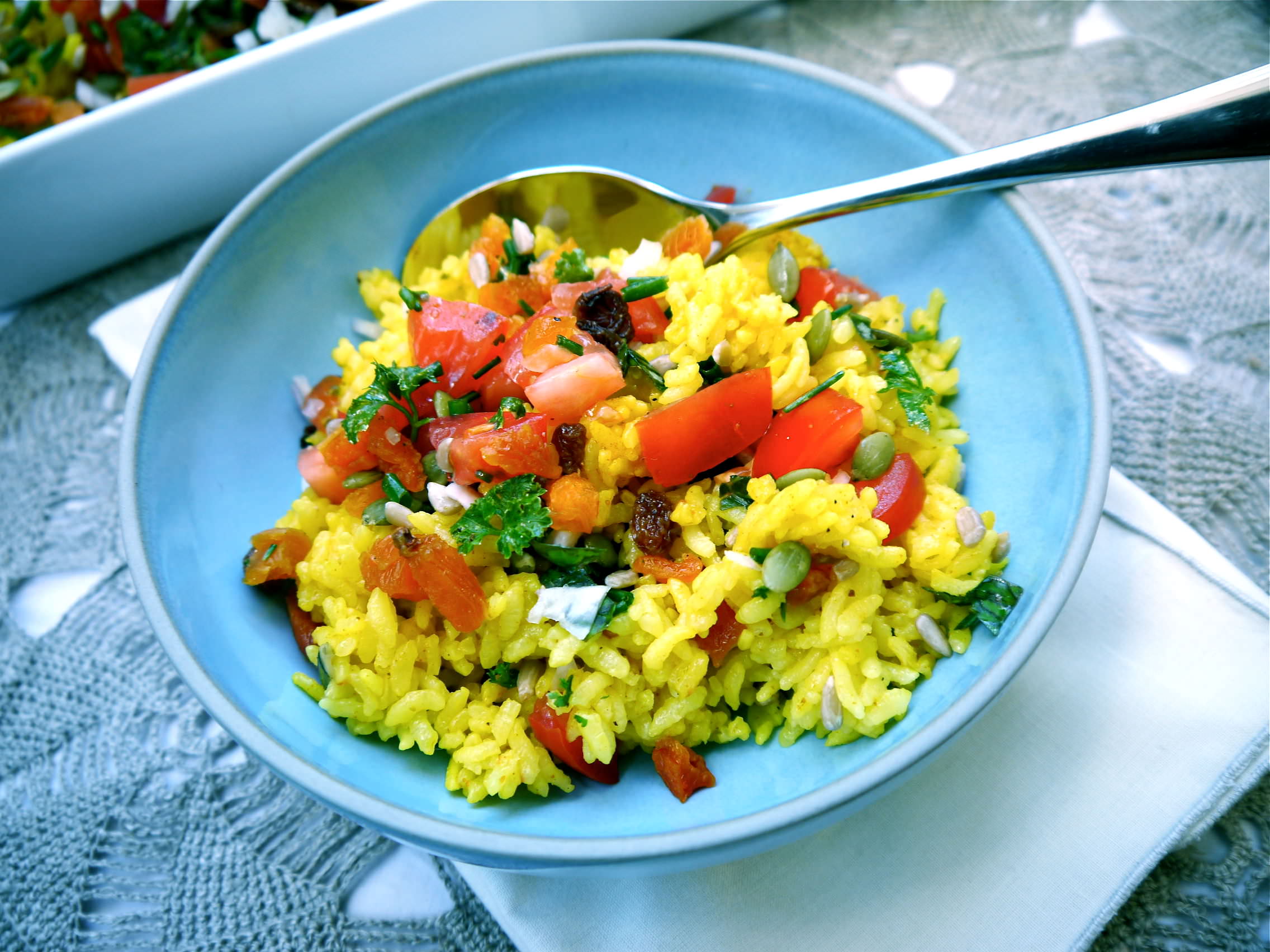 I was reminded of her salad at the recent lunch to celebrate the Spencer Gulf Prawn Fisherman's MSC certification. As one of the sides to the spectacular barbecued Spencer Gulf King Prawns, we were served a lovely saffron rice with orange zest, cranberries, sunflowers seeds, parsley and chives.
So today when I was thinking about sides to accompany some barbecued hoison pork strips and lamb sausages, I immediately thought of making a rice salad.
I wanted my rice to be similarly golden-hued but used turmeric instead of saffron, bumping up the Middle Eastern flavours with cumin and coriander. I then sprinkled over fresh herbs, seeds, nuts, dried fruit and diced vine-ripened tomatoes on top, finishing it off with a tangy lemony dressing.
My rice salad was lovely to look at – the brilliant colours make me feel instantly perkier – and it was wonderfully tasty, too. As I ate I took in the different flavours and textures of the ingredients – the tang of the vinegar and lemon, the sweetness of the sultanas and apricots, and the crunch of the pumpkin seeds and pine nuts.
So next time you're wondering to make to serve with barbecued meat or seafood, take a walk on the wild side and make a rice salad.
Your taste buds will thank you.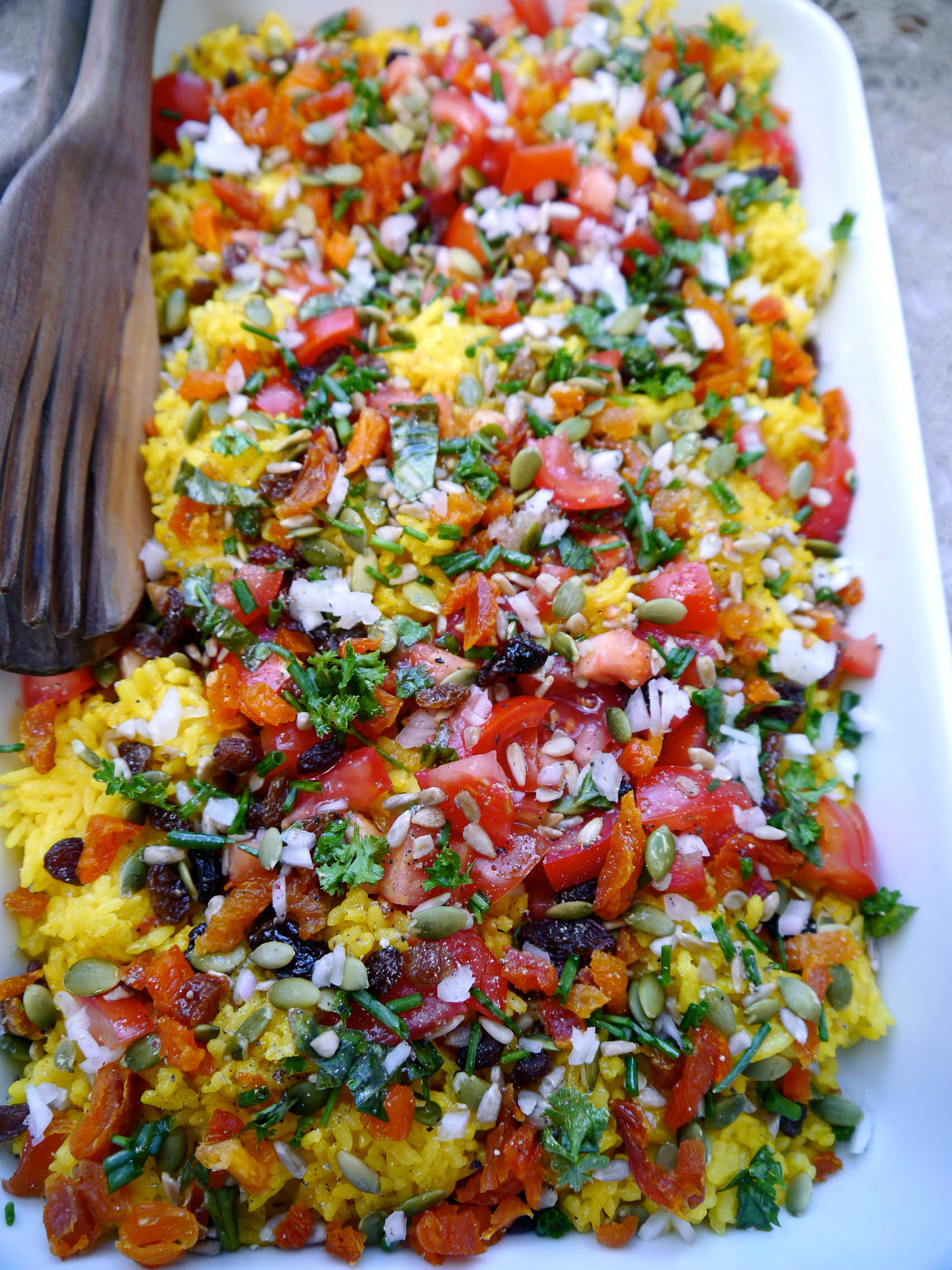 INGREDIENTS
2 cups of rice
Water
1 tablespoon turmeric
1 teaspoon cumin
1 teaspoon coriander
4 medium vine-ripened tomatoes
1/6 diced Spanish onion
30 grams pumpkin seeds
30 grams pine nuts
40 grams sultanas
50 grams diced apricot pieces
4 spring onions, finely diced
1 handful fresh herbs e.g. basil, parsley and mint
3 tablespoons garlic infused olive oil
2 teaspoons red wine vinegar
1 teaspoon honey
1-2 tablespoons freshly squeezed lemon juice
Salt & pepper
METHOD
Cook rice according to your usual method (I use my rice cooker) with your usual amount of water, adding turmeric, coriander and cumin to the cooking water. I figure out the quanity of water required by adding it until it reaches the first section of my pointer finger so I'm afraid I can't be more specific about how much you'll need in your rice cooker or saucepan.
Once the rice is cooked, leave it to cool, spreading it out in a wide dish to hasten the cooling process.
Dice tomatoes and then scatter over the rice, along with the onions, pumpkin seeds, sultanas, apricot pieces, spring onions, and fresh herbs.
Make a dressing by combining the garlic olive oil with the red wine vinegar, honey and lemon juice. Grind fresh pepper and add a teaspoon of salt flakes. Sprinkle over the rice and then mix thoroughly. Taste and adjust seasoning if required.
Serves 6.