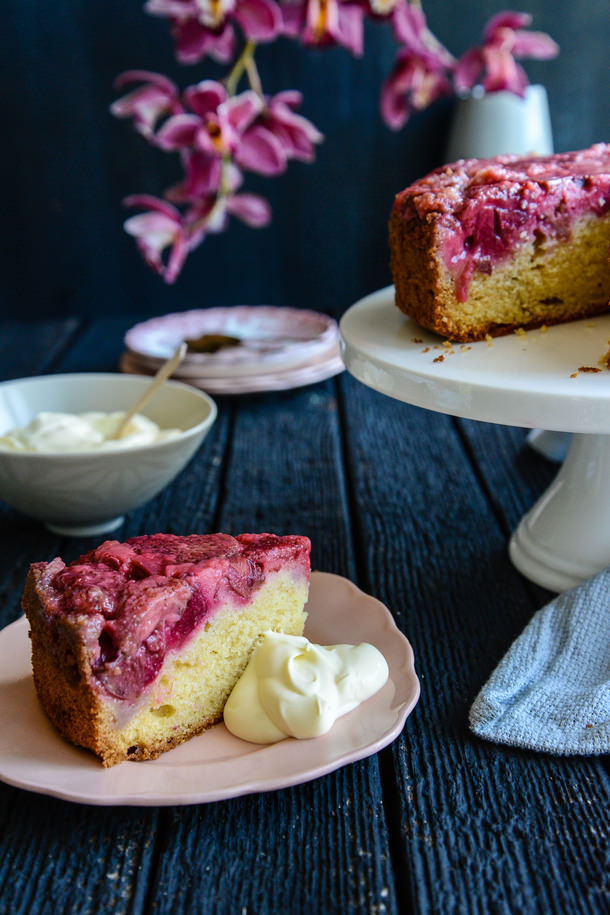 After the success of my Plum Upside Down Cake in honour of my literary heroine, Anne of Green Gables, I knew I had to continue down this topsy turvy path.
So when I spotted some gorgeous rhubarb and strawberries at my local greengrocer I knew just what to cook: Strawberry and Rhubarb Upside Down Cake.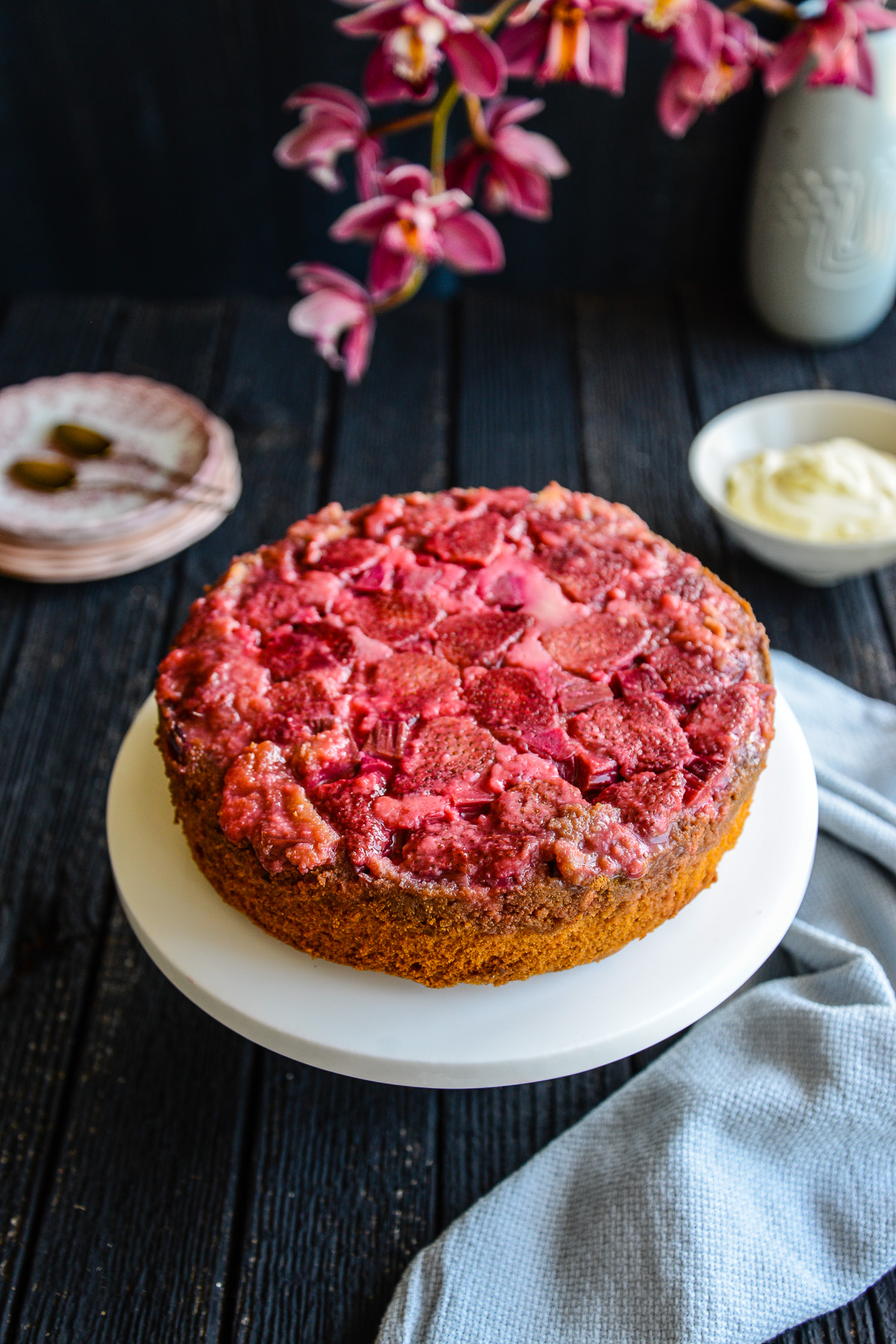 The great thing about upside down cakes is that they need no added decoration or icing – they come out of the oven ready to serve.
This cake is really simple to make, it's enchantingly pretty and it tastes great, too. This is a perfect cake to keep covered on your kitchen bench for morning and afternoon tea as it's not too sweet, heavy or rich.
I like serving this with thick cream but it would be equally good with vanilla bean ice cream or even vanilla yoghurt. Enjoy!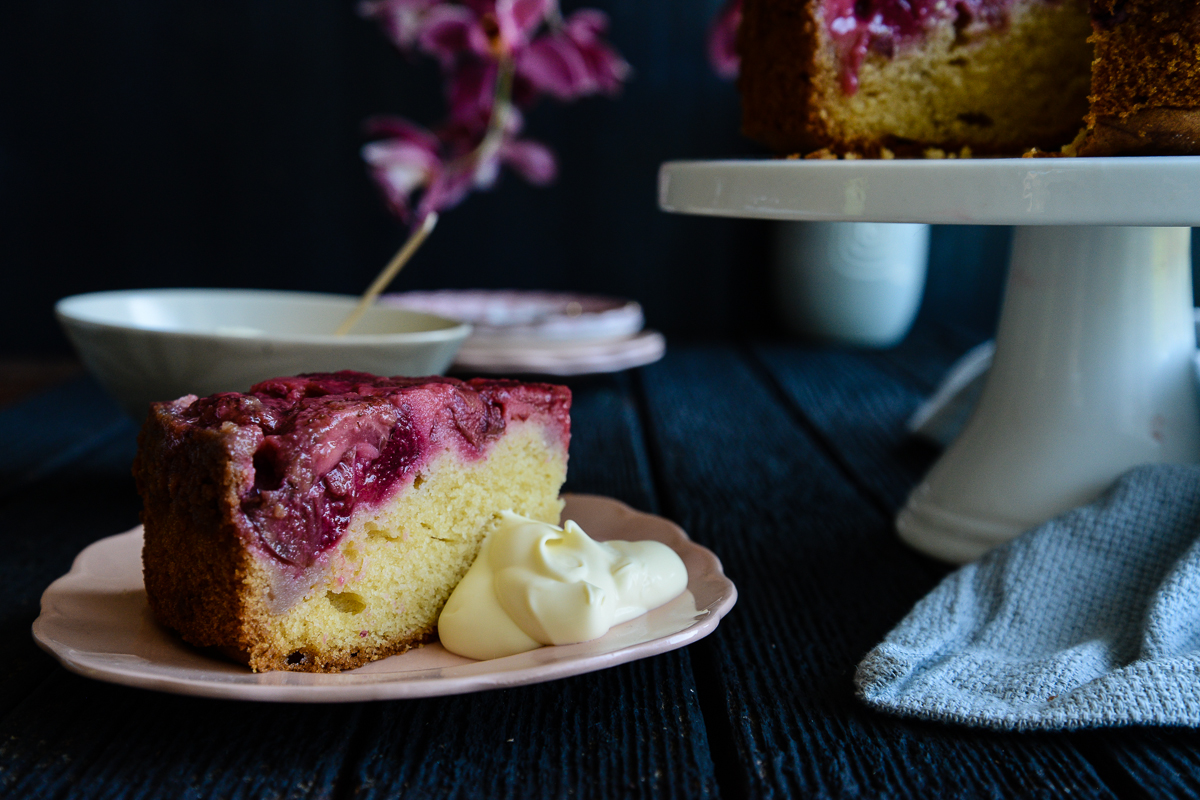 Strawberry & Rhubarb Upside Down Cake (Dairy and Refined Sugar Free)
INGREDIENTS
50mls agave syrup, plus another 50 mls
10 grams butter or margarine (I used Nuttlex)
1 punnet strawberries (approx. 250 grams) hulled and halved
1 bunch rhubarb stalks, trimmed of leaves (approx. 380 grams) cut into 1cm pieces
125 grams butter or margarine, room temperature (I used Nuttlex)
1.5 cups plain flour
1 teaspoon baking powder
1/2 teaspoon bicarbonate of soda
3/4 cup sugar (I replaced the sugar with a 1:1 granular Stevia)
2 eggs
1 teaspoon vanilla bean extract or essence
1/2 cup milk (I used rice milk)
METHOD
Preheat oven to 190 degrees Celsius.
Grease a 20cm cake tin with a removable base. I like to use a soya baking spray.
Heat up 50msl agave syrup and 10 grams butter in a small saucepan.
Pour syrup and butter mixture into the cake tin and tilt tin so bottom is completely covered.
Arrange strawberries and rhubarb attractively in cake in. Drizzle over remaining (50mls) agave syrup.
Put flour, baking powder and bicarbonate of soda in a small bowl and combine with a spoon.
Using a stand or hand mixer, beat 125 grams butter and sugar  in a large bowl until light and creamy (about 4 minutes).
Add vanilla extract or essence and then add eggs, one at a time, being sure to beat the mixture well after each egg.
Add half flour mixture and half milk and then beat again for another minute.
Add remaining flour and milk and beat again for another 2-3 minutes until mixture is well combined and airy.
Pour over fruit mixture in cake tin and even out top with an offset spatula (or  tap the tin a few times on the kitchen bench).
Bake in the oven for 15 minutes at 190 degrees Celsius and then reduce heat to 180 degrees Celsius and bake for another 35 minutes. Check with a skewer to see if the cake is cooked – if it's not give it a few more minutes and try again.
Remove the cake from the oven and allow it to cool completely.
Run a spatula around the edge of the cake tin and then gently turn the cake out onto a cake platter or plate.
Serves 8-10.
More Rhubarb and Strawberry Recipes
Subscribe to The Hungry Australian
Don't want to miss a post? Sign up to receive new posts 2-3 times a week – it's FREE!!