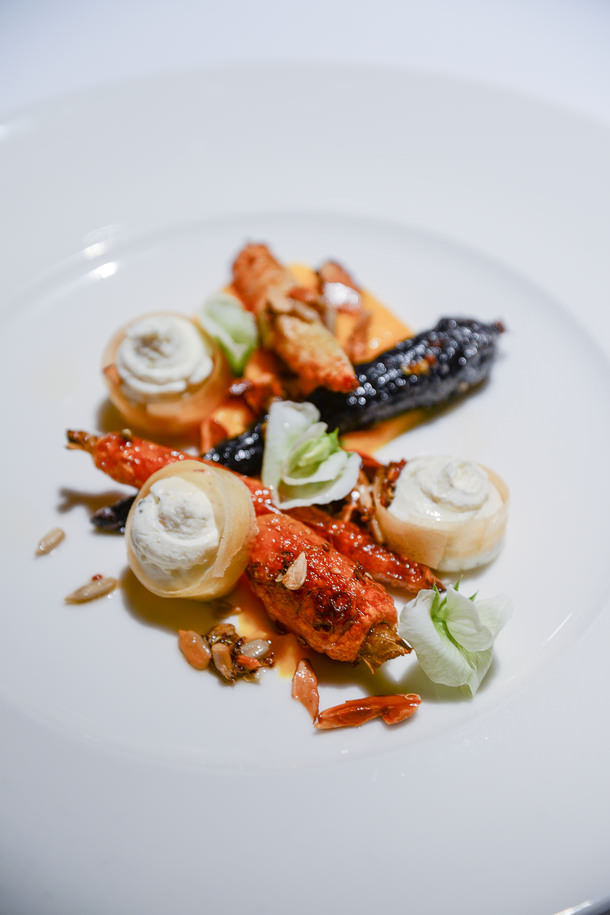 Last month I visited Tasmania as a guest of Tourism Tasmania. The first 36 hours of my Tasmanian trip were spent exploring Hobart where I ate an extraordinary amount of food. This post covers the next part of my trip. 
After my last stop in Hobart — Sweet Envy — I jump into my hire car and hit the highway. My next stop is Swansea on the East Coast of Tasmania. It's there I'm going to stop for afternoon tea before heading onwards to Freycinet National Park.
Kate's Berry Farm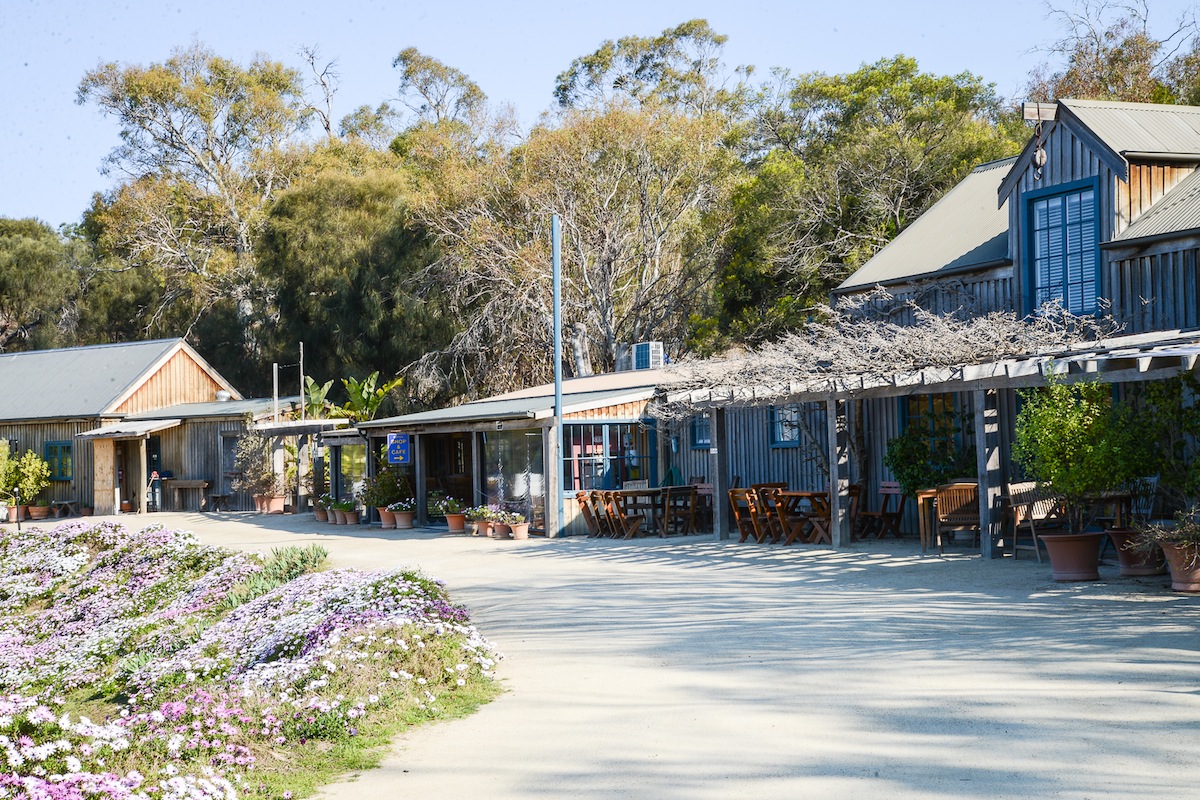 Kate's Berry Farm is situated up a long dirt road in Swansea. Set high on a hill it has enviable views across Great Oyster Bay to the Freycinet National Park where I'll be staying tonight.
This is Kate.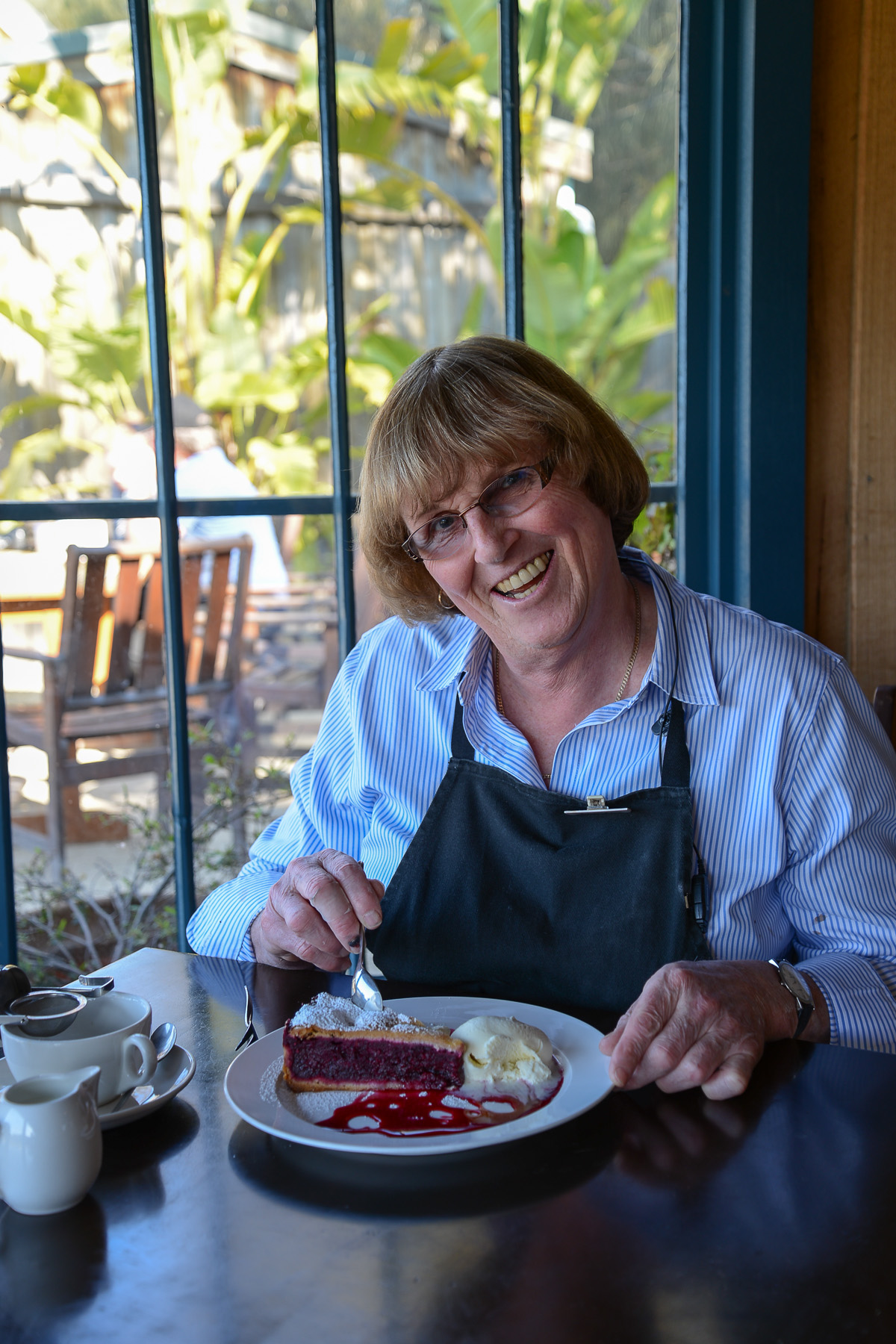 I'm surprised to find only a small number of vines; it turns out that the majority of Kate's berries are actually grown up North where there is more rain. Kate's berries are grown using only organic fertilisers and she also has a range of sugar-free jams for those watching their sugar intake.
After a quick tour, Kate and I sit down for a pot of tea and a slice of her signature Humbleberry Pie made from blackberries, boysenberries and apples. The thick wedge of fruit filling is firm and not too sweet — just the way I like it —  while the vanilla bean ice cream is rich and creamy.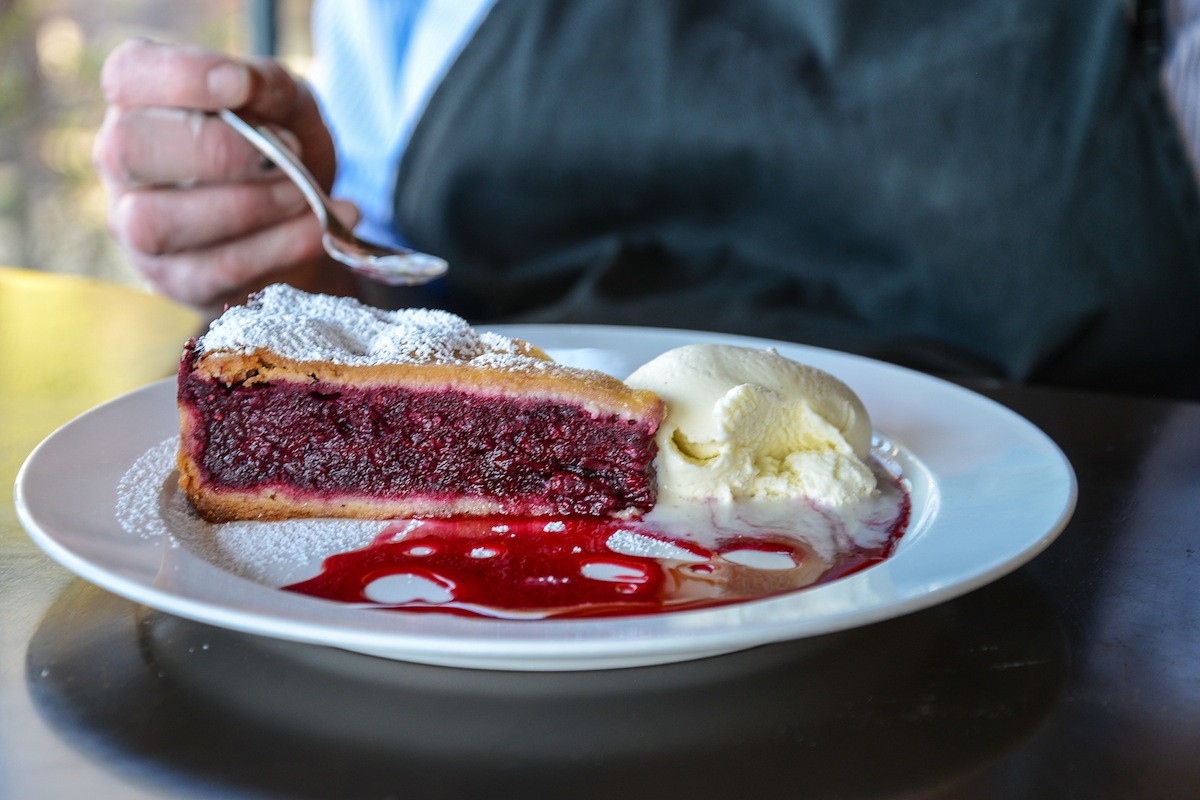 Kate started the business 20+ years ago after moving to Swansea from Victoria in the late 80s. A conversation with a local berry farmer who was having trouble selling his berries sparked her interest and she decided to create her own berry farm. A true pioneer, she took a hands-on approach to building the farm, turning the soil and even laying the original floor in what is now the cafe and shop.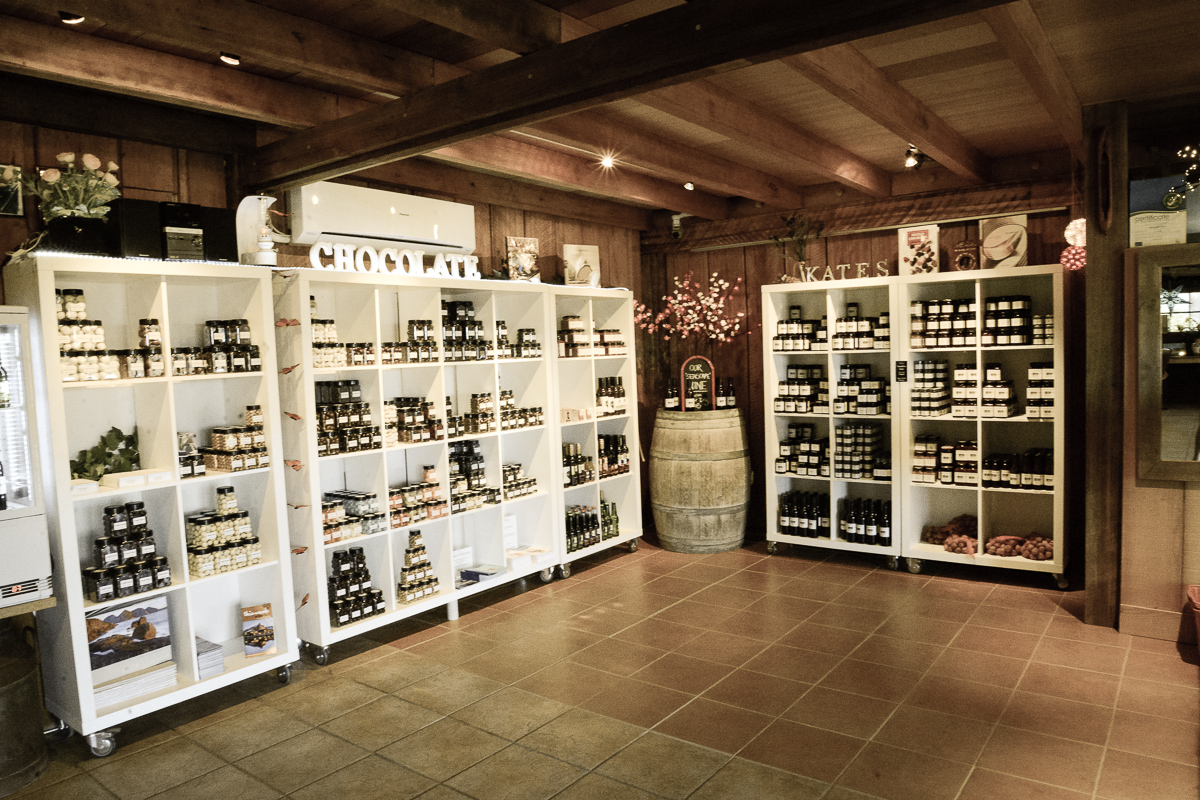 The original shop was about a tenth the size of her current shop. Back then she sold only jams and ice creams.
Nowadays she sells home-made jams — mingleberry comprising raspberries, strawberries and blackberries is a best seller — as well as sauces, jellies, chocolates and of course berries when they are in season. Her cafe, Just Desserts, offers berry pie, berry ice cream, regular and gluten-free scones and Belgian waffles, as well as all the usual tea and coffees.
As someone from Victoria, Kate was originally viewed with suspicion by the close-knit local community. She was advised to 'get involved' so she threw herself into local activities, heading up the local Emergency Services for 20 years.
"We did everything from car crashes to fire – you never knew what to expect when you got the call," she says sombrely.
That kind of commitment no doubt won her friends and respect within the local community and today she talks about the local food and wine scene with the ease of someone who is part of the establishment.
For Kate, her sea change has brought her much satisfaction.
"I won't ever retire," she says. "I love what I do here."
Palate, Saffire Freycinet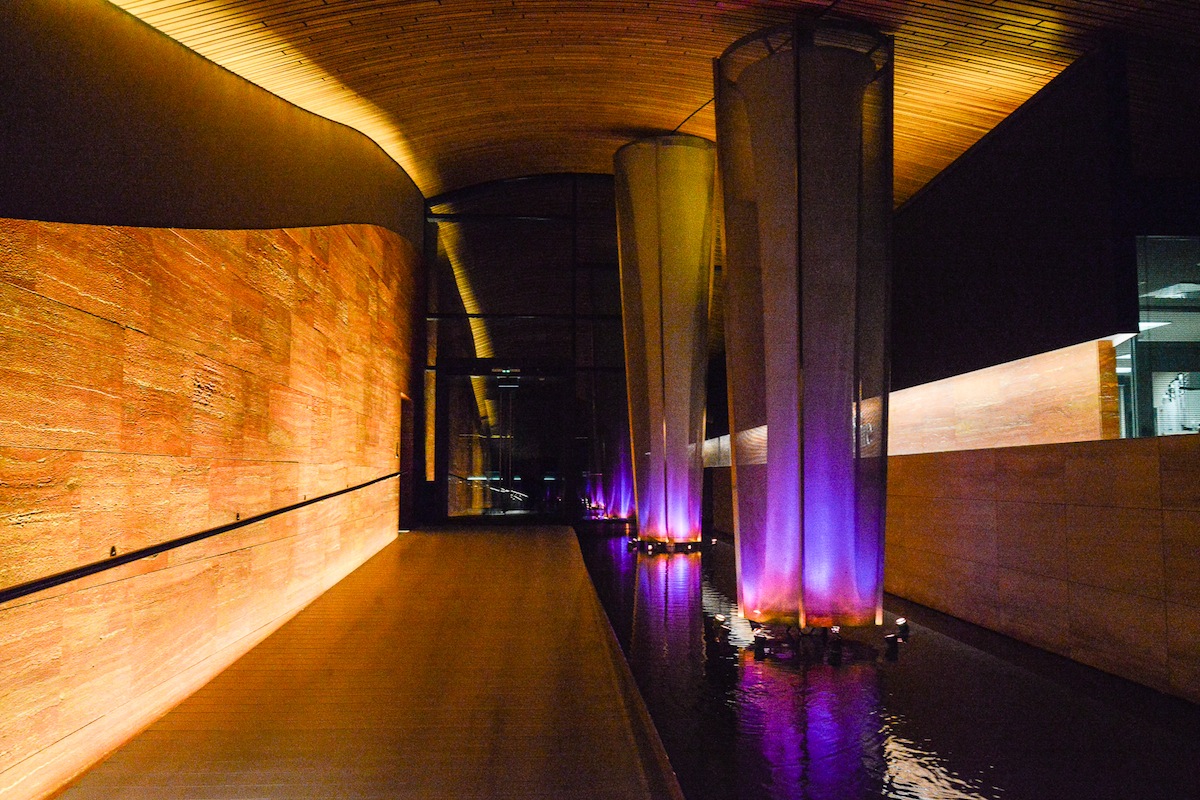 There are some restaurants that are smart, some that are hip, and there are some that are just downright sexy.
From the entrance it's clear that Palate, possibly the most exclusive restaurant in Tasmania, is one of the latter.
As the fine dining restaurant at Saffire Freycinet, Tasmania's only six star luxury boutique resort, Palate is usually for hotel guests only. I'm staying up the road tonight at the Freycinet Lodge but had heard so much about Saffire I called to see if I could dine at Palate. The guests services manager graciously agreed and now here I am.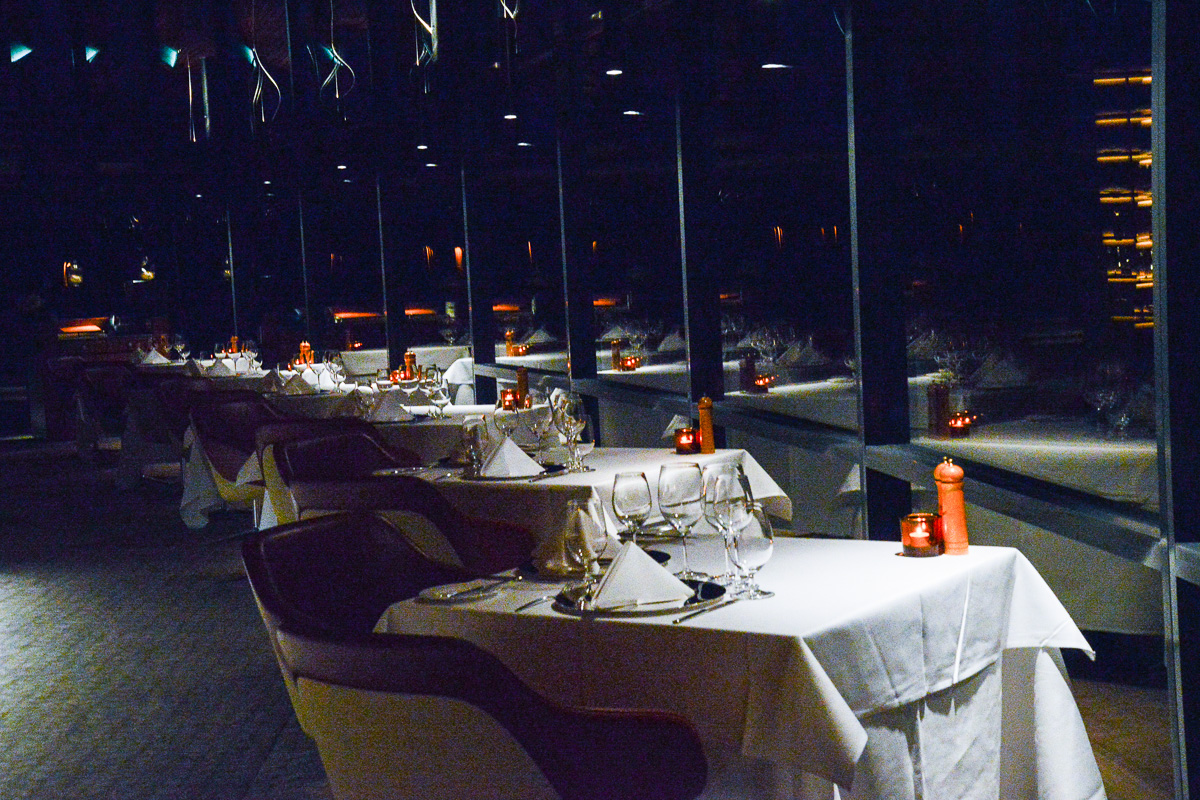 Inside the dining room is immaculate. The fit out is luxurious and designed for privacy – there's ample room between the tables and the discreet lighting provides intimacy while still providing plenty of light. It's a shame I can just barely make out the sea through the floor to ceiling views – I imagine having drinks here at sunset would be spectacular.
The five-course tasting menu is $150 for visitors. I'm offered the choice of à la carte as well but I am keen to try the tasting menu.
To begin I enjoy a glass of Clover Hill Tasmania Cuvee. It's delicate and elegant, with luscious strawberry notes.
The complimentary bread is an excellent corn and basil roll. Finely chopped basil gives the bread a wonderful taste and aroma. I eat way too much of it considering I have five courses ahead of me.
The first course is sugar cured ocean trout with avocado, ruby grapefruit, spanner cab and wasabi leaf.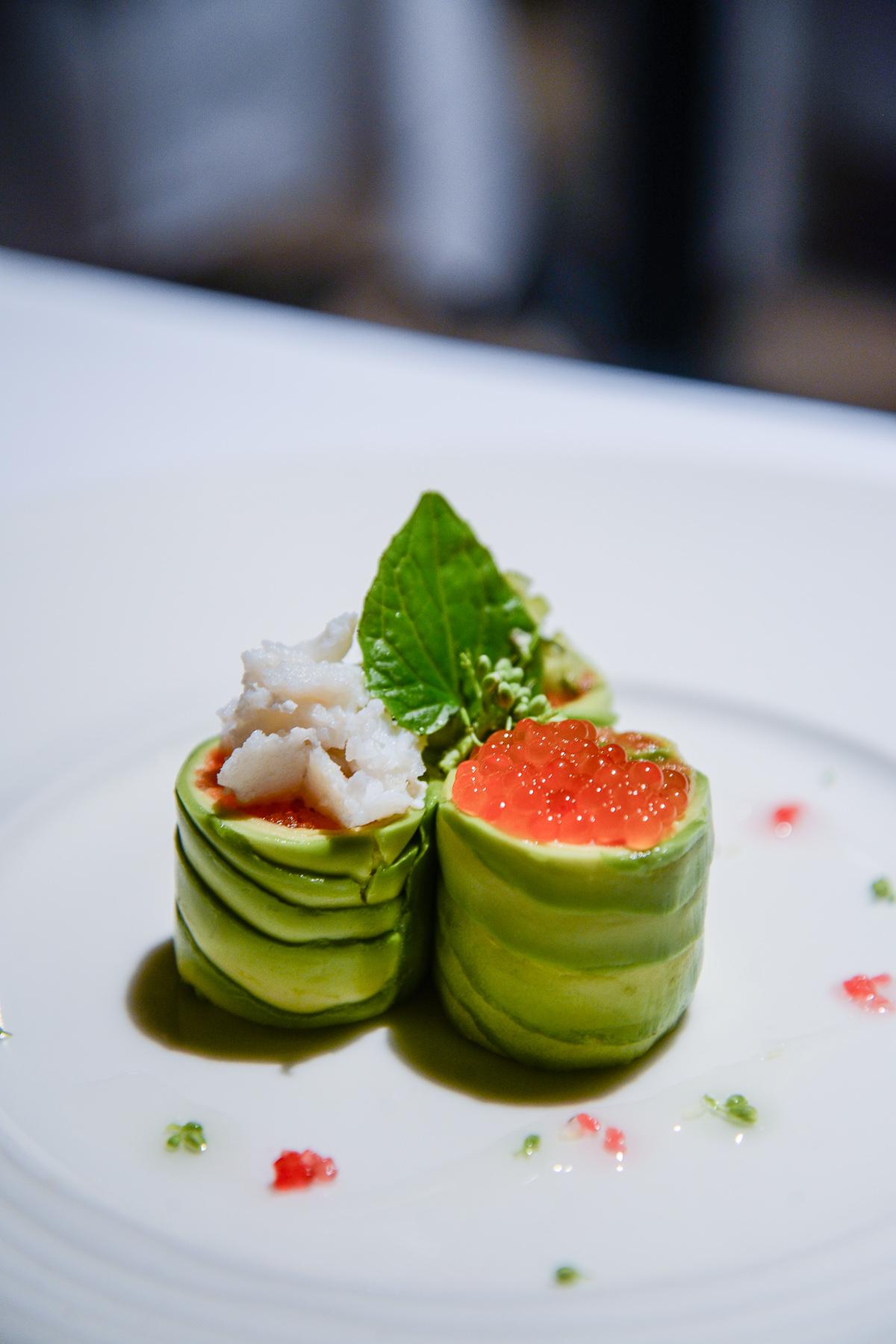 This is one of the prettiest savoury dishes I've seen in a while. Fresh avocado has been painstakingly sliced and wrapped around meticulously diced smoked trout which in turn is topped with either salmon roe, picked spanner crab or pickled cucumber.
This dish delivers on taste, too, as the intensity of the smoked trout is beautifully balanced by the mellow sweetness of the avocado. Topping-wise, the crab is incredibly fresh and firm, the salmon roe explodes saltily in the mouth and the pickled cucumber lends a welcome sweet and sourness to the dish.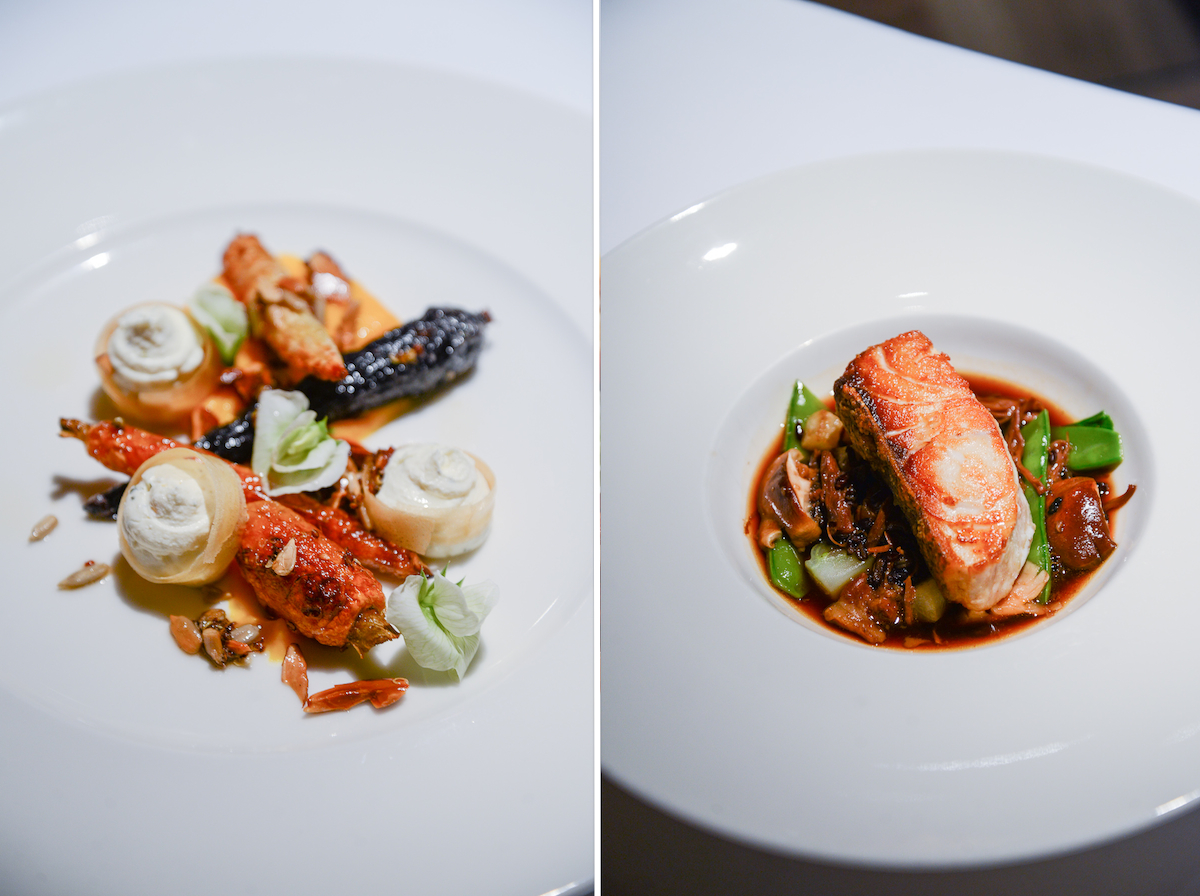 The next course is simply stunning. Roasted heirloom carrots and labneh swirls encased with ethereally thin and fragile Tunisian brick pastry sit on a bed of cloud-like pureed carrots. The carrots are sprinkled with crunchy quinoa and crispy nuts and seeds and the contrast in textures and flavours is exquisite.
The next course ventures back into familiar territory for me. Pan fried hapuka sits atop braised oxtail, shiitake mushrooms and snow peas in a soya sauce, ginger and star anise flavoured sauce. Forbidden black rice and just cooked wintermelon lend some style and flair. I'd happily eat this dish any night of the week.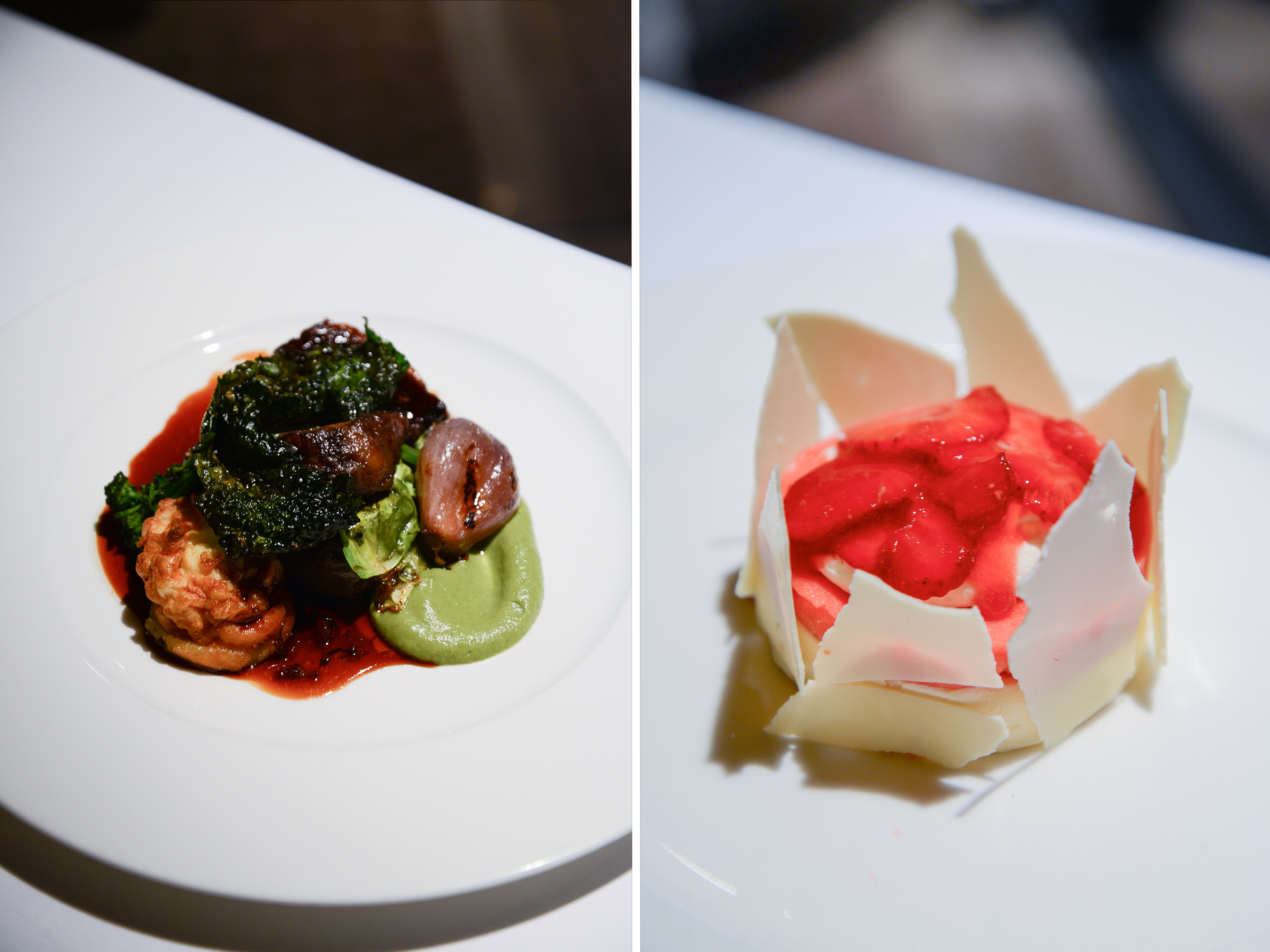 The meat course features Robbins Island pure grass fed wagyu beef, roasted broccoli, Yorkshire pudding and brassica puree with Bercy sauce. The wagyu is perfectly cooked and buttery soft and the dish is topped a piece of smoked bone marrow that simply melts away in the mouth. I have a soft spot for Yorkshire pudding from my time in England and broccoli is my favourite green vegetable so this dish is a winner on all fronts.
The final course — the dessert course — is a white chocolate ice cream covered with a disc of strawberry sorbet, white chocolate mousse and sliced strawberries in rosewater.
In this age of deconstructed desserts it's almost a shock to see a dessert served defiantly intact. Add the chocolate shards and you have a dessert that feels decidedly retro. Eating it, I discover there is a distinct advantage to deconstructed desserts – you don't have to destroy them to eat them; I feel slightly guilty as I slice, spoon and bash. However, it tastes wonderful – I particularly love the combination of rosewater and strawberries.
It's been an impressive dinner. Next time I visit I'll be coming to stay.
Freycinet Lodge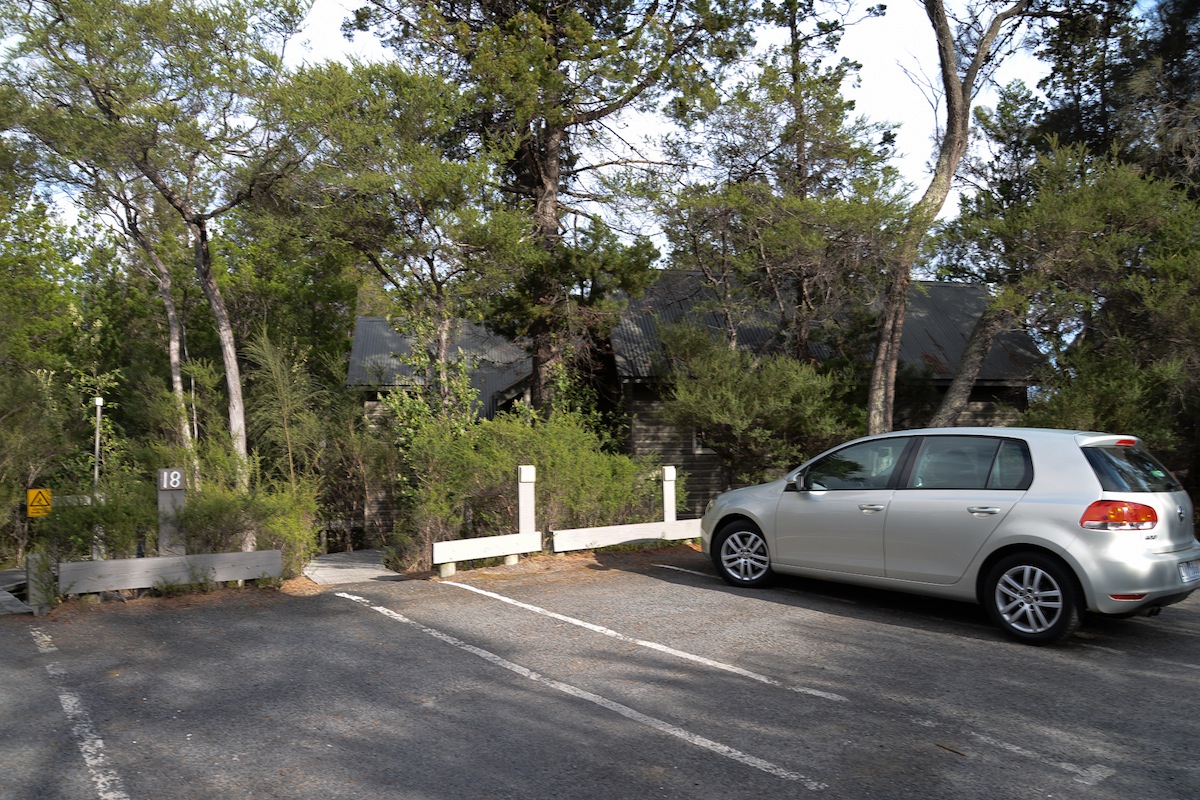 Yesterday when I arrived it was getting dark so I didn't bother taking any photos. But this is where I spent last night – at Freycinet Lodge situated within Freycinet National Park.
Behind all those trees is my cabin. Can you see it?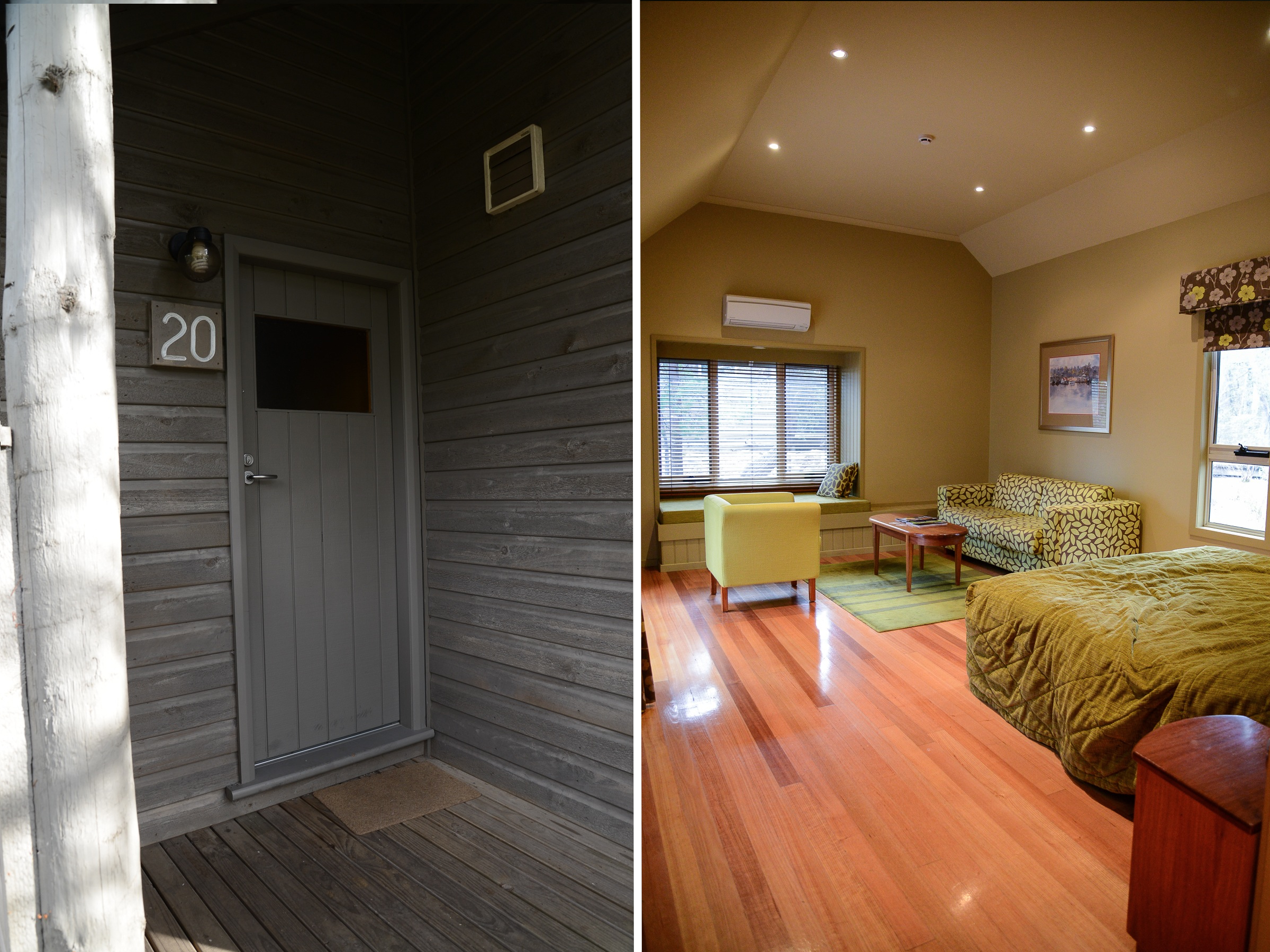 Inside it's nicely furnished and comfortable. There is a CD by a local Tasmanian guitarist playing on the stereo when I arrive which is a lovely touch – the music is so relaxing I buy a CD to take home to my dad. It's quiet and secluded here – actually, it's almost too quiet for one person. There is no TV either, which is a little odd – one of my great travelling pleasures is staying up late watching shows I never usually watch at home.
The next morning I rise at 8am and make my way down to breakfast at The Lodge. Inside people are milling around the buffet and eating their breakfast but I grab some food and sit outside. It's not everyday I get to enjoy my breakfast with a sea view.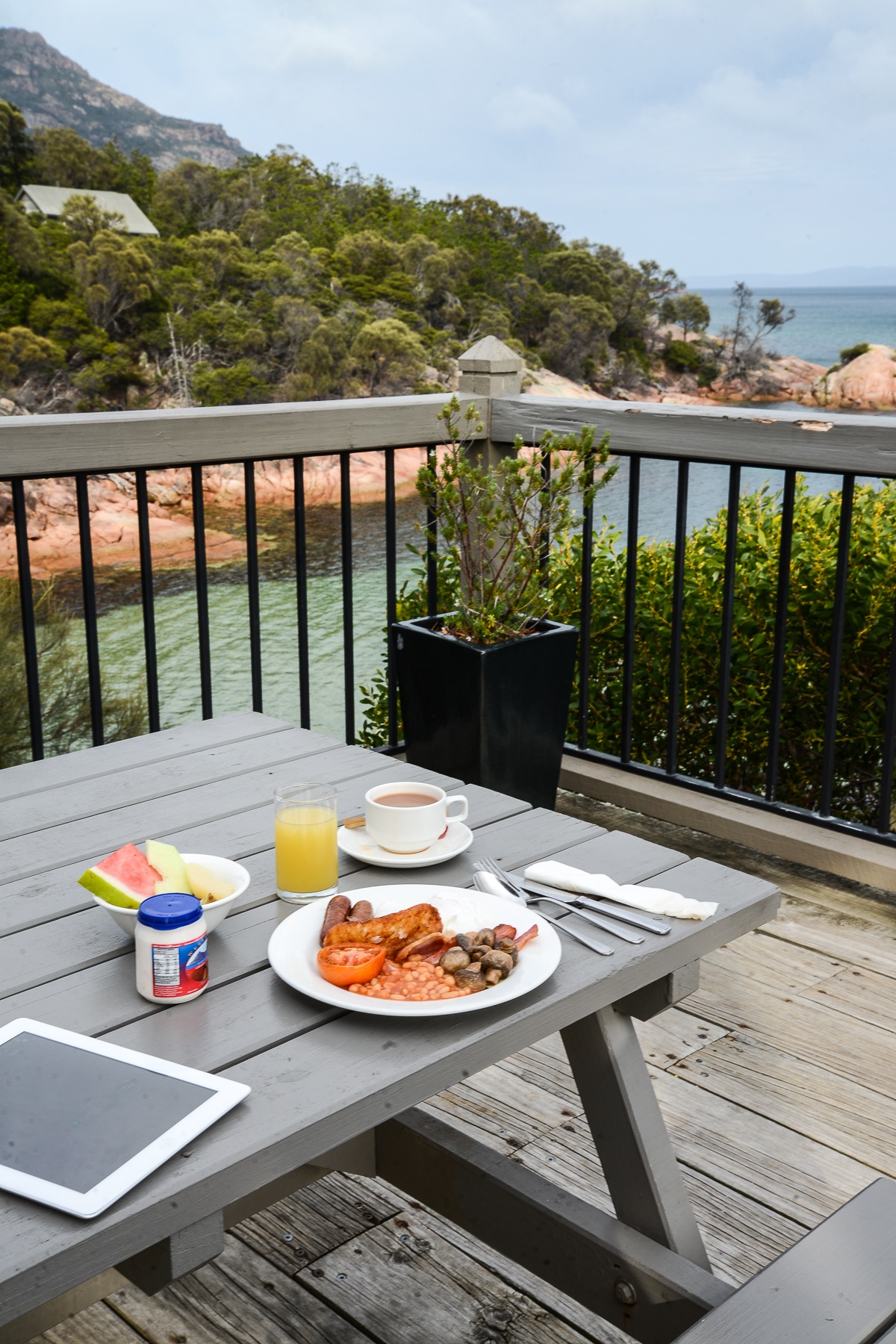 Wouldn't it  be lovely to breakfast like this every day?
Freycinet National Park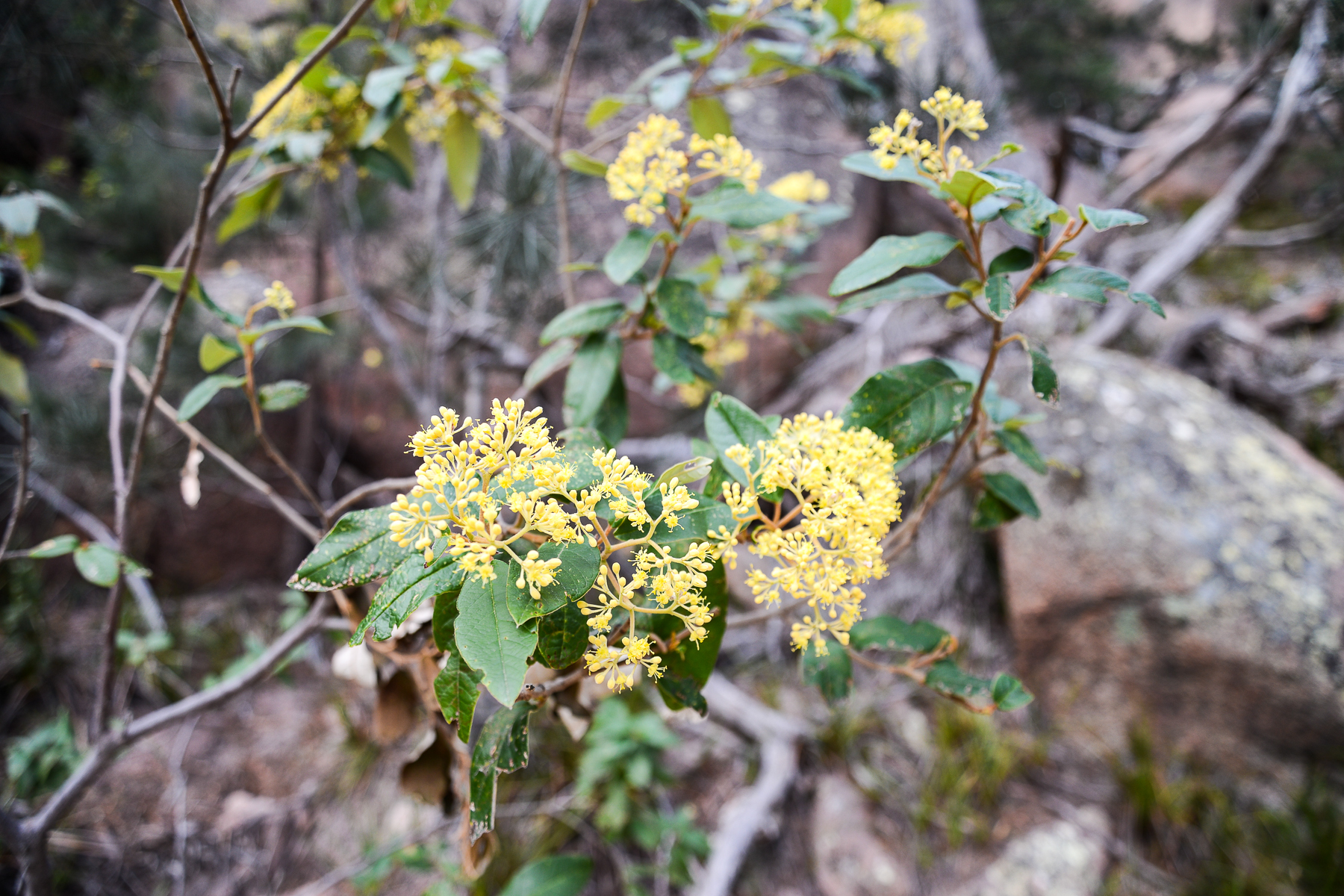 Freycinet National Park has some great walks and hikes. With limited time I decide to do the Wineglass Bay Lookout Walk, a short but energetic climb on a track between Mt Amos and Mt Mayson that usually takes around 90 minutes.
I buy a metal drink bottle at the Park Shop and fill it with water before I start. It's not a hot day but there is no permanent water supply in the park so the park rangers recommend carrying at least one litre of water per person for any walk.
The Wineglass Bay Lookout Walk is extremely steep at parts and the path is covered in fine stones. You definitely want to wear decent sneakers or walking shoes for this one – do not attempt to do this walk in casual shoes or heels.
I spend the time to the top puffing and panting and wishing I exercised more. But the view when I reach the top is worth it.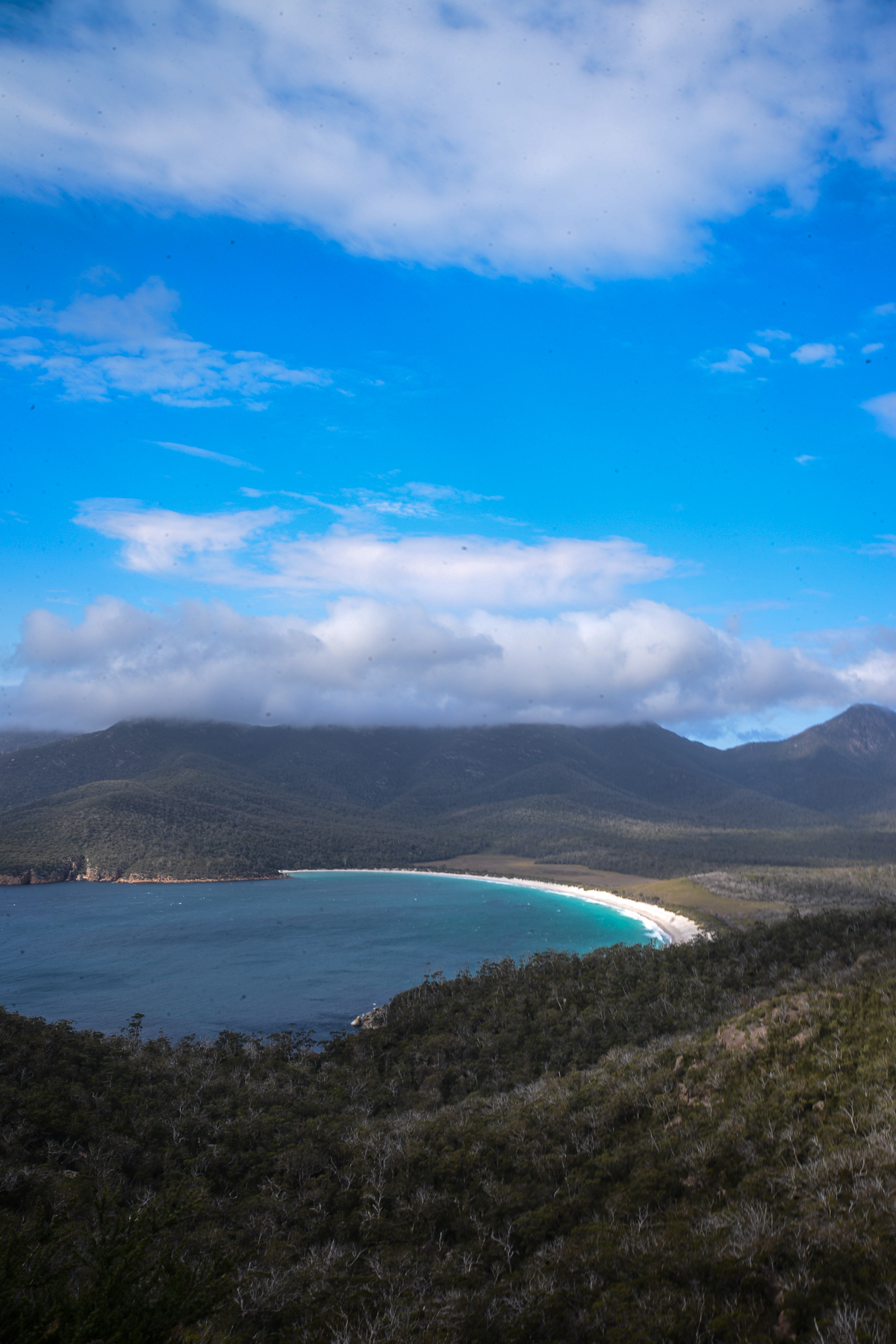 When I reach the car park again, I'm pleasantly surprised to see that I've done the walk in just over an hour. Bazinga!
Freycinet Marine Farm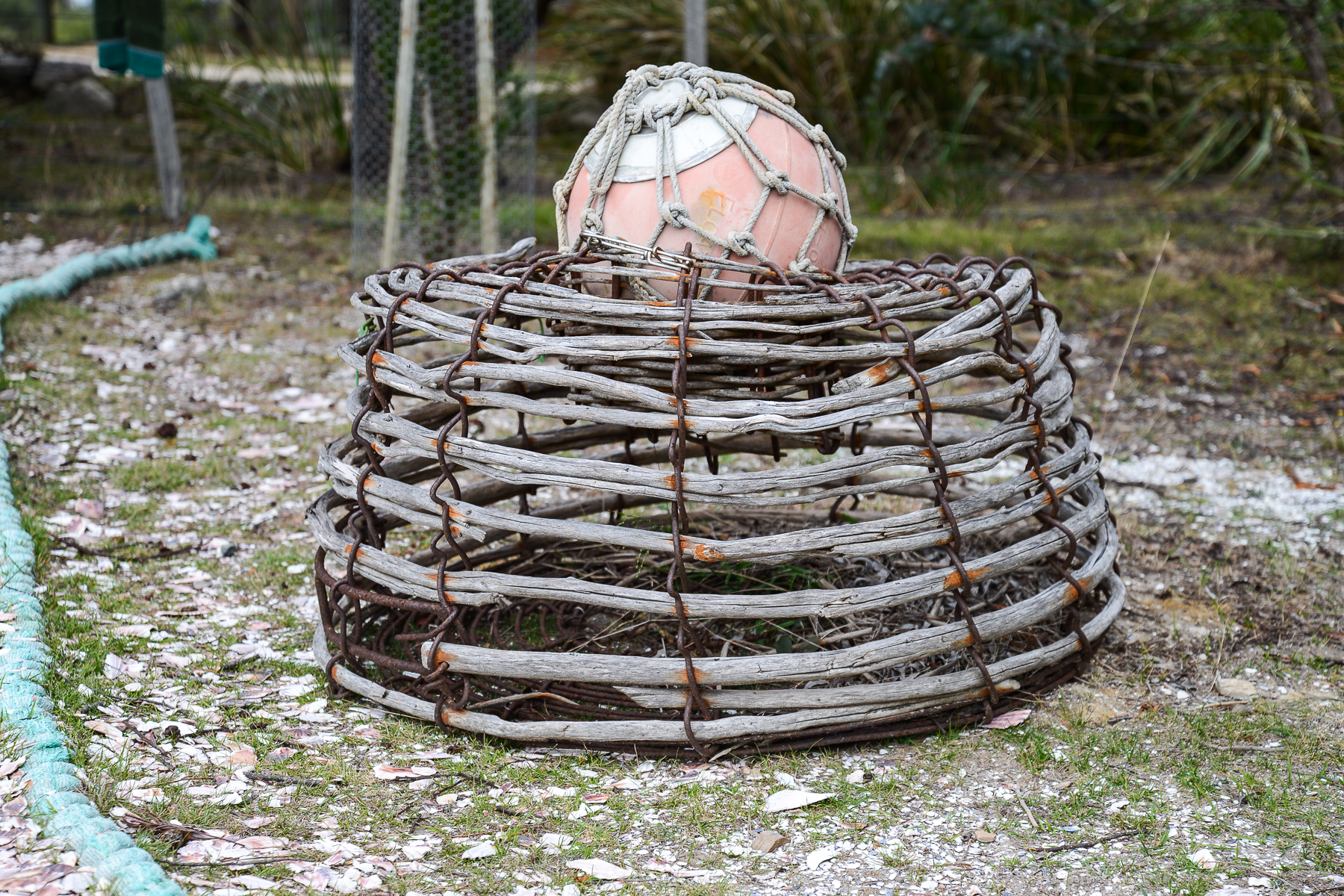 Can you guess what this is? Why, it's a lobster pot. Don't you think it would make a great lampshade?
I arrive at Freycinet Marine Farm not knowing what to expect. But then I see all the scallop shells on the ground and groups of happy people eating seafood with their fingers.
I'm definitely in the right spot.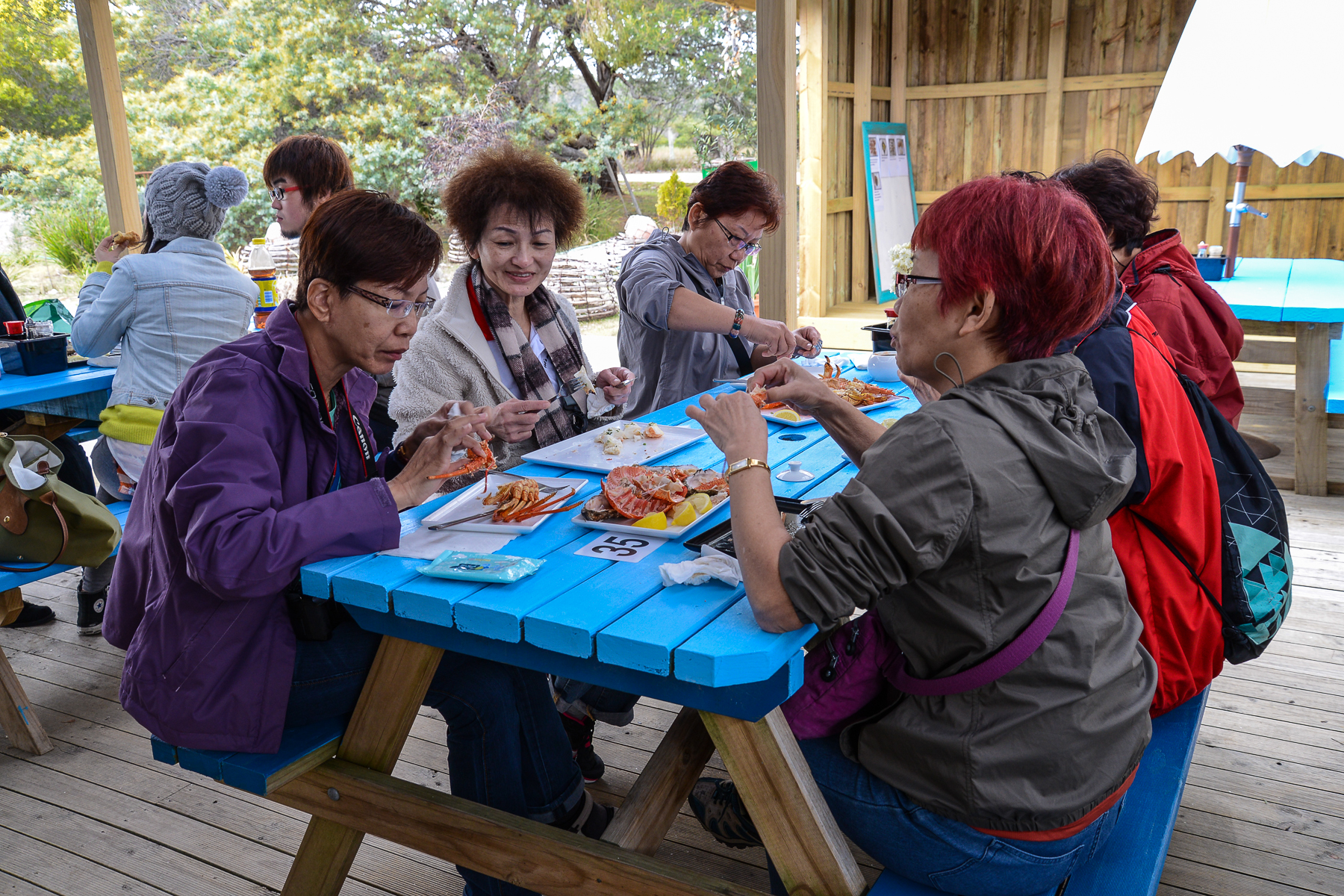 The Freycinet Marine Farm is basically a no-frills outdoors cafe serving fresh Tasmanian seafood. After studying the short menu I order a selection of dishes.
First up is half a dozen Oysters Grilled with Ginger, Soy and Spring Onions ($12).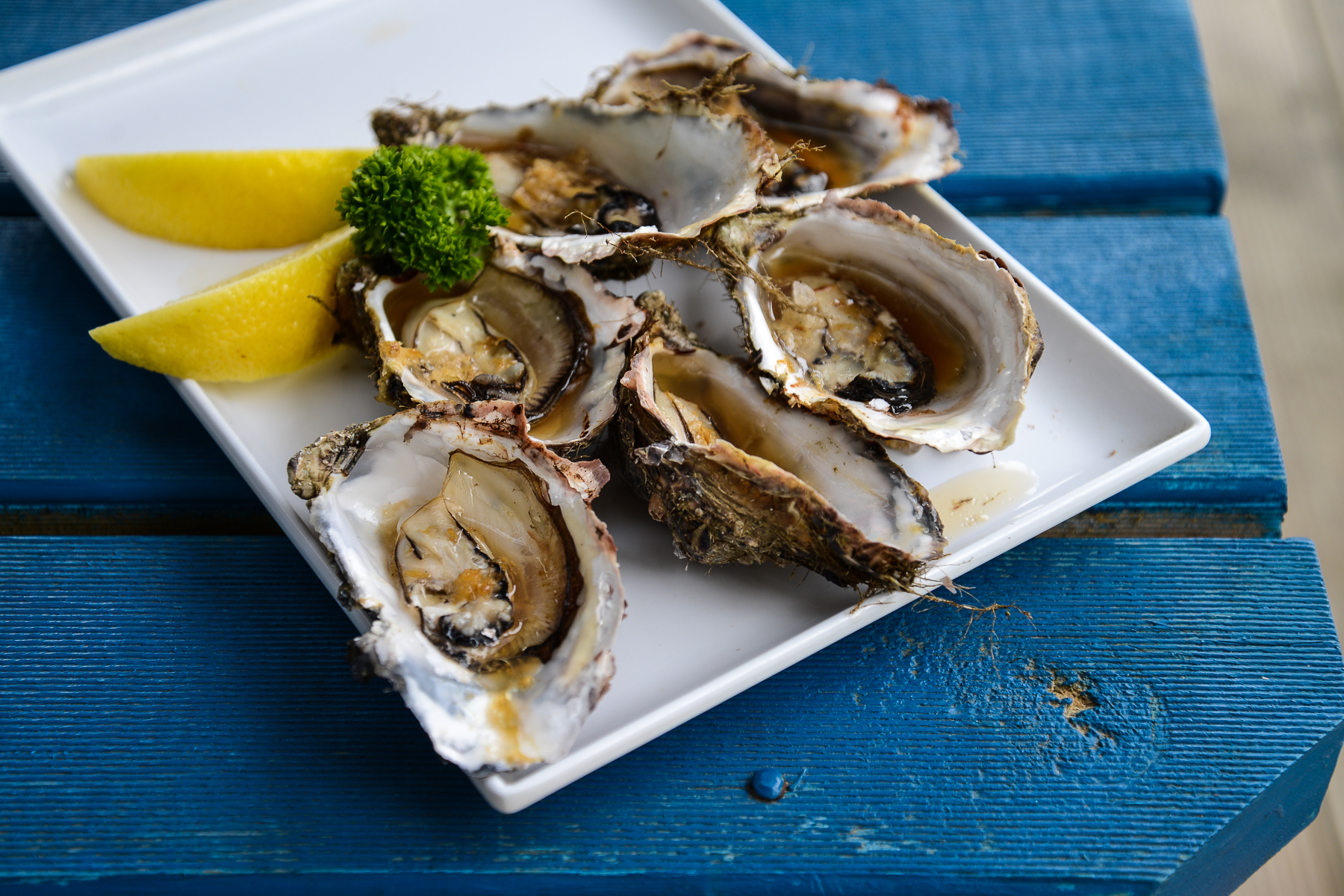 I adore oysters and these are so fresh and plump. I'm loving the Asian dressing, too.
Next up the half lobster or crayfish ($38) arrives.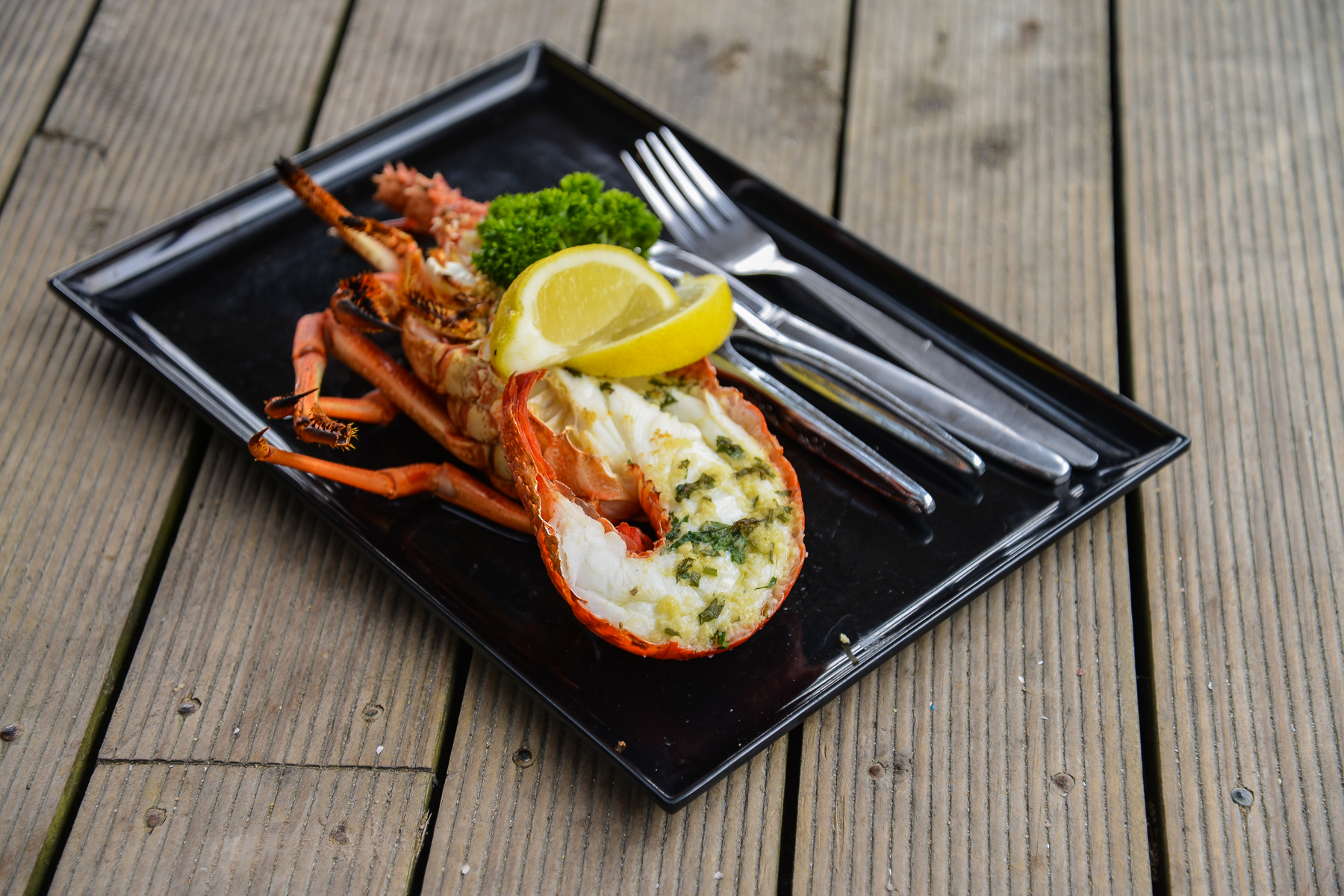 We usually have lobster with mayonnaise or in my dad's Lobster Noodle Stir Fry. Here it it served simply grilled with garlic, butter and parsley. The quality of the seafood is what counts here and the lobster is firm and sweet. Delicious.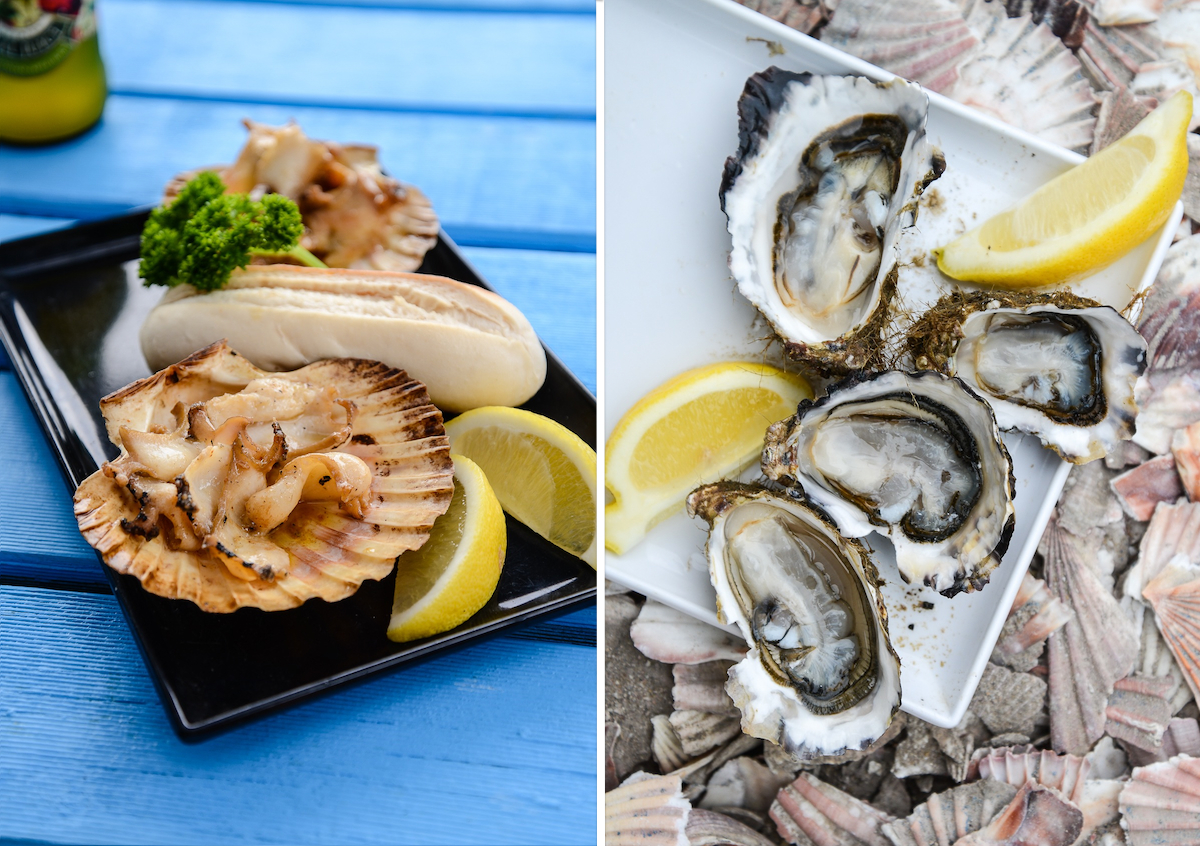 Next the wild-caught Tasmanian abalone ($25) arrives. Like many Asians, I love the subtle taste and delicate texture of abalone. Unfortunately today the pan-fried abalone is a little overcooked and subsequently chewy.
However, the natural oysters ($15 for a dozen), which are sent out to my table, are superb. A sprinkle of fresh lemon and down they go.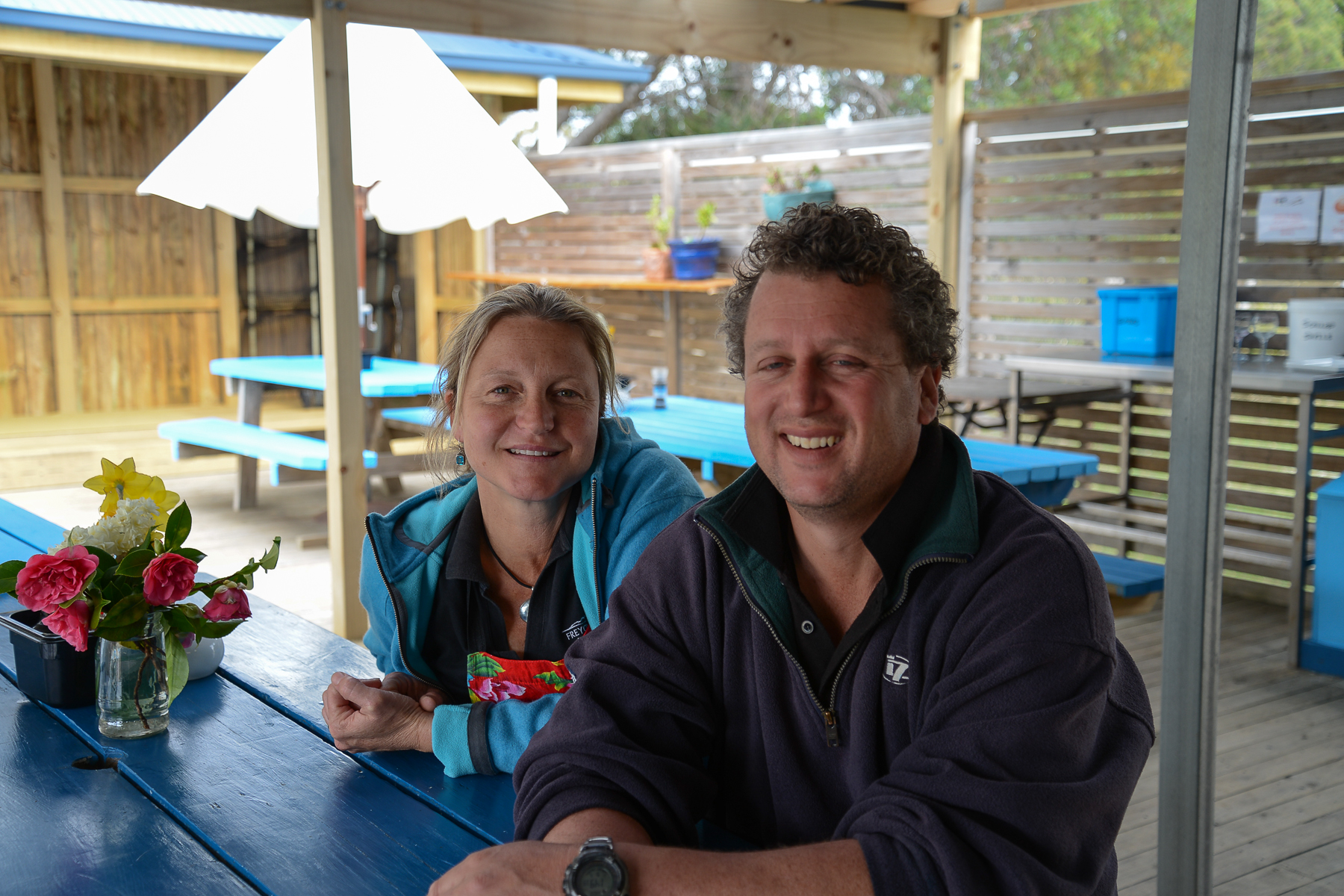 After lunch, I chat with Julia and Giles Fisher (I'm not making up their last name), the friendly and relaxed couple behind Freycinet Marine Farm.
Originally salmon farmers on the West Coast of Tasmania, they moved to the East Coast some years ago and set up their oyster farm. Nowadays they produce 3.5 million oysters and a good amount of mussels each year, with 20% of the oysters and 100% of the mussels they produce sold through the cafe.
It's not always easy working with your spouse but Julia and Giles have found a way that works for them: Giles manages the farm while Julia looks after the cafe. The cafe used to be open only during the Summer but they kept it open last Winter and it was so successful that they've decided to keep the cafe open year around from now on. This means more opportunities for visitors to experience the sheer joy of eating fresh Tasmania seafood.
Well, what are you waiting for?
Address Book
The Tasmanian adventure continues
My first Tasmanian post covered my time in Hobart where I visited Wursthaus, A Common Ground, Tricycle Cafe, The Source at the Museum of Old and New Art, The Museum of Old and New Art, Smolt, Jackson and McRoss and Sweet Envy.
My final Tasmanian post in a couple of weeks will cover Bed in the Treetops, Blue Shed Restaurant, Pyengana Dairy Farm, Blue Cafe, Fresh on Charles and Garden of Vegan.
Subscribe to The Hungry Australian
Don't want to miss a post? Sign up to receive new posts 2-3 times a week – it's FREE!!
Disclosure
I visited Tasmania as a guest of Tourism Tasmania. Some meals and products were provided while I paid for others. Tourism Tasmania are compensating me for the licence to display my content on Go Behind the Scenery and its magazine. As always, all opinions are my own.