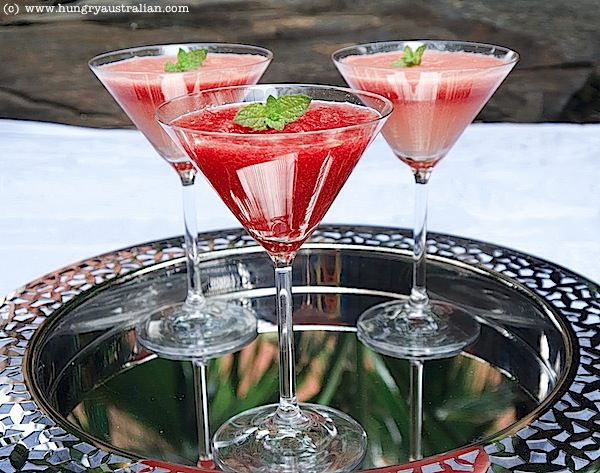 I was recently chuffed to be contacted by The Hoopla to provide a canapé and drink recipe for their Happy Hour section.
I immediately knew that I wanted to do my Mini Vietnamese Pork Buns, which are so easy and unbelievably delicious, but which cocktail would go well with them?
Eventually, I settled on a summery watermelon daiquiri. They taste great and are such a pretty party drink – watermelon daiquiris immediately make you want to kick up your heels and throw your head back with laughter.
So here it is. Enjoy!
INGREDIENTS
2 cups of watermelon chunks, seeds removed
100 mls white rum
Juice of half a lime or 30-50mls fresh lime juice (to taste)
4-6 teaspoons caster sugar (to taste)
2 large handfuls of ice
Mint sprigs, to garnish
METHOD
Put first five ingredients in blender and blend until smooth and frothy.
Pour into martini glasses and garnish with a mint sprig.
Makes 2 large serves (4 martini glasses)