Following the Yakitori Sugar Pie dinner with chefs Adam Liston from Borrowed Space and Quang Nguyen from Devour Dessert Bar, I was back at Lola's Pergola last Thursday for another First Fruits degustation.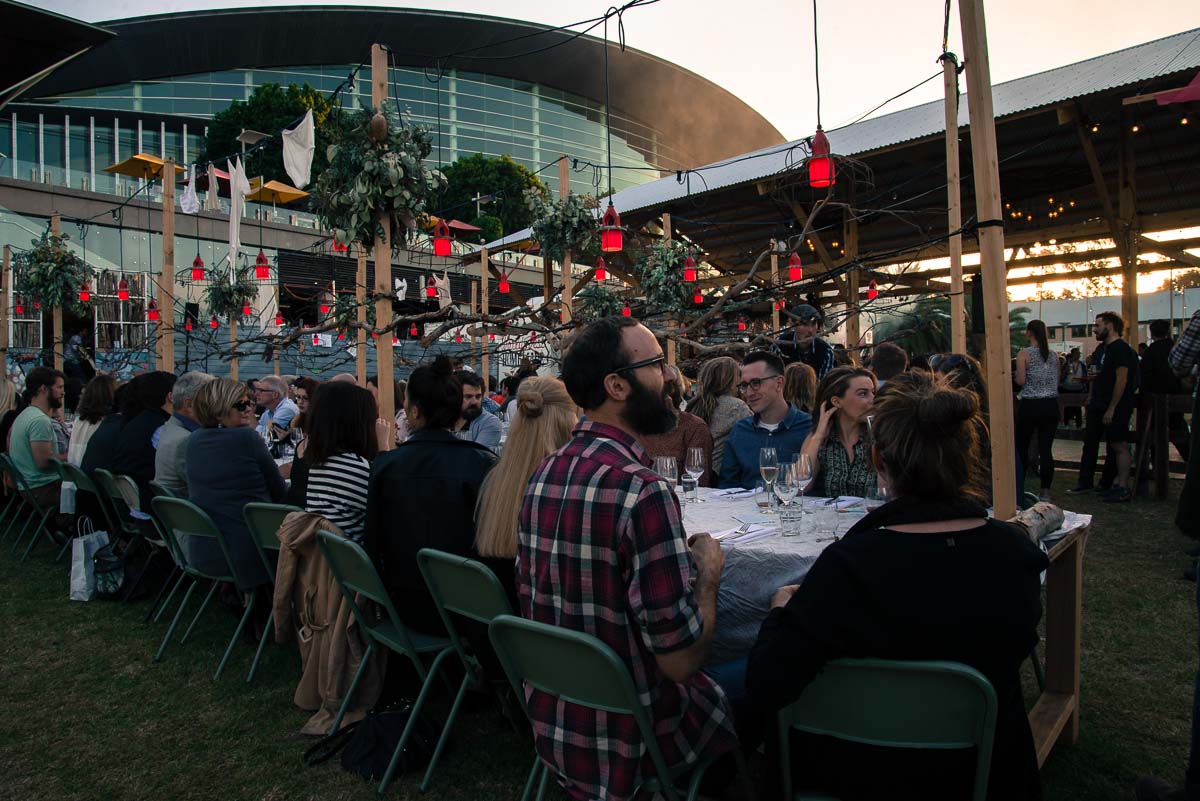 Held on the banks of the Torrens River behind the Convention Centre, the dinners with the constantly changing chefs and menus have been an enormous success for curator Duncan Welgemoed and the Adelaide Festival, selling out every night.
US expat chef Gavin Baker is at the helm tonight. Gavin is the 'Baker' in the Walker Evans Baker Restaurant Group, a company responsible for a series of Melbourne restaurants including Bar Nacional. He was previously sous-chef at Heston Blumenthal's The Fat Duck and also worked at La Cote Basque in New York (one of the settings in Truman Capote's unfinished Answered Prayers) and at Justin Timberlake's restaurant, Chi, in LA.
Tonight's dinner forms part of Gavin's The Mist Project, described as a "guerrilla restaurant that produces incredible food and an incredible experience as it travels across the globe."
My dining companions tonight are Natasha, Celeste and Kevin. The setting sun is bathing the tables in its bewitching light.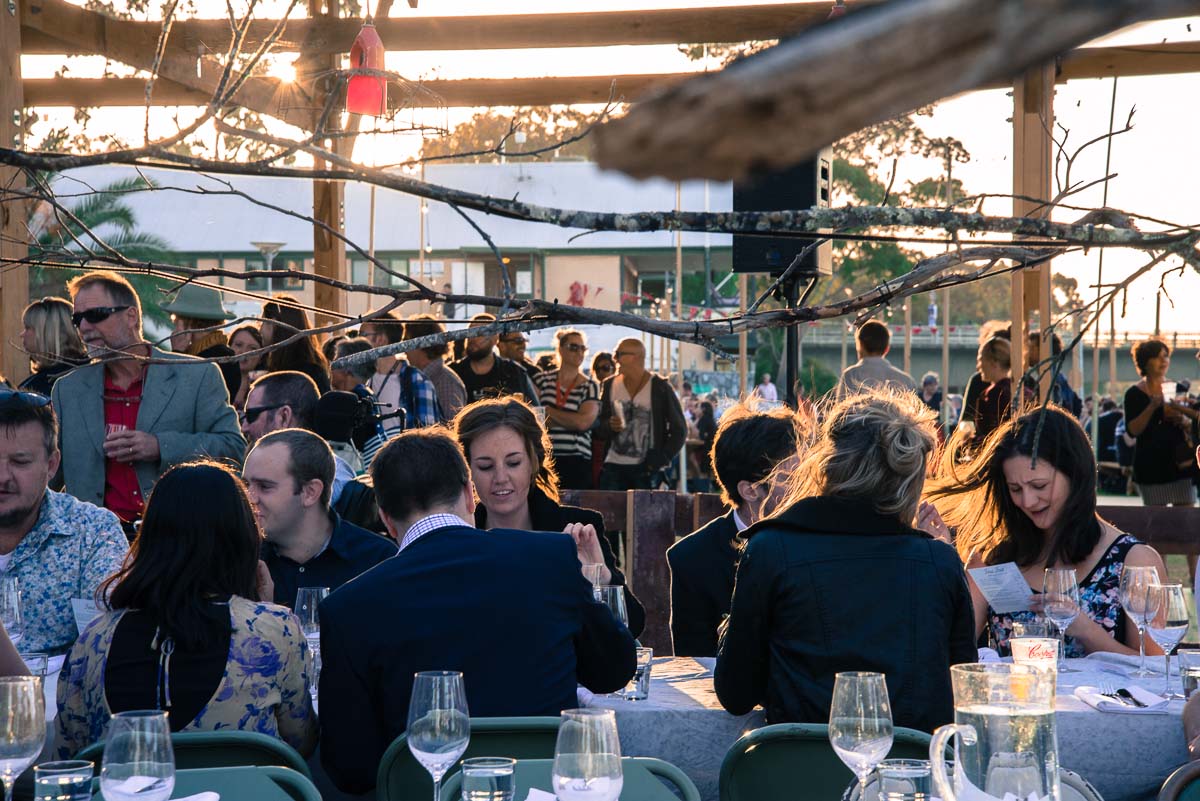 These are some of the wines we'll be drinking tonight. Wines —  the 2013 Ochota Barrels Surfer Rosa, the 2013 Jauma Blewitt Springs Chenin Blanc, the 2013 Jauma Chardonnay, the 2013 Ochota Barrels 'A Forest' Pinot Noir and a fresh pressed Basket Ranges cider — have been matched to each course and other wines are available for purchase.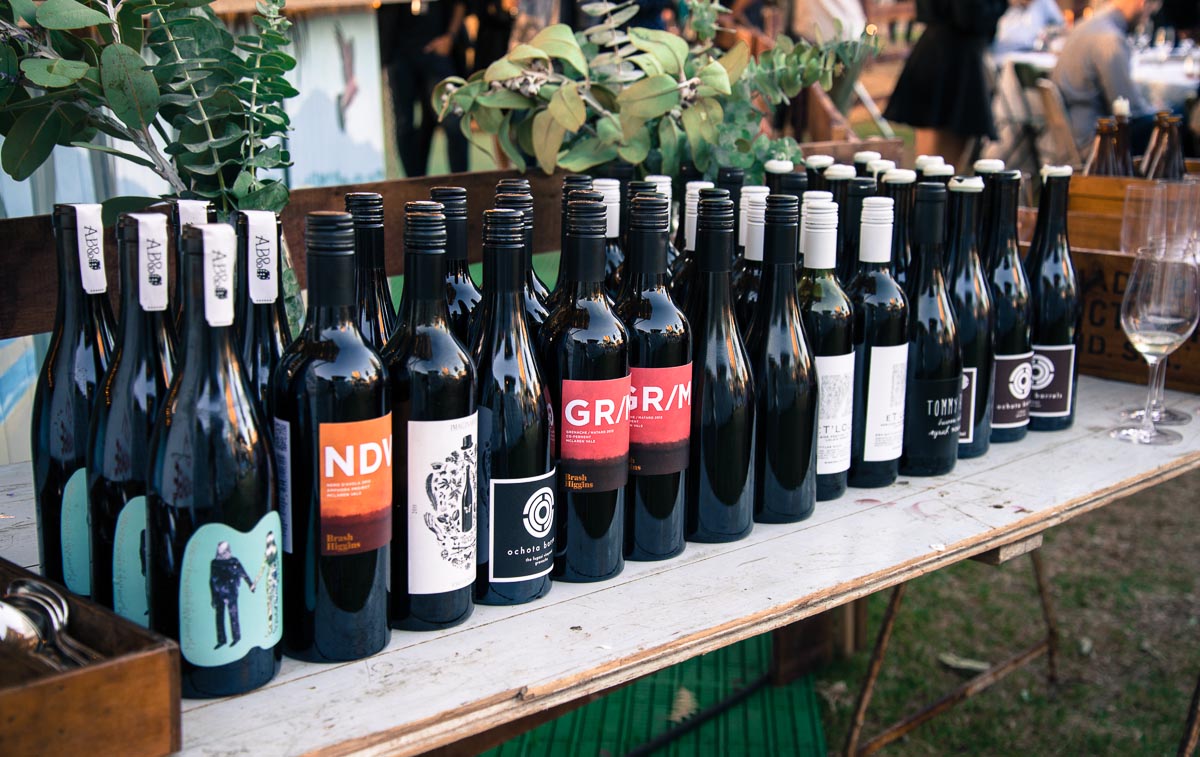 First up, we enjoy a Welcome Cocktail by Andy Cameron.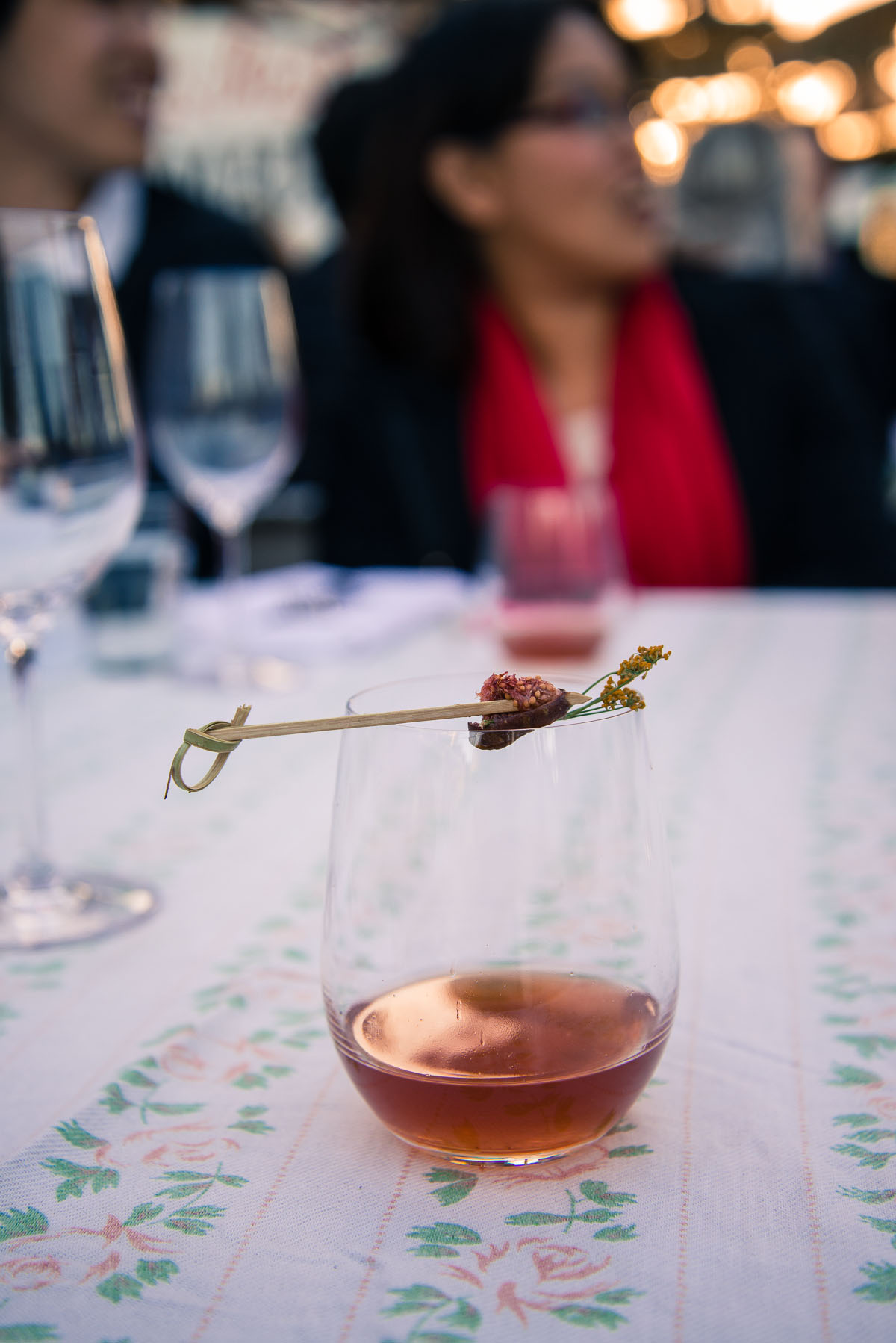 The cocktail is an enchanting mix of Hills Hoist charred fig wine, apple juice, West Winds Sabre gin, toasted wattleseed syrup, apple cider vinegar, bitters  and Pedro Ximenez sherry garnished with a piece of dried fig and a fresh fennel flower. Simply gorgeous.
Next, some drama: to create the smell of a winery our server pours tea onto dry ice.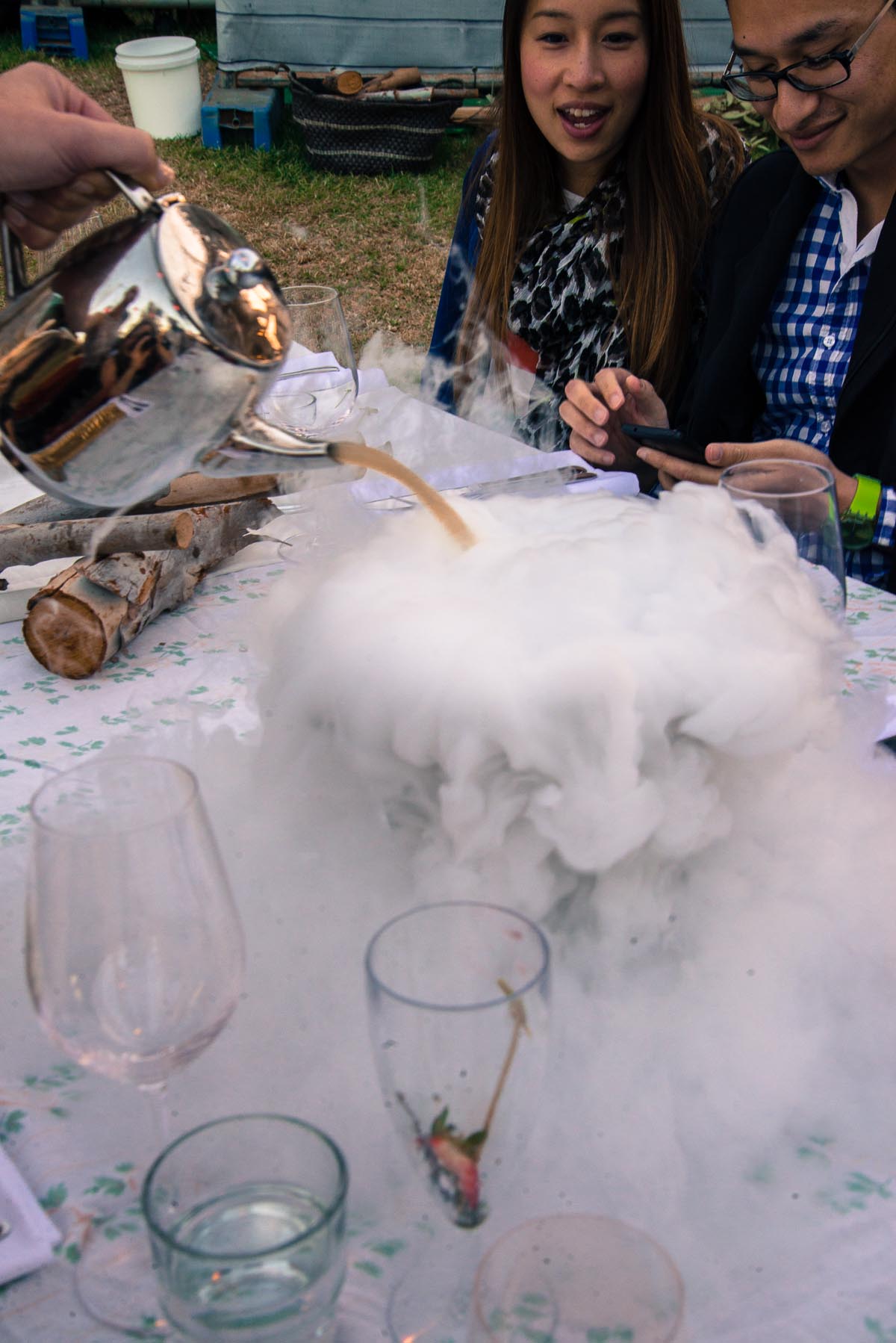 Watching the dry ice 'fog' spread across the table brings out the little kid in all of us.
To accompany the welcome cocktail we are served two dishes. First is an excellent Heirloom Tomato Gazpacho with Sour Cherry Crumbs.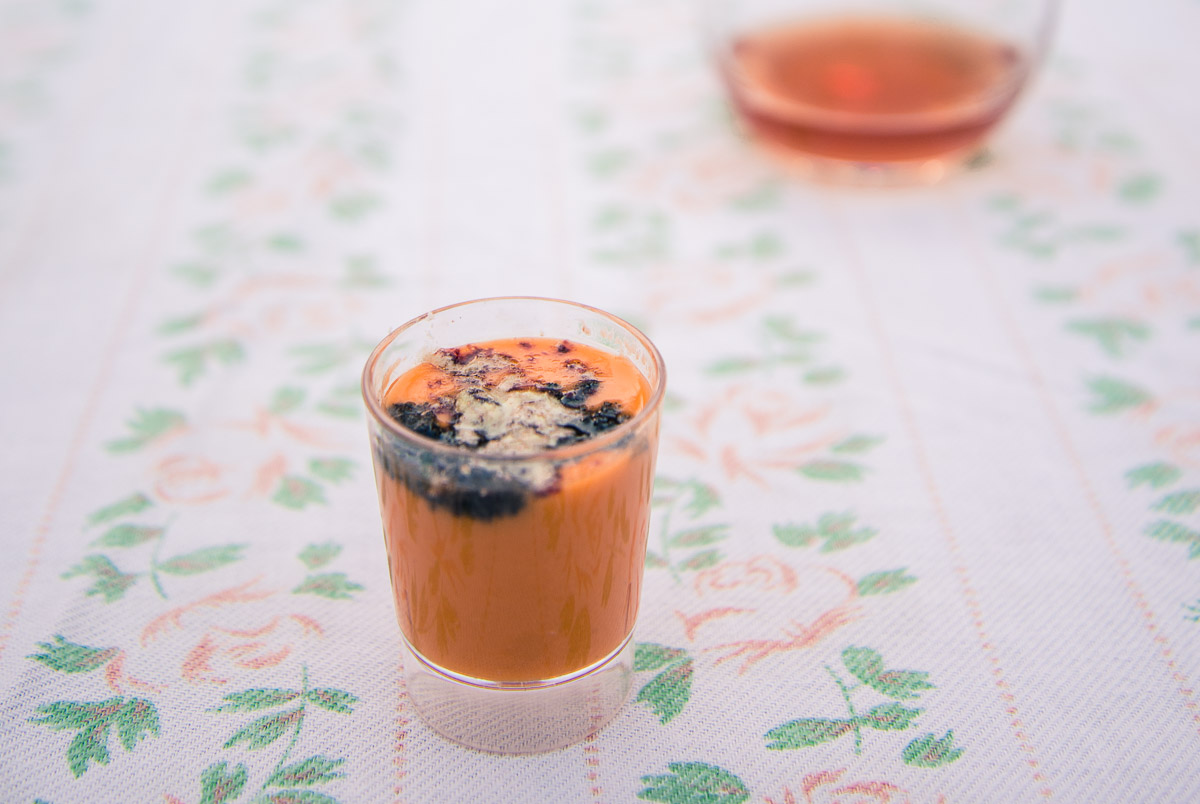 Interestingly, this reminds me of Indian butter chicken rather than a traditional Italian gazpacho – I'm picking up the same spices that are commonly used in that particular curry.
The other dish is Fried Salt (and Vinegar) Bush. Do you know what saltbush is? Here it has been soaked with vinegar and then deep-fried and salted: these brittle morsels taste exactly like salt and vinegar chips. Everybody loves this dish.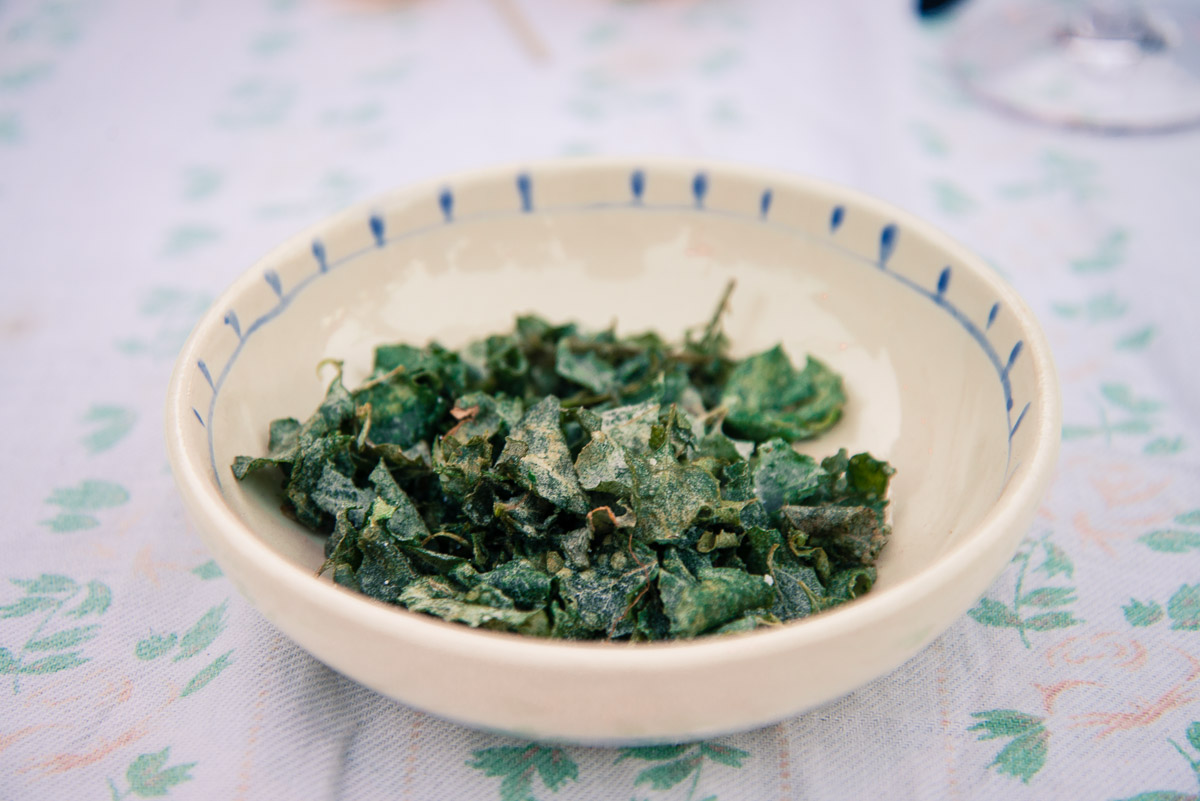 The sun is setting. Time to bump up the ISO on my DSLR and adopt the awkward looking, 'steady hands' grip.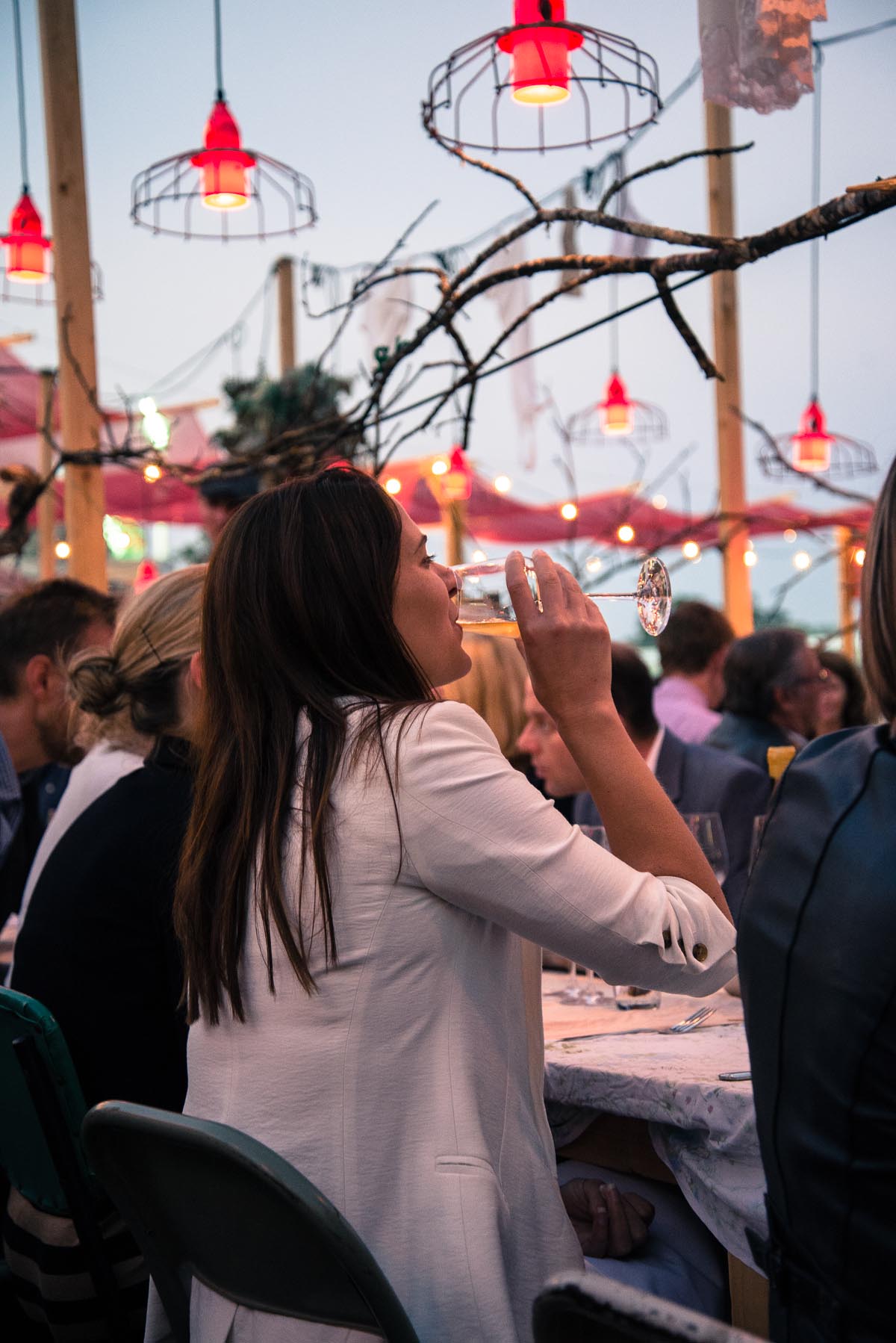 We're next presented with some fresh sourdough with whipped lard and virgin butter in onion ash. The hand whipped and cultured butter has been rolled into a log and resembles goat's chèvre.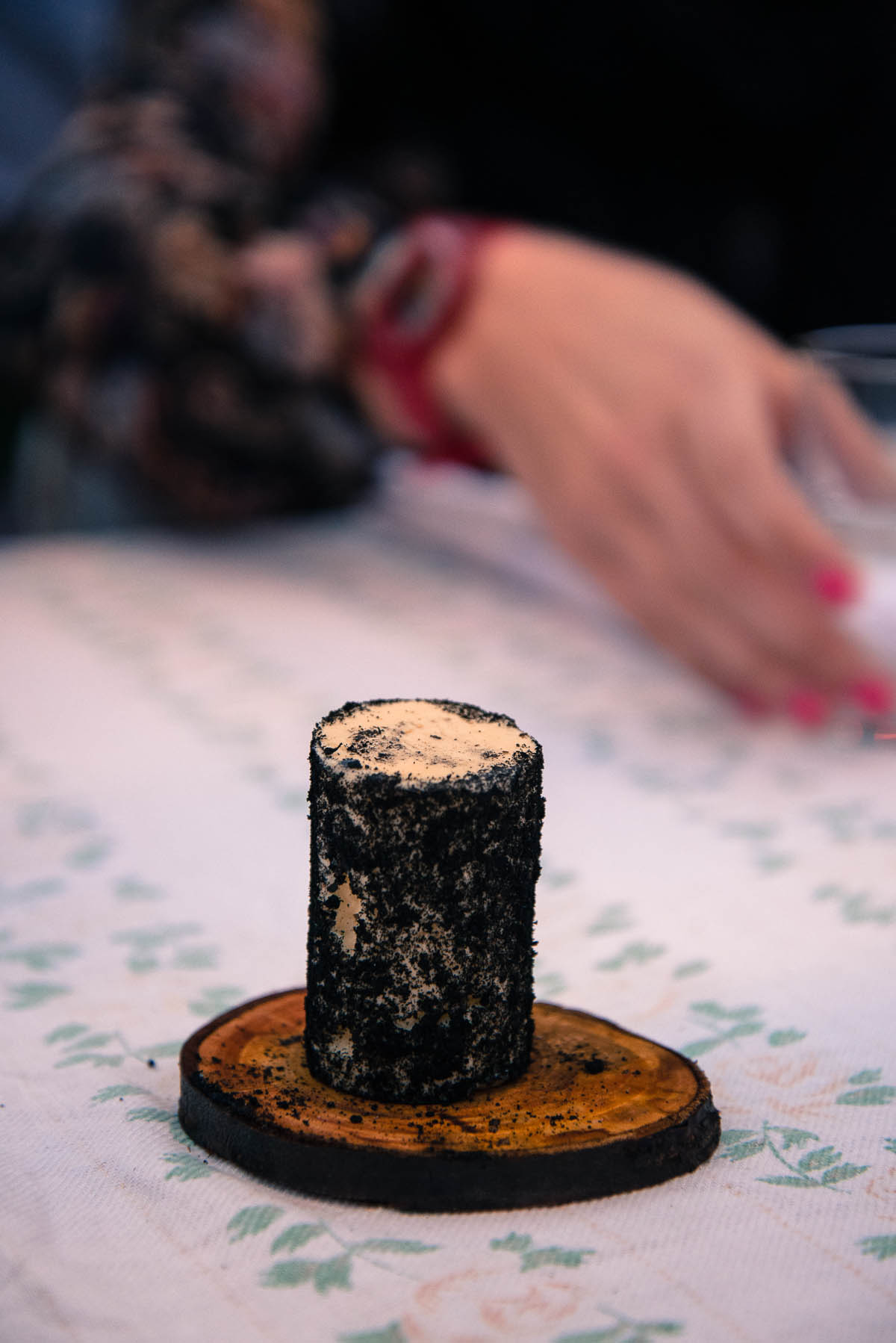 The taste? Creamy, salty, and oh-so-moreish.
The robustly crusted sourdough roll is accompanied by a quenelle of whipped lard sprinkled with crumbs of pork crackling.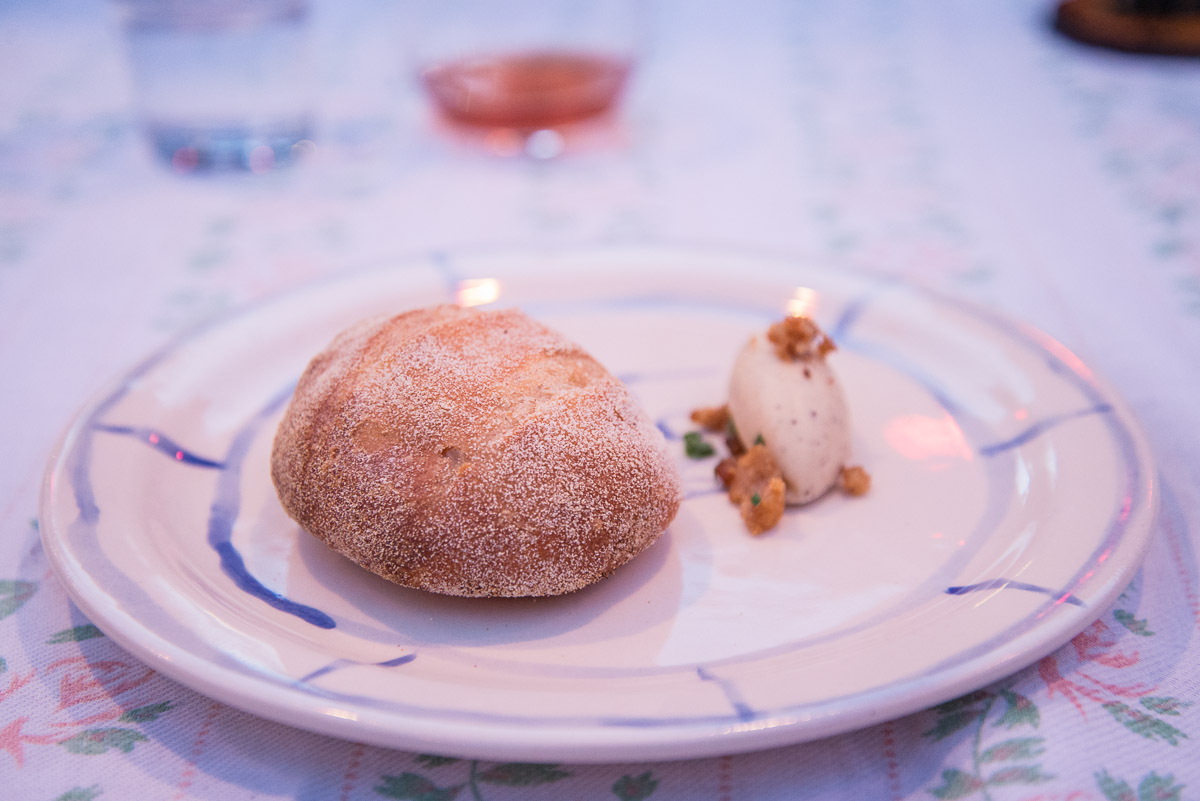 This dish blows my mind. The whipped lard has a sensational, groan-worthy texture and mouth-feel while the sweet and salty flavours tease and delight; it's a bit like eating salted caramel with pork crackling.
Next up, Zucchini Toast consists of raw zucchini slices with chicken liver parfait, a fried zucchini disc and dressed chives.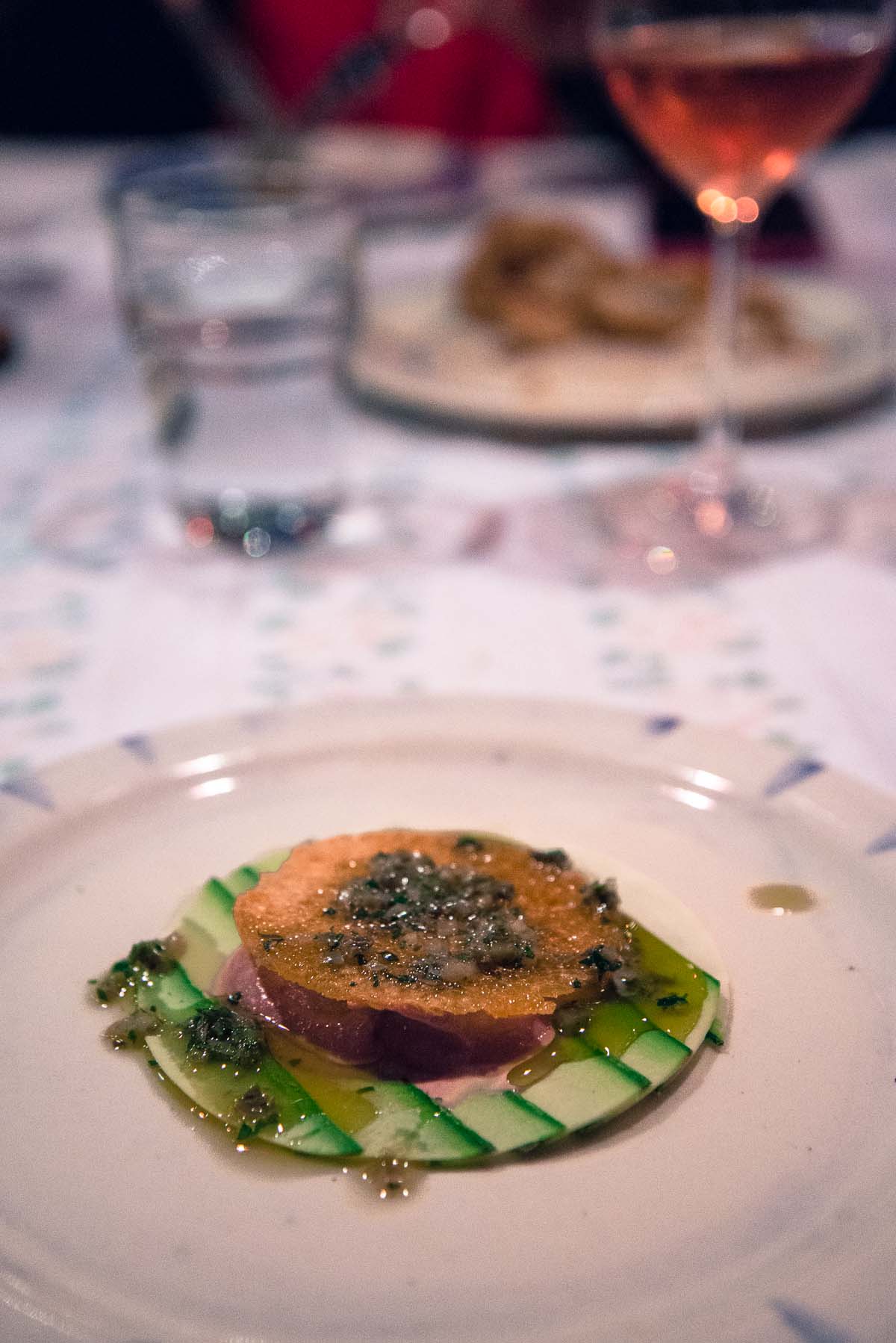 The buttery richness of the chicken liver parfait works nicely with the mild zucchini flavours, the astringent dressing and the grassy EVOO(?) drizzled over the top.
By now it's completely dark. It's also freezing — I've unfortunately dressed for a warm Summer's evening — so I go for a walk to try to get some circulation going in my legs.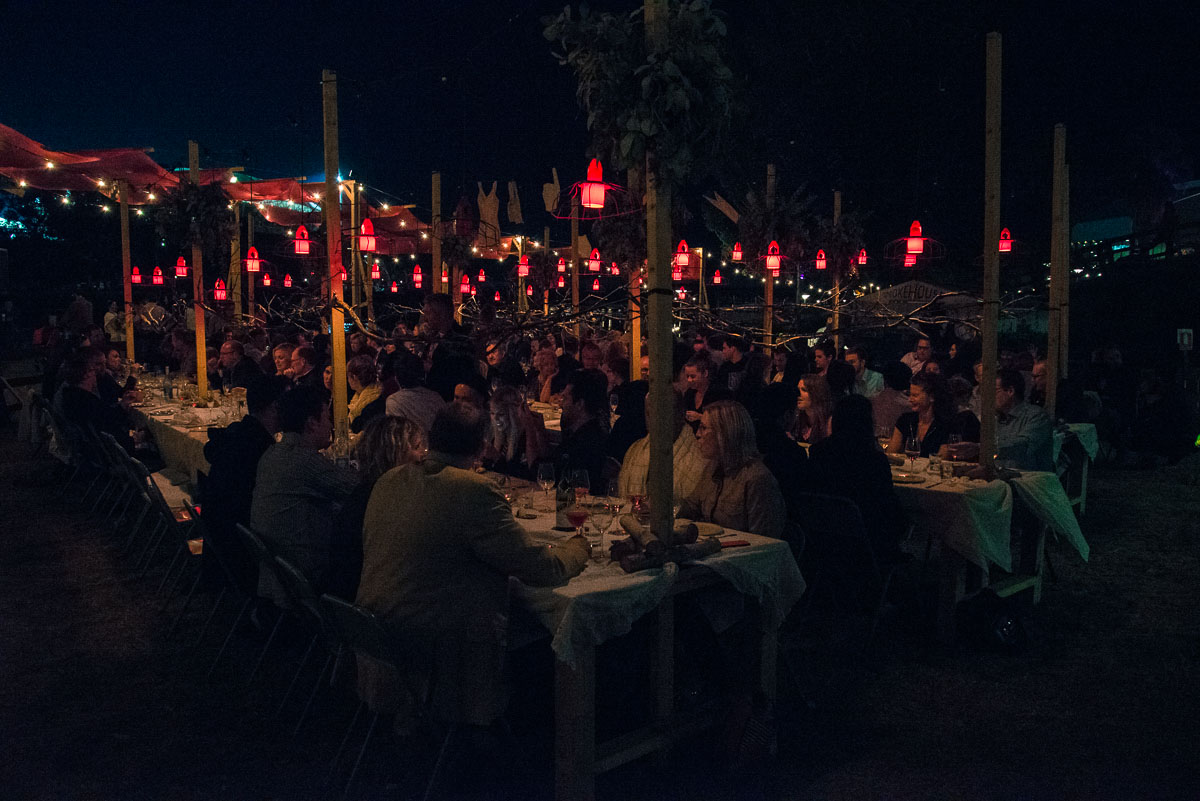 Regardless of the cold, everyone is having a great time.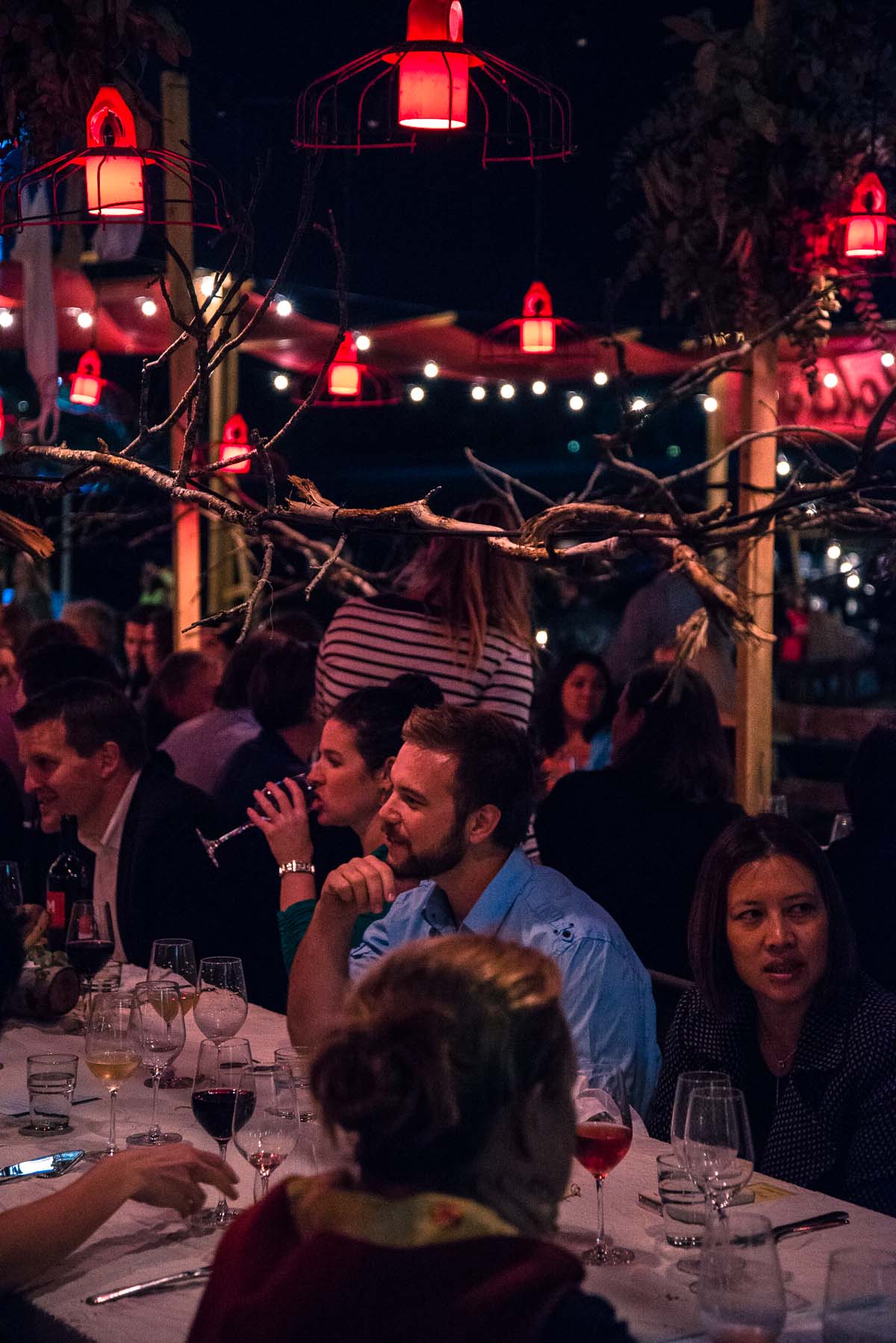 Every second male at this dinner has a beard. Is that because they are hipsters or because they can't be bothered shaving?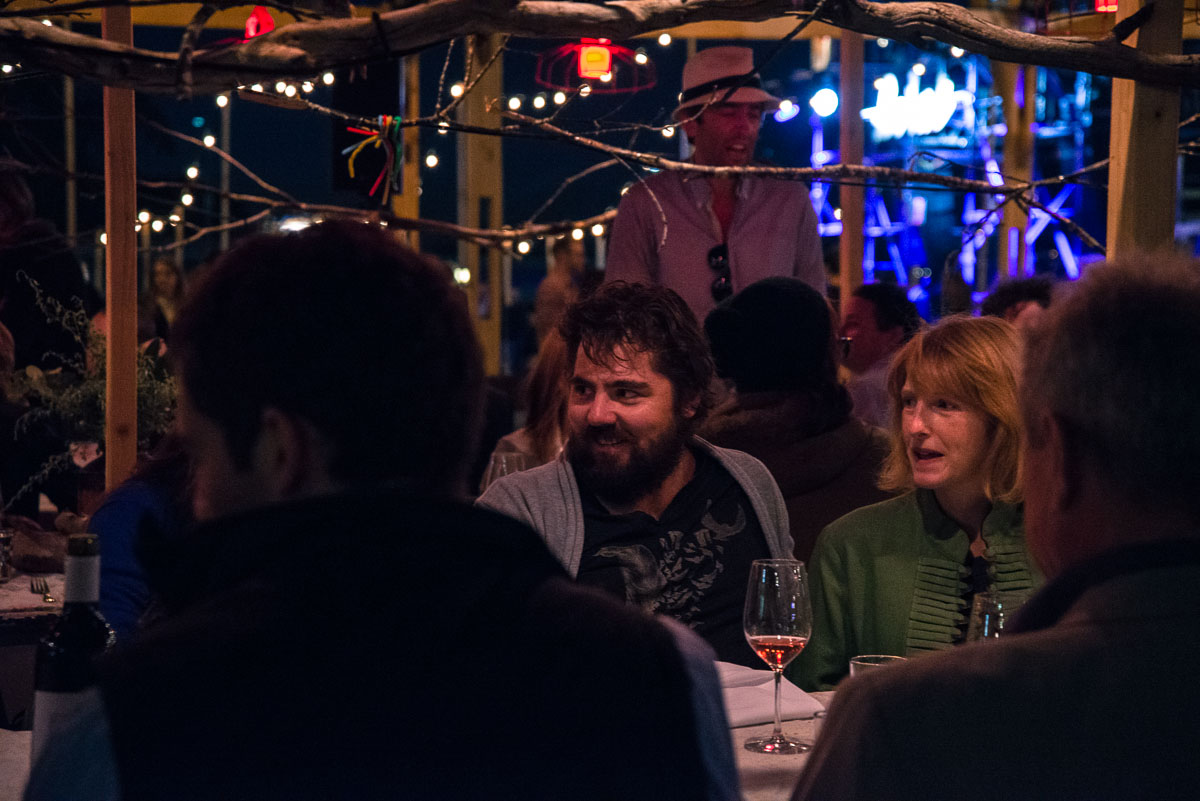 I make my way over the smokehouse and barbecue pit when Duncan and the team are hard at work prepping other courses.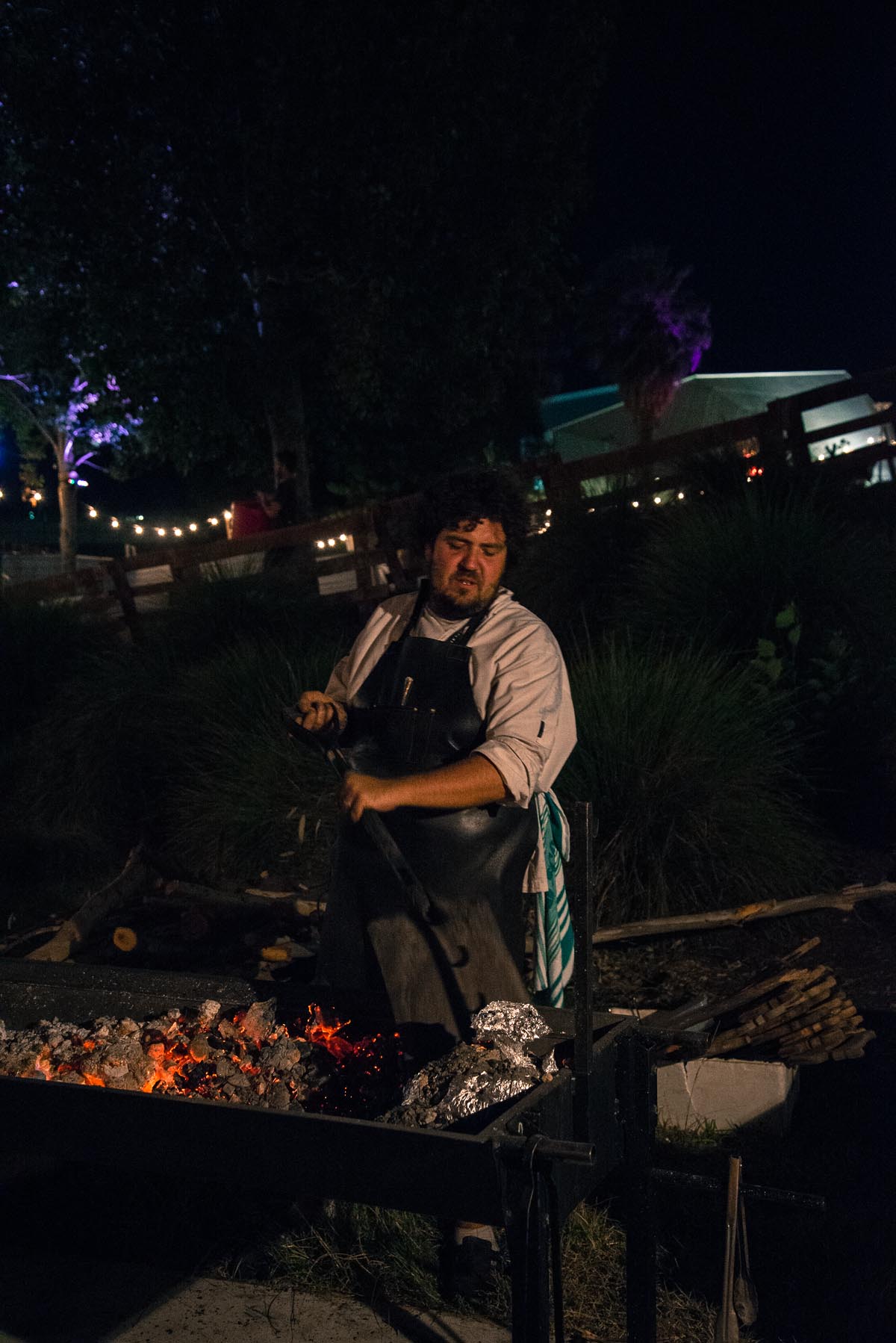 I love that the barbecued food is cooked right next to us. It feels like we're having a party at someone's house.
I make it back to my table in time for the Pigs' Head Salad that comprises a deep-fried patty served with carrot and nasturtium, wild rocket, sorrel and fennel foraged from The Basket Ranges.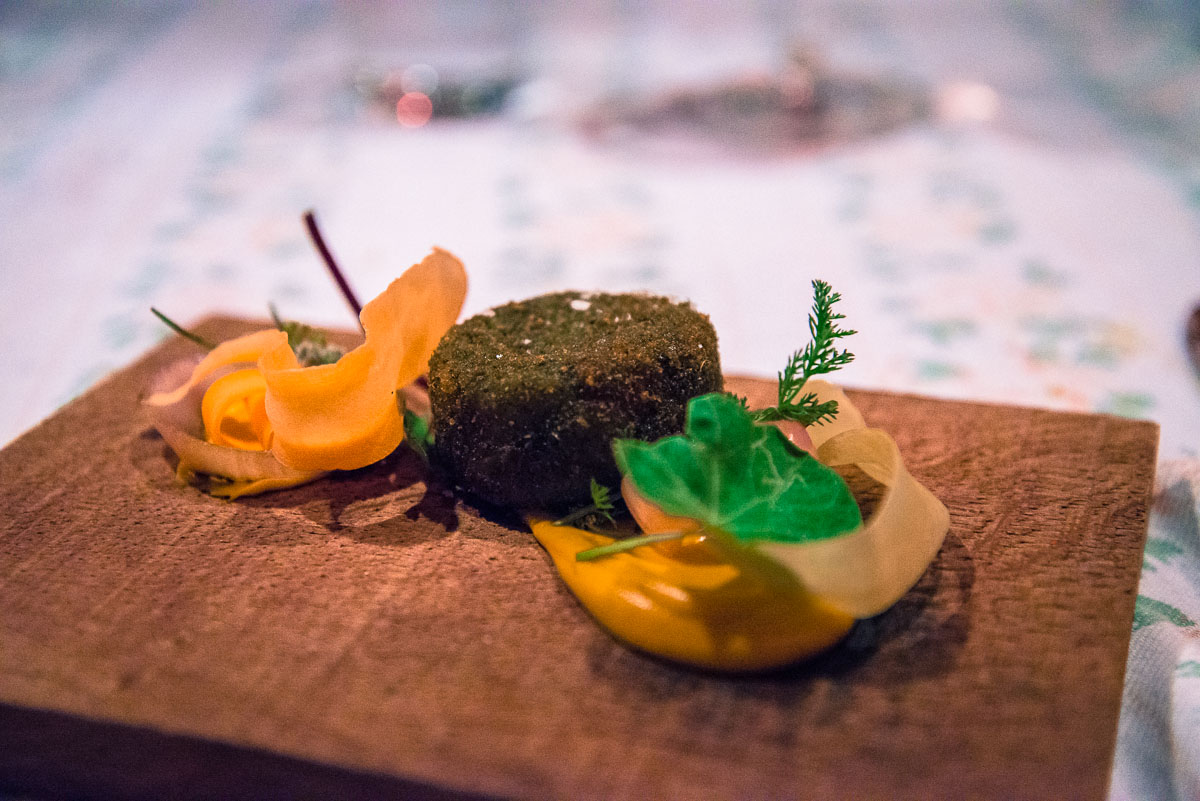 The pig's head patty is fantastic – the richness of the head meat is balanced beautifully by the sourness and acidity in the baby pickles and capers. Deep sighs of satisfaction are heard from around the table.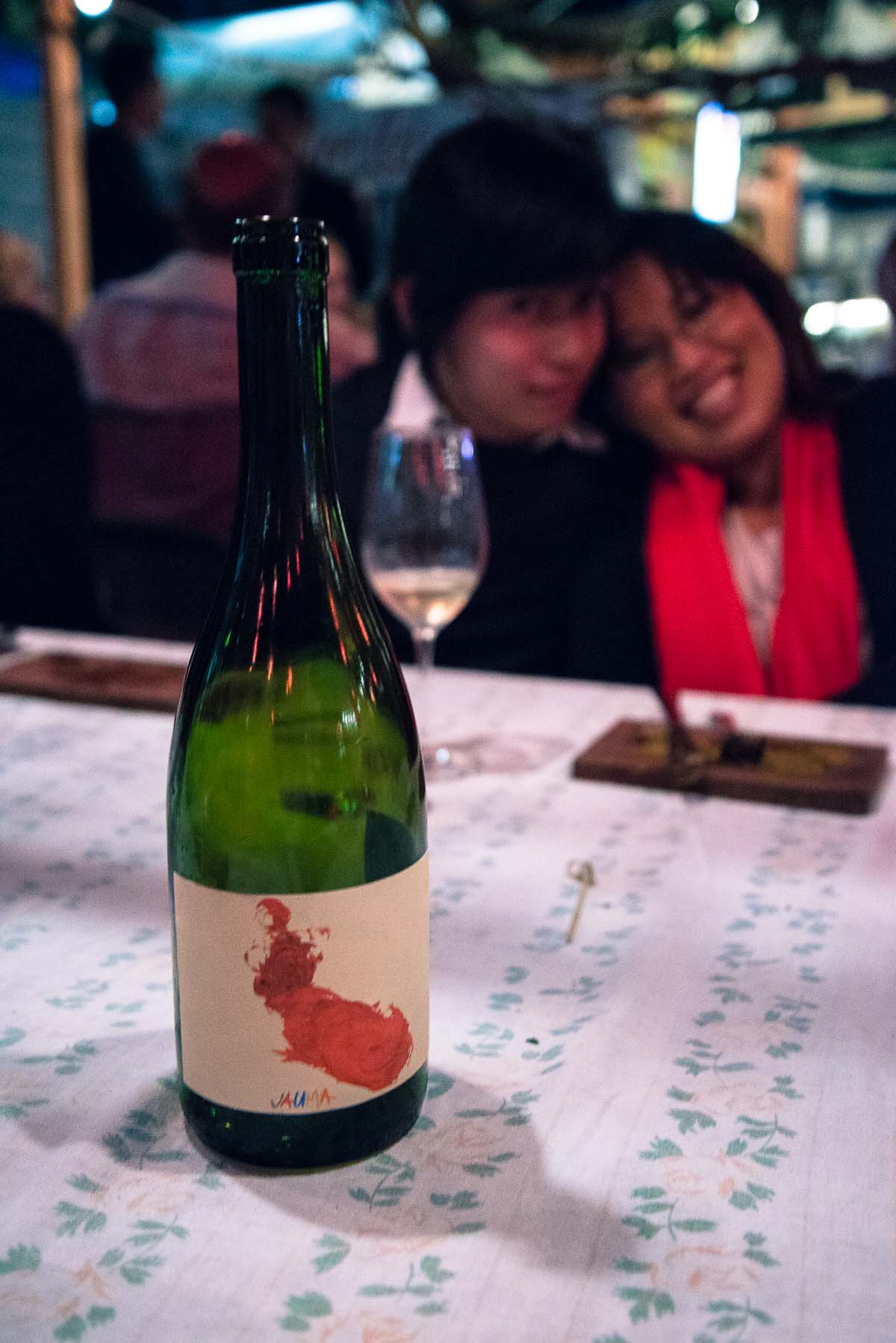 The next course is Barramundi in Paper with smoked eggplant, celery, sea vegetables and liquorice root butter. Individually wrapped portions  arrive at our table for us to untie ourselves.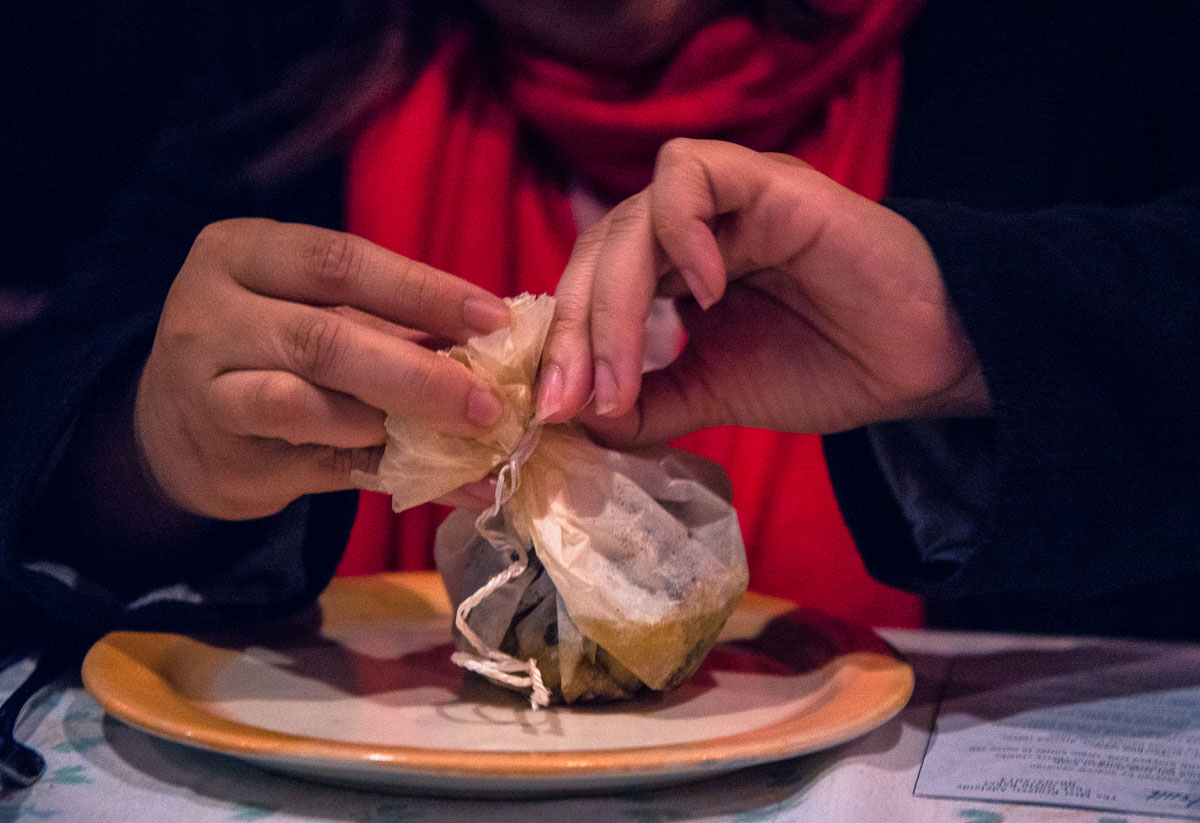 Once we manage to open our packages they release an incredible smell: the barramundi has been deeply infused with the flavours and fragrance of the herbs and vegetables.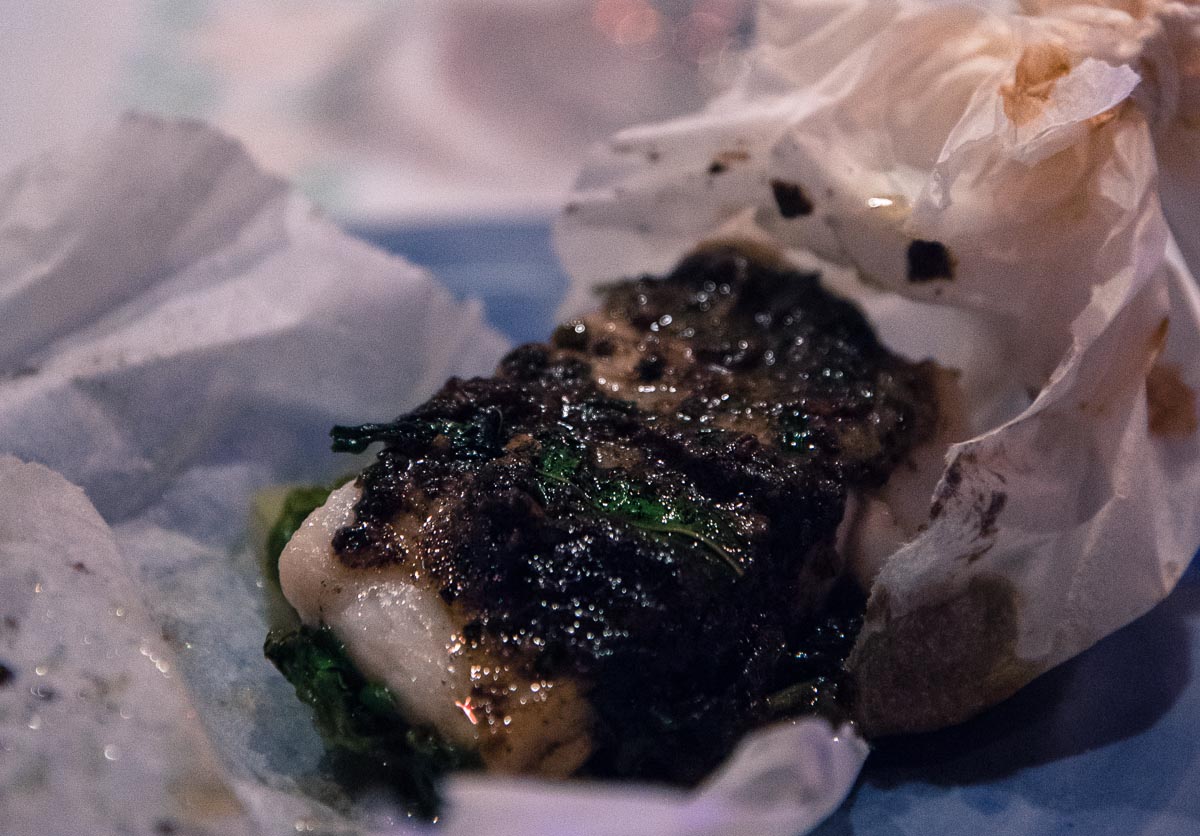 The eggplant lends the barramundi a pleasant smoky flavour, the celery provides a solid flavour base and the sea vegetables and liquorice root butter are delightfully salty. This may be the best tasting fish dish I've eaten out lately.
As it gets later the temperature continues to drop so Tash and I make our way over to the barbecue area again in the hope that some residual warmth remains. We end up stacking some more wood into the burner and are soon warming our hands on a small fire with a small group of fellow diners. Note the napkin-cum-scarf the gentleman on the right has adopted to keep warm.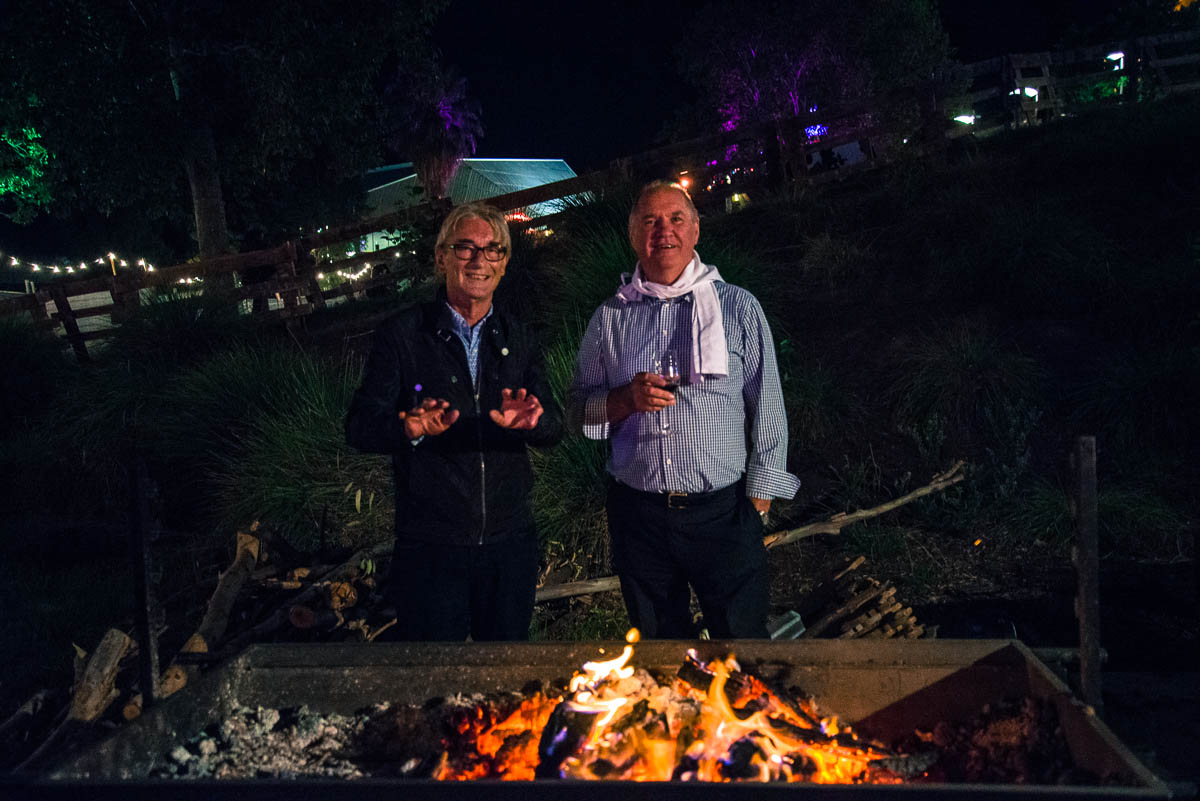 We chat and drink some more wine to stay warm.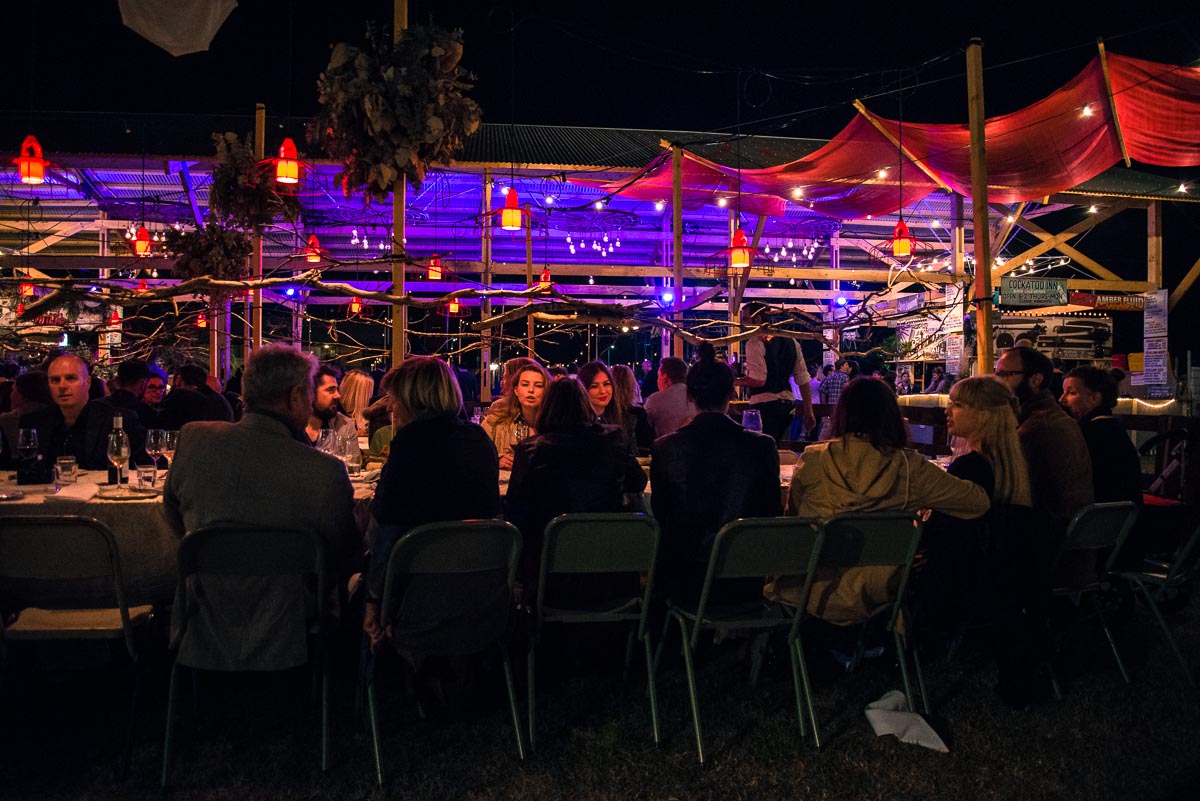 I sneak a peek into the pop-up kitchen where the chefs are preparing a boozy frozen dessert called Frozen Ochota Barrels 'I am the Owl' with Aromatics.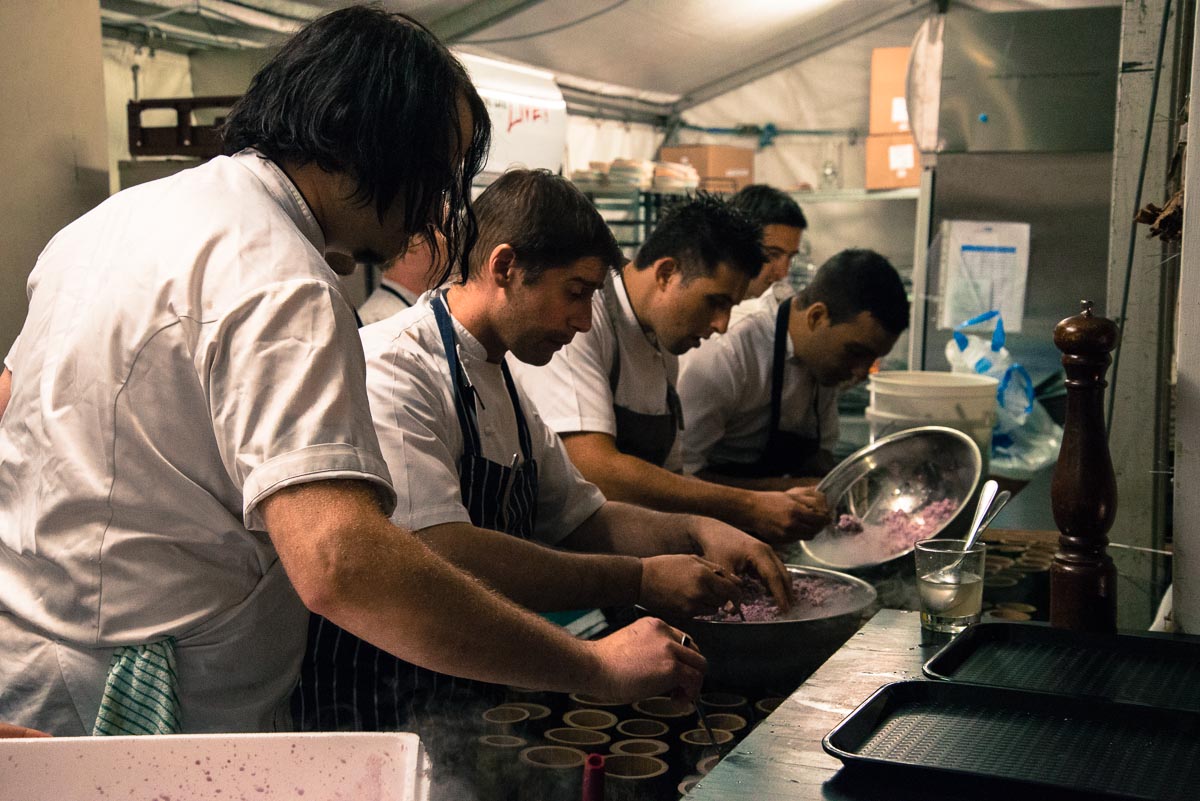 I love boozy desserts, as regular readers will know, and this is a lovely little palate cleanser based on red wine.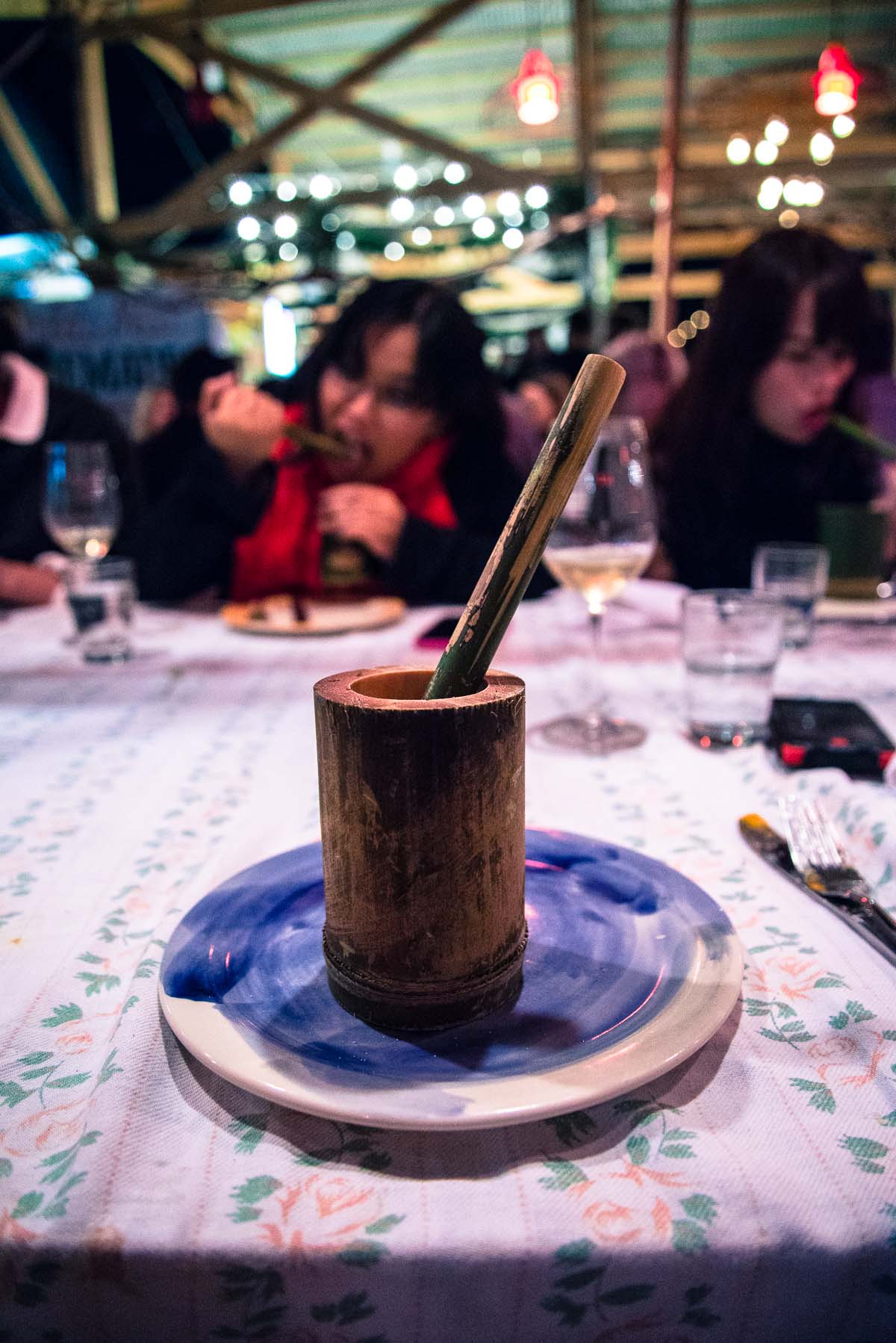 After a short break a half-log long displaying three leaf-wrapped parcels is brought out to the table. We're advised to unwrap the parcels and do so with great enthusiasm.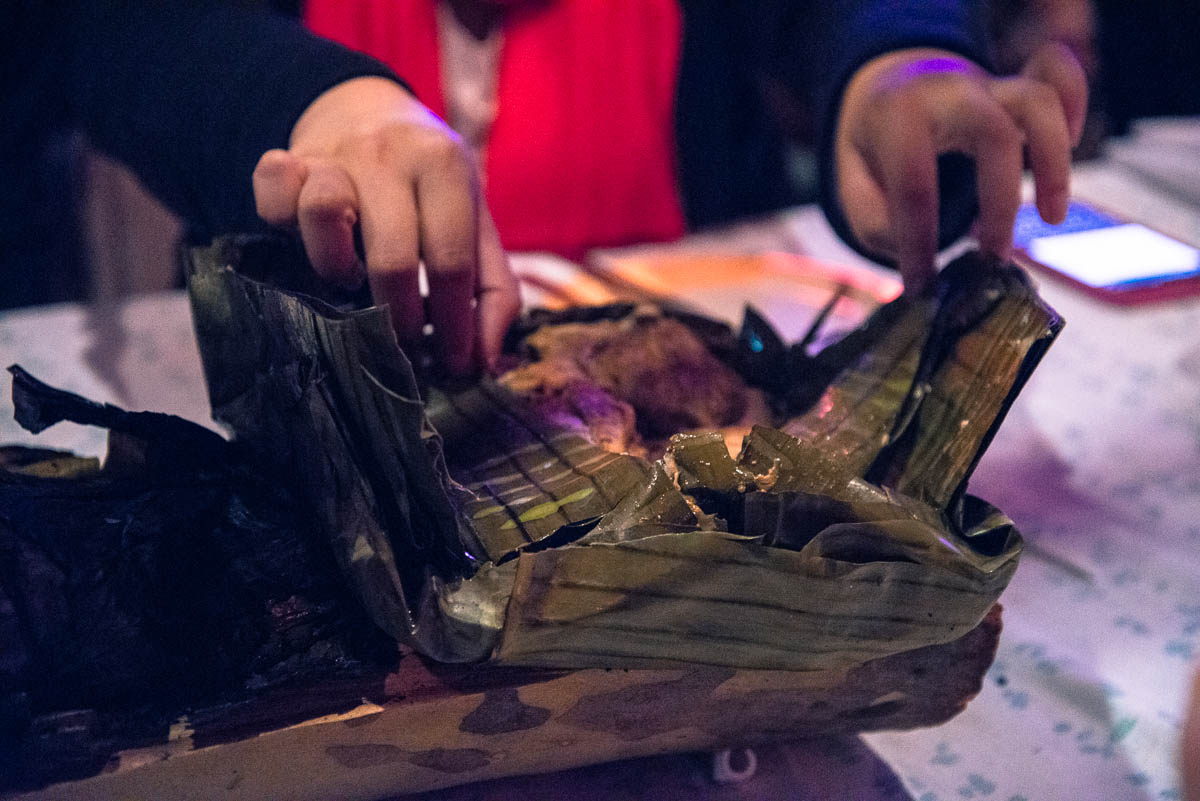 Inside we find Chicken Baked in the Earth – spicy chicken pieces and sweet potatoes have been baked with preserved garlic. The chicken is excellent – succulent, chilli-hot and well seasoned. My only note is that it's a touch dry but I think that's because our server accidentally tipped the juices out when she placed the heavy log onto the table.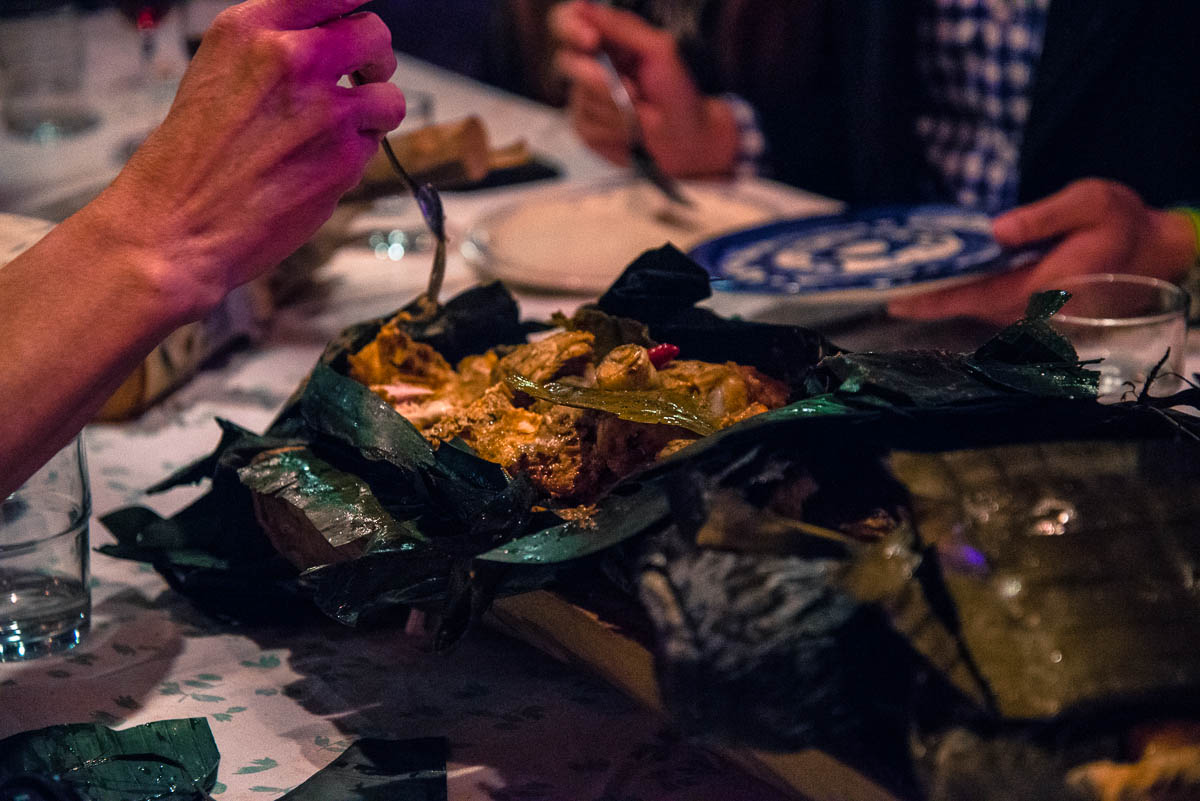 And just when we think life can't get any better our server returns with some grilled corn topped with grated cheese and chicken skin crumbs. Oh yeah…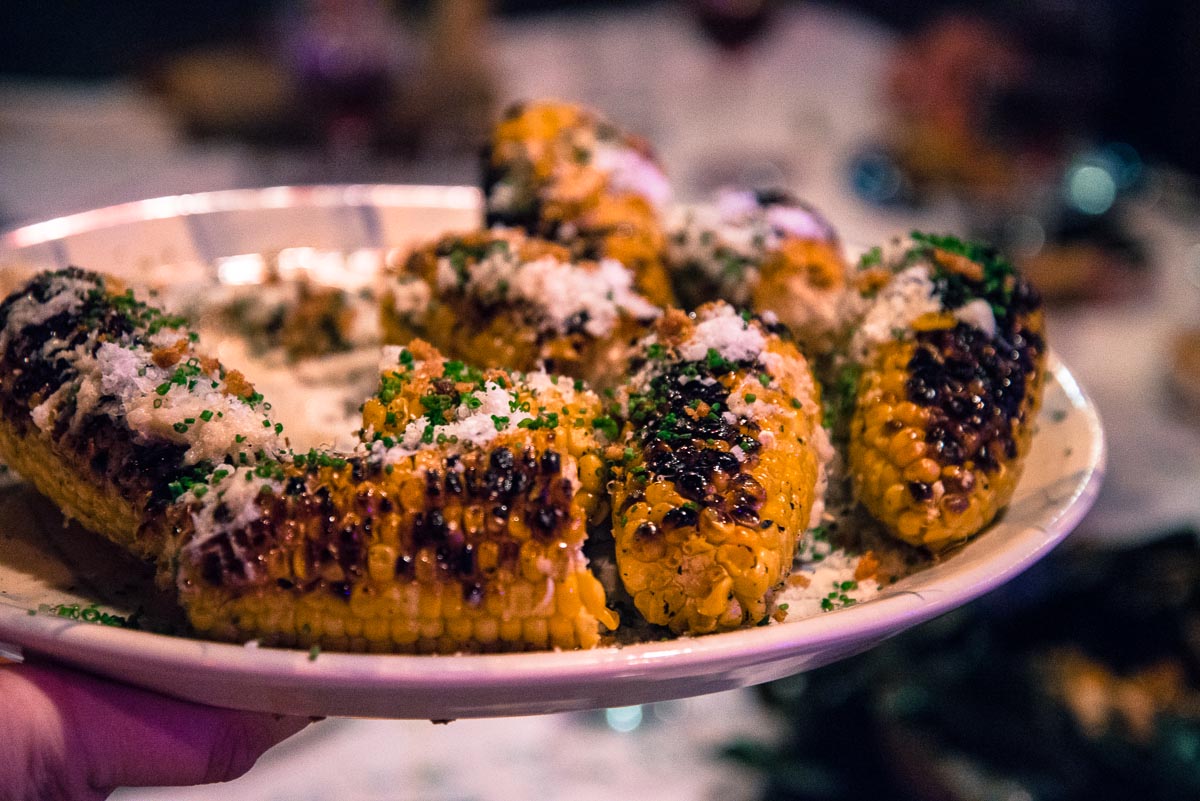 Celeste likes the corn so much she declares her willingness to have the Chef's baby if he'll make it for her every day. Sorry, Kevin!
It's finally time for dessert. First up, Heaven's Bacon – pork fat gel with salted maize caramel.
For me food has to appeal in a number of ways. First, appearance. Is it visually appealing? Does it look attractive, desirable? Then there's its smell and finally, its taste.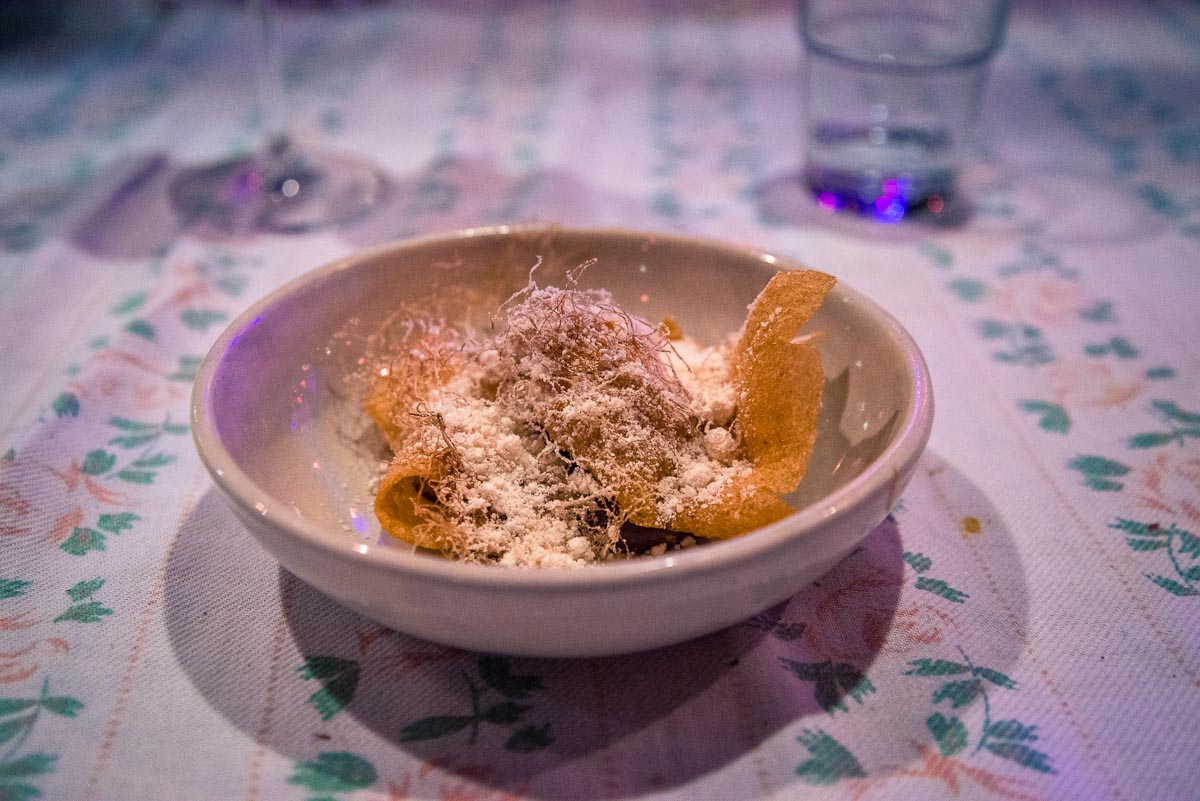 Now in the unlikely event that I had seen a picture of this dish on a menu I probably wouldn't have ordered it. And in doing so I'd have missed out on a remarkable dessert. In this dessert corn has been prepared three ways – as gigantic flakes (an upmarket version of Kellogs' Cork Flakes), as a toasted powder and as candied corn husks. Held together with a pork fat gel that resembles a salted caramel sauce it's a masterpiece of complementary flavours and contrasting textures. This dish also feels quite Asian to me as sweet corn is used a lot in Asian desserts but not so much in Western ones.
The only downside? It's a little too sweet for my tastebuds and I can't finish my plate. I know I'll regret this tomorrow. 
Finally we arrive at the last dessert course. Isn't it beautiful?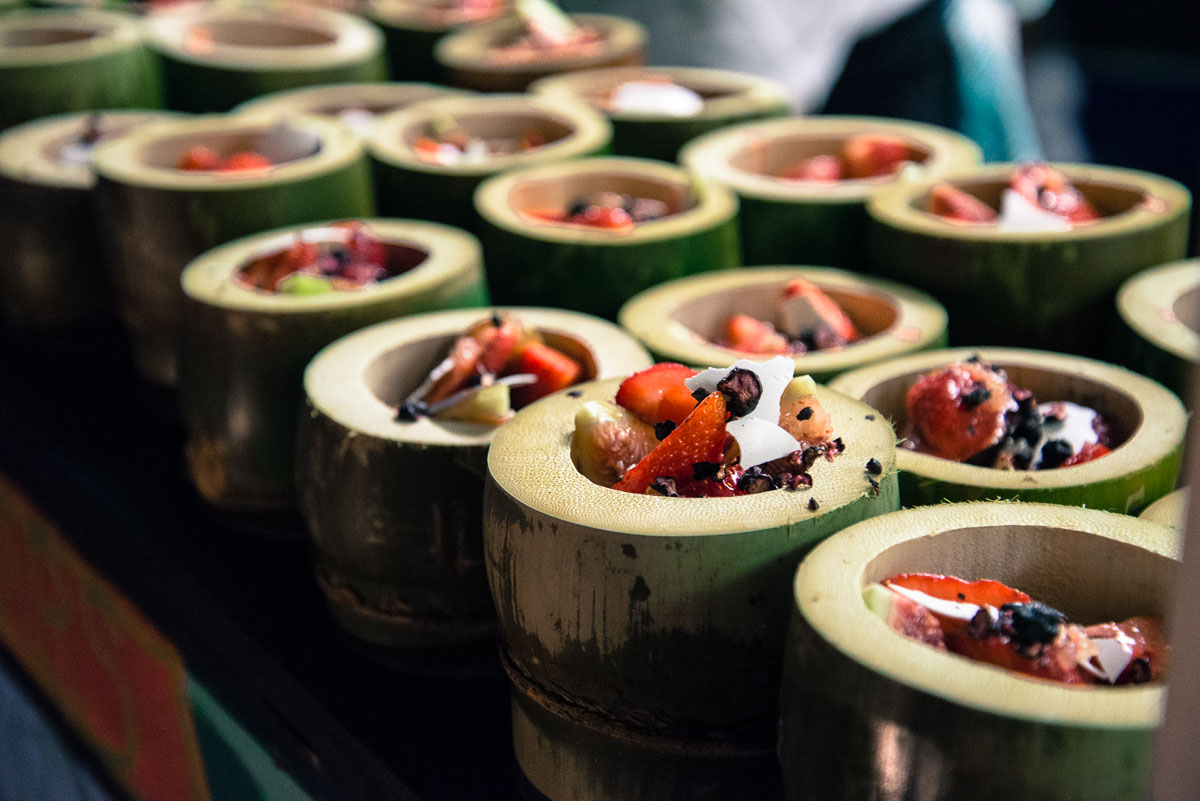 I'm smitten with these bamboo cups although they make photographing the dessert inside them near impossible: underneath the berries and dried fruit are two perfectly ripe fig halves atop a silky fig leaf milk custard.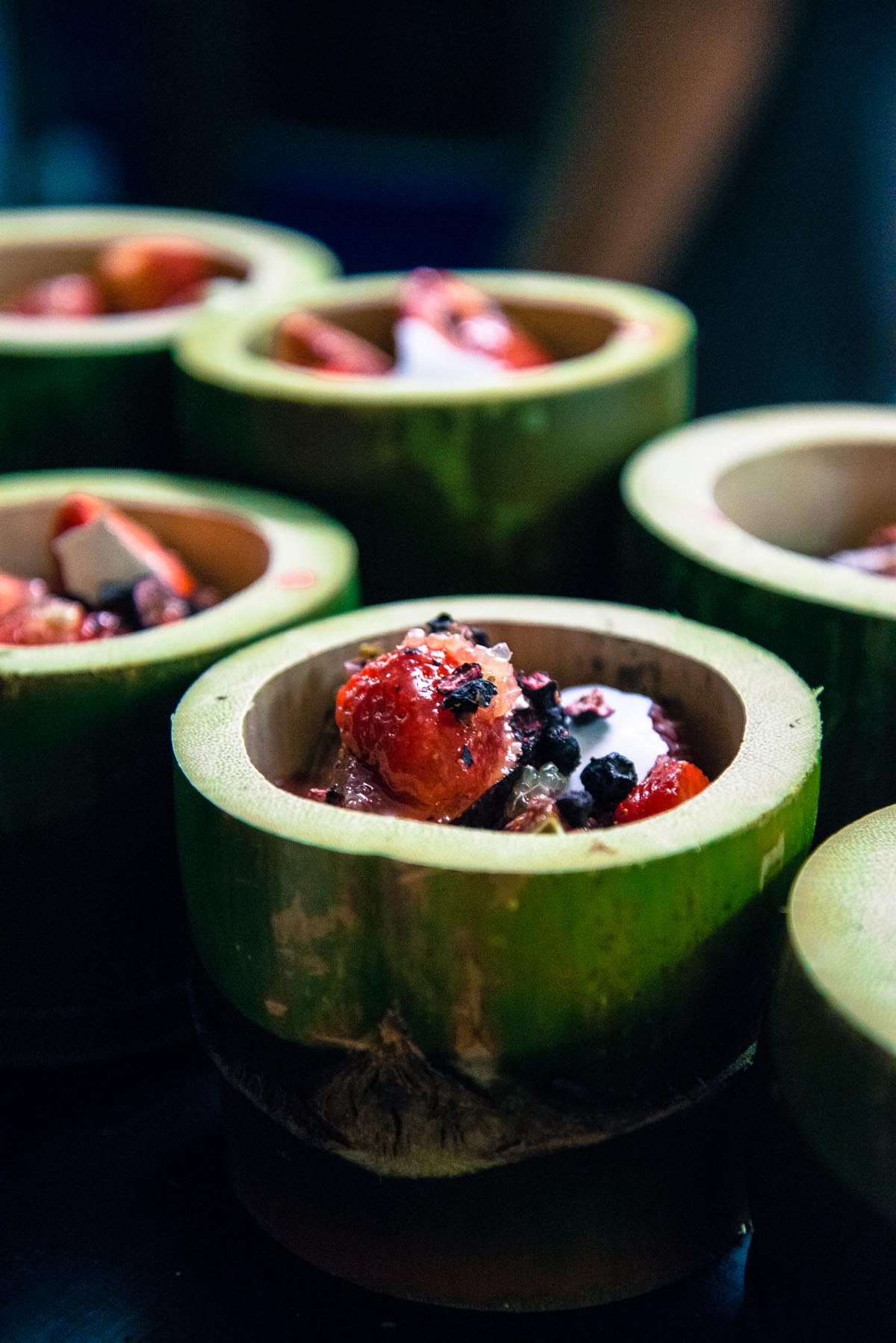 I really like this dessert although Celeste is not so impressed. But I like that the other dessert — Heaven's Bacon — had lots of elements and was quite complicated while this dessert is much simpler. The milk custard has a gorgeous, silk sheet texture and the fresh fruit on top could not be more beautiful.
Tonight's dinner has been an exceptional experience. Apart from the evident creativity and rock-solid execution we've witnessed I like the fact that many of the dishes demanded more from us than simply swallowing the food. We had to unwrap two of our dishes. We had to jab another with a bamboo stick that doubled as a spoon. We had to use our fingers for the salt and vinegar saltbush flakes, the bread and the sweetcorn. Little kids know that food is always more fun if you can play with it first and tonight's dinner has been a very playful, sensory experience.
Tash and I decide to visit the popup kitchen so we can tell chef how much we enjoyed his food. But when Gavin Baker hears that we're food bloggers he reacts like this: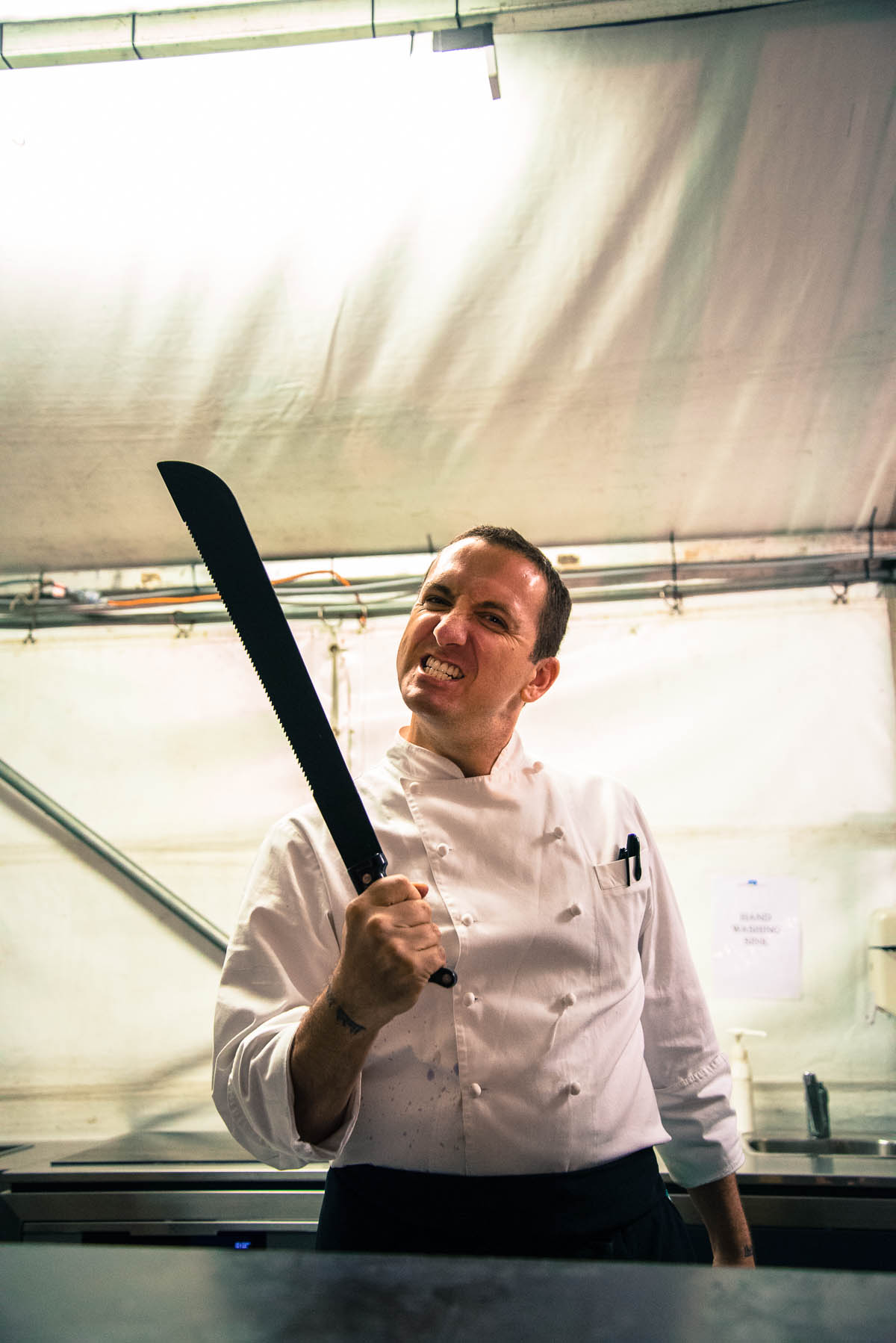 Just kidding!! Gavin is very polite and professional.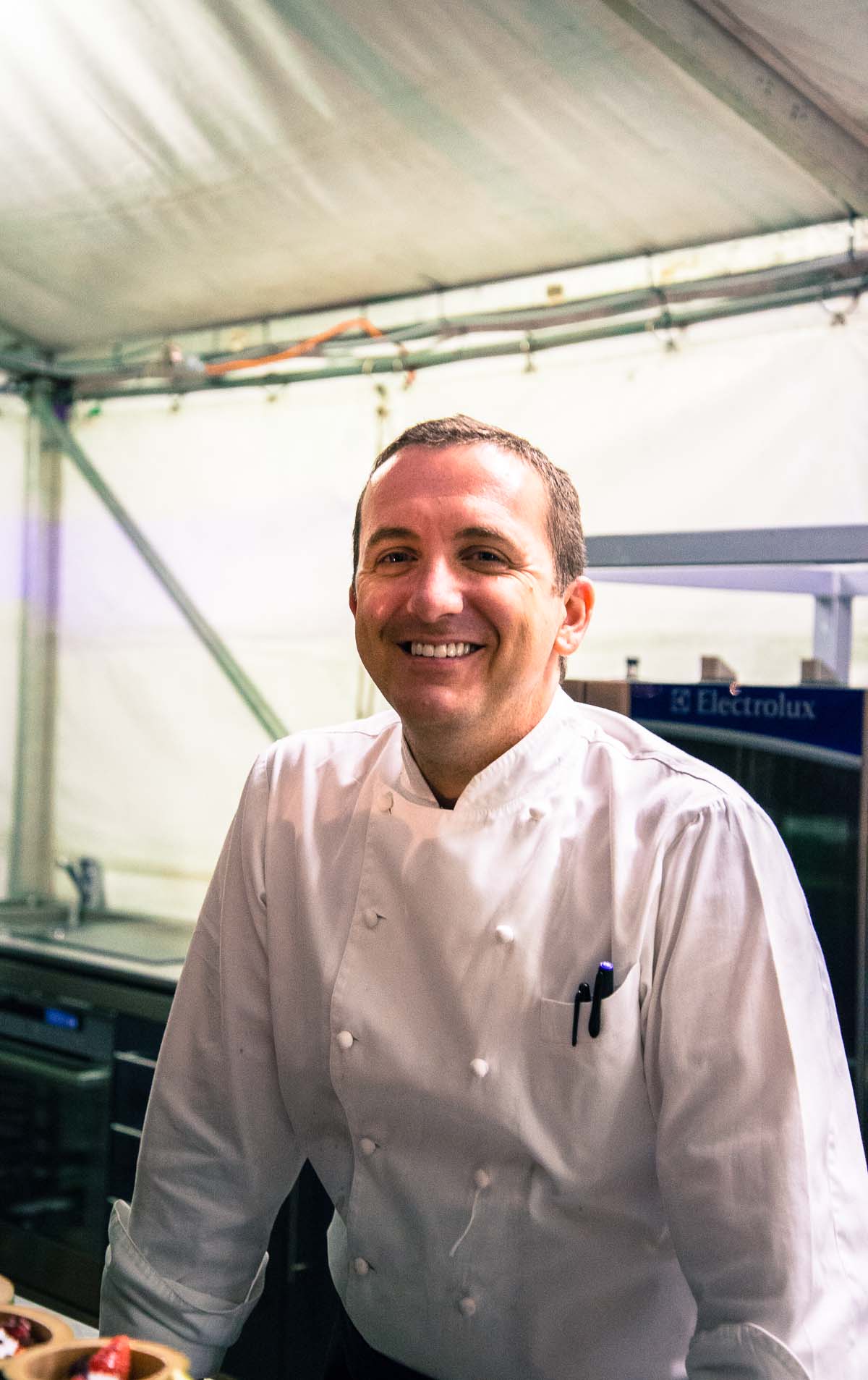 As we leave, we're given a boxed petit four to take home. I eat it the next morning and am charmed all over again.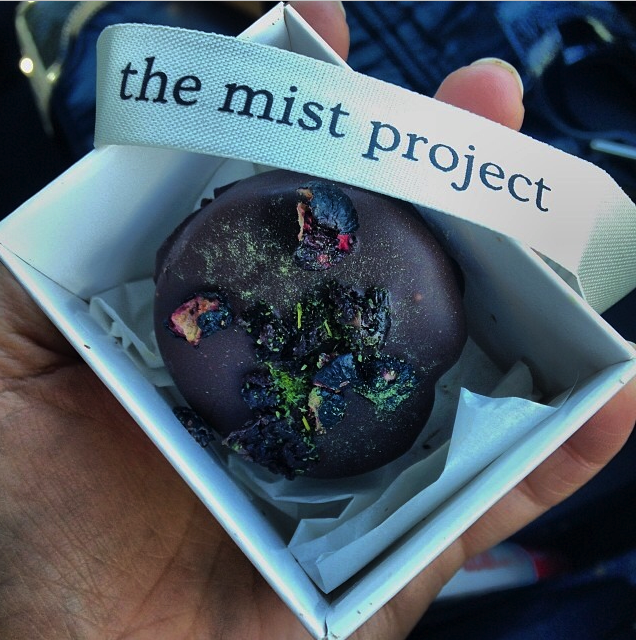 What an inspiring evening. Well done to all involved.
Useful Links
More Exceptional Dining Experiences
Subscribe to The Hungry Australian
Don't want to miss a new recipe, dining experience or travel story? Sign up to receive new posts twice a week – it's FREE.