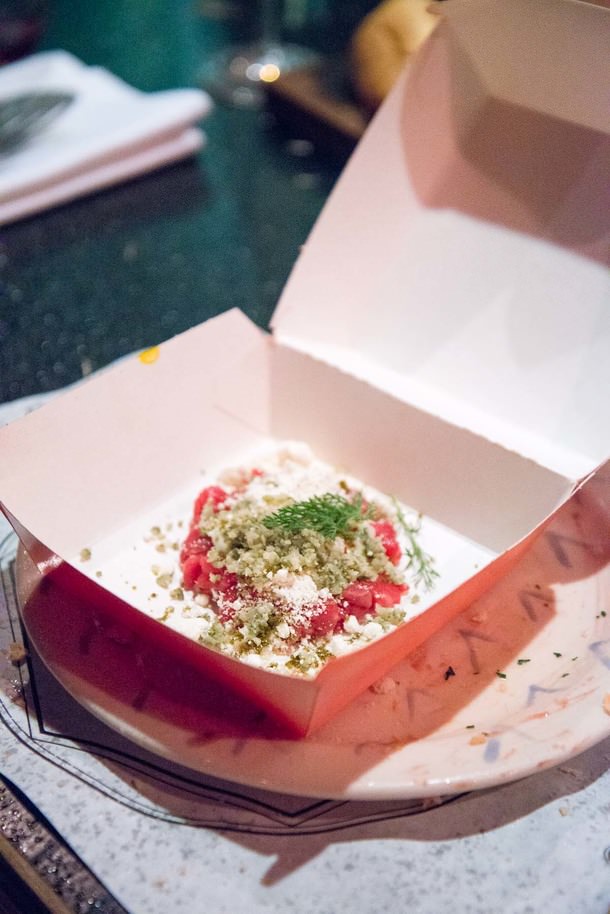 Your seat mate feeding you dessert with his or her fingers while you sit blindfolded. Intermittent rain that soaks the tables and guests necessitating the use of rain ponchos and umbrellas. The public whipping of volunteers. Fantastic food, cocktails and wine. Strangers playing Spin the Bottle. Having your wrist tied to your other seat mate's wrist with thin, black bindings.
Duncan's Dungeon, the final dinner in the Adelaide Festival's First Fruits series of degustations at the festival hub, Lola's Pergola, delivered all of this and more last Saturday at its popup location on the banks of the Torrens River.
Featuring Duncan Welgemoed from the highly acclaimed Bistro Dom, Duncan's Dungeon was an erotic dinner theatre experience that culminated — or should that be climaxed — with the Eyes Wide Shut-esque bondage, gagging and whipping of Duncan himself.
Let's start at the beginning, shall we?
Adelaide has been treated to a stellar lineup of chefs showcasing their signature styles over the last two and a half weeks of the First Fruits dinners.  Tonight is my fourth dinner — I went to the Yakitori Sugar Pie, Misty Makers and The Old Boys dinners — and expectations are running high.
Joining me for Duncan's Dungeon are Erin, Tash, Celeste and her partner Kev, school friends Megan and Cathy, Cathy's husband, Nick, and around 150 other guests. It has been raining occasionally all day so we're all rugged up as suggested because the dinner is in the open air.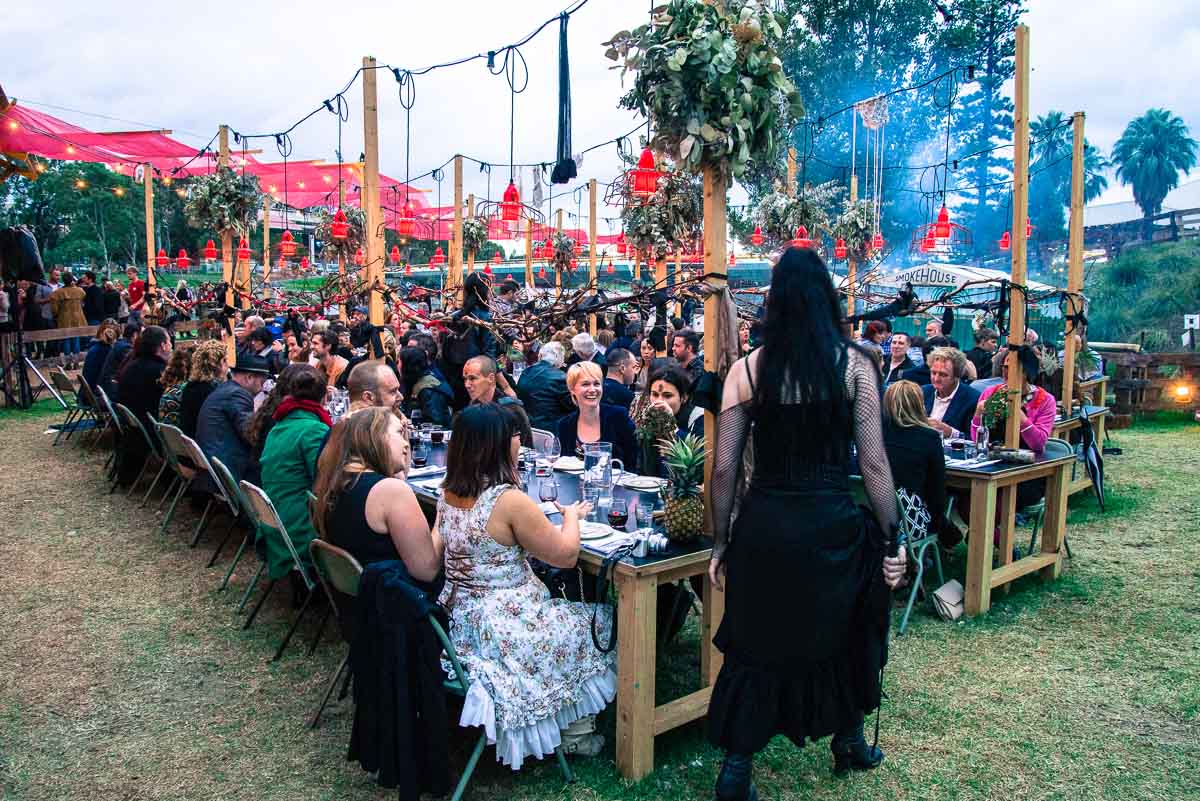 The theme tonight is the Seven Deadly Sins: Lust, Gluttony, Greed, Sloth, Pride, Wrath and Envy. The welcome cocktail by Andrew Cameron — a kind of sexy mulled wine infused with all sorts of different aphrodisiacs including rose — sets the tone.
The first course comprises chicken liver parfait with Chianti jelly, celeriac remoulade, fava beans and slices of fresh radish.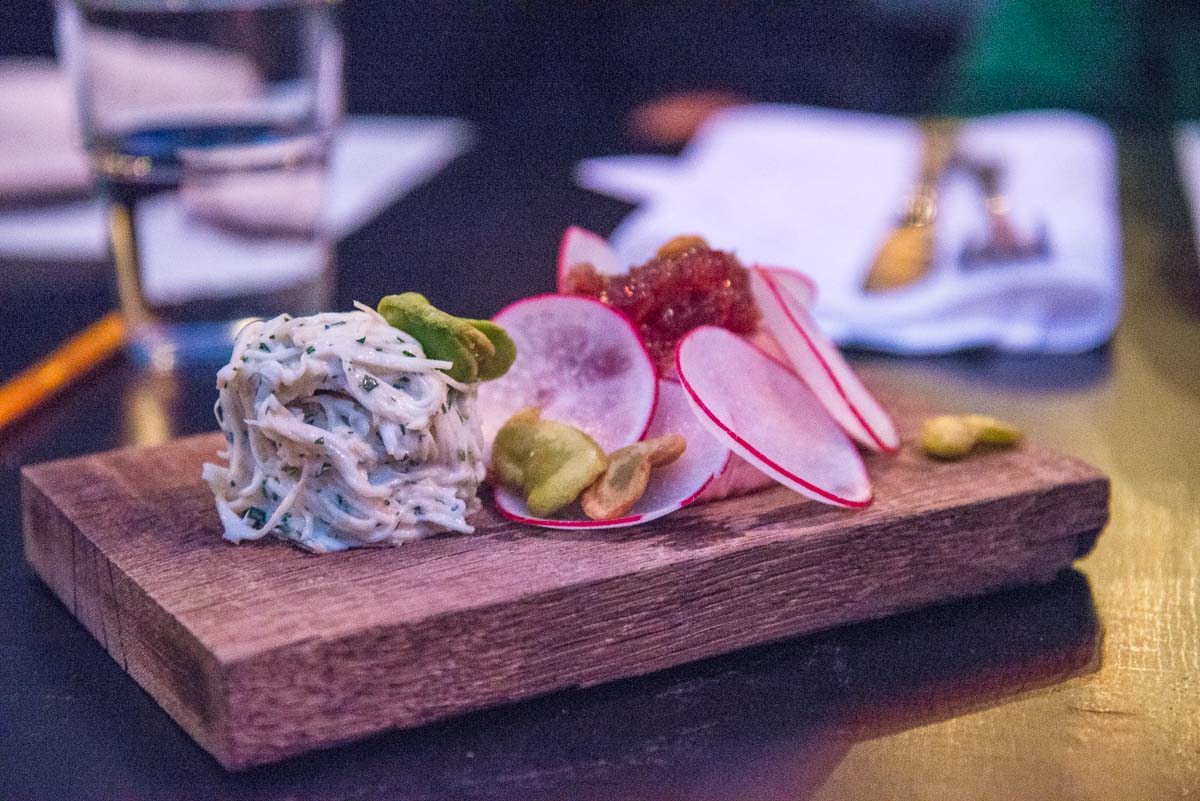 This dish twigs a vague memory and then the penny drops: why, it's The Silence of the Lambs brought to life! Remember Hannibal Lector's killer line: "a census taker once tried to test me. I ate his liver with some fava beans and a nice chianti." This must be Wrath, right? *shudders*
Shortly after this course, it starts raining again so people hide under umbrellas and provided rain ponchos.
Our strikingly dressed servers reappear and tie various people to each other with black bindings. Note the bound wrists of the two ladies on the right, below.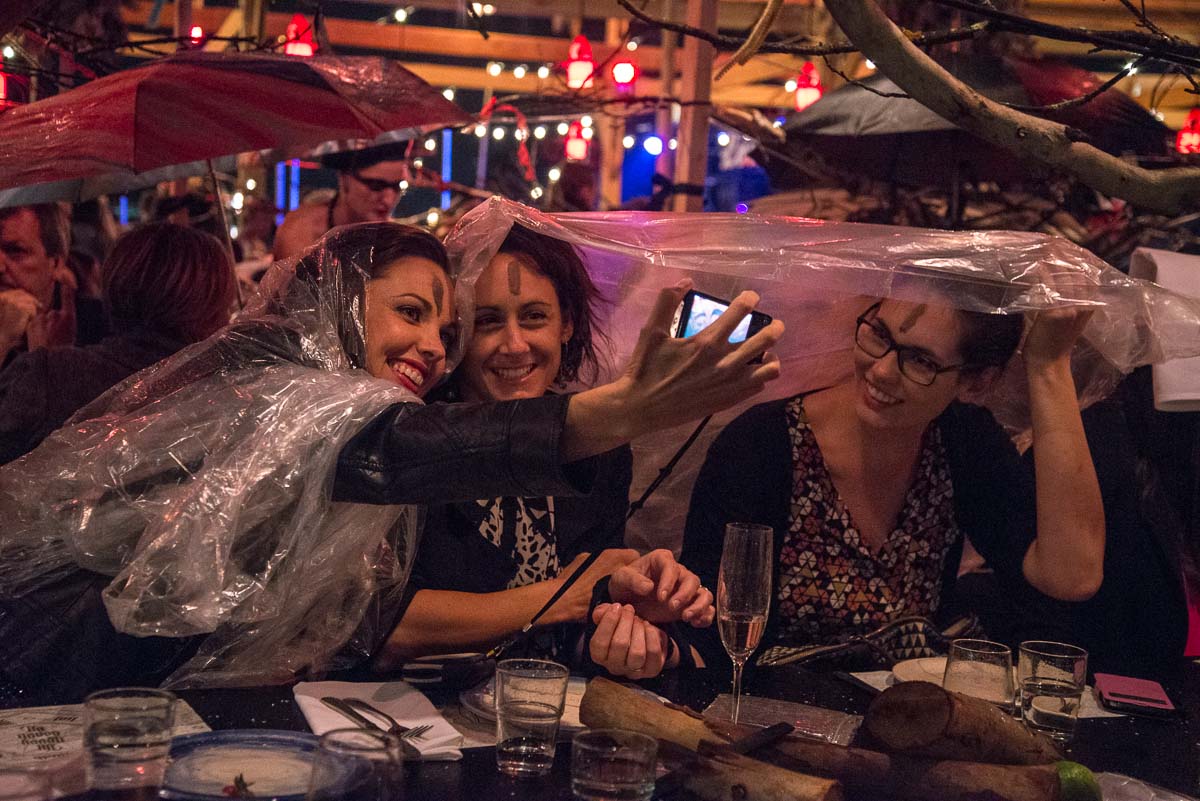 I sneak a peek at the pop up kitchen where Duncan is stacking faux McDonald's burger boxes. Whatever is he up to?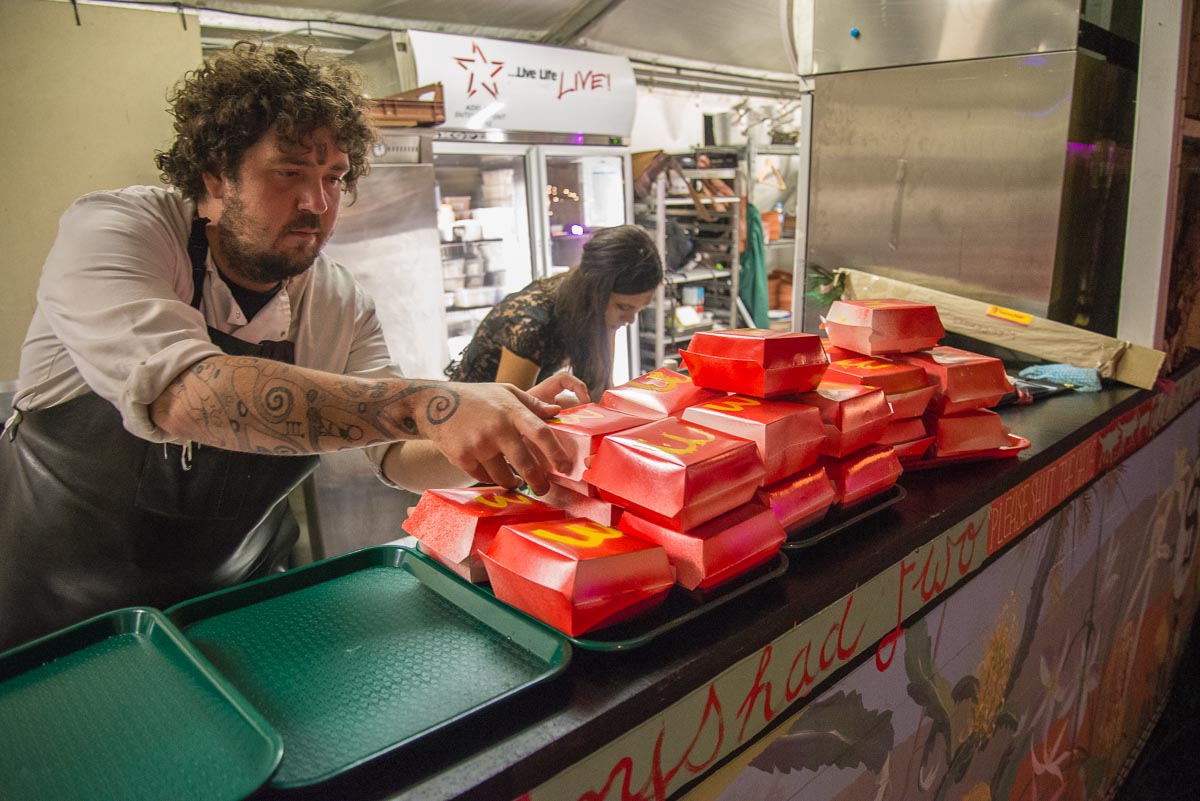 We soon find out. Inside is Sloth – steak tartare with finely minced onion and pickles, powdered cheese and a sprig of dill.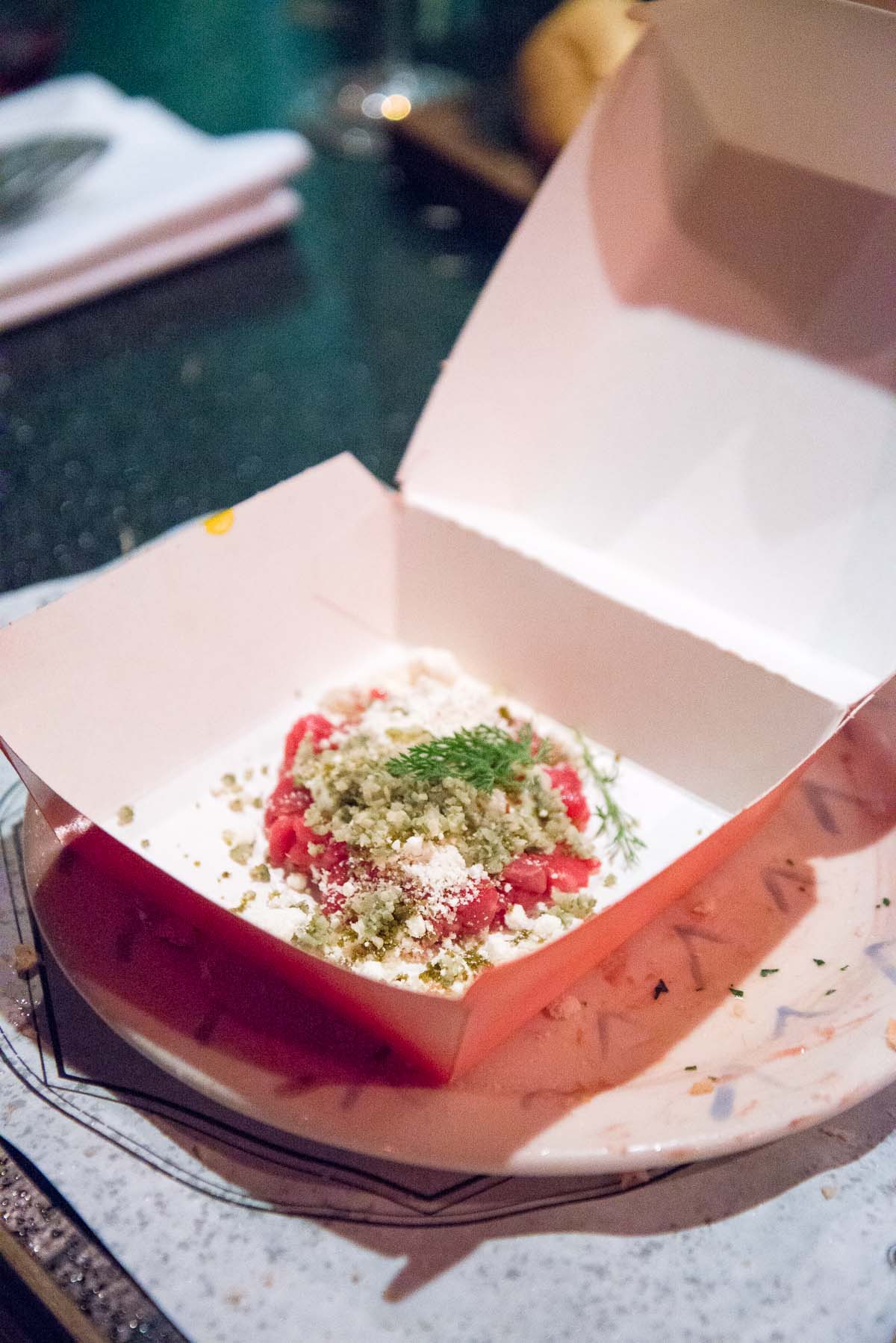 It is astonishingly good. In this dish Duncan has captured all the flavours of a burger in a few mouthfuls that melt sensuously on the tongue. Absolute genius.
Then the rains come bucketing down again and everyone scrambles for their rain ponchos and umbrellas again.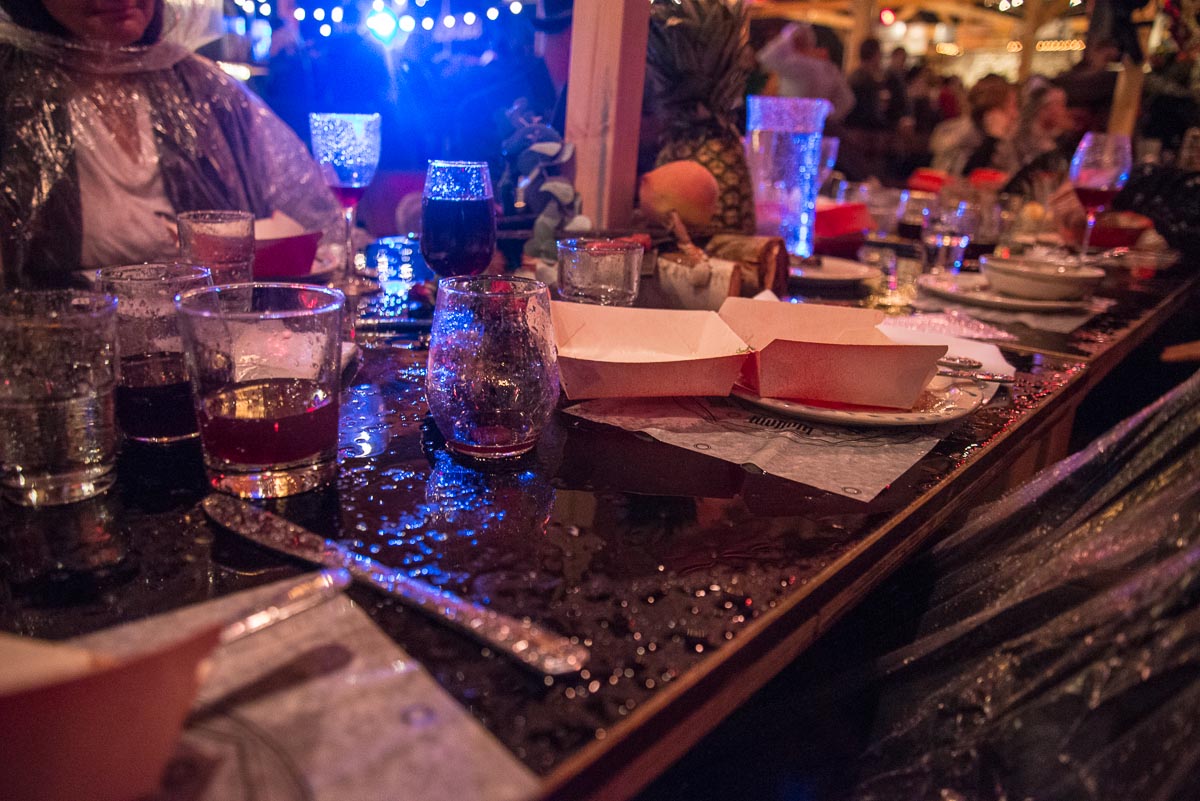 Next we're served another cocktail by Andrew Cameron. This one is presented in a teapot and poured directly into our mouths.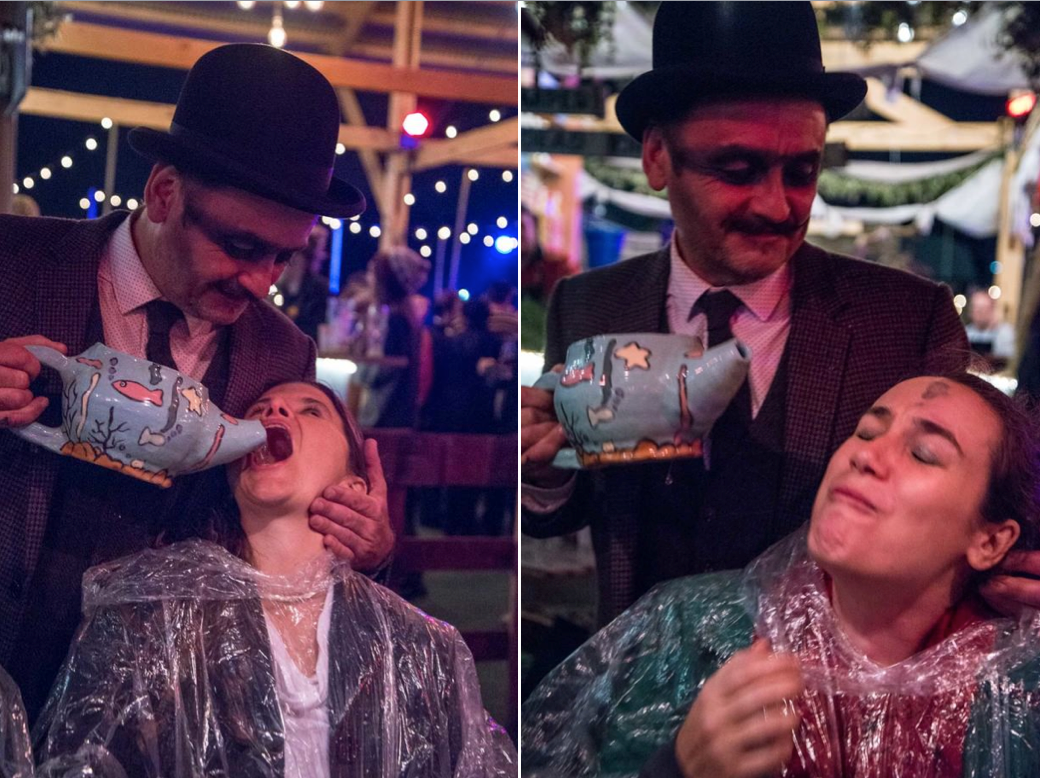 I miss the explanation but Erin tells me later that the cocktail contains damiana, which is said to be a stimulating aphrodisiac that can produce a mellow high.
This was as awkward to drink as it looks. You know that feeling at the dentist where you have to open your mouth and you know you're probably not going to like it? It was like that only way more unsettling.
By now the rain has cleared up and people start to disrobe again.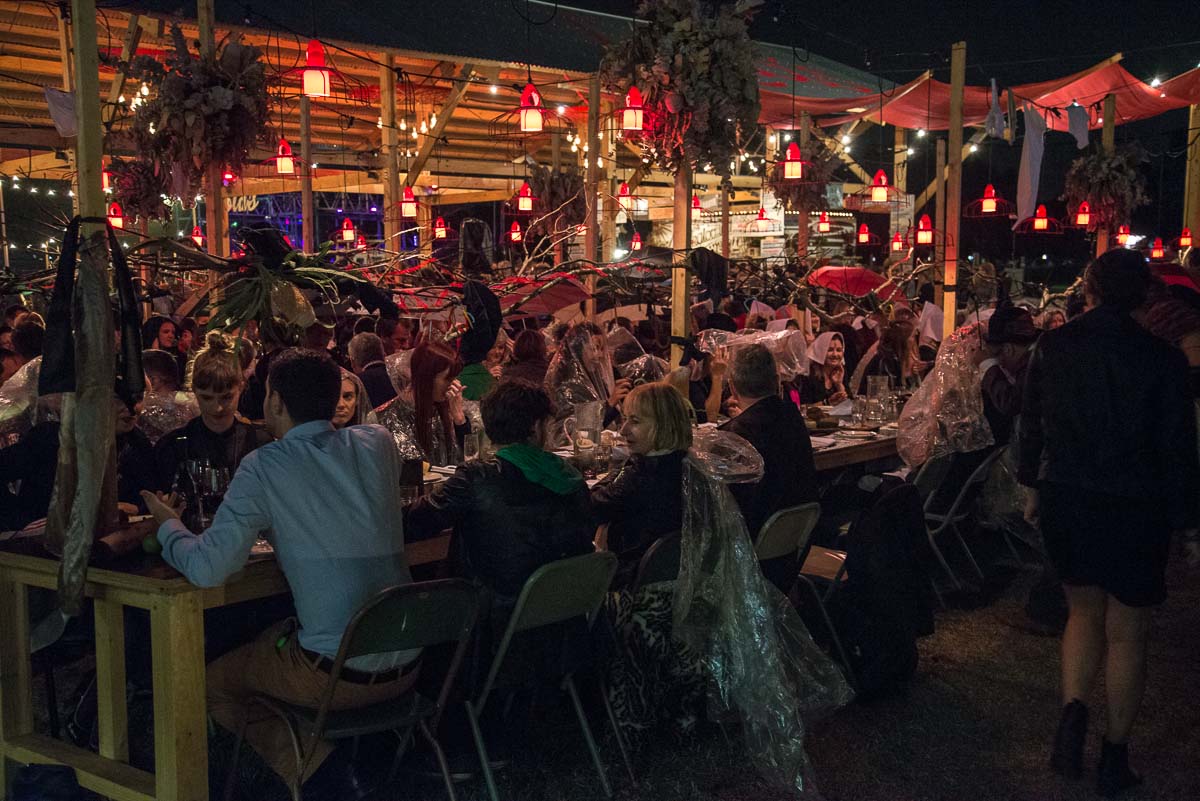 The next course is Pride – roasted chicken decorated with peacock feathers is placed on the table and then fresh grapes are squeezed over the top by our servers.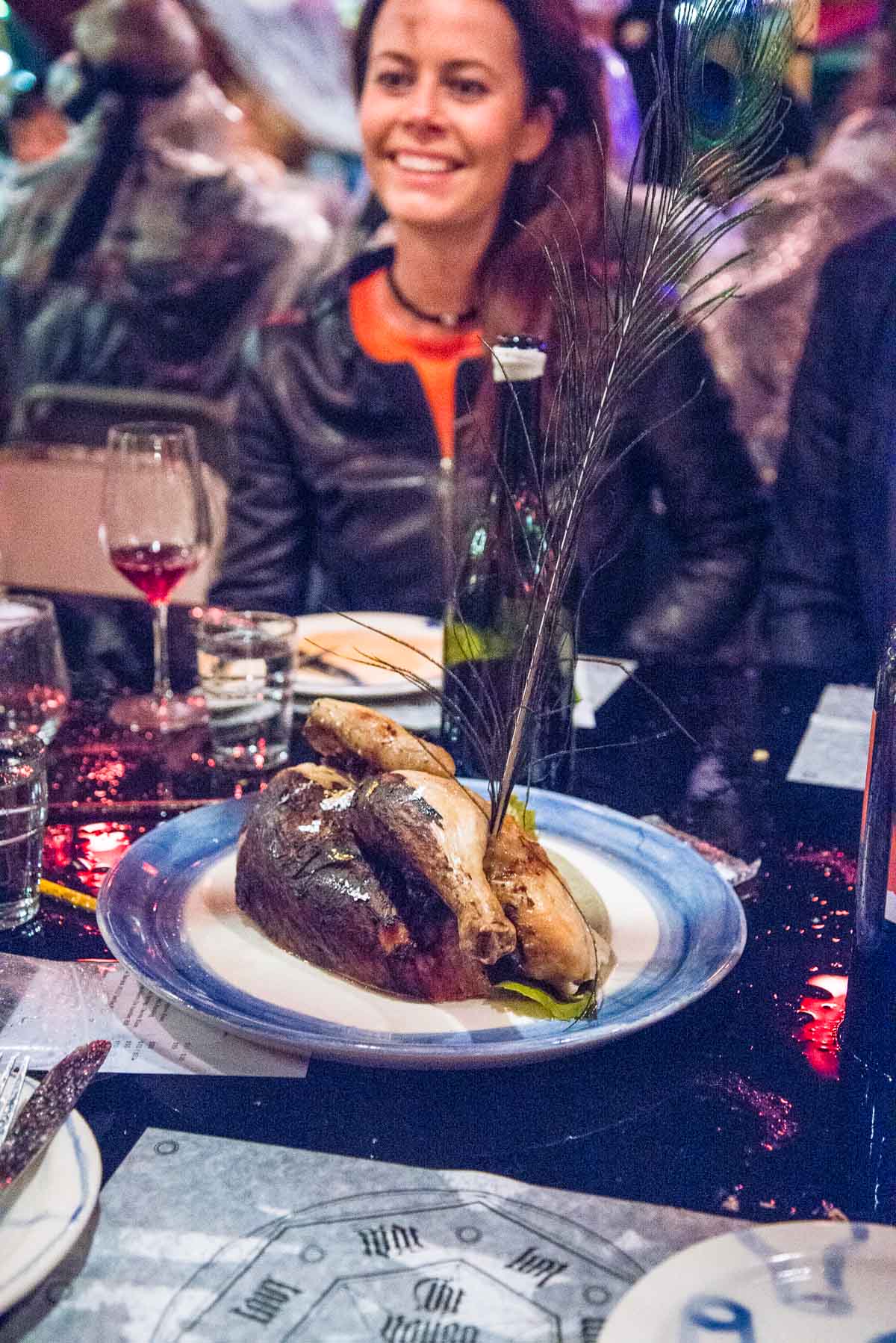 (I'm wandering around when this is served so this is a pre-grape version at another table).
The chicken is moist and delicately seasoned. I missed the explanation so am not sure what the grapes signify – can anybody help?
Our next course — foie gras with stewed rhubarb — causes some confusion as our table of eight people only receives one serve. Then it dawns on us: this course must be Envy. Oh, Duncan, you wicked thing!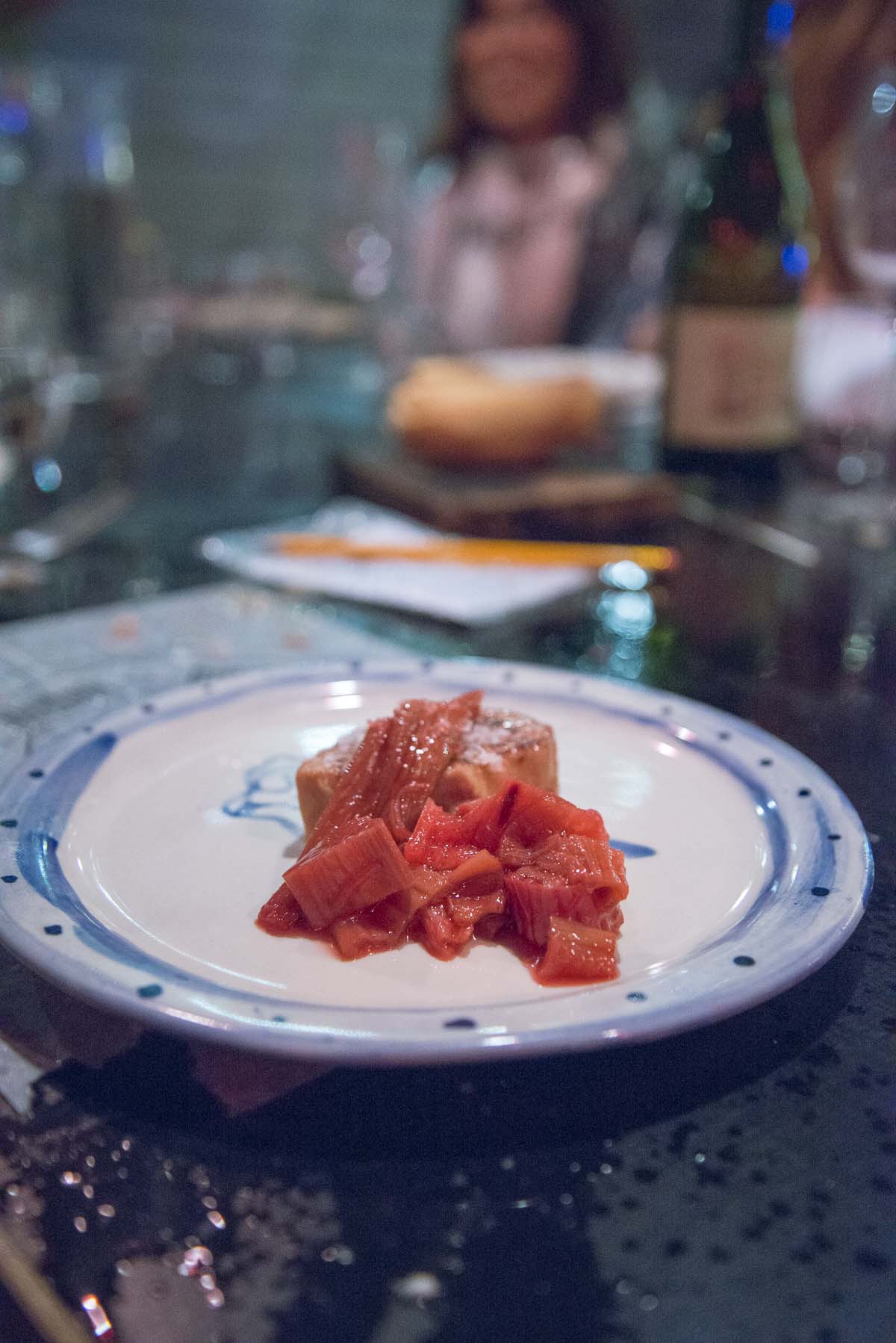 Luckily, Erin shares her serve with everyone. The foie gras is rich, delicate and buttery, while the stewed rhubarb adds a welcome tartness.
Our server clears the table and removes our forks but leaves our knives. What is going on?
We then notice a guest at the next table being tied up by two of the servers.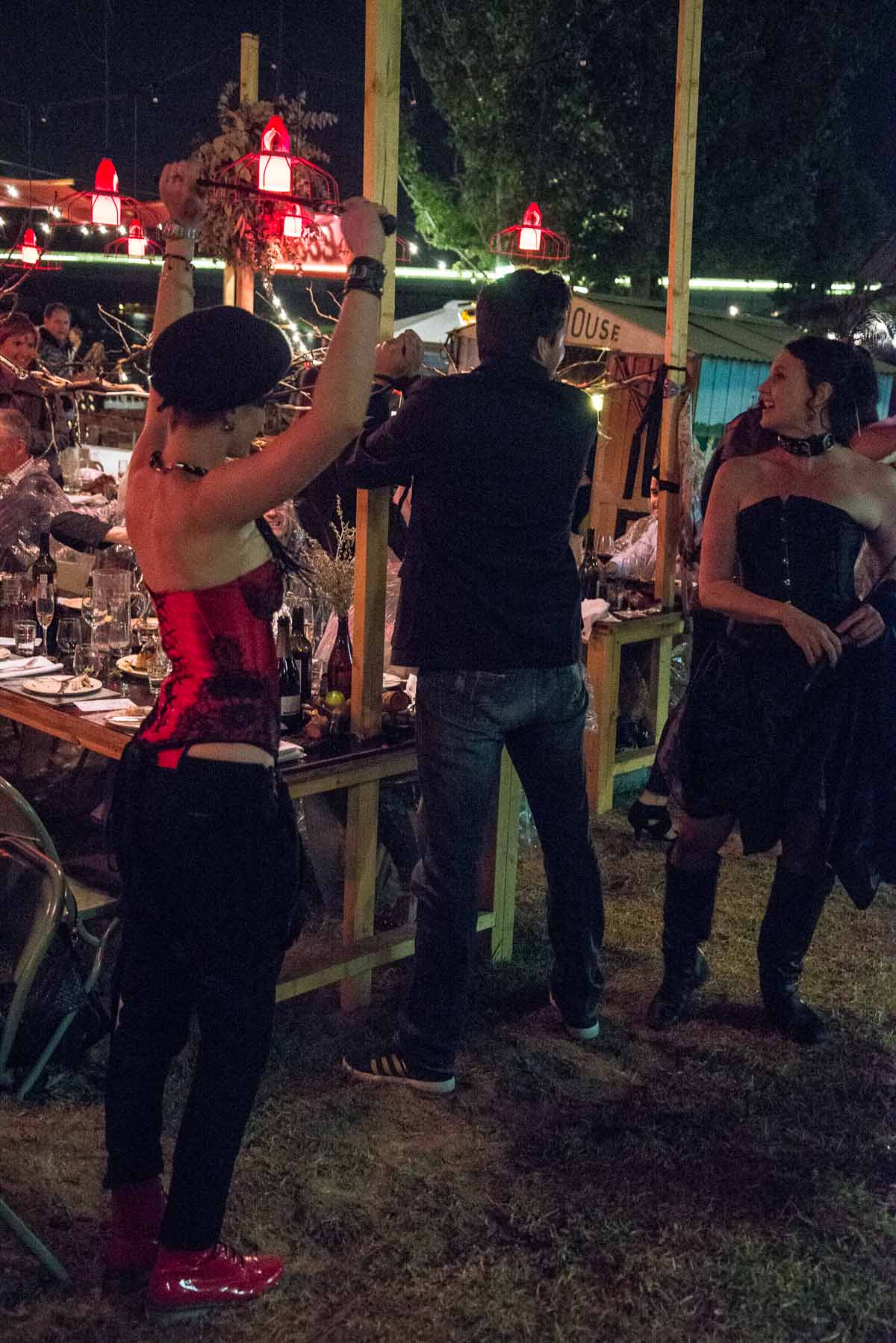 This is where the evening veers from fun and merely unsettling to wtf-omg-is-this-really-happening?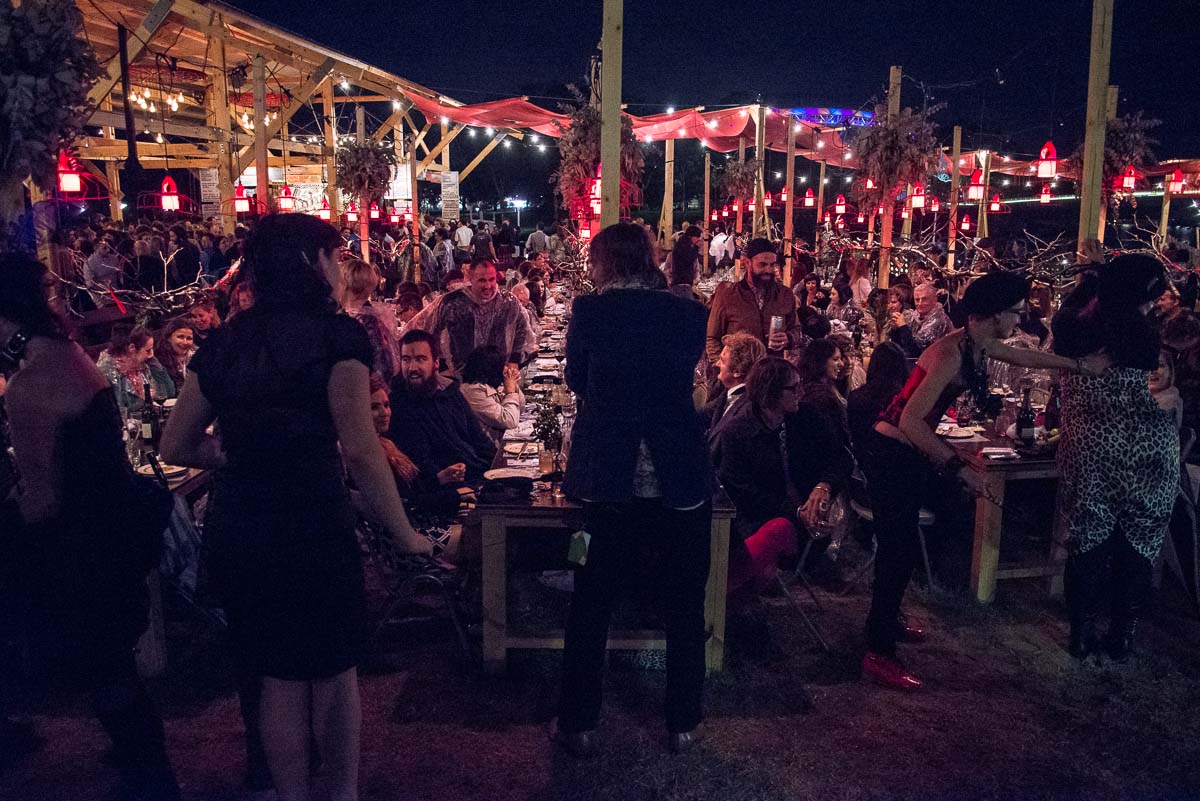 Volunteers from the audience — let's face it, this is erotic dinner theatre — are tied up and whipped.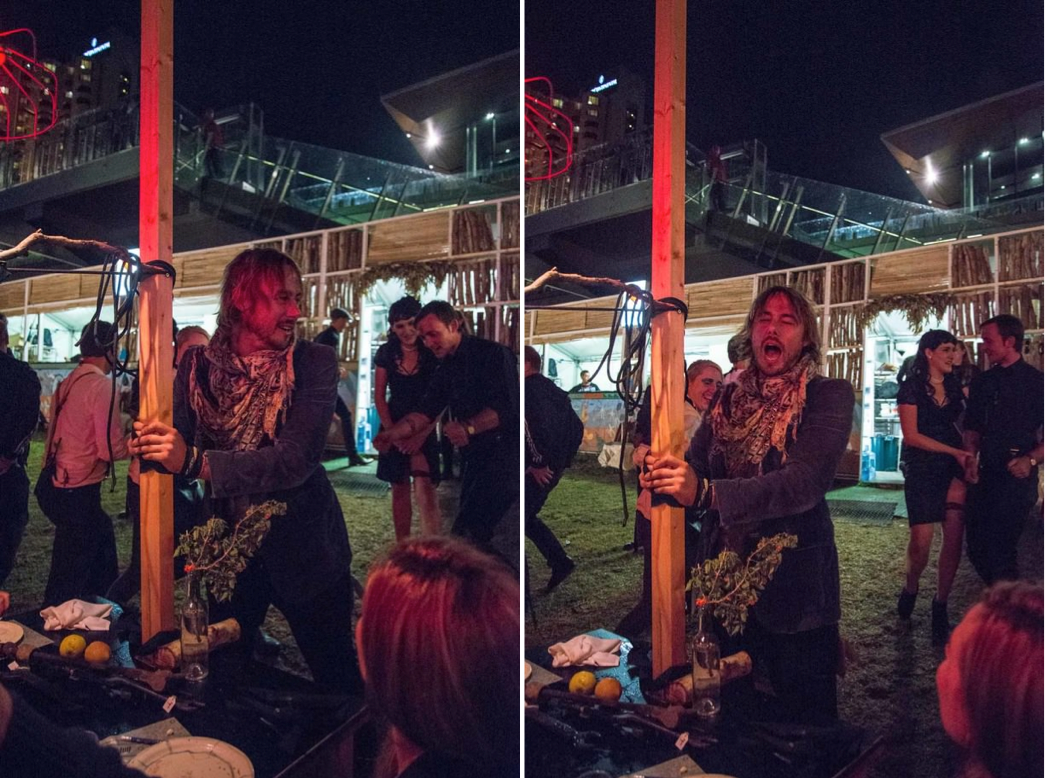 It's funny, uncomfortable and mesmerising all at once.
The next course is maple roasted pineapple that has been cunningly impregnated with the taste of ham.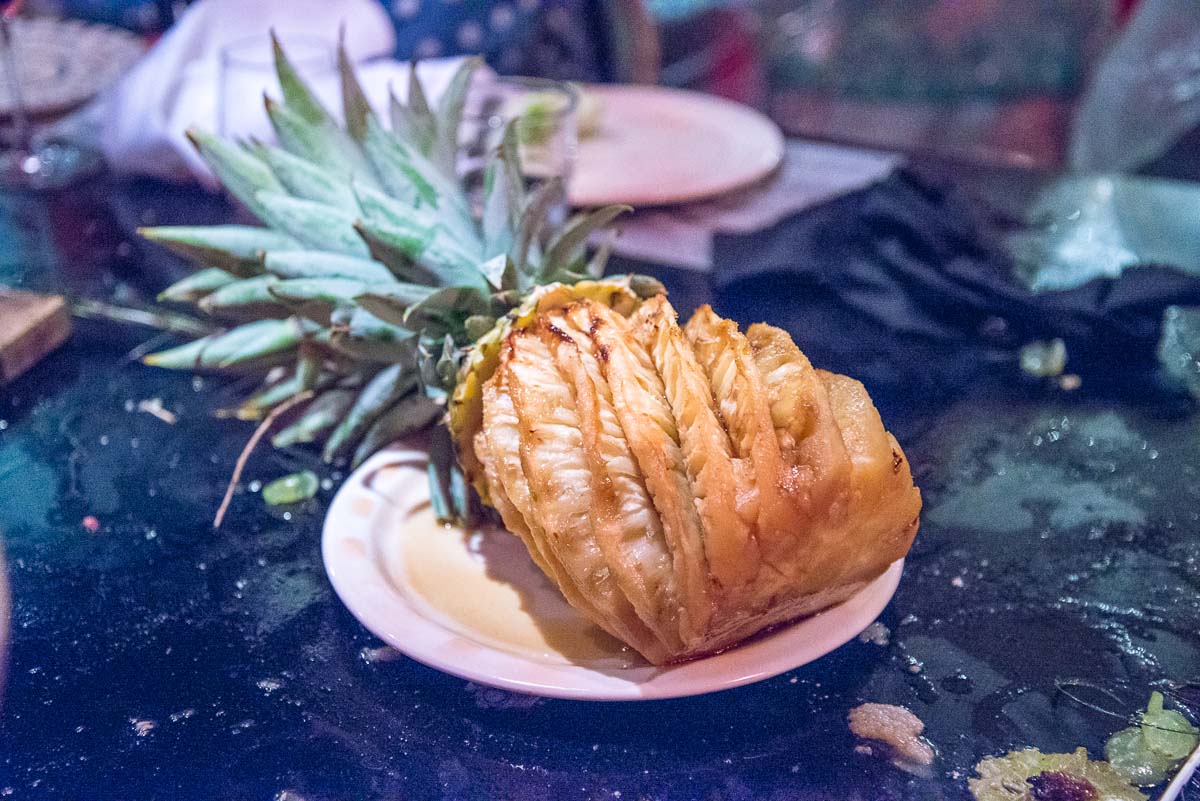 I'm completely charmed – it tastes like a Hawaiian pizza. The carb-free, dairy-free diet mob should take note. This is Greed, right?
The next course features four different sides, including these roasted plums and roasted cauliflower served on a bed of creamy cheese sauce.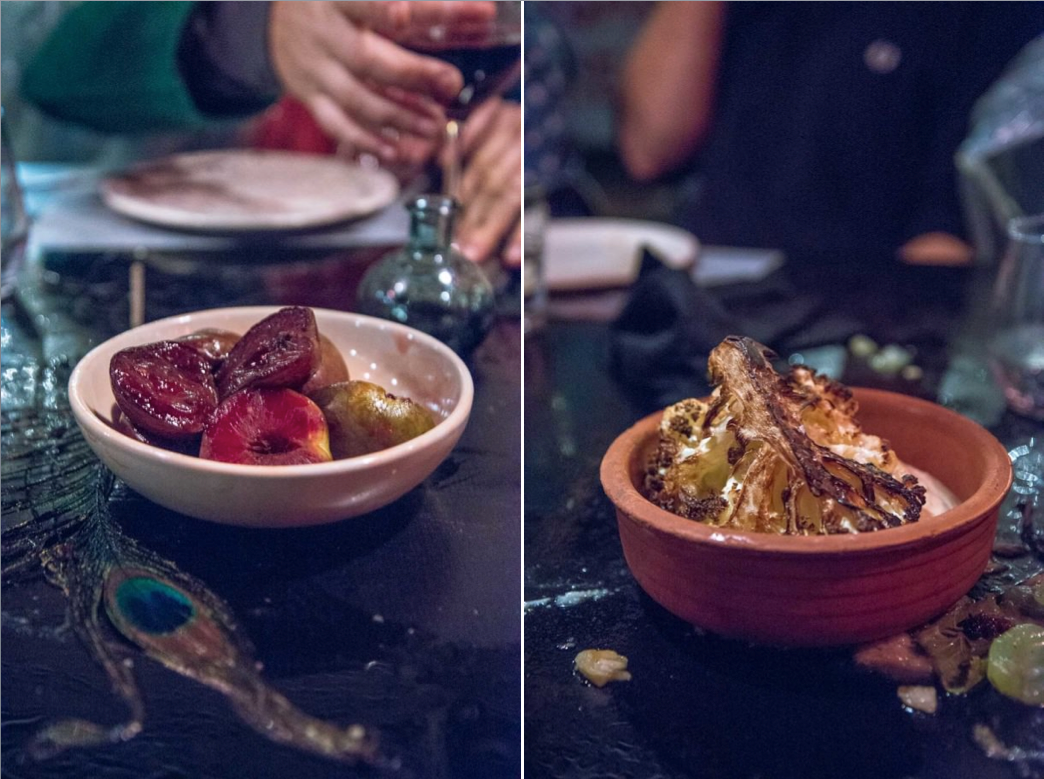 I especially love the cauliflower dish – it's like a deconstructed cauliflower cheese bake.
The eagerly anticipated main dish arrives – roasted pig with wurst, black sausage and mustard.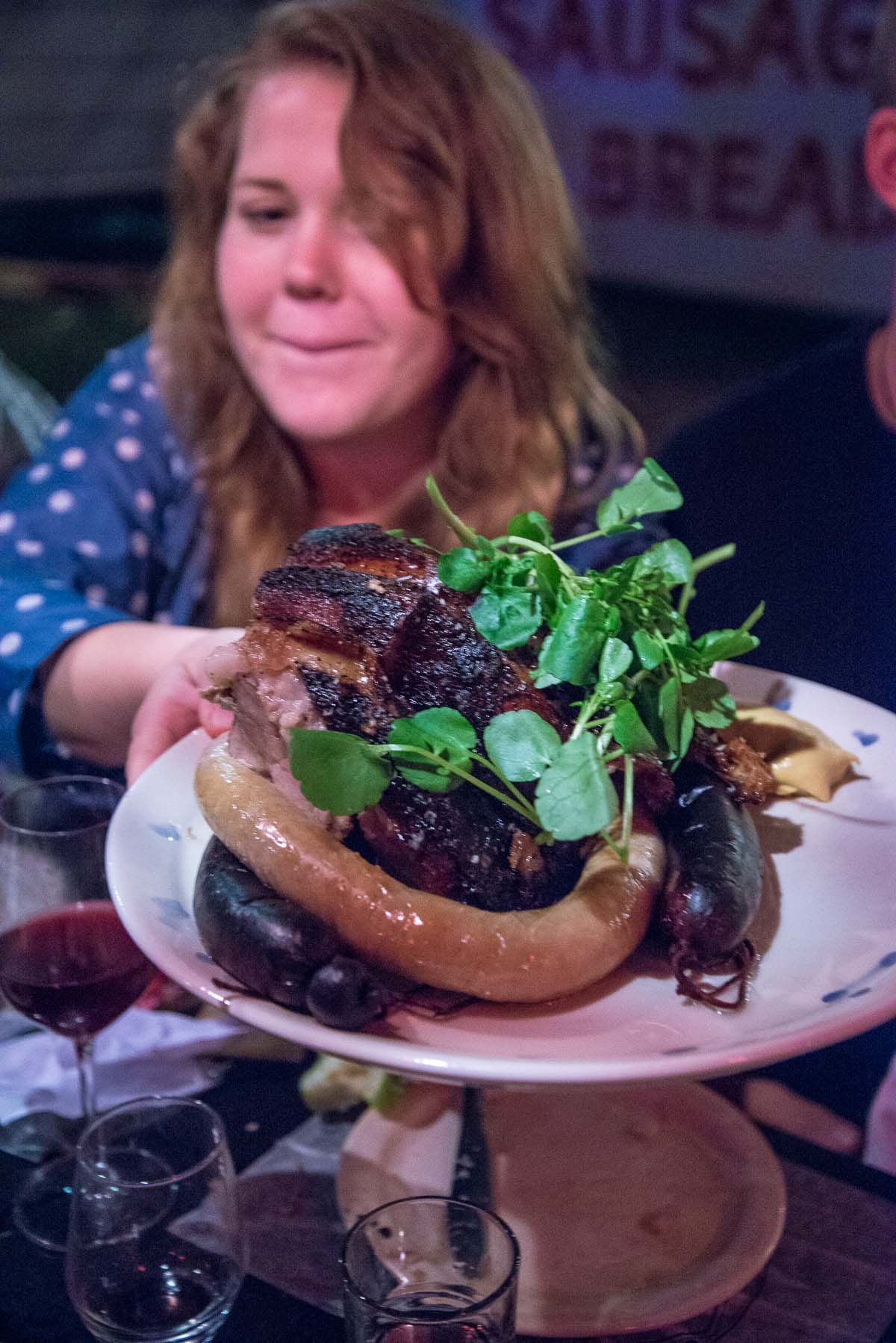 Without forks we're forced to hack at the food with our knives and then tear it apart with our hands. This course has got to be Gluttony, surely?
The pork is succulent and full of flavour but the crackling is sadly limp due no doubt to all the rain (the pork was cooked in the adjacent barbecue area on an spit). I missed out on the wurst but the blood sausage is incredibly, mind-blowingly good.
Feasting like Henry the 8th and his cohorts sans cutlery is fun but I'd give good money for a packet of wet wipes as my napkin has long been trampled in the mud, rain and grass. In the end, I'm forced to wipe my greasy hands on my black wrist bindings.
Our friendly server clears our plates and cunning eyes notice that she removes all the cutlery as well. How will we eat our dessert?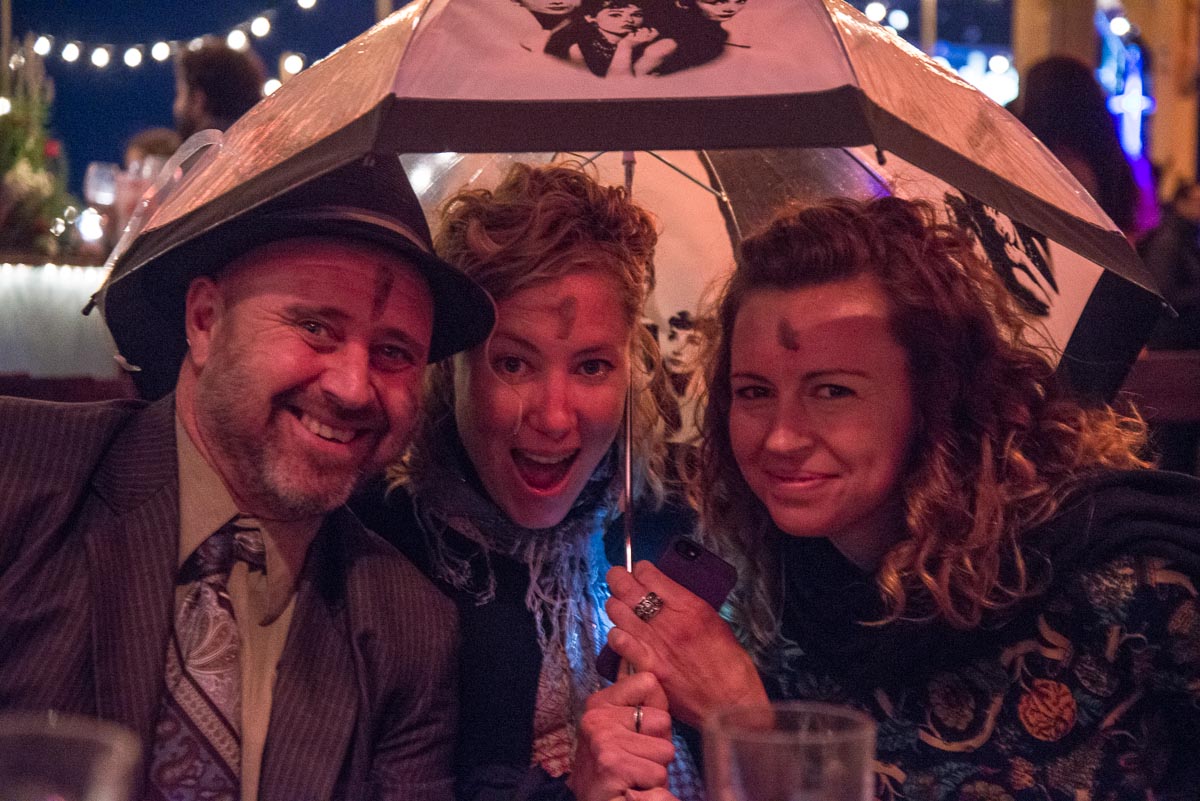 I don't have a photo of the dessert because I was blindfolded. Yes, you read that right.
For the dessert course — Lust — our server tells my table we are to be blindfolded. It says a lot about the spirit of the evening that we all agree. After we are blindfolded she places a dessert bowl between two of us and says something I don't catch. I open my mouth to ask a question and Nick puts half a ripe fig directly into my mouth with his fingers: apparently we are to feed our seat mates the dessert with our bare hands.
The dessert — fresh figs, berries, and a granola type mix with roasted almonds — is gorgeous. But I'll be honest: finger feeding each other dessert while blindfolded is decidedly awkward, especially as my friend keeps encouraging her hubby to stroke my face.
We remove our blindfolds just in time to catch Duncan himself being tied to the end of a table, gagged and whipped.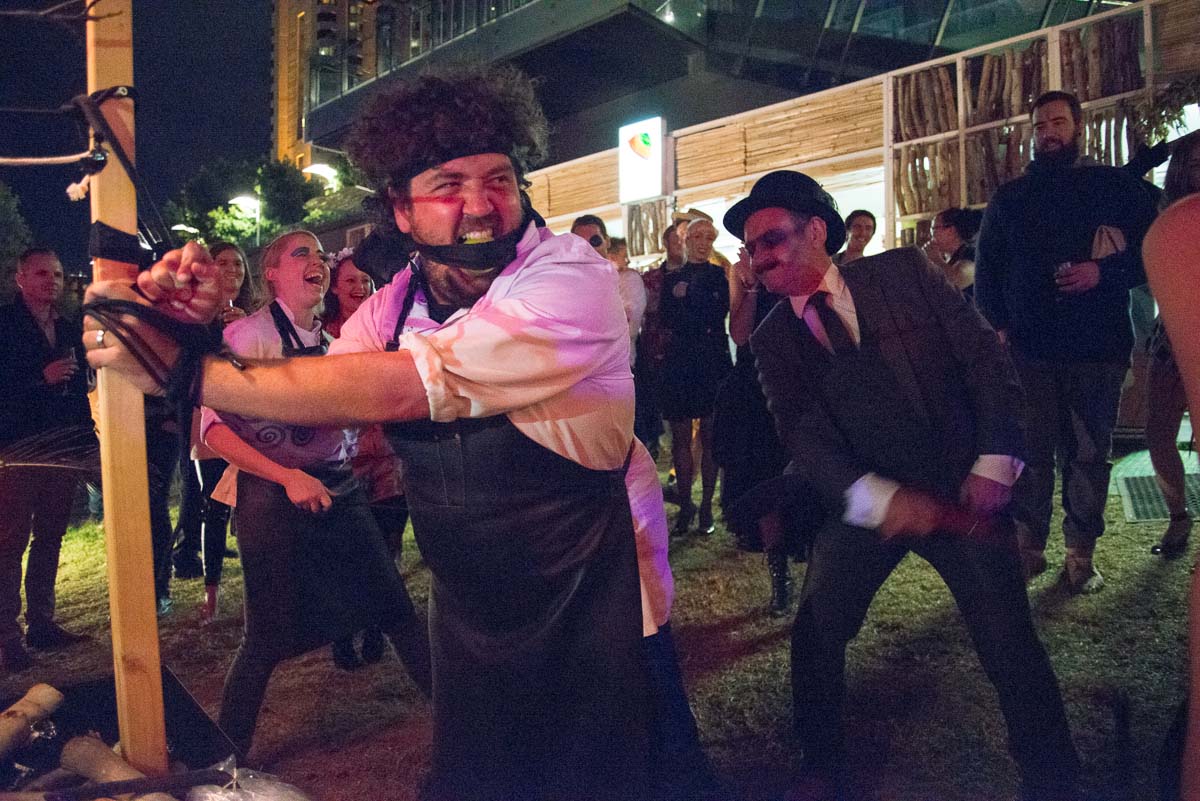 That's not a sight you you see every day, is it?!
By now some dinner guests had taken over a nearby smoking shed where they are playing Spin the Bottle. We make our way to the dance floor at Lola's Pergola, and dance until the wee hours of the morning.
The next morning I ponder the evening's events. As executive chef at Bistro Dom, Duncan appears as the celebrated young gun, pushing the culinary boundaries and exchanging banter with his diners with easy professional charm. But tonight we've seen him in a new light – as an agent provocateur leading blindfolded diners on an R-rated culinary adventure.
Was Duncan's Dungeon provocative? Hells, yes! Would some diners have felt uncomfortable if not offended? Definitely. Was it an experience that people will be talking about for some time to come? Absolutely.
Judging by the success of the First Fruits dinners and Lola's Pergola, there's every chance that Duncan and The Happy Motel crew will be back again at the next Adelaide Festival. Now I can't imagine how they're going to top Duncan's Dungeon, which was equal parts enchanting and unsettling, but I have no doubt that they'll try.
Useful Links
More Exceptional Dining Experiences
Subscribe to The Hungry Australian
Don't want to miss a new recipe, dining experience or travel story? Sign up to receive new posts twice a week – it's FREE.