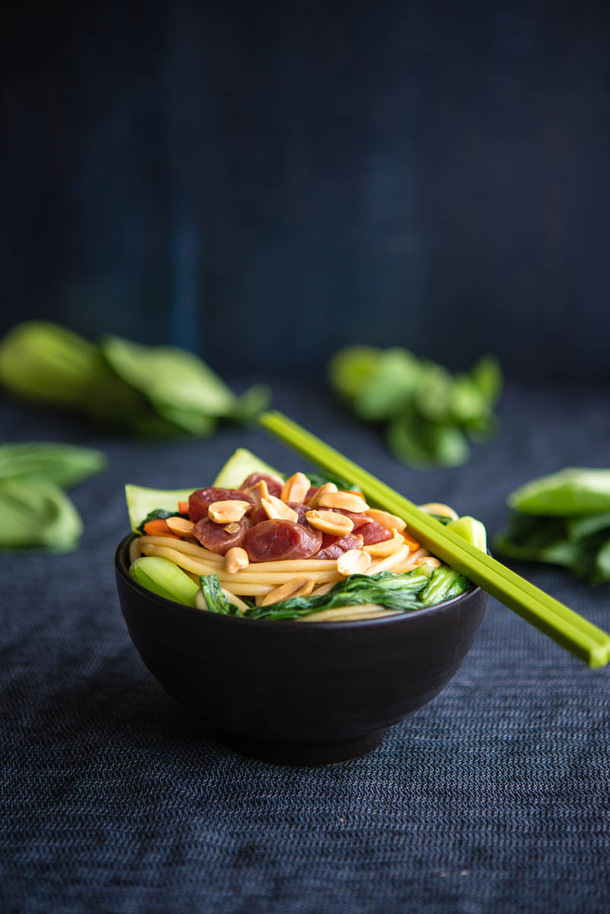 Last year my husband and I decided to separate. We'd been together for nine years and married for seven. Older The Hungry Australian readers may remember him popping up in various posts like this, this and this.
My parents are still together so I never imagined I'd be in this situation. But I also know that you can reach a point where it's no longer tenable to be with someone. So the last 18 months have been challenging and sad in all kinds of ways. Ultimately, this is the best way forward.
We have young children so we work hard at maintaining an amicable relationship for their sakes. It's not easy but it is important as their ability to deal with our split is closely linked to the way we manage it and how we continue to interact.
So it is in this positive spirit, and with his permission, that I want to share one of my ex husband's recipes with you. This dish — Chinese Sausage Stir Fry — was the first dish he ever cooked for me when we started dating. At the time, I remember thinking, this guy has balls (if you'll pardon the expression). I mean, not every (Western) man would feel confident enough to cook an Asian date an Asian dish. Put it this way: if I started dating an Italian man I would not be serving him Italian food the first time I cooked for him.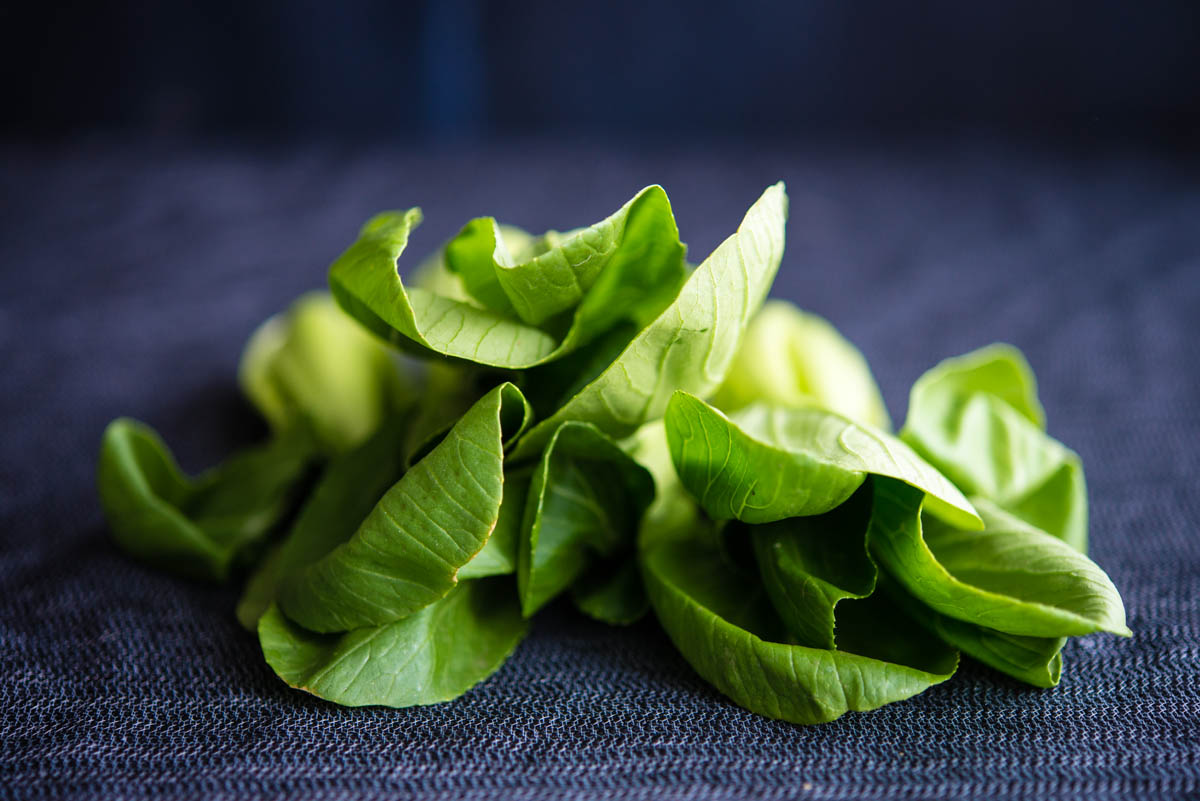 My ex came up with this dish himself, which was quite impressive as he'd only started eating Asian food when he arrived in Melbourne from Europe six years prior to our meeting. He did a Vietnamese cooking class shortly after he arrived after which there was no holding him back in the kitchen.
This dish was one of our regular Sunday night dinners as it could be made with ingredients we usually had in the refrigerator and pantry. Our kids loved it, too, although I'd add some marinated chicken pieces for them so they didn't fill up too much on Chinese sausage – I haven't met a kid that doesn't go nuts for Chinese sausage and it's not something they should eat too much of.
Ironically, or perhaps, tellingly, my ex and I always disagreed on was how to cook this dish. He would chop up all the stir fry ingredients and then add them to a cold wok/fry pan, with the vegetable oil and then turn the heat on. I maintained, and still do, that you should heat up the wok until smoking before adding the oil and then the raw ingredients in a particular order. I have to admit it tasted fine cooked either way though.
This dish is super simple and very tasty. Eat it, and remember to hold onto the positive moments that are present in every tricky situation.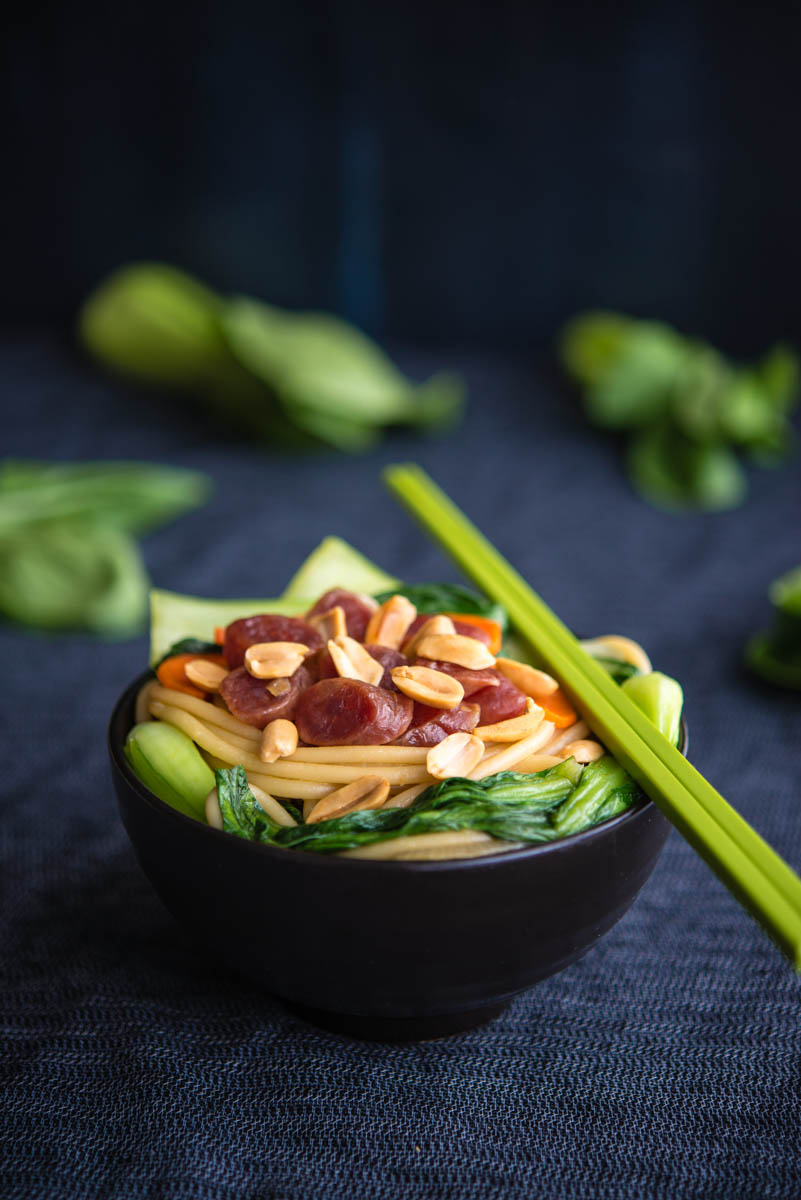 INGREDIENTS
1.5 tablespoon vegetable oil

1 large onion, diced into small pieces
2 cloves garlic, chopped
1 inch piece ginger, peeled and sliced thickly
5 Chinese sausages, sliced into thin pieces (available from Asian grocer)
2 bunches bok choy, washed and trimmed into individual pieces
2 carrots, peeled and cut into think half moons
4-5 tablespoons oyster sauce
1 packet spaghetti, cooked in salted water and drained. Reserve half a cup of cooking water.
Salt and pepper (optional)
Handful roasted cashews or peanuts
METHOD
Heat up wok or non stick fry pan until hot and then a

dd oil.
Cook onion, garlic and ginger over a low-medium flame, stirring regularly, until softened (about 2-3 minutes). Do not let it burn or brown – turn down heat if necessary.
Add Chinese sausage and cook for a minute before adding bok choy, carrots and oyster sauce and stirring to combine.
Cook for a couple of minutes until bok choy stems are cooking through, stirring regularly, before adding spaghetti and stirring well to coat with the sauce. Add a splash of cooking water to moisten if necessary.
Taste and adjust seasoning if necessary by adding salt and pepper, or more oyster sauce.
Serve in deep bowls and garnish with roasted peanuts or cashews.
Notes
Serves 4

Dairy free, no added sugar
Variations
Steam the Chinese sausage in a small saucepan before frying it for a much juicer result.

Add 200 grams marinated chicken thigh fillet pieces for added protein. Marinate the chicken in one tablespoon Shaoxing wine, 1 tablespoon light soy sauce and 1/2 teaspoon sugar for least half an hour before cooking.
You can substitue gai laan (Chinese broccoli), regular broccoli or green beans for the bok choy. Just be sure to separate the stems and the florets of the broccoli and cook the stems for a minute before adding the florets.