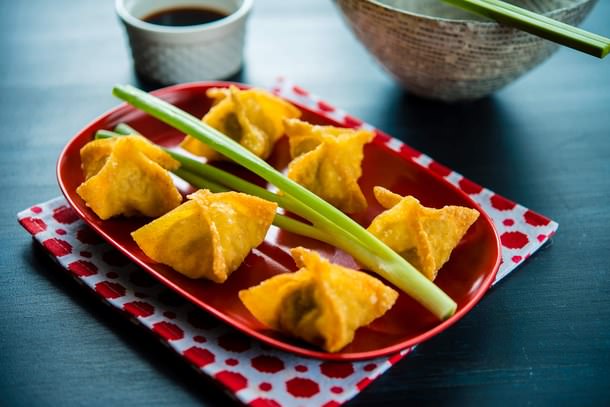 One thing I love about working as a recipe developer is the chance to share my recipes — and my family's recipes — with a much wider audience. I'm always thrilled when someone emails me or comments on a post to tell me that they tried one of my recipes and enjoyed it.
In the process of having to break a recipe down and re-imagine it to suit a client's specific needs I usually learn a thing or two, too. This Fried Wontons recipe developed for Bertolli Extra Light olive oil is a great example of this. I tested four different wonton wrappers on three different batches of wontons before I found the ultimate wonton wrapper. Yep, my family ate a lot of wonton that week!
Now I know some people think deep frying at home is taking your MasterChef aspirations a step too far but ignore them. It's not hard, especially if you follow my tips below. Yes, you'll end up with a lot of oil but you can do what I did: let it cool, strain it and then decant it into a suitable container to reuse as required. It's what my paternal grandmother did and what my parents have always done so I'm in good company here.
Some tips for you:
Use a deep saucepan when deep-frying to avoid splashing,
Let the oil heat up properly before adding wontons. If you don't have a thermometer or can't be bothered using one, simply drop in a little piece of wonton skin. It should immediately start bubbling furiously and rise to the surface. If it just sits there looking like a flaccid piece of wonton skin remove it and wait a little longer before trying again.
Use a suitable slotted spoon or long-handled pair of wooden chopsticks to remove the wontons. Don't use a normal pair of chopsticks – they're nowhere near long enough and you don't win points for being a hero.
Remove the just-fried wonton to a plate lined with 1-2 paper towels to absorb excess oil.
You can make the wonton up in advance and store them in the fridge between layers of baking paper to avoid sticking but this dish must be eaten immediately to be enjoyed at its best.
It is highly unlikely that you will ever win the lottery so you might as well spend that money on fancy knives and other kitchen accessories.
Get this dish right and you'll be rewarded with golden bundles of deep-fried goodness and joy. Serve said bundles of joy with a dipping sauce made of Chinkiang vinegar, minced ginger, chilli oil and light soy sauce – the combination is sublime and incredibly more-ish.
On second thoughts, maybe you better double the recipe to be on the safe side. Enjoy!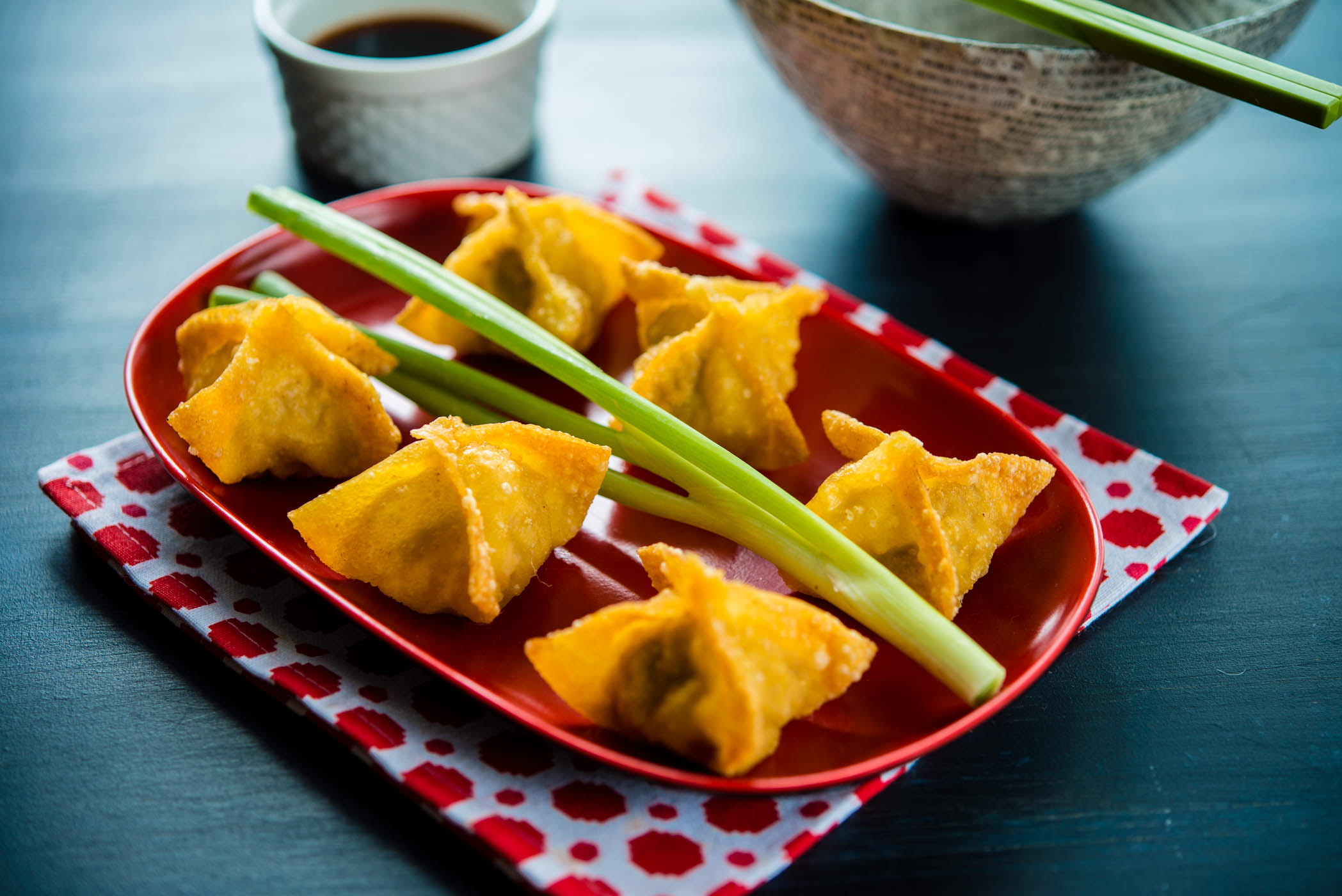 Recipe: Fried Wontons
Author:
Christina Soong-Kroeger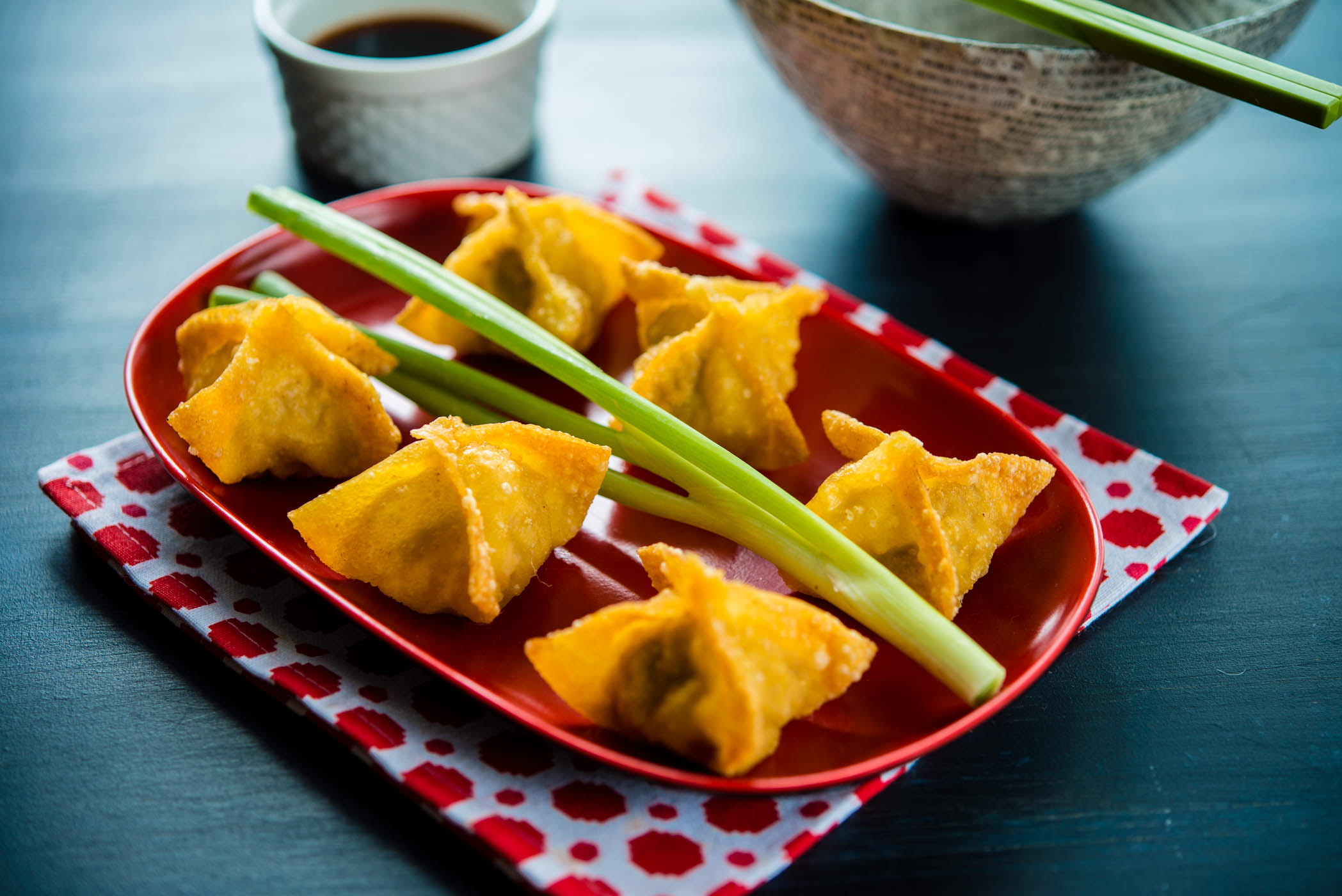 Fried wontons = golden bundles of joy!
Ingredients
300 grams minced pork
80 grams raw shelled prawn meat, chopped roughly
3-4 finely sliced spring onions (about ½ cup)
1 tablespoon Shaoxing wine
1.5 tablespoons light soy sauce
1.5 tablespoons minced ginger (use a fine grater)
¼ teaspoon white pepper
1 packet wonton wrappers
4 tablespoons water
1 - 1.5 litres oil, depending on the size of your saucepan
Instructions
Combine pork, prawns, spring onions, Shaoxing wine, light soy sauce, minced ginger and white pepper in a medium bowl.
Fill a small bowl with water.
Pick up one wonton wrapper and spoon some filling into the centre. Using the water, run a wet finger around the wrapper edges and then press them firmly together, making sure that there is no air trapped inside. Repeat with the rest of the filling.
Heat up the oil in a small saucepan – you need the oil to cover the wontons completely so adjust the amount of oil to suit your saucepan.
Once oil is bubbling, fry the wontons in two to three batches over a medium heat. Wontons are ready when they float to the surface and are nicely browned (average 4-6 minutes).
Drain on kitchen paper and then serve immediately with sweet and sour sauce, and/or Chiangkiang (black) vinegar mixed with minced ginger, chilli oil and light soy sauce.