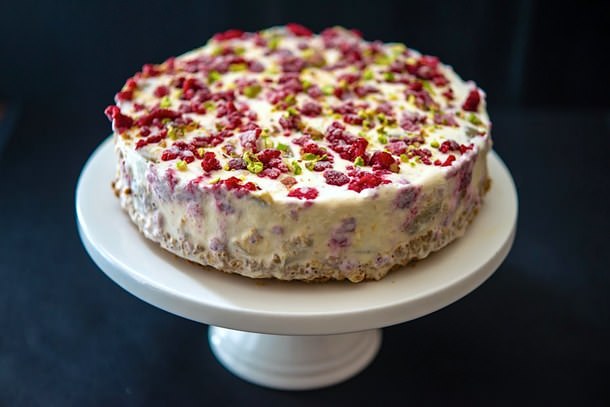 Can you believe it's only one week until Christmas?
Nope, I can't believe it, either. This year has flo-o-o-wn by.
I love this time of year. It's a time to remember what's important and to spend time with those we care about. It's a time to give thanks. It's a time to reflect on the ups and downs of the year and to look to the future with hope and energy.
And of course it's also a time to eat and indulge one's sweet tooth! :D
So welcome to Sweet Adventures' Sweets for Santa Blog Hop.
For those new readers, Sweet Adventures is a group of Aussie foodbloggers – 84th & 3rd, The Capers of the Kitchen Crusader, Delicieux, Dining With a Stud, and I, The Hungry Australian, who host a monthly, dessert-themed blog hop. You can visit the other blogs taking part in our hops via the thumbnails at the bottom of each post.
Previously, we have hosted: Cake and Three Veg (November 2012); High Tea (October 2012); Feeling Saucy (September 2012); Berry Nice to Meet You! (August 2012); Nuts About Sweets (July 2012); Sweet as Pie (June 2012); What's Your Cup of Tea? (May 2012); Lemons (April 2012); Layer upon Layer (March 2012); Love at First Bite (February 2012); Death by Chocolate (January 2012); Festive Favourites (December 2011); and Great Australian Pavlova (November 2011).
This month, it was my turn to host again and of course I went with a festive theme.
This Fig, Raspberry & Ginger Ice Cream Cake combines some of my favourite Summer flavours. Figs are at their most luscious now, while the raspberry and ginger help create the 'wow' factor.
Merry Christmas everybody. May you all enjoy a day filled with love, laughter and deliciousness!

Sweets for Santa Blog Hop
Author:
Fig, Raspberry & Ginger Ice Cream Cake
A simple but gorgeous cake filled with Summer flavours
Ingredients
1.5 litre vanilla ice cream
1 packet Ginger nut or Ginger biscuits
50 grams butter
200 grams frozen raspberries
6 ripe figs, or 1 jar figs, cut into eights
8 pistachios
Instructions
Leave ice cream to soften on the kitchen counter for 10-15 minutes until it's easy to mix.
Meanwhile, put biscuits into a strong plastic bag and crush with a mallet or rolling pin until fine rubble. The finer the better.
Spray a Springform pan with cooking/baking spray.
Melt butter in microwave and then combine with biscuit crumbs in a bowl and mix thoroughly.
Press firmly into bottom of cake tin, using an offset spatula to get it nice and even.
In a large bowl, mix ice cream, 150 grams frozen raspberries and figs until well combined.
Pour onto biscuit base and then use an offset spatula to make the surface smooth and even.
Use the last 50 grams of raspberries to decorate the top, rubbing the frozen berries between your fingers and scattering over randomly.
Freeze for at least three hours or overnight.
To serve, remove from freezer and stand in the sink that you have half-filled with water (making sure water will not go over cake pan top, naturally)
Leave for a minute and then remove from cake pan.
Place on cake stand and garnish with pistachios.
Sweet Adventures Blog Hop: Sweets for Santa
If you blog about food we'd love you to join this hop. We encourage you to be as creative as you like – the only rule is that your recipe must be something in keeping with the festive theme.
Simply follow the steps below and join the fun!
Publish your Sweets for Santa post on your blog sometime between Monday 17 December 2012 – Australian Eastern Standard Time [AEST: Sydney] and will 1:59pm Monday 24 December 2012 AEST. Entries are linked in order of submission and only new festive recipe posts are eligible.
Click here for the Link Code. Copy the code and add it to the bottom of your Sweets for Santa post (you will need to do this in HTML view). Adding the code will create the thumbnail gallery of all the other entries and let visitors hop from other blogs to your blog and vice versa. If you are on wordpress.com (i.e. not self hosted) the list will not show on your blog so please create a text link back to this post instead.
Grab the Sweets for Santa badge from here and add it to your post. Just right click on the image, 'save as', upload to your site and add it to your post. Link the badge or a line of text to this page so that others can view the instructions on how to join.
Click here to Enter the Hop. This is really important! The badge and thumbnail list are on your post so make sure to enter the hop so that you appear in the list. For question 1: add the URL of your Sweets for Santa post, not your homepage. For question 2: for caption/title add the name of your dessert. For question 3: for 'your name' please enter your blog name. For question 4: your entry is automatically submitted when you click 'crop'.
Your linked post WILL NOT appear straight away in the blog hop thumbnail list as this is a moderated hop. Your post will be visible in the list after approval.
Hop around to all the other entries in the blog hop, sharing the comment love.
If you are on Twitter use the #SABH to tell the world about your Sweets for Santa post. Follow us @SweetAdvBlogHop or like us on Facebook for new hop announcements and general deliciousness.
If you aren't sure how to do something please leave a comment or get in touch.