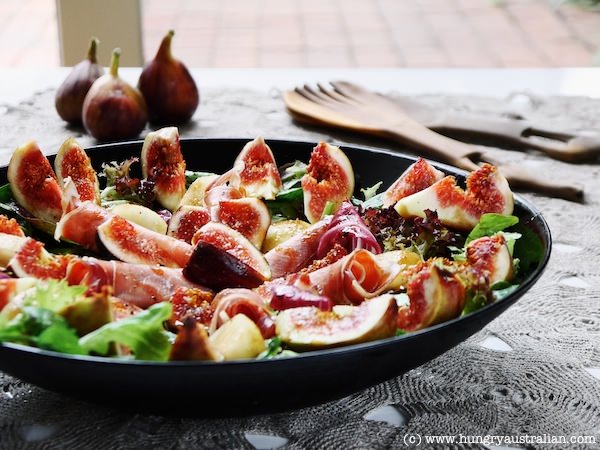 I adore figs.
I love their colour, their flavour, and their texture. I die for their sensual shape and the way their demure green and purple exterior splits open to reveal a striking red and gold centre.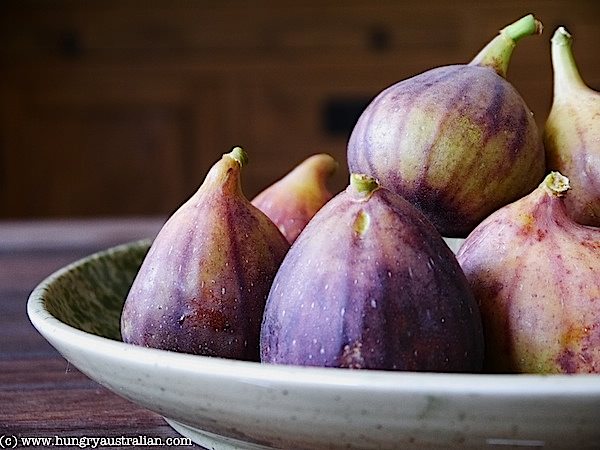 Figs have such a short season you need to grab them when you can. So when I spotted figs at the Adelaide Central Market last weekend for the bargain price of only $4 for two packs, I pounced.
To accompany the figs I bought some lovely prosciutto from Standom Smallgoods. Prosciutto is an Italian dry-cured ham and is superb with sweet fruit like rockmelon or figs. It's extremely salty – a little goes a long way – so you won't need to add any salt to the dressing.
Speaking of dressing and salads in general, sometimes it's good to be frugal. This is not one of those times. Buy the best olive oil and vinegar you can get your hands on – you will definitely notice the difference.
This salad is a wonderful showcase for perfectly ripe figs. It only has four ingredients – figs, prosciutto, pear and salad leaves – plus the dressing, so the flavours of the figs really shines through.
This is my idea of Fig Heaven.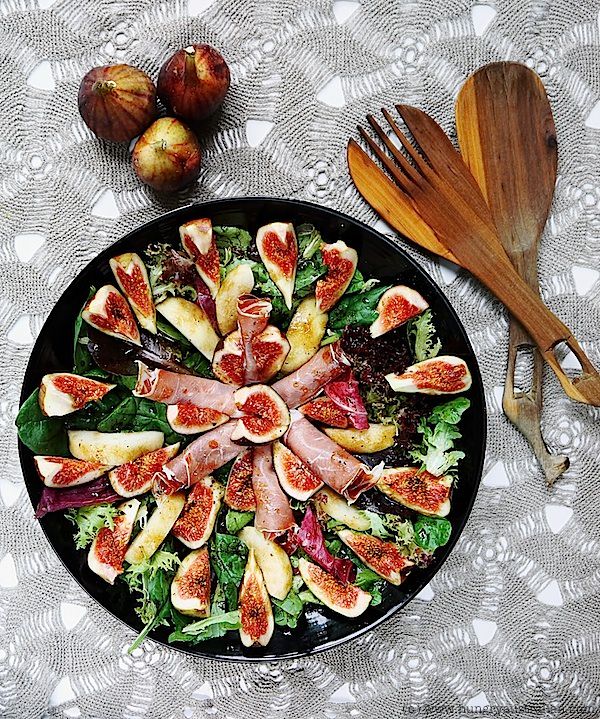 INGREDIENTS
80 grams mixed lettuce leaves, washed and spun
1 pear, peeled and cut into 8 pieces
6 figs, cut into 6-8 pieces each, depending on size
6 slices prosciutto
3 tablespoons best quality virgin olive oil
1 tablespoon best quality balsamic vinegar
1/2 – 1 teaspoon honey
Freshly ground black pepper
METHOD
Lay salad leaves in a large shallow bowl or plate.
Arrange pear slices on top, and then figs.
Tear each piece of prosciutto into halves or thirds and then roll each piece into a mini log.
Lay prosciutto on top and then make dressing by whisking 3 tablespoons olive oil with 1 tablespoon balsamic vinegar, and a squeeze of honey.
Spoon dressing on top and give the salad a good grinding of black pepper to finish.
Serves 2-4 as a side salad.