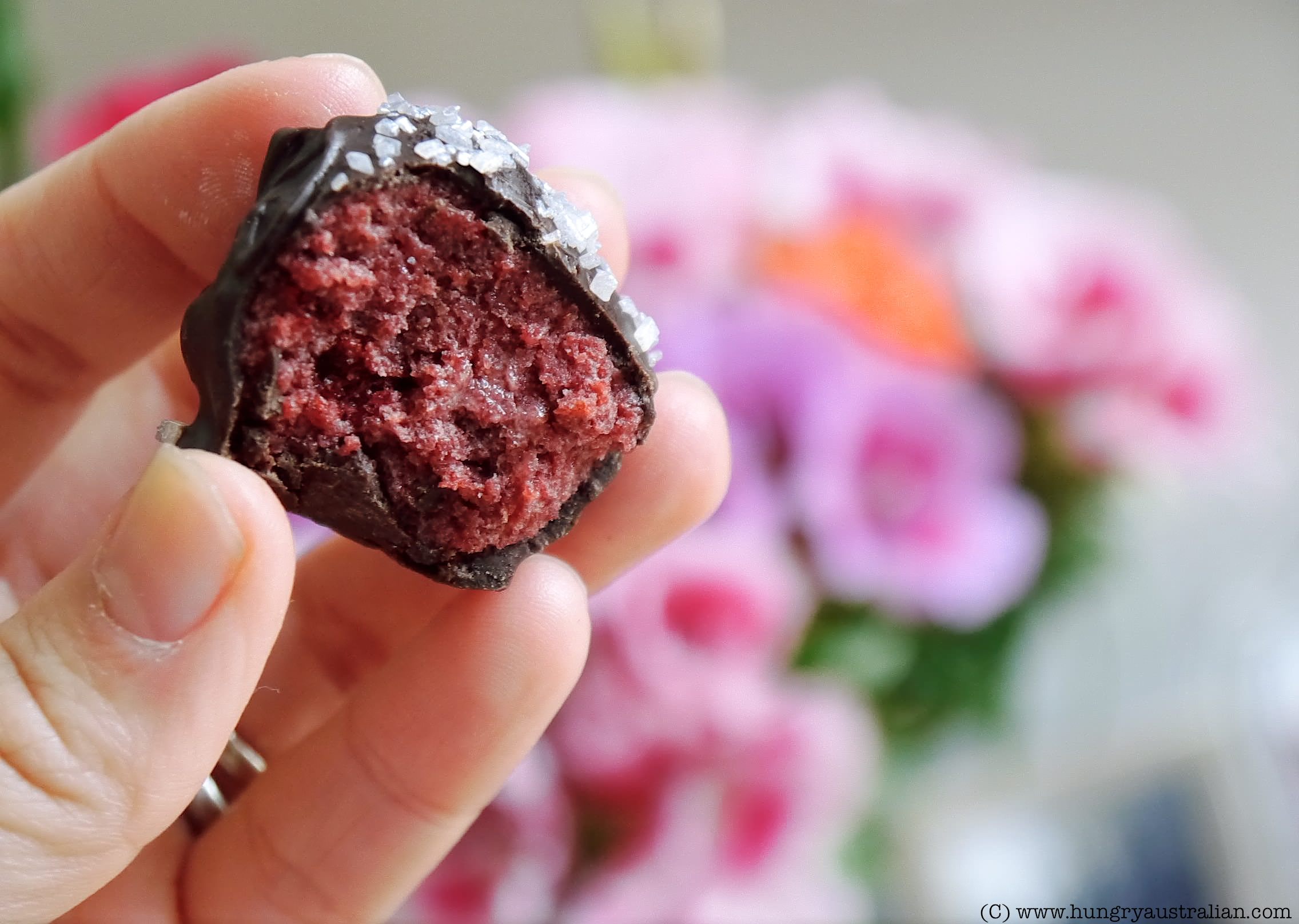 There is an easy way and a hard way to do anything.
According to my mother, I always pick the hard way. It's just one of my charming personality traits.
The other day I spent what felt like six hours making a batch of 100 cake balls for a pre-Christmas get-together. I might be exaggerating about how long it took but it seemed an awfully long time. I felt like one of those explorers who journey to the South Pole with hope and determination burning in their hearts, committed to reaching their goal no matter what the personal cost.
Now I didn't lose any fingers or toes in the making of these cake balls but relations did become increasingly tense between Mr Hungry Australian and I.
Every now and then he would stroll through the kitchen and say, "you're STILL making those cake balls?
"Go away!" I'd shriek.
Talking over the cake ball debacle the next day with my school friend Megan, she couldn't understand why it took me so long.
"But I made some the other day and they only took me half an hour," she said, blankly.
"Half an hour?" I spluttered. "But how?"
"I bought a pre-made cake, mixed it with a tub of pre-made icing, dipped the balls in chocolate and that was it," she said serenely, little knowing how close she was to physical danger.
After trying my cake balls, Megan graciously said that mine were a lot nicer than hers, explaining that the icing she bought was too sweet, which made her balls extremely rich.
So there you have it, ladies and gents. You can make this all from scratch or almost scratch, as I did, or you can save yourself time and money spent on a marriage counseller and do it the easier way.
Alternatively, you can take the middle road, which is what I will probably do next time: buy a good cake and then make my own icing.
But I'm glad I tried it the hard way once. I will never be a Bakerella, that amazing Amercian blogger and creator of Cake Pops, whose red velvet cake balls inspired my own, but at least I made an attempt to walk in her footsteps. True, both peace of mind and kitchen were completely destroyed in the process but my baking honour is intact.
Moreover, the cake balls were delicious. I even caught Mr Hungry Australian sneaking them out of the fridge when he thought no one was looking.
INGREDIENTS (for 50 balls)
1 packet White Wings red velvet cake (or shop bought cake)
125 grams butter, softened (half a bar)
1 x 250 grams pack cream cheese, softened
250 grams icing sugar
200 grams chocolate buttons (dark chocolate and white chocolate proved to be equally popular)
METHOD
Cook cake according to packet instructions. Leave to cool completely.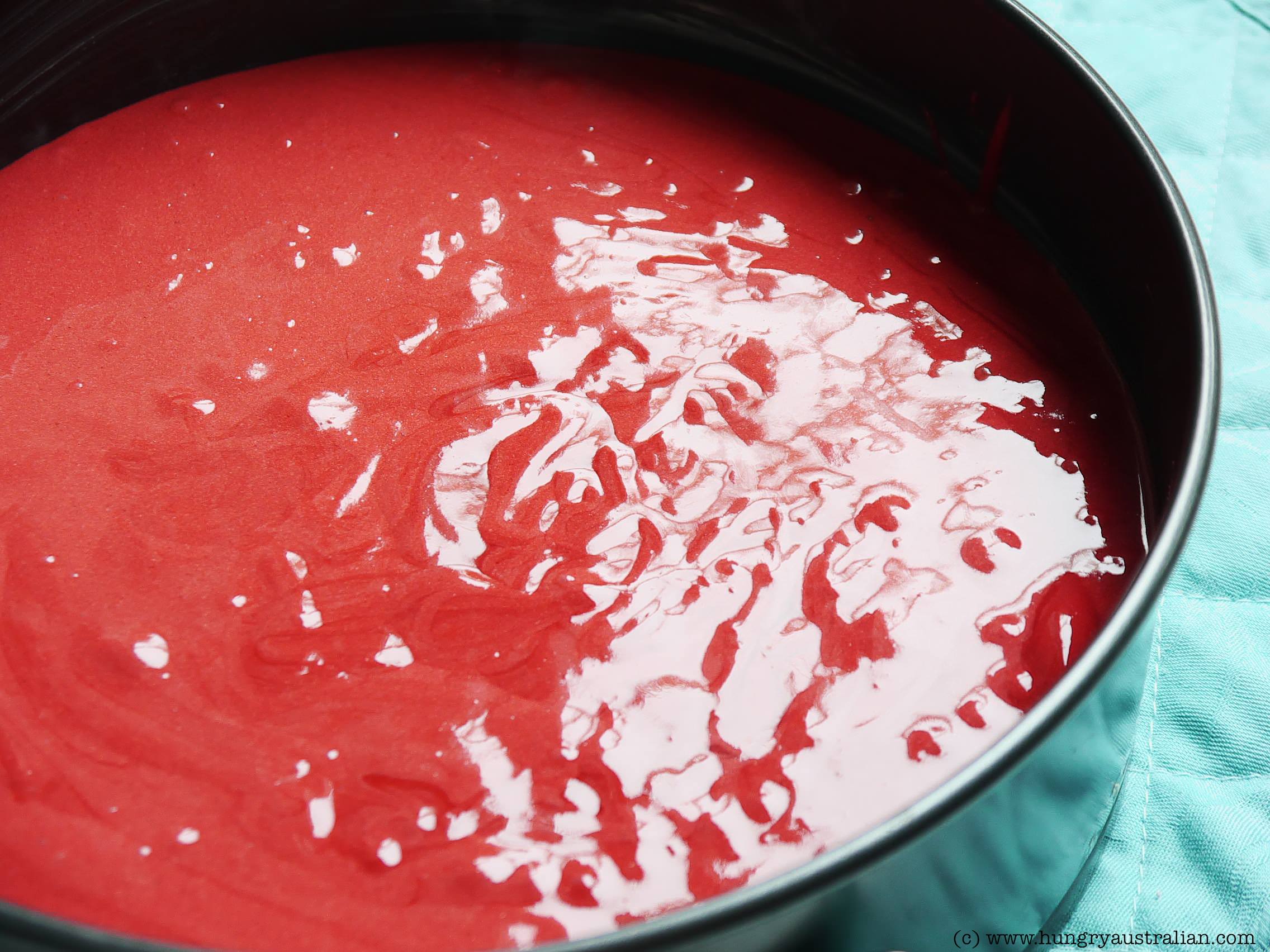 Crumble cooled or bought cake into a large bowl into small, even pieces.
Make icing by beating cream cheese and butter together in a large bowl and then adding icing sugar. Beat until well combined.
Add icing to cake mixture and mix together well.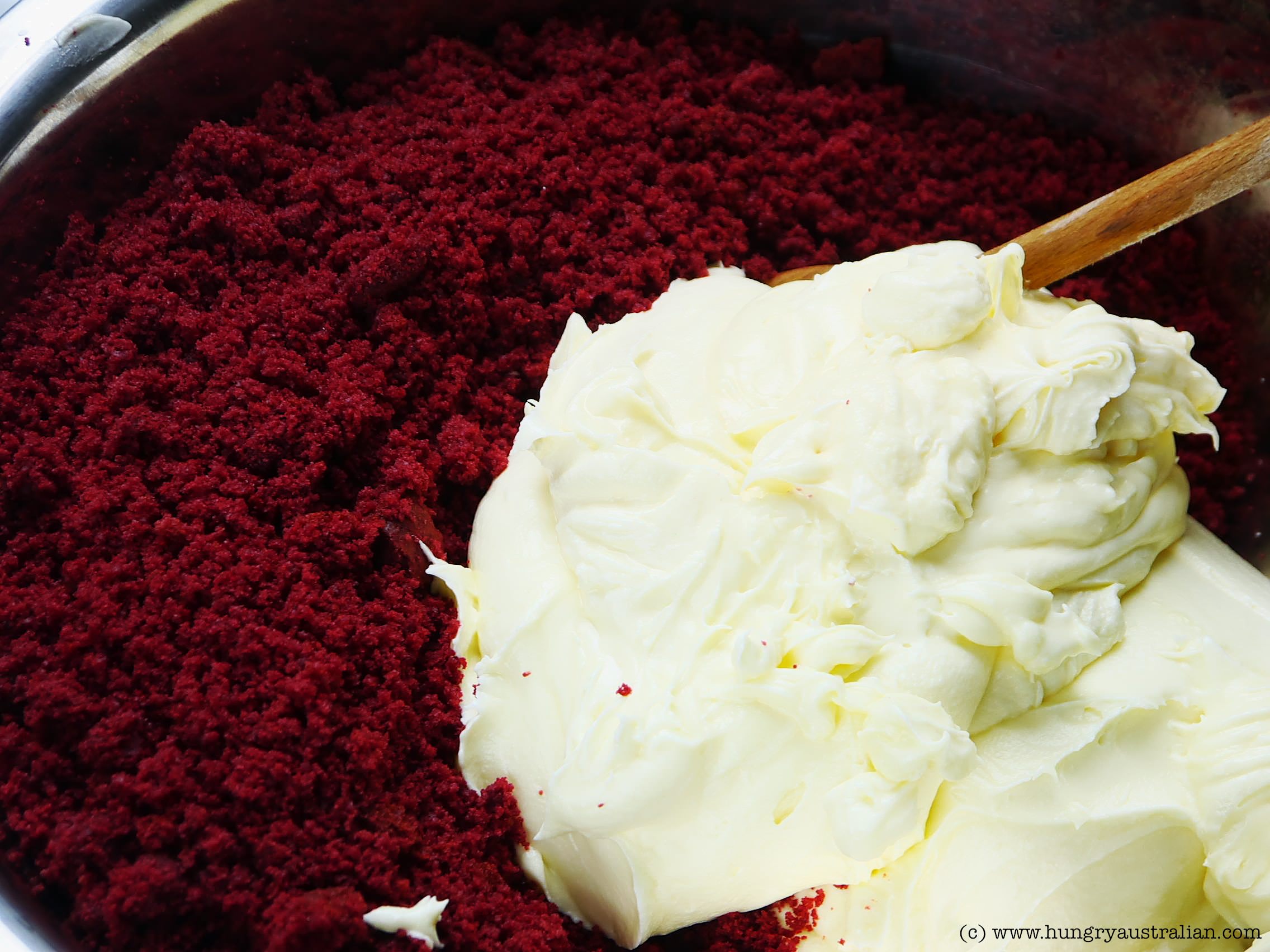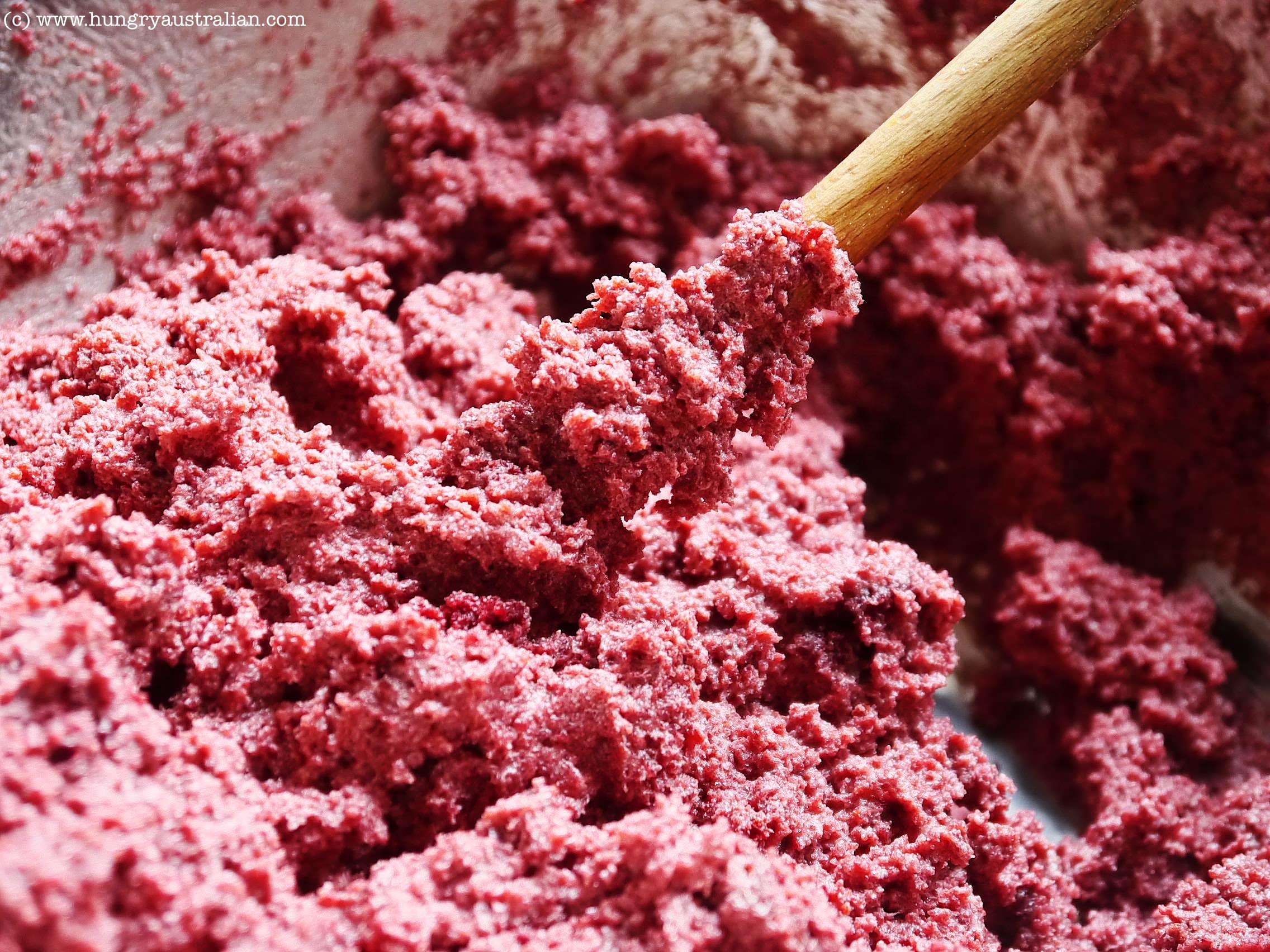 Using a teaspoon, measure out cake mixture and roll between your fingers and palms to make small balls. Place on baking tray and refrigerate for several hours or freeze.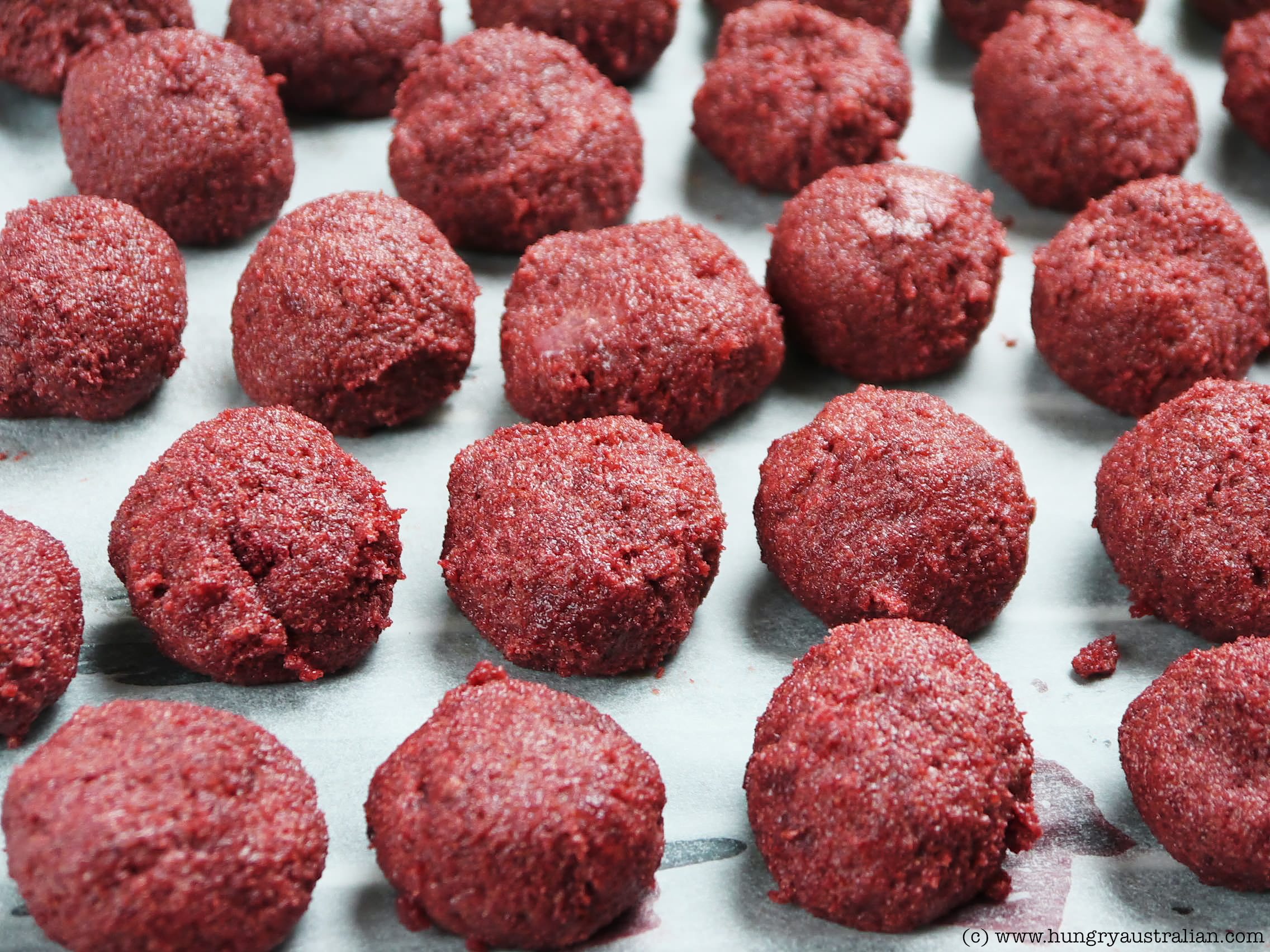 Melt chocolate buttons in a shallow bowl in the microwave in small amounts (I found 90 seconds to be just right but cooking times vary from microwave to microwave so keep a close eye on it). Using two teaspoons, roll the chilled bowls one by one in the melted chocolate, gently shaking the spoon to let the excess chocolate drip off the ball. Use small amounts of chocolate at a time as it's much easier to work with when it's just melted. When you start running out of chocolate simply heat up some more.
Alternatively, melt chocolate buttons in a deep but small bowl in the microwave. Use a skewer to plunge a ball into the melted chocolate and place back on baking tray. This gives a much neater and more professional effect.
Sprinkle over sugar crystals or dried fruit if desired when the chocolate is still wet. I like combining dark chocolate with white sprinkles, milk chocolate with dried blueberries and white chocolate with dried cranberries.
Alternatively you could let the balls set and then drizzle over contrasting stripes of a different chocolate (e.g. white chocolate stripes over dark or dark chocolate over milk).
Place all balls back on baking tray and chill again until set. Keep in refrigerator until required.