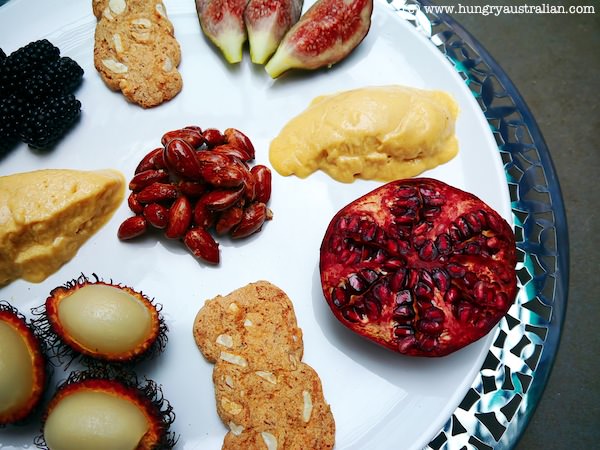 We always have a big lunch on Christmas Day with around two dozen family and friends. It's always a joyful day, with incredible food (everybody brings a dish), plenty of merry-making and lots of kids running around.
This year I'm down for a salad and a dessert. I already know that other guests are bringing a pavlova and a hazelnut cake so have decided to do something a bit different.
So my dessert for the Festive Favourites Blog Hop – Honey Almond Fruits – has three parts: Toffee Almonds, Honey Ice Cream and Fruit Salad.
I've chosen this combination for a number of reasons:
Toffee Almonds is my mother's recipe – she's made them every year since I can remember and I love the smell of toffee cooking.
Golden North Honey Ice Cream was my favourite ice cream growing up and it always reminds me of long, hot Australian summers. My kids love ice cream, so they will really enjoy this part of the dessert.
Fruit is always lovely at the end of a big meal, being both light and refreshening.
The Toffee Almonds and Ice Cream can be made the day before and the biscuits are bought. The fruit can be washed in the morning and just cut up on the spot, making this a very easy, low-stress dessert.
I just love how special and indulgent this dessert is – it's definitely not your average fruit salad.
For more festive dessert inspiration, don't forget to check out all the other amazing desserts created by food bloggers from around the world – the blog hop links are at the end of this post.
Merry Christmas, everybody!
PS If you're a food blogger, we'd love you to join us for the next Sweet Adventures Blog Hop on January 16th – full details to be announced shortly.
[highlight]INGREDIENTS[/highlight]
Honey Ice Cream (adapted from a Taste.com.au recipe)
600ml thickened cream
1/3 cup honey
4 egg yolks
1/5 cup caster sugar
1 vanilla pod or 1 teaspoon vanilla essence
Almond Toffee
1 cup roasted almonds
1/2 cup caster sugar
2 tablespoons water
Fruit Salad
Assortment of the most beautiful fruit you can find. I've chosen pomegranate, figs, krackerberries and rambutan. For six people you would need 2 pomegranates (serve 1/4 per person), 5 figs, 1 punnets krakerberries and 12 rambutan.
Other good combinations: blueberries, raspberries and blackberries or kiwi fruit, passionfruit and blueberries.
Almond Biscuit
Buy a packet of good almond biscotti or almond bread.
[highlight]METHOD[/highlight]
Honey Ice Cream
To remove vanilla beans from pod, cut off the tip and then neatly slice down the length of the pod with a sharp knife. Use the knife to scrape out the beans until the pod is empty. You can then put the empty pod into your sugar bowl to enjoy vanilla-scented sugar in your coffee.
Put cream and honey in a saucepan. Cook, stirring occasionally, over medium heat for about five minutes then remove from heat.
Beat egg yolks, sugar and vanilla beans in a bowl for 5 to 6 minutes until thick and creamy. I really wished I had a free-standing mixer for this part because the time went very slowly.
Add the honey cream mixture, a little at a time and beat until combined. Strain mixture into a new saucepan and then. cook, stirring, for 10-15 minutes or until mixture thickens.
Pour into a metal cake pan. Let cool for a few minutes and then cover with aluminium foil.
Freeze for three hours or until just firm. Spoon into a bowl and then beat (with an electric mixer) until smooth. Pour back into the cake pan. Cover and freeze for six hours or until firm. (Alternatively, you could just put it into an ice cream machine and let it do the rest for you).
Toffee Almonds
Line a baking tray with baking paper.
Put all ingredients into a small saucepan and heat on a medium flame.
Heat until sugar begins to crystallise but do not stir. Once you see crystals forming then stir briskly with a wooden spoon until the liquid sugar turns to a thick ,chalky snow-like substance. You will think you have ruined it but keep stirring and eventually the chalky sugar will start to melt again into glossy toffee.  Keep stirring until all the sugar has completely dissolved and the almonds are completely coated in the glossy toffee.
Turn the toffee covered almonds out onto the baking paper, spreading them out widely.
Once the toffee cools, snap the Toffee Almonds into pieces straight away.
Store in an air-tight container.
Serves 6.
Sweet Adventures is a monthly, dessert-themed blog hop organised by JJ from 84th & 3rd, KC from The Capers of the Kitchen Crusader, Jennifer from Delicieux, Nic from Dining with a Stud, and Christina from The Hungry Australian. 
Welcome to the Festive Favourites Blog Hop! Click on the links below to see all the amazing festive desserts created by other food bloggers from around the world.
For detailed instructions on how to join the blog hop and submit your festive dessert link, check out the official Festive Favourites post by this month's host, JJ from 84th & 3rd.