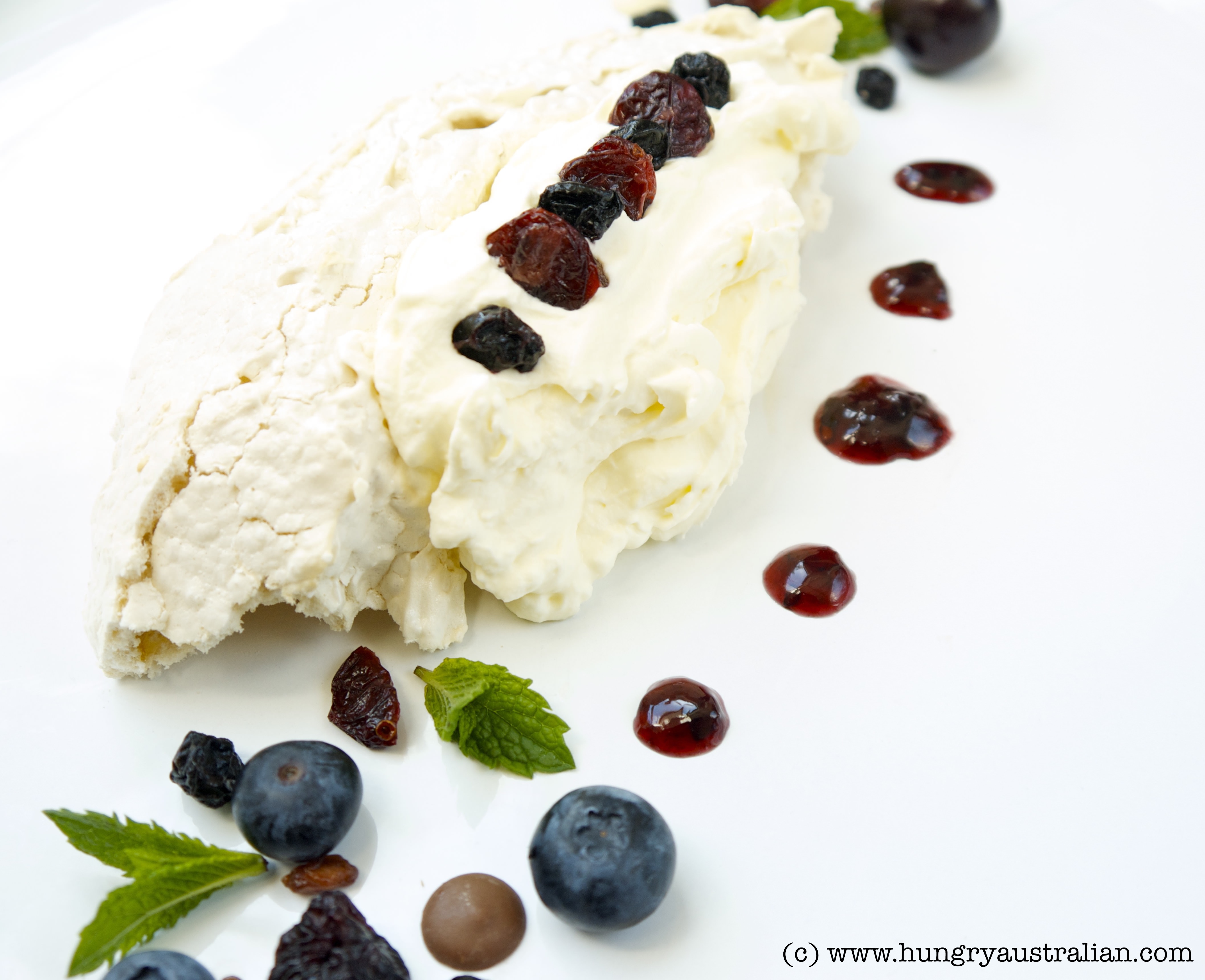 Welcome to The Great Australian Pavlova Blog Hop!
This post should really be called How Not To Make a Pavlova.
Let me explain.
A few weeks ago I was chatting with some Aussie food bloggers about food cravings and pavlovas on Twitter. So the five of us – myself, Delicieux, Dining with a Stud, The Capers of the Kitchen Crusader and 84th & 3rd decided to organise a pavlova blog hop so that we could all cook our versions and share them with each other.
So earlier this week I had visions of coming up with some kind of spectacular pavlova creation for The Great Australian Pavlova Blog Hop. I thought about using exotic ingredients and extravagant but tasteful decorations to create some kind of stunning and delicious masterpiece.
Unfortunately, I had the busiest week ever, was out every night, and then came down with bronchitis. Too many late nights had finally caught up with me.
So yesterday, when I grabbed a couple of free hours to bake, I decided to go with a fairly classic pavlova. However, I was feeling so unwell that when I tried to separate the eggs I broke egg yolk into the bowl of egg whites. It was a measure of my fragile mood that I contemplated sobbing into my tea towel for a moment. However, I decided to ask Mr Hungry Australian to separate the eggs for me instead, which he did with a bemused air.
As I hadn't had time to experiment I used Stephanie Alexander's wonderful pavlova recipe from The Cook's Companion as a starting point. I had intended to dribble some melted blackberry jam over the whipped cream, and use a mixture of fresh blueberries and cherries, and dried cranberries, pomegranates, cherries and blueberries for the topping.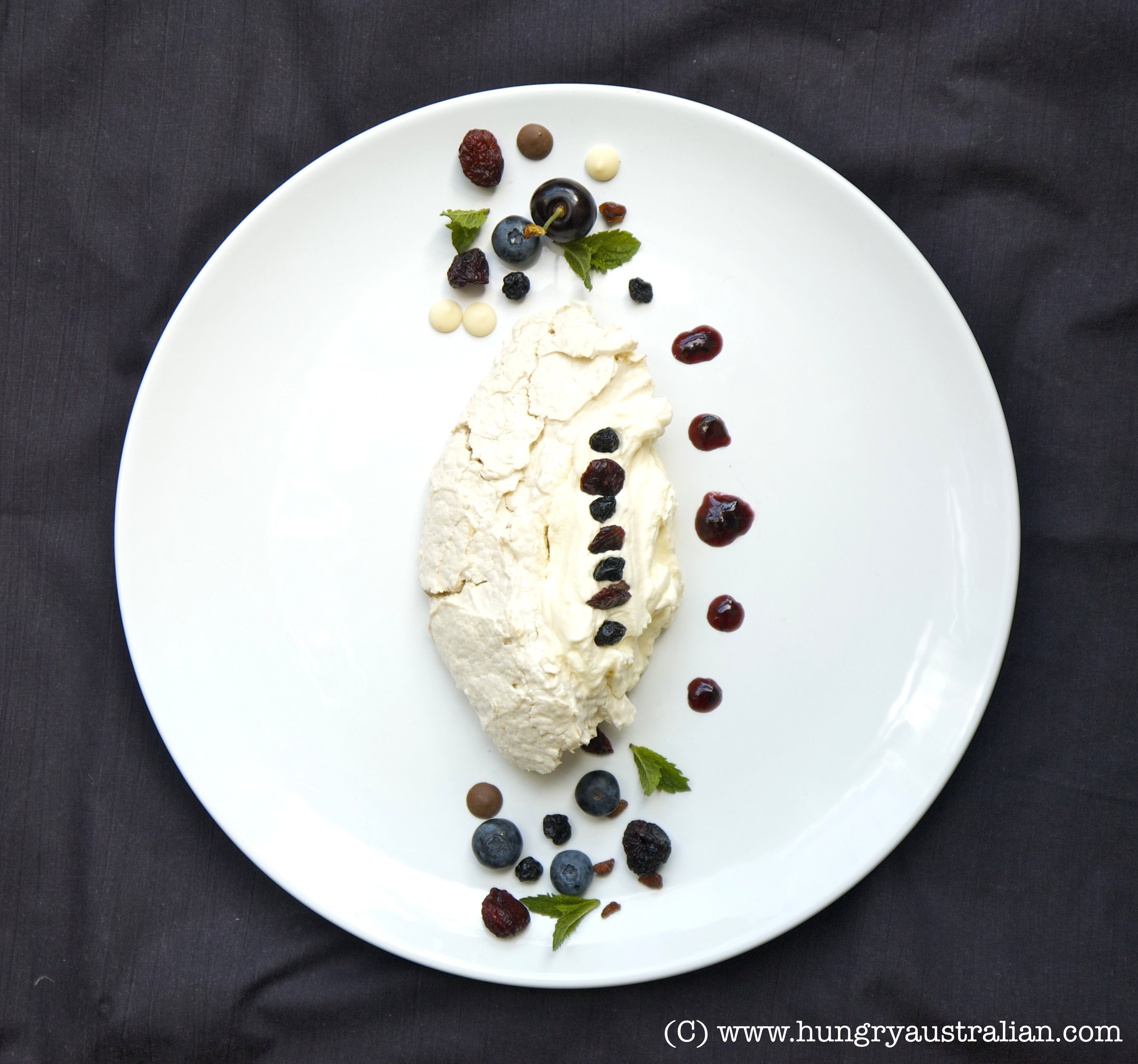 However, it was not to be. When I was lifting the pavlova out of the baking pan to place it on the cake stand, I asked my five year old daughter to help me by taking the baking tray away. She lifted the tray up to move it and smashed it straight into the bottom of the pavlova, cracking it into large sections.
I thought about sobbing into my tea towel again but controlled myself with some deep breathing. I had already regretfully cancelled my afternoon and evening engagements but I just didn't have the energy to begin all over again.
Then I remembered a photo of a deconstructed pavlova I had seen on Twitter by the crew at Adelaide's Grace the Establishment.
So I grabbed the largest unsmashed piece of pavlova, spooned over the whipped cream, and arranged it on plate. I then surrounded it with all the fruit and herbs I was going to put on top of the pavlova – the dried berries, the fresh blueberries and cherries, the mini chocolate melts and the mint leaves. I then dripped the melted blackberry jam straight onto the plate – if I had possessed a squeeze bottle I would have used that instead for a much neater effect.
As you can see, it all turned out OK. Better than OK, in fact.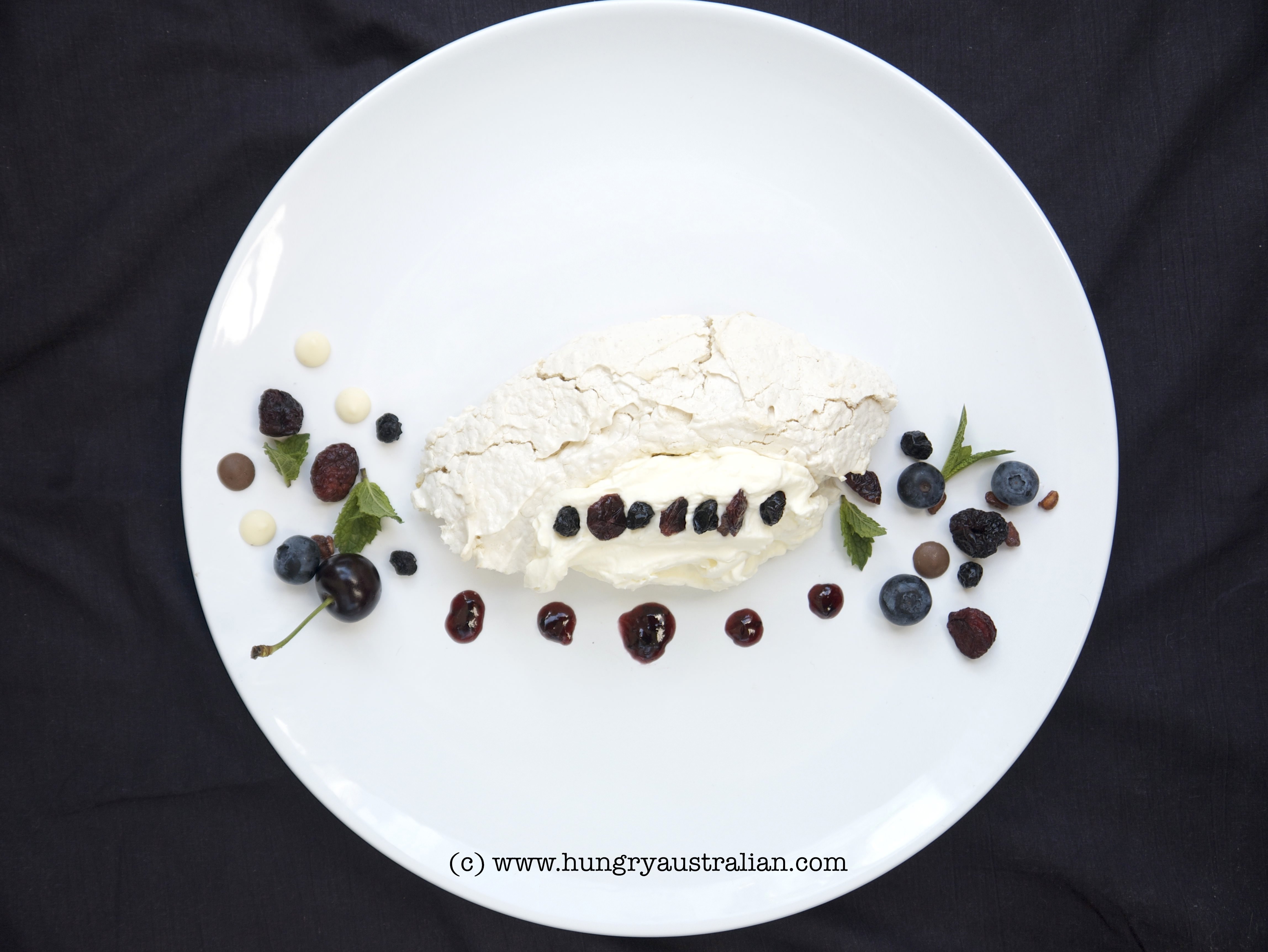 I tell you this story not to elicit your sympathy but to demonstrate how easy it is to cook pavlova. If I can cook a pavlova whilst feeling utterly crap, and then salvage something useable after my daughter has smashed it into large pieces, then you can do it, too.
So I encourage you to check out all the amazing pavlovas baked by my fellow food bloggers by clicking on the link below. Be inspired, drool a little, and break out the egg whites to make your own magnificent pavlova creation.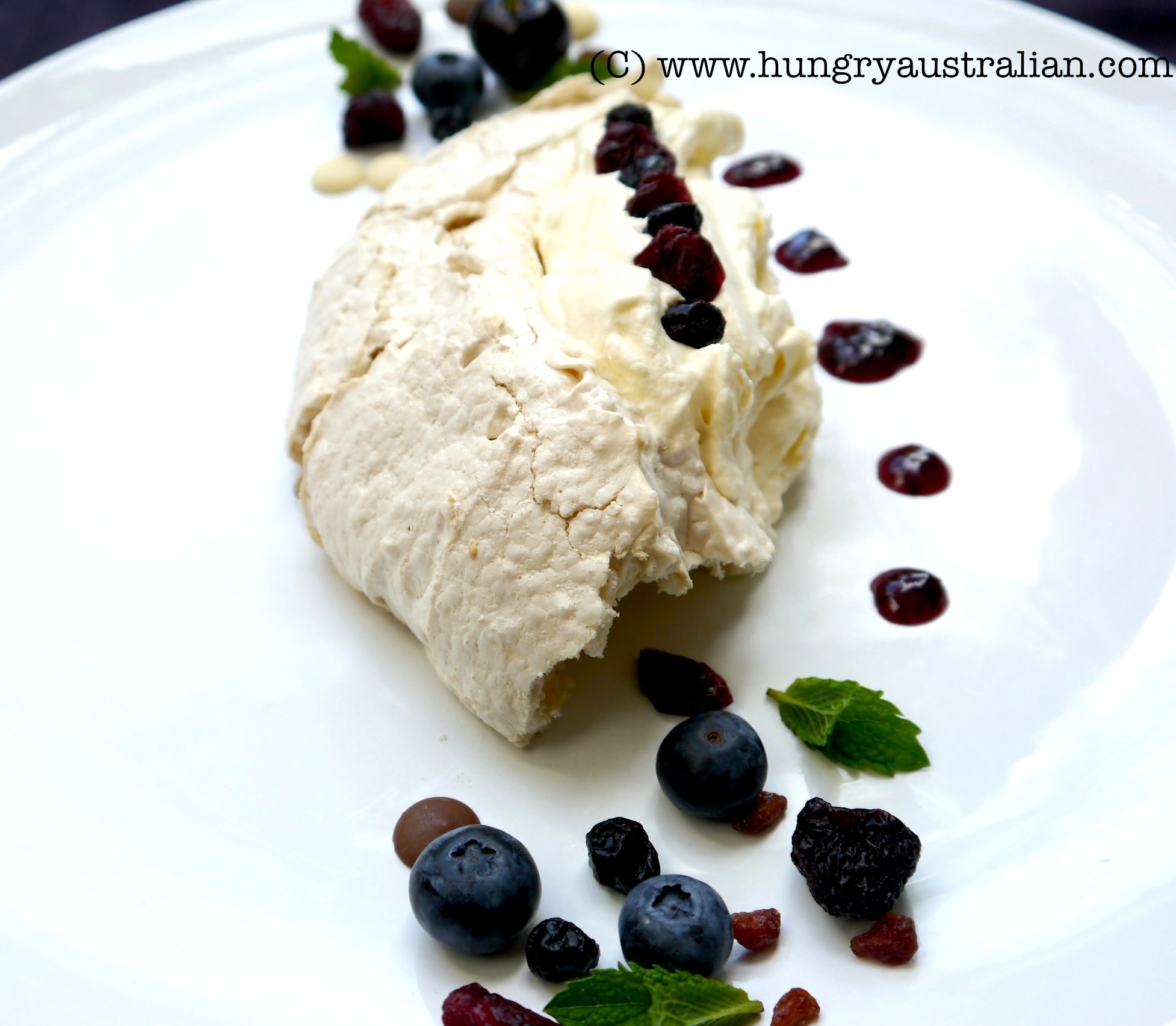 INGREDIENT
4 egg whites, room temperature
Pinch of salt
250 grams caster sugar
2 teaspoons corn flour
1/2 teaspoon vanilla essence
1 teaspoon white wine vinegar
300 mls cream
80 grams sugar
Fresh cherries and blueberries
1 packet of dried blueberries, cranberries, persimmon, and blackberries
Handful mini chocolate melts
A few tips fresh mint sprigs
A few spoonfuls of blackberry jam
METHOD
Preheat oven to 180 degrees Celsius (160 degrees fan-forced).
Cover a baking tray with baking paper and draw a circle on it approximately 20cm in diamater.
Beat egg whites with salt until it forms stiff peaks. Then add sugar, a quarter at a time, until the meringue is glossy and stiff. Sprinkle over corn flour, vanilla and vinegar and fold in to the mixture. Spread mixture over the drawn circle, smoothing up the sides and evening out the top.
Put the pavlova into the oven, immediately turning the oven down to 130 degrees Celsius (110 fan-forced). Bake the pavlova for 30 minutes and then turn the oven down again to 120 degrees Celsius (100 fan-forced) and cook the pavlova for another 45 minutes. Turn off the oven and leave the pavlova to cool completely in the oven.
Whip the cream and sugar until firm.
Break the pavlova into large pieces (ask a small child to help you if necessary).
Arrange the pieces of pavlova artistically on a plate and spoon over cream. Decorate with dried cranberries and blueberries. Then arrange fresh blueberries and cherries, tiny chocolate melts, dried blueberries, cranberries and blackberries, and fresh mint tips around the pavlova, to your liking. Melt a few spoonfuls of jam in the microwave and dribble them artistically around (alternatively, using a squeeze bottle will give you greater control and make you feel like a rockstar chef).
Stand back and gaze in awe at your pavlova still life. Eat it, celebrating your triumph over disaster.
* * * * * * * * * * * * * * * * * * * * * * * * * * * * * * * * * * * * * * * * * * * * * * * * * * * * * * * * * * * * * * * * * * * * *
Alternatively, visit Delicieux for detailed instructions on joining the Great Australian Pavlova Blog Hop.