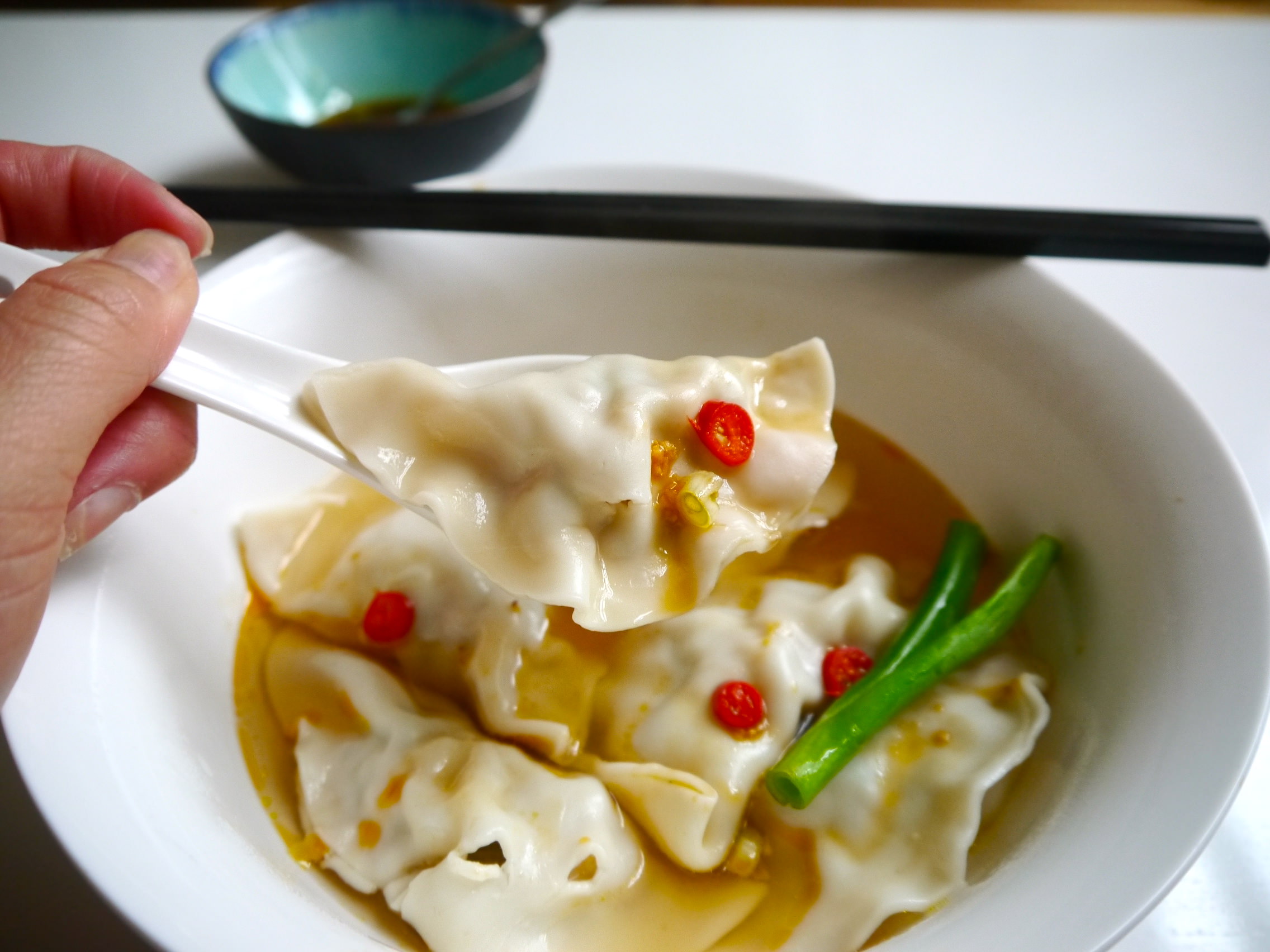 When we were recently in Malaysia we ate the most amazing sui gao (dumplings) at my Grandmother's house, bought from the local hawker stall. So this is my attempt to recreate them back home in Australia.
This Chinese Dumpling Soup recipe is similar to my jiaozi recipe however the sui gao filling has the addition of Chinese mushrooms, carrots and water chestnuts. This gives the dumplings extra flavour and a satisfying crunchiness.
The dipping sauce is a gingery, vinegary sauce enlivened with chilli and spring onion. It can be either sprinkled over your bowl of dumplings or dabbed onto each individual dumpling as you eat them. Personally, I can't get enough of it.
Sui Gao is Chinese comfort food and very, very moreish. Make more than you think you'll ever need because people often request seconds. And sometimes thirds.
INGREDIENTS (serves 4-6)
1-2 packets of jiaozi/dumpling wrappers (you'll need at least 40 wrappers)
300 grams minced pork
120 grams canned water chestnuts, drained and finely diced
1 medium carrot, peeled and grated
6 medium Chinese mushrooms
4 spring onions, finely chopped
2 teaspoons minced ginger and plus one 3cm piece of ginger, peeled
1 tablespoon light soy sauce, plus two more tablespoons for dipping sauce
2 tablespoons Chinkiang vinegar (black rice vinegar)
1/2 teaspoon fine salt
1 tablespoon Shaoxing wine
White pepper (1/4 teaspoon)
Sesame oil (1/4 teaspoon)
1 litre chicken stock (I use the pre-made tetra packs of chicken stock for this soup)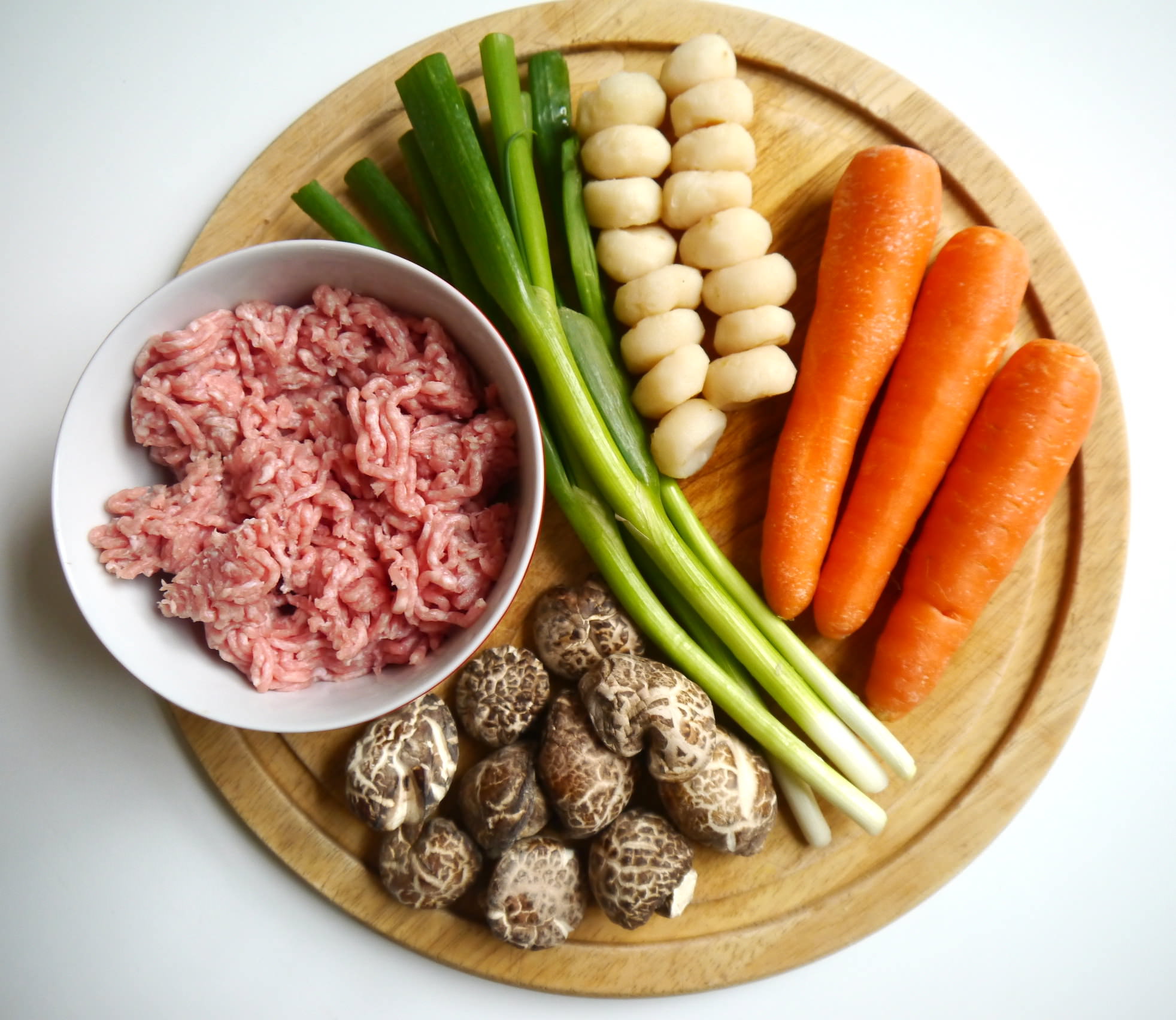 METHOD
Put dried Chinese mushrooms in a bowl and cover with boiling water. Leave to soak for at least 30 minutes or until mushrooms are soft and rehydrated. Rinse off grit and wring excess water out of mushrooms. Cut off hard stems and then dice remaining caps.
Mix minced pork with mushrooms, grated carrot, ginger, half of the spring onions and water chestnuts. I've found the easiest way to mince the ginger is to peel it and then use your finest grater – this also means that you avoid using the stringy fibrous strands. Season with Shaoxing wine, one tablespoon soy sauce, sesame oil, white pepper and salt. Mix thoroughly.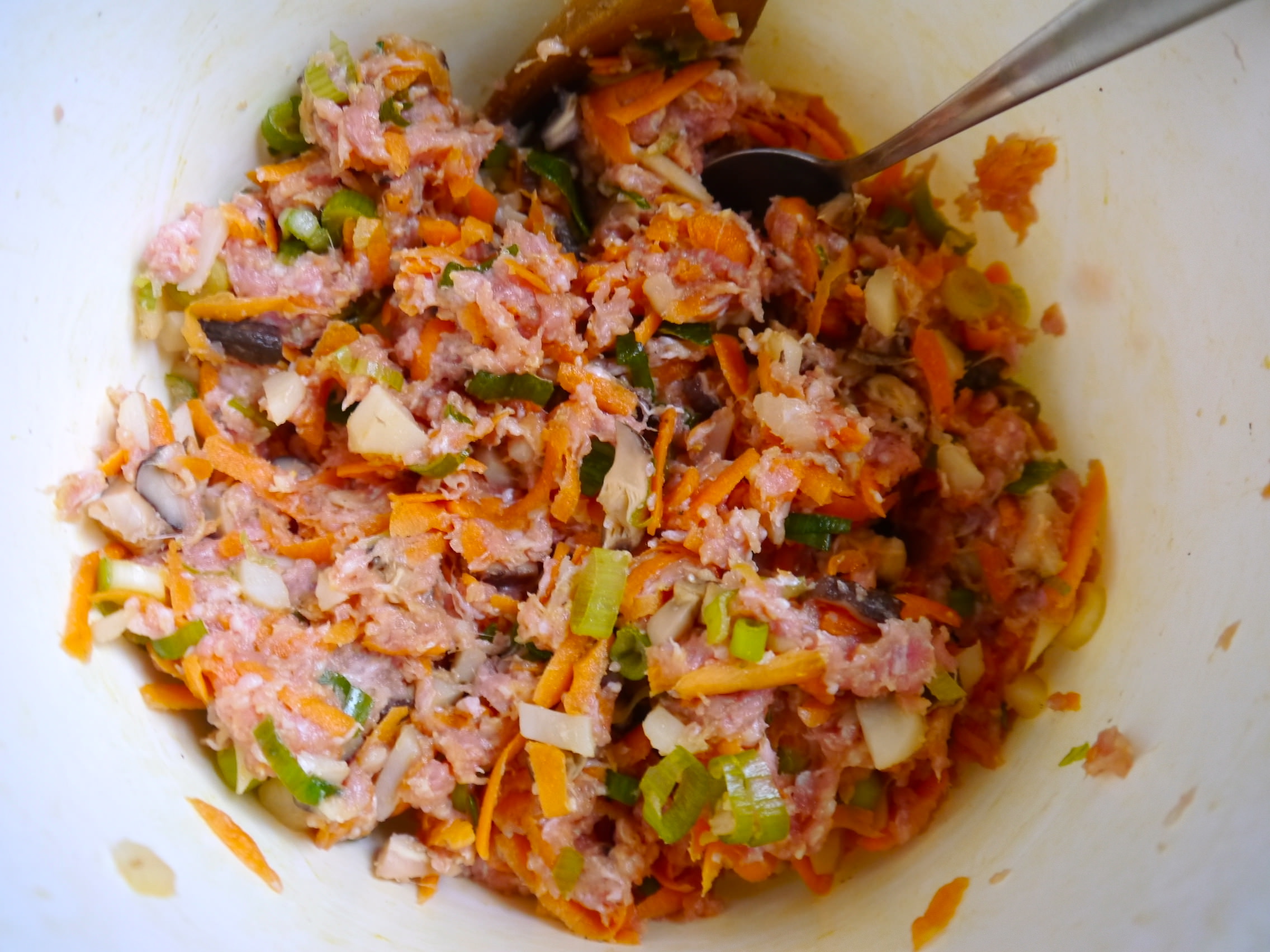 Use a teaspoon to measure out some of the filling. Roll the mixture in your fingers to create a compact ball and then place it in the middle of a wrapper.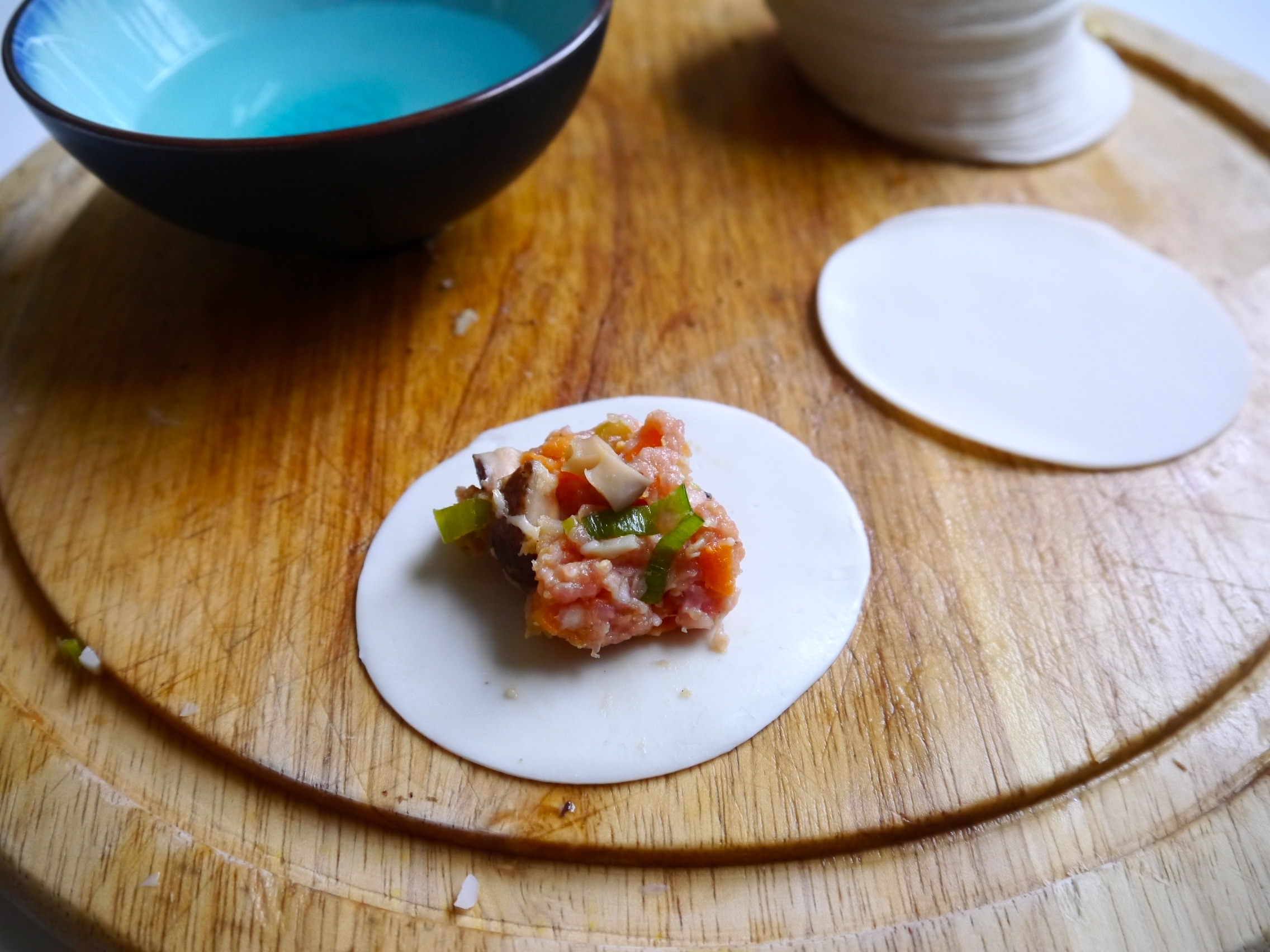 Dip a finger into water and spread a light layer of water around the edges of the wrapper. Fold the wrapper over and squeeze together with fingers to seal the dumpling, being careful not to break the skin. Use a fork to decorate the fold.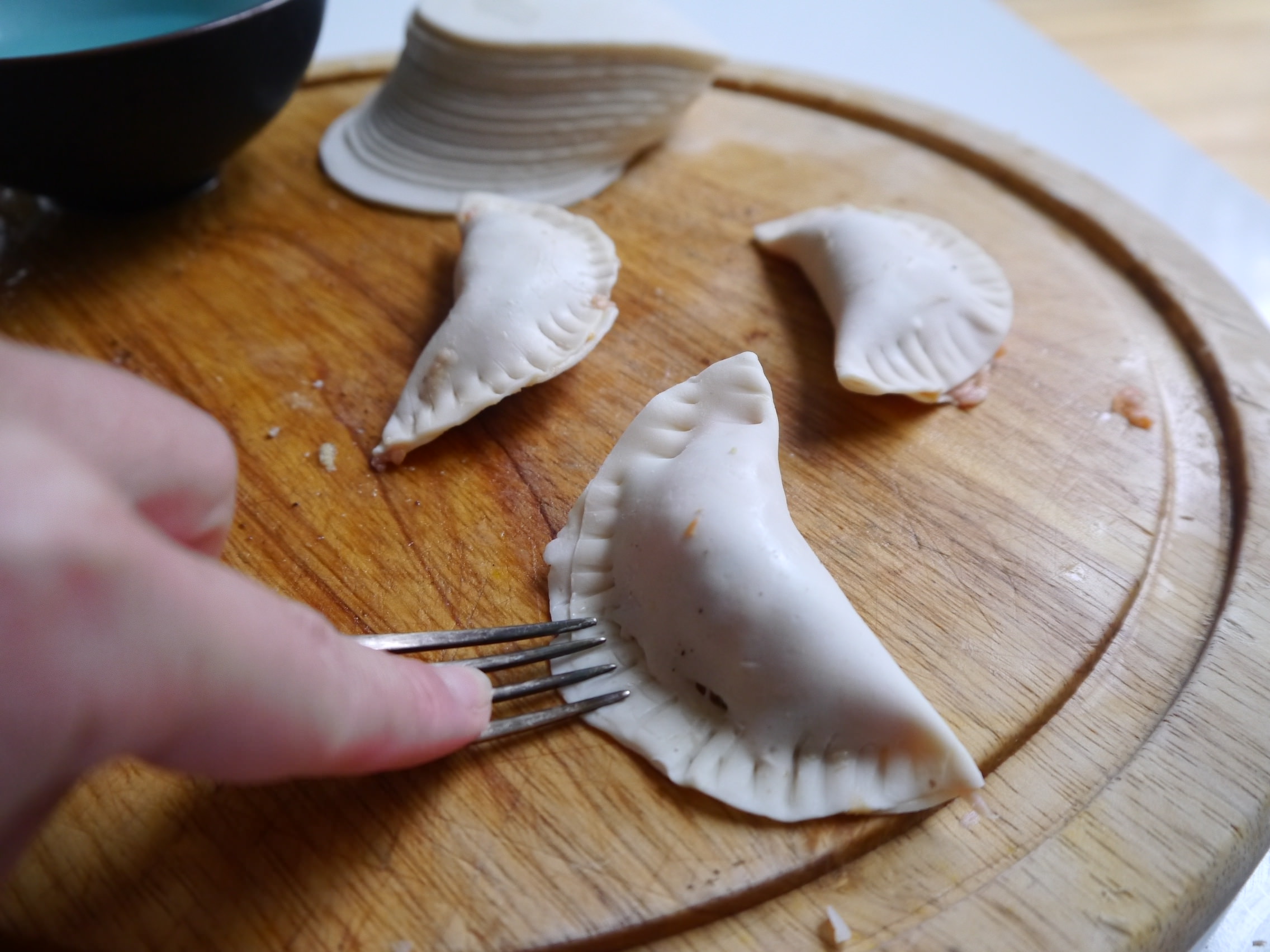 Repeat until all the mixture and wrappers are used up. You should have at least 40 dumplings.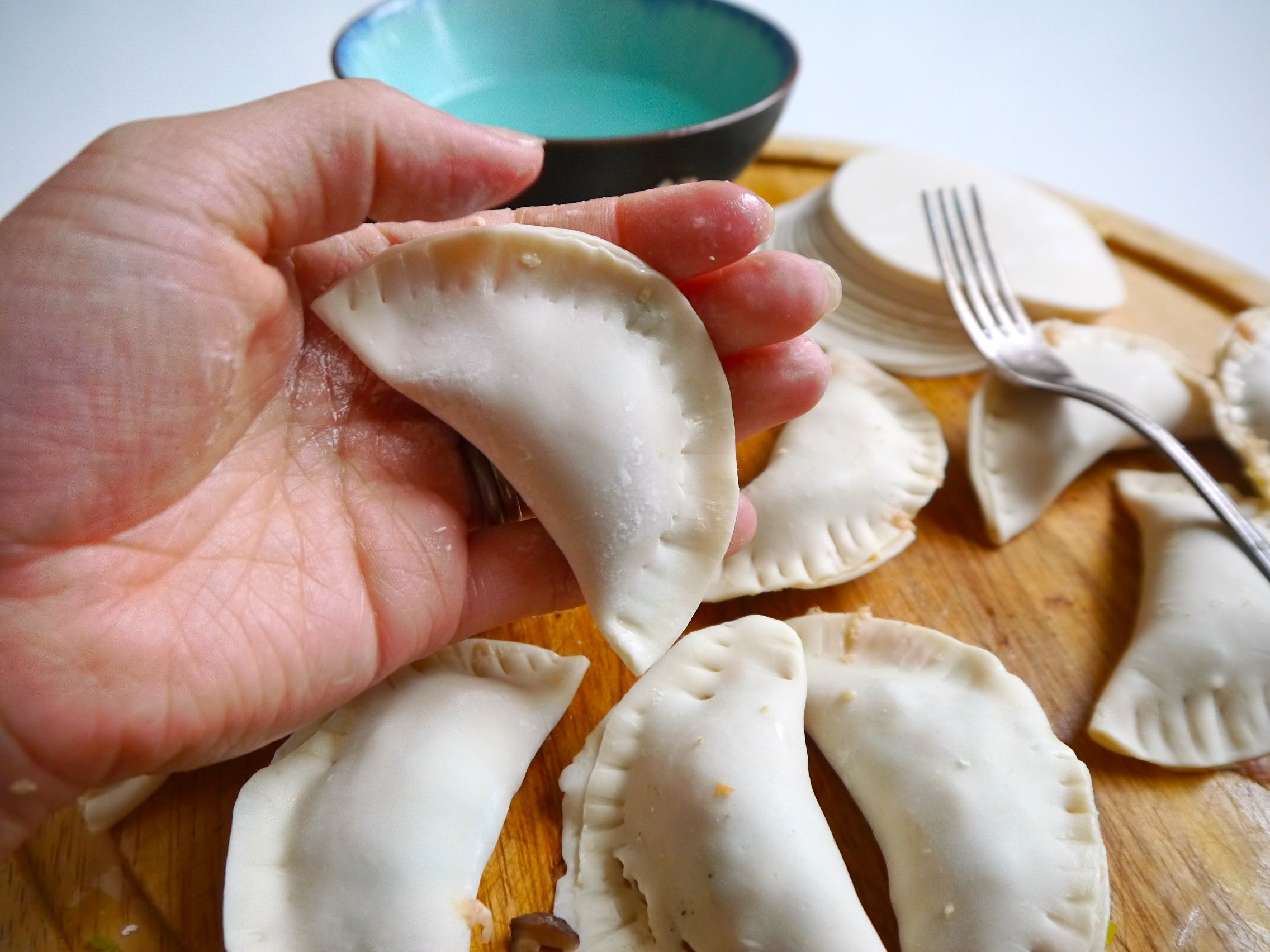 To make the soup, boil chicken stock with ginger and spring onions. Add a couple of tablespoons of dried shrimp if you have some. Bring to boil and then turn down to the lowest setting, keeping it on a slow simmer.
To make the dipping sauce, in a small bowl put 1 teaspoon minced ginger, 2 tablespoons soy sauce, 2 tablespoons vinegar, a few chopped spring onions, a few shakes of sesame oil and a couple of shakes of chilli oil. Set aside.
Bring a large pot of water to the boil and cook dumpings in two batches. Drop the dumplings into the boiling water. Once the water has come back to the boil cook over medium heat for 6-8 minutes, or until all dumplings are floating on the surface. Stir occasionally to avoid sticking. Once they are cooked, use a slotted spoon to remove to a bowl and cover to keep warm. Reuse the cooking water for the second batch.
To serve, place 6-8 dumplings in a bowl and pour over soup. Garnish with spring onion and serve with dipping sauce and extra fresh chillis if desired.