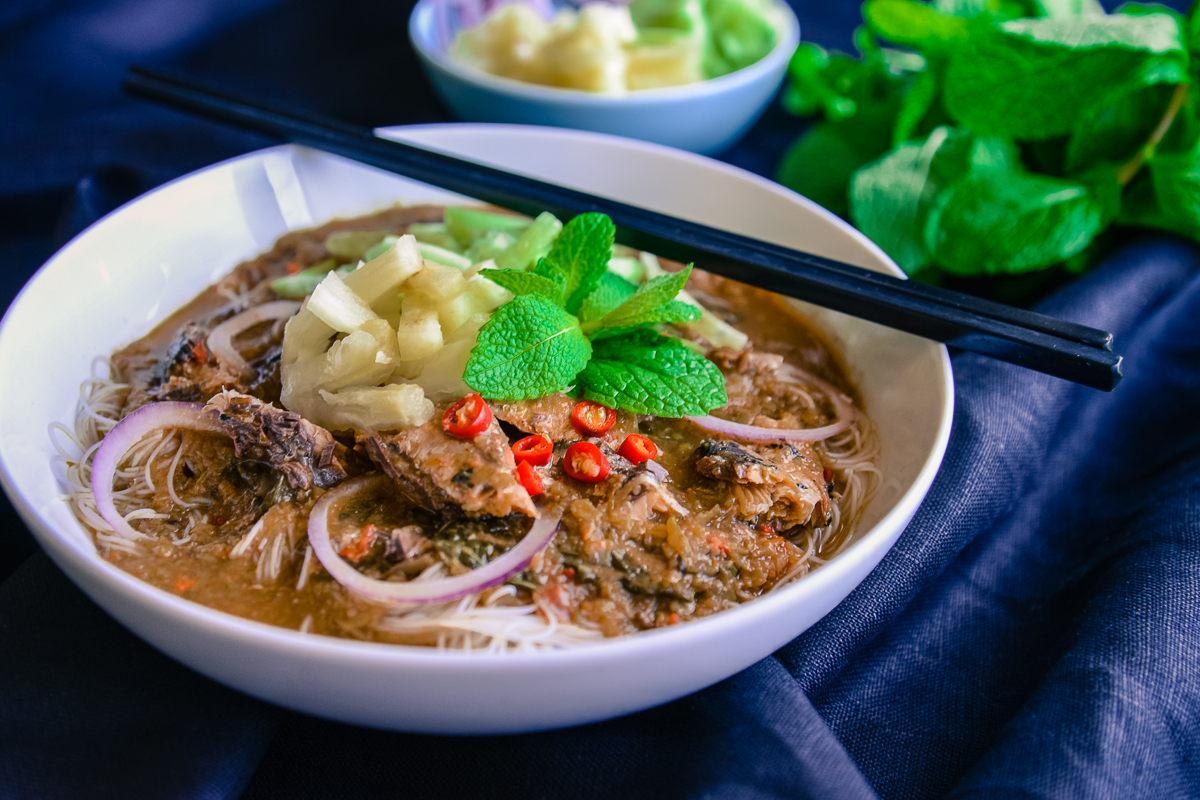 UPDATE: this recipe has been simplified and re-blogged here. And I've changed the photo above to the new version. But please do read on for a story about my grandmother and how this recipe came to be.
The mere whiff of a favourite family dish can evoke so many memories.
When I inhale the fragrance of my Grandmother's Penang laksa I am instantly transported to her house in Kuala Lumpur, Malaysia. We're sitting around her large round dining table, which is groaning with food. The night is warm and humid – 28 degrees – and the fan turns lazily above our heads. Tiny geckos dart across the dining room walls while outside, the whirr of crickets is continuous.
Cooking can be a way of connecting to those we love. Handed down, treasured family recipes become living legacies, a lovely reminder of those who are important to us.
I now have such a legacy from my Grandmother.
My paternal grandmother, my Popo, is 93 years old. She is a regular church goer, a widow and mother of four.
She met my Grandfather in Saba where they were both born. This photo was taken was in the mid 60s. In the back row, from left to right, my Auntie Olive, my Uncle Leung, my dad, and my Auntie Rose.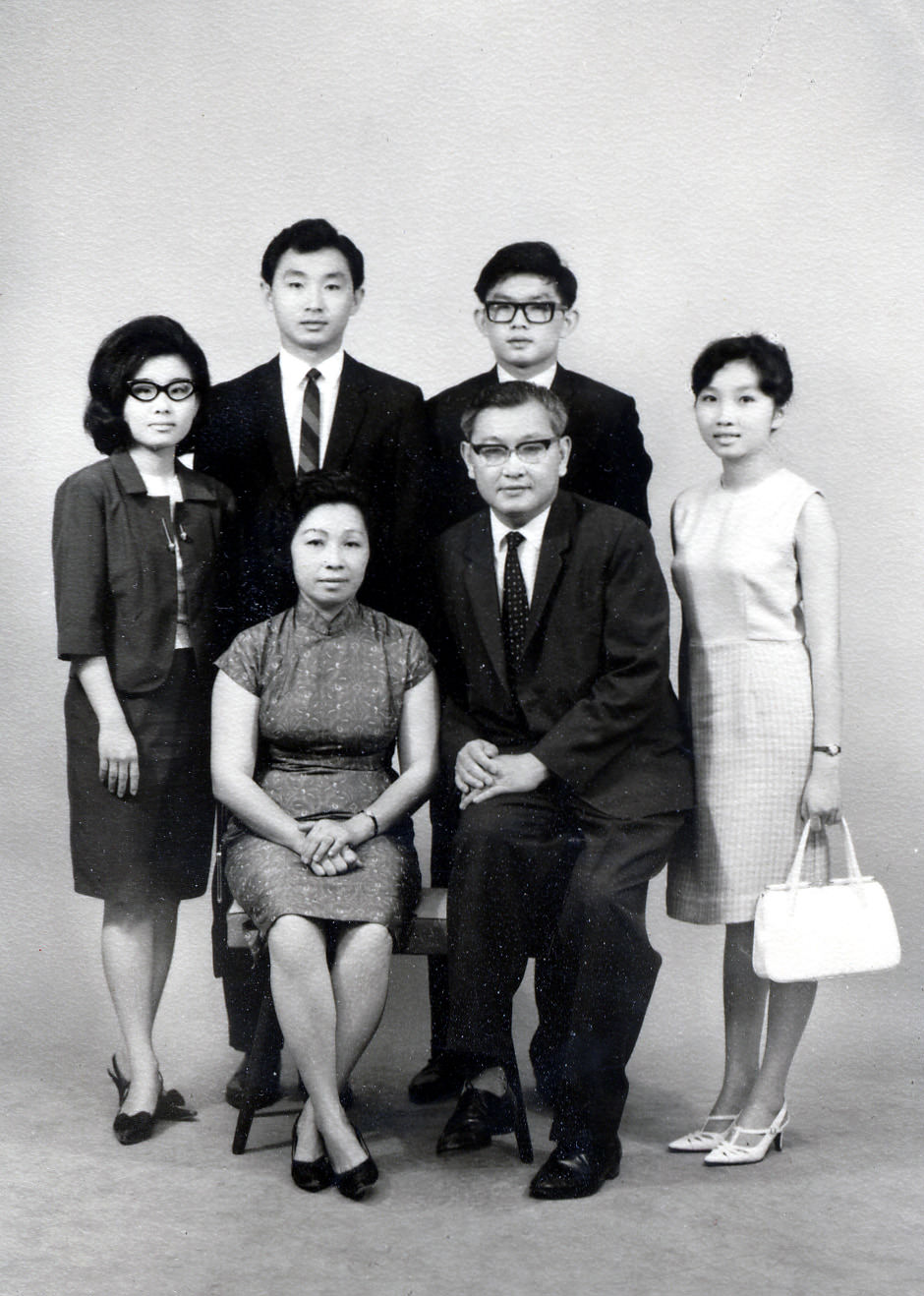 Over the years I've visited my Grandparents in Malaysia around 25 times. This photo was taken in the early 80s at their house. From left to right, cousin Carina (Auntie Rose's daughter), me with a perm and ridiculous eyebrows(!), cousin Mark (Auntie Rose's son), cousin John (Uncle Leung's son) and my brother, Jonathan.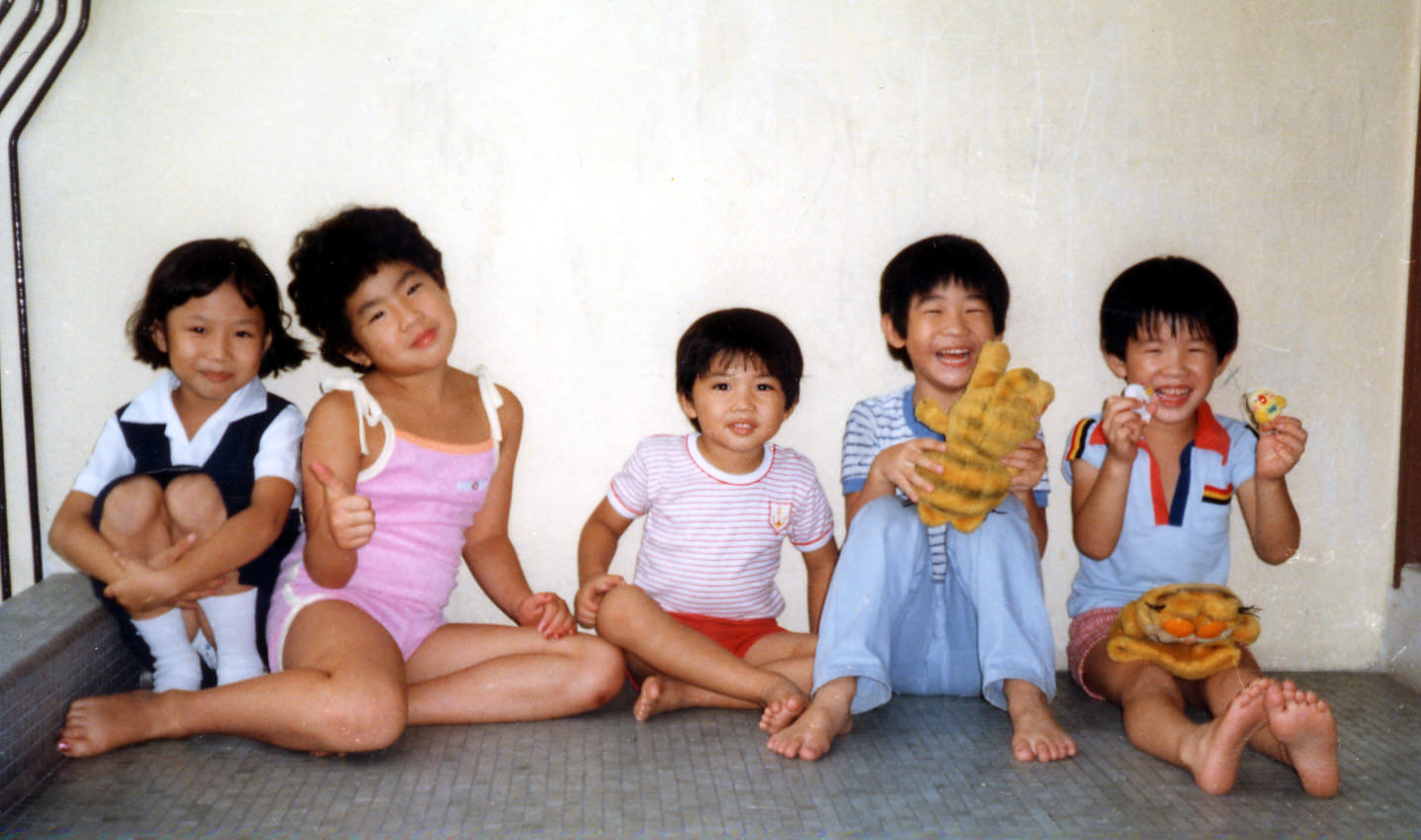 Each time we visited, my Popo would cook the most wonderful dinners for us, making sure to include all our favourites like her famous Penang (asam) laksa, deep fried chicken, stuffed bean curd and fish head curry. It was her way of spoiling us.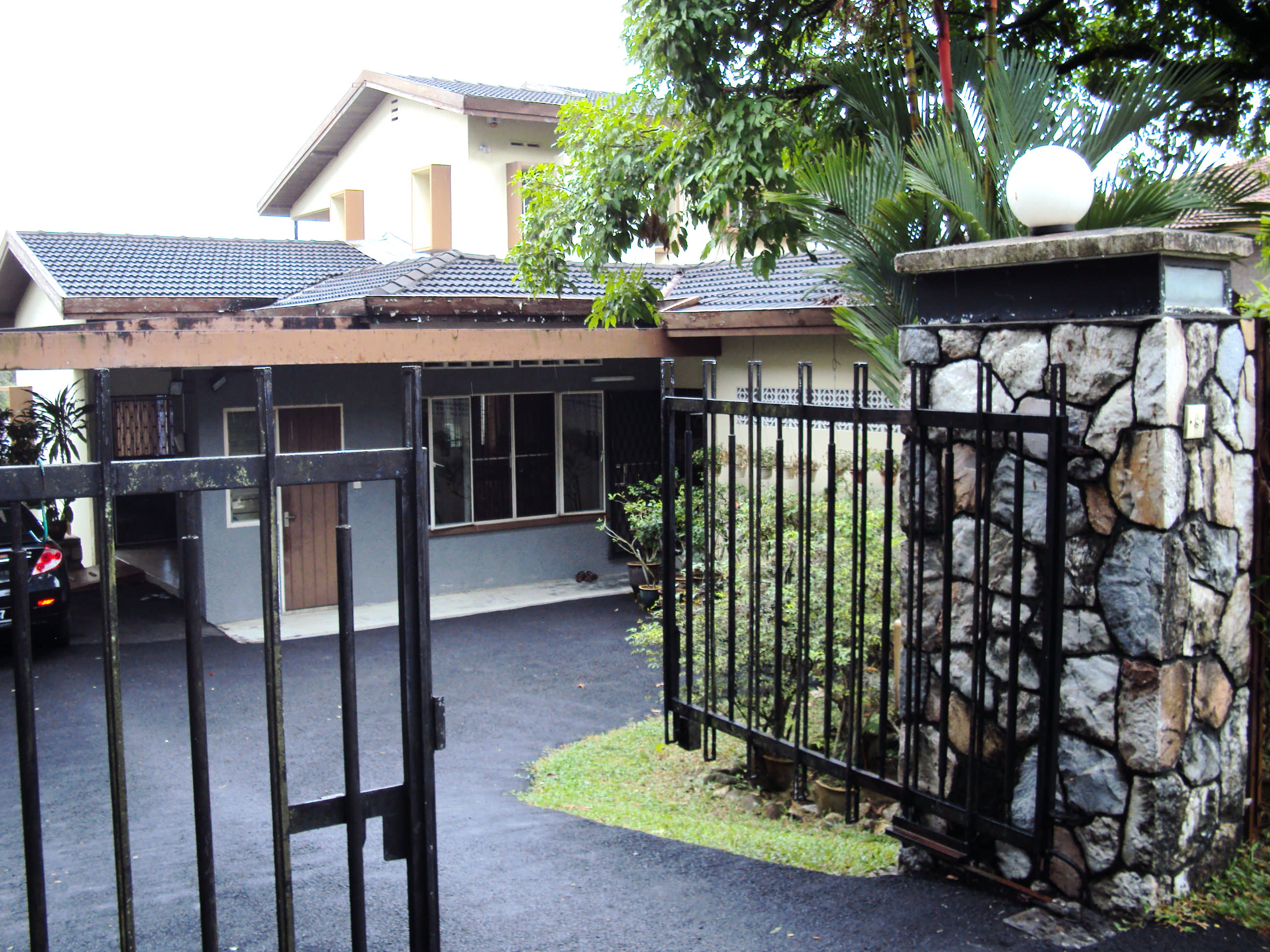 However, our recent visit to Malaysia was different. Popo has had some health issues so she is confined to a wheelchair for most of the time. She doesn't cook anymore. Food is delivered to the house once a day by a commercial Meals on Wheels type service and my Aunt Rose also brings food over regularly. We shopped at the local market and hawker stalls and brought food home for dinner.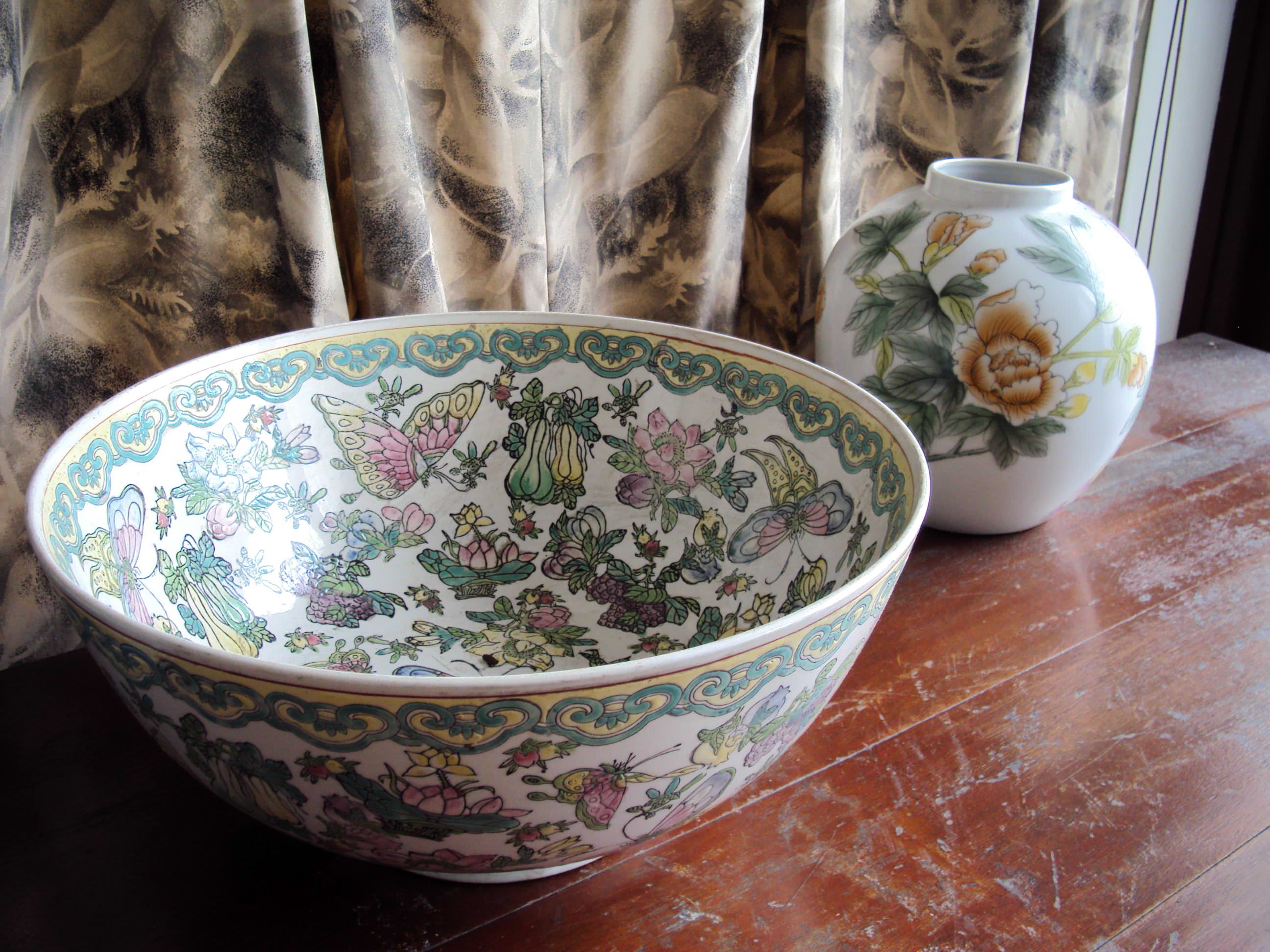 On previous visits, Popo and I had always talked and exchanged news. I'd enjoyed trying to share some of my life with her, even if some of it was incomprehensible. She found my Australian accent hard to understand, often asking my dad to translate afterwards.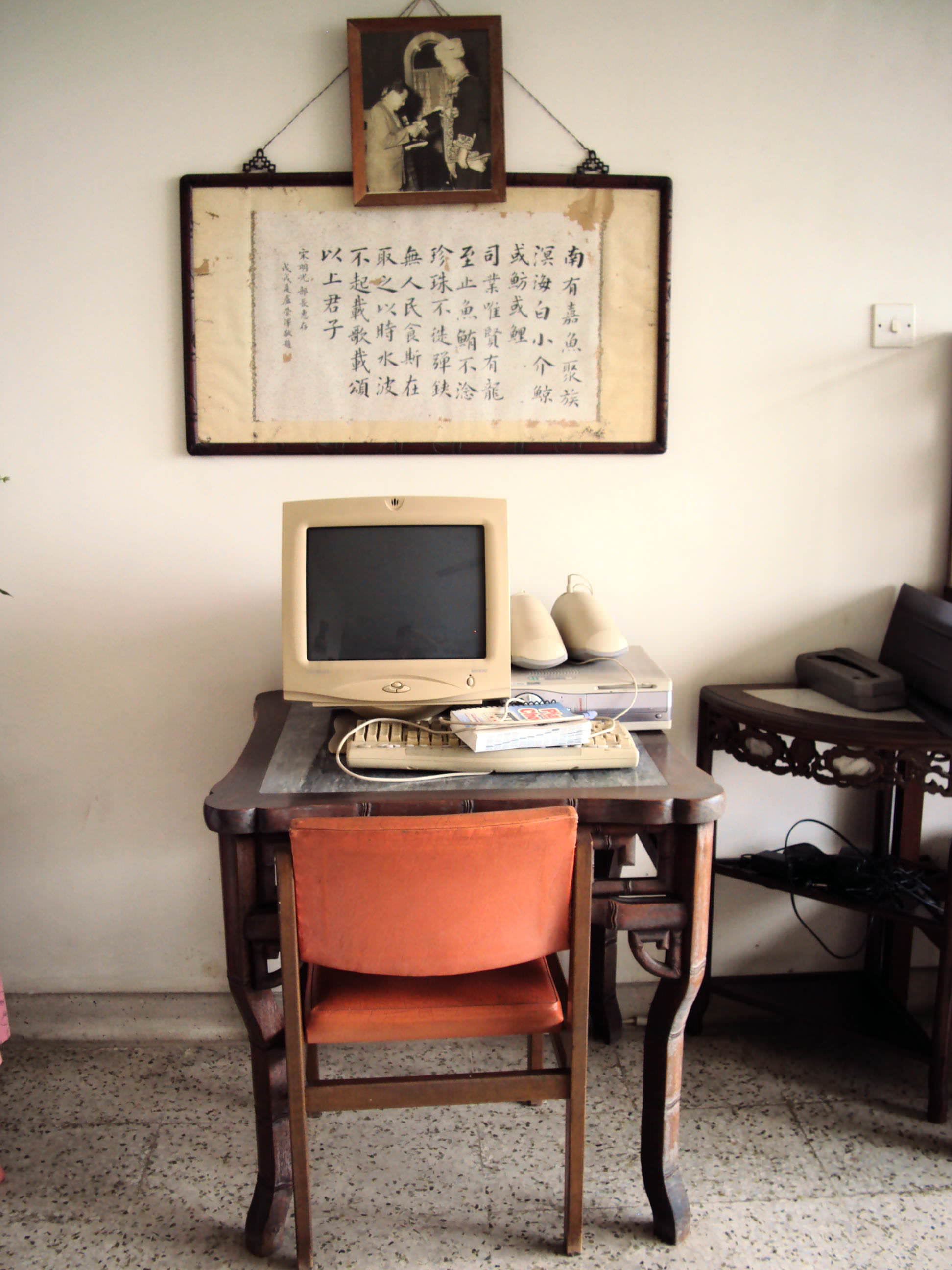 This time conversation was even more difficult as Popo can't hear very well anymore. She had a suspected stroke a few months ago so she was sometimes confused and forgetful. She didn't recognise my husband, for instance, even though she had met him many times before, even travelling to Australia for our wedding when she was 86 years old.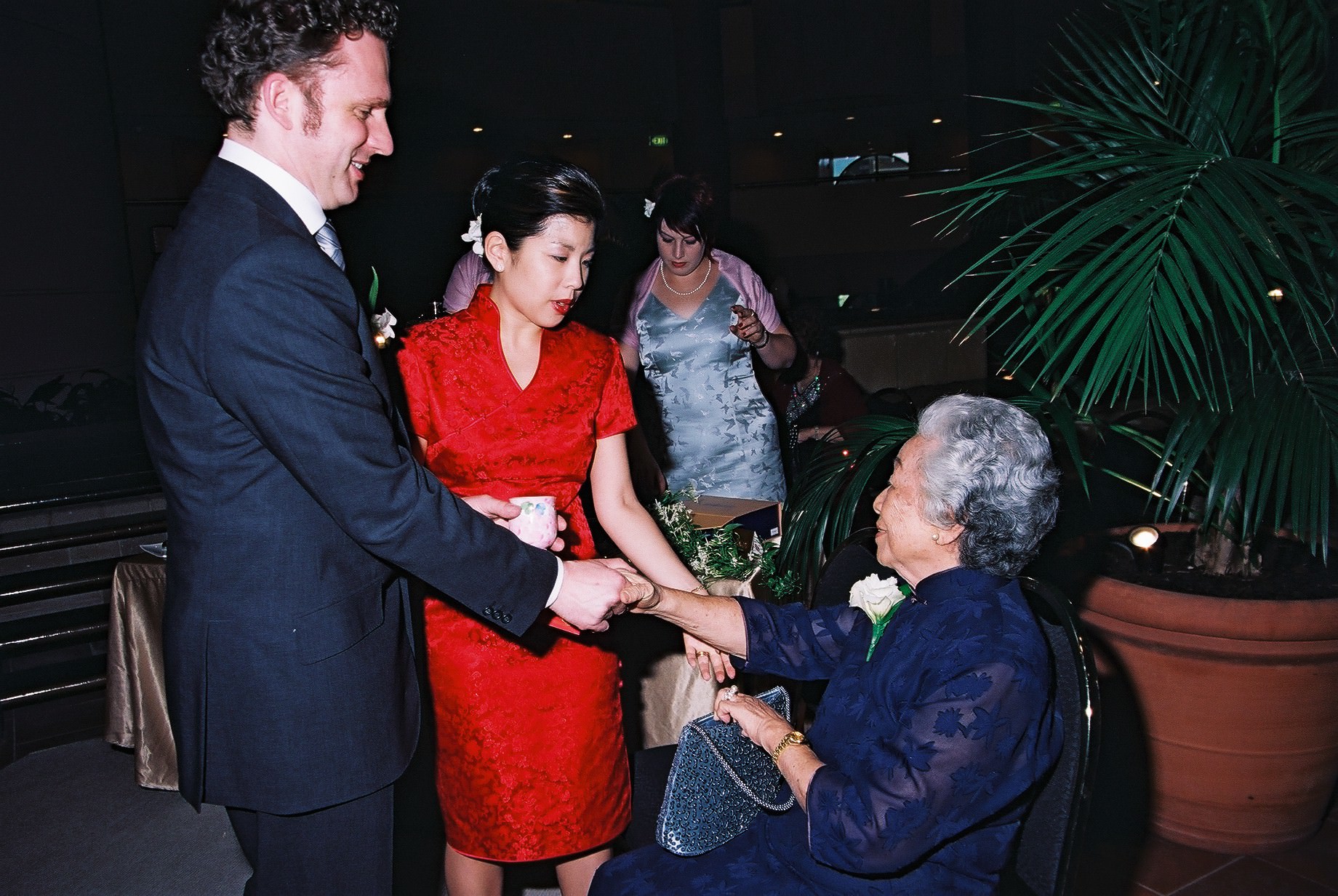 So it was both heart warming and bittersweet to see her this time. It was wonderful to see her face light up when the children chatted away to her, or when she watched them running all over the house. Yet I felt melancholy, too, knowing that she was tiring, knowing that this might be the last time I see her.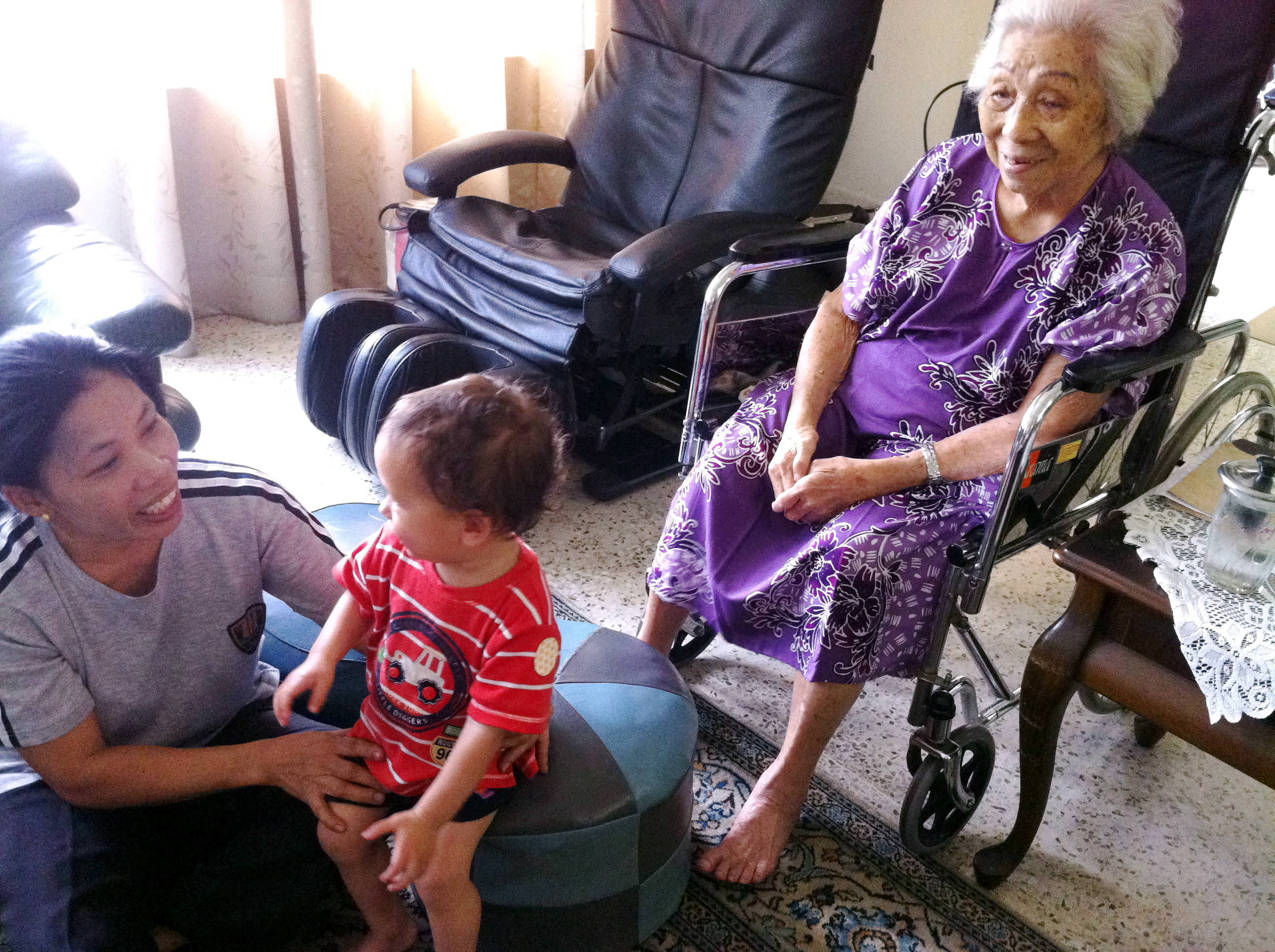 We've been back from Malaysia for over a month now and I've been mulling over how best to write about our time there. Then this week, out of the blue, an email arrived from my cousin Carina, now living in Singapore. Carina grew up in Malaysia and spent many afternoons cooking with Popo in her kitchen, learning her recipes and jotting notes down. I'd asked her for Popo's laksa recipe a couple of months ago and hadn't heard back from her.
Until now. Here it was – Popo's asam laksa recipe. Not a precise recipe, mind you. As Carina watched Popo cook her notes were merely reminders. So it was a little sketchy in terms of measurements, quantities, times and general instructions. But I experimented and tasted and tweaked.
I cooked Popo's laksa last weekend. It took a little while but it wasn't complicated: you just blend up all the paste ingredients, fry the paste, add water and seasoning to make a soup, pour the soup over noodles and garnish to finish. As a first go, I was pretty happy with how it turned out, especially as I had never cooked with some of the ingredients before. It wasn't exactly the taste I remembered but it was pretty close.
My parents came over to join us for dinner and my dad agreed the taste was pretty close. He added a couple of extra spoonfuls of soy sauce in his bowl and decided it was just like his mother's. I allowed myself a moment of quiet pride.
My brother wasn't at the dinner so I made him a takeaway container and gave it to him the next day. He agreed that the taste was close but told me that some key ingredient was missing.
I wondered. Was it the water in Malaysia? Was it the shallots? The pineapple? What was missing?
And then I had a epiphany.
Popo had been cooking this dish for years, maybe twenty or thirty years even. Over this time she'd played with it, refined it. She's added things, left things out. She knew this dish so well she could cook it in her sleep. So who was I to presume that I would be able to cook it perfectly on my very first go?
I sighed with relief. Maybe my asam laksa wasn't exactly like Popo's yet. But I was pretty sure that over the next thirty years it would get closer and closer.
I think she'd be happy with that.
INGREDIENTS FOR PASTE
8-10 Bird's Eye chillies blended with very little water to make 3-4 tablespoons chilli paste
4-5 sticks lemon grass – lower half, white part, cut into fine slices
1 small piece turmeric, peeled and diced
1 small piece galangal (lengkuas), peeled and diced
2 ginger flower stalks (bunga kantan)
8-10 teaspoons belachan (fermented shrimp paste)
1 small rice bowl diced shallots
INGREDIENTS FOR SOUP
1 bunch laksa or vietnamese mint leaves (daun kesom), washed
1 small handful dried tamarind (asam), washed
3 tablespoons tamarind (asam) juice
1 teaspoon salt
3 teaspoons sugar
3 tablespoons light soy sauce
2 large cans sardines in tomato sauce
200 grams okra or green beans
1 large pack rice vermicelli
INGREDIENTS FOR GARNISH
1/2 fresh pineapple, peeled, cored, de-eyed, and cut into shreds
1/2 bunch fresh mint, washed
1/4 red onion or 2 shallots, sliced very finely
Hae ko, a thick, sweet Shrimp paste, to garnish (optional)
METHOD
Cut off stems of chillis and blend with a small amount of water to make a chilli paste.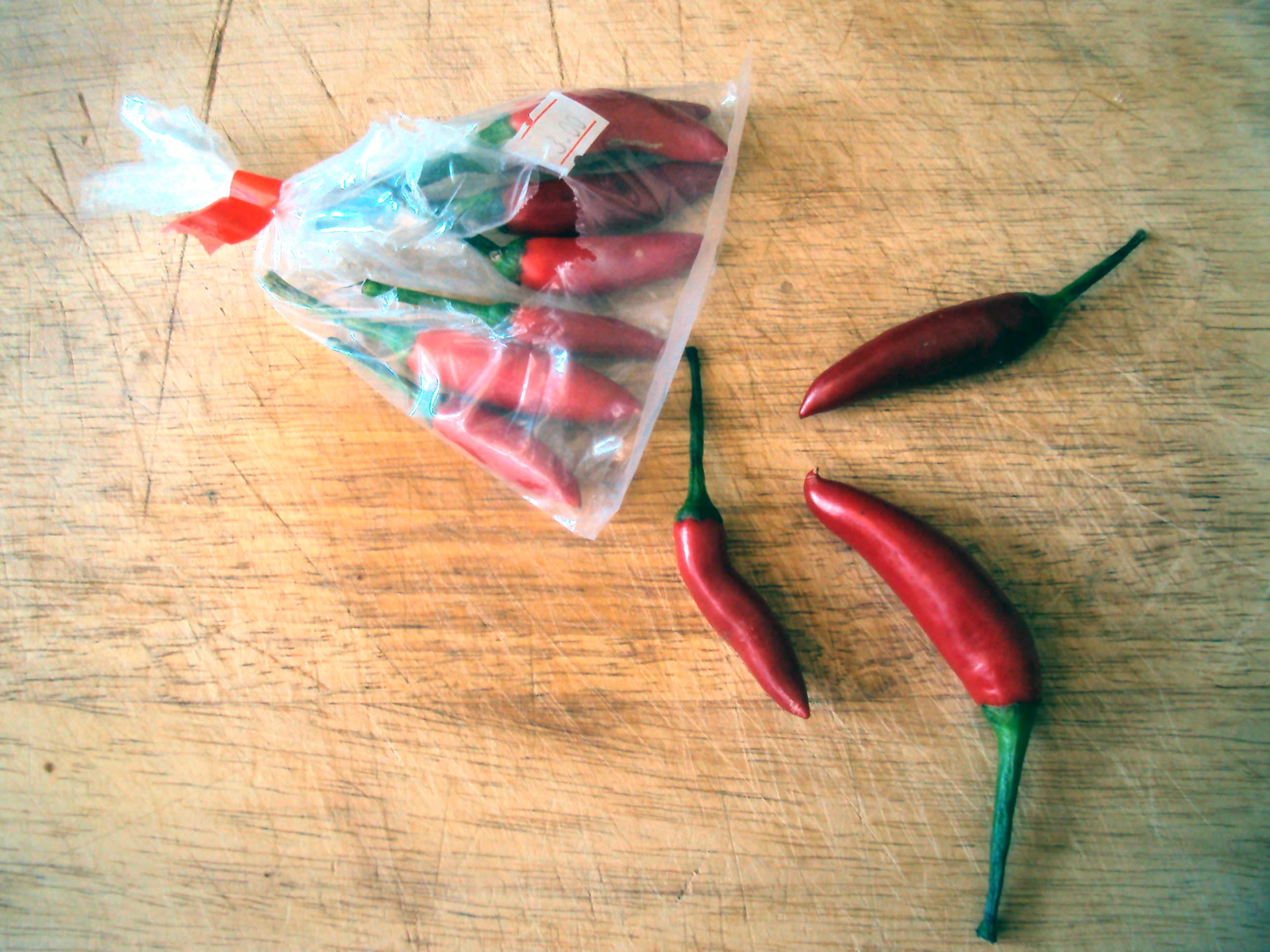 Then peel galangal and cut into small pieces. Add to blender. Galangal is a type of ginger (not yellow ginger) that can be found fresh in some greengrocers or in the freezer department of Asian grocers.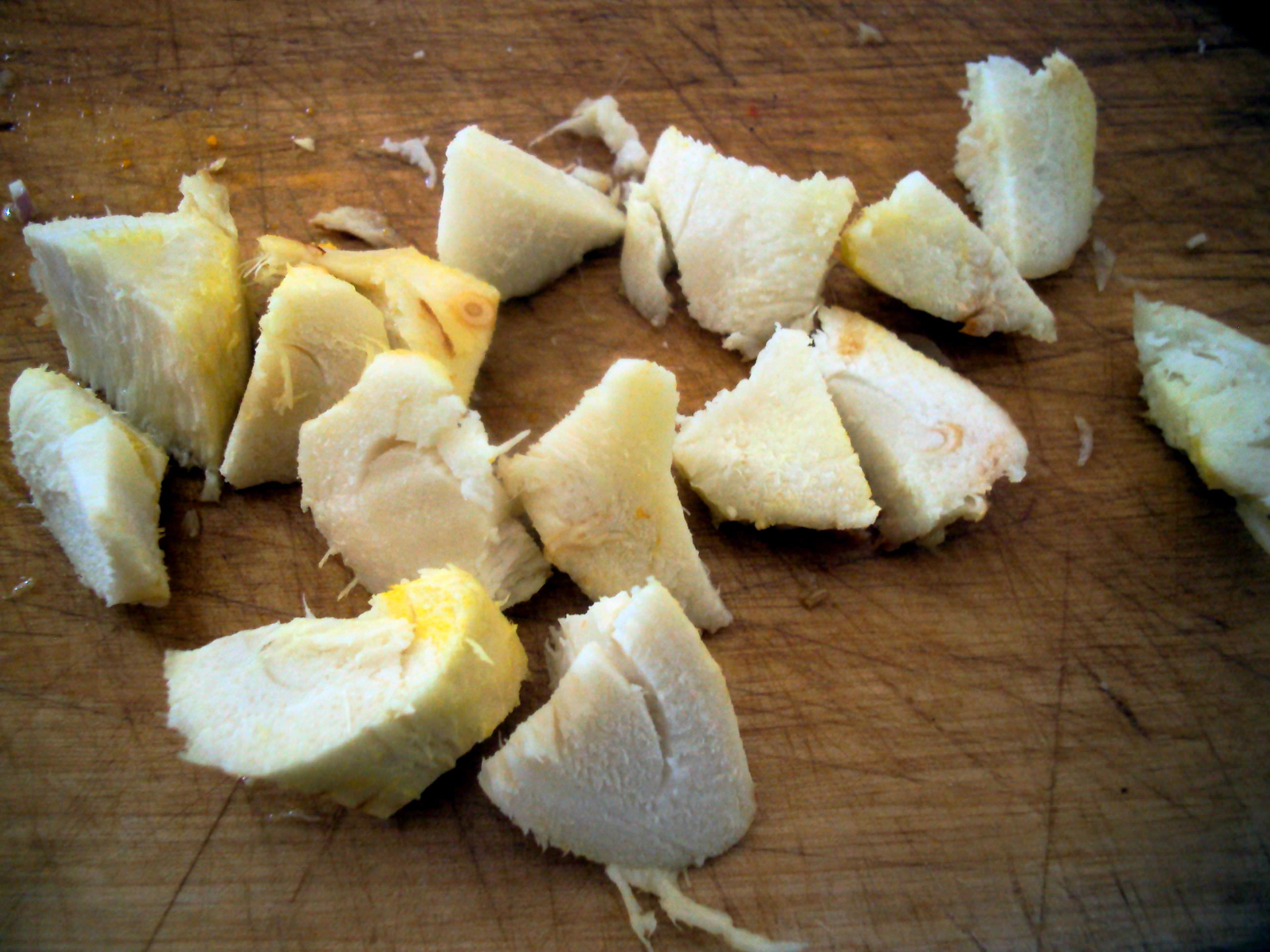 Finely slice the lemongrass stalks, using only the bottom white section. Add to blender.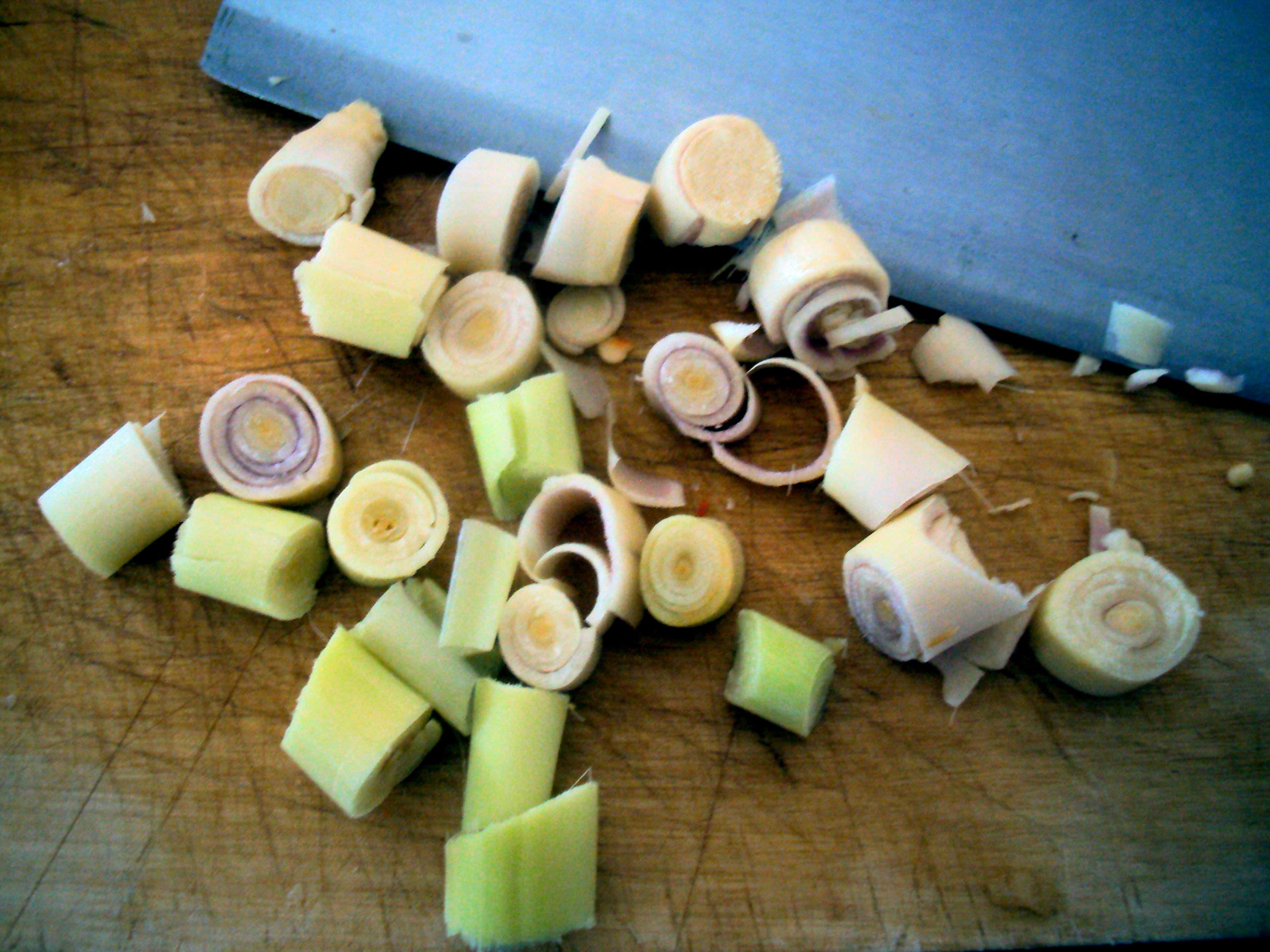 Peel and slice the turmeric. It will stain your hands saffron yellow so wear gloves if necessary. Add to blender. Fresh turmeric can be found at Asian grocers.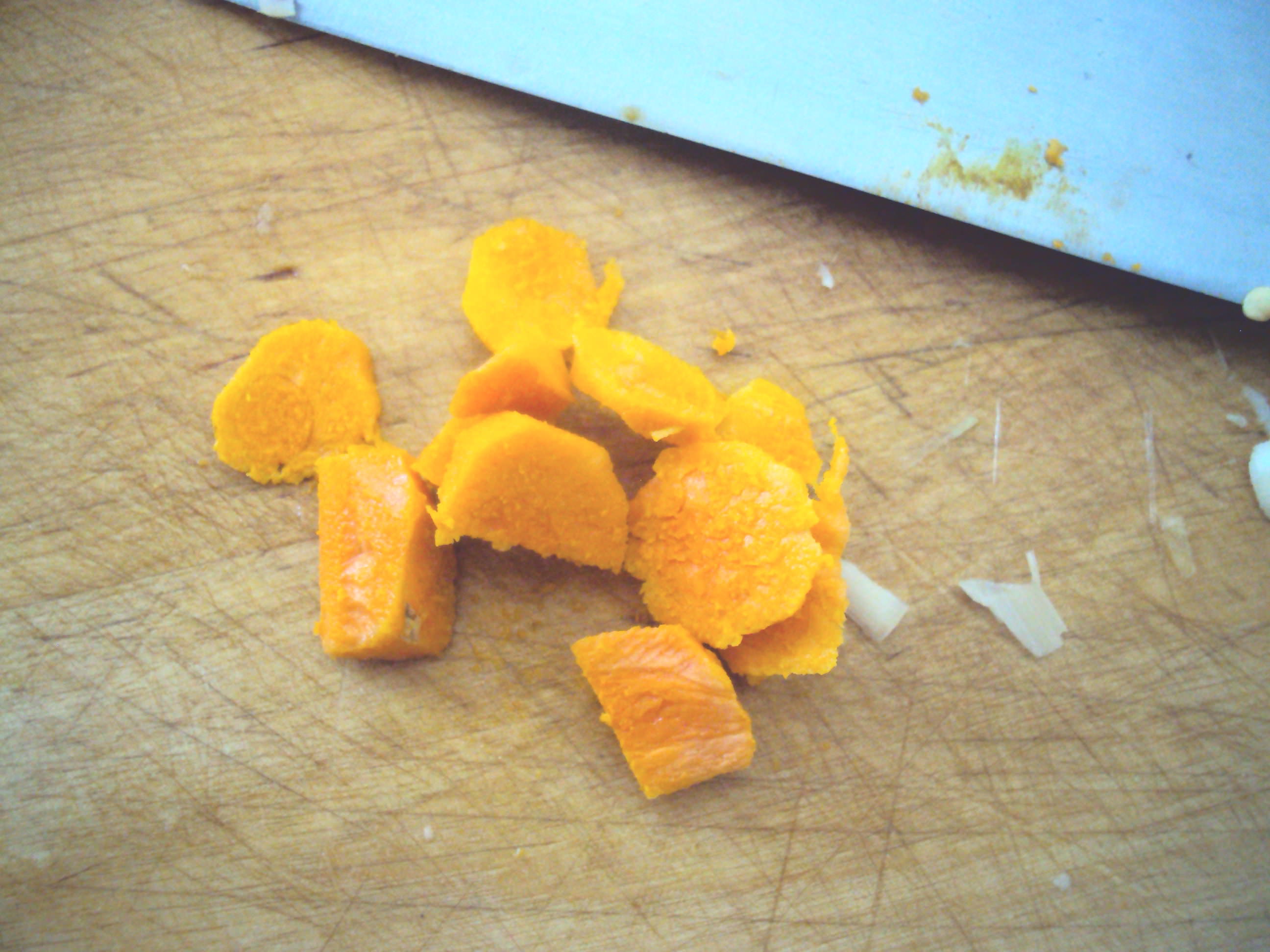 Cut the ginger flower (flower and stalk) up into small pieces and add to blender. If you're not in Asia, you'll need to look for this in the freezer department of a bigger Asian grocer. Ginger flower smells extraordinary – a tantalising blend of cloves, orange, ginger and cinnamon. Actually, it smells like Christmas!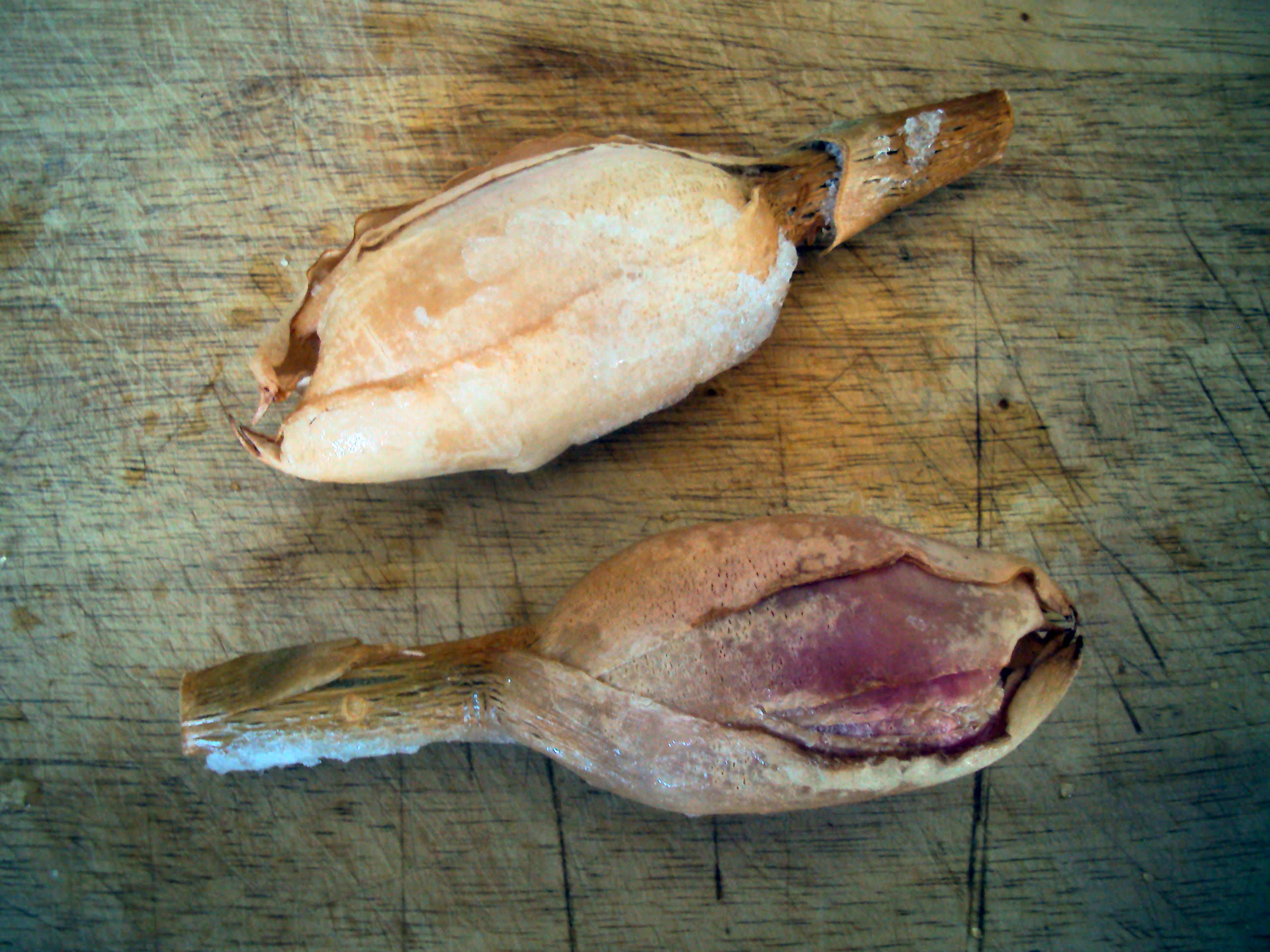 Peel and dice the shallots. Malaysian shallots are small and white/pink whereas the shallots we find in Australia tend to be brown and are much larger. They also cost $10-15 a kilo.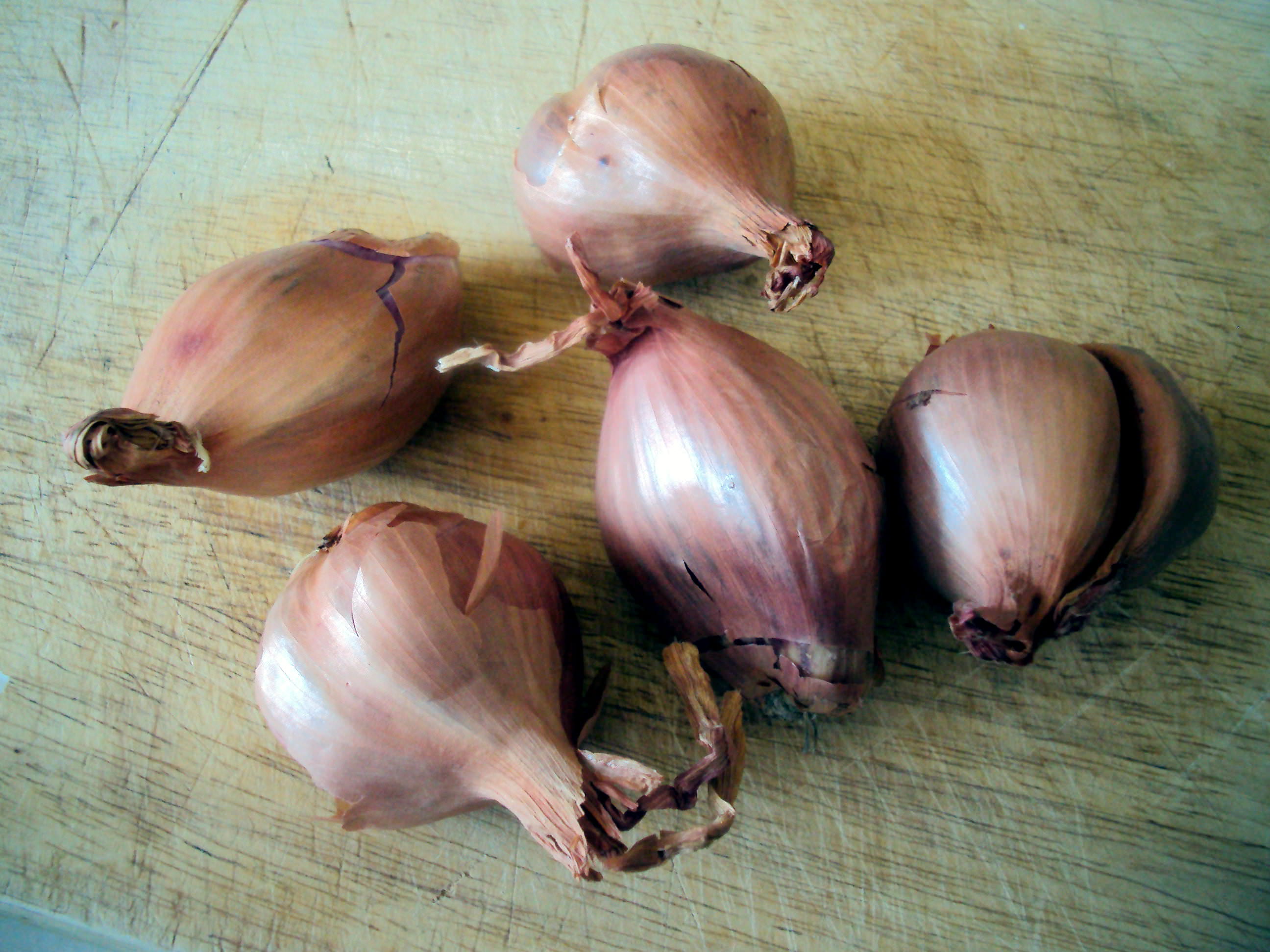 Add 9 generous teaspoons of belachan. Carina's notes indicated 3/4 a block of belachan but I had no idea how big the block was. I started off with 6 generous teaspoons and kept adding to the soup until it tasted right. I reckon 9-10 generous teaspoons would do it.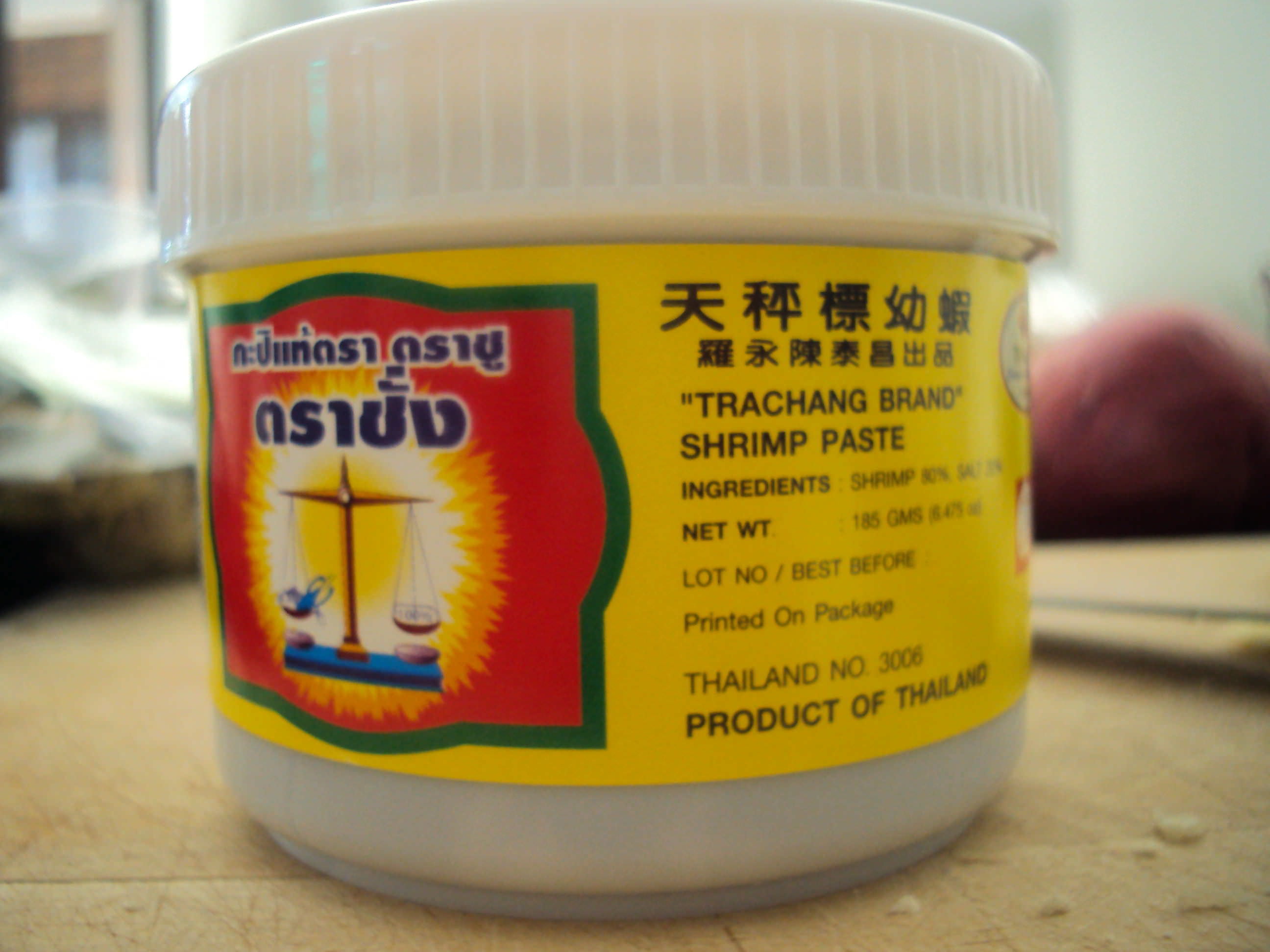 Put lid on blender and blend all paste ingredients up. Add water if necessary however try to add water sparingly as it will add to the cooking time of the paste.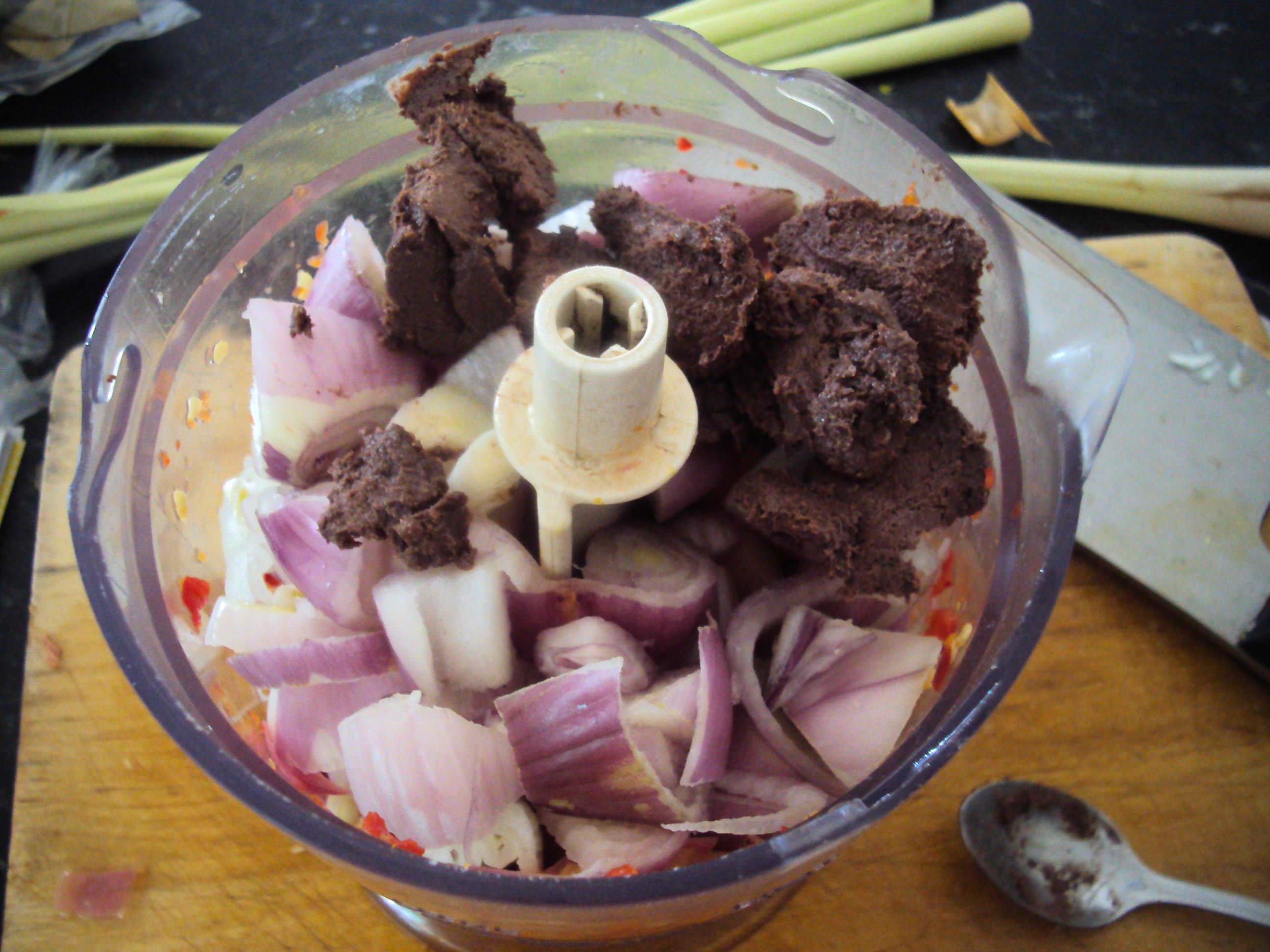 Blend until the paste is fine – the lemongrass stalks and the galgangal are very hard and woody so you want to get this as fine as possible so you don't end up with bits on your tongue as you eat (as I did). My paste below is way too coarse.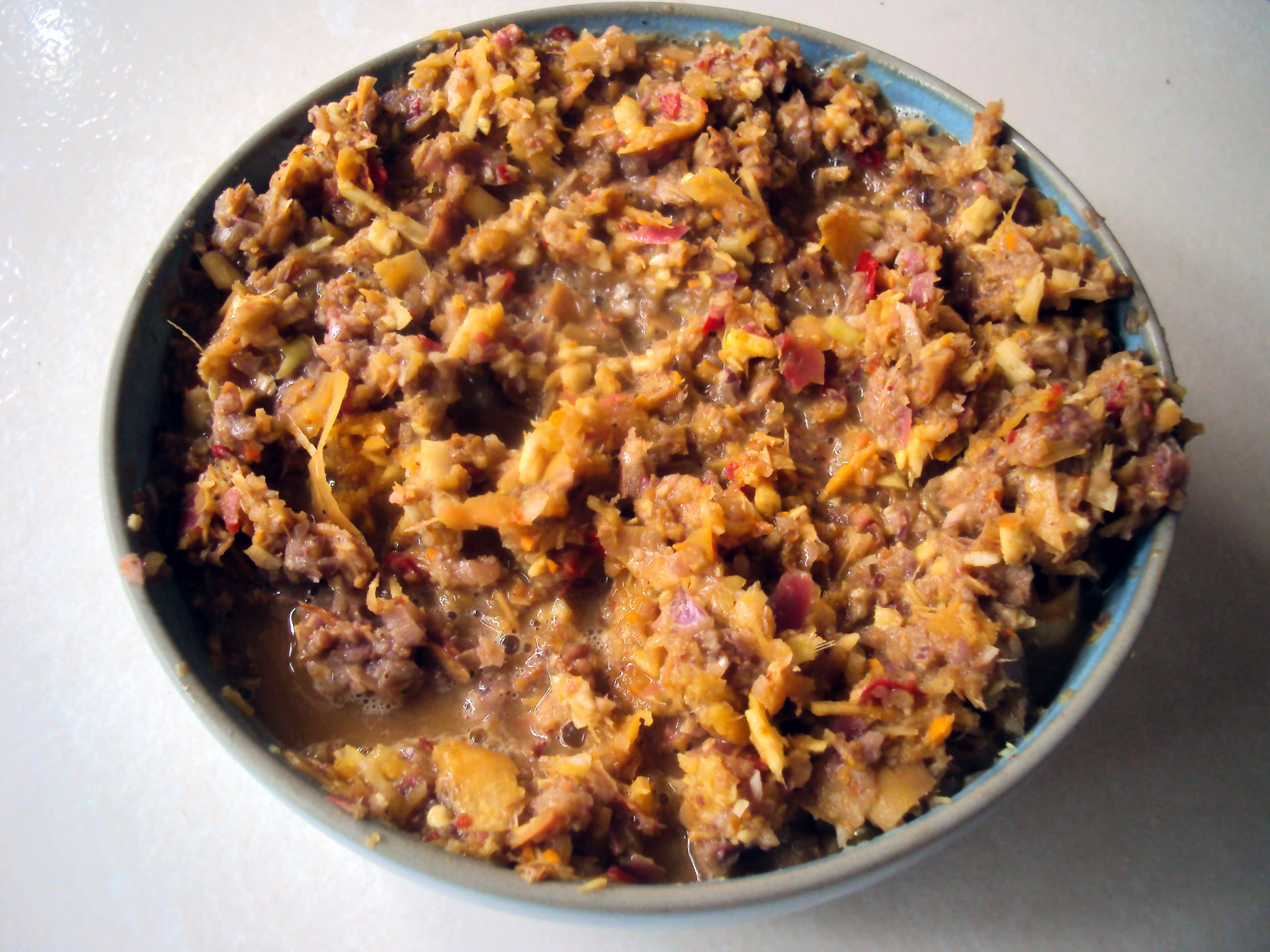 Cook is generous amount of oil til it is fragrant.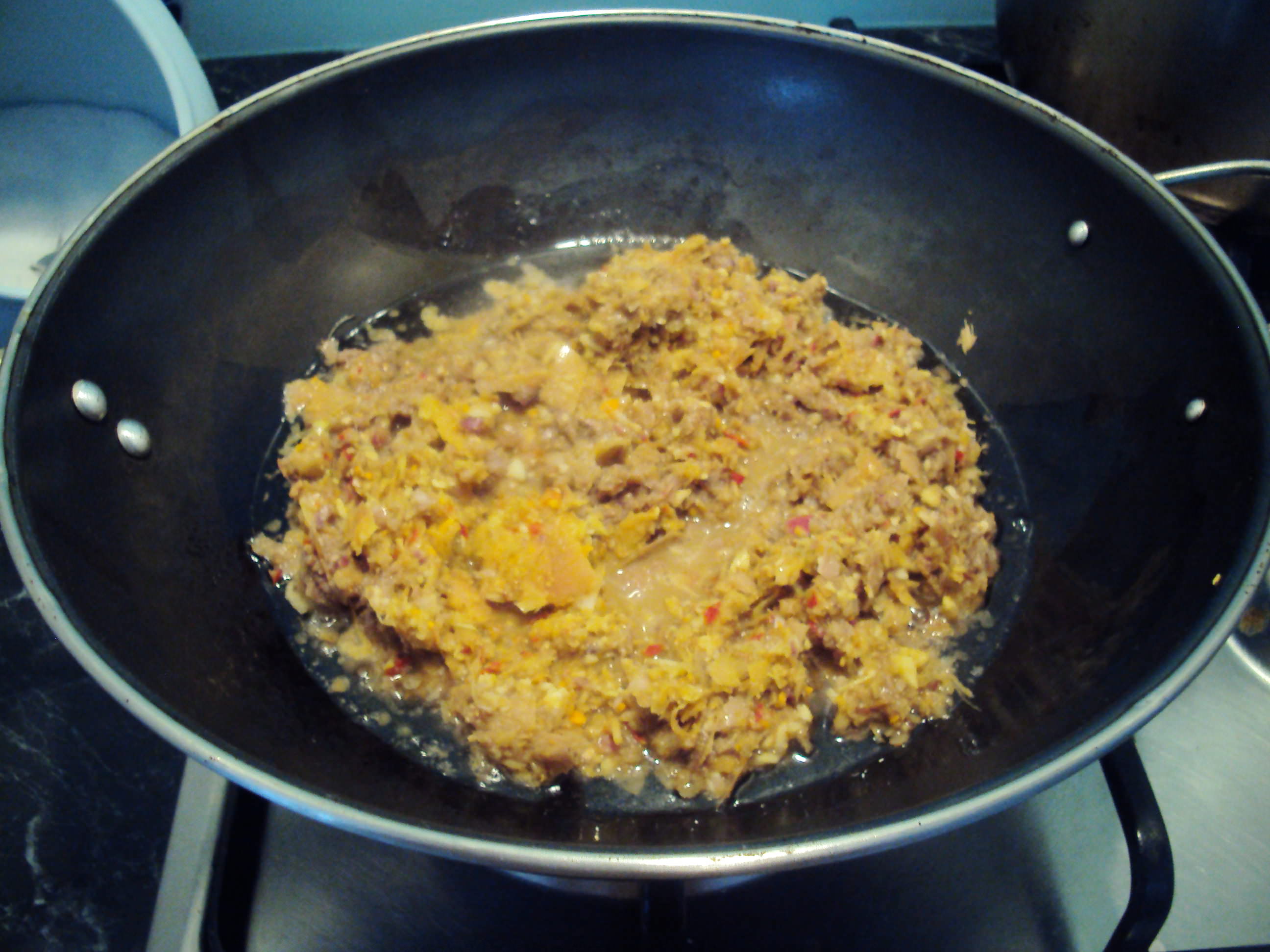 Stir with wooden spoon and cook until the oil splits or seems to separate from the ingredients. Be careful not to burn the paste otherwise you'll have to start over. Now because I had added so much water to the blender my paste didn't split. So I just cooked it for about 8 minutes. Those with a drier paste should observe the oil splitting rule.
Add 1.25 litres water, the laksa leaves, the dried tamarind pieces, and the tamarind juice. Season with salt, sugar and soy sauce.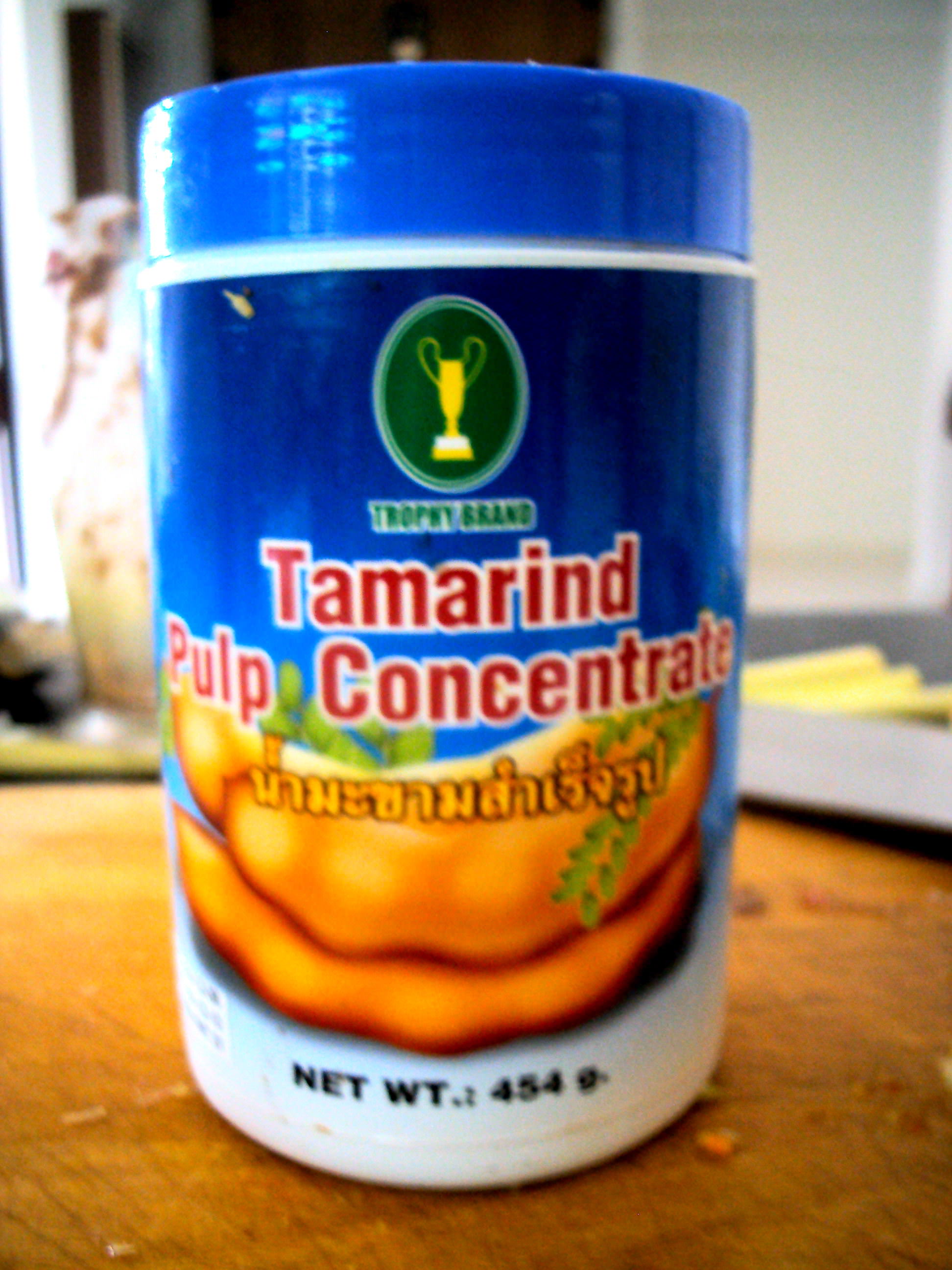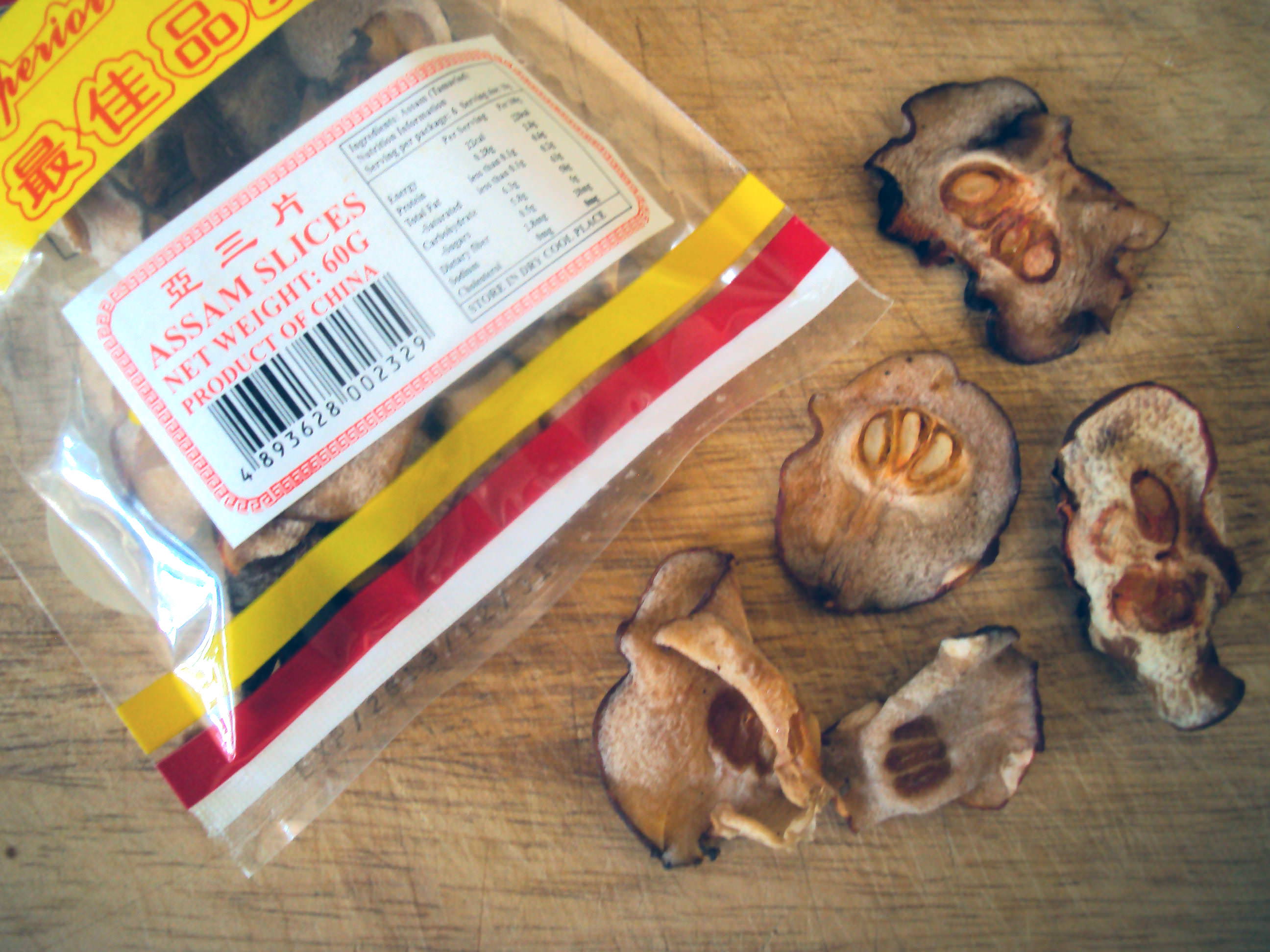 Taste as you go, adding slowly until you get the taste you want (more sweet, more sour…).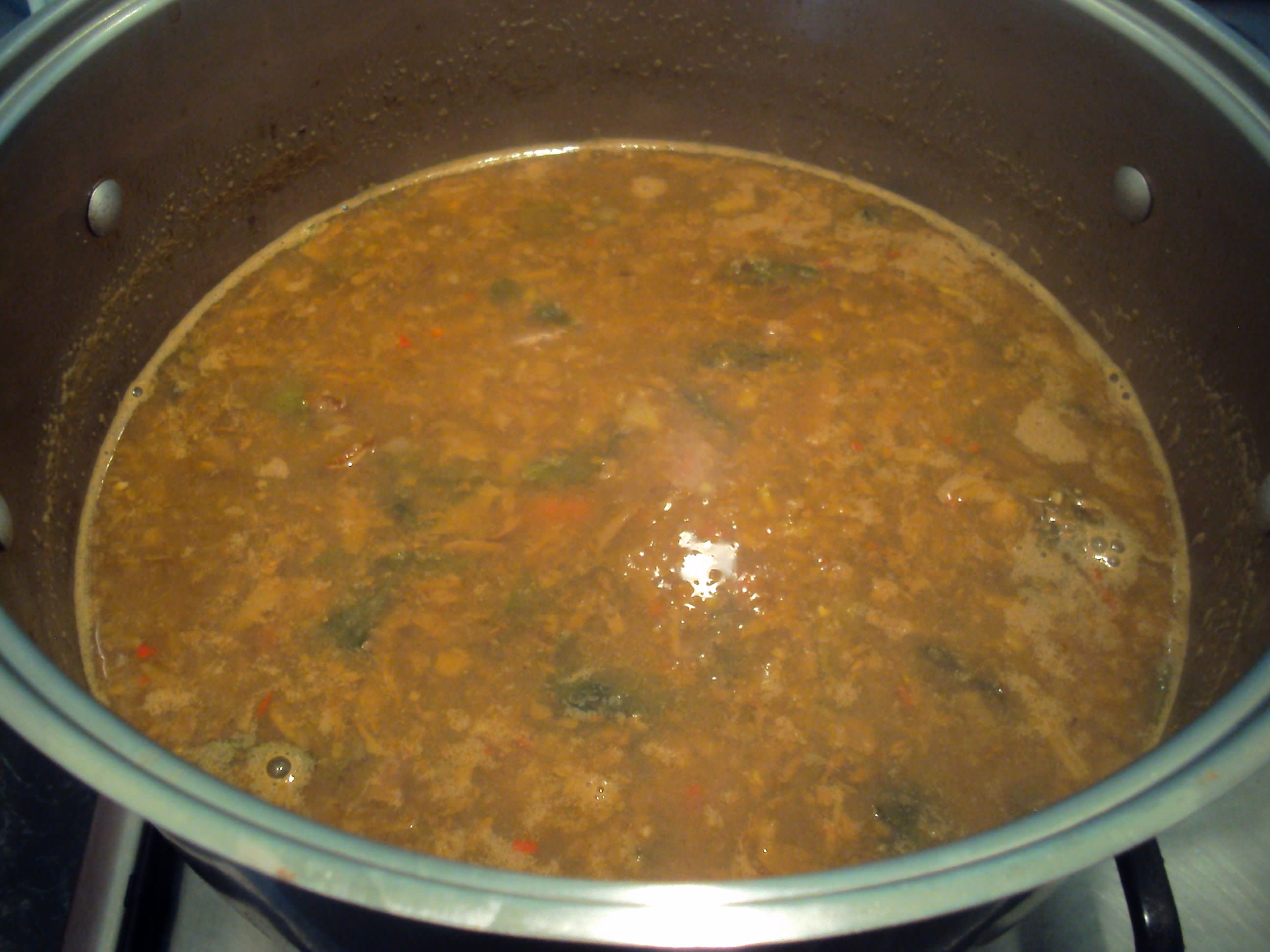 When you have got the soup the way you want it to taste, you can add your fish and okra. I couldn't find any fresh okra so I substituted with trimmed green beans. We sometimes use fresh fish but more often use canned sardines in tomato sauce, an unorthodox substitution that is absolutely delicious. Use your wooden spoon to break up the fish into the soup.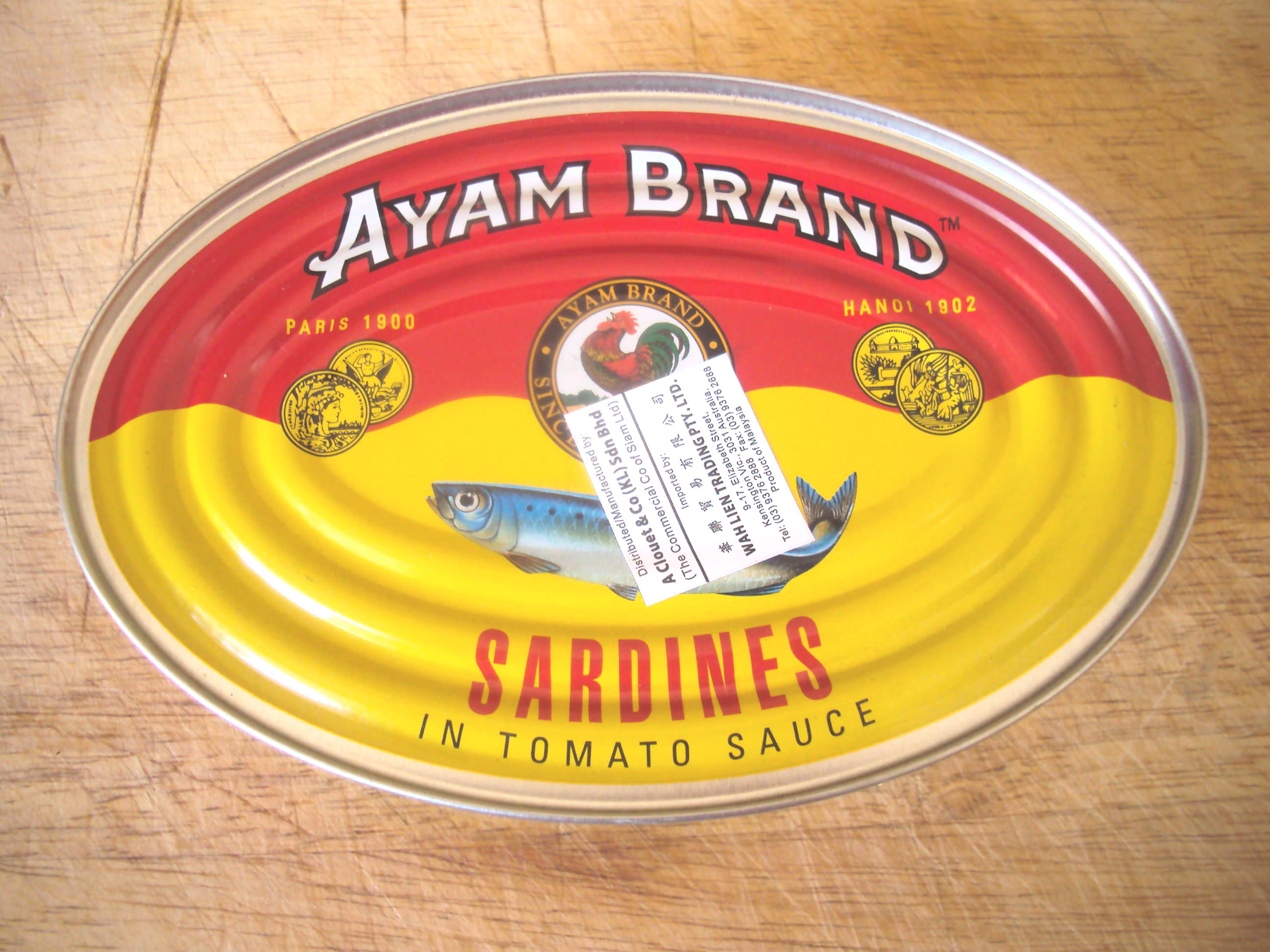 Bring to boil and then simmer for 10 minutes.
While the soup is simmering, cook rice vermicelli according to packed instructions. Finely slice red onion, peel, de-eye and shred pineapple and wash mint leaves.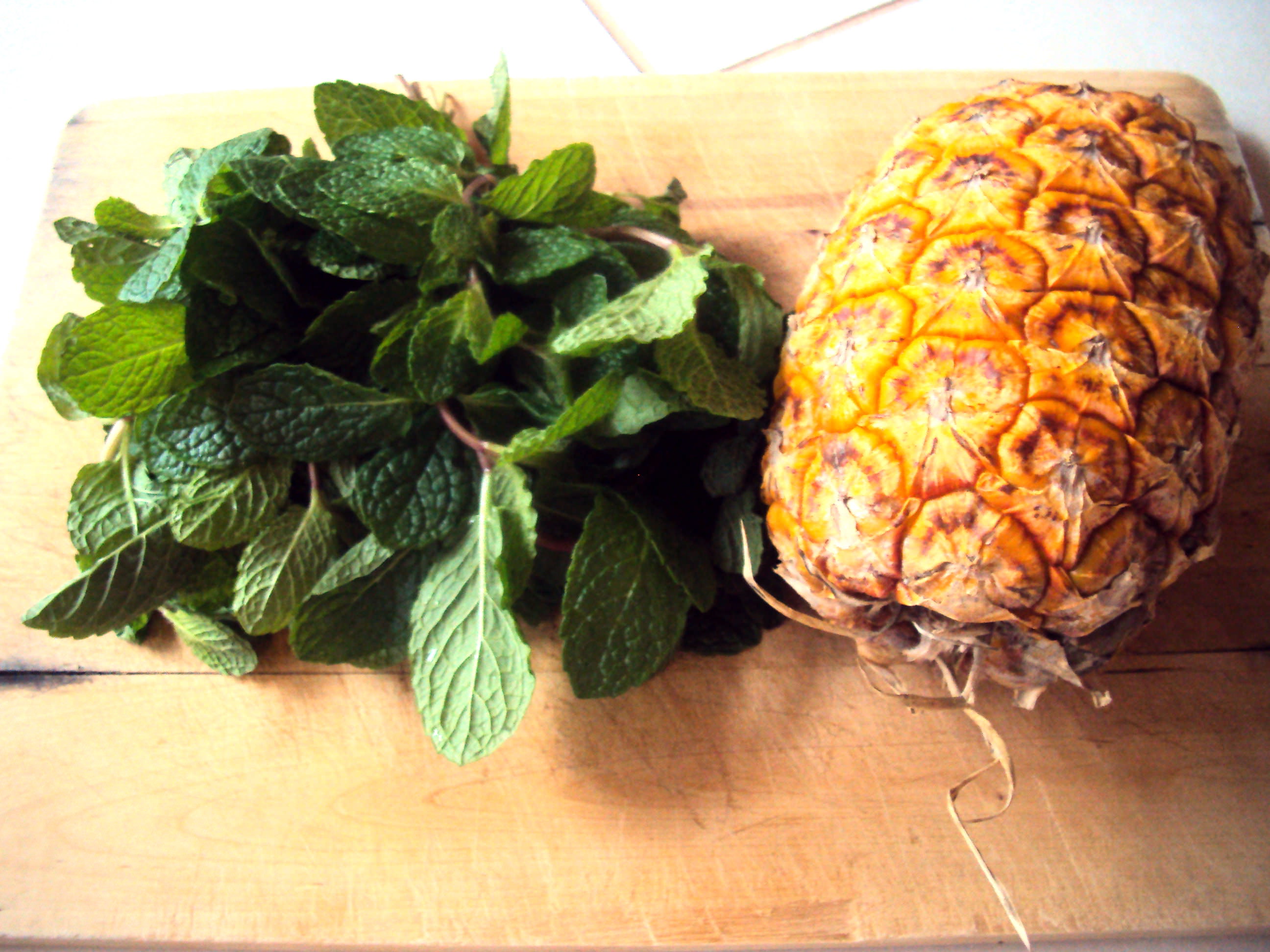 To serve, spoon a generous amount of rice vermicelli in a deep bowl. Cover with ladles of steaming hot soup, making sure there is plenty of fish in each bowl. Garnish with fresh chilli, red onion, mint and pineapple.
Serves 4-6.