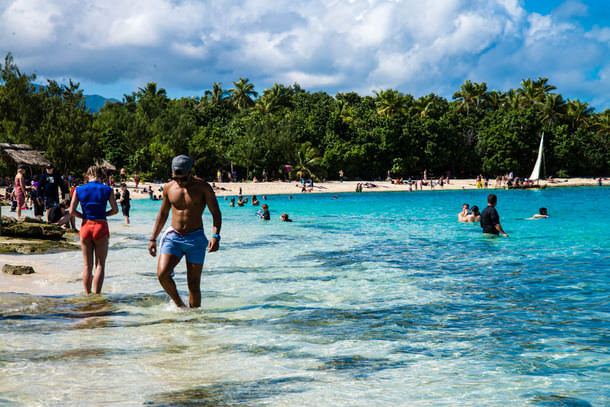 If you are thinking about going on a cruise but you're the type of person who doesn't like to exercise and has no self control when it comes to your diet I have this advice for you: RUN. RUN LIKE THE WIND. Because when you go on a cruise it's like having the world's largest pantry, fridge and personal chef at your 24 hour disposal.
But let me rewind a little bit. Every other year my extended family — my family, my parents and my brother's family — tries to take a holiday together. This year, my parents suggested a cruise. They'd been to one to New Zealand last year and thought it would be an easy way to travel with small kids. So a few weeks ago we set out on the Carnival Spirit to the Pacific Islands. Here's a summary of what happened on our nine-day cruise.
The Carnival Spirit

The Spirit is a bit like a floating hotel; it has 1,062 staterooms to accommodate up to 2,680 guests. It's seriously huge, too  — 292.6 meters long to be exact — with 20 restaurants, bars and lounges, a fully equipped gym, spa, multiple pools, and water park. Over 1,000 staff  cater to its guests' every needs.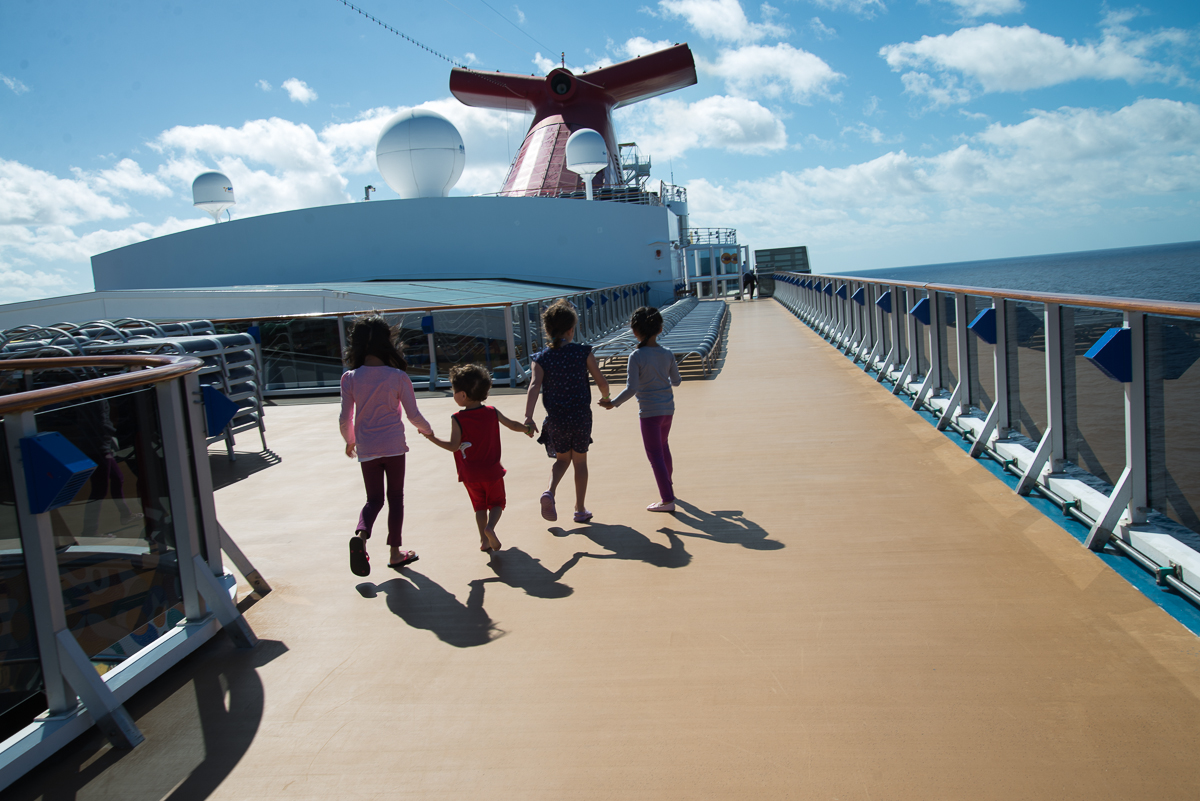 Carnival have organised dozens of activities to keep guests busy and social from sun up to sun down. You can go to a show, talk or screening, play sports, shop, gamble in the casino, listen to a music act, play table tennis or basketball, nurse a drink at a bar, have a swim, relax in the spa, work out at the gym, attend an aerobics class, get a massage or haircut or have your nails done. 
We spent most of the time by the pool, up at the water park and trying out some of the sports like mini golf.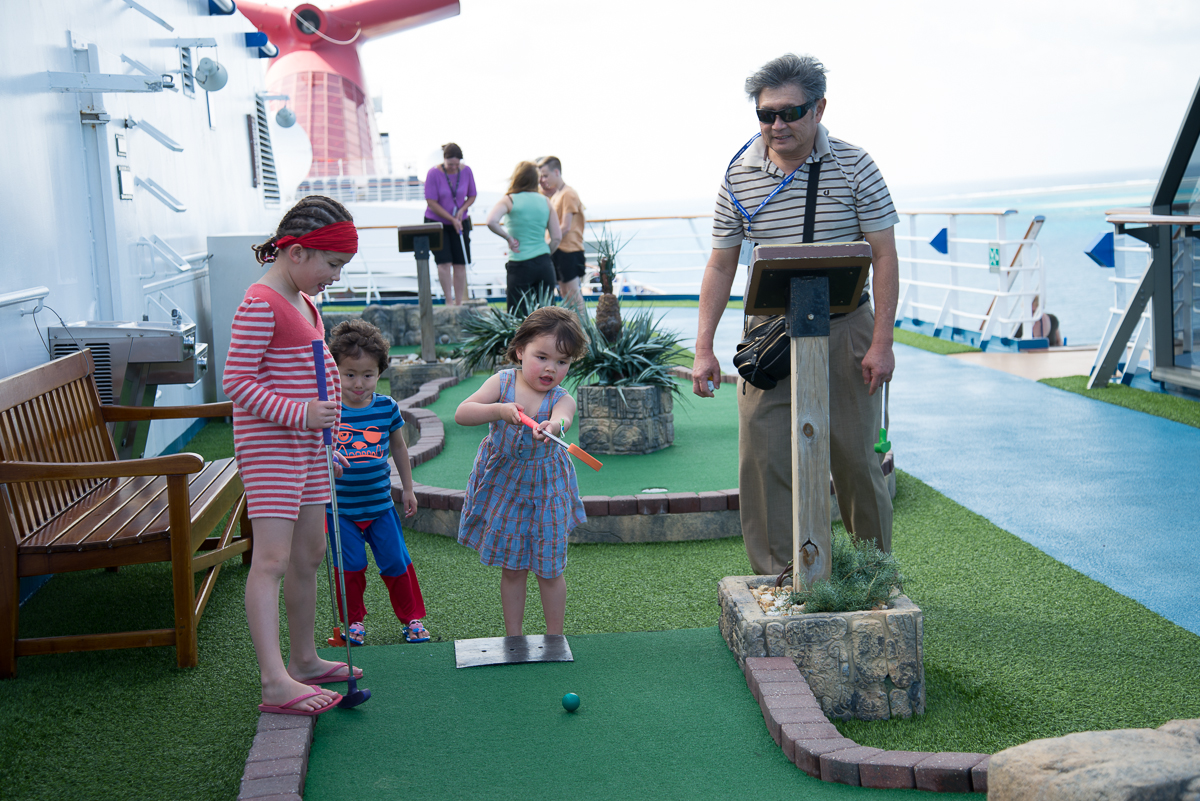 If you're travelling kid-free the Spirit offers Serenity – a pool, spa + bar for 18+ only. There are also deck parties organised throughout the cruise if you fancy getting your disco pants on.
The Food
The Spirit boasts a number of eating outlets to cater to every need. The food was generally very good, say, on a par with good pub food. There were a few misses — the Char Kway Teow and Pad Thai noodles at the buffet bore only a passing resemblance to their namesakes — but generally the food was good. These were some of the outlets we tried:
1) La Playa Buffet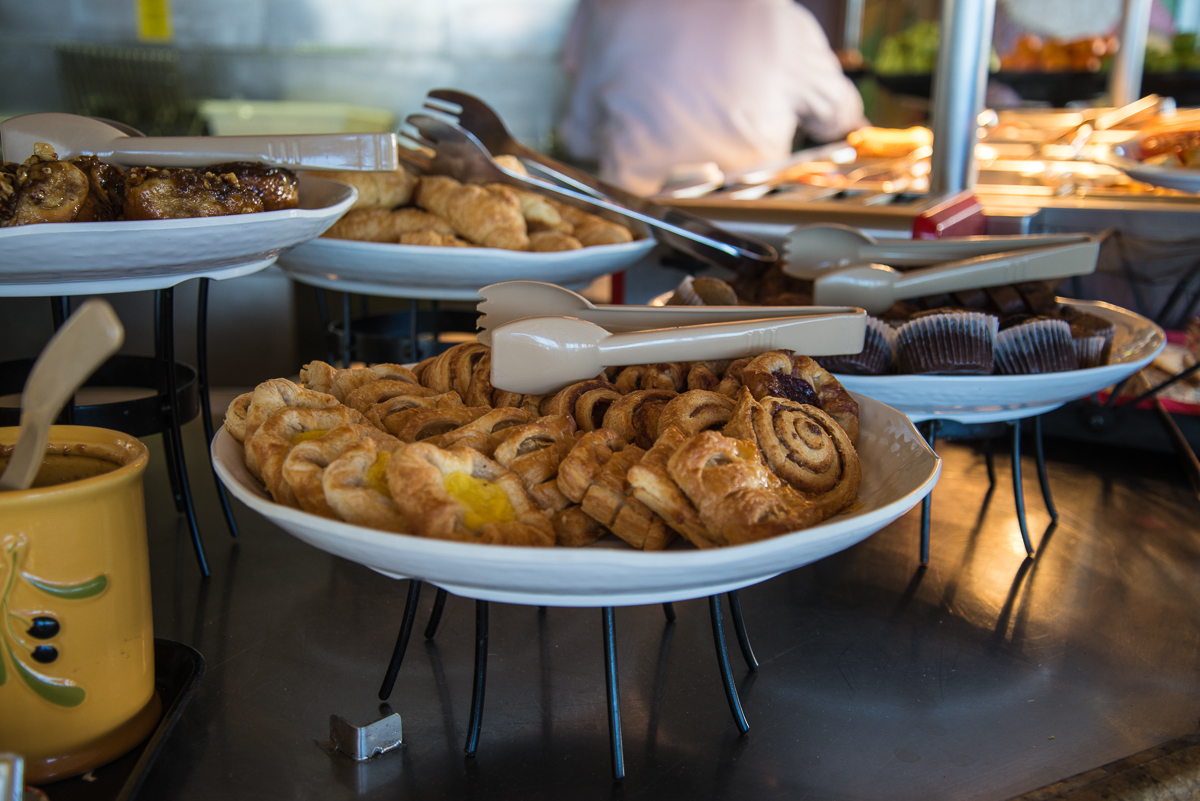 The casual, self-serve buffet features a number of different bars: fruit & dessert, cold cuts, salad, sandwich, pizza, cooked breakfast, Asian food, hot food,  featured cuisine etc. Trying to have a bite of everything proved to be my undoing – with probably 70 different options there is no way you can possibly try everything.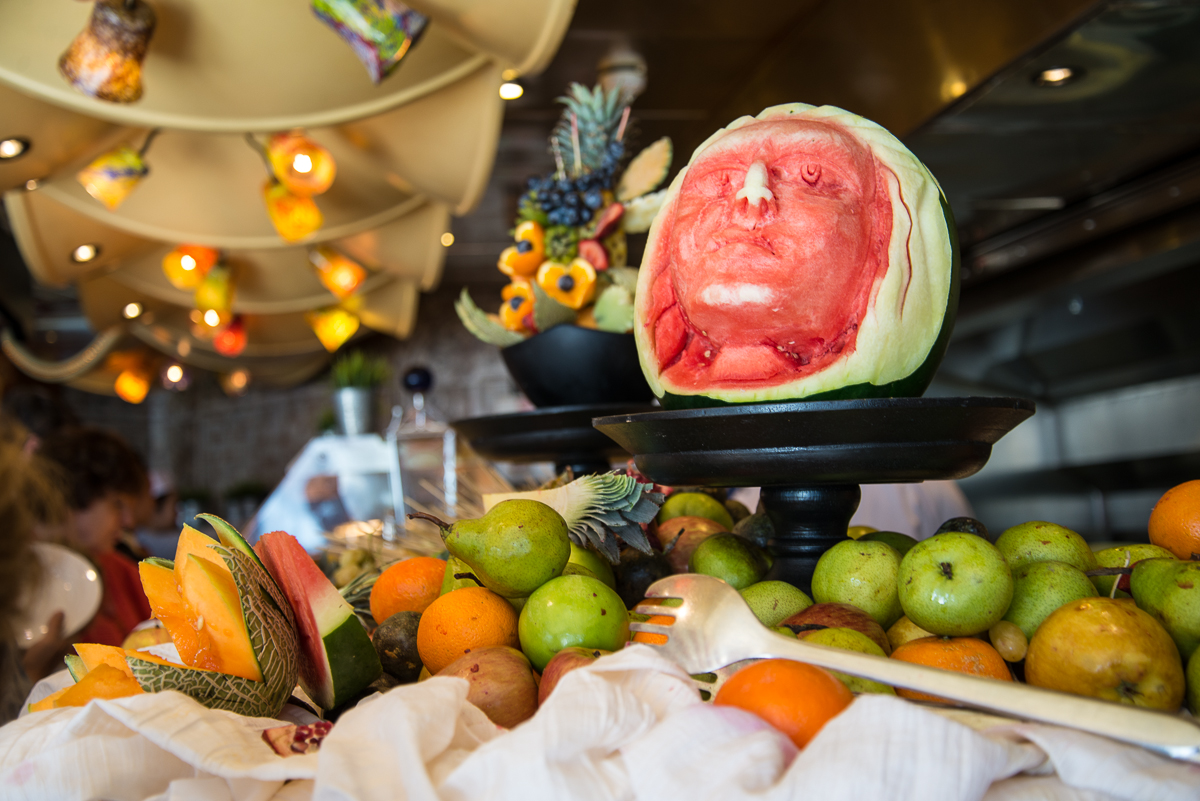 La Playa is open for breakfast, lunch and dinner. We liked the omelette station, danishes, gateaux, fresh fruit, salads, cold cuts, fried rice, poached eggs, and  featured cuisine bar (e.g. French, Greek, Vietnamese, Thai). My tip for trying to eat a relatively healthy meal? Start each meal with a plate of salad or fruit.
2) Empire Room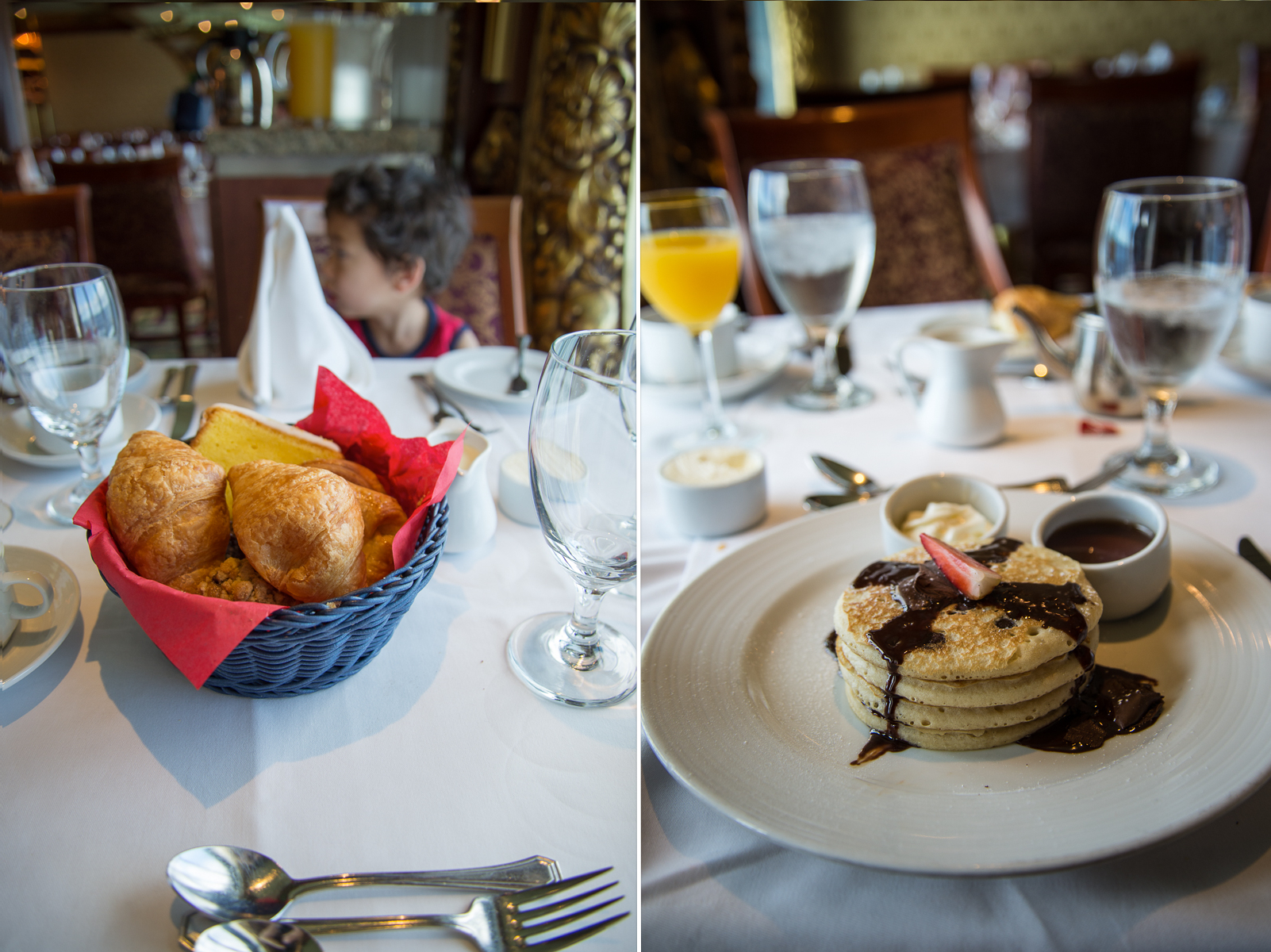 The Empire Room is designed for more formal dining with dressed tables, waiters and 3-course meals.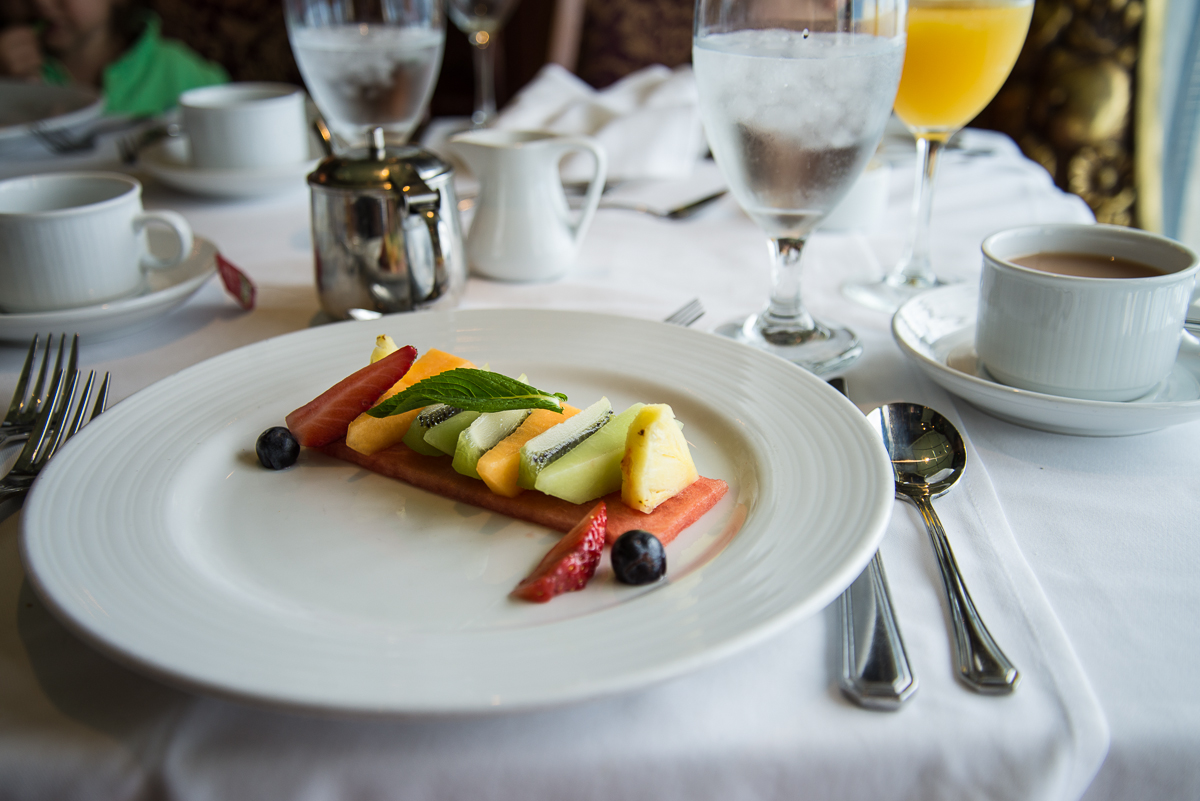 The breakfast here is excellent – we loved the choc chip pancakes and my omelette with the lot.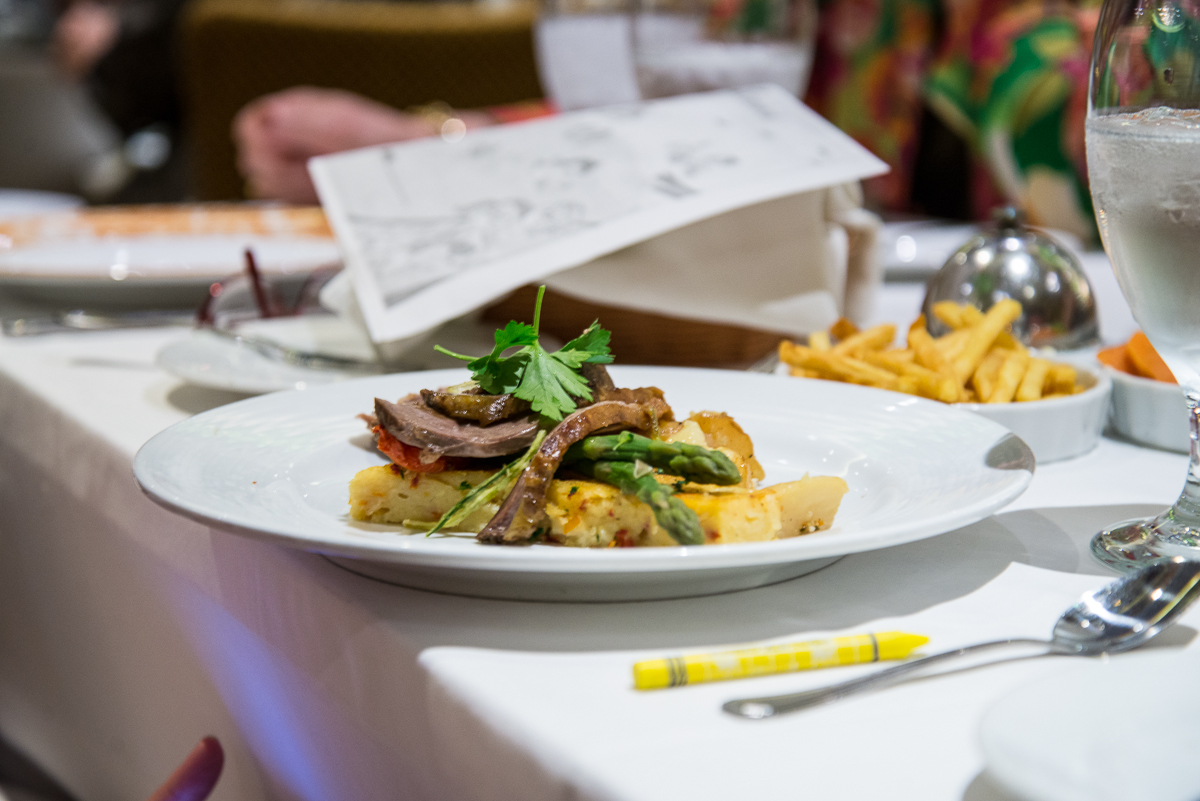 For dinner, try the house steak or salmon, and melting chocolate cake (I had this three nights in a row). The Indian curries were also excellent, as was the salted caramel Tres Leche cake. The Empire Room also offered an extensive kids menu with both healthy and not so healthy choices.
Unfortunately, afternoon tea at The Empire Room was very disappointing. Sandwiches (salmon and cucumber) came with 5mm thick cream cheese wedges, the macarons were stale and the cakes were extremely average.
3) Fat Jimmy's BBQ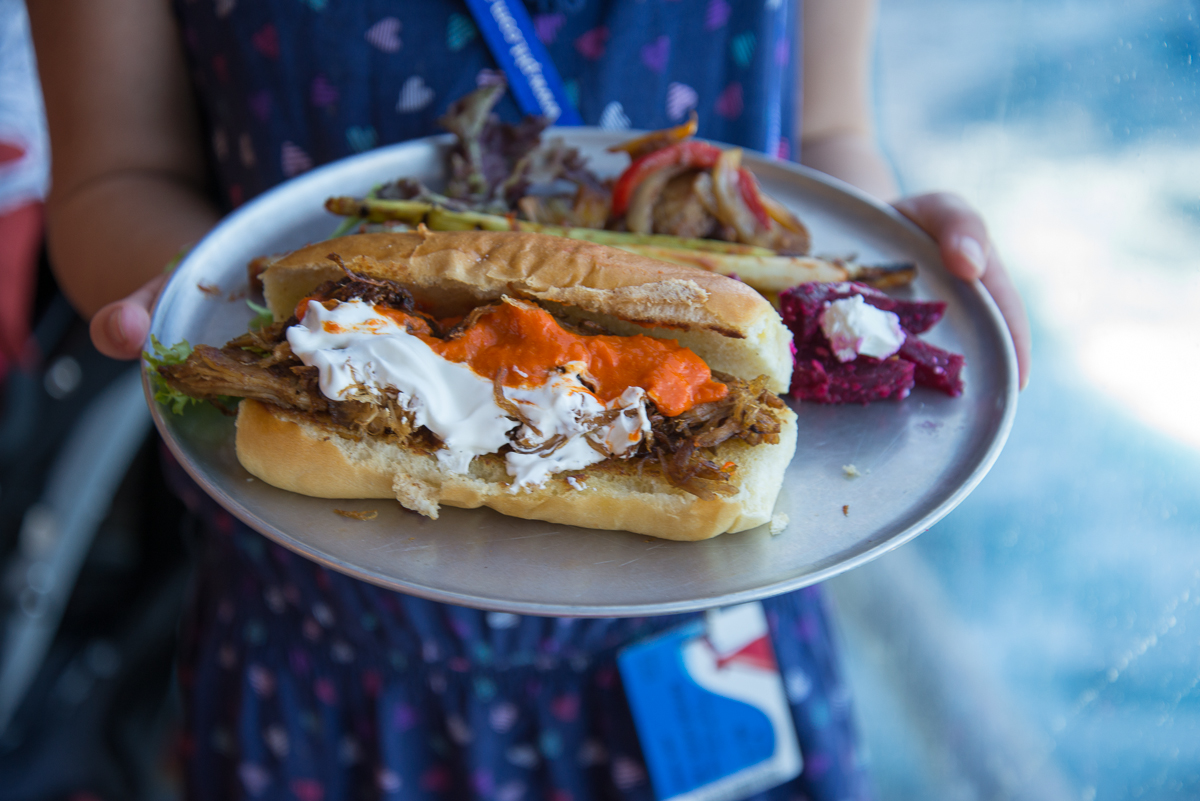 Fat Jimmy's BBQ situated up on the deck served barbecue, kranskys, pulled pork rolls, and salads for lunch every day. The pulled pork was tasty but had dried out a little by the time I tried it.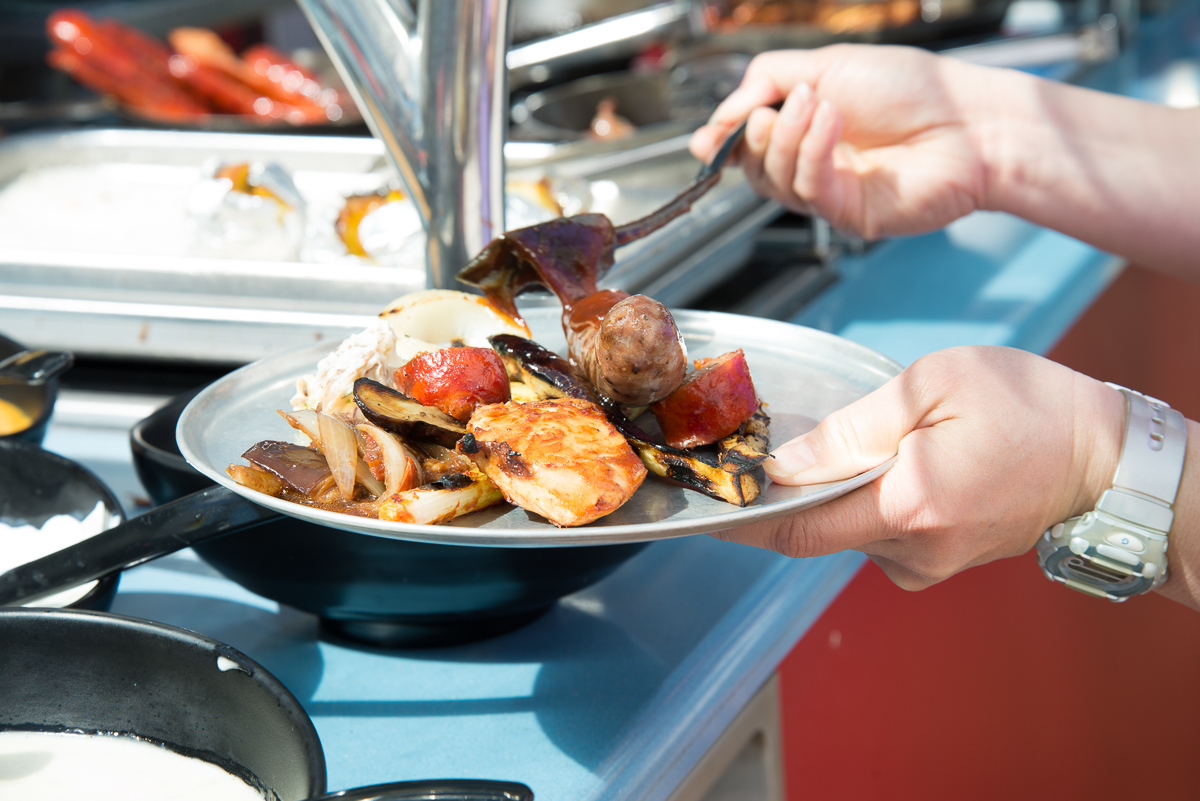 As a casual dining option Fat Jimmy's was great. Food always tastes better eaten outside, doesn't it?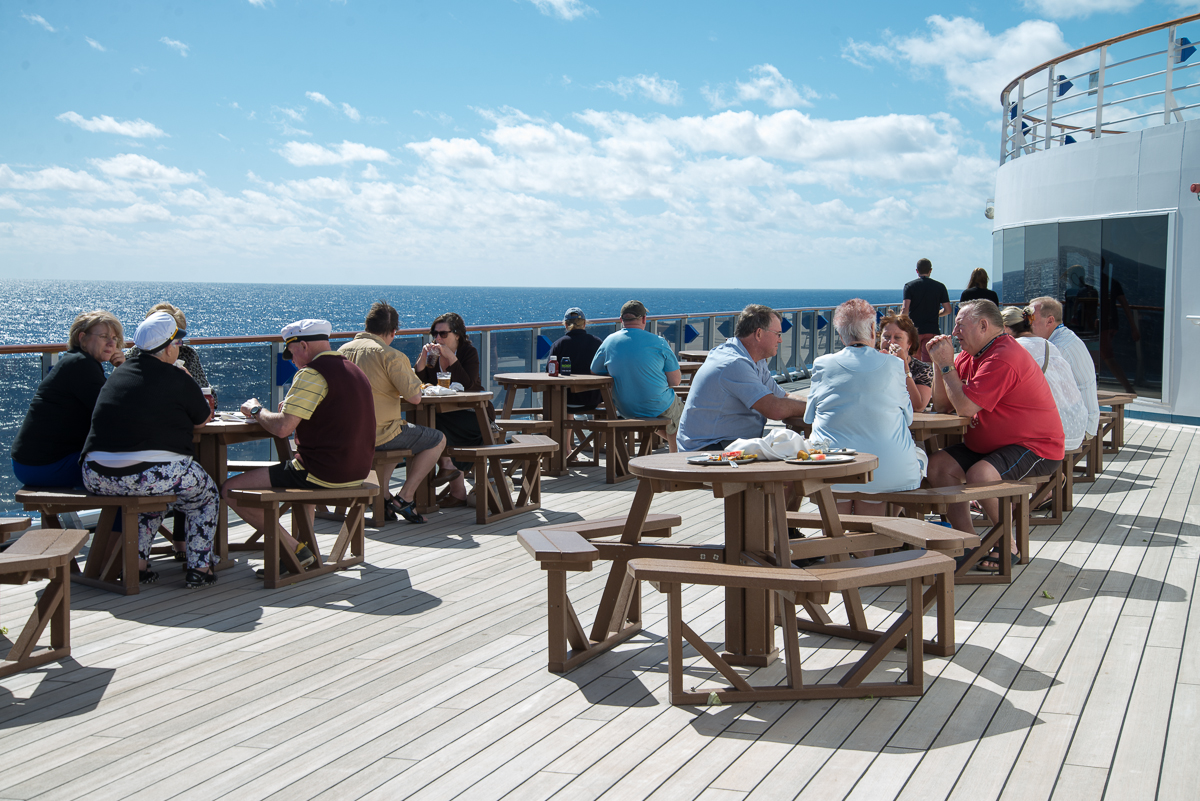 The Shore Excursions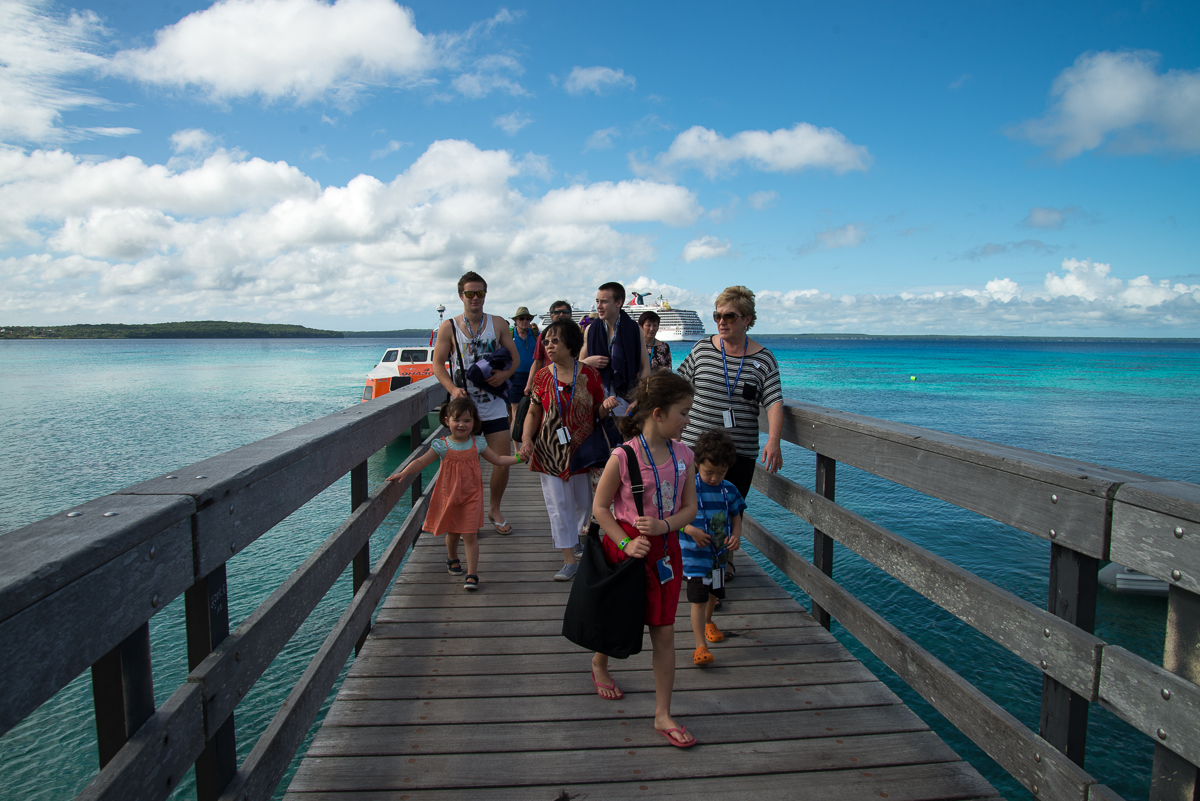 After two days at sea — one of them a little bumpy — we were dying to stretch our legs on solid ground. So we were thrilled when we reached out first island.
Isle of Pines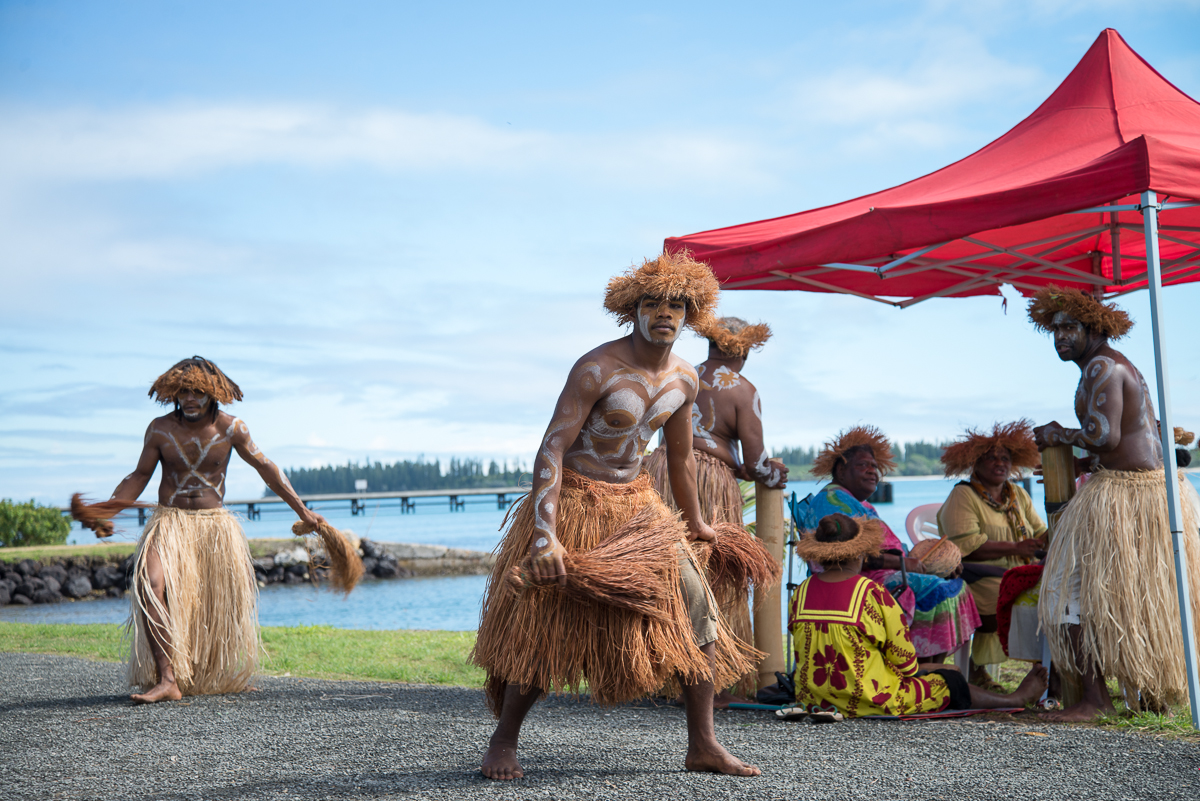 A welcome dance as we come ashore.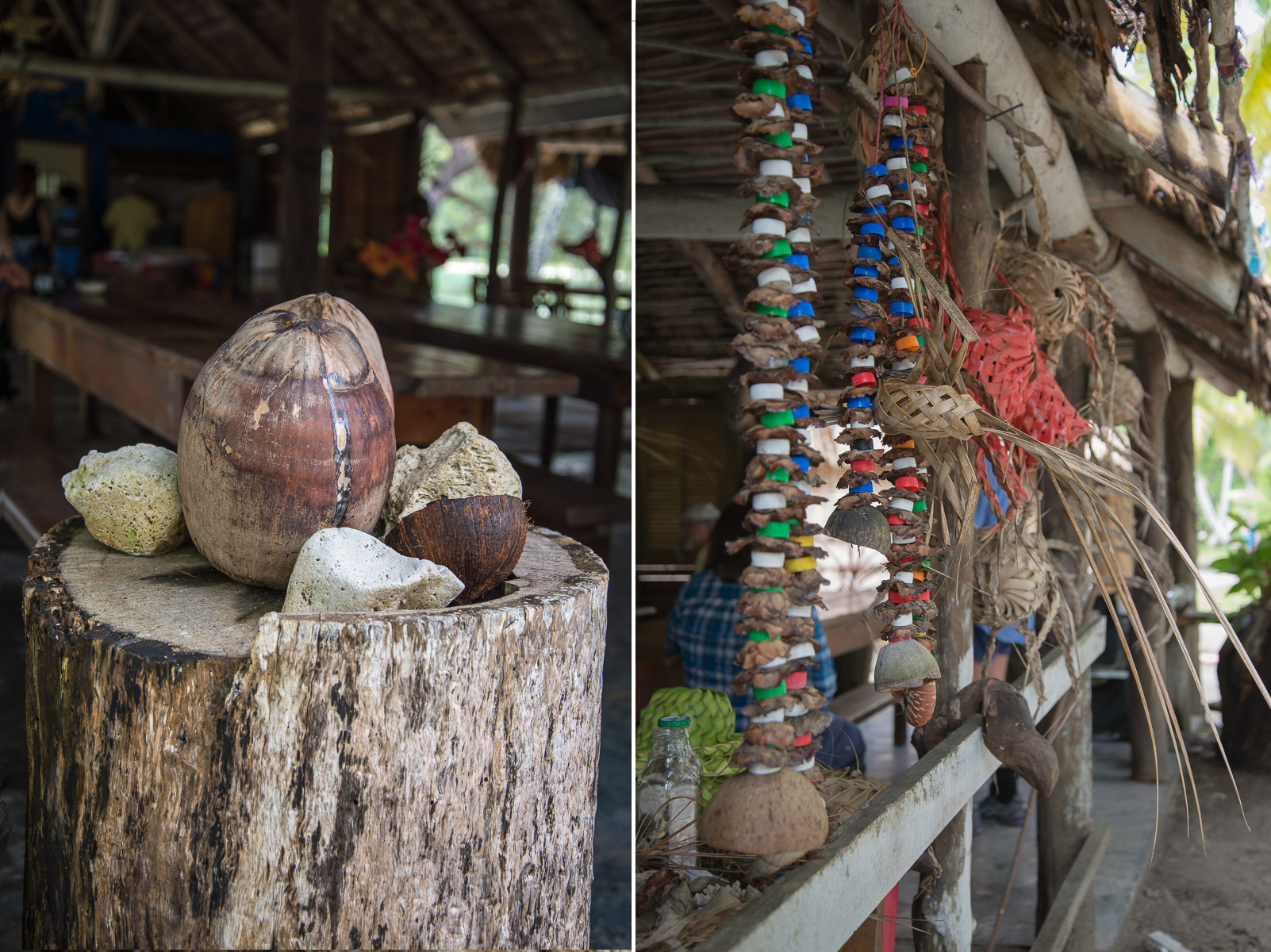 We decide to visit a beach so the kids could try snorkelling. To get there we had to catch a bus and then walk about 20 minutes through water (up to our waists) and trees. So it's a bit of a slog — especially as I had to carry my toddler the whole way back — but the beach was fantastic.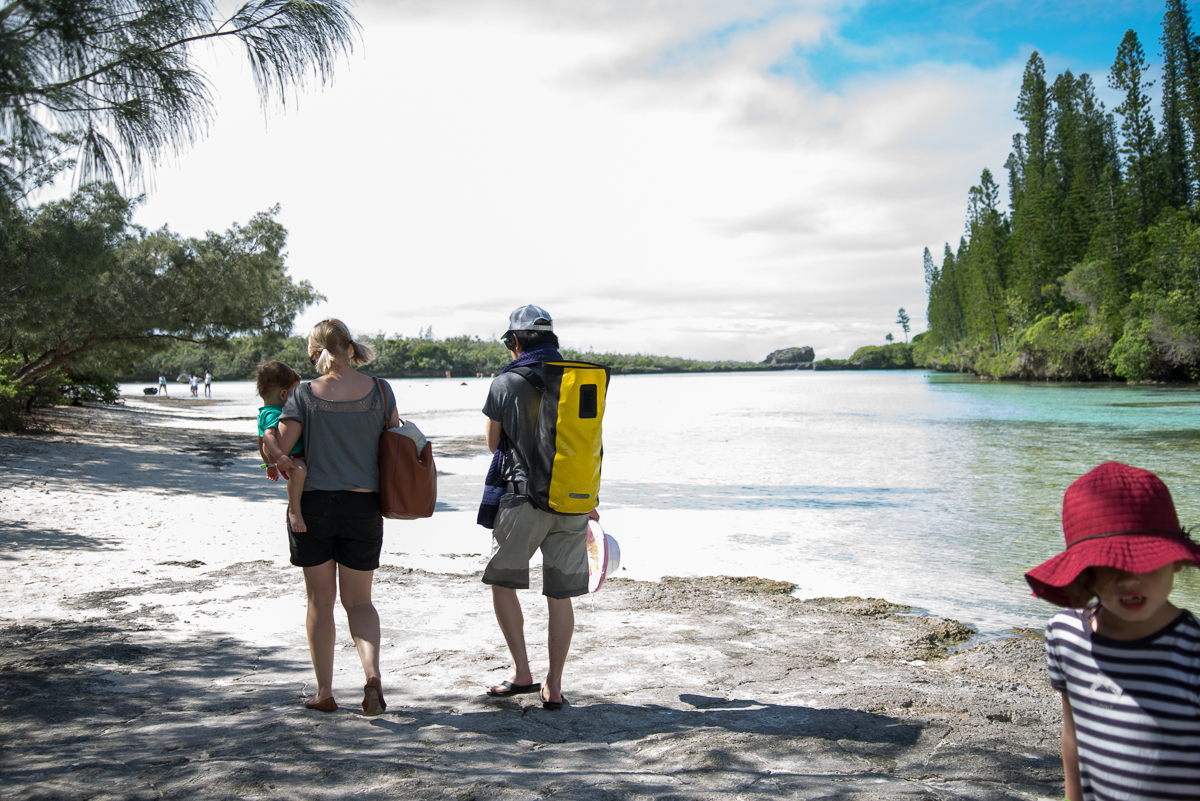 While my toddler had a meltdown because he was overtired my daughter learned to snorkel and she loved it. It would have been great to have longer here — the bus returned to pick us up in 2 hours — but it was still worth it.
Lifou Isle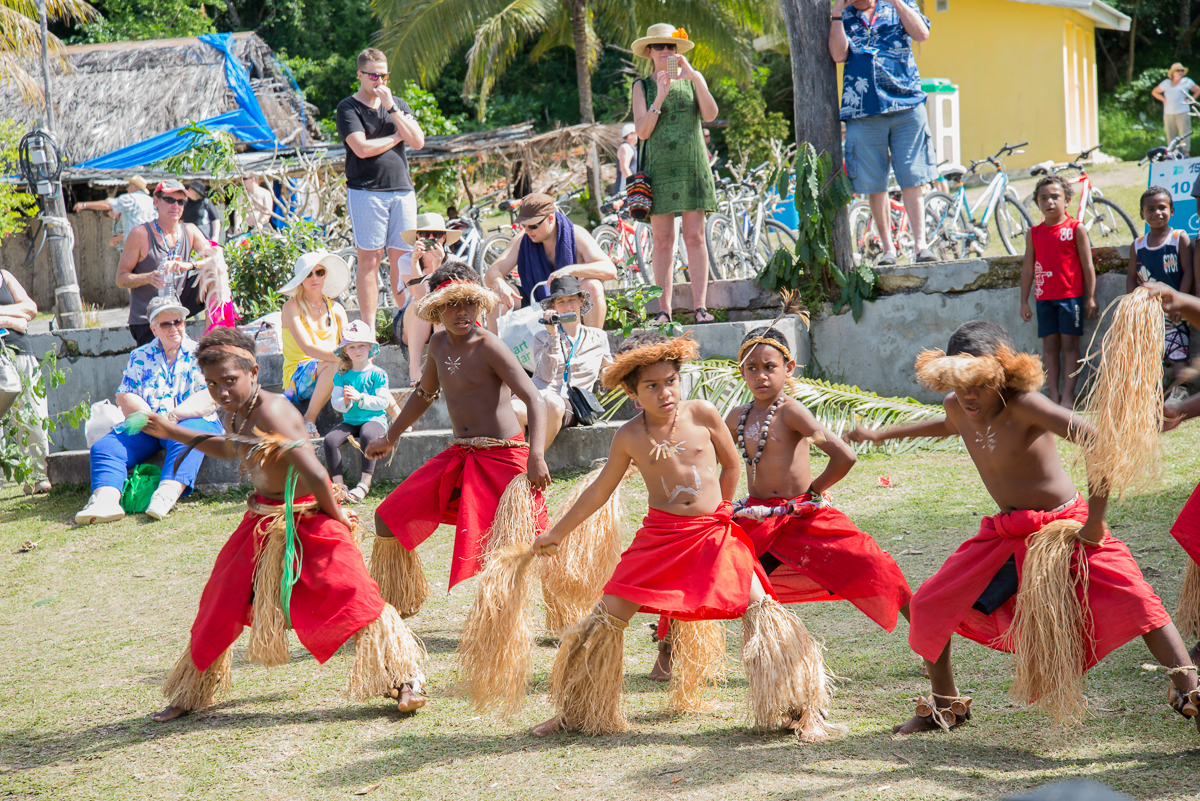 We're greeted with a welcome dance by some local children.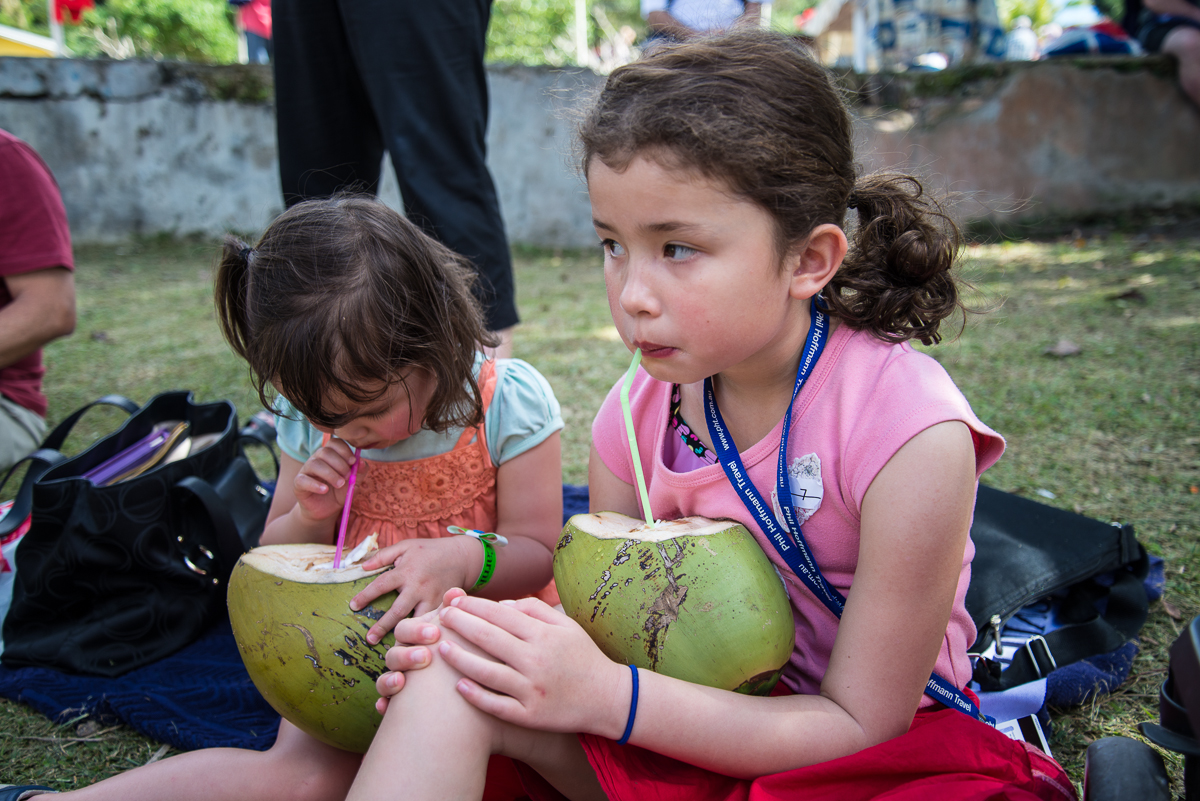 After a refreshing coconut drink we hit the beach and my daughter had her hair braided.
Mystery Island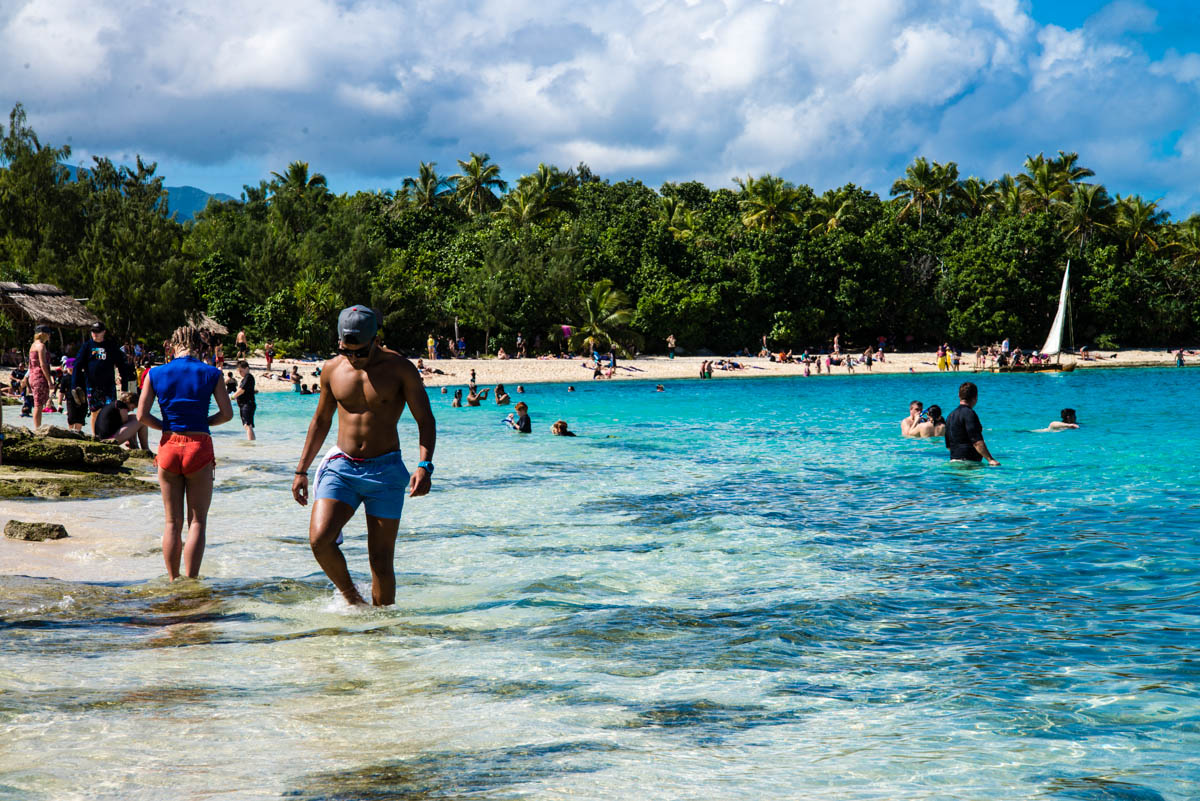 Mystery Island is a tiny (1.5km square) island located on the southernmost point of the Vanuatu archipelago. Formerly used as a landing strip for the allied forces during World War II, nowadays it's uninhabited. Having said that, locals from nearby islands come to the island to sell goods, lead tours, play music and sing songs for visiting tourists.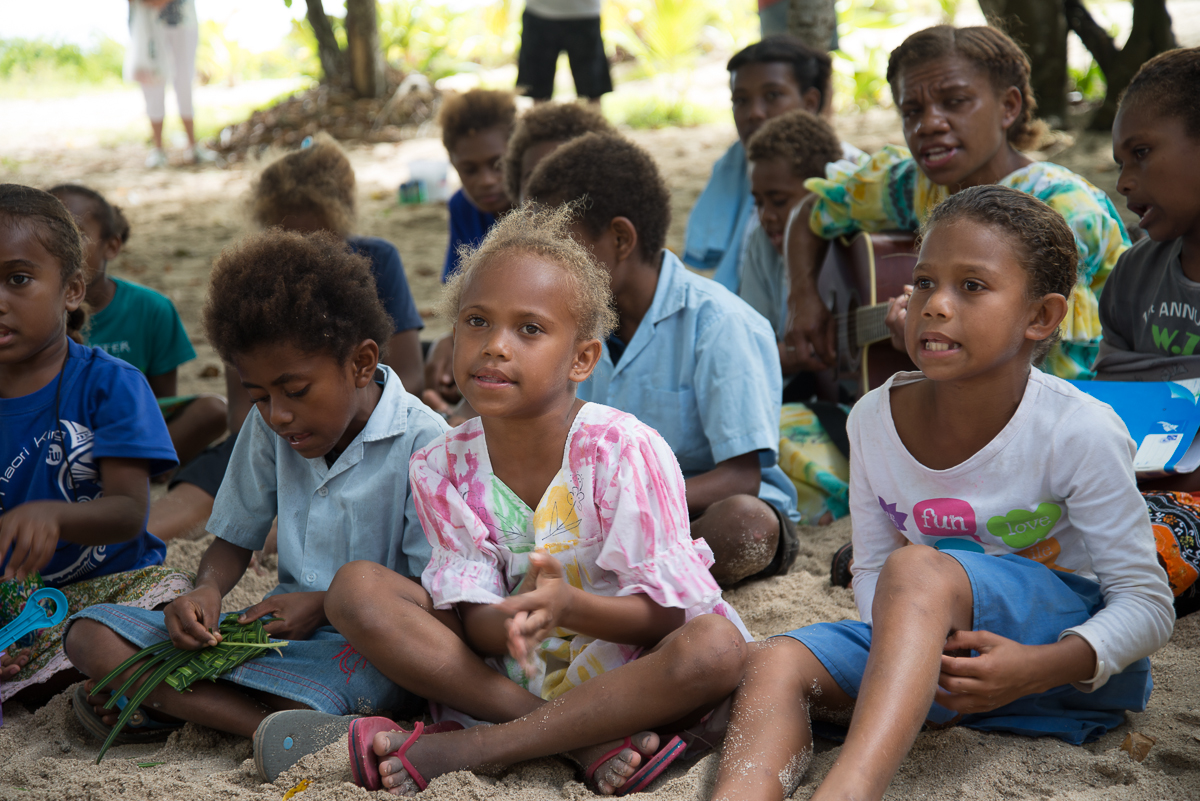 The beach we found was rocky but the water was crystal clear and blue.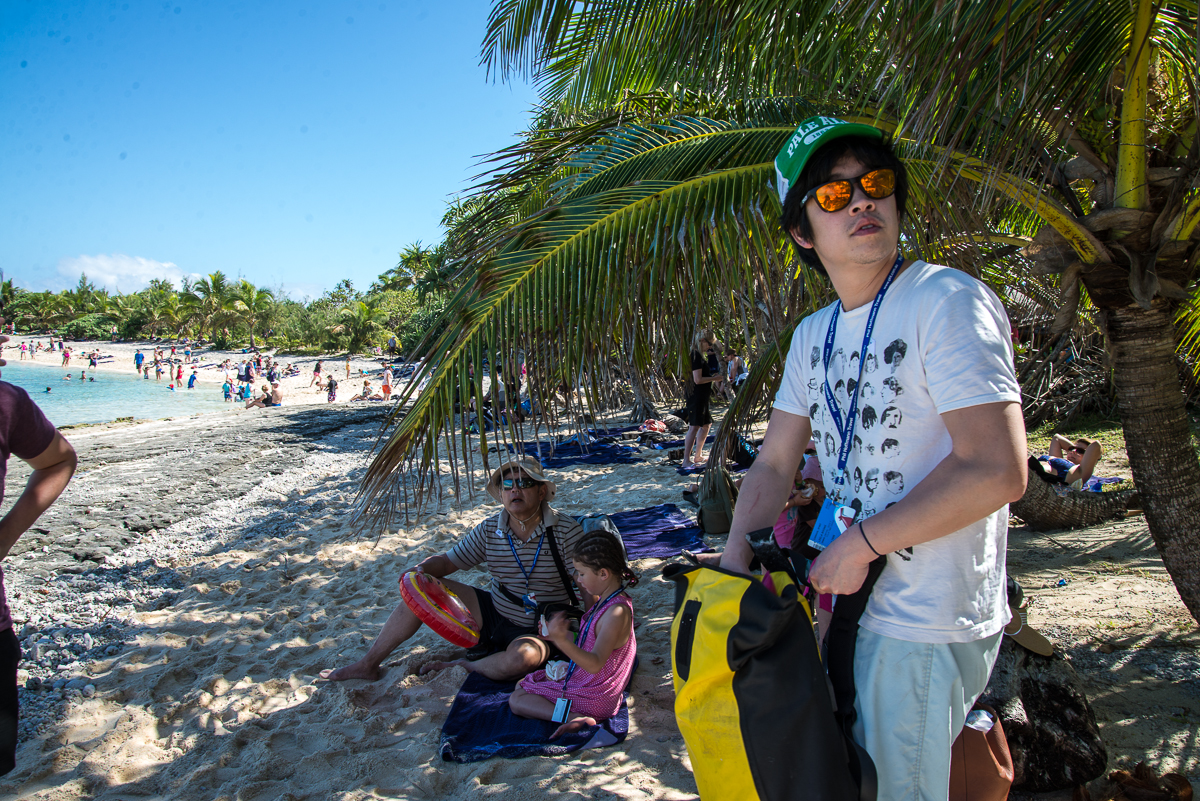 Noumea, New Caledonia
Noumea is the capital city of New Caledonia, and one of the largest ports in the South Pacific.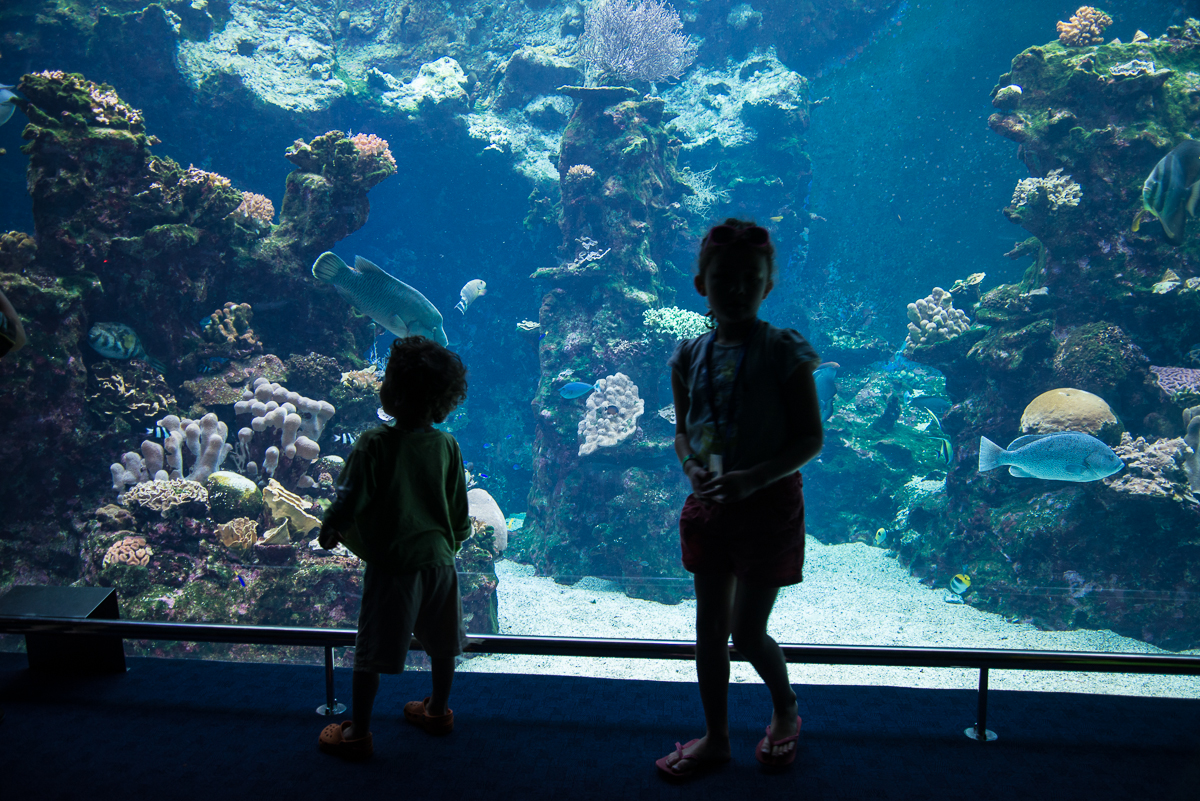 Once we were ashore, my sister in law suggested checking out the aquarium and it proved to be a popular suggestion with the whole family. The aquarium was very reasonably priced — around $AUD10 for an adult ticket — and sizeable but not enormous, making it a perfect outing for our kids.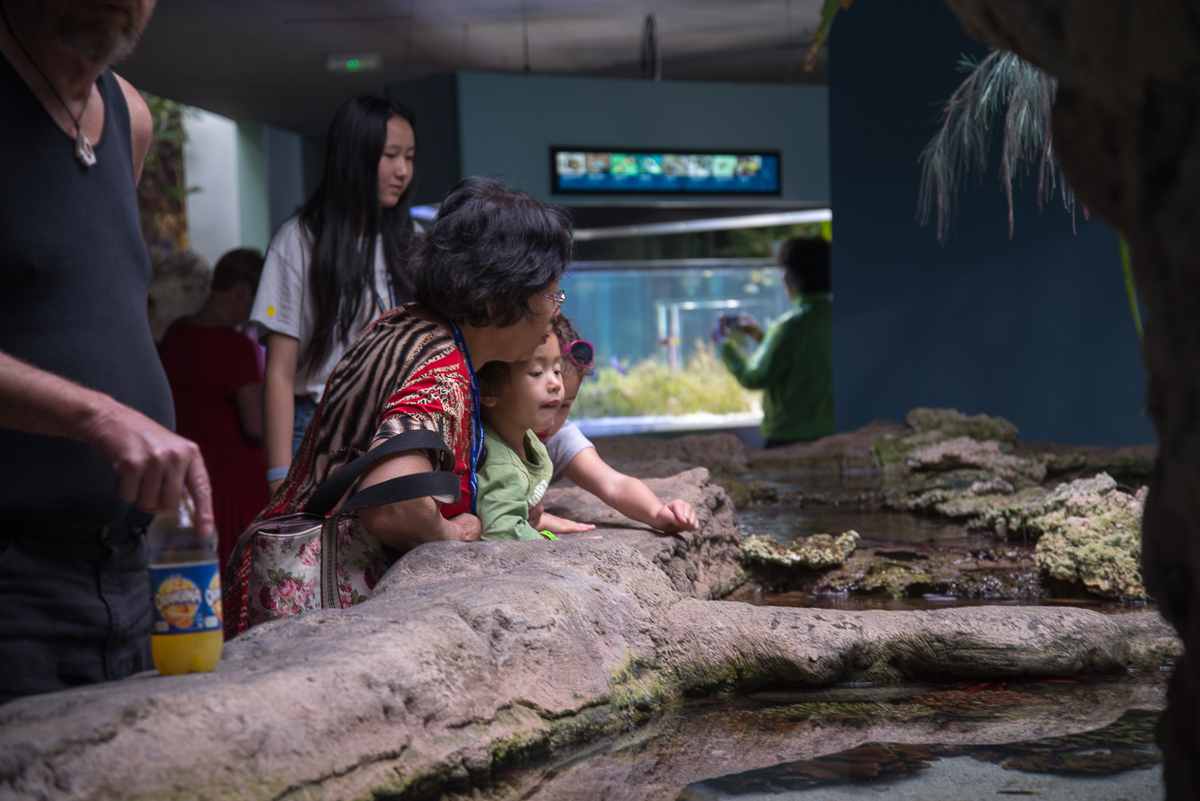 Afterwards, we decided to have lunch together before splitting up to check out the city. We picked the first restaurant we found in the city park.
I ordered the steak tartare and chips.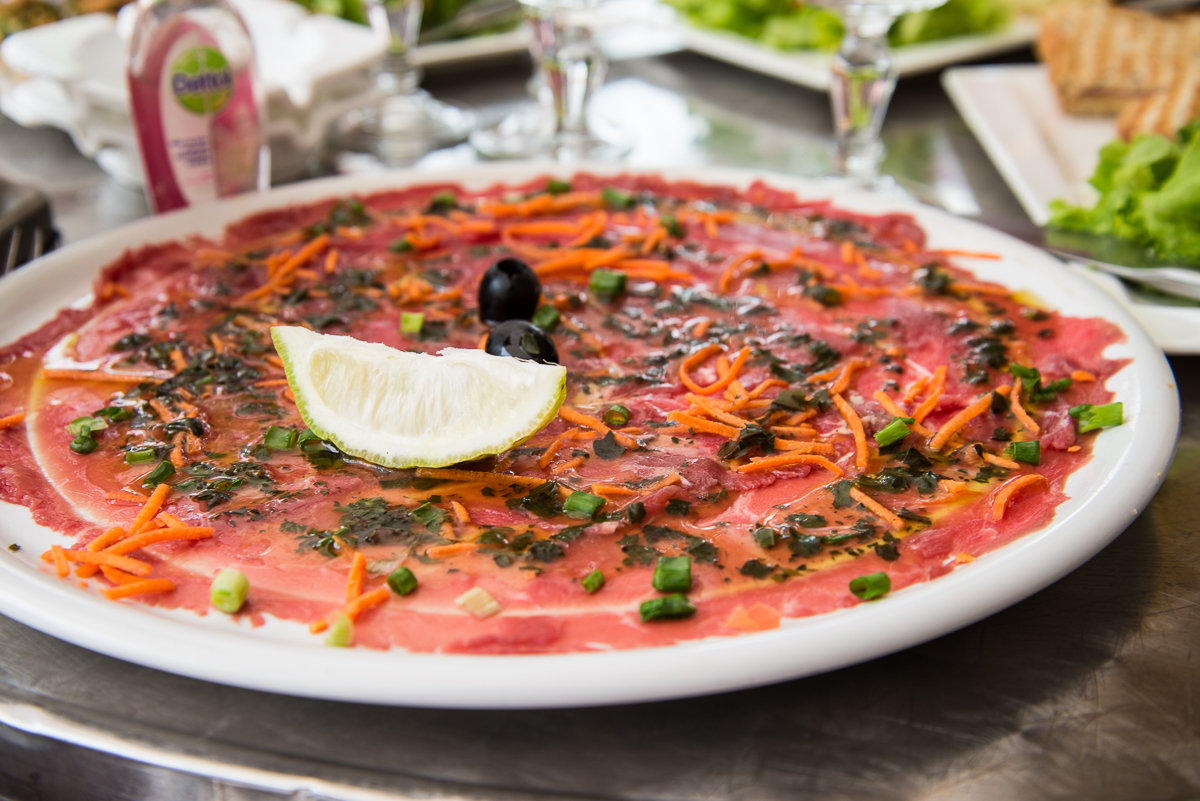 It was OK but I would have liked to have seen more flavour and acidity worked into the dish with some vinegar and shallots. As it was, the grassy olive oil used to dress the steak was a little overwhelming.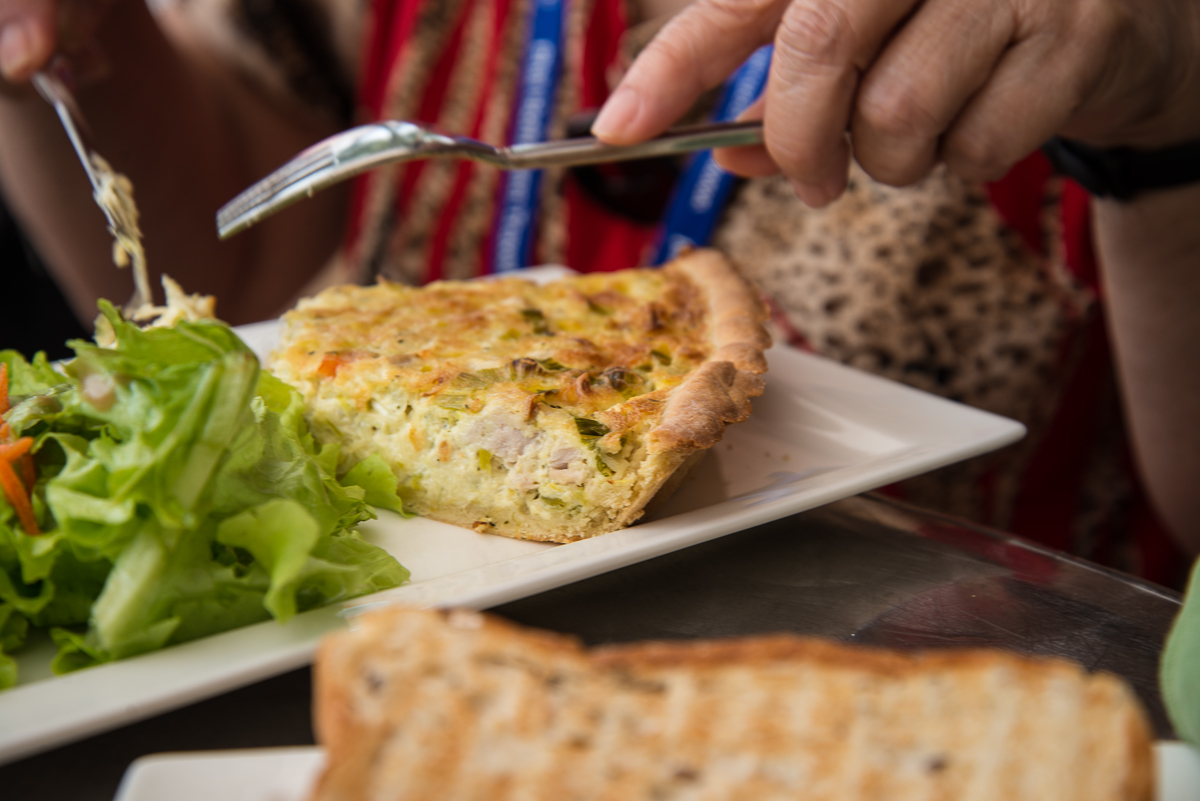 The quiches — spinach and goat's cheese and  shrimp and leek — were excellent though.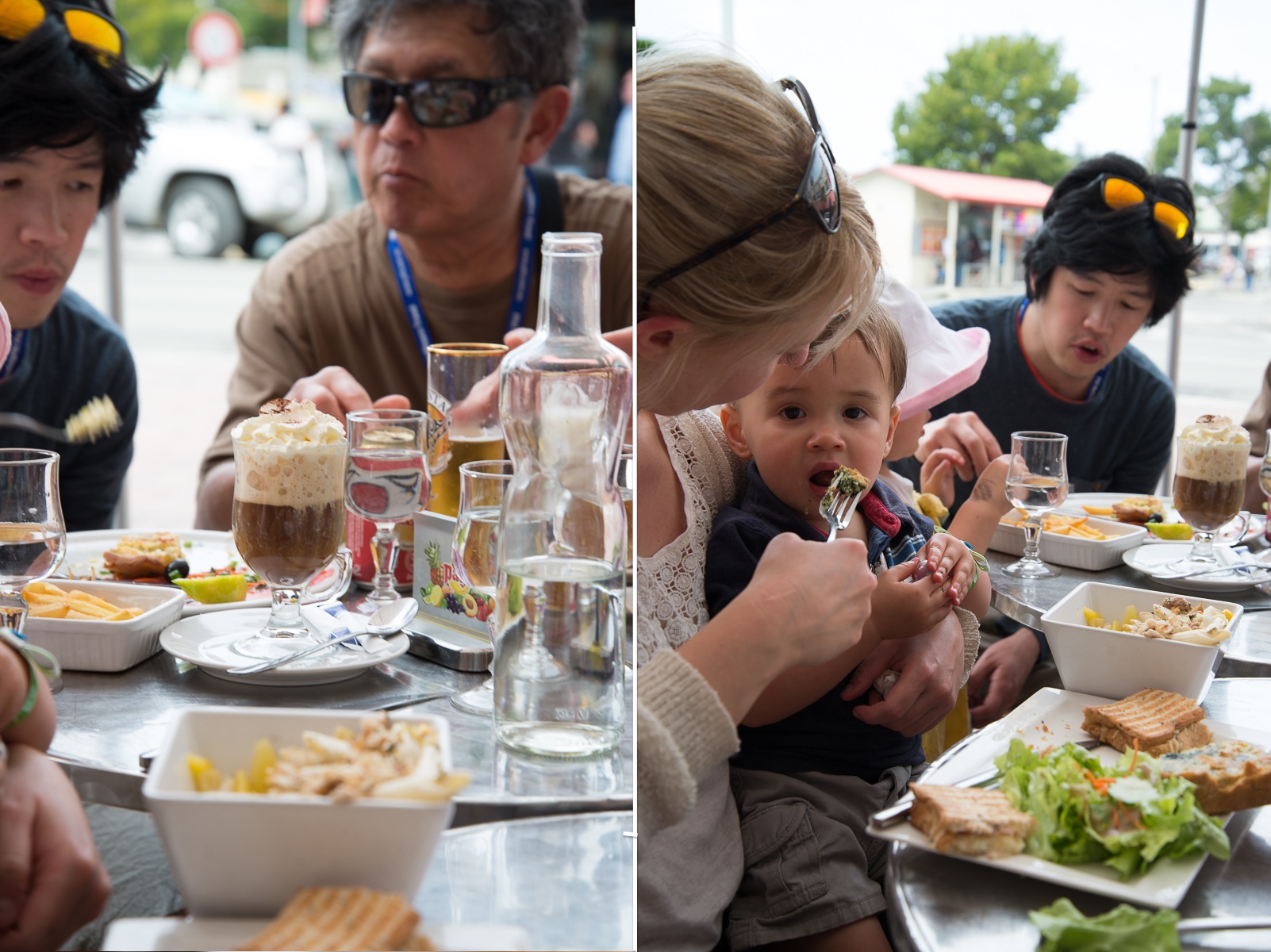 Other dishes – pasta salad and a croque monsieur were both well cooked and reasonably sized.
After lunch, R and I went shopping in the city centre. Fashionsitas would not find a lot here to tempt them here although French brands like Petit Bateau do have outlets here. I found some clothes for the kids and a nice summery dress for myself.
In a nutshell
Cruises are a low-stress, easy holiday with kids. There's plenty on board for you to do and the all-day kids' club also offers great activities for kids. Make sure you pick an interesting destination though — New Zealand would be great — and remember to bring your gym clothes.
Find more information about Carnival's cruises here.