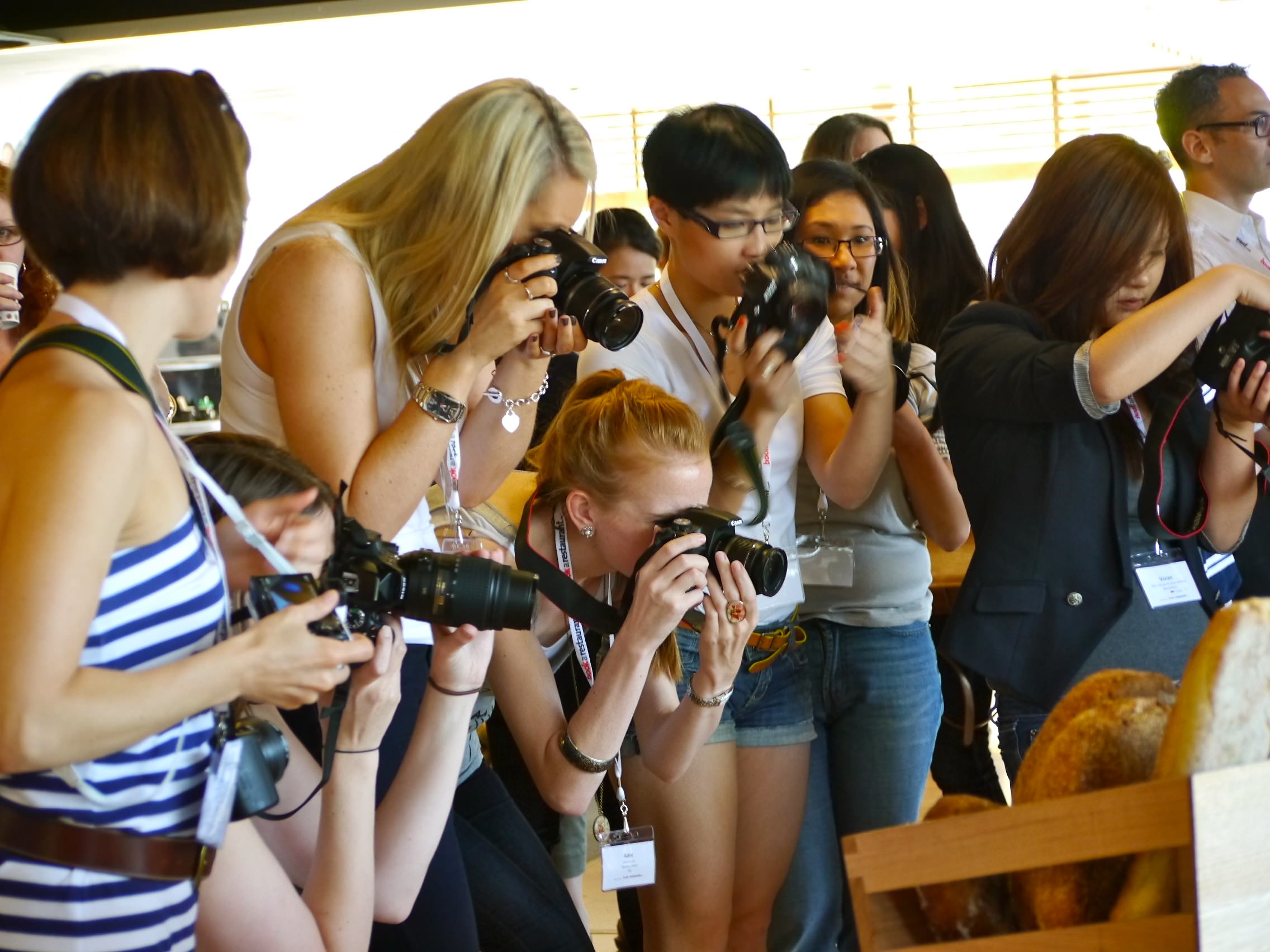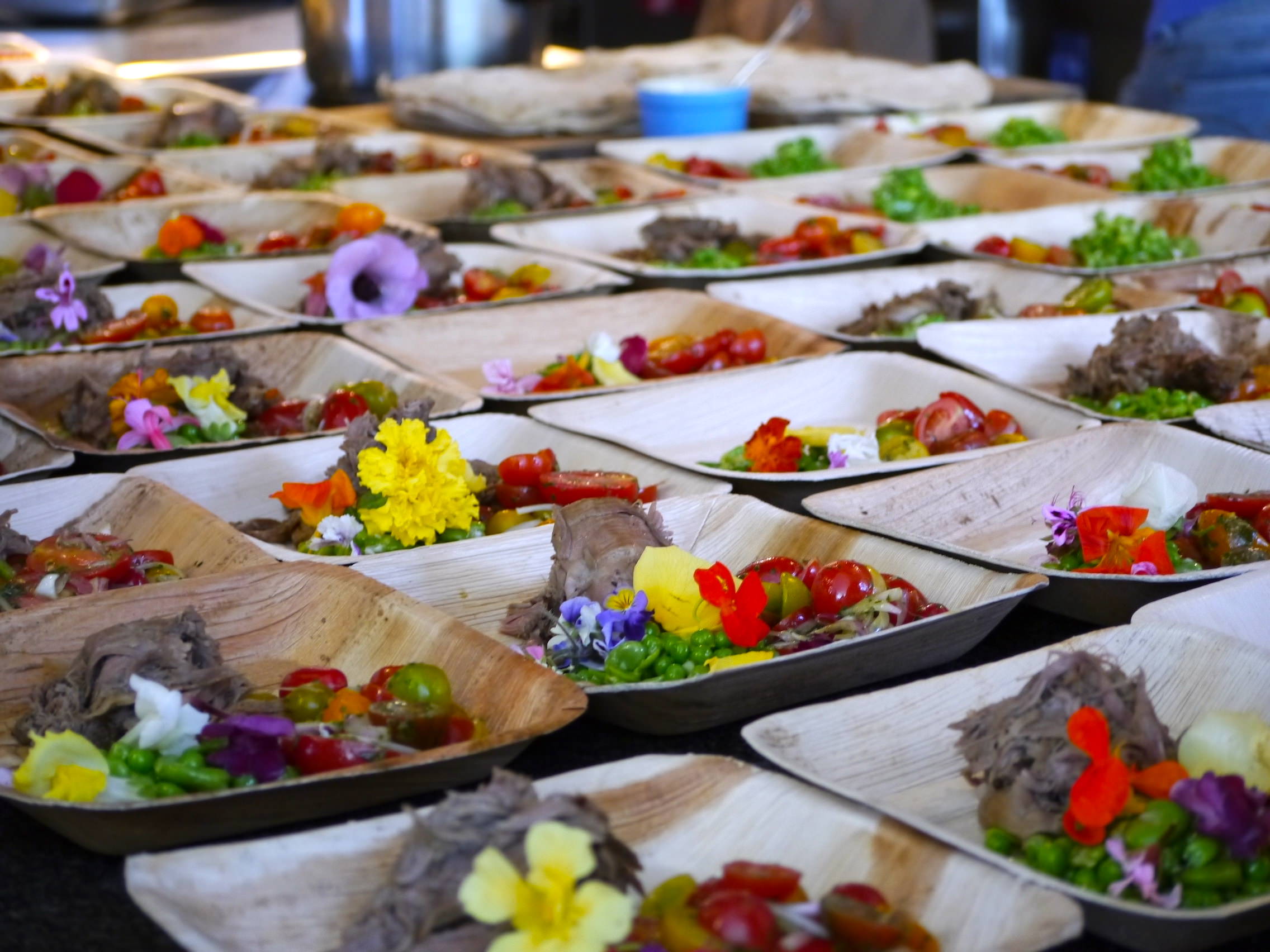 Last Thursday, I was thrilled to receive an email asking me if I was interested in a last-minute spot at Eat Drink Blog 11, to be held that Saturday in Sydney. I immediately responded 'yes' and did a happy dance to the tune of Bobby Brown's 'Can't Touch This'.
What was I so excited? Well Eat Drink Blog 11 was only the second Australian Food Bloggers Conference, following up from the inaugural conference in Melbourne last year. It's an invite-only conference and only 80+ spots were offered Australia-wide, so I was extremely grateful to be invited, especially as The Hungry Australian is so new. (As it turns out, I was only one of two bloggers from Adelaide to attend, the other being Amanda from Lambs Ears & Honey.)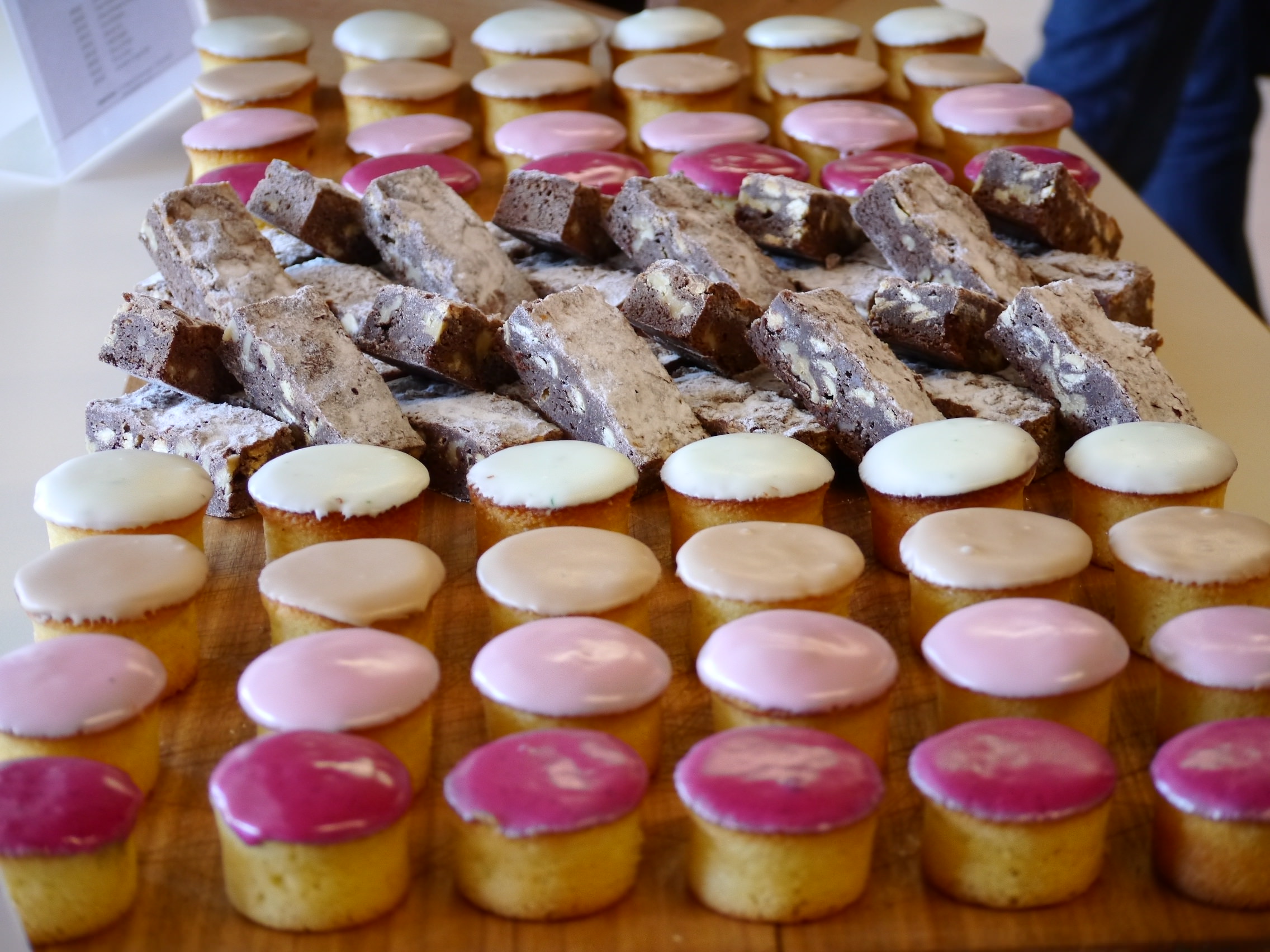 Eat Drink Blog 11 was organised by an amazing volunteer committee, including Jen from Jenius, Trina from The Gourmet Forager and Simon from The Heart of Food, who spent hundreds of (unpaid) hours putting together an event with an incredible lineup of speakers and sponsors.
In fact, they were so successful in finding sponsors – Electrolux, Kingsley's Steak and Crabhouse, Chophouse, Impact, Meat and Livestock Australia, Brasserie Bread, Daylesford and Hepburn Mineral Springs Company, Toby's Estate, Breville, Book a Restaurant.com, and Lindt – that the whole day was free for attendees. Everybody take a bow.
Held at the Electrolux Showrooms in Mascot, the conference kicked off with breakfast and registration. After some initial 'first day at school' nervousness, I plucked up my courage and started chatting away. It was strange meeting fellow food bloggers in the flesh – I knew (and loved) some of their blogs already but there were lots that were new to me, too.
For all you food bloggers or wannabe food bloggers out there, below you'll find a summary of all of the speakers and events I attended. I've detailed my 'take-aways' from each session so there are lots of tips about legal, photographic, styling, content, SEO and ethical issues for you to consider and explore on your own blog. Feel free to comment if you want more information or clarification about anything I've mentioned. Some of the session slides are available at the Eat Drink Blog site.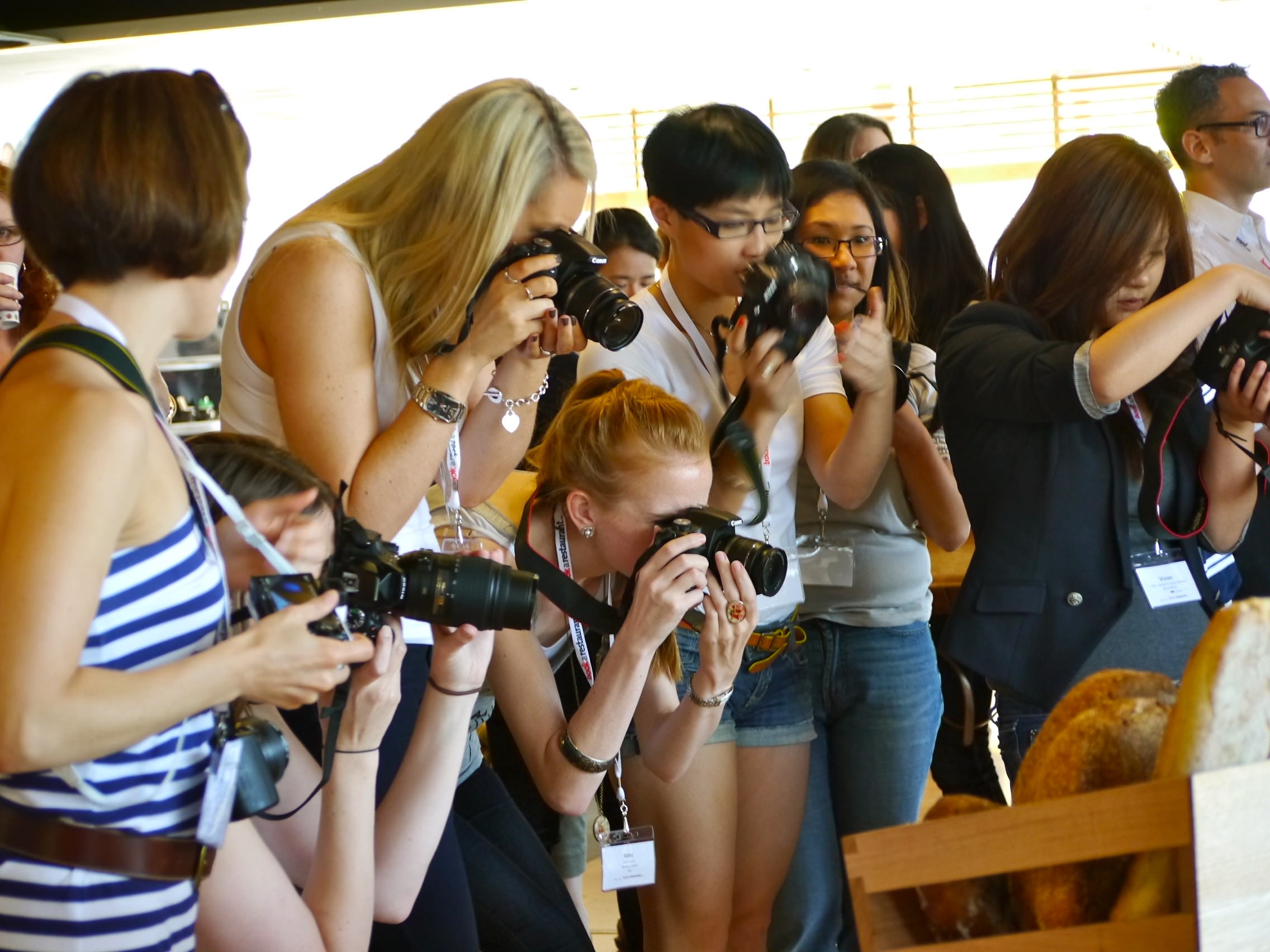 For those who are somewhat interested but don't want to read such a long post let me summarise it for you: Eat Drink Blog 11 rocked. It was amazing to be in a room full of passionate, enthusiastic, food bloggers. Thank you to everyone involved who helped make it such an amazing day. I feel so grateful to have been part of it and now have a whole bunch of blogging buddies. I also have an enormous amount of work to do on this blog!
Summary of the Keynote Speakers + Workshops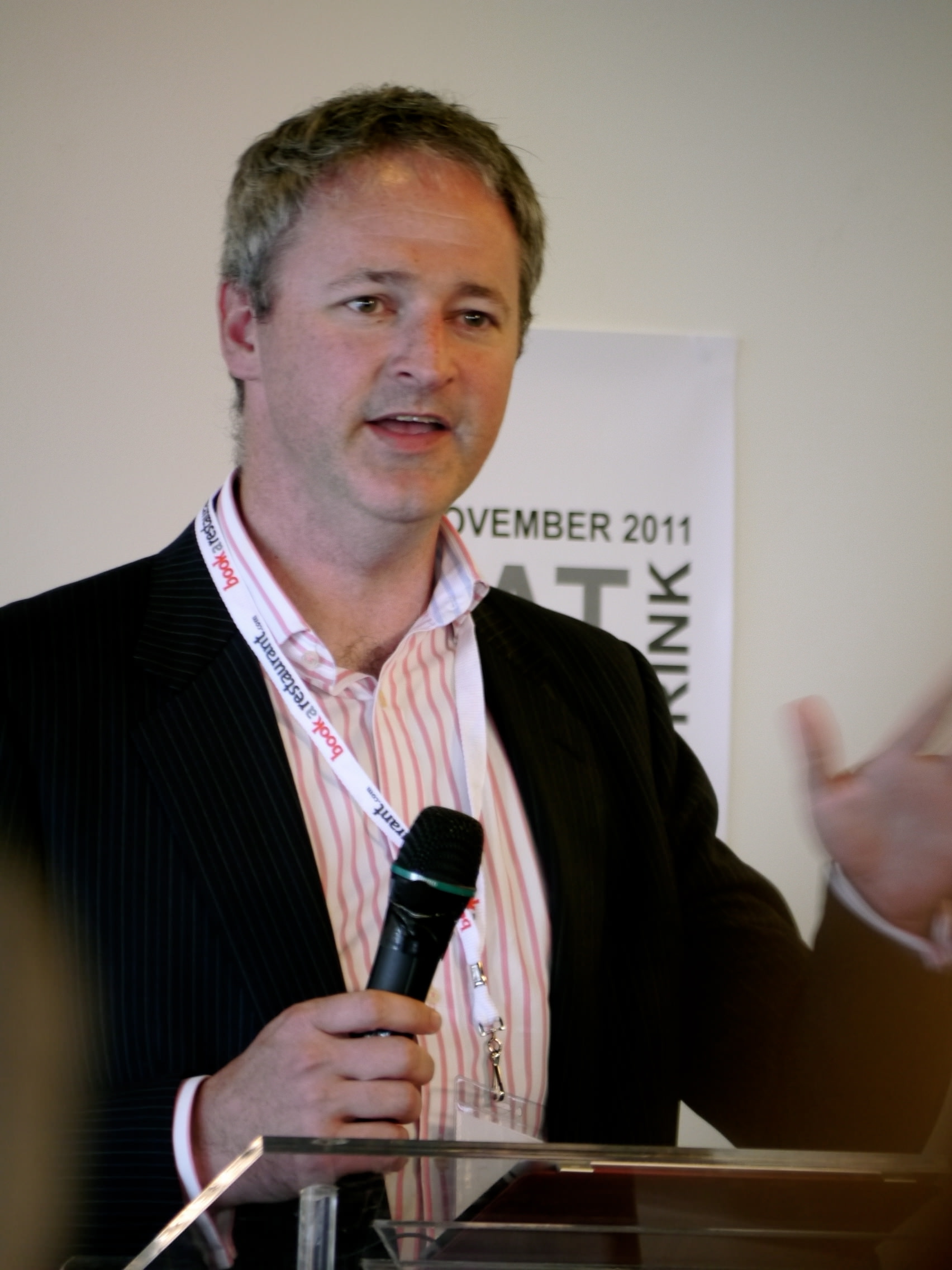 Dominic Villa, Barrister and Owner of the Seven Wentworth Chambers. Blogs at Law Geek Down Under.
You don't generally need permission to take photos of anything.
When you are on private property (e.g. a restaurant) you are under a common law understanding. Until someone asks you to stop photographing you are within your rights to take photos.
Once someone asks you to stop taking photographs then you have to stop. Otherwise they are within their rights to ask you to leave or use reasonable force to escort you from the premises.
If you are photographing private property the owners can limit the use of how you use the photo. For example, they can say you can use the photos on your own blog but not for commercial use. However, in general there are very limited ways to restrict the use of your photos.
They may say that you are breaching their copyright however this is not true.
You have the right to control how your photos are used. You also have the right to be attributed as the photographer and determine how the photograph is manipulated.
If someone reposts one of your photographs it's an infringement even if it's only a part of the photo – as long as its recognisable as your photo it's an infringement.
They can reproduce your photo if they attribute to or credit you and link back to your blog
Recipes can be protected but it is very difficult. The list of ingredients and quantities can't be copyrighted. However, the method (the written expression of how to make the dish) can be copyrighted. If you are adapting a recipe you should cite the original recipe name and author, and write the method in your own words.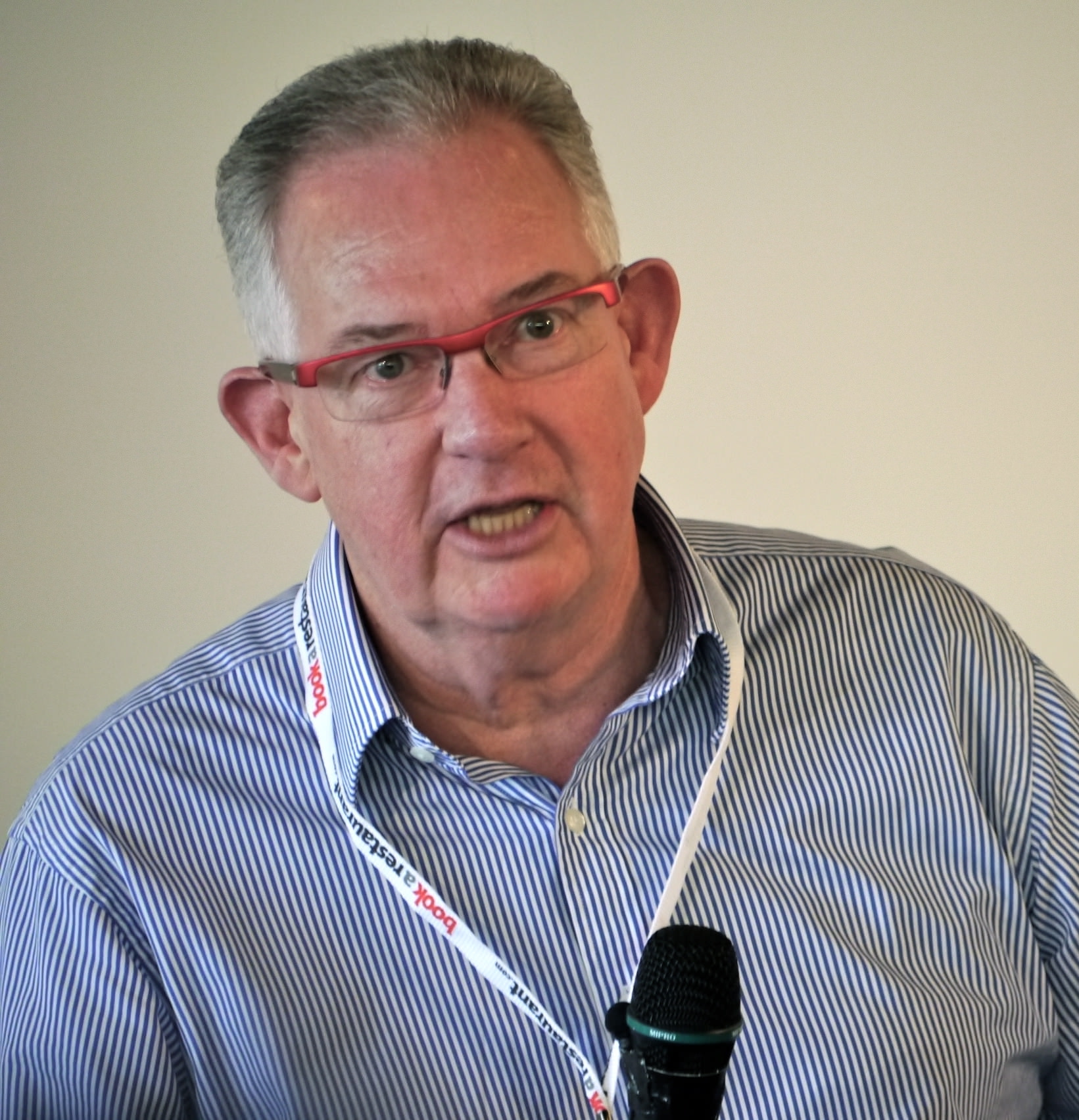 Stephen Estcourt QC, ex President of the Australian Bar Association. Blogs at Reminiscence of a Food Tragic.
If you write that a restaurants's food is unpalatable or that the owner/manager is incompetent you can be sued for slander.
The two lines of defence under these circumstances are: 1) truth – what you wrote is proven to the the case; and 2) comment – you were expressing an honest opinion.
There was the case of Matthew Evans, a reviewer for the SMH, who along with his employer was sued by the Coco Restaurant for penning a negative review about his dining experience. The case went on for 6-7 years, even going to the High Court of Australia, before a judge found that Evans was being honest in his review and held in favour of the publisher and the critic.
Try not to get sued. Tone down anything that might be negative.
If you are using Twitter and often re-tweet, it is worth stating in your profile: 'RT does not mean endorsement.' It is somewhat doubtful whether this would hold up as a defence in a court of law but it is still worth doing.
Hyperlinking to a site that does include dubious content is currently NOT considered defammatory.
Re Comments on your blog – make sure you approve every comment before it is posted. If you leave up a comment that slanders somebody or something you can be held responsible.
Include on your site a statement along the lines of "Views expressed on this blog are merely the opinion of the site owner" to help protect yourself against accusations of slander.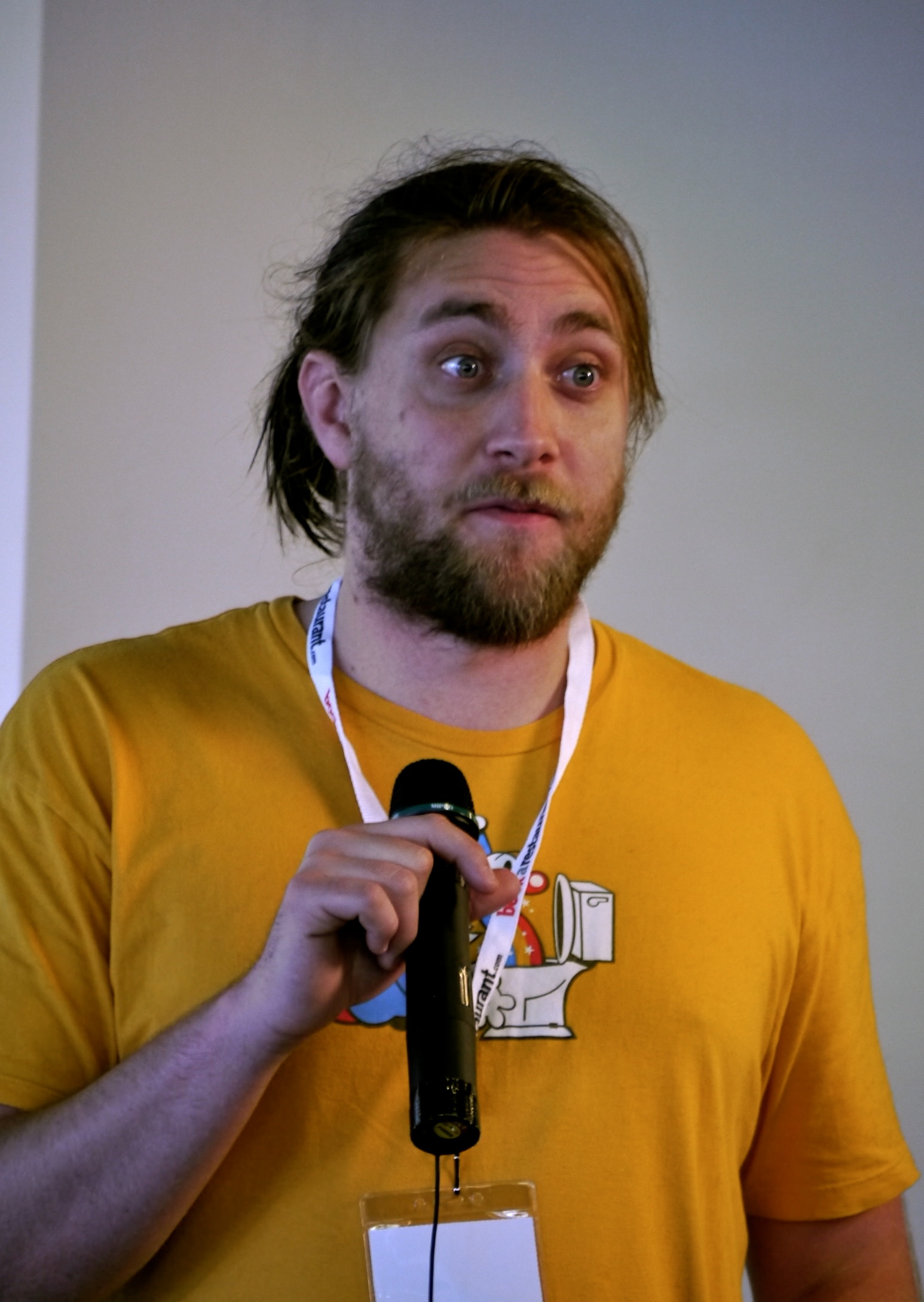 Michael Gall from My Aching Head
Search Engine Optimisation is not particularly hard or easy – it's quite straightforward but it does require some knowledge.
SEO is basically determined by the number of inbound links to your site (the number of links to your site from other sites). So the more links to your site, the higher up you will on Google's search engine rankings.
Get the title tag of your site correct – this is how you describe your site so that search engines can easily find it
In terms on on-page elements – use terms that you have done well with on other posts (e.g. you may have had a lot of hits to your post on pork crackling so use 'pork crackling' naturally in other posts.
Tag all images – the title tag of the image should be something that accurately describes it and would be a term that people would use in a search engine. So rename your pork crackling image as 'pork crackling' instead of leaving it as DSC10412, which is meaningless in terms of SEO.
Check out Google's Adwords to research ideas for other, similar keywords that people search under.
Build links to your site: 1) blog about the zeitgeist – what's happening right now. If you're the first person to talk about it your page will be ranked higher; 2) interview other (bigger) bloggers, who will most likely link back to your site from their site; 3) offer to write guests posts on other blogs with a link back to your own site; 4) if you are published in a magazine or newspaper, request a link back to your site – this will really boost your rankings.
Facebook and Twitter activity doesn't affect rankings massively but it does affect it a bit.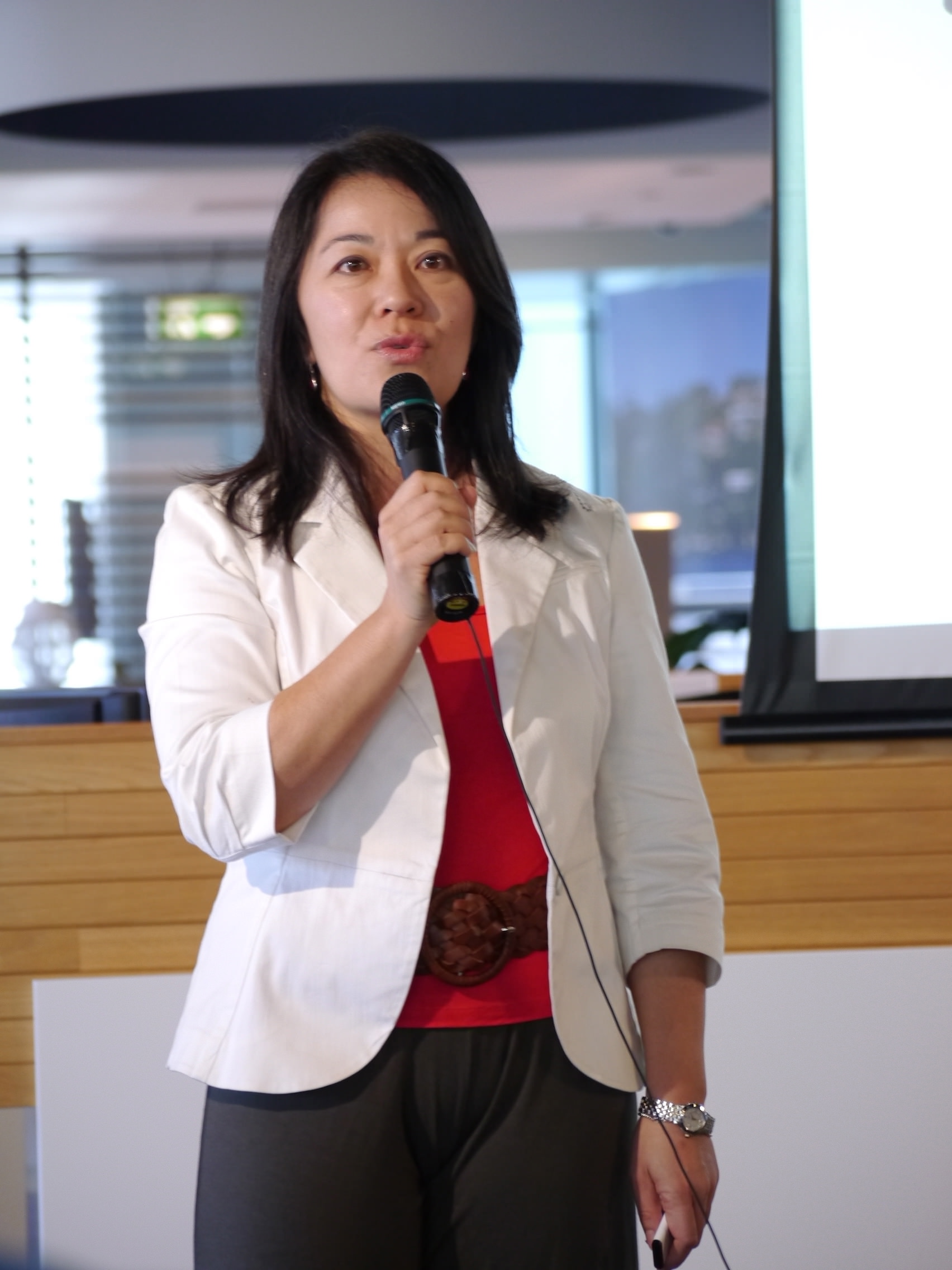 Valerie Khoo, Founder of the Sydney Writers' Centre
Know who your readers are. Draft a reader's profile, detailing age, gender, demographic (where do they shop? what do they drive? what kind of house do they live in?), education, income level, and understanding of your topic.
Write directly to that reader. Ask yourself whether your draft post would appeal to them. Would it interest them?
Use this information to both help you craft content and attract advertisers and sponsors.
Plan your writing – structure your posts so it's not just a free-fall, this is what I've been doing, blah blah blah.
Use an active voice to convey immediacy and proximity.
Sentences should be around 15-20 words. If you're drafting 30-word sentences, consider splitting them in two.
Kill your darlings – just because it happened or you researched it doesn't mean it should go into your post. Does it serve the story?  Will it draw the reader in? Is it interesting?
Rewrite, rewrite, rewrite.
Edit, edit, edit.
Do your research. The more interesting and useful information you can bring to a topic, the more credible you will appear.
Don't insert yourself into the text unnecessarily. Try writing a post without the word 'I'.
Pay rates for freelance writers vary between 50-70 cents a word for mainstream or smaller/trade magazines. No-one pays the suggested MEAA rates of 80-90 cents per word
Noni Dyer (ex sous-chef and acting head chef at River Cottage working for Hugh Fearnley-Whittingstall)
Noni is a passionate and thoughtful rockstar chef. Not only does she cook us an amazing lunch (see above), she also shows us how to butcher a lamb, explain which parts are good for what recipes, and and make deep fried lamb bacon from scratch. Yes, you read that correctly.
As I'm flying back to Adelaide the next day I check out Escape to River Cottage on the Food Network. Who do I see but Noni helping Hugh pick elderflower for home-brewed elderflower champagne. How lucky were we to have her cook for us!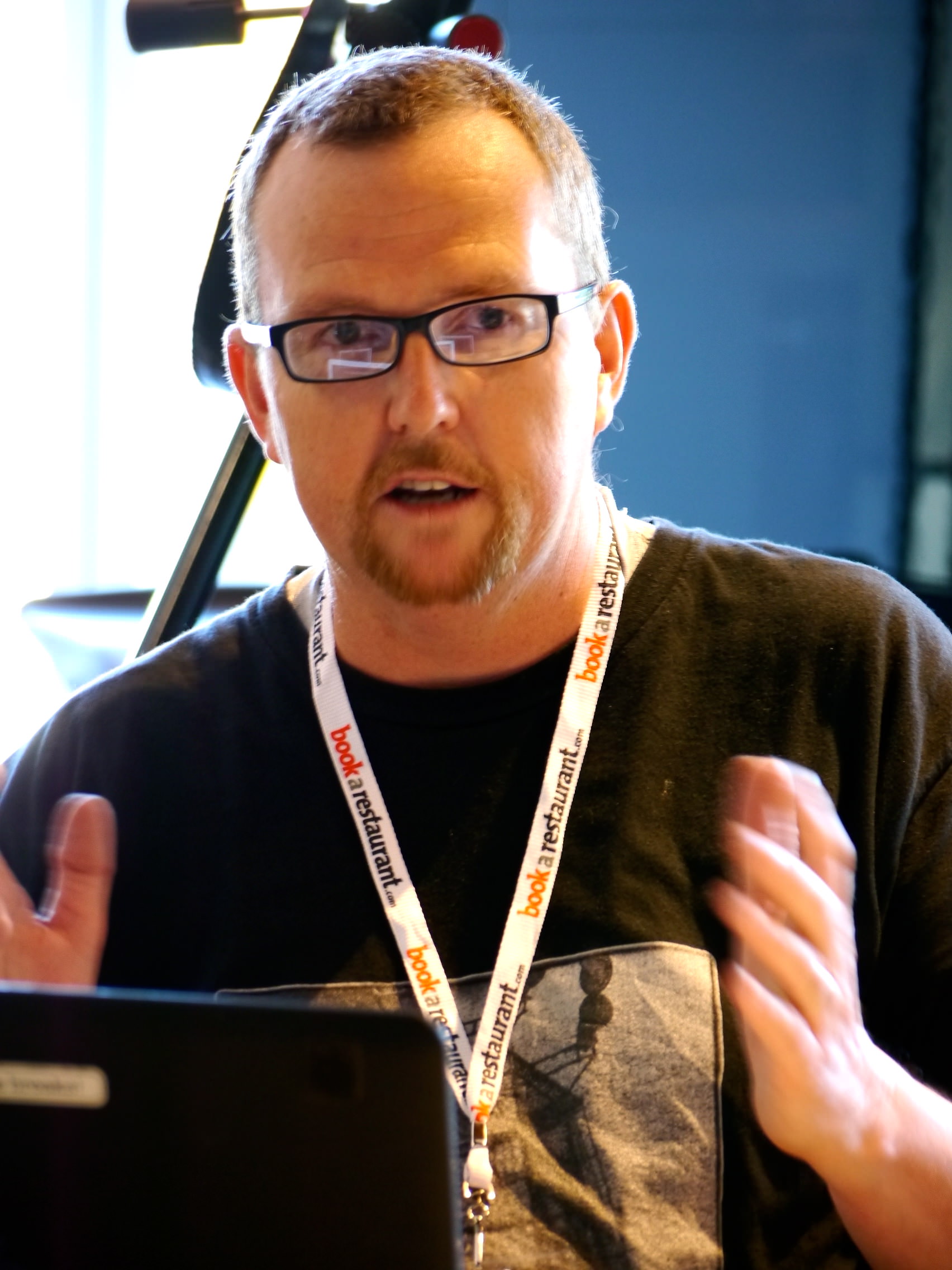 Quentin Jones from the Sydney Morning Herald and Inkstain Media
Make a stand-up light reflector out of cardboard and white paper that you can use in restaurants etc. Take an A4 piece of cardboard and score it into 3 sections lightly with a knife to create DL sized panels. Glue white paper on and reinforce edges and folds with sticky tape. This is now your bag sized reflector that you can discreetly whip out when photographing food in dimly lit environments.If you're shooting with natural light, shoot the food with the window/light behind it for maximum contrasts and highlights. Use a flash or reflector to bounce the light back onto the food.
Use a tripod as much as possible when shooting at home. This will allow you to take good photos in bad lighting conditions.
Play around in post-processing. Adjust the white balance, the contrast, the hue saturation and sharpness. Create depth of field by sharpening some areas and blurring others.
Desk and standing lamps can be used to help light home shoots.
Buying a flash is a good idea. You can point it directly at the dish or direct it up towards the ceiling to provide 'fill-in' light and avoid the 'deer in the headlights' look.
Peter Georgakopoulos from Souvlaki For the Soul
Build up a collection of tableware, linen and glassware to use in your shoots.
Find props from op shops, garage sales and hard rubbish day.
Think about what mood you want to convey  (e.g. formal, summer, casual, rustic etc) and then style/prop the shoot accordingly.
Use toning and complementary colours.
Styling food photography is a very personal thing – have fun with it!
Use fresh herbs and oils to accent the food and make it look appetising.
Use elements of the dish around the serving plate/bowl – for example, if you were serving tomato soup you could sprinkle the space around the bowl with fresh baby tomatoes, fresh bail and a pile of parmasen.
Peter likes shooting from above so he sets up his shoot on the floor and uses a zoom lens to create depth of field.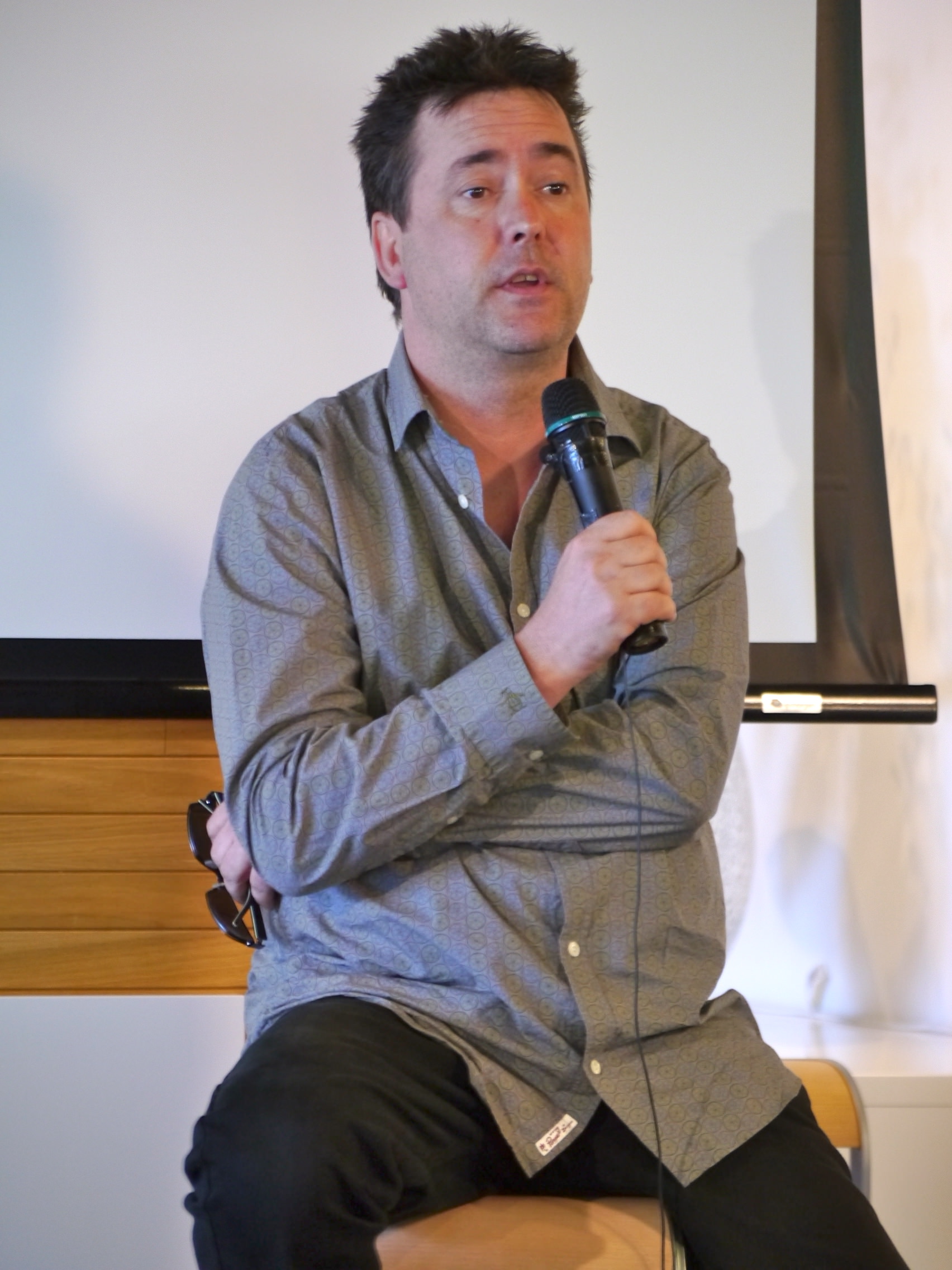 Simon Marnie from ABC Sydney 
There is a place for both traditional newspaper/magazine critiques and blogger's reviews
He likes to feel that he is sitting at the table with the blogger, sharing that very personal experience.
He gets most of his restaurant tips from bloggers rather than traditional media.
Believes bloggers need to balance the number of posts about sponsored products/event invitations/freebies with personally driven content to maintain credibility
Blog consistently. Either only write occasionally about freebies or do it all the time. But be consistent.
Be honest and fully disclose invitations,  freebies and relationships (e.g. you are friends with the owner of the restaurant). Failure to do so leaves you open to accusations of operating without ethical standards and tarnishes your credibility.
If you have been invited to a particular event, disclose it ideally at the beginning of the post so people understand the circumstances up-front, and not after they have read through a glowing review. This can be annoying.
Check out MEAA's guideline for journalists.
Monetising and Professional Blogging Panel: Jules Clancy from The Stone Soup, Jennifer Lam from Jenius, and Michael Shafran from Gosstronomy
Consider a number of revenue streams including advertising (can use a mixture of selling your own, Google Ads, Nuffnang etc), sponsored posts, selling e-books, selling memberships or access to paid information/videos,
Consider establishing a list like 'Top 100 Twitterer List' like Jen from Jenius, which will drive traffic to your site
 Your blog may not make you money directly but it may be a platform for you to show off what you can do that will lead to career opportunities
Most money made is not through advertising. Syndication and sponsorship are better revenue stream options.
To be attractive to advertisers you need around 10,000 uniques a month
Create your own sponsorship/advertising kit and advertise it on your site
Write a lot of guest posts for other blogs to get your numbers up
Submit all your photos to photo/food sites like Photograzing, Tastespotting and foodgawker. This drives a lot of traffic to your site. Jules from The Stone Soup has a virtual assistant in the Philippines who does this for her.
Consider going to blogging seminars/workshops as Jules did, to get you thinking about ways to monetize your site.
Tammi Jones from Tammi Tasting Terroir and Zoe Bowman from Progressive Dinner Party
How you blog is an extension of your personality. What are you personal ethics?
Do you fully disclose any freebies, invitations or conflicts of interests? Should you?
What is your personal brand ie what do people say about you when you leave the room? How do you want to be known? Or remembered?