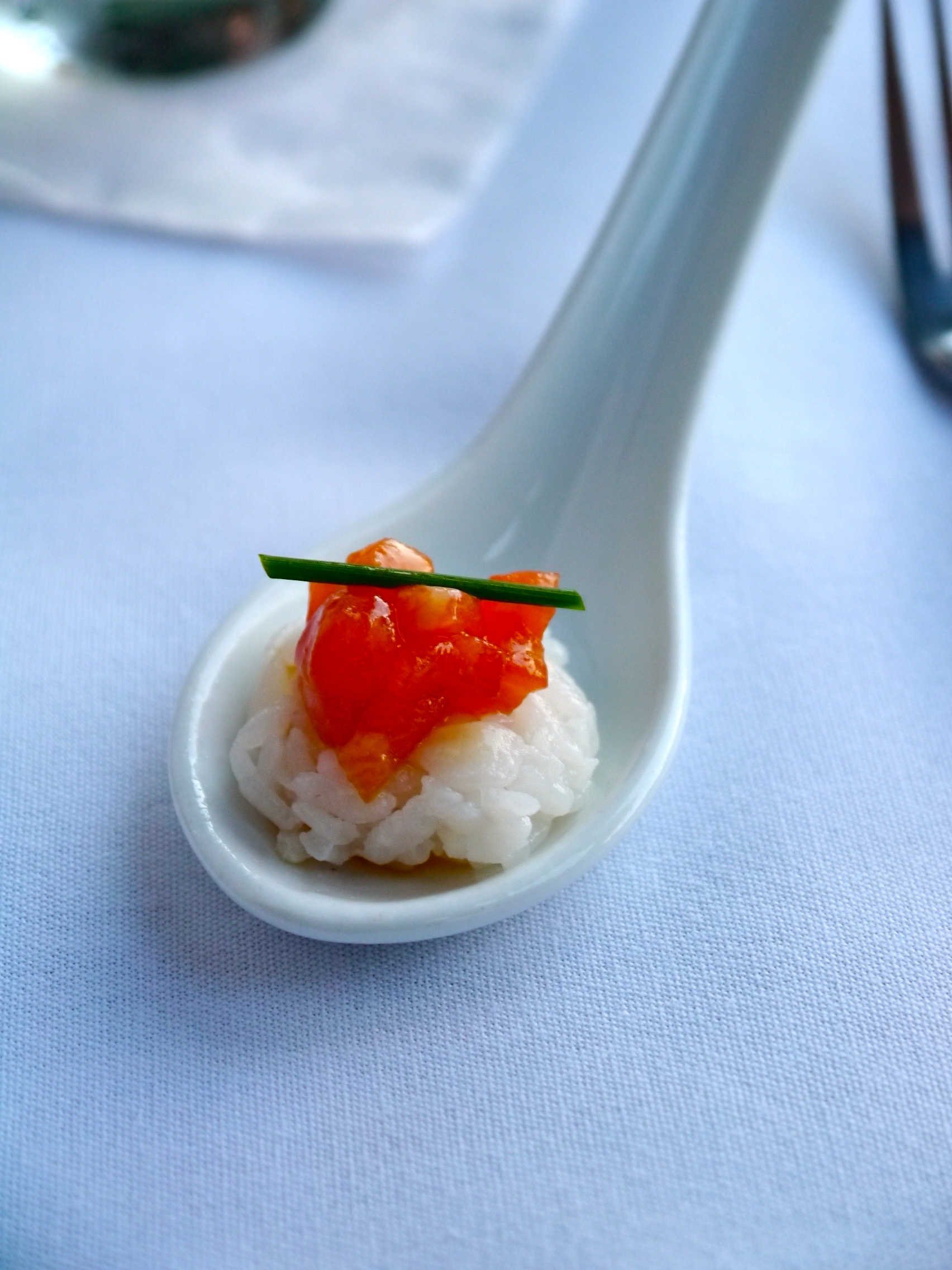 As the final official event of Eat Drink Blog 11, the second Australian Food Bloggers Conference, we have dinner at Kingley's Steak and Crabhouse at Wooloomooloo. Deciding not to go to my hotel between the conference and the dinner, I catch a taxi to the restaurant with Jan from Dinner in Ten Minutes, Jo from My Delicious Blog and Ashley from I'm so Hungreee.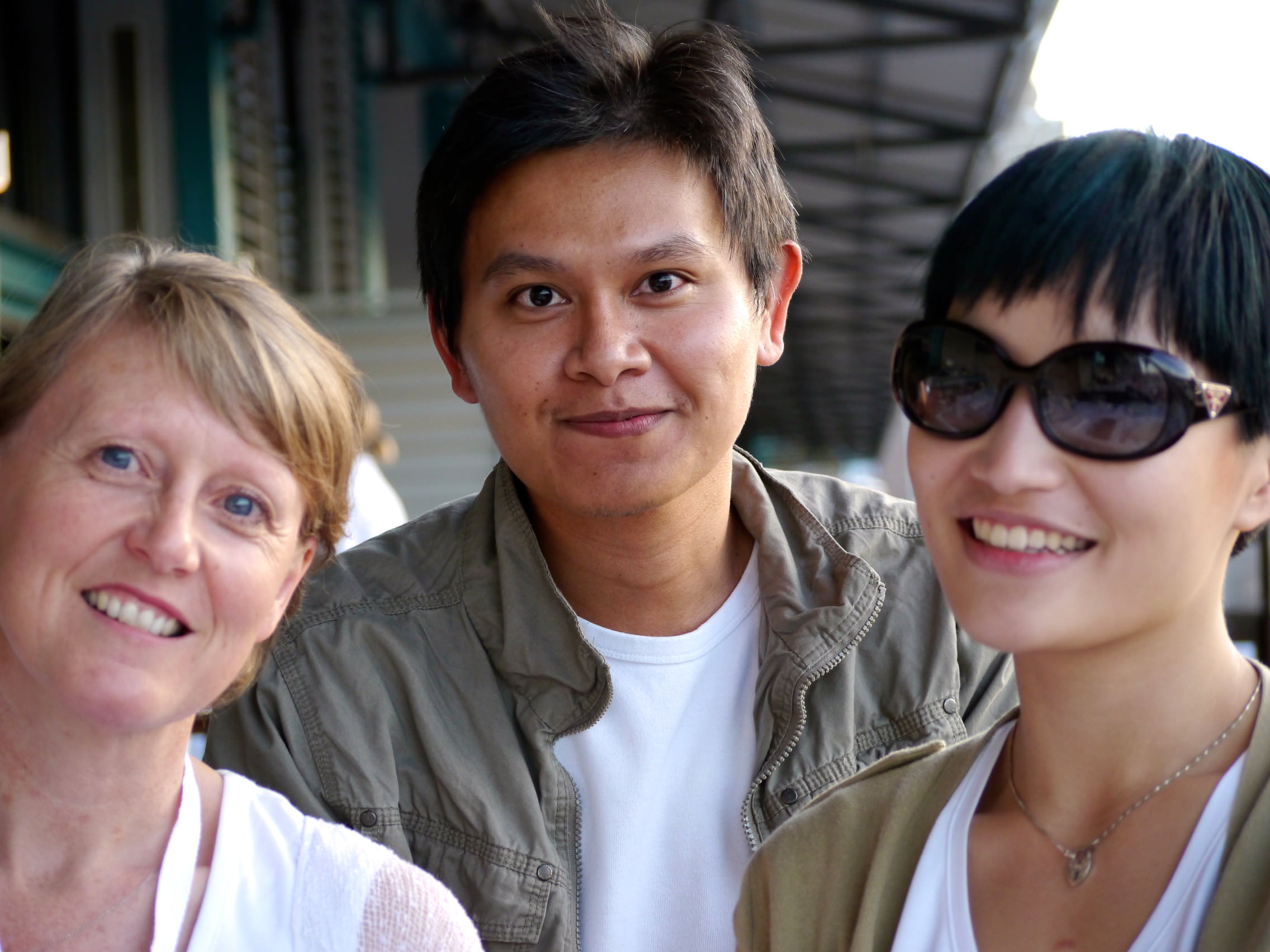 We have about 45 minutes to kill before dinner so we order drinks. It is a perfect evening for a Mojito.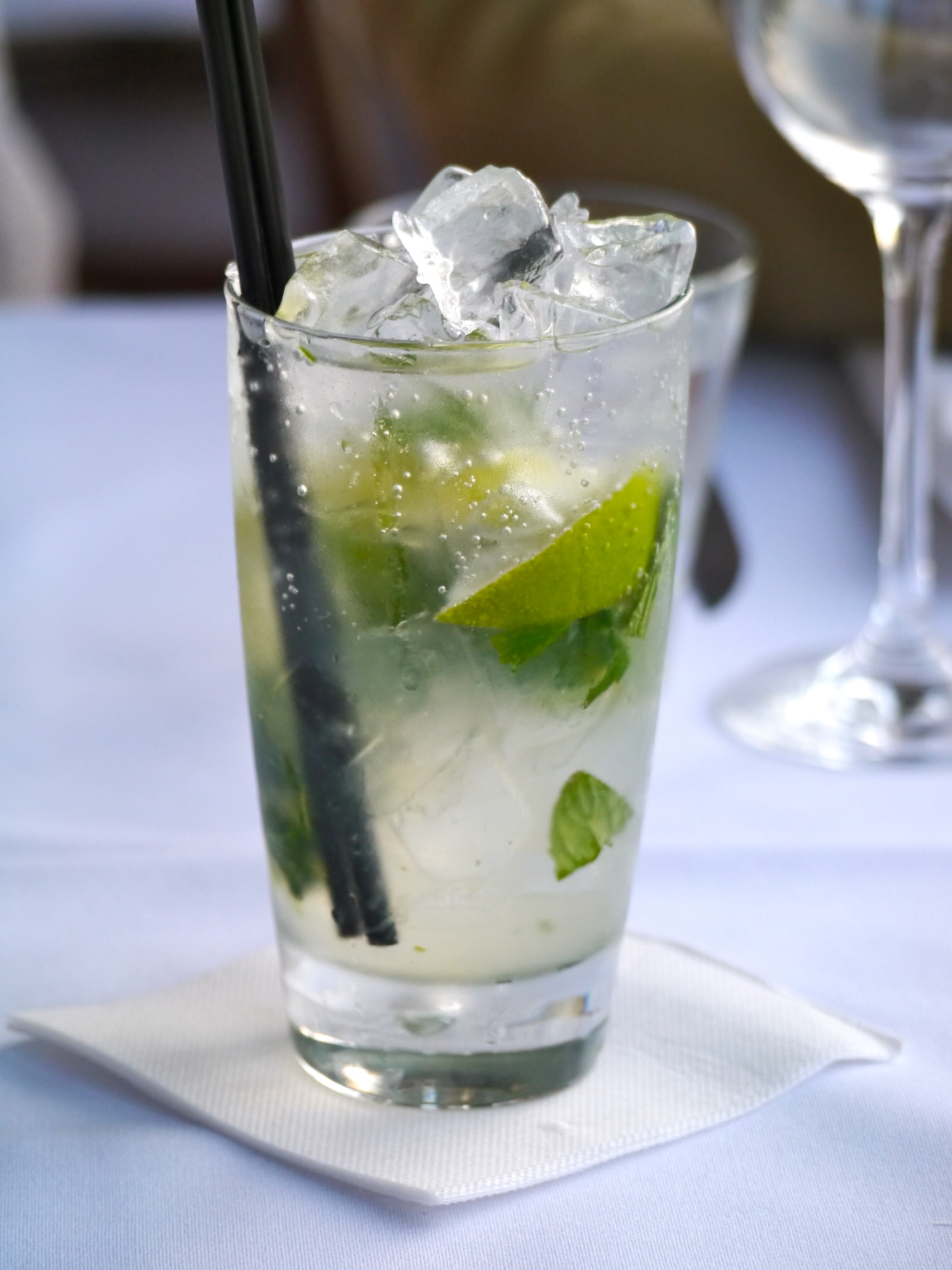 While we wait for our fellow Eat Drink Blog attendees we chat non-stop about eating, drinking, and well, blogging.  Pursuing the menu I am pleased to see that all three wines are from St Hallet in the Barossa Valley, South Australia –  excellent choice, Kingleys! Then the friendly Kingsleys staff began bringing out canapes of sushi and sweetbreads. Ashley confesses to being an offal lover.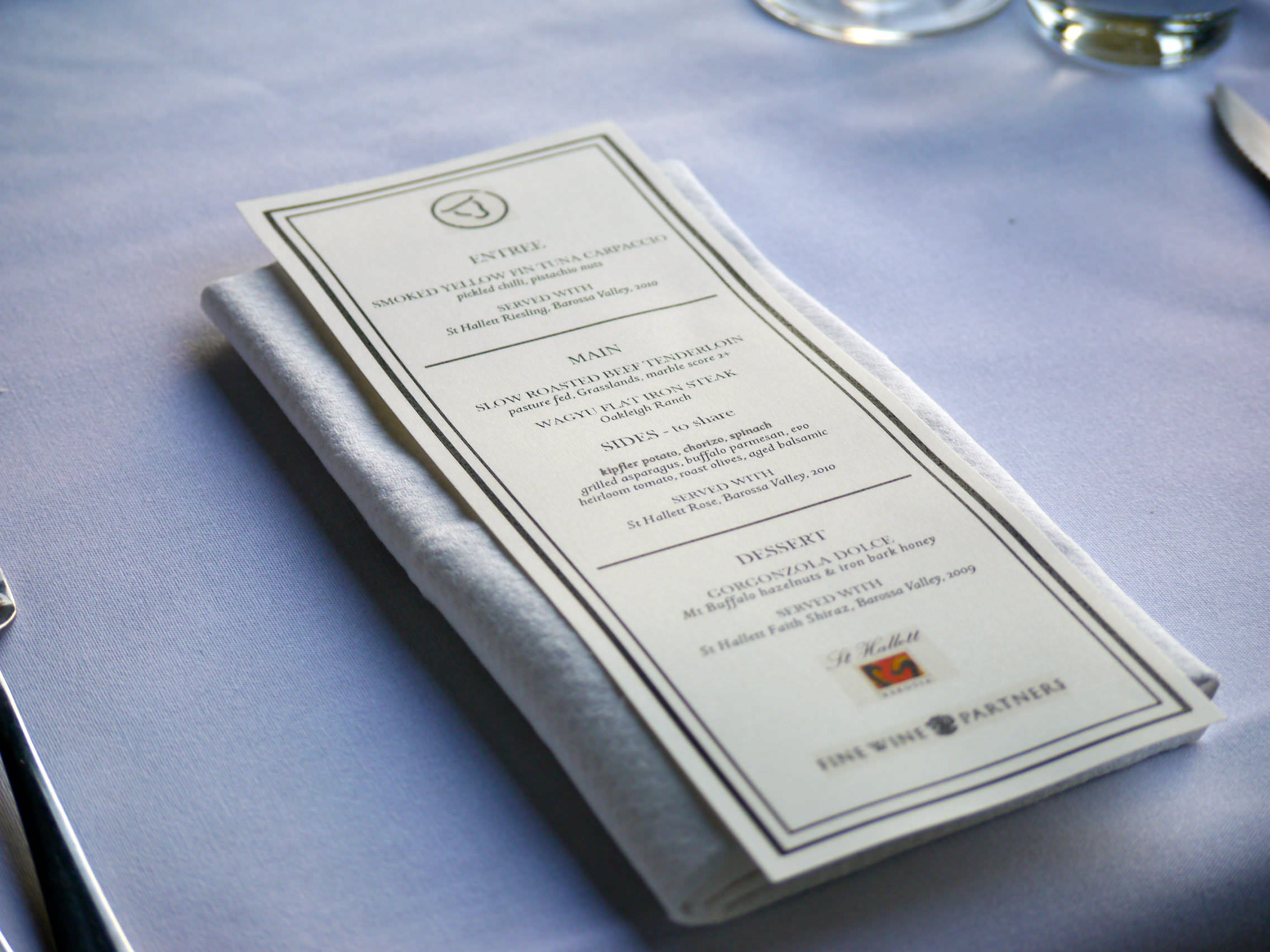 As the sun begins to set our fellow bloggers start arriving. Joining our table are Phuoc from Phuoc'n Delicious (who clearly has the best blog name ever!), Karen from Citrus & Candy, Gem from Eat Drink Stagger, and Tina from FoodBoozeShoes. I'd already met three of them earlier that day (I even blurted out "I love your blog!" like a teenager when I first ran into Karen and Phuoc).
As a way of kicking the conversation off, we all decide to reveal our most favourite foods. It's fascinating hearing everyone's stories and the dishes they choose. I'm reminded of how much emotion is tied up in the food we eat and how food has a way of connecting us to people, places and times.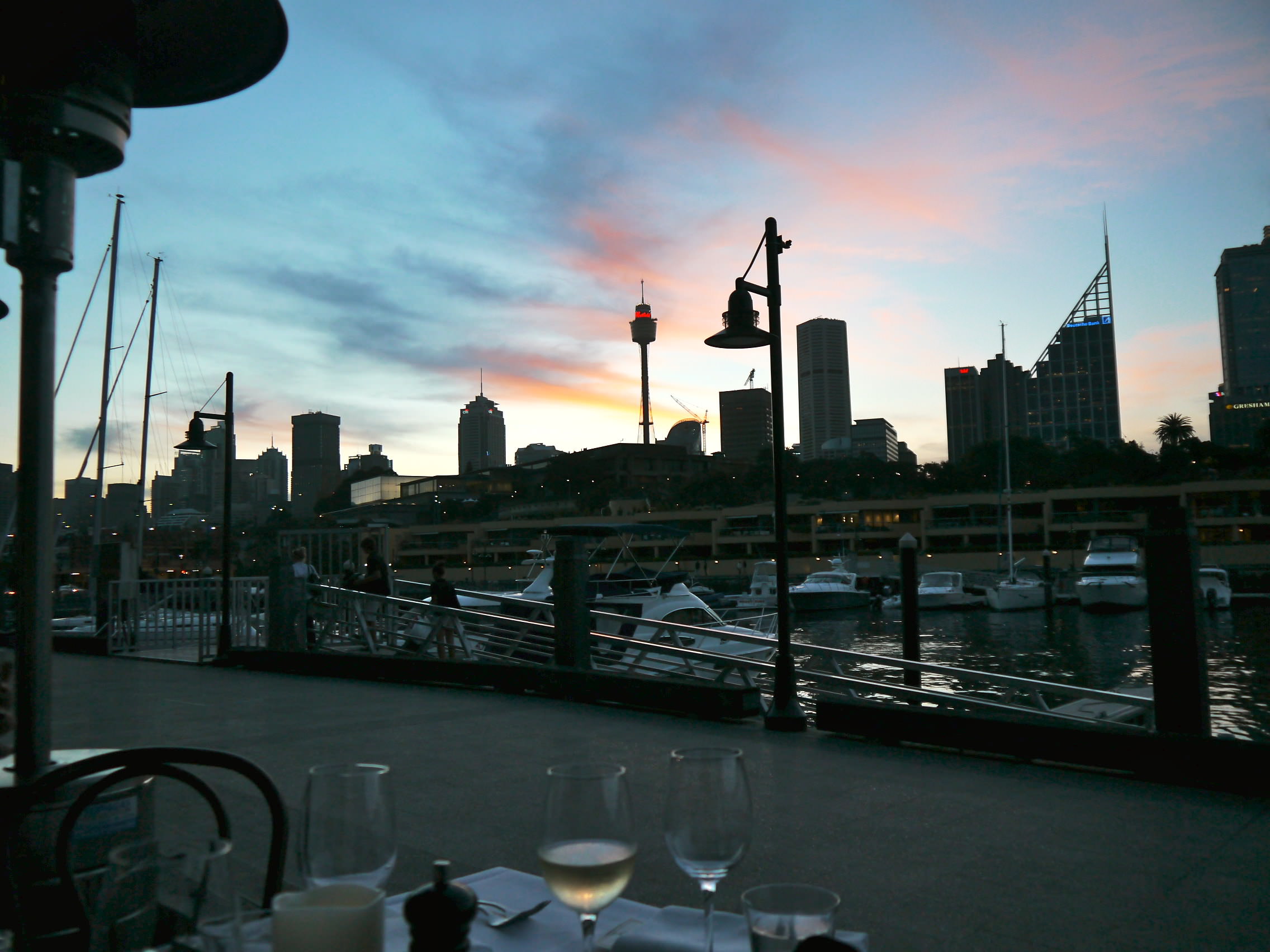 The first course is Smoked Yellowfin Tuna Carpaccio with toasted bread shards and the daintiest pickled chillies that explode when you bite into them, flooding your mouth with a tantalising vinegary and chilli essence. The toasted bread provides a nice textural contrast to the flavoursome but delicate slithers of tuna, while the St Hallet Riesling, 2010, is citrusy and fresh.
Using a tip picked up at Eat Drink Blog we take turns using the Flashlight app on my Iphone to illuminate the food (as we are now sitting in the dark) so we can take photos. The organisers have set up a separate table with special lighting for us to photograph the food but we're having such a great time no one wants to leave the table and miss the conversation.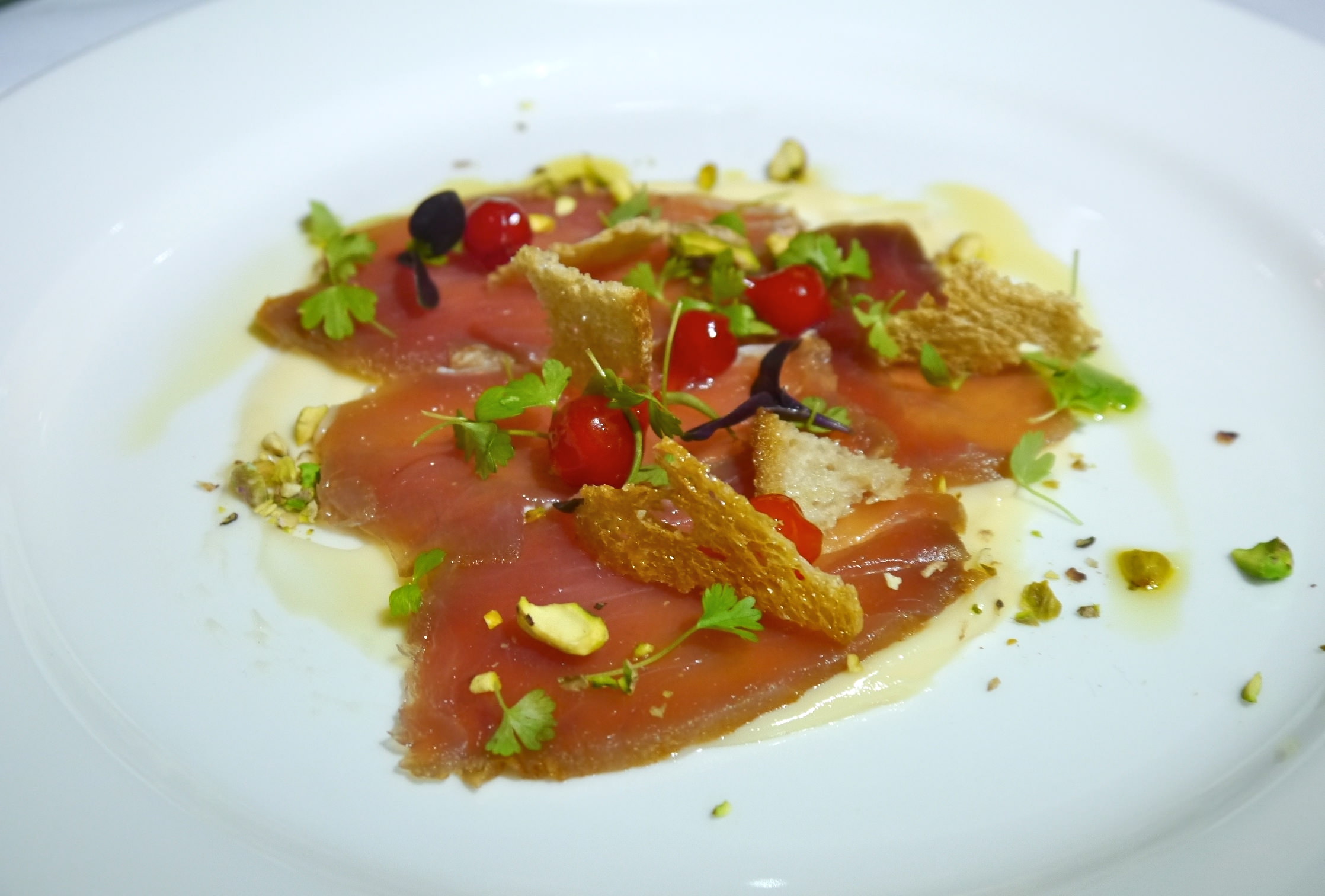 The main course is Slow Roasted Beef Tenderloin and Wagyu Flat Iron Steak. Both are expertly cooked – charred on the outside and beautifully pink on the inside. The Wagyu is so buttery and tender that I can't help letting out a deep sigh. Others around the table are similarly chewing and nodding, their gazes focused dreamily into the distance. The tenderloin is slightly less tender but incredibly flavoursome.
I eat two, three and then four slices of steak. And then I squeeze in a fifth. I shall pay later for my greed but at this precise moment I cannot contemplate leaving the steak in front of me uneaten for longer than a passing second.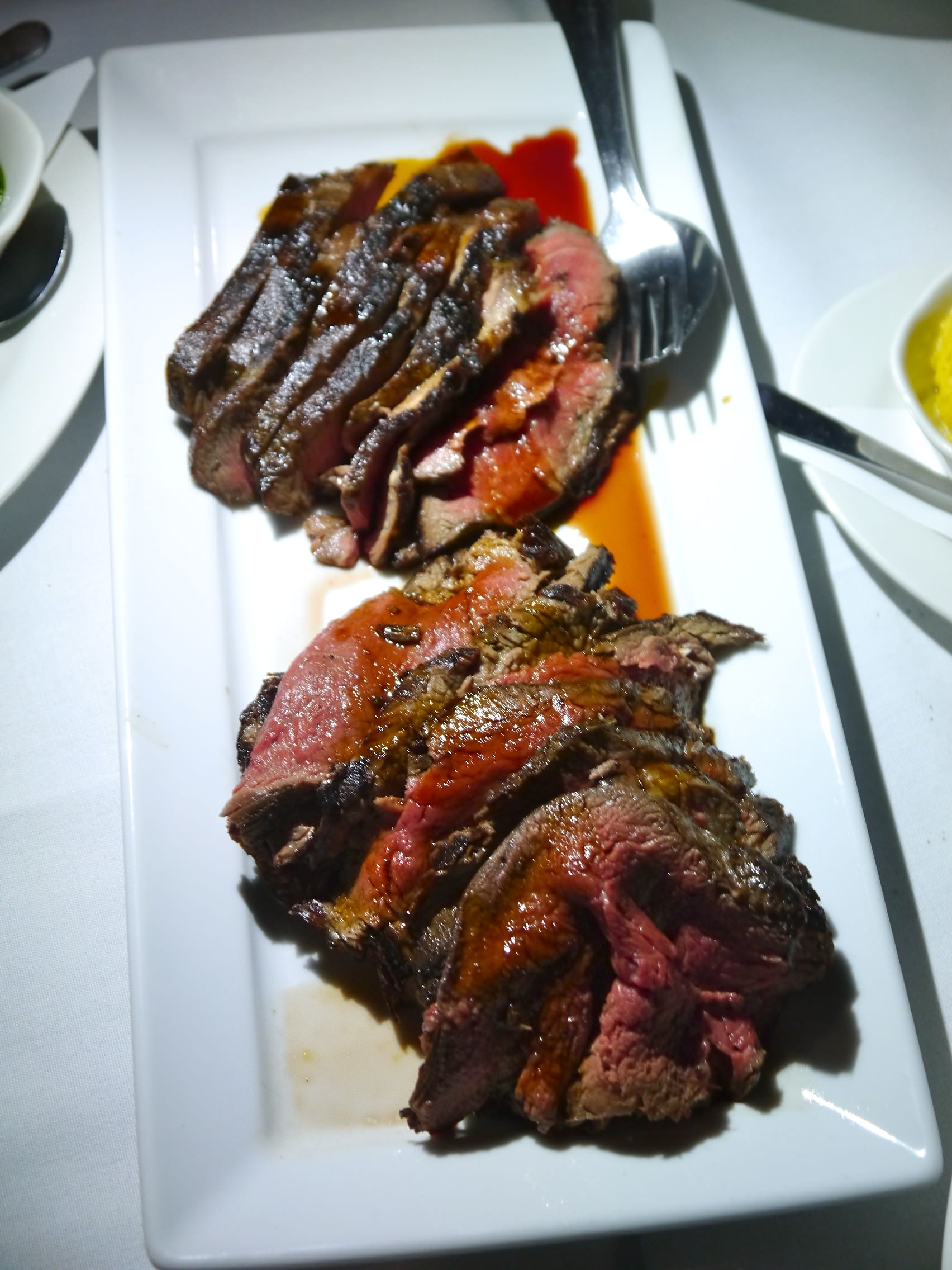 The steak is accompanied a lovely Heirloom Tomato, Olive and Aged Balsamic Vinegar Salad, tasty Kipfler Potatoes with Chorizo and Grilled Asparagus, and served with a robust St Hallet Faith Shiraz, 2009.
The last course is Gorgonzola Dolce with Honey and Roasted Hazelnuts, accompanied by toasted fruit bread and sliced apple. It's ridiculously good. The sweet honey, apple and fruited bread provide a wonderful backdrop to the stunning cheese and the fruity St Hallet Rose, 2010, complements it all beautifully.
However, Karen and Phuoc are looking glum. They're not a fan of 'smelly cheeses' so push their plates towards us. We demur at first and then we eat their cheese as well.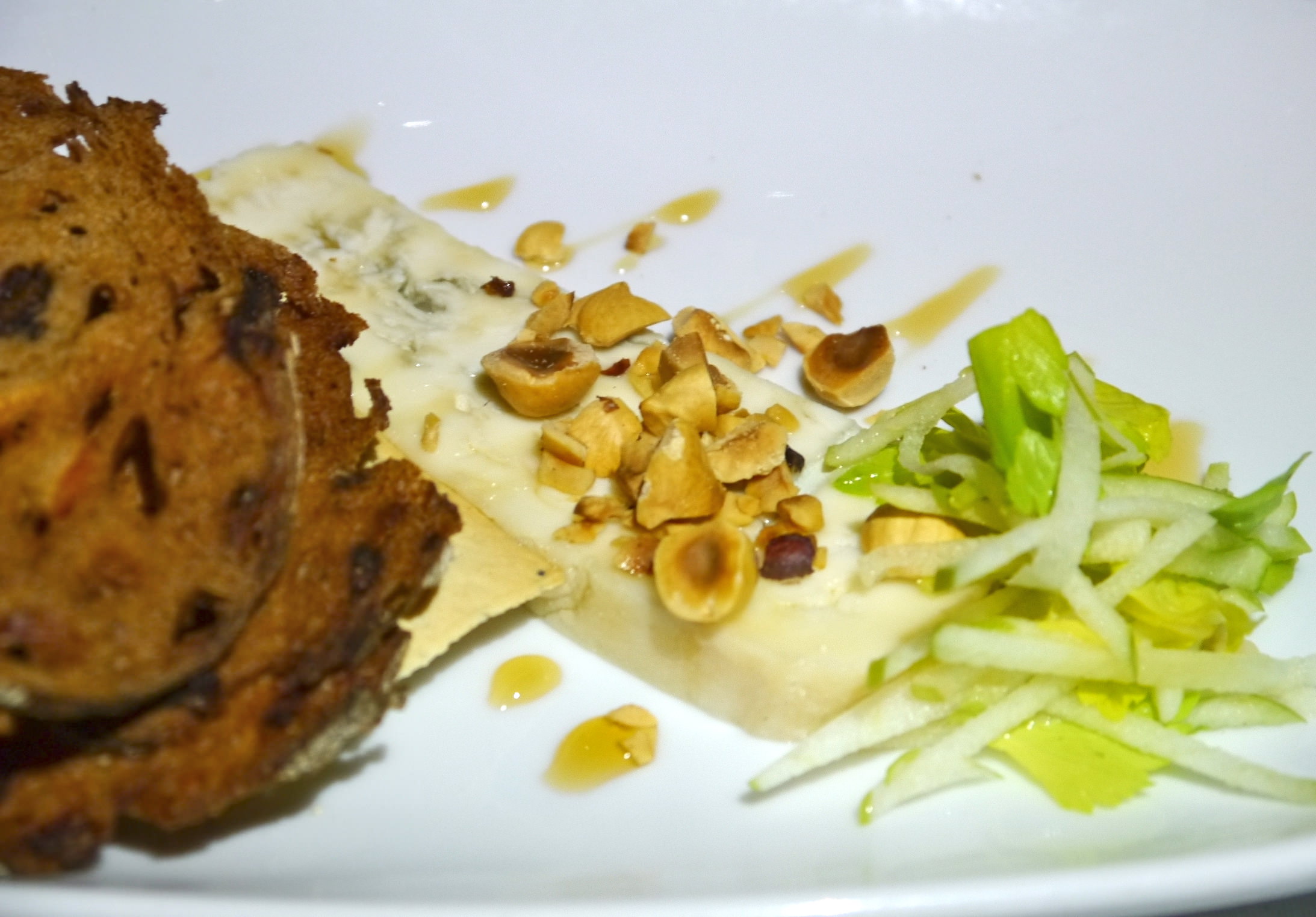 It's been a wonderful evening. I leave Kingsleys for my hotel, feeling uncomfortably full but completely satisfied.
Kingsleys Steak & Crabhouse
The Wharf, Cowper Wharf Road
Wooloomooloo, Sydney
Tel 1300 546 475