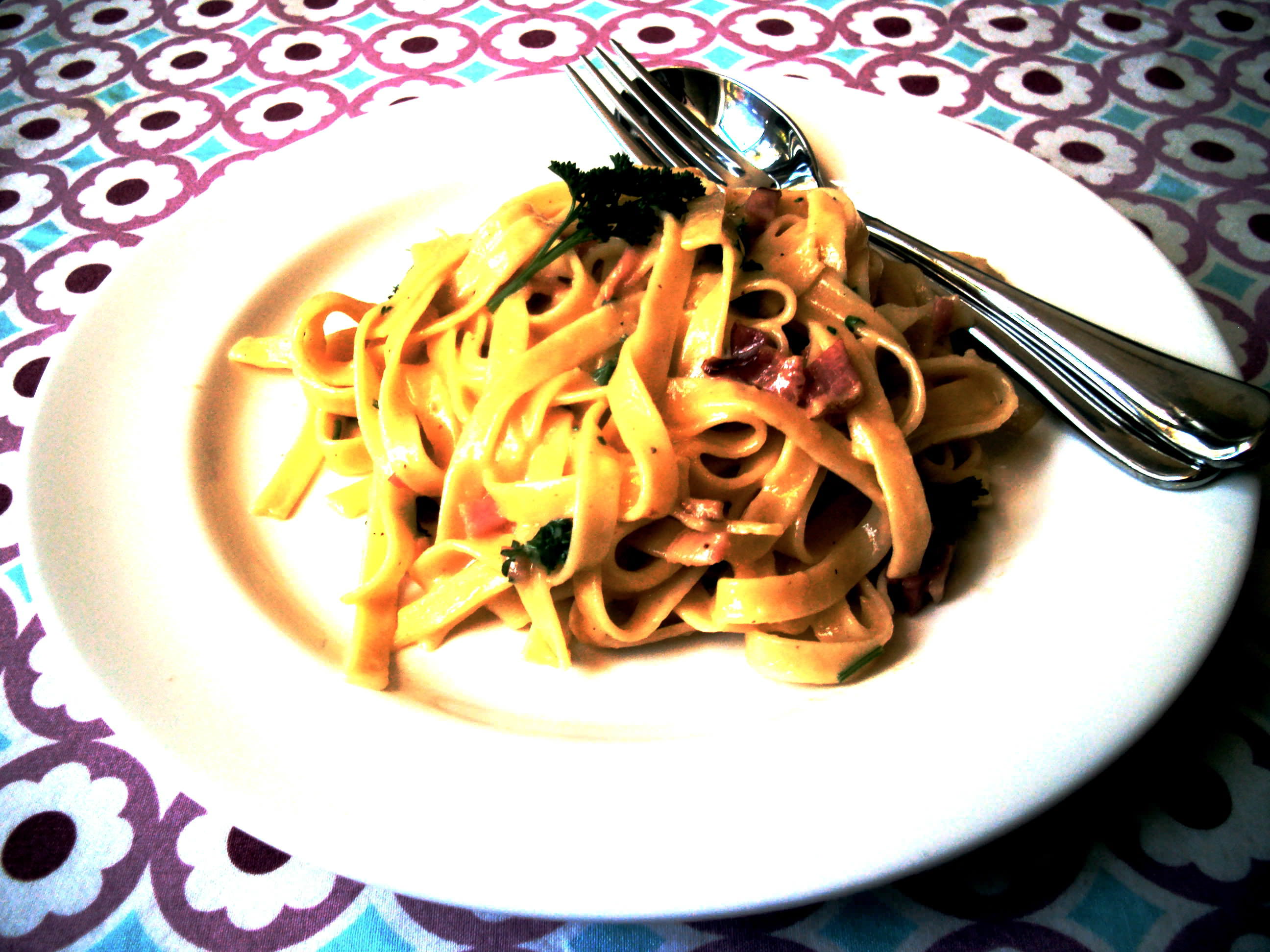 This is not exactly diet food but then who wants to eat diet food all – or even some – of the time?
Not me, that's for sure.
Yes, this dish is substantial. But that's exactly what I crave at night in this coolish weather – a big bowl of carbohydrates with something creamy and melting on top.
In any case, carbohydrates are essential for feeling good; eating carbohydrates helps the brain regulate serotonin, a chemical that elevates your mood and makes you feel full before your stomach is over-stretched. This is why dieters that stick to diets like Atkins (high protein, no carbs) often end up feeling grumpy and hungry; their bodies are craving carbs and their feel-good effects.
There are two things you need to know about making Carbonara sauce. Firstly, you add the beaten egg, Parmesan cheese and cream to the just cooked and steaming pasta with no heat on the stove so it is just the heat of the pasta that cooks the sauce. This gives the dish its sublimely silky and moist texture. (If you try adding the sauce to the pasta with the heat still on you end up with pasta covered in scrambled egg – not great.) Secondly, and ideally, you should try to coordinate your food prep and cooking times so that your pasta is just cooked when the bacon is crisping up. This doesn't always work out so just cover the pan to keep the bacon warm if the pasta isn't done yet.
Fettuccini Carbonara is not difficult nor is it time consuming so it's perfect for a speedy after work dinner. It's also ideal to cook for a casual dinner party as you can put the pasta on when your guests arrive, natter in the kitchen with a glass of wine as you prepare the sauce, and combine the two before putting the pot on the table so everyone can help themselves.
Now that's what I call sharing the love.
INGREDIENTS
200 grams streaky bacon (3-4 rashers)
50 grams grated Parmesan
3 eggs
3 tablespoons cream
120 mls white wine
1 packet 350gms pasta
Few stalks fresh parsley
Grated nutmeg
Salt and freshly ground pepper
METHOD
Put a large pot of water on to boil for the pasta.
Meanwhile, cut the rind off the bacon, dice bacon and set aside. Wash and chop up a few stalks of parsley.
In a small mixing bowl, mix eggs, grated Parmasen, cream, a few shakes (1/4 teaspoon) nutmeg and freshly ground pepper and set aside.
Once water is boiling add a tablespoon of salt and the pasta. Cook pasta according to packet instructions.
Meanwhile, heat up a large pot (preferably non-stick) that is big enough to take all the cooked pasta. Once the pot is hot, add 1 tablespoon of olive oil and then fry bacon over a medium heat for three minutes, stirring occassionally. Add wine and cook another minute or so until liquid has reduced.
Once the pasta is done drain the cooking water using a colander then tip the hot pasta straight into the pot containing the bacon. Immediately pour over the cream sauce and stir gently but firmly. Add the chopped parsley and stir to combine. You should see the raw sauce slowly thicken as it cooks.
To serve, garnish with extra parsley.
Serves 3-4.