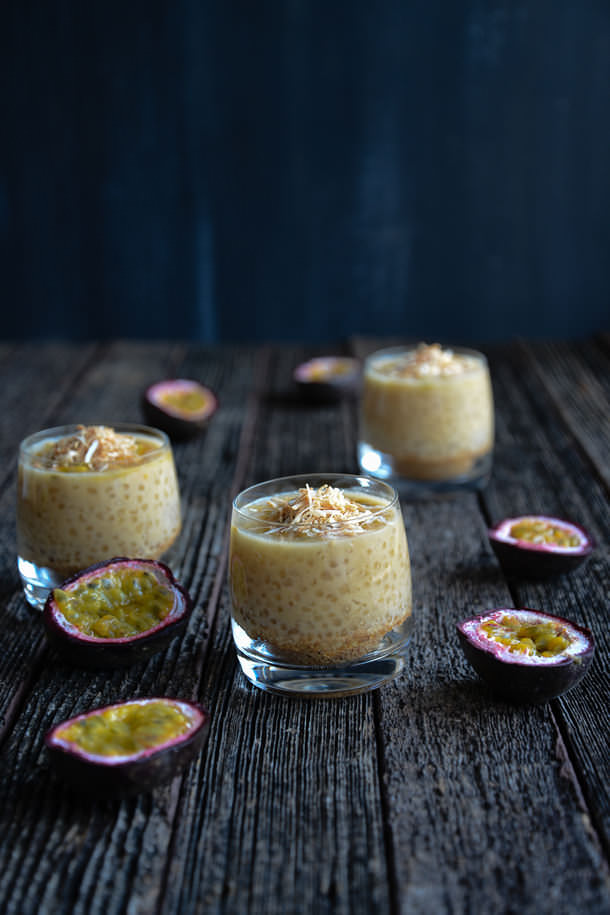 Last week I was lucky to spend three days on Hamilton Island for the start of Audi Hamilton Island Race Week, Australia's largest offshore yachting regatta. It was ultra glam and très chic and I did my best to nod intelligently to the sailing talk while outfitted in my approximation of 'resort chic.'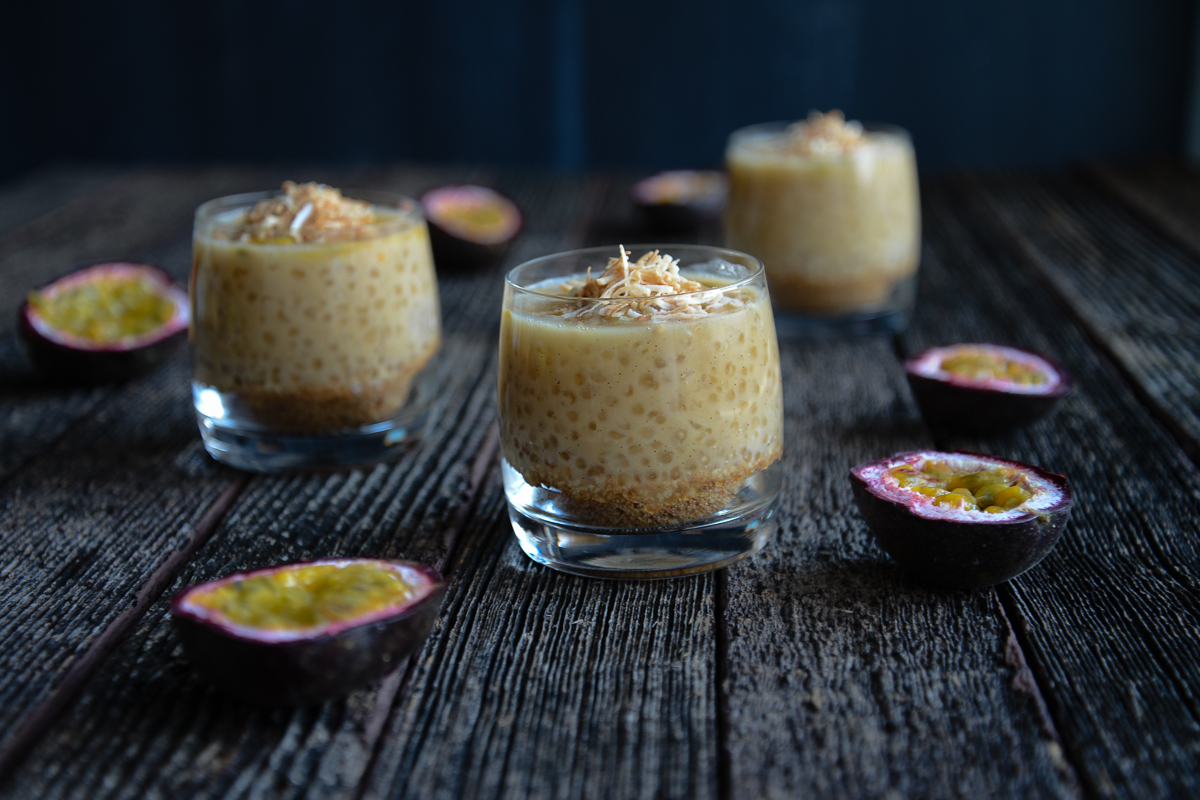 I have oodles of lovely photos and experiences from Hamilton Island to share with you over the next few weeks but in the meantime, I want to share this lovely Passionfruit Sago Pudding with you.
This dessert is inspired by the dessert at the spectacular '30' dinner I attended on Sunday night to celebrate 30 years of the Race by Shannon Bennet of Vue de Monde and four of his proteges – Jim McDougall of Stefano's, Josh Lewis of Loam, Cory Campbell of Vue de Monde and Darren Purchese of Burch & Purchese Sweet Studio.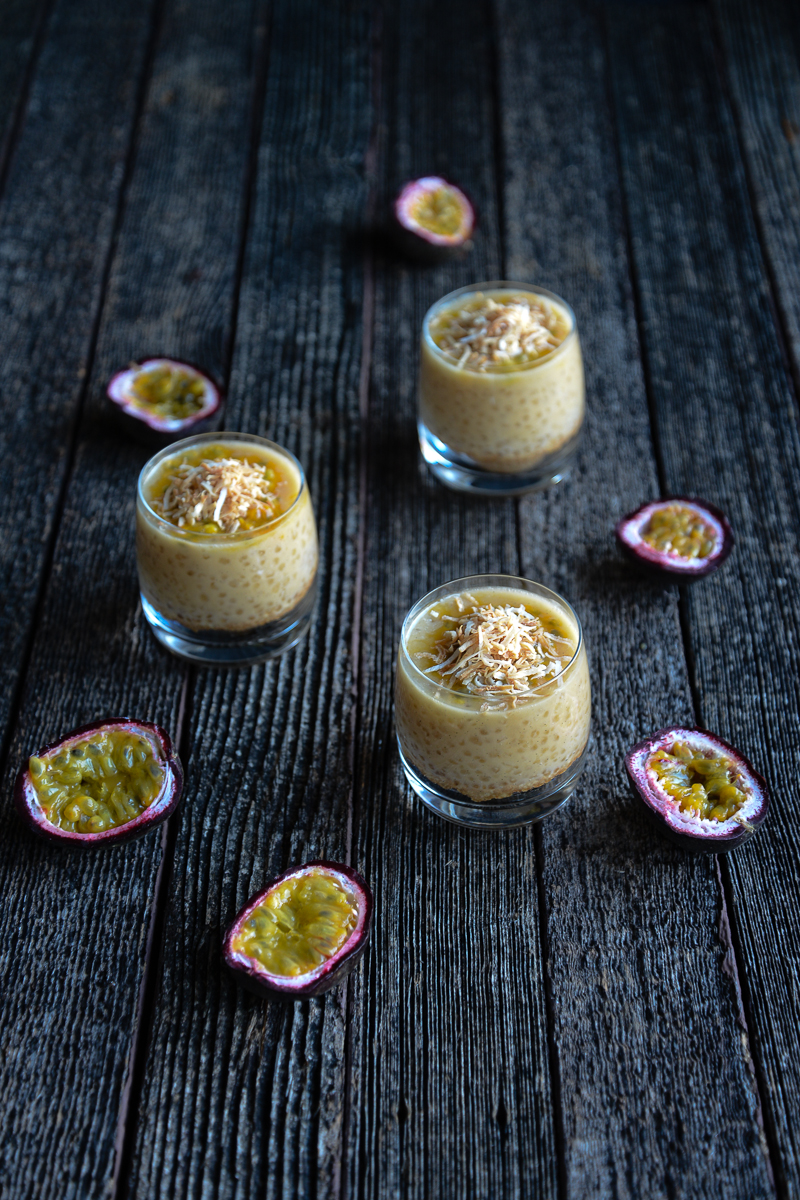 I didn't actually taste the sago dessert at the dinner — I had a berry jelly dessert instead — but I've used  palm sugar, ginger, star anise and coconut to  bring out the tropical, feel-good flavour of the passionfruit. The '30' dessert  looked completely different to mine, too — my presentation is much less fancy — so please consider this a homage rather than a pale imitation.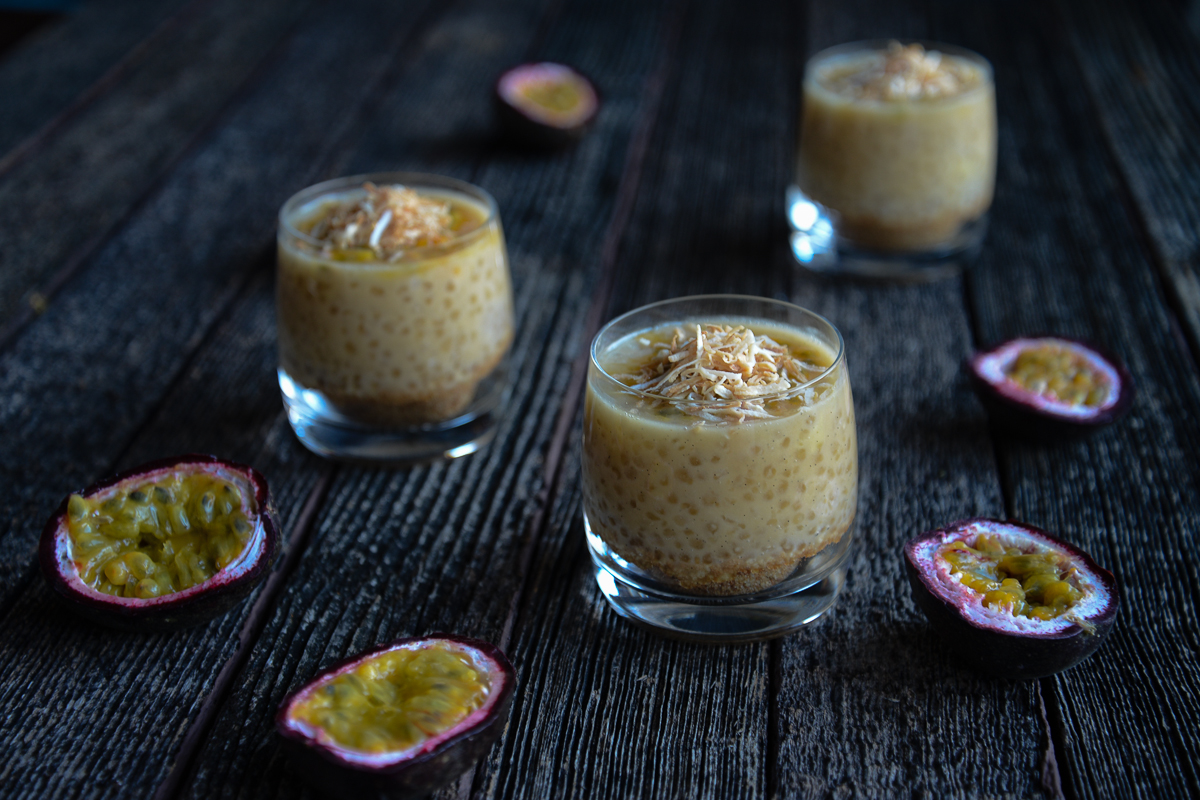 If you've never cooked with sago (tapioca) before, don't be scared. Tapioca is really cheap and really straightforward to cook – you just bung it in a saucepan with some water. Honestly. It's not hard. You can do it. And your reward will be these delightful little sago puddings that remind me of long, lazy days spent happily in the sun.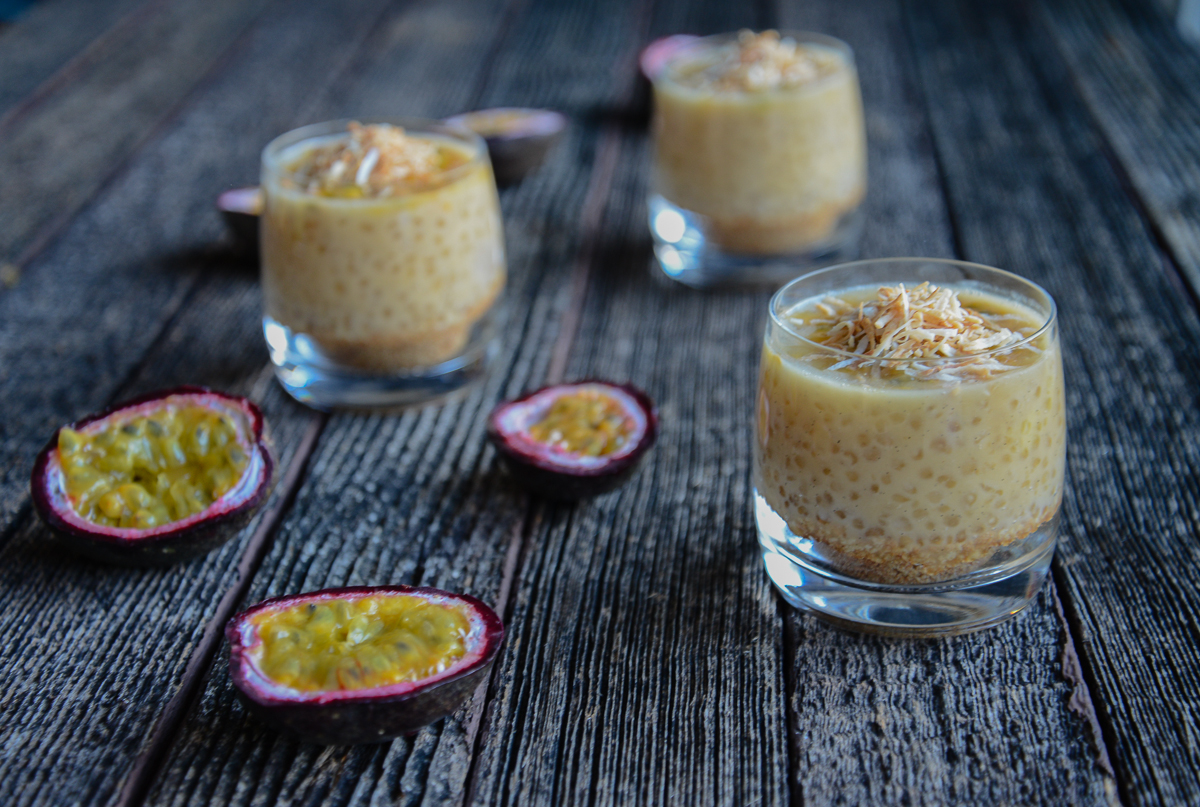 Passionfruit Sago Puddings
INGREDIENTS
1 cup water
100 grams palm sugar
1 star anise
2 teaspoons vanilla bean essence
4 cups water
3/4 cup sago (tapioca)
1/3 cup coconut cream
8 best quality ginger cookies (about 140 grams)
8 passionfruit
5 tablespoons shredded coconut
METHOD
Make sugar syrup by placing 1 cup water, palm sugar, star anise + vanilla bean essence in a small pot.
Bring to the boil and then cook over a medium heat for 15 minutes until mixture has reduced and become syrupy.
Cook sago by placing 4 cups water + sago in a medium pot.
Bring to the boil and then simmer for around 15 minutes, stirring regularly.
Strain tapioca through a colander (sieve) and then place in a large bowl.
Add sugar syrup and coconut cream to sago and mix to combine thoroughly.
Grind biscuits in a food processor until it reassembles bread crumbs.
Divide the biscuit mixture into four medium cups evenly.
Spoon over sago mixture and then refrigerate for at least an hour.
Meanwhile, toast the shredded coconut by stirring it in a dry pan (don't use oil) over a medium heat until it starts to turn brown. Remove and set aside.
To serve, spoon the passionfruit pulp over the top of the sago and garnish with toasted coconut.
Serves 4.
Dietary Notes: dairy free, nut free, vegan, and vegetarian. Can also be gluten-free if you use gluten-free biscuits as I did. 
{ Disclosure: I visited Hamilton Island as a guest of the island.}