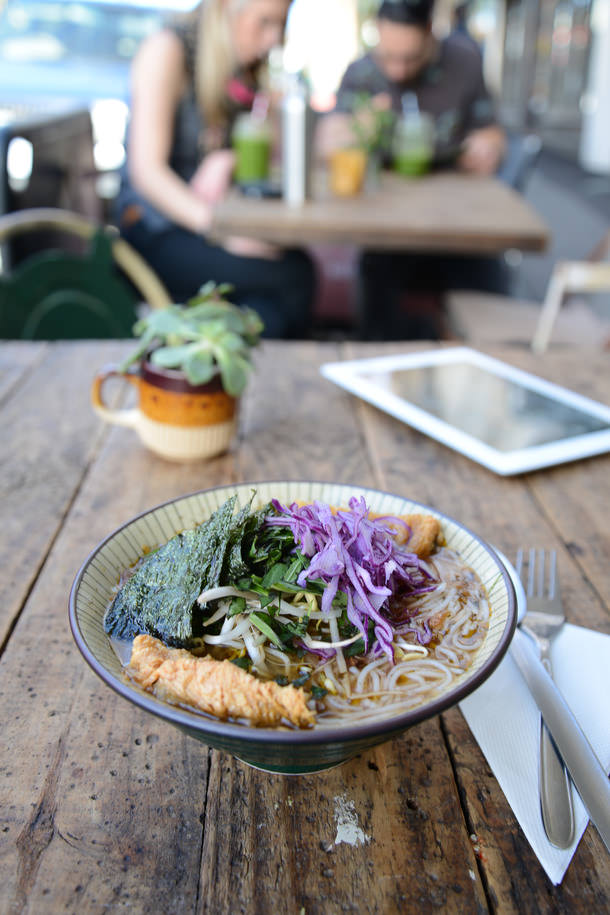 In September I visited Tasmania as a guest of Tourism Tasmania. The first 36 hours of my trip were spent exploring the capital, Hobart where I ate an extraordinary amount of food. This next 36 hours were spent exploring Swansea and Freycinet on the East coast of Tasmania, where I ate even more food. This post covers the last 24 hours of my trip visiting Binalong Bay, Pyengana and Launceston. 
After a fantastic seafood lunch at Freycinet Marine Farm it's time to hit the road to Bed in the Treetops at Binalong Bay, where I'll be staying tonight. Binalong Bay is a scenic, 90 minute drive along the coast through paddocks dotted with sheep and cows and seaside towns. Driving always makes me sleepy so halfway there I stop for a soy latte and caramel slice at Bicheno. The sugar and caffeine revive me and I drive on.
Bed in the Treetops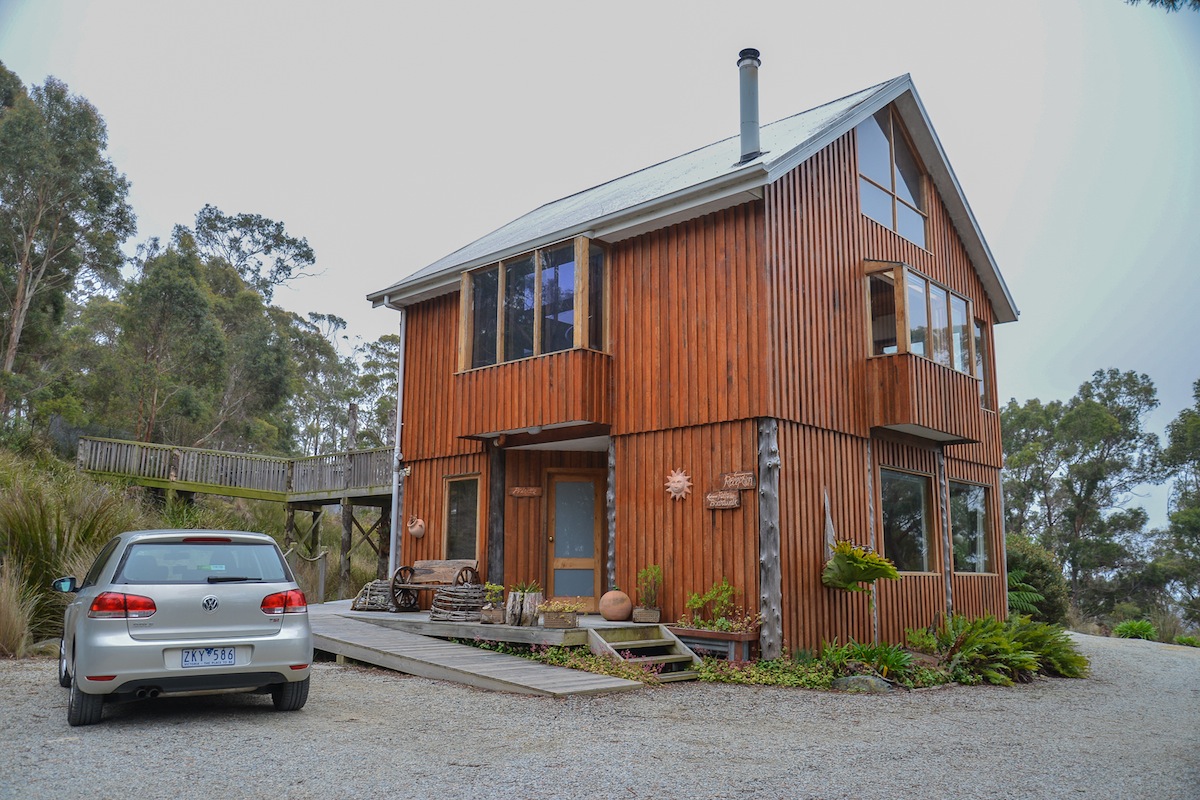 I arrive at Bed in the Treetops in the late afternoon. The aptly named B&B is situated in 80 acres of bush at the top of a steep 1 km dirt driveway that makes my heart skip a beat as I'm ascending. 
Peering down the hill I can just make out the sea through the fog.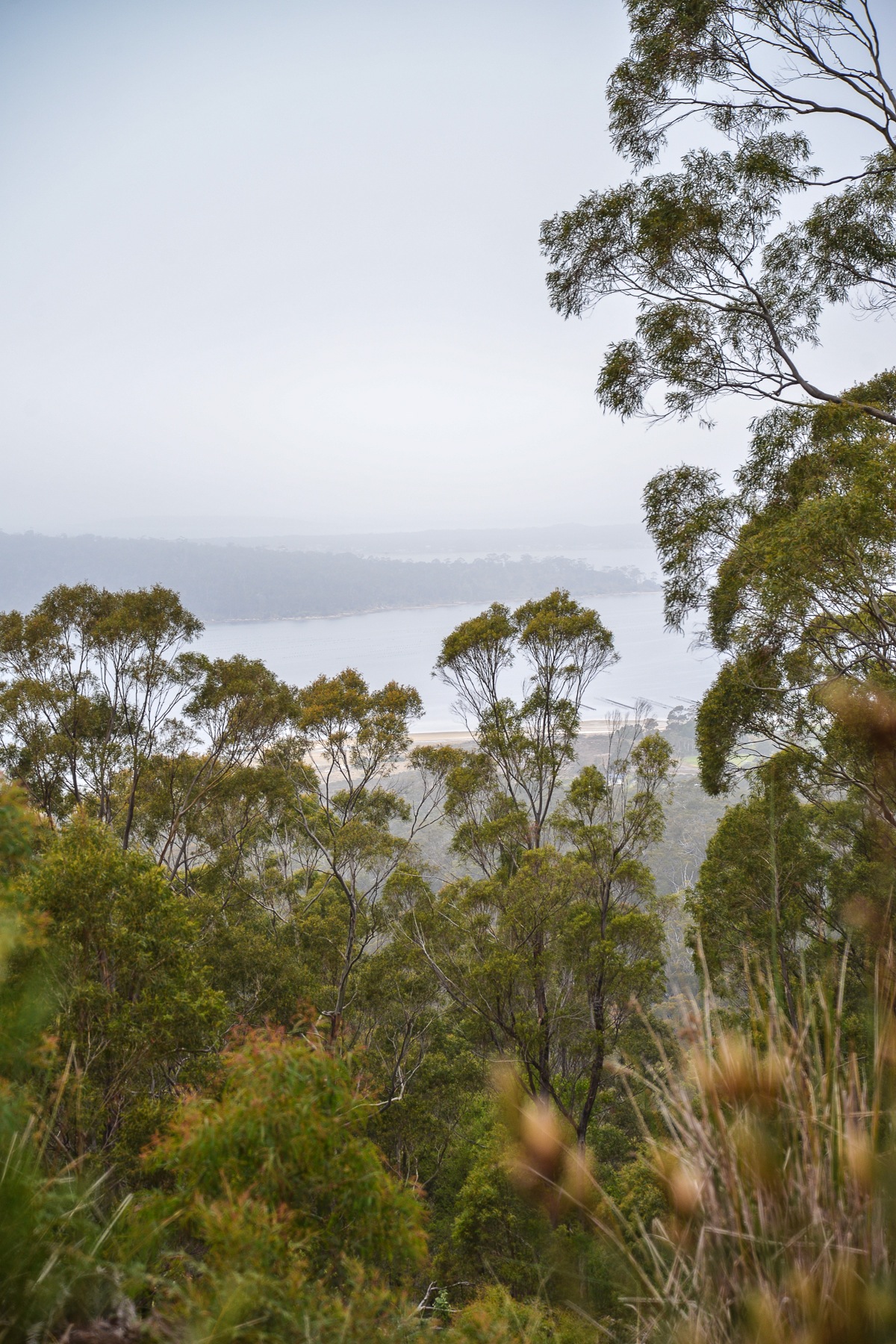 I meet my friendly hosts, Mary Ann and Rod, who have been managing the award-winning property for 12 years. Bed in the Treetops has only three rooms so it feels extremely private. Tonight I'm in the Deluxe Spa Suite. Rates for the rooms range from $210 for a single person up to $490 for 4 people.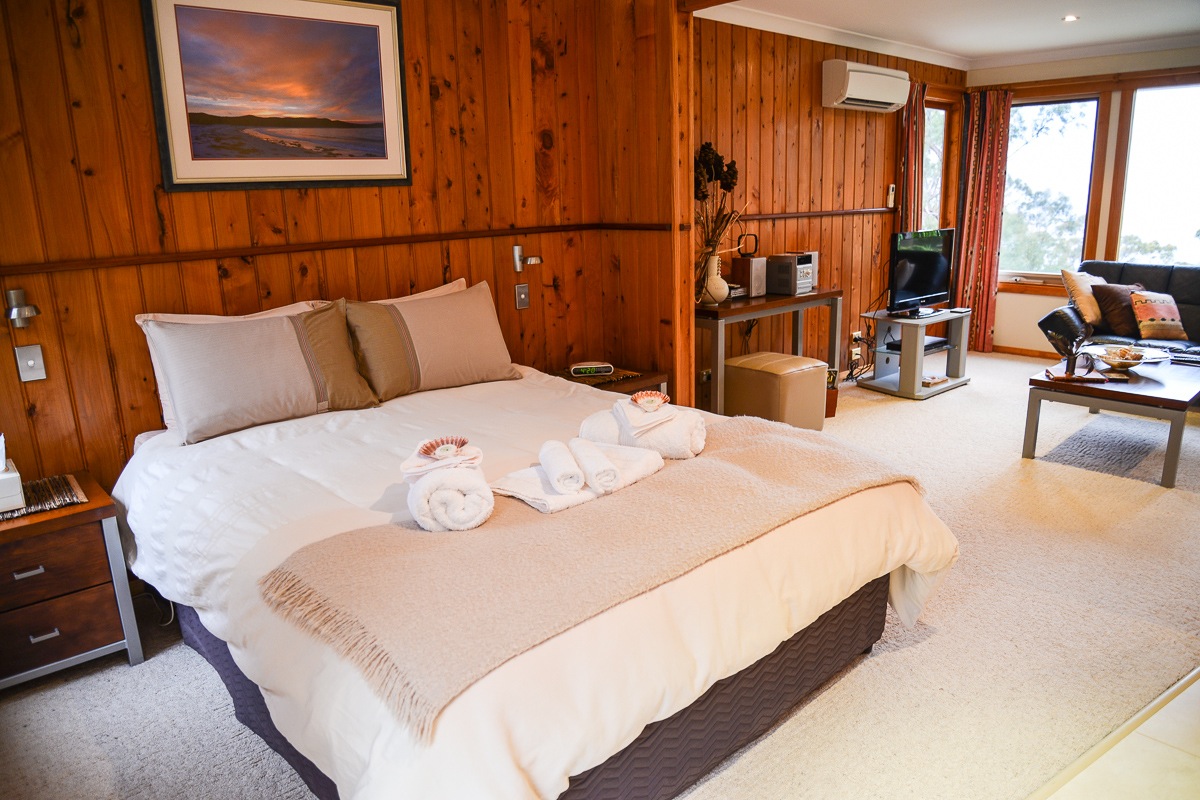 Inside it's warm and comfortable. Bed in the Treetops is not hip or modern. But it is charming, cosy and completely secluded. So if you're after somewhere peaceful and quiet, it's a perfect place to stay.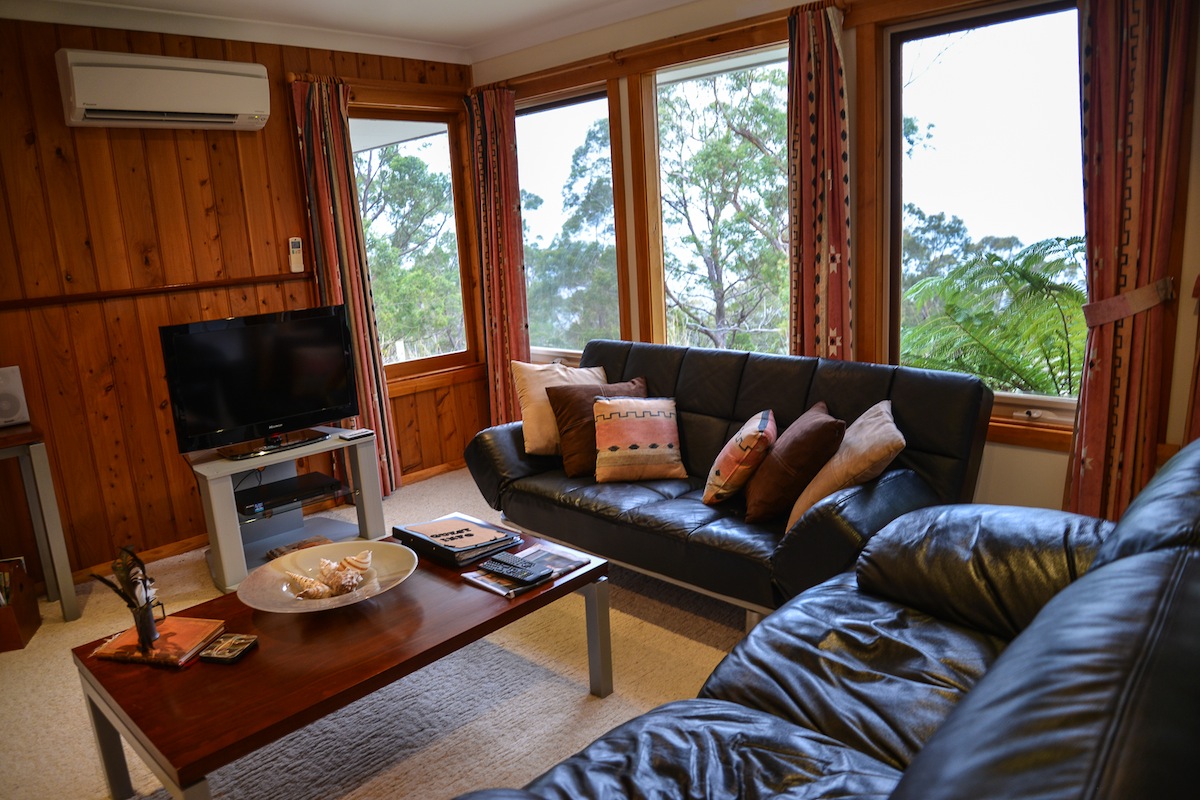 Outside a verandah is the perfect spot to read and enjoy a cup of tea. Someone here is a keen gardener and an extraordinary number of succulents have been grown in old pots, tins and even shoes.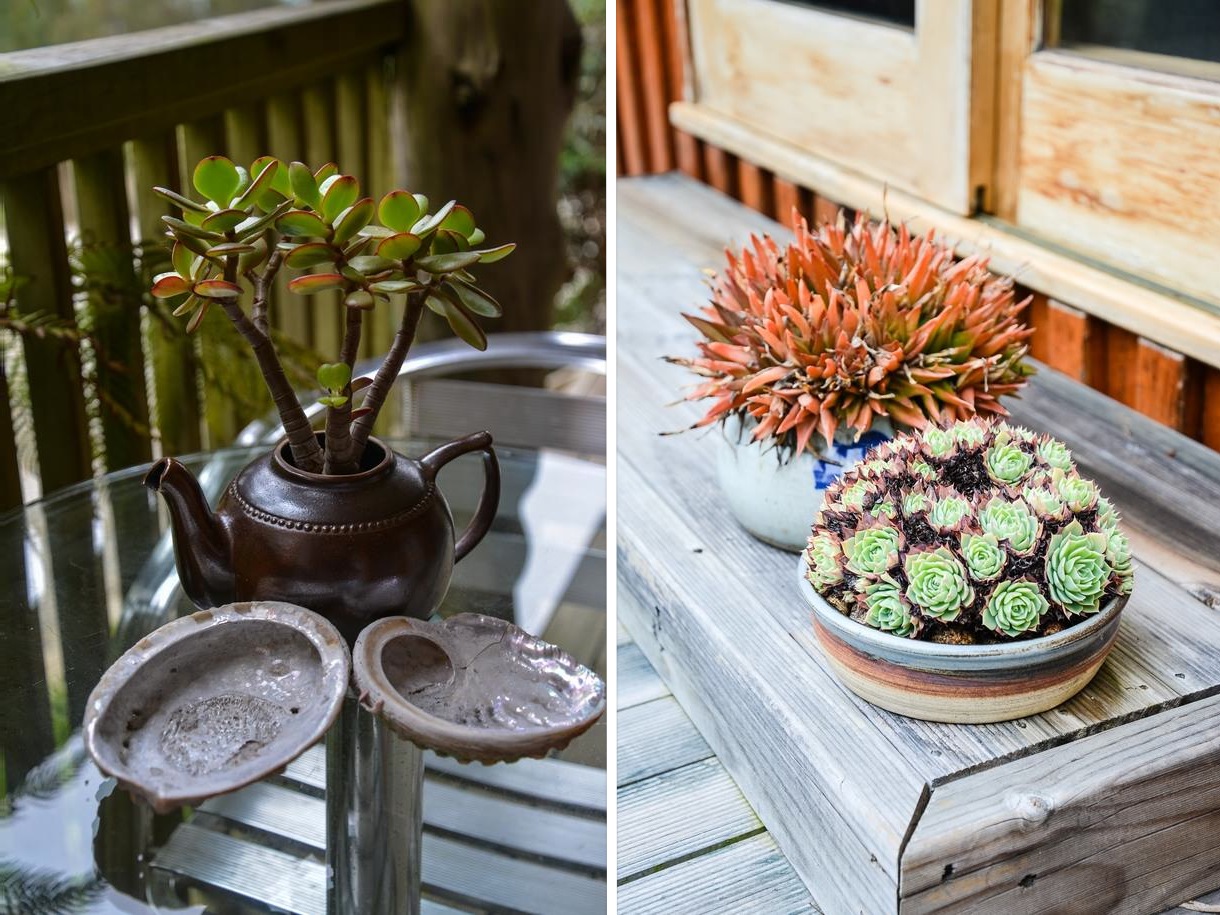 If you're thinking about bringing kids here please note that teenagers are welcome but under 12s are not allowed. Given the location and setup I'd have to agree that it's not the most suitable accommodation for little ones.
Bed in the Treetops offers free wifi and free DVDs are also available at reception to borrow.
After freshening up and checking my email, it's time to head out to dinner.   
Blue Shed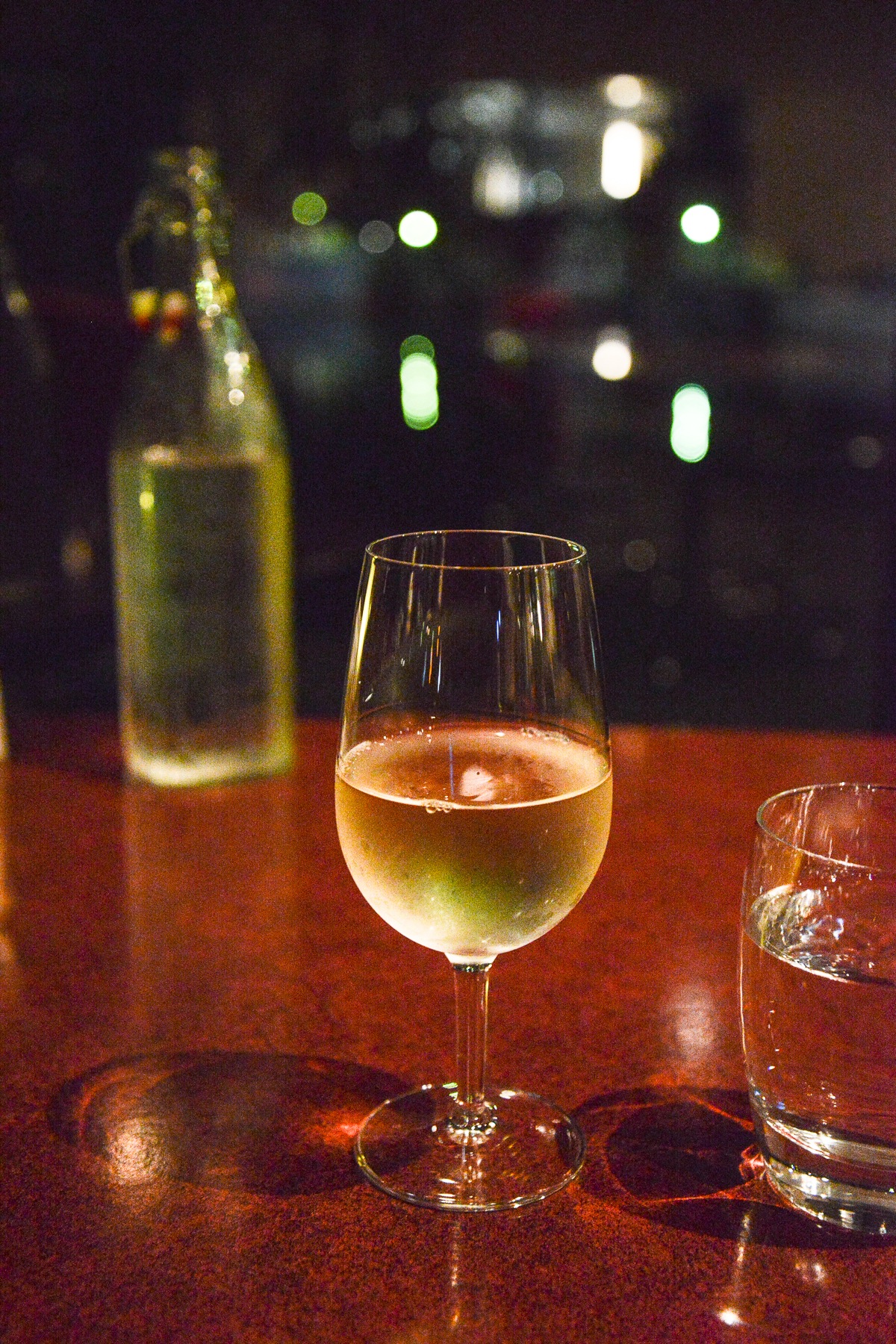 Night has completely fallen by the time I reach Blue Shed. 
Situated on the edge of the marina, Blue Shed resembles an 80s style bistro. The room is dimly lit, the furniture is functional and solid and the tables are bare of any linen.  The view during the daytime, however, would be tremendous. Through the floor to ceiling windows I can just make out boats neatly moored and bobbing gently up and down on the water.
Tonight  the restaurant is only a third full however it is a Wednesday in winter so this isn't altogether surprising.
The very nice hostess, Irena shows me to my table and I have a look through the seafood-heavy menu. Prices are in line with a good restaurant in a major city — entrees are around $18 while mains are $33-38 — which surprises me a little considering the rather basic decor.
I order a Bay of Fires Pinot Grigio and it hits the spot nicely.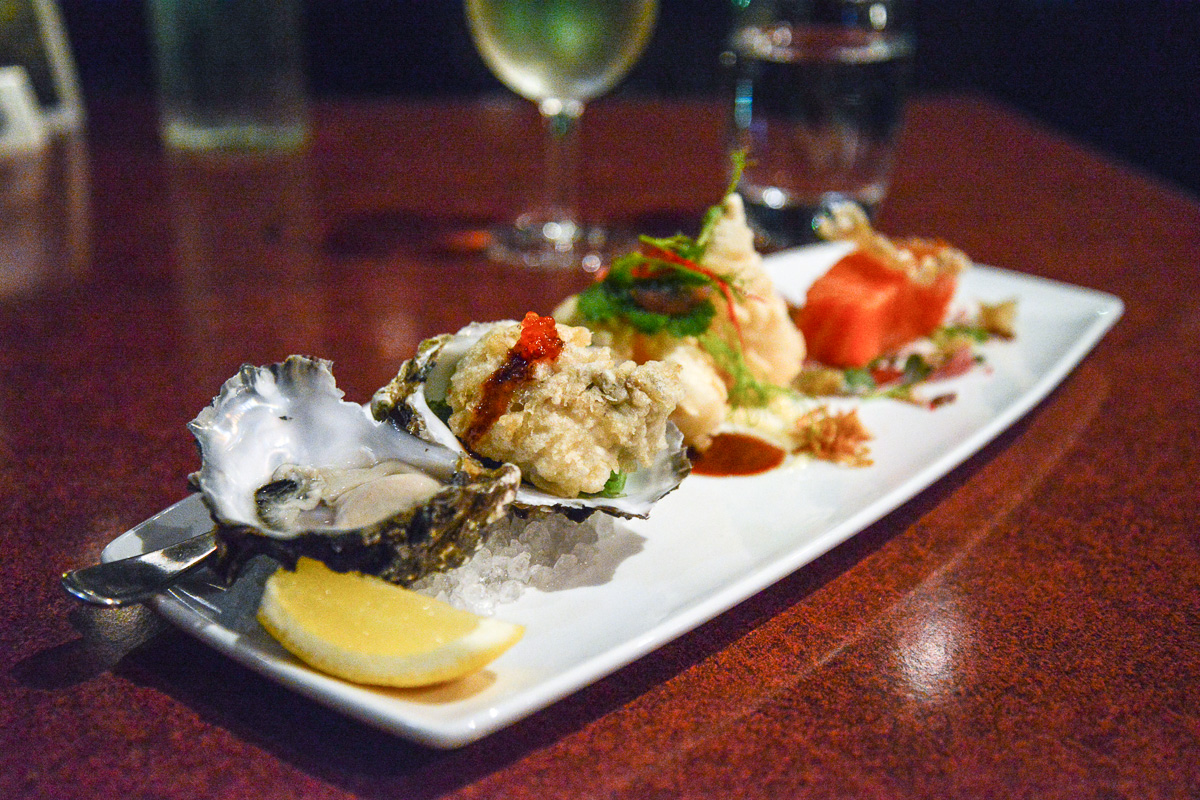 After discussing the menu with Irena she suggests a mixed entree plate to start.
From left to right we have a freshly shucked Georges Bay natural  oyster, a Tempura oyster on a bed of wakame (seaweed), Blue Shed's signature Bass Strait squid and Macquarie Harbour Salmon.
Like all the Tassie oysters I've enjoyed on my trip, the natural oyster ($17.90 for a half dozen; $35.80 for a dozen) is magnificent. I could eat a dozen every day. The Tempura oyster on wakame  ($18.90 for a half dozen; $37.80 for a dozen) is crisp and crunchy on the outside and deliciously soft inside and topped with trout 'pearls' that add a burst of salty flavour.
Irenas has told me how everybody loves the squid so I have high expectations. The rice flour batter provides a crisp and crunchy shell for the tender squid within but I find the chilli spice salt way too subtle for my chilli-loving tastebuds. It's only when I eat the squid with the coriander, chilli and fried shallot garnish that the dish comes alive for me. Now I can see what all the fuss is about! Perhaps it's the small serving size as part of a tasting plate that's the problem here – served in a regular portion ($17.90) with the usual amount of  herbs and garnishes this dish is probably be just fine.
The final dish — Macquarie Harbour  Salmon ($17.90 for a usual serve) — consists of beetroot cured Tasmanian salmon with black olive 'paint', mild pickled Spanish onion and spectacular crispy fried salmon skin. It's extremely good. 
For my main I've chosen the Hook Caught Blue Eye ($32.90).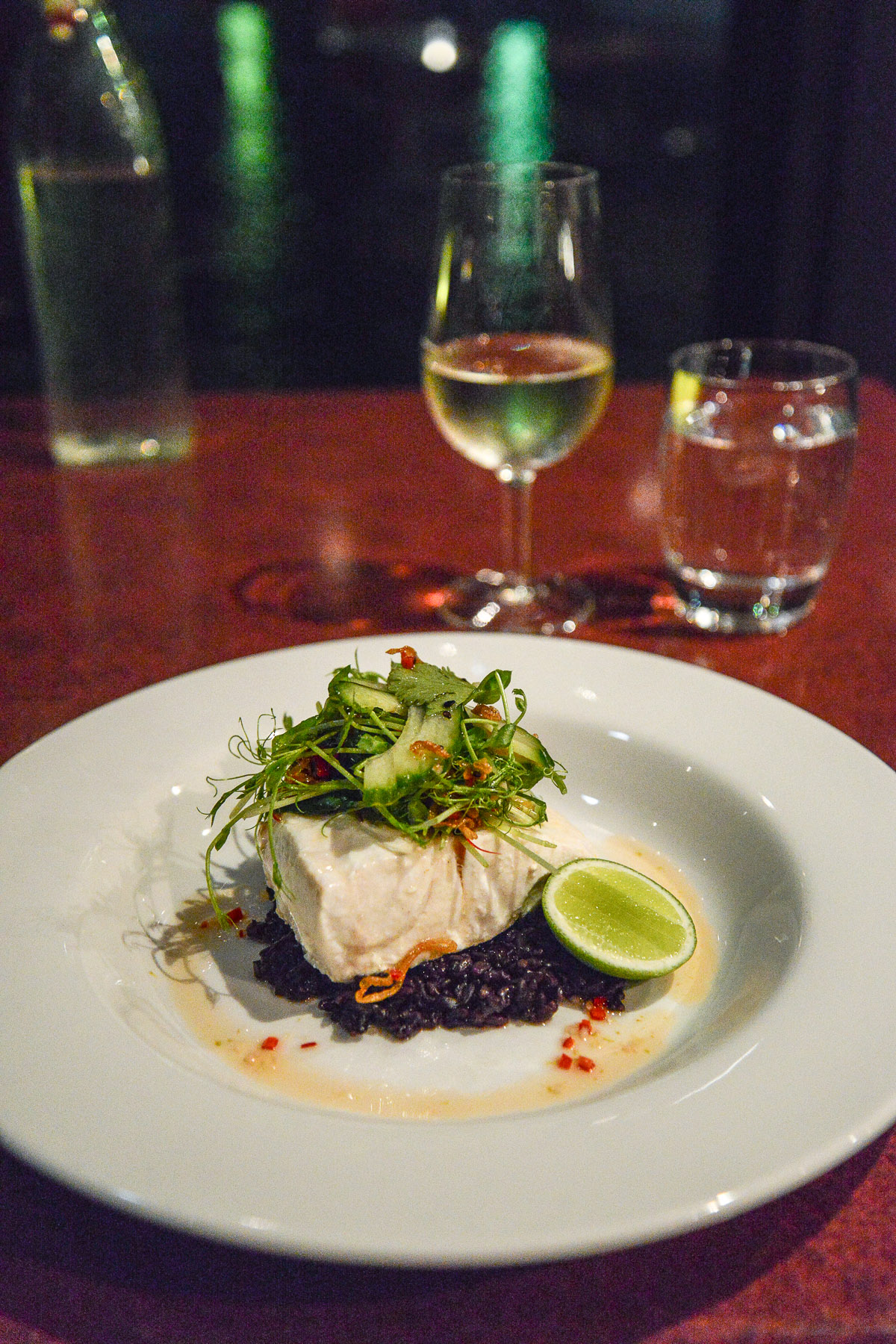 On a bed of black rice perches a sizeable portion of the freshest Blue Eye I've eaten in a while. The salad of cucumber, mint and pea tendrils is dressed with a Thai style dressing of palm sugar, chilli and rice wine vinegar, which goes beautifully with the butter and lemon poached fish. Top marks.
After dinner I chat with Irena and Rod, the couple behind Blue Shed. Rod has a wealth of experience in the seafood industry and also runs the seafood shop next door. Hence, the emphasis on top quality seafood at Blue Shed.
Unprompted, Irena explains that they used to dress the dining tables with table cloths and napkins but the locals thought it was too fancy so they did away with all of that. It just goes to show that you should never make assumptions, doesn't it?
Right now it's the low season so dinner bookings are down. During the high season — December to late March  — they turn away 50-100 people each night. So if you're visiting then please do book ahead. Don't be like the group of people who turned up two nights in a row without booking, couldn't be accommodated and then wrote an angry blog post. Book ahead to avoid disappointment. Yes, Blue Shed is a little pricey but top quality seafood isn't cheap. And if you love seafood you'll find a lot to like here.
The next morning I wake up early and head to Pyengana. Along the way I stop at the beach. Beautiful, isn't it?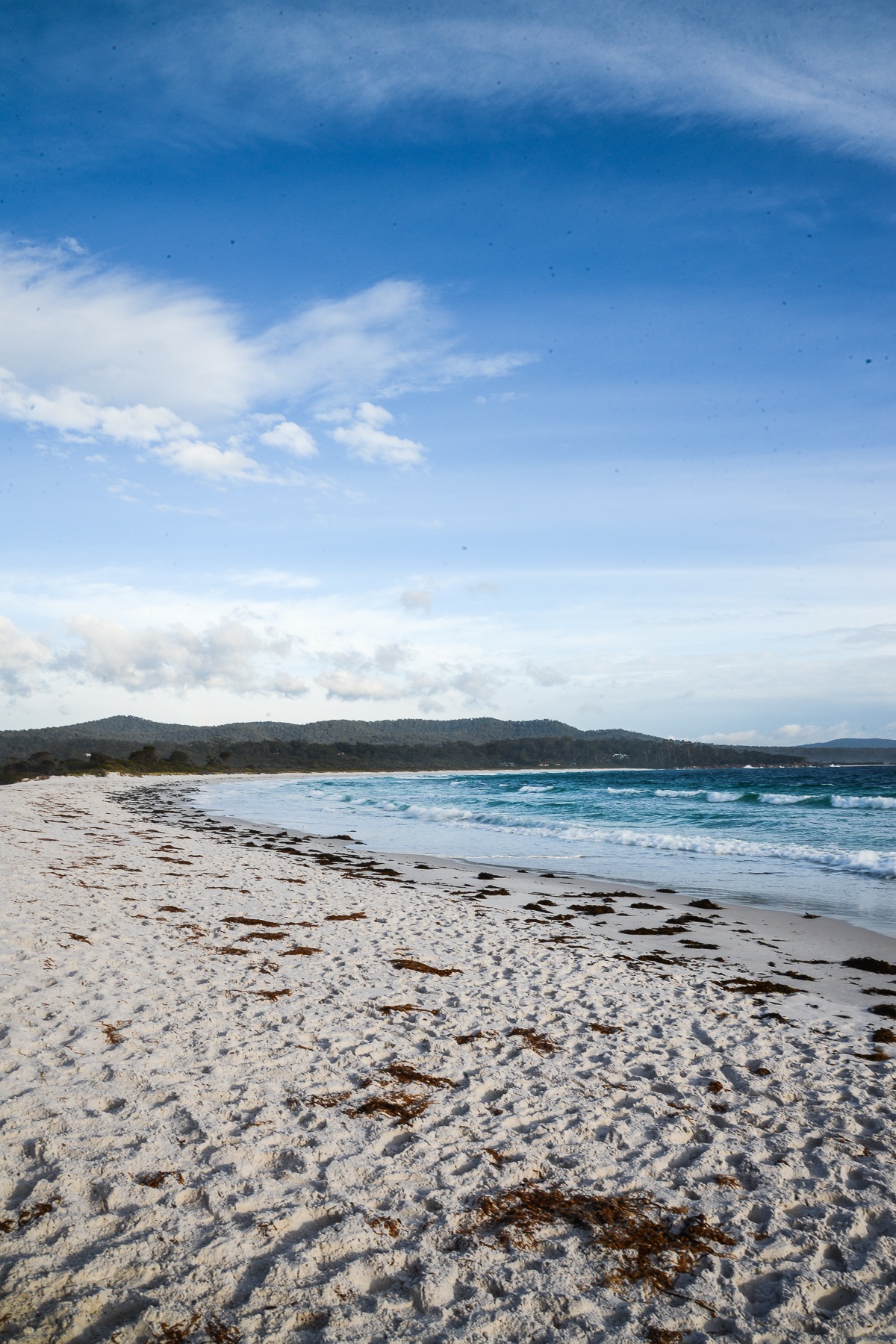 Pyengana Dairy Company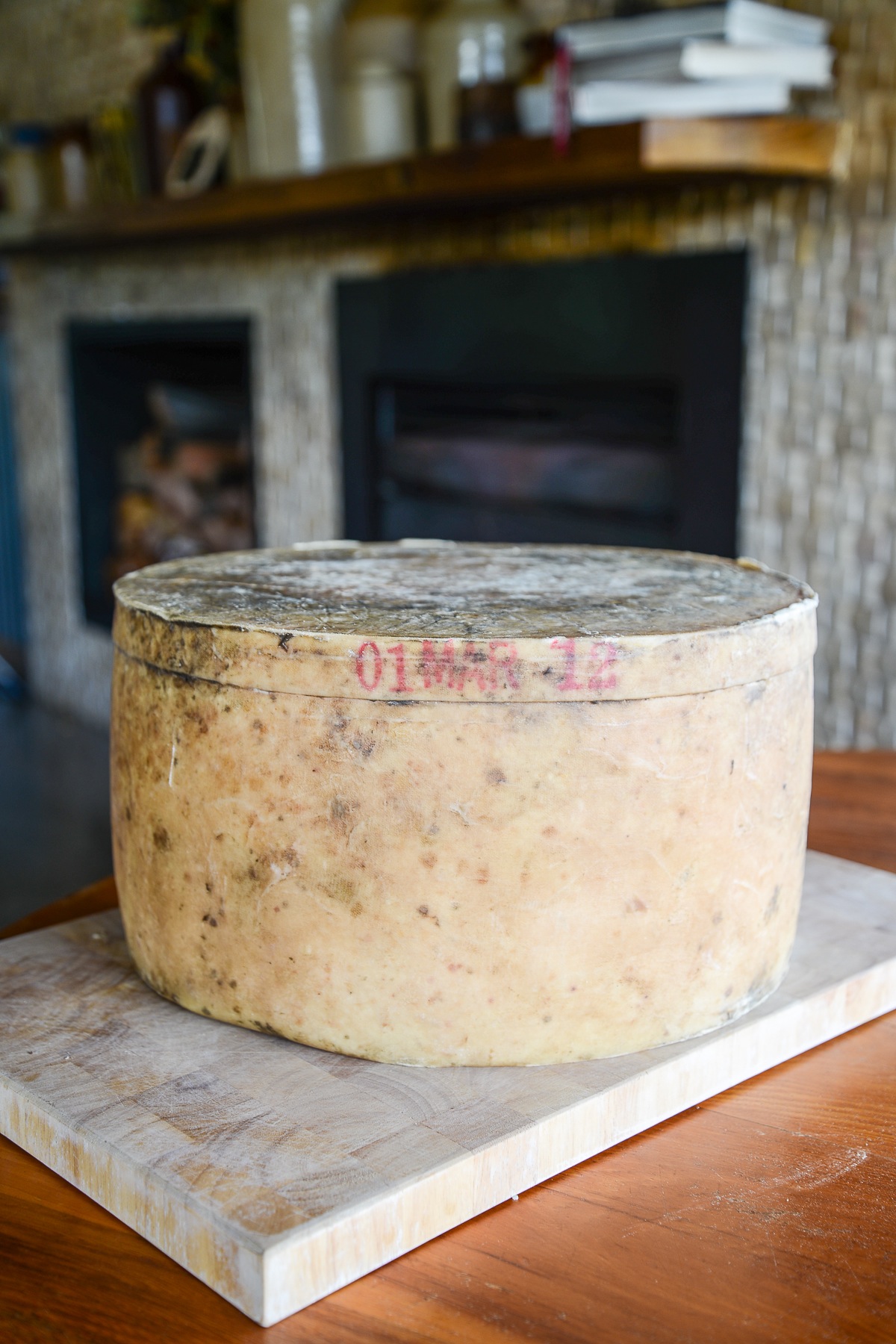 Pyengana Dairy Company (PDC) is found at the end of a road that twists through idyllic paddocks full of contented cows. I arrive at the shop and fully–licensed cafe around 9am. Right now the only people around are staff but during the day this place gets really busy.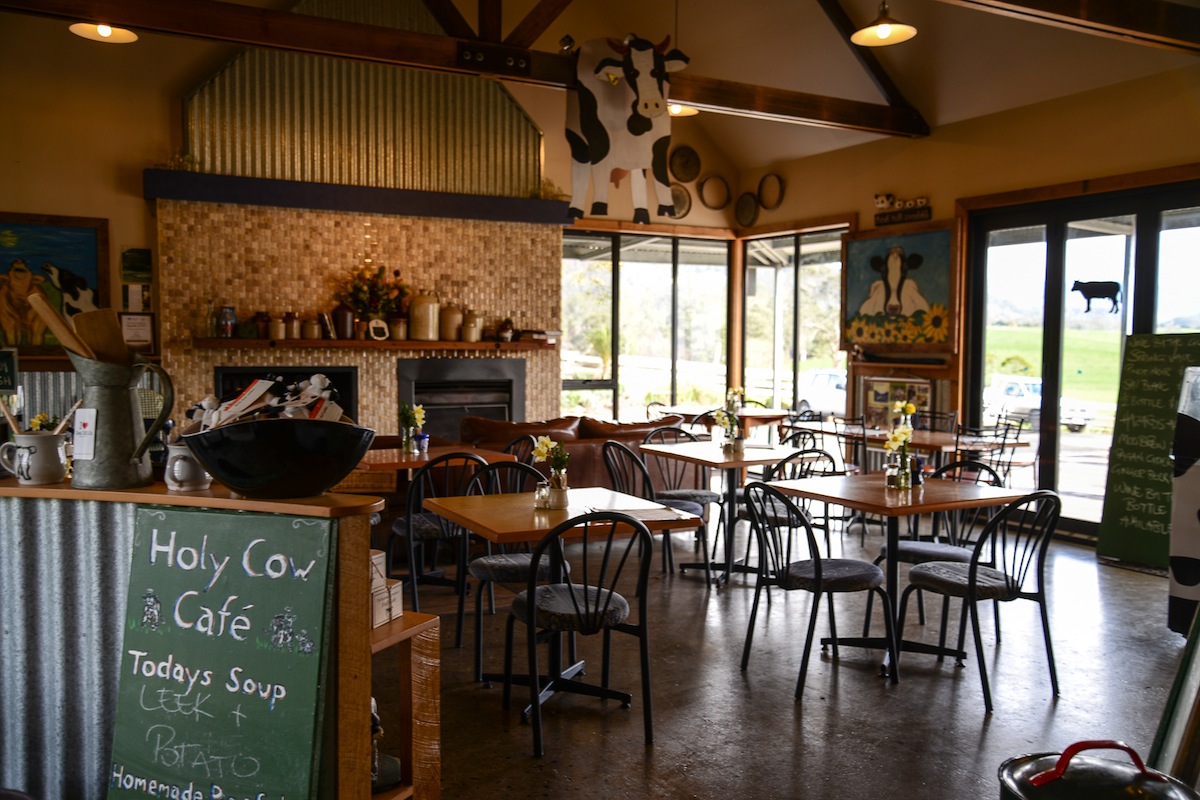 I meet Greg Gibson, the general manager, who explains that PDC is a fourth generation, family-owned and operated company. Unlike most cheese companies, PDC only use their only milk to produce their cheese, thus maintaining 100% control over quality and consistency.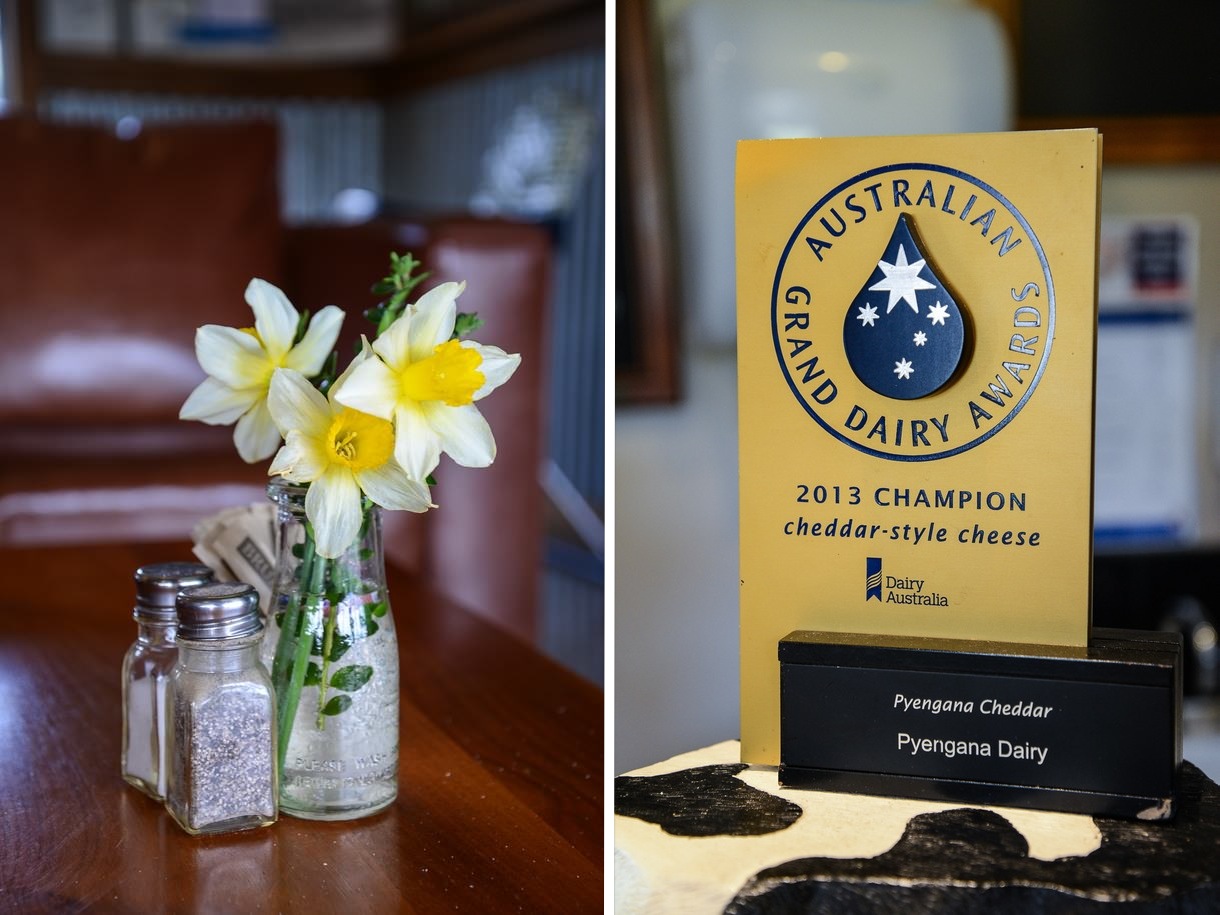 We wander outside to check out the cows. Look at this place. Imagine this being the view outside of your office window.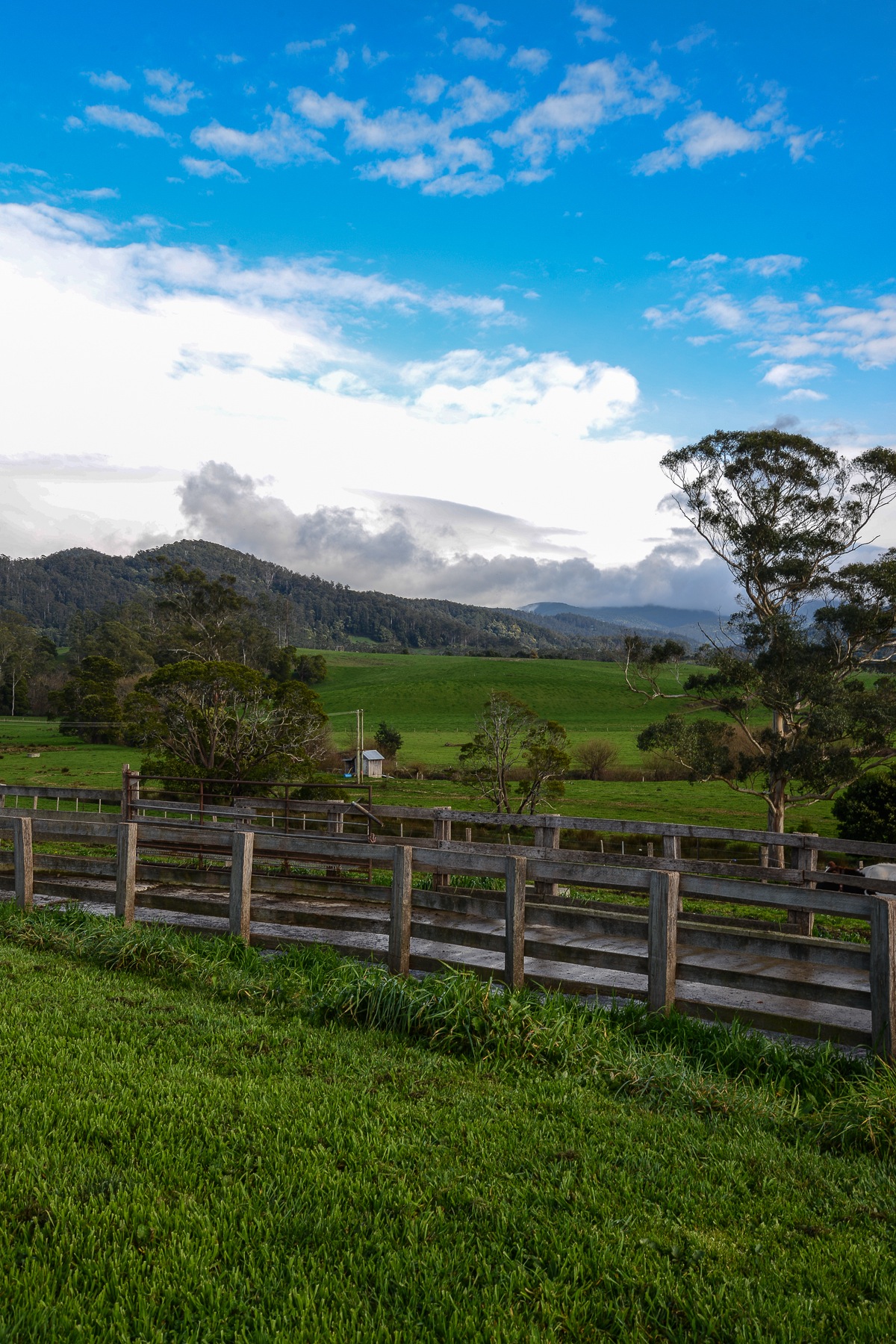 Greg introduces me to John Healey, whose great grandfather founded the company.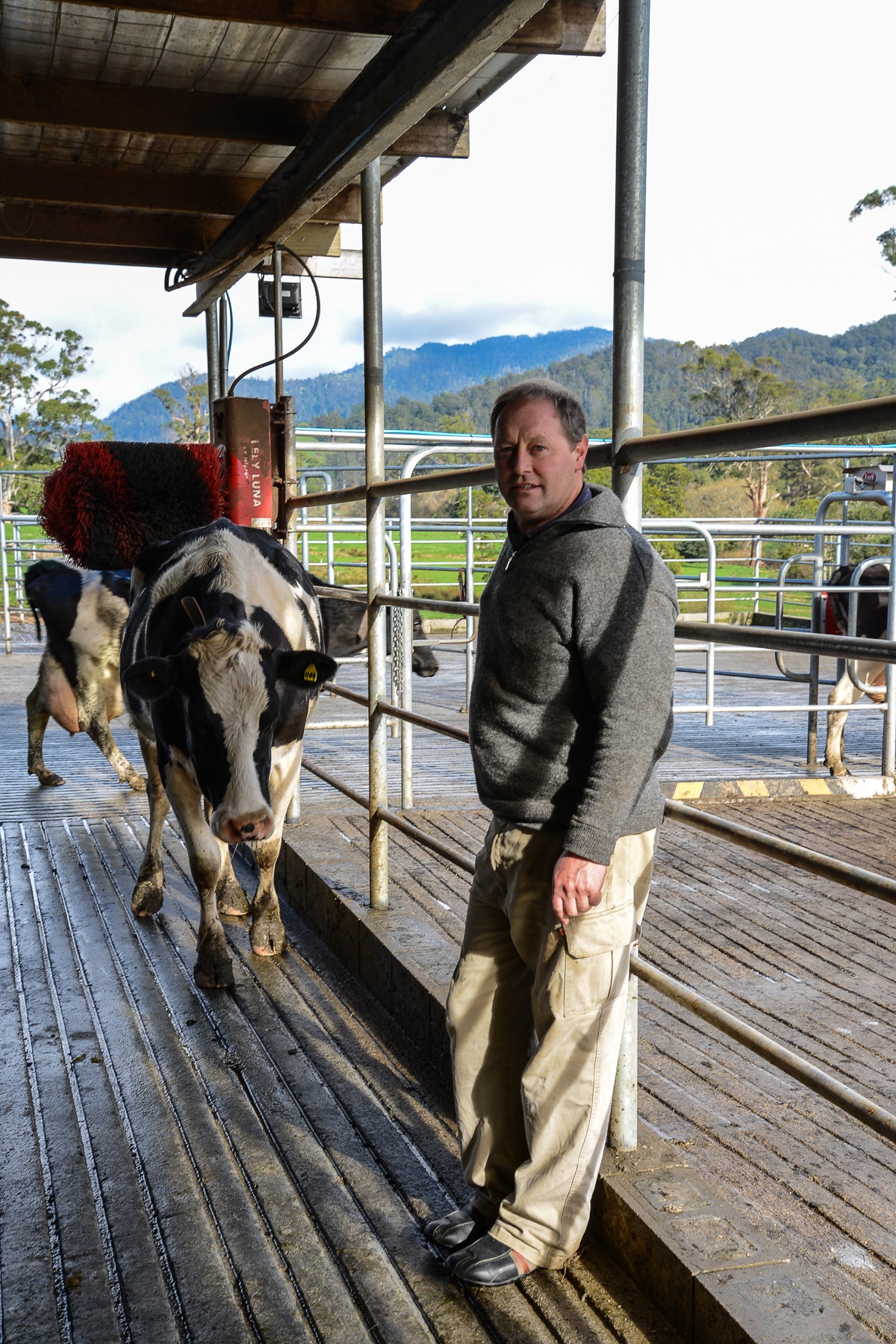 The Healey family have been producing cheddar in the region for over 100 years but it was John who started the company in 1992 as a way to value-add to his family's dairy farm.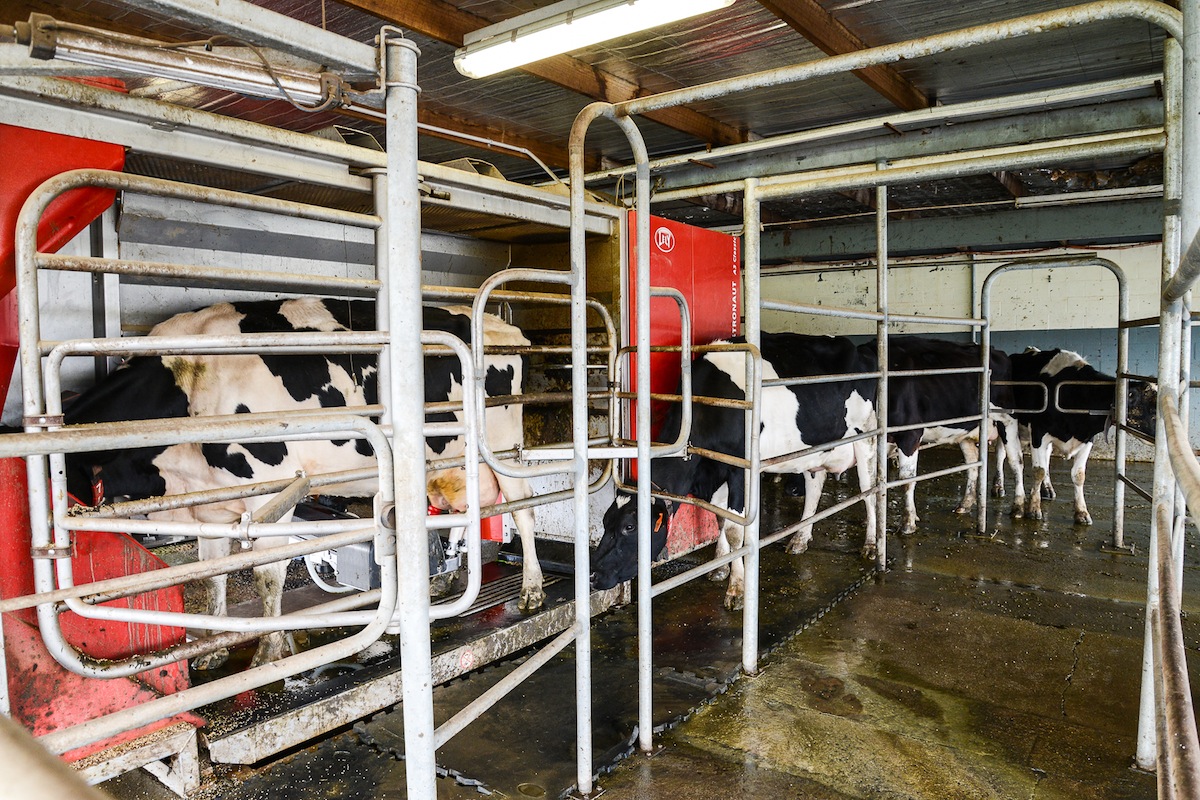 Numerous awards followed and nowadays the company sells twelve varieties of cheeses,  full–cream and low fat non–homogenised milk, and hand–made ice cream.
Back inside, it's time to taste some cheese. Check out this magnificent wheel of vintage cheddar. Phwoar!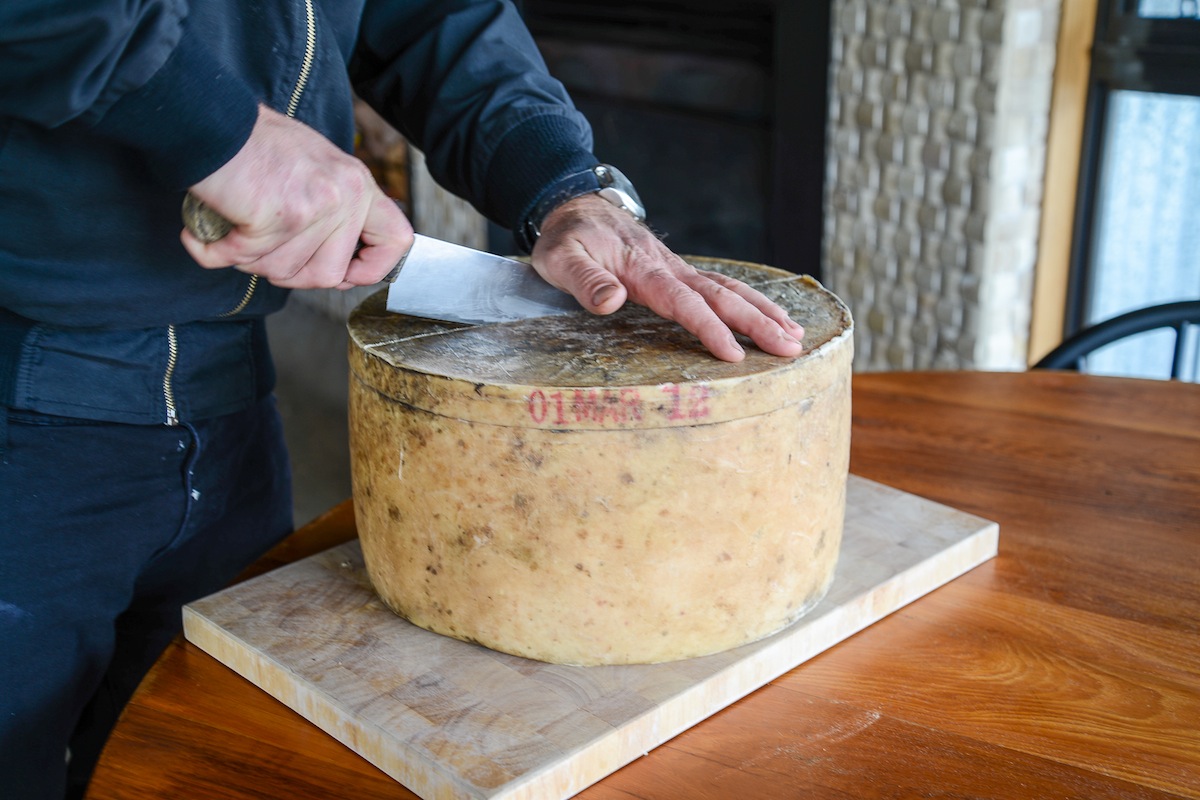 I taste a number of different cheddars and am struck by how differently they all taste. The young cheddars are mild in taste and smooth and creamy in texture. The older the cheese, the more pronounced the flavours and the more crumbly the texture. Youngish cheddars are perfect for potato bakes, lasagnes and sprinkling over mornays while I'd save the vintage cheddars for sandwiches and cheese plates.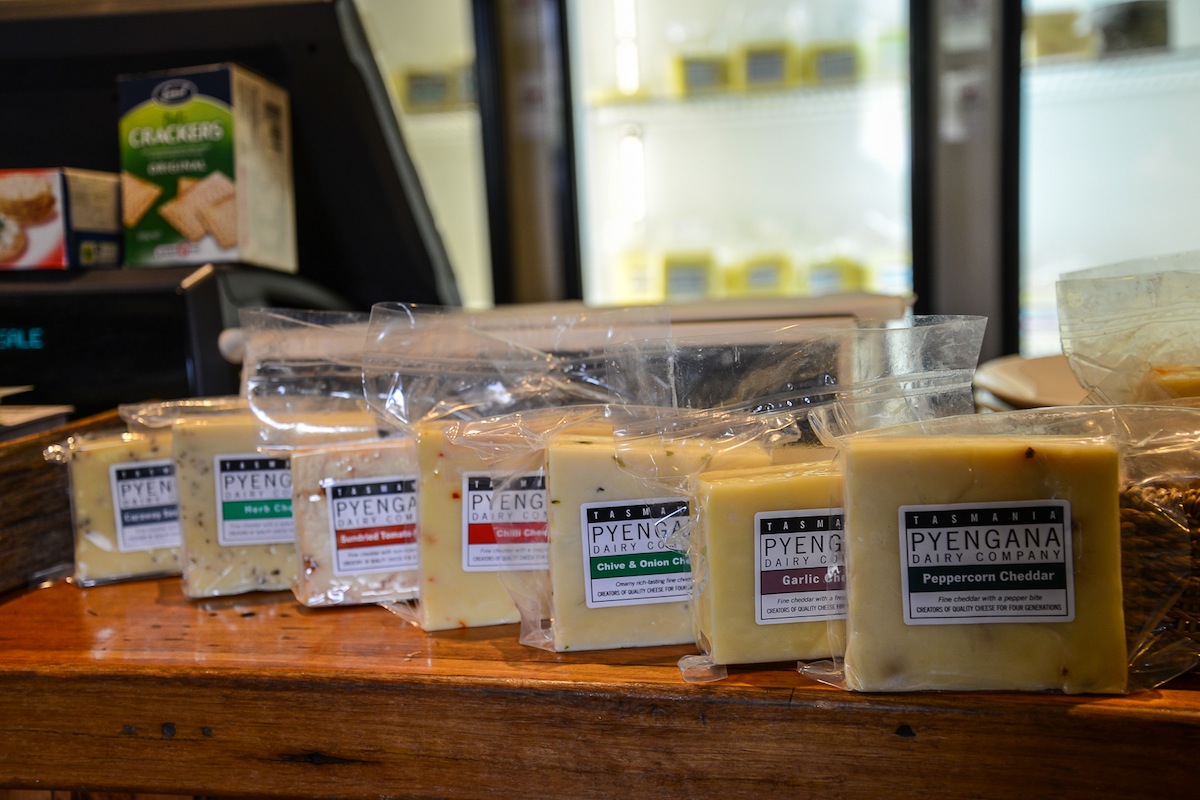 If you love cheese, Pyengana Dairy Farm is well worth a visit. The shop also sells a number of their cheddars that you won't find anywhere else.
It's time to stock up on coffee and hop back into the car – I have a two-hour drive ahead of me to Launceston.
Blue Cafe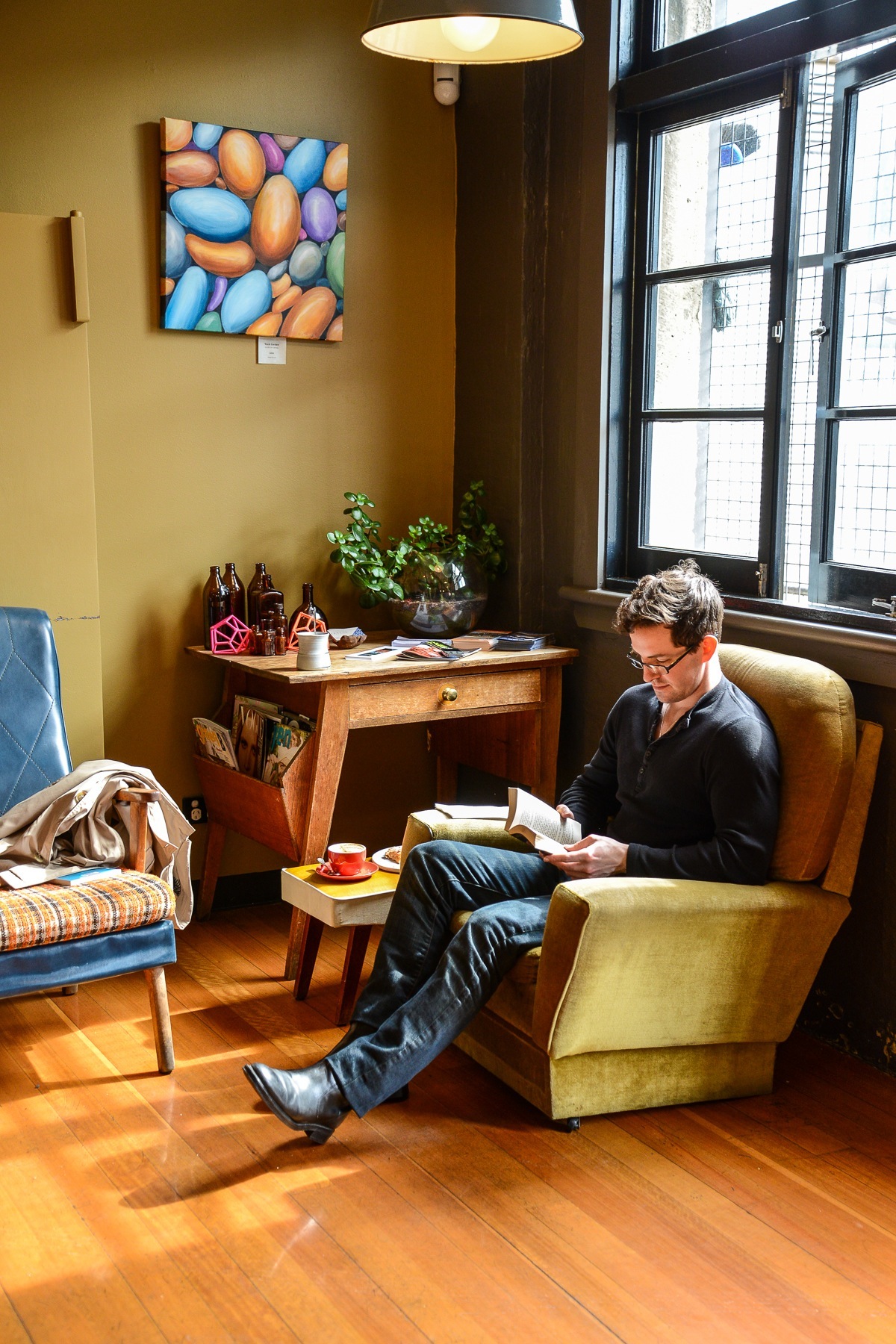 My first stop in Launceston is Blue Cafe. Situated next door to the Queen Victoria Museum and Art Gallery and UTAS Academy of Arts, the cafe is bustling with activity – nearly every indoor table is taken.
A converted tram pay station, the feel at Blue Cafe is stylish but relaxed – there's lots of natural wood and stone as well as fantastic eye-candy like this geometric neon installation.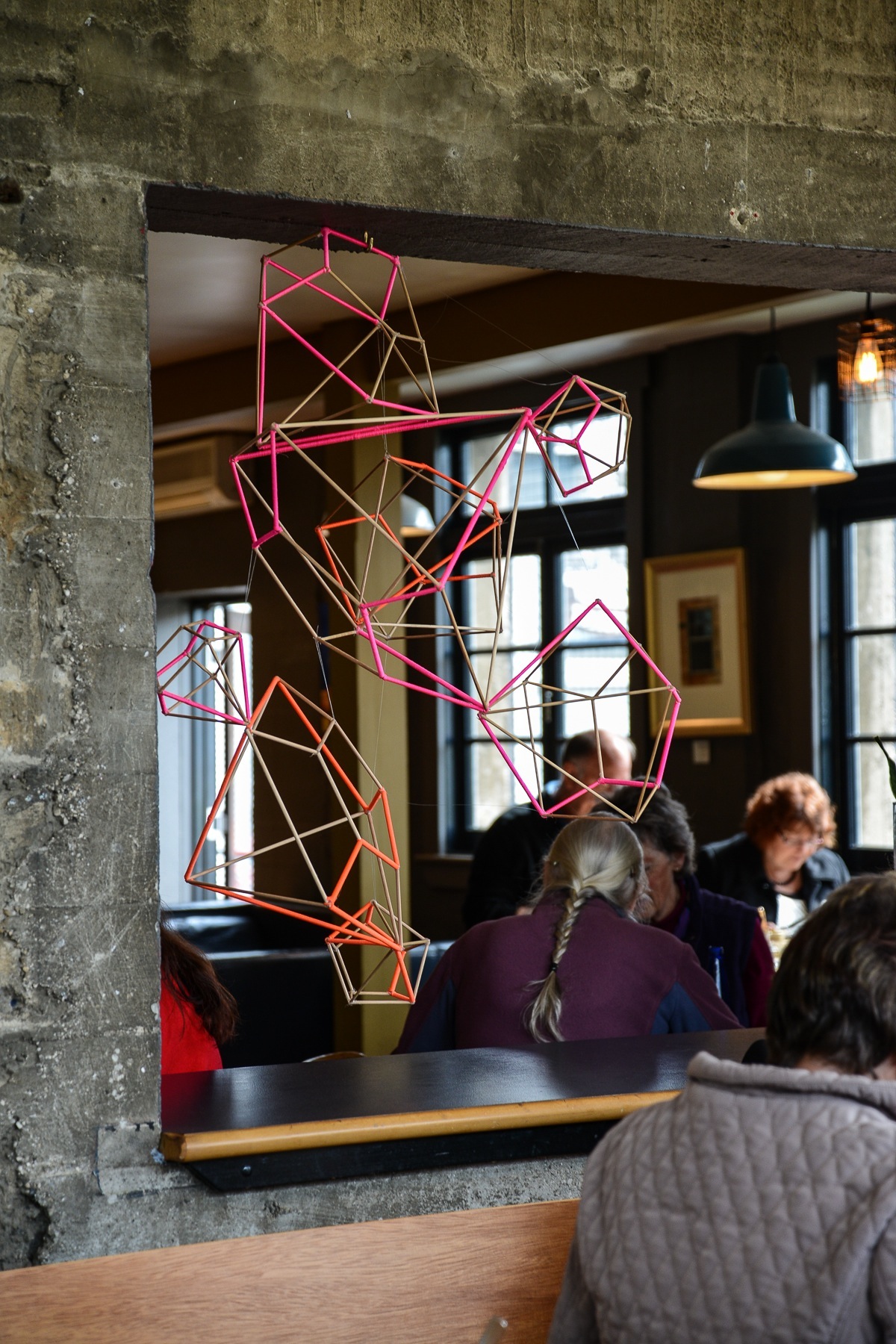 Outside I find a table in the sun next to a group of eight old friends.
Scanning the menu — and conscious that I will be visiting two more restaurants after this one —  I decide to order the duck salad. As I'm waiting for my food the table next to me is served and all eight of them are given identical plates of the duck salad! Bemused, I ask them if the duck salad is Blue's signature dish? Why have they all ordered it? Did it get a great write-up recently or something?
No, they cheerfully reply. They just all thought it sounded good so they all decided to order it.
Just then my duck salad arrives and everyone bursts out laughing.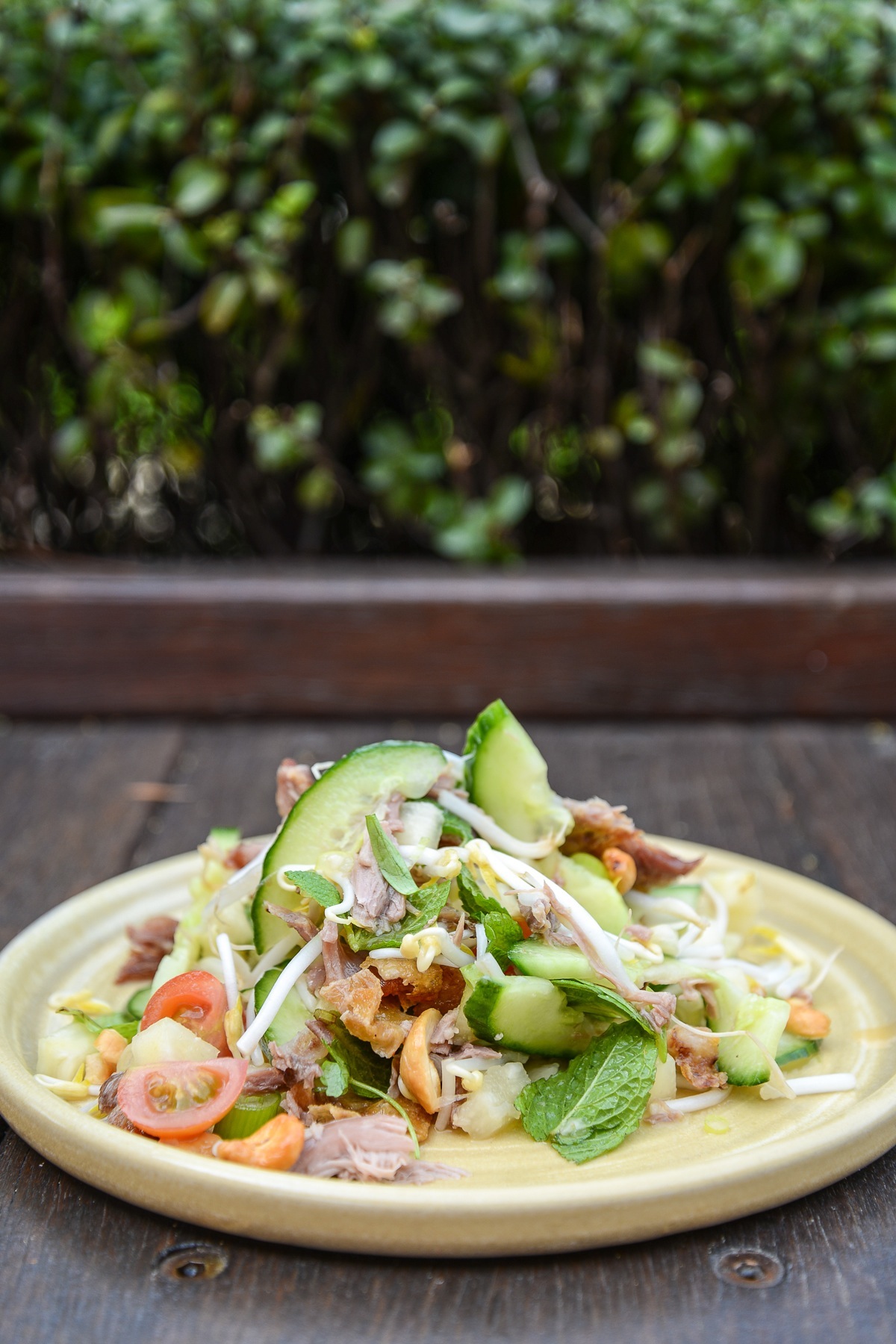 Blue Cafe's duck salad consists of shredded roasted duck tossed with cashews,  baby tomatoes, fresh pineapple,  bean sprouts, cucumber, mint, spring onions, and coriander and a mild rice wine vinegar dressing. It's pretty darn near perfect – for my tastebuds the only thing missing is some chilli and maybe some dried anchovies. But still, this is a fantastic dish.
Judging by the satisfied nods and happy noises coming from the table next to me, I'm not the only one who thinks so either.
Fresh on Charles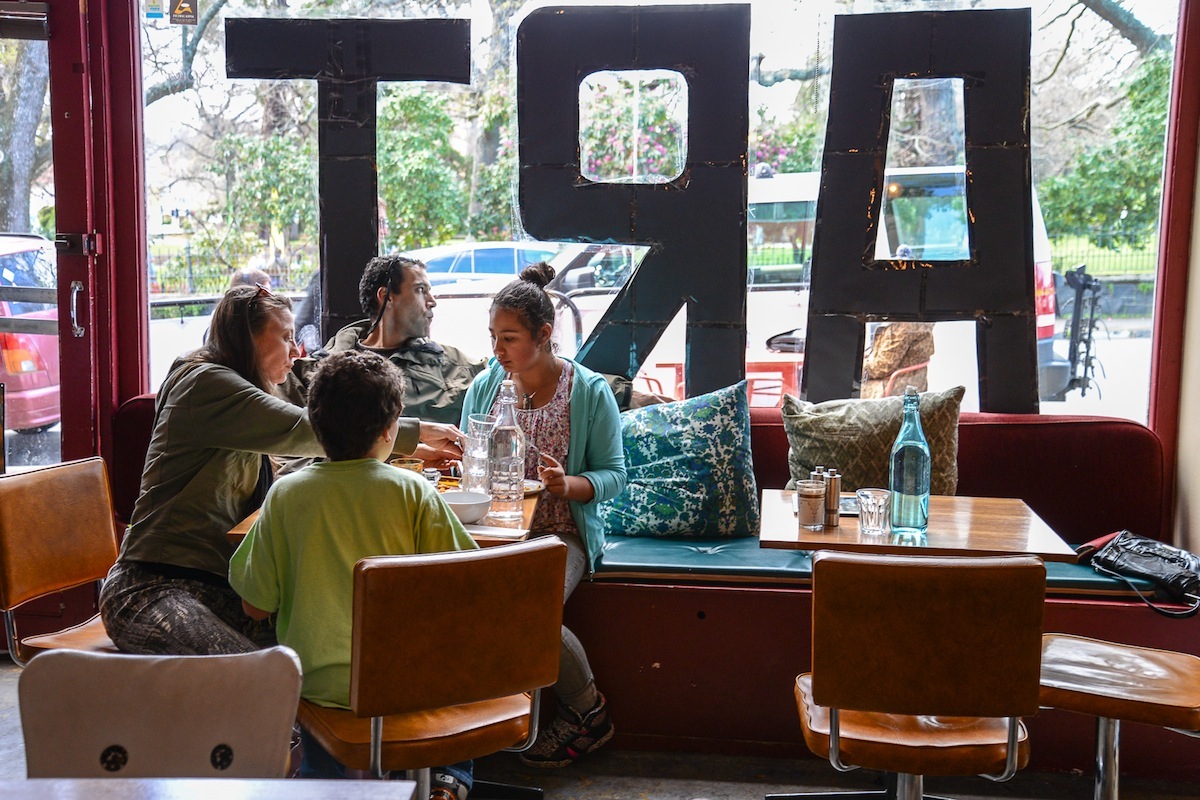 No matter how good the food is, ultimately my enjoyment of a meal is a sum of the total experience; the most incredible degustation can be a disaster if I'm on a bad date. Similarly a meal at a so-hot-right-now restaurant can be far from enchanting if the wait staff treat you like you're barely hip enough to be dining there.
Luckily, when I stroll into Fresh on Charles I'm immediately charmed. The fit out is retro, welcoming and unpretentious.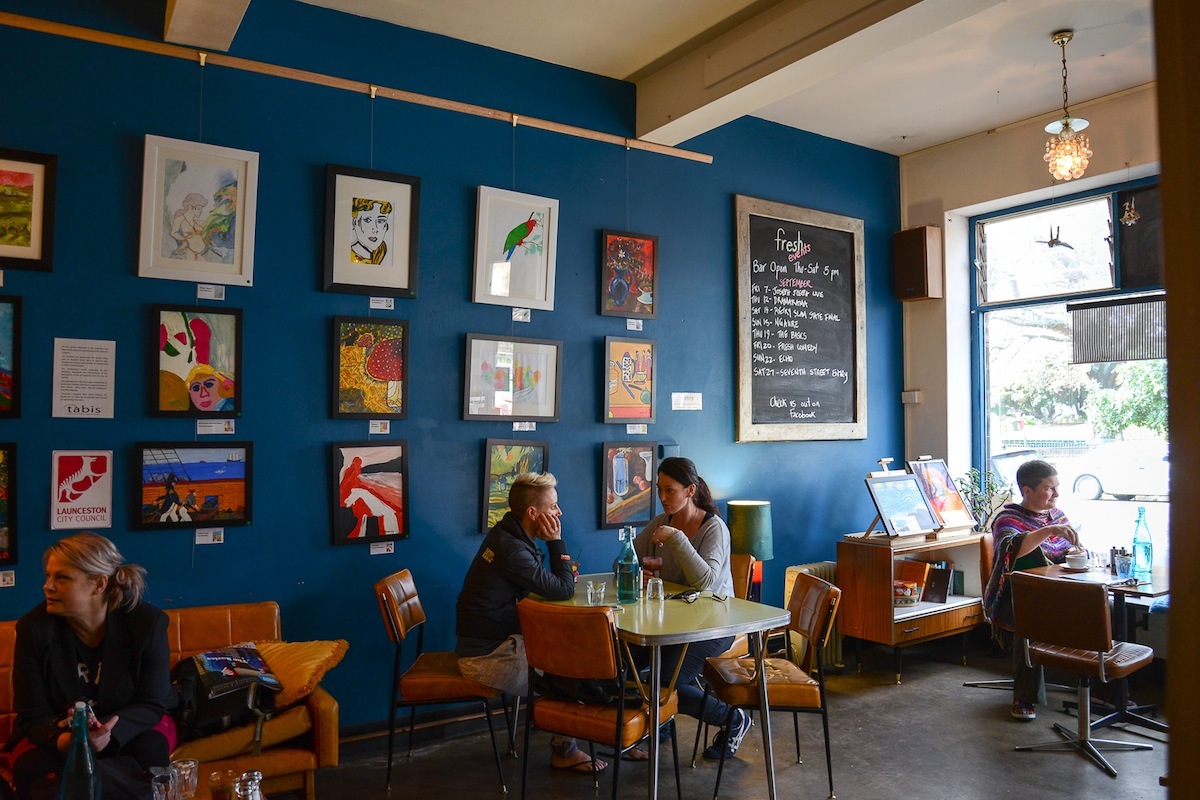 Art by local artists lines the walls and in the evenings, Fresh hosts all sorts of community arts events including live music, poetry slams, plays, and CD launches. Some are programmed by the Fresh staff while others are suggested by people within the community.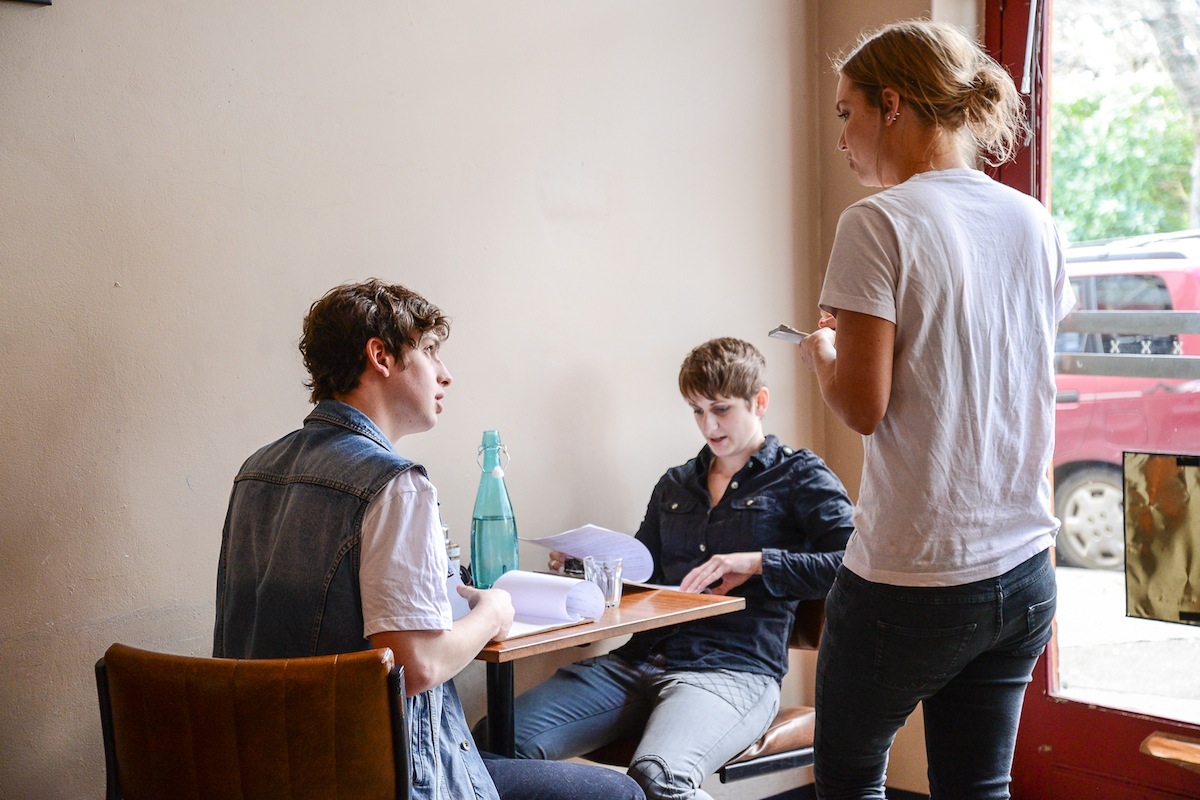 Fresh changed hands in July but Andrea, the original owner, is staying on for six months to ensure a smooth transition for new owner, Nina (below right).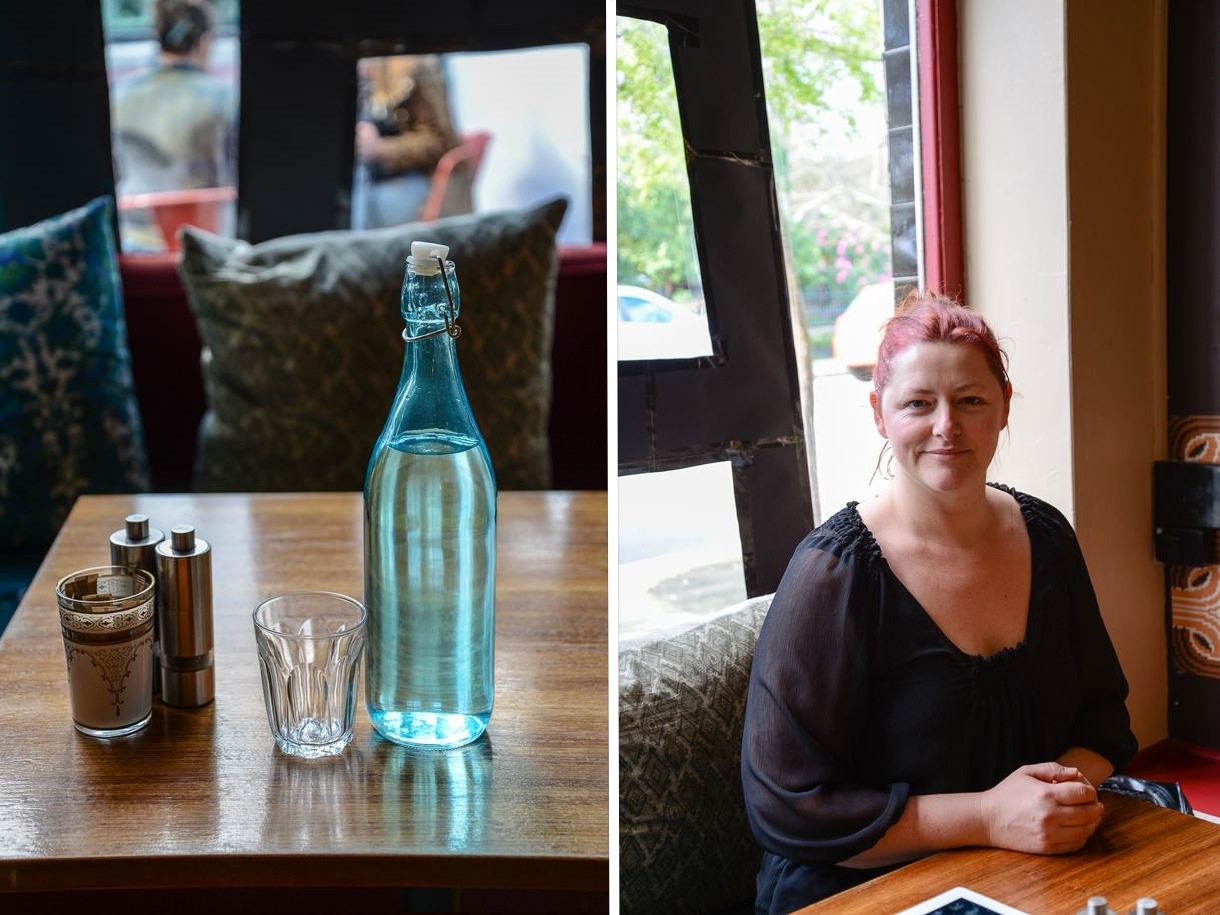 For Nina, buying Fresh on Charles is a labour of love.
"I really love the philosophy and community feel of this place. I want to make sure we continue that here."
This is my second lunch of the day so I scan the menu carefully. I'd love to try the shared mezze plate for 2 ($38) my neighbours are enjoying…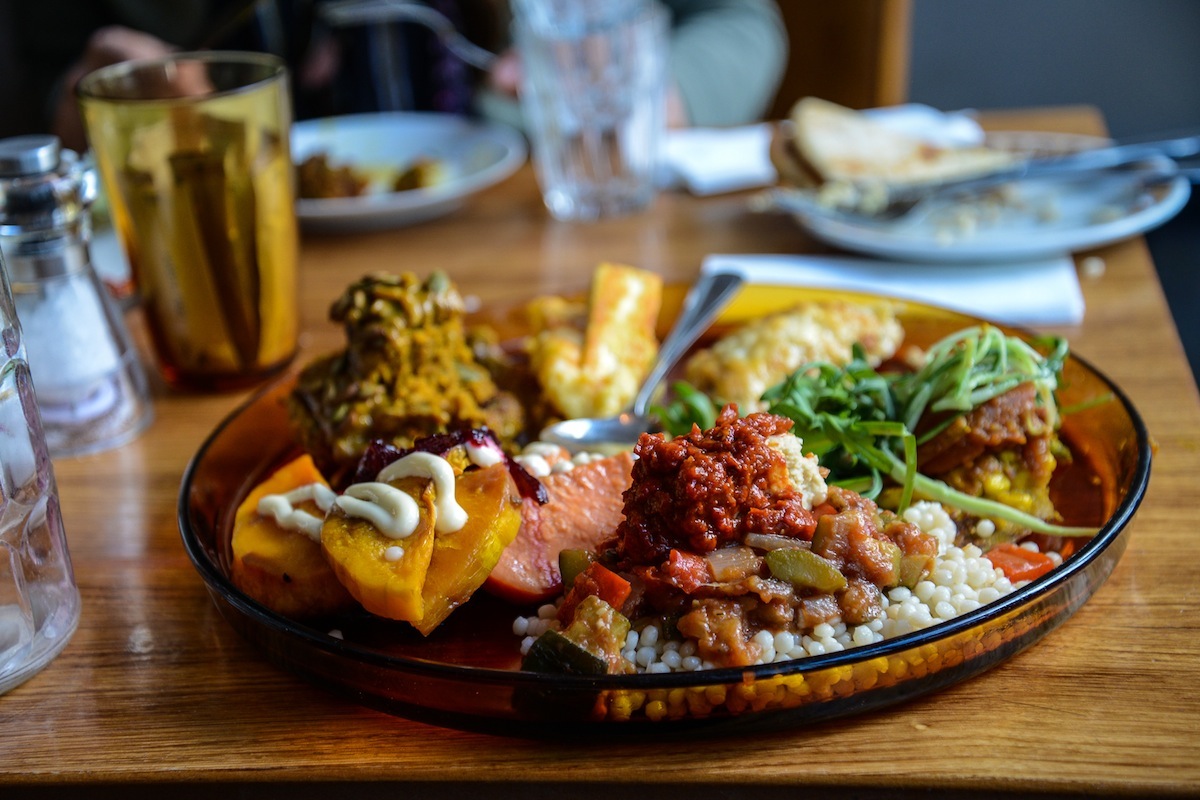 … but I know there's no way I'd be able to finish it. Instead I order the Pot-Sticker Dumplings ($20), which arrive after a short while.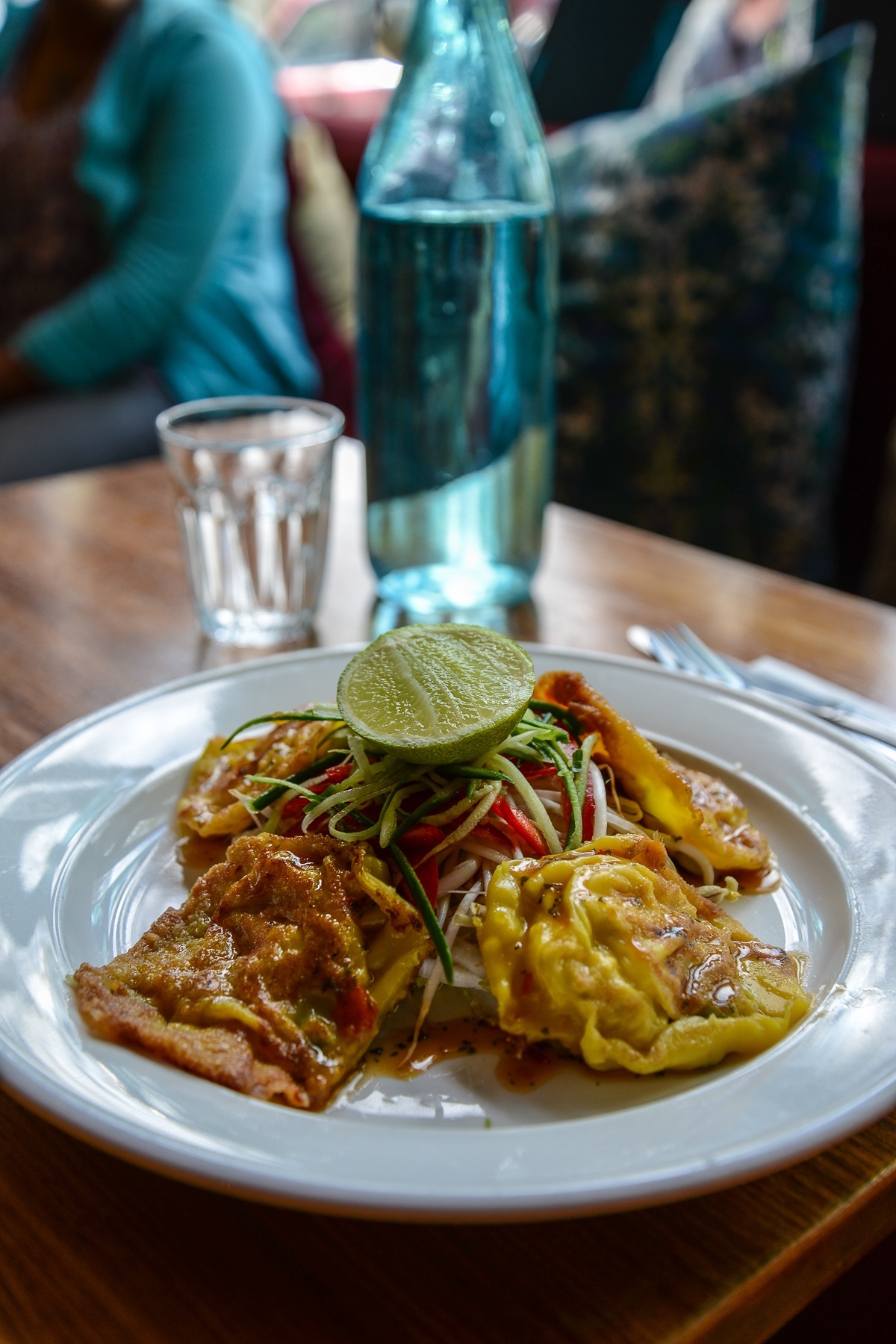 On a bed of shredded lettuce, cucumber and red capsicum and bean sprouts sit four tofu and ginger dumplings drizzled with a sweet chilli sauce. The dumplings are full of flavour and the fresh lime juice adds a lovely tang to this vegan dish.
Next time I visit Fresh I'm definitely coming with friends so I can try the shared platters.
Garden of Vegan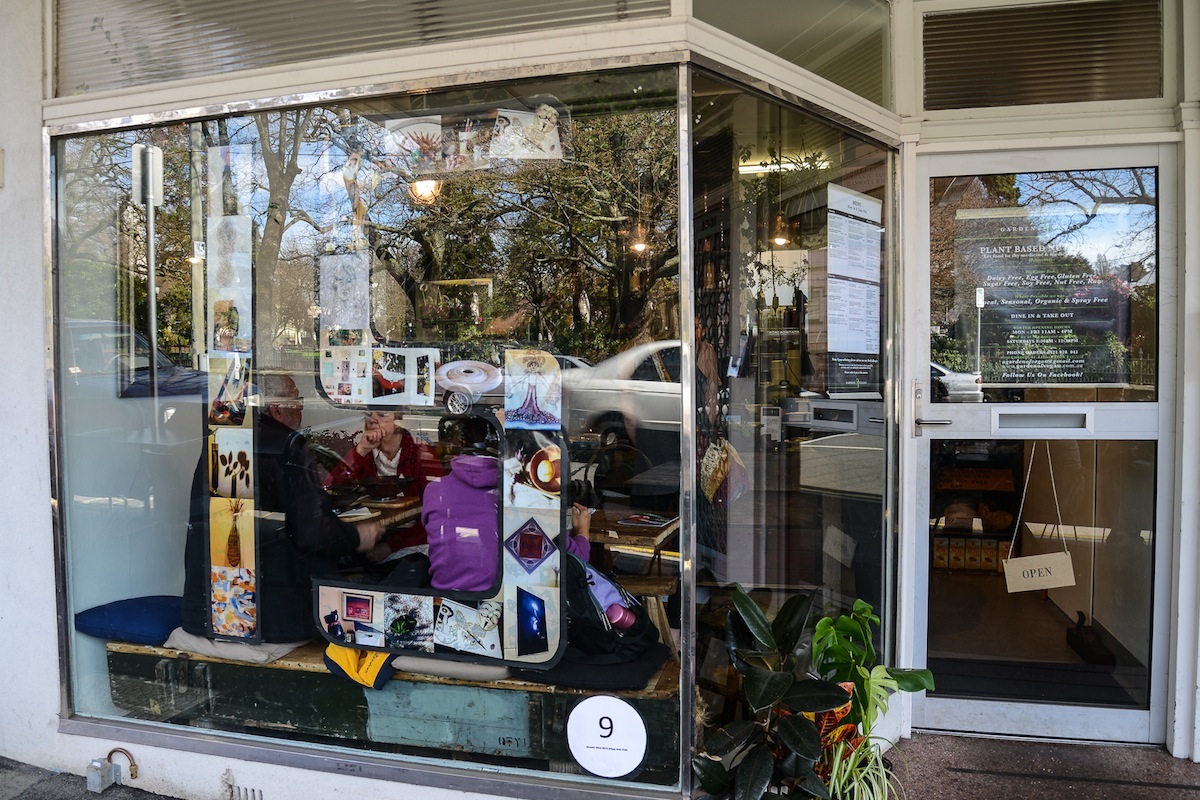 Whenever I am visiting somewhere new I always ask the locals where to eat. In this case, Nina from Fresh suggests that I check out Garden of Vegan, which is only three doors down from Fresh.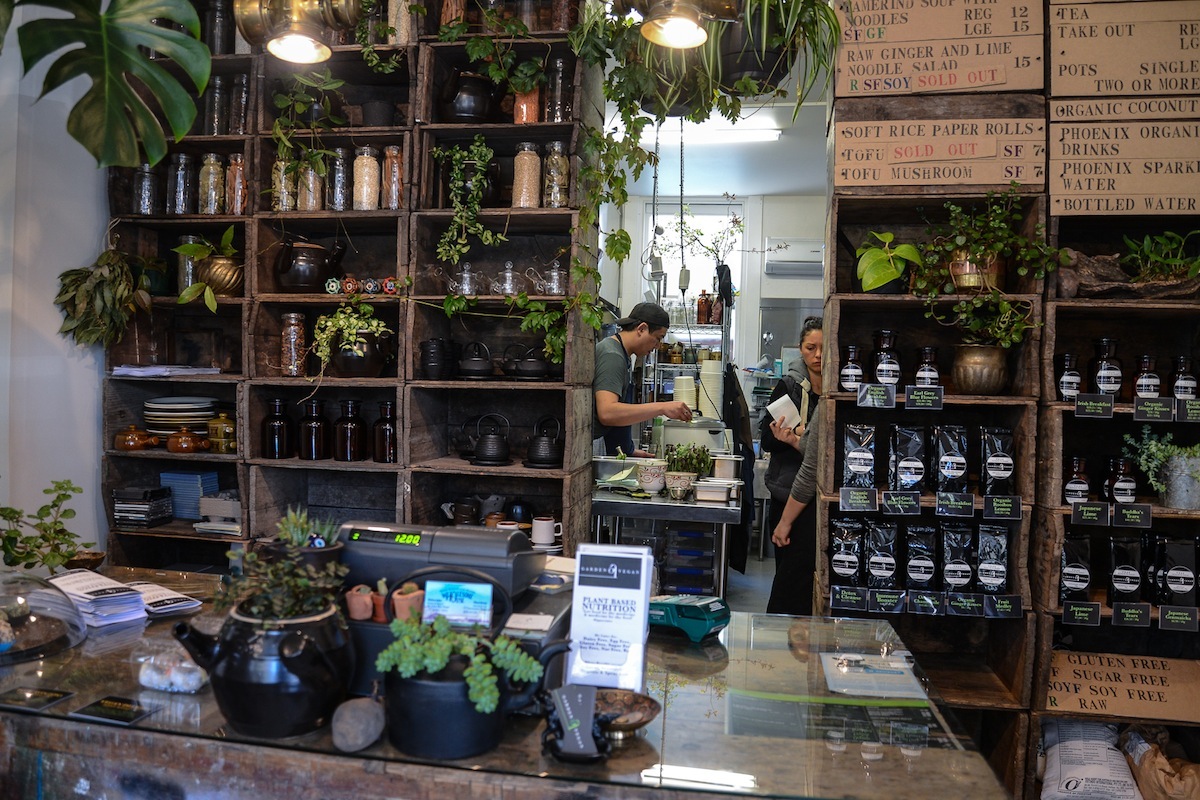 Inside the fit out is totally adorable. One of the owners, Catherine, was a graphic designer — note the stencilled cardboard menu boards — and she has sourced the most delightful array of boxes, pots, jars and plants.
After eating at both Fresh and Blue I'm not at all hungry but when I take a look at the menu, which features vegan versions of both Vietnames phở (beef noodle soup) and curry laksa I have to order something. How on earth do they mimic the flavour of the beef in the phở and the pungent shrimp paste in the laksa? I'm totally intrigued.
Unfortunately they only offer 3-4 different dishes each day and today (Thursday) both phở and laksa are not on the menu. So I order a tamarind and mushroom noodle soup ($15) instead and sit at one of the handful of outdoor tables to enjoy the sunshine.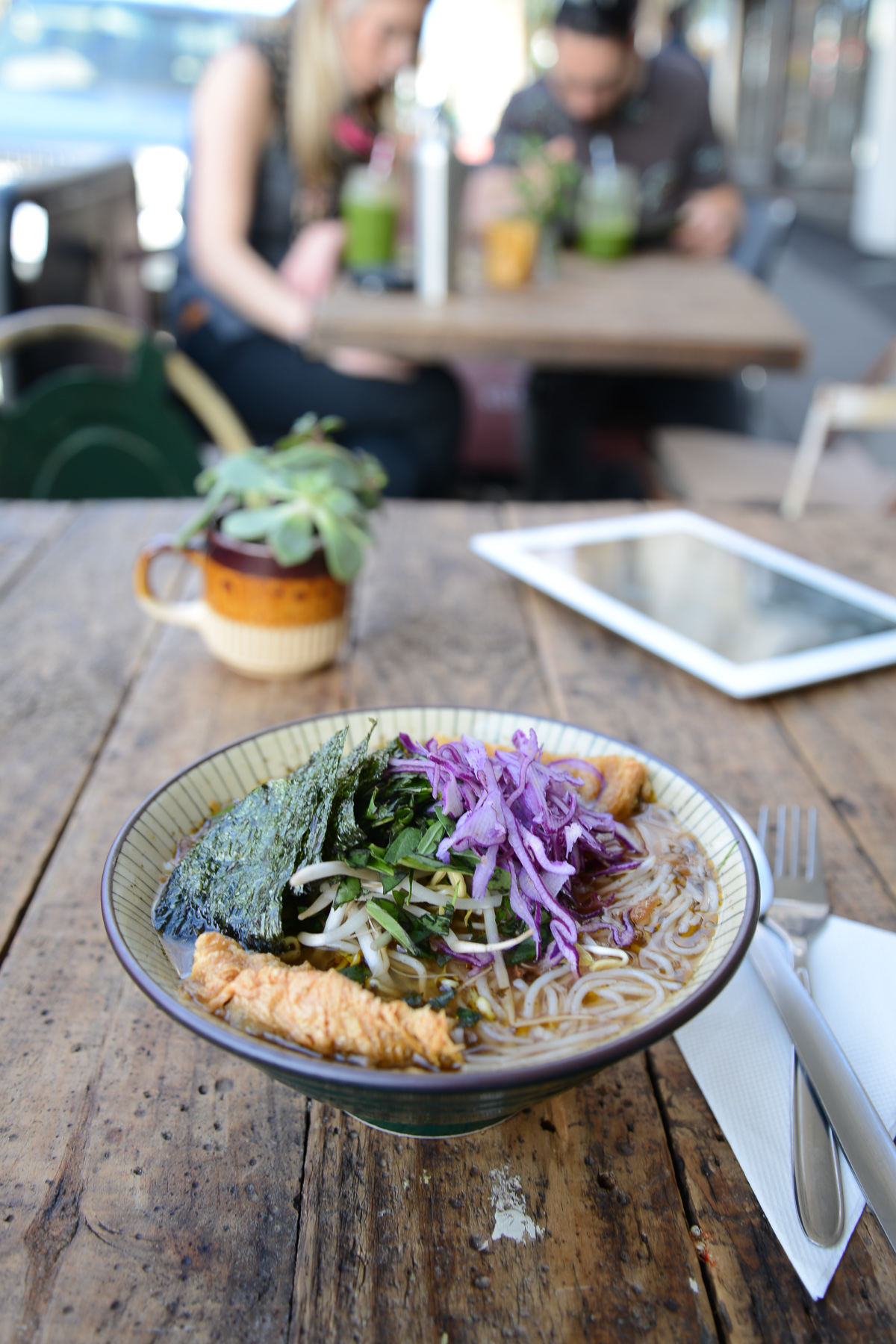 Soon my soup arrives and it's impressive. Fresh, shredded basil and red cabbage garnish an intensely flavoured broth in which nestles lovely soba noodles, bean sprouts, okra (ladies fingers), nori sheets and slices of firm and deep fried tofu. The broth has a strong mushroom flavour and is beautifully sour with tamarind juice. This is a wonderful dish, with beautifully balanced flavours and textures.
After my meal, I ask to speak to one of the owners and Catherine joins me at the table. Originally from Sydney, Catherine moved to Hobart where she worked in graphic design and illustration. Along the way she met Hoang, her partner. Both Hoang and Catherine have been vegan for around eight years, and vegetarian before that as well. Hoang had previously worked as a chef in vegetarian cafes  so in 2012 they decided to open a stall selling vegan pho and laksa at the Harvest Market, the local farmers market held every Saturday.
Running the stall allowed Catherine and Hoang to experiment with new recipes, gain instant feedback and build a following without too much risk. After about a year of running the stall successfully, they decided to expand to a cafe and opened Garden of Vegan a mere two months ago.
The couple at the next table notice me taking photos and ask me (nicely) what I'm doing. I explain and the woman tells me that she eats at Garden of Vegan a few times each week.
"It's so hard to get good vegan food in Launceston," she says. "The food here is so good and it's reasonably priced, too."
I agree. At these prices — $12-15 for a main — I'd be eating here regularly, too, if I could. In fact, I'm wondering how I can extend my trip so I can stay another night to try Hoang's vegan phở tomorrow. Because if the man can pull off a vegan version of phở with the style he's demonstrated today, I may just have to move here.
Address Book
More on Tasmania
My first Tasmanian post covered my time in Hobart where I visited Wursthaus, A Common Ground, Tricycle Cafe, The Source at the Museum of Old and New Art, The Museum of Old and New Art, Smolt, Jackson and McRoss and Sweet Envy.
My second Tasmanian 2 post covered my time in Swansea and Freycinet where I visited Kate's Berry Farm

, 

Freycinet National Park

, 

Freycinet Lodge

, 

Saffire Freycinet

, the 

Wineglass Bay Lookout Walk

 and 

Freycinet Marine Farm

.
Subscribe to The Hungry Australian
Don't want to miss a post? Sign up to receive new posts 2-3 times a week – it's FREE!!
Disclosure
I visited Tasmania as a guest of Tourism Tasmania. Some meals and products were provided while I paid for others. Tourism Tasmania are compensating me for the licence to display my content on Go Behind the Scenery and its magazine. As always, all opinions are my own.