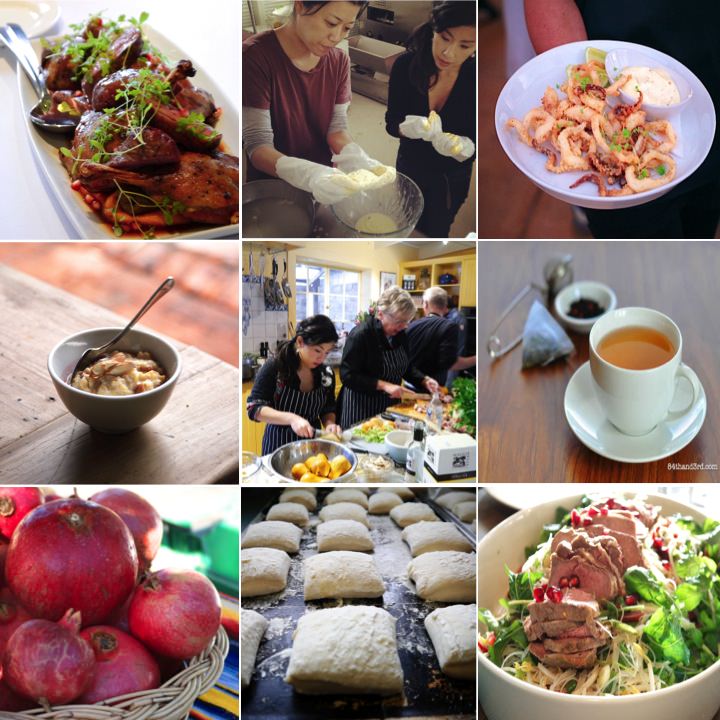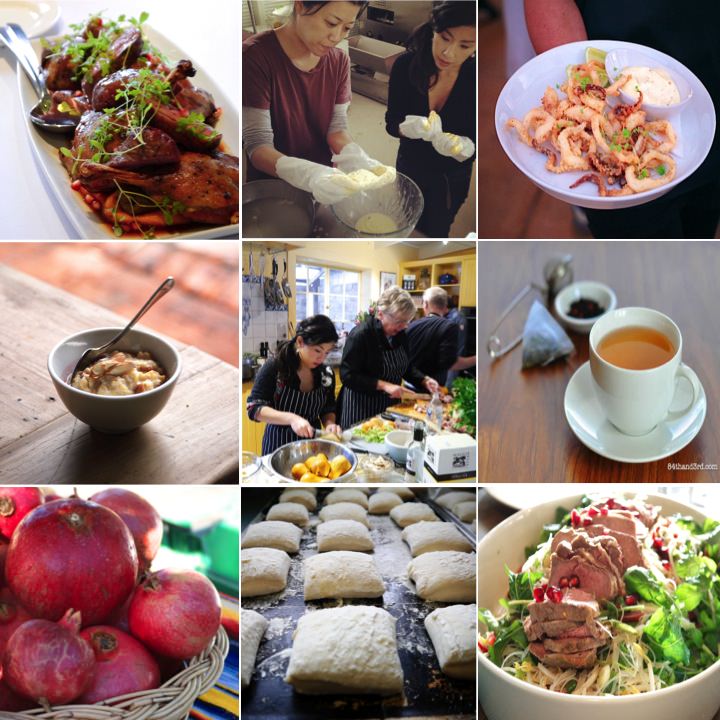 I'm a Virgo – as if you couldn't tell – so I love making lists. Here's my (inaugural) monthly list of things, foods, events and experiences that I'm loving this month.
1) Tasting Australia
The recent Tasting Australia 2012 drew some 50,000 international and Australian chefs, food media, food producers and food lovers to Adelaide, South Australia, for an 8-day festival featuring 80+ events. I've already posted a recipe – Red Quinces, Haloumi & Rye – inspired by my Tasting Australia media trip and will be posting many other write-ups over the next few weeks.
2) Cooking with inspirational pros
I'll never forget chopping pears for a pear tart with bubbly Australian food legend Maggie Beer – see photo above – and learning how to bake bread with the charming Mark McNamara, outgoing Head Chef of Appellation at The Louise. Two extraordinary and inspiring food lovers, they're also two of the most professional and hard-working people you'll ever meet.
3) My new gig as Australian and New Zealand Food Expert at About.com
My Australian & New Zealand Food site on About.com went live last week. Check out some of my articles and recipes including 72 Hours in Adelaide for Foodies, 8 Edible Souvenirs, Grilled Seafood Salad with Persimmons and Mini Pavlovas with Pomegranates.
4) What's Your Cup of Tea? blog hop
Sweet Adventures' What's your Cup of Tea? blog hop has just been announced by the lovely JJ from 84th and 3rd, hostess of this month's dessert blog hop. So pull on your thinking cap, get cooking with tea and join in the fun. What's Your Cup of Tea? kicks off on May 21st and entries can be linked up all week. This blog hop is open to all food bloggers – check out details at 84th and 3rd.
5) Skinny jeans
My love affair with all jeans skinny continues with my new J Brand jeans and Ksubi jeans bought on sale at David Jones. Guys, I've been waiting for you my whole life.
6) MAC ladybug lipstick
If there is a more genius red lipstick than MAC's Ladybug lipstick on the market I've yet to meet it.
7) Coffee
After a week of drinking coffee twice a day on the Tasting Australia media trip I am now addicted to the little brown bean again. The jury is still out on whether this is a good thing or not…
7+1) New foodie friends
I've made so many new food-loving friends this month via Tasting Australia, this blog, the Adelaide Food Bloggers Group and my new About.com gig. A shared love of food is such a great way to start a friendship, don't you think?
So what are you loving this month? Hit me with your tips and suggestions!
Photo credits: Duck Two Ways at Appellation at The Louise, Kay and I making cheese at Producers (thanks to Billy from A Table for Two), salt and pepper squid by the Star of Greece,  fruit and nut porridge at Rockford, Maggie and I cooking at the Pheasant Farm, tea (thanks to JJ from 84th and 3rd), pomegranates at Willunga Farmers Market, making bread at Appellation at The Louise and Thai Lamb Salad at No 58 Cellar Door and Gallery. All photos (c) Christina Soong-Kroeger except where indicated.