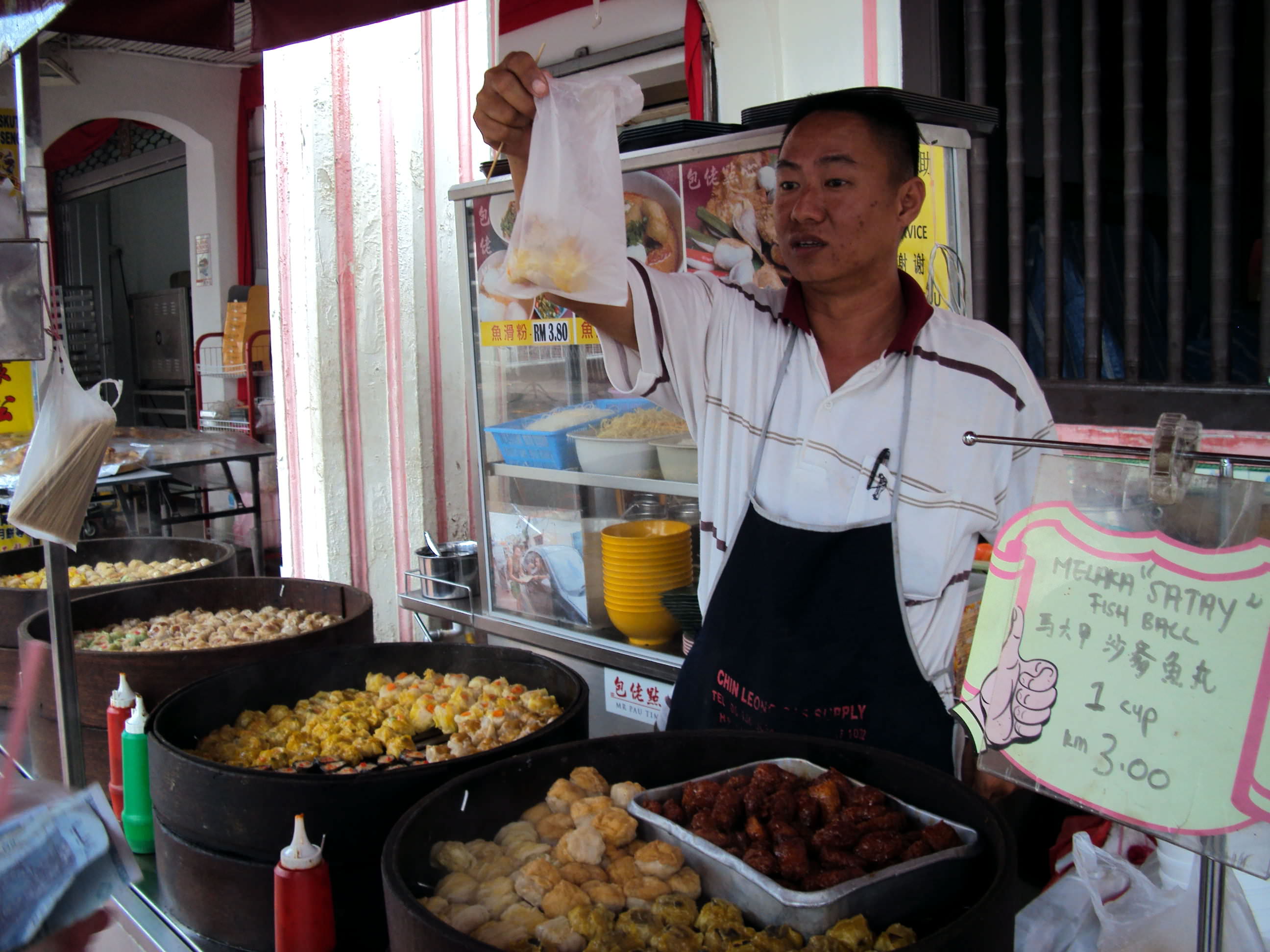 My father was born in Penang, Malaysia, and his family later moved to Kuala Lumpur. Until I moved overseas, I used to visit Malaysia once a year with my family and food was always a major feature of these trips.
My Grandmother, my Popo, is an amazing cook. Her version of Asam Laksa (the sour, fish-based noodle soup) is famous amongst our friends, while her fried chicken and congee (thick with shredded chicken, fried onions and anchovies, roasted peanuts and white pepper) take ostensibly simple dishes and turn them into works of art.
When we're not eating at Popo's house, we're out and about trying hawker stores for the best of Malaysian street food. It's cheap, plentiful and incredibly tasty. We have our favourite eating places, and visit them each time, smiling when we see the same old familiar hawkers we saw the year before. Many of them specialise in only one dish and that is all they make, day after day and year after year. They're the ultimate food specialists. You have to admire that dedication to quality and consistency.
Since we've had kids I've only been to Malaysia once, when my daughter had just started eating solids. We're going again in a few weeks and I can't wait to introduce my kids to Malaysia food. My daughter is now almost 5 years old, old enough to remember this trip, and my 18 month old son, robust enough for a week of eating all types of strange and wonderful food.
This is our hit list:
Asam Laksa – my ultimate hawker dish. I have this nearly every day when I am in Malaysia. It's an utterly fascinating combination of sour, sweet, salty and hot. Fish based, sour with Asam flower (ginger flower) and garnished with fresh mint, red onions and pineapple, it is worlds apart from the more well known coconut laksa (laksa lempeh) and in my opinion, indisputably superior. It's a dish for true gourmets, for food lovers with discerning palettes.
Char Kway Teow – what's not to love about a dish of rice noodles fried with garlic, chinese sausage, prawn, egg, chilli and spring onion? So simple and yet so good. I've cooked this at home and it turned out actually much better than I imagined, but there is no beating eating the real thing in Malaysia, preferably Penang. Eat this. Today.
Har Mein – pork and prawn noodle soup, garnished with whole prawns, boiled egg, crispy fried onion and shallots. Ridiculously tasty. My second favourite hawker dish and deservedly so.
Satays – chicken or beef skewers marinated with lemongrass, ginger and garlic, and served with a spicy peanut sauce, squares of starchy rice, raw onions and fresh pineapple. Just writing that sentence has got my mouth watering.
Nasi Lemak – the king of Malaysia breakfasts. Coconut rice served with fried anchovies, a tomatoey chilli sambal, half a curry sauce, boiled egg and roasted peanuts. Sound strange? Try it and then write and thank me.
Ipoh Sah Hor Fun – my Dad once drove us all the way to the town of Ipoh to try this famous dish. It's a clear chicken soup tinged with orange prawn oil, containing tender shreds of poached chicken, a few halved  prawns, spring onions, crispy fried onions, and silky soft rice noodles. A very pure and simple tasting soup.
Banana Leaf Curry – curry with all the fixings (sambals, chutneys, pappadams, rice, raita etc) served, yes, you guessed it, on a real banana leaf. You're expected to eat this meal without cutlery and we happily oblige. There's something primal about eating with your hands – food often tastes better.
Roti Canai – wonderfully light Indian bread served with curry. A perfect snack.
Haianese Chicken Rice – fragrant chicken rice served with poached white chicken pieces, accompanied by a sambal, a marvellous ginger/spring onion mix that freshens and zings much like gremolta and a bowl of clear chicken soup.
Oh Cien (Oyster Omelette) – small, plump oysters stir-fried with garlic, shallots and chilli in a golden omelette.
Peanut pancake – available at street stalls and markets. A thin, crisp pancake sprinked with roasted peanuts, sugar and coconut and fold in half for easy eating.
Poh Piah – fresh spring roll made of a crepe like wrapper folded around steamed of stir-fried mixed vegetables. Accompanied by a hoisin chilli sauce.
Ice Kacang – great dessert comprising shaved ice flavoured with red beans, sweet corn, palm seed, green jelly, cubes of agar jelly, and sometimes coconut milk.
Assorted fresh juices – I've been whetting my daughter's appetite by telling her about all the wonderful fresh juices she will try in Malaysia including star fruit, coconut water, sugar cane, watermelon, honeydew, pineapple, and papaya.