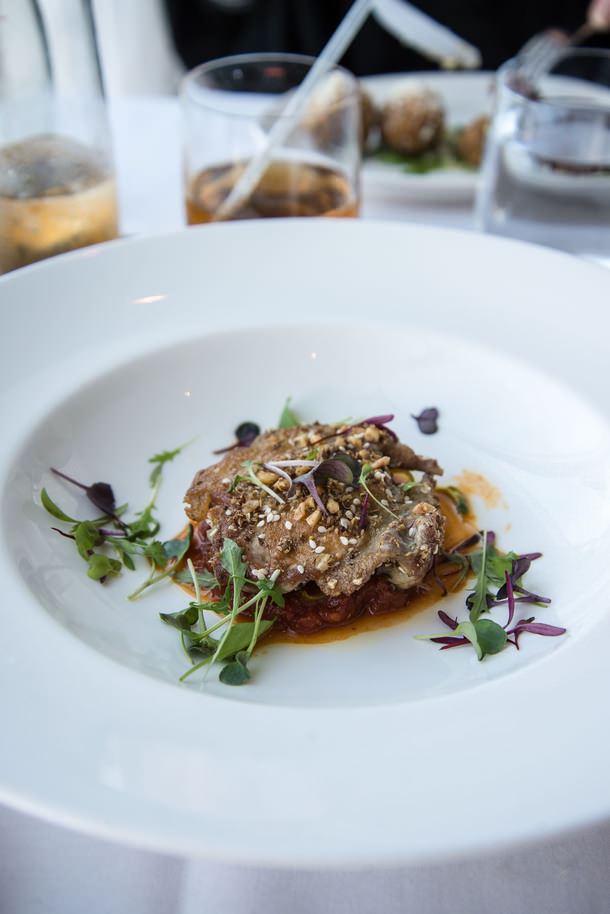 I've been cruising before twice — on a family holiday to the Pacific Islands with Carnival and on the Queen Mary 2 with Cunard — so I thought I knew what it was all about. That is to say, I knew that cruising tends to attract couples and families who like their travel to be comfortable and convenient.
However, a recent three-day food and wine cruise aboard P&O's Pacific Jewel has broadened my perception of cruising as I discovered shorter cruises attract a younger crowd keen to make the most of their weekend getaway.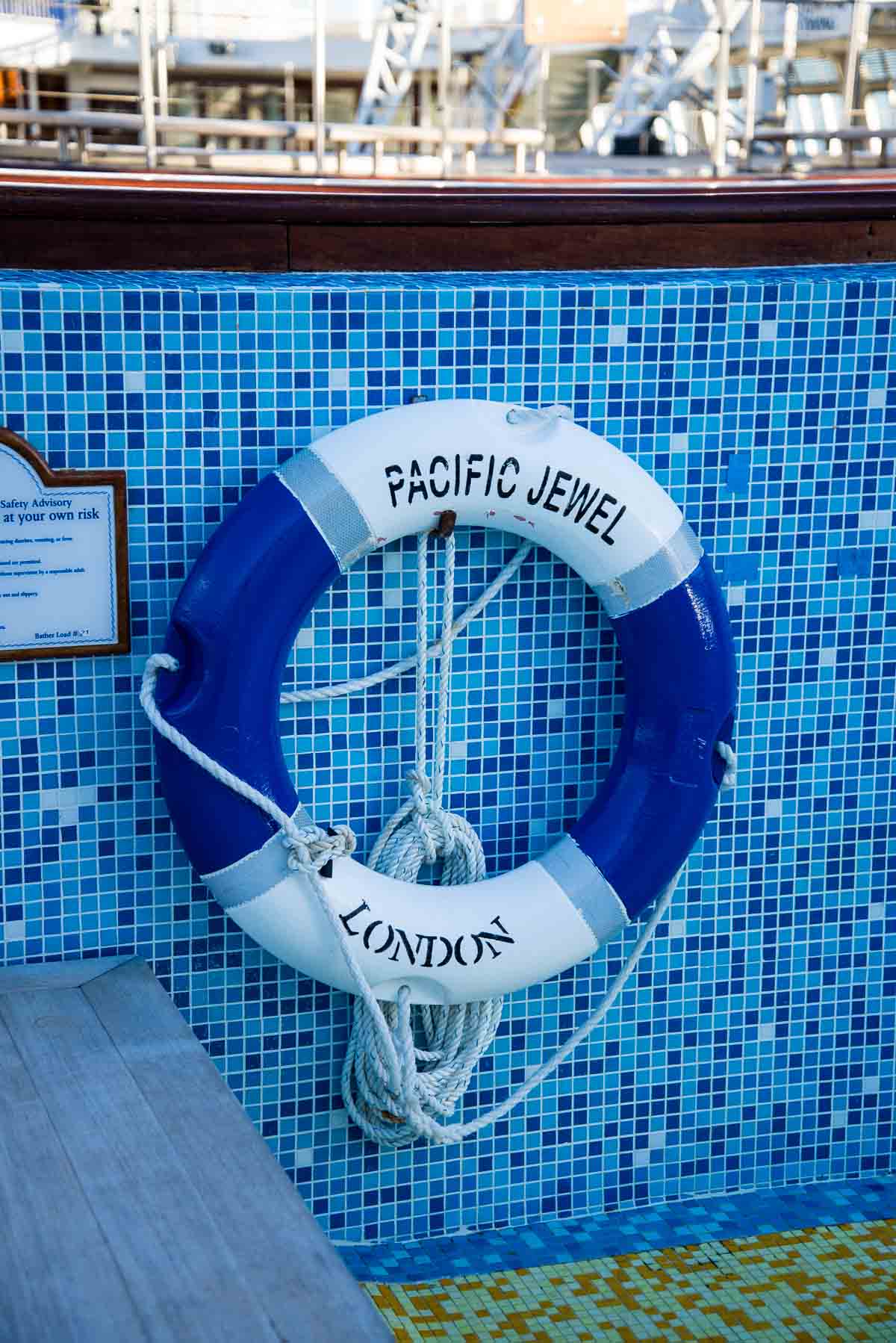 My trip as a guest of P&O started at 4am on a Friday with a 5am visit to the famous Sydney Fish Markets. So when I arrived at our cabin on the Pacific Jewel at noon I was slightly delirious due to lack of sleep.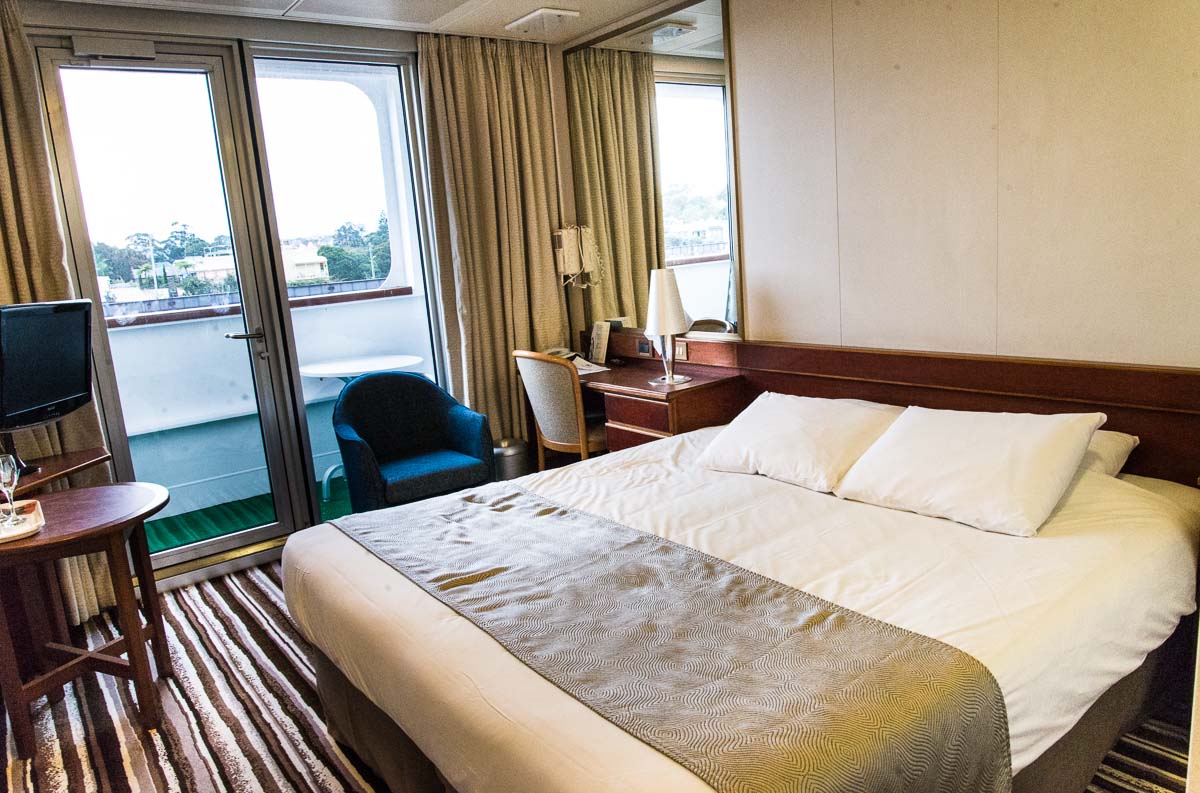 A quick glance around confirmed our room was compact but comfortable. Then it was straight up to the deck to see what my fellow passengers were up to.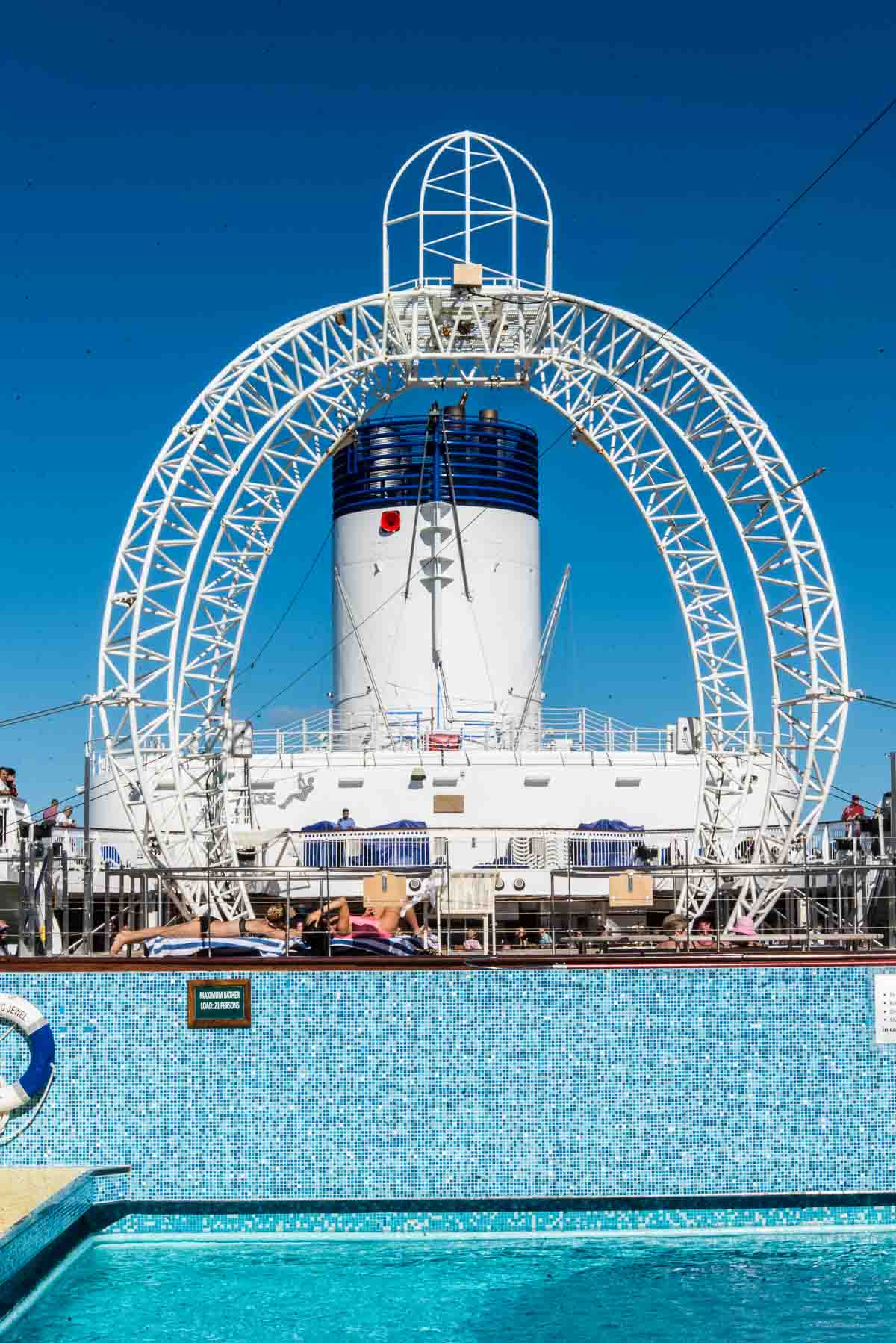 Thankfully, the sun was out. Some guests were taking advantage of the unseasonal Winter weather and were already sunning themselves on the deck.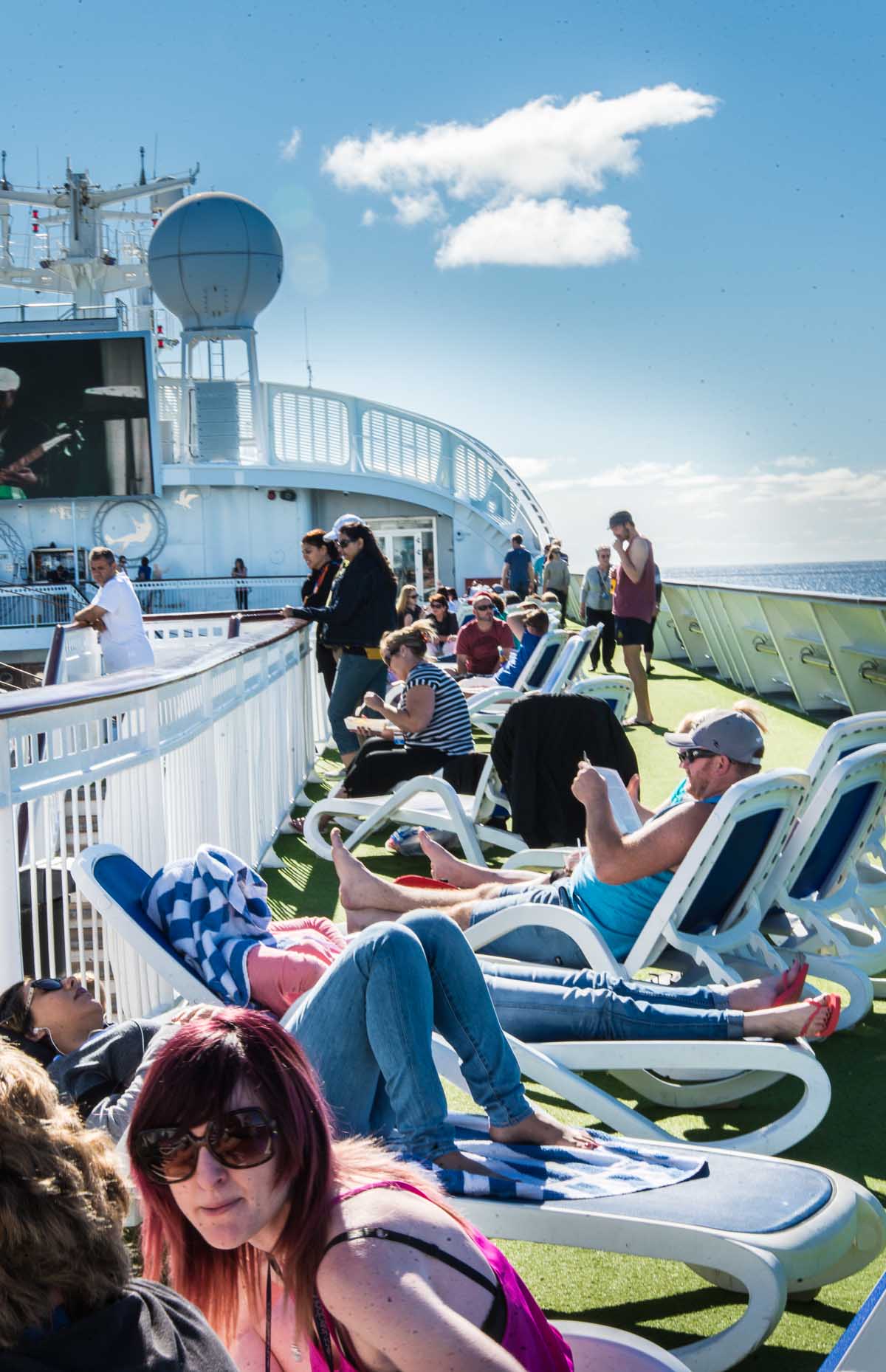 You gotta love the enthusiasm of people determined to make the most of weekend getaway. Everywhere I looked people were stretched out on deck chairs drinking cocktails or having a snooze.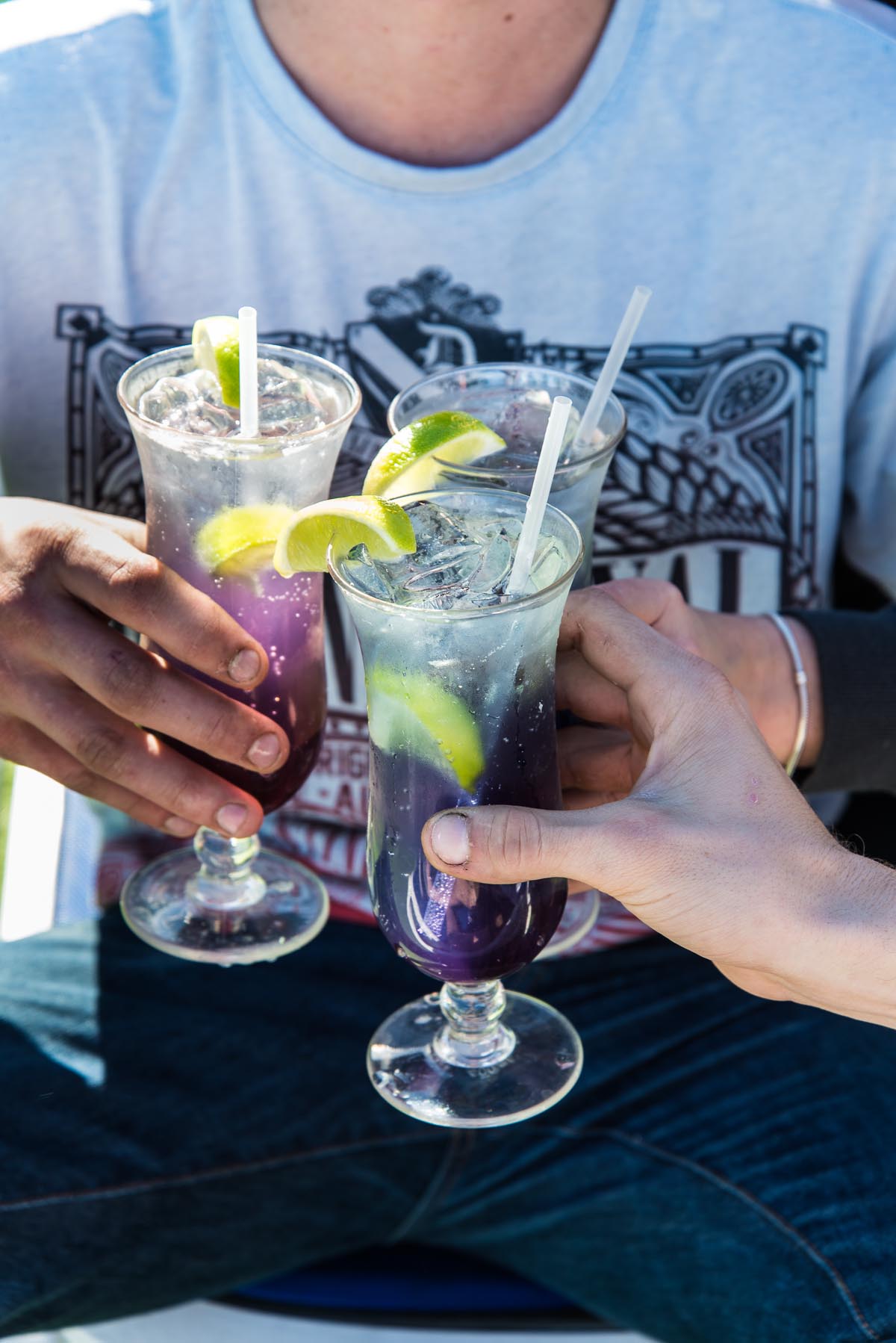 I met my plus one, Vanessa, who had already scored an invitation to dinner, and then explored the ship deck by deck.
Based in Sydney, the Pacific Jewel carries a maximum of 1,900 passengers, making it more intimate than some of the other ships I have been on. In terms of dining, as well as the main Waterfront restaurant, the ship also offers Salt Grill by Luke Mangan, Asian-themed dining at Luna and private group dining at the Chef's Table at the Waterfront. The Pacific Jewel also features the largest adventure park at sea, a child-free retreat, eight bars and lounges, a health spa, two swimming pools and the Thermal Suite, a divine sauna, spa and meditation area. You certainly won't be bored here.
These were some of the culinary highlights from our three-day food and wine cruise.
Lunch at Salt Grill Restaurant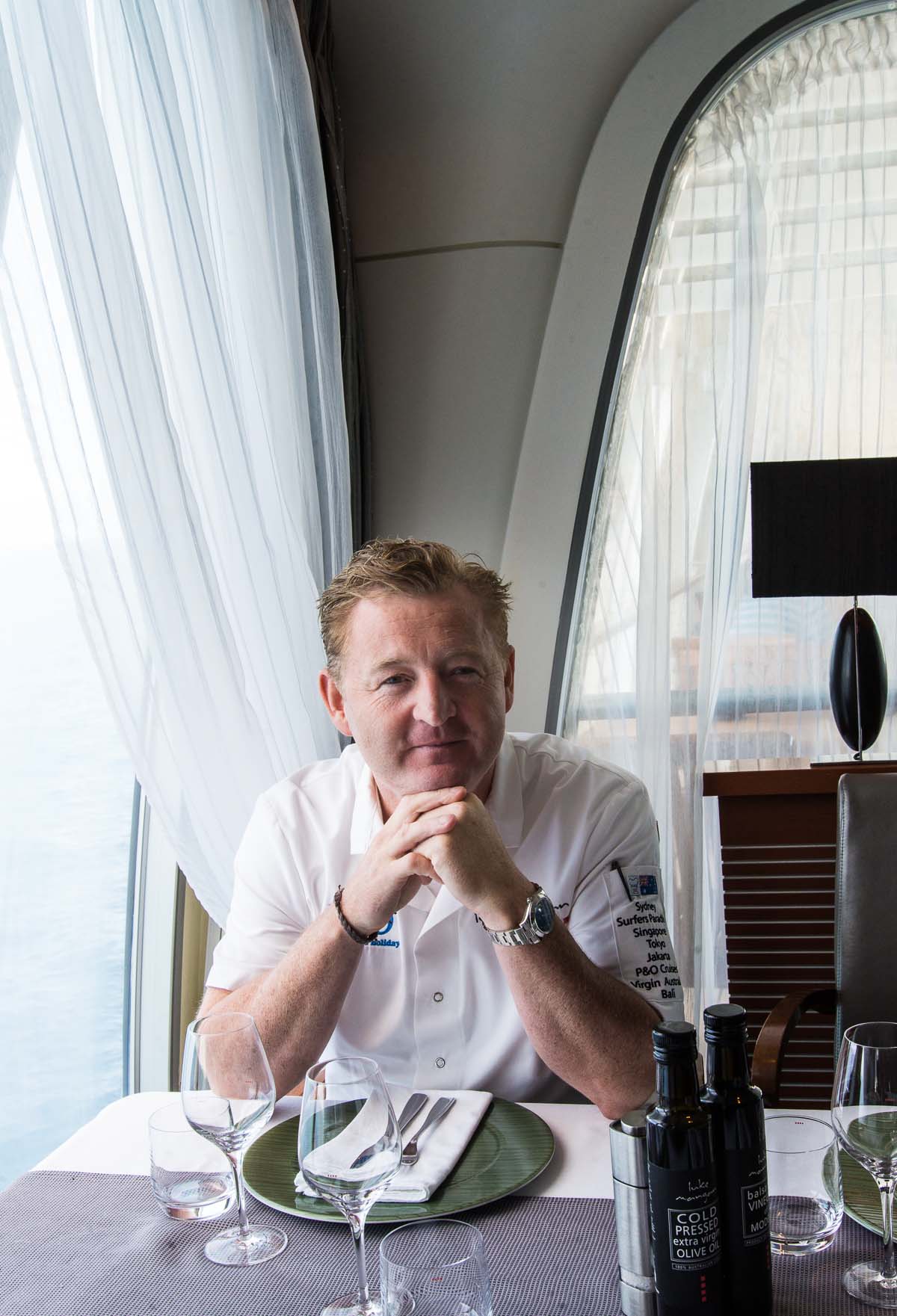 The next day we have lunch at Salt Grill, Luke Mangan's restaurant. Luke travels on the ships for a few days each quarter so we manage to grab a few words with him in the morning. Like the Salt Grills in Sydney, Japan, Jakarta and Tokyo, Salt Grill on the Pacific Jewel aims to showcase and promote Australian produce with a deliberately simple approach to cooking.
Luke's partnership with P&O dates back to the mid 2000s. He was originally skeptical about the notion of recreating Salt Grill on a cruise ship but soon realised it could be done as well as it is on land with the help of dedicated kitchen and staff and top quality produce.
"The only thing we can't do on the ships is soufflé ," Luke says.
"They turn out lopsided because of the waves. But we can do everything else."
While most food and all soft drinks are included in your ticket price, a 3-course meal at Salt Grill comes at a surcharge of $30 for lunch and $49 for dinner, which is a bargain compared to prices at the Salt Grill restaurants on land. Having tried most of the three courses last night Vanessa and I decide to order a mixture of entrees and desserts to share. This isn't usual but it'll give you a better idea of the range of dishes here.
The meal begins with some excellent bread served with Luke's own zatar, dukkah and olive oil and balsamic vinegar.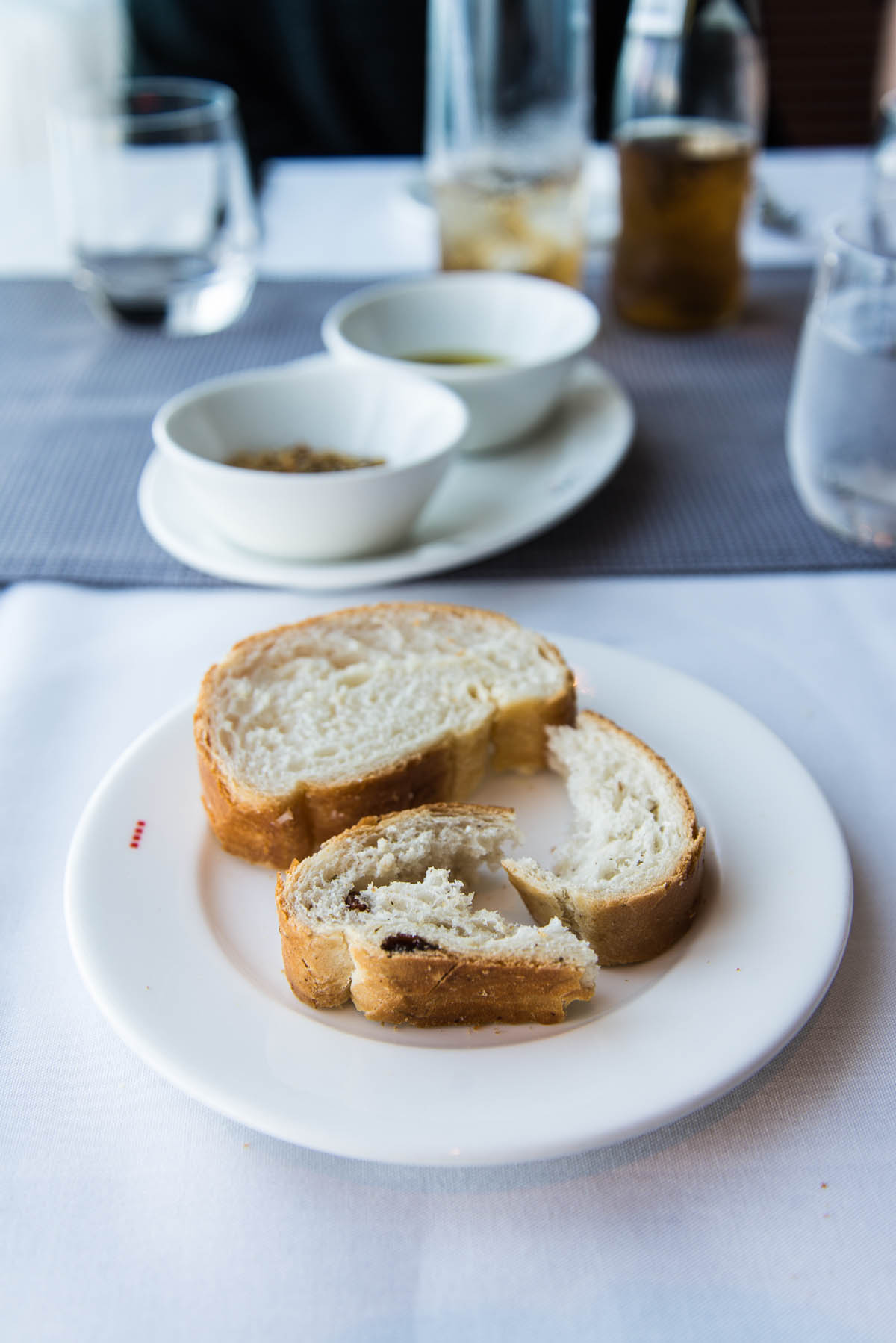 As usual, I eat way too much much bread considering how much food we're about to eat.
The entrees start arriving. First up, one of Luke's signature dishes, the Moroccan cauliflower salad with saffron yoghurt, pine nuts and currants.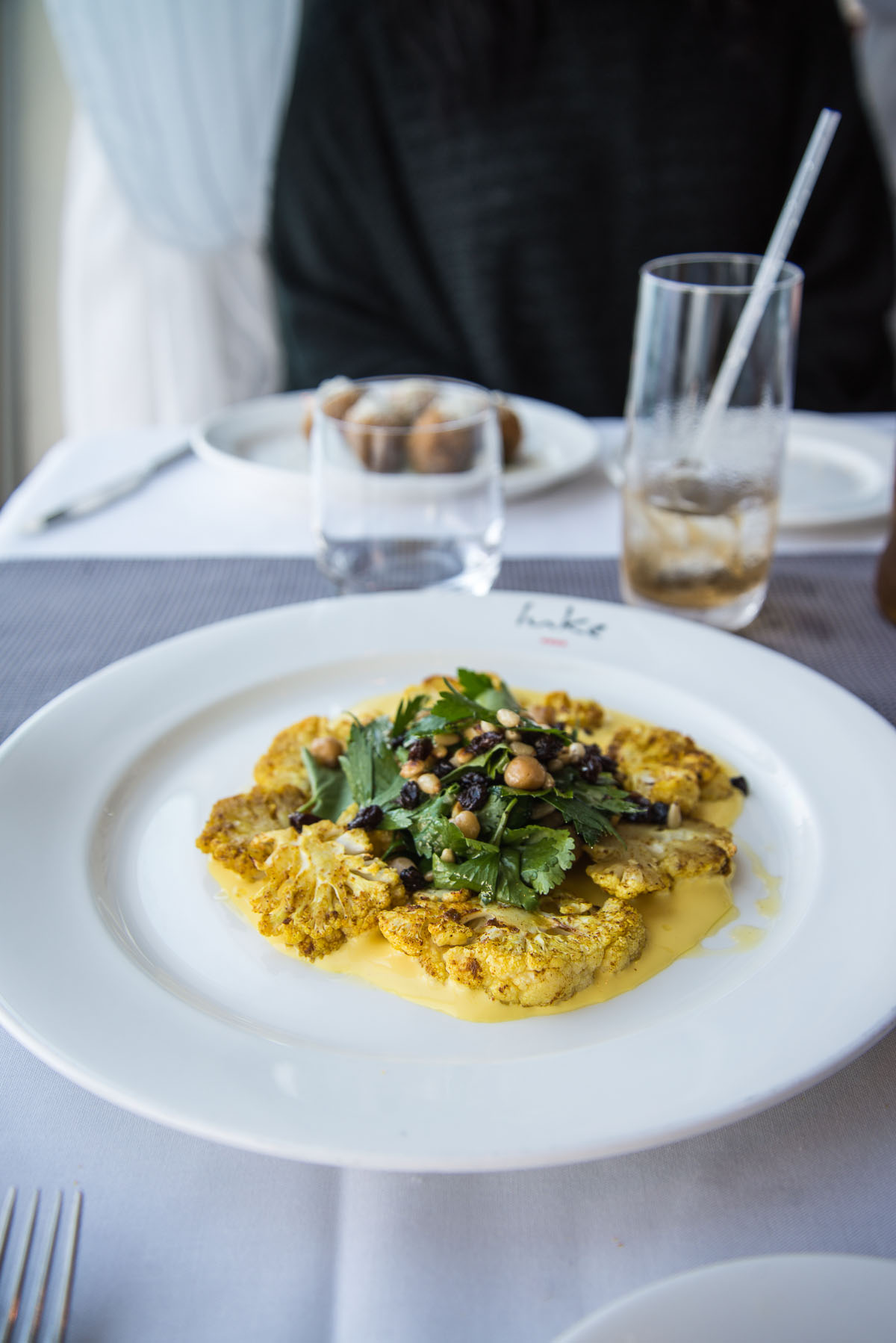 I liked this dish so much I blogged it here. The Middle Eastern spices, the gorgeously mellow saffron-infused yoghurt dressing, the sweet currants and the roasted cauliflower combine to make a remarkable dish. You need to eat this.
Next, seared beef carpaccio with nam jim and Thai salad.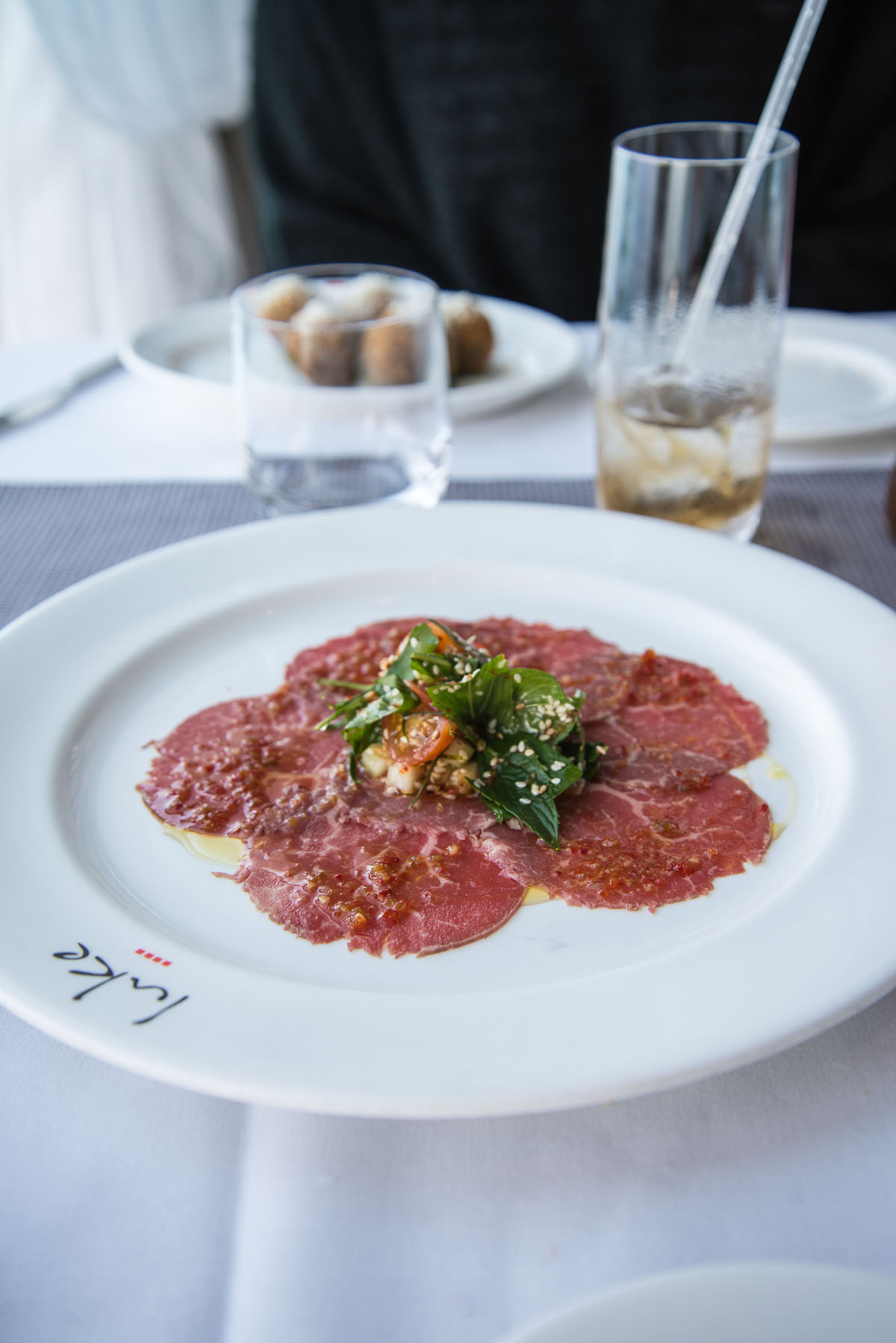 The raw beef slices are buttery soft and so delicate that they tear with a mere nudge of my knife. The Thai-style dressing is a nicely balanced blend of hot, salty, sweet and sour flavours but there's not enough citrus and chilli for my tastebuds. Earlier, during our chat, Luke had mentioned that he doesn't like chilli-hot food. This dressing makes sense in that context but it'd be nice to turn the volume up on this one just a little.
Next, we try the pan-fried gnocchi with seasonal vegetables.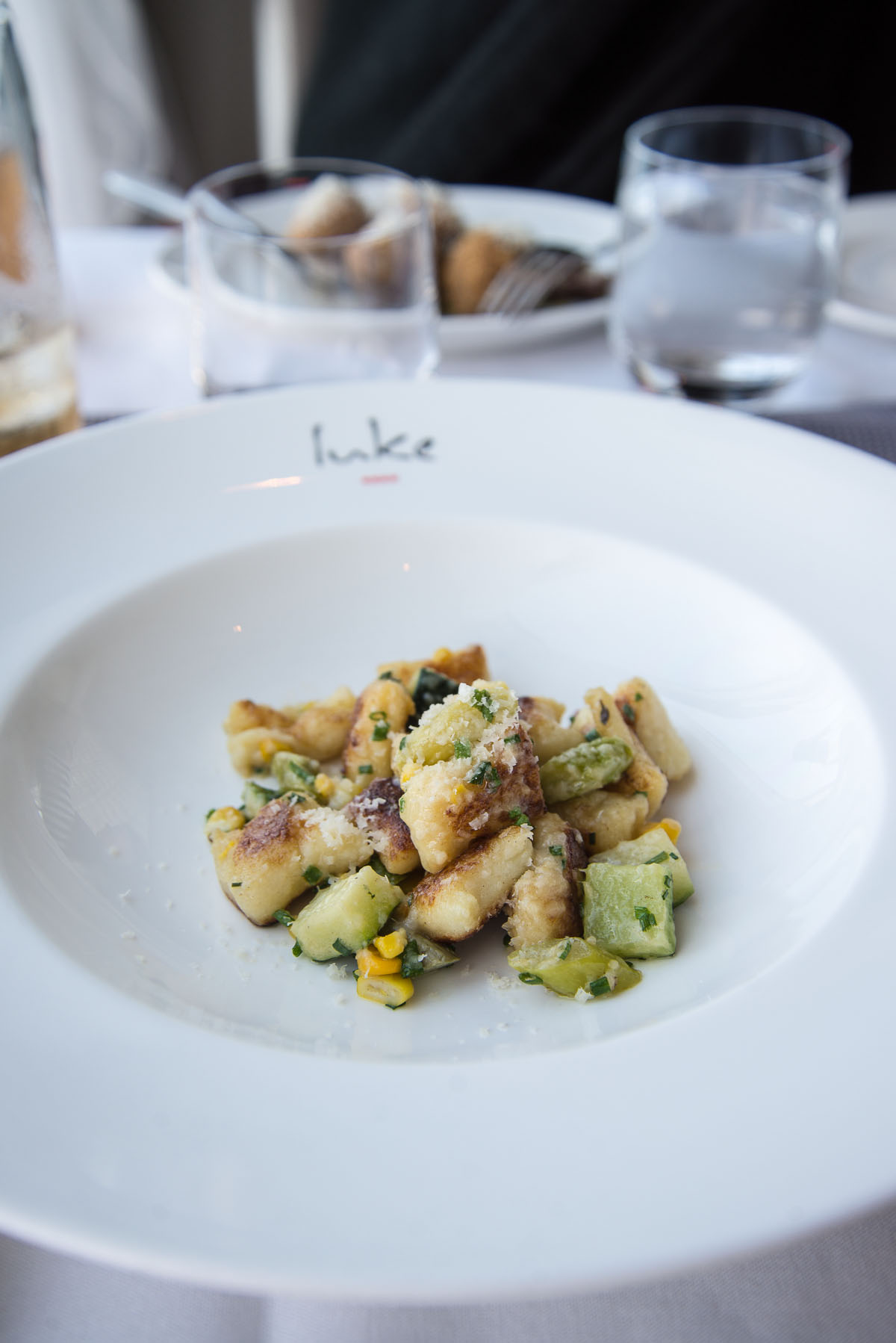 I'm not usually a huge fan of gnocchi: on the few occasions I've eaten it I've usually been disappointed by the insipid texture and uninspired flavours. But this gnocchi — pillowy soft on the inside and crisply browned on the outside — gets two thumbs ups from me and an approving nod from my discerning Italian friend.
One of Luke's signature dishes — the 'Glass' Sydney crab omelette with enoki mushrooms, fish sauce and miso broth — is next.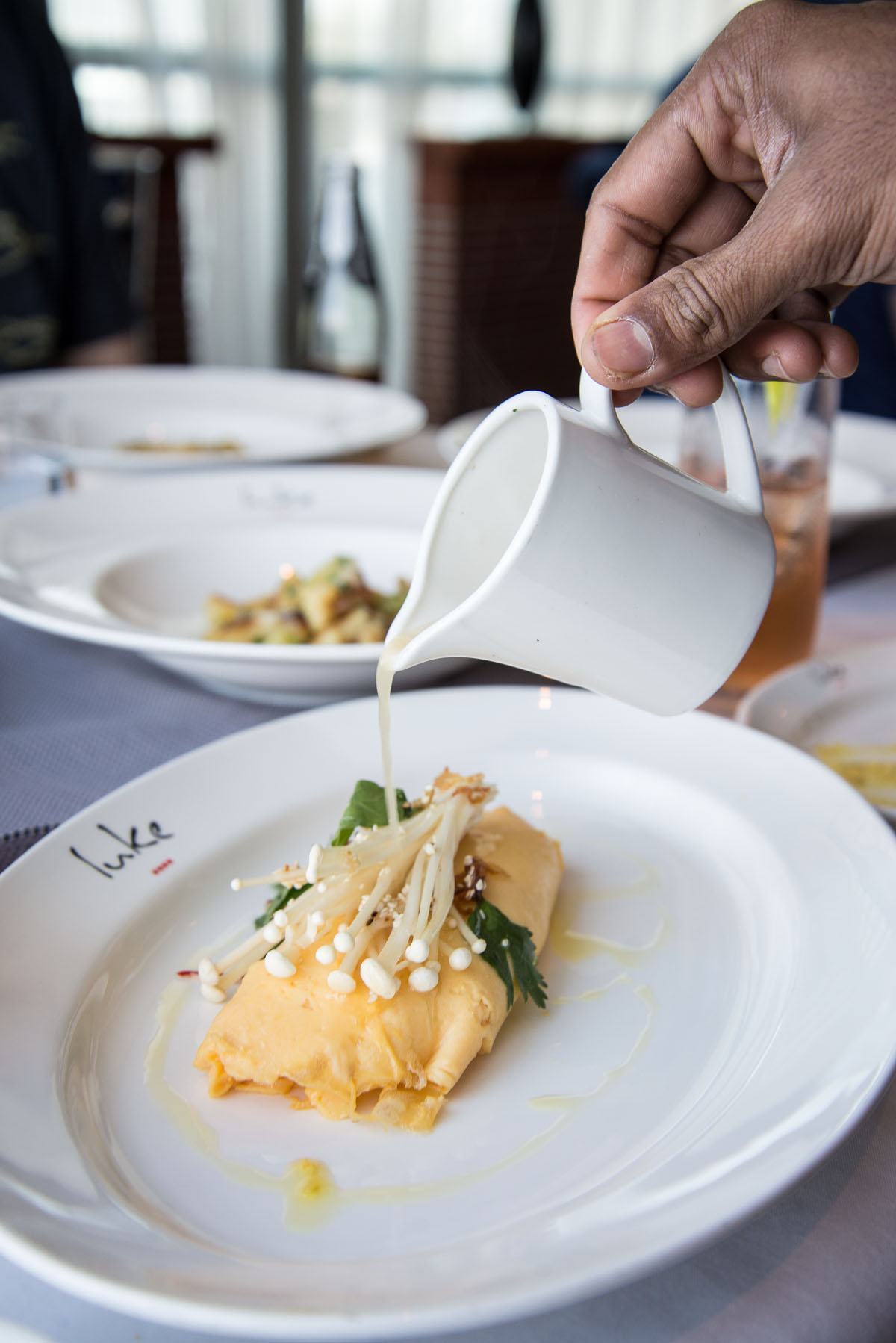 This is a deceptively simple looking and tasting dish. Served with a jug of miso mustard broth, the perfectly cooked omelette envelops a generous serve of warm crab meat while a simple salad of enoki mushrooms, coriander, mint and chilli add some interest and flavour.
The next dish, roasted beetroot salad with Buffalo mozzarella, giant croutons and white anchovies, has a vibrant, still-life quality about it.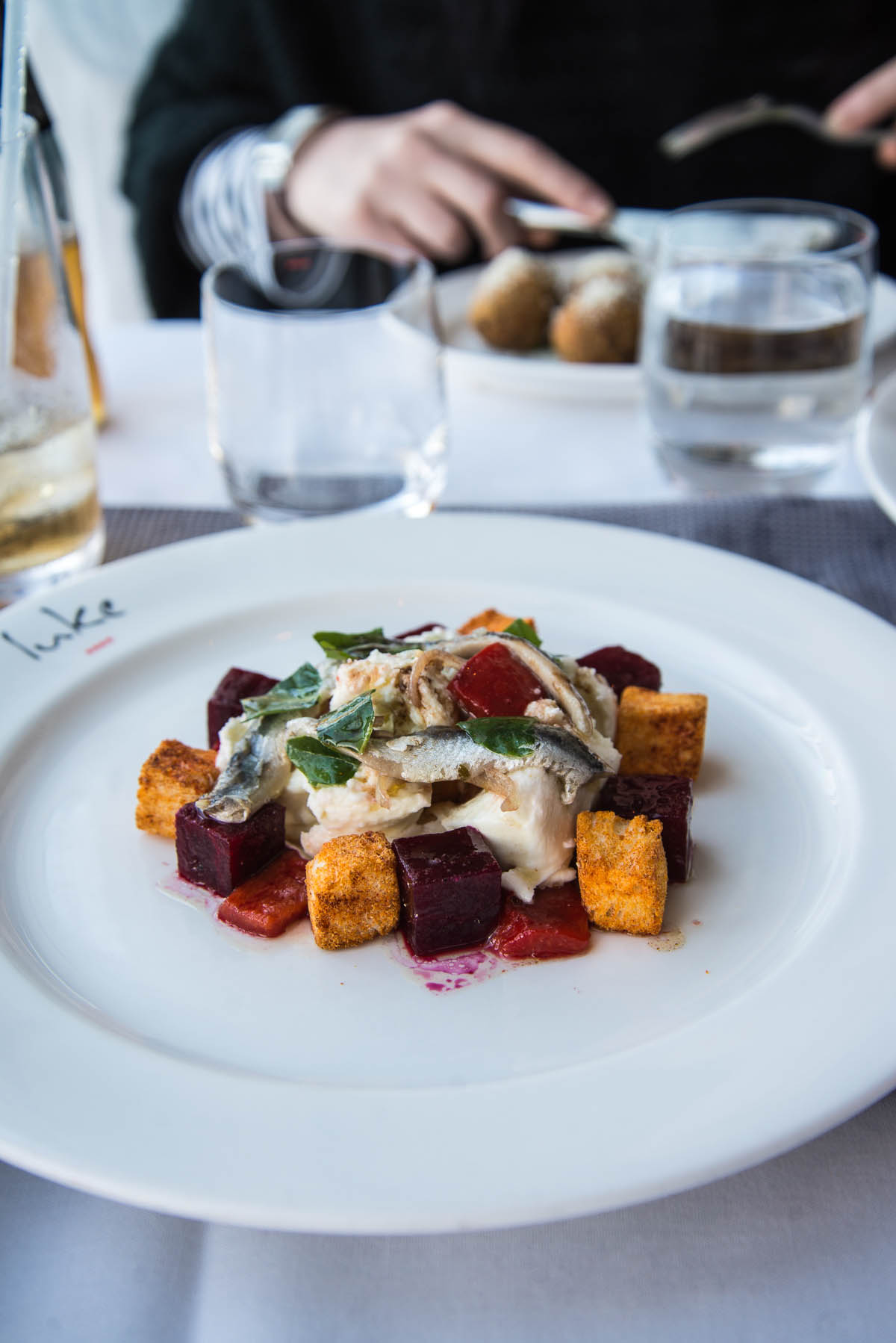 Compared with the other dishes we've tried so far, this is the least popular. I can see where Luke's going with this dish but the combination of flavours and textures doesn't really work for either of us.
The same cannot be said of the next dish, however, which is seared sea scallops on blue cheese polenta and truffle oil.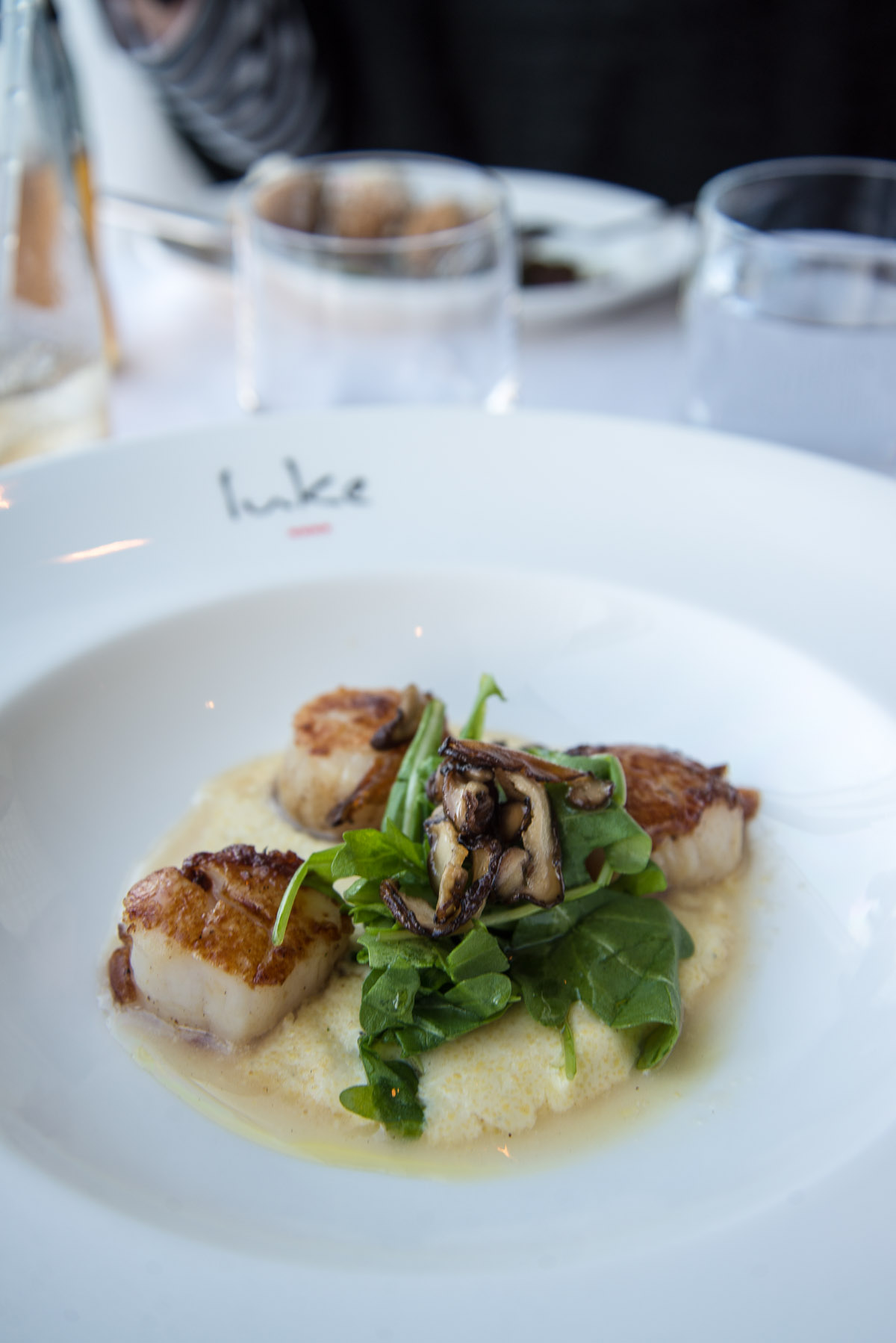 The scallops are plump and juicy with a delightfully caramelised crust while the intense mushroom and truffle flavours hit the strong note, flavour-wise, against the the creamy blue-cheese polenta. I like this dish so much that when our server tries to take the plate away I stop him for one final scrape.
The dukkah crumbed quail with pickled cucumber, tomato and chilli relish is next.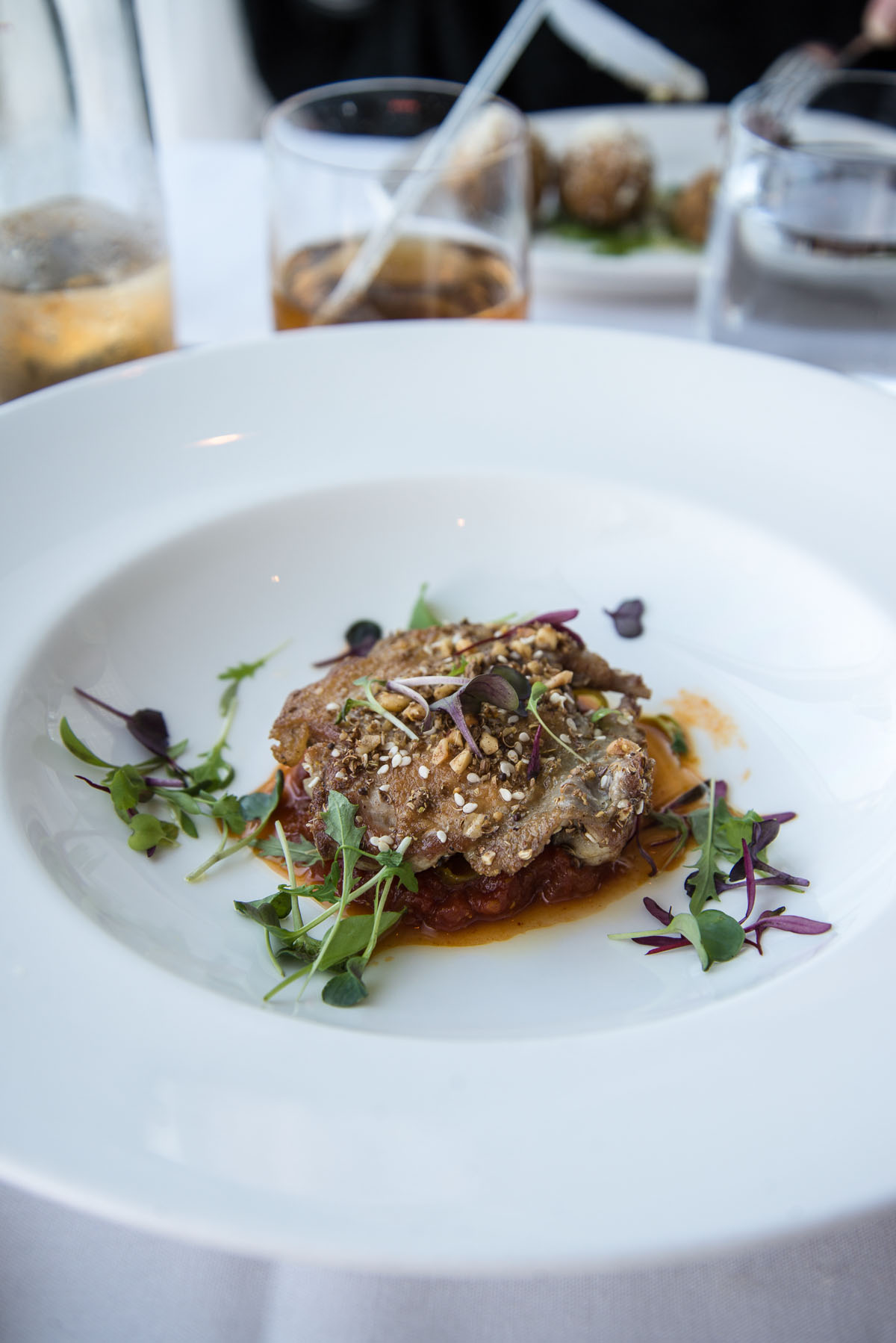 The crispy roasted quail is intriguing enough by itself with its dukkah crust but it is absolutely sensational when combined with the rich, fennel-infused, spicy relish that it rests on. I would order this dish again in a heartbeat.
It's time for dessert. I've noticed my beloved Floating Islands on the menu so insisted on ordering it. The dish comes with the traditional vanilla custard poured at the table by our friendly server.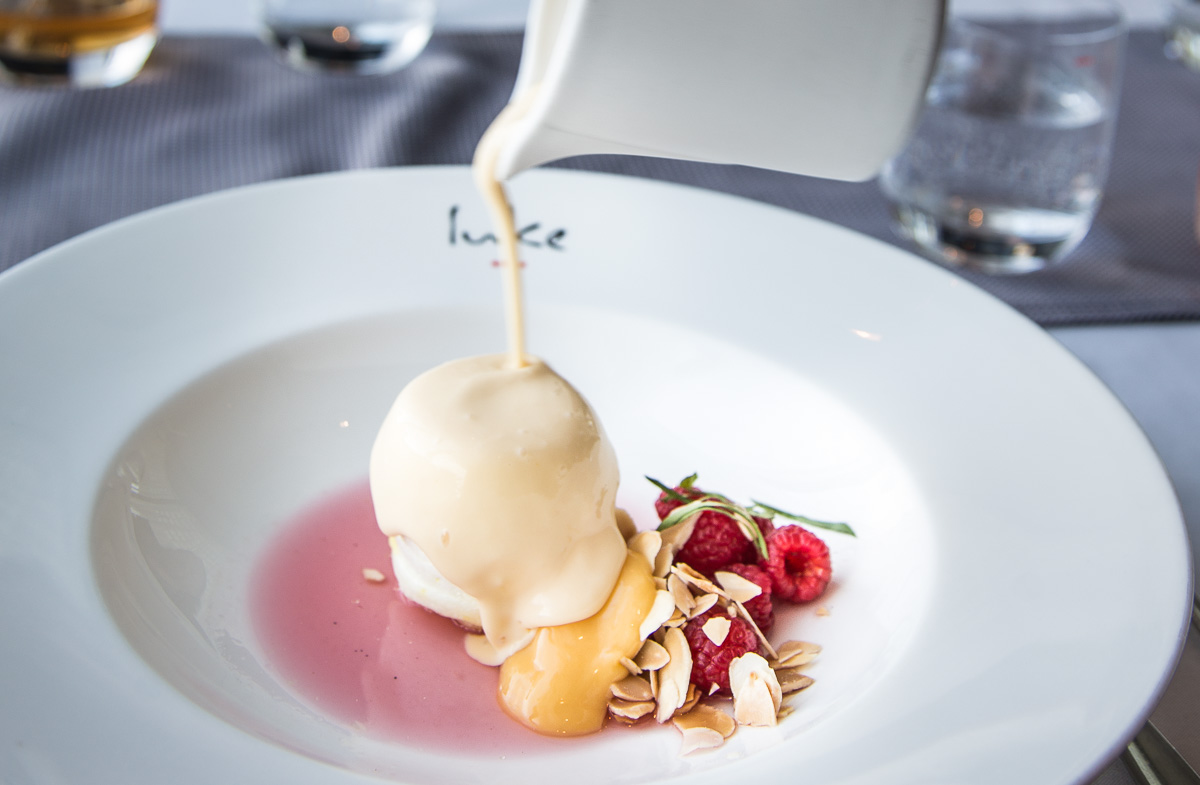 The tart berries and fresh basil slivers contrast nicely with the sweet, gently poached meringue while the toasted flaked almonds add flavour and crunch.
We finish with another of Luke's signature dishes, the liquorice parfait with lime syrup.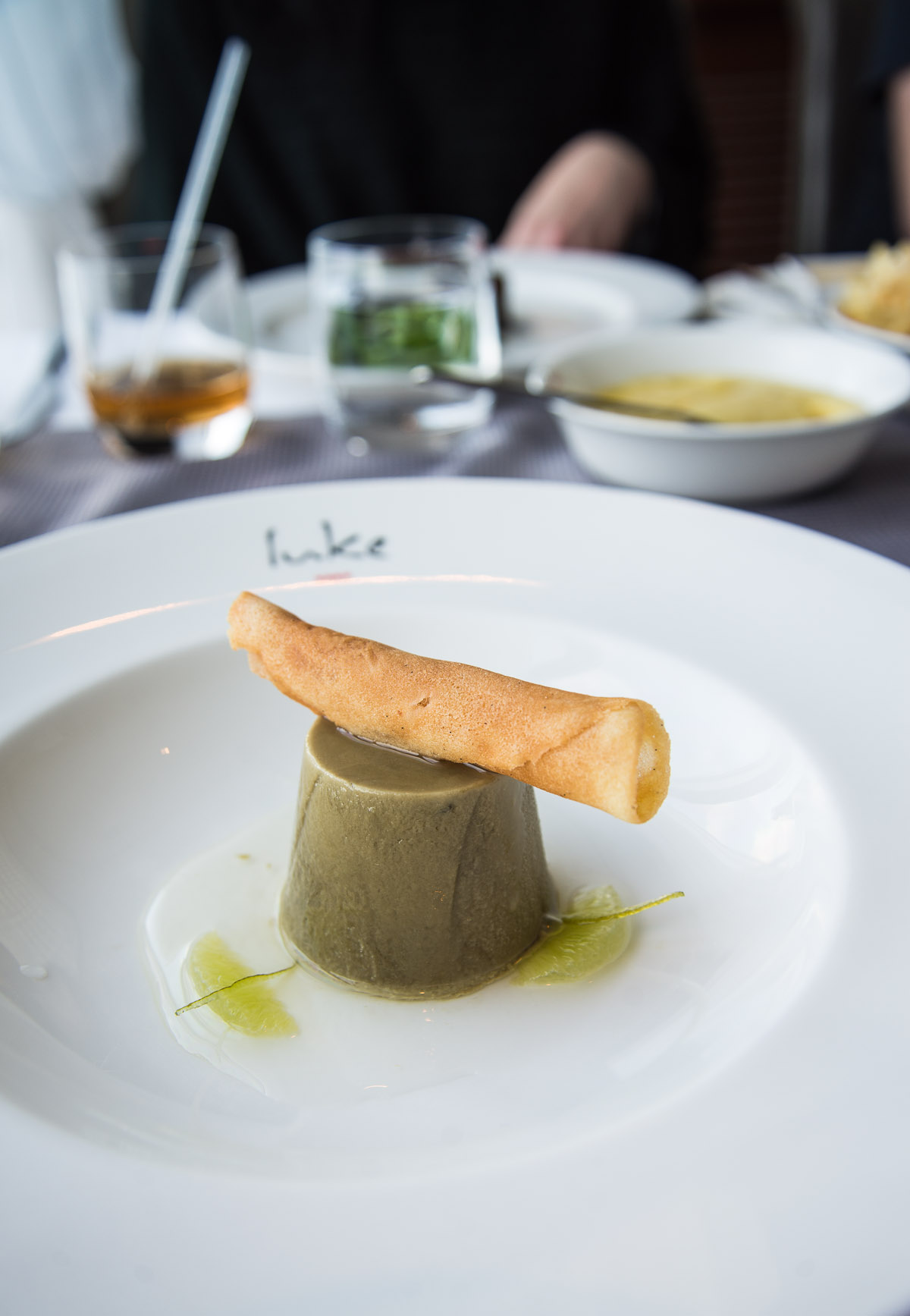 It's not the prettiest of desserts — let's face it, that colour could best be described as 'swamp' — but by golly, this is an intriguing dessert. The combination of liquorice, which I generally don't like, and lime syrup is nothing short of genius. I can see how this dessert has become one of Luke's best known dishes and was apparently served at Princess Mary's wedding in Denmark. Now is there any truth to the rumour — spread by Luke himself — that Princess Mary was an old flame of his? Let me know in the comments!
All in all, it's been an impressive meal. Salt Grill accommodates a mere 120 people a night over two seatings so you'll want to book a table as soon as you get on the ship if not before. Because you  really don't want to miss this.
Lunch at Waterfront Restaurant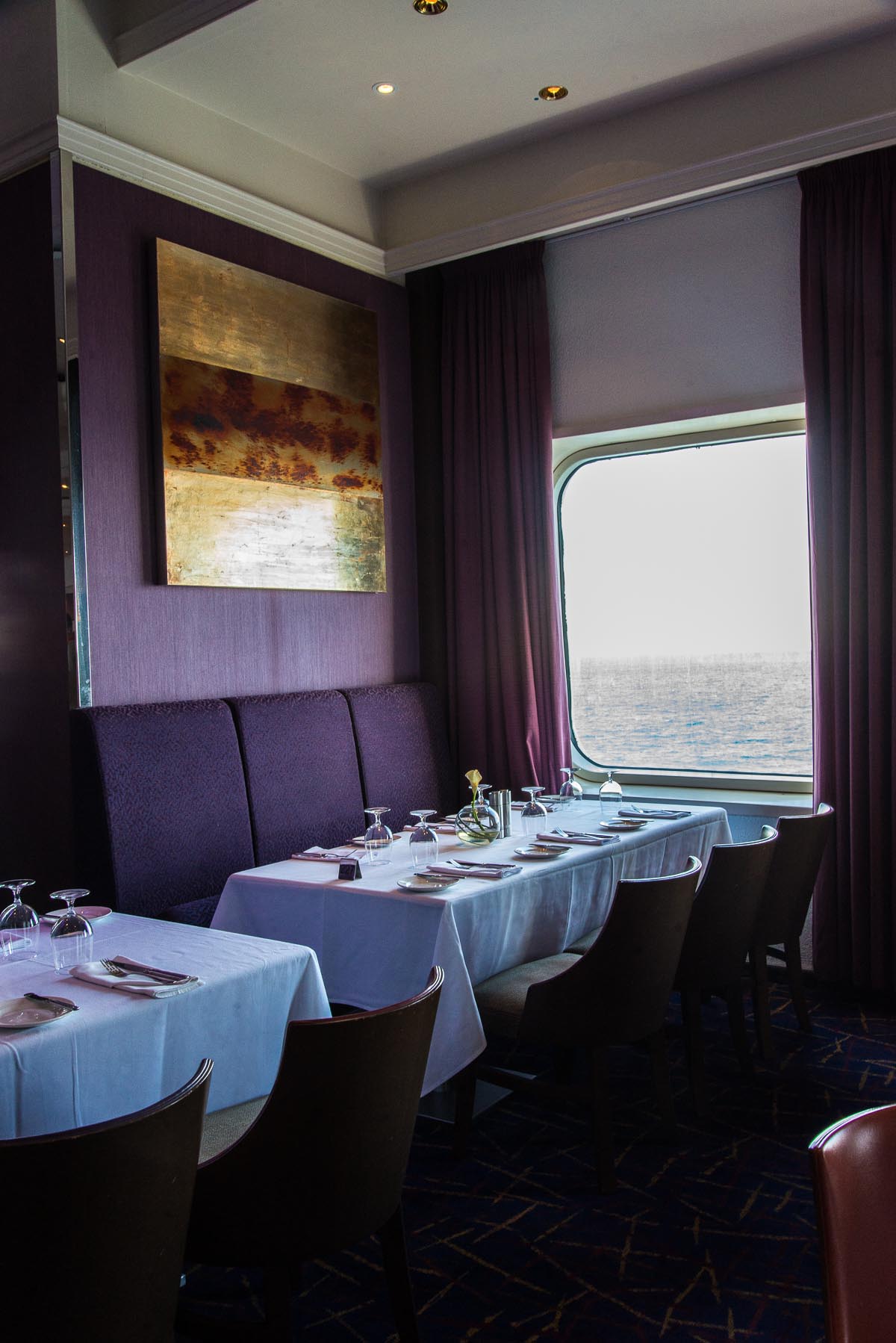 The next day we have lunch at Waterfront, the main restaurant, which successfully manages to feel intimate and cosy despite seating 1,200 people a night over two seatings. It's an astonishing number of people to accommodate, requiring the clockwork precision of an army of cooks, chefs and servers. What's most impressive is that while the numbers involved mean that the food is mass produced — that is, produced for the masses — each dish arrives at the table seemingly cooked to order. Having noticed the traditionally decorated main restaurants on the Carnival Spirit and Cunard's Queen Mary 2, I'm also pleasantly surprised by how modern the decor is.
Earlier in the day we'd had a tour of the galley where it was revealed that the ship's 93 chefs, cooks and bakers prepare more than 8,600 meals a day for passengers and crew using produce mostly sourced from Australia.
We're seated by our friendly waiter — the service is consistently excellent here — and peruse the menu. Waterfront offers diners a choice of three courses or group and family-style dining with shared platters. For lunch we have the option of 10 different entrees, 13 different main courses, 3 sides and 11 desserts, including a cheese board.
I start with the Thai chicken and lychee salad with minted lime and brown sugar marinade.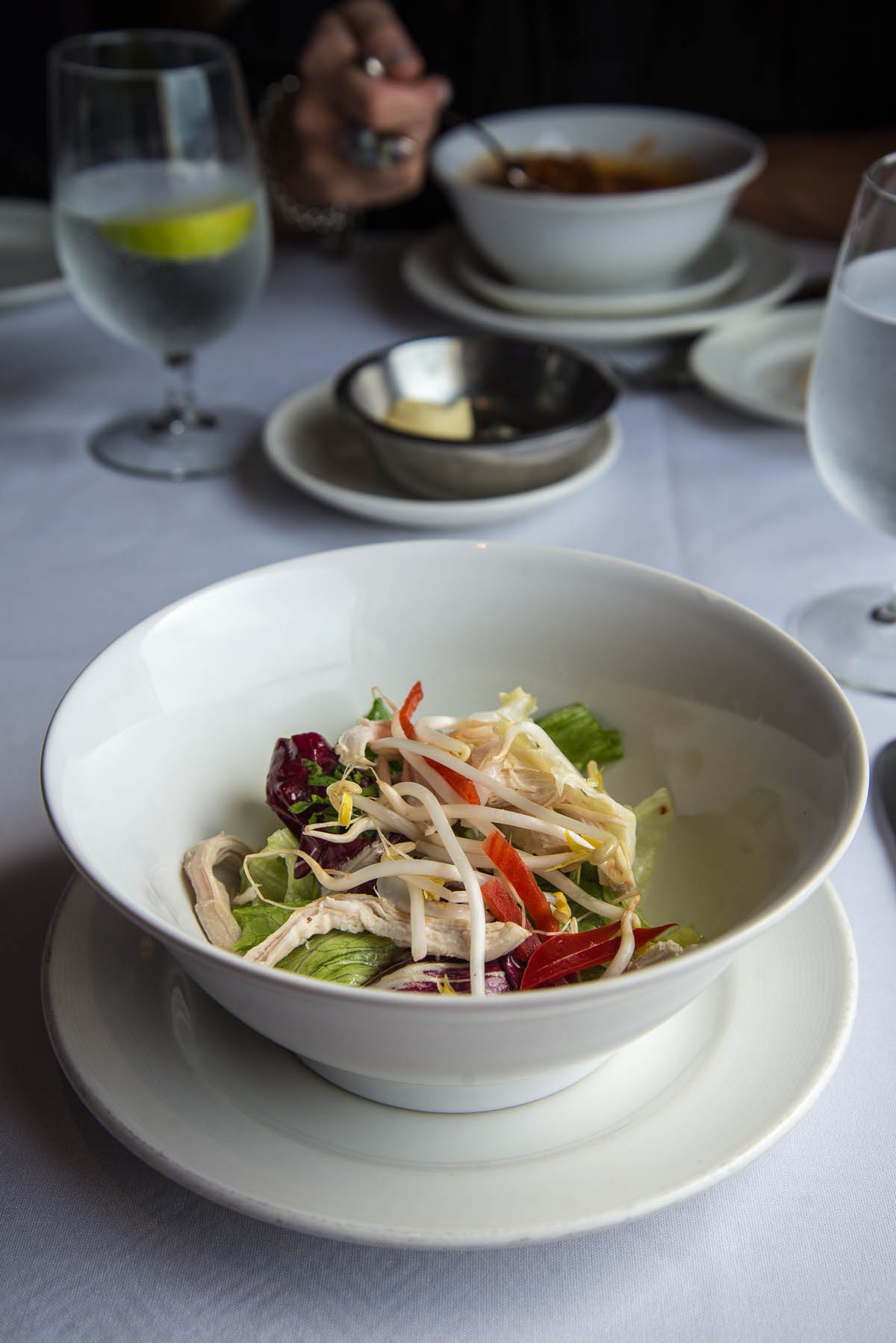 The ingredients are fresh but fresh herbs are in short supply and the dressing is a little insipid. I wonder if stronger flavours tend to be watered down in the main restaurant so as to have broader appeal? I'm sure this salad would be considered fine by many diners but I'm missing the stronger Thai flavours I love.
For mains, I order two dishes: the lamb rogan josh served with rice, cucumber and yoghurt raita and the steamed black mussel pot with crusty bread.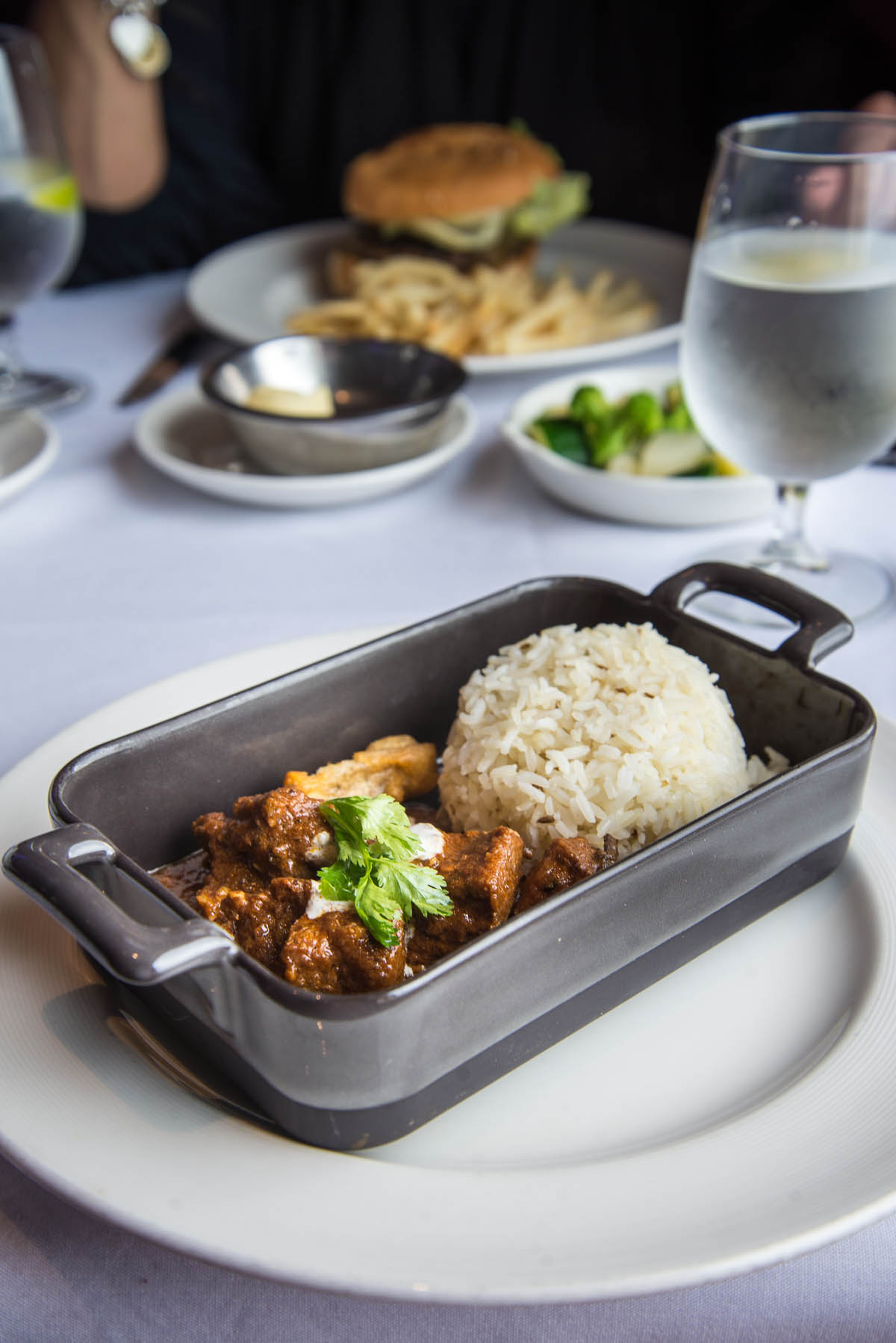 The curry is fantastic – the meat is falling-apart tender and the gravy is rich and fragrant. with spices. Incidentally, I've noticed that the curry has been really good on all three ships I've cruised on.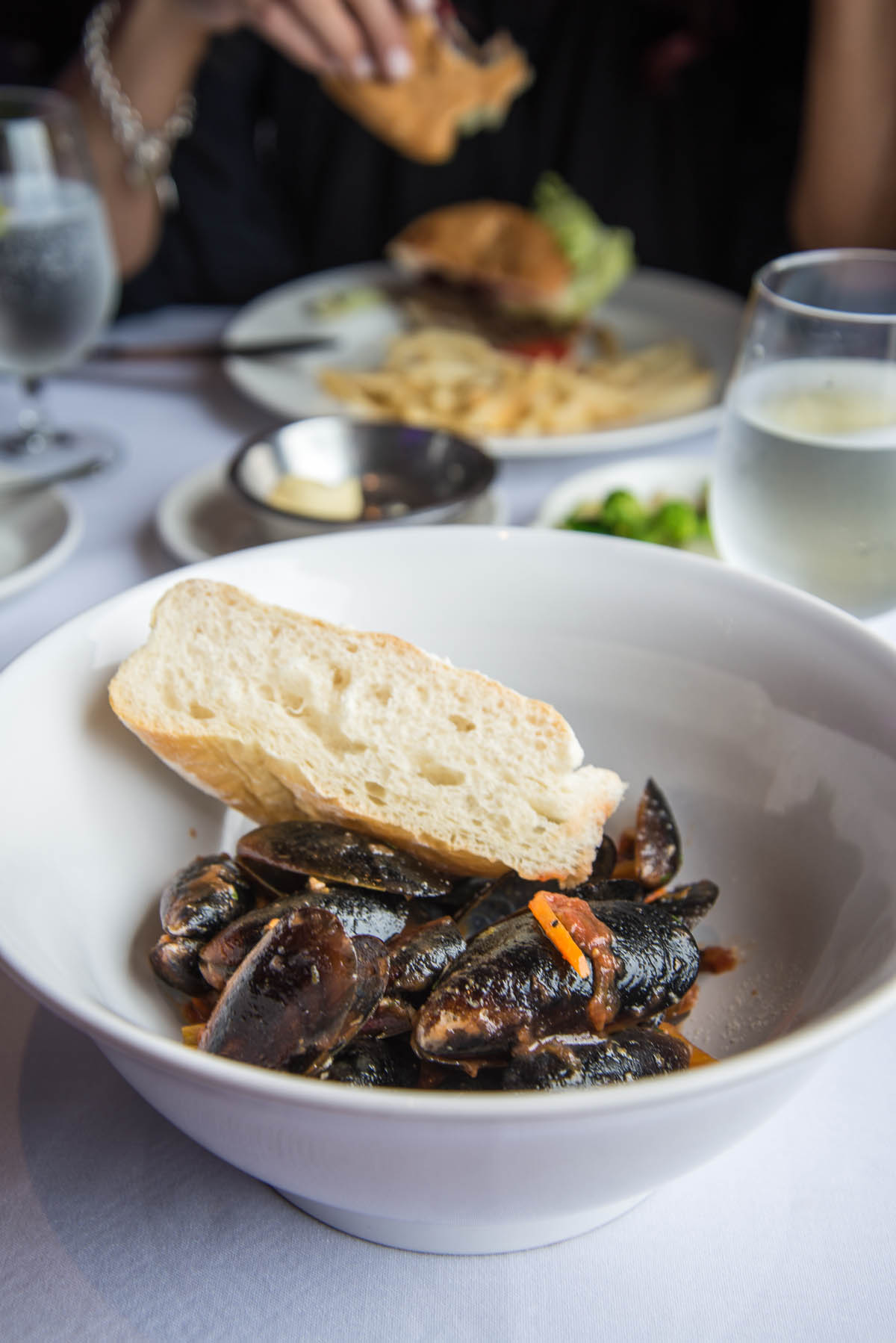 The mussels are small but tasty and served in a rich tomato sauce. I mop up the juices with the crusty soda bread and feel satisfied.
For dessert I order the hot apple and apricot crumble. There are much fancier options available but I'm feeling the need for something homey.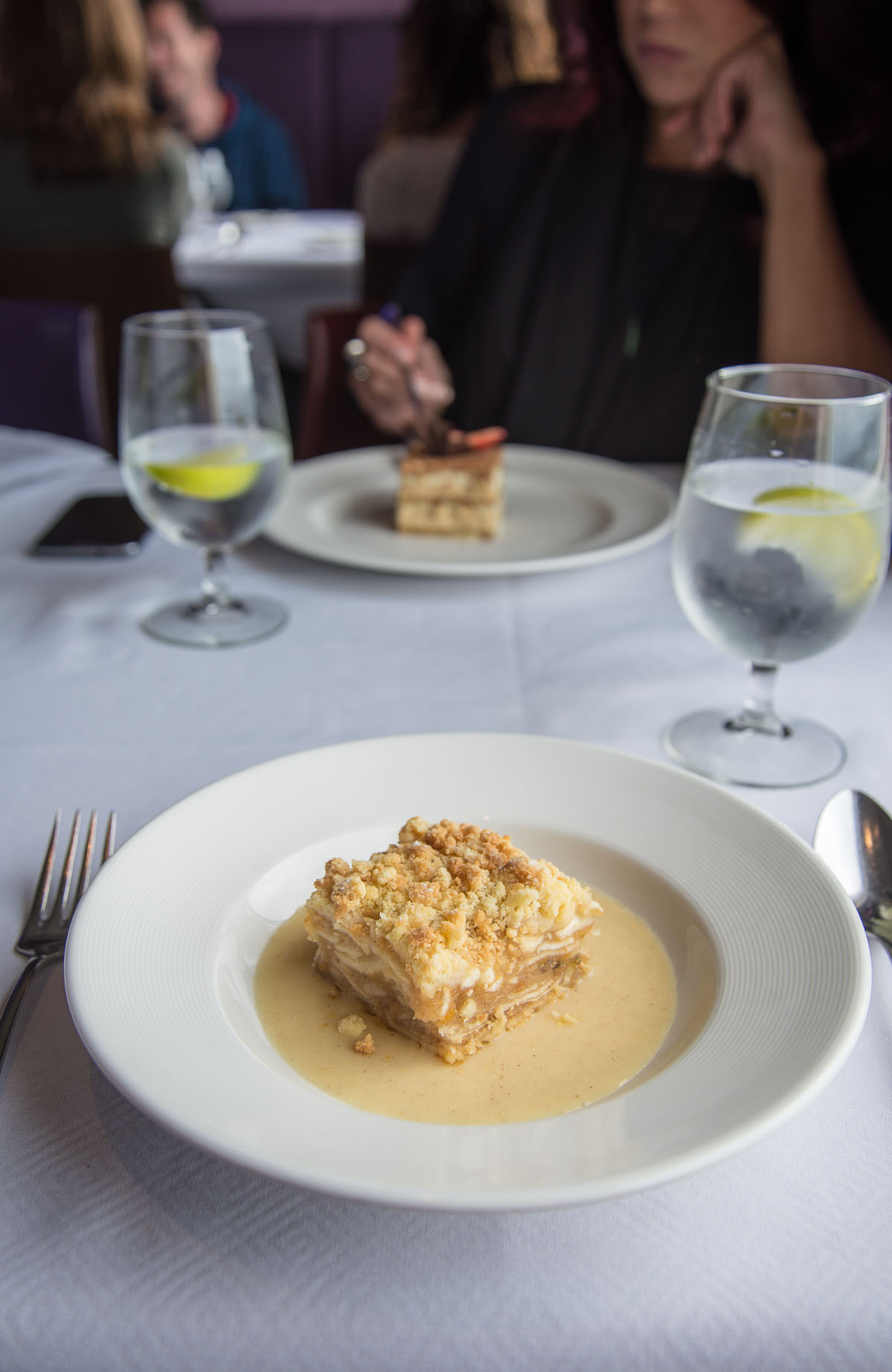 Finely sliced apple is interwoven with apricot pieces to form a dense, cake-like square topped with crumble. Served with custard it's a dessert to leave one feeling both comforted and satisfied.
High Tea at Salt Grill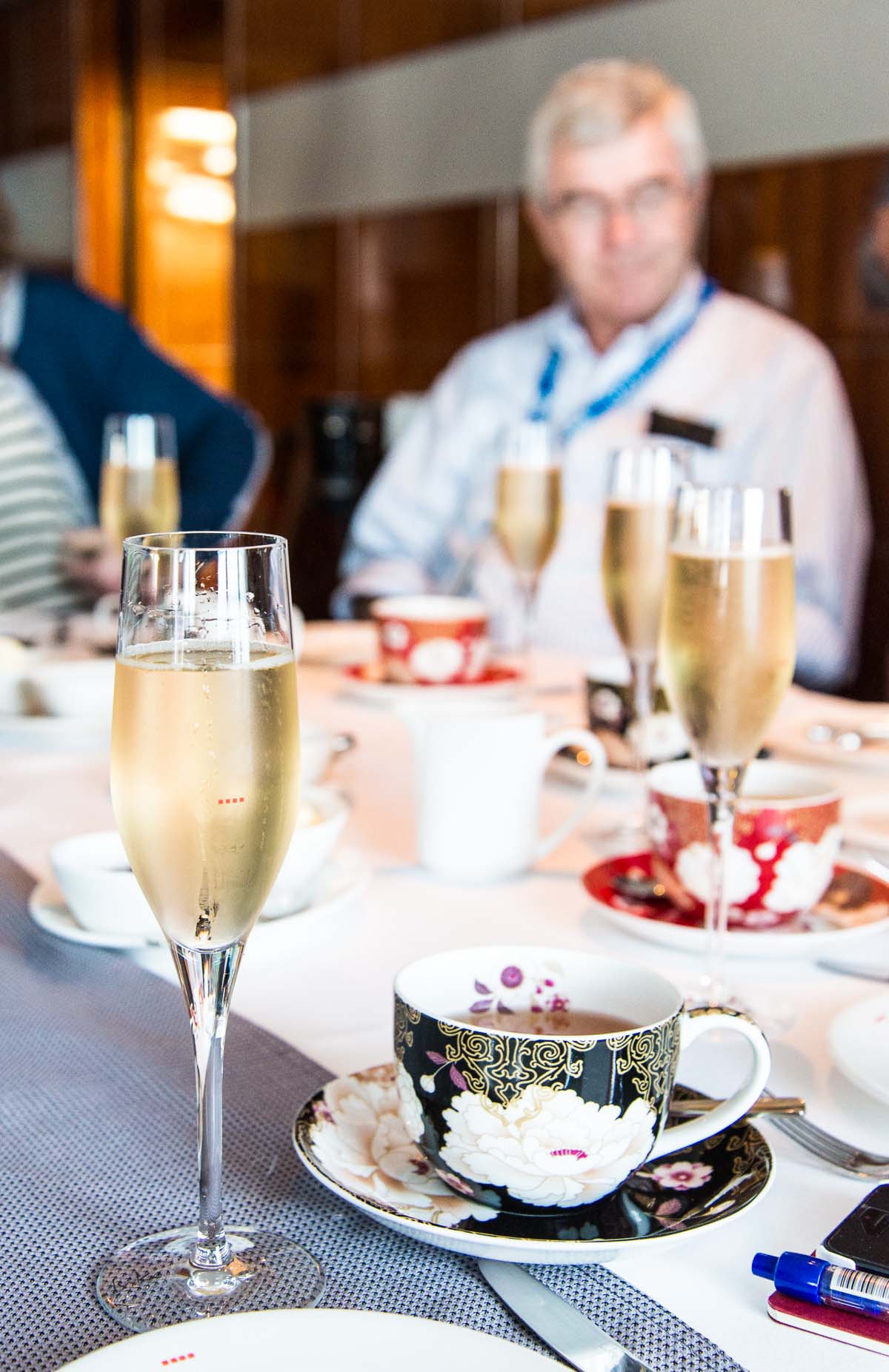 After a brisk walk around the desks to try to work off lunch, we're back at Salt Grill in the mid afternoon for high tea. This new menu is being introduced at all Salt Grills on P&O's ships for the surcharge of $20 per person.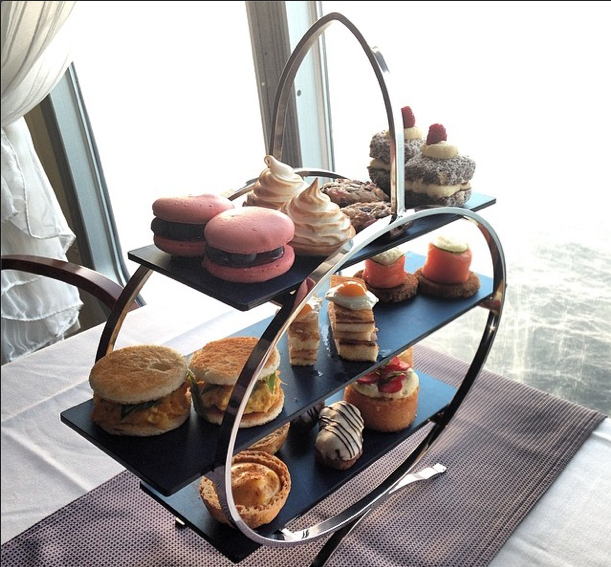 Each guest receives 10 individual cakes or sandwiches, a choice of tea and a glass of sparkling wine. We spend some time admiring our afternoon tea and Instagramming it (see above) before we can bring ourselves to eat it.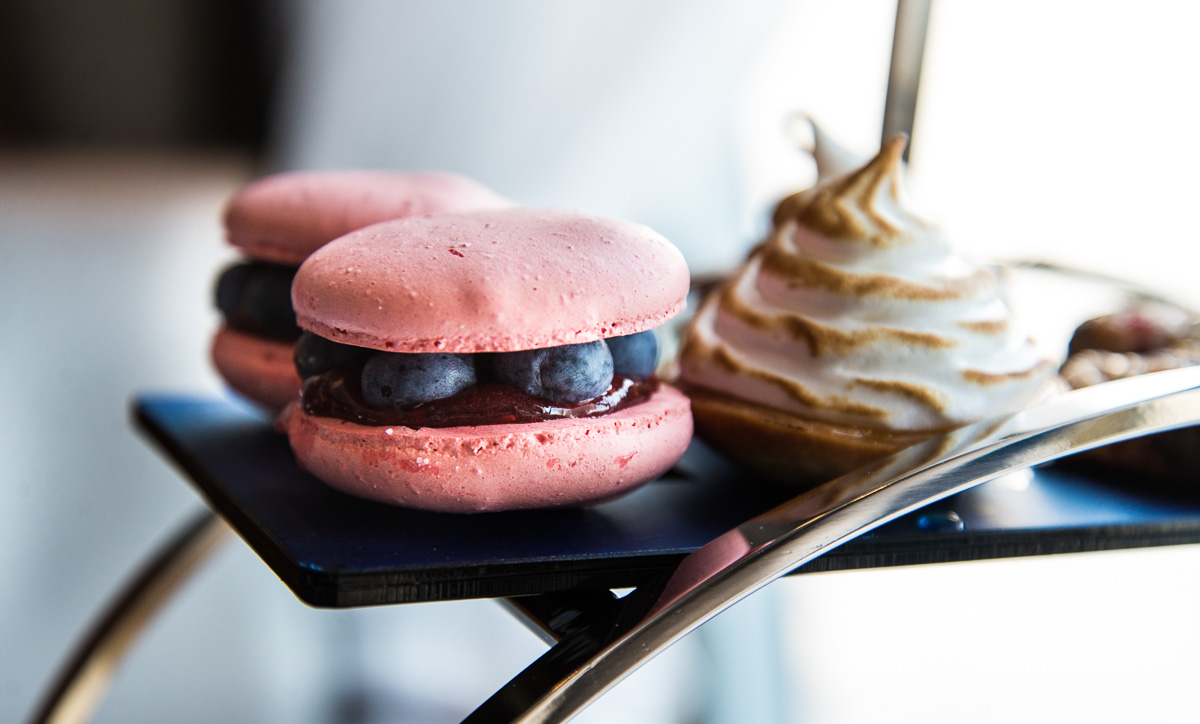 There are seven sweet options including a super-sweet raspberry macaron stuffed with raspberry jam and fresh blueberries, an airy mini lemon meringue pie (both above), an egg tart ( the cinnamon-dusted custard inside has the most sensuously smooth mouth-feel), a chocolate eclair and a rum baba (all below).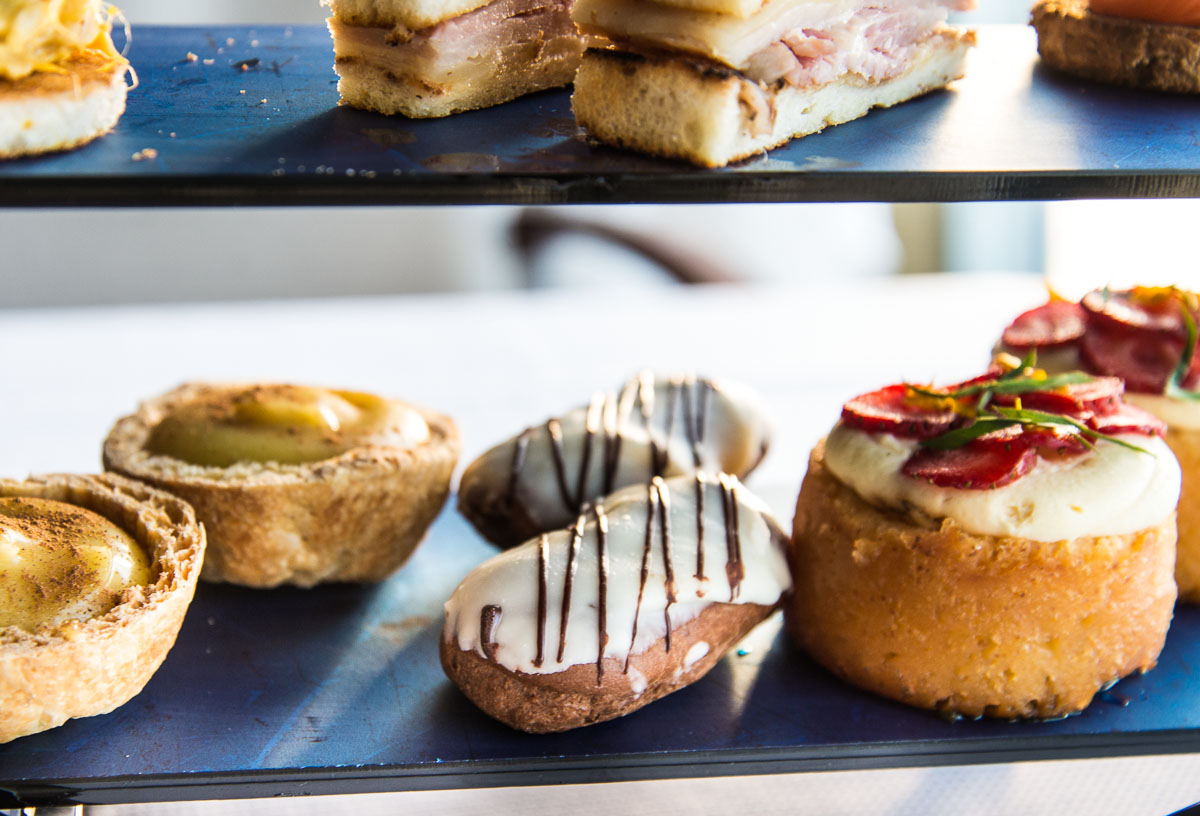 The three savoury options include this excellent coronation chicken toasted sandwich…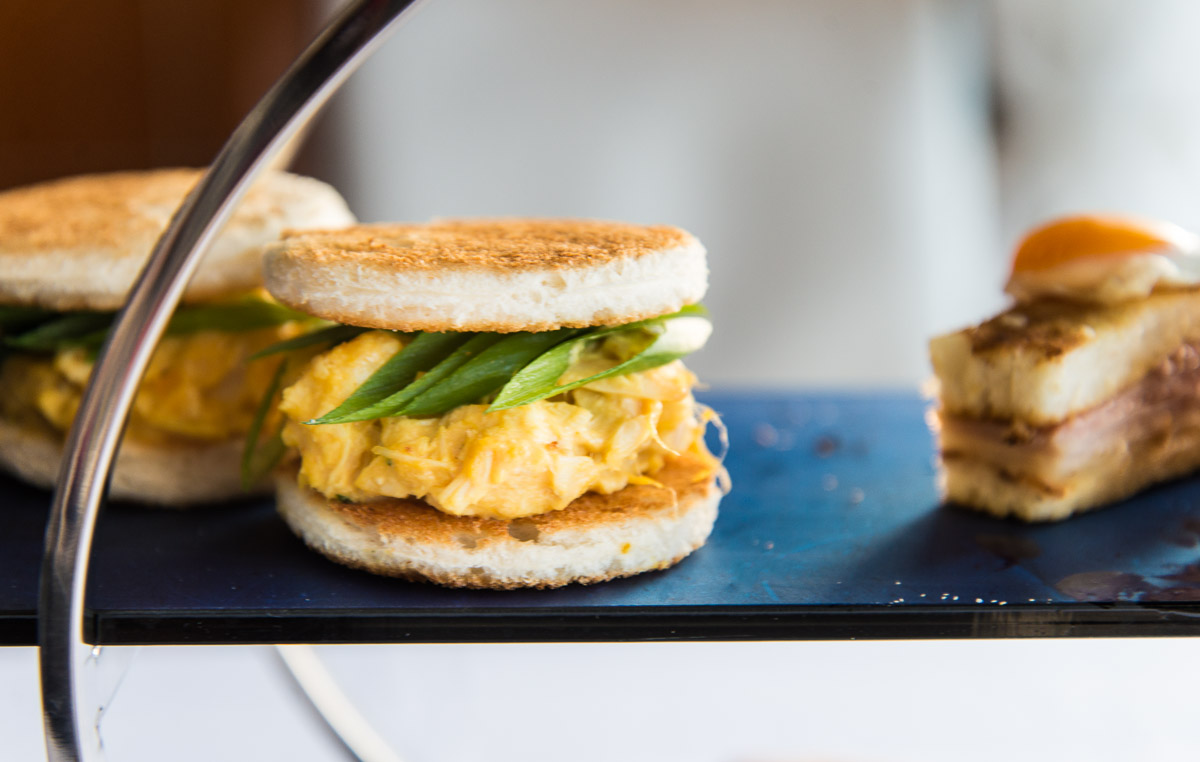 … and this smoked salmon, cream cheese and horseradish sandwich.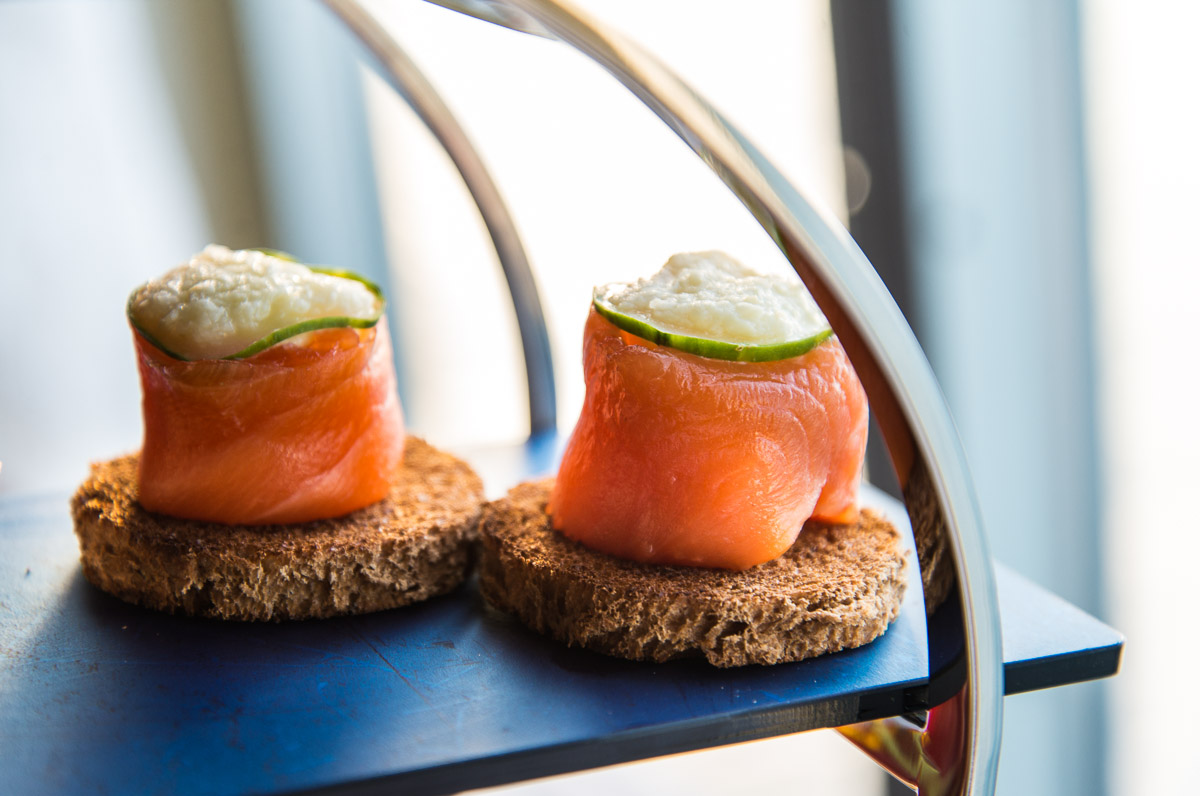 The following items are my favourites. First up, the rather festive looking lamington.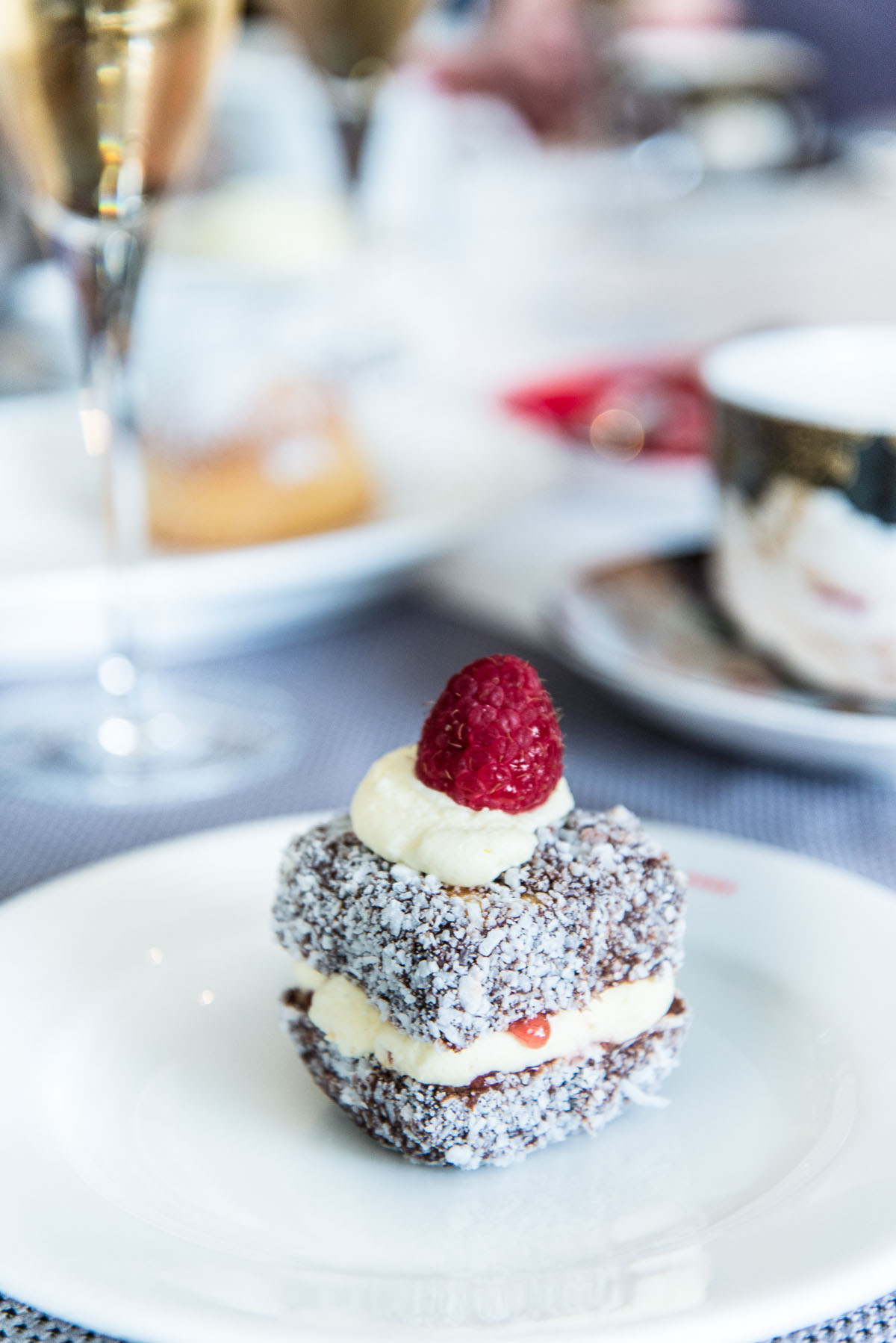 For overseas readers, Australian lamingtons are a square of sponge cake that has been dipped in melted chocolate and rolled in desiccated coconut. Salt Grill has fancied up the original recipe by cutting the square in half, adding whipped cream and a little raspberry on top. It's absolutely delectable and bears little resemblance to the lamingtons my mum used to bake for school fundraisers.
My favourite savoury dish is the Croque Madame (below), a classic French toasted sandwich stuffed with ham and cheese.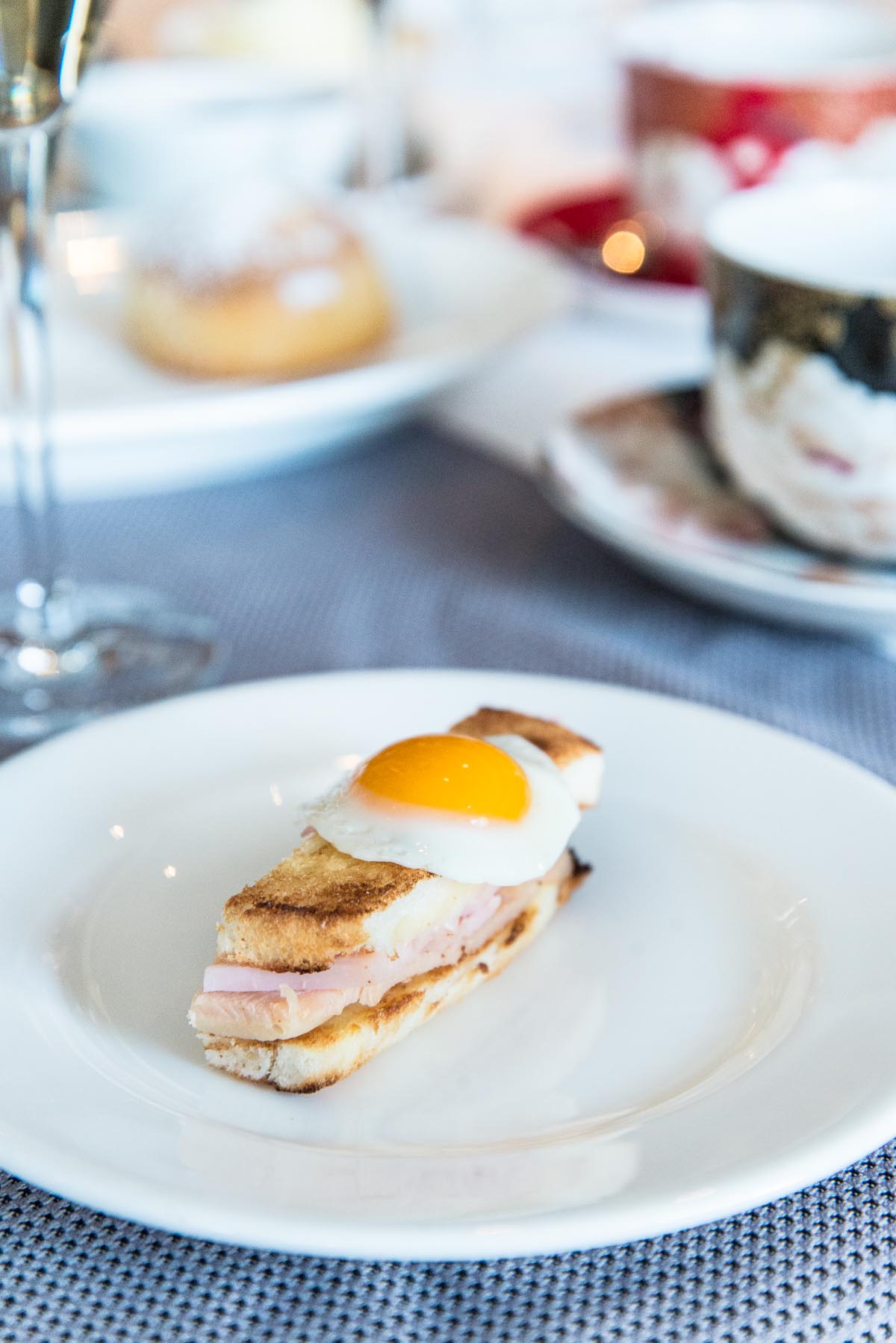 Like its sibling the Croque Monsieur (identical except for the fried egg), the Croque Madame is one of those dishes that appeals on some kind of nostalgic level, regardless of whether one actually ate it as a child or not. Here, the cuteness factor is played up by the use of quail eggs, which are perfectly sized for this miniature version.
I finish my high tea with a traditional scone, strawberry jam and cream.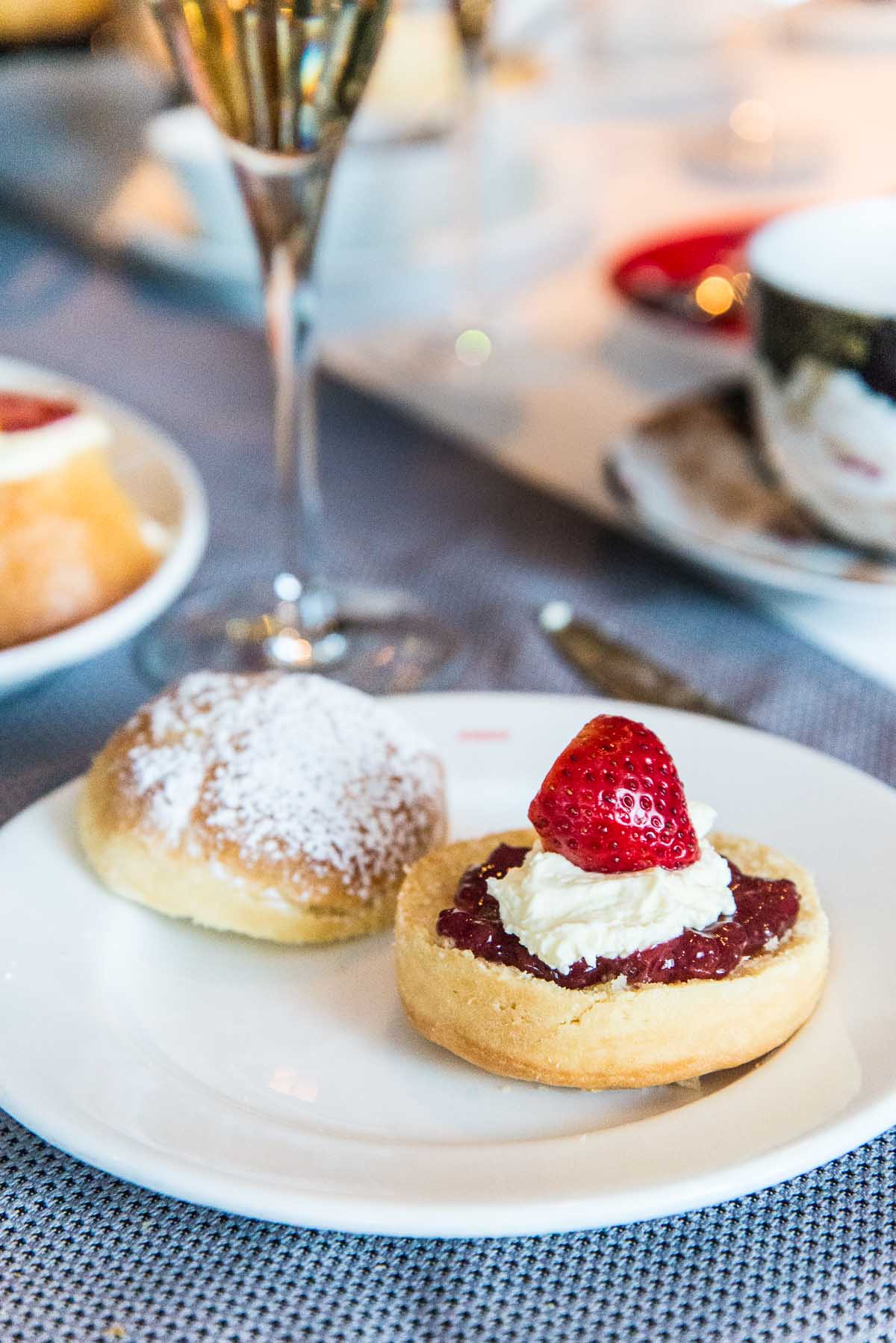 The scone has a great, even crumb and buttery taste which I wash down with another cup of hot tea.
If you eat as much as I generally do at meal time, afternoon tea is a completely unnecessary, hedonistic and over the top experience. And yet it's frightfully civilised and charming, too, reminding us of an earlier time when people (well, the English) made a point of stopping what they were doing in the afternoon to enjoy some polite conversation over a pot of tea, sandwiches and cakes.
We're all in such a hurry nowadays that occasions to relax and indulge are few. So I encourage you to make time in your schedule and room in your stomach to experience high tea every now and then. Yes, you'll have to spend a bit longer in the gym the next day but opportunities to experience a truly decadent culinary experience shouldn't be overlooked.
Chef's Table Dinner at Waterfront Restaurant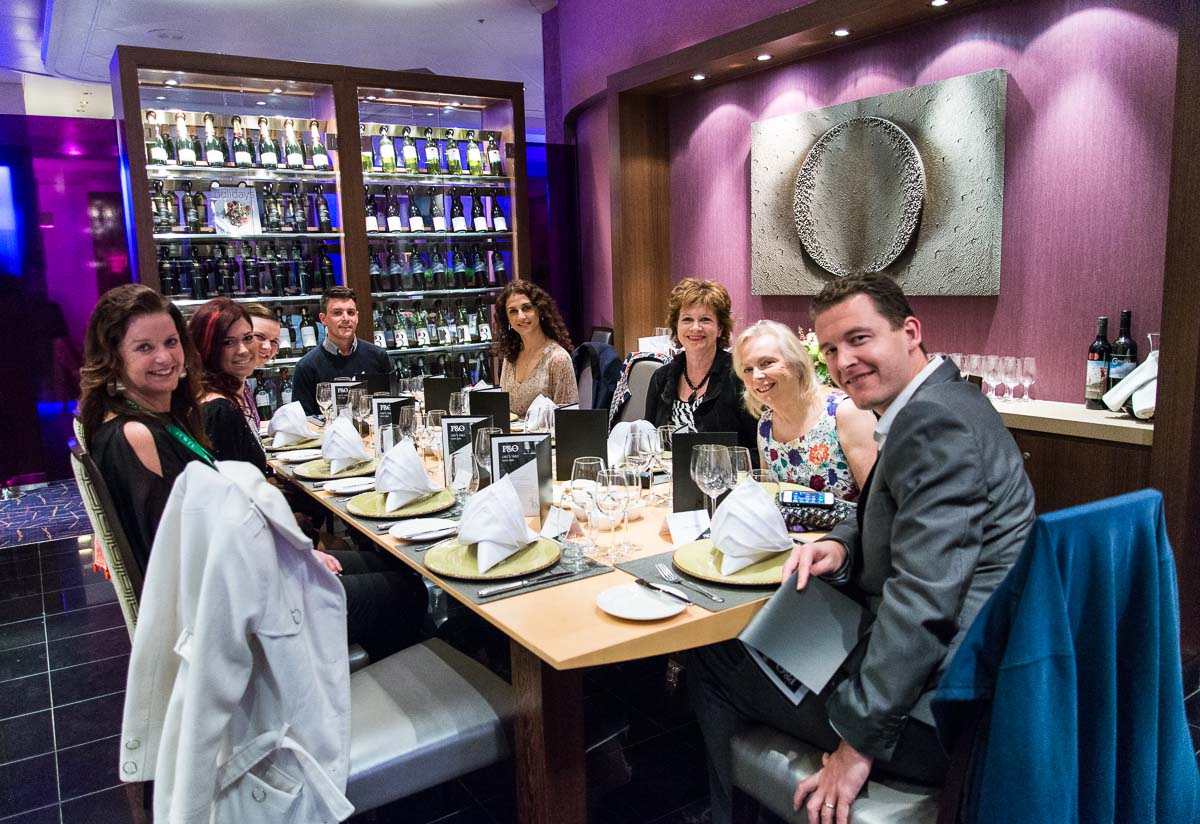 For our final dinner, P&O have organised for my media group to enjoy the Chef's Table experience. What is the Chef's Table experience? Well, it's a 7-course degustation with matched wines for up to 14 people served in the Waterfront's private room. As a special dining option the Chef's Table is charged at $95 per person.
The friendly Maitre D'hotel, Darren Cholerton,and Executive Chef, Brett Bonnette, visit us throughout the evening to introduce the dishes and gain our feedback while our dedicated and extremely good serving staff cater to our every need.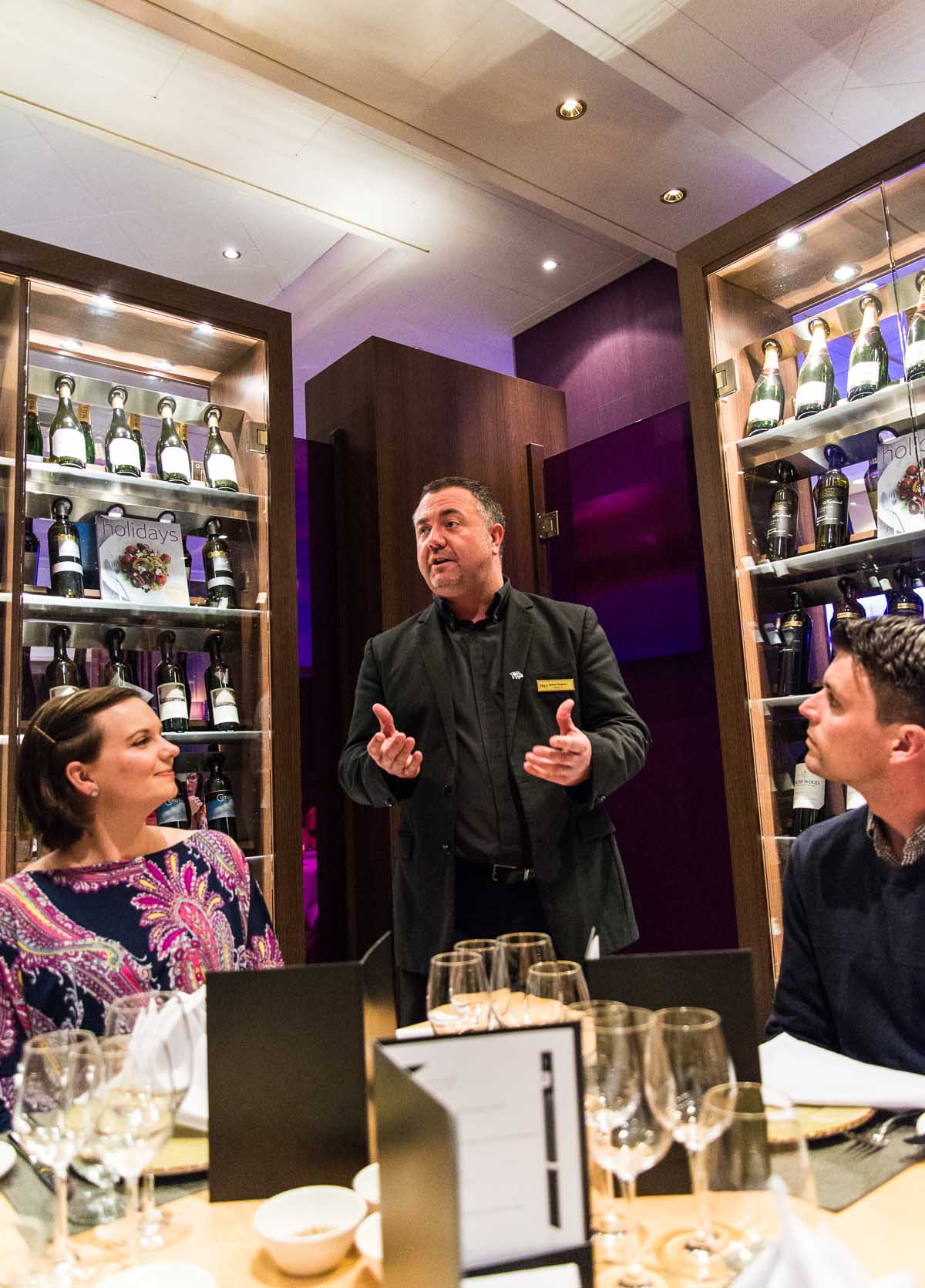 For Executive Chef Bonnette, the Chef's Table experience is an opportunity to push the boundaries a bit.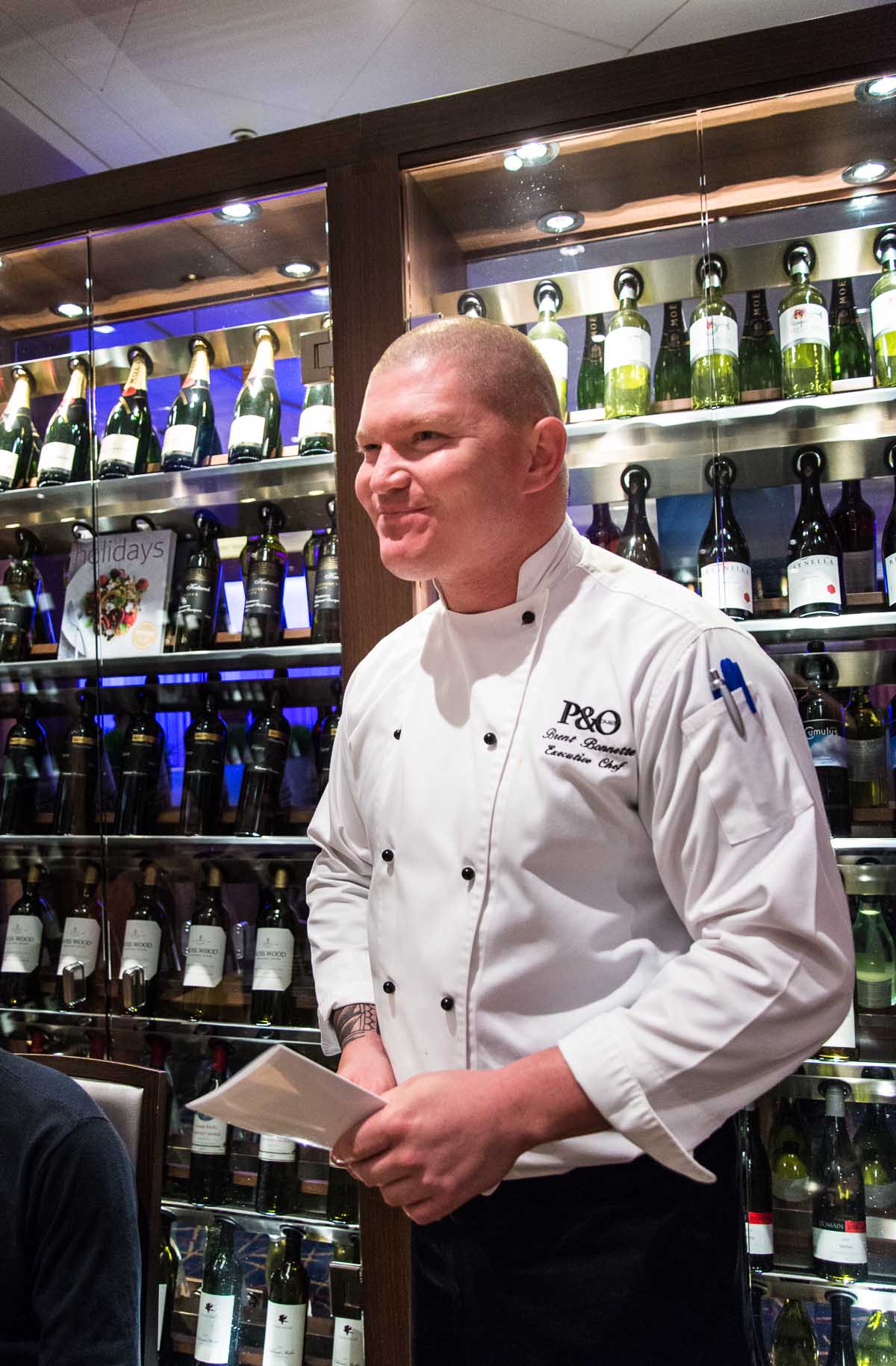 We're offered a choice of four bread rolls to start, accompanied by both plain and herb butter, two different dukkahs and olive oil and balsamic vinegar.
The first course is supreme of duck confit.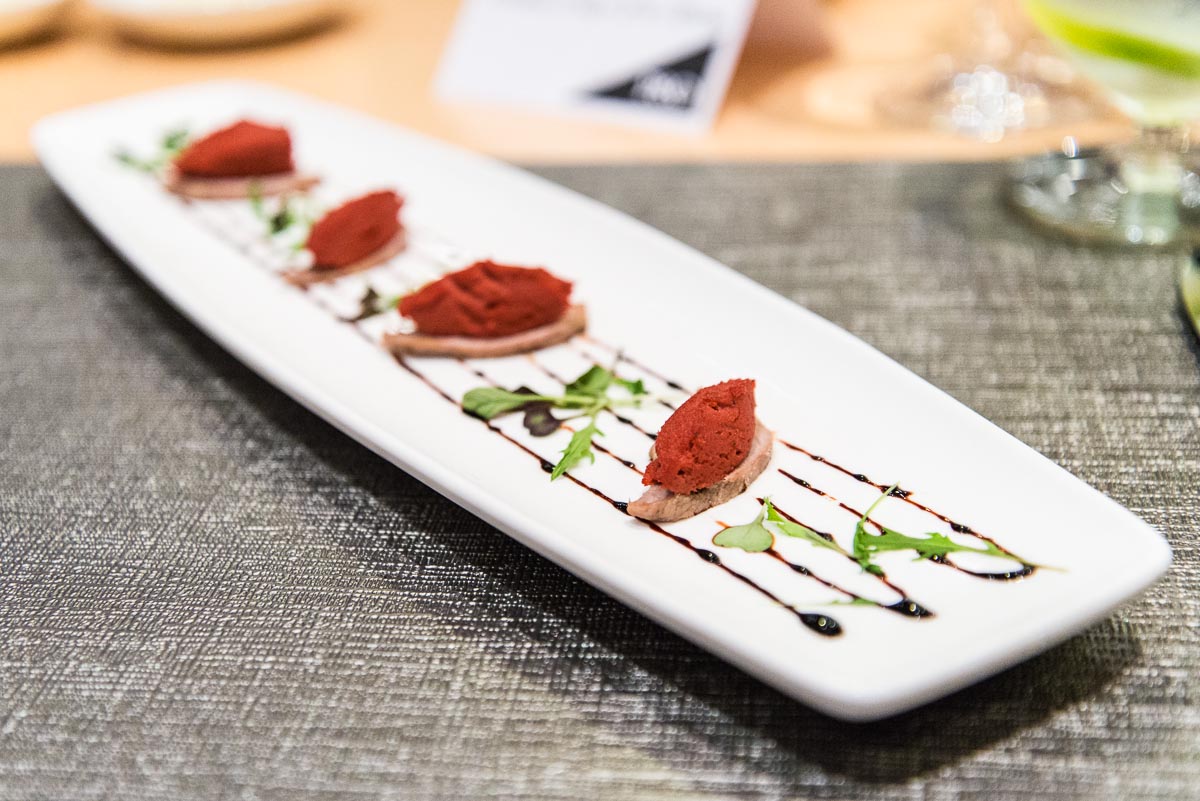 Here the duck breast have been salted and then cooked at a low temperature for four hours before being sliced into neat pieces that serve as a base for a rich duck mousse made from the dark leg meat and whiskey. A sweet balsamic reduction cuts through the richness of the meat while micro rocket leaves adds some welcome pepperiness. The gaminess of the meat is wonderfully matched with the melon and passionfruit flavours in the wine, a Saint Claire Sauvignon Blanc.
The next dish is a baked pumpkin soup with a lemongrass-infused pouring cream.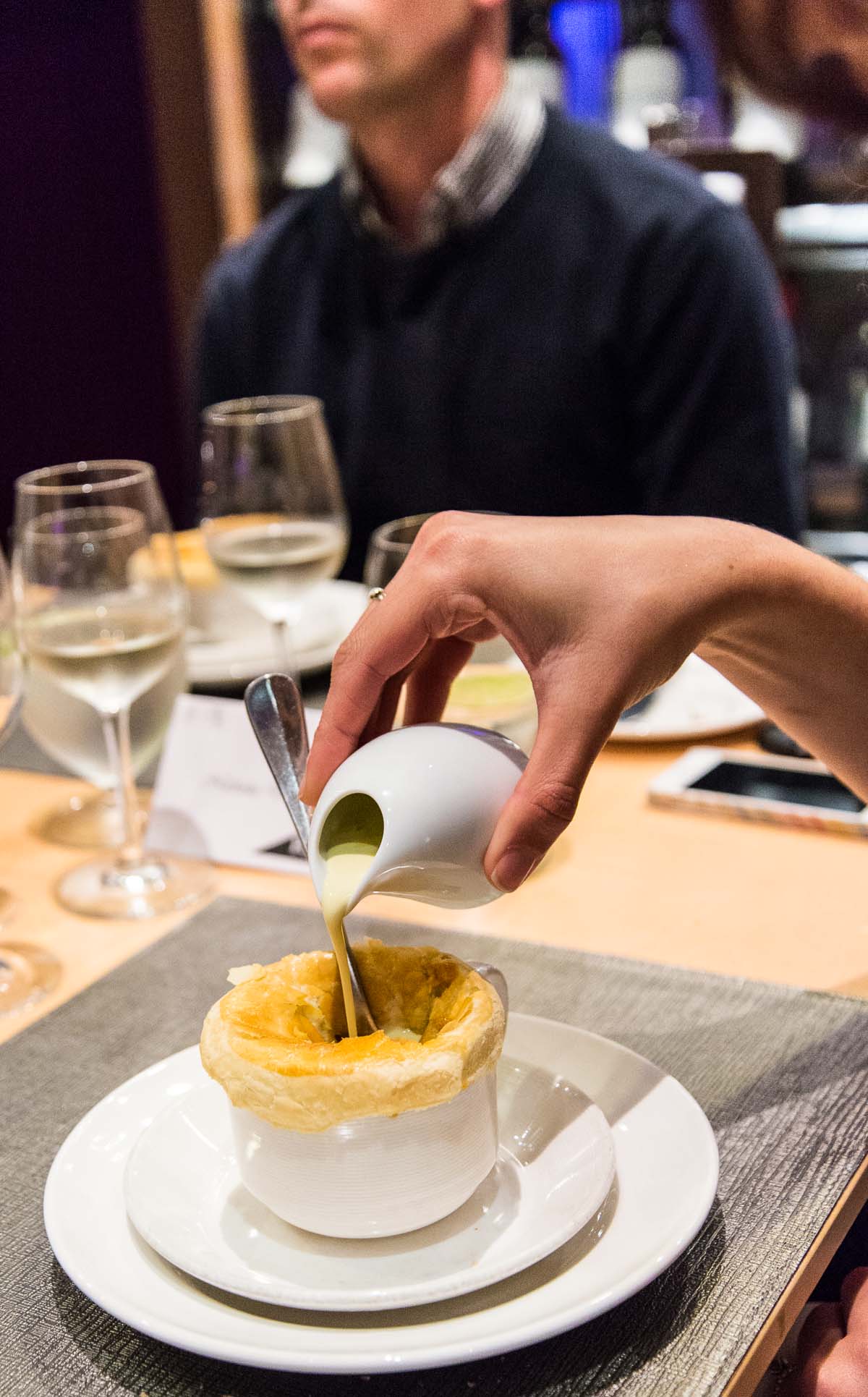 I love food that demands participation beyond mere mastication – breaking through the pastry and pouring the fragrant cream are simple actions that delight the child in all of us. The addition of the flavoured cream transforms the pumpkin soup into something quite remarkable, although the Thai-style flavours do seem a little at odds with the rest of the French-inspired menu.
The next course is seared salmon on pommes mille feuille, cognac butter sauce and truffle oil.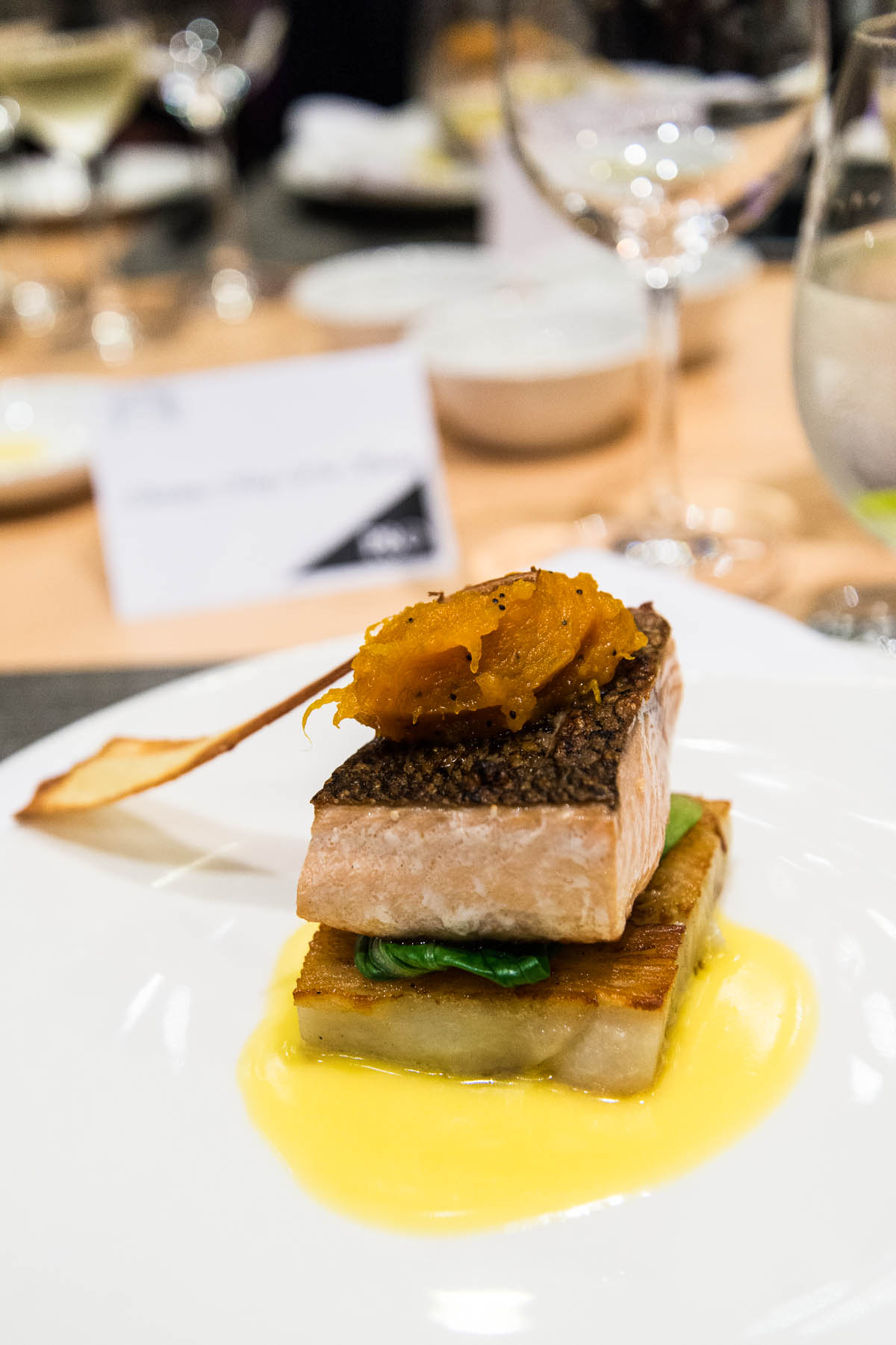 Between the oily salmon, the incredibly buttery potato layers and the sauce, this is a very rich dish. The bok choy adds a bit of welcome bitterness, while melon-y sweetness is provided by the accompanying Cumulus chardonnay.
The next course is a vodka citrus basil sherbet with Mrs Wigley Moscato from the McLaren Vale.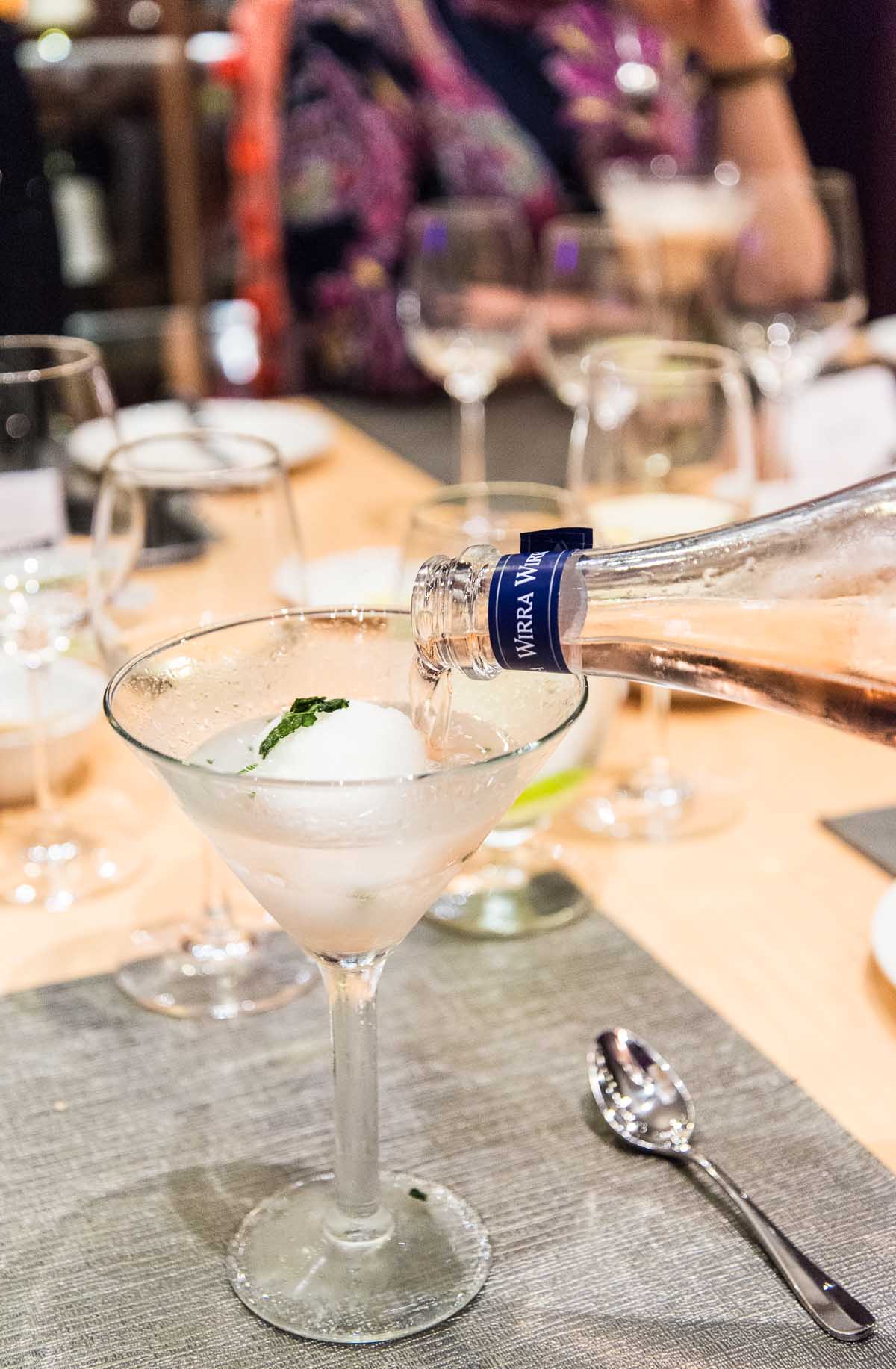 Regular readers will know that I'm a sucker for a boozy frozen dessert (check out my Bellini and Mimosa Sorbets) and this vodka sherbet hits all the right notes.
The next course is a smoked lamb medallion served on a corn cake, with green beans, merlot cordon and a blueberry mint compote.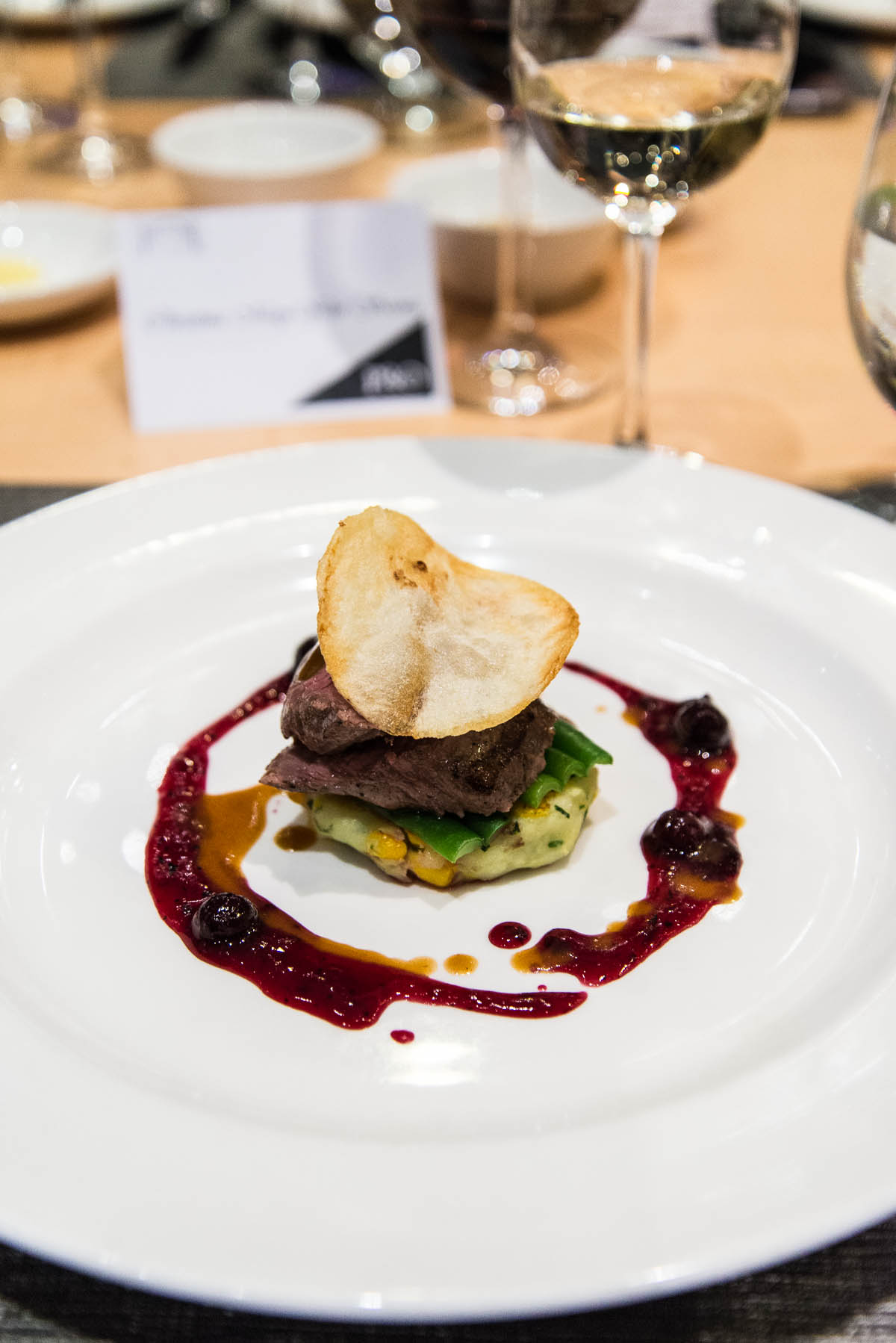 There are a lot of different flavours going on here but it all works together and the lamb is beautifully tender and pink.
The cheese board comprises pieces of Gorgonzola Dolce blue, a brie, a washed rind (I think) and  a tangy goat's cheese served with quince jam.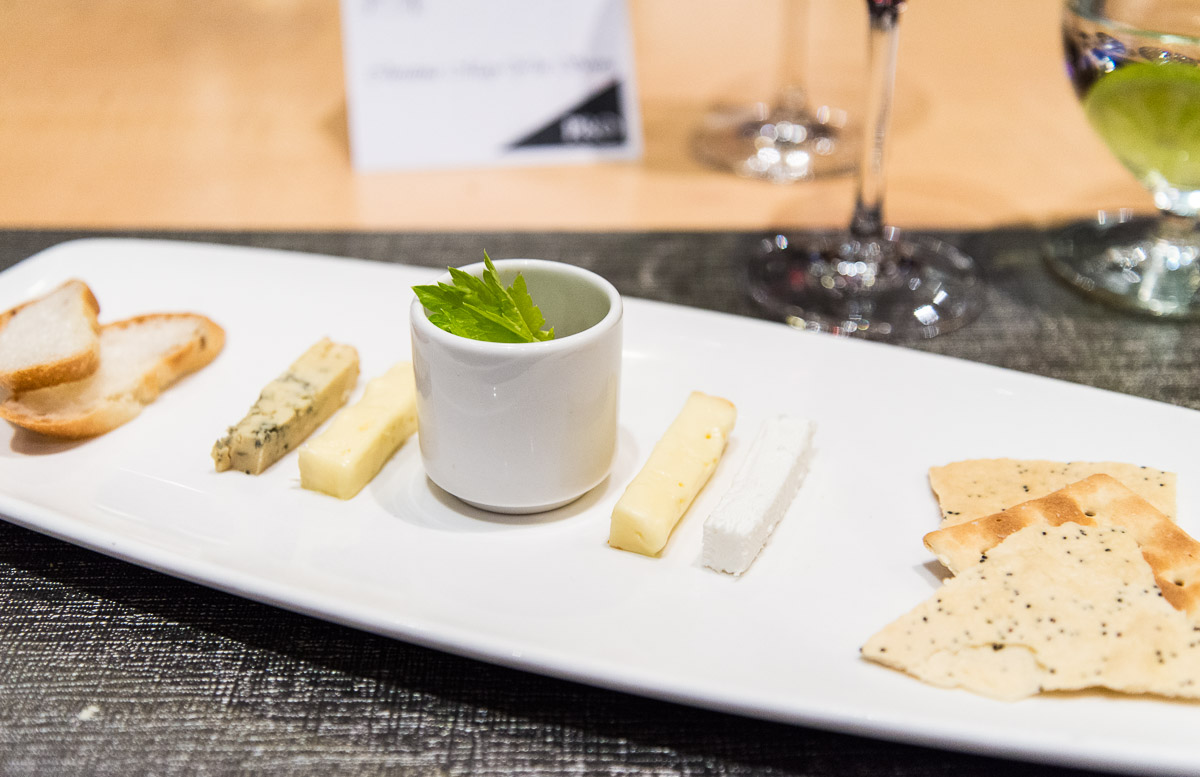 Finally, the last course arrives. The sweet degustation comprises boysenberry ice cream, a rum pumpkin flan (very similar to crème brûlée) and a slice of chocolate cake with cayenne pepper.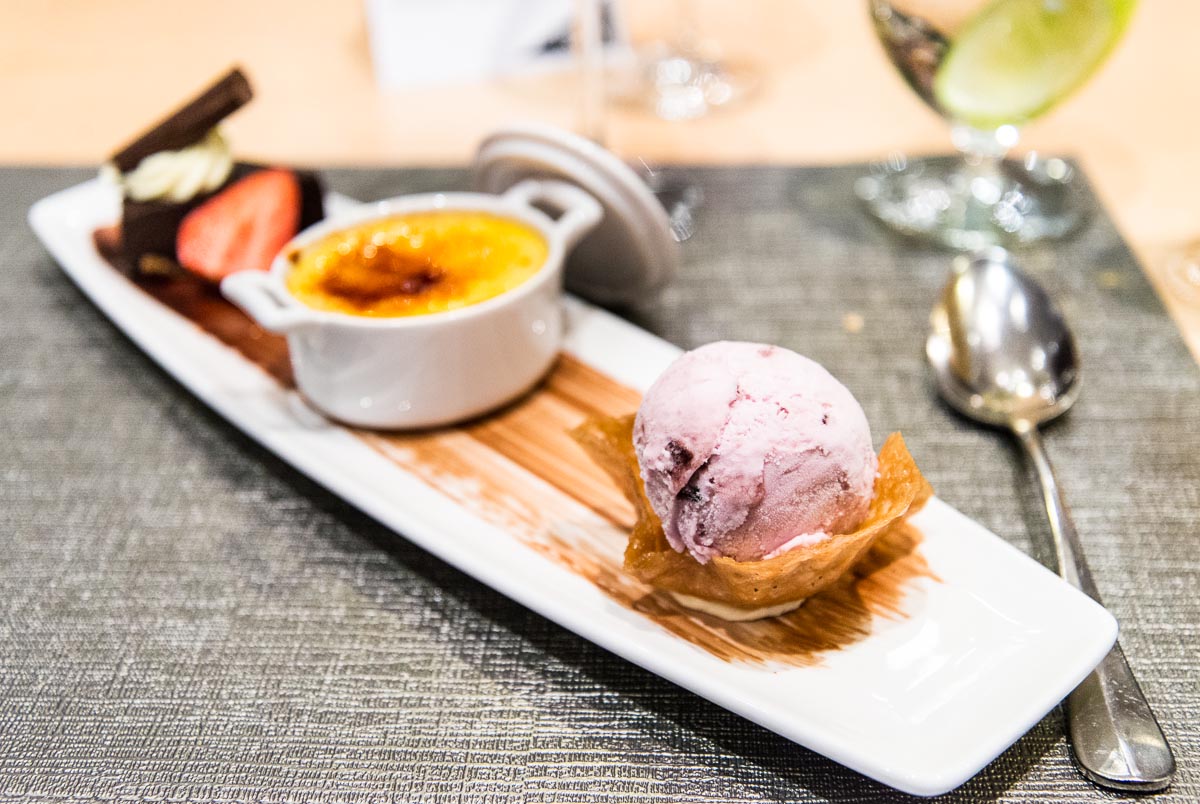 Like all the food aboard the Pacific Jewel, everything tonight has been made from scratch; the boysenberry ice cream has been made from real boysenberries and cream and is the hit of the bunch. The dessert course is accompanied by a seductive sticky, the Margan Botrytis from the Hunter Valley.
The Chef's Table has been a lovely way to finish our cruise. It would be a fun way to celebrate a birthday or anniversary so if you're keen to try it do book before you travel.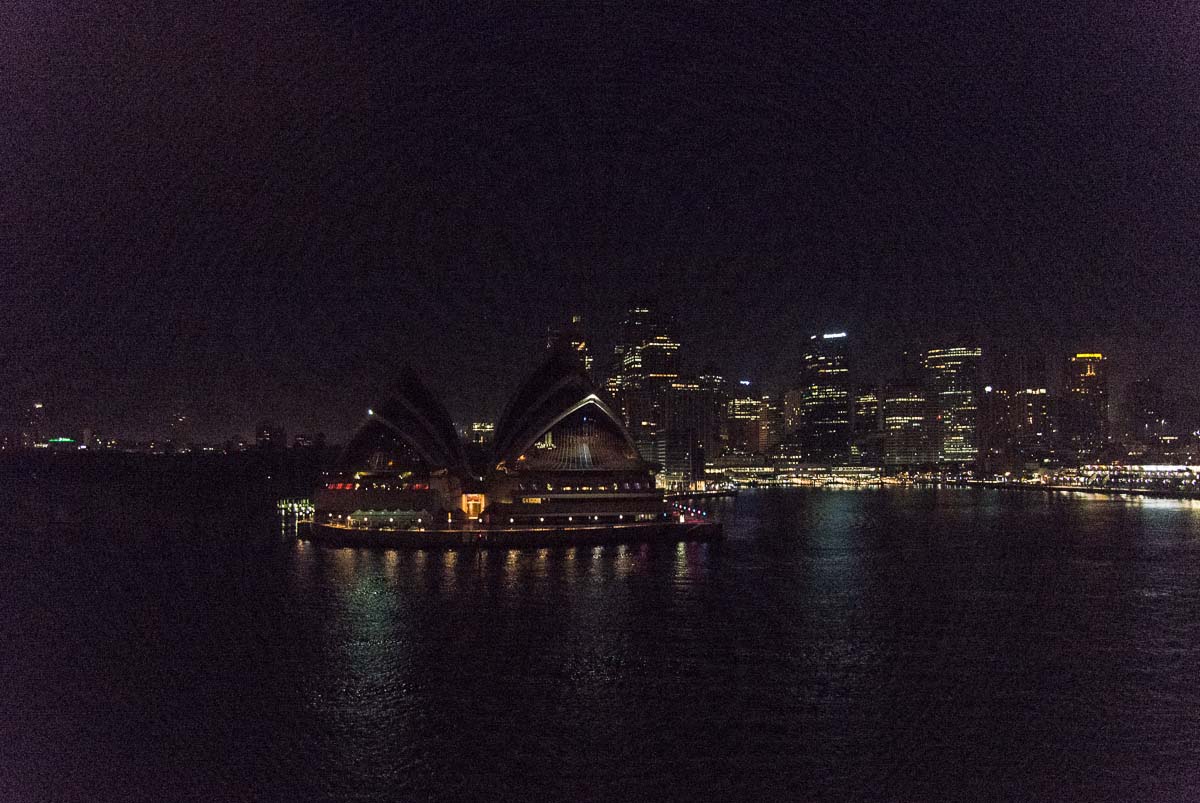 The next morning we arrive back in Sydney before the sun is up. We've packed a huge amount into our three-day trip — I haven't even mentioned the fun food and wine pairing class, the relaxing spa treatments, the divine Thermal Suite or the karaoke and dancing at the night club — and are feeling relaxed and refreshed. Vanessa is already busy planning to do a cruise with her mother later in the year while I'm ready to face a day of meetings in Sydney.
Welcome to the new cruising.
Disclosure
Vanessa and I travelled on the Pacific Jewel as guests of P&O Cruises. As always, all opinions are my own.
More Information
Upcoming food and wine cruises departing from Sydney include Pacific Pearl on August 1, 2014, with fares starting from $349 per person quad share, and Pacific Jewel on November 7, with fares from $549 per person quad share. Fares include accommodation, main meals, entertainment and many activities. For bookings contact P&O Cruises.
In 2015, P&O Cruises will offer five to eleven-night cruises round-trip from Adelaide on the Pacific Jewel for the first time. The nine-night trip visits Melbourne, Burnie, Kangaroo Island, Port Lincoln and Portland and is priced from $1,199 per person quad share.
Other Travel Posts
Subscribe to The Hungry Australian
Don't want to miss a post? Sign up to receive new posts once a week – it's FREE!!