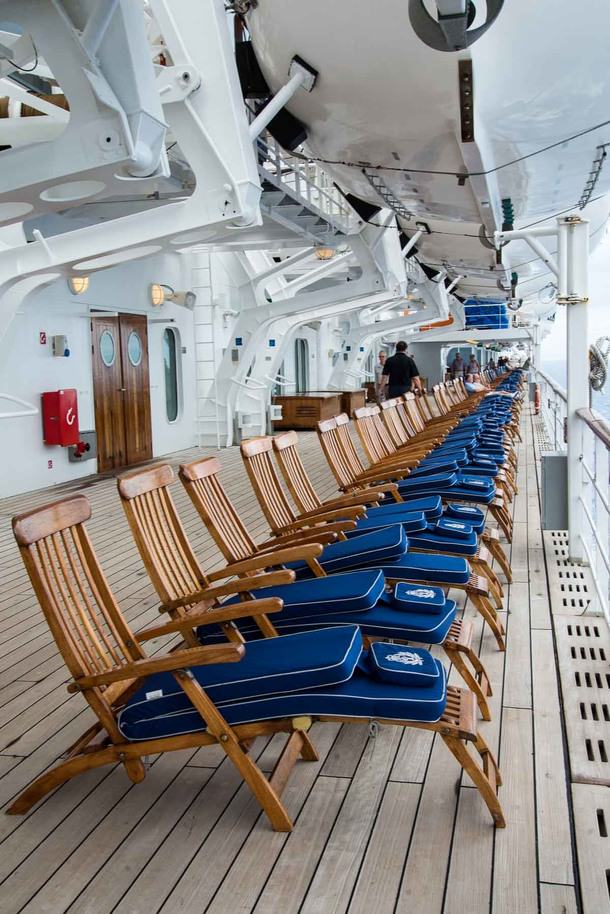 Cruising is one of the fastest growing holiday markets in Australia at the moment. While it's popular with greying nomads who are keen to see the world while retaining their creature comforts it's proving to be popular with younger couples, families and groups of friends, too.
Regular readers will know that I went on a family cruise to the Pacific islands last year. It was an easy way to holiday although I could have done with a touch more 'me' time.
So when an invitation to join the Queen Mary 2, on the Sydney-Brisbane leg of her world voyage dropped into my inbox I didn't need much convincing. Unlike the family atmosphere of my last cruise, the Queen Mary 2 caters more or less exclusively to adults.
Here's what happened.
Queen Mary 2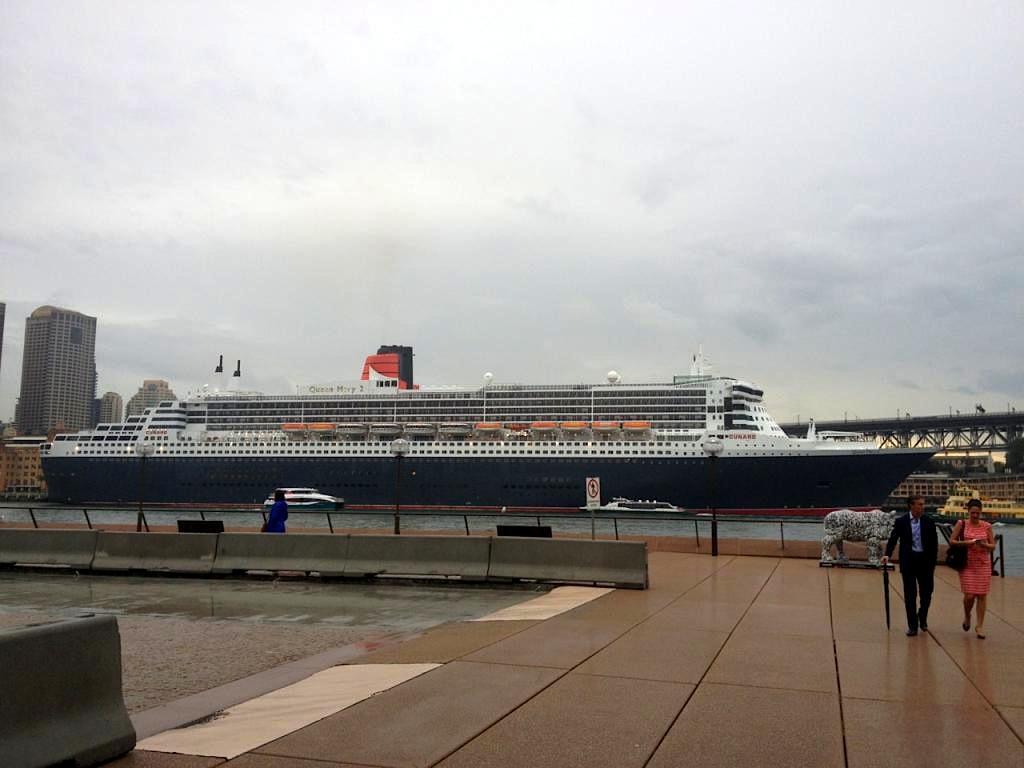 At 345 meters long and 62 meters high (above water) the award-winning Queen Mary 2 is the largest ship ever to visit Australia. She can accommodate 2,620 guests in 10 different stateroom types plus 1,253 crew over 17 decks. Her maximum speed is 30 knots or 55 kmh and she features the largest ballroom and library at sea, as well as the first ever planetarium at sea.
After checking in at the Overseas Passenger Terminal at Circular Quay — check in can be a lengthy process so time your arrival carefully — I arrive at my balcony suite in the mid afternoon.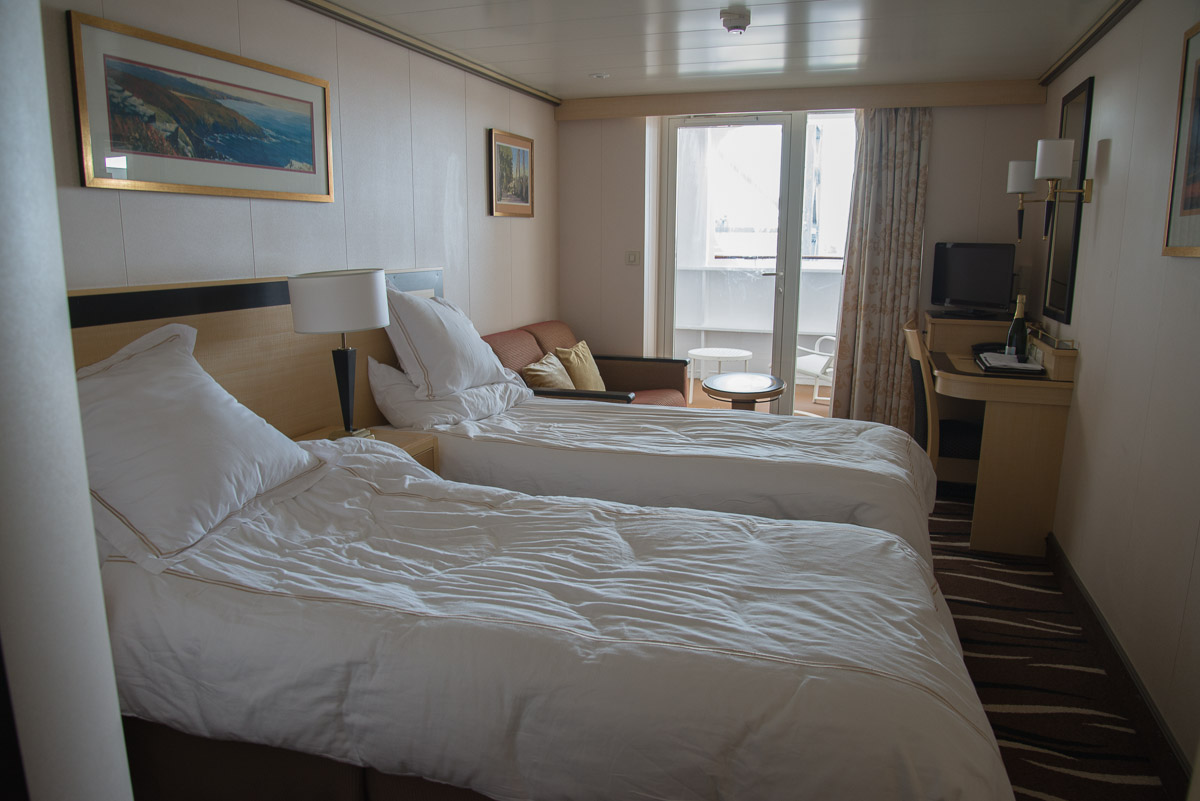 I'm feeling tired and hungry, having been up since 4:30am to catch my flight from Adelaide to Sydney for a morning meeting. I'd noticed a number of the eating outlets open on my way up here but I want to rest my dodgy knee so I order a cheeseburger and Caesar salad from room service (available 24 hours).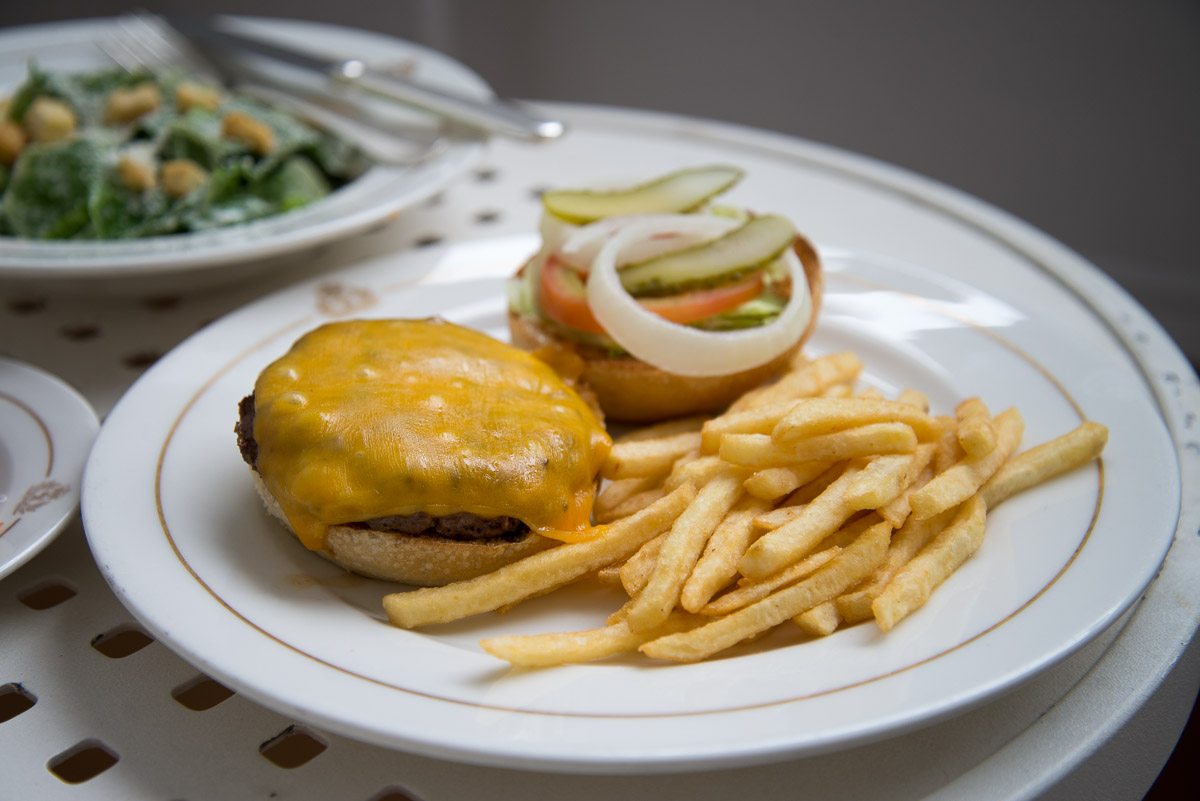 The food arrives twenty minutes later. With the addition of tomato sauce, mustard and mayonnaise from the provided sachets the burger tastes remarkably similar to a Hungry Jacks' Whopper while the Caesar salad is basic but refreshing.
I take my food out onto the balcony so I can eat while I look out onto the Harbour and the Sydney Opera House.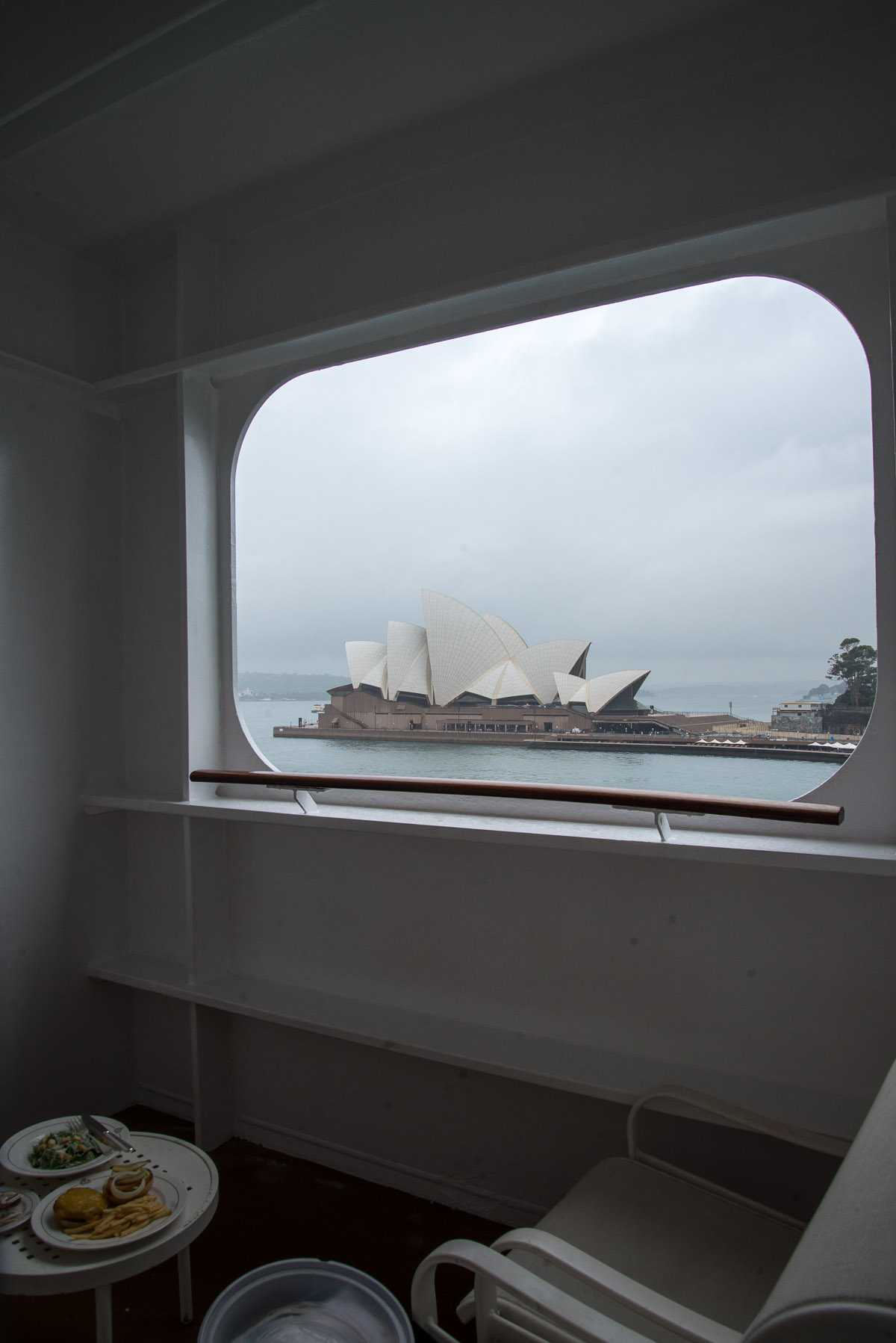 Even though the day is overcast, hazy and humid you can't really beat that view, can you?
My plus one, G, soon arrives. G lives in Sydney and is my oldest friend. She is very conscientious; within minutes of arriving she had tidied up all the items I'd flung carelessly around the place. "This is just like when we were kids and I'd tidy up your room for you," she laughs. 
We don't have a lot of time before we're due to meet the group of media we're travelling with so we quickly dress and head out.
Drinks at The Commodore Club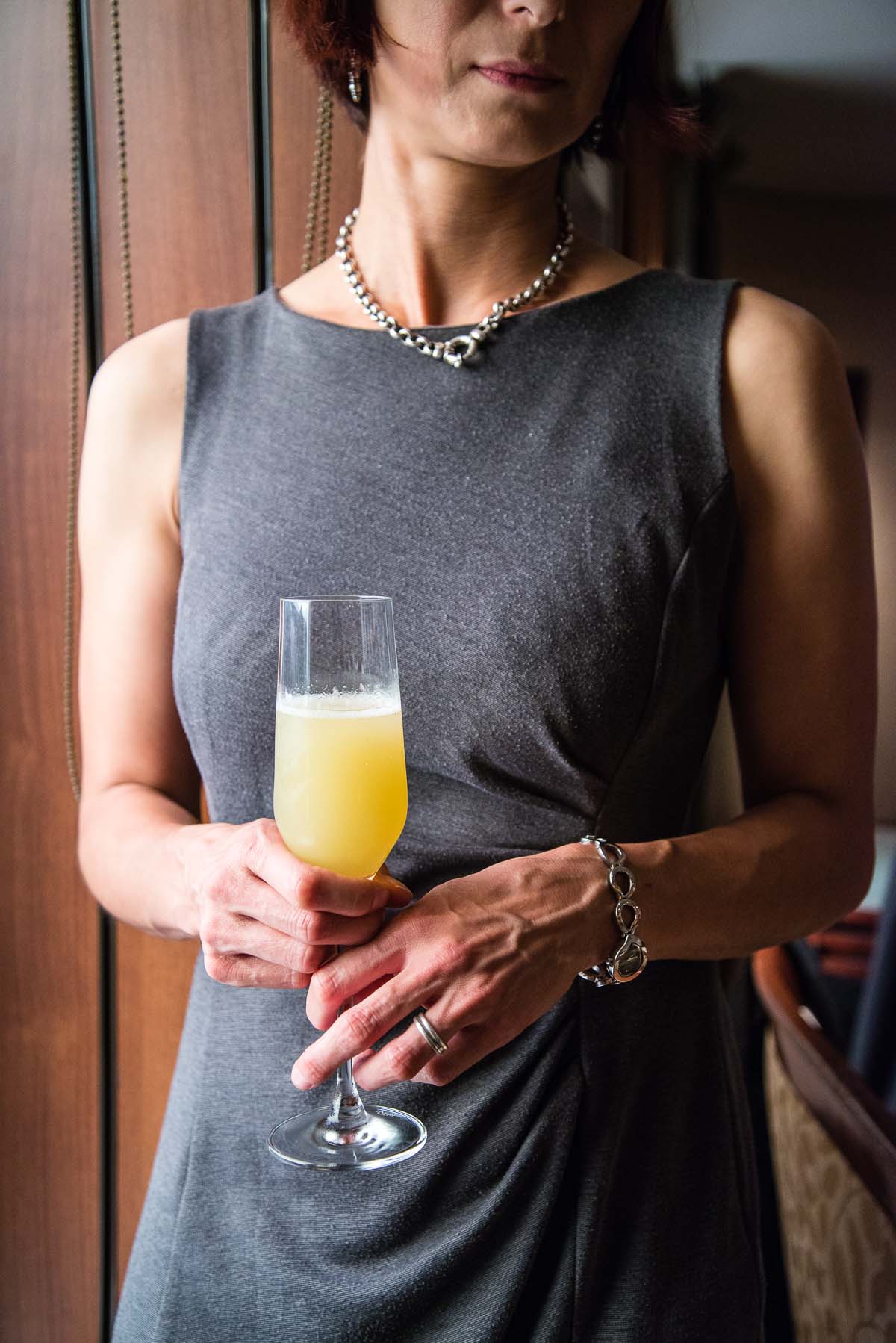 Pre-dinner drinks have been arranged in the boardroom at The Commodore Club, one of many bars and lounges scattered around the ship. I order a swoon-worthy rhubarb Bellini — see above — and G orders a rhubarb daiquiri. Our friendly host from Cunard, Pete, introduces us to the other journalists and bloggers (Melissa, Annabel, Kerry and Lee) and their plus ones and we chat and sample an appetiser or two.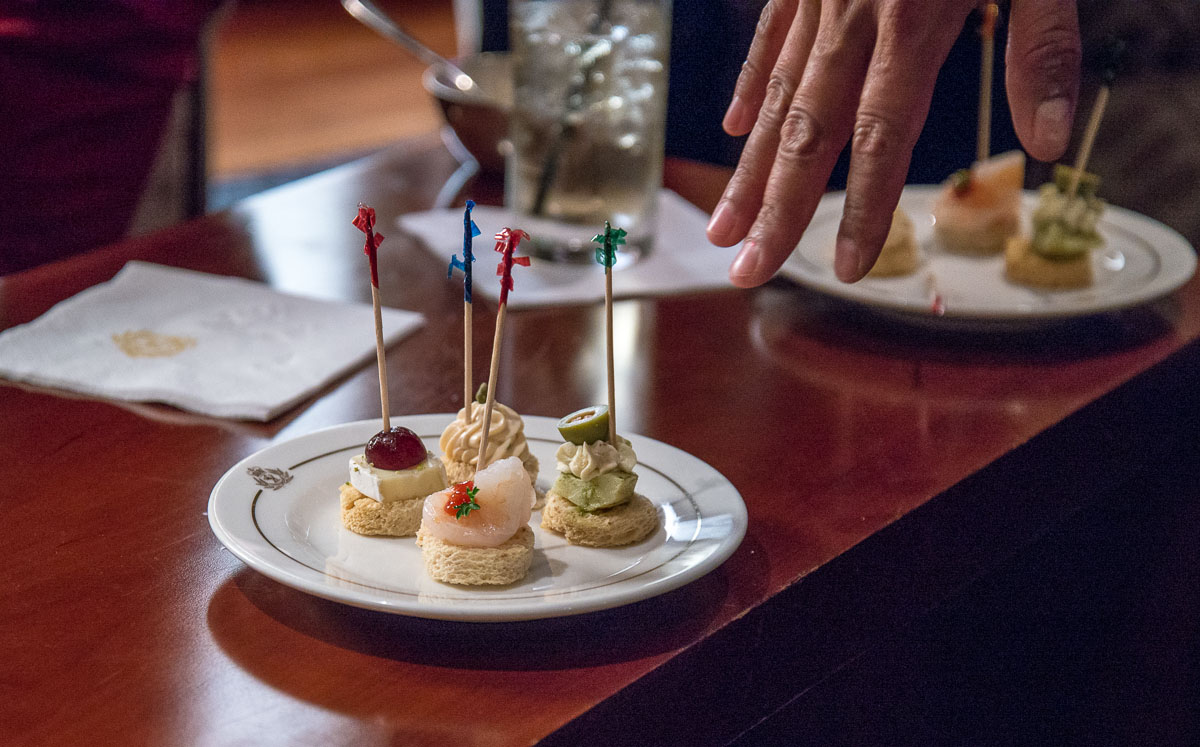 Dinner at Britannia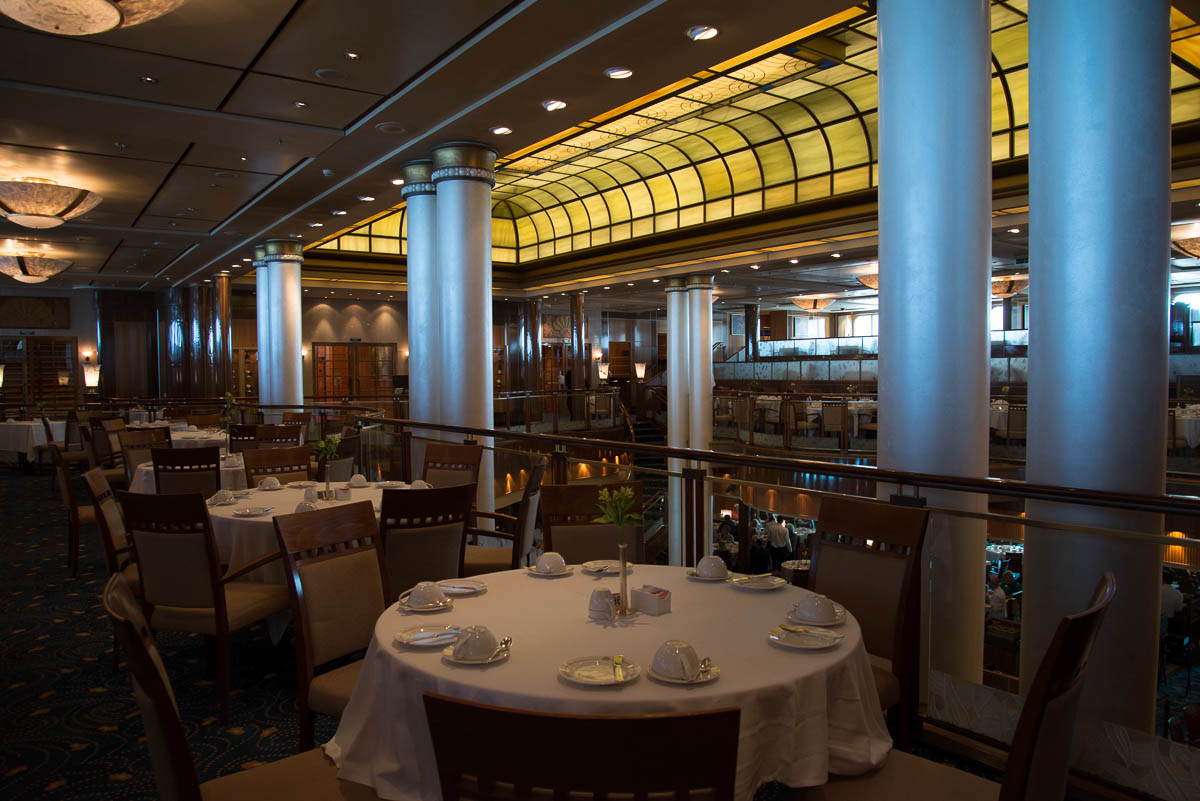 Following drinks, dinner has been booked at Britannia, the main restaurant on the ship. A double-story restaurant, Britannia serves an astonishing 2,400 meals for dinner over two sessions at 6pm and 8pm. The above photo was taken during the day when the restaurant was closed.
We're presented with menus by our affable waiter and order entrees and mains from six different options for each course.
For entree I order the Coconut Crusted Shrimp with Mango Chili Dip (note the American terms and spelling).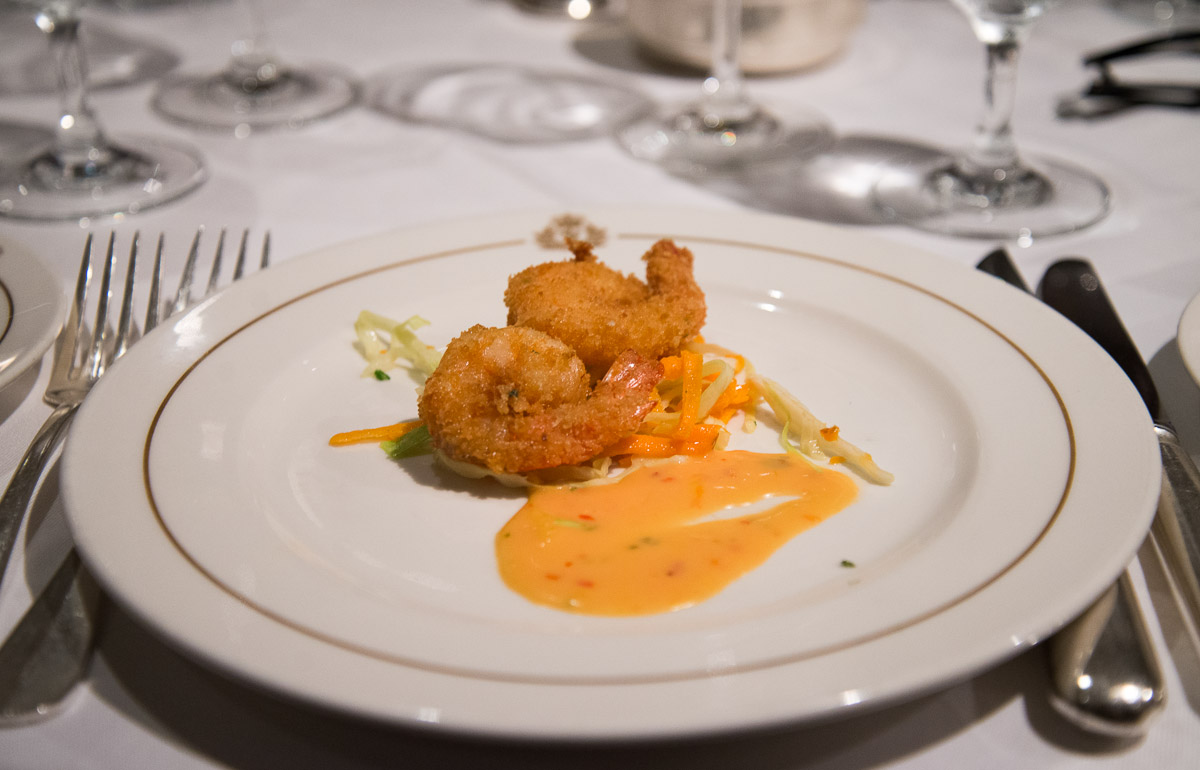 I'm a little taken back when my appetiser arrives and it comprises a mere two prawns on a plate on a small bed of coleslaw. Dipped into the mildly spiced mango sauce the crumbed prawns are tasty enough but the serve is a trifle small to my way of thinking.
But the next day I chat to some of the other passengers and discover that they love the small serves at Britannia because it means they can eat three to four courses without being ridiculously over-full. Having witnessed some of the food waste caused by over-ordering on my previous cruise — easily done when the food is included in the cost of your ticket — I can't help revising my opinion.
G orders the Brussels Pâté with Warm Baby Brioche Fig and Pear Compote and it's extremely good. The pâté is airy in texture and full of porky goodness while the warm brioche has a pleasant but not overpowering figgy flavour.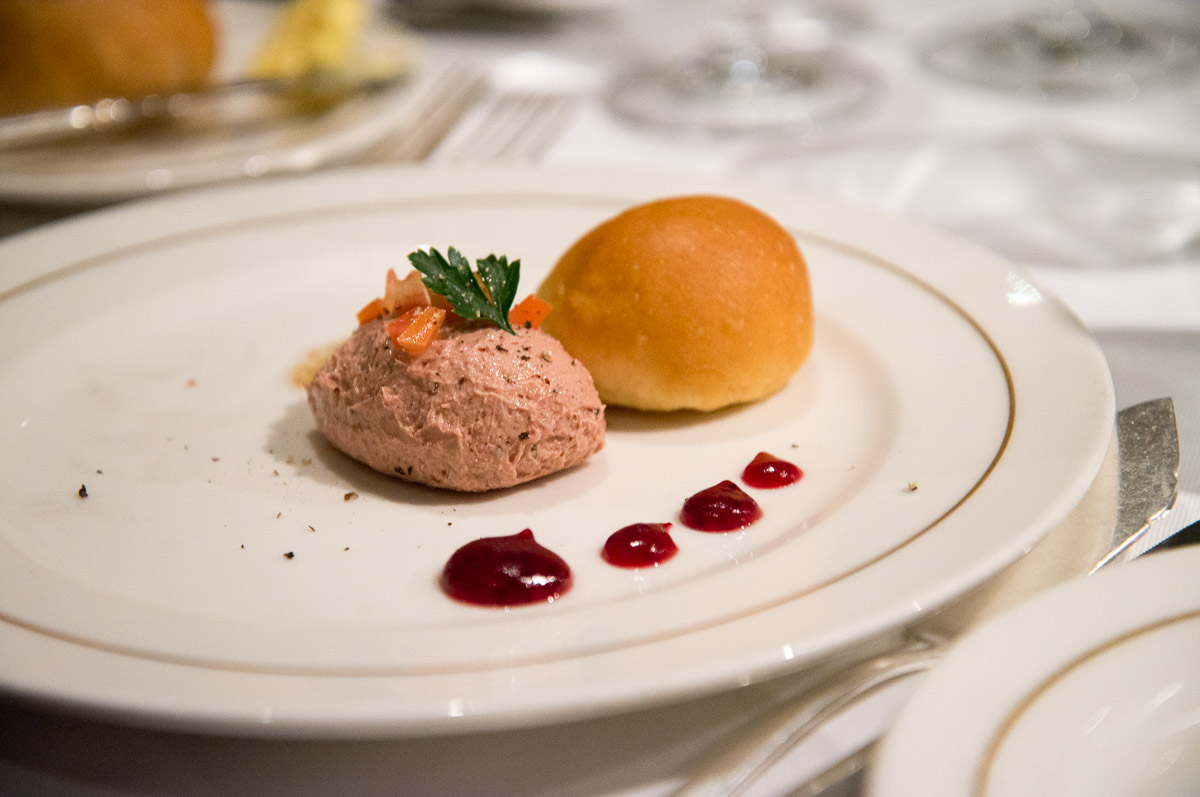 For main course, G orders the Grilled Basa with Green Tomato Relish and Grits Cake. This dish is part of the daily Canyon Ranch Spa Selection designed for those watching their weight.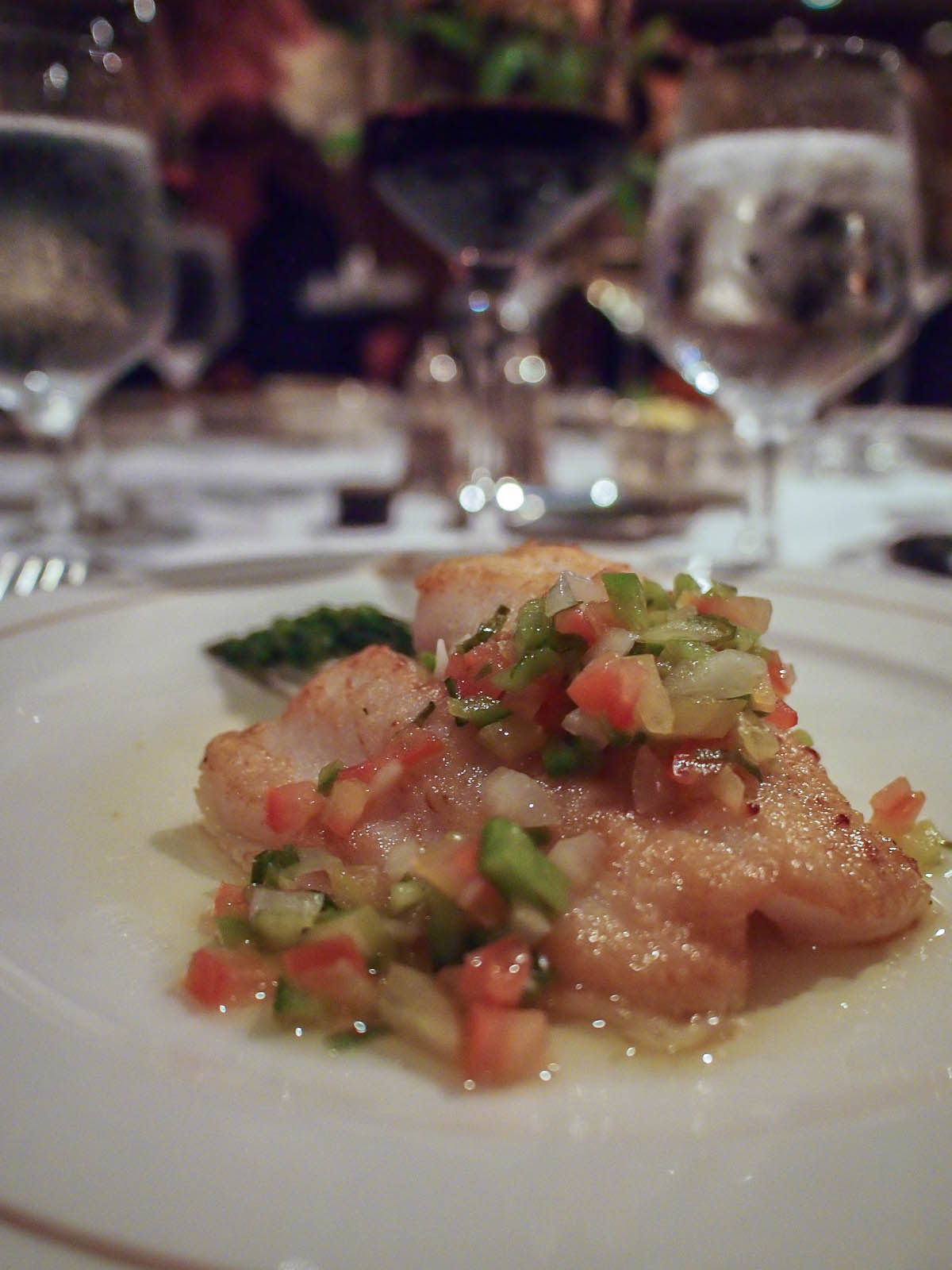 I try some of G's dish. The tanginess of the tomato relish contrasts nicely with the richness of the fried fish.
I've ordered the Grilled Paillard of Steak Diane with Pont Neuf Potatoes and Cognac Mushroom Sauce.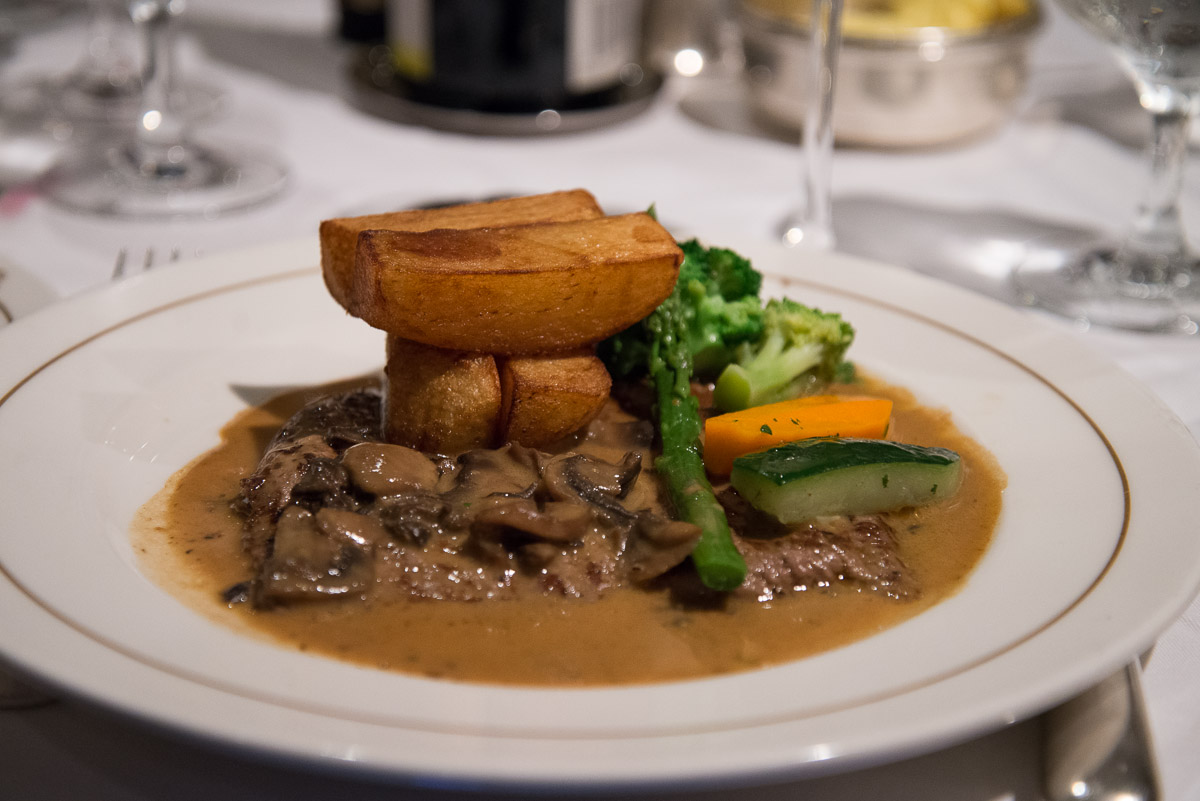 The steak is tender and flavoursome while the Parisian-style fried potatoes are fantastic dipped into the delicate mushroom sauce. I love my veggies so am glad that the dish comes with a few steamed ones.
For dessert G orders the Strawberry and Champagne Parfait while I order the Chocolate Truffle Cake. Again the portions are small but by this stage I am glad that they are.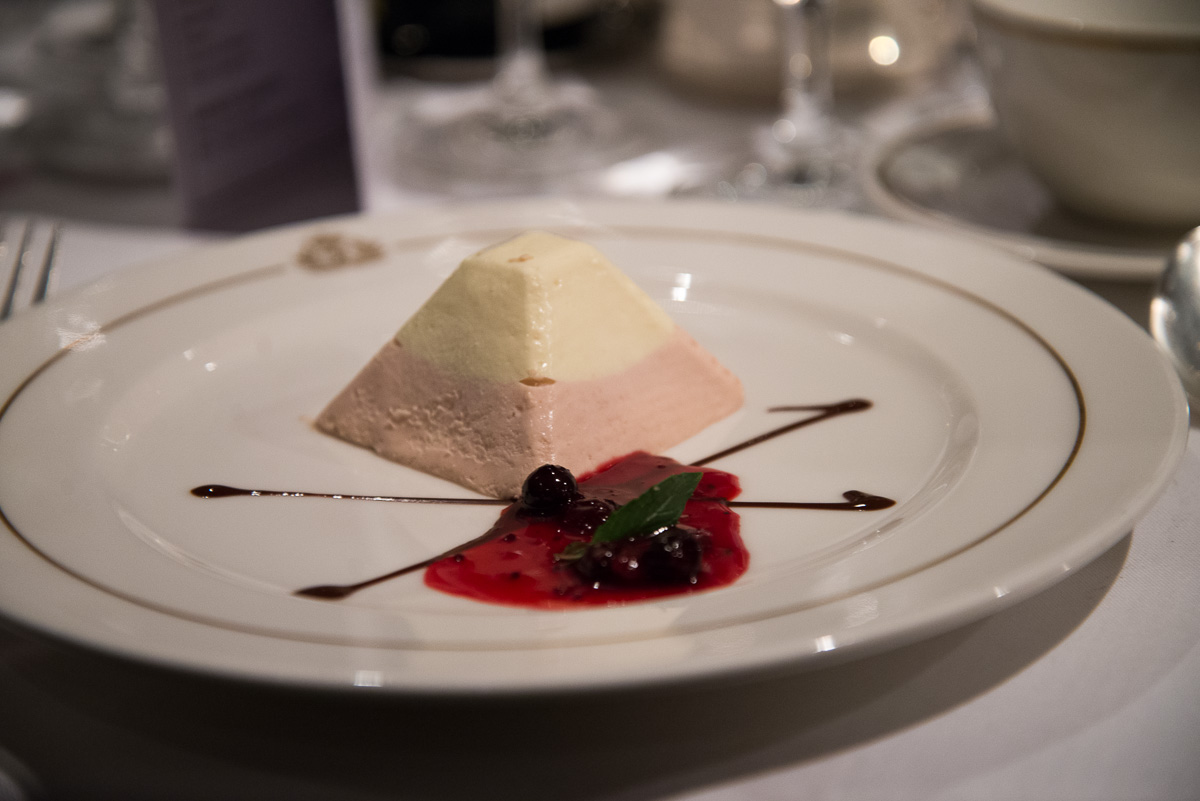 The parfait misses the mark for me – I can taste the strawberry but any champagne flavour is negligible. However, the chocolate truffle cake is better, being delightfully mousse-y and velvety in texture. I would have preferred a stronger chocolate flavour but then I'm a dark chocolate girl.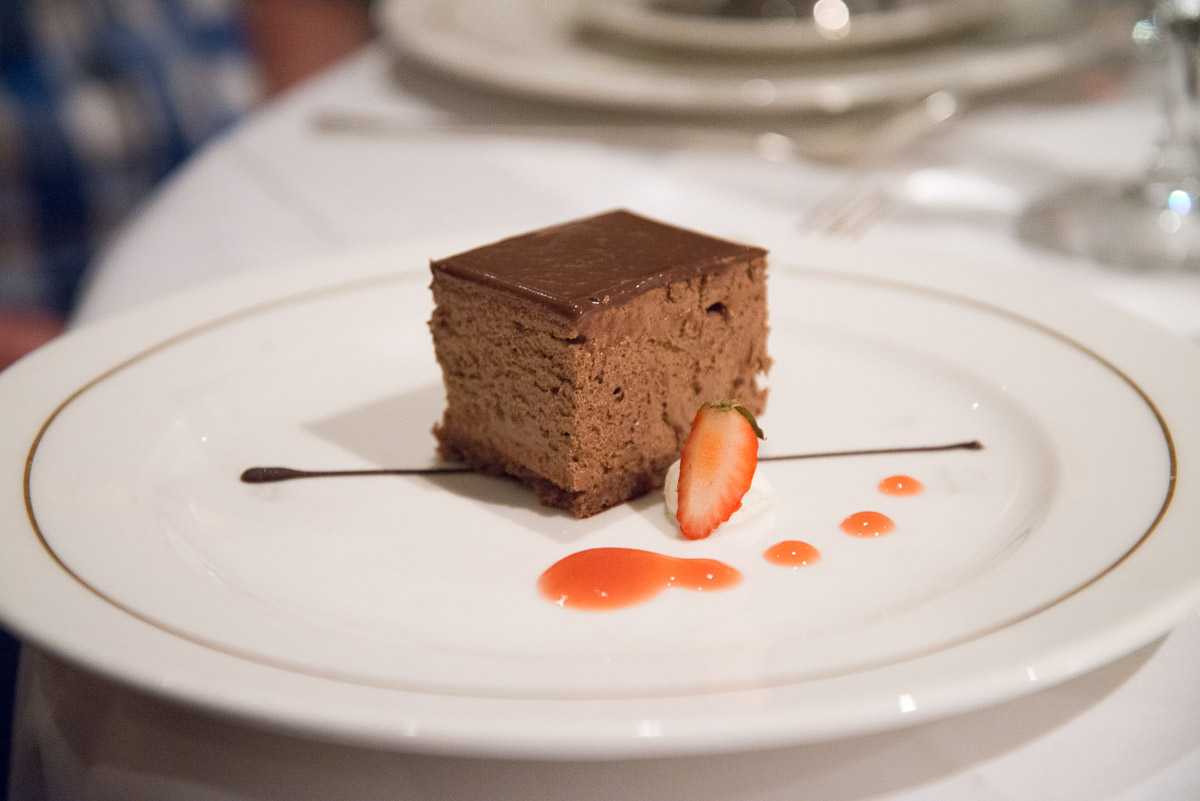 We finish with a sample of marshmallows and chocolate brownies. The vanilla marshmallows are fairly forgettable but the pleasingly chewy brownies are all that a good brownie should be.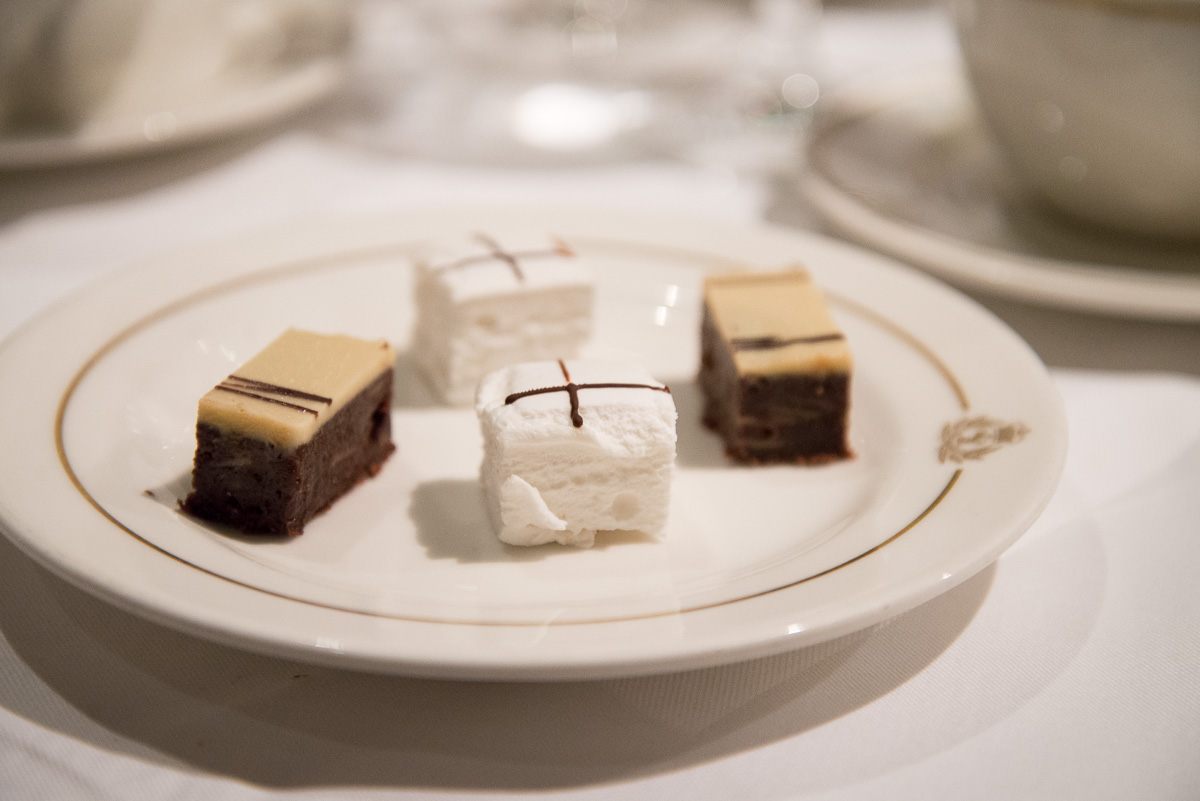 Talking it over later I decide our dinner tonight was on par with a decent pub meal. I don't mean a cool inner-city pub that attracts hipsters with coiffed beads and Instagram accounts to its nose-to-tail-eating menu but your average suburban pub that manages to survive year after year because it's consistent.
It's worth noting that there are two other restaurants on the Queen Mary 2 are set aside for the exclusive use of guests in the Princess and Queen suites. In these restaurants — the Princess Grill and the Queens Grill — the decor is a little nicer and the food is a little fancier and, presumably, better. So if you are the type of person who collects business cards from posh restaurants you might want to consider upgrading your accomodation for access to the nicer dining options without further surcharges (diners pay a surcharge to eat at the fine dining restaurant, Todd English).
Regardless of where you dine, however, the service on the Queen Mary 2 is excellent. Nearly every interaction we have with a staff member is pleasant, professional and unhurried. Sure, some of them know that we are in the media group but most of them don't.
After a fun stint in the nightclub, G32, we plan our schedule for the rest of our stay with particular emphasis on the 10 dining options. This is our plan:
Breakfast at Britannia;
Explore the ship;
Caviar at the Veuve Clicquot Champagne Bar;
Lunch at the British-style pub, Golden Lion;
Explore the ship;
Afternoon tea in the Queens Room;
Treatment at the Grand Canyon spa;
Rest;
Pre-dinner drinks at the Commodore Club;
Dinner at Todd English; and
Breakfast at King's Court buffet.
I hope I will still be able to fit into my clothes by the end of our trip…
Breakfast at Britannia
The next morning we rise at 8am. Breakfast time at Britannia is a busy affair – we join the lengthy queue and are quickly seated. We want a window seat so we opt to share a table by the window with two other couples. I always love chatting with fellow travellers – everyone has a different story and I always learn something new.
From a lengthy breakfast menu offering European, British and American-style breakfast options, I order coffee and the Fresh Fruit Salad to start.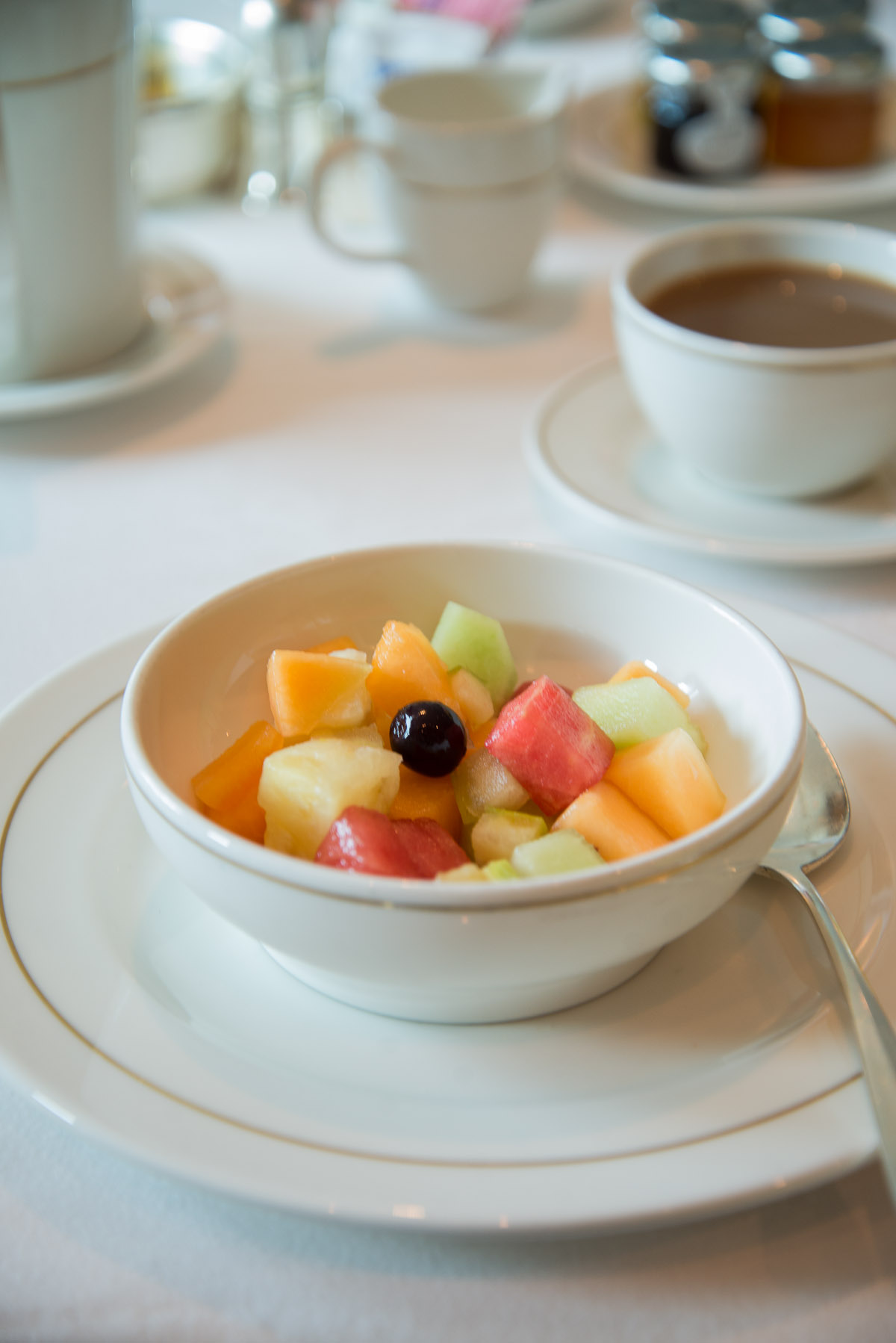 Our mains then arrive. Most people on our table have ordered some variation of a big breakfast although an English woman has happily ordered kippers.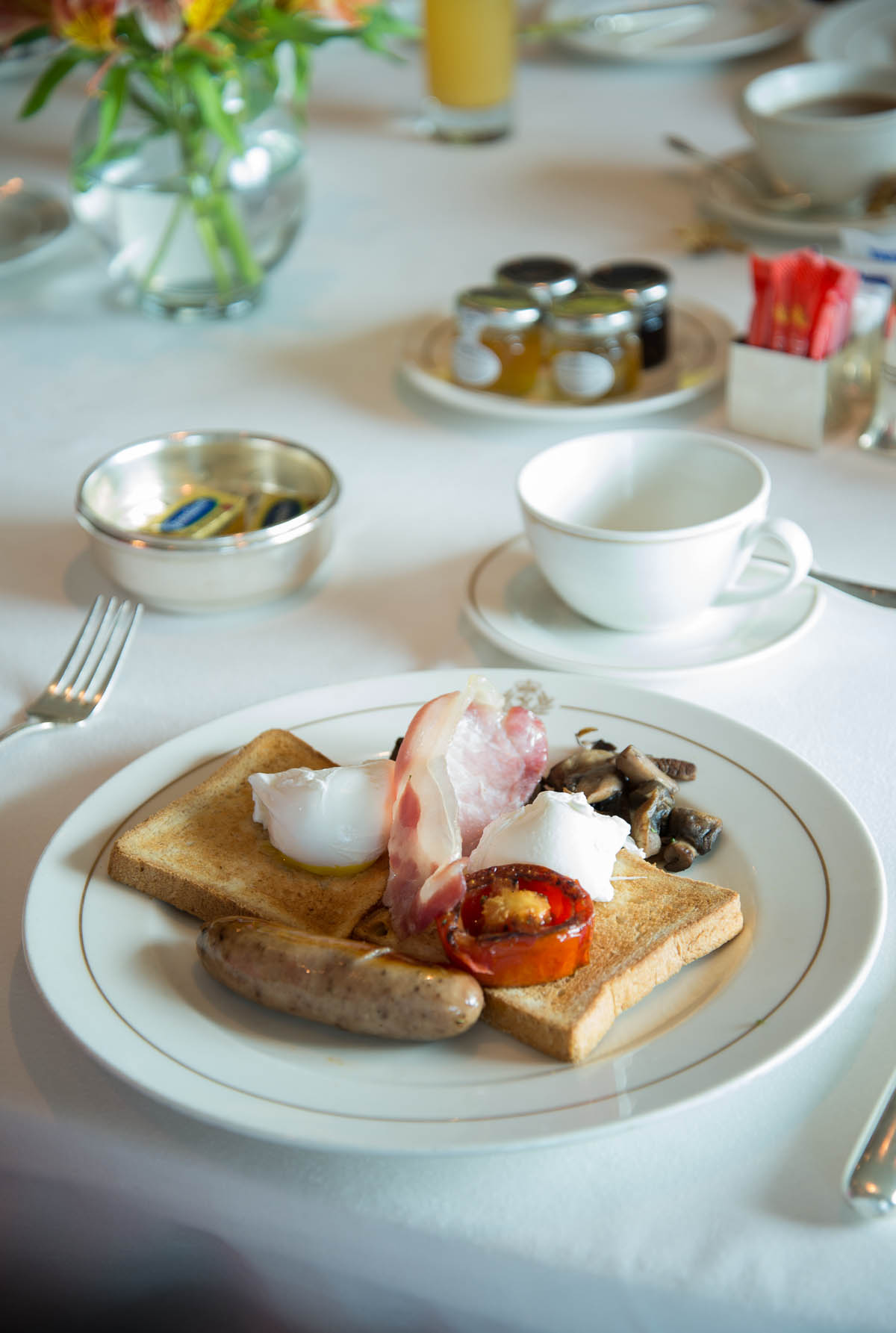 I would have loved some fresh herbs but my poached eggs with bacon, sausage, mushrooms, baked beans and grilled tomato is otherwise fine.
Exploring the Ship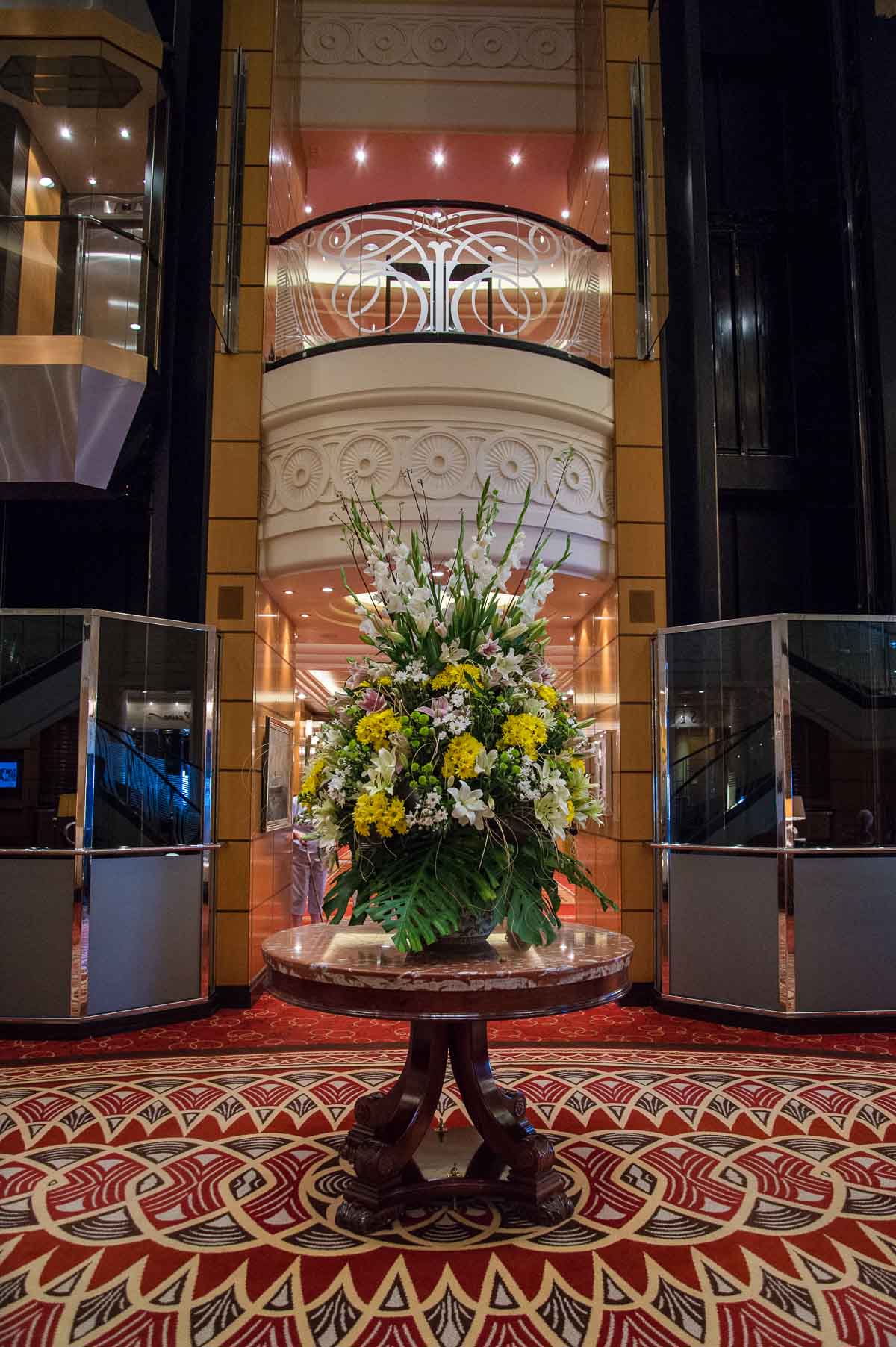 The lofty floral arrangement in the main foyer on deck 2 – it is changed every single day.
We head up to the top of the vessel to have a look.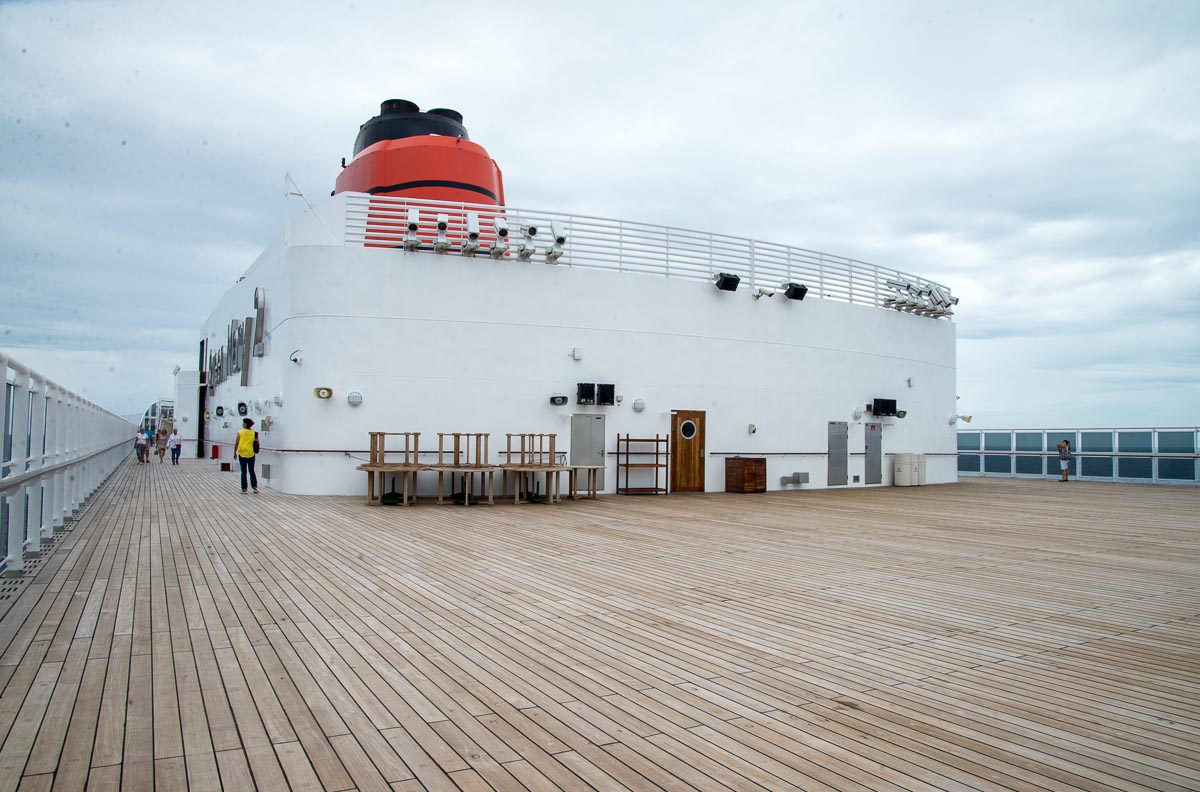 It's early so there's not too many people around.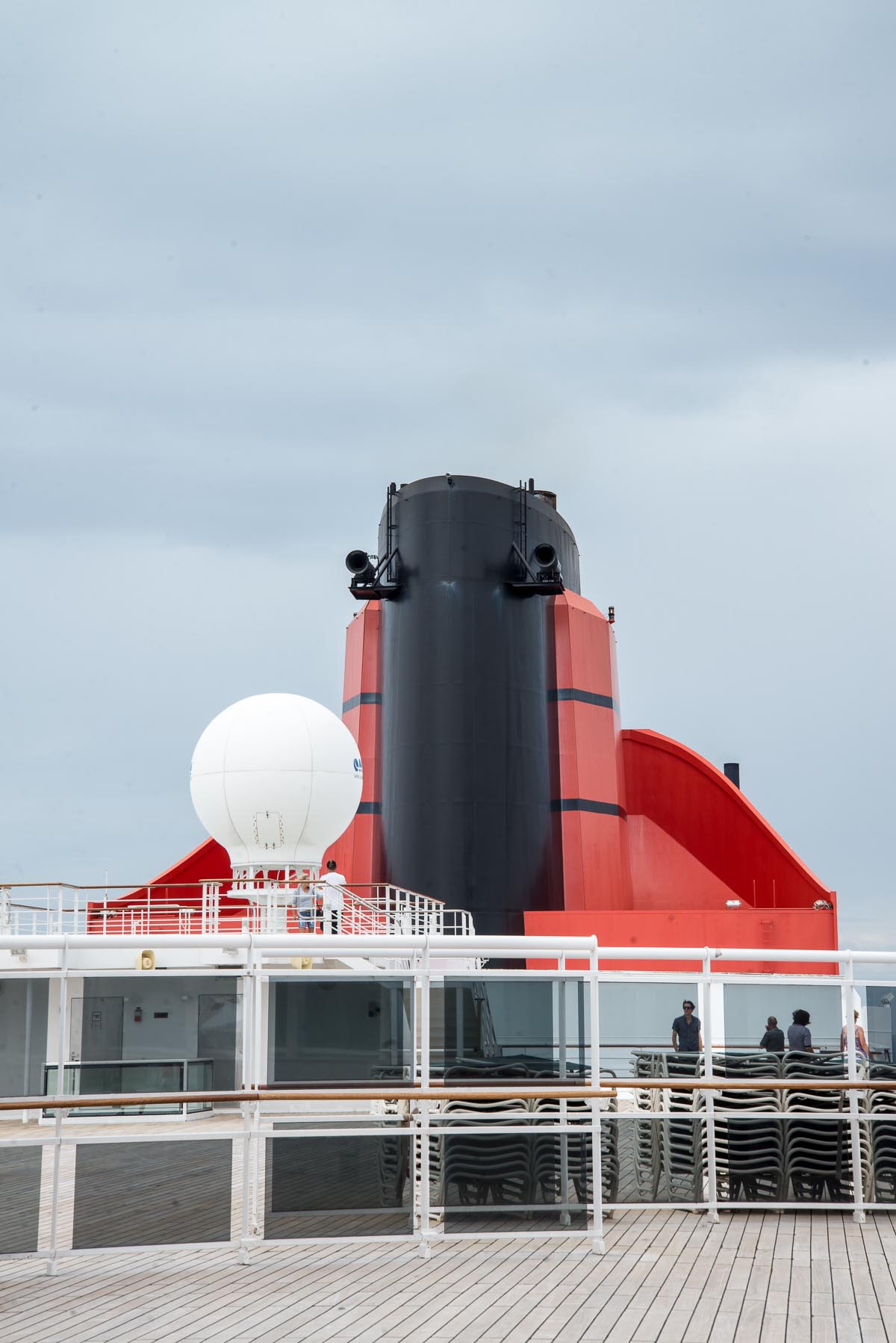 We take lots of photos.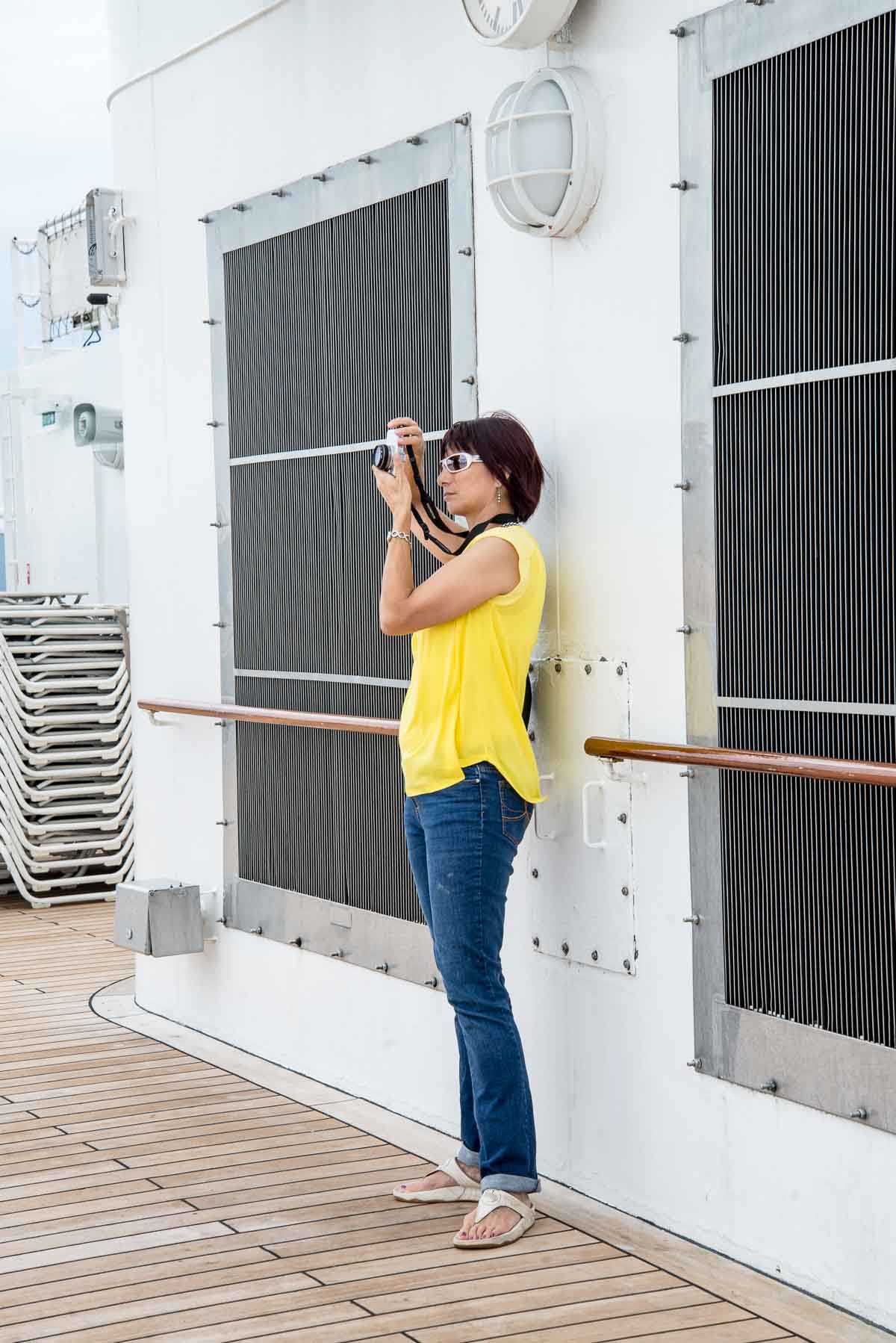 See more of G's photos on her blog.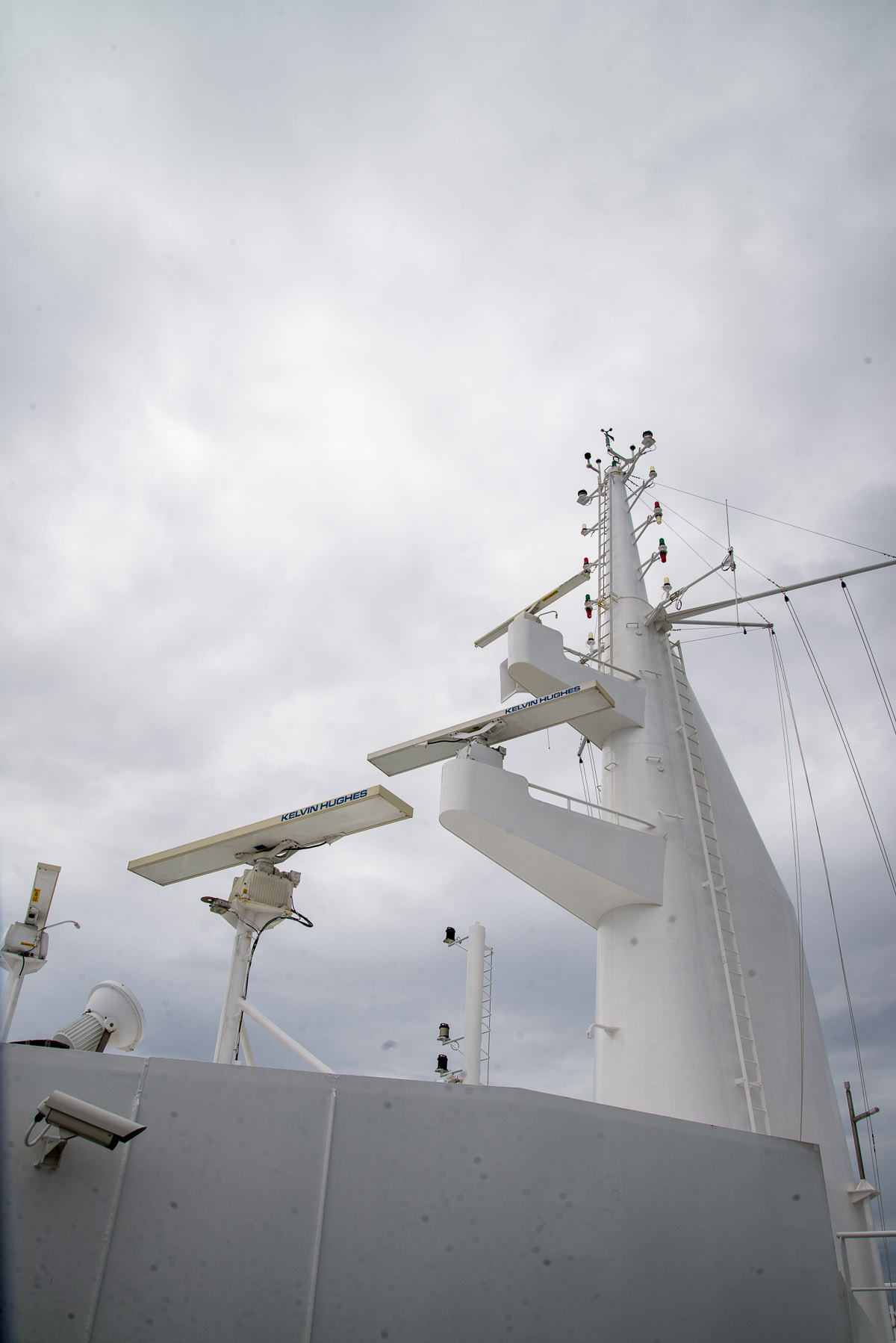 Terrace Pool and Bar
It's a little early for a drink – we must remember to come back later.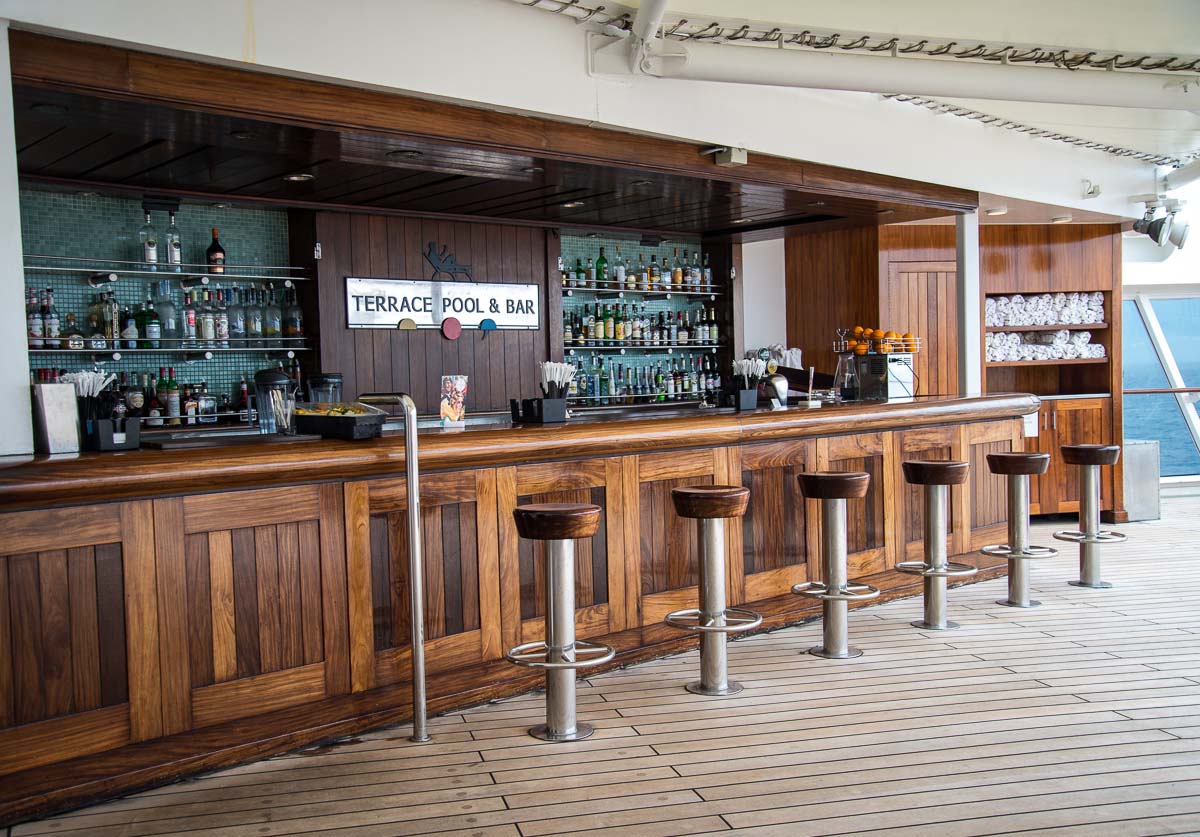 I like the way Cunard reference a lot of its historic imagery in their on-board printed material and posters.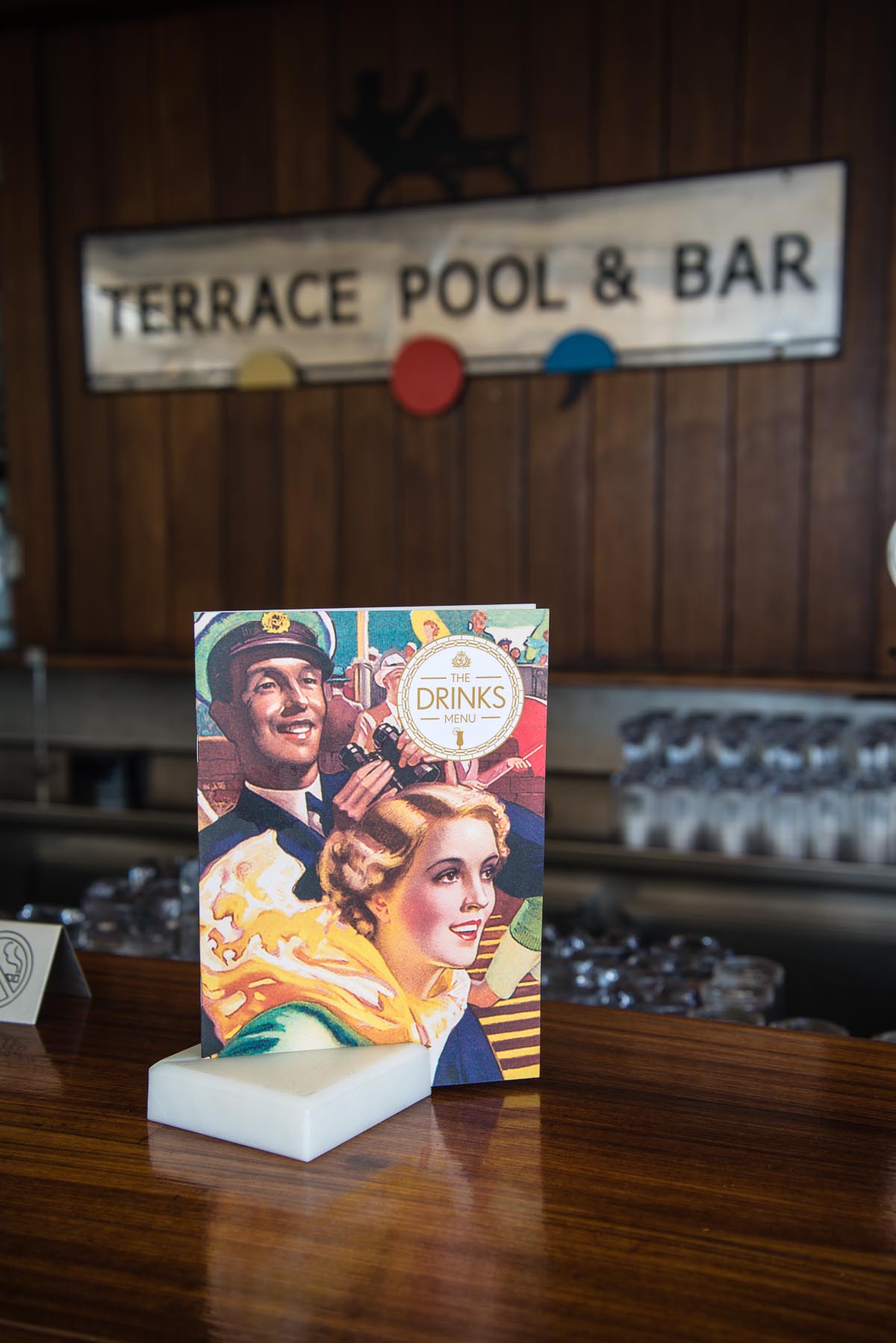 Plenty of bottles to keep your whistle wet.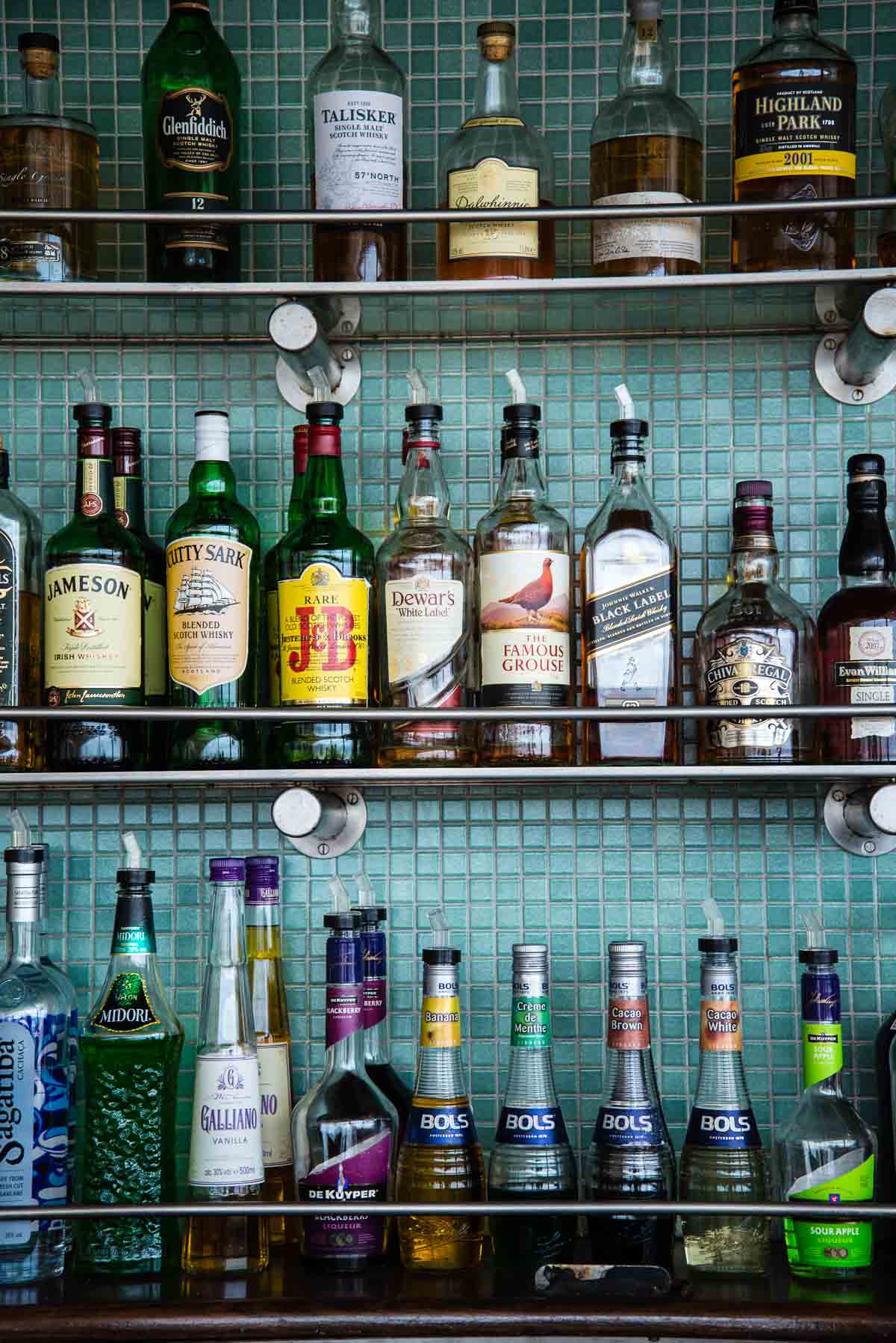 It's warm but very windy outside so there's not too many people outside yet.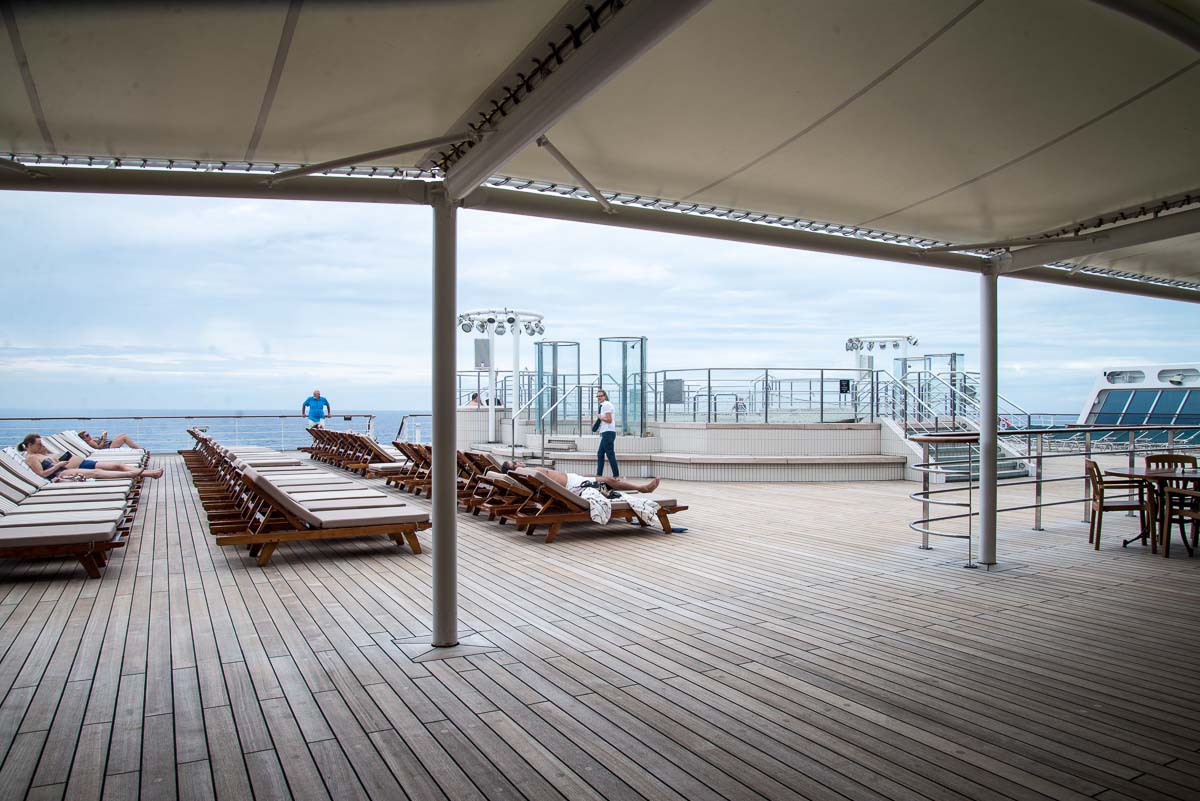 G pops upstairs to take this shot of the wake.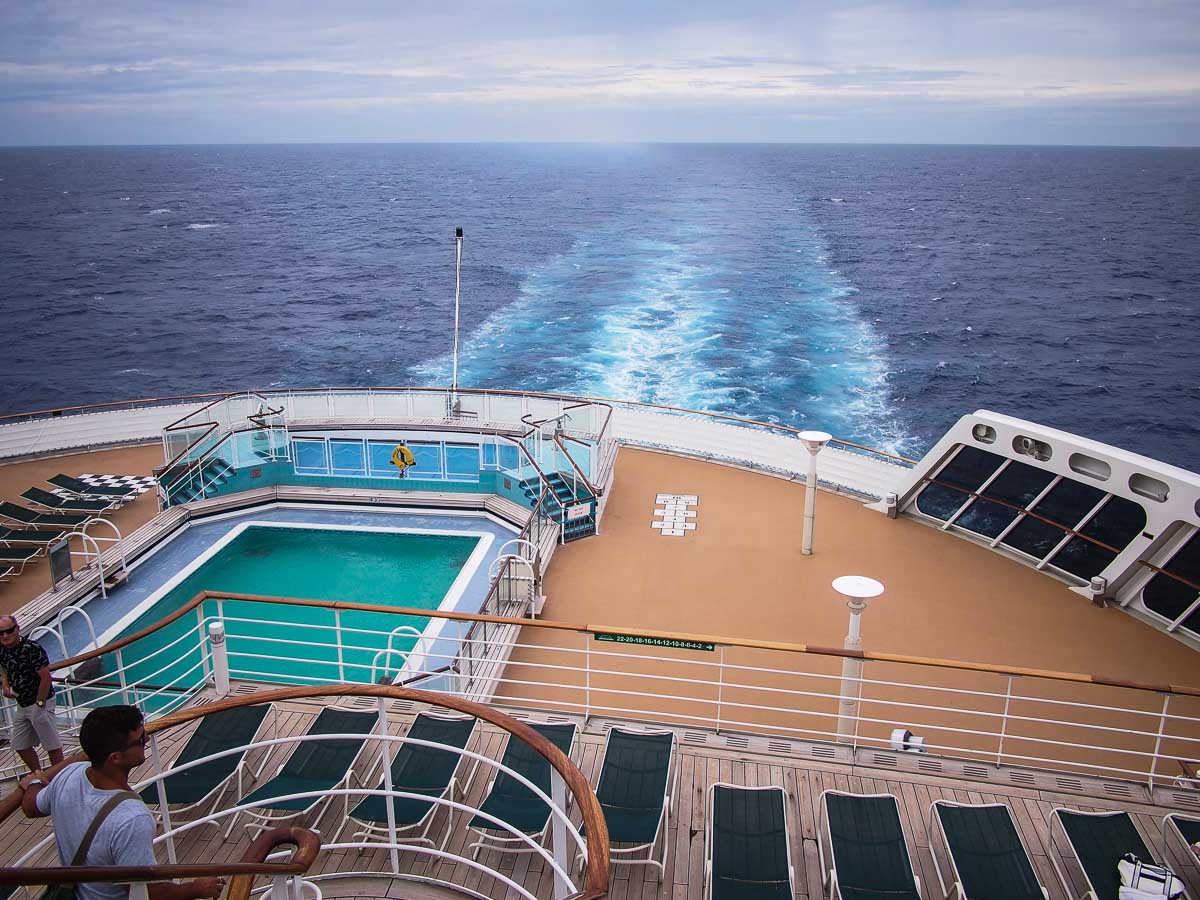 Commodore Club & Cigar Room
Looking for a quiet spot to read your book? Some of the other public bars are quite noisy so the Commodore Club becomes a great place to enjoy a book or quiet drink during the day.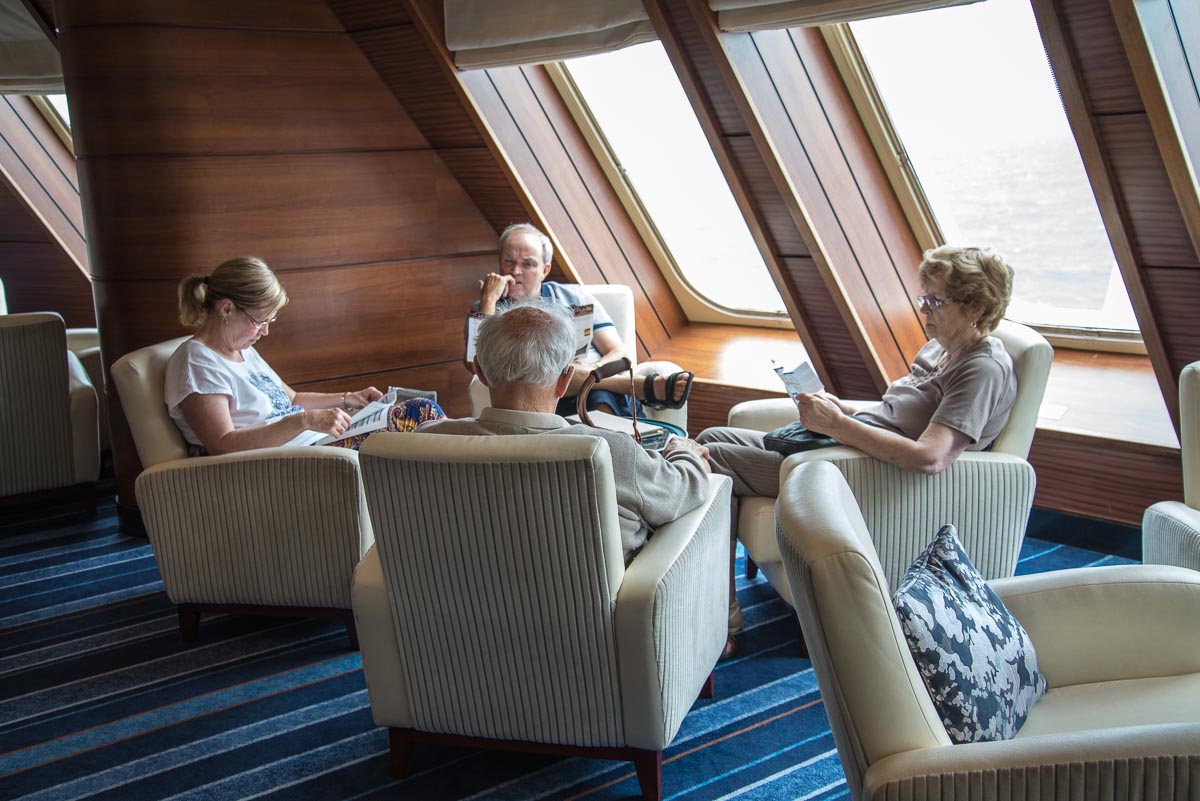 Didn't bring a book? No problem – the Queen Mary 2 boasts an extensive library with over 8,000 hardbacks, 500 paperbacks and 200 audio books.
Next door to the Commodore Club is the Cigar Room. It's empty at the moment but at night time the air is thick with expensive cigar smoke.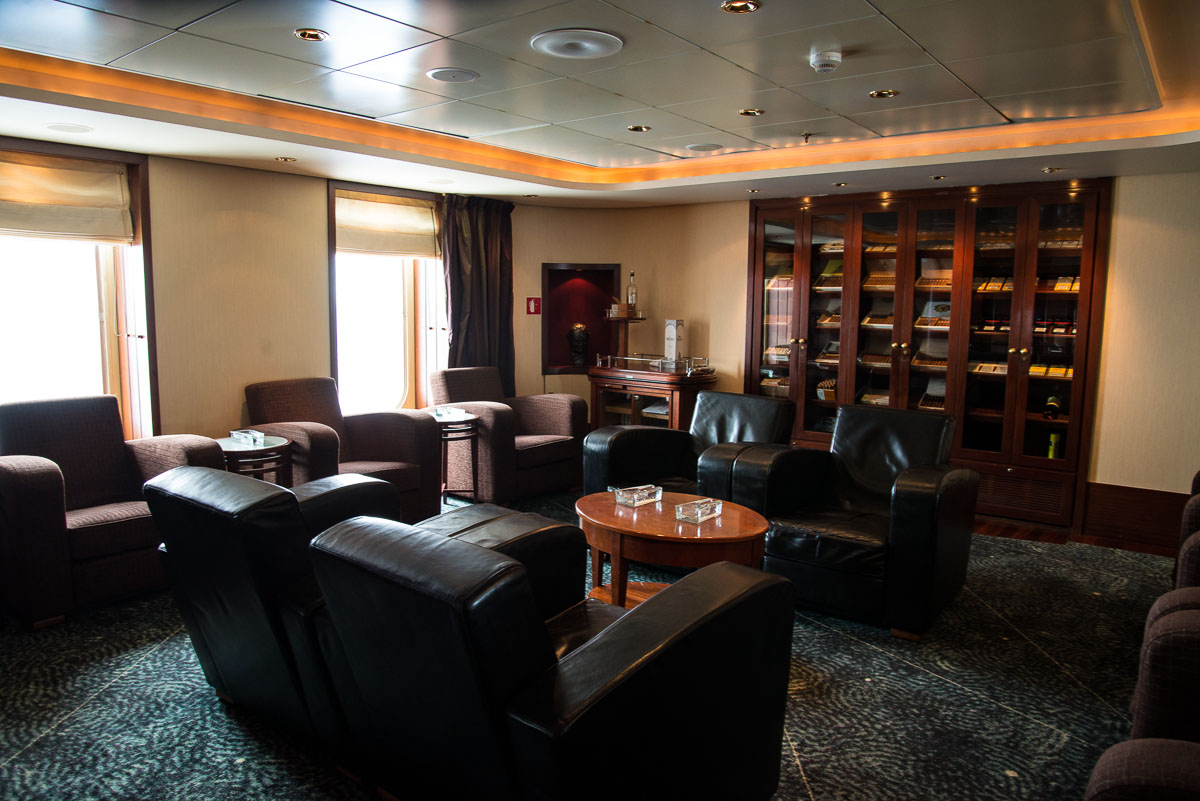 G and I are bemused to read a sign stating "cigars and pipes only: no cigarettes allowed." How deliciously politically incorrect! I haven't smoked a cigar in years but I do enjoy them.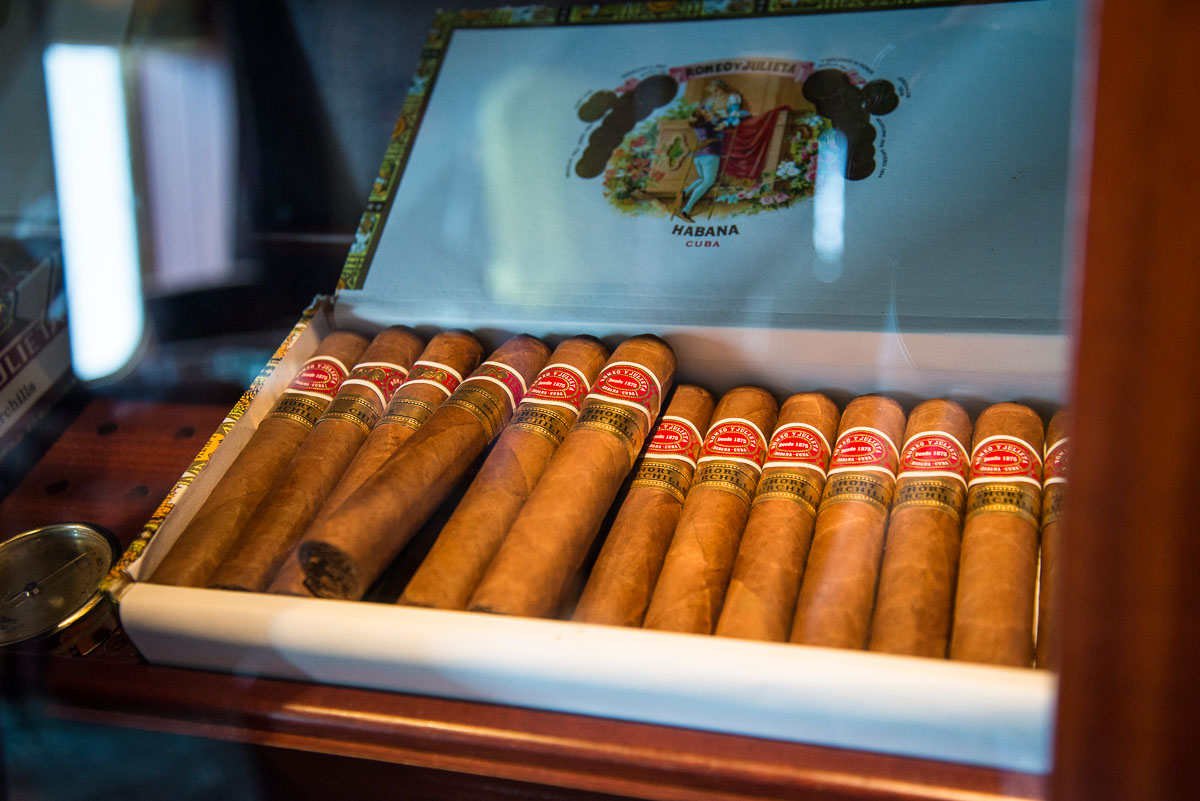 Perhaps you're the active type? With my dodgy knee exercise is out of the question atm but if I were so inclined I'd have my pick of 4 outdoor swimming pools, 8 spas, a gym, daily exercise classes, two golf simulators, a half court basketball court, putting green, quoits, shuffleboard, and paddle tennis court.
Tour of the Galley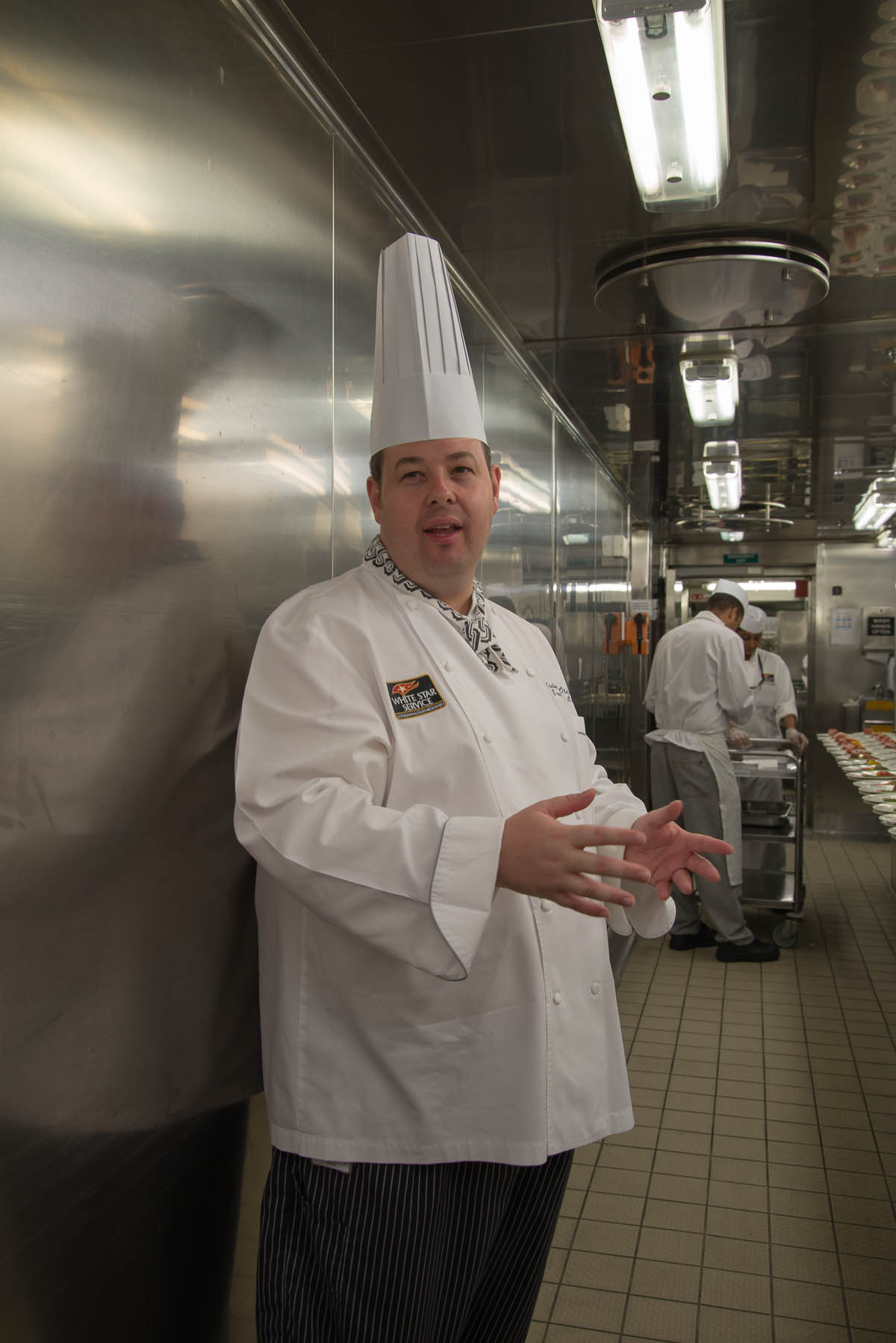 At 11am, we join our media group for a tour of the ship's galley with the QM2's Executive Chef, Nicholas Oldroyd. Originally from East Yorkshire, Nicholas has been working for Cunard for 14+ years and has a twin brother who is Executive Chef of the Queen Victoria.
The QM2 has 163 chefs on board. Each of the restaurant galleys has its own Chef de Cuisine and the whole operation is supported by 85 dishwashers, pot-washers and cleaners and two sanitation officers who work around the clock.
We watch two chefs preparing multiple plates of an appetiser being prepared for tonight's dinner.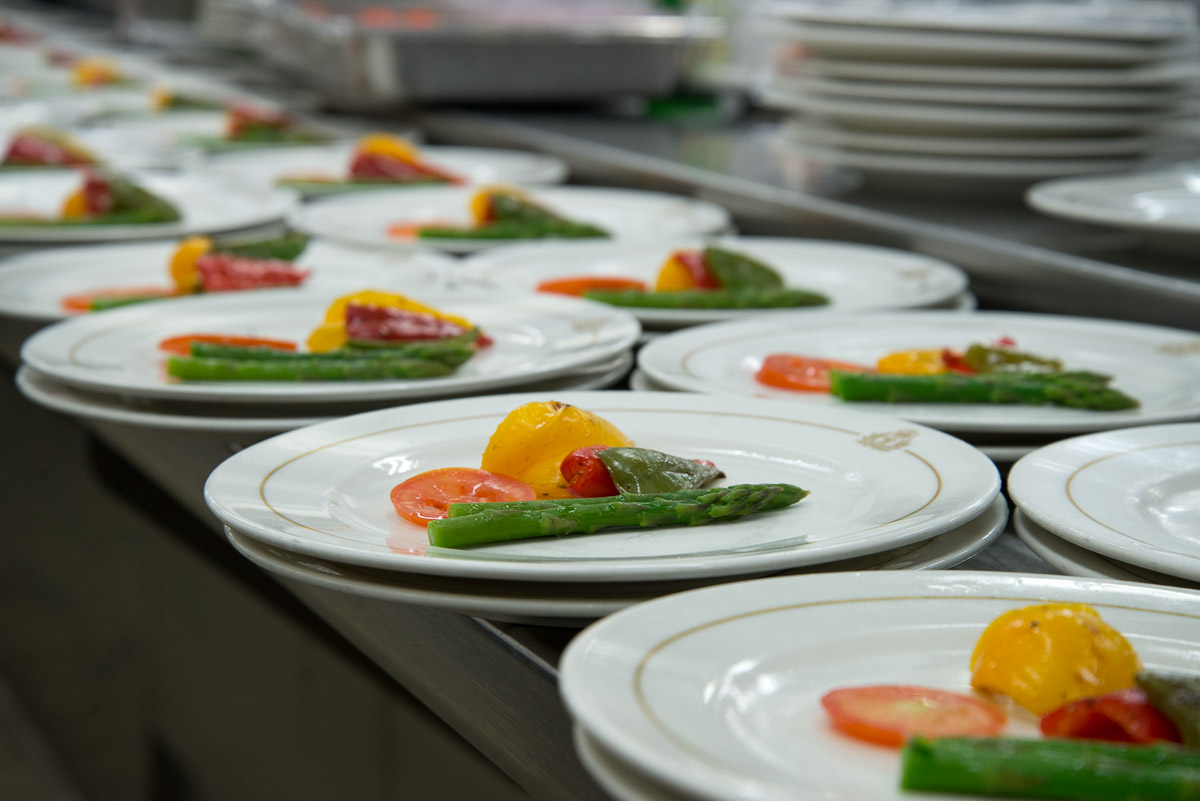 And here's the final dish — Prosciutto with Tri-Colour Grilled Capsicum and Asparagus — as it would be served tonight.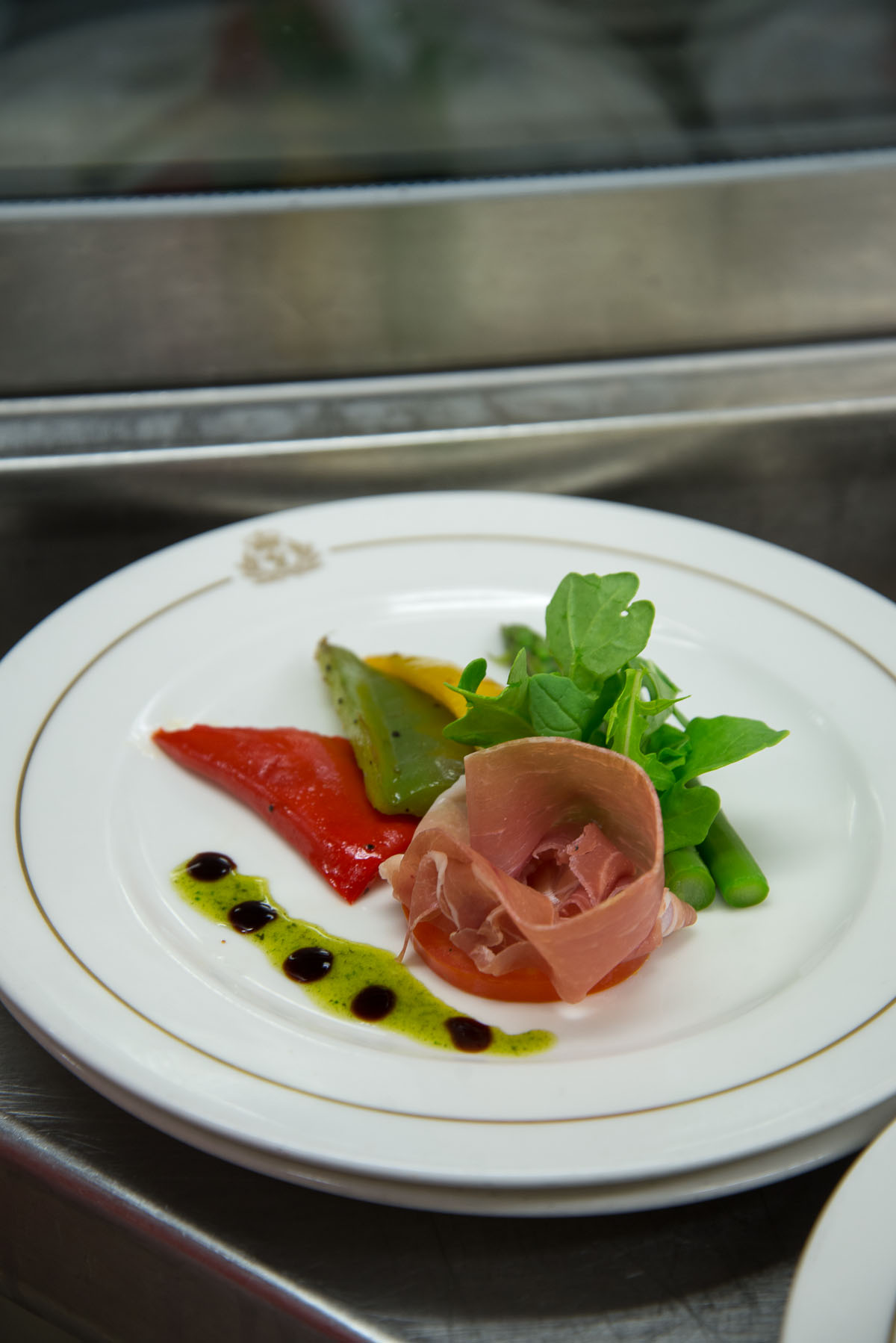 Nicholas explains that he buys fresh produce whenever the ship docks, and then themes his menus for the following period around the country of purchase. In Sydney, he bought pink ling, blue swimmer crabs, barramundi, banana prawns and oysters from the Sydney Fish Market.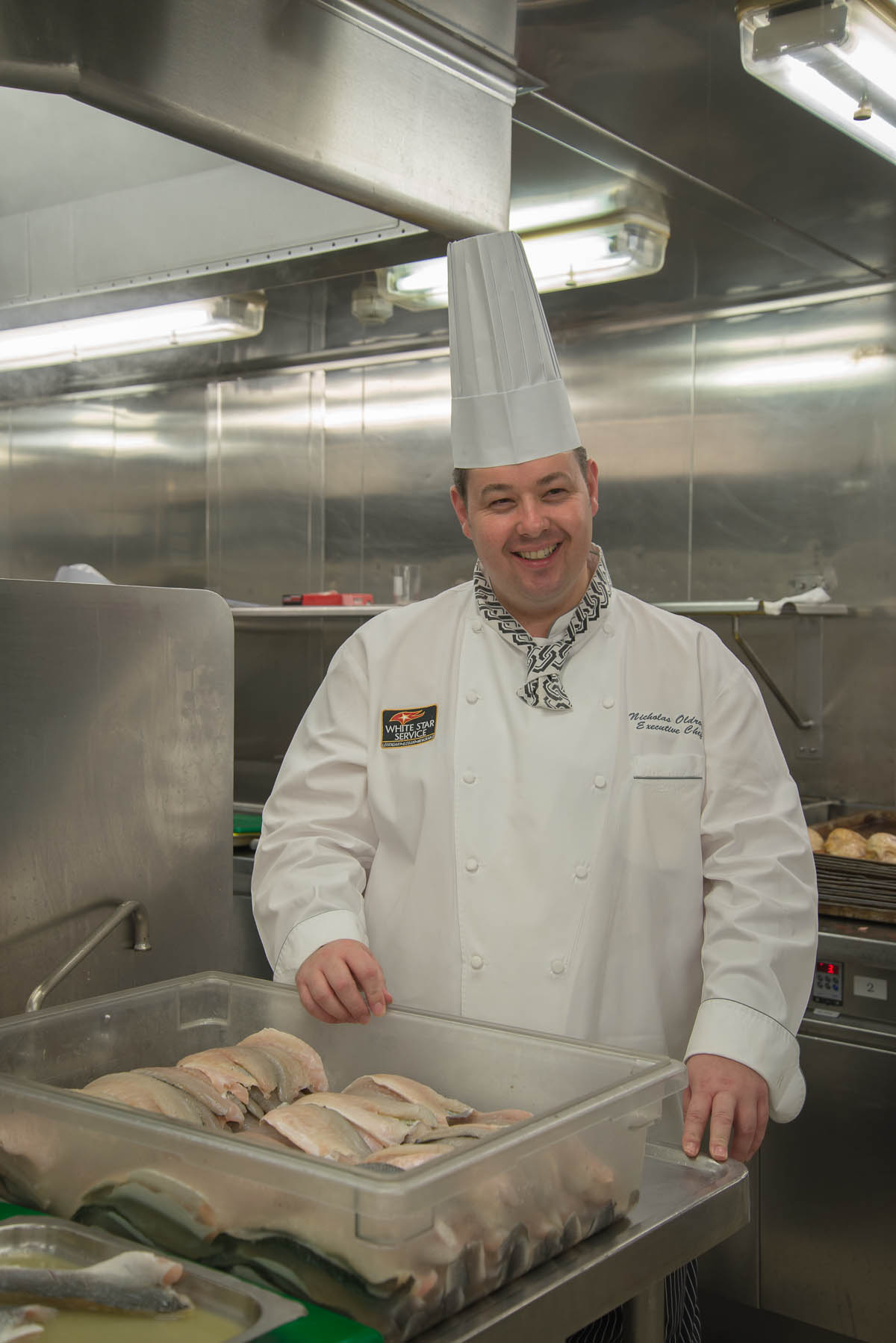 This chef below is responsible for all of the stocks and sauces served in all of the restaurants today.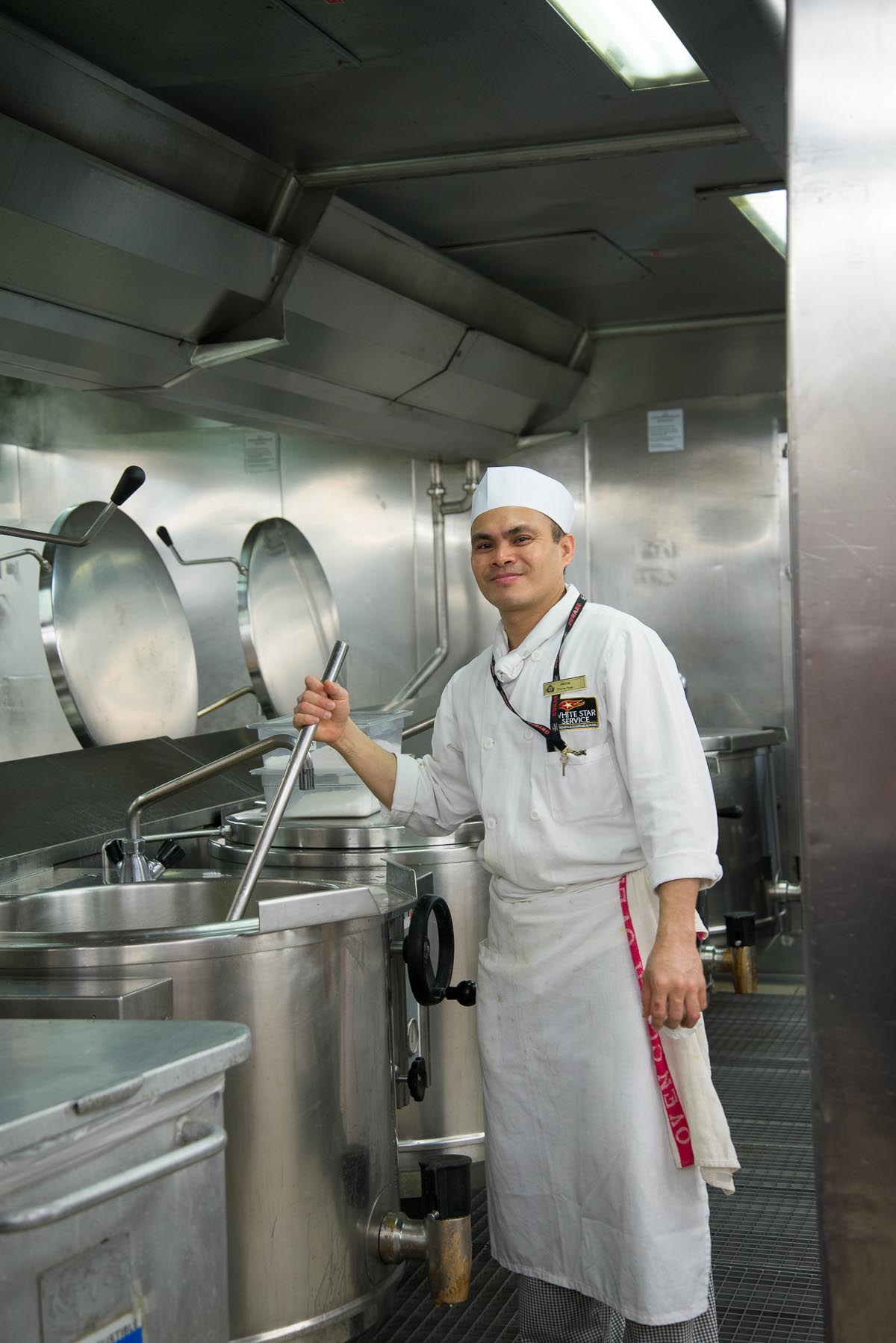 All sauces and stocks are cooked fresh each day; he makes 60 litres of each sauce or stock in  one of these enormous cookers.
It's hard to get my head around the quantities of food, staff, kitchen space, equipment and organisation required to deliver almost 16,000 meals each day (including crew) on the Queen Mary 2. I think about the days I can barely manage to scratch up dinner for myself and the kids due to the work/family juggling act and I hang my head in shame.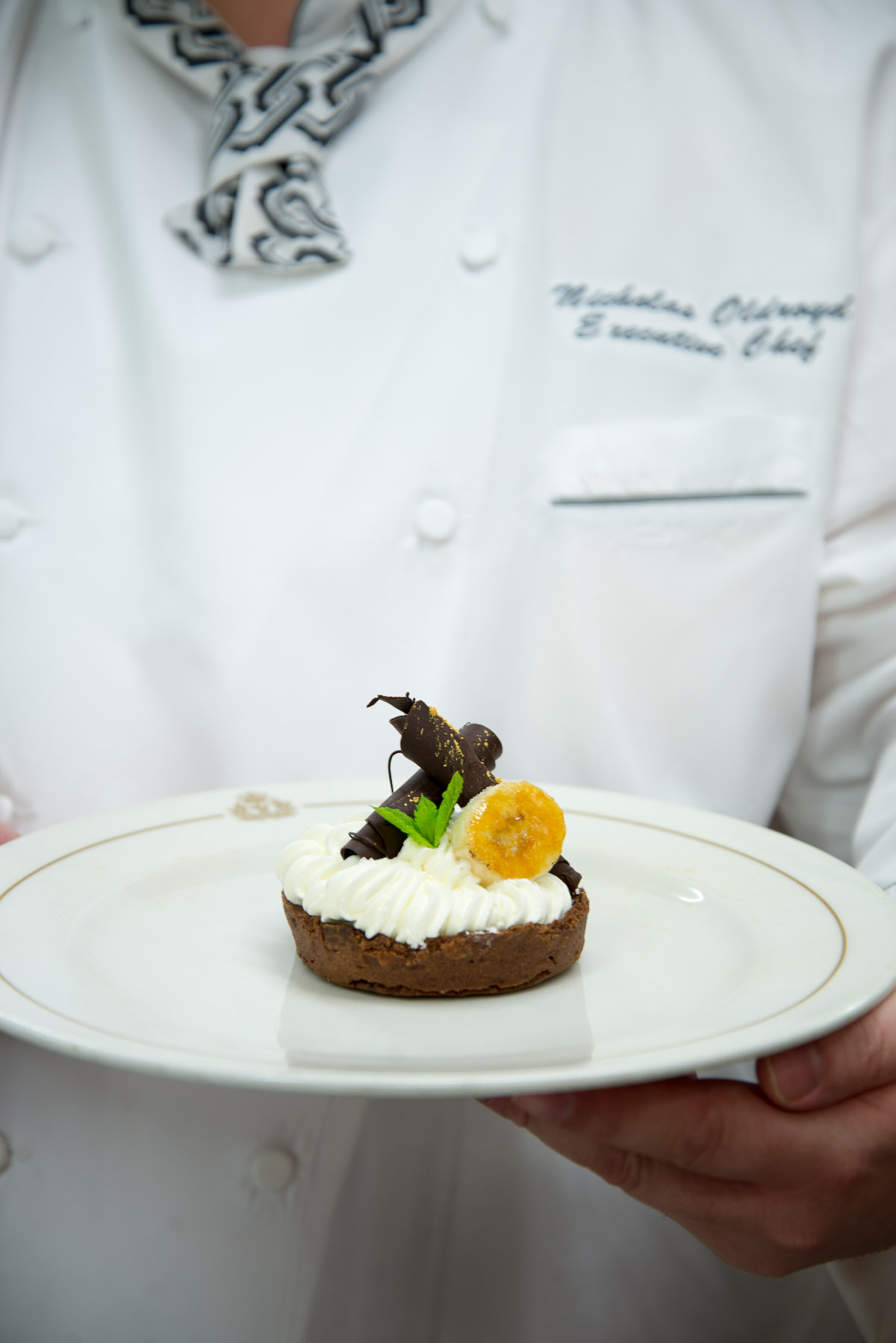 Nicholas explains that there's another crew to look after the Cunard staff, cooking what he describes as 'comfort food'; there are 50 nationalities amongst the crew so on the daily menu are favourite dishes from all of their different countries. They also have regular special menu nights for the crew like international chicken wing night, which I want in on.
Crew contracts tend to be 6-9 months long, which is a long time to be away. I know that when I've been homesick I've found much comfort in cooking and eating dishes from home; those familiar smells and tastes act as a balm, soothing and nourishing the body and soul. So I'm glad to know that Cunard are taking care of their crew's daily fare, just as they are taking care of ours.
Queen Mary 2
My Sydney – Brisbane trip aboard the QM2 was part of a longer, 23-night Sydney to Sydney voyage (February 19 – March 14, 2014) that was priced from $8,599 per person twin share for a balcony cabin and $15,499 per person twin share for a Princess Suite (fares from the World Voyage 2014 brochure). Interested in learning more? Search and book current cruises.
Stay tuned for my final post on the QM2, which will cover the Veuve Clicquot Champagne Bar, lunch at the Golden Lion pub, afternoon tea at the Queens Room, my seaweed wrap at the Grand Canyon Spa (sans photos in case you're wondering), dinner at the fine dining restaurant, Todd English, and breakfast at King's Court buffet. Plus a shot of a random life buoy. Because you're worth it.
More Travel Posts
Subscribe to The Hungry Australian
Don't want to miss a post? Sign up to receive new recipe and travel posts twice a week – it's FREE!!
Disclosure
G and I travelled on the Queen Mary 2 as guests of Cunard. As always, all opinions are my own.