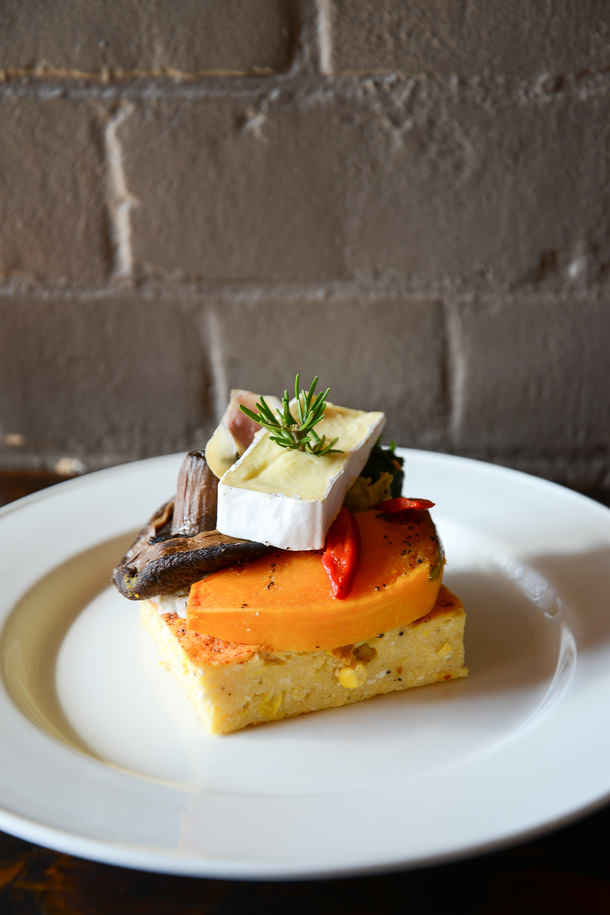 Regular readers know how much I love to travel and explore new places, sharing my adventures along the way. So when an opportunity arose to work on Tourism Tasmania's Go Behind the Scenery campaign last month I didn't hesitate.
I'd never visited Tasmania before and the proposed collaboration seemed to be perfectly suited to me: I would visit as many interesting foodie places in Tasmania as I possibly could in four days and blog about my experiences. Extracts of my content would then be licensed to use on the Go Behind the Scenes site and magazine to help people create their own bucket lists of places to visit in Tasmania.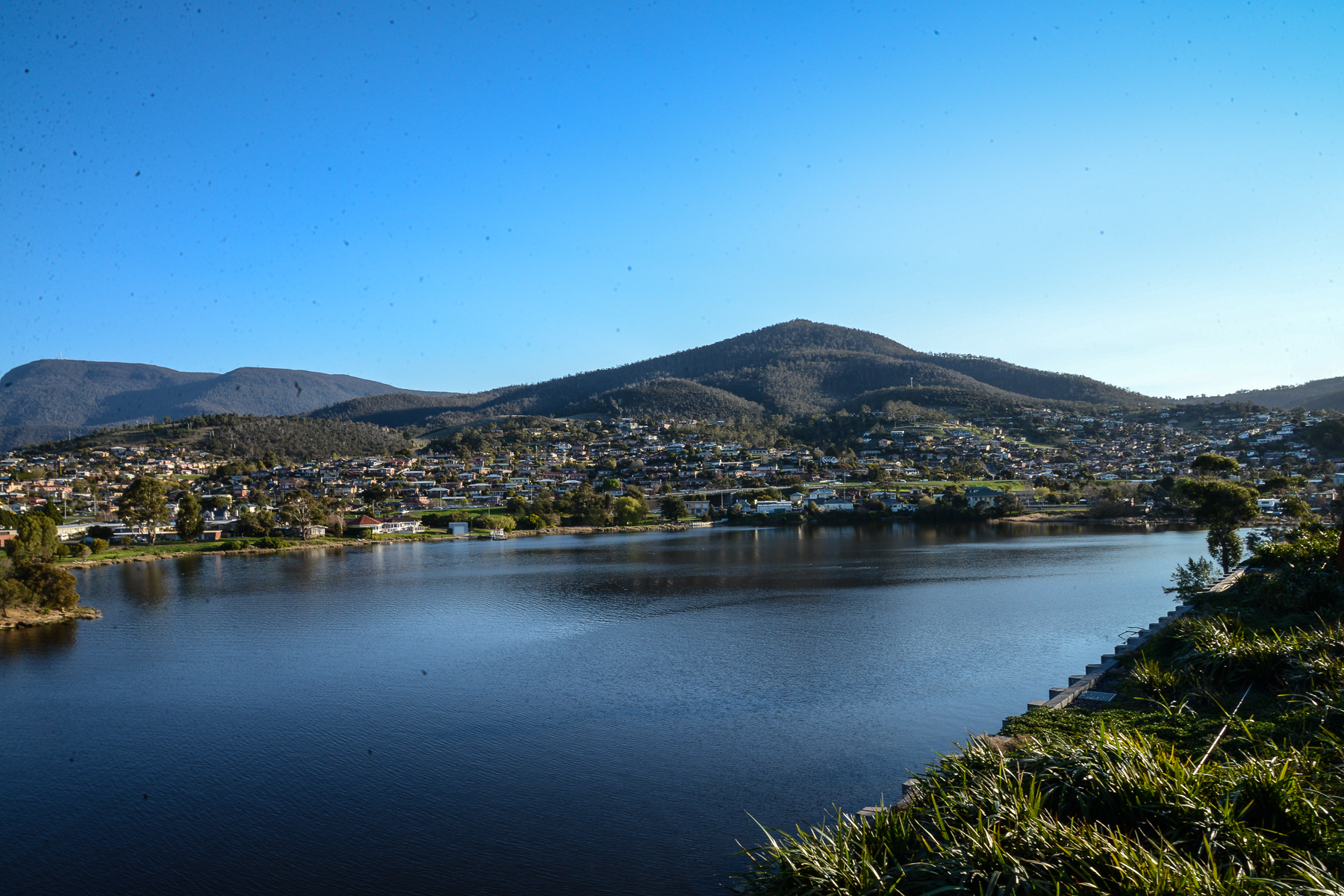 In the days leading up to my trip I researched the different places I would be visiting and put together a hit list of foodie must-dos. Once in Tasmania I also received lots of suggestions from local food lovers so I adapted my itinerary to include some of those suggestions, too.
So the week before last I flew with Virgin Australia from Adelaide to Melbourne (1 hour) and then from Melbourne to Hobart (1 hour), picked up my hire car and hit the road. I wanted to see as much as I possibly could so my trip took me from Hobart to Freycinet National Park,and then on to Binnalong Bay, Pyengana and Launceston. This post covers the first day and a half  of my trip in Hobart. It's a long, photo-filled post so grab a drink and make yourself comfortable.
---
Wursthaus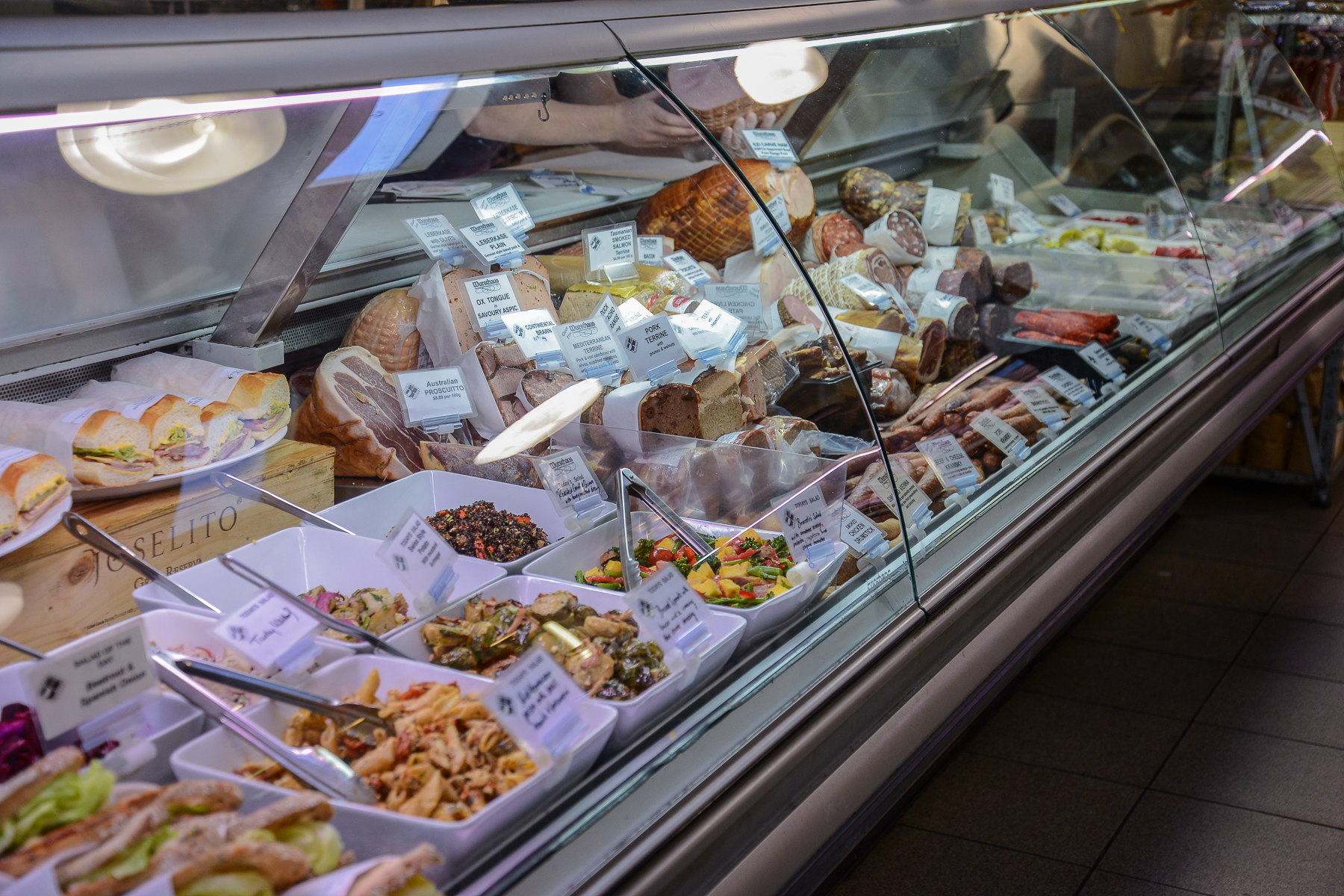 Established in 1985, Wursthaus is an essential stop for serious food lovers. A European deli-style experience comprising a deli, butcher/charcuterie, catering kitchen, cooking school and premium wine and cheese shop, it's the kind of place I could happily browse for quite some time before stocking up on pantry essentials, supper and a treat or two.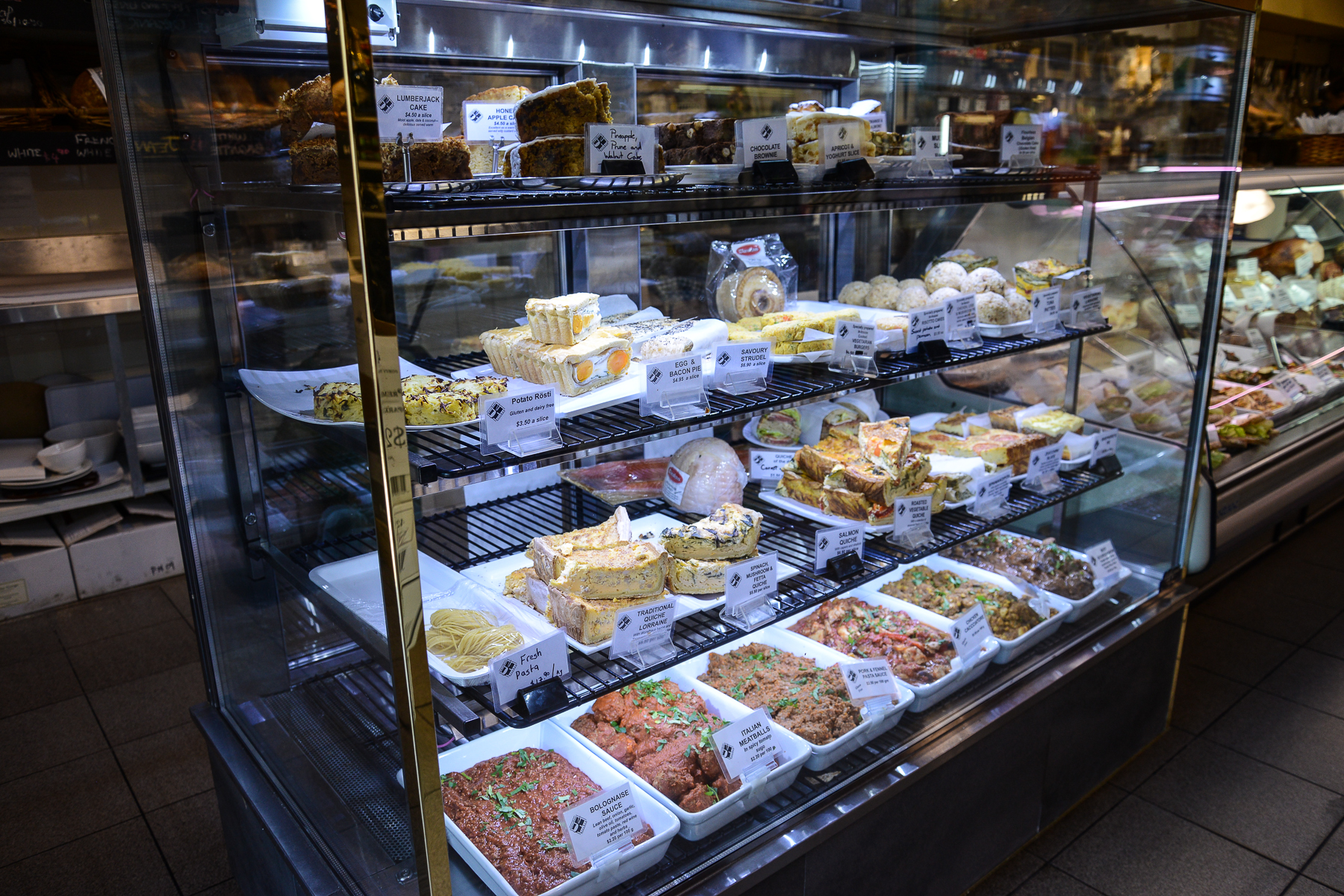 Owner Peter Trioli has 38 years in the food, hospitality and wine trade and it shows in the incredible variety of food and wine available here. Local Tasmanian food and wine producers are the primary focus, although Wurthaus also stock national and European specialty lines as well.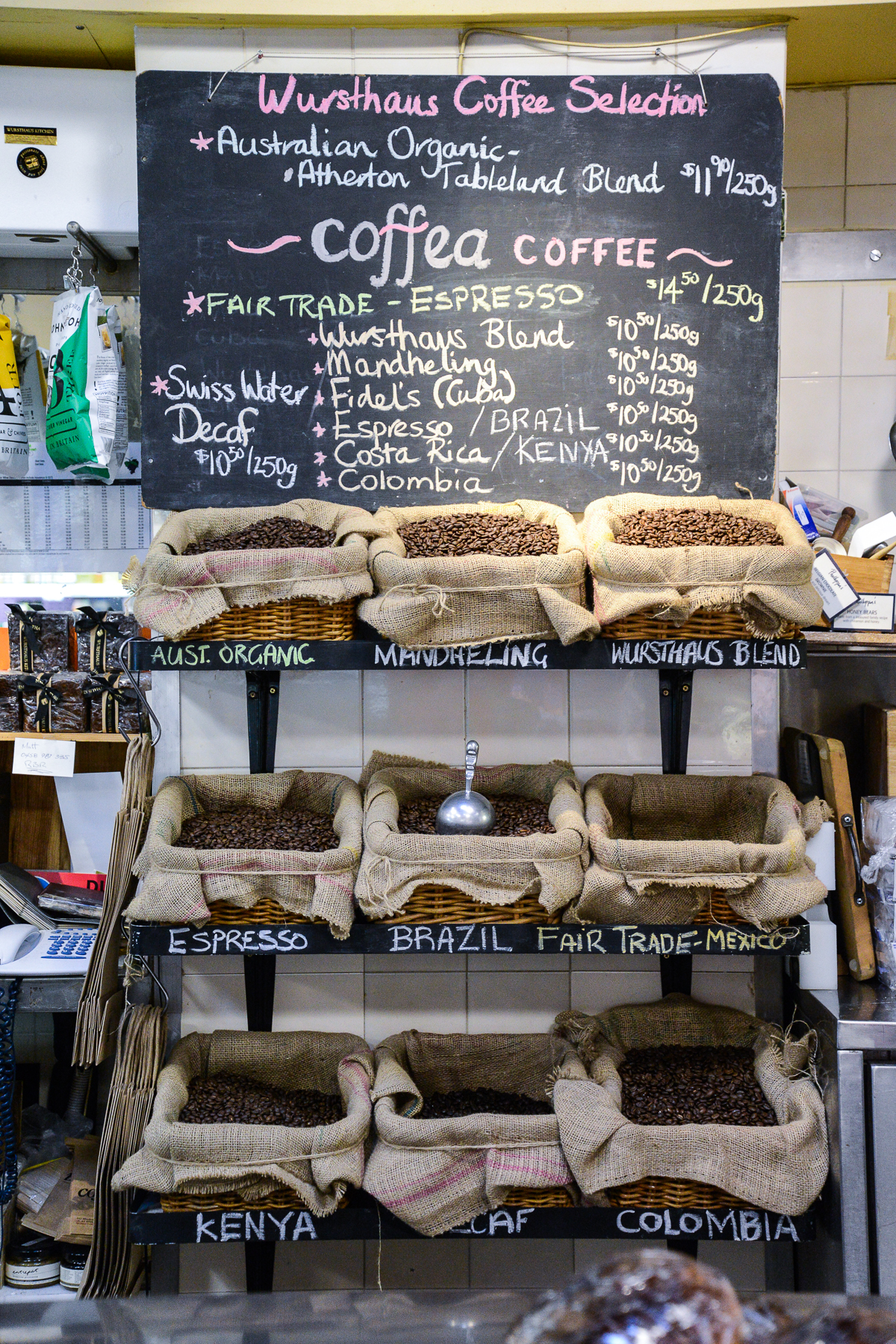 As well as coffee beans, you'll also find foie gras, truffles, Tasmanian salmon, and King Island Angus beef. And let's not forget the fridges full of artisan cheese and dairy products.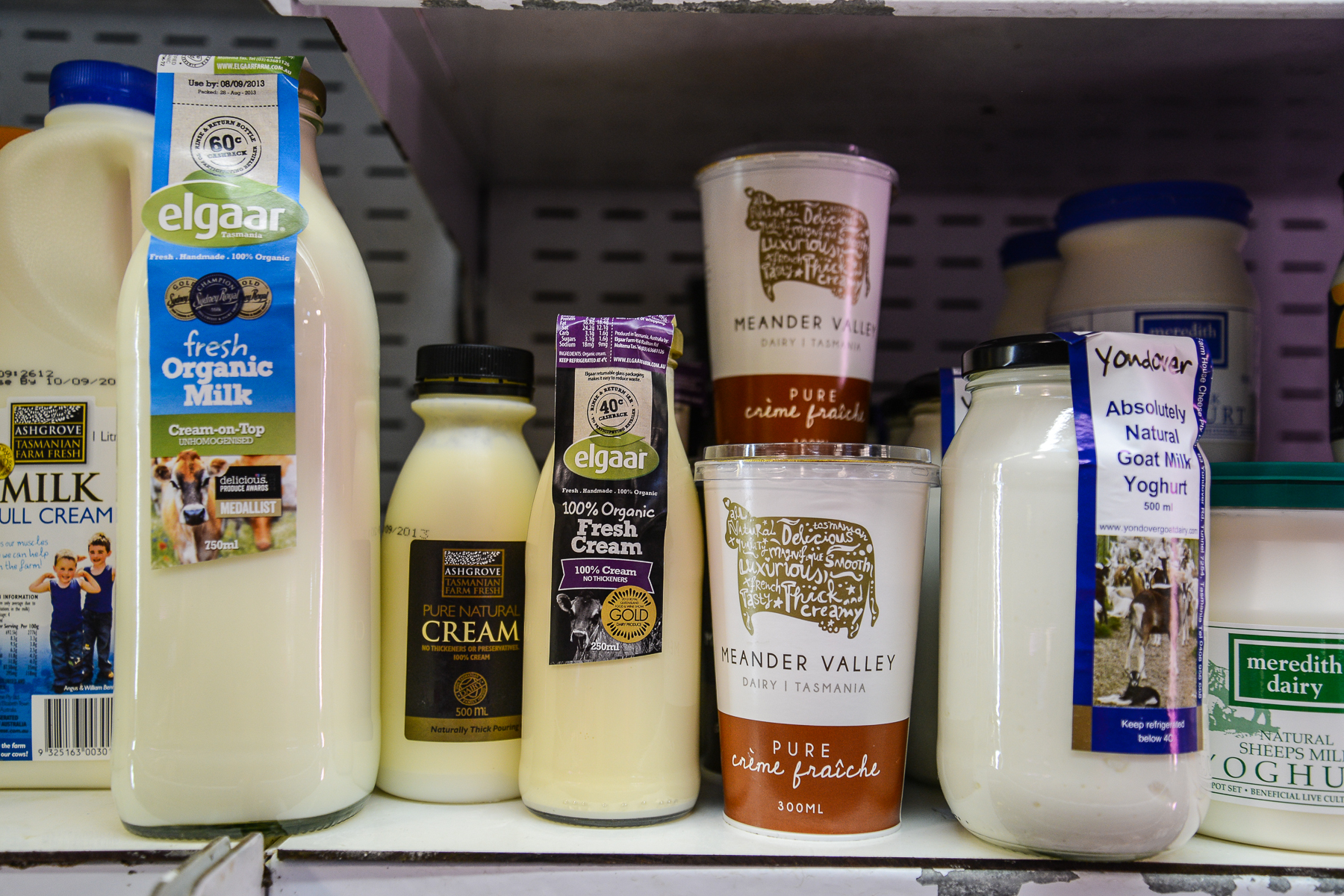 The shop also produces its own line of award-winning smoked meats and fish, preserve and sausages (the 'wurst' in the 'haus').
I wanted to take everything home but had to content myself with a half dozen jars of chutneys, jams, curry paste and chilli sauce by local Tasmanian producers. The best souvenirs are always edible, don't you think?
---
A Common Ground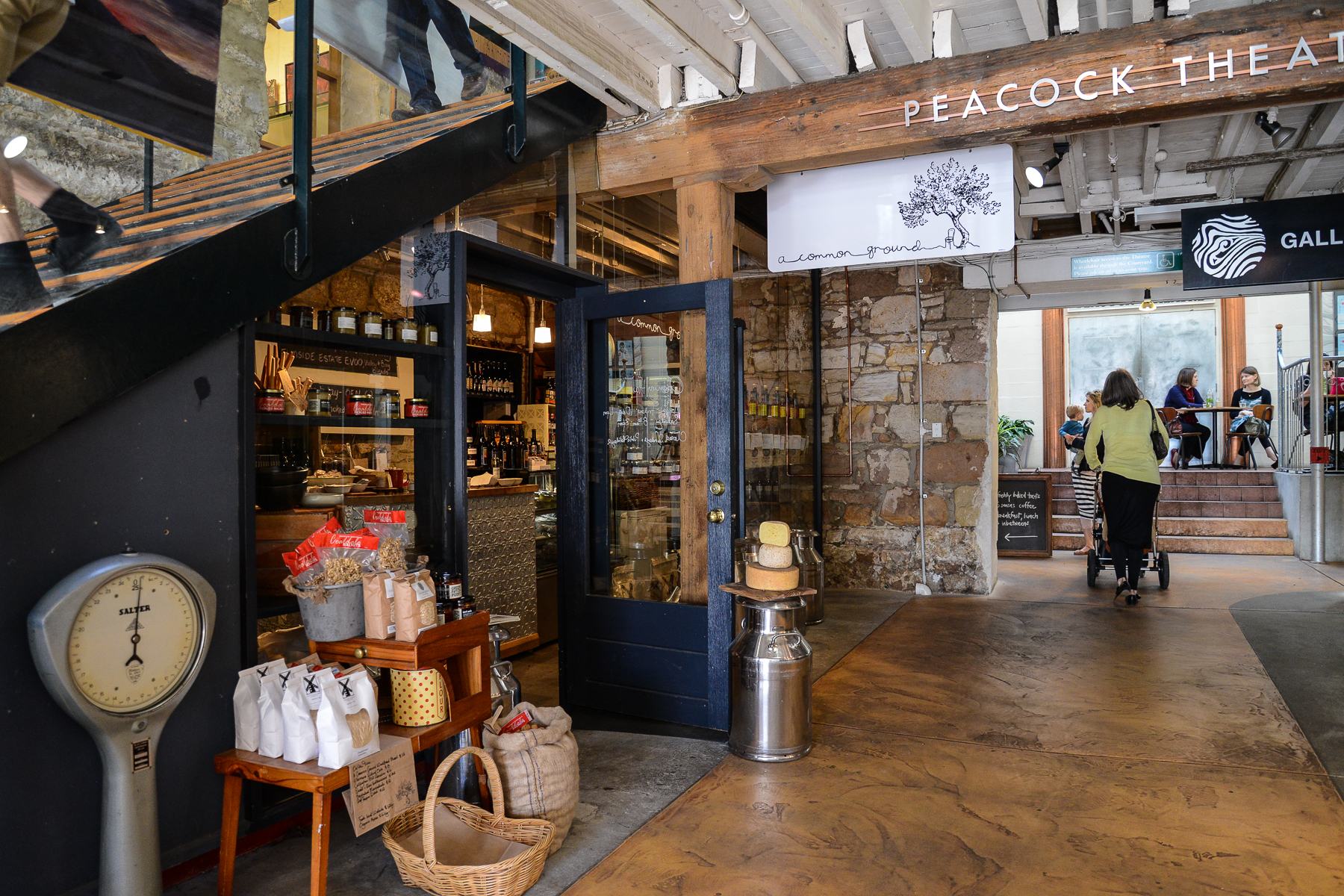 Just around the corner from Wursthouse is another gourmet food shop, albeit one with a very different feel – A Common Ground is one of the smallest and most charming food shops I've ever come across. Check out this magnificent cheese display at the door.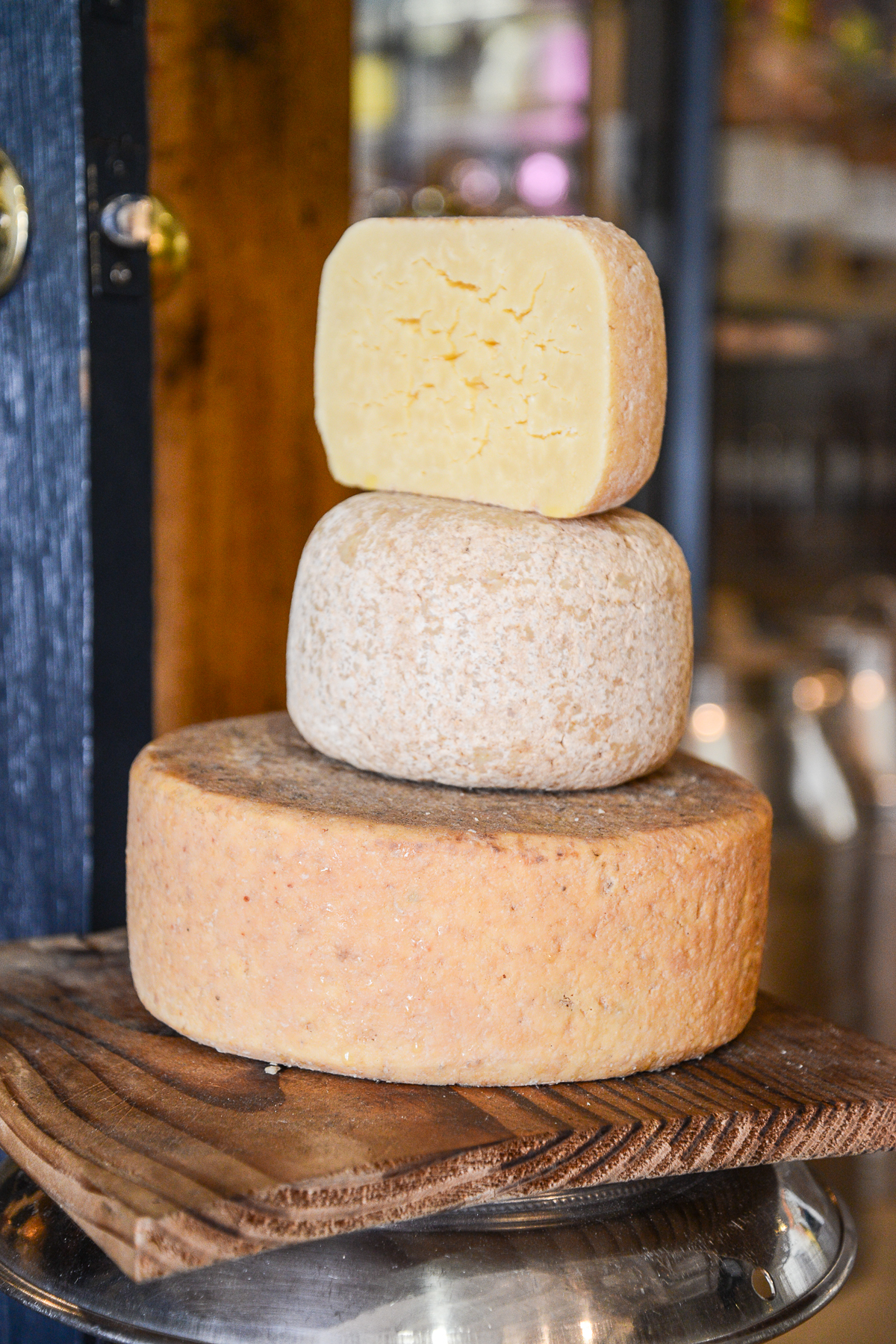 Inside the two year old shop is like an enormous walk in pantry, crammed with just about everything you could want.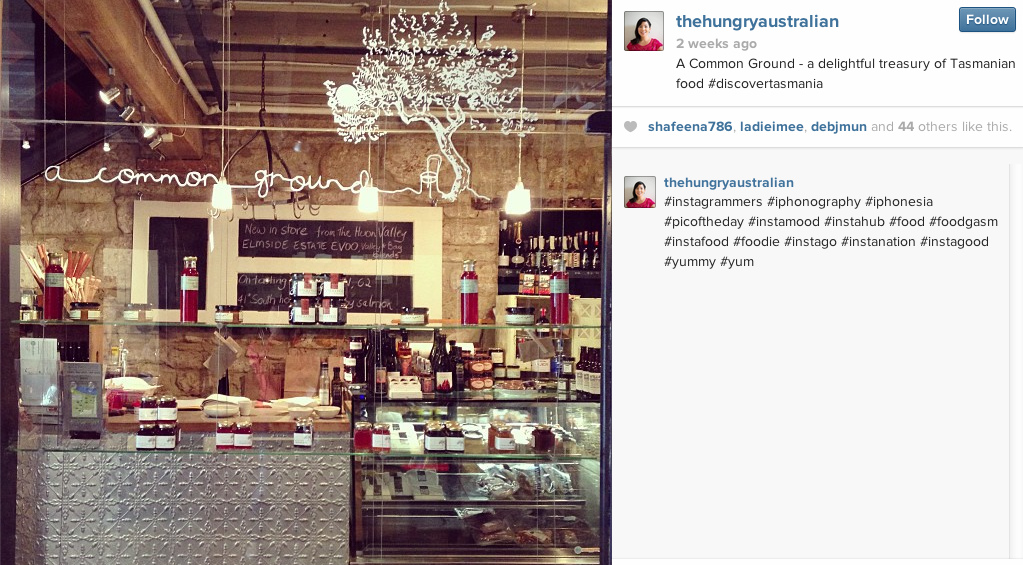 A Common Ground was created by Matthew Evans (food writer turned cookbook author, pig farmer and sausage maker a.k.a The Gourmet Farmer) and Nick Haddow (former Adelaide boy and now award-winning cheese-maker and owner of the Bruny Island Cheese Company).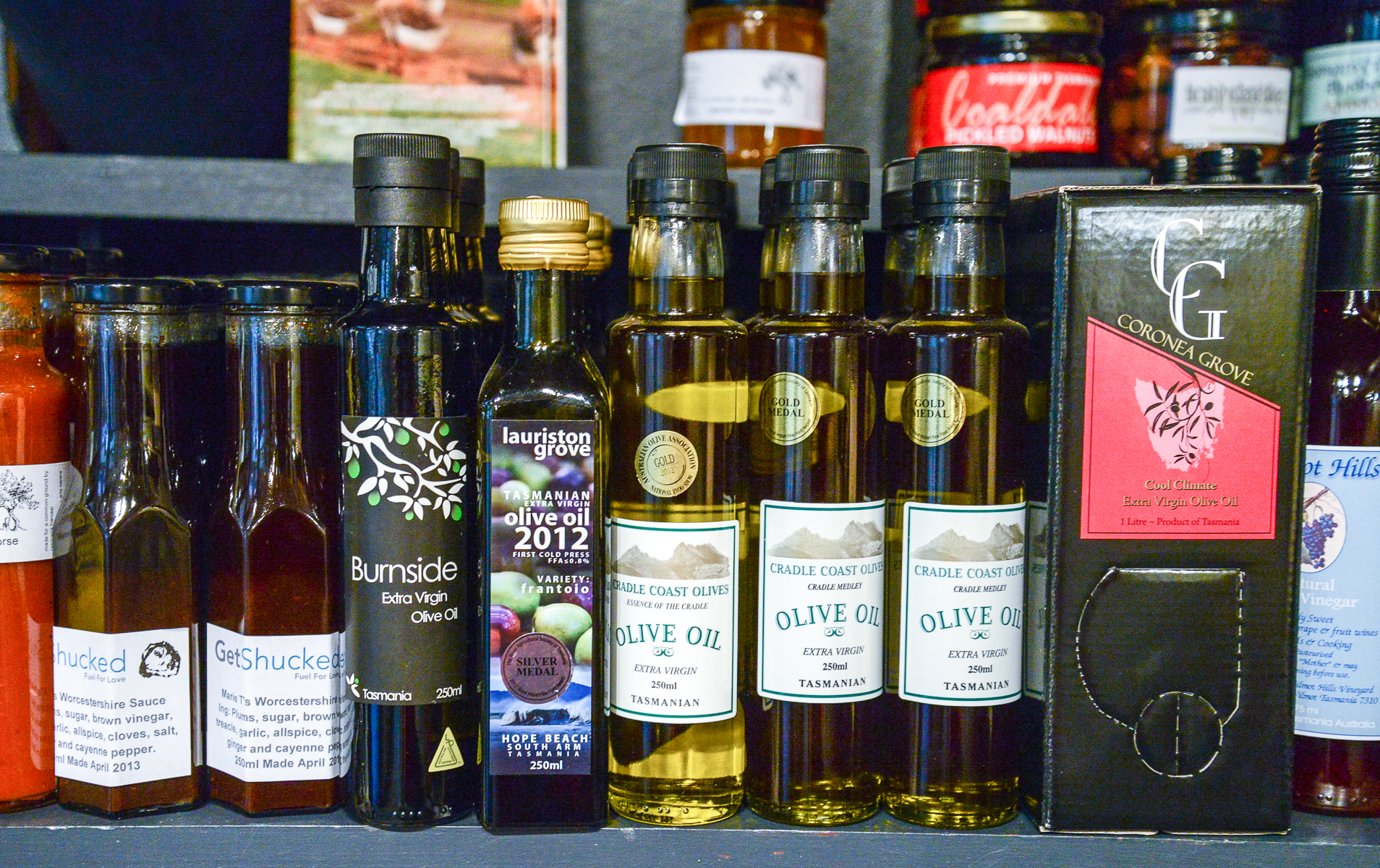 Their shop stocks 100% Tasmanian food and wine – it's a virtual repository of edible and drinkable treasures from some of Tasmania's finest artisan producers. Matthew and Nick really like championing "mum and dad style businesses" so you'll find products at Common Ground that you won't find anywhere else.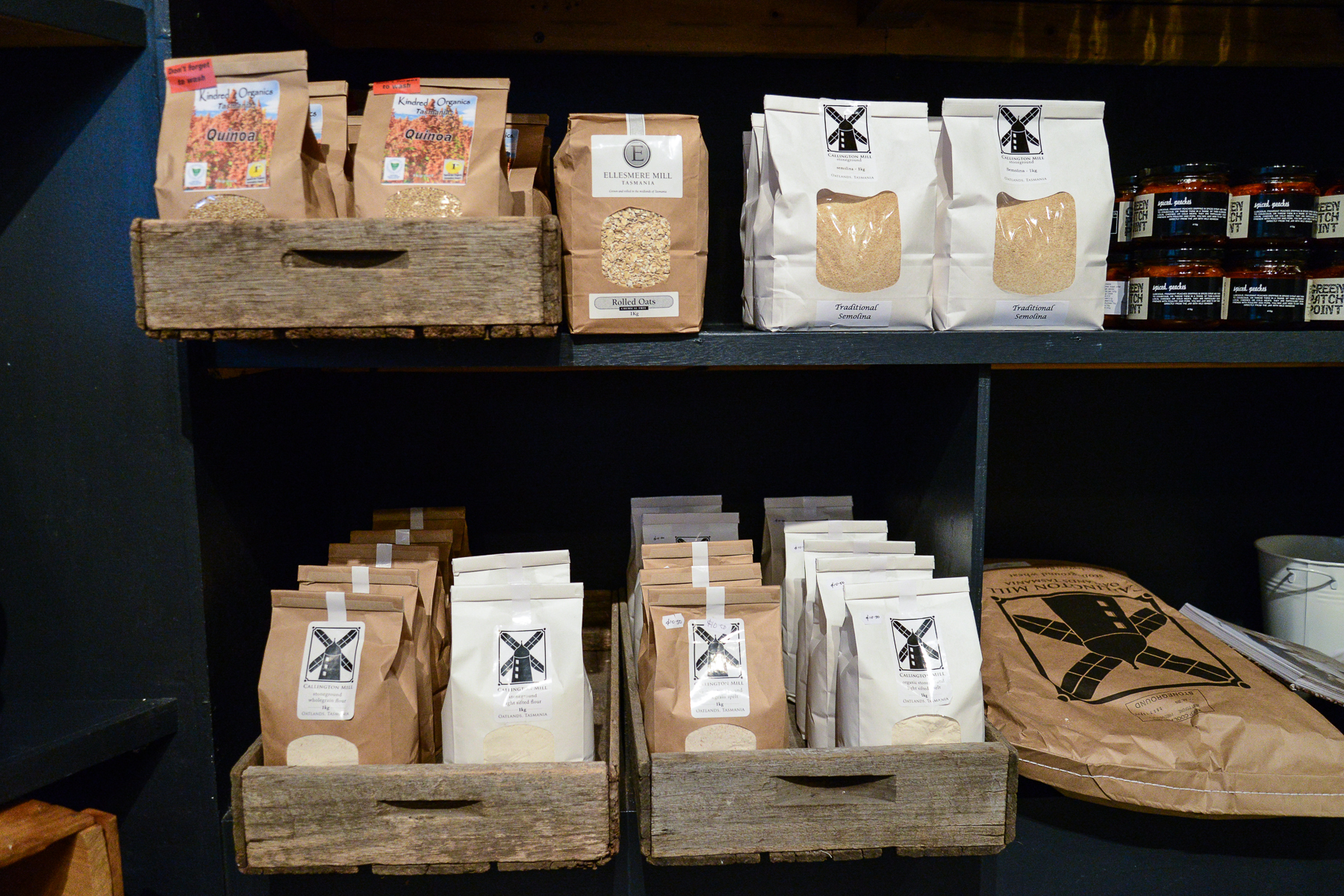 The lovely shop assistant tells me that each product sold in the shop is personally tasted and selected by the owners.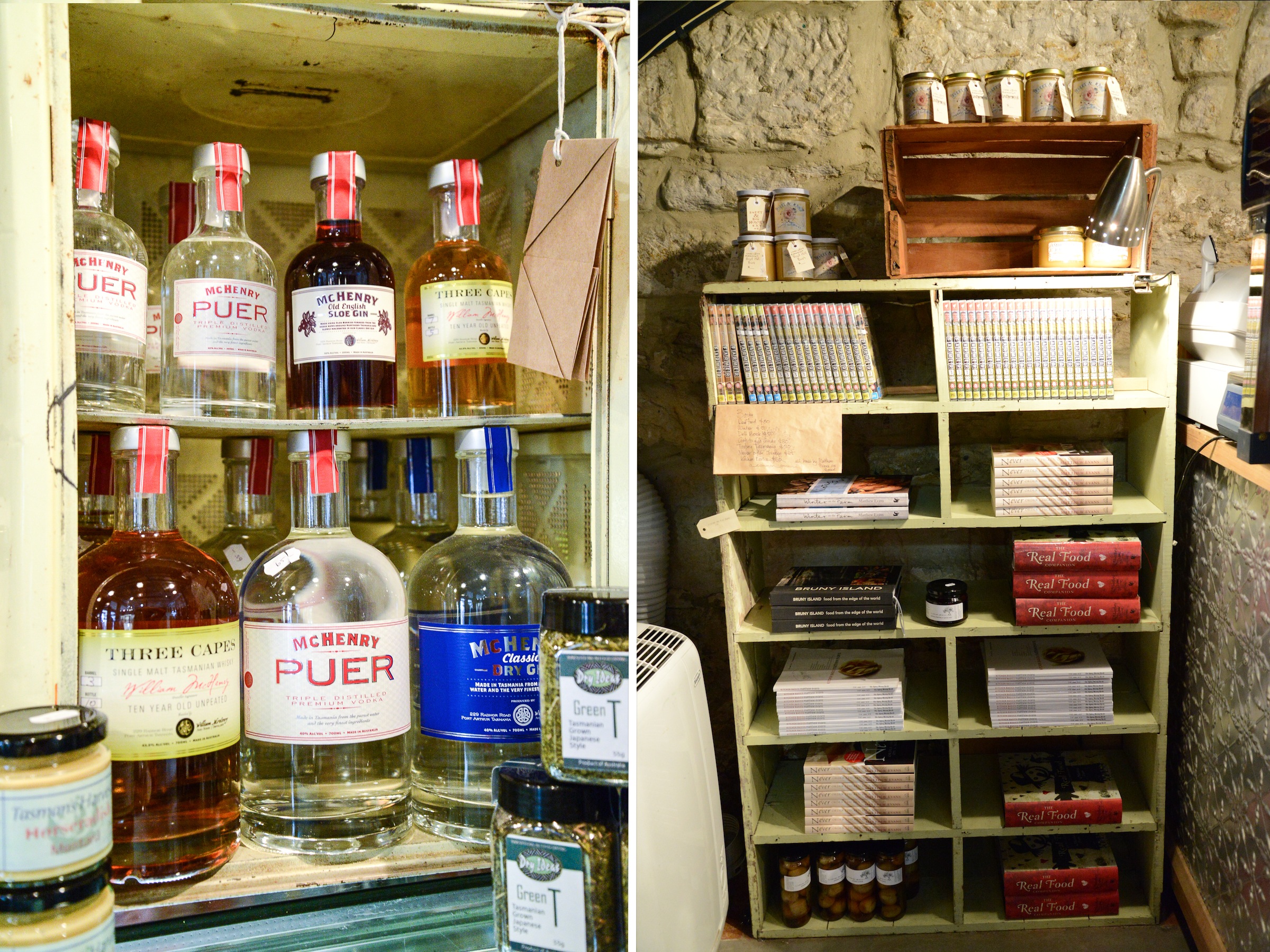 The stock changes from season to season and some of the products come in limited runs so it's worth checking back regularly for new stock.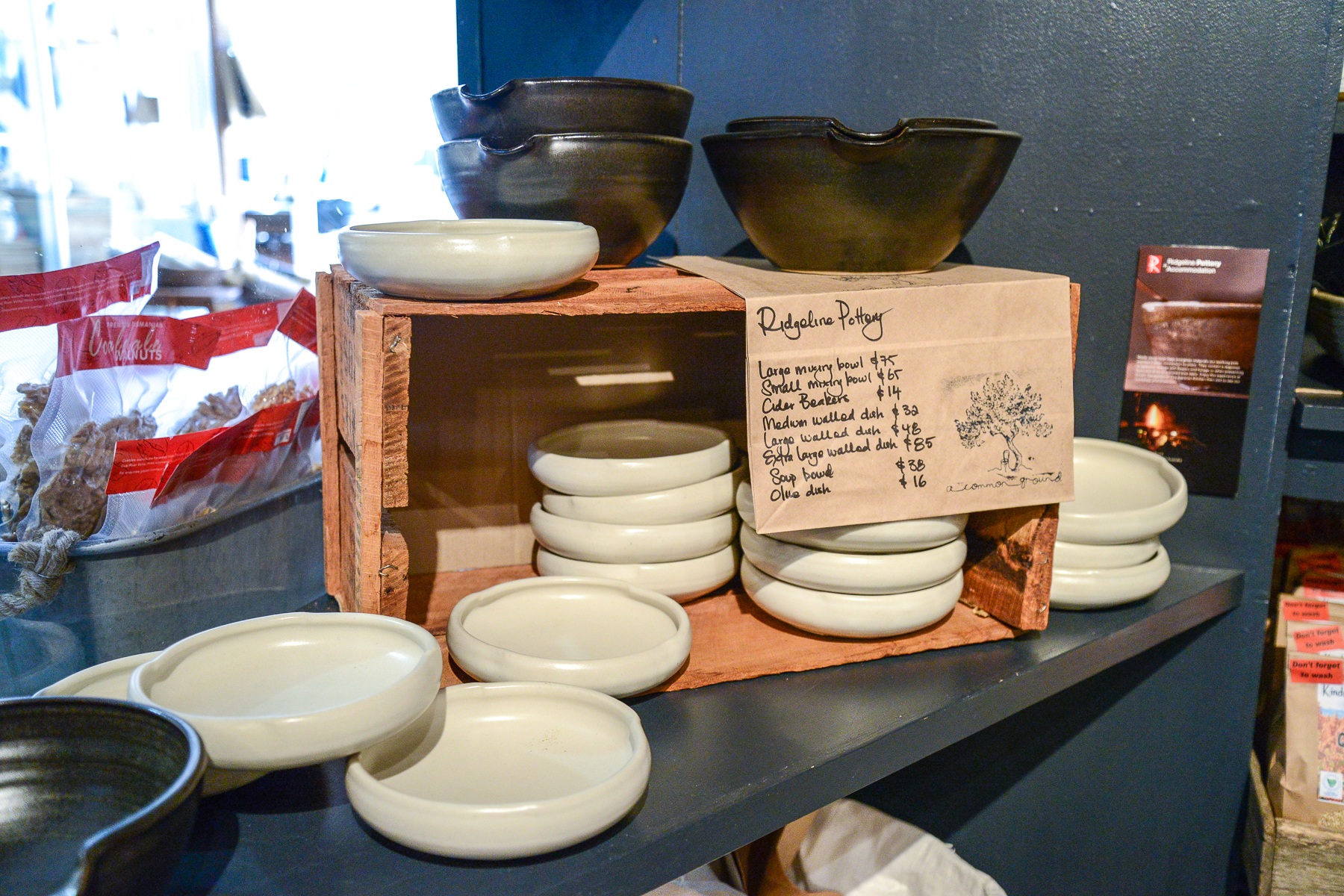 A Common Ground also stock a small selection of boutique wine and craft beer and cider from microbreweries.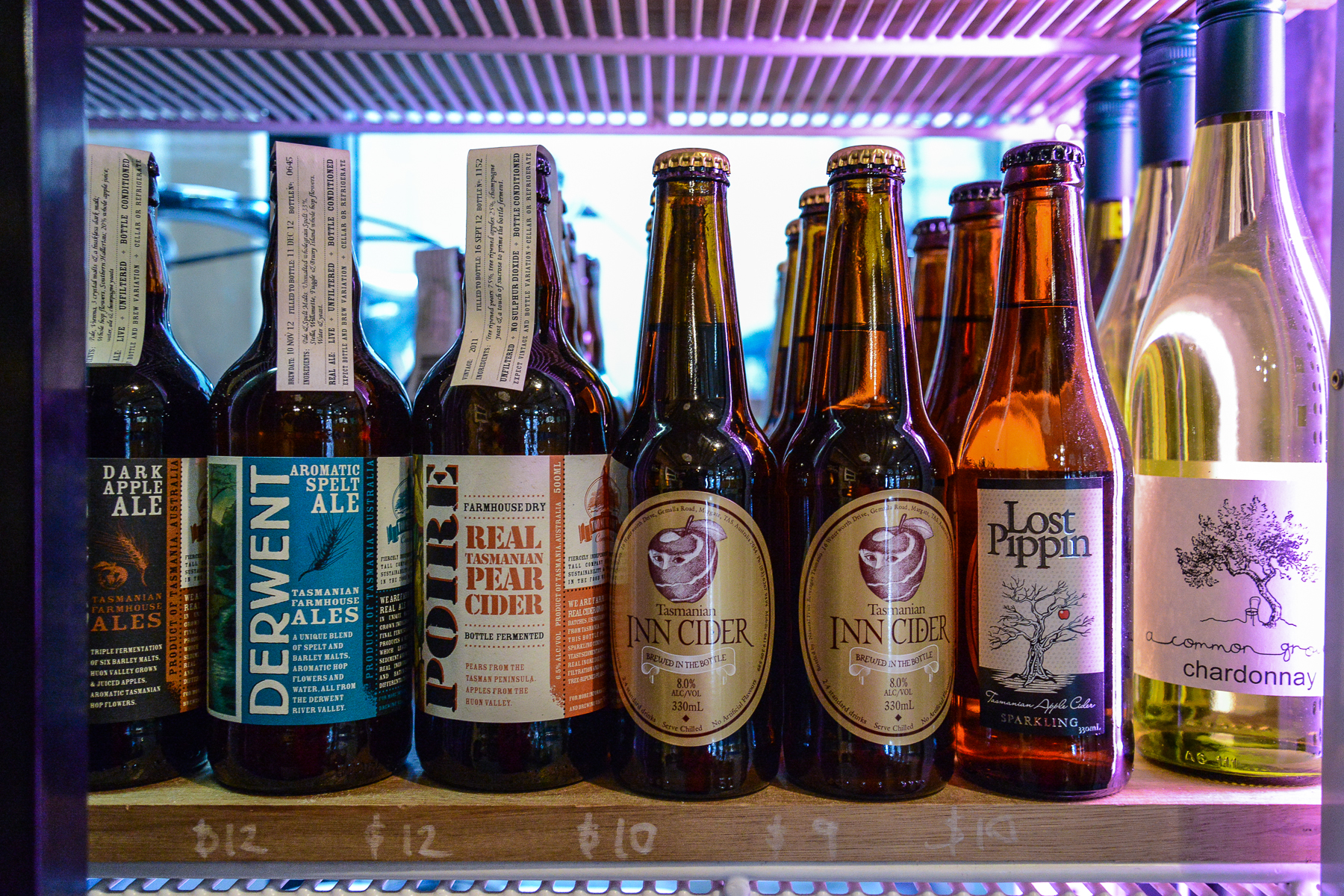 I buy some lovely A Common Ground crab apple jam and resolve to check out the online store when I return home – luckily, ACG deliver throughout Australia.
---
Tricycle Cafe, Salamanca Arts Centre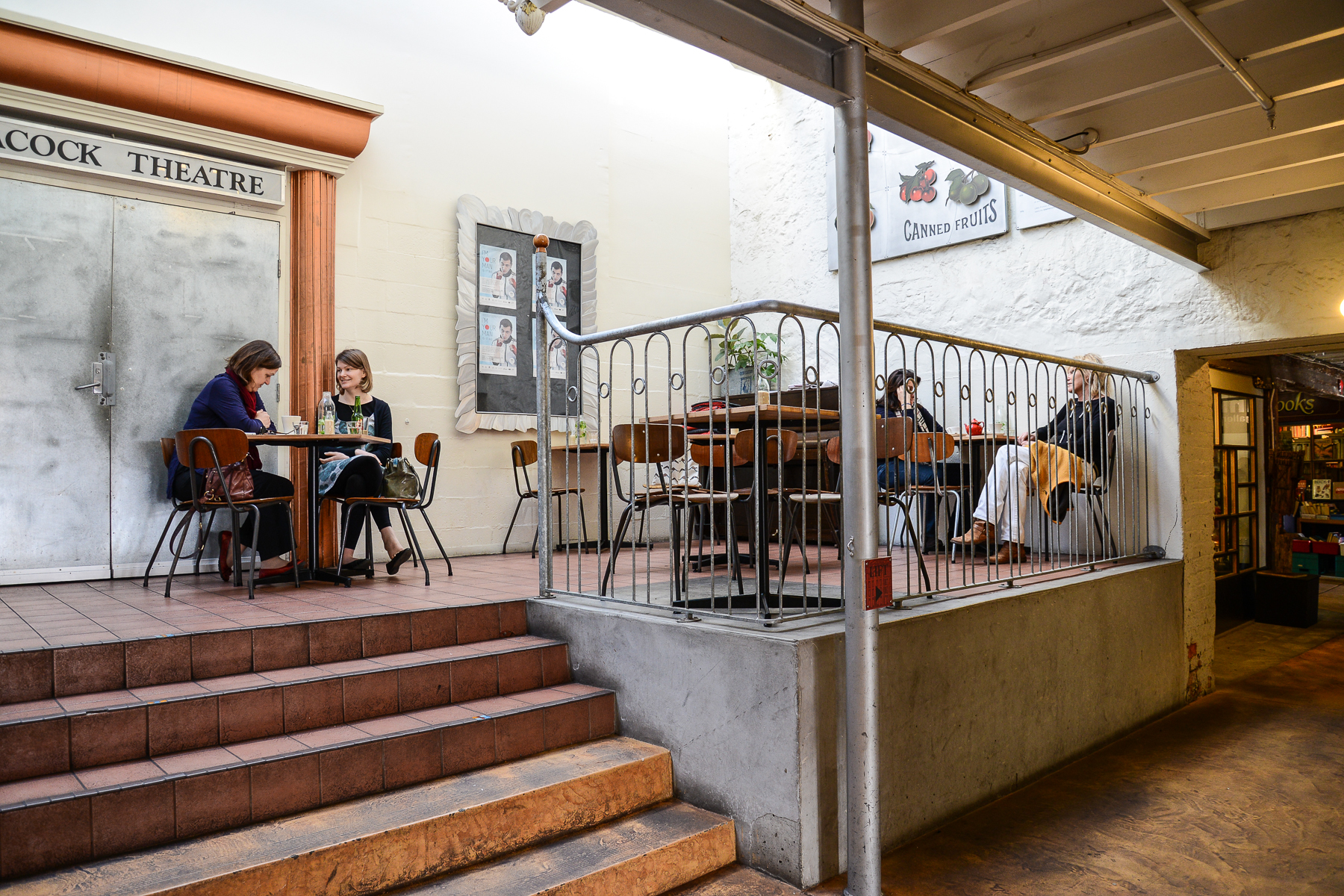 A few steps away from A Common Ground is The Tricycle Cafe, my next stop. An airy and unpretentious space with lots of lovely natural light, the Tricycle Cafe specialises in breakfasts and lunches; freshly baked goods and organic fair-trade coffee are menu staples.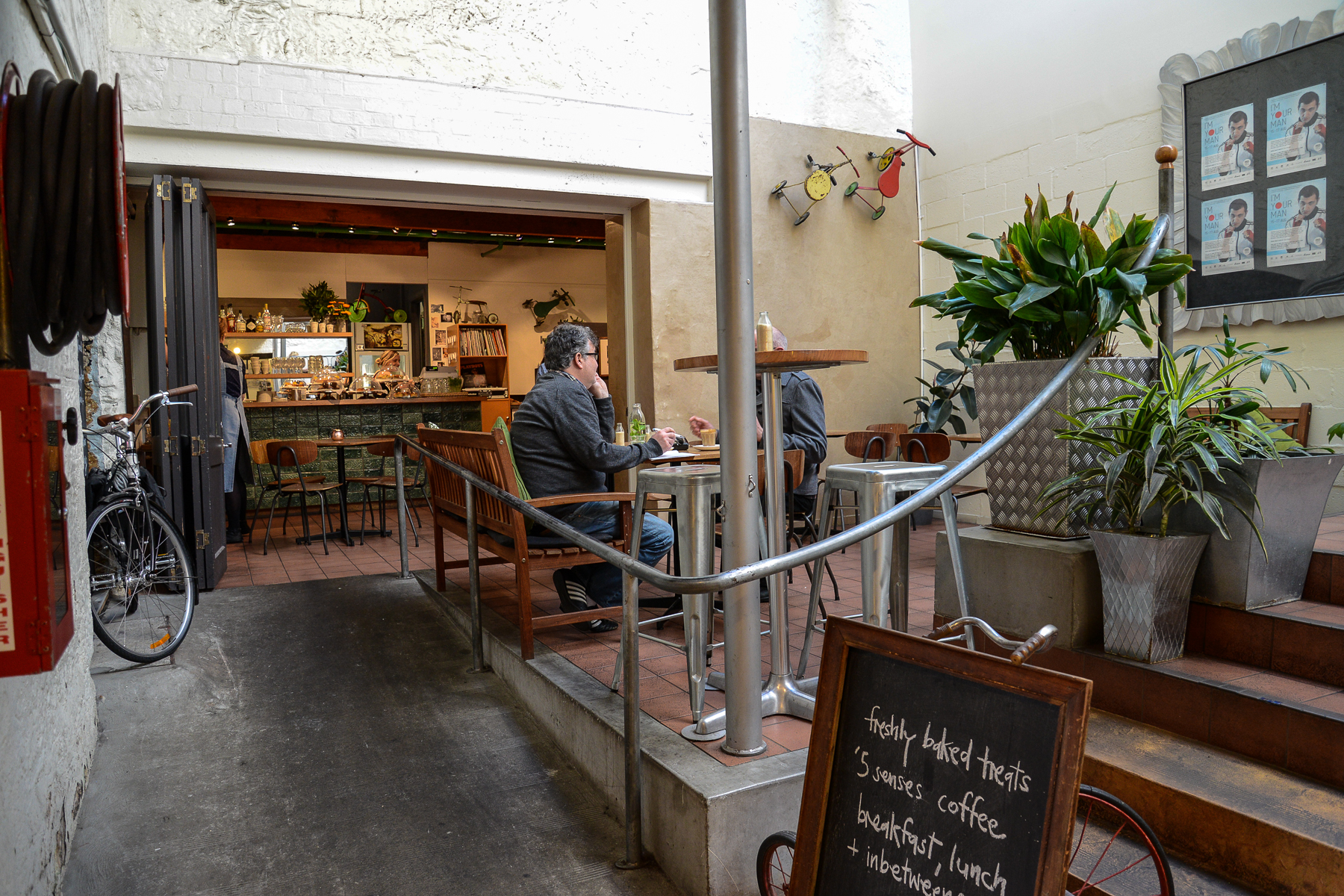 Today I'm meeting Sam and Claire from stunning local food blog, An Island Menu. The Tricycle Cafe had already been on my hit list so when Sam suggested it as a meeting venue I knew I was onto a good thing. When I tell Sam this, he says simply, "they do the best food around here."
I order a pot of the Australian tea and it arrives in a charming orange teapot.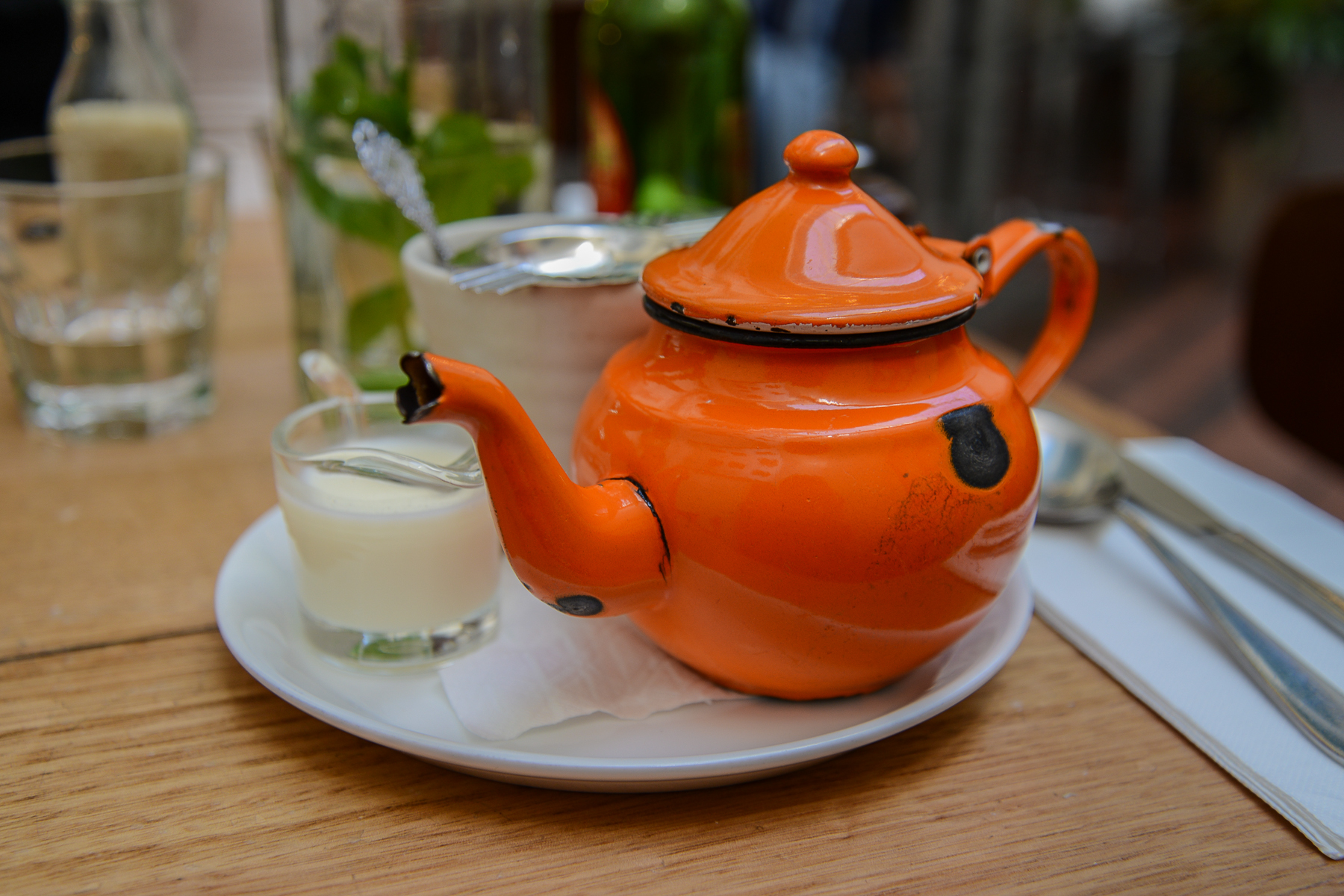 I already have lunch plans so decide to order the Jerusalem artichoke and potato soup ($12) as an appetiser. While we wait for our food we talk about the local food and blogging scene. I mention some of the places on my hit list and make notes as Sam and Catherine offer their suggestions.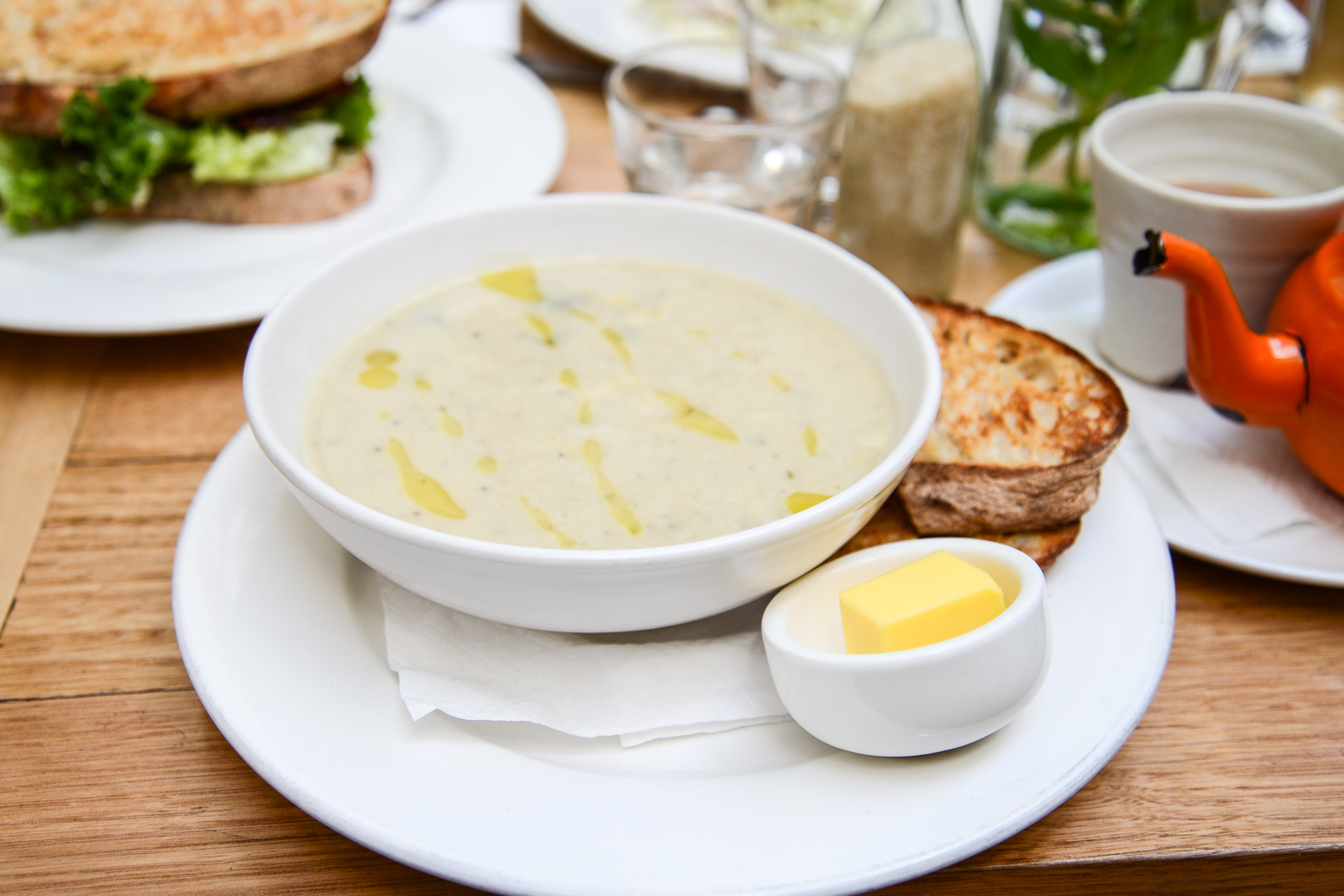 My soup arrives steaming hot with a drizzle of very good olive oil and a generous grind of fresh pepper – it's full of flavour, a hint of thyme and expertly cooked. It's so good in fact that I almost wish I was staying here for lunch.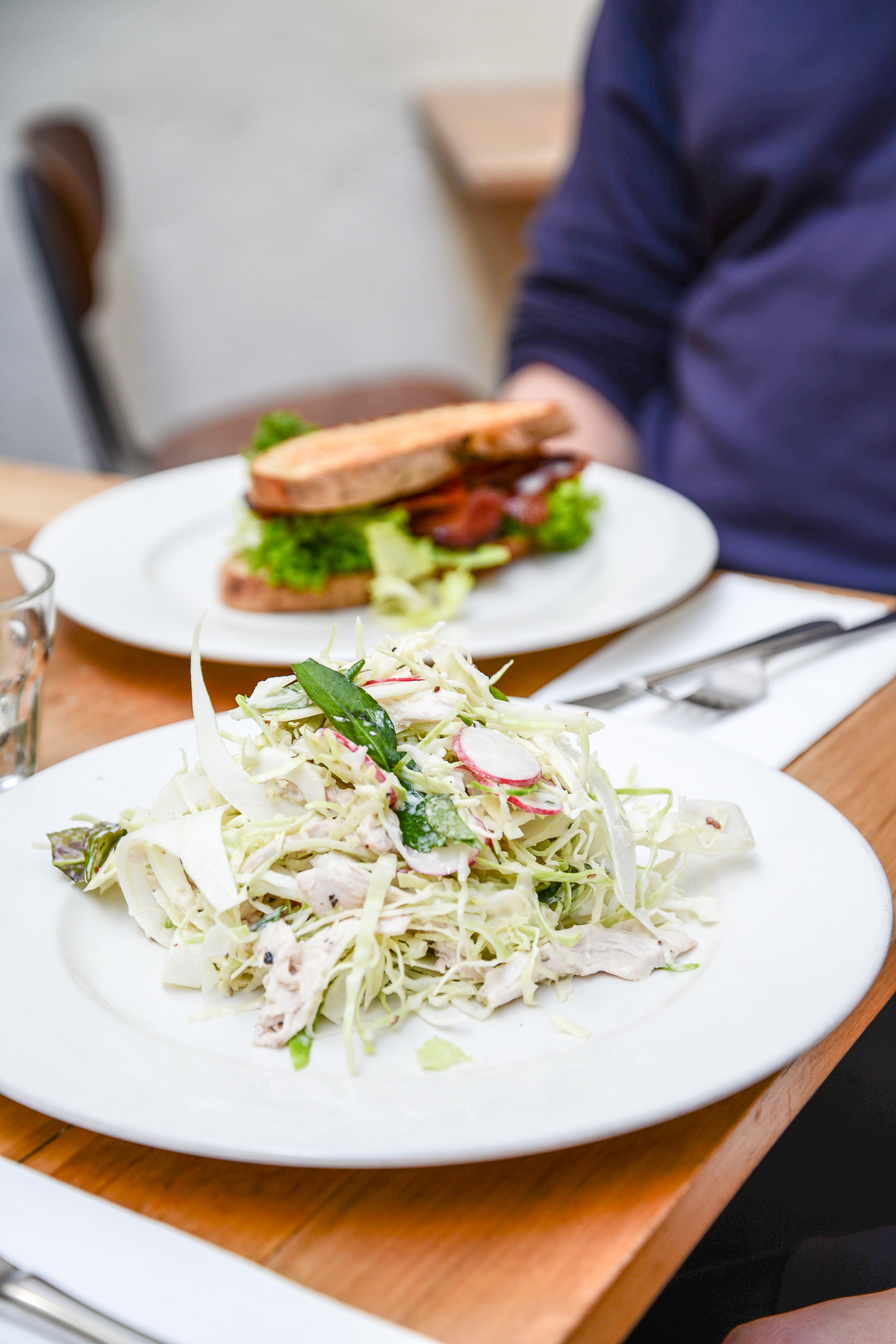 Catherine orders the chicken, cabbage and radish salad which is accompanied by a thin creamy dressing and Vietnamese mint (laksa leaf) garnish that lifts it out of the ordinary. This is food cooked with elegance and restraint.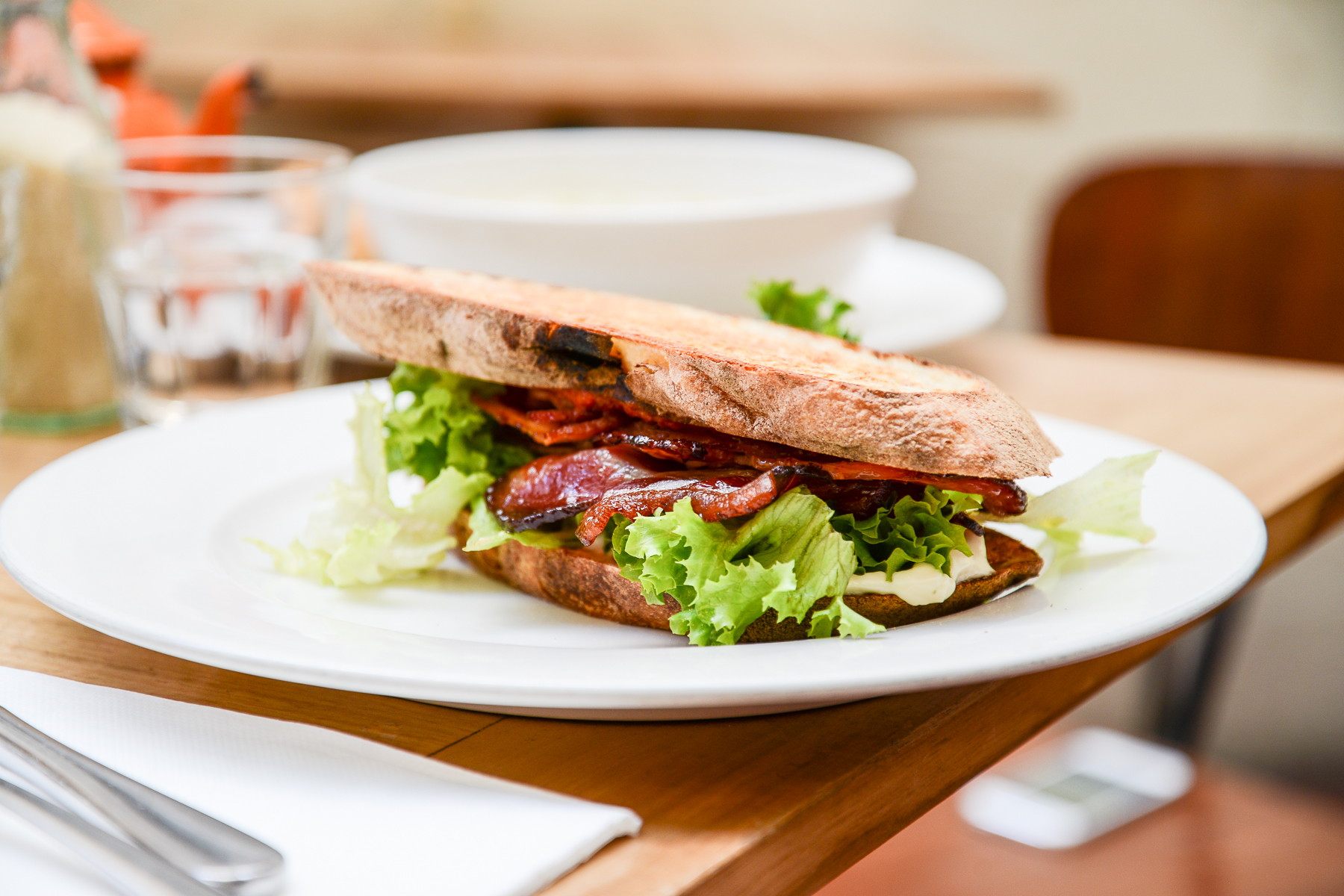 Sam orders what may be the best-looking BLT I've come across in years. Just look at that bacon and that crispy lettuce. Phwoar! I'm going to have to order that next time I visit.
---
The Source at MONA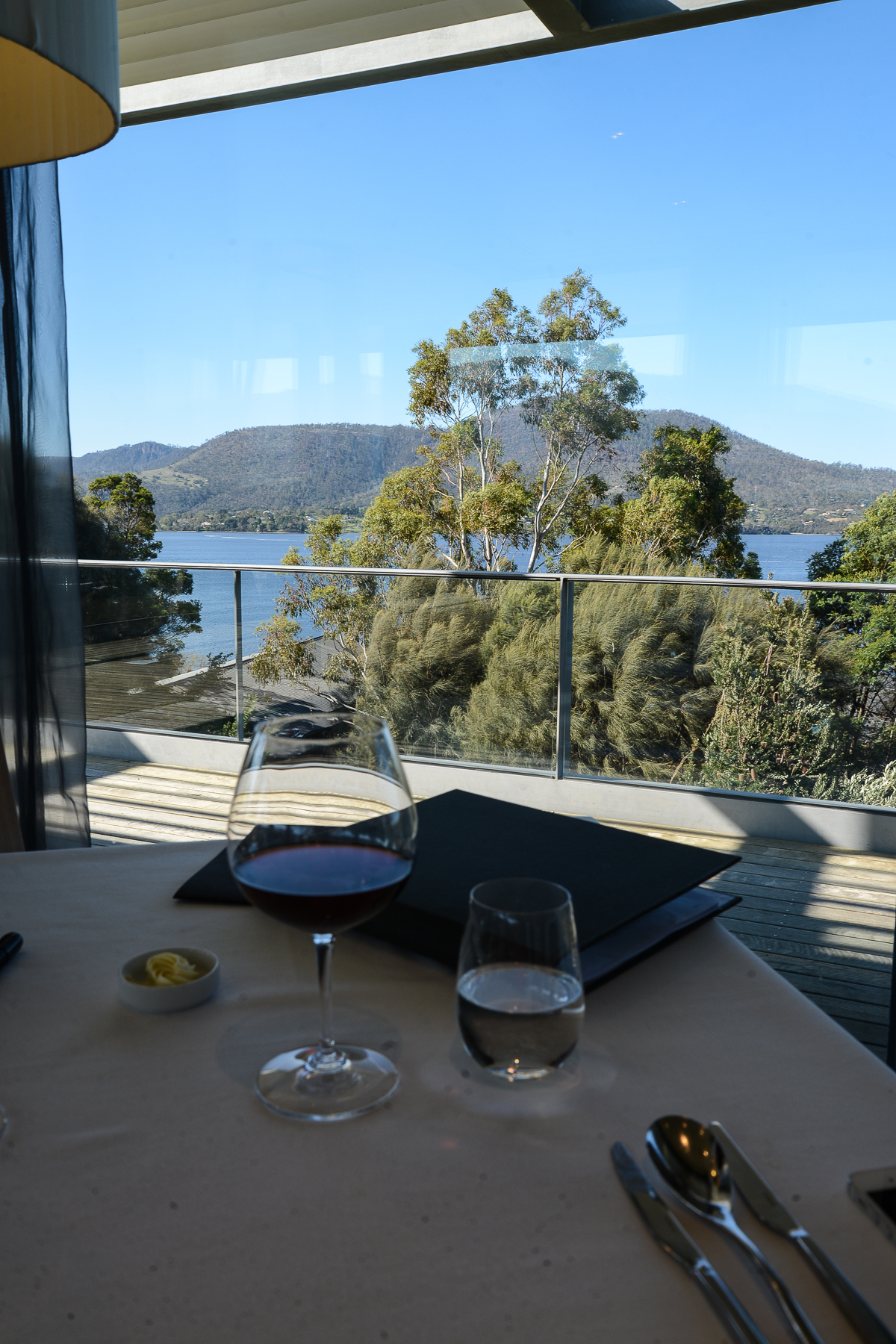 Lunch today has been arranged for me at The Source, the fine dining restaurant at the Museum of Old and New Art (MONA). Situated on the first floor, the elegant dining room features floor to ceiling windows to take full advantage of the breathtaking views.
After careful study of the menu I order two entrees. For oenophiles, The Source boasts one of the most quirky and comprehensive wine menus I've ever come across. The sommelier arrives to lend a hand and upon hearing my menu choices, suggests a glass of the Morilla Pinot Noir ($13). Made from organic and bio-dynamic estate-grown grapes, the Pinot Noir has a lovely berry tone and flavours.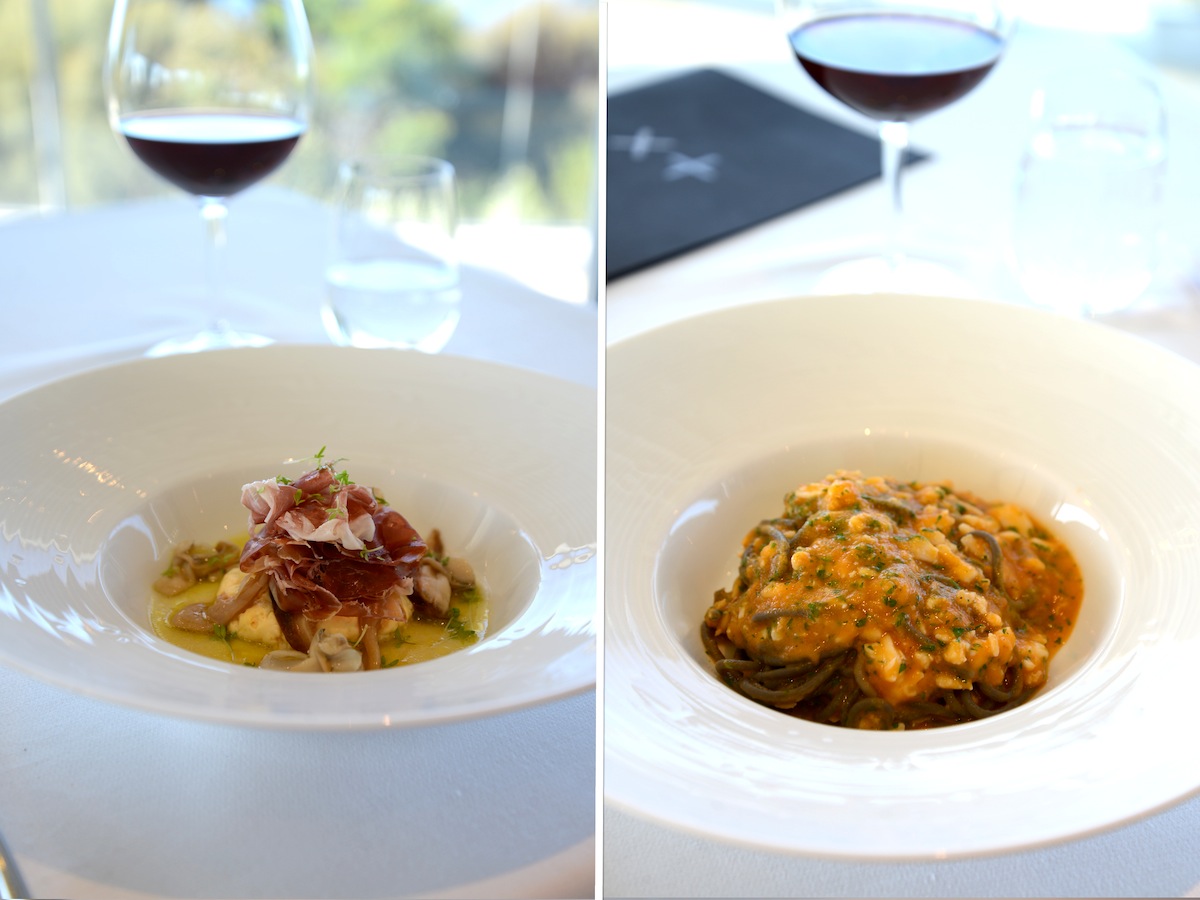 My first entree is Jamon with clams, mushroom, watercress and a fine mousseline of eggs ($22). The Jamon is exquisitely supple and flavoursome, tearing easily under my knife. Underneath clams and mushrooms dressed in olive oil and a splash of vinegar offer welcome relief from the richness of the velvety soft eggs. This is an exquisite dish.
My second entree is squid ink spaghetti with crab in a tomato sauce ($31). The crab is beautifully firm and flavoursome, the spaghetti is pleasingly al dente and the sauce is mellow and well-rounded. This is top notch food but it's comforting rather than intimidating.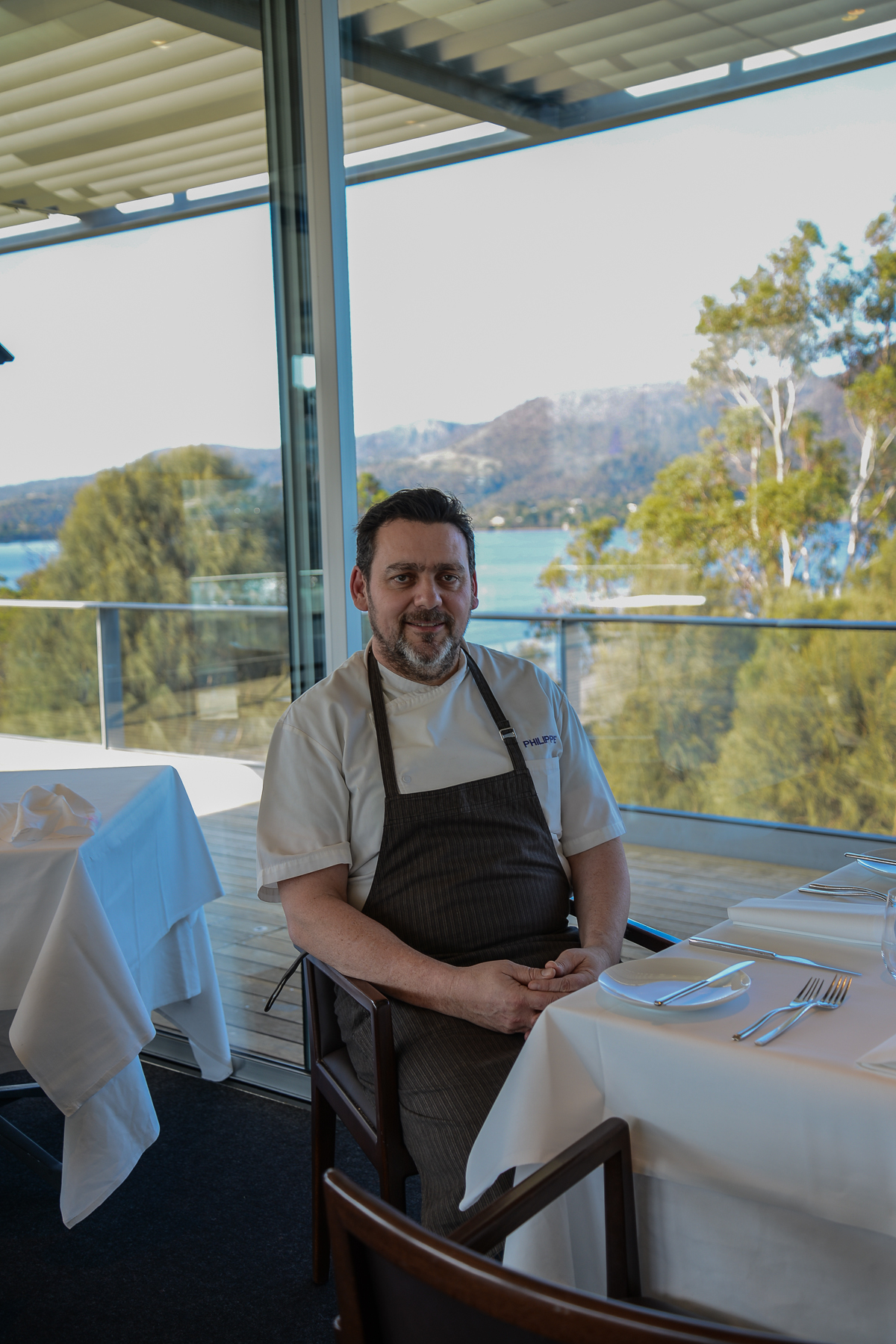 After my entrees executive chef Philippe Leban joins me for a chat. Born in Paris, Phillippe grew up in Sydney and has a Michelin-starred resume. Previously, he was sous chef to Guillaume Brahim at Quay, head chef at Bennelong at the Sydney Opera House, and head chef at Hamilton House on The Bund in Shanghai.
I was working in Shanghai just before Philippe's stint at Hamilton House and we soon discover we have a number of mutual acquaintances. Phillipe has also moved around a lot — he speaks fondly about his stint cooking traditional Japanese food at a tiny, 12-seater restaurant in Japan — but I suspect that it would take a lot to move him from his current position at The Source.
Back in 2009 Philippe was introduced to David Walsh, MONA's founder, through a friend, who knew he was looking for a change of scene.
"I'm really lucky here, " Philippe admits. "David gives me carte blanche to do what I like."
What Philippe likes doing is traditional French cooking using the best Tasmania produce around.
"The lunch menu — what you ate today — is designed to be very accessible, very easy to eat," Phillippe explains. "The dinner menu — our degustations — are quite different. I like to take the traditional French dishes and give them a bit of of a MONA twist."
Dinner guests have the options of 3, 5, 7 or 9 course tasting menus designed to dazzle and delight. So next time I visit MONA I'll be making a booking for dinner at The Source.
---
Museum of Old and New Art (MONA)
Much has been written about the Museum of Old and New Art (MONA), millionaire David Walsh's extraordinary gift to the people of Tasmania. On paper, it's an intriguing story: a Hobart boy makes a fortune gambling, builds a $A100 million art collection and decides to found a museum of art so the public can come and see it. David actually opened his original museum — the Moorilla Museum of Antiquities — in 2001. It closed in 2007 for extensive (and costly) renovations and reopened early 2011 as MONA, now one of Tasmania's leading tourist attractions.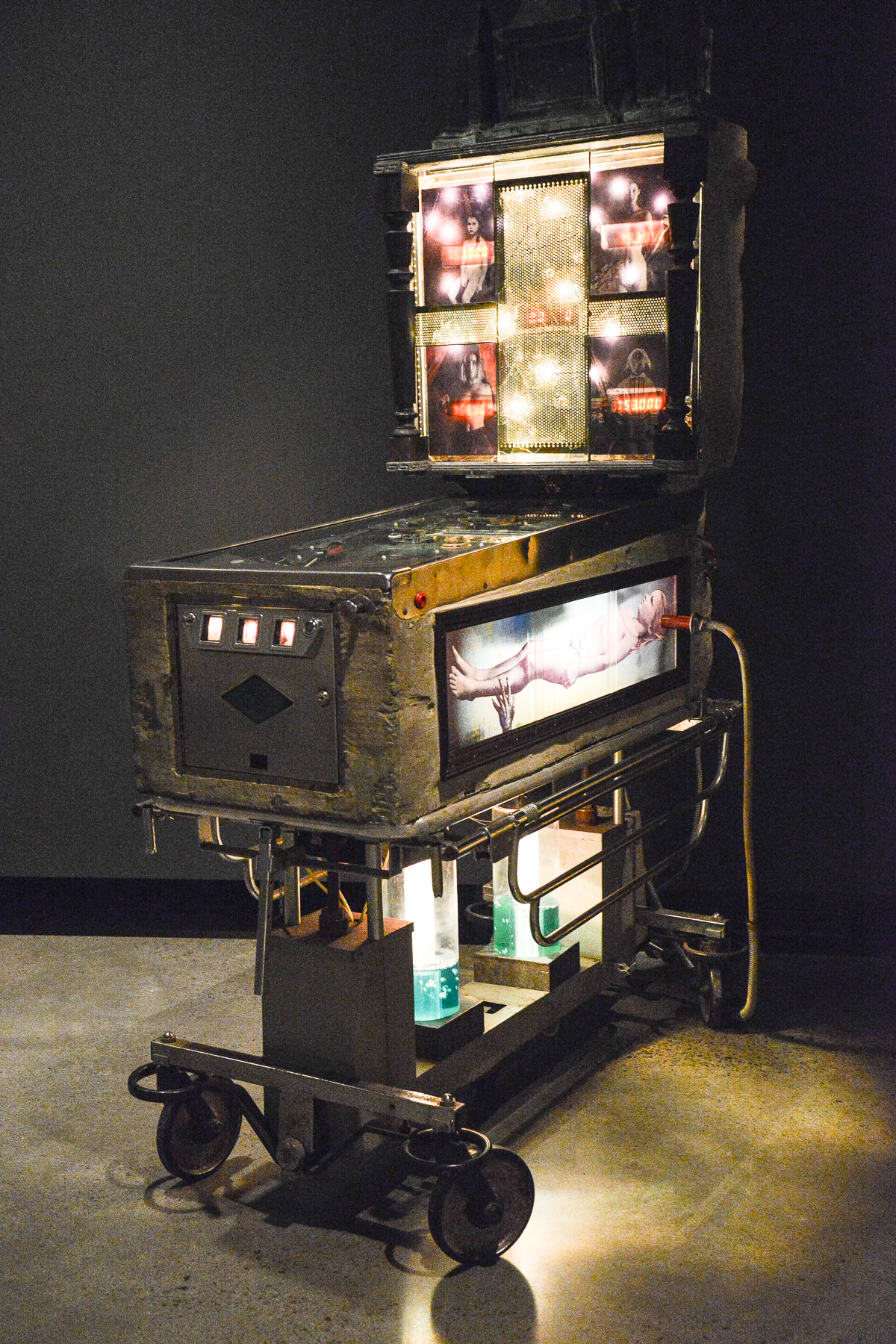 My early work life was in the arts industry so I've spent a lot of time visiting galleries but I was still unprepared for the impact MONA had on me. 
I can't cover MONA properly in this blog post so I'll just say this: MONA is everything an art museum should be and then some. The art — collected by David over many many, years — was beautiful, shocking, striking, elegant, disturbing, gentle, provocative, confronting, brutal, inspiring, worrying and playful. Housed in a purpose built building, with dramatic lighting and stone, concrete and metal finishes, the overall effect is nothing short of extraordinary.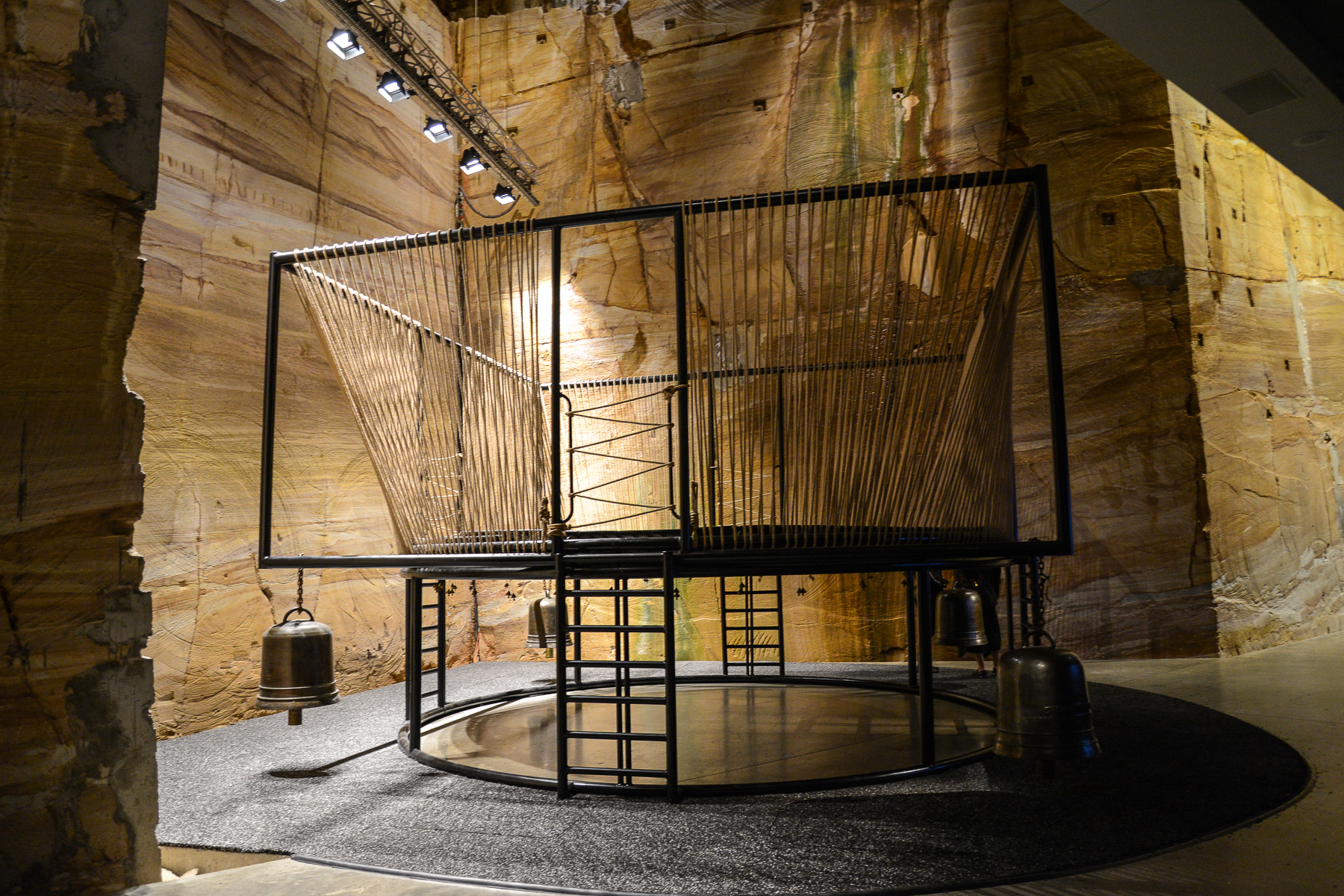 If you really fall in love with MONA as I did you might wish to take them up on their Cemetery offer. As their website says:
For $AUD 75,000 you can enjoy all the benefits of Eternity Membership – parties, catalogues, annoying pamphlets, being sucked up to. Then – when you die, we have you cremated and put in a fancy jar in the museum. David's dad's there already. Don't you miss out. PS. This is not a joke.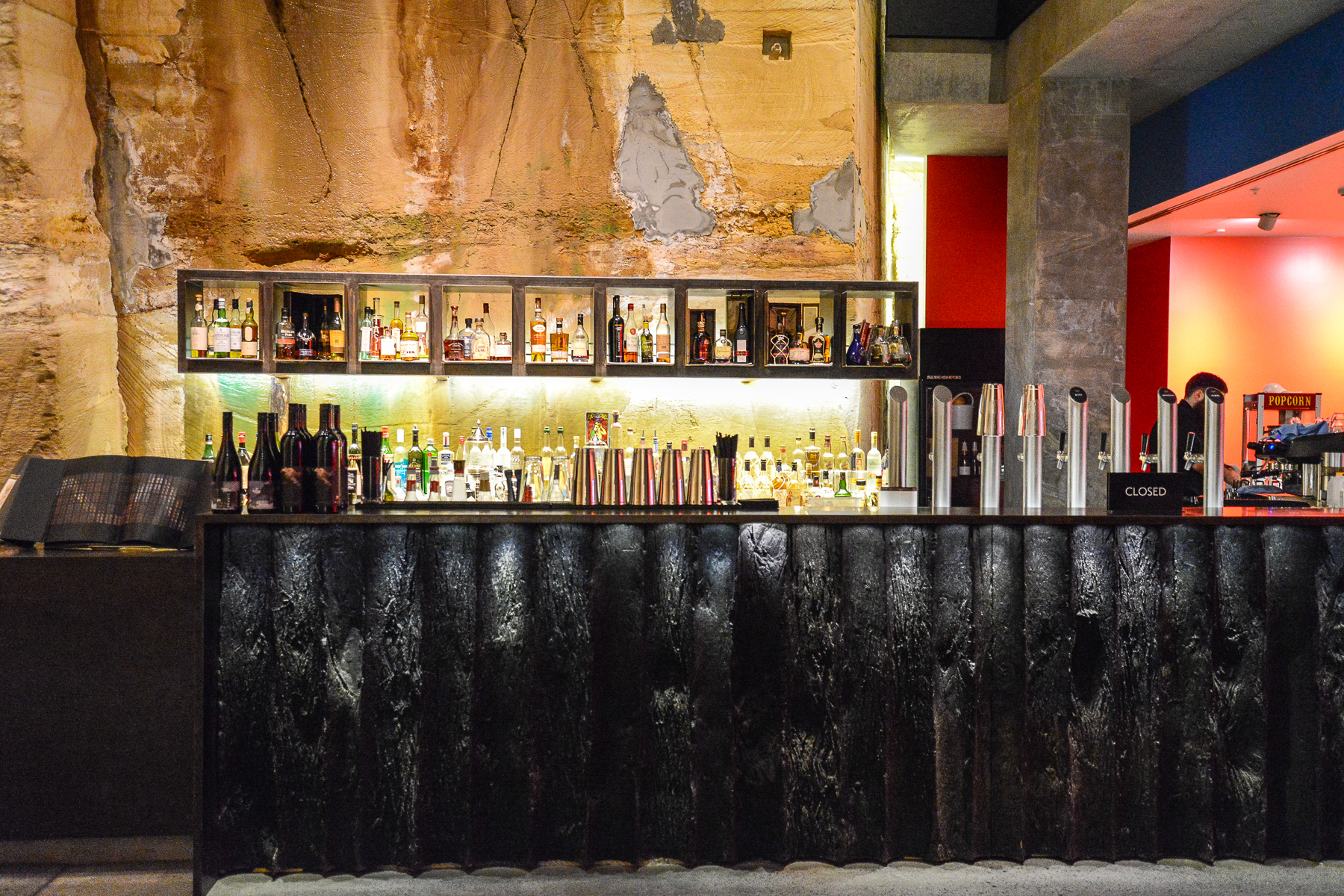 MONA is a game changer – there is nothing like it anywhere. If you visit Tasmania you cannot miss MONA. In fact, MONA is reason enough to visit Tasmania. I can't wait to return with my  kids.
---
Smolt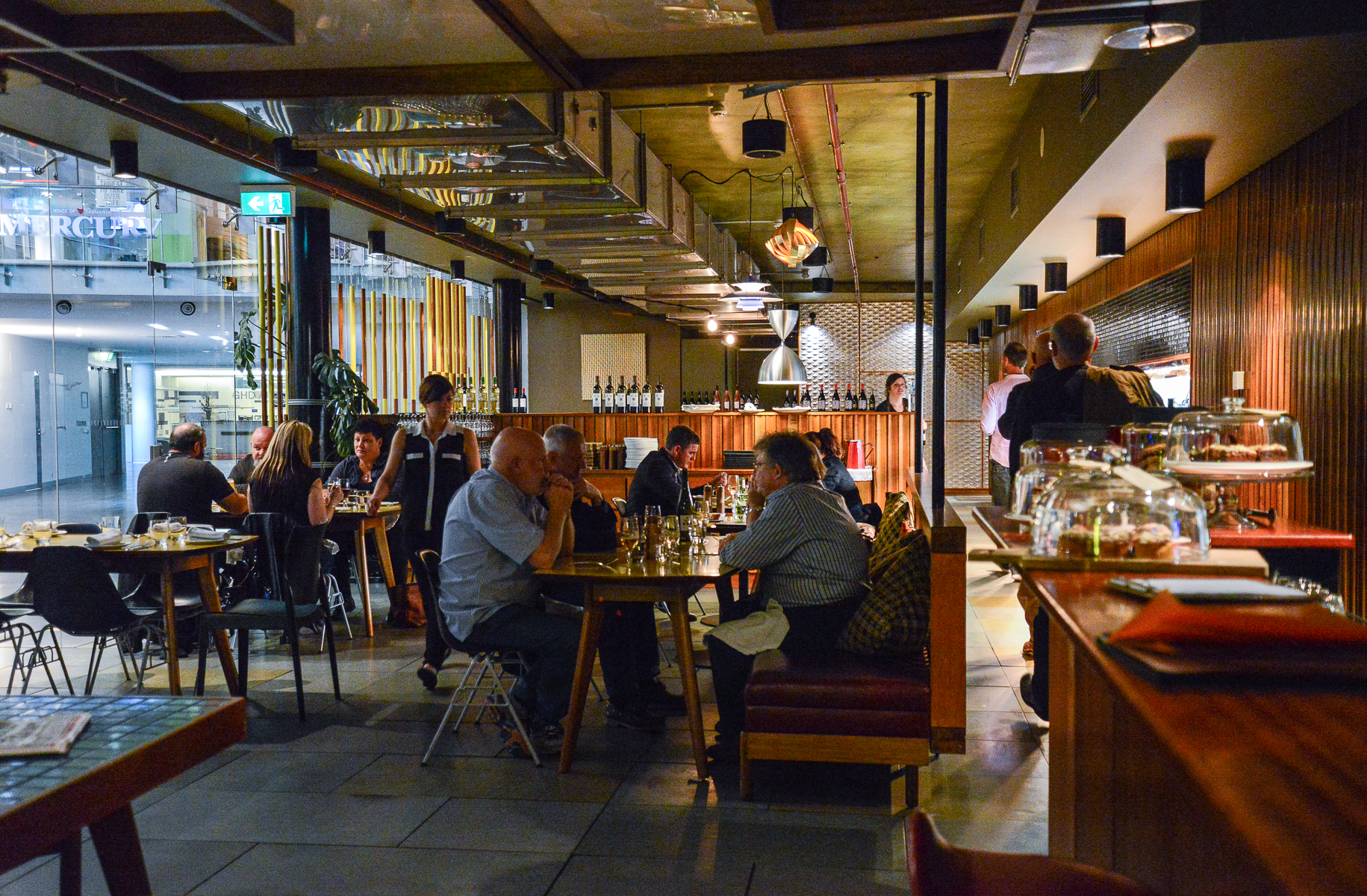 After much research I had a short list of restaurants for dinner in Hobart including Garagistes, Ethos, Smolt, and Me Wah. Deciding which restaurant to visit wasn't an issue as I happened to visit Hobart on a Monday night so only one of these — Smolt — was open. So after a quick visit to the gym and shower off I went.
Situated in the Battery Point district (just around the corner from A Common Ground, WurstHouse and Tricycle Cafe), Smolt was immediately welcoming. Great music and friendly staff made a good first impression, which polished stone floors and the wooden fit out only enhanced.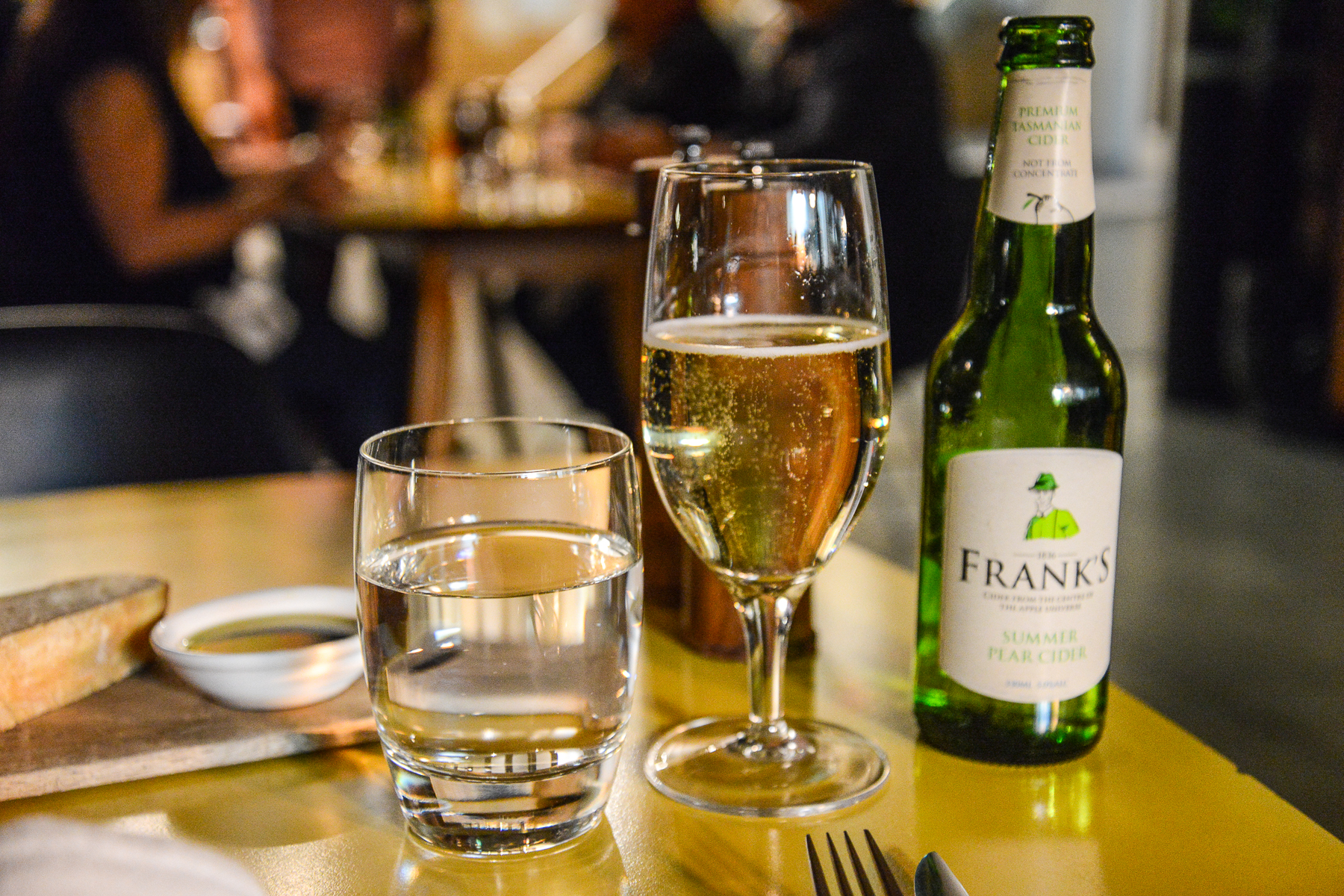 After a full day exploring Hobart (and a 4:15am start) I am dying for a drink. A refreshing Summer Pear Cider by Frank's ($9) hits the spot perfectly – it's crisp, dry and not overly sweet.
I'm in the mood for seafood so order a few natural Bruny Island oysters to start ($3.90 each).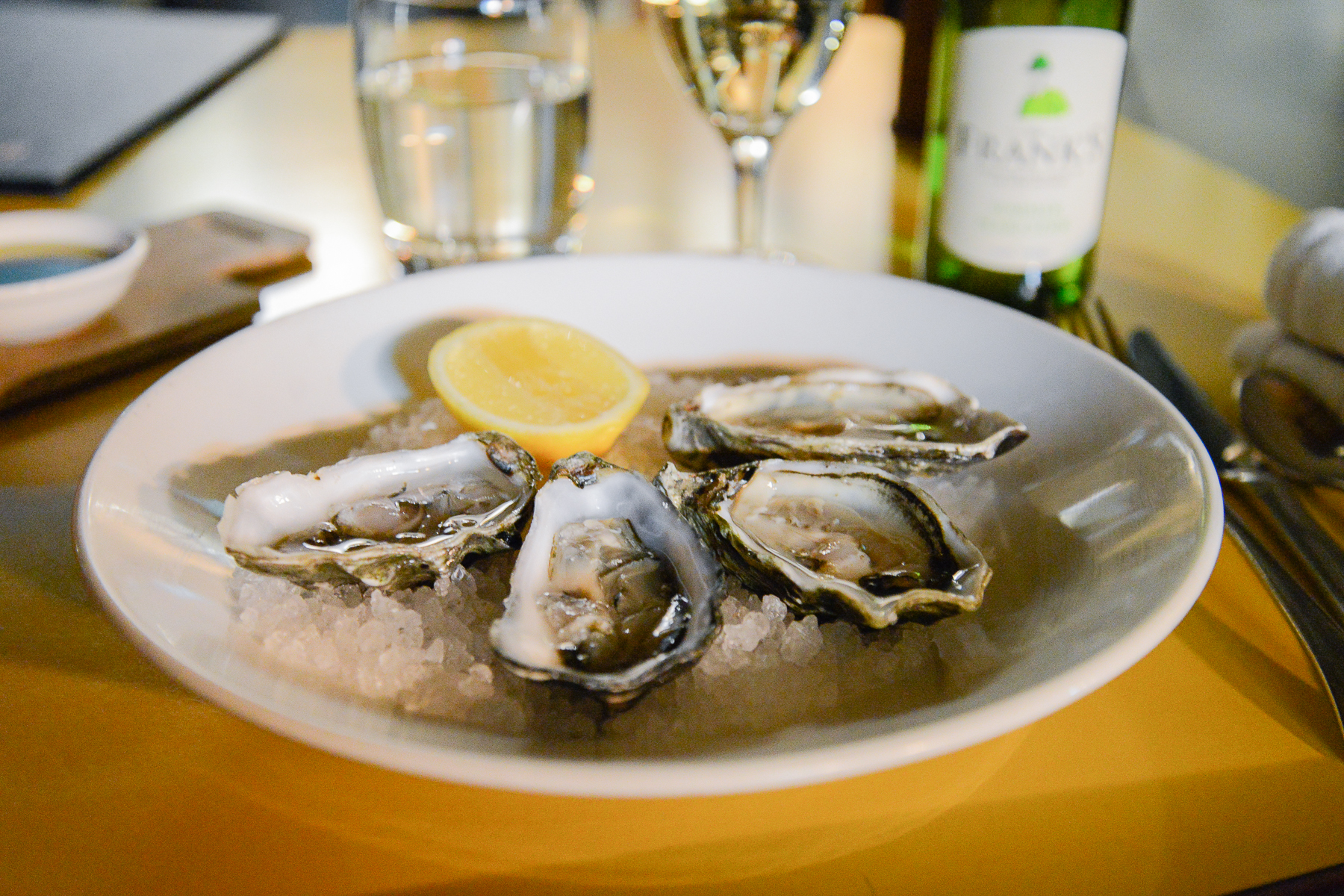 Unbelievably fresh and tasting of the ocean these oysters are magnificent. I could have eaten two dozen.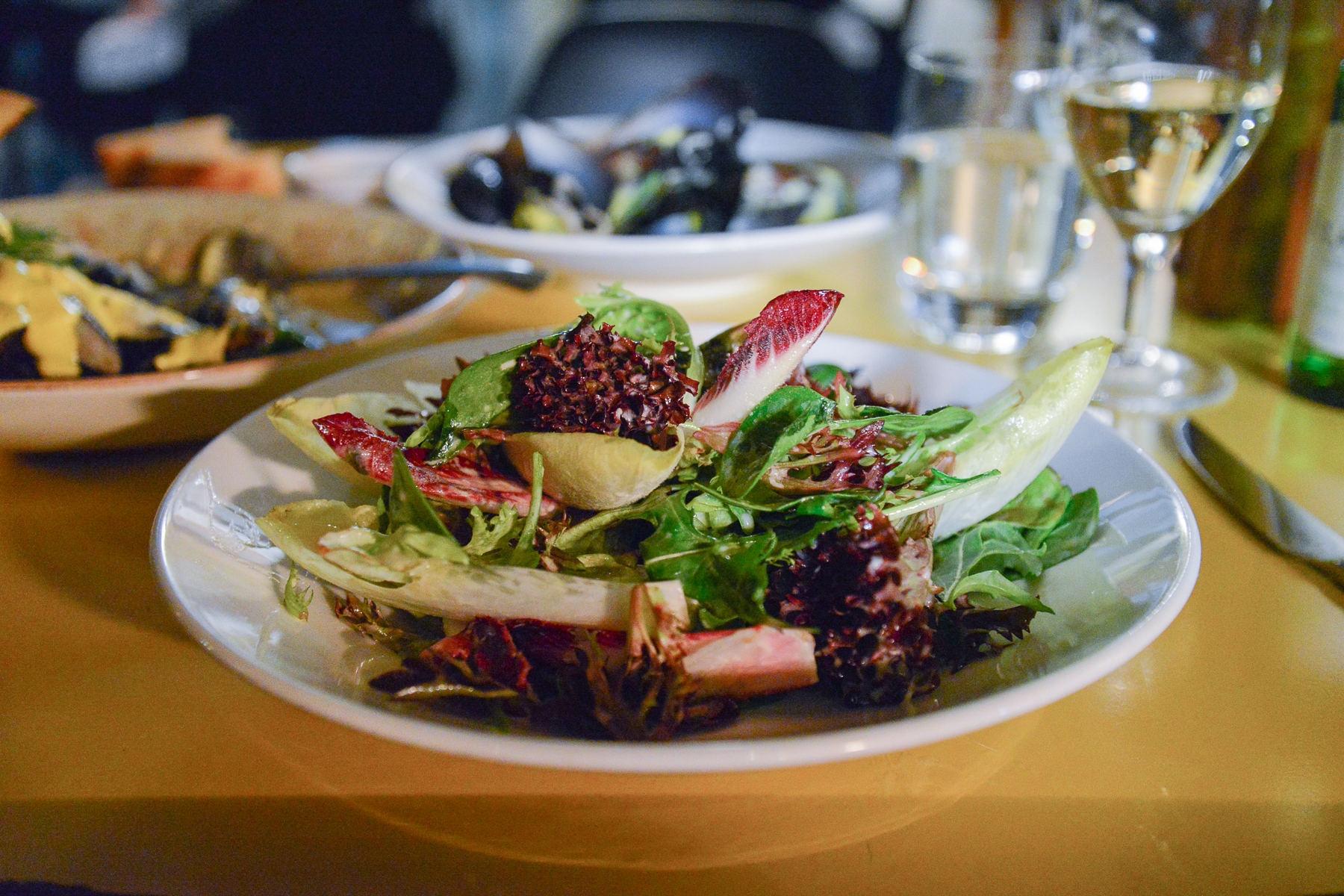 Next up my main and side salad appear. Each leaf of the mixed salad ($9) has been placed carefully on the plate and dressed with a light vinaigrette. Lovely – it's the details that make all the difference.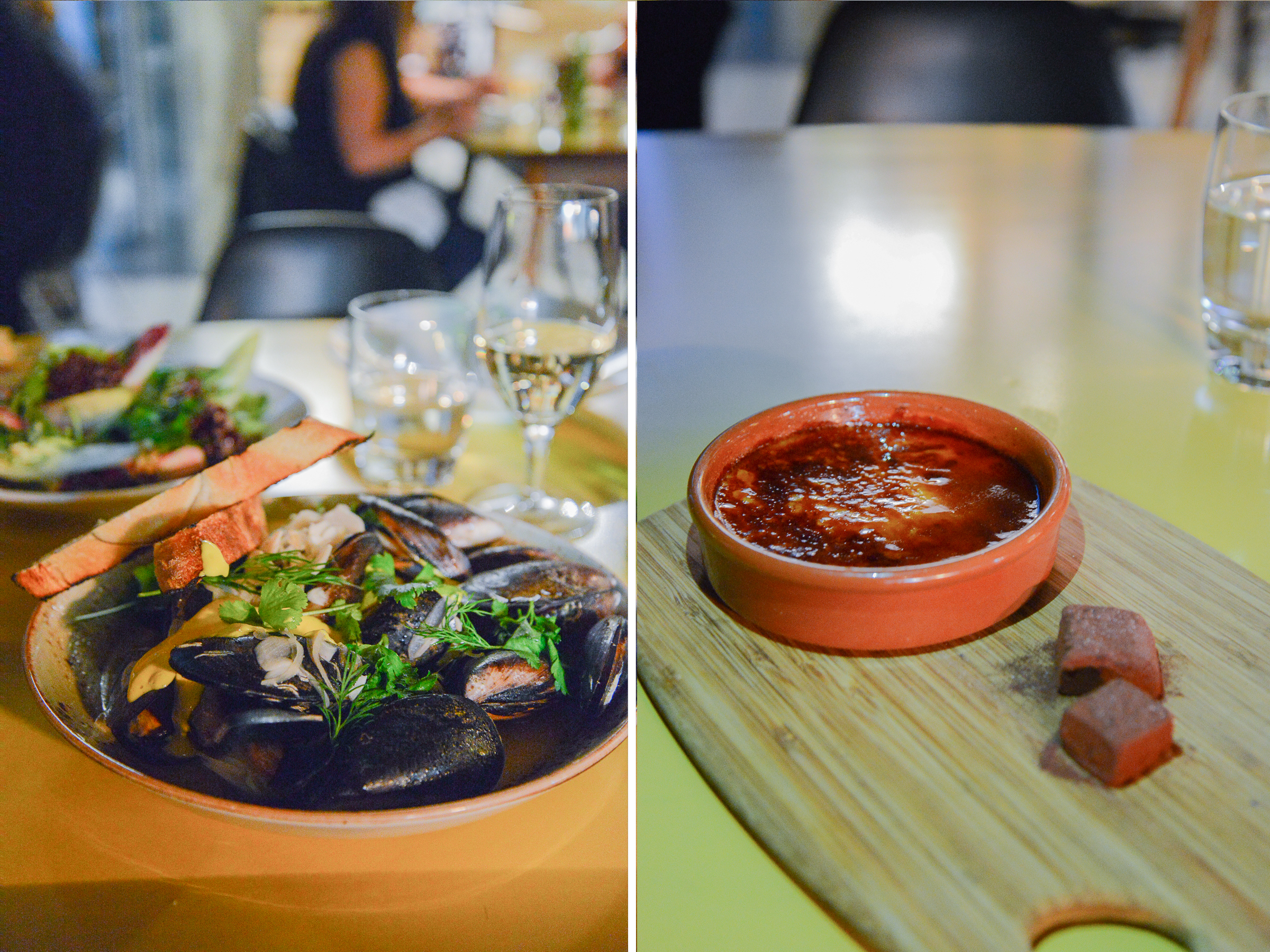 My main course — Mussels with Garlic, Parsley and Dill and Saffron Aioli ($23.90) — is fantastic. I love cooking mussels at home but usually go for either a Moules Marinière or an Asian-style dish with chilli. Why have I never thought of cooking mussels with dill? It's a winning combination. The beautifully coloured saffron ailoi added some lovely mild flavour and texture to the dish and I soak up the juices with the grilled bread provided. Delicious.
I'd ummed and ahhed about ordering dessert as I'd already eaten a lot that day but my nice waiter was encouraging so I did. When it comes to food I'm a bit of a pushover like that. As it turns out, dessert is the low point of a very good meal.
Creme Catalan ($15.90) is the Catalan version of creme brûlée — orange rind is infused into the custard  — and it's one of my favourite desserts. While Smolt's custard has the requisite wobble and gorgeous creamy texture someone has been too heavy-handed with the sugar and created a solid layer of scorched toffee. It's so thick that I have to whack it forcefully with my spoon a half dozen times before it shatters, which kinda wrecks my mellow mood. The too thick layer of toffee also distorts the final taste – a little burnt toffee is amazing but too much is overpowering. The Creme Catalan is also oddly paired with two chocolate truffles that do nothing to enhance the dish – some stewed fruit would have been better.
It's a shame about dessert but three out of four dishes isn't bad. I'd visit Smolt again.
---
Jackman and McRoss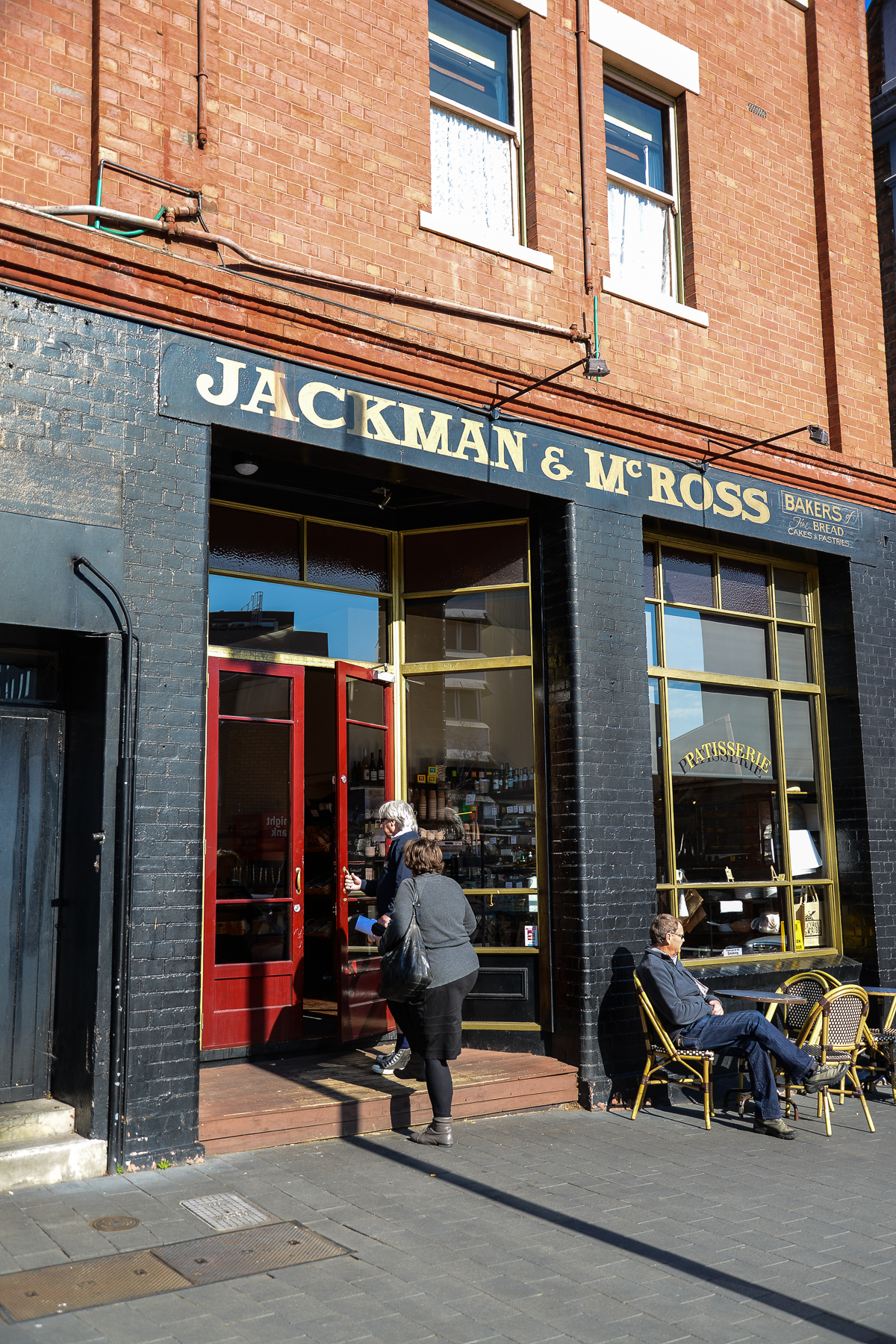 The next morning I rise bright and early. My body is pleading for more sleep but my brain sternly orders it out of bed. Forgoing breakfast at The Hotel Grand Chancellor, I jump into my car and head straight for Jackman and McRoss.
Established for over a decade, Jackman and McRoss are renowned for their sourdough bread, pies, sweet and savoury tarts and relishes.
The fit out is stylish and welcoming. I'm in a bread lover's paradise.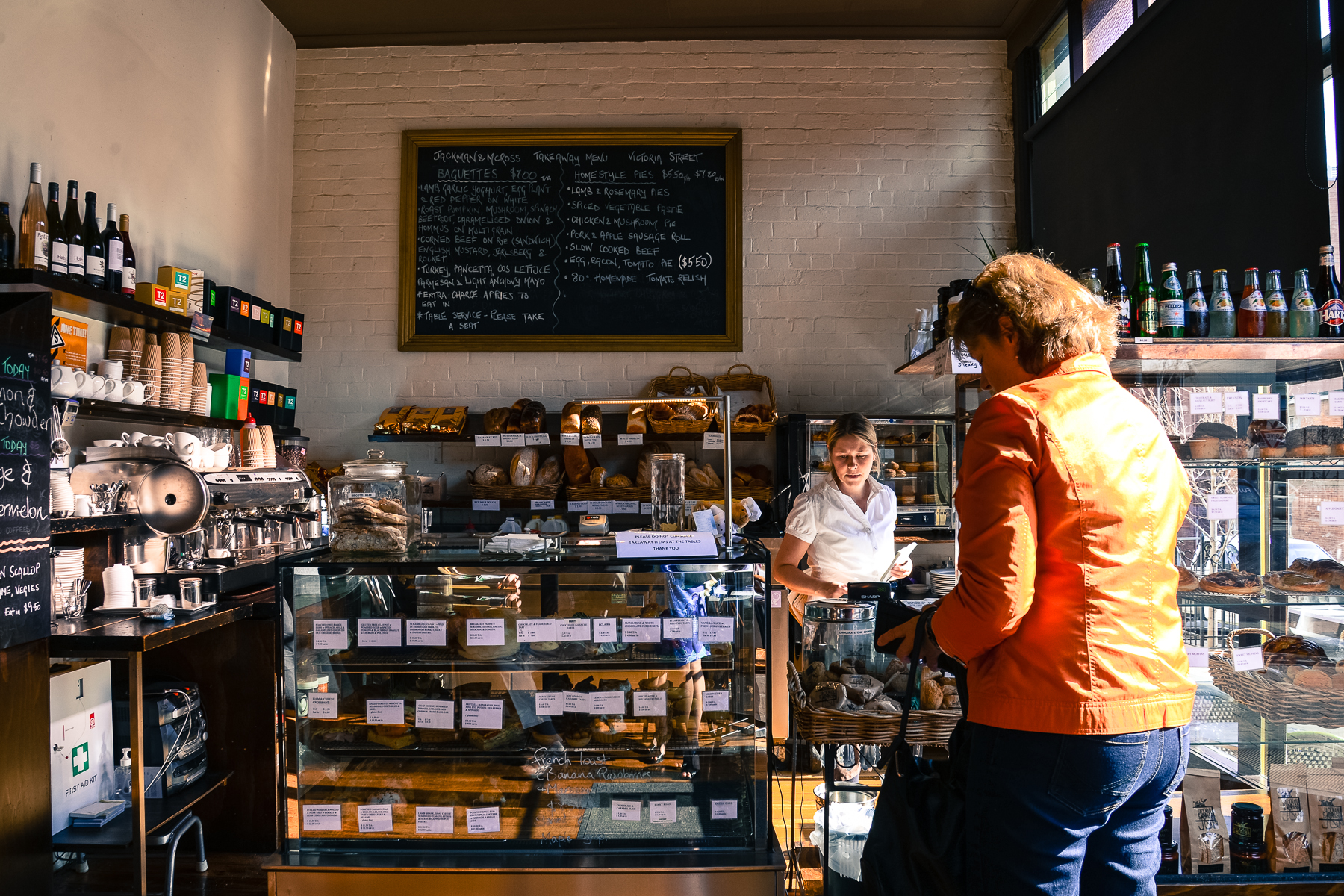 Everything is so beautifully presented. I love the way that the pastries and dishes are styled so boldly here. Check out this gorgeous baked polenta with ricotta, seasonal vegetables and Brie. Doesn't it look amazing?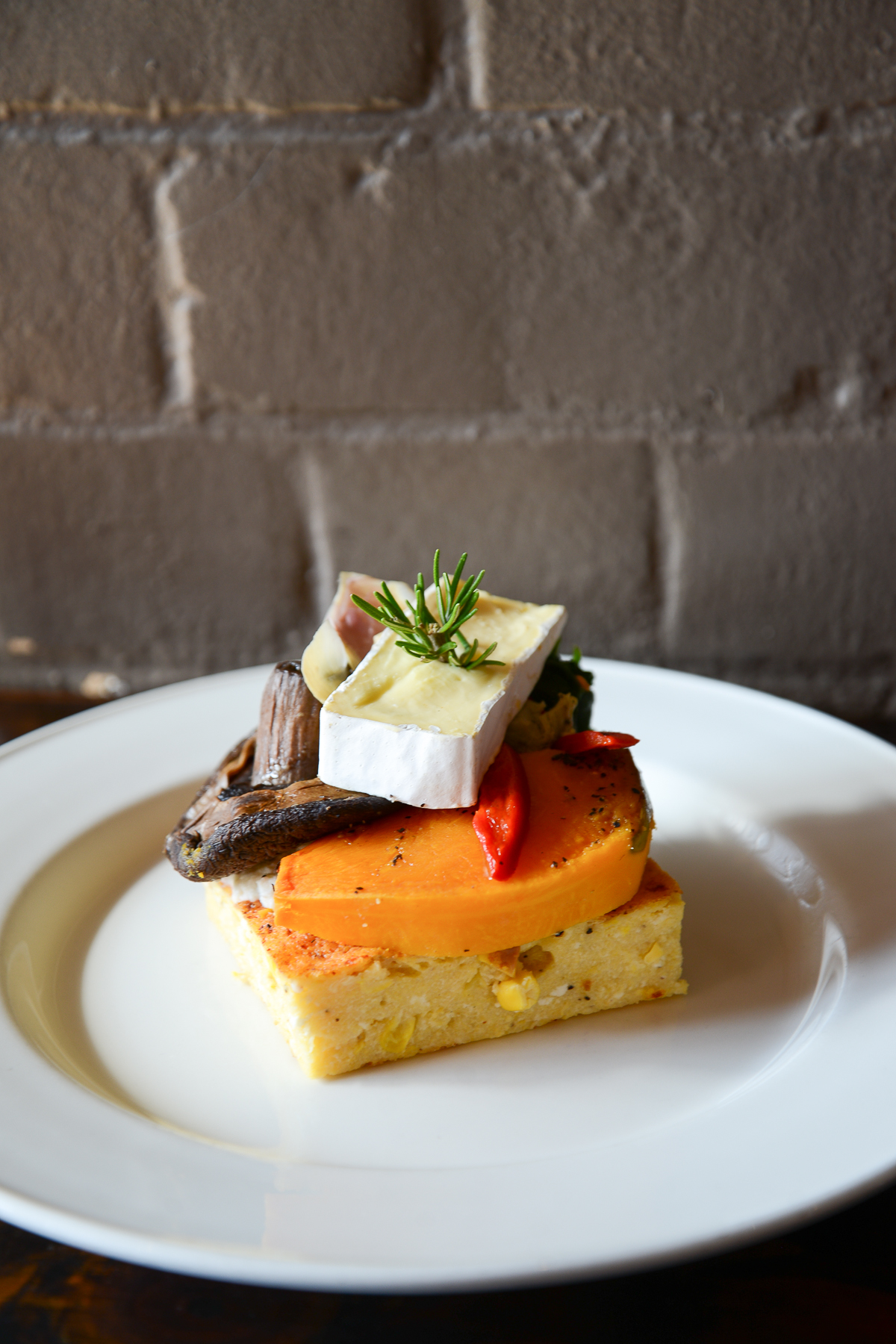 I'm starving so I order the Scrambled Eggs in Tasmanian smoked salmon on rocket, aioli and Danish pastry ($11).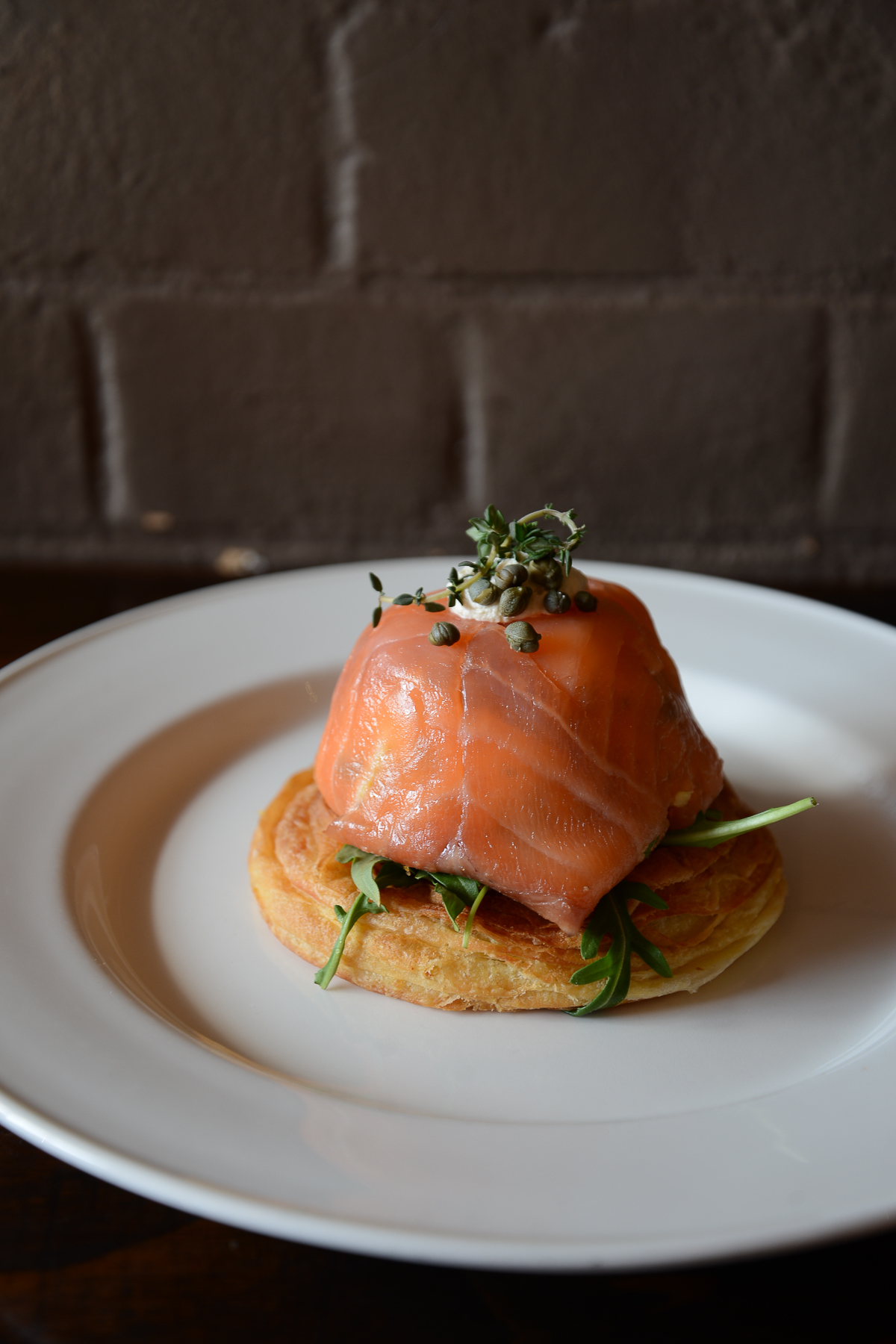 It is fantastic – the Danish pastry is crisp, buttery and flaky and proves to be a lovely base for the generous amount of creamy scrambled eggs and smoked salmon. With the eggs and salmon this is a very rich dish but a delicate aioli, baby capers and peppery rocket help to balance out the flavours. Top marks.
I want to try one of their amazing looking sweet pastries but I'm stuffed to the brim. So I leave, regretfully, vowing to return.
---
Sweet Envy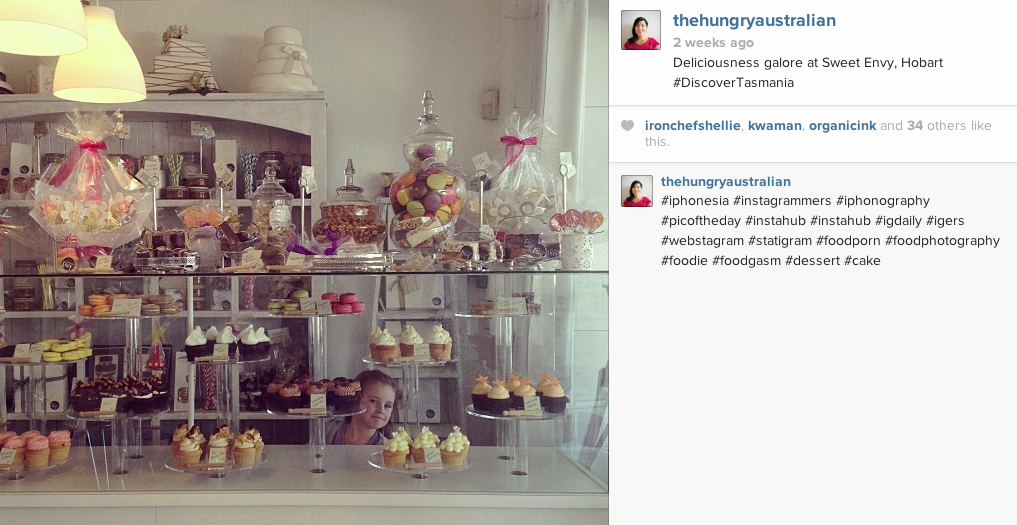 My last stop in Hobart before I hit the highway is a sweet one – Sweet Envy, that is!
The shop is a dessert lover's fantasy come to life – Sweet Envy produce a range of delectable cupcakes, candy, macarons, pastries, pies, biscuits ice creams and lolly pops. I can't help thinking how wonderful it would be to host a birthday party or afternoon tea here.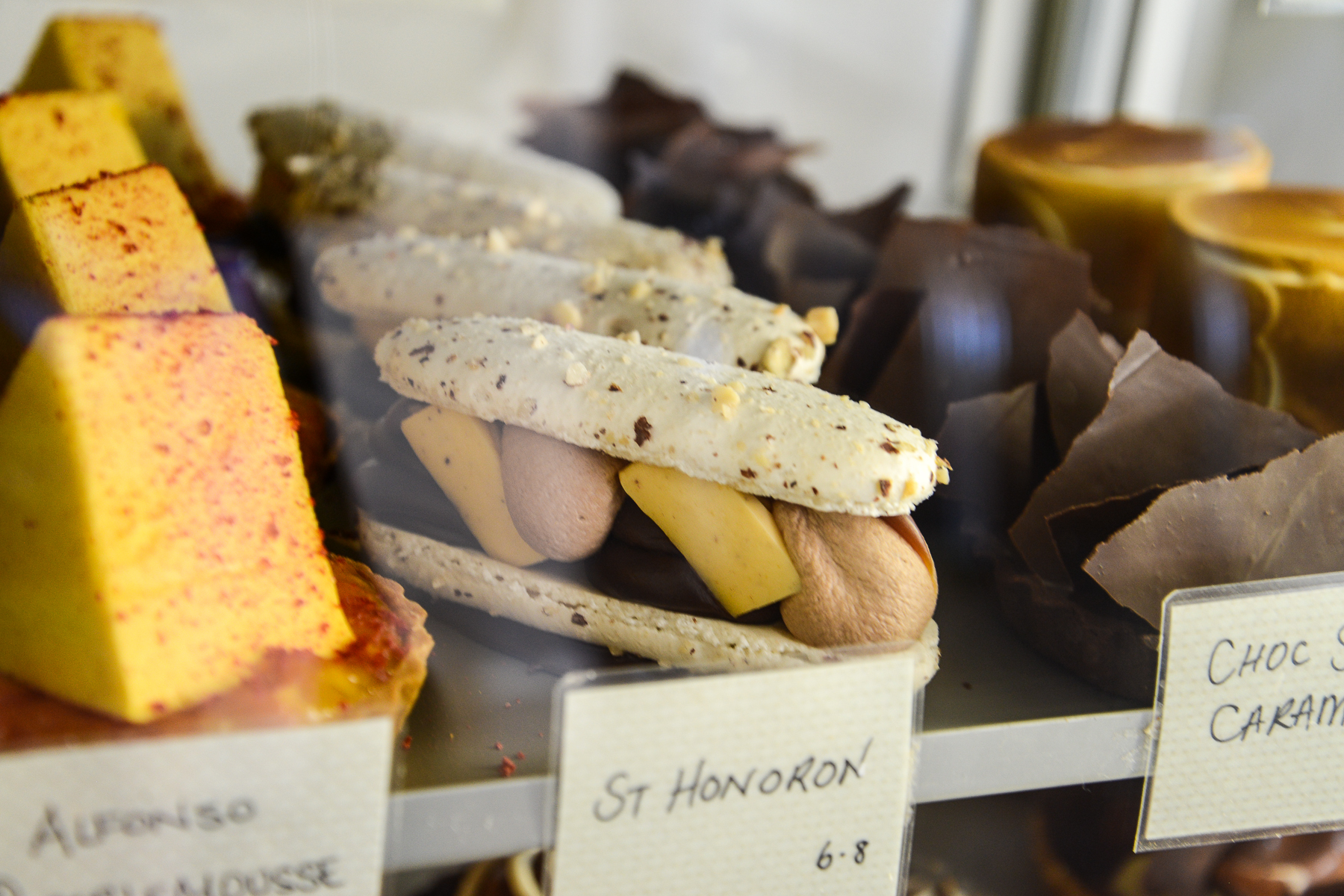 Sweet Envy is a labour of love for couple Alistair and Teena. This is Teena.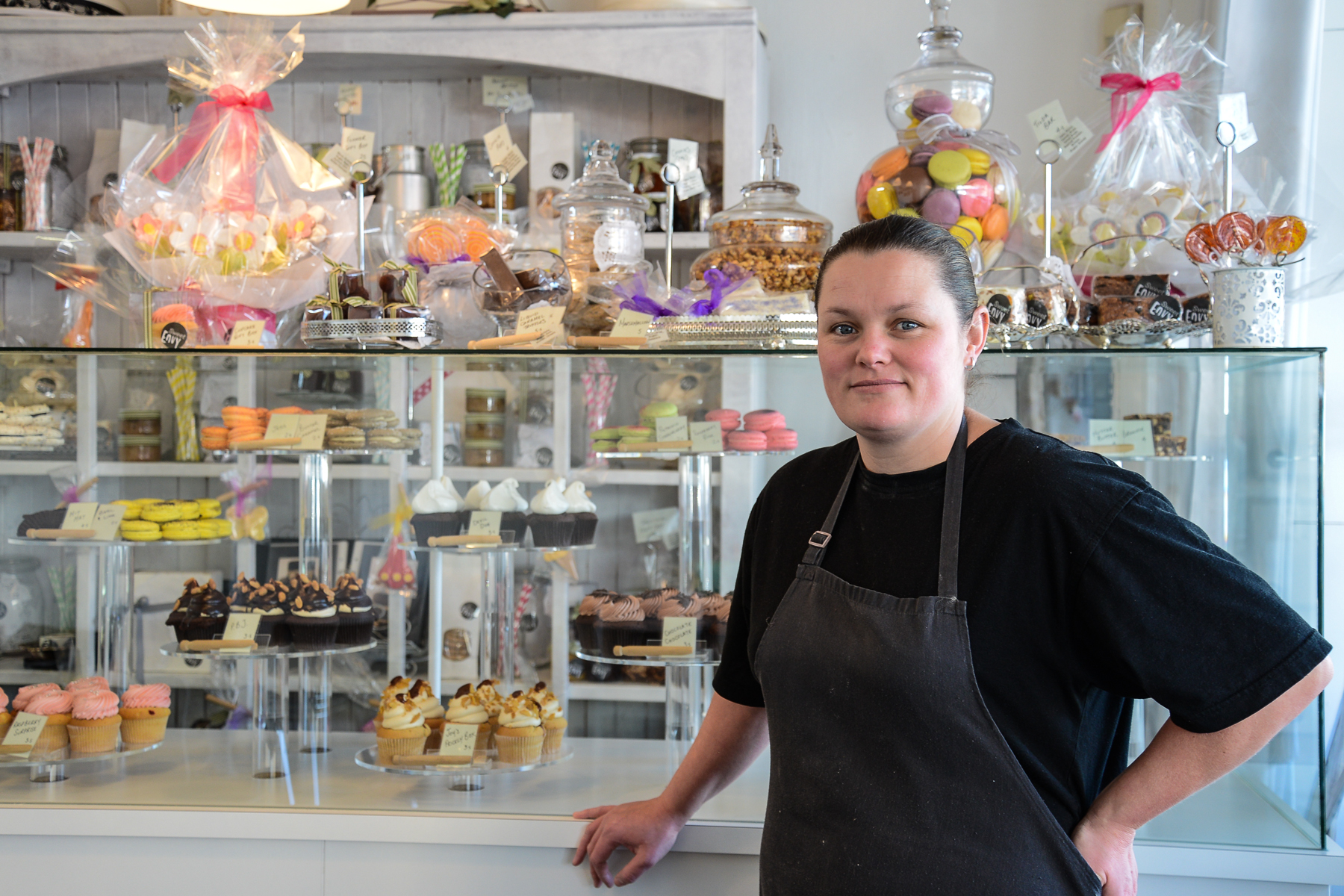 Both Alistair and Teena grew up in Hobart and completed their pastry and bakery training here before heading to Melbourne and London to complete their training. Whilst in London they landed dream jobs – Alistair ran Gordon Ramsay's Pastry department at The Connaught alongside Angela Hartnett, and Teena worked at The Greenhouse under an Alain Ducasse protege before branching out to creating couture cakes. They moved back to Hobart but then got offered a job they couldn't refuse – opening Gordon Ramsay at The London in New York.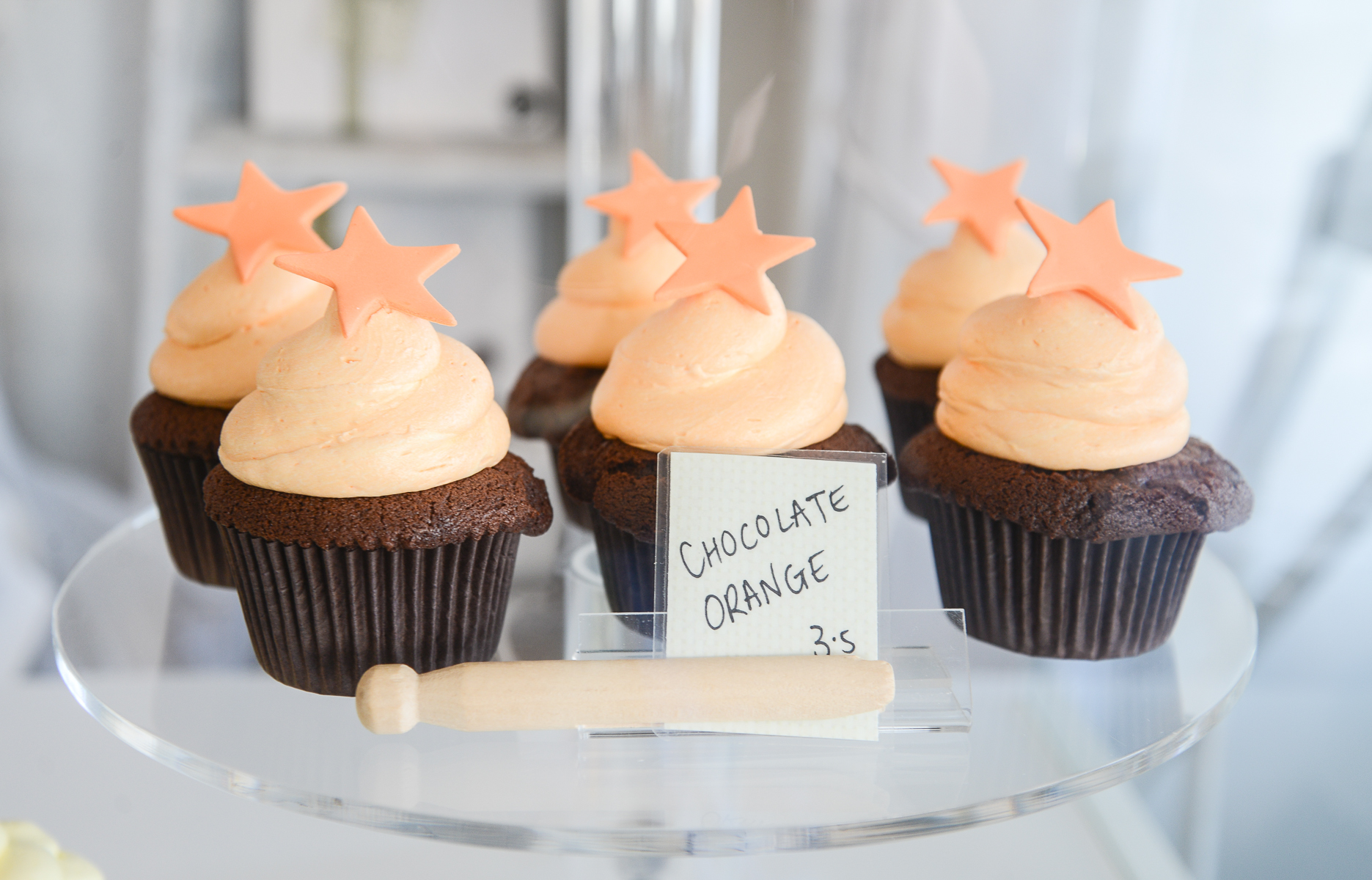 After their New York stint they moved back to Hobart and opened Sweet Envy. And sweet-toothed Tasmanians breathed a collective sigh of joy.
Look – they even have a pavlova cupcake!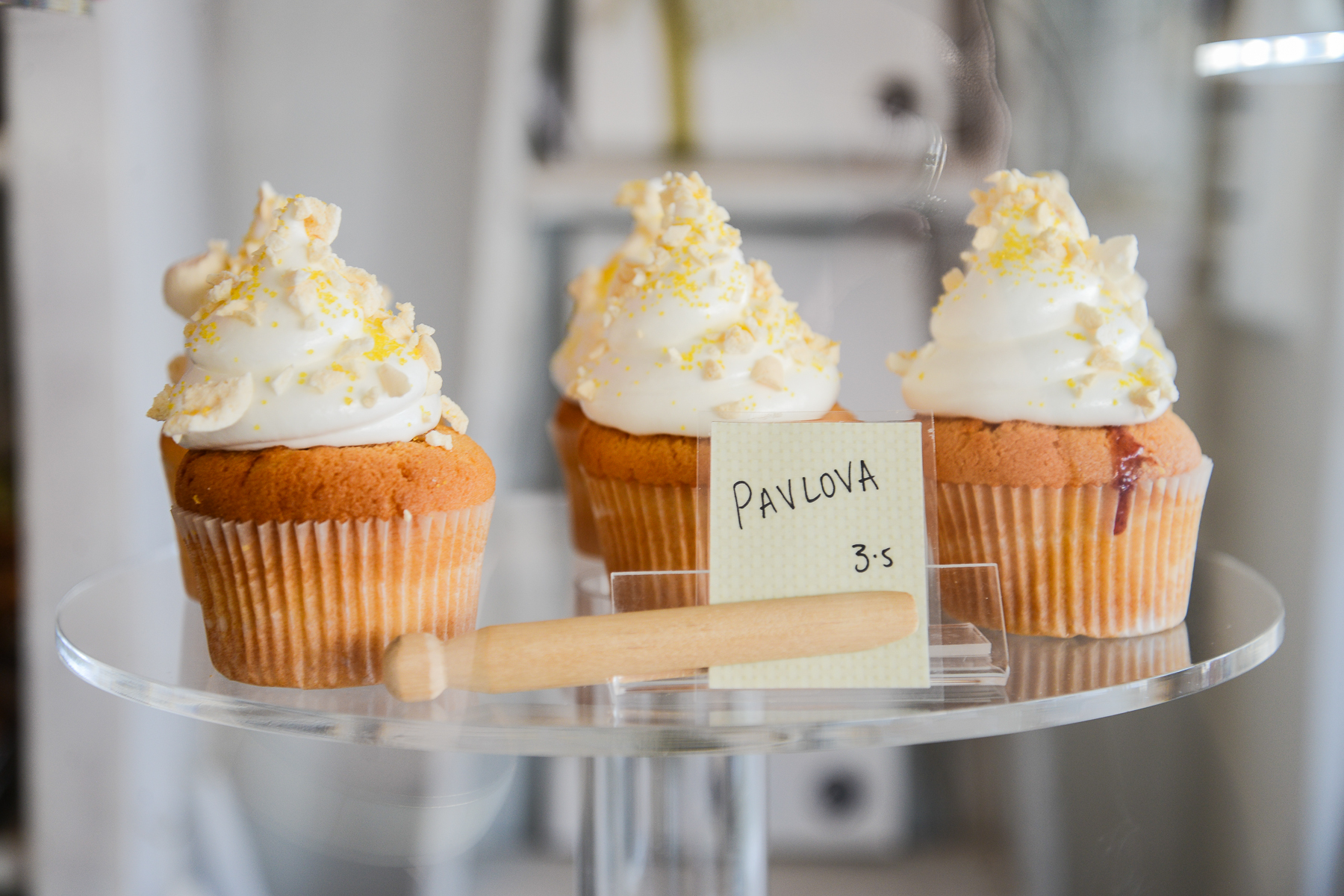 Did I mention that they also do ice creams and pies?  There are no run of the mill flavours here – check out the Umami Dragon ice cream or the curry goat pie.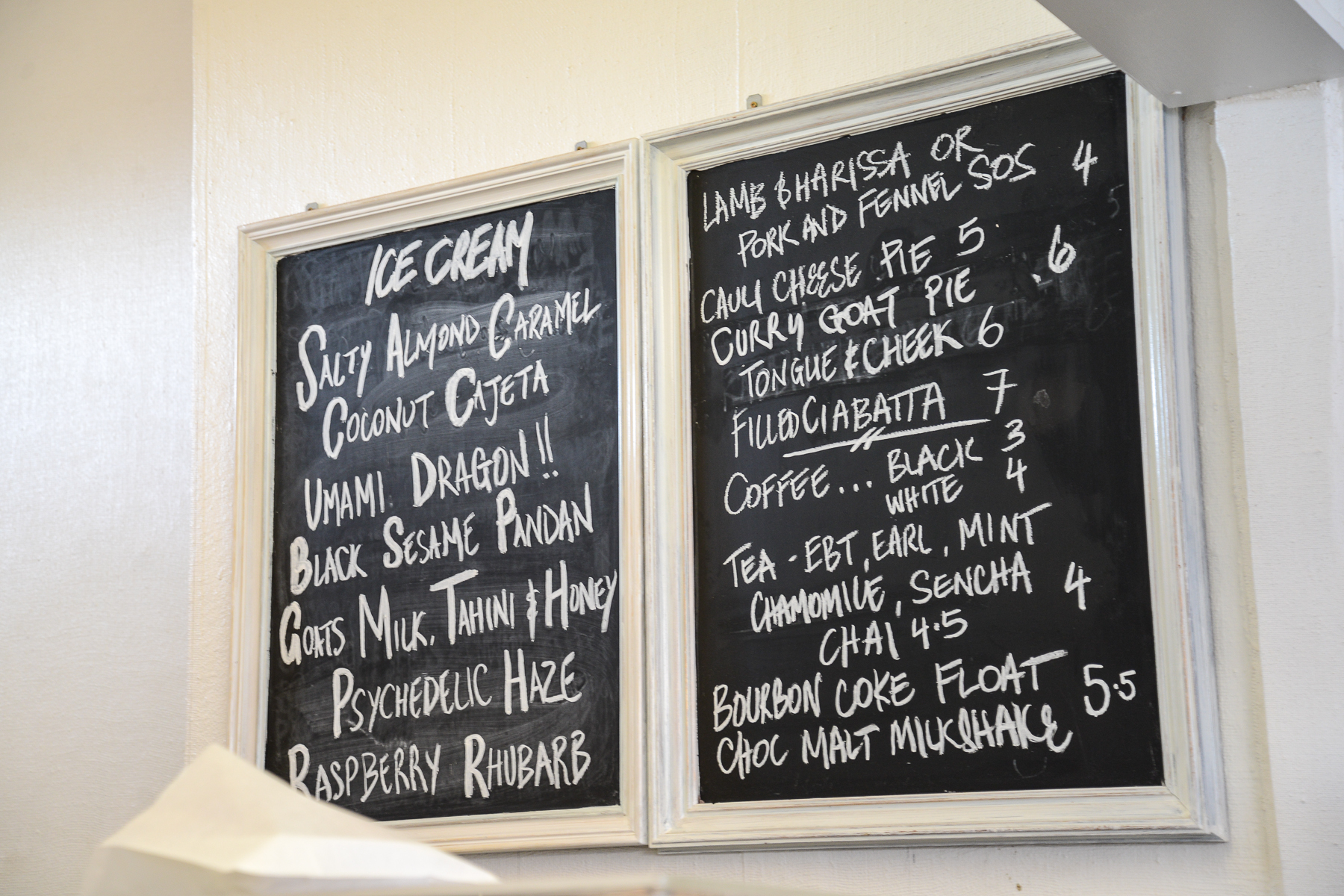 I want my office to be next door to Sweet Envy so I can just pop over for some deliciousness whenever I want. Is that possible, Teena? Failing that, can you express post to Adelaide?
---
My Hobart Address Book
---
The Tasmanian adventure continues!
Don't want to miss a post? Sign up to receive The Hungry Australian posts twice a week – it's FREE!!
Disclosure: I visited Tasmania as a guest of Tourism Tasmania. Some meals and products were provided while I paid for others. Tourism Tasmania are compensating me for the licence to display my content on the Go Behind the Scenery site and magazine. As always, all opinions are my own.